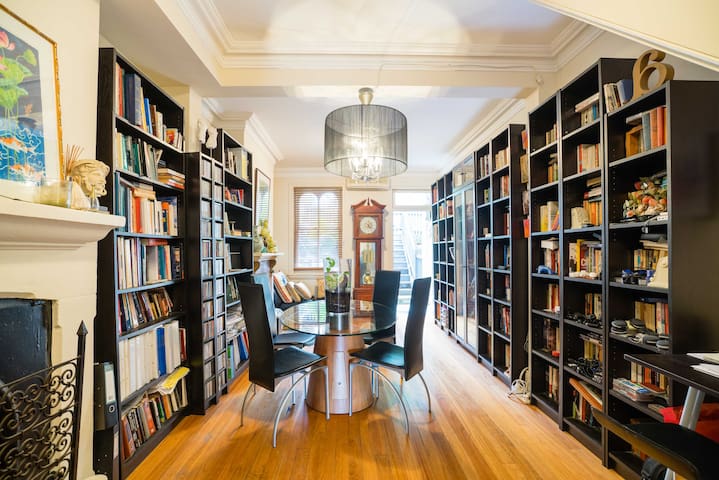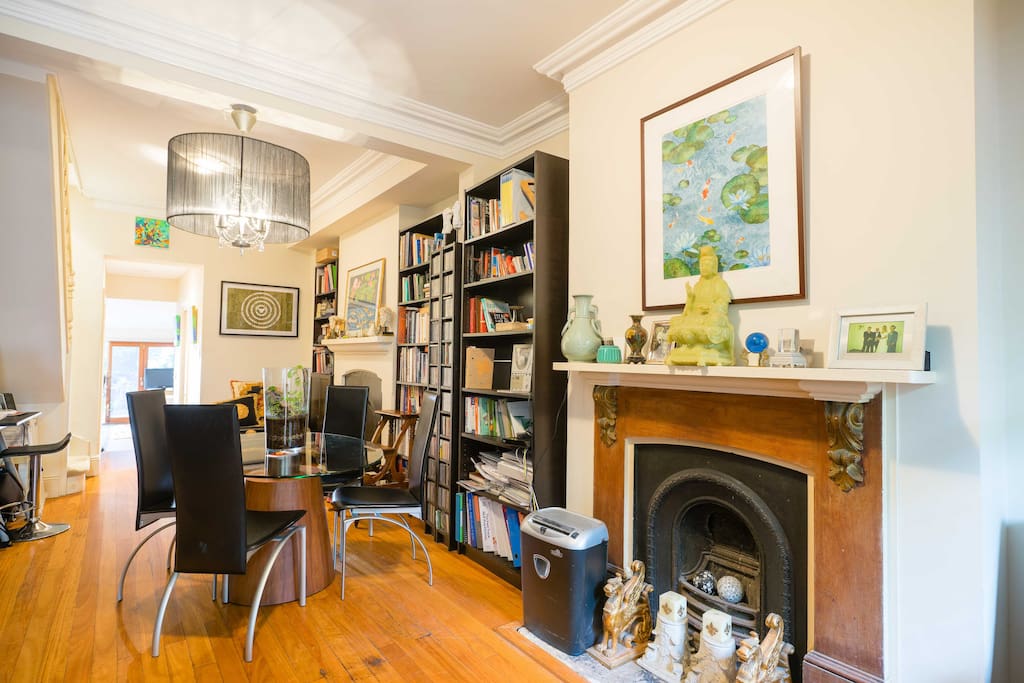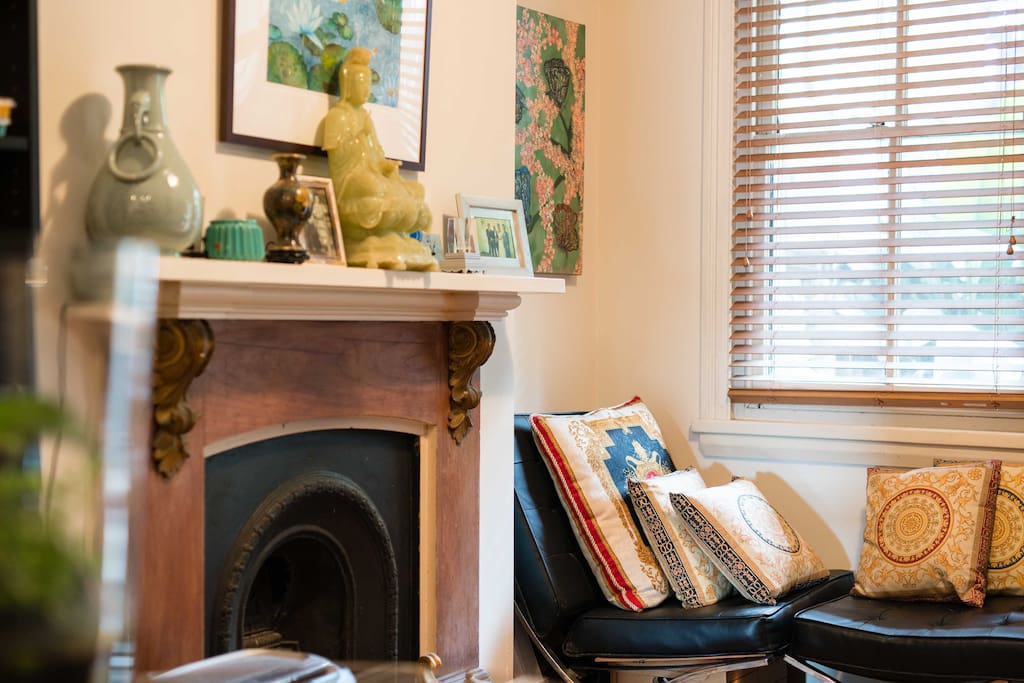 Přijďte zůstat s Vinh & Stuartem (oceněný jedním z nejlepších australských hostitelů od generálního ředitele společnosti Airbnb Brian Chesky a klíčového akcionáře Ashton Kutchera. Jsme také Sydney). Zjistěte, proč jsme byli pozitivně ohodnoceni 500 + krát. Nejprve si přečtěte náš seznam (nápověda) Nepřijímáme rezervace od lidí bez ověřeného profilu. A před výměnou zpráv si prosím nevyžádejte žádost o rezervaci. Jsme rádi, abychom si popovídali první a ujistili jsme se, že vám můžeme nabídnout "pětihvězdičkový pobyt"
Come stay with Vinh & Stuart (Awarded one of Australia's top hosts by Airbnb CEO Brian Chesky & key shareholder Ashton Kutcher. We're Sydney's #1 reviewed hosts too). Find out why we've been positively reviewed 500+ times.
Please read our listing first (hint hint)
We do not accept reservations from people without a verified profile.
And please do not make a reservation request before we have exchanged messages. We're keen to chat 1st and make sure we can offer you a "Five Star Stay"
Místo
Prosím pozdravte a sdělte nám * PŘED * budete požádáni o rezervaci ... Pomůže to urychlit a vyladit věci ... Přečtěte si prosím náš zápis. Získá potvrzenou rezervaci tak mnohem jednodušší :) Viz níže (náznak nápovědy) - G'Day z Vinh & Stuart v Sydney! Děkujeme, že jste přišli podívat na náš seznam :) Máme další btw ... http://www.airbnb.com/rooms/73639 pokud tato není k dispozici "Sydney City Home with Views Harbor"; Náš volný pokoj v podkroví. Jsme docela uvolněná hostitelská místa a jako hosté Sydney v první řadě hrajeme aktivní roli v komunitě Airbnb, ale plně oceňujeme, že pobyt s někým jiným ve svém domově není pro každého. Máme to, naše místo není pro každého. Takže nebudeme urazeni, pokud opustíte tento zápis (existuje spousta dalších skvělých výpisů Airbnb, z nichž si můžete vybrat, které nenabízejí hostované zážitky). Protože jsme byli mezi prvními Airbnb'ers v Austrálii (cestující + hostitelé), vyvinuli jsme poměrně rozsáhlý profil, který vycházel ze všech otázek pro hosty, které jsme v průběhu let odpověděli. Přečtení popisu do konce (náznak nápovědy) a "Pravidla domu" znamenají, že najdete všechny důležité informace, které potřebujete, aby vaše Sydney Airbnb zůstala fantastická. Neváhejte nám poslat zprávu o jakékoli otázce, kterou máte o nás, našem domě, Pyrmont, Sydney nebo Airbnb ... Rádi bychom vás slyšeli! : D Toto není podnikání ani hotel. Jsme ležérní Airbnb hostitelé, ne hoteliéři. To je náš rodinný dům. Žijeme zde. Nevydáváte prázdný byt. Toto není "sub-let". A my nemáme tým vrátných, kteří čekají na to, aby si vzali batohy v kteroukoli denní či noční dobu. Naše "check-in" / "čas příletu" / "kapka kapsy" je totéž. Tvůj pokoj: * Soukromá ložnice (s uzamykatelnými dveřmi) * Velká manželská postel * Všechna povlečení, polštáře, přikrývky, ručníky atd * Plně klimatizované * Wifi Lehké snídaně (obiloviny, ovoce, toasty) zahrnují: * Snídaně a chutné pochoutky * Sezónní ovoce Chléb k opékání * Celkový přístup k "skříňce Seinfeld" * Vegemite můžete zvládnout * Čaje a káva - Jsme espreso přátelé, prosím neváhejte nás, pokud opustíte své místo plně drátové nebo závislý na jediném původu; Guest Koupelna (sdílené): * Sprcha s okamžitou (plnou) horkou vodou * Fén * Ručníky jsou poskytovány Váš domov v Sydney: * Úžasný výhled na přístav Sydney, White Bay a ostrov Glebe * Trojposchoďový dům s terasou * Jen 2 minuty chůze od centra města Pyrmont * Jen pár minut chůze od všeho, co Sydney nabízí * V blízkosti letiště a veškeré veřejné dopravy * Tichá ulice * Venkovní paluba s posezením a výhledem na vodu * Plně klimatizované * Zdarma wifi v celém domě Několik věcí, které potřebujete vědět, než si rezervujete: -> STEEP STAIRS - Vzhledem k tomu, že dům je na třech úrovních a schody jsou strmé, nedoporučujeme tento objekt pro lidi, kteří rádi cestují se spoustou zavazadel, lidmi s jakoukoliv mobilitou nebo pro děti. -> PŘEČTĚTE S NÁMI PRVEM - pošlete nám prosím zprávu a poraďte se s námi -> KALENDÁŘ K DISPOZICI JE VYDÁNÍ - Uveďte prosím pouze požadavek na rezervaci přesných (a úplných) dat, které požadujete. Kalendář můžete použít v našem záznamu, abychom zjistili dostupnost měsíčně. Pokud se data, které požadujete, v kalendáři nezobrazují, je to proto, že jsme pro tyto termíny rezervovali ... Promiňte :( -> PŘIJÍMAJTE PŘÍLEŽITOST PŘED VYŽÁDÁNÍM REZERVAČNÍ ŽÁDOST - Doba příjezdu je 18:00. Další informace týkající se časů příjezdu / údajů o odběru / odběru pytlů atd. Najdete v části "Další věci k poznámce" atd. Před odesláním žádosti o rezervaci nám nejprve obraťte na předpokládaný čas příjezdu. -> MÁME OVĚŘENÝ PROFIL - Je mnohem pravděpodobné, že přijímáme požadavky od Airbnb'ers s profily, přáteli a doporučeními atd. Stejně tak se budete cítit mnohem pohodlněji, víte více o lidech, se kterými žijete, My také děláme. A profilový obrázek kočky to ani neřeže ... PROSÍM, prosím, pošlete nám zprávu, pokud máte nějaké otázky ohledně pobytu u nás nebo návštěvy Sydney. FIVE STAR POBYT - Nyní je to nejdůležitější bit: ** Používejte prosím kódová slova; "Pět hvězdiček", když nám sdělíte vaši rezervaci - stačí, abychom vám tato slova zaslali do vašeho vzkazu. Umožňuje nám vědět, že jste si tyto informace přečetli a jste připraveni na Fantastická pětihvězdičková hostina s námi v našem domě v Sydney City. Nemůžu se dočkat, až se s vámi setkáme! Na zdraví, Vinh & Stuart PS Dobře, že jste četli tohle daleko! Většina lidí nemá :( Je nám líto, je to tak dlouho, ale my víme, že jsme vám odpověděli na všechny vaše otázky. A nezapomeňte používat kódová slova; "Pět hvězdiček" ve vaší zprávě.
Please say hello and message us *BEFORE* you make your reservation request... It'll help speed things up, and smooth things out...
Please read our listing. It will make getting a confirmed reservation so much easier :) See below (hint hint)
--
G'Day from Vinh & Stuart in Sydney!
Thanks for coming to check out our listing :)
We have another btw... http://www.airbnb.com/rooms/73639 if this one is unavailable "Sydney City Home with Harbour Views"; our spare room in the attic.
We're pretty relaxed hosts, and as Sydney's #1 hosts we play an active part in the Airbnb community, but we fully appreciate staying with someone else, in their home home, is not for every-one. We get it, our place isn't for everyone. So we won't be offended if you leave this listing (there's plenty of other great Airbnb listings to choose from that don't offer a hosted experience).
As we were among the first Airbnb'ers in Australia (travellers + hosts) we've developed quite an extensive profile based on all the guest questions we've answered over the years.
Reading through the description to the end (hint hint), and the "House Rules", will mean you'll find all the important information you need to make your Sydney Airbnb stay a fantastic one.
Feel free to send us a message with any question you have about us, our home, Pyrmont, Sydney, or Airbnb... We'd love to hear from you! :D
This is not a business, or a hotel. We're casual Airbnb hosts, not hoteliers.
This is our family home. We live here. You are not be renting an empty apartment. This is not a 'sub-let'. And we do not have a team of porters waiting to take your bags any time of the day or night.
Our "check in" / "arrival time" / "bag drop" is all the same thing.
Your room:
* Private bedroom (with a lockable door)
* Queen size bed
* All linen, pillows, blankets, towels, etc, provided too
* Fully air-conditioned
* Wifi
Light Breakfast (cereals, fruits, toasts) included:
* Breakfasty things and tasty treats
* Seasonal Fruits
* Bread for toasting
* Total access to "the Seinfeld cupboard"
* All the Vegemite you can handle
* Teas & coffees - We're espresso fiends, please don't blame us if you leave our place fully wired, or addicted to single origin ;p
Guest Bathroom (shared):
* Shower with instant (full pressure) hot water
* Hair-dryer
* Towels provided
Your Sydney Home:
* Amazing views of the Sydney Harbour, White Bay, and Glebe Island
* Three level terrace house
* Only 2 minutes walk from the centre of Pyrmont
* Just minutes walk from everything Sydney offers
* Close to the Airport & all public transport
* Quiet street
* Outdoor deck with seating and water views
* Fully air-conditioned
* Free wifi throughout the entire house
Couple of things you do need to know before you book:
--> STEEP STAIRS - Because the house is on three levels, and the stairs are steep, we wouldn't recommend the property for people who like to travel with lots of luggage, people with any mobility issues, or for children.
--> TALK WITH US FIRST - Please send us a message & have a chat with us BEFORE you make your reservation request
--> THE AVAILABILITY CALENDAR IS ACCURATE - Please only make a reservation request for the exact (and complete) dates that you require. You can use the calendar on our listing to see our availability month by month. If the dates you require are not showing as available on that calendar, it's because we're booked for those dates...
Sorry :(
--> AGREE ARRIVAL TIMES BEFORE YOU MAKE A RESERVATION REQUEST - Guest arrival time is 6pm. Please see the "Other Things to Note" for more information about arrival times / check in / bag drop details, etc.
Message us first about your intended arrival time BEFORE you make a reservation request.
--> HAVE A VERIFIED PROFILE - We're much more likely to accept requests from Airbnb'ers with profiles, friends, & recommendations, etc. In the same way you feel more comfortable knowing more about the people you're staying with, we do too. And a profile pic of a cat doesn't really cut it either...
PLEASE ASK - Please just send us a message if you've any questions about staying with us, or visiting Sydney.
FIVE STAR STAY - Now here's the most important bit:
** Please use the code words; "Five Star Stay" when you message us about your reservation - Just drop those words into your message to us. It lets us know you've read this information and are ready for a fantastic five star hosted experience with us in our Sydney City home.
Can't wait to meet you!
cheers,
Vinh & Stuart
PS
Well done for reading this far!
Most people don't :(
Sorry, this is so long, but we know we've answered all your questions now.
And remember to use the code words; "Five Star Stay" in your message.
Přístup pro hosty
Náš dům je tvůj dům - nejsme hotelem, to není obchod. Je to náš domov. Žijeme zde. Těšíme se na vás, že vás uvítáme tak, jak bychom přivítali naši rodinu a přátele. Dostaneme vám kód pro dveře s jednoduchým (a bezpečným) přístupem, abyste mohli jít a jít, jak chcete. Pracujeme z domova, takže je obvykle někdo kolem.
Our house is your house - we are not a hotel, this is not a business. It is our home. We live here.
We look forward to welcoming you to stay you just as we would welcome our family and friends.
We'll provide you with a code for the door with easy (and secure) access, so you can come and go as you please.
We work from home, so there's generally always someone around.
Vztahy s hosty
Jak málo nebo jen málo, jak se vám líbí. Žijeme zde. Tohle je náš domov. Budeme doma, když zůstanete, a obecně okolo a pokud a kdy budete potřebovat nás.
As much or as little as you like.
We live here. This is our home.
We will be at home when you stay, and generally around & about if and when you need us.
Další věci, které stojí za zmínku
Máme několik důvodů pro čas příjezdu / check in / bag drop time of 6.00pm. Jedním z nich je, že jsme opravdu flexibilní s check out časem. :) Zatímco děláme práci z domova, nechceme se vysílat na internetu zvlášť, pokud jsme mimo domov. Proto je náš čas příjezdu vždy uveden v 18:00. Naše "check in" / "čas příletu" / "kapka" je totéž. Není to, jako bychom byli hotelem s týmem vrátných, kteří čekají, že si vezmou tašky kdykoliv během dne či v noci, ať už jsme doma nebo ne. Takže pokud jsme nedohodli nějaké alternativní uspořádání, pak se těšíme na vás, abychom vás uvítali v 18:00. Zatímco my můžeme být schopni uspořádat nějaké příchodové časy / kapky kapky / kontroly dřív, potřebujeme, aby tato ujednání v předstihu. Takže pokud není čas vašeho výběru v 18.00 hodin, sdělte nám to prosím * před * Vaší rezervace. :)
We've a few reasons for the 6.00pm arrival time / check in / bag drop time... One of them is that we're really flexible with check out times. :)
While we do work from home, we don't particularly want to broadcast on the internet if we are away from home. That's why our arrival time is always listed as 6pm.
Our "check in" / "arrival time" / "bag drop" is all the same thing. It's not like we're a hotel with a team of porters waiting to take your bags any time of the day or night whether we're at home or not. So, if we haven't agreed some alternate arrangements, then we look forward to welcoming you to our home at 6.00pm.
While we may be able to arrange some arrival times / bag drops / check ins earlier, we do need to make those arrangements well in advance. So if the 6.00pm check in time isn't your preference, please talk to us about it *before* you make your reservation. :)
Pracovní plocha pro notebook
Pokoj 1
1 postel velikosti queen size
Nevhodné pro domácí mazlíčky
Večírky nebo akce zakázány
Nebezpečné nebo nevhodné pro děti (0-12 let)
Čas příjezdu je od 18:00 do 20:00
Samoobslužný proces ubytování pomocí smart lock
We look forward to welcoming you to stay you just as we would our family and friends.
"Farm Gate Rules" - if a door is open, leave it open, if a door is closed, please leave it closed. We ask that you always close the gates behind you (our little dog is an escape artist - while he's been very slow learning how to pick the locks, leaving the gate open makes it much too easy for him to get away and find himself in all sorts of mischief).
We'd ask that you'd please not eat in your room, or smoke inside the house. We've a kitchen and dining room for meals (and of course, feel free to use the fridge) and a sheltered, undercover area outside that you're more than welcome to use if you smoke.
We tend to work from home, meet clients in our home office, and work by phone too. So this means that our home would be better suited to guests wanting to be out sightseeing during the day, rather than spending the days inside. (But why would you want to stay inside all day when there's so much to see and do anyway?)
Every experience we've ever had with Airbnb has been a positive one. Whether we've been hosting, or staying as guests, we've met kind & considerate people, had interesting conversations, and made great new acquaintances & friends.
We don't imagine you'll be any different, and we look forward to welcoming you into our home.
Musíš také přijmout
Bez schodů to nepůjde - Ours is a terrace home (narrow) with steep stairs - Multiple flights
Nemovitost bez parkoviště - You can walk everywhere, and buses, trains, ferries, and light rail are all easily available.
Některé prostory jsou sdílené - You have PRIVATE BEDROOMS, we share bathrooms, kitchen, and living spaces.
G'Day from Australia! He's Vinh, and I'm Stuart... We're big fans of AirBnB having used it when traveling in the USA not long after AirBnB first started. Since then we've enjoyed traveling with AirBnB across the US, around Australia, in Hong Kong, and also in Vietnam. …
Jazyky:
English
Index odpovědí:
100%
Rychlost odpovědí:
během několika hodin
Podobné nabídky ubytování
Objev ostatní možnosti v Pyrmont a okolí
Další ubytování v Pyrmont: