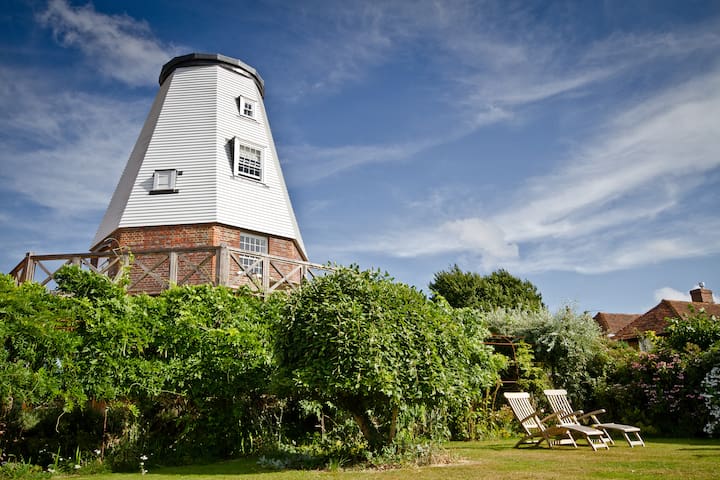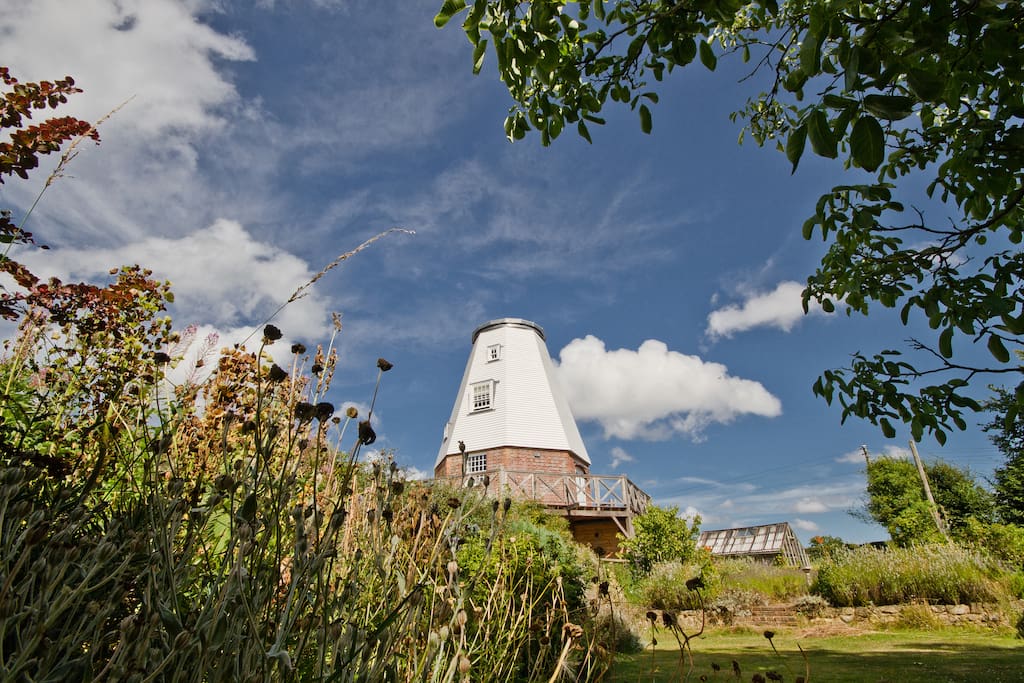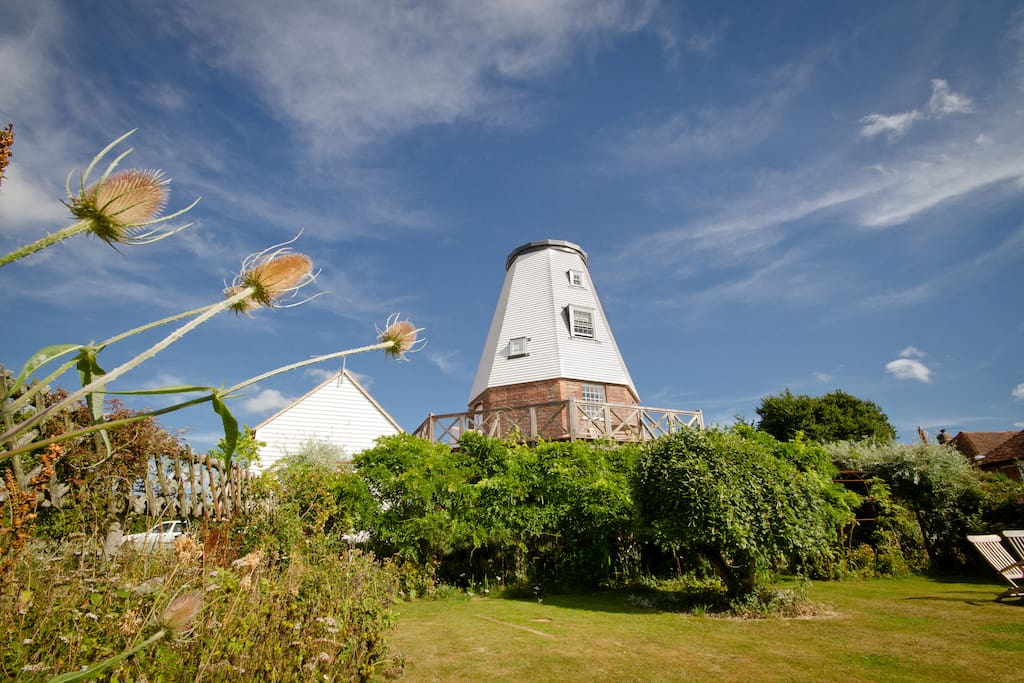 Old Smock Mill je romantické místo pro páry. Atmosféra uvnitř je klidná a relaxační. Všechno je navrženo tak, aby vás odvléklo od okamžiku, kdy jste vstoupili dovnitř. Je obklopen krásnou přírodou v Kentu, kde můžete procházet a osvěžit se snad tím, že ukončíte den v jedné z velkých hospůdek útulných ohniskem v zimě nebo v létě Anglická zahrada. Hosté říkali, jak těžké je to odtrhnout, je to skutečně poklad.
Old Smock Mill is a romantic place for couples. The atmosphere inside is peaceful and relaxing. Everything is designed to unwind you from the moment you walk in. It is surrounded by the lovely Kent countryside where you can ramble and refresh yourselves by perhaps ending the day in one of the great pubs cosy by a log fire in Winter or in Summer an English garden . Guests have said how hard it is to tear themselves away, it truly is a treasure to find.
Místo
Starý Smock Mill je nádherná čtyřpodlažní budova (tři patra pro letní dovolenou), která byla pečlivě obnovena na velmi vysoké úrovni. S osmnácti centimetrovými cihlovými zdmi a věží s bílým povětrnostním povrchem stojí na krajině. Vnější dubové schodiště vedou na krásnou scénu, kde vstupujete do mlýna. Masivní nosníky se rozprostírají na každém patře a nesou originální ozdobný kruhový hřebenový zdvihák a zdvihák na sáčky. Je to velmi neobvyklé romantické a nezapomenutelné místo k pobytu. Každý pokoj byl pečlivě navržen tak, aby byl v udržení, ale komfort a moderní zařízení jsou dobře zásobeny. Při příjezdu bude k dispozici vítaný košík včetně vlastníků kuřat organických vajec. Ložnice: Krásná francouzská postel s bílou bavlnou. K dispozici je krásné staré měděné umyvadlo a kohoutky a unikátní řemenice pro zavěšení šatů. Velké nosníky drží železné obří ostrohové kolo a ohromující točité schodiště vede do koupelny. Koupelna: Dvojitá koupelna, podstavec a toaleta. Projděte sprchu v mokrých místnostech s podlahovým vytápěním. Bílé načechrané ručníky a místní ruční praní jsou standardně dodávány. Kuchyně: Kuchyně je dobře položená s pračkou / sušičkou trouby lednice / mraznička myčka nádobí hrnce a dobrou škálu pánve pánve smažit příbory sklo a porcelán. Obývací pokoj: Jídelna s kulatým stolem a čtyřmi židlemi. Sedací plocha je pohodlná kožená pohovka a dvě židle TV DVD přehrávač a WiFi. Plynové kamny na spalování dřeva je skvělé, abyste si večer poseděli. Jiný: 9 'široká inscenace, kde je dodáván kulatý teakový stůl a čtyři židle. Lavice na ranní straně inscenace a dvě teakové parní židle pro opalování. K dispozici je prostor pod velkým starým jabloní, který lze využít v zahradě pro grilování. Čištění / Ručníky / Prádlo: Všechny ručníky a ložní prádlo jsou v ceně. Každý týden se změní ložní prádlo a ručníky a mlýn se vyčistí. Vybavení: Gril, Parkování, Výhled do zahrady vlastníků. Myčka nádobí, Lednička / mrazák, Varná deska, Trouba, Sušička prádla, Pračka. Centrální vytápění, přístup na internet, TV. O oblasti Přístupnost Větrný mlýn není vhodný pro používání invalidního vozíku. Mimo Oblast kolem mlýna v prvním patře má dubový stagingový balkon o šířce 2,5 metru, který obklopuje mlýn. K dispozici jsou kvalitní stoly a židle vybavené teakovými parníky a polštářky pro relaxaci dovnitř barbecue může být dodáván být používán v oblasti v zahradě ne na inscenování. Zahrada vlastníků je soukromá. Pobřeží / Pláž Místní pláž je kamerovým pískem s fantastickými písečnými dunami a široce otevřenými písčitými plážemi. Leží poblíž krásného města Rye z Cinque Port. Dobře stojí za výlet! Je zde také pobřežní město Hastings přibližně 30 min. S jeho slavnými rybářskými chatami a galerií Jerwood. Staré město je velmi okouzlující a plné neobvyklých obchodů, ale pláž je hlavně oblázky. Golf Místní oblast je bohatá na golfová hřiště s různou mírou obtížnosti. V lese Cranbrook se nachází celá 18 jamková dráha, která je vzdálena méně než 5 minut. V Biddendenu je v parku 3 18 jamkové hřiště nazvané Chart Hills a Dale Hill u Flimwell. Jak se tam dostat Gatwick je vzdálena 36 mil. Heathrow je 54 kilometrů daleko. Přístavy Doveru 40 mil a Folkstone 36 mil (pro tunel euro). Auto je nezbytné pro cestování, protože autobusová doprava je přerušovaná. Taxi mohou být použity, ale je třeba je rezervovat. Stanice Staplehurst s přímou linkou do Londýna za hodinu je vzdálena 15 minut. Vzdálenosti Benenden je asi 10 min. Chůze a je nejbližší vesnice. Tenterden a Cranbrook jsou asi 10 min. Autem, jsou obě zajímavé místa k návštěvě. Cranbrook s tím pracuje Windmill a Tenterden s parní železnicí. Bewl voda (také je to místo lapland UK), který je skvělý pro pronájem kol a zachycení trajektem kolem nádrže je asi 15mins autem. Slavné zahrady hradu Sissinghurst a Great Dixter jsou 10 min. autem. Další detaily Benenden má vesnický obchod a tradiční řeznictví. Pro větší obchody Tenterden obsahuje Tesco & Waitrose. V Cranbrooku se nachází supermarket co-op a farmářský obchod Hartley Dyke, který má také výbornou rybí prodejnu za výhodné ceny. V hotelu Cranbrook & Tenterden najdete bankomat a banky. Tenterden a Cranbrook mají sportovní haly krytých bazénů a veřejných tenisových kurtů. Apicius je restaurace s názvem Michelin ve městě Cranbrook. Západní dům v Biddenden je další restaurací s názvem Michelin. Bull v Benendenu má dobré občerstvení a Woodcock v Iden Green za rozumnou cenu. Fabios v Cranbrooku je Deli / kavárna a má lahodné italské jídlo a podává nejlepší kávu v okolí. Další zajímavá místa pod 10 mil: Cranbrook Tenterden Parní železnice Zámecké zahrady Sissinghurst Velký Dixter Hrad Scotney Hrad Bodiam Pashley Manor Veselí Marle Place zahrady a galerie Smallhythe Place Batemans Historická sbírka vozidel Rolvenden Muzeum hudby Finchcocks Biddenden a kaple Down Vineyards Bedgebury Pinetum Hempsted Forest Silcocks Organic Farm Shop Hartley Dyke Farm Shop a obchod s rybami Nedaleké zemědělské trhy se konají v Tenterden, Cranbrook a Sissinghurst Další sezónně otevřené zahrady, kopie žluté knihy k dispozici. Pod 25 kilometrů Tunbridge Wells Knole, Penshurst Doddington Place Hrad Leeds Godintonův park Camber Sands Žito Winchelsea Hastings Staré město a oheň Hills Nedávno zrekonstruovaný pavilon De la Warr z 30. let v Bexhill Během 30/40 min. řídit Goodnestone Park Gardens Canterbury katedrála Romney Marsh Church Útočiště ptáků Dungeness Typ umístění: Venkovský.
The Old Smock Mill is a gorgeous four storey building (three floors for the holiday let) it has carefully been restored to a very high level. With eighteen inch brick walls and white weather boarded tower it stands out on the landscape. The oak exterior staircase leads up onto the beautiful staging where you enter into the Mill. Massive beams span each floor carrying the original upright shaft giant spur wheel and sack hoist. It is a very unusual romantic and memorable place to stay. Each room has been carefully designed to be in keeping but comfort and modern facilities are well catered for. A welcome basket including the owners chickens organic eggs will be given on arrival.

Bedroom:
Beautiful French king size bed with crisp white cotton sheets. There is a beautiful old copper basin sink and taps and a unique pulley system for hanging clothes. Large beams hold the iron giant spur wheel a stunning spiral staircase leads to the bathroom.
Bathroom:
Double ended bath, pedestal basin and toilet. Walk in wet room shower with under floor heating. White fluffy towels and locally made hand wash are supplied as standard.
Kitchen:
The kitchen is well laid out with washing machine/dryer oven hob fridge/freezer dishwasher toaster kettle and a good range of saucepans frying pans cutlery glass and china.
Living Room:
Dining area with round table and four chairs.
Sitting area comfortable leather sofa and two chairs TV DVD player and WiFi. A gas wood-burning stove is great to sit by in the evenings.
Other:
The 9' wide staging where a round teak table and four chairs are supplied. A bench on the morning side of the staging and two teak steamer chairs for sunbathing. There is an area under a large old apple tree which can be used in the garden for barbecuing.
Cleaning/Towels/Linen:
All towels and linen is included. Each week the linen and towels are changed and the mill is cleaned.
Amenities/Facilities:
Barbecue, Parking, Views onto the owners garden.
Dishwasher, Fridge/Freezer, Hob/Stove, Oven, Tumble Dryer, Washing Machine.
Central Heating, Internet Access, TV.

About the area
Accessibility
The Windmill is not suitable for wheelchair use.
Outside
The area around the mill at first floor has a oak staging balcony 2.5 metres wide which encircles the mill. There are quality tables and chairs provided with teak steamers and cushions for relaxing in. A barbecue can be supplied to be used in an area in the garden not on the staging. The owners garden is private.
Coast/Beach
The local beach is Camber sands with its fantastic sand dunes and wide open sandy beaches. It lies close to the lovely Cinque Port town of Rye. Well worth a day trip! There is also the seaside town of Hastings approximately 30 min. away with its famous fishing huts and Jerwood Gallery. The old town is very charming and full of unusual shops but the beach is mainly pebbles.
Golf
The local area is rich in golf courses with a varying degree of difficulty. In forest Cranbrook there is a full 18 hole course which is less then five minutes away. In Biddenden there is a par 3 18 hole course called Chart Hills and Dale Hill at Flimwell.
How to get there
Gatwick is 36 miles away. Heathrow is 54 miles away. Ports of Dover 40 miles and Folkstone 36 miles (for euro tunnel) respectively. A car is essential for getting around as the bus services are intermittent. Taxis can be used but need to be booked. Staplehurst station with a direct line to London in under an hour is 15 mins away.
Distances
Benenden is around 10 min. walk and is the closest village.
Tenterden and Cranbrook are around 10 min. by car, both are interesting places to visit. Cranbrook with it's working Windmill and Tenterden with the steam railway.
Bewl water (also is the place of lapland UK) which is great for renting bikes and catching a ferry round the reservoir is about 15mins by car.
The famous gardens of Sissinghurst Castle and Great Dixter are 10 min. by car.
Further Details
Benenden has a village shop and traditional butchers. For bigger shops Tenterden contains a Tesco & Waitrose. In Cranbrook there is a co-op supermarket and Hartley Dyke farm shop which also has a great fish shop at good prices. There are ATM machine and Banks in both Cranbrook & Tenterden. Both Tenterden and Cranbrook have sports halls indoor swimming pools and public tennis courts. Apicius is a Michelin starred restaurant in Cranbrook booking essential. West House at Biddenden is another Michelin starred restaurant. The Bull at Benenden has good pub food and the Woodcock at Iden Green both reasonably priced. Fabios' in Cranbrook is a deli/cafe and has delicous Italian fare and serves the best coffee around.
Other places of interest under 10 miles away :
Cranbrook
Tenterden
Steam Railway
Sissinghurst Castle Gardens
Great Dixter
Scotney Castle
Bodiam Castle
Pashley Manor
Merriments
Marle Place gardens and gallery
Smallhythe Place
Batemans
Rolvenden Historic Vehicle Collection
Finchcocks Museum of Music
Biddenden and Chapel Down Vineyards
Bedgebury Pinetum
Hempsted Forest
Silcocks Organic Farm Shop
Hartley Dyke Farm Shop and fish shop
Nearby Farmers Markets take place in Tenterden, Cranbrook and Sissinghurst
Other open gardens seasonally, copy of the Yellow Book available.
Under 25 miles away
Tunbridge Wells
Knole,
Penshurst
Doddington Place
Leeds Castle
Godinton Park
Camber Sands
Rye
Winchelsea
Hastings Old Town and Fire Hills
The recently refurbished 1930s De la Warr Pavilion in Bexhill
Within 30/ 40 min. drive
Goodnestone Park Gardens
Canterbury Cathedral
The Romney Marsh Churches
The birdwatchers' haven of Dungeness

Location Type:
Rural.
Přístup pro hosty
Hosté přistupují k Millovi až k vnějšímu schodišťovému schodišti k jejich předním dveřím. Prostor v přízemí je soukromý a pro rodinné využití.
Guests access the Mill up the outside exterior staircase to their front door on the staging. The ground floor area is private and for family use.
Další věci, které stojí za zmínku
Mlýn není místo konání večírků a je určen pouze pro jednoho páru, pokud není předem dohodnuto jinak.
The Mill is not a party venue and is strictly for one couple only unless otherwise agreed in advance.
---
Parkování na pozemku v ceně
---
Komunikuj vždy jen přes Airbnb
Aby byla tvá platba chráněna, nikdy nepřeváděj peníze, ani nekomunikuj mimo webové stránky či aplikaci Airbnb.
---
Večírky nebo akce zakázány
Čas příjezdu je kdykoliv po 16:00
Security deposit is Kč8855
Please be thoughtful when arriving and leaving as the owner's house is nearby.
We request people not to smoke anywhere in the property.
Also guests should leave the property as they find it.
If there are any breakages which can happen to all of us can you just let us know so we can replace things for guests following on.
We are on a septic tank so please use the bin provided in the bathroom.
We're sorry but as we have a dog ourselves we don't allow pets.
Musíš také přijmout
Bez schodů to nepůjde - There are 3 flights of stairs the last one being spiral.
---
Clare couldn't have been more welcoming. The Mill has been restored to perfection, a beautifully, calming 'wood heaven' for those who have an eye for great workmanship. An absolute gem in a piece of the Kent countryside. Nish & Steve
---
The Mill is a lovely spot in the yield of Kent surrounded by gorgeous countryside. We stayed here during our wedding and we thoroughly enjoyed it. The bed was ridiculously comfy and the views from the balcony were just wow. Clare was always very quick and helpful in her response. We'd definitely recommend.
---
Clare's place is the absolute best of airbnb: a wonderfully thoughtful host, a unique location, and an incredible home steeped in history. This windmill is even more spectacular than the pictures show, and Clare's detailed restoration is stunning. My husband and I ended our honeymoon with four nights here, and we loved this romantic home. Clare has thought of everything. From the fresh bread and cider to the soft bathrobs, we couldn't have asked for anything more. MTC taxi was wonderful since we didn't have a car with us. Perhaps our favorite thing about our stay was wandering through the breathtaking footpaths that run through the countryside. The windmill is just a few steps from a footpath entrance, and these beautiful trails run for miles in all directions (search public footpaths on the Kent County website). We followed them to both Benenden and Rolvenden on different days. These long afternoon walks were the perfect compliment to snuggling up in the beautiful windmill. If we are ever back in Kent, we will be sure to return to this incredible place again.
---
A perfect little bolt hole straight after our wedding! The windmill is absolutely gorgeous: decorated so tastefully and sparkling clean. The space is homely but very stylish. We had a wonderful couple of days just chilling out and catching up after our wedding. Communication was great and everything went smoothly, we could not recommend this more!
---
Pokud hosté potřebují podporu vedle sebe, máme tu ruku a rádi pomůžeme. Jinak hosté zůstávají v soukromí.
If guests need support being next door we are at hand and are happy to help. But otherwise guests are left to their privacy.
Hello I enjoy painting in oils, gardening and seeing gardens, cooking and having great meals with the family. We love to holiday in the West country by the sea. With the Windmill I have worked to create an interesting space for people to share and enjoy. The Windmill is set in our garden and we are delighted to meet the guests who will be staying although you are left to be as private as you wish. We have Ash our golden labrador and Maisie the kitten who is very much the boss.
Freshly laid eggs from our organic chickens are given as part of your welcome basket.
We look forward to meeting you in our relaxing surroundings.
Index odpovědí:
100%
Rychlost odpovědí:
během jednoho dne
Podobné nabídky ubytování