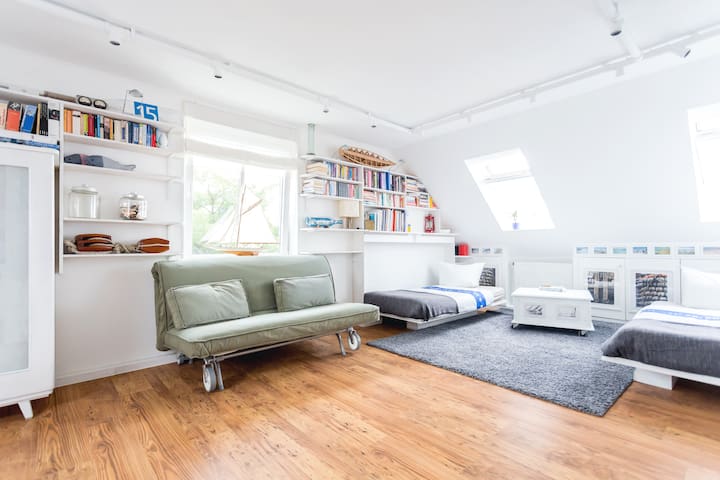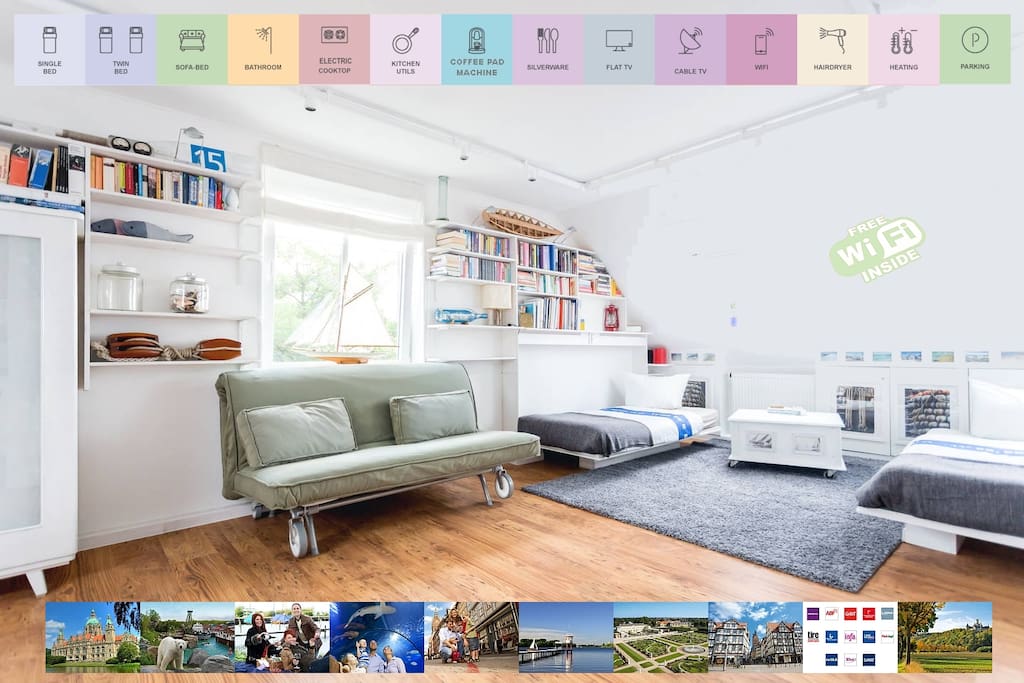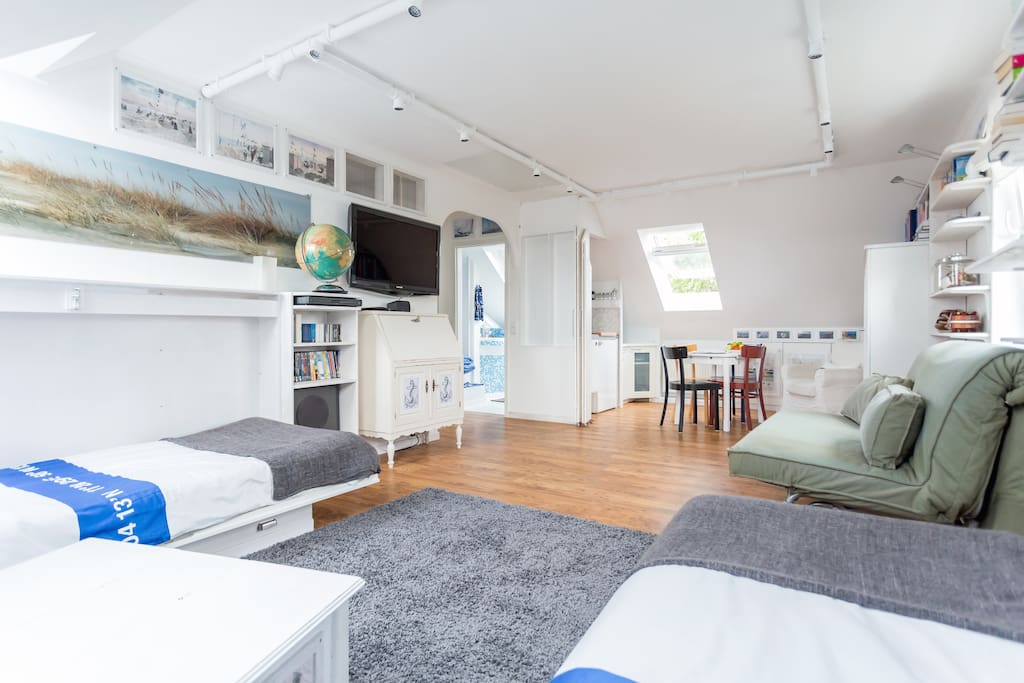 Welcome ღ to Towerland-Studio, Hanover!
Have the top floor of our uniquely designed townhouse to yourself!
The studio with ensuite bathroom/kitchenette - sleeps up to 4 (+2)
Privacy, linens/towels, free WiFi and street parking included, offer the comforts of home. Maritime holiday atmosphere, nautical details, will make your stay a very special travel experience.
Nearby tram U6 takes you directly to:
• The Fairgrounds → 8min to [Messe/Ost (Expo Plaza)]
• Downtown/City Center → 20min to [Kröpcke]
Místo
Trade fair dates, City break, Mini vacation or stopover?
☆ Welcome ღ to Towerland-Studio, Hanover! ☆
★ Just click on 【+ More】 to read the details. ★
…
☆ WELCOME H|O|ME! ☆
Visit the capital of Lower Saxony on business or leisure and stay with us in the self-contained, maritime styled, top floor studio apartment with all the comforts of home, while just blocks (400m) to tramway line: U6 which will take you regular to the fairgrounds or downtown to all the sights.
» details @ [Getting arround] below
★ BOOKING ADVICE ★
• PLEASE read the entire ad!
• Communication is the key!
• We are based on mutual trust!
• Quick favor if transparency!
• Send a few words:
» about yourself,
» names of all fellow travelers
» and the reason of your trip.
» Feel free to ask about all the things you didn't find here!
• Airbnb first timer?
» Remember: It's a home not a hotel!
» Help/tips?, check [Other things to know] and FAQ below!
» You fill most likely find an answer right at your fingertips!
★ YOUR SPACE ★
» This spacious and open little studio apartment is perfect for
• single traveler, couples, small families or groups who wish to get to know the city and its locals through personal contact
or
• business travelers who prefer a furnished apartment to a hotel.
• In the south of the City, we are your safe harbor and after "stormy days on the sea" (the hustle and bustle of the city ...) you always have your perfect berth. Spend active days and enjoy wonderful nights in this quiet, safe and urban location. The Studio has plenty of space to relax and unwind; and if you want to stay with your entire crew "aboard", there is even place to 4 (+2*) passengers.
Note: 6 passengers with add. mattresses on the floor - only on prior request, please. Thanks!
• As your private "Crew on board" we will do everything possible to make you feel at home and make your urban cruise a pleasant one. We live downstairs and are always available to answer any questions you might have.
★ THE STUDIO☆AT A GLANCE ★
• Single beds at port- & starboard side
• IKEA PS HÅVET double sofa bed
» see bedding and add. sleeps below
• Wardrobe w/ hooks
• Cozy armchair
• Dining table & chairs for 4 (+2)
• Unlimited WiFi (free)
• 40" flat screen TV (German cable)
• Blu-Ray + DVD Player + Radio/ Surround Sound
• Selection of CD's, DVD's & Blue Rays
• Desk with socket for notebook
• Charging station for iPhone/iPad/Android
• Small room library
• Central heating for your comfort all year round
• Lots of information/flyer about Hanover
★ YOUR PRIVATE BATH with:
• shower, basin and toilet
• hair dryer & toilet paper
• some bath amenities (hotel size)
★ YOUR KITCHENETTE with:
• coffee pad machine (Senseo)
• kettle and toaster
• fridge freezer
• 2 ring stove
• pots, dishes, plates, glasses and cutlery
• pantry essentials: coffee pads, milk, tea, sugar, salt, oil etc.
» We provide the basics you need if you would like to cook as well, but loads of dining options at the district means that cooking is always optional at the studio.
★ INCLUDED ★
• fresh linens
• all hand & bath towels
• high-speed Wi-Fi (free)
• free public parking next to the house
• loads of local insider tips
• Yep! of course our hospitality ;-)
» extra services on prior request
★ ON REQUEST ★
• you get iron & ironing board
• child travel cot and high chair (free)
• for stays longer than 3 days
» access to washer and dryer
★ SLEEPING ARRANGEMENT* ★
• 2 single beds (90x200cm)
and / or
• 1 IKEA double sofa bed (160x200cm)
• 1 child travel cot
*Maximum occupancy listed as 6* persons, however we will make exceptions for groups and families traveling with young children, as there is an additional mattress and/or an air bed available.
*6 guests ON PRIOR REQUEST!
★ SURROUNDING ★
• The district Bemerode offers an excellent infrastructure due the proximity to the fairgrounds. The EXPO - settlement is well puplic transport located - and offers through the adjacent woodlands also many opportunities for recreation. There's the Kronsberg with 118 meters above sea level. On top you have a wonderful overview of Hanover.
• The tram on stop down the road is the best way to in and out of the city but for the local area its best experienced on foot. Everything is so close if you move too fast you'll miss it!
• Minutes walk to supermarkets / shops / restaurants / ATM around the district square "Thie".
• Just four blocks (400m) from the metro line U6, it has all of downtown/main station/airport accessibility for leisure and business and direct transfers to the Exhibition Grounds and downtown Hanover.
» see GETTING AROUND below
-----------------------------------------------
★ GETTING AROUND ★
☆ TRAVEL W/ TRAM IN ZONE 1 ☆
• 400m to tram stop
• Ticket: €2.60 | Day: €5.20 | Group: €10
• regular 10 minutes take tram line: U6 to:
→ Direction: [Messe/Ost (Expo Plaza)]
» just 8 minutes to the Hanover fairground [entrance east],
the Old EXPO 2000 Area, The Expo Plaza or The TUI Arena.
or
→ Direction: [Nordhafen]
» just 20 minutes to downtown City Center subway station: [Kröpcke]
At this central subway station, you've all opportunity to explore Hanover in walking distance. Possibly go along the "Red Thread" to discover sights - including the Opera House, New Town Hall, City Lake Maschsee, Historic Old Town and Market Church and of course the famous Nanas Sculptures at Leineufer. Or just for a shopping tour. ;-)
» with a change you will reach many sights:
• The Central Station
• The Royal Gardens Herrenhausen
• The Sea Life Hanover
• The Hanover Congress Centrum HCC
• The Hanover Adventure Zoo
☆ TRAVEL TIME BY TRAM ☆
• Hanover fairgrounds (Messe) = 8 minutes
• Hanover downtown City Center = 20 minutes
• Central main station = 25 minutes with a change
• Hanover Adventure Zoo = 25 minutes with a change
• Hanover Airport Langenhagen [HAJ] = 45 min with a change to S-Bahn
» We provide Links and details on how to get around using public transportation. Check our "Logbook" for any details.
☆ Maybe a day trip in the region? ☆
We have a lot of information about the historic towns:
• Hildesheim → 30km
• Celle → 40km
• Hameln → 50km
• Braunschweig → 60km
• Wolfenbüttel → 75km
• Goslar → 90km
• Lüneburg → 120km
• Göttingen → 120km
and
• The Autostadt Wolfsburg → 85km
☆ DISTANCES BY CAR ☆
• 3.5 km » Hanover fairgrounds
• 5.0 km » Motorway A7 (E45): exit Laatzen
• 5.0 km » Aviation Museum Laatzen-Hanover
• 7.0 km » Aqua Laatzium / Public pool
• 10 km » Hanover Central Station
• 12 km » Hanover Tram Museum
• 27 km » Marienburg Castle
• 30 km » Hanover Airport [HAJ]
-----------------------------------------------
Přístup pro hosty
• 24h přístup přes sdílené přední dveře a schody. • Pojďte a jděte, jak chcete! -----------------------------------------------
• 24h access via shared front door and stairs.
• Come and go as you please!
-----------------------------------------------
Vztahy s hosty
• Vždy vás budeme osobně pozdravit a přivítat a kdykoli budete mít k dispozici jakékoli otázky nebo požadavky. Stačí zaklepat na náš obývací pokoj nebo zavolat na mobil. • Víme, co znamená zajistit, aby váš pobyt byl bez stresu a že jsme odhodláni ke všem hostům a každému pobytu! • Jsme zkušení hostitelé i cestující. Komplexně chápeme potřebu rychlé a účinné reakce našeho hosta. Když požadujete rezervaci nebo (URL HIDDEN) vrátíme se zpět do hodiny. • Interakce: - tolik nebo málo - jak se vám líbí. To je na tobě! • Poskytujeme informace o Hannoveru, doporučujeme mnoho zajímavostí a jak používat veřejnou dopravu. Také si prohlédněte "Töwerland-Studio Logbook onsite - pro jakékoli podrobnosti. Ať už se jedná o kyvadlovou dopravu, prohlídky města, nebo co se děje v Hannoveru? V případě jakýchkoli dotazů nás neváhejte kontaktovat. ☆ ATTRACTIONS, ZKUŠENOSTI A TOURS ☆ Hannover má mnoho různých atrakcí a zkušeností, které si můžete vychutnat. Zvláště v letních měsících je spousta událostí, které byste se měli podívat. Spolupracujeme s Hannover Event Agencies a nabízíme Vám lístky a balíčky, kde je to nutné. Takže jakmile jste si objednali Studio, můžeme začít pomáhat plánovat, co dělat, když jste tady. • Máme nějaké DIY-projekty na místě, pokud máte zájem vidět to jen dejte nám vědět. -----------------------------------------------
• We will always greet and welcome you personally and are available anytime for any questions or requests.
Just knock on our living room or call us on mobile.
• We know what it means to make sure your stay is stress free and we are committed to every guest and every staying!
• We are experienced hosts as well as travelers. We completely understand our guest's need for quick and effective response. When you request a booking or have a question, we will be back in touch within an hour.
• Interaction: - as much or as little - as you like. That's up to you!
• We provide information about Hanover, recommend many sights and how to use public transport. Also check out the "Töwerland-Studio Logbook onsite - for any details.
Whether shuttle service, city tours, or What's going on in Hanover?
For any questions, please do not hesitate to contact us.
☆ ATTRACTIONS, EXPERIENCES AND TOURS ☆
Hanover has many different attractions and experiences to enjoy. Especially in the summer months there is whole host of events that you should check out. We work in association with Hanover Event Agencies to offer you tickets and transfer packages where needed. So once you have booked the Studio, we can start helping you plan what to do when you are here.
• We have a some DIY-projects onsite, if you interested in seeing it just let us know.
-----------------------------------------------
Další věci, které stojí za zmínku
★ AIRBNB FIRST TIME GUEST ★ • PROSÍM použijte skutečné profilové fotografie a ověřte si podrobnosti. • Vytváření důvěry a komunikace • Budovat důvěru, komunikovat a klást otázky. • Pečlivě zvážíte vaše potřeby rezervace. • Podívejte se na recenze a přístup hostitele. • Před odesláním rezervace vždy kontaktujte hostitele. " Žádný problém! Jako zkušení hostitelé ABB jsme viděli hodně. ;-) ★ ČASTO KLADENÉ OTÁZKY (FAQ) ★ (Nebudeme psát, pokud nebudeme o to požádáni). --- Otázka: Existuje veřejná doprava a jak daleko je to? Odpověď: Ano. Tramvajová linka (6): 400 m od zastávky tramvaje: [Feldbuschwende] oopposite do pekárny. --- Otázka: Jak daleko je na výstaviště (Messe)? A: Jen 8 minut nebo 4 stanice - tramvají: U6 --- Otázka: Jak dlouho trvá do centra - centrálního města? A: Jen 20 minut nebo 12 stanic tramvají. (Viz plán tramvaje, jedna z našich fotografií.) --- Otázka: Mám používat soukromá data ?: e-mail, číslo mobilního telefonu atd.? A: Ano! Jak vás můžeme kontaktovat o víkendu? --- Otázka: Jaká je vaše místní adresa? Odpověď: Na naší plné adrese je uvedeno potvrzení rezervace, které obdržíte. --- Otázka: Je třeba přinést ručníky, povlečení nebo vysoušeč vlasů? A: Ne! Nabízíme všechny tyto věci. Stejně jako u některých toaletních potřeb (hotelová velikost) --- Otázka: Pronajmeme si "soukromé studio". Kolik soukromí mám? A: 100% - Žijeme na ostatních samostatných podlažích s vlastní koupelnou a obývacím pokojem. Nebudete se probudit a nepotřebujete jít na špičky až do noci. A v podstatě: Během svého pobytu máte úplné soukromí. --- Otázka: Mám vlastní koupelnu? Odpověď: Ano. Koupelna je součástí studia a vaše soukromí během vašeho pobytu. --- Otázka: Mám soukromý klíč? Mohu přijít a jít, jak se mi líbí? Odpověď: Ano a Ano. (A my bychom nedůvěřovali žádné reklamě Airbnb, kde tomu tak není.) --- Otázka: Co znamená "Flexibilní" doba přihlášení / odhlášení? Odpověď: Budeme se snažit realizovat přihlášení a odhlášení, bez ohledu na to, jak pozdě je. Upozorňujeme, že předčasné odbavení není vždy možné, zejména pokud přijmeme hosty ráno, potřebujeme čas na přípravu studia. Obvykle je naše studio připraveno ve 14:00 a check-in, po 15:00 je vůbec žádný problém. Pro včasné odbavení nebo na pozdější odlet můžete vložit zavazadla. --- Otázka: Máte výtah? A: Ne. Ale pomůžeme vám s vámi. Slibujeme, že to není velká věc. --- Otázka: Obrázky jsou docela v pohodě? Je to opravdu tak, jak to vypadá? Odpověď: Ano. Ve skutečnosti je studio ve skutečnosti o něco větší, než je vidět na fotografiích. K dispozici je 30 metrů čtverečních a je zde dostatek místa k relaxaci a odpočinku. --- Otázka: Lůžka jsou také pohodlná? A: Cítí se samozřejmě jinak. Máme přinejmenším velmi dobrou matraci z IKEA - ale bez proužků. (Podívejte se také na naše recenze!) --- Jedna poslední věc: Protože jste si přečetli všechny informace, vaše žádost o rezervaci zvýšila šance. Stačí začít slovy, "Aye, aye Skipper, ..." na začátku vaší zprávy. A Woohoo! Vy jste spravovali naši reklamu! ;-) -----------------------------------------------
★ AIRBNB FIRST TIME GUEST ★
• PLEASE use a real profile photo & verify your details.
• Creating trust and communicate
• Build trust, be communicative and ask your questions.
• Carefully consider your booking needs.
• Check out the reviews and host's approach.
• Always contact host before sending a booking.
» No prob! As experienced ABB hosts, we've seen a lot. ;-)
★ FREQUENTLY ASKED QUESTIONS (FAQ) ★
(We would not write if not asked for.)
---
Q: Is there public transportation and how far is it?
A: Yes. Tram Line (6): 400m to the tram stop: [Feldbuschwende] oopposite to a bakery.
---
Q: How far is it to the fairgrounds (Messe)?
A: Just 8 minutes or 4 stations - with tram line: U6
---
Q: How long does it take to downtown - central city?
A: Just 20 minutes or 12 stations by tram. (See tram plan, one of our photos.)
---
Q: Should I use private data?: e-mail, mobile phone number, etc.?
A: Yep! How we can contact you at the weekend?
---
Q: What's your local address?
A: Our full address is included the booking confirmation you'll get.
---
Q: Need to bring towels, sheets or a hair dryer?
A: Nope! We offer all these things. The same for some toiletries (hotel-size)
---
Q: You rent a "Private Studio". How much privacy do I have?
A: 100% - We live on the other separate floors have our own bathroom and living room. You will not wake up and don't need to go on tiptoe late into the night. And basically: You have complete privacy during your stay.
---
Q: Do I have a private bathroom?
A: Yes. The bath is part of the studio and your private during your stay.
---
Q: Do I have a private key? Can I come and go as I please?
A: Yes and Yes. (and we wouldn't trust any Airbnb ad, where this isn't the case.)
---
Q: What does "Flexible" check-in/-out time mean?
A: We will try to realize your check-in and check-out, no matter how late it is. Note that early check-in is not always possible, especially if we adopt a guest in the morning, we need time to prepare the studio for you. Usually, our studio is ready at 2pm and check-in, after 3pm is no problem at all. For early check-in or for a late departure flight, you are welcome to deposit your luggage.
---
Q: Do you have an elevator?
A: Nope. But we'll help you with your luggage. We promise it's no big deal.
---
Q: The pictures are pretty cool? Is it really as it looks?
A: Yes. In fact, the studio is actually a bit larger than seen in the photos. There are 30 square meters and there is plenty of space to relax and unwind.
---
Q: Are the beds also comfortable?
A: It feels any different, of course. We have at least very good mattress from IKEA - but without strips. (look out our reviews also!)
---
One last thing: Because you have read all information, your booking request increased chances. Just start with the words,
"Aye, aye Skipper, ..." at the beginning of your message.
and Woohoo! You've managed our ad! ;-)
-----------------------------------------------
---
Tato nabídka má nezbytná vybavení pro služební cesty.
---
---
Osoby navíc Kč502 / noc každý další host
Komunikuj vždy jen přes Airbnb
Aby byla tvá platba chráněna, nikdy nepřeváděj peníze, ani nekomunikuj mimo webové stránky či aplikaci Airbnb.
Zjistit více
---
Pokoj 1
2 jednolůžka, 1 rozkládací pohovka, 2 matrace na podlaze, 1 postýlka
---
Nevhodné pro domácí mazlíčky
Večírky nebo akce zakázány
Čas příjezdu 14:00 - 00:00
Samoobslužný proces ubytování pomocí lockbox
☆ Welcome to Hanover ☆ (en)
• smooth check-in
» Let us know your ETA (estimate time of arrival)
» If your arrival is delayed, inform during your trip.
• onside - fill our registration* form!
*For a possible comparison, your valid ID is required!
During Your Stay:
• No Smoking in the house!
• Leave the studio as you have found it!
• No parties, no outside visitors or overnight guests without previous approval!
• Do not engage in illegal activities anywhere on the property. Including downloads!
• If you break or damage something, please let us know and arrange for its replacement or repair.
• and last ... we have a cat downstairs!
(Please do not bring other pets.)
She lives with us on the ground floor and is really cute - but also very curious! So, always keep closed the studio, please. Thanks.
The totally private studio-apartment is on the 2nd floor of our private house. With shared house entry and the stairs to the 1st floor. We live in the ground floor and 1st floor, which means we're available for any questions.
We look forward to welcoming you in the The Töwerland-Studio!
Musíš také přijmout
Bez schodů to nepůjde - The Studio Apartment is located on the 2nd floor; with normal flights of stairs.
---
Detektor oxidu uhelnatého
---
1 noc minimální délka pobytu
---
Stay here! Amazing place!
---
Es war ein sehr angenehmer Aufenthalt. Udo&Bärbel waren sehr freundlich und alles lief reibungslos. Das Zimmer und das Bad waren sauber und ordentlich. Gerne wieder :)
Lieber Le Trung, wir freuen uns über dein Feedback und das Du einen tollen Aufenthalt bei uns hattest. Als Crew an Bord ;-) sind wir auch Herz und Seele unseres Hauses und sind immer begeistert, wenn alles Ok ist und immer wieder reibungslos verläuft. Danke, dass Du deine tolle Erfahrung mit unseren zukünftigen Gästen teilst. Wir hoffen dich bald wieder begrüßen zu dürfen. Bis dahin, wünschen wir dir eine gute Zeit. Viele Grüße Udo & Bärbel
---
Wir waren beruflich an der Messe Hannover die ganze Woche eingespannt. Normalerweise müssen wir morgens immer lange Autofahrten und Staus in Kauf nehmen um zur Messe zu gelangen. Auch die Preise sind bei Messen immer dementsprechend hoch. Nicht so bei dieser Wohnung, super Zentral von der Messe, 10 min mit Auto. Auch das Stadtzentrum erreicht man mühelos mit der Straßenbahn in 20 min. (Fußmarsch bis zur Haltestelle zirka 5 min). Auch die Natur kommt nicht zu kurz, direkt hinter dem Haus geht's ins Grüne, wo man Joggen, Radfahren.. ausspannen kann ;) Gerne wieder!
Hallo Oliver, vielen Dank das du dir Zeit genommen hast, deine Erfahrung mit uns und unseren zukünftigen (Messe) Gästen zu teilen! Wir freuen uns total, dass ihr einen tollen Aufenthalt bei uns hattet! Auch das unser ruhiger Stadtteil mit seinen Einkaufsmöglichkeiten und die Nähe zur Straßenbahn direkt zur Messe oder in die Innenstadt - sowie Ausstattung und Komfort unseres Studio's so gut gefallen hat! Wir freuen uns darauf, euch bald wieder begrüßen zu dürfen! Vielen Dank für das Vertrauen!
---
Eine sehr gute Unterkunft.
Hallo Kai, vielen Dank, dass Du dir die Zeit genommen hast uns ein kurzes Feedback zu geben. Wir sind sehr froh, dass Ihr euren Aufenthalt während der Messe bei uns im Studio genießen konntet. Wir freuen uns über ein Wiedersehen zur EMO 2019. Danke für dein Vertrauen.
---
Super Unterkunft und super Gastgeber. Es stimmt wirklich alles. Ich freue mich auf meinen nächsten Besuch :-)
Hallo Tim, vielen lieben Dank, dass Du Dir die Zeit genommen hast, uns so ein tolles Feedback zu geben. Es ist immer toll zu lesen, wenn es unseren Gästen bei uns so gut gefallen hat. Wir freuen uns sehr, dich bald wieder bei uns in Hannover begrüßen zu dürfen. Sonnige Grüße - Udo & Bärbel
---
Tolle Wohnung, stilvoll eingerichtet. Wir haben nichts vermisst :)
Liebe Katja, vielen Dank, dass Du dir die Zeit genommen hast, uns ein kurz-und-knapp ;-) Feedback zu geben. Wir freuen uns, dass alles perfekt für euch pefekt gewesen ist und das ihr nichts vermisst habt. Unser Studio ist gerne ein "Zuhause in der Ferne" und wir freuen uns diesen Platz zu teilen. Danke für dein Vertrauen! Liebe Grüße, Udo & Bärbel
---
Hey, wir sind Udo & Bärbel! (see English below )
und leben im Südosten von Hannover - im Expo 2000 Stadtteil, Bemerode am Kronsberg. Ganz in der Nähe vom Messeglände, der Expo Plaza und der TUI-Arena. Wir verbringen viel Zeit mit der ღ Familie ღ und wir lieben Coastal Living und Shabby Chic. Sehr gerne verreisen wir auf einfache und authentische Weise. Uns ist es wichtig, dass wir nicht nur Städte, tierreiche Nationalparks und abwechslungsreiche Landschaften entdecken, sondern auch den gastfreundlichen Einheimischen kennenlernen - nachhaltig und mit seinen persönlichen Vorlieben. Damit sich die Vielfalt der Welt in unseren Reisen wiederspiegelt, suchen wir immer wieder einen bunten Mix aus verschiedenen Unterkünften, Ausflügen und Transfers. Während unserer Reisen sind wir gerne flexibel unterwegs und unternehmen einzelne Ausflüge gerne auch in kleinen Gruppen mit einem Tour Guide. Städte und Länder erkunden wir nicht nur mit öffentlichen Verkehrsmitteln oder dem Mietwagen - sondern auch gerne mit dem Fahrrad oder mit dem Boot.
Airbnb macht's möglich: Denn während unserer Reisen übernachten wir gerne in landestypischen Unterkünften – vom einfachen Heuhotel bis hin zum komfortablen Beachhouse am Strand.

Unsere Reiseliste ist unendlich, aber ...
ツ "Wir können nicht immer verreisen - und so bringt Airbnb, einfach die Welt zu uns." ツ

Seit 2014 sind wir - Gastgeber für Reisende aus der ganzen Welt. Ob es nun die erste Airbnb Reise ist, oder die 10te Erfahrung - genieße deinen Aufenthalt bei erfahrenen Superhosts. Für uns bedeutet Gastfreundschaft, viel mehr als nur ein kurzes "Hello & Goodbye" oder gar eine anonyme Schlüsselübergabe. Erfahre das Beste über Hannover von lokalen Einheimischen. Wir sind gerne für dich da, um deine Fragen zu beantworten und um sicherzustellen, dass Du einen angenehmen, unvergesslichen Aufenthalt in Hannover hast. ... und wenn es die Zeit erlaubt, tauschen wir uns gerne über Reiseziele und Traumreisen aus. ;-)

Etwas, das viele Leute nicht wissen ...
Für unsere Sandsammlung - freuen wir uns über jede mitgebrachte Sandprobe vom Strand. Danke. ;-)
- - - - - - - - - - - - - - - - - - - - - - - - - - - - - - - - - - - - - - - - - - - - - -
Hey, we are Udo & Bärbel!
and we live in the southeast of Hannover - conveniently located in the Expo 2000 district, Bemerode on Kronsberg. Just near the Fairgrounds, the Expo Plaza and the TUI Arena. A lot of time we spending with ღ family ღ and we love Coastal Living and Shabby Chic. We delighted, traveling on a simple and authentic way. It's important that we discover not only cities, national parks and varied landscapes but also the hospitable people and get to know the long term with his personal preferences. So that the global diversity is reflected in our travels, we always are looking for a mix of different types of accommodation, excursions and transfers. During our travels, we are need flexibility on the way and take individual trips also like in small groups with a tour guide. Cities and countries we explore not only by public transport or car, but also happy with the bike or by boat. Airbnb makes it possible: Because during our trips we like to stay in typical lodging - from simple hay hotel to comfortable beach house.

Our travel list is endless, but ...
ツ "We can't travel all the time, so Airbnb brings the world to us." ツ

Since 2014 we hosting travelers from around the world. Whether it's the first Airbnb trip, or the 10th experience - enjoy your stay with experience superhosts. Hospitality is much more than just a quick "Hello & Goodbye" or even an anonymous key handover! Get the best of Hannover by locals! We are helpful without being intrusive and we are here to answer your questions and make sure that you have a pleasant and memorable stay. If time permits, we love to share experience about lifestyle, culture, locations and dream trips. ;-)

Something many people don't know ...
For our Sand Collection - we look forward to every sand sample from the beach. Thanks. ;-)
Jazyky:
Deutsch, English, Français
Index odpovědí:
100%
Rychlost odpovědí:
do hodiny
Podobné nabídky ubytování
Objev ostatní možnosti v Hanover a okolí
Další ubytování v Hanover: