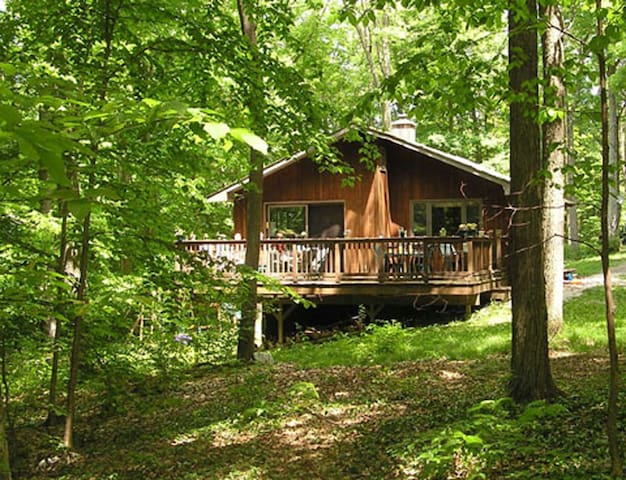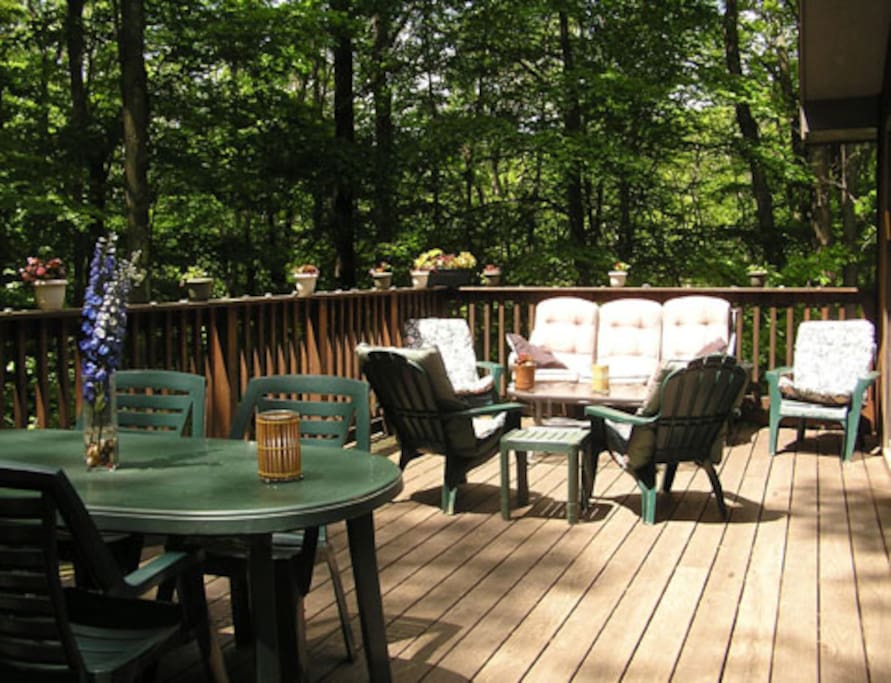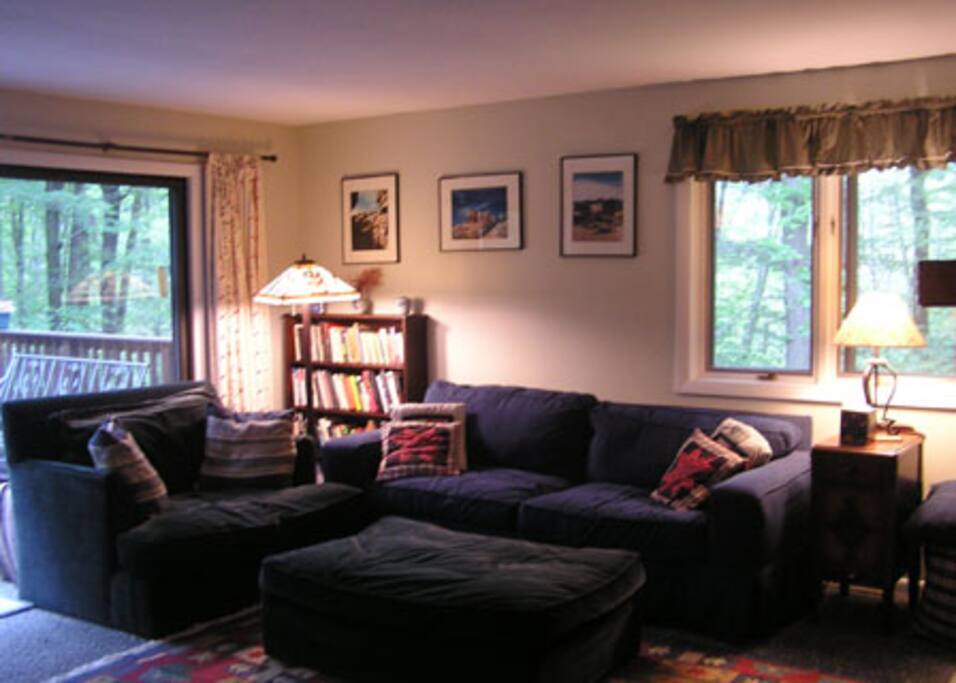 The vacation house at Whitman Woods offers privacy with proximity to excellent skiing at Jiminy Peak and to many cultural attractions of the Berkshires, "America's Premier Cultural Resort", including Williamstown Theater Festival, the Clark Art Museum and Tanglewood. For hikers and outdoor lovers, Whitman Woods is only a short drive from Mount Greylock Reservation and many other parks and natural areas. Or just stay home and enjoy the large deck that overlooks four acres of woodland privacy.
Místo
This 4-bedroom, 2 full-bath, 1,500 square foot house sleeps up to eight people. A comfortable living room offers satellite television, an excellent stereo system, a DSL Internet connection, and a working fireplace for cozy winter evenings. The kitchen is fully equipped for quiet dinners or entertaining and the dining room is elegantly furnished with a cherry dining table and oak sideboard and offers bay window views of the woodland and its seasonal changes. The spacious deck makes summer and autumn days and evenings a memorable experience.
Další věci, které stojí za zmínku
GUEST COMMENTS
Sep 15-17, 2017 Thank you for opening your home to our family. This is a beautiful home to make memories. Nature at the doorstep and all around. So peaceful and refreshing. The coyotes serenaded us late at night and the owls kept us good company. Thanks again! --Jeff, Michelle, Jess, Jackie, Mattie, Marti, Lisa
August 26 - September 2, 2017 Thank you for a lovely stay in the Berkshires! So many great towns to explore and the house is nicely located. We look forward to our next adventure here! --The M. Family
August 23-24, 2017 This cabin felt like a big hug. Just had yogurt and blueberries in the morning on the deck. The air is so crisp and cool. This place is huge!! It could even possibly fit two families vacationing together- The upstairs and downstairs both have 2 bedrooms, a bathroom, and living room/ den. Or possibly a huge group of friends. I've never seen the Berkshires before, and the drive through was simply amazing. Once you get here, you're right in the woods. It's gorgeous! There are a few small trails, but not a ton of outdoorsy activities directly on the property. However, there's plenty to do in the area, and they provide a curated booklet of activities, restaurants, and places of interest. If all else fails- they have Netflix and wifi. Thank you. What a wonderful place! --Chantilly
August 14-21, 2017 A wonderful, restful retreat! Enjoyed it all--here and the environs! --Sara & Lou
August 5-8, 2017   We enjoyed our stay very much & hope to visit your great location again. --David
July 12-24, 2017 Thank you for a great time at your vacation home! We enjoyed it so very much! --Tina & Tim
July 4-5, 2017 Thank you very much! Our group had a lovely stay at Whitman Woods. I hope you had a great 4th of July! --Renee
July 1-4, 2017 We have had a wonderful time, thank you so much for providing such a charming place for us to stay. --Julian
June 22-29, 2017 Thank you so much for the great space. We had an amazing time, and it was my first trip to the Berkshires, and it was magical. Peace, from the Pacific Northwest! --Kevin & Agnes
February 21-26, 2017 A wonderful place for a family ski getaway. Minutes from the slopes and very convenient. The house is very nice and clean, full of books and loads of toys for the little ones. We loved it for our vacation and are definitely coming back! Thank you for a great vacation house. We loved your book collection! Everyone found something to read! It's like staying at the library! --Joanna
February 17-21, 2017 K-K 4th annual family ski trip! We had a wonderful time! Enjoyed being able to all be together in one place and especially loved being able to eat together at 'home' and sit by the fire after kiddos went to bed. Thank you!
--Staci & Seth
February 2-5, 2017 We had the most wonderful time relaxing in your beautiful home after two long days of skiing! The comfy beds, warm fireplace, and top notch tape collection kept us cozy and happy all weekend. Thank you for giving us such a lovely vacation from our busy lives! --Mary, Liz, Tessa, Alex, Neil, Michael & David
January 26-29, 2017 Thanks so much, the L. Family had a great skiing weekend with the warmth of your home. May the seasons treat you with many blessings. --Dick L.
January 12-16, 2017 Your home was the perfect weekend getaway for our group of friends here for skiing and sharing winter memories. The fireplace was wonderful, the kitchen well-stocked for us cooks, and the views and light from the big picture windows were a great antidote to the winter blues. We even heard a pair of coyotes on our last night here! You've made a very cozy and welcoming place in Whitman Woods! --Friends of the M. family--Megan, Dan & Stella
January 12-16, 2017 Whitman Woods was welcoming, warm and so well-stocked! Such a pleasure to settle in for a long weekend with kids and friends. And close enough to Jiminy Peak for our son to walk home while the rest of us enjoyed some night skiing. Thanks for thinking of everything! --The M. Family
Nov 22-25, 2016 Thank you - a wonderful stay! The thick snow made for a special quality in the scenery and the well-plowed driveway made it all easy. The house is very welcoming, comfortable and easy especially the fireplace and wood supply! --Jeanne & Gregor
Nov 4-6, 2016 Thank you for allowing us to stay in your home! We had a wonderful weekend. Your home in the woods is cozy, and was perfect . . . exactly what we were looking for! Will look forward to staying here again! --Darren & Gjie
Oct 21-24, 2016 Even with the bad weather we had a great weekend at your wonderful home in the woods. Thanks again! --Rob & Beth
Sep 22-25, 2016 We have had a wonderful time. Thank you so much for the chance to enjoy your lovely home in the woods! --Terry & Lila
August 7-21, 2016 We enjoyed our stay at the house. It was very comfortable for all of us. Thank you for an enjoyable 2 weeks. --Elaine & Vince
July 16-29, 2016 We enjoyed a lovely two weeks at Whitman Woods. The house was perfect for the five of us (2 adults & 3 children). Thank you for the hospitality. --The H. Family
June 24 - July 8, 2016 Thank you for the use of your cabin during our stay in the Berkshires. We certainly enjoyed our stay. --Mary & Jeff
May 27-29, 2016 Five alumni from Le Moyne College (in Syracuse, NY) met up at your lovely cottage for an all-too brief reunion weekend. We sang, we hiked, we ate far too many hot dogs. It was phenomenal. This was such a great experience to get away from our respective cities. Thank you. --Andrew
May 14-18, 2016 Thank you for the house. The place was everything we wanted. Hopefully each spring we can rent from you. --Jeff
March 18-20, 2016 This house was just perfect for us! Thanks so much for your hospitality. The adults and kids all made themselves at home. We are already thinking about when we can come back next year! --The E. & R. families
February 18-21, 2016 Thank you so much! We had the most wonderful time. The house was absolutely perfect. It was so cozy and welcoming. It's been a while since we were all able to get together so we thank you for this amazing reunion! --A.H. reunion
January 15-18, 2016 Thank you for sharing your home with our family. Three generations were here -- everyone was comfortable. Skiing, hiking, laughing & sharing favorite memories. This will be a new one to add "a weekend in the Berkshires." --Laurel & family
Dec 30, 2015 - January 2, 2016 We had a wonderful time! When we got there we thought the house was amazing!!! Skiing was so fun; this house is so cozy. We love your house! --Whitney & Lyla
Oct 17-20, 2015 We had a terrific time staying at Whitman Woods. My sisters, their husbands and my husband and I enjoyed the hiking (although the trail was not discernible due to too many fallen sticks and, of course, the leaves), the fireplace, found some great things to do in the area -- e.g. Jiminy Peak, Hancock Shaker Village and dinner at Hops & Vines in Williamstown. My daughter and her husband and 2 twin 3-year old girls came for a visit and loved the leaves, the climbing structure, the toys downstairs and the book of poetry for kids. Thank you so much for providing this delightful place for our family get-together. We will have fond memories of our stay there for years to come. --Meg
Oct 10-12, 2015 Such a perfect place for a weekend getaway. The kids loved the toys (indoors & out) and we all enjoyed the beautiful, cozy place in the woods. --Haleh, Kiran, Michal, Dani, Itay, Guy & Naomi
Sep 26, 2015 - October 3, 2015 Another wonderful week at your great home! We love how secluded the house is and of course enjoy the quiet. --Manny & Colleen
July 11-18, 2015 I believe this is our 8th time at Whitman Woods. As always, it was a wonderful retreat from our usual busy routine in Boston. That said, we found plenty to do. We visited four museums (Clark, MassMoCA, WCMA & Rockwell), saw plays at Berkshire Theatre Festival and Shakespeare & Co., and hiked the trails at the Clark where we also took in a free concert. We dined at all our old faves and found a couple of new ones -- Haflinger Haus in Adams and North County Pastaria in North Adams. We love the location of Whitman Woods because it's so secluded yet equidistant from all the things we love to do. As always, we found the house clean and well-stocked. It's always a pleasure. --Anne & Ken
Dec 1, 2013 - March 31, 2014 Thank you very much for sharing your house with us. We had a great time and the kids say it is "their ski house." It is like a second home for all of us. See you next season. --Susana & Jeannette
Oct 11-14, 2013 Thank you for the beautiful home in the woods. The four bedrooms, large kitchen/living area were more than we could've asked for. We loved the fireplace and the fact that there was plenty of wood for a roaring fire was great! We loved the large deck on the cool crisp nights. We have been coming to this area for 40+ years and this is one of the nicest homes/most well-equipped place we've stayed. We hope to be back next year. Thanks again. --David, Sandra & Family
Oct 4-7, 2013 Thank you so much! We had a fantastic time in your lovely home. We have never felt so relaxed as we did this weekend. It is so peaceful and quiet here and was the best escape from our busy lives. We hope to be back soon! --Nick & Jessica & Friends
August 20-24, 2013 We had a really good time in your cozy house. We loved playing games and eating food on your deck. We enjoyed nearby Mass MOCA, Tanglewood and Mt. Greylock. Thanks for providing such a cozy and inviting home. --Jordan & Family
August 9-11, 2013 Thank you! We had a great time! Place is awesome for kids and families. We had four kids age range 2-5 years and they had a lot of fun. Well stocked play room and play structure outside; safe and fun environment; beautiful deck, location in the woods. Great time. Thank you. --Marjorie & Family & Friends
July 28-31, 2013 Thank you so much for for the stay. We enjoyed your cabin in the woods and spent most of our time out on the back deck. Even while we were out, we looked forward to the deck and a fire when the evenings got chilly. --Suzanne & Steve
July 13-20, 2013 Thanks so much for another great week at Whitman Woods! We always appreciate how clean and well-stocked the house is and how comfortable and pleasant it is as well. We did a lot this time -- plays at Shakespeare & Co., Berkshire Theatre Festival and Williamstown Theatre Festival, museum days at Mass MOCA, Williams College Museum of Art and the Clark, a free outdoor concert at the Clark, a day at the Mount and a day at Hancock Shaker Village. All recommended! Fave dinner places: Water St. Grill, the Olde Forge, and Espana. See you next year! --Anne & Ken
June 29 - July, 13, 2013 We've loved being in the Whitman Woods house. We had a great time at the house, and in the area -- much appreciated. --Tom & Carol
June 16-24, 2013 First impressions -- Wow! Thank you. The woods are great. I love the sound of the wind in the trees. Wish it had gotten cold enough for a fire. --The M. Family
Sep 28-30, 2012 Despite a full weekend of rain, we had a wonderful time. We went to interesting museums and the Shaker Fall Fair. The house was cozy and warm. We enjoyed the fireplace and well stocked kitchen. It was so relaxing that it seemed like longer than 2 days. Thank you for letting us stay a few hours longer. --The T. & K. Families
August 26-30, 2012 We had a lovely stay at Whitman Woods. The house is fabulous! The house was clean and comfortable and well stocked with entertaining games, books, music and movies. We especially enjoyed being in the woods and the wonderful large deck and beautiful grounds. Thanks so much for having us! --Paul & Chani & Family
July 5-12, 2012 We enjoyed staying at Whitman Woods. It is well equipped with everything needed. My kids enjoyed the playroom and playset, my husband enjoyed hanging out on the patio. I would highly recommend to anyone. While here we visited with friends, went to Vermont, Mt. Greylock, Jiminy Peak, and attended my 20th high school class reunion. Our trip is now coming to an end and back home to SOCAL we go! Thanks again for the wonderful memories! --Aaron, Kristin, Austin & Kenzie
June 8-10, 2012 Thanks for a wonderful stay! We had a wonderful time at Whitman Woods, and it really was perfect for our needs. Thanks again for making everything great! --Peter, Amy, Bart, Christina
Oct 13-22, 2011 I suppose we are your first family from the UK to stay at the house. We will be recommending it to our friends back home. Accommodation was just what we wanted, the location was lovely especially the chipmunks who entertained us when we watched them from the deck. The Berkshires as we remembered them from our last visit in 1994 are still beautiful, the autumn colours being spectacular. --Leann, Peter, Emma, Chris
Oct 7-10, 2011 We have been renting houses for a few years now. This has been the most comfortable, cozy and well-stocked house. We enjoyed our stay and our kids were very happy with the selection of toys and books. --Verma, Joshi & Dave
Sep 9-11, 2011 Enjoyed our stay. Family from SC, CT, CA & WA were able to be together for a wedding and spend some quality time in a comfortable setting. --Phil & Giny
Sep 2-5, 2011 Thanks for the lovely weekend. You have a beautiful house and were so kind to share it with us for Labor Day. --Kyle, Sarah, Jeff, Paul & Will
August 22 - Sep 1, 2011 Thanks! --Daniel, Anne & Lorin
July 29 - August 5, 2011 The cozy, home-like accommodations were perfect for our family reunion. We loved the deck and enjoyed stargazing! --Kent & Mary
July 9-16, 2011 We're finishing up our 5th year at Whitman Woods and we love it just as much now as we did the first time. Friends from Michigan joined us for a few days and they enjoyed it as much as we did. This year we saw "Tommy" at the Colonial Theatre in Pittsfield, visited Naumkeag, heard Joshua Bell at Tanglewood and visited the Williams College Museum of Art, the Clark and Mass MoCA. Today we spent some time at the top of Mt. Greylock -- look for our pictures on (SENSITIVE CONTENTS HIDDEN). Thank you, as always, for a great time. We would recommend Whitman Woods to anyone, any time! --Anne & Ken
June 24-26, 2011 It was our second time at Whitman Woods and it was a wonderful weekend. It is quickly becoming an annual tradition for a meetup of friends from NYC and Boston. Thanks for the hospitality! We love your cozy, comfortable home! --Talin & George, Arpi, Jennifer, Mark, Karen & Sevan
February 19-26, 2011 We had a great visit, enjoyed ourselves immensely. We spotted a fox a couple of times and that lead the kids to run through the woods following animal tracks. Thank you very much for everything, it was a great family vacation. --The B. Family
Dec 26-28, 2010 We've had so much fun at your lovely house in the woods. It started snowing right after we arrived and at least 16" fell. Our 3 children had a fabulous time playing in the snow, skiing and playing games in front of the fireplace. Here are some thoughts from our group(URL HIDDEN)"We're very impressed that the driveway was plowed early in the morning without our needing to phone.(URL HIDDEN)"I appreciate the WIFI!(URL HIDDEN)"I loved the fire.(URL HIDDEN)"Your chairs are very comfortable.(URL HIDDEN)"We love the selection of music.(URL HIDDEN)"You have snazzy phones.(URL HIDDEN)"Love the book selections."
We hope to come back in the summer! --Deanna, Jim, Scott, George, Justin, Olivia
Oct 23-25, 2010 We loved staying here! It was so nice to get away for a weekend, having great times by the warmth of the fire. We are a bunch of friends that don't get to see each other very often. The Berkshires are between where we live, so we all met up to celebrate multiple birthdays. This place was exactly what we imagined when we decided to do this. A cozy, nice cabin in the woods but equipped with all the modern conveniences, most importantly, a fireplace! Thanks for a memorable weekend. --Heather
August 21, 2010 - Sep 6, 2010 Carolyn and I and our family thoroughly enjoyed your wonderful house. It was exactly what we hoped for -- and made our stay "delicious". I hope you will make it available next year. --Bob & Carolyn
August 14-21, 2010 Thanks again for another beautiful year! The house and area was everything we could imagine and more! We had a relaxing time -- now back to the city grind! Grrr(URL HIDDEN)Thank you for keeping the house immaculate! --Manny & Colleen
July 24-29, 2010 We had a great time! The babies loved playing on the deck. We loved being in the woods and really enjoyed the house. Great CD collection -- esp. jazz -- only disappointment was that the "Raffi" CD was missing (babies love Raffi). Thank you for everything and hope to stay again soon. --Ellen & Mike, Sofia & Alex (9 mos.)
July 17-24, 2010 Another wonderful week at Whitman Woods -- our 4th year! As always, we appreciate how clean and well-stocked the house was. We had great weather and saw 2 plays, 2 concerts and 3 museums and did a lot of walking, dining and hanging out here. We love it here. --Anne & Ken
July 2-5, 2010 We had a wonderful time at Whitman Woods over 4th of July weekend. Thanks for letting us stay at your home. --George & Talin and our "gang"
June 21-28, 2010 Thanks for everything -- Charles, Judy & George loved everything -- added Bonus -- it was wonderful when our grandchild Mya visited -- all the toys & videos, Thomas the Train, etc. Thanks again. --Charles, Judy & George
March 27, 2010 - April 4, 2010 Thank you again for letting us enjoy your home. We had a great week. We look forward to coming back again some time. --The O. Family
March 4-7, 2010 We had such a great time in Whitman Woods. You have a beautiful house with great amenities. We loved the fireplace and the secluded location. Jiminy Peak was a great time. --Steve, Wendy, Spencer & Lily
February 26-28, 2010 We really enjoyed our stay here. The house is great with a great location right next to Jiminy Peak. Jomary and I look forward to returning one day with the kids. --Mike, Jomary, Dennis, Emily & Eric

February 14, 2010 - February 21, 2010 Came to escape the world. What a great refuge! Everything was excellent! You have a beautiful home with a lot of amenities. Hopefully I can get back again maybe this time with my boys. --Christine
February 11-14, 2010 We want to thank you so much for a wonderful stay. The house was perfect with everything we needed. We hope to come visit again soon. Skiing was great at Jiminy Peak. --The T. Family
February 6 -9, 2010 Thank you Peg & Bob for a wonderful long weekend. This was a gift from my boyfriend, and it was a fantastic one. We went skiing, hiking (his first winter hike; first hike ever actually), enjoyed making delicious meals and cozying up by the fire. This house was so conducive to relaxing and made all of those activities much more enjoyable. And the house is truly fully stocked (been to some rentals where that meant the kitchen had one pot) -- it makes it feel more like home. I also lengthened my reading list after browsing your books! If only I had more time! The long weekend flew by in a whirl of cozy contentment. We had a great time and look forward to coming back! --Adrianna & Jeff
January 15-18, 2010 Martin Luther King Weekend 2010: Thank you so much! We had a great time. The beds are very comfortable and the kitchen well equipped. A lovely get-a-way! --Sheila & Todd
Comfortable house and easy access to the slopes made for a very nice ski weekend. --Anne
I had a great time reading and enjoying your jazz cd collection while the rest of the crew went skiing. --Gayle
Comfy, cozy, and remarkably well-equipped cabin in the woods. What a welcome retreat from the daily grind and frenetic city! Thank you for sharing! --Kate
Dec 27, 2009 - January 3, 2010 Over the past ten years or so we have stayed in numerous rental homes near ski areas throughout New England. Whitman Woods is without question one of the most welcoming, homiest, well-stocked, clean and comfortable homes we have ever visited. Our family thoroughly enjoyed our stay here. The snowy weather helped provide excellent ski conditions as well! Overall we had a wonderful week and hope to visit your beautiful home again soon! --The T. Family
Dec 23-26, 2009 The three nights we've spent here were too short to fully enjoy all the offerings of this cozy little retreat. Everything we needed was here, and we've enjoyed cooking and relaxing by the fireside. It's been the perfect spot for our family to spend Christmas together. We love the private location but also appreciated the short drive to Williamstown and to Greylock. My husband ran from the north end of the reservation to the south entrance on Christmas afternoon–13 miles!–while the rest of us went for a respectable hike a few miles into the south end of the park. It was great to return to a warm cabin and enjoy Christmas evening sitting by the fire and listening to the great selection of music. Thanks so much for a memorable Christmas 2009. --The C. Family
Dec 6-9, 2009 We feel fortunate that we were able to stay here "between seasons." It was a perfect place for our mini-family renunion. Everything we needed was here. The accommodations were great. With some snow and some cold weather, we had a fire each night, warming up the living room and our conversation. Loved the variety of music and books for our short stay, too. Thanks. --The S. Family
Nov 25-30, 2009 After a 5 1/2 hour ride, what a wonderful, cozy home to find! Our kids loved the toys and movies. They settled right in. My son especially loved the play structure and the train tracks! My husband and I enjoyed sitting out on the deck and looking at the stars. Thanks so much. We will be in touch to do this again. --The D. Family
Nov 5-8, 2009 Thank you for opening your rental home to us. We had a wonderful time. The kids enjoyed all the toys and movies that you had here. We hope to come back again to ski in the winter. --The O. Family
Oct 16-19, 2009 We have enjoyed our time here very much. It was a great venue for my husband's 70th birthday. Our family from England enjoyed it too! Thank you for providing such a peaceful, comfortable place to celebrate with family. --Karen
What a place to reach documented old age! Wonderfully comfortable in a perfect setting. And we had no hint that the selection of books and music would be so good that we needn't have brought any of our own. --Martin
Sep 17-20, 2009 We had a great time at your home. It was our first visit here. The experience was awesome. Your home was comfortable, cozy and was everything we looked forward to. This trip was a family reunion and your home was a perfect place. Look forward to visiting again. Thank you. --The R. Family
August 15-22, 2009 Thank you so much for sharing this lovely vacation spot. We enjoyed it immensely. --Jude & Family
August 8-15, 2009 This was our first year here and we loved it! The house has everything anyone could need. Thanks so much for keeping the place neat and tidy. Despite a bit of a rainy week, we were able to make the best of it. Thank you for everything and we hope to be back next summer -- maybe for 2 weeks! --Colleen & Manny
"We just got back and the house is amazing! There is nothing you need to bring except food! The place is immaculate and there is more than enough room for a family of 4 or 5 (maybe more but it was just the 2 of us). We definitely want to go back next year for 2 weeks! The area is beautiful and there is plenty to do, even when it rains! We miss it a lot and can't wait to go back again."
July 18-25, 2009 We're here for the third year in a row and it was the best visit yet. We went to Mass MOCA, the Clark, WCMA, Tanglewood, the Berkshire Theater Festival and Naumkeag. Most mornings, we took a brisk hike up and down Whitman Road (somewhat more challenging than our daily 3 mile walk in suburban Boston); most evenings we were happy to hang out in the living room, reading or watching movies. This was a great break from our usual routine -- much enjoyed and much appreciated. Thank you! --Anne & Ken
July 11-18, 2009 Just a belated note to tell you everything went fine on our visit and we had a great time. I really appreciate your music and my IPOD now has some of your great music on it. Some of that 50's jazz is just about perfection, if you ask me. --Bob
July 4-11, 2009 Wonderful place–great to relax on the deck or in the living room–nice eclectic set of books and music–from Beethoven to mysteries–fine location for hikes in the Greylock area and accessible to Williamstown and Lenox. Thoroughly enjoyed our week! --Jane & Jed
February 14-21, 2009 We would like to thank you very much for allowing us to use your home. We had a great time. Your home is well equipped. Even though we brought a ton of stuff, it was nice to know that you already had your home prepared. Skiiing was great. Since your home was so close to the mountain, we were able to go home for lunch, relax and ski again. We took a walk through the woods and drove on the lake. It snowed while we were here and when we woke up, the driveway was already cleared. We would love to use your home again. Thanks. --The G. & R. Families
January 9 - February 12, 2009 We had a great time at your house playing outside, making a fire and skiing. Thank you soooo much. We loved the winter here. Have a great summer! --The G. Family
Dec 12-14, 2008 Your home was perfect for our first ski trip of the season! It was a wonderful stay here, but too short. It would've been wonderful to enjoy this cozy getaway a bit longer. We will always have our fabulous memories of celebrating a little girl's 12th birthday here in Whitman Woods. --Scott & Family
Dec 20, 2008 - January 3, 2009 You have a great place and a wonderful location. We had lots of fun! --Cathy & Paul
Oct 5-11, 2008 It has truly been a wonderful week. We were looking for quietude, away from cell phone connections and other intrusions--we found it here. The house is well equipped for just about everything and all was in good working order. We hope to return soon. --Jerry & Darlene
August 9-16, 2008 We're packing up to head back to Boston after another wonderful vacation at Whitman Woods. We had a great time here (even with the seemingly non-stop rain this week) and look forward to returning often! On a personal note, we celebrated our 25th anniversary while staying here and it was a beautiful spot to mark that occasion. Thanks so much for providing such a lovely house and for keeping it so well-stocked with anything that any guest might need. We greatly appreciate your efforts to provide your guests with a unique, relaxing and refreshing experience. Thanks! P.S. Love the Berkshire Book! --Anne & Ken
July 26 - August 9, 2008 We enjoyed our stay at Whitman Woods. The location was ideal and the house was cozy and comfortable. We hope to return next year to the beautiful Berkshires. --Gail, David, Joann & Dan
July 12-19, 2008 Thanks for a memorable week; we had a great time! --Naomi & Family
June 28 - July 5, 2008 We truly enjoyed staying in this house. It felt as comfortable as our own home. Thank you for furnishing it with the games, toys and movies that the kids enjoyed, as well as the books, DSL and grill that the adults enjoyed. The Berkshire book was very helpful and the fully stocked kitchen added a high level of convenience. --The C.'s & G.'s
Oct 19-23, 2007 We had a wonderful time here in your very comfortable home. As an added bonus, you threw in perfect weather! Our almost-2 year old son was also in heaven here: the train set downstairs and outdoor toys and multicolored leaves for kicking and jumping in were a huge hit. We felt very comfortable letting him run around freely in your safe backyard. We reluctantly return to our hectic life in NYC. We hope to return soon! For future guests we recommend: 1) Ioka Farm; 2) Five Corners for picnic fixings; 3) Mount Greylock; 4) The Cascades – a beautiful short hike in North Adams suitable for small children. --Bianca, Adam & Owen
Oct 15-17, 2007 Thank you – we had a lovely time and the house was very comfortable. Could I suggest a gate to go across the top of the stairs – we had a small, very curious and crawling baby, it would have been a great help. Otherwise, so well appointed. Thanks! --Tom & guests from Australia
Sep 28-30, 2007 We had a great weekend and spent all day Saturday at Jiminy Peak. We're all tired but happy. Your house is great. We felt right at home. Thank you. --Marylou, Tom, Kevin, Pat, Daline, Kaily
Sep 14-16, 2007 Thank you for sharing your beautiful home with us. We loved the lived-in feel, the comfortable rooms. You have an excellent place here! --J&H&B&M&B
Sep 2-9, 2007 We thoroughly enjoyed our stay here. We hiked all the way to Money Brook Falls yesterday. My mom and sister enjoyed being here also. Thanks for letting me know about Colorful Stitches in Lenox – it's a great yarn store. I'm still trying to convince Geoff to retire around here. --Mo & Geoff
August 19-26, 2007 Thank you for this special home in this beautiful location. It was the perfect retreat in the midst of our friend's hectic wedding schedule. We had a wonderful time at all events and relaxing in between at Whitman Woods. We hope your vacation was as enjoyable as ours was! --Julie & Bob
August 12-18, 2007 We've had a fantastic time. Your attention to detail has meant we have wanted for nothing. The wonderful books and décor have made us feel at home. The brilliantly researched information (plus all the links on your web site) saved time for us to concentrate on the wonderful sights and sounds of the area. Eating a meal in the glorious seclusion of the woods listening to Thelonius Monk is an experience we will be repeating to our friends in England. We look forward to coming back soon. Thank you. --Paul, Brigit, Sam & Eloise
August 5-12, 2007 This was the relaxing week all together we were all hoping for –--and all needed! The lay-out of the house was perfect for our group and we enjoyed being with nice collections of books, toys, CD's and games. A friend who came by is certainly contacting you for next year -- she loved the house too! Thank you for making this a lovely, comfortable place to stay. --Vera (NY), Melissa, Victor& Felix (San Francisco), Irene & Bernard (Paris) and Vic (Washington DC)
July 29 - August 5, 2007 It's with mixed feelings that we head back to Boston today. We're looking forward to getting back to our beloved Kitty and our garden -- but we're very sad to be leaving Whitman Woods. We had an idyllic week here – our best ever in the many years that we've been visiting the Berkshires. We especially enjoyed sitting on the deck or in the living room on cool evenings. We also slept very well in your comfortable beds. When we could pry ourselves away, we visited the Williams College Museum, Chesterwood in Stockbridge and Field Farm near Five Corners in Williamstown where we hiked through forests and meadows (and were glad we remembered the bug spray). Future guests might like to know some of our favorite eateries:
--Ye Olde Forge, just down Route 7 in Lanesboro. Great wings and other appetizers and a great beer selection.
--The '6 (1896 House) in Williamstown – a big airy barn of a place that's warm and friendly and relatively inexpensive.
--The Water Street Grille on Route 2 in Williamstown -- we had a nice last-night-of-vacation dinner there last night. Ken allowed himself one of their burgers as a rare treat and recommends it highly; I always get the chef's special pasta.
All in all a wonderful week. We'll be back! --Anne & Ken
July 15-29, 2007 Thank you for opening up your forest "retreat" to us. What a wonderful place! We enjoyed your fabulous book and music collection. We made great use of "Nature Walks in the Berkshire Hills", taking most of the easy/moderate hikes listed in this area -- and saw almost no one. We saw two good and one fantastic play at the Williamstown Theatre Festival, and laughed heartily at the Capitol Steps show at the Cranwell Resort in Lenox. The Norman Rockwell Museum was truly amazing (as was the Clark); we found other gems worth seeing, too. All in all a wonderful two weeks in a gorgeous setting. Thanks. --Karen & Bob
July 8-15, 2007 We had a great time here! It's a beautiful spot and such a comfortable and well stocked living space. The week flew by! We enjoyed walking down to the farm, sitting out on the deck. Christopher loved the "rec room" in the basement. We found a great place for breakfast on Route 7 going towards Pittsfield (right side) "Bob's" I think "Country Kitchen". Great food! Thanks for everything. --Scott, Christine & Christopher
June 27 - July 4, 2007 We have enjoyed our stay very much. The terrace is wonderful, and our city kids enjoyed the little playground as well as the playroom downstairs. The house is wonderful and comfortable. We might be back! --Claudia & Andrew
June 17-24, 2007 We're home!!! We could not have chosen a more peaceful, serene and beautiful home. Such a comforting and cozy home (with the correct touches). Great literature, fine music, fun movies -- plus, we made some great gourmet meals. We read and visited much of Bill Tague's photos. Lake Pontoosuc, Mount Greylock, Jiminy Peak, Cherry Plain State Park and pottery at Bennington, VT made us feel at home. We can't wait till next year. --Linda & Joe
June 1-3, 2007 A lovely home and setting! --Mike & Lucy
May 25-27, 2007 Although we reached the house at 12 midnight on the 26th, the driveway (long and winding) raised everybody's spirits. Entering the house just felt like we were already part of the extended family. The deck was perfect for nice weather usage and we took full advantage till late into the wee hours of the morning. We hope to be back sometime soon! --Nitin, Rohan, Renoi, Shanth, Anoop, Ashwi & Mukund
May 11-13, 2007 Though our stay was short we enjoyed the comfort of your home during our golf trip to the Berkshires. --Garry, John, Jim & Carl
April 26-30, 2007 We had a great weekend hiking, cooking on the grill, playing cards. Most of all the house was a very comfortable and homey place for us to stay -- very clean, very comfortable. We hope to come back again next year. Thank you so much. --Sean, May, Joe, Lee, Mike, Myra, Don, Marie
April 2-8, 2007 We had a great time here. It was perfect for our family and we spent a lot of time sledding with the kids and making fires in the fireplace. We hope to come back! --Nira & Xavier
Dec 21, 2006 - April 2, 2007 We had a great winter and really enjoyed your home. The mountain was great and we plan on coming back. Thanks again! --Tom, Nancy, Drew & Connie
Sep 8-10, 2006 Your Whitman Woods house was the perfect Berkshire oasis and best 30th birthday headquarters we could have asked for. Thank you for being friendly and helpful. We're already plotting a return visit. Next time, we'll hike to the top of Greylock when there's less thunder and lightning. You guys have the perfect base camp. --Veronica, Amy, Lysa, Emily, Leonora & Christie
August 12-19, 2006 Thank you for a wonderful vacation with our family. --Jack & Nancy
August 5-12, 2006 You have a very nice house. We have thoroughly enjoyed our stay here. It has been the vacation we were longing for. Thank you for everything. --Graciela & Marcelo
---
---
Pokoj 1
1 manželská postel
Pokoj 2
1 manželská postel
---
Nevhodné pro domácí mazlíčky
Čas příjezdu 15:00 - 17:00
- We mutually agree to the following: The property will not be occupied by more people than we have specified in this agreement. You will not allow dogs, cats, or other pets onto the property. Smoking is not permitted inside the house. Illegal drugs will not be permitted on the property. You will take care not to play excessively loud music or create a nuisance for neighbors. It is essential not to leave trash or food outdoors because they will attract raccoons, bears and other animals. During winter months, the driveway will be plowed at our expense, however, you are responsible for shoveling walking paths and around vehicles as needed; we will provide shovels and a salt and sand mix. Please remember to turn off the gas tank under the barbecue grill on the deck if you barbecue. The house will be clean when you arrive, and we request that you leave it in good order. Please notify us promptly of any damage or problems that arise. Unless there is an emergency, we will notify you 24 hours in advance prior to entering the property during your rental period.
Musíš také přijmout
Bez schodů to nepůjde - 2 steps up to front door; 1 flight between upper and lower floors
---
Žádná hodnocení (prozatím)
Tento domov nemá žádná hodnocení. Pokud se tady ubytuješ, tvé hodnocení se zobrazí zde.
Podobné nabídky ubytování
Objev ostatní možnosti v Hancock a okolí
Další ubytování v Hancock: