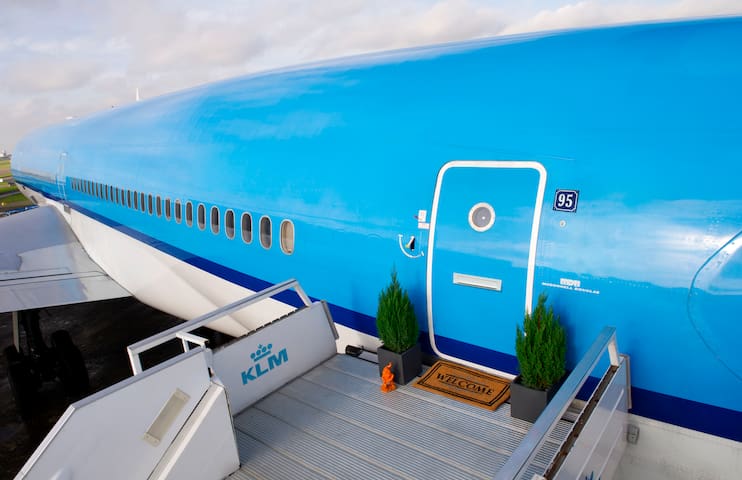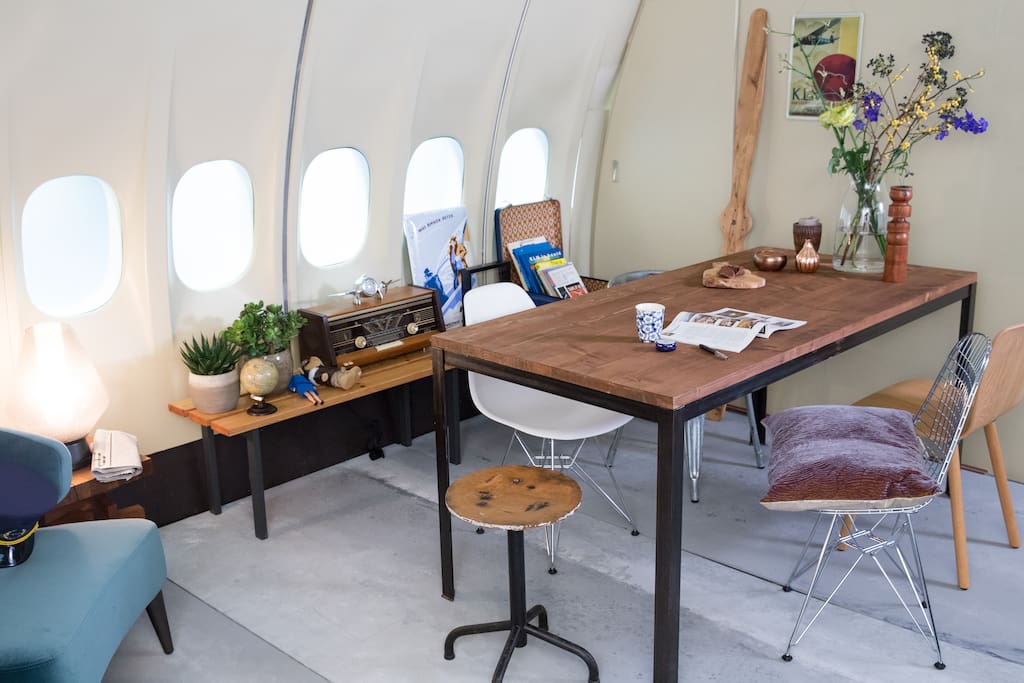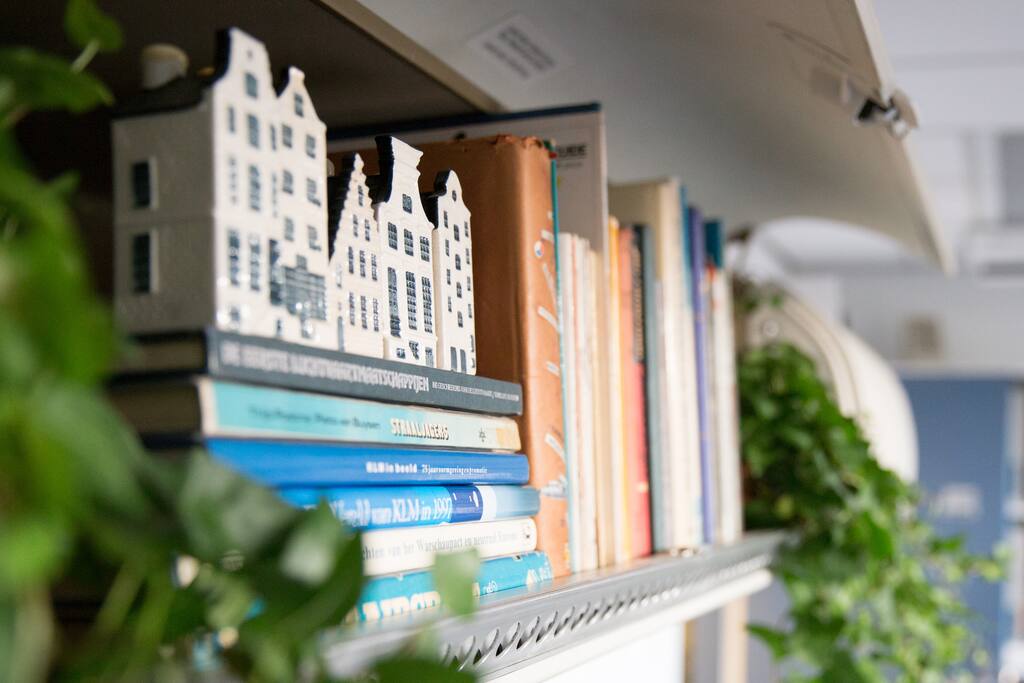 Spacious Airplane Apartment
** SOUTĚŽ ZAVŘENO ** Okno, které vyhraje noc v letounu KLM, je uzavřeno a tři šťastní vítězové byli kontaktováni. Děkujeme za prohlídku našeho loftového letadla!
**CONTEST CLOSED**
The window to win a night at the KLM airplane is closed and the 3 lucky winners have been contacted. Thanks for checking out our aircraft loft!
Místo
*** NEDIKONUJTE "Žádost o rezervaci *** Klepněte prosím na tlačítko KONTAKT. Vyberte si datum a řekněte nám, proč a s kým byste chtěli zůstat v bytě letadla! (V angličtině - max. 100 slov). Volání všech fanoušků letadla! Upevněte bezpečnostní pásy pro tento úžasný loft letadla. Poté, co překročíte svět kolem 3675 krát, bude tento krásný modrý a bílý paprsek dočasně k dispozici jako jedinečný obytný prostor. Dne 28, 29 nebo 30 listopadu máte možnost strávit noc uvnitř tohoto létajícího bytu. Řekněte nám před 20. listopadem, proč byste chtěli strávit noc. Letíme na vítěze z celého světa. Nachází se přímo u přistávací dráhy rušného letiště Schiphol v Amsterdamu, naše detašované letadlo přichází se všemi vymoženostmi a opravdu bude váš domov daleko od domova. Uvnitř jasného letadla o rozloze 366 m² se 116 okny najdete velký obývací pokoj, jednu hlavní ložnici, dvě dětská lůžka, dvě kuchyně a osm malých koupelen. K dispozici je Wi-Fi, toustovač, kávovar, komfortní prvotřídní židle, herní konzole a obří panoramatické okno kokpitu. Stěhněte se uvnitř posuvných vchodových dveří a ujistěte se, že jste doma. V naší knihovně je spousta knih a časopisů, které si můžete vychutnat. Posaďte se, užívejte si 12 metrů prostoru nohou a podívejte se na další letadla, které se vzlétají a přistávají na zadním dvoře. Spíše se díváte na film? V systému domácího kina jsou k dispozici klasické klasické prvky, jako jsou hadi na letadle, letce, špičkové zbraně nebo Disneyovy letadla. Naše kuchyně je malá, ale velmi funkční. Je vybaven vše, co potřebujete k přípravě jídla: příbory, pánve, nádobí, nádobí atd. K dispozici je také sporák a základní kamna. Neváhejte a využijte vše, co najdete v naší kuchyni a ledničce. Hlavní ložnice je vybavena pohodlnou postelí velikosti King, která zajišťuje dlouhý noční spánek. Rodiny s dětmi jsou vítány. Naše úžasná dětská místnost bude mít vaše děti pocit, jako by byli na mračno devět. Dodává se se dvěma lůžky a všichni malí piloti se musí udržet v ruce celé hodiny.
***DO NOT click "Request to Book***
Please click, CONTACT HOST, to participate. Pick any date and tell us why and with whom you would like to stay in the Airplane Apartment! (in English - max 100 words).
Calling all airplane aficionados! Fasten your seat belts for this amazing aircraft loft. After crossing the globe 3675 times, this beautiful blue and white jet will be temporarily available as a unique living space.
On November 28, 29 or 30, you have the chance to spend the night inside this fly apartment. Tell us before November 20 why you would like to spend the night. We'll fly in the winners from anywhere in the world.
Located right beside the runway of Amsterdam's bustling Schiphol airport, our detached airplane comes with all conveniences and will truly be your home away from home. Inside the bright 366m² plane with 116 windows you will find a large living room, one master bedroom, two children's beds, two kitchens and eight small bathrooms. It comes with Wi-Fi, a toaster, a coffeemaker, comfortable first class chairs, a game console and a giant cockpit panorama window.
Step inside the sliding front door and make yourself right at home. There are plenty of books and magazines in our library to enjoy. Take a seat, enjoy 12 meters of leg space and watch other planes take off and land in the back yard.
Rather watch a movie? All time classics like Snakes on a Plane, The Aviator, Top Gun or Disney's Planes are available on the home cinema system.
Our kitchen is small but very functional. It's equipped with everything you need to prepare your meal: cutlery, pans, ovenware, utensils, etc. There's also a cooker and a basic stove. Please feel free to use whatever you find in our kitchen and fridge.
The master bedroom comes with a comfortable king size bed that ensures a long haul night's sleep.
Families with children are welcome. Our amazing kids room will make your kids feel like they're on cloud nine. It comes with two beds and everything small pilots need to keep themselves busy for hours.
---
---
Komunikuj vždy jen přes Airbnb
Aby byla tvá platba chráněna, nikdy nepřeváděj peníze, ani nekomunikuj mimo webové stránky či aplikaci Airbnb.
Zjistit více
---
• No flying.
• Don't use the inflatable emergency slide.
• Smoking is not allowed when the non-smoking sign is on.
• No marshmallow roasting with the jet engines.
• Please water our plants and feed our fish.
• The consumption of alcohol is not allowed.
• Please treat our plane like you treat your own plane.
--- Contest Terms and Conditions ---
"A night in a KLM airplane"
NO PURCHASE OR PAYMENT NECESSARY TO ENTER OR WIN. A PURCHASE OR PAYMENT WILL NOT INCREASE YOUR CHANCES OF WINNING.
When you submit an entry for this contest, you agree with the Terms and conditions below.
DEFINITIONS
Contest Terms and Conditions: When you submit an entry for this Contest, you agree with these Contest Terms and Conditions.
Sponsor: The Sponsors of this Contest ("Contest") are Airbnb Ireland, The Watermarque Building, South Lotts Road, Ringsend, Dublin 4, Ireland ("Airbnb") and Koninklijke Luchtvaart Maatschappij NV (KLM), Amsterdamseweg 55, 1182 GP Amstelveen, the Netherlands ("KLM").
Contest: This contest regarding the "one night in a KLM airplane".
Contest Duration: The Contest runs from Novemb(PHONE NUMBER HIDDEN) at 12:00 Central European Time until Novemb(PHONE NUMBER HIDDEN) at 23:59 Central European Time by following the process below.
Web page: The Contest is accessible from this listing. You can visit the Contest via the Web page or via a link through other KLM Social Media Channels and Airbnb Social Media Channels.
Participant: Any natural person who has reached the age of 18 at the time of participation to the Contest and submits a Submission and represents that he or she will be available together with his or her Guest(s) on the possible Event Date(s) in case he/she is a Winner of the Contest.
Guest: Any natural person or persons with whom the Participant wishes to stay a night in a KLM airplane. There is no minimum age for a Guest, however for Guests who are less than 18 years old, any consent of a parent or guardian might be required.
Prize: The Prize consists of a night in a KLM Airplane at Schiphol Airport in an airplane that is remodeled and will not move during the stay (the "Event"), except if necessary for meteorological reasons. The lodging is provided by KLM. The Prize also includes an Economy Class return ticket for the Winner(s) and their Guest(s) to fly to Schiphol from their place of residence. And finally, each Winner will also receive an Airbnb coupon for a value of 500 EUR (or the equivalent in local currency).
Submission: the message in English submitted by the Participant on the Web page explaining in maximum 100 words why the Participant should win a night at a KLM airplane.
Winner: A Winner is a person to whom a Prize is awarded. Upon termination of the Contest Duration, the jury will select three Winners who will each receive the Prize (which they each can share with up to three Guests).
Event Date(s): The Event(s) will take place at a secured KLM area at Schiphol Airport (The Netherlands) on 28, 29 or 30 November 2014.
INFORMATION ON THE CONTEST AND THE PRIZE
How to enter. Participants may enter the Contest during the Contest Duration by following the process below.
Process. To participate in the Contest and to try to win the Prize described above, you have to:
1.go to this announcement page.
2.register with Airbnb (unless you already are a registered Airbnb user);
(website hidden) on the "Contact the Host" button by selecting any date on the calendar, select the number of guests that you would like to win the Prize for (between 2 and 4 guests)
4.send a message in English explaining in maximum hundred words why you should be the one to stay one night at a KLM airplane and tell us who you would like to bring as (a) Guest(s) (the "Submission").
Submissions must be received through the below process within the Contest Duration to be eligible.
Each Participant can only participate once. The Sponsors are not responsible for computer or network problems, problems with servers, problems with email accounts or the failure to receive any Submission for any reason whatsoever. By entering the Contest, Participants agree that they may be contacted by Airbnb or KLM in relation to the Contest and agree to take part in any publicity that occurs as a result of the Contest and grant Airbnb, KLM and their agents the right to use their personal data and/or image, as explained in more detail below.
Eligibility. The Contest is open to individuals who have an Airbnb account. The Contest is not open to residents of the following countries: Cuba, Iran, North Korea, and Indonesia. This means that you are not allowed to participate if you reside in one of these jurisdictions. By entering, you agree that the individual Winners will be selected from all entries received from various countries around the world. KLM and Airbnb employees and their (sub)contractors, as well as the members of their immediate families or households, are not eligible.
Prohibited Content. Submissions must not violate the rights of any other party, including but not limited to intellectual property rights or rights of privacy, publicity or other moral rights. Submissions must NOT contain: (a) advertising or commercial content for any party other than Airbnb or KLM; (b) content that endorses/promotes illegal or harmful activity; (c) violent, profane, vulgar, obscene, defamatory or otherwise objectionable material; (d) adult material; or (e) defamatory content. The Sponsors reserve the right to disqualify any Submission that violates these prohibitions, or that the Sponsors deem inappropriate for any reason, in their sole discretion.
Winner Selection. Three Winners will be selected from the submitted Submissions. In your Submission, you have to send a message in English explaining in maximum hundred words why you should be the one to stay one night at a KLM airplane. The Winners will be chosen entirely on merit, based on the following criteria applied by a panel of judges:
Originality and creativity of the Submission. How original is your Submission? Does it surprise and delight us?
The panel of judges will be comprised of Airbnb and KLM marketing and communications employees. The judges' decisions are final and binding. If substantially similar Submissions are submitted by different entrants, judges will select only the best version of that idea, as determined by the judges in their sole discretion.
License. By submitting a Submission, Participants grant the Sponsors a perpetual (or for the term of the protection granted by the relevant intellectual property rights), worldwide, irrevocable, royalty-free license to transform, edit, modify, reproduce, distribute, transmit, publish, broadcast, perform, display, or otherwise use the Submission for promotional or any other purposes, on or in relation to (website hidden), (website hidden) or related sites, with or without modifications, in any form or medium (including but not limited to: internet, any printed medium distributed via press, billposting, point of sale advertising, flyers, leaflets…), whether now existing or later developed, for entertainment, promotional and/or advertising purposes. To the greatest extent permitted by law, Participants agree not to invoke any so-called moral rights in relation to their Submissions (including without limitation the right to be identified as the creator of the work and the right to object to derogatory treatment of the work).
Notification/Announcement of Winner. In the event of a dispute about the identity of a Winner, the Sponsors will award the Prize to the authorized account holder of the Airbnb account corresponding to the email address that sent the winning Submission. The Sponsors may publicly announce the name of the Winner after the end of the Contest Duration, including through Airbnb and KLM social media channels.
Prize Conditions. The Prize is provided as-is with no express or implied warranty or guarantee. This Contest may be subject to applicable local laws and regulations, including but not limited to tax laws. The Winner is not responsible for any taxes applicable to or resulting from the award of the Prize. The Sponsors will have the obligation for any taxes that may be payable. The Sponsors may require the Winner, and where applicable, the Winner's Guest(s), to sign and return an affidavit of eligibility, a liability release and a publicity release permitting the Sponsors to use the Winner's name, image, voice and likeness and winning Submission in promotional materials where permitted by law and subject to applicable rules. Refusal or inability to sign and return such forms within 24 hours of receipt may result in disqualification and awarding of Prize to an alternate Winner. Winners and their Guests understand that they may be filmed when they redeem the Prize. As a precondition to redeem the Prize, the Winners will sign a release form that will allow the Sponsors to film their check-in and check-out and their stay at the airplane and to use that footage for worldwide marketing and commercial purposes. Winners will make sure their Guests agree with this as well and that their Guests will sign such release forms as well.
General Liability Release. By entering this Contest, Participants and their Guest(s) release the Sponsors and their agents from any liability whatsoever, on any theory, and waive all claims and causes of action arising from or related to this Contest or use of the Prize, to the extent permitted by applicable law.
Personal Data. By entering the Contest and submitting the Submission and any other personal information, Participants are expressly consenting to the processing of their personal information by the Sponsors for the purpose of the Contest or any associated publicity.
Participants agree to receive a maximum of two emails regarding this Contest from KLM and Airbnb. The Sponsors may send Winners more emails for Contest administration and Prize redemption purposes. In addition, the Sponsors will collect from the Winners and their selected Guest(s) the following personal data: first name, last name, gender, date and place of birth, street address, phone number, and email address. The Sponsors may process that data to securely organize the redemption of the Prize. Both Sponsors are data controllers for the processing of that data. Airbnb's privacy policy apply; KLM privacy policies applies as well. (website KLM travel/nl_en/customer_support/privacy_policy/privacy_policy.htm) The complete privacy policies can be found on the sponsors' respective websites.
Interpretation and Disputes. Participants agree: (a) to be bound by these Contest Terms and Conditions and all decisions of the judges, which are final and binding; (b) that any disputes shall be governed by the laws of The Netherlands, and shall be resolved only in the courts in The Netherlands, without resort to any form of class action or other form of collective action, to the extent permitted by applicable law; and (c) that they consent and waive any objection to the jurisdiction of said courts for any such disputes.
Miscellaneous. The Contest is void where prohibited. If any terms or provisions of these Contest Terms and Conditions are held by a court of competent jurisdiction to be invalid, void or unenforceable, the remaining provisions shall continue in full force and effect. To the extent permitted by applicable law, the Sponsors may suspend, modify or terminate the Contest if they believe, in their sole discretion, that malfunction, error, disruption or damage is impairing or will impair the administration, security, fairness, integrity or proper conduct of the Contest, in which case the Prizes will be awarded among the eligible entries received that were unaffected by the problem, if possible. Questions or comments may be sent to the addresses stated above.
IMPORTANT DISCLAIMERS REGARDING THE PRIZE:
-During the Event(s) the KLM airplane is located in a KLM secured area at Schiphol Airport (the Netherlands). In this secured area multiple security and safety measures are applicable and therefore the Winner(s) and his or their Guest(s) cannot leave the KLM airplane or the secured area, except in emergency situations. Of course, the Sponsors will do their utmost to make sure that the one night stay at the KLM airplane will be a wonderful experience for the Winners and their Guest(s).
-Absolutely no smoking or alcohol on the KLM airplane and at Schiphol Airport.
-The night at the KLM airplane will take place on 28, 29 or 30 November 2014. Winners cannot choose the exact date of the redemption of the Prize. Check-in will happen at Schiphol at 3pm CET and check-out will happen at Schiphol at 10.30am CET the next morning.
-The Winner can bring 1 to maximum 3 Guests. For Guests who are less than 18 years old, the Sponsors may require parent or guardian consent.
-The Prize is personal and cannot be sold or transferred to someone else. It can, but only with the Sponsors' permission, be transferred without gains or profit to a directly related family member if the winner is unable to stay at the plane themselves. If the winner does not or cannot accept the Prize, it reverts back to the Sponsors and it is at the Sponsors' sole discretion to award the Prize to the runner-up in this Contest.
-For those Winners as well as their Guests who have their residence out of the Netherlands the Sponsors will arrange an Economy return ticket from their residence to Schiphol East in order to redeem the Prize. Winner(s) and their Guests are themselves solely responsible to ensure they have a valid passport and any required travel documentation in order to travel to Schiphol (the Netherlands).
-The Sponsors are allowed to ask for a written confirmation or proof of the place of residence and age of the Winners and their Guests before awarding the Prize.
-In case of specific meteorological circumstances, the airplane may need to be moved and the Winners and their Guests will be required to cooperate.
-The Winners will make sure that they behave as good citizens during their stay at the KLM airplane and when they go through the security checks required to access the area where the airplane is located.
The total value of the Prize is approximately EUR 350 (or the equivalent in local currency). No substitution or transfer of the Prize is permitted. The Prize may not be redeemed for cash. If due to circumstances beyond Airbnb's or KLM's control, Airbnb or KLM are unable to provide the stated Prize, Airbnb and KLM reserve the right to award, as substitute, a Prize of equal or higher value.
---
---
1 noc minimální délka pobytu
---
Žádná hodnocení (prozatím)
Tento domov nemá žádná hodnocení. Pokud se tady ubytuješ, tvé hodnocení se zobrazí zde.
We are KLM. Also known as the Royal Dutch Airlines. We're from the land of windmills, cheese and Vincent van Gogh and live at Amsterdam Schiphol Airport, an international hub with nice restaurants, lots of shops and visitors from all over the world.

We were born in 1919 and actually just had the birthday bash for our 95th birthday. We've been traveling the world for as long as we can remember. Our biggest passion is meeting new people and discovering different cultures. Our first flight in 1920 took us to Jakarta and we've been roaming the planet ever since. Nowadays we fly to hundreds of destinations all over the world. We love Europe, Africa and the Caribbean, but also enjoy visiting America and Asia at least once a day.

Other stuff we love? Comfort, courtesy, art, good food, smart solutions, Dutch design and the color blue. But surely you will discover all that once you stay at our place for the night.

We welcome travellers from anywhere to make our home theirs!

Jazyky:
English, Nederlands
Index odpovědí:
0%
Rychlost odpovědí:
pár dní a více
Podobné nabídky ubytování