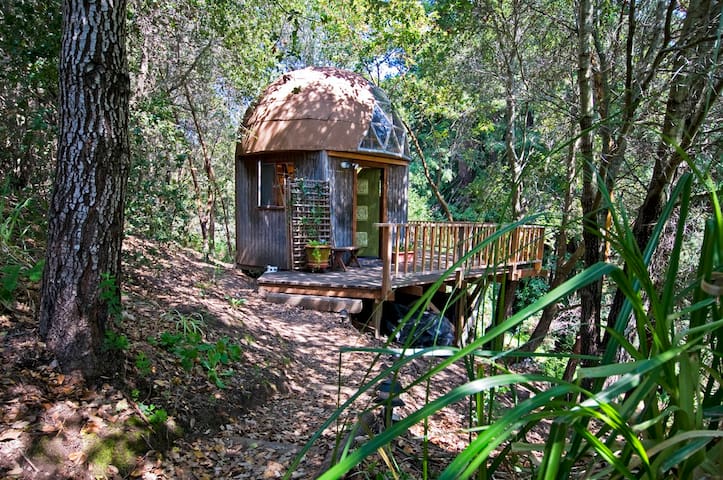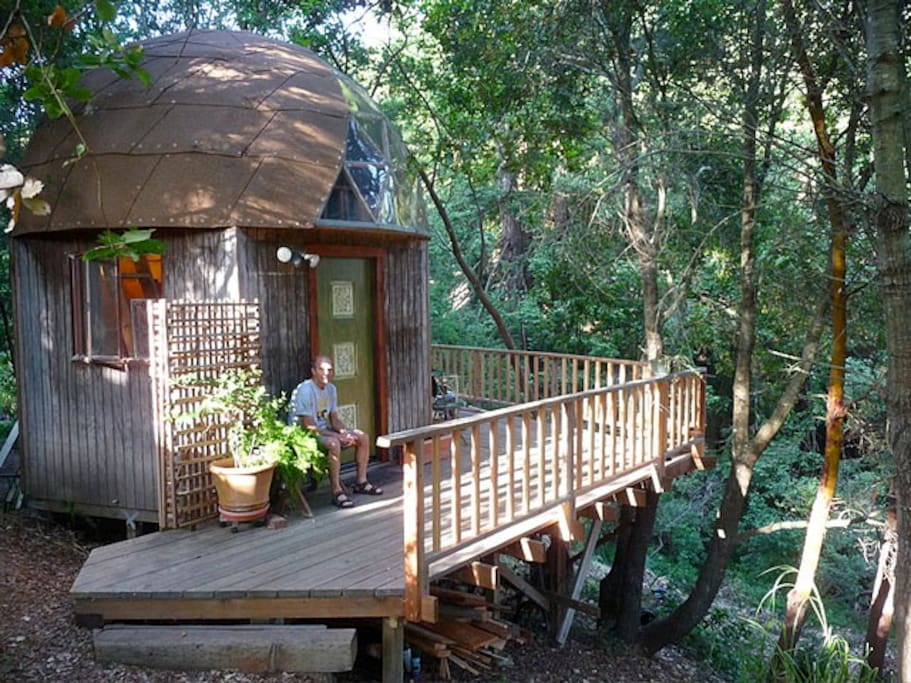 S geodesickou kopcovitou loftou a velkou palubou ve stromech budete mít pocit, že jste ve stromovém domě v lese. Jsme na klidném, ale výhodném místě. Stínované dubovými a madrónskými stromy a vedle háje Redwood si můžete vychutnat venkovní prostředí z paluby. V létě je v pohodě a v zimě se můžete dozvědět, jak se potok nachází níže.
With a geodesic dome loft & a large deck in the trees, you'll feel like you're in a tree house in the woods.
We are in a quiet yet convenient location. Shaded by Oak and Madrone trees and next to a Redwood grove, you can enjoy the outdoors from the deck. In the summer, it is cool and in the winter you might get to hear the creek running below.
Místo
Máme 10 akrů vedle půdy bez plotů, takže si můžete vychutnávat přírodu: stačí na palubě, vyrazit se do lesa, sledovat kolibříky, kočky, jít na pláž nebo hledět na hvězdy - jako dlouho jak měsíc není plný. ; ) V létě, pokud není žádná mlha, vidíme Mléčnou dráhu. Chcete-li zjistit dostupnost, klikněte na odkaz "Žádost o rezervaci". A ano, pokud to není k dispozici, je již rezervováno! Pokud chcete zůstat tady na víkend v létě, budete muset rezervovat požadavek asi 9 měsíců předem. Příležitostně však obdržíme storno, takže pokud chcete datum, které již bylo rezervováno, můžete nám sdělit a my vám oznámíme zrušení. (Před provedením rezervace si přečtěte celý popis.) Útulná a čistá semi-rustikální kabina má půdní vesta pod geodesickou kopulí ("hubice"). V podkroví je královna veliká super populární Casper matrace, která umožňuje velmi pohodlné spaní a jen visí, poskytujeme čisté povlaky a polštáře. K dispozici je také dostatek přikrývek. Druhým "lůžkem" je gauč, kterou můžeme udělat do postele. Pokud vás budou 2, ale chcete mít oddělené postele, uveďte prosím rezervaci na 3 nebo dejte nám vědět dopředu - je zde 10 dolarů. poplatek za použití jako postel. V podkroví máme 32 "HD plochou obrazovku a DVD přehrávač (bez televize) pro filmy. (Máme přes 80 filmů, které můžete také vidět.) Na hlavním patře (Pentagon) je pohovka a výsuvný stůl. Zajišťujeme malou ledničku, mixér, popcorn popper Hot Air, francouzský kávový lis, šlehač a pokrmy. Ano, máme otvírák na víno. Máme 2 stoly, kde si můžete vychutnávat jídlo, hry atd .: 1 uvnitř a 1 venku na velké palubě, která stojí před stromy. Na palubě máme také grilovací gril s bočním plynovým hořákem. Poskytujeme organickou kávu, čaje, ovesné vločky, popcorn, máslo, med, cukr, výživné droždí (pro popcorn!) Koření, olej a ocot a různé občerstvení. Naše studená voda je ošetřena ozonizátorem, UV zářením a měkkým vodním filtrem. Pokud máte dítě a nebudete potřebovat druhé lůžko, udělejte rezervaci 2 a dejte nám vědět, jestli budete potřebovat malou podložku na podkroví. Opět platí, že pokud jste 2, ale chcete použít druhé lůžko, uveďte prosím rezervaci na 3. Roztomilá koupelna má sprchu s travertinem, vlastní dlaždicové umyvadlo a samostatnou toaletu pro kompostování Natures Head. Někteří hosté měli problém s naší koupelnou, takže chci ujasnit, že máme záclonu dveří do koupelny a požadujeme, aby jste do odpadu vložili použitý toaletní papír. (nebude cítit) Pokud budete postupovat podle pokynů pro použití toalety, nebude mít žádný zápach. Pokud myšlenka na použití kompostovací toalety vás vyčerpá, pak si zde neprovádějte rezervaci. ; ). Poskytujeme ručníky, mýdlo, šampon, kondicionér, vysoušeč vlasů atd. (Je to opatrné: koupelna má nízký strop. Pokud máte více než 6 let, možná budete muset trochu klepat sem a tam.) Protože jsou soboty velmi žádané (a v sobotu máme rády v sobotu zdarma), vyžadujeme minimálně 2denní pobyt o víkendech. Mějte na paměti, že páteční a sobotní noci jsou 145 USD. každý. Proto zůstat zde na víkend bude stát 290 dolarů. plus $ 35. poplatek za úklid, poplatek za leteckou dopravu ve výši 40 USD a přechodná daň ve výši 11% z Santa Cruz County ve výši přibližně 35 USD. Takže na víkend bude celkem 444 dolarů. Chcete-li zůstat na 1 den v polovině týdne, stojí celková částka přibližně 200 dolarů. Při 3 denních prázdninách požadujeme 3-denní rezervaci. (To zahrnuje den prezidentů, den památek, den MLK a den práce). Ale zůstat zde víkend, obvykle musíte rezervovat kabinu 6 - 8 měsíců předem - pokud nemáte štěstí najít zrušení! Doba odbavení je od 4 do 10 hodin. Pokud chcete přijet dříve nebo později, může to být někdy uspořádáno. Odhlášení z hotelu je poledne. Jak jsme zažili nějaké škody od hostů, nyní požadujeme 100 dolarů. bezpečnostní vklad. Ačkoli se zde cítí velmi izolovaně, do Aptos Village, kde najdete obchody, restaurace, obchod se zdravou výživou, Safeway, atd., Se nacházíme méně než 10 minut. Jsme centrálně umístěný na Monterey Bay: 10 minut od pláže (Rio Del Mar a Seacliff State Beach), stejně jako 10.000 akrů Nisene Marks State Park pro míle turistické nebo špinavé cyklistiky v Redwoods a podél potoka Aptos. Jsme 20 minut do centra Santa Cruz, 25 min. na Beach Walkwalk, 45 minut do Monterey a světově proslulé Monterey Bay Aquarium, 50 min. do Carmelu a 1 1/2 hodiny do Big Sur na jih a San Francisco na sever. Ano, nacházíme se v jedné z nejkrásnějších oblastí Kalifornie. (tyto časy nejsou během dopravní špičky;) Pokud milujete kolibříky, přineste fotoaparát. Naše zahrada je celoročně domovem mnoha kolibříků. (Obvykle máme kolem 250-500 let) V létě nás také říká mnoho Rufus a Allen Hummers. Takže musíte vidět naše "Hummingbird Airport", kde je krmíme asi 120 oz. sirupu v letní den! Prosím, nekuřte v kajutě nebo na majetku. Kdysi jsme tu nechali fajci, ale oni zničili kabinu a to je nebezpečí požáru venku. Některé mobilní telefony zde nefungují, ale protože máme v kabině bezplatné wifi, je-li váš telefon v síti wifi, můžete volat. Někdy můžete službu Verizon na výkyvném sedadle u příjezdové cesty. Chcete-li se dozvědět něco o tom, co dělat v oblasti, udělat internetové vyhledávání Santa Cruz, CA. Psi jsou zde vítáni, ale s několika požadavky: protože máme tolik zvířat, potřebujeme, aby se vaše psi drželi na vodítku, když jsou venku (kozy jsou velmi nervózní u velkých volných psů). Také nedovolíme psům v podkroví nebo na pohovce v přízemí, prosím, přineste psí lůžko. (vaše psíka může jít na gauč, pokud mu přinesete pokrývku) Pokud to je těžké, dejte nám vědět a my vám poskytneme polštář. Máme bránu, kterou můžeme nastavit tak, aby váš pes mohl být mimo vodítko na palubě. Pokud přinášíte malé dítě, můžeme dát skládací futon (2 / 3rds futonu nebo pěnovou podložku vedle postele). Dejte nám vědět dopředu. Mějte však na paměti, že dítě by nemělo zůstat samo o sobě, protože postel je poměrně vysoká proti železnici. Jsme asi 3 míle na nejbližší autobusovou zastávku, je zde dost těžké zůstat zde bez auta. Jste pozváni, pokud máte pocit, že zde budete harmonický. Zvete kozy, podívejte se na naše kuřata, kočky, miniaturní psa a vychutnejte si čerstvý vzduch. Mohla bych vás dokonce naučit, jak kojit kozy. Pokud přijdete sem, když není měsíční světlo a obloha je jasná, uvidíte hodně hvězd. Unavený z tepla v létě? Vzhledem k tomu, že jsme na okraji "mlhy", může být zde slunečné i chladné. Pokud chcete hlučné místo, nebude se vám to líbit tady: většina zvuku zde pochází z ptáků nebo cvrčků, které se cvakávají, stromové žáby křoví a větřík protéká stromy. Lidé zde žijí na zemi, takže neočekávejte, že budou zcela zbaveni lidských zvuků a příležitostné řetězové pily. :) (Krmíme dubové kozy)
We have 10 acres next to land without fences so you will get to enjoy nature: just hang out on the deck, take a hike in the woods, watch the hummingbirds, pet the goats, go to the beach or gaze at the stars - as long as the moon isn't full. ; ) During the summer, if there isn't any nightly fog, we can see the Milky Way here.
To check our availability, click on the "Request to Book" link. And yes, if it isn't available, it is already booked! If you want to stay here on a weekend during the summer, you will need to make your reservation request about 9 months in advance. We do, however, occasionally get a cancellation, so if you want a date that's already booked, you can let us know and we will notify you of a cancellation.
(Please read all of this description before making a reservation request.)
The cozy and clean semi-rustic cabin has a loft under a geodesic dome (the "mushroom cap"). In the loft is a Queen-sized super popular Casper Mattress which allows for very comfortable sleeping and just hanging out, We provide clean sheets and pillow cases. Plenty of blankets are also provided.
The other "bed" is a couch that we can make up into a bed. If there are going to be 2 of you, but you want separate beds, please make the reservation for 3 or let me know ahead of time - there is a $10. charge for using it as a bed.
In the loft, we have a 32" HD Flat Screen and a DVD player (no TV) for movies. (We have over 80 movies you can view as well.)
On the main floor (a Pentagon) is the couch and a pull-out table. We provide a small refrigerator, a blender, Hot Air Popcorn Popper, French Coffee Press, a salad spinner and dishes. Yes, we have a wine opener. We have 2 tables where you can enjoy meals, games, etc.: 1 inside and 1 outside on the large deck that faces the redwoods. We also have a barbecue grill on the deck with an extra gas burner on the side. We provide Organic Coffee, teas, Oatmeal, popcorn, butter, honey, sugar, nutritional yeast (for the popcorn!) spices, oil and vinegar and various snacks. Our well water is treated by an ozonator, a UV light and a soft water filter.
If you have a baby and you won't be needing the second bed, make your reservation for 2 and let us know if you will need a small pad for the loft. Again, if there are 2 of you but you want to use the second bed, please make your reservation for 3.
The cute bathroom has a Travertine shower, custom tiled sink and a Natures Head self-contained composting toilet. Some guests have had a problem with our bathroom, so I want to make it clear that we have a curtain for the door to the bathroom and we require that you put your used toilet paper in the trash. (it won't smell) If you follow the instructions for how to use the toilet, it won't have any odor. If the thought of using a composting toilet grosses you out, then don't make a reservation here. ; )
We provide towels, soap, shampoo, conditioner, a hair blow-dryer, etc. (a word of caution: the bathroom has a low ceiling. If you are over 6' you may have to do a little ducking here and there.)
As Saturdays are very much in demand, (and we like to be free on Saturdays), we require a minimum 2 day stay on the weekends. Keep in mind that Friday and Saturday nights are $145. each. Therefore, to stay here on a weekend will cost $290. plus the $35. cleaning fee, the $40 airbnb fee and the 11% Santa Cruz County Transient Tax of about $35. So for the weekend, it will be a total of about $444.
To stay for 1 day mid-week costs a grand total of about $200.
On 3 day holidays, we require a 3 day reservation. (This includes Presidents Day, Memorial Day, M.L.King day, and Labor Day.) But to stay here on a weekend, you will usually have to book the cabin 6 - 8 months in advance - unless you are lucky to find a cancellation!
Check-in time is between 4 and 10pm. If you want to come sooner or later, this can sometimes be arranged. Check-out time is noon.
As we have experienced some damage from guests, we are now requiring a $100. security deposit.
Although it feels very isolated here, we are less than 10 minutes to Aptos Village where you will find stores, restaurants, a health food store, Safeway, etc.
We are centrally located on the Monterey Bay: 10 minutes from the beach (Rio Del Mar and Seacliff State Beach) as well as the 10,000 acre Nisene Marks State Park for miles of hiking or dirt biking in the Redwoods and along Aptos creek. We are 20 minutes to downtown Santa Cruz, 25 min. to the Beach Boardwalk, 45 minutes to Monterey and the world-famous Monterey Bay Aquarium, 50 min. to Carmel and 1 1/2 hours to Big Sur going south and San Francisco to the North. Yup, we are located in one of the most beautiful areas of California. (these times are not during rush hour(s) ; )
If you love hummingbirds, bring your camera. Our garden is the year-round home to many Anna Hummingbirds. (We usually have about 250-500 year-round) During the summer, we are also called home by many Rufus and Allen Hummers as well. So you have got to see our "Hummingbird Airport" where we feed them about 120 oz. of syrup on a summer day!
Please, no smoking in the cabin or on the property. We used to let smokers stay here, but they stink up the cabin and it is a fire hazard outside.
Some cell phones don't work here, but since we have free wifi in the cabin, if your phone works with a wifi network, you are good to call. You can sometimes get Verizon service on the swinging seat by the driveway.
To learn about things to do in the area, do an internet search for Santa Cruz, CA.
Dogs are welcome to stay here but with a few requirements: since we have so many animals, we require that your dogs be kept on a leash when outside (the goats get very nervous with large loose dogs). Also, we don't allow dogs in the loft or on the couch downstairs so please bring a doggie bed. (your doggie can go on the couch if you bring a cover for it) If that is difficult, let us know and we will provide a doggie pillow. We have a gate that we can set up so your dog can be off the leash on the deck.
If you are bringing a small child, we can put a folding futon (2/3rds of the futon or a foam pad next to the bed ) Just let us know ahead of time. Keep in mind, though, that a child should not be left in the loft by themselves as the bed is fairly high up against the rail.
As we are about 3 miles to the nearest bus stop, it is pretty difficult to stay here without a car.
You are invited, if you feel you would be harmonious here. Pet the goats, check out our chickens, cats, miniature dog and enjoy the very fresh air. I might even teach you how to milk a goat. If you come here when there is no moonlight and the sky is clear, you will see lots of stars.
Tired of the heat in the summer? Since we are on the edge of the "fog belt", it can be both sunny and cool here. If you want a noisy place, you won't like it here: most of the sound here comes from the birds or crickets chirping, the tree frogs croaking and the breeze blowing through the trees. People do live on the land here though, so don't expect it to be totally devoid of human sounds and the occasional chain saw. : ) (We feed the goats oak branches)
Přístup pro hosty
K dispozici je bezplatné wifi v kajutě, skvělá voda a některé dobré turistické stezky přímo na palubě, stejně jako přírodní pískoviště v suchém potoce pod zálivou Redwood. (V zimě to může mít tekoucí vodu) Hosté jsou také vítáni procházet se, navštívit naše zvířata na naší malé "farmetě" (3 kozy, 9 kuřat, malý pes a 2 kočky) a klást otázky.
There is free wifi in the cabin, great well water and some good hiking trails right off the deck as well as a nature sandbox in the dry creek bed under the redwood grove. (In the winter, it can have running water) Guests are also welcome to wander around, visit our animals on our little "farmette" (3 goats, 9 chickens, a small dog and 2 cats) and ask questions.
Vztahy s hosty
Skoro vždycky komunikuji s našimi hosty. Mám rád, aby se cítili vítáni a doma, ukázali jim kolibříci a podělili se o mé poznatky o skvělých místech, kam jít v naší krásné oblasti. Dejte mi vědět, jestli nechcete se mnou komunikovat a já vás rychle opustím. ; ).
I almost always interact with our guests. I love to make them feel welcome and at home, show them the hummingbirds and share my knowledge of the great places to go in our beautiful area. Let me know if you don't want to interact with me and I'll leave you alone quickly. ; )
Další věci, které stojí za zmínku
Máme spíše úzký - a na několika místech strmý - příjezdovou cestu. Existují výhybky pro průchod projíždějících vozů. Vezměte to prosím pomalu. Občas máme v zimě výpadku elektrické energie. Pokud k tomu dojde, poskytneme osvětlení s bateriemi. Pokud je hlavní silnice zablokována sestřiženým stromem, dovolím vám vědět, jak se dostat dovnitř nebo ven z naší oblasti.
We have a rather narrow - and in a few places, steep - driveway. There are turnouts to pass oncoming cars. Please take it slowly.
Occasionally, we have a power outage during the winter. If that happens, we will provide battery operated lights. If the main road is blocked by a downed tree, I'll let you know how to get in or out of our area.
Parkování na pozemku v ceně
Osoby navíc 224 Kč / noc po 2 hostech
Víkendová cena 3243 Kč / noc
Lidem, kteří u mě uklízejí, platím částku nad úrovní životního minima.
Zjistit více
Komunikuj vždy jen přes Airbnb
Aby byla tvá platba chráněna, nikdy nepřeváděj peníze, ani nekomunikuj mimo webové stránky či aplikaci Airbnb.
Pokoj 1
1 postel velikosti queen size
Společné prostory
1 rozkládací pohovka
Večírky nebo akce zakázány
Čas příjezdu je kdykoliv po 16:00
• Please, no smoking either in the cabin or on the property
• Please don't sleep here with tooth or skin whitening material: they bleach the pillow cases and sheets.
• If you want to bring a dog, please send a request. (We have goats and cats) As so many people are allergic to cats, please don't bring yours.
• Dogs must stay on a leash when outside.
• Dogs are not allowed in the loft.
• No wild parties, please.
• Please don't drink wine in the loft.
• If you use the barbecue, you are required to clean it. But don't close the side lid if the burner is still hot!
• Please wash and put away your dishes, pots, etc. before leaving.
• Please don't bring a lot of food or water in plastic. (those #1 clamshells can't be recycled)
We provide all the dishes you will probably need, so please don't bring disposables either.
• If you want to use real candles, please talk to us first. We provide a rose quartz mood light.
• Please take short showers.
Musíš také přijmout
Bez schodů to nepůjde - There is a short but steep steps down to the cabin and the loft is accessed via a ladder.
Eventuální hlučnost - Once in awhile, we need to cut some oak for the goats with a chain saw. We try to do it when guests aren't present, but that is not always possible.
V nabídce jsou domácí mazlíčci - We have 3 goats, chickens, 2 cats and a tiny dog.
Minimální délka pobytu u této nabídky je různá.
We live on 10 beautiful acres of sun, oak forest, redwood groves and gardens and 3 goats, a parrot, 2 cats, a small dog, 9 chickens and over 400 hummingbirds.

I have been hosting on airbnb since July, 2009 and really love what this company has made possible. I have met so many wonderful people from around the world that I would never have met if I hadn't had this opportunity with airbnb! Some of our guests (especially the ones from Europe) have never seen a hummingbird before and here they get to see them up close - just a few feet from them as the birds "hum" around the feeders.

We welcome you to come experience the peace and tranquility that our wonderful land has to offer.
Index odpovědí:
100%
Rychlost odpovědí:
během několika hodin
Podobné nabídky ubytování