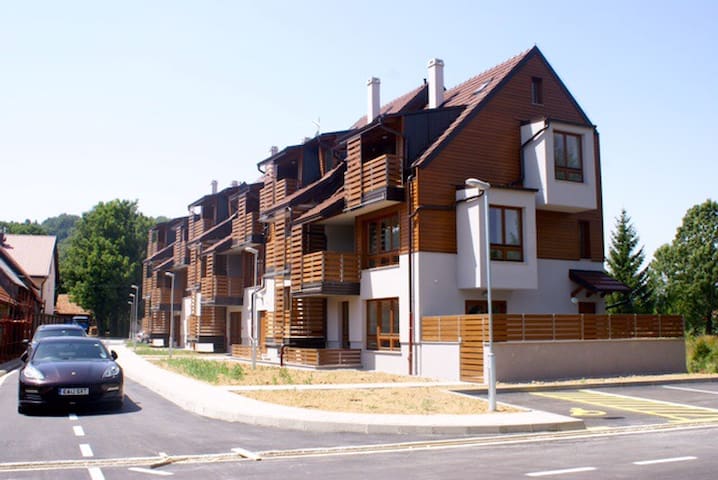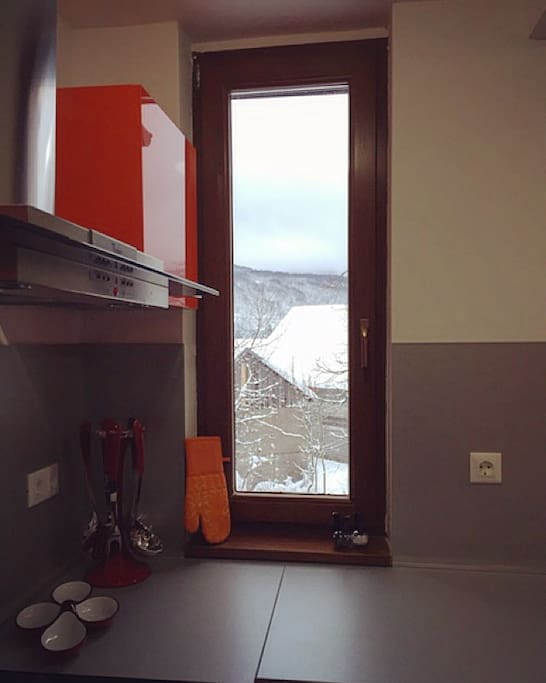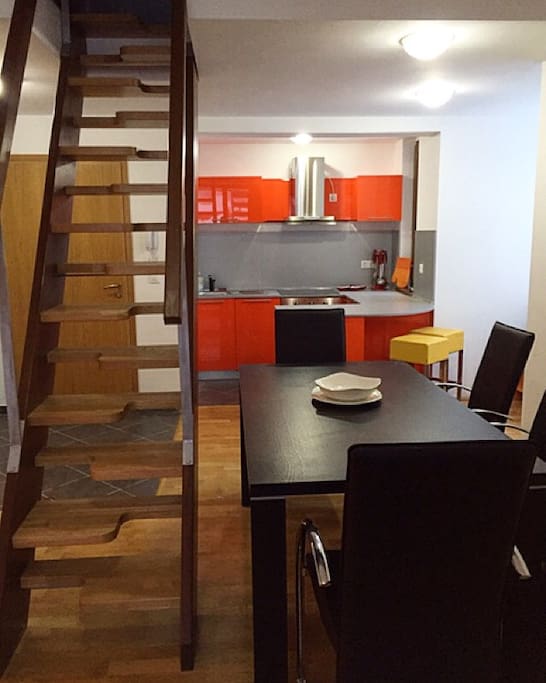 Nový úžasný byt kousek od sjezdovky, 30 minut jízdy od krásného města Opatija na pobřeží Jaderského moře. Uhnízděný v neuvěřitelné horské přírodě regionu Gorski Kotar. Jedna a půl hodiny od chorvatského hlavního města Záhřebu. Úžasná hodnota za peníze.
New stunning apartment a short walk from the ski slope, 30 minute drive from the the beautiful city of Opatija on the Adriatic Coast . Nestled in the incredible mountain nature of the Gorski Kotar Region . One and half hour from the Croatian Capital of Zagreb. amazing value for money.
Místo
Byt je zbrusu nový ve zbrusu nové budově. Jeho poloha je ideální pro mnoho aktivit, včetně fotografie, pěší turistiku, off-roadové aktivity, cykloturistiku, lyžování, rybaření, paint balling, ústup a meditace, jízda na koni jsou k dispozici v celé oblasti. Poloha je ideální pro výlety na úžasné pobřeží Chorvatska s městy, jako je Opatija a Rijeka, jen 30 minut jízdy autem. Fuzina je velmi blízko s mnoha restauracemi, jezery a jeskyněmi prozkoumat (16 k). Pokud to nestačí, proč neudělat výlet do hlavního města Záhřebu (1,5 hodiny jízdy) nebo opravdu úchvatných plitvických jezer a vodopádů, největšího národního parku v Chorvatsku pod ochranou UNISO. (1,38 min.). Národní park Risnjak (1 hod. 4 min.), Nejhůře hornaté a těžce zalesněné oblasti v Chorvatsku.
The apartment is Brand new in a brand new building. It its location makes it ideal for multiple activities including , photography ,hiking, off road pursuits, cycling , skiing , , fishing , paint balling , retreat s and meditation , horse riding are all available in the local area. The location is perfect for trips to the amazing Croation coast with Cities like Opatija and Rijeka only a 30 minute drive away. Fuzina is very close with many restaurants , lakes and caves to explore ( 16 k) . If this is not enough then why not take a day trip to the Capital city of Zagreb (1.5 hrs drive) or indeed the breathtaking Plitvica lakes and waterfalls ,the largest national park in Croatia under the protection of UNISO. ( 1.38 mins drive) . The national park Risnjak (1hr 4 mins) away , the most mountainous and heavily forested region in Croatia.
Vztahy s hosty
Jak často se to vyžaduje.
Další věci, které stojí za zmínku
Přístup je možný přes klíče s klíčovým klíčem, ujistěte se, že jste v těchto polích znovu vložili klíče. Mnohokrát děkuji.
Access is via key coded key boxes please be sure to to repost keys back in the these boxes . many thanks.
---
---
We are compassionate adults and would appreciate respectful behaviour.
Please be sure to put keys back in the keys safes.
---
We actually didn't book this apt, but the one on top floor with gallery bedroom, but as Grant overbooked ended up in this one. He had plenty of time to let us know - but didn't, we've found out when we walked into the apt. Also, there was no internet and TV - again things he knew but didn't think of letting us know. His communication the whole time was one-syllable and didn't think sharing how we're supposed to get inside the apt was important. He was totally unimpressed with all the things that were wrong, and just said that we can go away and get a refund. Oh yes, and when asked about the TV said that he didn't own one and couldn't understand why anybody watches it. Unfortunately, afrer driving the whole day and getting there in the evening, we had to stay there for the night. When later on Airbnb tried to contact him about the refund and all the problems, he was unavailable to them for a week - so no refund from Grant. Basically, Grant turned out to be a disrespectful asshole who just couldn't be bothered. I definitely don't recommend his accomodation.
---
We booked this apartment because of previous positive reviews. But unfortunately we can't say the same. Mr. Grant has several apartment units on site, we booked and payed the one we considered to be the best one (located on upper floor and more spacious than others). Since Mr. Grant does not live there, he has a friend Ivancica who is taking care of guests and apartments. He instructed us to check-in with her and left no contact data (just mentioned that she lives there). Immediately upon our arrival we realized something is seriously wrong. There was no one there, the building seemed to be completely empty. After a long and hot day of travel, we were stuck there with no contact to reach. After an hour of waiting, just by accident a couple passed by. They checked-in earlier that day and gave us Ivancica's mobile number. When we called her she had no idea who we are and what are we doing there. She arrived in 15 minutes and said she has no information about our reservation and that obviously Grant forgot to inform her. This is really odd since I contacted Grant few days earlier and asked for instructions. She said that there is only one apartment available where we can stay, and since we had no choice (the evening was close and there is no accommodation possibilities in vicinity of Mrkopalj) we had to accept it. She roughly prepared the flat, put on some clean sheets and left. But the flat itself was dusty and the bathroom was really dirty (I am talking about yellow stains on the toilet, a lot of hair in the shower, questionable stains on the sink etc.). It was obvious it was not cleaned for a while. The following night my side of the bed suddenly fell through and woke me up in shock. We had to sleep on the couch for the rest of night. In the morning I realized that the failure was "to clean" and most likely the bed already had a pre-damage, but that is just my opinion. We informed Ivancica about this and later that afternoon a handyman came to fix it. We spent few hours waiting for the repair and had to cancel the plans we had for that day. Not only we lost a lot of time waiting for check-in (and we were not instructed properly), but we also had to cancel our vacation plans the following day. Not to mention that we payed a higher price for another flat, just to be downgraded to dirty and dusty smaller apartment with a direct view on the neighbor's window. Something went wrong and to honest, no apologies nor money can wash the bitter taste of ruined vacation. P.S. The couple that gave us Ivancica's number, they got the apartment we booked and payed.
---
Grants apartment is situated in a tiny village in a picturesque valley in the mountains of Gorski Kotor. We enjoyed the beautiful views and the peaceful surroundings from the balcony in the spring time. The apartment is perfectly situated for day trips to explore the surrounding picturesque countryside. There are 3 small grocery stores and several restaurants within walking distance. We were warmly welcomed by the lovely Ivancica who showed us photos of the area with suggestions of where to go and what to see. She was readily available and willing to assist when necessary. There is a tourist information office in the centre of town staffed by very friendly ladies. People who enjoy mountain scenery, walking, nature and of course skiing in winter would enjoy this apartment.
---
Grant and his sister Ivancica (who greets you at the apartment) were perfect hosts. Prompt with emails and delightful upon arrival with our greeting and tour. We chose the apartment as it was convenient for our journey from Istria to Zagreb ( as an overnight stop-off). What a perfect choice it was, it was in the mountains in a perfect valley. We woke to find the sun pushing through clouds, lingering in the valley. We were rather gutted to have to leave and go to the airport. This place would be ideal for a lovely long weekend of hill walking and nature watching. It is only 15 minutes from good motorway networks, so is not totally in the sticks (isolated)!!! The apartment is well equipped and has one of the best showers I have experienced in the World. It could accommodate two pairs of adults, but was ideal for our family of four (8 year old twin children). The kitchen is well equipped and has an oven and four ring hob. There is a balcony too to enjoy the views. Go ahead and book..... excellent value for money and well worth a visit. Well done Grant and Ivancica, you deserve to be fully booked.
---
We stayed at Grant's place for 1 night and it was absolutely fine. Description is fair, the place is clean enough, the kitchen is ok, beds are comfortable. The village is a small inter resort, but it's a pleasant to stay away from touristic buzz in summer too. A couple of bars and supermarkets are 2 mins walk. Pizzeria is several minutes walk. No problems with check-in, hot water or whatever. Nice value for money ratio too. Grant is a very interesting person, communication was easy. Nice place to stay, I bet it's really good in winter.
---
Hi I'm Grant , I'm an ex Pat living mainly in Austria .I love to live life as a serious of moments of adventure . I'm a friendly Buddhist and respect all and everyone.
Index odpovědí:
100%
Rychlost odpovědí:
během několika hodin
Podobné nabídky ubytování
Objev ostatní možnosti v Mrkopalj a okolí
Další ubytování v Mrkopalj: