Pro zobrazení celkové ceny zadej termín. Mohou být přidány další poplatky a daně.
This home is owned by a working artist, which is located in the Sonoran Desert of Southern Arizona. There is an artist's studio on the property that can be made available. The winter is Heaven, the scenery spectacular, Tucson and Phoenix drivable.
There is a private entrance from the patio with a key. If staying at least three (3) days, the art studio would be available for use at no additional charge. Art lessons are available for a fee. There is a large barbeque that guests may use. A small refrigerator is in the bedroom. A microwave oven, small convection oven/toaster are on the patio area for guests. Guests may use the washer and dryer if on an extended stay. Interaction is up to the guest. I am friendly, and outgoing, but respect people's privacy. I live in the house and am available most of the time.
The neighborhood is very quiet, but at night one can hear coyotes howling. That is a nice, if a bit wild, sound. Most Ajo residents love to hear the soft howling. My house is located on a corner with a very large back yard, smaller front yard, and even smaller side yard. There are buses, however, it is best to drive one's own car. Ajo is an old copper mining town. There is a museum near the mine pit that has interesting information about when the mine was active. A 40 minute drive south leads to the Organ Pipe Cactus National Monument, and the Mexican boarder. Cabeza Prieta National Wildlife Refuge is a local natural museum, and there are driving trails that tourists can take after registering and watching a short video.
Delightful! Jackie is an artist in every way. From the beautiful bathroom (which she tiled herself) to the tasteful breakfast presentation, to the furnishings all around (inside and out - including her own artwork), our stay at the Desert Willow was a colorful experience. The giant desert willow created a lovely centerpiece to the cozy backyard, perfect for morning coffee or an afternoon read. Jackie goes beyond your average AirBnB by providing a thoughtful breakfast complete with fabulous grapefruit grown on her own tree. The bed was comfortable and our room was clean. Jackie's art gallery on the square in downtown Ajo is a must-see! Jackie was also helpful with dining recommendations and sight-seeing suggestions. The photos were accurate. I would stay her again in a minute!
Bonnie
March 2016
Jacqueline nous a réservé un accueil vraiment exceptionnel : Jacqueline est une artiste cultivée qui aime partager sur de nombreux sujets et, surtout, Jacqueline est une personne de coeur. Côté pratique, rien à dire : la chambre est très correcte et la salle de bain, réalisée par Jacqueline elle-même, est très agréable. Enfin, n'hesitez-pas à venir à AJO qui est une toute petite ville au goût mexicain et mérite un peu de flânerie.
Lionel
July 2015
Jacqui is a welcoming and generous host. The private guest suite is beautiful and comfortable, opening onto a lovely garden and breakfast patio. Quiet, residential neighbourhood within walking distance of downtown. Highest recommendation.
Lawrence
January 2016
Just incredible. It is hard to accurately describe the wonderful Desert Willow. This casita or guesthouse is a sanctuary in the desert outpost of Ajo, Ariz. where spending a few days flew by in splendid comfort, warmth and fun. Jackie, a gifted artist who beautifully crafted the guesthouse with details large and small like a early 19th century clock and a peacock motif in the bathroom sink, is sweet, sensitive, funny and helpful. Close enough to Organ Pipe National Monument and Mexico to commute daily, her house boasts a bevy of fruit trees, fresh herbs, a great breakfast porch/outdoor lounge, well-stocked kitchen and inspiring paintings. She helped us find scenic drives, recommended excellent shops and restaurants, and made us laugh. The time went by simply too fast. Highly recommended weekend (or longer) getaway in the gateway of the Sonoran desert: towering cacti, weathered and vibrant geology, howling coyotes, fragrant creosote and desert sage, blazing sunsets and starry skies. Breakfast alone is worth the small cost increase from the local Ajo motels, but then there's the beauty, cleanliness, comfort and character of Jackie's casita that make Desert WIllow one of the best ways I've spent money in the past year.
Samuel
January 2015
Jackie was very welcoming and the Desert Willow is exactly as described. A light breakfast was provided and there is a microwave, toaster and espresso machine for guests to use. We only had a short time in Ajo (one night) but it was memorable and we will return. Hearing Coyotes howling during the night was a novelty. Jackie's restaurant recommendation (100 Estrella) was spot on.
Simon
October 2015
The experience was excellent. Jackie told us where to find the key for check-in. The stay was comfortable and relaxing. Breakfast on the deck was perfect. We had a good day at Organ Pipes Cactus National Monument and an excellent burger and beer in town.
Patricia
February 2016
The host canceled this reservation 16 days before arrival. This is an automated posting.
Charles
We had a delightful stay with Jackie at the Desert Willow Art Studio. She made us feel very welcome. The yard was very peaceful with lots of birds calling and even a wild bunny emerging from the cacti at the back of the yard periodically. The room was as described with a comfy bed and a large bathroom and great shower. We enjoyed our breakfasts on the patio and especially the pink grapefruit right off Jackie's tree. It was an easy and memorable drive to Organ Pipe National Monument.
Louise
February 2016
Typ pokoje
Soukromý pokoj
---
Typ nemovitosti
Dům
---
Ubytuje
2
---
Ložnice
1
Ajo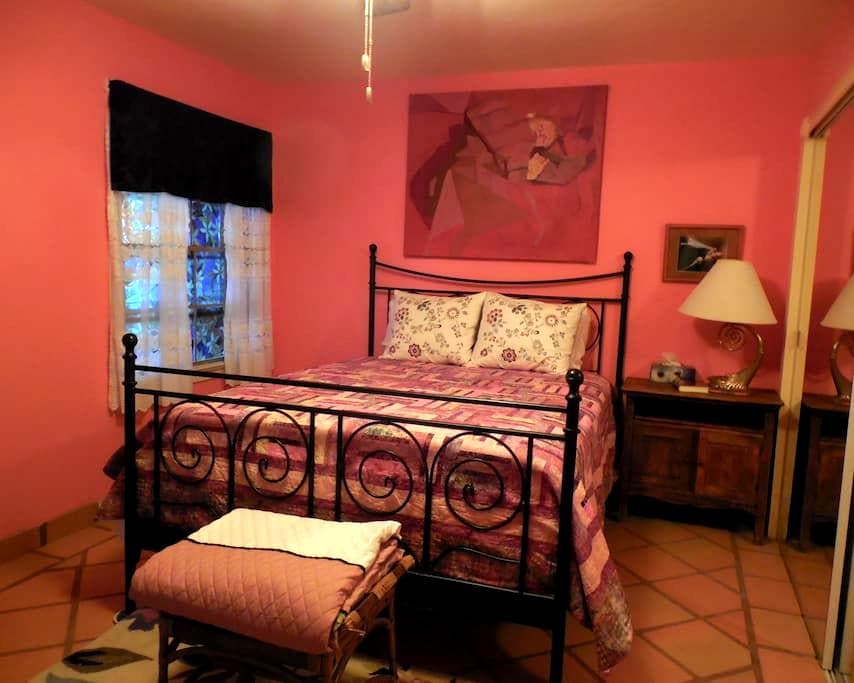 This one-bedroom casita is located within the Ajo Historic District and is within easy walking distance to the Plaza, Sonoran Desert Conference Center, the Curley School, restaurants, gym, spa, bank, library, and post office.
A perfect hideaway for one or two guests. Enjoy a private shaded outdoor sitting area behind the casita. This casita is air conditioned and there is also a washer and dryer available for guests. Guests will have full use of the casita including exterior washer and dryer. I live across the street.
A stroll around the historic neighborhood will delight your senses as you take in the renovated houses, quaint churches, the Spanish Colonial Plaza, and the grand Curley School. Two restaurants (100 Estrella and Agave Grill) are within walking distance. Don't forget to explore Artist's Alley. Please note there is no cable television or wifi. Wifi can be accessed free at the public library.
Typ pokoje
Celý dům/byt
---
Typ nemovitosti
Dům pro hosty
---
Ubytuje
2
---
Ložnice
1
Ajo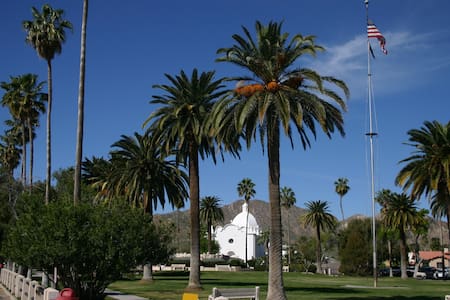 This is a comfy studio on the outskirts, of the "5 acres" of Ajo. The house features an outside bar, dance floor, and cooking area with an incredible view, especially at sunset.
This private studio includes a Queen Size bed with wireless Internet, TV with Dish Network. When you'd like to freshen up, the bathroom has a stand up shower with towels provided. Feel free to contact me with questions or requests. Outdoor - kitchen, dancefloor, bar. In Studio - Mini fridge, coffee maker, microwave. Hi there! I'm Blanca and I'm posting this for my grandfather. He lives in the house and has this studio next door. So, I'm helping him to manage his account before I start listing my house. We are happy to interact as much or little as preferred. We have a unique setup so it doesn't require guests to have any interaction with us. Check-in will be seamless as well. I'm not always around but will be available electronically all the time.
Ajo Transportation In-town seventy 5 cents per ride. Monday-Friday 7am-5pm, Saturday 8am-5pm.
Well stocked fridge!
Paul
February 2017
This place is a must see if you love antiques of the old west and art displayed outside and inside. The owner is a retired contractor who does quality workmanship that is most creative. The studio came stocked with chilled beer (I was happily surprised). The room was very clean and quiet, the WiFi worked well too. I'd stay here again. I totally enjoyed watching the sunset while warming myself at the outdoors Chimney fire and sipping a chilled beer.
Dorothy
March 2017
The accommodation was okay however, however the communication with the host was completely unacceptable. I would not recommend anyone stay at this facility.
William
March 2017
Typ pokoje
Soukromý pokoj
---
Typ nemovitosti
Jiné
---
Ubytuje
2
---
Ložnice
1
Ajo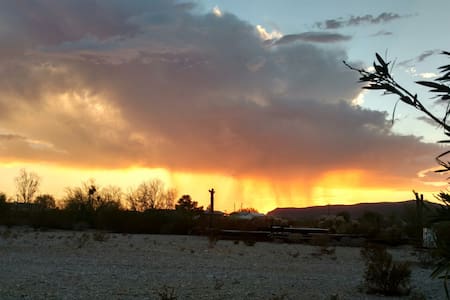 Newer home in the historic district 3 blocks from plaza. Remodeled with upgraded furnishings & a modern, southwest color palette. Walled lot & iron gates add security. Secured, detached car port. Central heat & A/C. Incl. heavily treed desert wash.
This home feels like it is out in the desert, yet it is right in the middle of town. The wildlife that frequents the property - quail, cactus wrens, rabbits, lizards, javelinas, an occasional coyote, and more - is thrilling to watch from the spacious, covered back porch. Everything, including vehicles, can be secured behind a wall and gates.
Ajo, Arizona, is a historic mining town located close to Organ Pipe Cactus National Monument. This is Arizona's closest city to the beach, as Puerto Penasco, Mexico - also known as Rocky Point - is an easy and safe 90-mile drive away. Rocky Point is a small, friendly resort town with lots of restaurants and hotels on a gorgeous coast. Ajo is surrounded by pristine, Sonoran desert. Easy drives close by offer stunning views and opportunities for hiking, biking and wildlife viewing. Cultural and arts festivals are held throughout the year and a farmer's market, with much local produce, is held every Saturday morning on the plaza in the fall, winter and spring seasons and every two weeks in the summer. There is no antenna or cable TV service available. A 42" TV, Blu-ray player and 3-CD/cassette tape stereo are included. Washer and dryer available.
Comfortable, and clean. Our experience at Casa Banista was wonderful. We would definitely stay here again.
Shane
August 2016
A great house in a beautiful town. Central to all of Sonoran Desert activities. Ajo itself is a great place for something different off the beaten track. Locals are the friendliest and food and drink are great.
Louis
December 2016
Mitch has a lovely house that is both very private and in a neighborhood that is a convenient walk to all parts of town. It was very comfortable for the four of us. We cooked family meals and hung out reading Mitch's interesting library when we were not visiting with family, hiking or visiting the Plaza. Mitch was very responsive to questions. The furniture and details are interesting and tasteful. We would recommend this house for adults or families with older children. Kitchen is well-equipped and house was spotless.
Erica
December 2016
We enjoyed our stay t Mitch's place in Ajo. It is a great starting point for day trips to the Organ Pipe Cactus Monument nearby and close to the town's main plaza. The house is spacious and has two bedrooms that have each double beds and a full bathroom. Mitch was fast with communication and very forthcoming with key exchange.
Nina
December 2016
The host canceled this reservation 23 days before arrival. This is an automated posting.
Shanna
Mitch's place was OK. Basically clean and comfortable. However for $100 a night it was a less then I would have expected. It needs paint and some upkeep and is on the shabby side.that having been said you can't go wrong if you're willing to spend the hundred bucks and have more than two people.
William
January 2017
Casa Banista was a delightful stay. The house was clean and well appointed, and a short walk to the heart of Ajo. I would definitely stay here again!
Jeremy
April 2016
This property was one of the best homes we've stayed in. Centrally located this home was spacious, cozy, warm, and beautifully decorated with its cowboy theme! Loved it! Cooking was a breeze, watching movies was easy, the beds were very comfortable, bathrooms very clean, and there was plenty of storage space for our things. Being able to park in the carport behind the gates was a nice touch. Mitch was a great host providing quick responses to questions; a great source of information about the area. We loved visiting Ajo but staying at this property made the visit even more enjoyable. We hope to be back sooner than later! Thank you Mitch!
Jonathan
January 2017
Typ pokoje
Celý dům/byt
---
Typ nemovitosti
Dům
---
Ubytuje
5
---
Ložnice
2
Ajo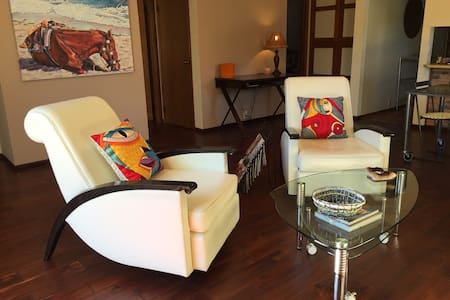 Beautiful, new Santa Fe ranch in Ajo AZ, large rooms, views of natural surroundings featuring all the plants, mts & sunsets. Patios in sun or shade. 5 acres. Private. 2 minutes to supermarket and restaurants. Fully furnished. 3 ni min stay. GSA and contract stays available under separate pricing.
Santa Fe ranch in beautiful, scenic Ajo, AZ, perfect for someone working in the area or long-stay visitors. Relaxing, quiet yet two minutes to restaurants, stores and supermarket. Floor to ceiling windows capture Sonoran plants, mountains and sun. Three night, minimum stay. Guests of one week (7 nights) or longer will have limited access to kitchen, washer, dryer. If guests need one bedroom, access to one bathroom is provided. If guests need two bedrooms, access to a second bathroom is provided. Guests may request the interaction they desire with owners, by email, cell or in person. Prior to confirming the reservations, guests must give the ages and a brief physical description of the guests who will be staying. Photo ID at check-in is also required.
1360 West Briggs Road in Ajo, AZ is in an upscale, five-acre home neighborhood within two minutes of restaurants and supermarket. Quiet, quality, views and sunsets. Two patios, front and back; as well as Mexican tiled picnic table out in the yard. Hike or walk from the home 300' to the start of trails. Public transit at 75 cents per person, to any place in Ajo from the front door of the home with Ajo Transportation. Check with them for schedules and hours. Beautiful, immaculate home with all the anticipated amenities. Quiet, safe, private yet convenient to everything. Beautiful views of surrounding mountains, desert, most every cacti in the desert. Small watering hole on property attracts varieties of birds, rabbits, occasional small deer family. A security camera is inside in the kitchen; as well as outside in the yard. Upon receiving a confirmed reservation, all guests are required to give owners a copy of their government photo ID.
Everything worked out just like I wanted. Linda was a great host and very prompt with text and email responses. Ajo is a great place during the day time, great hiking in the nearby parks and beautiful surrounding desert. At night there is not much to do but we knew that before we booked. Great house with even better grounds. The grill was a great touch and I had my favorite meal of our trip grilling up some steaks and watching the sun go down over the cactuses.
alex
January 2016
Linda and Jim were great hosts. They made us feel right at home. They weren't bothersome but were always there when we had questions or needed help. They had good advice on local restaurants and hiking. The house is beautiful. It has a wonderful outdoor patio and garden - great for breakfast and dinner, a large living room with a multi-channel large tv and a fully stocked kitchen. It's worth looking at the pictures. Ajo is a hidden treasure. The house is a mile away from the beautiful little town with a great town plaza and churches. Nearby are a couple of great museums but best of all, hiking in one of the most remote and intriguing wildlife refugees in the country - Cabeza Prieta. It is also less than an hour from the unique Orgon Pipe Cactus National Monument as well as an hour and half from the Gulf of California with swimming and fishing and great seafood.
Rich
April 2016
We had a great time. The house is beautiful, and is in a beautiful location with easy access to hiking. I would happily return. Thank you!!!
Paul
January 2017
This is a scenic and private getaway with all the conveniences. Like desert solitude (?); this is your place.
Carl
January 2017
Since the very beginning interacting with Jim and Linda, communication was cryptic, cold and terse. They wanted to know well in advance our time of arrival, and they for whatever reason texted and called way too many times in the week and days before our stay. The repeated contact felt invasive and bizarre. Then, on the day of our arrival, after multiple texts and calls, they sent someone else to show us in. That was fine, but what was strange was the hosts' insistence on making two unannounced drop-by visits the following day. Jim made veiled threats of "coming back" if my co-worker, Lyntoria, wasn't listed earlier. (She was.) Also, weirdly, during the booking process, Jim and Linda had asked our ages. Overall, both of us felt profiled based on the hosts' perceptions of our races and ages. Jim also mentioned that he'd been watching what cars were coming and leaving the driveway. (Um, we have friends who visit. We trade cars to borrow a truck in order to get out to the mountains. Since when do we have to clear that with the owners of our rental??) Jim's second visit was followed by another announced visit by a man in the early morning who seemed to be watering a table in the backyard. We felt extremely watched — not just by the owners themselves and their hired worker but by the SURVEILLANCE CAMERA located in the kitchen that the hosts and their listing failed to mention in their photos of the house. AirBnb policy states that hosts need to disclose all surveillance equipment before guest arrive, with pictures of them, and whether they are turned on or off. Jim and Linda failed to abide by any of these terms. An additional annoyance was the private signs that covered cabinets in the kitchen and bathrooms. This made it feel like we were always impeding and unwanted in the place we paid to stay. Had I realized that we would be under surveillance and constantly treated like subhumans, I would not have stayed, even though this house is one of three in the town that met our needs. The only positive moment interacting with the hosts: I got my wires crossed, messed up and needed to book an additional night on the day that we were scheduled to move out. Linda was extremely rude and accusing on the phone, but to her credit she did not charge a late fee.
Maxine
December 2016
We arrived after dark and were met by the property manager. The house was easy to find, though it is just a few hundred yards past where the paved road ends. Johanna, the property manager gave us the key and a quick tour then took her leave. The house is very nice, with a definite southwestern style. The kitchen is full of new appliances, the cabinets stocked with brand new utensils and plates. Everything was clean. In the morning, we could sit out at a small table and watch the birds and listen to the gentle sound of bombing over at the Barry Goldwater test range. It was like distant thunder and you couldn't hear anything of that inside the house.
Rick
January 2016
Typ pokoje
Celý dům/byt
---
Typ nemovitosti
Dům
---
Ubytuje
2
---
Ložnice
2
Ajo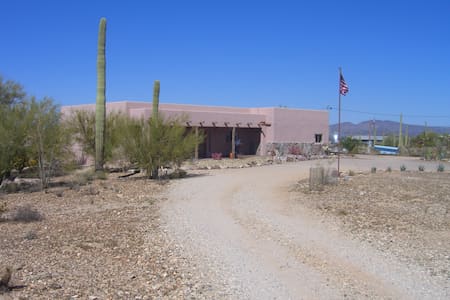 My home looks out at the Spanish Colonial Revival style plaza in Ajo's historic center, one of the most beautiful plazas in N. America. Ajo is a small former copper mining town located in the heart of the Sonoran Desert and is entirely surrounded by public lands: Organ Pipe Cactus National Monument, Cabeza Prieta Wildlife Refuge (Edward Abbey's former stomping grounds), the Tohono O'odham Indian Nation, BLM lands. You can literally be out in the wild within a couple minutes of this home in lush, quintessential saguaro-studded desert. BLM backroads lead into Cabeza Prieta, the nations 2nd largest wildlife refuge. Ajo is 40 miles north of the border, just 100 miles from Puerto Penasco at the head of the Sea of Cortez. Excursions abound. Ajo is architecturally unique in that its historic heart is still intact and was modeled on the City Beautiful movement in 1914. Many of its homes and public buildings are on the National Register of Historic Places. The Curley School has been refurbished into artist studios and apartments. Ajo's friendly residents are bound by love of their community and the surrounding desert. This Spanish Colonial Revival style home was built in 1916, has a large comfortable "great room," and is beautifully furnished with Mexican furuniture. You can step out at night and see the Milky Way, Ajo is that minimally lit with an eye to night skies. Javelina trot down the street at dusk and coyote are heard nightly. Ajo is one of only 65 towns in the country that have been designated National Wildlife Federation Community Wildlife Habitat. Birds abound and are your morning wake-up call. This 1400 sq/ft home has a spacious and well-appointed kitchen, an outdoor gas grill, and a Southwestern library of guidebooks, maps, natural history, and non-fiction books to assist you on your explorations. It is 110 miles from Phoenix, 130 from Tucson, a beautiful desert drive on a quiet two-lane with Kitt Peak National Observatory and the Tohono O'odham Cultural Center along the way. Many people have referred to Ajo as a well-kept secret. The entire house is yours for your stay. Privacy is yours. You are welcome to interact as much or as little with me as you like.
Anita was a wonderful host – who ensured that everything was ready for us upon our arrival in Ajo. Anita's home is very cozy and artistically decorated – a stocked pantry as well as library for inspiration on southwest adventures. Photos were accurate -- Sunny, welcoming home, with a very comfortable bed and all extremely clean. The home also is perfectly located, right in the heart of Ajo, just steps from the historic plaza. Although Anita was not in town, it felt as though she was, because we communicated through her local contact as well as by phone. If we had a question, the response was super quick and always helpful. Thank you, Anita, for opening your home to us!
Monica Surfaro
November 2014
A lovely home in a lovely, sleepy village. My wife and I thought that we had crossed the border and stepped back in time - it was so peaseful. A comfortable home with everything we required. Although we didn't meet with owner, Anita, she kep in touch with us during our stay and made us feel very welcome. A very comfortable bed, plenty of room to spread and lounge about in, off road parking and so, so quiet. Well recommended.
Michael J
October 2014
Wonderful southwest decor in a historic neighborhood. Comfortable bed and furnishings. Well stocked kitchen w extras for cooking such as spices, good pans and dinnerware. Terrific grocery store in town. Excellent library. This was a very relaxing environment across from the town plaza. Definitely take a day trip to Organ Pipe Cactus National Monument. Anita has a good maps and travel info to help explore the area. Good communication. No worries. We would stay here again. Plus she has bikes for riding around town.
Julie
February 2017
I can't imagine a more comfortable - or cleaner - house in the entire AirBnB inventory. If you are fortunate enough to be going to Ajo, time your visit so that you can stay at Anita's. And, be sure to build time into your itinerary to enjoy her big leather couches.
Worth
January 2017
We loved the house - everything was perfect. We particularly liked all the local books and information just wish we could have stayed longer. We also loved Ajo as a place to stay on our visit to Organ Pipe Cactus NM. On our hosts recommendation we ate at 100 Estrella every night! Cannot say enough good things!
brenda
February 2017
This is a wonderful house in a perfect location. It could not be better maintained or better set up. Anita is delightful to work with. Highly recommended!
Carol
January 2015
Anita's home was perfect for our visit to Ajo for a friend's wedding. It was comfortable and clean and she was very communicative and helpful.
Emily
November 2015
We just spent a week in Anita's lovely, comfortable home, which is located just across from the Spanish Colonial Revival style plaza in Ajo's historic center. The furnishings in Anita's home were particularly attractive, most of which were from Mexico or had a southwest influence. Ajo is a quiet place at night, so we slept well. We could see the heavens filled with stars at night from the front yard, which during the day hosted a multitude of birds, including the diminutive and spectacular Costa's hummingbird. As Anita's description mentions, Ajo is strategically located for individuals who are visiting the nearby public lands--Cabeza Prieta National Wildlife Refuge, Organ Pipe National Monument, the Barry Goldwater Range, and even Mexico, which is a mere 40 miles away. Anita's quaint home and its convenient location were perfect for us. We highly recommend it. Although Anita was not in the area when we visited, she made sure in advance that everything was in order for our stay and even had a neighbor check up on us to make sure that all was well.
francis
February 2016
Typ pokoje
Celý dům/byt
---
Typ nemovitosti
Dům
---
Ubytuje
4
---
Ložnice
2
Ajo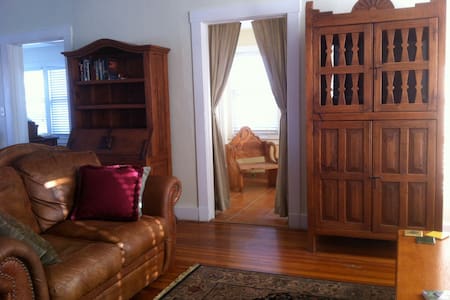 If privacy and desert views are your thing this is the place for you. Located on 2.5 acres and bordering public lands to the west look forward to stunning sunsets and sunrises, a great location for walks, biking and exploring the uniqueness of Ajo. A 40" smart tv with streaming wifi and limited satellite access, bbq area and modern stainless kitchen complete the picture.
Typ pokoje
Celý dům/byt
---
Typ nemovitosti
Dům
---
Ubytuje
4
---
Ložnice
2
Ajo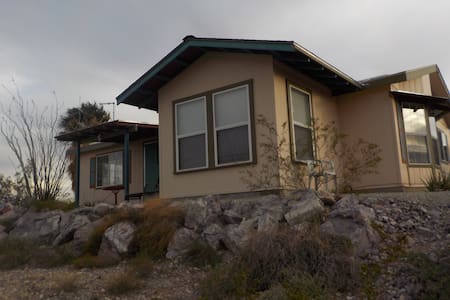 The person who lives here is a travel writer and is away most of the year giving you the whole house during these periods
Typ pokoje
Celý dům/byt
---
Typ nemovitosti
Byt
---
Ubytuje
4
---
Ložnice
1
Gila Bend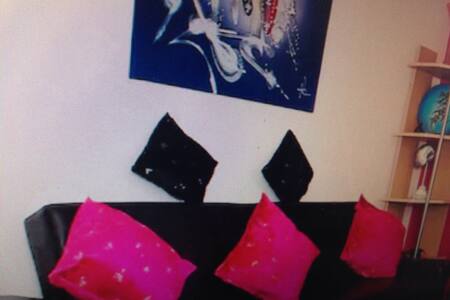 All moden facilities including en suite to the spacious (URL HIDDEN) plan living area with kitchen.
Typ pokoje
Celý dům/byt
---
Typ nemovitosti
Byt
---
Ubytuje
4
---
Ložnice
1
Beach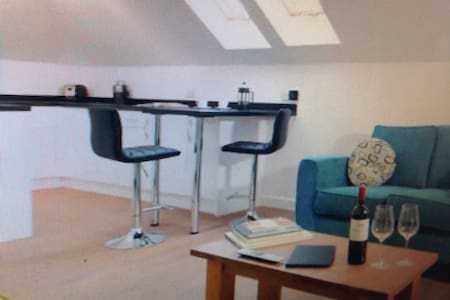 This home is tiny and charming, comfortable, ceramic tile floors, full, small kitchen, comfortable queen bed, small office / studio, new TV with Cable, offstreet carport, gated yard, quiet, sidewalks to enjoy walking, onsite w/d, fully furnished.
Charming Palo Verde home is perfect for one or two in the same queen bedroom. Full kitchen. 5 minutes to most restaurants, stores & activities. Yard fully fenced, carport inside yard, two patios, picnic table, chairs, BBQ grill. Guests will have the entire home and use of w/d, the entire gated yard, patio furniture, BBQ grill. Guests will be able to reach us within the same day by email, text or cell.
This is a neighborhood with similar sized homes, all fenced, surrounded by alleys and sidewalks and pavement. Walking is a common activity. It's a quiet neighborhood and people are friendly but respectful of privacy. One can walk to Circle K for coffee or refreshments or newspapers 24/7. Walk to the Plaza, restaurants, stores. Or 5 minutes drive to anything in Ajo. Parking for two vehicles inside gated yard. Public transportation call Ajo Transportation. Operates in Ajo M-F 8-5 and 75c gets you picked up and dropped off anywhere in Ajo. Call them for info. Guests will find this tiny home comfortable and secure. It has been home to Homeland Security offices and directors, people working at the local clinic, and tourists over the past 10 years.
Typ pokoje
Celý dům/byt
---
Typ nemovitosti
Dům
---
Ubytuje
2
---
Ložnice
1
Ajo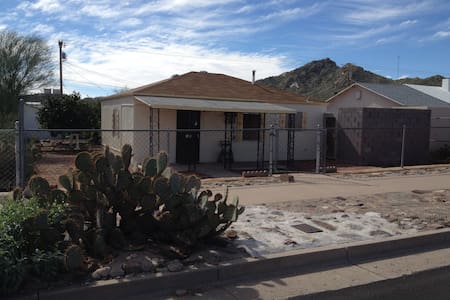 This home features split floor plan, master bedroom, closet and bath at east portion; common rooms living, dining and kitchen in the center; 2nd bedroom/bath far end. Fully furnished. Covered carport inside fenced yard, BBQ and Patio furniture
We have allergy free homes with no pets or smoking. Our homes are professionally cleaned, ready for your arrival. Cameron home is about 1300 s.f. and quiet, centrally located about 5 minutes from most Ajo activities and restaurants. Guests will have access to the entire home which also includes a small studio / office with a desk, chair and ready for your wifi / laptop Guests will be able to reach us by cell calls or text and should get a reply within the same day
Cameron home is 1/2 block from the Cabeza Prieta National Wildlife Refuge Interpretive Center, with many talks, lectures, walks, hikes and nature activities available at little or no cost. Cameron is 3 blocks from our great IGA supermarket and similar distance to restaurants, etc. Guests with their own car will find Ajo super easy to get around. No special instructions required. Guests without their own transportation should contact Ajo Transportation which has comfortable buses for 75c that will act as a taxi M-F 8-5 all over Ajo. Walking in daylight hours is safe. Arrival ahead of dark is recommended if possible
Typ pokoje
Celý dům/byt
---
Typ nemovitosti
Dům
---
Ubytuje
4
---
Ložnice
2
Ajo