Huanying dao wojiali zuoke jiali luanchang mingliang shihe danshen renshi jvzhu feuchang liciang de gangwan jiaotong fangbian chuxing fangbian buer de cuanze
Typ pokoje
Soukromý pokoj
---
Typ nemovitosti
Dům
---
Ubytuje
2
---
Ložnice
Arkansas City, Kansas, Spojené státy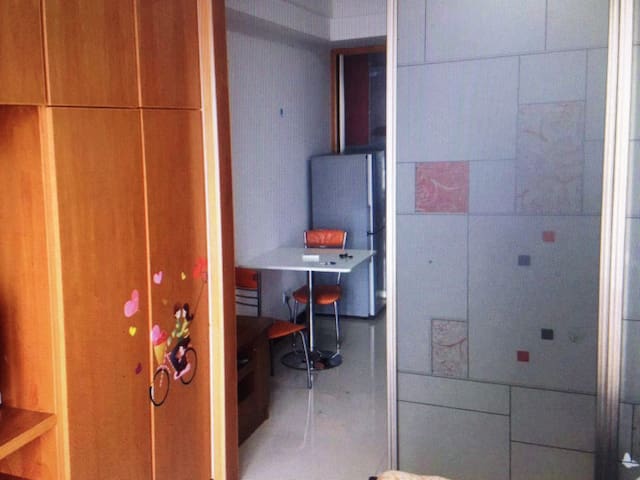 This beautiful 1925 home still has most of its original features, providing a distinct charm. Fully furnished with a fully equipped kitchen and 8 person dining. Centrally located, walking distance to downtown Winfield. Onsite parking, internet, cable and apple TV. Winfield House is our beloved home, but, sadly, we are not able to be living there full time. When we aren't there, we love being able to share our home with those of you who we genuinely hope will enjoy it as much as we do!!
This house was constructed in 1925 - we still have the original blue prints! We have done everything we can to maintain the integrity of the home, preserve original features and details. We hope to keep working, slowly over time, to restore any renovation work that was done over the nearly century of its life! As with any home almost 100 years old, some things might show their age or appear less clean than new construction might. We hope that that gets lost for you, as it does for us, in all the charm!
Winfield House is located on a main (small town) thoroughfare just east of downtown Winfield where you can find (and walk to) good places to eat. There are also restaurants East of the house and we have menus to guide you in our welcome book inside the house. Just a couple blocks west of Winfield House there is a nice little market for those last minute runs :) We love our residential neighborhood; it is a nice walking neighborhood. Winfield is such a quiet and quaint town -- we find it very peaceful and relaxing!
Amy's house was very comfortable and in a perfect central location!!! The kitchen had everything we could ask for in preparing a couple of home cooked meals and even a BBQ for a tasty steak. We will definitely stay here again on our next visit to beautiful Winfield. Amy was very responsive with any questions we had.
Jonathan
2016-06-11T00:00:00Z
This house is welcoming and has TONS of character. From the moment we entered we felt welcome. The home had a wonderful aroma of clean. We loved the layout! The dining room is large, the kitchen has everything you need (and more) and the bedrooms are all well appointed. We really felt so at home. The host was fabulous in communicating with us prior to, at the time of, and after our stay. It is a lovely home with character that is enhanced with cultured, yet fun, decor. We were impressed with the large kitchen, the glassware options and high-end toiletries. We look forward to many more stays in the future!
Kari
2015-07-19T00:00:00Z
Amy made everything super easy - the home is truly a home- cozy and in a great location- Enjoy your stay here everyone
Brent
2016-08-05T00:00:00Z
Amy was great to work with! She was very quick to respond when we reached out & made our stay in her home great.
Julie
2016-10-15T00:00:00Z
I recently stayed in this house for a week long hunting trip. Everything was great, and it was centrally located in town. I will stay there again in the future.
Nick
2016-11-20T00:00:00Z
Loved our stay! The host left detailed notes on how to best use the home. Loved the special body soaps, hair care, and lotions! The house is well stocked with everything you could ever want for cooking, pots, pans, and bowls. Also, spices and other cooking essentials were available. The neighborhood is safe and sweet!! You can walk to a small grocery store. I hope to be able to come back in the future.
Pamela
2015-12-07T00:00:00Z
Winfield House was perfect for our visit to the Walnut Creek Festival - location, amenities, comfort, everything was perfect. It is truly a touch of Paris in the mid-west. We were even able to watch the Georgia football game on Saturday night on the big screen TV! Amy was very available and we had no problem getting to or accessing the house. We hope to return to the festival next year and will book early to make sure we can come back.
Bambi
2016-09-19T00:00:00Z
Amy was wonderful to communicate with during the entire process. When we arrived we found information in the house that answered any questions we might have about the house. We were happy to have a garage space to use and enjoyed being able to take a walk in the quiet neighborhood. We had driven all day and were happy to have a comfortable bed and quiet spot for the night. Amy's home was perfect.
Dianne
2015-08-16T00:00:00Z
Typ pokoje
Celý dům/byt
---
Typ nemovitosti
Dům
---
Ubytuje
9
---
Ložnice
Winfield, Kansas, Spojené státy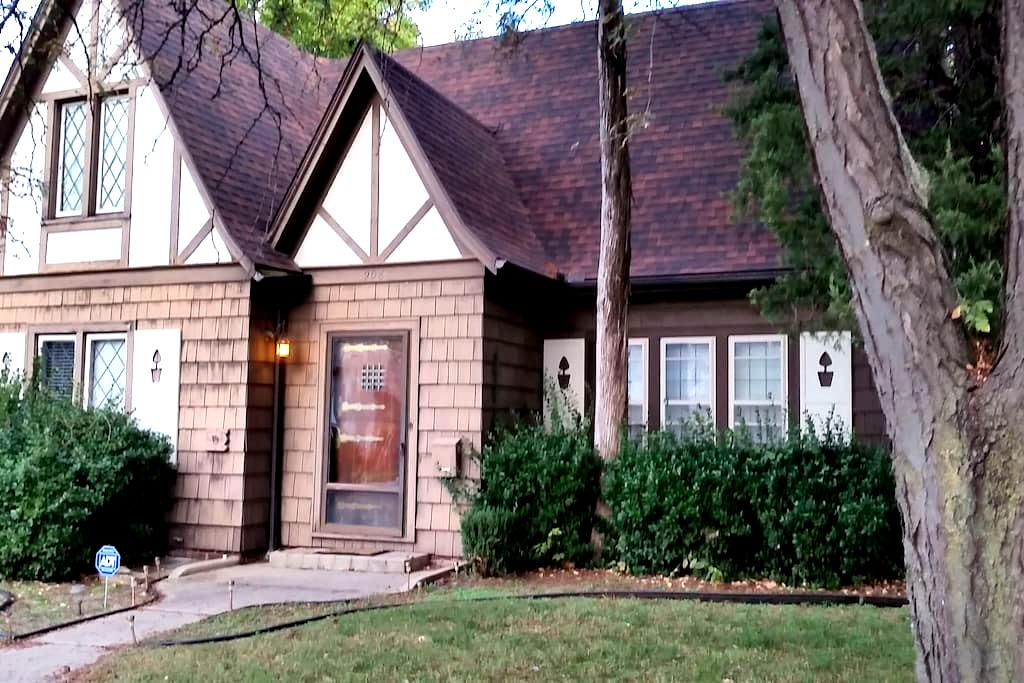 Close to Kaw Lake. 300 yards from a sandy beach right on the lake and only 4 miles from the nearest boat ramp. It is an excellent lake cabin and has all the necessities of a lake trip. It has the feel of a hunting/fishing cabin
Typ pokoje
Celý dům/byt
---
Typ nemovitosti
Srub
---
Ubytuje
8
---
Ložnice
Kaw City, Oklahoma, Spojené státy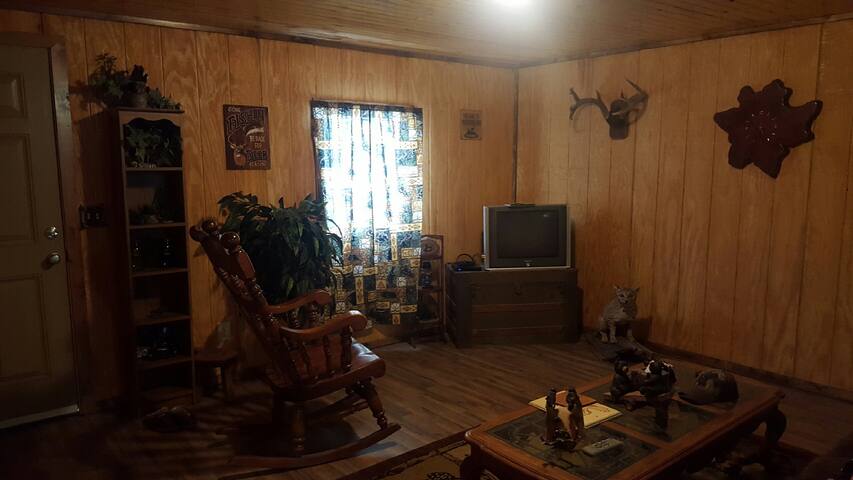 close to town but still enjoy the sounds of the country
Country Living with sunrises and night time stars
2 Miles from town, so easy to get meals and entertainment. Country living with deer, turkeys, geese, ducks,and other wildlife.
We had a great time during our stay! The surrounding country is beautiful and the hosts were very kind, welcoming and flexible. We would definitely consider booking again if we ever needed an Airbnb in the area.
Collin
2016-10-09T00:00:00Z
It was such an amazing experience for us ..every thing was clean and proper..the house was nice and spacious. Our view of Kansas was amazing...we felt at home if not better .woke up to eggs and milk and bacon...planning to be back for a week's stay .this place out beats any place we have stayed in the country ..
Jeffrey
2016-09-25T00:00:00Z
Typ pokoje
Soukromý pokoj
---
Typ nemovitosti
Penzion (B&B)
---
Ubytuje
2
---
Ložnice
Wellington, Kansas, Spojené státy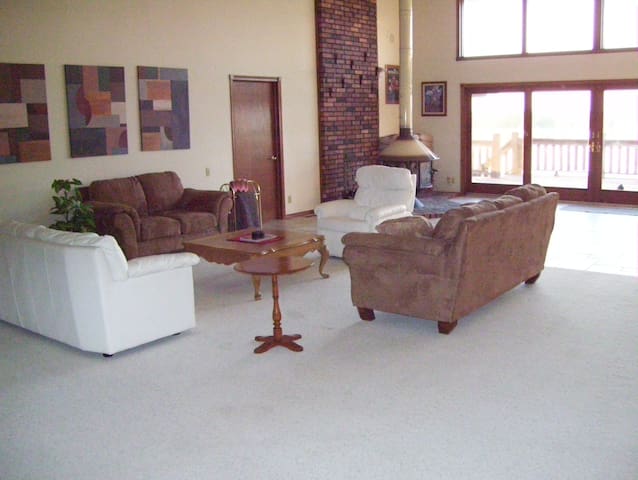 Close to Wellington, yet still in the country. Parking for RV, boat, motor home.Fully equipped kitchen includes stove, oven, microwave, dishes, utensils, silverware, coffee pot. Coffee and filters provided. Games, books, and music selection.Sit outside and watch birds, rabbits, sunsets, hear the quail, visit horse and donkey out back. Close to Worden Park, Wellington Aquatic Center. Only 30 minute drive to Walnut Valley Festival in September.Relax, Rejuvenate, Reconnect. (7 Day Max Stay)
Our Guest House is perfect for brides and brides maids to stay before the big day. A nice quiet place for family in town for funerals, reunions, weddings, festivals. Couples retreat here to reconnect and spend quality time together away from it all.
Our Guest House sits on highway 81 south of Wellington, making it easy to locate. It is a five minute drive to Wellington where there is a grocery store, Wal Mart Superstore, restaurants, clubs, Aquatic Park, Museums, and historical downtown, movie theater, movie rental store.
The house looked exactly like the pictures. A very cute 2 bedroom, 1 bath with some great updates. Right off the highway and has a rock drive which was nice because it did rain while we were there Linda worked with our travel schedule, and we were able to check in early. I didn't meet Linda in person as we had a very quick trip, but she was helpful over the phone and sounded like a lovely person! We would stay here again!
Kellyn
2017-03-25T00:00:00Z
Typ pokoje
Celý dům/byt
---
Typ nemovitosti
Dům
---
Ubytuje
4
---
Ložnice
Wellington, Kansas, Spojené státy
Utilities, washer and dryer, cable TV and internet included in price. Separate detached garage with additional parking along the house. No smoking allowed.
After traveling cross country for a job I needed a place to stay before my belongings arrived. This was a great place for me to stay for a month before moving on to somewhere else. While this place was close to work and gave me a place to crash at night, this house is in the rougher part of town (which is relative). Michael was very accommodating and nice but did insist on conducting construction during my stay. This was even done on the weekends. Overall a nice place to stay for a little while and fit my needs but was frustrated with the intrusion of construction.
Brendan
2017-04-04T00:00:00Z
Quiet neighborhood. Cozy home. Great host
Denise
2017-03-03T00:00:00Z
Michael was welcoming and could not have been more polite and helpful. His place was just as described and quite pleasant.
Dustyn
2017-02-22T00:00:00Z
Typ pokoje
Celý dům/byt
---
Typ nemovitosti
Dům
---
Ubytuje
4
---
Ložnice
Ponca City, Oklahoma, Spojené státy
My place is close to the City of Ponca City, Museums, Kaw Lake, Ponca Lake and two great golf courses.. You'll love my place because the location is in one of the top neighborhoods in the area and is very quiet and safe. Beautiful landscaping and a community pond. My place is good for couples, solo adventurers, business travelers, and families (with kids).
Retirement area that is very safe and quiet.
The host canceled this reservation 30 days before arrival. This is an automated posting.
Ashley
2017-02-01T00:00:00Z
This apt is located in a beautiful and quiet countryside community. There is a charming lake nearby where we saw the most beautiful sunset in our lives. Troy is responsive to every question we have. Truly sorry that I forgot to remind a fellow traveler about the non-smoking policy which caused trouble for the owner. Deepest apologies.
Kun
2017-01-03T00:00:00Z
Typ pokoje
Celý dům/byt
---
Typ nemovitosti
Řadový dům
---
Ubytuje
6
---
Ložnice
Ponca City, Oklahoma, Spojené státy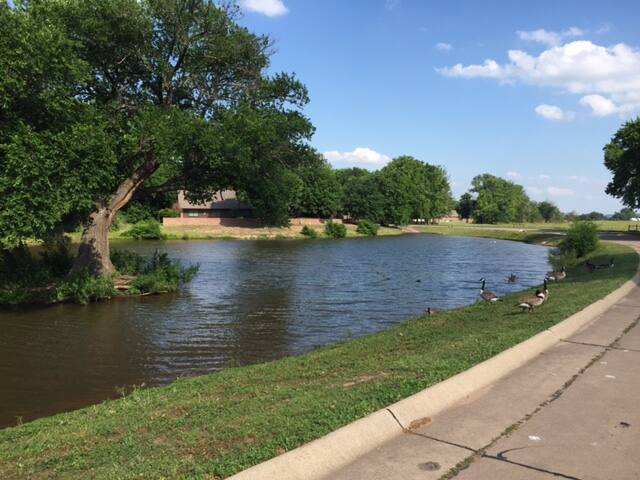 Pro zobrazení celkové ceny zadej termín. Mohou být přidány další poplatky a daně.