私たちは、アパートとその偉大にエアコンを設置しています。 :) これに彼らのフィードバックをお客様に感謝し、また、我々はお客様にこの快適を提供するために管理している私たちの生活の一部としてエアBnBのを持ちます。 私たちのアパートは、独自のアクセス権を持つ、プライベート&静かです。寛大なリビングエリアには、バック共用庭を見渡す大きなデッキに大きく開きます。オックスフォード目を国際都市への唯一の徒歩20分。カフェの、映画館、小売&Restaurantの。
私たちのアパートメントには広々としており、快適に4人を収容することができます。これは、全客室でシーリングファン独立したトイレとバスルームがあります。 すべてのリネンは、バスアメニティが備えられています。アパートは非常に夏に冷却されている寝室のためのメインのリビングルームエリア内の床と竹の床をタイル張りました。 二つ折りドアを開き、食事をしたり、庭を見渡すデッキでリラックス - その非常にリラックス - easterley風が甲板上でワインや2を持って夕方に来て、非常にリラックス。 涼しい季節が到着したとき、私たちはマンションだけでなく加熱を持っています。 あなたが車を持っているならば、あなたは自由のための私たちの家の前の外に駐車することができますが、あなたがない場合は、我々は都市にし、越えて行くことができます電車バスとフェリーを持っている - ちょうど私達に尋ねると、私たちはあなたに知らせることができるだろう約取得するための最良の方法です。 その私たちの家族の家が、我々は、お客様のプライバシーを尊重し、私たちのゲストがお返しにそうするようお願いいたします。 すぐにあなたを参照してください、私たちとあなたの滞在を楽しむことを願っています。 リズのnハミッシュ
私たちはその村の雰囲気のために私たちの近所を愛し、まだ我々は、市内からわずか5キロです。 あなたはその映画館、バー、カフェの、レストランや小売の範囲のためのオックスフォード・ストリートを愛します。 街&越えてから、&てもらうことシティーキャットを使用すると、川からブリスベンを表示するための安価な方法です。水泳や週末の市場のために市、またはサウスバンクに立ち寄ります。 サウスバンク&市は、市内とその周辺を参照する方法として人気が高まっている「シティバイク」(短期レンタル自転車)へのアクセス権を持っています。
My 2 friends and I loved our stay with Liz and Hamish! Many details were carefully thought of as both of them travel quite often and would know what creature comforts one would like and appreciate during their travels. The very concept of the apartment is very interesting whereby we could have our own privacy but know that the owners are very close by should we require any assistance. Liz even went out of her way to help us print out our seaworld tickets that we booked online but didn't realise that we needed to have them in hardcopy! The apartment was very comfortable with a nice sundeck just outside. Everything was very thoughtfully laid out for us and the breakfast spread was very generous! Even the pamphlets and recommendations for attractions in Brisbane and the surrounding areas were put nicely in a folder. An extensive range of books were also available to choose from. The bathroom also came with a shower heater which is very much appreciated in winter! The linen (blankets and towels) were made of high quality and comfortable thread also :) In short, the only thing which we regretted was not being able to stay for a longer time! Thank you Liz and Hamish for making our stay such an enjoyable and lovely one!
Ivan
2015-07-06T00:00:00Z
We love the cozy granny flat, and Liz showed us everything we need to know and provided us based food. So when we got there with tired body, we feel like backing home. Thanks for what Liz have done for us.
Hanlin
2015-07-07T00:00:00Z
My husband & I had a wonderful 2 nights at Liz & Hamish's apartment. We loved the cool, airy feeling &relaxing on the deck. The apartment is so well appointed & had everything you could possibly need for a short or long stay, and the bed is super comfy! Our puppy, also named Hamish, loved the garden & the resident dogs, Teddy & Panda, made him feel very welcome. We all found it hard to leave this gorgeous apartment & we're looking forward to staying there again on our next trip to Brisbane.
Katriona
2015-10-01T00:00:00Z
Liz's place is an absolute wonder! It's cosy, clean and very homely. It is also very spacious and the neighborhood is quiet and safe. Nearby the neighborhood is a stretch long of cafes and supermarket, posing great convenience. Liz herself is very friendly and easygoing. Overall a highly recommended place to stay in, and if I were to visit Brisbane again, I'll definitely stay at her place again!
Lynn
2015-09-25T00:00:00Z
Liz & Hamish - Thank you for opening your home to us. The location was perfect (close to the State Hockey Centre). Oxford St had some lovely cafes and the whole area was very nice. Your apartment was clean and relaxing with lots of the comforts of a real home.
Jacinta
2016-02-21T00:00:00Z
Host was welcoming and location was great. I would rate this stay a 9/10
Allison
2016-09-10T00:00:00Z
This is a very nice apartment. It has everything you would need for a stay in Brisbane. Although I did not meet the hosts personally, they were always reachable for us via message and even personally, since they live upstairs. You still have your own closed part, that is not linked to the other apartment. Thank you for the nice stay at the apartment.
Human
2016-01-19T00:00:00Z
Liz and Hamish responded very quickly to our booking enquiry and provided great advice regarding our arrival. The two bedroom unit was huge!!!! The kitchen was well fitted out and stocked with the essentials. The living room flows onto a lovely deck and grassed area, which was perfect for our 1 year old to explore. We have stayed at three air b'n'b apartments in Brisbane and this was by far the best!!!
Amanda
2015-11-29T00:00:00Z
Typ pokoje
Celý dům/byt
---
Typ nemovitosti
Byt
---
Ubytuje
4
---
Ložnice
Balmoral, Queensland, Austrálie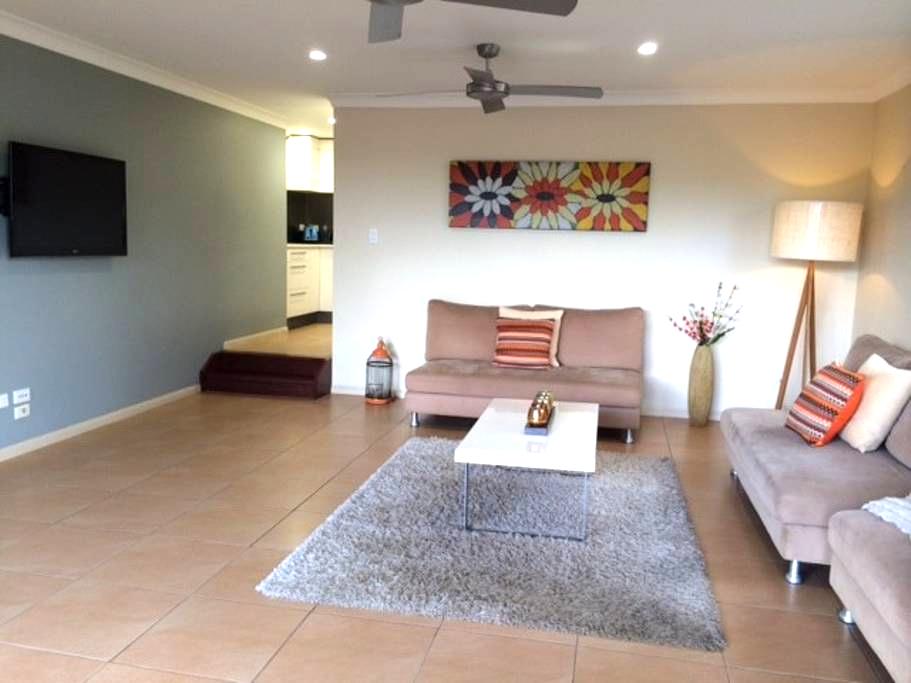 A private room in a high rise apartment in a modern building in the heart of Brisbane city within 5 mins walk to the shopping centre, cafes, shops also 2minswak to valley bars and restaurants and trendy new farm area.
It's a fully residential building. Very private with high security and we have a massage room ( @extra cost), pool, gym and steam rooms!
So central!
Afrooz was a great host. Her apt was clean and comfortable. The location was walking distance to everything. Hopefully it works out for me to stay here again on my next trip.
Justin
2015-12-06T00:00:00Z
comfortable and Nice stay in Afrooz's apartment. cozy and well decorated house. convenient location but quiet.
Peiwen
2015-11-30T00:00:00Z
I really enjoyed my stay with Afrooz. She is lovely and gives great tips on what to see in Brisbane. The apartment is beautiful and located in the central part of Brisbane. It's very tidy and clean. Afrooz has an adorable cat who loves cuddling. I would definitely stay with her again.
Jacqueline
2015-12-18T00:00:00Z
I had a great stay at Afrooz' place. She was very friendly and helpful. She kindly allowed me to wash clothes which I appreciated. The appartment is located in a nice secure building, only 10mns walk away from the heart of the city. The bedroom was small, but enough for one person. I highly recommend staying with her.
georges
2016-01-12T00:00:00Z
The host canceled this reservation 12 days before arrival. This is an automated posting.
Shiraly
2016-01-08T00:00:00Z
Afrooz is a really cool and friendly person who gave me great tips on the neighborhood, places to visit and so on. I really enjoyed her company and also her cat! Her place is this modern apartment in a high rise building at Brisbane's CBD which means living in the heart of Brisbane close to whatever you wish for. With a great view to the Brisbane lake, her place is great if you are a lone adventurer or just traveling for business. Thank You Afrooz, and Cheers!
Nasim
2016-06-11T00:00:00Z
Afrooz is really nice, and the cat is really cute. I enjoyed the experience of staying Afrooz's house.
維萱
2015-12-24T00:00:00Z
Typ pokoje
Soukromý pokoj
---
Typ nemovitosti
Byt
---
Ubytuje
1
---
Ložnice
Brisbane, Queensland, Austrálie
The apartment is a very cozy and quiet place at a super convenient location. 15 - 20 minutes driving from the airport, 2 kilometres far from the city and a few minutes walk from buses and the Fortitude Valley Train Station. Located near restaurants, supermarkets and the famous Fortitude Valley nightlife. Ideal for singles, couples and business travellers who are looking for a handy place to stay.
This is a place you won't regret to stay in! The apartment is modern, clean and super tidy! It is a simple place where you can feel at home. Facing the building common area, it is a silent place to be. There is unlimited internet and access to our Netflix. The apartment will be only shared with the hosts. The room has a wardrobe with heaps of space, a super comfortable brand new double bed and a ceiling fan. The guests will also have their own private toilet, which has a small bathtub.
- Restaurants and cafés King Street - located on the corner of Machinery Street Alfred & Constance - 2 minutes walking China Town - about 5 minutes waking - Pubs and bottle shops Jubilee Hotel - opposite the building garage China town - about 5 minutes waking Wickham street - about 5 minutes waking - Supermarkets Food Works - inside the Fortitude Valley train station Aldi Fortitude Valley - 15 minutes walking Woolworths Spring Hill - 20 minutes walking
The apartment is modern, clean and an easy walk to the city, perfect for my business travel. The room is cozy, with a comfortable bed, plenty of wardrobe space and ceiling fan. It was a bonus to have wif-fi, a private bathroom and use of the washing machine/dryer. The hosts are a lovely and welcoming couple, definitely recommend.
Marilyn
2017-03-01T00:00:00Z
Typ pokoje
Soukromý pokoj
---
Typ nemovitosti
Byt
---
Ubytuje
2
---
Ložnice
Brisbane, Queensland, Austrálie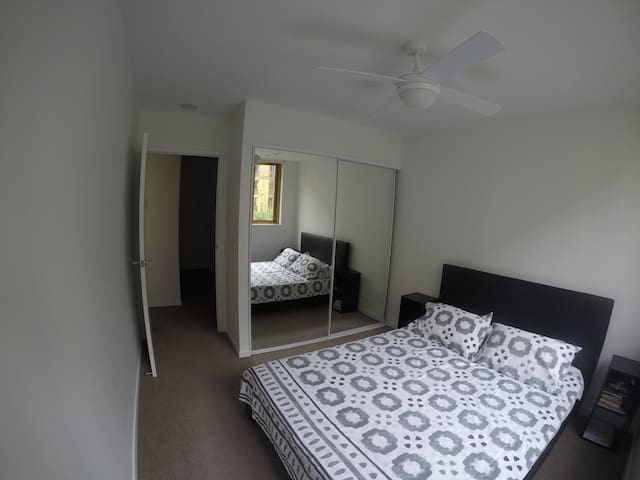 Single room available in a partially renovated unit, centrally located in one of Brisbane's most highly regarded locations. Located a short walk to cafes, train station, buses, city cat river ferry service and Eagle Farm and Doomben Racecourses. Only 5km from Brisbane CBD. High quality kitchen, air conditioning to living area, wi-fi and pay tv available.
The apartment is located in a well regarded safe area of Brisbane which is a short walk to a cafe strip with restaurants, retail shops and supermarkets. Public transport is easily accessible. Always plenty of street car parking available.
Ascot is a very well regarded older established area of Brisbane with beautiful tree lined streets and Eagle Farm Racecourse at which markets are held every Sunday morning with good food, coffee and live music.
Had a really nice stay with Guy. He was very welcoming and friendly I would definitely stay there again And just a 10 minute drive to/from the airport.
Robert
2017-04-12T00:00:00Z
Typ pokoje
Soukromý pokoj
---
Typ nemovitosti
Byt
---
Ubytuje
1
---
Ložnice
Brisbane, Queensland, Austrálie
Luxurious 2 bed 2 bath 1 car space in a perfect location close to the City and Fortitude Valley. Everything is at walking distance plus the gym and rooftop swimming pool with city views will be the perfect place to relax after exploring around town.
Great location on Ann St within walking distance of Fortitude Valley and the river. Spacious and well equipped apartment with modern interior and balcony. Nice little pool area, gym and sauna which was an added luxury. Overall a pleasant stay and recommended. Victor was accommodating to our early bag drop off and a good communicator.
Ed
2017-03-28T00:00:00Z
Most beautiful apartment and view of the city. Great location. Victor was helpful in every aspect of our stay. Will return to revisit some areas we missed.
Karen
2016-09-23T00:00:00Z
My husband and I enjoyed staying at Victors place, he was very helpful in every way. It was walking distance to most places, there was everything we needed in the apartment. Thank you Victor.
Tania
2016-09-06T00:00:00Z
Great place, definitely recommended. Aircon works well in living and bedroom. Very spacious balcony. Pool is amazing! Victor and his assistant were very welcoming and gave very clear instructions. Will book again!!!
Trevin
2017-02-17T00:00:00Z
Victor was a great host with an awesome place. I'd definitely stay here again
Leigh
2016-08-02T00:00:00Z
This is a lovely comfortable apartment, right within the city of Brisbane and an easy walk to everything we wanted to see and do. Victor was very welcoming, showed us round and explained everything very clearly. Loved it!
Sue
2016-11-11T00:00:00Z
The location is perfect for exploring Brisbane CBD, close to many great restaurants, bars and nightclubs. Within walking distance to fortitude valley and eagle street, close to queen street mall for shopping. Also, opposite the residential complex is a Woolworths. The apartment itself was very clean and tidy, the kitchen was quite big, I loved the view of the cathedral from the second bedroom. We were fortunate enough to have beautiful sunny Brisbane weather to enjoy a glass of wine, relax and chill on the large balcony.
Angelica
2016-10-17T00:00:00Z
A gem of a place. A nice apartment in CBD. The apartment is well appointed with a great balcony and also usage of the roof pool and gym. Victor is a great host and communicates well. Thanks!
Stuart
2017-02-25T00:00:00Z
Typ pokoje
Celý dům/byt
---
Typ nemovitosti
Byt
---
Ubytuje
4
---
Ložnice
Brisbane, Queensland, Austrálie
Our two bedroom, two bathroom, plus study apartment is in the CBD with stunning mountain views. Has gym and lap pool as well as carpark. Minimum 3 nights stay - bookings welcome during school holidays. Also has free Wi-fi Internet access.
Comfortable - heart of City - close to restaurants - easy access from Story Bridge - I have done my best to make our beautiful apartment as homy as possible so that you can feel like it is your home away from home - lovely views all the way to the Glasshouse mountains on the Sunshine Coast on a clear day - some spectacular winter sunsets from the 43rd floor
My favourite coffee shop is just outside the lobby and turn left. Some lovely restaurants along the Brisbane River only a couple of minutes walk away. A fantastic little wine bar across the road on Macrossan Street run by the charming Rory. Only a couple of minutes walk to the Eagle Street pier where you can jump on a ferry and see the sites of Brisbane from the water. China Town is only about a ten minute walk to Fortitude Valley.
Melissa made us feel so welcome. We were supplied with wonderful treats in the fridge, lovely breakfast food, bread plus fruit and a bottle of wine. What a lovely surprise ! Melissa checked a couple of times by text message that we were settling in well and was very helpful. We had such a wonderful time staying in her lovely apartment, decorated so tastefully, it truly was an experience. I would highly recommend staying with Melissa anytime.
Teresa
2016-02-24T00:00:00Z
The accom was excellent and far exceeded our expectations.
Rayleen
2016-10-24T00:00:00Z
Great stay, lots of useful information provided, easy access to owner when we had questions and beautiful apartment. Great location, close to restaurants and everything town has to offer. Great public transport close giving access to outer suburbs. Fantastic. Would recommend.
Wendi
2015-10-11T00:00:00Z
We had a lovely 7 night stay. We appreciated the early check in and late check out to accommodate unexpected changes to our travel plans. The bread, cheese, fruit and other breakfast supplies were much enjoyed. Thank you.
Martin
2017-01-07T00:00:00Z
Everything about Melissa and her place was excellent! All the amenities described worked perfectly for my family (we personally used the washer, dryer, and dishwasher). The location is aboslutely gorgeous as it is minutes walk onto the boardwalk along the Brisbane River as well as downtown which has plenty of restaurants. Melissa herself was a wonderful host. She was very accomadating to our arrival (delayed flight by 3+ hours) and departure schedule, and was also great at recommending things to do during out time in Brisbane. Her pup Daisy is also the most adorable dog ever if you get a chance to meet her! If we ever get a chance to stay in Brisbane again, I will definitely look forward to staying here again! Thank you for everything, Melissa!
Steven
2017-03-20T00:00:00Z
We had a wonderful stay in this lovely french themed apartment in Brisbane. We were greeted downstairs by Brioney who showed us to the apartment, and from the moment we walked through the front door we felt at home! We had a lovely assortment of provisions left for us including a large assortment of teas, coffees and home made treats. The bed was very comfortable and the views from the apartment were amazing. We will definitely recommend this to our family and friends. Thank you Melissa and Brioney, we will be back!
Annie
2016-01-27T00:00:00Z
Fantastic! Melissa is an excellent host and this apartment is stunning, with views of the city, parking, gym and pool. Melissa provided supplies like milk, bread, fruit and yogurt, there is a pod coffee machine in the apartment and a couple of cafes downstairs as well as a convenience store and there's a supermarket about 5 min walk away. My family and I enjoyed our stay and we will definitely return.
Damiano
2015-09-03T00:00:00Z
What a fabulous apartment! The beautiful decor, the food provisions, the luxury toiletries, the location and of course the outstanding views make this is a wonderful place to stay. Thank you Melissa for allowing us to have such an amazing experience. We'll definitely be back :)
Gillian
2015-10-19T00:00:00Z
Typ pokoje
Celý dům/byt
---
Typ nemovitosti
Byt
---
Ubytuje
4
---
Ložnice
Brisbane, Queensland, Austrálie
Enjoy the best Brisbane has to offer a few steps from our modern apartment located just metres from central station, the free city loop bus and ferry, Queen St Mall, South Bank, The Valley, Chinatown, The Casino and Brisbane riverside cafes and restaurants. It comfortably fits up to four with modern furniture, two queen beds, two balconies, home cinema, minibar, stylish appliances, ducted air conditioning, free local/national calls, pool and super fast WiFi.
We don't offer a room. We offer the most amazing accommodation experience. Full with homey details to make your stay super comfortable. Enjoy the Lexicon Apartments Oaks Hotel and Resort for a fraction of its price staying on level 12th with secure access via two elevators. Our modern and beautifully decorated one bedroom apartment is located in the heart of Brisbane City. It comfortable accommodates four (two queen beds) + a portable cot. We want to give you a great accommodation experience- and we'll make sure to do it right. With 100% of 5 stars reviews, our previous guests are your best warranty to sit back and relax knowing that your stay in the river city is secured. We're so much more than a room. You also have: 1) Free undercover parking (max height 2.10m) 2) Free super fast WiFi 3) Free drinks and snacks 4) Free amenities 5) Free national and local calls Even a digital Safe is available for you to secure your valuables using your own passcode. With two private balconies, one in the living room and one in the bedroom, you will enjoy the Brisbane River breezes and city lights. The apartment faces north which is an amazing advantage to keep it fresh at all times - without feeling the Queensland's heat. The living room balcony has a minibar retro fridge with complimentary drinks and snacks. It also has a pop-corn maker (for your movie nights) and electric BBQ. With a fully equipped kitchen with oven, microwave, huge SMEG retro fridge, dishwasher and kitchenware you will feel right at home. The apartment has a stunning home theatre system with a big 120" screen, Blu-Ray, DVD, PlayStation, Xbox, Netflix, Apple TV, digital sound system and racing car seat simulator (yes it's true search for "playseat evolution") to test your driving skills safely at home. Pretty awesome, really. Wondering where's the second bed? You won't believe the convenience and practicality of our queen Murphy's bed. It's so unique, comfy and you won't get that anywhere else in Brisbane. Surrounded by Woolworths, bottle shops, pharmacies, and plenty of restaurants a few metres away around the riverside, right in the heart of the city or by simply crossing the Cathedral Square park, nothing feels far away. With an unbeatable location, You'll have easy access to the best Brisbane has to offer. Walk everywhere or alternatively catch the free city bus (city loop) right on the corner or the free ferry (city hopper) a few metres from your doorstep. Where to go? - The Brisbane Riverside (Brisbane River) is 3 minutes walk down the block. - The Queen Street Mall, the most important shopping precinct and heart of Brisbane is only a few blocks away. - South Bank parklands, museums, art gallery, beach, etc is less than 10 min walk. - Walk to Kangaroo Point, Roma parklands, botanical gardens, City Hall, Spring Hill, Fortitude Valley and Chinatown. Checkout our reviews and what other guests said about their time with us! We're very confident to WOW you at all times! So looking forward to welcoming you! #andy_ale
-100 metres from/to Central Train Station -50mt to Cathedral Square and Brisbane Cathedral -Free City Loop bus stop downstairs (corner between Wharf St and Ann St.) -100 metres down the road to the Brisbane River (Riverside) -10 minutes walk to the Queen St Mall (the heart of the city) -1km to South Bank parklands, Brisbane wheel and cultural center (art gallery, museum, library, GOMA, etc) -100 metres to Free ferry (City Hooper) -50mt to riverside (Brisbane River) -5 min drive to Kangaroo Point (Story Bridge) -Short walk to the Fortitude Valley (Brisbane best nightlife) and Chinatown -The apartment is located in a quite, safe and most exclusive areas of Brisbane CBD, surrounded with parks, cafes, restaurants and supermarkets. -Brisbane City Council bicycles station across the road with easy access to riverside bikeways. Too close you can see them from the balcony. -10 min drive to Westend markets, restaurants, bars and entertainment. - Easy access to/from international and domestic airports driving via Fortitude Valley (20min), Airtrain (to Central Station approx. 30min) or Clem7 tunnel to Gold Coast and southern suburbs. - 400mt to Brisbane City Hall, Roma Station and Roma parklands. - 10 min walk to City Botanical Gardens - 10 min drive to The Gabba and Suncorp Stadium. - 10 min drive to Caxton St. and Paddington.
Andy is the most welcoming and friendly host that we have met. The apartment is fantastic with all the facilities, it can't be described by words once you have experienced it. We don't feel like leaving the apartment when we saw the environment . It is very convenience to the city, especially Queen Street. It is a MUST to stay if you are in Brisbane.
Asther
2016-09-23T00:00:00Z
Cosy, quirky, modern apartment centrally located within walking distance to Queen Street Mall and about a 15-minute walk to The Valley. The apartment was exactly as described and clean. The shower--with both strong pressure and piping hot water--was one of those rare 'luxuries' that you can't even find in some 5-star hotels these days. The bed was firm but comfortable--great back support for those of you with back problems. The balcony off the living area is a great place to sun oneself or take in the cityscape. More than enough added extras such as DVDs and Netflix to keep you entertained. Andy was great with his communication and made the check-in seamless. He was also very generous with his time during our stay.
Robert
2016-10-07T00:00:00Z
Fantastic. You'll love it. Friendly and helpful hosts. Lovely clean cosy flat. Nice pool. Underground car park. CBD, everything is close. Personal touch.
Elena
2017-02-04T00:00:00Z
Andy is quite possibly the best host ever! Just stayed 2 nights but it was a great location, comfy bed and all the little extras he provided as a host made us feel very welcome :) Would definitely recommend staying here!
Karel
2016-07-10T00:00:00Z
Andy and Ale were very welcoming and the apartment was lovely, beautiful details and in a perfect location! Rare to find a city apartment with such cool outdoor hang-out spaces, we had so much fun staying here and will definitely be back next time we stay in Brisbane!
Cassie
2016-07-25T00:00:00Z
Wow, where do I begin, the apartment was jaw droppingly awesome! We were met by Andy and Ale and they went out of their way to make us feel welcome. Nothing was too much trouble and the apartment was second to none with every mod con you can imagine. There were so many little finishing touches which made all the difference, even a light box with my name on it! The views were wonderful and it is ideally situated in the middle of the CBD for exploring the lovely city of Brisbane. Thank you so much for allowing us to use your apartment. Sara, Andrew and Sam.
Sara
2016-11-07T00:00:00Z
This has gotta be one of the best airbnb by far I've ever stayed in. Its super clean and neat and has a home theatre system!I seriously fell in love with the cute balconies they have. location is great as well. Andy and Ale had went out of the way to make our stay as comfortable as possible.Most importantly, it felt like home, which is why I will definitely stay with them again if I ever go Brisbane!
Hongyu
2016-10-03T00:00:00Z
Andy and Ale's communication was great from the outset. Their apartment was fabulous and they were the most friendly and lovely hosts. The small welcoming touches that they made are too numerous to mention but these two beautiful people really know how to welcome their guests! Goes without saying but the bonus media/gaming equipment had my kids glued ;) Thanks Andy and Ale for a too short but wonderful stay!
Renee
2016-11-04T00:00:00Z
Typ pokoje
Celý dům/byt
---
Typ nemovitosti
Byt
---
Ubytuje
4
---
Ložnice
Brisbane, Queensland, Austrálie
最富有的郊区"汉密尔顿在布里斯班。位于汉密尔顿港分局的最佳位置。临港码头是你旁边。步行到高级餐厅,电影院,全天候健身俱乐部,IGA超市,马场道村,Woolworths的,达美乐比萨,咖啡俱乐部,随时随地健身 - 第6分钟。布里斯班CBD - 9分钟开车到布里斯班机场 - 火车,巴士和渡轮 - 乘坐公共交通所包围
令人惊叹的以精湛的城市景观这附近新公寓,沿着布里斯班河,俯瞰。这家海港边的公寓是由布氏复用,最好的饰面和精湛的品质毋庸置疑发展。游泳池,烧烤区和健身房位于同一个壮观的景色在屋顶露台上,你绝对可以享受娱乐,托管你的客人,他们更是没话说。
Typ pokoje
Celý dům/byt
---
Typ nemovitosti
Byt
---
Ubytuje
4
---
Ložnice
Hamilton, Queensland, Austrálie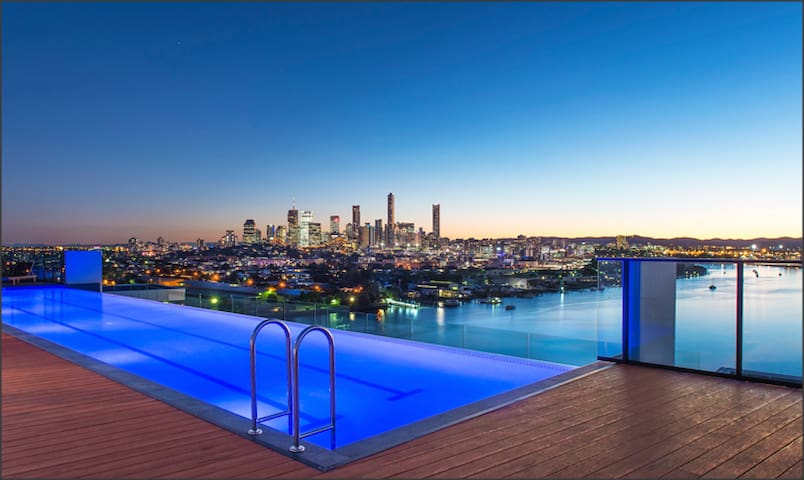 One bedroom available in a shared two bedroom apartment in the Oaks Felix with stunning views of the Story Bridge and river. The apartment has a laundry, air-conditioning, great balcony and everything you could possibly need in the Brisbane CBD including pool, spa, gym and sauna. My sister, Chloe, lives in the second room and will be your host.
Great city location close to city offices and Eagle Street Pier. It's really convenient to all city amenities, with bars and restaurants in close walking distance. When not out enjoying Brisbane, or the nearby South Bank, the balcony is a perfect place to unwind. You'll have a room to yourself with a Queen bed and wardrobe. The lounge, kitchen, balcony and bathroom are shared with my sister, Chloe.
Location location! Eagle street pier is right on the doorstep with amazing restaurants and bars. Southbank is a quick stroll away, as is Queen street mall shopping. There's a convenience store downstairs and both Coles and Woolworths supermarkets a few blocks away.
Amazing accommodation and incredible host! I had such a wonderful experience staying here, I will definitely be back!
Timara
2016-10-16T00:00:00Z
Jayde and Chloe were so nice and friendly host. Room was so clean, beautifurl and has nice view! Thank u! I had great time in Brisbane because of this room and nice host!
Wonji
2017-01-31T00:00:00Z
La chambre est spacieuse, décorée et propre, tout comme l'appartement. La vue de l'appartement est tout simplement magnifique, manger en terrasse est un bonheur! Chloé nous a gentillement laissé l'accès à sa cuisine et l'ensemble de l'appartement et était disponible pour nous même si plutôt discrète.
Romain
2017-03-07T00:00:00Z
Everything was perfect! Lovely place, lovely host, very clean room and awesome view! Do not hesitate, best place in Brisbane for sure!
Martin
2017-03-13T00:00:00Z
Great view, location and privacy!
Victor
2017-01-09T00:00:00Z
Great access to Brisbane city because there house is in the center of city. The room also comfortable. Jayde and Chloe are nice:) I really recommend!
Aya
2017-03-09T00:00:00Z
Die Lage und die Aussicht waren der absolute Hammer! Kann ich jedem empfehlen der mitten in der Stadt leben möchte!
Jennifer
2017-03-21T00:00:00Z
Travelling with a baby can be challenging but from arrival through to departure we were made welcome and helped with all of our needs. Thanks for opening up you home to us.
Simon
2016-10-01T00:00:00Z
Typ pokoje
Soukromý pokoj
---
Typ nemovitosti
Byt
---
Ubytuje
2
---
Ložnice
Brisbane, Queensland, Austrálie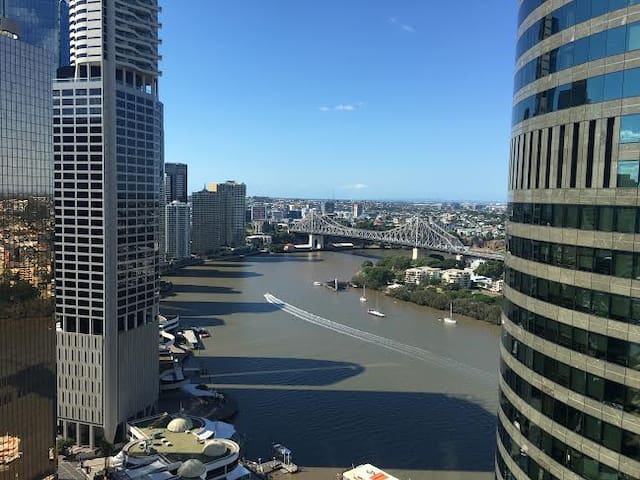 IN THE HEART OF BRISBANE CBD Fully furnished modern apartment with mesmerizing river and city views out side the balcony on the 26th floor at M on Mary Apartment! Located close to QUT UNI, Central Station and CBD. "You have everything at your fingertips." Great in-house facilities If relaxing is just what you need after a busy day. Enjoy facilities like the BBQ and recreation area where you can cook up a storm for friends and family or taking a dip in the heated outdoor lap pool.
Neutral color themes are adored for being openness and quite welcoming. Neutrals are easy to coordinate, simple to adapt, and they pair with a nearly unlimited variety of accent colors. Grayscale interiors offer just the right amount of challenge - especially when it comes to striking balance between light and dark elements. Own apartment tackle this dichotomy without spare. The designers at Jacky Architects took a different approach with each, the first complementing its modern color theme with gorgeous wood elements and the other fully embracing its grayscale design uncompromised.
Staying at Mantra on Mary gives you convenient access to all of the great things Brisbane has to offer. Cross the bridge to South Bank and cool off in the lagoon or enjoy a little alfresco dining. Discover the Gallery of Modern Art, the Performing Arts Centre and the Museum, which are all close by. Take it new heights with a ride on The Wheel and see all that Brisbane has to offer. Stay closer to home with shopping therapy at Queen Street Mall or get close to nature at the beautiful Brisbane Botanic Gardens. The Treasury Casino is just a short walk away and if you're in town for the big game then Mantra on Mary is in the perfect location with easy access to Suncorp Stadium and the GABBA. Visit the XXXX Brewery or opt for the funky atmosphere of Fortitude Valley with its live music and alfresco eateries just a short ride away. Jump on a train and head down to the Gold Coast to visit the great attractions and theme parks that await you there, our tour desk can help you with all arrangements.
Great place in CBD,easier for Asia supermarket and Asia resterants,suitable for 3 member family.JC is very nice to response quickly and provide extended help if any,much appreciated. Mike's family
Michael
2016-10-10T00:00:00Z
Friendly, convenient place and close to everything!
Erwin
2016-10-31T00:00:00Z
Some essentials were missing, but was a nice stay. Directly in the city!
Jule
2017-03-14T00:00:00Z
JC's place is perfectly located in the CBD. Spitting distance to the river and the botanical gardens and all the city centre joy of Brisbane. The space itself is great. Lovely little kitchen and all perfectly equipped for our stay. Great shower also which is always appreciated. JC was also a pleasure to communicate with.
Will
2017-01-19T00:00:00Z
JC place is well situated in the heart of Brisbane CBD close to all amenities and is well located to local transport services. The apartment itself was immaculate with great views of the city and access to the Swimming Pool and BBQ area which I thought was great. I would like to thank JC for his help during the booking process which made it all so easy. I would like to stay there again if I am ever stopping through Brisbane.
Paul
2017-01-11T00:00:00Z
The place is extremely well located: very close to many of the tourist attractions in the city as well as surrounded by a variety of restaurants and cafes to eat. There is a Coles and a big mall close by too. It is very practical. The pool is small but still nice. The place is not well equiped for cooking (only one small frying pan and one pot). There is a small dishwasher but there was no dishwashing liquid, tablets or powder so we didn't use it. It might have been just bad luck but we only managed to have one proper hot shower in 4 days, the rest of the time the water was rather lukewarm (almost cold). Although we did not meet the host in person, he was always very quick to respond to any of our messages. Altogether we would recommend it.
Kati
2017-01-19T00:00:00Z
J.C's place is well located in Mary St yet is quiet. The bed is comfortable. The air conditioning is great. It's a good base at a reasonable price for a person or couple who plan to be out and about in Brisbane.
Alan
2017-02-16T00:00:00Z
Great central location for a good price. Comfy. Felt like home.
Kenny
2017-01-30T00:00:00Z
Typ pokoje
Celý dům/byt
---
Typ nemovitosti
Byt
---
Ubytuje
4
---
Ložnice
Brisbane, Queensland, Austrálie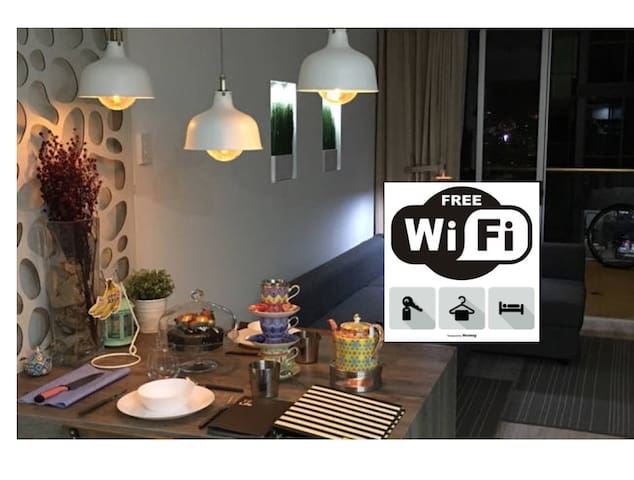 Queen bedroom Great city views, right next to Roma Street station and walking distance to city centre and Queen street. Room is Spacious with 1 queen bed and shared bathroom. Access to Living space, Kitchen, outdoor area, Building's pool, spa, steam room and Gym.
This unit has great views out all the windows and the living room catches the morning sun at breakfast time. Location location location ect to the air train and 2 minutes walk to the city. A resort location with the parklands adjacent and amazing facilities but with city convenience.
The neighbourhood is friendly and in the city centre and next to the main rail station and transport interchange
I stayed at Ryan's place with my dad for 3 nights and loved it. Nice and clean apartment with an amazing view. The place is close to everything and the pool/spa/gym area is just another great bonus. I would definitely stay here again. Thanks for having us Ryan!
Line
2017-01-24T00:00:00Z
We are living in Brisbane but needed one place to stay one week meanwhile the Real State confirm us our new home. We choose this place because was perfectly close to cdb and Roma Parklands. I asked the host if the room had two singles beds like the Ad on the web describe, because we're friends but not a couple. He answered me saying yes, but when we arrived, showed us a Queen bed Room. We explained that it wasn't the deal, and he was silent waiting if we decide say ok. After a weird and bother silent situation, we offered us speak with the other guests and try to swap their room (two single beds). During three hours we was walking around the city with all our luggage and suitcases, waiting for his call to say if the double single room was available or not. Absolutely uncomfortable situation not necessary if the host has a control about his bookings. The house is a 9 floor unit, modern, and plenty of space to live and share with the other guests and the host if he is there. Toilet and Kitchen with all appliances to use, great living and terrace with city views to enjoy a dinner. In general the house is clean, but the kitchen needs sometimes little more attention about that. The windows rooms are in front of Roma Street Station, during the day are little bit noises, but around 11pm it's reduce and you can sleep perfectly. The big pool, jacuzzi and sauna in ground floor are a good option to bored evenings. If I compare with others Airbnb, this place hasn't ammenities or the host didn't show us anything about. He gave us the key, show us the toilet, bedroom and never see him anymore. Fridge is share with the other guests and the host (I suppose) because was completely full, and all cabinets as well. As in some houses the host offers bread/milk for breakfast or soap in bathroom, in this case we didn't know if it was anything for free use or not. Is a good place to stay a short time in Brisbane and walk around the city. Train Station 2 min, City CDB 10 min, Roma Park (huge park) just crossing the residential street. But I felt there like in a simply share house, totally different with my others cozy Airbnb experiences.
Adrian
2016-12-02T00:00:00Z
The apartment is very neat and well-organized, looks exactly like the photos, it has a great location just right on Roma street parkland, with a walking distance to city and easy access to everywhere. The bed is very comfortable to sleep on. We didn't get to see Greg often but he is very helpful and responsive. It was a great experience, I would like to stay again.
Eileen
2016-11-24T00:00:00Z
Ryan and his Dad were very welcoming, and previous to arriving they were very fast at responding to messages, and gave easy to follow instructions for where to collect the apartment key. The apartment was lovely and had all amenities needed for a comfortable stay. Great location, short walk to the CBD, and directly opposite beautiful parkland. It was a fantastic place to start our new chapter having relocated from WA. Would definitely recommend staying at Ryan and his Dad's apartment. Thank you for having us to stay :)
Gemma
2016-05-22T00:00:00Z
Thanks for a lovely stay. We especially appreciated you allowing us to leave our bags at yours-cheers!
Anna
2016-05-24T00:00:00Z
We spent nice 2 weeks in this flat . The room and the flat are well decorated and very clean. The bed is confortable and the cupboard are empty so you can put all your clothes inside. It was very helpful for us. We felt at home during this 2 weeks : Using the Kitchen, Staying in the living room , using the fridge .... The building is very safe and the neighbourhood too. By the way the flat is very well situated : In front of a nice park : Roma Park where you can walk and do exercice. You are only 10 Minutes walking to the center of Brisbane ( King Georges Square). There is a train station next to the flat but during the night it's fairly quiet. During summer it's very hot at Brisbane and fortunately their is air conditioning in the flat. In the building you have a gym and a pool with a jacuzzi. We enjoyed spend time there. Greg is very helpful and nice. Definitely we spent 2 good weeks in this flat. Thank you again
Claire
2016-11-19T00:00:00Z
It was a beautiful apartment located in a very central part of Brisbane CBD. Definitely a place I will look to stay again when passing through. Ryan's dad was also a blessing, such a lovely many with nice manners. Thank you so much for the hospitality!
Elizabeth
2017-03-27T00:00:00Z
Ryan and his father are very busy people. It is very kind of them to be so honest and trustworthy opening up their unit to peoiple they do not know. Bed is extremly comfortable and the room is good to sleep in. Based on the vicinity of this unit to the city you must expect some noise from the train station. I have been know to be noise sensitive over the years but the train noise was not that invaisive and I would stay there again. I don;t believe it to be an issue. Great comunal areas with modern and up todate appliances. Great deck to chill with guest and have a few refreshments. Ryan's accomodation was a great city experience without the bvig ticket prices.
John
2016-06-22T00:00:00Z
Typ pokoje
Soukromý pokoj
---
Typ nemovitosti
Byt
---
Ubytuje
2
---
Ložnice
Brisbane, Queensland, Austrálie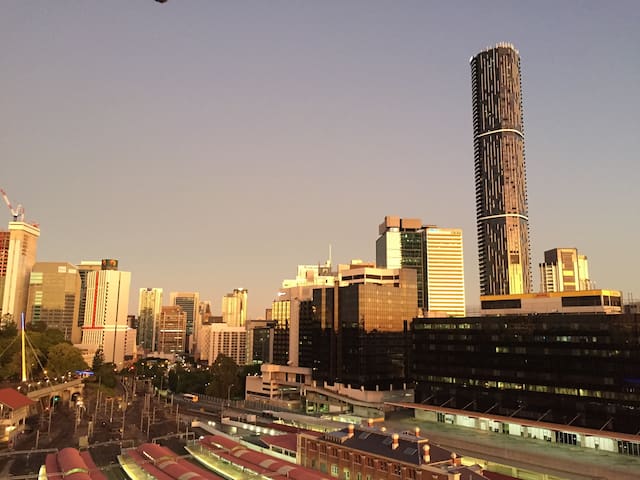 A Private ROOM at the Meriton tower with a nice view, Brisbane city. It is 2 mins walk to Roma station (bus&train). The best view of the Brisbane. There are swimming pool, spa, gym, sauna. What else do you want?! :)
1 PRIVATE BED ROOM with a private bathroom/tiolet 1): 2 min walk to Public Transport (bus,train) 2): 10 min walk to queen street 3): Close to severall restaurants and bars 4): Access to gym, pool, jacuzzi and sauna 5): 20 min walk to south bank, or 5 min by bus 6): No car park I am so friendly and try my bests to help the guests. I live in this apartment and got my own room and I wanna rent the another one . I am doing my master at Griffith university and my major is Civil eng. This apartment Located in the CBD's North Quay, an ideal location offering easy access to the city's entertainment, education and recreational attraction Southbank Parklands Roma Street Parklands Treasury Casino Queen Street Mall Gallery of Modern Art The State Library of QLD Cultural Centre forecourt with Queensland Performing Arts Centre, Queensland Museum and Queensland Art Gallery Wheel of Brisbane Walking distance to West End, Kangaroo Point, Fortitude Valley and New Farm Suncorp Stadium Convenient to both Roma Street and Central Train Stations and easy walking distance to North Quay City Cat terminal. Handy to Freeways leading to the Gold Coast and Sunshine Coast APARTMENT FEATURES Located on Level 30+ with magnificent city view. A spacious queen size bedroom with built-in robes A modern, open plan layout with free-flowing living areas Contemporary designer furniture and fittings Fully equipped Kitchen with contemporary quality appliances Internal dryer Reverse cycle air-conditioning system Security intercom system and secure building access No parking space First-class aquatic centre including indoor heated pool, spa and sauna and an expansive outer deck Fully-equipped fitness gym exclusive to residents For check in and check out, I am flexible except when there are guests arriving and departing on the same day and ample time needs to be allowed between guests for cleaning. We will do my best to accommodate any reasonable travel schedules.
To me, the most important criteria of my accommodation is cleanliness and Alex provided exactly what I look for. The room and the bed is very clean with great view. Close proximity to the city and South Bank. And thanks to Alex for being so friendly and good communication before hand. All good experience. :) High recommended!
Joyce
2016-04-07T00:00:00Z
The location is very convinient, esp. If you have only 1 day in Brisbane like us. The appartment is nice and clean, great view, Alex is very friendly and flexible.
Elitsa
2016-08-06T00:00:00Z
Very clean and inviting, wonderful host.
Joel
2016-06-14T00:00:00Z
笑容亲切友好问候,干净整洁,被你叠得很好,地毯干净,客厅摆设小清新像过年一样摆了很多蜡烛和花。卫生间提供沐浴用品。平时他不打扰我们,我们在房里做自己的事情,总之这个男孩子挺好的。公寓安全系数高,钥匙只能到他那层,放心舒适,夜景特美!交通很方便靠近市区夜景优美!
佳莉
2016-07-01T00:00:00Z
Hannah and I had a fantastic stay at Alex's beautiful apartment in Brisbane for 2nights. The room was very comfortable commanding spectacular views over the city. There is a TV in the room with lots of movies loaded on to there and Alex have us some good recommendations too! I used the pool one morning and it was like having your own private pool. Alex is a fantastic host was very friendly and easy to have a chat with. He instantly made us feel very welcome in his home. Would highly recommend Alex's place for anyone staying in the city for any period of time.
Paul
2016-11-29T00:00:00Z
Alex was a great host during our stay. He was very nice and always asking if we needed anything else. The view from the bedroom was great.
Matt
2016-02-26T00:00:00Z
Everything was incredibly close to local shops, CBD, Roma Station and the sights. The place was just as described and the view was amazing. We were made to feel very welcome as soon as we got there, and even though we got a bit lost (first time in Brisbane) Alex was more than happy to direct us to the flat.
Laura
2016-04-21T00:00:00Z
great host, great unit, great location
薛
2016-03-09T00:00:00Z
Typ pokoje
Soukromý pokoj
---
Typ nemovitosti
Byt
---
Ubytuje
2
---
Ložnice
Brisbane, Queensland, Austrálie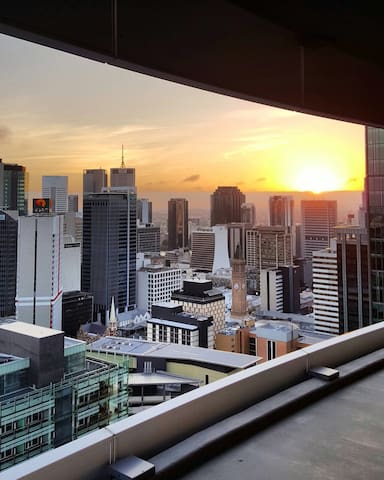 Enjoy Brisbane's best location & breathtaking uninterrupted views of the Story Bridge, Brisbane River and the city in this Level 8 apartment with direct access to the river & is a short walk to CBD, Queen Street, business centres & Fortitude Valley. Spacious Two Bedroom Apartments includes two bedrooms with 1xQueen bed + 1xsingle bed + 1xbunkbed, air-conditioning, fully equipped kitchen, dishwasher, laundry, large screen TV, Wi-Fi, carpark,private balcony with breathtaking views.
You will wake to a gorgeous view of the Brisbane River straight from the queen sized bed. The second bedroom has three beds. Both bedroom have built in wardrobes. The L shaped lounge is one of the most comfortable you have sat on. The kitchen is fully equipped with everything you will need and more. The laundry has a washing machine and dryer for your convenience.
The apartment is located on the gorgeous Brisbane River. It is a 5 minute walk to Fortitude Valley and the CBD.
The apartment was located in a great part of Brisbane with easy access to bars and restaurants. Fantastic views from the balcony. Perfect for budget conscious small family's or a couples looking for a weekend away whom want to stay in this district at an affordable price.
Melissa
2016-11-13T00:00:00Z
Beautiful apartment in fantastic location. Easy access to ferries and buses. Places to eat nearby and easy and very attractive walk to Botanic Gardens and South Bank for markets, more restaurants and other attractions. Had a great weekend here.
Ingrid
2017-04-10T00:00:00Z
Very clean house beautiful view I recommend it The only negative criticism is that the smaller bed room had no ventilation or a/c !!!!!
Argyris
2017-03-06T00:00:00Z
One of the best expriences of visiting Brisbane for us. Great location with stunning view that you can directly appreciate the view upon Brisbane River and the bridge. The apartment is very clean with thoughtful facilities and equipment. Thanks for Nicole's hospitality and friendly treatment. Nichole一家非常热心,耐心解答我们的问题,房间的风景超棒,窗外就是布里斯班河以及CBD的风景,性价比非常高。
何
2017-01-30T00:00:00Z
Great view! Good location and facility
Sebastian
2017-03-01T00:00:00Z
I highly recommend this flat. Clean & comfortable, beautiful views, great pool and perfect hosts.
Ruth
2016-12-28T00:00:00Z
Great place, great view and great location
Jason
2017-01-26T00:00:00Z
Nicole was very sweet and helpful when we arrived. The apartment was very clean and had everything we needed. As her pictures show, the view is spectacular and the apartment is in such a great location, close to restaurants, public transportation, walking paths, and the ferry system to make stops along the river. She also had a binder full of great information about Brisbane and sites to see. We highly recommend this rental for family vacation, business, or a romantic getaway!
Russell
2017-01-13T00:00:00Z
Typ pokoje
Celý dům/byt
---
Typ nemovitosti
Byt
---
Ubytuje
5
---
Ložnice
Brisbane, Queensland, Austrálie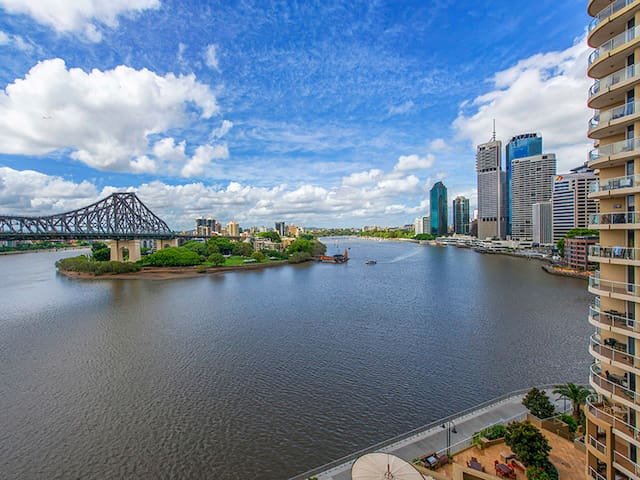 This modern beautifully furnished two bedroom unit on the 17th floor is close to shops, restaurants and entertainment venues. Facilities include a gym and pool. There is an open plan kitchen and lounge room and an alfresco dinning space.
e The unit is two bedrooms. One has a queen size bed the other a double bed. Both have built-in wardrobes. There is an open plan kitchen/lounge and dining space. The dining room has wonderful views of Brisbane. You are welcome to use Fetch TV. Unlimited wireless internet is free to use. The kitchen is supplied with all standard crockery and cutlery as well as a dishwasher, microwave, cold press juicer, rice cooker, and slow cooker. Saucepans and frypans are also provided. All linen and towels are supplied. There is a laundry with a washing machine and dryer. The unit is air-conditioned.
Brisbane is a dynamic tropical city on the banks of the Brisbane. There are a number of department stores in walking distanced and hundreds of restaurants and entertainment venues. Public transport is close by include the City Cat Ferry, busses and trains.
Brilliant flat in a great central location, right in the heart of things at ground level, quiet and secluded on the 17th floor. Nice pool and jacuzzi. Loved it and Brisbane.
David
2017-03-05T00:00:00Z
Peter is very nice host. He went downstairs to meet us and show us the way in. The building is nice and clean. (So is the room). It is in the central area, where close to many restaurants and shops. Walking distance to the river. Peter fold the towels nicely. He also light up the candles, and with fresh flowers. Made us felt a home right away. There are even breakfast and milk prepared for us in the refrigerator. Glasses and dishes are all in like-new condition. Peter decorated living area with so many art pieces from asia. And from the living room window, we are able to see the south bank and wheel of the Brisbane. Even though the overall size of the apartment seems a little bit smaller than we though, but we can totally live with it. It's a great stay, and I am recommending it!
James
2017-02-04T00:00:00Z
We had a wonderful stay at Peter's place. The views are stunning, it is centrally located (we pretty much walked everywhere), the apartment is exceptionally clean, and Peter/Arry responded to every inquiry/message within a few minutes. What made our stay in Brisbane even more special were all the extra personal touches-- fresh flowers throughout the place, fruit on the table, fruit infused water in the fridge, amongst many other things. It was also great to take advantage of the pool one afternoon. It was a great visit and would highly recommend this place!
Sarah
2016-11-18T00:00:00Z
Excellent location. Close to Meyers, Queen St Mall and public transport. Apartment tastefully furnished with all mod cons, plus comfortable beds! The washing machine and dryer were particularly beneficial to keep up to date with clean clothes. Positioned on the 17th floor, the City views were fantastic especially when watching a display of an electrical storm! Although Host Peter was absent, the acting Host, Greg, was welcoming and helpful. As a retired couple, without a car, seeking clean, secure and well appointed holiday accommodation, Peter's Apartment is the ideal place. We hope we will be invited back to stay next year!
Carol
2015-11-28T00:00:00Z
Peter was prompt with all communication which reduced stress before our trip. His friend met us at the apartment and was very helpful and thorough. The apartment was just as described and was in a great location close to everything downtown. Even though it was air conditioned, it wasn't quite cold enough for this true Mainer, so his friend found a fan and brought it over. It was a great experience using Airbnb for the first time.
Beth
2016-02-16T00:00:00Z
The location is smack bang in the middle of the city, everything you could want. The apartment is lovely, very well appointed, and clean.
Jim
2015-07-24T00:00:00Z
Excellent in all respects; would stay here every time I am in Brisbane. Perfect 2BR location; Peter is very responsive. Parking is next to elevator. All good
Jay
2015-09-19T00:00:00Z
We found the apartment to be modern yet cozy, impeccably clean and neat, and centrally located. The artwork was also really cool and i only wish I'd thought to ask Peter about it during check in. The whole experience exceeded our expectations.
Noura
2016-06-10T00:00:00Z
Typ pokoje
Celý dům/byt
---
Typ nemovitosti
Byt
---
Ubytuje
4
---
Ložnice
Brisbane, Queensland, Austrálie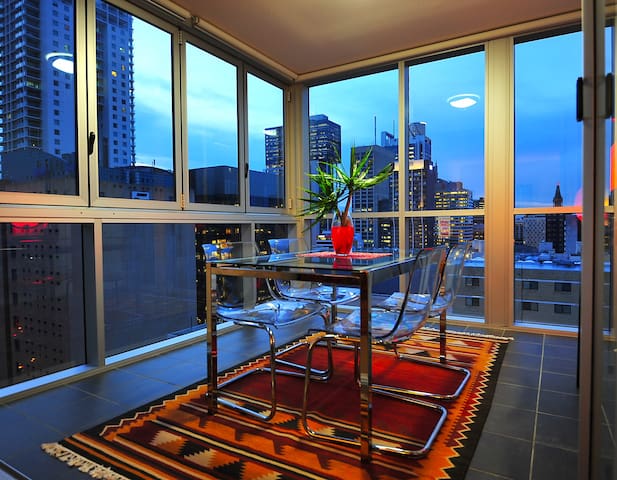 -pool -免費WiFi -研究 在夾層地板-Queen床(套間) 在主樓層次臥-Queen床 -2張單人床在主場第三間臥室 -2x浴室 -bus每隔10min到CBD(公交車站剛走出前) -5min步行到新農場公園+廠房+ Citycat終端 -5-10min步行到咖啡館/酒吧/ restuarants 沿河-walk /慢跑 -River意見 路邊停車-Plenty -Well配備廚房(烤箱,煤氣灶,咖啡機)
Colin's apartment was exactly as described. It was a beautiful place, perfect for our weekend in Brisbane. Check in was simple and there was no hassles at all. We would definitely stay here again with no hesitation.
Jake
2017-03-25T00:00:00Z
A great location in new farm. Close to the park, ferries, walks and restaurants. A perfect, family friendly spot to explore Brisbane.
simon
2017-04-02T00:00:00Z
Great location for visiting the City and surrounds. Lovely views. Very nice apartment. Would come back again and stay here. There are a few steps to climb which might be a challenge for the very elderly.
Julie
2017-02-15T00:00:00Z
The location was great, close to the city cat, hire bikes and plenty of cafes and grocery shops. 5-10 minutes from the city. The view over the river was also great. The apartment was large with 2 bathrooms and 3 bedrooms. My partner and I would be happy to come back and stay here again :)
Dan
2017-03-05T00:00:00Z
Booked this for my partner's parents and they loved it. Lots of space, modern and clean. Thank you!
Sally
2017-01-21T00:00:00Z
Fantastic and comfortable property, perfect for our business trip.
Claire
2017-02-06T00:00:00Z
Good apartment
원형
2017-01-31T00:00:00Z
Amazing location, apartment and host!!! Can't wait to stay again
Jenna
2017-04-05T00:00:00Z
Typ pokoje
Celý dům/byt
---
Typ nemovitosti
Byt
---
Ubytuje
6
---
Ložnice
New Farm, Queensland, Austrálie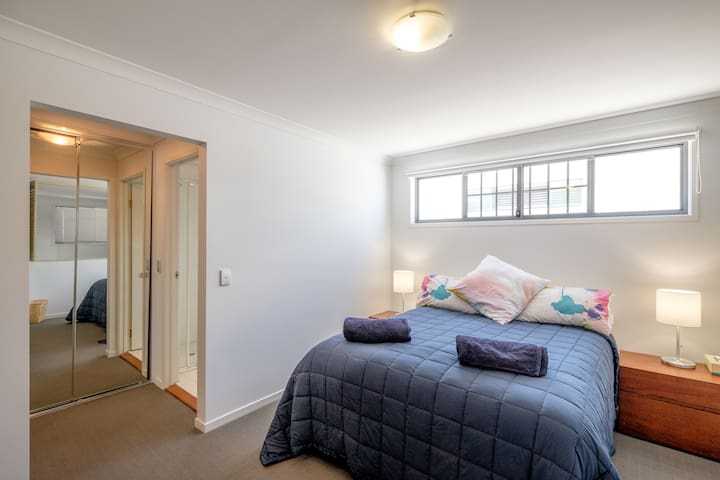 Chambre à coucher et salle de bains séparée du reste de la appartement aménagé comme une chambre d'hôtel. Situé à quelques minutes de marche des transports en commun, des commerces, des restaurants et des jardins botaniques. Le bâtiment a un barbecue, une piscine, un spa, un sauna et une salle de fitness, où les clients sont invités à utiliser. Pas de parking disponible.
Schlafzimmer mit en-suite Badezimmer hat Zugang direkt von der Wohnung Lobby. Schlafzimmer hat Queen-Size-Bett, einen großen Kleiderschrank, eine kleine Bar Kühlschrank, an der Wand befestigter TV mit Internet-Fähigkeiten und kostenfreies WLAN zur Verfügung.
Gebäude liegt in der Nähe von Geschäften, Restaurants, öffentlichen Verkehrsmitteln und botanischen Gärten. Das Hotel liegt etwa auf halbem Weg zwischen Queen St Mall und dem Botanischen Garten.
good!!
Ks
2017-04-07T00:00:00Z
The room is entirely separate from Maya and Daniel's apartment, ensuring privacy. It's only a bedroom with an ensuite, but if you're happy to eat out there are plenty of options nearby and you won't be disappointed by the lack of kitchen facilities (we weren't). The building has a sky garden as well as a pool, spa and gym! Maya was able to meet us on Saturday around lunch time to leave us the key which was fantastic and greatly appreciated. Outstanding value for money, will be back for any future Brisbane trips!
Louise
2017-04-01T00:00:00Z
The accommondation was very central. Perfekt to walk through the city. The room an the bathroom were very clean and new. To calm down it's possible to use the Pool. Maya is a great host. Thanks for the pleasent stay.
Andreas
2016-11-30T00:00:00Z
Lovely room. Very private! I definitely recommend this place! :)
Patricia
2016-12-03T00:00:00Z
Maya and Daniel's place is the perfect place to stay if you need somewhere central. It is clean and modern. Maya was very welcoming and friendly
Rob
2017-03-06T00:00:00Z
It is good place to stay, clean, separately and quiet. Close to Queen street mall and you can user the free loop bus N.40 to go around CBD, just 2 min walk from home to bus stop 115 in George Street. I recommend it.
Trị
2017-04-11T00:00:00Z
This appartement is in the heat of the city ! You can swim in the 5 floor, or you can eat in the skygarden in the 26th floor. Amazing, clean and beautiful +++
Charles
2016-12-29T00:00:00Z
Maya ist ein reizender Gastgeber. Sie gibt wertvolle Tips und Empfehlungen. Das Zimmer ist toll und das Bad groß und alles sehr sauber. Die Lage ist so zentral, dass man vieles zu Fuß erledigen Mann. Echt klasse!
Helga
2017-01-02T00:00:00Z
Typ pokoje
Soukromý pokoj
---
Typ nemovitosti
Byt
---
Ubytuje
2
---
Ložnice
Brisbane City, Queensland, Austrálie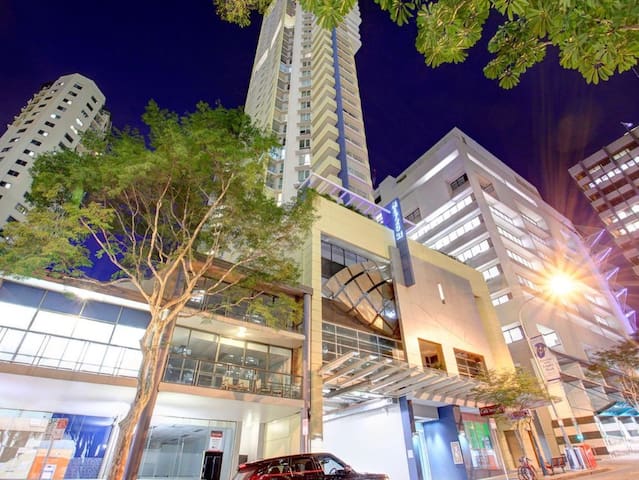 Perfectly located in the heart of Brisbane's CBD, just metres from Brisbane river. 270 degrees views Spaciously designed apartment completed with superior finishings and furnishings, includes 2 balconies and full open plan kitchen+lounge.
Great communication before arrival.
helen
2016-10-08T00:00:00Z
Awesome appartement, with a great location. the views from the balconies are breathtaking ! Go for it.
Simon
2016-10-22T00:00:00Z
Kostas place was amazing! Great communication and easy check in. Nothing to fault at all, amazing views and facilities!
Quan
2016-10-22T00:00:00Z
Awesome place. This is where you want to be in Brisbane. Walking distance to everything, incredibly beautiful view, and the place is huge. Would stay here again. If you're on the fence, don't be. Book it ASAP! Also, Kosta is a great host. Very easy to get a hold of.
Jeremy
2016-12-04T00:00:00Z
Really amazing view. Location perfect, few minutes by foot from the center. Swimming pool and hot tube really nice. We really enjoyed this place.
Frank
2017-03-31T00:00:00Z
beautiful apartment
Zach
2017-03-05T00:00:00Z
Kosta was very accommodating and rang me the morning of arrival to organise the key pick up. Apartment was very clean and in a great location.
Kelly
2016-10-03T00:00:00Z
This was great. Our group had a last minute accomodation crunch, and Kosta happened to very promptly provide responses regarding this property. This apartment had spectacular views from the 18th floor overlooking the Story Bridge. City Bikes were accessible from where we were in. Nightlife in Fortitude Valley or heading in the CBD was super easy. Great location. In addition, within an hour or two of booking - we had access to the place thanks to Karpin too who was awesome as a co-host offering advice about the city.
Jeanie
2016-05-22T00:00:00Z
Typ pokoje
Celý dům/byt
---
Typ nemovitosti
Byt
---
Ubytuje
5
---
Ložnice
Brisbane, Queensland, Austrálie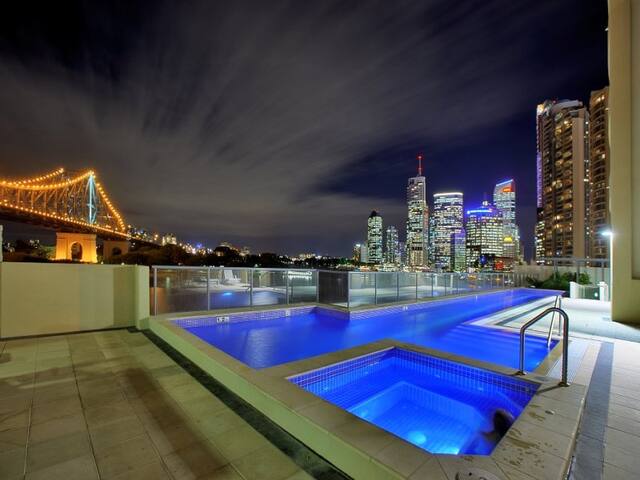 Our place is close to great views (like Riverside and Story Bridge), restaurants and dining, nightlife, and family-friendly activities. You'll love my place because of the ambiance, the outdoors space, the people. My place is good for couples, solo adventurers, business travellers, and families (with kids).
Cadu and Felicia have been wonderful hosts to us! Amazingly welcoming, helpful and a joy to spend time with! Their place is close to great restaurants and we had a good time at their home! Thanks for being such care taking hosts! We hope to see you again soon!
Liza
2017-03-30T00:00:00Z
Friendly hosts, clean and convenient location.
Lynette
2017-02-25T00:00:00Z
Comfy, clean and close to city centre and public transport. They're both friendly and willing to help the guest. They even parked their car off street so that I could use their car park.
Mehdi
2017-03-21T00:00:00Z
We loved every part of it! Cadu and Felicia are lovely people and their home was in such a good location. Close to restaurants and public transport!
Mia
2017-03-14T00:00:00Z
Very nice place to stay
Jonathan
2017-03-16T00:00:00Z
Great apartment! Lovely and friendly couple to talk to. Truly enjoyed the stay!
Louis
2017-03-07T00:00:00Z
Cadu and Felicia were great hosts. It was their first time hosting and they did a fantastic job. The apartment complex is great and the room and bathroom were exactly like in the pictures and were clean and tidy. They were both really friendly and respected my privacy but were also available for a chat on the balcony. They even cooked for me once and it was delicious :)
Matthias
2017-02-22T00:00:00Z
Very good place for value. Felicia & Cadu were super nice to us. The room is big enough for 2 people. The location is awesome. I'd definitely recommend to stay at this place to anyone who's looking for a place in Brisie!
Rafa
2017-03-03T00:00:00Z
Typ pokoje
Soukromý pokoj
---
Typ nemovitosti
Byt
---
Ubytuje
4
---
Ložnice
Fortitude Valley, Queensland, Austrálie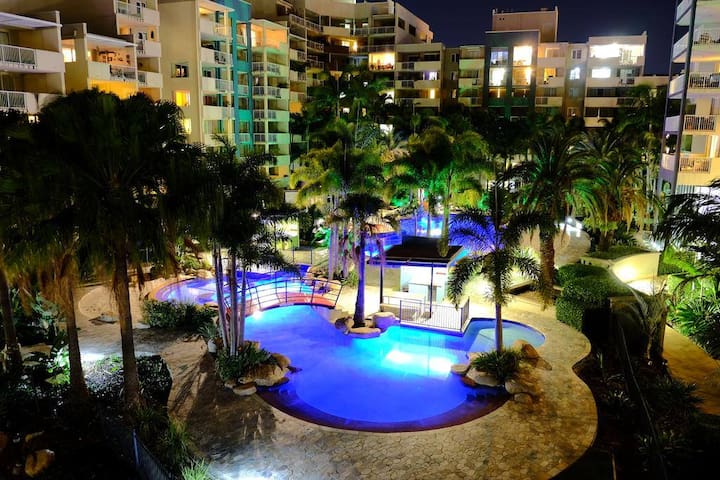 Balmoral - Airbnb
:
Průměrně

4.91

z

5

hvězdiček na základě

917

hodnocení hostů
1

–

18

z

300+ pronájmů bytů
Pro zobrazení celkové ceny zadej termín. Mohou být přidány další poplatky a daně.