Hallo, alle miteinander! Wir freuen uns, Ihnen unsere schöne Wohnung nur wenige Meter vom Lago di Varese einzuladen. Das Haus befindet sich in einem strategischen Ort befindet, weil in wenigen Minuten ist man Restaurants erreichen, Supermärkte und andere schöner Attraktionen Ihren Urlaub zu genießen.
Ist 50 qm Duplex-apartament in einer Wohnanlage: - 1. Stock: Wohnzimmer mit Schlafsofa und einer Küche (Kühlschrank, Kochecke mit Gasherd, Geschirrspüler und einen Essbereich mit ausziehbarem Tisch mit 4 Stühlen) - 2. Etage: Schlafzimmer und Bad - Zimmer und ein eigenes Bad - Wohnzimmer mit TV - Küche mit begrüßenswerten Speisen und Getränken - 2 kleine Terrassen
Gavirate ist ein Ort, von der Natur umgeben, und es ist in einer strategischen Position, denn in wenigen Minuten der schönsten Plätze in der Stadt zu erreichen. Wir möchten Sie vorschlagen, was Sie während Ihres Urlaubs in der Stadt zu sehen oder zu tun: - Eine Minute zu Fuß vom Haus entfernt: der Radweg des Lago di Varese (28 km lang) - Lago di Varese, Lago Maggiore mit den Borromäischen Inseln, Comer See, Lago di Monate, See Ghirla. - Der Naturpark '' Campo dei Fiori '' und Sacro Monte - Golfplatz von Luvinate - olympisches Schwimmbad von Comerio 20 Minuten mit dem Auto vom Schweizer Stadt Lugano, Locarno, das Casino von Campione. Wenn Sie in einigen Geschäften interessiert sind, müssen Sie besuchen Varese (Stadtzentrum), Mailand und den größten Outlet Europas, Fox Stadt in Mendrisio. Entfernungen: - Gavirate Ruderklub: 200m - Supermarkt: 1,3 km '' Centro Commerciale Campo dei fiori '' - Bahnhof: 1,2km Trenord - Milano Fiera / EXPO 2015: 60km - Mailand Malpensa Flughafen: 45km - Bergamo Flughafen: 106 km - Flughafen Mailand-Linate: 80 km - Milan: 63 km
Typ pokoje
Celý dům/byt
---
Typ nemovitosti
Byt
---
Ubytuje
3
---
Ložnice
Gavirate, Lombardia, Itálie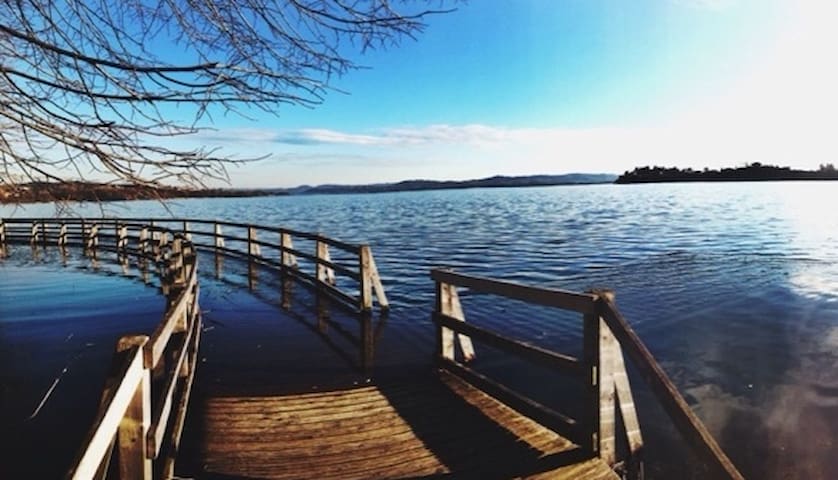 Spazioso bilocale sito nella splendida zona dei laghi. La posizione è ottima per raggiungere diversi punti turistici d'interesse: Palude Brabbia, Percorso Ciclabile lago di Varese, Navigazione isole lago Maggiore, Isolino Virginia, S.Caterina Del sasso. La casa si trova a soli 50 metri dalla spiaggia del lago di Monate (una perla per la sua fauna,flora ed incontaminazione). A 15 km da Malpensa e Varese.Tutti sono benvenuti!!
L'alloggio è uno spazioso bilocale con accesso autonomo e fornito di cucina con stoviglie ed elettrodomestici. C'è uno grande armadio a muro ed un piccolo armadio in camera da letto. La zona giorno è ampia e fornita di comodo divano e tavolo allungabile con sedie. La casa dispone di un patio piastrellato esterno (20 m2), dove poter mangiare griglia o prendere il sole durante la bella stagione. Incluso nel prezzo sono presenti due comodi posti auto.
La zona in cui si trova l'alloggio è molto tranquilla, a solo 50 metri si potrà ammirare il fantastico lago di Monate, oppure fare tranquille passeggiate immersi nelle stradine che portano alla parte alta di Monate detta " al Castello" .
Proprietaria disponibile nelle informazioni e nel supporto alla risoluzione dei problemi
cooperativa
2017-02-07T00:00:00Z
Typ pokoje
Celý dům/byt
---
Typ nemovitosti
Byt
---
Ubytuje
2
---
Ložnice
Roncaglia, Lombardia, Itálie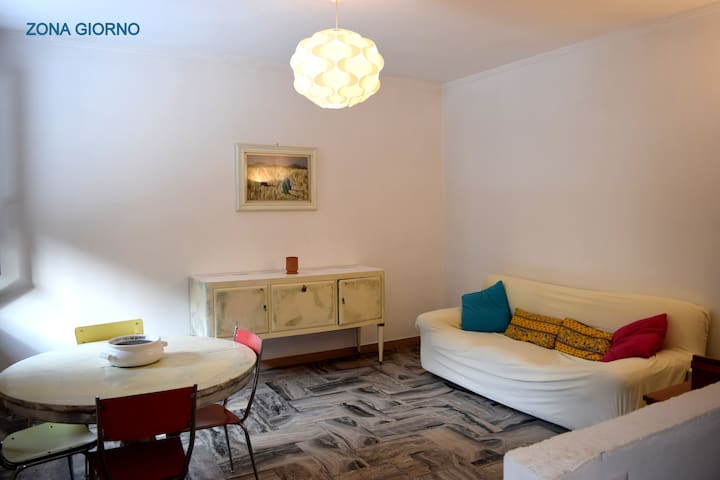 Francesca e Matteo vi attendono a Villa Chiara B&B per un soggiorno unico e speciale, in una atmosfera amichevole e rilassante , durante un viaggio d'affari o una vacanza romantica.. Villa Chiara B&B un oasi di relax sulle sponde del lago di Varese
For people who put a lot of attention to small things, this place would be the best to recommend. Towels, dishes, bed linen, everything complies to 100% super service and 5 starts host. It was an incredible experience. House was absolutely beautiful, very clean, modern and romantic. Breakfast was also unforgettable. Matteo served us very fresh fruits, tasty tea and juice, typical Italian pastries, cheese and meat. They have an incredible garden, where you can make a small walk and play with three hunting dogs. Vila is located close to the horse riding place, lake and other small cities.
Yalo
2016-08-15T00:00:00Z
Typ pokoje
Soukromý pokoj
---
Typ nemovitosti
Byt
---
Ubytuje
2
---
Ložnice
Biandronno, Lombardia, Itálie
Panoramatické a světlý byt v rezidenční čtvrti. Výborná poloha u jezera Varese, vhodný pro práci nebo dovolenou. Nedaleko od Milána, Lago Maggiore, jezero Como a Švýcarska. V blízkosti cyklostezky 28 km. Dosažitelné autem nebo vlakem.
Very peaceful & quiet. The place was perfect for cooking & enjoying the beautiful view. Wish we could have stayed longer!
Brittney
2016-08-16T00:00:00Z
Staying in Francesco's Airbnb apartment was lovely!! The peaceful neighbourhood was absolutely gorgeous and the views of the lake and surrounding mountains from the balconies were amazing. We also had great chats with a few of the neighbours who were lovely to talk to and looked after the gardens well. The apartment had everything and Francesco himself was such a wonderful host - he picked us up and dropped us back off at the train station at the beginning and end of our stay. We would definitely recommend Francesco's place to anyone looking to get away from the hustle and bustle of the city life.
Rachel
2016-07-19T00:00:00Z
We spent 5 nights in Francesco's apartment. We had a great and relaxing time! Francesco is a great host, we felt welcome. He is like a friend you know since years! He organized a bike for myself and went for a bike trip with my boyfriend around the lake. He recommended a great pizzeria and gave us a perfect time in Gavirate. I can definitely recommend his apartment, it is clean, quiet and you will feel immediately like home. We will come again - thank you, Francesco!
Nathalie
2016-07-03T00:00:00Z
Nous avons beaucoup apprécié la fourniture des draps et du linge de toilette, cela évite de se charger. Francesco, qui n'était pas là à notre arrivée, a su être présent par les nombreux mèls échangés. Merci Francesco de votre disponibilité et des présents qui étaient dans l'appartement. Merci aussi à votre maman de nous avoir si bien reçu. L'appartement est très agréable, bien ensoleillé avec une belle vue sur le lac de Varèse.
Paul
2016-09-24T00:00:00Z
excellent accueil
Jean-François
2016-10-06T00:00:00Z
We had a really warm welcome at francescos flat. There are two balconys with an amazing view on the lago varese. The house was very clean. Francesco gave us a good introduction and we had everything we needed. In conclution we had a wobderful stay in Garivate. We can definitly recommend it to other people. Thank you Francesco!!
Sebastian
2016-08-05T00:00:00Z
We enjoyed our stay at Francesco's lovely, comfortable and clean apartment with beautiful views in a very quiet and relaxing location. Francesco was waiting for us at our arrival and was extremely pleasant and helpful. Well placed for our enjoyable trips to Lake Maggiore, San Guilo, Lake Como, Lugano and Locarno to Valle Verzasca, in addition to lakes and towns in closer area. We highly recommend – Many thanks Francesco.
Helen
2016-09-05T00:00:00Z
Francesco was a wonderful host! We got there early, he waited for us, showed us the apartment with the stunning view. He is such a nice person, we felt like we were friends for a long time! The place is great, has everything needed, he told us about what we can see while in the area. Where to buy groceries, do shopping! I will always stay at his apartment while in the area next time. Thank you Francesco for the great hospitality and kindness!
Viorica
2016-05-26T00:00:00Z
Typ pokoje
Celý dům/byt
---
Typ nemovitosti
Byt
---
Ubytuje
4
---
Ložnice
Gavirate, Lombardia, Itálie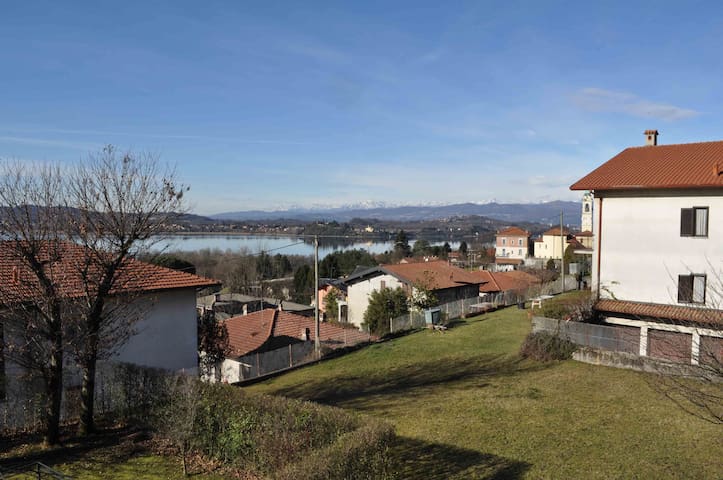 Situé dans une zone stratégique dans Gavirate, 10 minutes loin du lac Majeur (îles Borromées et Stresa), 40 minutes loin de Milan. à proximité du flati aux transports, des bars, des restaurants italiens typiques et la piste cyclable magnifique autour du lac.
L'appartement est complitely renouvelé, avec de grands espaces et une terrasse ensoleillée où vous pouvez manger dans un quartier calme et verdoyant.
Logement très spacieux, très agréable, très bien équipé, tout près du lac de Varèse et proche du lac majeur. Nous étions 6 pendant une semaine et tout le monde a bien apprécié le séjour dans l'appartement d'Elsa! Elle est très accueillante et arrangeante, nous n'avons eu aucun souci ! On recommande !
Maïlys
2016-05-22T00:00:00Z
That was a great choice for us! As a Rowing Team place was ideal: trainstation Gavirate-Verbano is nearby, 2 km to the rowing center and bicycles in use. Peacefull apartment with Wifi -connections, what else can we wish? Thank You Elsa, we hope we can come also next year !
pekka
2016-04-18T00:00:00Z
Nous avons à nouveau choisi cet hébergement car il nous avait tant plu la 1e fois! L'appartement spacieux, propre et joliment arrangé est bien situé à Gavirate... à 20 min du Lac majeur et à 20 min de Varese, et à 3min du lac de Varèse. Il est fourni de tout le nécessaire (meubles, cuisine, service, blancherie, essuies,... Le propriétaires sont charmants et à la moindre chose sont la pour aider! Un endroit où nous retournerions sans hésitation!
Savina
2016-02-03T00:00:00Z
Clean and well equipped apartment perfect for our weekend away in Northern Italy. Elsa and her partner were super friendly and kindly stayed up after midnight until our arrival after our flight was delayed. Elsa provided great restaurant tips in the area and were always available for whatever we needed. Gavirate was a great location to base ourselves while visiting Lago Varese, Lago Maggiore, Lago Lugano & Lago di Como. Would definitely stay again!
Troy
2016-05-02T00:00:00Z
Simply an amazing experience. the apartment is HUGE and comfortable, natural light and ventilation creates an immerse atmosphere of being part of the beautiful northern Lombardia Linen, towels and bed sheets were immaculate and fresh laundered, making one feel at home There is everything you'll ever need to spend few days or longer periods. Elsa and his husband are lovely hosts, they go the extra mile to make sure the stay is great. The entry to the property is simple, safe, and easy access upstairs. There is balcony all around the apartment allowing a pleasant stay at the sun or shadow, depending your mood and the time of the day. Few steps away to the train station (Milano Nord), supermarkets and grcery stores are all walking distance. HIGHLY RECOMMENDED...we are looking forward to return! THANK YOU ELSA...
Oscar
2016-05-09T00:00:00Z
Nous avons passé une semaine a 7 (2 couples: 4 adultes et 3 enfants de 1 a 3 ans). Super accueil, Elsa a ete disponible pour repondre a nos questions avant notre arrivee. Le jour de l arrivee, le fils d Elsa est meme venu avec un ami francophone pour faciliter les echanges. Elsa nous a meme prêté son barbecue. Super appart : grand lumineux propre et accueillant, avec beaucoup de rangements (de quoi bien s installer et de sentir chez soi). Draps et serviettes fournis ce qui permet de voyager leger. Idem pour le petit dej. Super agreable! Il y a 3 chambres et 2 salles de bain ce qui permet de ne pas se marcher dessus. Il y a aussi le wifi. Elsa est venue nous dire au revoir pour notre depart, elle parle tres bien francais et a vraiment a coeur que tout se passe bien: une hote aux petits soins! Par contre cette annee les moustiques sont voraces, prevoyez des repulsifs. Les portes interieures sont vitrees et en ete avec les fenetres ouvertes on entend vite les voisins: prevoyez des masques pour les yeux et boules quies. Le garage fermé n etait pas accessible car le voisin qui avait le garage d a coté laissait sa voiture devant son garage, empietant sur le trajet d acces au "notre", ce qui nous a fait renoncer a l utiliser. Mais il y a 1 place dans la cour sécurisée, dédiée a l appartement, et de la place dans la rue. Voila vous savez tout! C'est un tres bon sejour, on recommande!
Damien
2015-08-10T00:00:00Z
Elsa is a fantastic host with making you feel sooo welcomed and comfortable! The communication before our trip was excellent and Elsa replies immediately to all your questions! We stayed with 4 adults and 2 children in the house, which was very spacious! Even more spacious than in the photos! The house is very clean and well equipped! We can highly recommend Elsas home and would definitely come back or visit any other rentals of Elsa! Thank you Elsa for a wonderful holiday in Italy!
Timothy
2016-08-19T00:00:00Z
We recently had the pleasure of staying for five weeks at Elsa's apartment in Gavirate. It was a wonderful experience and we would definitely do it again the next time we are in the area. The apartment is conveniently located to the Gavirate train station and just a few minutes' walk or bike ride from the center of town. It is a bright and modern flat with lots of sunlight and a large wrap-around patio where you can have meals and enjoy the sun in the afternoons. The flat is exactly like the pictures on Airbnb and even better; it is spacious, extremely clean, homey and comfortable. Elsa herself is a lovely lady with a sweet and caring personality. She is easy to talk to, cheerful, and genuinely interested in her tenants. She is always ready to answer questions, provide language help, recommend restaurants and give advice or suggestions about life in Gavirate. Elsa definitely went above the call of duty to make us feel at home; our summer in this idyllic little town was truly enjoyable because of her. In the end, we felt like we were saying goodbye not to a host, but to a friend. Thank you for everything, Elsa!
Debbie
2015-07-06T00:00:00Z
Typ pokoje
Celý dům/byt
---
Typ nemovitosti
Byt
---
Ubytuje
6
---
Ložnice
Gavirate, Lombardia, Itálie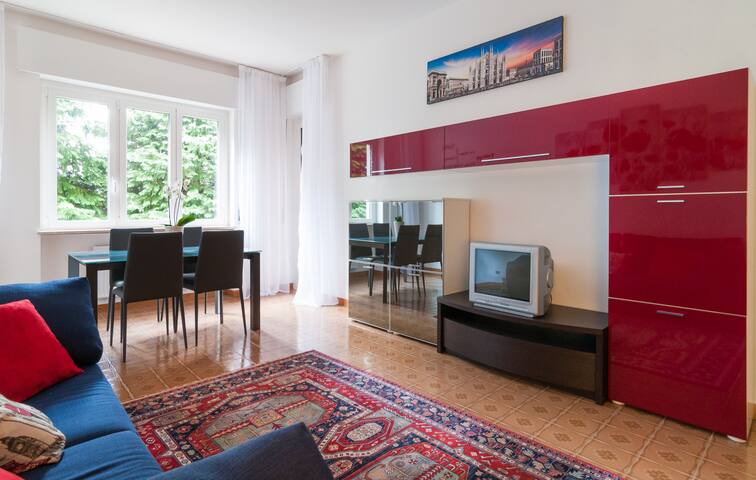 E' una delle due stanze di un appartamento al primo piano di casa inizi 1900, stile tipico lombardo,con giardino, cortile,box auto, zona stenditoio all'aperto,ampio parcheggio comunale gratuito vicino. L'appartamento è attiguo a quello da me occupato. Gli arredi sono anni '60/'70, bagno con vasca e box doccia, lavatrice. Stanze spaziose divise da corridoio, riscaldamento a metano con caloriferi e termostato per regolare temperatura ed orari di accensione. Ampia cucina attrezzata .
La camera è esposta a sud-ovest, si affaccia sul cortile interno ed il giardino piantumato. E' arredata con comodo letto matrimoniale, 2 poltrone, comodini, cassettiera con specchio, appendiabiti, piccola cassettiera.
A 100 mt un pub/bar, Ad 1 km in centro a Brebbia- centro sportivo e piscine con servizio bar e pizzeria A 300 mt Clinica di riabilitazione e cura Fond. Borghi
Typ pokoje
Soukromý pokoj
---
Typ nemovitosti
Byt
---
Ubytuje
2
---
Ložnice
Brebbia, Lombardia, Itálie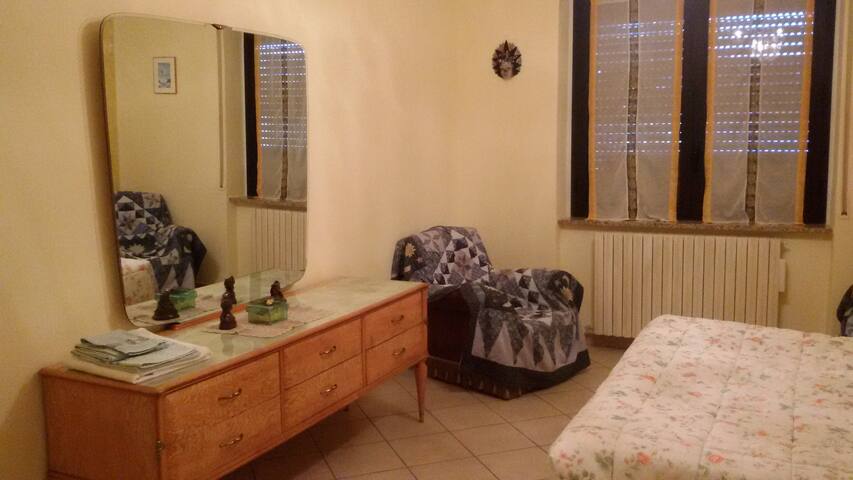 Krásný byt ve vile s terasou a parkováním!
The host canceled this reservation the day before arrival. This is an automated posting.
Robert
2017-03-14T00:00:00Z
Typ pokoje
Celý dům/byt
---
Typ nemovitosti
Byt
---
Ubytuje
4
---
Ložnice
Provincia di Varese, Lombardia, Itálie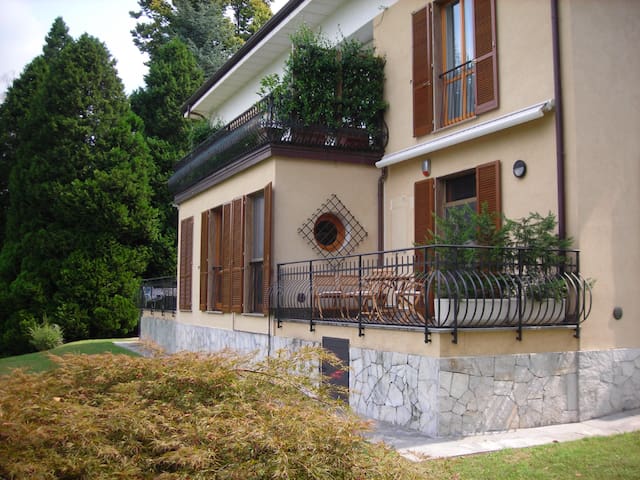 in downtown Gavirate a few steps from the lake and bike path, from the town center and from the shopping center, in an excellent position to visit the lake district, 40 minutes in Milan. The quiet studio with cellar, balcony, lift and private parking space is perfect for couples. Bus under the house and the train station is 15 minutes walk
Typ pokoje
Soukromý pokoj
---
Typ nemovitosti
Byt
---
Ubytuje
2
---
Ložnice
Gavirate, Lombardia, Itálie
im Zentrum der Stadt Besozzo, an einer Kreuzung von zwei Straßen in der Nähe der Eisenbahnstation, eine gemütliche 2-Zimmer + 2 Badezimmer Haus. Denkmalgeschützen Gebäude, die die typischen Lombardei Architektur. Die Wohnung verfügt über die ursprünglichen Eigenschaften im Jahr 2013 zu seiner Pracht restauriert. Besozzo liegt verkehrsgünstig im Zentrum der 7-Seen-Region, mit dem Bahnhof eine Minute zu Fuß entfernt. Die Züge führen zum Zentrum von Mailand oder dem Mailänder Messegelände, in die Schweiz und direkte Züge nach und vom Flughafen Malpensa. Super bequem. Das Haus ist voll möbliert, mit Waschmaschine und Geschirrspüler. Der Eingang des Hauses in der Straße ist, durch einen Korridor zu gehen und eine Treppe mit einem Geländer handgemachte Gusseisen Treppe erreicht man den ersten Stock. Original-Fußböden im gesamten Gebäude 100 Jahre alt sind. 1 Schlafzimmer mit einem Doppelbett und einem gusseisernen Bett Bord (in einem antiken Markt zu finden ist verwenden, um ein toskanischer Balkongeländer zu sein). Das zweite Schlafzimmer ist en-suite mit einem Einzelbett und einem gusseisernen Bett Bord (zu meiner Familie gehört, verwendet, um ein Tor Ende 1800 datiert sein). Das Sofa im Wohnzimmer kann in ein Doppelbett umgewandelt werden. 5 Personen schlafen können. Die Küche ist komplett accessorised (Töpfe, Pfannen, Geschirr etc.) Bettwäsche und Handtücher werden alle zur Verfügung gestellt. GESCHICHTE Die Remise Herkunft, Datum Ende 1700, ursprünglich verwendet es einen stabilen und einen Wagen Rest Ort zu sein, wo die Pferde gefüttert werden würde und Pferd Schuhe repariert. Der Hufschmied, würde für die Pferde kümmern, einschließlich der Trimm- und Auswuchten von Pferdehufen und das Inverkehrbringen von Schuhen auf ihren Hufen. Früher gab es einen großen Ofen, wo Eisen gegossen werden könnte und Hufeisen angepasst. Und die Tradition und Leidenschaft für Gusseisen blieb in meiner Familie seit. Positioniert auf dem ursprünglichen Pfad war der angeschlossenen Haupt See mit Varese-See, der Remise der Rastplatz auf halbem Weg zwischen den zwei Seen. Das Anwesen wurde von meiner großen Großeltern in den späten 1800 purchesed, als das Gebiet entwickelt wurde, die Eisenbahnstation gebaut und die erste elektrische Straßenbahn gebaut, das Pferd zu ersetzen gezogen Straßenbahn, die bis zu diesem Zeitpunkt verlassen werden. Im Jahr 1914, kurz vor dem ersten Weltkrieg wurde die Remise in eine Wohnimmobilie umgewandelt, wo meine Urgroßeltern lebten und im Jahr 1957 wurde das Erdgeschoss in einem Ladengeschäft gedreht, damals Mercerie zu verkaufen, die seit Generationen meiner Familie Geschäft war
I've stayed in Max's apartment for almost 3 months and it was great! Cute city, 1 hour away from Milan, the train station is 2 minutes walking and a 3 supermarkets around
Victoria
2015-12-18T00:00:00Z
Great apartment in good location close to JRC, the lake and Milan. Max was very helpful and contactable. Thanks!
Sarah
2016-07-15T00:00:00Z
Séjour très agréable. Hôte disponible, A recommander!
Gregory
2016-08-20T00:00:00Z
Max's place in Besozzo is very nicely renovated and comfy. It is well-stocked with cooking equipment, bedding, a hair dryer, washing machine, etc. And, it's all new! It is very close (one block) to the train station...but that station is not very well-served. I recommend a car, which is an adventure in Italy, for sure, but makes this location great for the area. It is very close (30 min drive) to Lago Maggiore/ IsolaBella..., Lago di Varese and the town of Varese, and Malpensa (45 min to Milan proper). Parking on the street is easy and the pizza place across the street was the best one we tried in the whole region! The only thing to note about the apartment is that it is a little noisy from a big road on one side and the train right near by. If you are a light sleeper, bring ear plugs; but that's just personal. Max was a fantastic host. We didn't get to meet, but he was very responsive, friendly, and attentive by email and he has "people" in the area to help if anything happens. This is a great location for touring about the lake region and relaxing. Enjoy!
Annie
2013-09-10T00:00:00Z
Our 7 day stay in The Horse Carriage House was extremely enjoyable. The facilities were comfortable and modern with a fully equipped kitchen so you could easily cater for yourself. The supermarket is within easy walking distance as are many delicious restaurants - our favourite was near the Lighthouse in the old part of town. We found the location very central - using the local train to visit Laveno or Luino then a ferry ride to the other shore of Lake Maggiore. Alternatively a 10 min drive to Gavirate on Lake Varese to catch a train to Milano. Max was a helpful host and easy to communicate with. We would thoroughly recommend a stay at Max's place.
Jo
2014-08-10T00:00:00Z
Typ pokoje
Celý dům/byt
---
Typ nemovitosti
Byt
---
Ubytuje
4
---
Ložnice
Besozzo, Lombardie, Itálie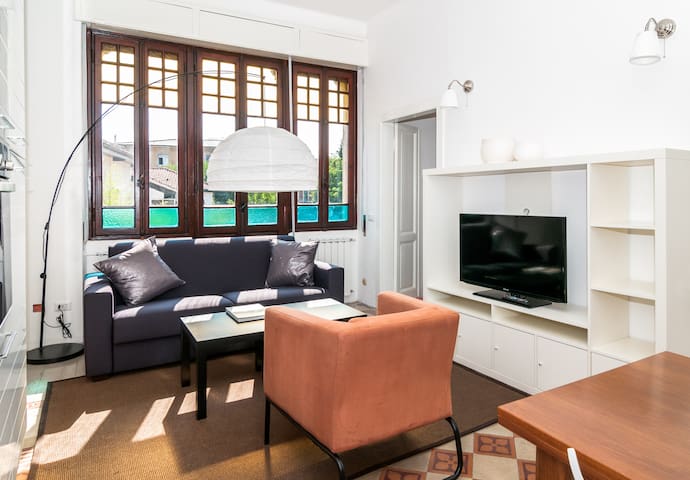 L'appartamento è situato nel centro storico del paese, su una strada di comunicazione, infatti la fermata dell'autobus è proprio a due passi dalla casa. Il balcone gode di una bella vista sul lago di Varese, è soleggiato e affaccia su un cortile interno privato molto tranquillo. A pochi passi si possono raggiungere la riva del lago col canneto e la pista ciclo-pedonale, da cui si raggiunge Gavirate
Situated in a strategic area in Biandronno with view of Varese Lake , near Gavirate (5 minutes by car), 10 mins by car far from Lake Maggiore (Borromeo islands and Stresa), 40 mins by car far from Milan, the flat, at first floor, is close to transports (there is a bus station very close to the flat) , bars, tipical Italian restaurants in the nearest centre (Gavirate) and the stunning cycling path around the lake (5 minutes from the flat on walk). The best thing is to rent a car at the airport, when you arrive, to go around. There are a living room, a double bedroom, a living kitchen and a bathroom. There are beds for 2 or 3 persons. If you are more than 3 persons up to 5, we can add 2 beds. Owner provides: towels, bed sheets and pillows, kitchen furniture (pots, pans, toster micowave, laudry machine, hair dryer. Free parking nearby. You can reach the flat by bus, train (Ferrovie Nord Milano in Gavirate) or car (40 mins from Malpensa). Taxi outside the airport (around 50 €) Minimum rental 3 nights. Allowed small pet sand smoking: be considerative of the neightbours-limite the noise after 11 pm. Apartment to locate, weekly or monthly. There are a living room, a double bedroom, a living kitchen and a bathroom. There are beds for 2 or 3 persons. If you are more than 3 persons up to 5, we can add 2 beds. Luminoso open space (60 mq) affacciato sul parco; cucina moderna attrezzata, zona giorno con divano letto; grande camera con letto matrimoniale e balcone vista lago; bagno con doccia; posto auto privato; a 150 m imbarco per isola Virginia e ciclabile. Finestre ampie e luminose; buona esposizione ; cucina completa: forno elettrico, quattro fuochi a gas, frigo a colonna con congelatore, tostapane, bollitore, penisola con sgabelli, tavolo allungabile, due grandi armadi; termo-autonomo; lavatrice asciugacapelli. Possibilità di accesso al balcone con sdraio; numerosi posti per parcheggiare gratuitamente nelle immediate vicinanze. Assistenza al momento del check-in e del check-out e per l'emergenze. A pochi metri dall'appartamento, situato nel centro storico, splendida ciclabile intorno al lago di Varese, imbarco per l'isola Virginia (sito preistorico museo e ristorante); a 20 m fermata del bus di linea; sagre e feste di paese nel parco comunale Villa Borghi; a pochi minuti da negozi e farmacia. Biandronno dista pochi km dal lago di Monate, di Comabbio, dal Maggiore (traghetti per le isole Borromeo, Villa Taranto, Stresa) e dal confine svizzero. Sia le ferrovie dello Stato che la linea Trenord collegano agevolmente con Varese e Milano. Affacciato sul Lago di Varese, gode di una splendida vista sull'arco alpino ed è una base perfetta per visitare la provincia o per tranquilli soggiorni di lavoro. La posizione privilegiata consente di raggiungere in 30 minuti d'auto Milano Fiera, la Svizzera e le bellezze del Lago Maggiore. L'aeroporto Milano-Malpensa dista solo 20 minuti, Varese e il Sacro Monte 15. A pochi metri dall'appartamento, situato nel centro storico, splendida ciclabile intorno al lago di Varese, imbarco per l'isola Virginia (sito preistorico museo e ristorante); a 20 m fermata del bus di linea; sagre e feste di paese nel parco comunale Villa Borghi; a pochi minuti da negozi e farmacia.
Nice and clean house with parking space (It looks better than in the pictures). Central in the north of Italy therefor all other places are easy to reach. Quick and friendly contact. Not reachable for invalids and for little children it is too close to the road.
Hiltje
2016-09-27T00:00:00Z
Accueil sympathique et chaleureux. Appartement spacieux et proche du lac de varèse. Cependant un bémol, au dessus de la route qui est passante et donc un peu bruyant.
lionel
2016-07-21T00:00:00Z
A casa di Cesare in questi giorni sono stata benissimo! Ho ricevuto una calda accoglienza, Rita e Cesare gentilissimi e molto disponibili, persone squisite. La casa spaziosa e calda (per l'inverno), in zona molto comoda, parcheggio facile. Consigliatissimo! A very pleasant and warm welcome from Cesare and Rita, very comfortable lodging, highly recommended !!
Elisabetta
2017-01-08T00:00:00Z
Il lago di Varese è un ottimo posto dove poter fare grandi camminate e respirare un po' di tranquillità. Cesare e sua moglie sono stati molto disponibili e cordiali. L'appartamento in vista al lago è un appartamento di corte, pulito, spazioso e arredato in modo perfetto per trascorrere alcuni giorni. Per mia gioia ( ma non di mio figlio...) senza televisione. La cucina è completamente rifornita di tutto quanto serve. Siamo stati molto bene e consigliamo a tutti una visita.
Fabio
2016-06-13T00:00:00Z
l'appartement est globalement satifaisant et agréable, mais il donne , côté salle à manger/cuisine sur une rue très circulante, ce qui occasionne des remontées de gaz et du bruit obligeant la fermeture des fenêtres.
Fabrice
2016-08-14T00:00:00Z
Typ pokoje
Celý dům/byt
---
Typ nemovitosti
Byt
---
Ubytuje
3
---
Ložnice
Biandronno, Lombardia, Itálie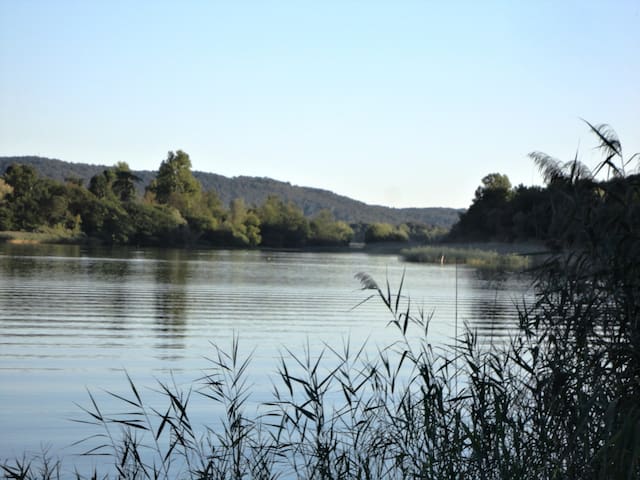 Apartamento en el centro histórico de la ciudad, recientemente reformado con gusto moderno Los apartamentos han sido recientemente reformadas, en el centro de la ciudad a 1 km del lago de Varese. Cada apartamento tiene 2 dormitorios, cocina americana con horno, frigorífico, congelador, lavavajillas. Televisor de pantalla plana, sala de estar en un espacio abierto moderno
Wij hebben een fantastische week doorgebracht in dit appartement. Het ligt in het centrum van Gavirate op loopafstand van het meer van Varese. Dit is een prachtige omgeving om te fietsen, hard te lopen, te wandelen of te roeien. Het appartement is stijlvol ingericht en erg comfortabel. De communicatie met Gianluca verliep vlot en probleemloos. Mochten wij de regio van Varese nog een keer bezoeken dan zullen we graag weer in dit appartement verblijven.
Ed
2015-05-17T00:00:00Z
Spacious & newly renovated apartment. Internet signal a bit patchy. Only worked in one bedroom and some parts of the lounge. Well equipped kitchen. A pleasant stay in Gavirate. Would stay again.
Kimberley
2016-09-19T00:00:00Z
Very nice.
pekka
2017-03-20T00:00:00Z
Die Wohnung liegt etwas versteckt, aber doch sehr zentral in einem kleinen, gemütlichen und wenig touristischen Städtchen. Die Wohnung war sauber und für vier Personen ausreichend groß sowie ansprechend eingerichtet. Kleines Manko: Im oberen Schlafraum wird es im Sommer ziemlich heiß! Mehrere Seen sind in nächster Nähe und zu sehen gibt es einiges. Das Städtchen bietet aber auch genügend, um einen erholsamen Urlaub zu genießen ohne große Strecken zurücklegen zu müssen. Gute Restaurants: tripadvisor lügt nicht (Wlan ist vorhanden)!
Hartwig
2015-08-15T00:00:00Z
Typ pokoje
Celý dům/byt
---
Typ nemovitosti
Byt
---
Ubytuje
4
---
Ložnice
Gavirate, Lombardie, Itálie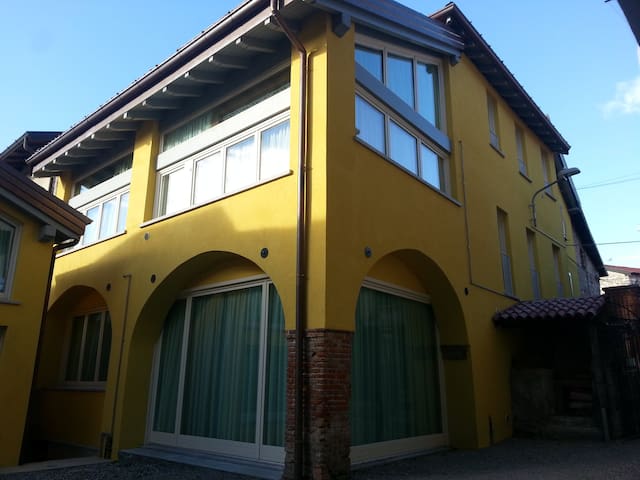 Full furnished 3 room flat of 110 m² in a quiet sunny, green area with view and access to the lake. The apartment is composed of: 2 bedrooms, big sitting room, 2 bathrooms, kitchen, huge terrace, balcony, storage room, garage + private parking.
Full furnished 3 room flat of 110 m² in a quiet sunny, green area with view and access to the lake. The apartment is composed of: 2 bedrooms, big sitting room, 2 bathrooms, kitchen, huge terrace, balcony, storage room, garage + private parking. The flat is located in a quiet, sunny and child friendly area. The cycling path is just a couples of meters away from the property, giving the possibility to walk or cycle around the entire lake. No car access is aloud. Furthermore lake Monate is just 9km away, in case you wish to have a sun taint and a lovely bath. Biandronno is a small, sunny village, strategically positioned for easy access of surrounding lakes and mountains. It is also close to Varese. A town at the feet of Sacro Monte, part of the Campo dei Fiori mountain range, that hosts an astronomical observatory, as well as the Prealpino Geophysical Centre. The village which is in the middle of the mountain is called Santa Maria del Monte because of the medieval sanctuary, which is reached through the avenue of the chapels of the Sacred Mountain. Varese is situated on seven hills: the San Pedrino Hill, the Giubiano Hill, the Campigli Hill, the Sant'Albino Hill, the Biumo Superiore Hill, Colle di Montalbano (Villa Mirabello) and the Hill of Miogni. The city also looks over Lake Varese. Should you look for aome quiet time, Biandronno is the perfect location for a relaxing holiday. If you fancy a nice "aperitivo" go to lake Monate. Should you wish to have more action Varese is the place to be. Lovely restaurants, bar and anlternative pubs can be easily found. Also Biandronno hosts a big international community due to the European Centre of Research, Whirlpool or Augusta. Nighbors are reserved and very friendly. In general Italy is a very child friendly country, so you souldn't worry if your kids are having fun You will definitely need a car as public transport in this area and the surrounding villages are scarse! LOCATION 40 mins drive to downtown Milan, 20 mins to Lake Maggiore, 1 hr to plenty ski resorts 25 mins to Lugano, Switzerland. Nearest airport Milan Malpensa (30 mins) SURROUNDING LAKES- Summer/winter Lago Maggiore Lago di Varese Lago d'ORTA Lago di Monate (one of Europe's cleanest fresh water lakes is perfect for a refreshing swim before drinks and dinner on one of its many beaches) Lago di Como Lago di Garda plus Lago di Lugano (just across the Swiss border) SURROUNDING MOUNTAINS - with Ski Resorts Macugnaga - take A26 and E62 for 100 km, 1 hour 23 mins Mottarone - take A26 for 50.0 km, 36 mins Alagna - State road 299 for 100 km, 1 hour 39 mins DomoBianca - take A26 and E62 for 79 kms 50 mins No futher details required
Nighbors are reserved and very friendly. In general Italy is a very child friendly country, so you souldn't worry if your kids are having fun
A casa da Sônia é incrível! Grande, bonita, organizada e de fácil acesso. Uma varanda gostosa que dá vontade de passar o dia todo! Sua casa é muito bem equipada e com tudo explicado para usar. As chaves foram entregues e devolvidas com facilidade. Super recomendo!
Fernanda
2016-06-11T00:00:00Z
The flat was really nice (and even better than on the pictures which don't do justice to the flat): it is very clean, new, nicely furbished. And above all, Sonia and her mother Tina have welcomed us very warmly. They are easy to reach, speak any language you need (both speek Italian of course but French and German fluently and I am pretty sure that they can speak English as well!). As regards the location, the whole region is just a dream. In short we can only recommand the flat! great choice! Thanks a lot again to Sonia and Tina!!!
Caroline
2015-05-17T00:00:00Z
L'appartement est conforme aux photos: très agréable et ensoleillé. La maman de Sonia s'est occupée de nous à l'arrivée et nous a donné toutes les informations nécessaires pour notre séjour. L'appartement est idéal pour une famille avec 2 enfants et pour un plus long séjour: il est très spacieux, a 2 salles de bains complètement équipées et une cuisine avec absolument tout le nécessaire. Nous nous y sommes très bien sentis.
Niko
2016-03-30T00:00:00Z
Mit Sonia hatten wir einen sehr freundlichen Kontakt und wir wurden dann herzlich von ihrer Mutter in Empfang genommen. Sie zeigte uns die Wohnung, die groß und sehr elegant eingerichtet ist. Sie gab uns Tips für die Umgebung, wir hätten sie auch jeder Zeit kontaktieren können. Die Wohnung ist gepflegt und so eingerichtet, wie im Internet beschrieben. Man hört etwas die Straße, sie ist in unmittelbarer Nähe, doch die Fenster sind dicht. Wir haben uns dort wohl gefühlt, auch weil es an nichts fehlte. Vielen Dank Sonia!
Friederike
2016-07-22T00:00:00Z
The host canceled this reservation 16 days before arrival. This is an automated posting.
Mehdi
2016-07-28T00:00:00Z
Met by host's mother and shown around the flat. It was good to be able to contact the host en-route as we had some trouble finding it. A nice tidy flat with a good balcony. The garden in the photo cannot be seen from the flat so not so good for young children to play in, but behind secure gates. Front of flat is over the road so some noise, but a the flat had everything we needed and would recommend for others
Simon
2015-06-30T00:00:00Z
Sonias place is very nice, clean and well equipped. The area around is also very beautiful and we had some great days there. I can totally recommend the place and Sonia (and her mother) as hosts.
Rhea
2015-08-29T00:00:00Z
-sehr gute Betreuung und Unterstützung während des Aufenthaltes -freundliche Nachbarschaft - gut aufgeteilte, gepflegte, schöne Wohnung
Elisabeth
2015-06-06T00:00:00Z
Typ pokoje
Celý dům/byt
---
Typ nemovitosti
Byt
---
Ubytuje
4
---
Ložnice
Biandronno, Lombardia, Itálie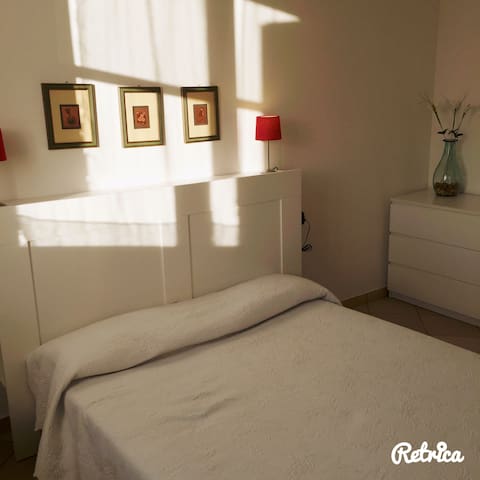 The Court of Brut is located along the bike path around Lake Varese. It is located in a historic building in 1600 and has a beautifully furnished apartment. Inside the Court found our restaurant, a private park and a space full of surprises Art. A strategic point of departure to visit the other cities, Varese Milano 7 lakes, Switzerland, the Fox Town surrounded by nature ... but then, a few minutes from modernity.
The choice of the furnishings, fabrics and decorations is designed to offer a trip down memory lane to savor the magic of an authentic historic buildings cultural heritage that enhance the territory. Inside the Court you will find our restaurant, an authentic and recognized gastronomic excellence with a value for money particularly reasonable price. Guests who stay in Corte special treatment is reserved. You will be enchanted by the environments, from the spaces and the courtesy of the staff of our structure, where throughout the year we are pleased to promote or host cultural events. theater performances, exhibitions, literary evenings, film festivals etc.
Right outside the entrance of the Court there is the bike path that hugs ring around the Lake of Varese, much appreciated for its views features and traits immersed in Green. A few kilometers on Lake Maggiore, where you can visit its islands and its characteristics and elegant city. Cittiglio with its unique waterfalls and the beauty of the Sacro Monte of Varese are other examples of unique places to visit in the vicinity of the Court.
Una location incantevole con con una particolare cura ai dettagli che fanno risaltare in piano le caratteristiche di una dimora storica, un particolare ringraziamento per la cortesia e la disponibilità dimostrata dall'host.
Claudio
2017-01-26T00:00:00Z
Typ pokoje
Celý dům/byt
---
Typ nemovitosti
Byt
---
Ubytuje
4
---
Ložnice
Gavirate, Lombardia, Itálie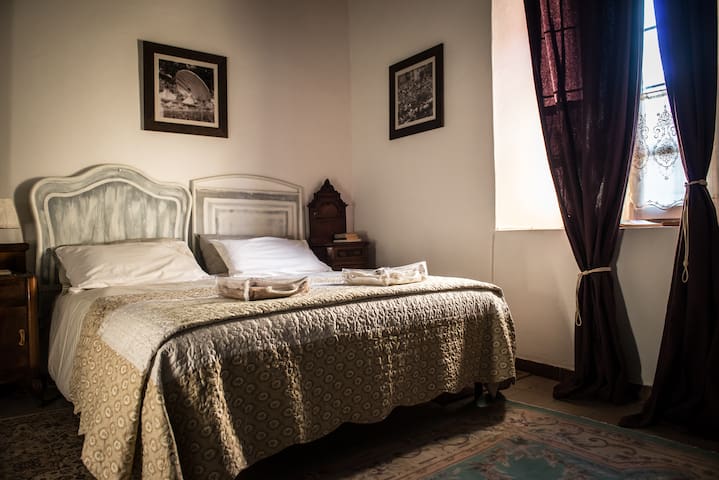 Our apartment is located in the center of Comerio, a stone's throw from the church, inside an eighteenth-century courtyard home of an ancient monastery. The apartment opens onto a courtyard, with a bright and protected loggia to relax and have lunch, a green square and a stone wash-house that welcomes aquatic plants and fish. Down a few steps you reach a large lawn with a small herb garden and a fruit tree.
L 'apartment has a private entrance with a desk where you will find tourist information and some tips for your living room, a bedroom with a comfortable double bed, a bathroom with shower and towels, a living area with kitchen with dishes, a small food base welcome if you want to cook, the dishwasher and a convertible sofa in two comfortable single beds to be arranged to your liking.
In den Straßen der Innenstadt, die beide nur wenige Schritte, finden Sie kleine Geschäfte, darunter eine Bäckerei, eine Metzgerei, eine bekannte Konditorei und drei Restaurants. Alle wichtigsten Dienstleistungen sind zu Fuß erreichbar, sowie der historischen malerischen Park der Villa Tatti Tallacchini.
Typ pokoje
Celý dům/byt
---
Typ nemovitosti
Byt
---
Ubytuje
4
---
Ložnice
Comerio, Lombardia, Itálie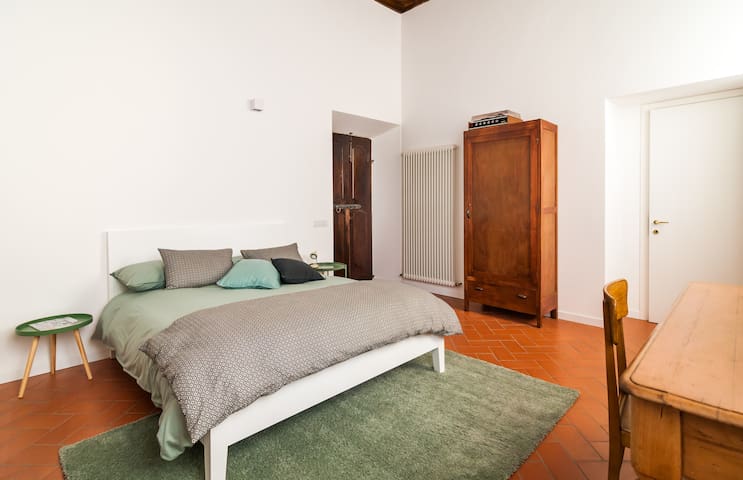 Schöne und gemütliche kleine Wohnung in einer ausgezeichneten Lage, nur wenige Kilometer von den Seen von Lugano, Varese und Como. Kleines Zimmer im Erdgeschoss mit Küche, Bett und Bad. Privater Hof zu essen draußen. Garten. Ruhebereich
Unser Haus liegt nur 30 Minuten Malpensa Flughafen entfernt. 50 Minuten von Milano
Un rifugio romantico dove passare del tempo in serenità grazie anche all'armonia che vige in casa della meravigliosa famiglia di Monia,con suo marito Lino e i loro due figli,Matteo e Fabio. Hanno cercato fin da subito di metterci a nostro agio con piccole attenzioni inaspettate. La tavernetta è molto accogliente,adatta ad una coppia in cerca di intimità.
Gloria
2017-03-18T00:00:00Z
L'appartamento di Monia e Lino ci ha entusiasmato dal primo secondo già per la comunicazione cordiale e distesa con Monia. Le foto però non rendono onore a quel gioiellino che abbiamo trovato una volta arrivati: comodissimo per la posizione strategica in mezzo ai laghi, dotato di ogni comfort, caloroso, pulito ed accogliente. Il bagno è stato appena ristrutturato con amore e la cucina è dotata di ogni attrezzatura per chi volesse farsi da mangiare a casa, altrimenti nelle vicinanze ci sono diversi ottimi locali. Monia aveva acceso la stufa la sera del nostro arrivo per farci trovare un piacevole tepore, viste le sere ancora fresche in questa stagione, e preparato una cordiale accoglienza fin nei minimi dettagli. Lei e la sua famiglia sono stati gentilissimi, sempre col sorriso (persino i figli adolescenti! ) e pronti a ogni nostra richiesta. La vicinanza ai binari non è di nessuno svantaggio: l'ultimo treno la sera passa intorno alle 22 e prima di mattina (7) non si sente una mosca, nemmeno il traffico delle macchine non essendo su una strada frequentata. Torneremo di sicuro! Auguriamo a loro ogni bene e di continuare così questa avventura
Marina
2017-03-12T00:00:00Z
Typ pokoje
Celý dům/byt
---
Typ nemovitosti
Byt
---
Ubytuje
2
---
Ložnice
Cocquio-trevisago, Lombardia, Itálie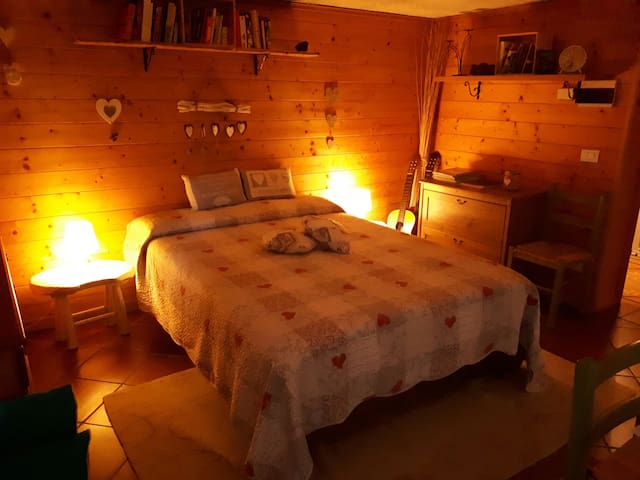 Haal het meeste uit vakantie gelukzaligheid, met deze authentieke villa Duplex binnen handbereik van de meren! Genieten van een charmant stadje setting in Besozzo, dit mooie 3 bed toevluchtsoord biedt de perfecte uitvalsbasis voor het verkennen van de prachtige regio Italiaanse Lake.
Haal het meeste uit vakantie gelukzaligheid, met deze authentieke villa Duplex binnen handbereik van de meren! Genieten van een charmant stadje setting in Besozzo, dit mooie 3 bed toevluchtsoord biedt de perfecte uitvalsbasis voor het verkennen van de prachtige regio Italiaanse Lake. Gelegen aan de rand van het Lago Maggiore, kunnen families en groepen van 6 genieten van dompelen in en uit alle attracties, op hun gemak. De 2-verdiepingen tellend appartement is goed uitgerust voor familie verblijven, met gratis WiFi en een flatscreen-tv aan de hand naast een volledig uitgeruste keuken en handige een wasserij. De ruime woonkamer zet de toon voor het hele jaar door onderhoudend; met een ambient open haard te genieten in de koudere maanden en een eigen zonnig terras te genieten tijdens de lange warme zomermaanden. De keuken is voorzien van een oven, inductie kookplaat, magnetron, koffiezetapparaat, broodrooster en een koelkast met vriesvak, naast een ambient open haard en eethoek. Naar de begane grond van de villa, een BBQ nodigt gasten uit om buiten te dineren. Gezinnen en groepen zullen de slaapgelegenheid perfect geschikt te vinden; met een Master Double En-suite douche met fraaie tegelvloer met naast een familie slaapkamer met king-size tweepersoonsbed, 1 eenpersoonsbed en en-suite badkamer met douche. Een handige slaapkamer met een slaapbank completeert de gastvrije en veelzijdige lay-out van deze tijdloze, elegante vakantiebestemming. Onderstaande privétuin smeekt gasten om te ontspannen, vermaken en buiten spelen wanneer ze maar willen. Vanuit de 3 verdiepingen tellende complex, is de villa appartement bevindt zich op loopafstand van de lokale voorzieningen en eetgelegenheden van Besozzo. Belangrijkste kenmerken: • Ruim en authentieke stijl Duplex •Kindvriendelijk • Gratis Wi-Fi en een flatscreen-tv • Privé balkon terras en tuin • BBQ & outdoor Kitchen •Priveparkeren Slapen: Slaapkamer 1: Master slaapkamer met een tweepersoonsbed, kledingkast en en-suite badkamer met douche Slaapkamer 2: Flexibele slaapkamer met 1 eenpersoons slaapbank en een kledingkast Slaapkamer 3: familiekamer met 1 kingsize kant tweepersoonsbed, 1 eenpersoonsbed en een kledingkast Extra volwassene enkele veldbedden en kindervoeding babybedjes kunnen ook worden gehuurd (tegen betaling). badkamers: Het ruime appartement beschikt over 2 moderne en-suite badkamer met douche. Elke kamer is uitgerust met een wastafel, douche, toilet en bidet. Extra: • Lay-out is over de begane grond en 1e verdieping •Centrale verwarming • Haard •Wasmachine •Haardroger • 16 interne maatregelen • 8 externe stappen • 3 ligstoelen • 10 zetels zijn te vinden in de tuin Plaats: Gelegen langs de heuvel weg van de 'Via S.Alessandro' bevindt u zich binnen een 3-5 minuten lopen van een plaatselijke supermarkt en delicatessen. Een authentieke selectie van Italiaanse eethuisjes en restaurants kan ook binnen een 5-15 minuten lopen van het appartement te bereiken. Besozzo biedt een zorgeloze uitvalsbasis voor een vakantie verkenning. De gasten bevinden zich op 10 minuten rijden van de oostelijke oever van het Lago Maggiore (ideaal voor het bereiken van de UNESCO Hermitage van Santa Caterina en de badplaatsen van Ispra en Laveno) en zijn ook een 15 minuten rijden van het Meer van Varese. De prachtige Campo dei Fiori Regional Park is ook binnen een 20-minuten rijden. Golfliefhebbers zijn binnen 15 minuten rijden van Varese Golf Club, terwijl cultuurliefhebbers zijn 27 minuten rijden van Varese. Het huis ligt op slechts 70 minuten rijden van de kosmopolitische allure van de stad Lugano ook; voor all-weather leuke en onvergetelijke shopping trips. Perfect voor het hele jaar door breekt, is het appartement gelegen 38 minuten rijden van Milaan Malpensa.
Typ pokoje
Celý dům/byt
---
Typ nemovitosti
Byt
---
Ubytuje
6
---
Ložnice
Besozzo, Lombardia, Itálie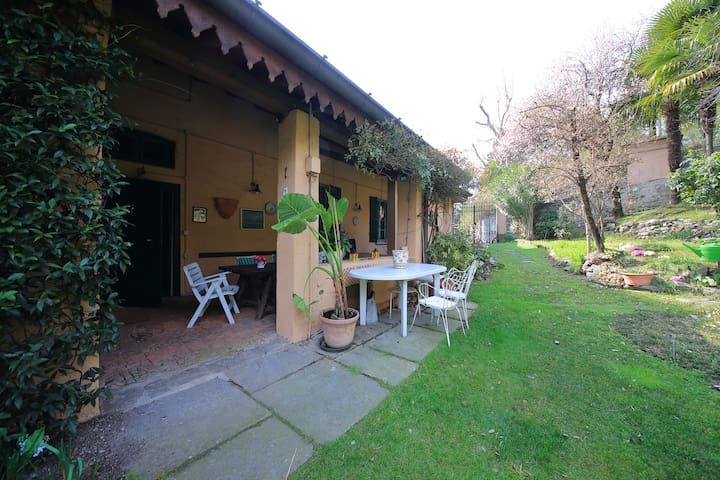 Francesca e Matteo vi attendono a Villa Chiara B&B per un soggiorno unico e speciale in una atmosfera amichevole e rilassante, per un viaggio di affari o una vacanza romantica ..Villa Chiara B&B un'oasi di relax sulle sponde del Lago di Varese..
Vicinanza lago,monti e spazi verdi. Accesso alla pista ciclabile del lago di Varese.
Siamo immersi nel verde,ad un passo dall'isolino Virginia
Typ pokoje
Soukromý pokoj
---
Typ nemovitosti
Byt
---
Ubytuje
3
---
Ložnice
Biandronno, Lombardia, Itálie
Wir haben mehrere Wohnungen von 2 Personen bis zu 11 Personen. Alle Wohnungen verfügen über Küche, Wohnzimmer, privates WC und 2 oder mehr Schlafzimmer. Wir haben einen Pool 12 mt x 5 m und eine regelmäßige Tennis / Korb / Fußballplatz, Wi-Fi, Parkplatz und viele andere Einrichtungen. In einer grünen Umgebung in unmittelbarer Nähe zum See.
Die Wohnung "Gemma" ist sehr groß, bestehend aus zwei Schlafzimmern (6 insgesamt Platz), eine große Küche komplett voll, ein Wohnzimmer, eine Toilette und ein riesiger Balkon mit Aussicht. Wir haben das gesamte Zubehör für die Babys.
wenn ich im Urlaub bin ich vermisse aufrichtig meine Heimat, hier, weil ich so viele Dinge tun kann, die nicht überall i .. am selben Tag tun kann ich auf den Berg mit meinem Rad und schwimmen in unseren Seen oder zerreißt eine canoa gehen und es gibt so viel grün um uns herum!
une halte chez Francesca avnt de s'embarquer à genes pour des vacances en sicile,ou nous avons apprécié outre l' endroit à quelques emcablures du lac majeur,appartement et équipements de qualité,et surtout la discretion de notre hote Francesca . Nous reviendrons certainement.
claude
2016-07-22T00:00:00Z
Perfekter Urlaub! Ein grosses Wohnhaus mit privatem Garten, Pool und Sportplatz (Tennis, Basketball, Fussball) wurde umgebaut zu kleiner Ferienresidenz mit 5-6 Wohneinheiten. Die superfreundliche Gastgeberin Francesca wohnt auch dort mit Familie und kümmert sich liebevoll um alle. Die Wohnung ist top ausgestattet und gepflegt, mit großer Küche und Terrasse. Ebenso der Pool und Garten, es gibt Sportgeräte, Tischtennisplatte usw. zur freien Benutzung. zum Lago Maggiore sind es 10 Minuten mit dem Auto. Absolut empfehlenswert!
Johannes
2016-07-31T00:00:00Z
We stayed at Franceska for 5 nights and we had a lovely stay! The apartment is fully equiped, clean and huge! Especially the terrace is really big with great view :). In advance we were wondering if the location wasnt too remote, but it is not at all. Actually, from what we saw, bessozo has many shops and a large supermarket. We stayed mostly at the appartment to enjoy the swimmingpool and tennis court. So nice! We were here with a little kid (1) and it is safe for children as well. Franceska is the perfect host and helped us with a baby bed and chair. We recommend this place if you want to explore the area and if you are looking for peace. Thank you Franceska, for everything!
Nadine
2016-09-02T00:00:00Z
Francesca biedt een warm welkom en een prima en ruim appartement. We zijn slechts enkele nachten hier geweest op doorreis, maar hadden er nog wel langer willen blijven. Fijn zwembad, mooi voetbal/tennis/basketbalveld, gezellig voor de kinderen. Francesca woont zelf boven het appartement, is altijd bereikbaar voor vragen en zeer hulpvaardig maar dringt zich niet op. Wij komen hier waarschijnlijk nog wel terug!
Tamara
2016-07-24T00:00:00Z
Francesca est très dynamique et à l écoute de ses (URL HIDDEN) famille est très gentille. la très grande maison est divisée en chambre d hôte et en appartement. nous avons testé les 2 formules. le petit déjeuner est copieux et délicieux. les équipements sont à la hauteur: Nos enfants ne décollaient pas de la piscine ou du terrain multisports. super endroit pour découvrir la région!
Ghislaine
2016-08-11T00:00:00Z
Typ pokoje
Celý dům/byt
---
Typ nemovitosti
Byt
---
Ubytuje
6
---
Ložnice
Besozzo, Lombardia, Itálie