Gig Harbor, Вашингтон Полностью меблированные номера ежедневно, еженедельно, ежемесячно. Расположенный на 4 акрах Красивая Идеальное место для: деловых путешественников, посещения семьи, Отдыхать, приглашенный академический, медицинский Удобно - приглашающий - comfortable- отдыха - чистый Устали от отелей? В поисках безопасного, комфортного доступного жилья? Если вы посетить очаровательный район Gig Harbor и нуждаются в жилье, попробуйте один из наших наших частных комфортабельных квартир верхних студии уровня на четырех мирных акров. Со вкусом оформленный в ожидании вашего визита. Полностью меблирована, включая роскошное постельное белье & полотенца просто принести зубную щетку. Отдельный вход снаружи Королевская кровать Частная уборная кухонька Кабельное ТВ Доступ в Интернет Wi-Fi для вашего ноутбука Прекрасный личный Частная палуба Стиральная машина и сушилка доступны Гриль & Огонь Яма Рядом с магазинами, некоторые из самых красивых парков Вашингтона! Легкий доступ к автострадам. Поля для гольфа, Gig Harbor имеет множество прекрасных Dinning учреждений. Близко к больнице Святого Антония
My husband and I stayed at Kelly's place for about four days and it was the perfect amount of cozy. You get a great feel for life in the Northwest surrounded by beautiful scenery and fresh air. Kelly's place is tucked away in Gig Harbor and it is really beautiful. Before our arrival Kelly called me to let me know that her son-in-law (?) would be there to give us the keys to the place and the tour. He was very friendly and helpful. The place is very small since it is above the garage, however very cozy, comfortable and warm. It also does not have a kitchen sink, but it does have a small kitchenette with a hot plate, small fridge, dishes, and cutlery. During our stay we took a quick drive up to Bremerton and took the ferry over to Seattle. It was easy and convenient and it was better than driving one hour or more. If you want to get around anywhere in Gig Harbor, I recommend driving since you will be a ways from the downtown area of Gig and there aren't sidewalks. During the evening it gets very dark and you're going to need your vehicle headlights to illuminate the way. Also, keep in mind that if you drive off Gig Harbor, you have to pay $5 to leave (cross the Tacoma Narrows bridge) but you don't pay to get on to Gig. This was a great place to stay and I would recommend this place to anyone who wants to get away from it all for a few days.
Maureen
2012-12-14T00:00:00Z
Perfect last minute find! Affordable and very functional. Thanks for the accomodations. Cheers!
Jeff-Julie
2011-11-07T00:00:00Z
The location of the place is fantastic. It fit our needs perfectly. Kelly, the host, was very attentive and friendly. Definitely recommend this place for the price.
Victor
2016-09-05T00:00:00Z
Kelly & the dogs met us when we arrived and instantly made us feel welcome. The apartment was everything & more the listing said it would be. We thoroughly enjoyed our stay. Great value and great location & we would love to stay here again when we travel back to Washington state.
Alan
2014-09-09T00:00:00Z
We had a great time at Gig harbor, the property was big and beautifuul.
Daniela
2012-07-30T00:00:00Z
The apartment met our needs for our 2 night stay, but there are maintenance and cleanliness issues which should be addressed. The heating unit never worked properly. Generally, the room and bath, including its appliances and dishes, were in need of much more thorough cleaning. However, as a result of a couple of maintenance issues, the owner was accommodating and offered to move us to another unit.
Alicia
2012-02-20T00:00:00Z
Once again, a wonderful, peaceful stay. The private deck was perfect for the warm evenings. When we arrived late, everything was ready including an extra fan for the unusually warm weather. Kelly invited us to pick fresh blueberries and tomatoes from her abundant garden. She is a thoughtful and generous host. We hope to come back next year.
louise
2015-07-26T00:00:00Z
Kelly was very accomadating! She welcomed me the night I got there and showed me around. The place is very quaint and a lovely getaway. The area is very relaxing but not too far away from where things are going on.
Nichole
2016-08-28T00:00:00Z
Typ pokoje
Celý dům/byt
---
Typ nemovitosti
Byt
---
Ubytuje
2
---
Ložnice
Gig Harbor, Washington, Spojené státy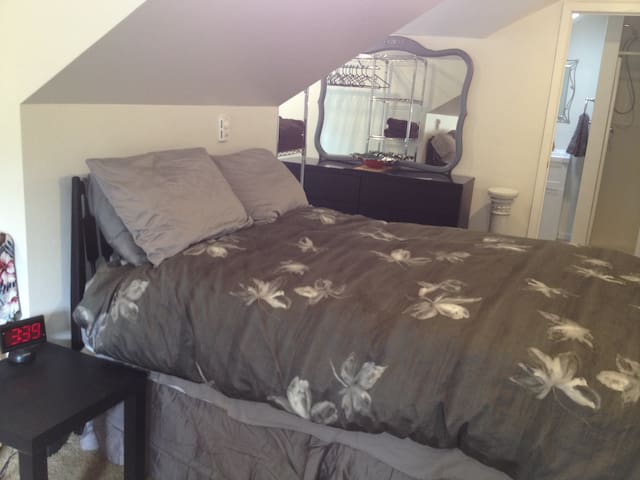 Gig Harbor, Washington quaint sjávarþorpi og nærri Tacoma eða Port Orchard Lúxus fullbúin húsgögnum uppi Accommodations daglega, vikulega, mánaðarlega. Tilvalið fyrir: fyrirtæki ferðast, heimsækja fjölskyldu, vacationing, Gisti fræðileg, 3 kílómetra frá sjúkrahúsinu St. Anthony & YMCA Loka hraðbraut aðgang Convenient - aðlaðandi - comfortable- relaxing - hreint Þreyttur á hótel? Útlit fyrir örugga, þægilega affordable húsnæði? Ef þú ert að fara á heillandi Gig Harbor svæði og eru í þörf fyrir gistingu, reyna einka þægileg efri hæð stúdíó íbúð okkar located á fjórum friðsamlegum hektara. Smekklega innréttuð bíða heimsókn. Fullbúin húsgögnum með talið lúxus rúmfötum og handklæði bara koma tannbursta. Heavenly rúm með kodda efstu dýnu með cushy niður huggara Einkabaðherbergi, þæfa sturtu Fullbúið eldhús Cable TV WiFi Internet þjónusta í boði fyrir fartölvuna þína Þvottavél og Þurrkari til grillið 2 Night Lágmark Vinsamlegast
Wonderful place to stay! They have done a great job having income properties at their home and making them feel so cozy and private, very lovely people, great place to transition to the PNW!
penny
2014-04-29T00:00:00Z
I stayed at Kelly's apartment for a little over 2 months and had such a lovely time. It was extremely spacious, clean and had everything I needed. Kelly was very quick to respond to any questions I had and truly made me feel at home. There is a washer and dryer free to use just downstairs. The apartment was very comfortable, safe and quiet; I'm just sorry I couldn't stay longer! I would highly recommend this apartment for anyone looking for a quiet and cozy retreat. Would love to come back again!
Alexandra
2014-12-06T00:00:00Z
Kelly was a wonderful host and her property is gorgeous. Very clean, comfortable and convenient. Highly recommend it.
Kevin
2011-08-29T00:00:00Z
Beautiful property in a convenient location! The condo has everything in a well thought out space- an updated kitchen, lovely bathroom that feels brand new, spacious seating/dining area, flat screen tv, big sleigh bed and a nice balcony. The place is very well decorated in a muted color scheme, pretty accents, and not to mention gorgeous handmade Native American wall pieces. Kelly was fantastic in making sure we felt at home and was more than welcoming! She even gave us farm fresh eggs, and offered us local blueberries and tomatoes. There were also extras inside the cupboards- teas, hot chocolate, coffee, spices and sorts. The location was perfect and not far from anything. When we return, we will certainly be staying here again. Thanks Kelly!
Anuar
2015-07-28T00:00:00Z
Wonderful host. Accommodated our checkout. Was available on property. Great facilities!
Brandon
2013-08-12T00:00:00Z
Kelly's place was perfect for my 10-week stay in WA. Being from New England and never having ventured to the Evergreen State, I didn't know what to expect. The location is a little off the beaten path (you have to travel over the Tacoma Narrows bridge to get to Tacoma/Seattle from the apartment), but Gig Harbor is such a pretty little place only about an hour to Seattle and less to Tacoma (I worked in Tacoma while I was there). Downtown historical Gig Harbor is beautiful in the nice weather and has several little boutiques/shops. There are also grocery stores, office supply stores, Starbucks, Target, etc. nearby. The apartment is set back a little bit from the road and very private and safe. Kelly was also very accommodating. While going out for a late-night errand around 10 p.m. one night, I locked myself out of the apartment. I walked across the way to Kelly's home (thankfully, she and her family were awake!), and she gave me a spare key - no problem at all. I felt badly to disturb them that late, but they were very pleasant and helpful. Check-in was easy and she even gave me some farm-fresh eggs when I got there! The place was clean and had everything in the kitchen/bathroom I needed - I personally don't cook too often, but there is a kitchenette with pots and pans, a microwave, a small oven/stove, and a coffee maker. There is easy access to the laundry room downstairs, and it is clean. There is also a small private deck right outside. The pictures of the apartment are accurate. Thanks so much for everything, Kelly! I really enjoyed my stay in Gig Harbor!
Lindsay
2016-09-25T00:00:00Z
Quiet comfy and clean, great hosts!
Cat
2017-02-18T00:00:00Z
My husband and my two Norfolk Terriers stayed at Kelly's for 45 days. The apartment met our needs and it was very clean. It has a nice deck where to have coffee in the mornings and sunbathe in the afternoons. Kelly is fantastic! So attentive to our needs. We stayed in July and August and there were a couple of days when the weather turned very hot and being that the apartment is on the second floor and it has western (EMAIL HIDDEN) it got extremely hot. When we realised that there was going to get extra hot again, I talked to Kelly about putting an AC unit to fight the heat. To our delight we had an air conditioner installed the very next day! Now that is what I call customer service! The property is lovely and our dogs were able to run and played with Kelly's dogs. Over all it was such a lovely experience and the apartment is also very private. We are looking forward to returning to this beautiful place and I highly recommend staying here. It is lovely!
ena
2012-09-06T00:00:00Z
Typ pokoje
Celý dům/byt
---
Typ nemovitosti
Byt
---
Ubytuje
2
---
Ložnice
Gig Harbor, Washington, Spojené státy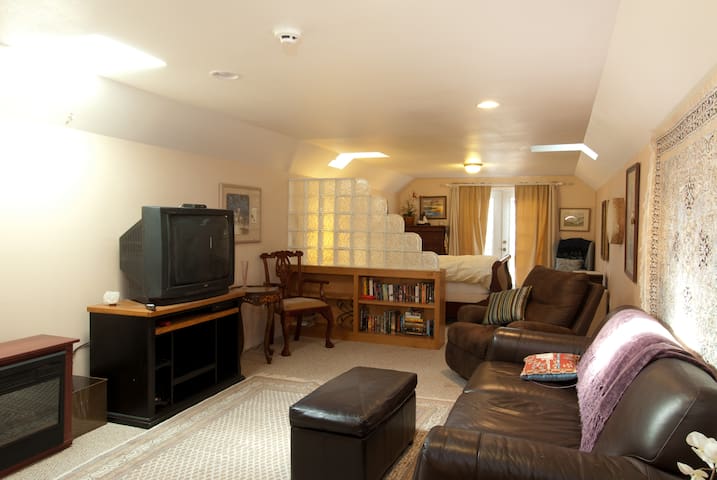 Belfair - Airbnb
:
Průměrně

4.76

z

5

hvězdiček na základě

56

hodnocení hostů
Pro zobrazení celkové ceny zadej termín. Mohou být přidány další poplatky a daně.