Co se nachází v blízkosti zařízení a aktivit pro celou rodinu Oltář, rybník, vinařství. Kdo je můj ubytování: páry, sólo dobrodruhy, rodiny (s dětmi), velké skupiny, a mazlíčci.
Typ pokoje
Celý dům/byt
---
Typ nemovitosti
Dům
---
Ubytuje
5
---
Ložnice
Beli Manastir, Osječko-baranjska županija, Chorvatsko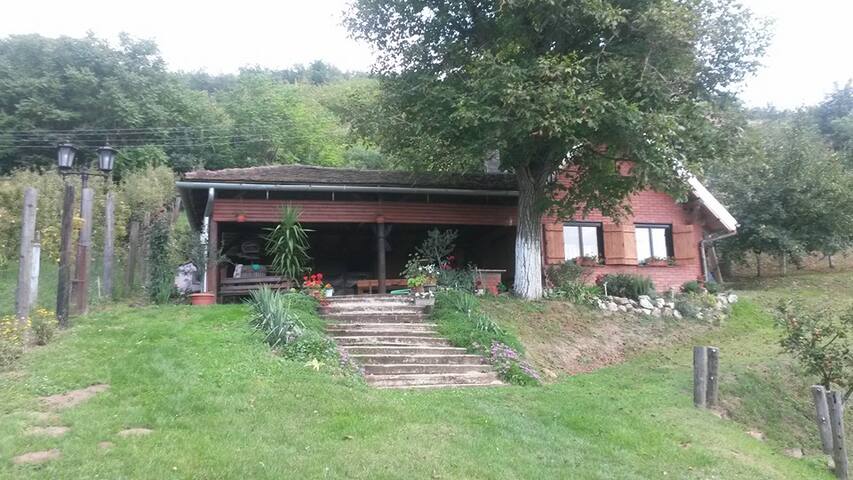 In the 'butterfly farm' you will experience the authentic atmosphere of Hungary. The holidayfarm is picturesquely situated on a small hill and surrounded by woods. From a vine-enclosed terrace you have uninterrupted views on the beautiful landscape.
Pillangó Tanya (or 'butterfly farm') is picturesquely located in the tiny village of Kisbudmér (i.e Little Budmer). This cosy and comfortable farmhouse enjoys a quiet location on the outskirts of the village, has no immediate neighbors and is fully equipped for a relaxing holiday experience. It is located in the sunny part of Hungary, in the southern hilly province of Baranya, close to the Croatian border. In the vicinity there are several thermal spas, a large swimming lake (Orfü) in the beautiful Mecsek hills and an activity park (Mecsextreme park). The beautiful, culturally rich regional capital Pécs is within a half an hour driving distance. Within a very short (biking)distance there are several very picturesque wine villages like Villany, Villanykövesd and Palkonya which are accessible via a panoramic bicyclepath (the famous Siklos-Villany wine cyclepath . The house is a near two hour drive away from Budapest Airport ( highway M6). Day trip tips: the well known lake Balaton, the enchanting city of Budapest and several nearby neighbor cities in Croatia. We are sorry but NO pets are allowed.
Timely emails, good directions. The house is lovingly and tastefully furnished and decorated. Loved the bicycles to ride around the area. It is a rural location which is what we wanted.
Kathleen
2016-09-15T00:00:00Z
Typ pokoje
Celý dům/byt
---
Typ nemovitosti
Dům
---
Ubytuje
3
---
Ložnice
Kisbudmér, Baranya, Maďarsko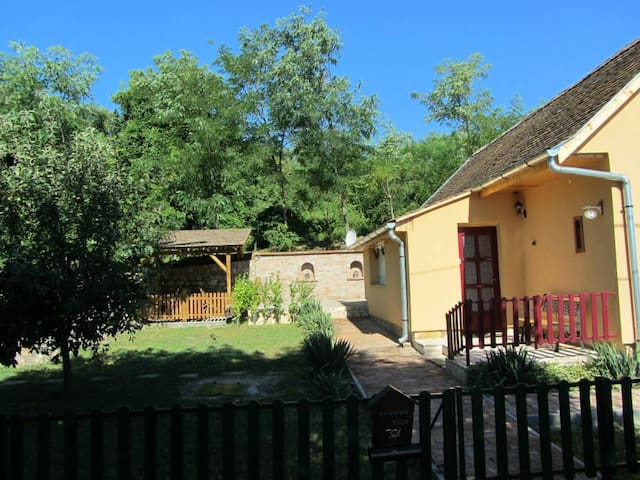 Private room with queen size bed for 1 person in homey attic apartment near city centre.
The house and the room was amazing. Dalia and her parents are so nice and they look after me all the time y felt like home all the time. Everyone needs to go to Dalia's house ;-)
Jonathan
2016-06-11T00:00:00Z
I had the most amazing time staying in this apartment! It was spotlessly clean, beautifully decorated and had more than I could ask for - a large open kitchen and a living room, a balcony and a large bathroom. It is within walking distance of the main square and, more importantly, 10 minutes away from the main bus station. The location is perfect. The hosts are very friendly, and I wish I had some more time to spend with them. Overall, superb value for price!
Jakov
2016-06-07T00:00:00Z
I stayed only one night at Dalia's place but enjoyed it very much. Everything was on the high level: location, my spacious room, kitchen with all necessaries, pretty garden, etc. Dalia was very kind to me helping to find her home and showing the nearest place to rest. Hope to see her and her friendly family again!
Павел
2016-08-16T00:00:00Z
Great place, lovely owners. Mister cleaned the over night snow from my car. Nice kitchen, good sleep, quiet, big bathroom. Recommend!
Miha
2017-01-18T00:00:00Z
Super apartman, 10 min lagane šetnje do samog centra. Jako ljubazni i susretljivi domaćini i super pas Drama :) Čist, velik prostor (još veći nego što izgleda na fotografijama), ogromna kupaonica i kuhinja, dvorište, mirno. Jako zadovoljna smještajem i boravkom, bilo je baš lijepo i ugodno. Hvala i vidimo se opet!
Vanja
2017-04-01T00:00:00Z
Nice place. Good price / value ratio.
Bartosz
2017-03-19T00:00:00Z
Dalia's parents were there to welcome me. Very kind and friendly
Singye
2016-09-09T00:00:00Z
Great location - Easy 15 minute from the train station and nearby to both the "new" town and the old" town as well. Very walkable community. Had a large common kitchen, bathroom, and living area which was nicely appointed. I met Dalia's parents who were both kind and amazing and I LOVED playing with their dog, Drama.
Irene
2017-01-02T00:00:00Z
Typ pokoje
Soukromý pokoj
---
Typ nemovitosti
Byt
---
Ubytuje
1
---
Ložnice
Osijek, Osječko-baranjska županija, Chorvatsko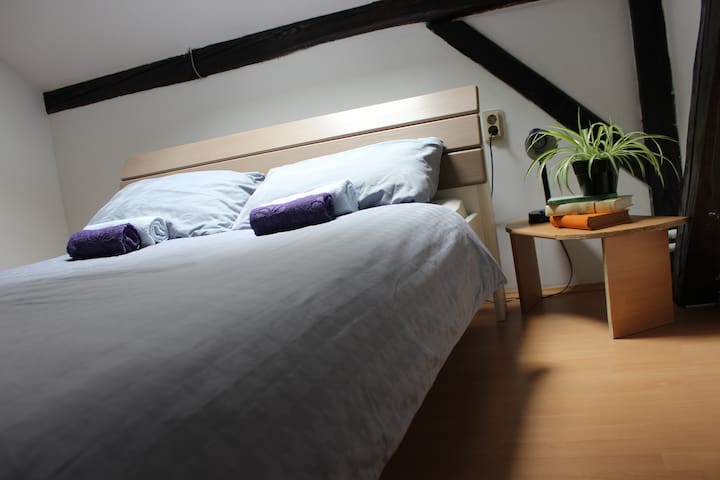 There are two bedrooms, ideal for 3 people Villany apartment, separate bathroom and toilet. The apartment is rented a house in a separate component. The house has a wine cellar and wine museum; In addition to the price of breakfast with wine tasting as well.
for those who looking for an amazing Authentic, Local and simple traditional winery , this is the place. friendly family , the father (which is responsible for the place) well welcome you with a home made Palinka, amazing quality one. you can try his own home made wine, get a tour up to the mountain to see the village and the vineyards. we had an amazing breakfast next morning, a home made kulbas (sausages) with other stuff. highly recommended
Haytham
2017-02-26T00:00:00Z
Mátyás édespja Imre és nagymamája vártak minket kedves fogadtatással. Imre körbevezetett és mennyei irsai olivér törköly pálinkával kínált. A szállás nagyon tiszta, jól felszerelt és kellemes volt, közel a főutcához. Reggel mire ébredtunk, finom reggeli illata szállt a konyhában. Imre megmutatta családi borospincéjüket és egy különleges borkostoló részesei is lehettünk, melynek egyik tétele egy 18 éves vörösbort volt. Nagyon kellemesen éreztük magunkat, bármikor szívesen visszamennénk.
Gabriella
2016-10-03T00:00:00Z
Such a lovely place! Imre showed us his wine cellar and let us sample his wines, and we also got to walk around the vineyard. I wish we spoke hungarian so we could have talked more, but we could always make ourselves understood when needed, and Matyas was available by phone had we needed anything further. The surroundings are beautiful and the main street with vineyards and bars is only a short walk away. Imre and his mother also served us a really nice hungarian breakfast in the morning. Would love to come back soon!
Ylva
2016-07-03T00:00:00Z
My friends and I were so happy to stay here! After giving us a moment to settle in, the family invited us down to their wine cellar, where we spent almost an hour sampling various wines. Then they invited us outside to their backyard, which is actually a small vineyard. We sampled some more wine and took a walk to a tower that overlooks the Church Mountain Conservation (Villányi Templomhegy Természetvédelmi terület). Finally, the next morning, they cooked us a lovely breakfast. My only regret is that we arrived at 18:00. We spent a bit over two hours on the tasting, which didn't leave us enough time to visit the downtown area. Do yourself a favor and try to arrive before 14:00. If you are traveling through Hungary with a friend or two, then I highly recommend adding this town to your itinerary.
Chris
2016-05-31T00:00:00Z
The apartment is about 15 minutes walk to the vineries and is at a hillside. Matyas' father and grandmother were amazing hosts. They welcomed us with palinka and invited us for a vine tasting in their cosy vinery. Absolutely recommend to stay there, we will definitely come back.
Stadler
2016-11-20T00:00:00Z
Typ pokoje
Soukromý pokoj
---
Typ nemovitosti
Penzion (B&B)
---
Ubytuje
3
---
Ložnice
Villány, Baranya, Maďarsko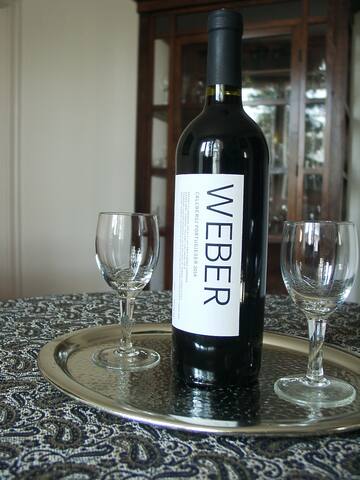 The spot is located near: public transport, parks and arts and culture. For this reason, you will like my place: the people, the atmosphere, outer space and the surrounding area. The appropriate place for this: couples, lone adventurers, business travelers, families (children), large groups and furry friends (pets).
Dear Visitor! Welcome to the wine region of Villany Retro offers accommodation Guest House website. 2 bedroom guest house can relax for 5 people. Our kitchen is fully equipped, can be found including: refrigerator, stove, microwave oven, coffee maker ... Our yard is huge, which we provide parking space for several cars. The rear is possible tűzrakásra, barbecue as well as garden furniture and a comfortable place to sit in baked dishes.
The surrounding area has many attractions and recreational facilities at your disposal. Including: - The Villany Villany and near the famous wine cellars - The wine museum - The Temple Mount - Szársomlyó Hill - The Nagyharsány sculpture park - Harkány spa - The Shrine Máriagyűd - The Castle Siklós - Nature trails - The siklósi Malkocs Bey Mosque - Siklós Thermal Spa Waterpark - Churches in the neighborhood - The zoo in Pécs
It's a really nice, well-equipped, renovated farmhouse, cca 5 km to Villány. I really recommend it for families, group of friends searching for a quiet, but well located place.
Júlia
2017-02-26T00:00:00Z
The guesthouse was very charming and quaint. Pleasant, quiet, and very relaxing!
Madeline
2017-03-19T00:00:00Z
Typ pokoje
Celý dům/byt
---
Typ nemovitosti
Dům
---
Ubytuje
5
---
Ložnice
Nagyharsány, Maďarsko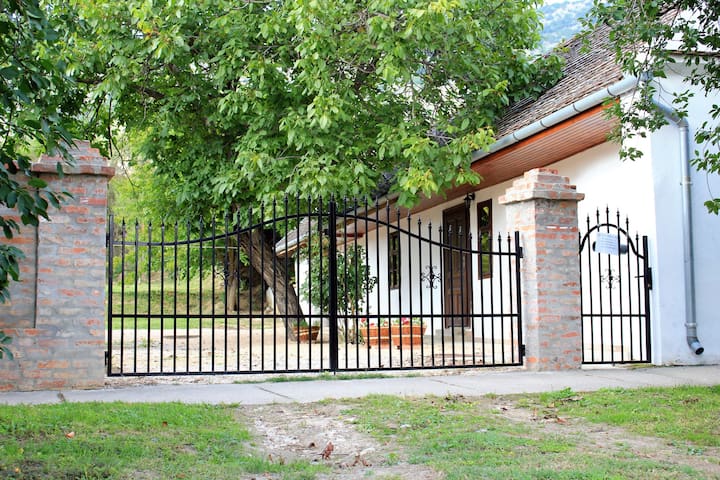 BRAND NEW VIP APARTMENT **** IN OSIJEK, 1. FLOOR,BALCONY, IN MAIN STREET, ONLY 100 M FROM MAIN SQUARE AND CATHEDRAL, 40m2, PARKING IN PRIVATE GARAGE, WIFI, TV, KITCHEN FULL EQUIPPED, LED LIGHT, COFFEE, TEA-INCLUDED IN PRICE TWO AIR CONDITIONERS
APARTMENT IS CONSISTED OF LOBBY, KITCHEN, BEDROOM, BATHROOM AND BALCONY. FIRST FLOOR, PRIVATE GARAGE IS IN THE COURT. STREET VIEW. One AIRCONDITION in kitchen,second in bedroom
Great place to stay! Very clean and spacious and in the centre! Would definitely recommend :)
smiljka
2016-09-04T00:00:00Z
Darko was a great host, the apartment was super clean, modern and very comfortable. It's in the center of the city and close to everything. I will definitely come again.
Ana
2017-03-12T00:00:00Z
I arrived to a warm welcome by Darko. The apartment is in an excellent position right in the middle of Osijek. Very comfortable lodgings. Facilities were very adequate. Shops and entertainment are within 2 minutes walk. Tourist attractions were within easy access, and trams and taxis always available. Darko was always responsive to any questions or queries and readily available by mobile.
Nino
2016-06-02T00:00:00Z
Ideal accomodation top host
Ian
2016-10-11T00:00:00Z
Darko has nice cozy place right in the centre of Osijek. Everything interesting to see is walking distance away.
Tjasa
2016-10-30T00:00:00Z
Darko apartment is great you do not get a 9.7 rating for nothing. I would recommend this to everyone.
David
2016-07-05T00:00:00Z
Darko je odličan domaćin. Sve je prošlo točno onako kako smo se dogovorili.
Kristijan
2017-03-25T00:00:00Z
Darko was a really good host, easy to communicate with. He offered me his garage for my bike, left me with some good tips and directions. This "well-renewed" flat is really in the center of Osijek, in the neighbourhood of good pubs, shops and restaurants. Highly recommended.
Róbert
2016-08-14T00:00:00Z
Typ pokoje
Celý dům/byt
---
Typ nemovitosti
Byt
---
Ubytuje
2
---
Ložnice
Osijek, Osječko-baranjska županija, Chorvatsko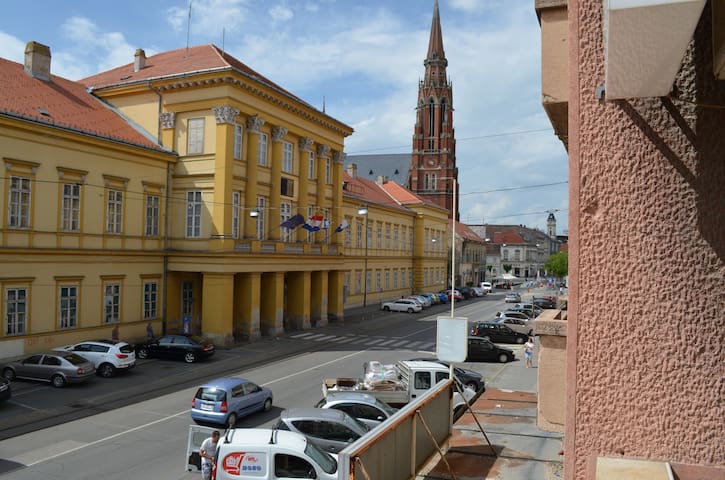 Nově zrekonstruovaný, umístěný ve 4. patře, slunný a prostorný byt v centru města. Umístěno v budově vedle hotelu Osijek, nejdelší říční promenády, má nejlepší možnou polohu a nádherný výhled. Prozkoumat Osijek pěšky.
Byt se nachází ve čtvrtém poschodí, slunný a prostorný. Ve svém 72m2 má velmi velký obývací pokoj, jedna ložnice, kuchyň, jídelna, vstupní hala, koupelna a úložný prostor. Je to velmi útulné a moderní. Zdarma, soukromé a vysokorychlostní Wi-Fi je k dispozici v celém bytě. V ložnici je postel pro (PHONE NUMBER HIDDEN)) s poskytnutými prádlo a skříně. Je čelí dvorek, takže je klidné a tiché, a to má spoustu denního světla díky velkým oknům. Kuchyň je prostorná a plně vybavena všemi spotřebiči, které potřebujete k vaření, varnou konvicí, stejně jako hrnce, pánve a nádobí. Pokud nechcete vařit existuje jen málo restaurací v okolí. Ručníky, vysoušeč vlasů a mýdlo jsou poskytovány v koupelně. Pokud tento byt je rezervovat na dny, které chcete navštívit Osijek, zkontrolovat na mém profilu na mé další byt, který je blízko.
Výjimečná poloha v Osijeku nejlepších neighborhood- jen pár minut chůze od hlavního náměstí a pěší zóny. Je také velmi blízko hlavního autobusového a vlakového nádraží (15 minut chůze). Všechny turistické atrakce jsou blízko, takže není nutné pro veřejnou dopravu, ale pokud máte v úmyslu jít trochu dále od centra, nejbližší veřejná doprava je také 2 minuty pěšky.
We had some difficulty coming on the days that we booked, but Mary was gracious enough to allow us to change the dates. We loved our stay and the location of the flat. I came to Osijek to visit family, and they lived very close to us so it was perfect. The location is excellent because there are a lot of cafes and restaurants right below and around the flat. We had a great view of the river (drava) and the flat was more than spacious for two people.
Sanja
2016-08-09T00:00:00Z
Apartment was very nice and spacious. Location is very near center and has a beautiful view on the Drava river.
Antun
2016-10-02T00:00:00Z
Mary is a very welcoming host, great in communication and helping us in getting around. We placed here a main film actor and they were so satisfied that they wanted to stay more days. :-) Location is the best you can get in whole Osijek, and the apartment is perfectly clean, very well decorated, fully equipped, smell great, vibe positively, the view you will never forget... we will be back...
Kinematografi Osijek d.d.
2016-10-29T00:00:00Z
I stayed in this appartment in Osijek with my girlfriend and a friend for 5 days and it was great! Mary was very inviting and nice. She waited for our arrival after midnight, immediately showed us the best parking space and took us to the appartment. The appartment was great...very spacious, cozy, clean with an amazing view! The location is perfect! Very close to restaurants, bars, main square, grocery stores, pools, skate park and even the zoo. We had an awesome stay at Mary's place and I would definitely recommend this appartment to a couple or a group of three or four people visiting the city of Osijek.
Goran
2016-09-14T00:00:00Z
We had a wonderful stay in Osijek. Our apartment was in the heart of the city, could not have picked a better place to stay in Osijek!
Chris
2016-08-24T00:00:00Z
Great!
Marcel
2017-03-18T00:00:00Z
Probably the best location in Osijek with perfect view and with a perfect host. Apartment is well equipped, and most importantly clean. Mary was so kind and helpful, she was so friendly even thought we "temporarily" lost apartment keys (we found them later). Mary thanks for everything..
Boris
2017-02-04T00:00:00Z
100 stars!!! The apartment is perfect. It looks even better than in the photos. Cozy but spacy, light, comfy beds, very neat and clean, fully equiped... The view is breathtaking and the decoration is beautiful. Location is awesome, everything is walking distance. As for the host - Mary is wonderful!!! She is a true professional but also very kind and fun. She was always available to help us and make our stay enjoyale. If you're coming to Osijek, this is the place to stay and this is the person you want to host you.
Nina
2016-11-06T00:00:00Z
Typ pokoje
Celý dům/byt
---
Typ nemovitosti
Byt
---
Ubytuje
4
---
Ložnice
Osijek, Osječko-baranjska županija, Chorvatsko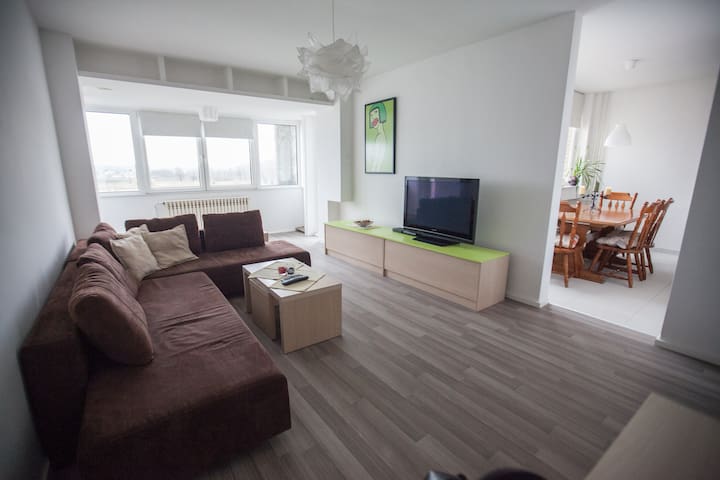 Apartment is in centre of Osijek, famous Korzo, close to public transport and nightlife. You'll love my place because of the kitchen, the coziness, and the comfy bed. Our place is good for couples, solo adventurers, business travelers, and families.
Comfortable apartment on top of the building in the city center, famous Korzo street.
Our apartment is situated at center of the Osijek, Kapucinska street well known as KORZO. Apartment is situated on top of building, 4th floor. Everything what Osijek can offer is within your walking distance, up to 15 mins. You will bi situated at the top of the building allowing you to have peaceful and quiet stay at the center of the town.
We felt very welcomed. The location is excellent. The apartment was equipped with everything as promised, very spacious and clean. A definite recommendation. :-)
Marijana
2016-10-16T00:00:00Z
Very nice apartment, it is bigger than it looks in the pictures. Top location. Nice host.
Nada
2017-03-18T00:00:00Z
Excellent hosts. everything very clean and highly recommendable.
Josip
2016-08-22T00:00:00Z
Absolutely perfect apartment in center of Osijek. Very big, clean and nice. Also full of little things like tea, coffee, sweats, butter and marmelade for breakfast. Even a blanket for a dog :) Really great experience. 5 out of 5. If we ever come back, we will stay there again.
Dalibor
2017-01-25T00:00:00Z
Very nice host, lovely apartment.
Andrej
2016-12-30T00:00:00Z
A very nice place to stay, our host was extremely helpful and kind. The apartment has everything you might need and even more.
Ana
2016-11-20T00:00:00Z
Arriving a bit later and on short notice booking, Jasna was very kind and accommodating. She came out to find us wandering around, not knowing where the place was. Jasna showed us the apartment, explained the whole place to us, even left a little bit of a snack for us in case we were hungry from our trip. The apartment was very nice, clean and modern looking. Very spacious and definitely more than enough room for my girlfriend and I. We wish our stay was longer. Very close to shops, restaurants and the beautiful cathedral. Overall, our stay was very pleasant and I would definitely stay here again!
Boris
2016-09-23T00:00:00Z
Typ pokoje
Celý dům/byt
---
Typ nemovitosti
Byt
---
Ubytuje
4
---
Ložnice
Osijek, Osječko-baranjska županija, Chorvatsko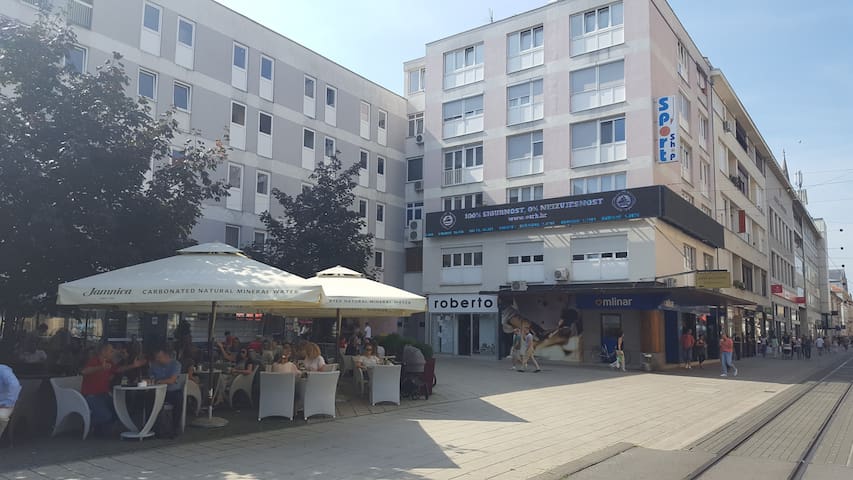 Hight standard and modern equipped apartment near center, provides a quiet holiday in the settlement with lots of greenery and parks nearby. City "lies" on the Drava river and provides a perfect holiday in nature. At only 20 kilometers of the city is Osijek - big city and center of Slavonia - and the world-famous Kopacki Rit Nature Park.
Modern and high standard equipment apartment offer bedroom with queen size bed. Access to the bathroom, kitchen and dining room. Possible agreement to make breakfast at a good price.
The neighborhood is surrounded by a lot of parks and playgrounds, urban enough but far enough calm for a perfect holiday or lodging. 20 kilometers away is the beautiful and world famous Kopacki Rit Nature Park.
Typ pokoje
Soukromý pokoj
---
Typ nemovitosti
Byt
---
Ubytuje
2
---
Ložnice
Belišće, Osječko-baranjska županija, Chorvatsko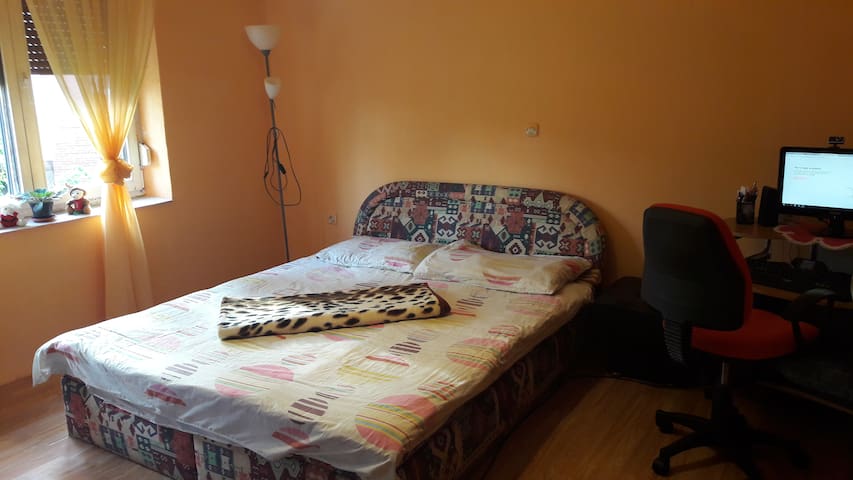 Velká řeka a velký lesnicko Baračke trvalo jen to nejlepší z obou těchto světů. Tento typický Podunajská bungalov je moje nejoblíbenější místo, kde můžete najít klid samostatně nebo užívat ve velké firmě. Je to hot spot pro ty, kteří hledají odpojení od moderního způsobu života, sólové dobrodruhy, kteří mají rádi jíst venku, jít na rybolov nebo dlouhé procházky do všech možných směrů ...
Je to jednoduché, ale přesto beautyfull a miloval dvoupatrové bungalovy. Vzhledem k tomu, že je to undefended povodeň plocha- všechny bungalov zde jsou speciálně navrženy. V přízemí se nachází kithen, garáž s úložným prostorem, WC a koupelna. V patře jsou dvě samostatné ložnice se společnou terasou. Ve dvoře je vestavěný místem pro všechny druhy venkovní vaření.
Trojúhelník mezi Srbskem a Chorvatskem-Uherska se nachází v mezinárodní přírodní rezervace není jen část toho, co se nazývá Evropská Amazon, to je také nejvíce malebná oblast s beautyfull okolních vesnic, jako je Bezdan, Bački Monostor (Srbsko) a Batina (Chorvatsko). Také tam jsou četné Tradiční říční restaurace zvané chardas, kde můžete jíst jedinečné pokrmy (čerstvé ryby, grilování, atd) a pijí místní vinice ...
Typ pokoje
Celý dům/byt
---
Typ nemovitosti
Bungalov
---
Ubytuje
4
---
Ložnice
Западнобачки oкруг, Војводина, Srbsko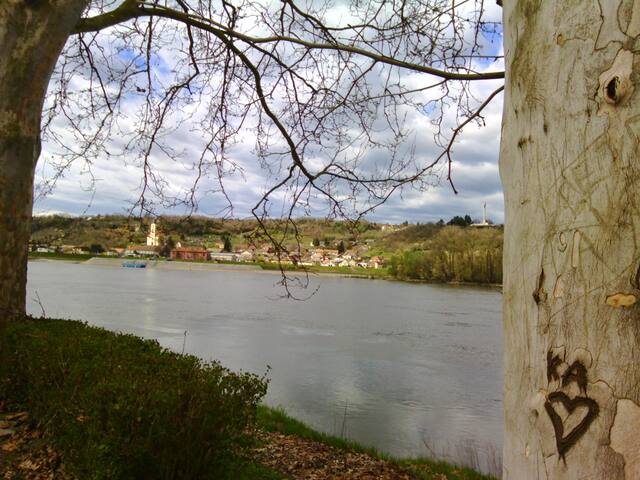 My place is close to city centre, public transportation and parks. You'll love my place because of the light, the kitchen, and the coziness. It is very spacious and comfortable. My place is good for couples, solo adventurers, and business travelers.
Typ pokoje
Soukromý pokoj
---
Typ nemovitosti
Dům
---
Ubytuje
2
---
Ložnice
Osijek, Osječko-baranjska županija, Chorvatsko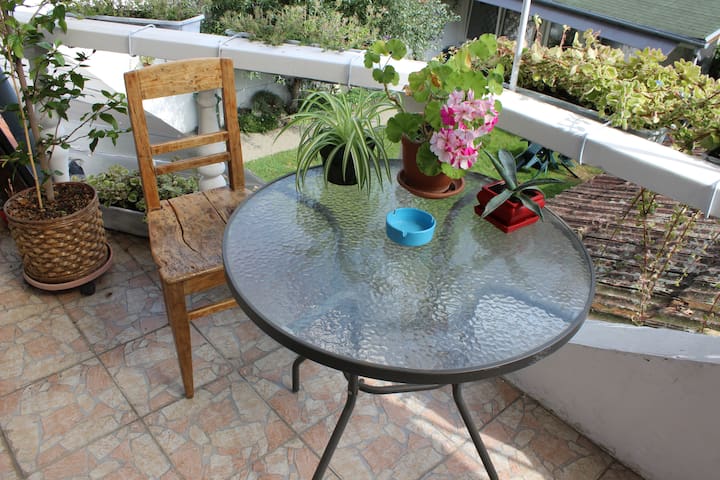 Apartmant is in center of city. Everything what you need is in reach of 5 minutes of walking. Building is new with good thermal and sound insulation. In one sentence: best possible location to explore the city.
Bedroom is in Center of Osijek in new apartment with modern furniture. Apartment is 300 meters from main square. Public transportation is (bus and street car) 50 meters from apartment. I live in that apartment alone. Comforts: My notebook, Internet, TV, kitchen, heating, separated toilet from bathroom and in that bathroom is one more toilet, washing machine, fridge, balcony, microwave. View from apartment is on two sides (East/West) Neighbors are very tolerant including me so complete freedom is allowed (Pets allowed). Very near to the apartment are restaurants, shops, attractions (Main square, Cathedral, Historical part of town, river Drava (eng. Drave, Deutsch Drau) with biggest promenade in Croatia.
Neighborhood is very safe also very clean and healthy with lot of parks close to the building.
Antonio was an amazing host to my friend ad I, he even came personally to the coach station to pick us up as our arrival coincided with his holiday. He was very friendly throughout our stay and also offered us a lot of privacy. It was also very easy to get replied from him when we ask questions. The room is very comfortable with everything that you will need - storage space, excellent wifi, etc. antonio also allowed us to use his spacious kitchen to cook meals. The bathroom is also very easy to use and overall it was everything we needed. Location wise it was really easy to get to everywhere - train station, river, central, and the walled city is around 15 minutes away at tops. Overall a great stay! Thanks Antonio!
Megan
2014-06-16T00:00:00Z
We were feeling very welcome, Antonio was very kind to us :)
Marko
2015-10-18T00:00:00Z
Super lokacija, na par minuta pjeske od gradskog trga. Soba je cista i uredna sa dobrim internetom. Antonio je veoma prijatan domacin i definitivno preporucujemo boravak kod njega.
ivo
2015-05-17T00:00:00Z
This space was very convenient, in a spacious apartment, and very close to the train station and city center. Antonio was a great host, very knowledgable and accommodating.
Andrea
2014-07-26T00:00:00Z
The flat is clean, neat, spacious, and conveniently close to the train station and city centre. Antonio is a wonderful, relaxed and communicative person and does a great job as an accommodating and helpful host. The stay was more than pleasant and we were very lucky to have rented Antonio's place for our vacation.
Robert
2014-08-16T00:00:00Z
Antonio made me feel extremely welcome, was very polite and informative about places to see in Osijek. It was a clean and tidy apartment with a large and comfortable bed. Antonio was happy to let me cook in the kitchen and use the washing machine. I thoroughly enjoyed my stay!
Sophie
2016-07-17T00:00:00Z
Antonio is great host, very communicative, affable, easy to get along with, replies in really short time, willing to help and inform you about various kind of things. Accomodation is ideal, modern, spaceous, always clean, close to everything you need to visit and it feels like being home with someone you know for a long time. All recommendations :)
Tea
2016-01-01T00:00:00Z
Antonio was a perfect host, he truly went out of his way to make sure I enjoyed my stay. He is very generous and all around a great host. I'm glad I got to stay at his place because he helped me see and taste everything I wanted during my stay. basically, I felt like family!
Catherine
2014-09-23T00:00:00Z
Typ pokoje
Soukromý pokoj
---
Typ nemovitosti
Byt
---
Ubytuje
2
---
Ložnice
Osijek, Osijek-Baranja County, Chorvatsko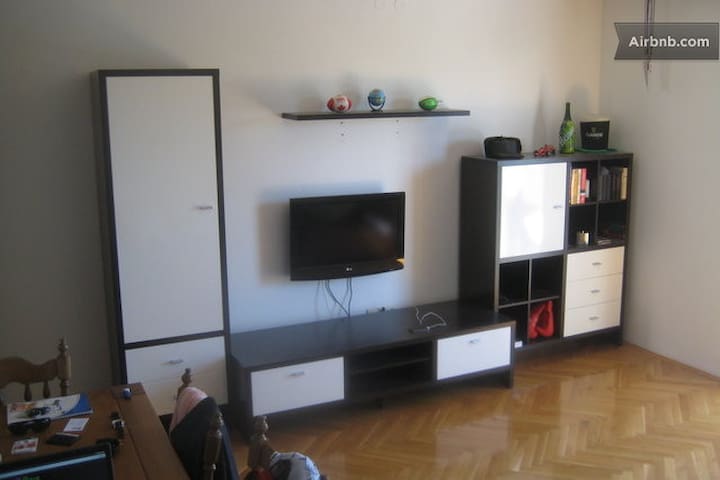 WHITE HOUSE nabízí klid a pohodu mimo rušného města Osijek přesto, že má pohodlné spojení do centra města Osijek o něco více než 8 minut dojíždějící autobusem, který stanice se nachází v blízkosti řeky Inn. WHITE HOUSE nabízí plně vybavenou kuchyň, prádelnu, velkou moderní obývací pokoj a volný přístup k Wi-Fi připojením na internet. Můžete si odpočinout v zahradě a vychutnat si západ slunce na zahradě.
We stayed here for only one night but Daniel's place is fully equipped for a longer stay. It's a 5 minute drive from the centre of Osijek, set in a quiet, residential area with lots of open space around and a nice garden in the backyard. If you're looking for a place for some rest around Osijek, this is a smart and convenient choice.
Jasna
2017-03-26T00:00:00Z
Typ pokoje
Celý dům/byt
---
Typ nemovitosti
Dům
---
Ubytuje
5
---
Ložnice
Osijek, Osijek-Baranja County, Chorvatsko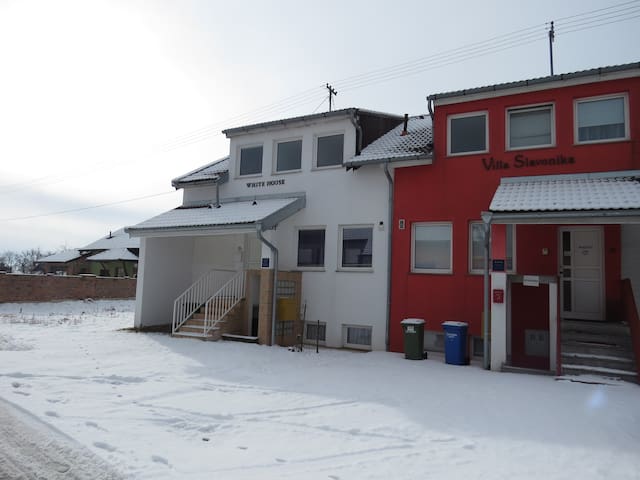 Pannonian house Martinuš is located in small village Batina on the left shore of the river Danube. House was built in early 20th century, and in it's reconstruction were used mostly original elements and materials. In rooms one have a spectacular view on the river, specially in the early morning when the sun is rising up. In backyard we have garden with vegetables and fruit, barbecue and open fireplace.
House is decorated with traditional furniture updated in contemporary style, with adition of new contemporary elements which make house fresh and cosy. There is a lot of natural light in the house and the climate during hot/cold days is just perfect.
We really enjoyed staying with Ivan and Milena. Their house is beautiful and superbly located immediately on the bank of the river. We were warmly welcomed in their garden terrace facing the hills. The house interior is bright, white and lovingly restored in a modern simplicity that works in sympathy with the historic details. We thought it was wonderful. They offered to cook us supper and provide breakfast which was excellent and reasonably priced. This was brilliant for us as we were on a cycling trip and cannot carry much. Its a lovely place to stay.
Annabelle
2015-09-11T00:00:00Z
Nice place. their daughter does the online communication, so face to face with the parents is lovely but limited as they speak little English. Disappointed to see 'breakfast'in the listing with no mention of charging for in the text, but then told, after booking, 'breakfast (6euros)'. They apologised and agreed to fix this 'mistake'. It should also be noted that the Internet access is via a smart phone, and if you wish for wireless broadband then you need to walk into the village!
Dom
2016-09-13T00:00:00Z
The place was beautiful and Ivan and milena weee great hosts. They made me an epic feast (for added cost) and gave me beer and rakija upon arrival. We couldn't really communicate in English, but I spoke to their daughter on the phone and she made sure I had everything I needed. No wifi, but there is free wifi in the town square like 100m away.
Paul
2016-10-08T00:00:00Z
My partner and I had the most wonderful time staying in Batina with Ivan and Milena. The house was just like the photos, amazing, beautifully restored and spotlessly clean. Our bedroom window opened directly onto the Danube and we loved the view. We were made to feel very welcome by Ivan and Milena, their hospitality was outstanding. We were treated to delicious home cooked meals which were traditional specialties of the district. Our stay with Ivan and Milena is easily the highlight of our trip. Highly recommended to anyone who wants to experience unspoilt rural Croatia and true Croatian hospitality.
Theresa
2015-09-09T00:00:00Z
What airbnb is about, great hosts, beautiful location, nothing like you'd have with a hotel. They'd offered us dinner/breakfast for a little extra and my god, what a feast. As hungry cyclists we demolished it all :)
Simon
2016-09-17T00:00:00Z
Accueil fabuleux je recommande ce logement. Ivan et Milena nous laissent un souvenir agréable Nicole
nicole
2016-07-03T00:00:00Z
Ivan & Milena were very friendly and helpful and have a great selection of home-grown and home-made produce such as juice, jams, herbs, sun-dried tomatoes and more. The interior is clean and has a good mix of old and new.
David
2016-09-20T00:00:00Z
Typ pokoje
Soukromý pokoj
---
Typ nemovitosti
Dům
---
Ubytuje
6
---
Ložnice
Batina, Osječko-baranjska županija, Chorvatsko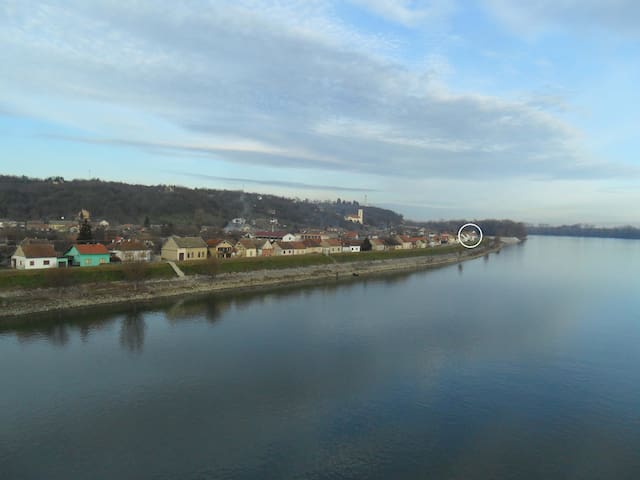 Sehr großes Appartement 30 km von Pecs, 30 km von Mohacs an der Donau und ca 30 km nach Harkany (Heilbad)
Typ pokoje
Celý dům/byt
---
Typ nemovitosti
Byt
---
Ubytuje
2
---
Ložnice
Töttös, Maďarsko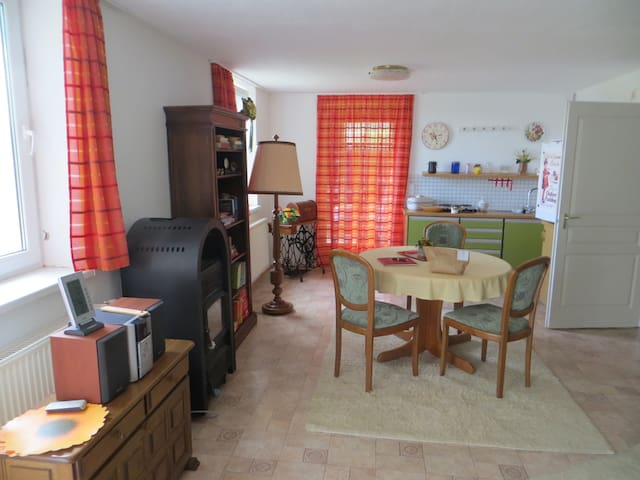 Guesthouse Maksimilian is situated in the centre of the old, baroque part of Osijek, "Tvrđa"-The Fortress.We offer 12 one, two and three bad rooms. Rooms come with a separate bathroom, TV and free of charge internet. Breakfast included. Cycloturists are welcome to use safe garage place for their bikes or tools we provide to repair bikes. Maksimilian is a relaxed, romantic and hopefully inspiring place to stay, miles away from the big hotels with lots of stars. Luckily, our guests are our stars!
Very cosy and homey atmosphere, it was a lovely one night stay for me and two collegues!
Andrea
2017-01-28T00:00:00Z
I was very happy staying at Maksimilian. My room was clean and the bed was comfortable. Location is perfect and breakfast was nice. My hosts were great and very welcoming. Definitely will come here again.
Lana
2016-05-05T00:00:00Z
Very nice rooms, very nice old building, great location, great breakfast. Kristina, and later Jasmina, were extremely friendly, welcoming and helpful. I highly recommend the place.
Michael
2015-09-28T00:00:00Z
We really loved this guest house. It has lovely large rooms with en suite shower room. All the staff are extremely welcoming, friendly and helpful. We were on cycles and they really understood our needs. We arrived soaking wet and cold. And we could dry everything out. Plum brandy certainly helps. The garage has lots of tools for general cycle maintainance. Its home from home, wholesome breakfast, and lots of coffee. Excellent English. Great location in the old town. Great local knowledge for restaurants and cafes. Osijek is a fun place with lots of interesting architecture. Highly recommended. We'll certainly visit again.
Annabelle
2015-09-12T00:00:00Z
Recommended for staying, friendly staff, nice and clean rooms, will back again
Darko
2016-12-23T00:00:00Z
We were made very welcome by everyone here. They were chatty, helpful and made us feel relaxed. The rooms and all amenities are just perfect. Everything was very clean, superb shower and very high quality comfortable accommodation. Breakfast was excellent and plentiful. The only downside was that we could only spend one night here. Highly recommended.
Maurice
2015-09-29T00:00:00Z
Jasmina welcomed us with a big smile ! That set the scene for our stay at Maksimiljan . We were offered coffee and rakija upon our arrival and made to feel very welcome. Our room was fabulous, on the ground floor with a garden view. Jasmina and her husband Vladimir were very helpful and recommended several restaurants for dinner, all within waking distance. Their B&B is situated in the old fortress and very picturesque. Breakfast in the morning was amazing.... the lovely Gordana served us coffee and cooked us eggs as we like it. She was so friendly and helpful, it was a pleasure to sit and talk with her. Our stay here was exceptional in that all the staff were so friendly and helpful and we felt very 'at home'. This is the best B&B we have stayed at and I would advise people to book early to be able to share this experience of Croatian hospitality.
Theresa
2015-09-10T00:00:00Z
Our host was very nice and wellcoming. The neighborhood is very nice and fullfile. Everything was great.
Rebeka
2015-12-07T00:00:00Z
Typ pokoje
Soukromý pokoj
---
Typ nemovitosti
Penzion (B&B)
---
Ubytuje
3
---
Ložnice
Osijek, Osječko-baranjska županija, Chorvatsko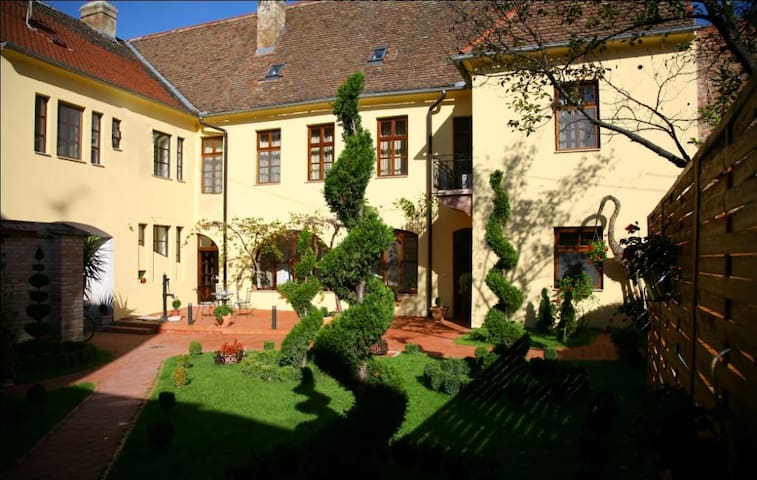 Meine Unterkunft ist in der Nähe der kleinen Stadt Bezdan in der Vojvodina, direkt an der Donau. Das ruhige Naturschutz-Gebiet bietet viele Möglichkeiten für ein ruhigen, lärmfreien und gleichzeitig aktiven Urlaub an der Donau.
Velmi klidná oblast v přírodní rezervaci "severní Dunaj" -Baracka.
Typ pokoje
Celý dům/byt
---
Typ nemovitosti
Dům
---
Ubytuje
4
---
Ložnice
Bezdan, Vojvodina, Srbsko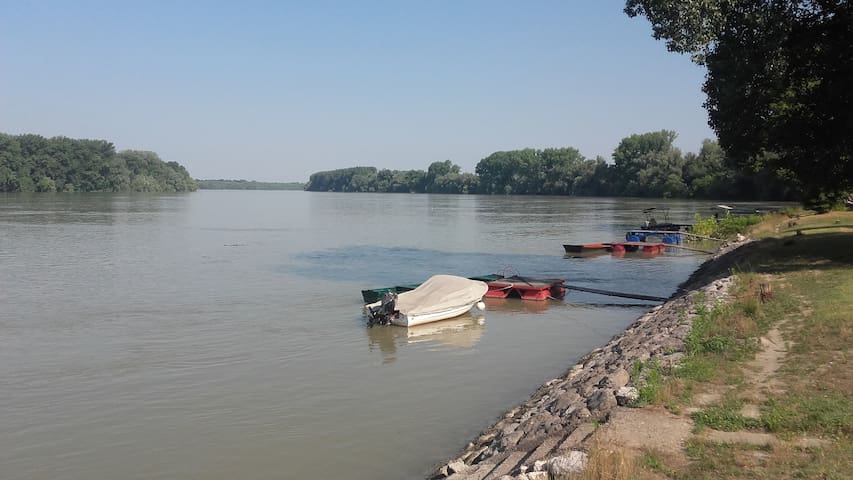 Apartments Vrata Baranje (eng. The Doors of Baranja) is situated in a place called Bilje, only 5 km from both the town Osijek, as well as from the Nature Park Kopački rit.
All rooms are furnished with a massive oak furniture, bathrooms are equipped with modern bathroom installations and kitchens are completely fitted out, including an oven, a fridge and various kitchen utensils. The whole facility is luxuriously built, equipped and air-conditioned. We offer various tourist attractions, free internet access (Wi-fi), free parking by the facility, satellite TV and radio receiver. The apartments are rated with four stars.
The rooms are overlooking the woods that is located by a lake called Stara Drava (Old Drava River), which is connected to the Nature Park Kopački Rit.
Best AirBnB ever! Matija and his family were super welcoming hosts. It really felt more like visiting friends than anything else. Matija's dad told us stories and drew us maps of the places we should visit while serving us great breakfast in the mornings. Even the family dogs too us in like part of the family! The apartment itself felt spacious and well furnished. Located short car ride from Osijek, it formed a great base to explore the whole area, from Batina to Ilok.
Jay
2016-07-30T00:00:00Z
Big appartment, nice garden, located close to the village Bilje. There was a real double bed, airco, a little kitchen and even a bath tub, of course a TV an Wifi. The host and his father who live in the next building were very nice and gave us good recommendations on what to do in the area.
Elisabeth
2016-06-22T00:00:00Z
Typ pokoje
Celý dům/byt
---
Typ nemovitosti
Penzion (B&B)
---
Ubytuje
3
---
Ložnice
Bilje, Osječko-baranjska županija, Chorvatsko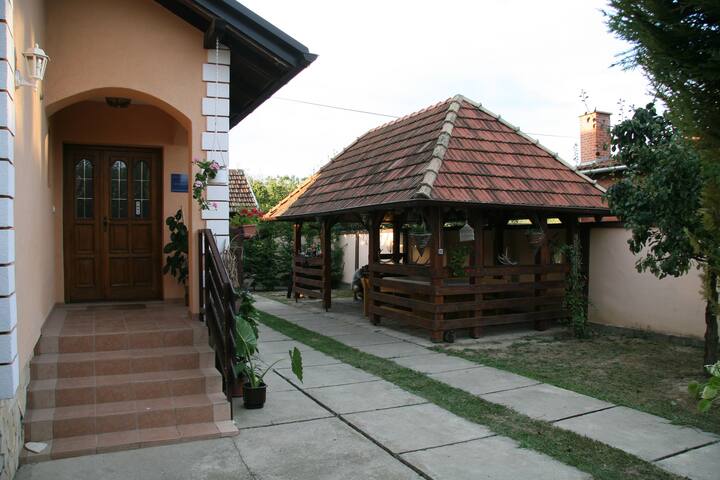 Pro zobrazení celkové ceny zadej termín. Mohou být přidány další poplatky a daně.