Welcome to our traditional, old granary guest house, situated in the heart of El Chorro, Andalucia, Spain. All are welcome, especially climbers, paragliders, hill walkers, and all those who wish to indulge in this beautiful part of Andalucia.
Welcome to our traditional, old granary guest house, situated in the heart of El Chorro, Andalucia, Spain. All are welcome, especially climbers, paragliders, hill walkers, and all those who wish to indulge in this beautiful part of Andalucia. El Chorro is world famous for its beautiful limestone sport climbing, and is home to some of the best climbing in europe. Our guest house is only 2 mins walk from the nearst crag, and within short walking distance of all the climbing at El Chorro. This is our en suite double room.
Martin was a absolutely lovely host, we felt welcomed immediately!! He offered fab tips about restaurants, climbing,walking etc and was simply a wonderful person to talk to!!! Thank you for such a lovely (short but wonderful) experience up there overlooking this beautiful valley…!!!
Judith
2016-09-12T00:00:00Z
Martin was a great host. Warm, engaging and helpful. It was apparent that he loved people and enjoyed helping them to enjoy this area he loved. The location was beautiful, and very relaxing. The back porch looked down over the mountain and yielded a lovely place to sit and meet new friend.
cheryl
2016-05-22T00:00:00Z
This was our best airbnb-experience so far!! The place is really cosy and quiet with a nice kitchen and everything else you need. The best thing was the fireplace where we could sit every evening and enjoy the warmth! Martin picked us up from the trainstation and was really a great host. We would love to come back there!!! Thank you!
Marit
2017-01-24T00:00:00Z
Martin is a great host. He keeps the rooms very tidy and clean. The garden is so nice and he keeps everything in great shape. We really enjoyed our time here and can recommend this accomodation for any climbers, hikers and families.
Ela
2017-02-26T00:00:00Z
The host canceled this reservation 52 days before arrival. This is an automated posting.
Garry
2017-02-23T00:00:00Z
Très beau lieu à tous points de vue. L'accueil est soigné et le lit parfait.
Myrtille
2017-01-16T00:00:00Z
We chose Martin's listing because of its close proximity to the amazing cliffs and crags of El Chorro, a rock climbing paradise! If you are travelling to this area then The Old Granary is a fantastic base. We stayed a week and the house is warm, comfortable and a real pleasure to wake up in. Apart from El Chorro, the rock climbing in the Valle de Albadajis is also very accessible ....along with the "cheapest" bar on the planet as you enter the village on the left!! Thank you for an incredible week Martin and we will be be back to see you and that wonderful cat of (URL HIDDEN) Jones.
James & Julia
2017-02-11T00:00:00Z
We had an amazing stay with Martin at his beautiful house! Martin was friendly and welcoming and helped us with advice and directions around the local area. The house has incredible views and a lovely pool to cool off in. One of the best Airbnb experiences we've had. We hope to be back to visit again soon!
Elle
2016-09-17T00:00:00Z
Typ pokoje
Soukromý pokoj
---
Typ nemovitosti
Dům
---
Ubytuje
2
---
Ložnice
El Chorro, Andalusie, Španělsko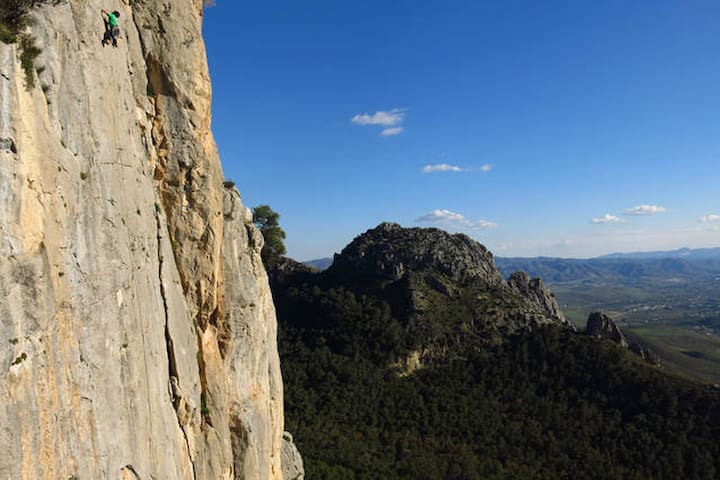 In our comfortable casita you are able relax while enjoying the beautiful surroundings. It is minutes away from El Chorro and less than an hour away from some of the historic cities or beautiful beaches of Southern Andalusia.
Casita Naranja is conviently located close to hill-top town Alora and the famous El Chorro. It is privately detached with views overlooking the Orange grove where when in season you can help yourself to fresh oranges for breakfast or squeeze them for fresh juice! The views from the property are truly amazing and reach across the El Chorro and El Hatcho Mountains The swimming pool is the Casita is
Nice and peaceful place. Nothing to complain about. The kitchen is well equipped and the bedrooms are clean and neat. The house is 10 minutes drive from Alora and around 20 minutes from El Chorro.
Inka
2017-04-02T00:00:00Z
Basic, maar comfortabel. Hele aardige mensen en huisdieren!
Sandra
2016-11-05T00:00:00Z
Returning to an area we know well.Casit(URL HIDDEN)Naranjas is ideally situated just off the road that runs from Alora to El Chorro......our main aim was to walk the Caminito del Rey,which was spectacular.The house has the basic necessities and the weather was perfect for our stay.Warm and sunny,but chilly at night so the log burning stove was an added bonus.Our hosts were on hand if we needed any help.
Susan
2016-03-15T00:00:00Z
Die Casita liegt etwas erhöht in einem Orangengarten, sodass man nicht nur den Blick auf den schönen Garten, sondern auch über das ganze Tal genießen kann. Das Haus ist sehr sauber und überaus funktionell eingerichtet, es hat an nichts gefehlt und alles hat bestens funktioniert. Simon ist ein sehr freundlicher Gastgeber und ist für Anfragen stets erreichbar. Das Haus kann ohne Einschränkung weiter empfohlen werden.
RUDOLF
2017-03-08T00:00:00Z
We would like to thank the owners for a wonderful stay in their apartment cum cottage on their orange grove! Luckily we arrived during the orange season, since we were there in the first week of February, and the oranges were simply sublime: you can't eat oranges like those in a non-orange growing country! You have beautiful views of the mountains and shallow but broad valley from the apartment. While the apartment itself is very clean and cozy. It's also very comfortable and has that rural feel in the winter months I guess due to the wood burning stove and the peaceful environs. It's a great location for going hiking in the mountains or sports climbing in El Chorro and for doing the Caminito del Rey, which is about 20 mins by car to El Chorro and a further 20 mins also by car to the actual start of the Caminito del Rey, but you have beautiful views all along the way and I believe there is a bus connection too. The owners were very helpful and friendly! I'm sure if you are looking for a comfortable and quite getaway for a short break it's the perfect place. Thank you for having us!
Ivona
2017-02-11T00:00:00Z
El entorno de la casa es muy bonito, y tranquilo pero más apropiado para temporada de primavera / verano. Menos mal que teníamos la estufa. Qué maravilla! La casa es acogedora y tiene tamaño ideal para 1 pareja con 2 niños. Fuimos 4 adultos y las camas individuales quedaban un poco pequeñas para los hombres. El jardín precioso con todos esos naranjos. Kinga muy atenta y su mermelada de naranja riquísima! En resumen, hemos pasado 4 días muy agradables en la casa y os la aconsejo.
laetitia
2016-12-10T00:00:00Z
The discription of the directions was pretty accurate, we had no trouble finding the place. When we arrived Kinga welcomed us and offered us to feel free to pick some oranges and peppers. She also left us a orange jam and some eggs in the fridge and when I we asked for some oil she gave it to us. All in all Kinga was a nice and sweet hearted host and the place was even if we didn't spend a lot of time there pretty lovely.
Giovanni
2015-10-26T00:00:00Z
We had wonderful three days in Simon's lemon grove. The flat is charming and so is the host. Perfect spot for exploring the neighboring mountains and valleys. Thank you, Simon and family!
Tina
2016-05-25T00:00:00Z
Typ pokoje
Celý dům/byt
---
Typ nemovitosti
Dům
---
Ubytuje
4
---
Ložnice
Álora, Andalusie, Španělsko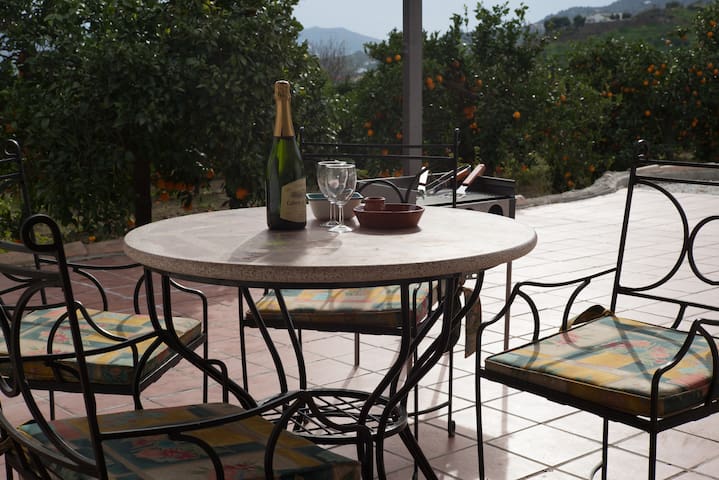 Precious typical Andalusia house in the hearth of El Chorro. The house we offer forms part of the "Cortijo". It is an private accommodation and you can use the common areas such as barbecue, swimming pool or the garden. Metres far from "Caminito del Rey" with amazing views to cheer up your day. The price we publish is for 5 people, please consult by private msg the price for 2, 3 or for pax. Come and stay with us you will not regret it!
Precioso cortijo con piscina en el corazon de El Chorro. Apto para 5 personas con derecho a toda la vivienda y zonas comunes. Increibles vistas y tranquilidad. Podemos ofrecer consejos sobre la zona y lugares para visitar. The house is privat and we will no bother you and your intimity. Nevertheless if you want to know more about our culture you are very welcome to spend some moment with us. We are friendly people and can give you a lot of useful tips about the area the climbing zone the hikes or just tips to eat or shop. The area is perfect for practice of sports, hiking, climbing, btt, hourse trips or water sports. The house is perfect for family holidays or climbing trip. You have even views of caminito del rey and we can explain you the history of the path. Do not think more and come to spend some days with us
Very quite place in the hearth of the mountains a few metres from climbing area, btt, hikes or water sports in the lakes. Very safe and pleasant place
Great location and very relaxing! I stayed here for 2 nights while in El Chorro to hike Caminito del Rey and it was ideal. Puri was nice enough to pick me up at the train station, although it was an easy (if hilly) 10-min walk. The views are gorgeous and the farmhouse is welcoming and comfortable. It is very quiet and calm and the perfect place to relax. I highly recommend staying with Puri's family!
Kelly
2016-10-20T00:00:00Z
Estupendo! El cortijo es precioso, todo lo que necesitas. Piscinita y terraza que te dan la vida. Volvería sin dudarlo! La anfitriona encantadora, nos ayudó en todo momento, se interesó por nuestra estancia, y nos guío por la zona. Sitio cerquita del caminito del rey.
Patricia
2016-09-22T00:00:00Z
La casa tiene una ubicación inmejorable para hacer el Caminito del Rey y Puri nos atendió fenomenal cuando llegamos. Fuimos en diciembre y nos quedamos con ganas de disfrutar del porche y la piscina. Sin embargo, tuvimos un problemilla con el wifi, el agua caliente y las puertas de los dormitorios. Son cosas que se pueden solucionar, por lo que en cuanto las reparen la casa volverá a ser de diez.
Marta
2016-12-09T00:00:00Z
Beautiful and scenic location. A bit scary to arrive with big dogs surrounding and barking at the car at night...but in the morning it was lovely! Stunning views, really quiet and a very special and unique location. Be aware that there is no phone signal - perfect for people who want to escape! :)
Anna
2017-04-06T00:00:00Z
Ubicación excelente para hacer el caminito del rey, justo al lado de la salida norte del caminito, casa amplia, limpia, un poco fría en invierno pero tiene chimenea con leña
Sandra
2017-01-25T00:00:00Z
Didn't end up meeting Puri. Met her parents at the house and everything was simple. Was great to have the pool after a morning of travel and el caminito del Rey. Our children loved the fact that there were 4 different sized dogs, 2 adult cats, 4 tiny kittens and about 15 chickens and 1 rooster. The kids enjoyed collecting all the eggs and eating them in an omelette the next day. Yes there is a very steep driveway, and a small walk into town across the dam wall. This would be great base to centre yourself if you were exploring this regions trails and climbing pursuits.
Graham
2016-10-03T00:00:00Z
La casa es muy acogedora, tiene capacidad para 5 personas y la cama era muy cómoda. Además, las vistas desde la piscina son impresionantes. Por ponerle alguna pega, el perro que guardaba la casa, aunque inofensivo, imponía un poco por su tamaño y ladrido. También sería genial reducir la iluminación del jardín por la noche, hace imposible observar el cielo estrellado, así como mejorar la señalización de la vivienda. La dueña fue muy amable y estuvo disponible en todo momento, además sus padres viven en la casa de al lado. Repetiría si vuelvo a la zona, ¡me ha gustado mucho!
Ana Marina
2016-06-06T00:00:00Z
Puri was very accommodating to our late arrival and checkin. The place itself is a beautiful house overlooking the town of El Chorro and the beautiful valley. Would recommend it to anyone looking to stay in the area
Johnny
2017-03-28T00:00:00Z
Typ pokoje
Celý dům/byt
---
Typ nemovitosti
Dům
---
Ubytuje
5
---
Ložnice
El Chorro, Andalusie, Španělsko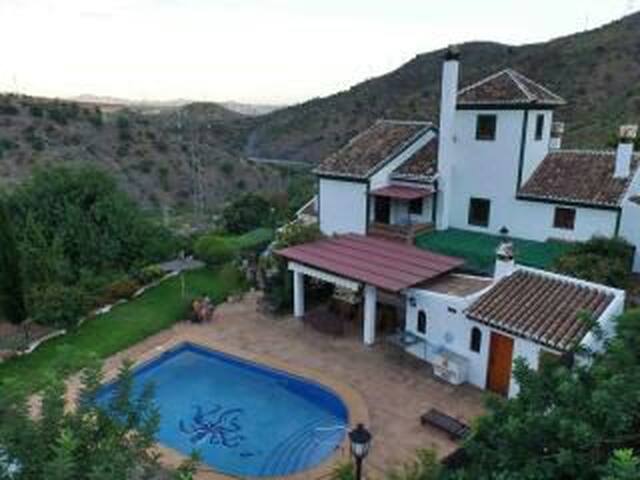 La casa rural es de nueva construcción ubicada entre Alora y el Valle de Abdalajis, a solo 10 minutos de El chorro y a 5 minutos del pueblo donde puedes encontrar pequeños comercios para comprar lo que necesites. Lugar perfecto para relajarse y desconectar del estrés diario e ideal para visitar el paraje natural El chorro donde podrás realizar actividades como senderismo, escalada, parapente. . . y como no para realizar la ruta del caminito del rey.
La casa consta de luz solar ya que estamos concienciados con el medio ambiente. Por ello no disponemos de microondas pero sin embargo disponemos de una cocina de gas con todo el menaje indispensable para la cocina.
Typ pokoje
Celý dům/byt
---
Typ nemovitosti
Dům
---
Ubytuje
5
---
Ložnice
Valle de Abdalajís, Andalusie, Španělsko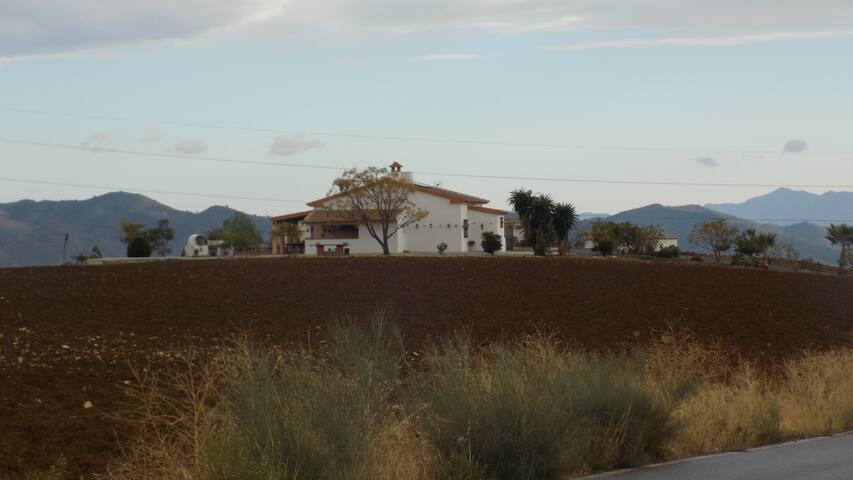 Wooden house located near the Caminito del Rey and climbing area of El Chorro, is a very cozy house in a quiet area with great views, a swimming pool and barbecue, it is an hour from the beach and 10 minutes Camino del Rey
Belle maison en bois et confortable avec deux étages dans la campagne, la maison a un visage en bois construite sur un arbre ancien, a, jardin, jardin d'enfants, balançoires, espace détente avec chaises longues et jacuzzi, est isolé voisins mais très bien relié, il est à 5 minutes de Caminito del Rey, En résumé, la maison est idéale pour une escapade romantique ou une aventure familiale dans la nature.
El bungallow de Carlos y Ana es una maravilla, es como un oasis, equipado con todos los detalles que se pueda imaginar, incluso una cabina de hidromasaje para relajarse tras un duro día de ruta. El entorno es espectacular, las vistas mejores aún y mucha tranquilidad, por la mañana puedes escuchar los pajarillos cantar. Carlos y Ana son unos anfitriones de excepción, amables, simpáticos y serviciales. Nos contactaron antes y durante nuestra estancia, incluso fueron en nuestra búsqueda para indicarnos como llegar. No podéis dejar pasar la oportunidad de alojaros en su bungallow.
Nacho
2017-03-26T00:00:00Z
Typ pokoje
Celý dům/byt
---
Typ nemovitosti
Dům
---
Ubytuje
7
---
Ložnice
Alora - El Chorro, Málaga, Španělsko
Lugares de interés: Caminito del Rey, pantanos del Guadalhorce, El Chorro.. Te va a encantar mi lugar debido a Lugar tranquilo y con buen acceso.. Mi alojamiento es bueno para parejas, aventureros, y familias (con hijos).
The host canceled this reservation 3 days before arrival. This is an automated posting.
Inma
2016-08-05T00:00:00Z
Typ pokoje
Celý dům/byt
---
Typ nemovitosti
Dům
---
Ubytuje
8
---
Ložnice
Álora, Andalusie, Španělsko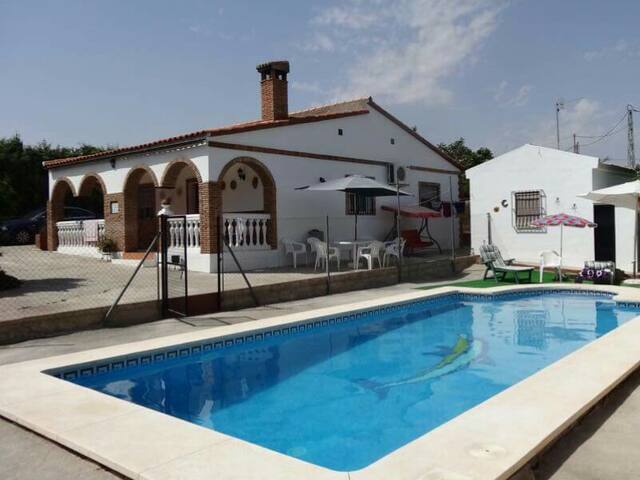 Dispone de barbacoa, chimenea, parque infantil, piscina, recinto privado, vistas panorámicas..etc. Esta situada en plena naturaleza en el valle del guadalhorce, entre naranjos y limones, muy cerca del Chorro.
Strategic location for further trips in the area - Caminito del Rei, and more. Access to the property without vehicles can not, it is a quiet and very picturesque place. The hosts are very friendly and quickly respond to all requests.
Lenka
2016-09-28T00:00:00Z
We had a fantastic holiday with Antonia. She was an excellent host. The house is nicely appointed, clean and comfortable. The terrace area offers an incredible dining and lounging option. The house was very close to the El Chorro climbing areas and close enough to Alora for easy shopping. The pool is amazing after a great day of climbing or exploring.
Starrina
2016-05-23T00:00:00Z
Perfekte Unterkunft alles Tip Top
Andreas
2016-02-21T00:00:00Z
A really nice house, brand new, clean and comfortable - and the owners are very friendly. We had a great time.
Jasminka
2015-11-22T00:00:00Z
Great house in a lovely location, we could access all the local climbing spots easily from here. The hosts were very welcoming and everything went smoothly.
Alex
2016-03-29T00:00:00Z
Typ pokoje
Celý dům/byt
---
Typ nemovitosti
Dům
---
Ubytuje
8
---
Ložnice
Álora, Andalusie, Španělsko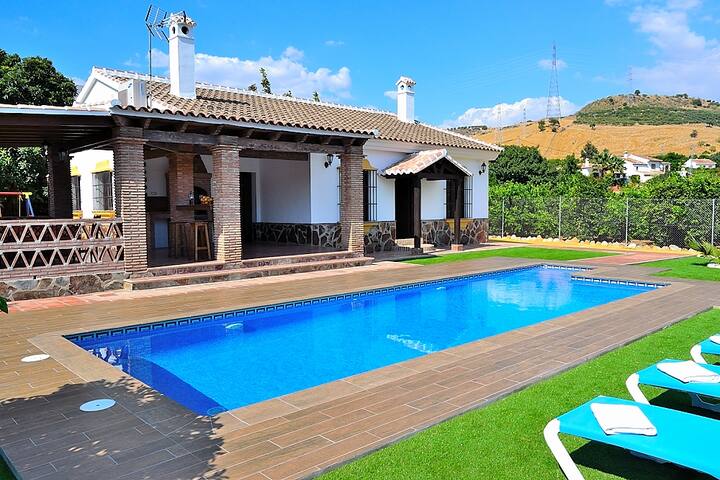 La casa El Emigrante está emplazada junto al paraje natural de El Chorro, rodeada de montañas, en el término municipal de Alora, y a 10 minutos en coche del pueblo Valle de Abdalajís. Distribuida en una sola planta, está situada en pleno campo con preciosas vistas, vallada en todo su perímetro y la puerta de entrada a la parcela es de apertura automatica con mando a distancia, con mucha intimidad y sin problema con los vecinos por molestar con los posibles ruidos, cerca de un paraje natural.
Distribuida en una sola planta, está situada en pleno campo con preciosas vistas, vallada en todo su perímetro y la puerta de entrada a la parcela es de apertura automatica con mando a distancia, con mucha intimidad y sin problema con los vecinos por molestar con los posibles ruidos, cerca de un paraje natural. En los exteriores tenemos zona de aparcamientos dentro de la zona vallada, piscina con luces bajo el agua para poder bañarse por la noche cómodamente y vallada para protección de niños, mucha variedad de flores, habitación para la barbacoa y habitación para la lavadora y utensilios de limpieza. En el interior tenemos salón con mucha luz, internet Wifi, cómodos sofás, chimenea, calefaccion, Aire Acondicionado y televisión plasma de 32 pulgadas, todas las ventanas con mosquiteras, dos dormitorios dobles, uno con 2 camas de 105 cm y el otro con 2 camas de 90 cm ambos con calefacción. Cocina completa de todo tipo de menaje con microondas, nevera combi, vitroceramica y despensa. El porche es amplio y con muchas vistas a los montes.
Carlos' house is wonderful! We had an amazing and relaxing visit. The scenery and location is superb and isolated. Solitude and quiet were abundant and the pool provided great relief from the hot Spanish sun. We loved the grill and outdoor eating. Close proximity to the Camanito deal Rey was a definite plus. Would love to visit again!
Christopher
2015-09-27T00:00:00Z
My favorite Airbnb so far. The first I've stayed at that actually looks better in person than from the photos online. House is completely up to date, and very very clean. New furnishings and new mattresses. Perfect porch for morning coffee and evening wine, and there is a great view. The dirt roads leading to the house are a little a little adventurous, but we made it in pouring rain in a tiny rental car, so nothing to worry about there. We will be back when it's warmer to take advantage of the pool. Great place all around.
Rich
2016-12-09T00:00:00Z
We love El Chorro & climb there often. the house was as pictured & was quaint & lovely. I believe Carlos' parents met us there & they were very sweet.
Jenn
2016-12-24T00:00:00Z
The property is very comfortable efficient and clean. The views around the home are amazing. Im sure the pool in the warmer months would be a god send for those with children. We visited in February and didnt make use of this outstanding feature. The wood burning stove was a bonus as the nights in the mountains in February are chilly. Wood for the stove was provided... The property is secluded and the track to it is challenging for us urban types. Nonetheless an amazing experience was had by all. We used the property as our base for the Cominito del Rey walk. For this alone the property is ideal.. its close enough to the walk offices but secluded enough to ensure a stress free break... we loved it.
Steven
2017-02-10T00:00:00Z
Typ pokoje
Celý dům/byt
---
Typ nemovitosti
Dům
---
Ubytuje
4
---
Ložnice
El Chorro, Andalusie, Španělsko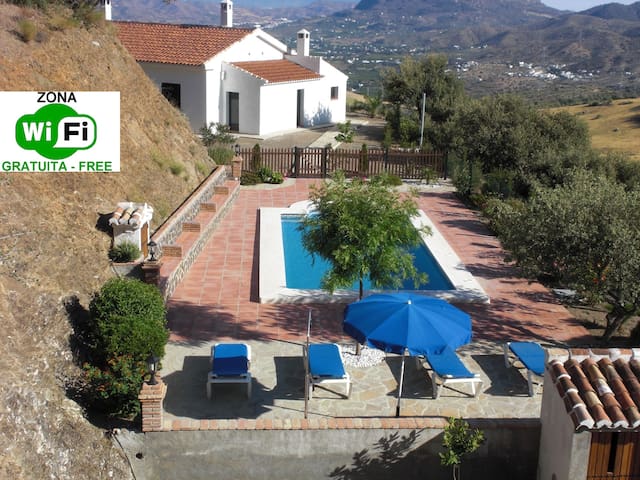 Refugio de escaladores. Posibilidad de desayuno. Restaurante vegetariano. Cocina comunitaria. A cinco minutos de las principales zonas de escalada. Información de rutas de escalada y trekking. Posibilidad de alquilar bicicletas de montaña kayak y hacer rutas a caballo.
Cortijo tipico andaluz con amplio salon y habitaciones grandes
Typ pokoje
Společný pokoj
---
Typ nemovitosti
Dům
---
Ubytuje
7
---
Ložnice
El Chorro, Andalusie, Španělsko
A rural house, ideal for disconnecting from daily life and relaxing with massages near to the natural park "El Chorro", it has 2 bedrooms with private pool and jacuzzi.
La Casa del Loto is a lovingly restored finca hidden in a peaceful countryside of Andalucía. Comfortably sleeps 4 people, perfect for a group of friends or a larger family. Private pool with a heated Jacuzzi. Gorgeous outside area for al-fresco dining and chilling out with a built in Andalucían style BBQ (wood provided) . Each room has a separate air conditioning, linens and towels are provided. To help you to relax even further, you can try their fantastic massages with aromatic tees, arranged through the owner. Short drive from Desfiladero de los Gaitanes natural park, a haven for rock climbers and the Guadalhorce dam lake is an amazing place to relax, go for a swim, have a picnic in the shade of pine trees. La Casa del Loto offers you exploration of the traditional Spain. Ronda, Mijas and the beaches and other tourist attractions are within an hour drive. The owner speaks English and always there to help you with anything you might need for a pleasant holiday.
people from the area who live in the country
Typ pokoje
Celý dům/byt
---
Typ nemovitosti
Dům
---
Ubytuje
2
---
Ložnice
Álora, Andalusie, Španělsko
This luxury villa is set in 3 acres of citrus grove with total privacy surrounded by mountains & only 10 minutes from Alora town. All the rooms open out onto the large terrace /pool. Camino del Rey is 20 minutes drive with famous lakes Ardales
Our luxury 3 bedrooms Villa set in the country side is just 10 minutes outside Alora village. It is easily found on the MA343 road which leads to El Chorro. It is luxuriously furnished and accommodates 6 people. Your real home from home,the only difference is when you wake up in the morning, you are greeted by brilliant sunshine! Every day! It has lounge/ dinning room with TV , DVD & huge selection of books and films to help make your stay an enjoyable one. Study/ art studio with WIFI. If you are a painter like me or a photographer, all these activities can be enjoyed on the large terrace in the peaceful surroundings. On the other hand if you wish to be on your own, the shady mulberry trees with hammocks is the answer to your prayers. All 3 bed rooms with patio doors open on to the terrace which offers a large patio, swimming pool, shower, toilet and not forgetting the fully equipped outside kitchen, bar, clay/pizza oven and BBQ. With every thing you need at your finger tips and amazing views all around, you really wont want to go any where.
You are only 40 minutes from the beaches, airport,Aqua park, zoo and other coastal attractions. Same distance to quite a few Golf courses. You are only 2 hours away from the famous Alhambra Palace in Granada.
We had a lovely stay... Very peaceful surroundings & great BBQ set up. Kamar & Ron were the perfect hosts & we wish we could of stayed longer.
Polly
2016-08-21T00:00:00Z
We hebben een super goeie ervaring overgehouden aan het huren van deze villa. We hebben een heerlijk rustige tijd gehad. Het is een grote ruimte en grote pluspunten waren vooral: de buitenkeuken, het zwembad, de villa is omheind met hoge bomen waardoor je privacy volledig is gewaarborgd. Daarnaast is het ook een zeer veilige villa omdat de woning is voorzien van binnen en buitendeuren die op slot konden. En overal zitten horren voor, dat is erg fijn. De verhuurders zijn ook heel aardig, we zijn met hun een kopje koffie gaan drinken in het nabijgelegen dorpje.
Saadia
2016-07-29T00:00:00Z
Typ pokoje
Celý dům/byt
---
Typ nemovitosti
Dům
---
Ubytuje
6
---
Ložnice
Álora, Andalusie, Španělsko
Una casa de 1876 restaurada conservando todo el encanto del siglo XIX con todas las comodidades de hoy; lejos de la ciudad pero a 40 minutos de Málaga capital, a 3 km. de Álora y a tan sólo 15 minutos del Caminito del Rey. Para grupos y familias.
El edificio principal es una antigua casa del siglo XIX restaurada Tiene unos 350m2. Antiguas estancias como cuadra, corral, cascareros (secaderos de piel de naranja) han sido convertidos en habitaciones, salón, comedor… espacios que permiten que desde 14 personas en adelante dispongan de plena de independencia en un mismo espacio En pleno valle del Guadalhorce, aislada y rodeada de una hectárea de terreno salpicado de diferentes árboles: naranjos, limones, olivos, álamos, granados, nísperos, higuera, morera, nogal… se encuentra Casa Claverinos. Construida en 1876 cuenta con dos plantas y un mirador. En la primera planta encontramos el comedor, dos cocinas, salón con chimenea con salida a uno de los dos patios, un dormitorio de matrimonio con chimenea, un baño y lavadero con salida a otro patio. En la segunda planta, en tres alas se ubican 6 dormitorios y 2 baños. Subimos al mirador convertido en el último dormitorio y con salida a la terraza desde la que contemplamos todo el valle enmarcado por montañas (sierra de Aguas (949 m.) sierra de Huma (1191m.), monte del Hacho (559m.)
La zona donde está situada la casa es una zona tranquila de casas diseminadas. Álora se encuntra a 3 km. y El Chorro y Caminito del Rey a unos 12 km. y Málaga capital a 42 km.
The host canceled this reservation 33 days before arrival. This is an automated posting.
Concha
2017-02-05T00:00:00Z
We had the most wonderful holiday at the villa. It is old, rambling and magical. It is incredibly private as the house is down a private track and the house and pool are surrounded by greenery. But the house is only five minutes drive from the town meaning it was easy to stay stocked up with provisions. The house is also 40 minutes from the stunning turquoise lakes of el churro. We also walked the Caminito del Rey which was amazing. Nuria was a wonderful host, meeting us when we arrived and staying in contact when we needed anything via (SENSITIVE CONTENTS HIDDEN). There is no wifi so I bought a lebara SIM card at the airport which worked very well at the house. If you're looking for 5 star luxury, this house isn't for you, but if you want a magical, truly relaxing Spanish experience, I can't recommend this house enough.
claire
2016-07-10T00:00:00Z
We had a lovely week at Casa Claverinos. Kids loved playing in the pool, and plenty of communal areas to spend time as a group - or relax separately. The area's also got lots to do from walking in national parks, Caminito del Rey, kayaking on nearby lake etc. It's definitely a 'rustic' country house, rather than a luxury villa, which for me was part of the charm (but this does depend on your attitude!). In August it gets pretty hot, so fans definitely needed. Nuria was a charming host, very thoughtful & quick to respond. Would recommend.
Nik
2016-08-20T00:00:00Z
La casa es preciosa. En la piscina da el sol casi todo el día, así que el agua está estupenda. Hay bastante espacio para comer a la sombra y la casa es muy fresca.
Eunice
2016-08-30T00:00:00Z
Typ pokoje
Celý dům/byt
---
Typ nemovitosti
Dům
---
Ubytuje
16
---
Ložnice
Álora, Andalusie, Španělsko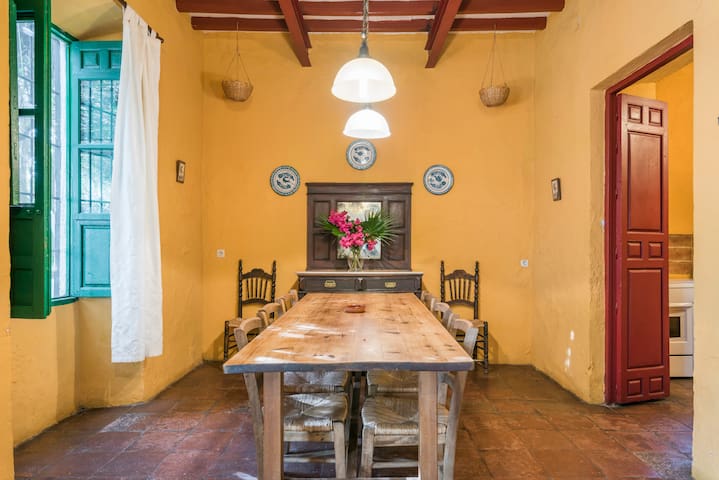 Welcome to our traditional, old granary guest house, situated in the heart of El Chorro, Andalucia, Spain. All are welcome, especially climbers, paragliders, hill walkers, and all those who wish to indulge in this beautiful part of Andalucia. El Chorro is world famous for its beautiful limestone sport climbing, and is home to some of the best climbing in europe. Our guest house is only 2 mins walk from the nearst crag, and within short walking distance of all the climbing at El Chorro.
We have a traditional style double room available). Fully fitted kitchen, bathroom with hot shower, and a living room with a hand built log burner stove.
A fabulous spot to unwind, homely with a very warm reception from Martin and Catherine. We are really looking forward to a return visit. Mike and Jacquie
michael
2016-09-22T00:00:00Z
Best experience at airbnb! Martin and Cathrine were so helpful, kind and nice. The house is great, clean and has everything you need. Quiet place with a lot of climbing sites and hiking routes near by. Just waiting to come back...
Dana
2016-10-26T00:00:00Z
The Old Granary House is a beautiful place with a real character and with the best hosts we could imagine. Martin and Catherine are really really nice. They made us feel like home. The fireplace is great (in winter), the view is amazing, the neighborhood is nice and quiet... we had a fantastic time staying here.
Katka
2016-02-06T00:00:00Z
Llegamos al chorro con el gol de recorrer ¨el caminito del Rey¨¨, Nos encanto muchisimo la estadia!, Martin es muy atento y rapido en responder cualquier tipo de preguntas. El alojamiento tiene una vista hermosa de el Chorro y tambien una picina, fue una buena y linda experiencia poder quedarnos en el chorro. muy recomendado :) Maria M.
Maria
2016-10-05T00:00:00Z
Très belle vue avec piscine. Endroit calme et reposant.
Lisa
2016-09-05T00:00:00Z
Martin and his wife are a lovely irish couple, who owe an increible spot very close to El Chorro, in the middle of the local nature. They were terrific hosts, who helped with everything and provided guidance when needed. They offered a nice double-bed dormitory equipped with a ventilator, access to the kitchen and a shared bathroom with hot water (if you really need it...). Above all, they have a very clean swimming pool, with very nice views, where you can refresh. A must-visit spot for people going to El Caminito del rey.
Eduard
2016-07-03T00:00:00Z
Fantastic place. The host is friendly and accommodating. The place is right below cocina caliente and encantada crags.
Francesco
2016-11-28T00:00:00Z
We greatly enjoyed staying with Martin and Catherine. They were very welcoming and accommodating, and we felt right at home. Beautiful location - lots of hiking right from the house and access to even more if you have a car. The building is a traditional house and very interesting. We would definitely stay again.
Dan
2015-12-06T00:00:00Z
Typ pokoje
Soukromý pokoj
---
Typ nemovitosti
Dům
---
Ubytuje
2
---
Ložnice
El Chorro, Andalusie, Španělsko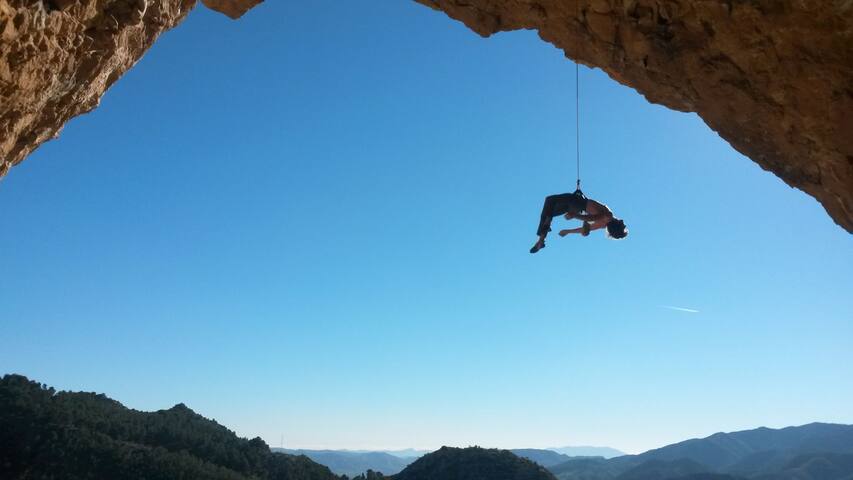 Unsere liebevoll eingerichtete Finca bieten euch mit Familie & Freunden reichlich Platz um euren Urlaub zu geniessen. Die vielen Terrassen und der private Pool stehen euch exklusiv zur Verfügung und laden zum Entspannen & Erholen ein.
8-15 Personen können wir gut in 4 Zimmern und 2 Apartment beherbergen.
In El Chorro kannst du den berühmten & 2015 renovierten Caminito del Rey begehen. Zudem bietet der Naturpark eine fazinierende Berg- und Waldlandschaft mit zahlreichen Wander- und MTB Möglichkeiten. Viele Sehenswürdigkeiten sind als Tagsesausflug gut zu erreichen: Alora: 20 Min. Badeseen: 45 Min. Torcal de Antequera: 45 Min. Malaga: 1 Std. Das Meer: 1 Std. Ronda: 1 Std. Granada: 2 Std. Sierra Nevada: 2,5 Std. Sevilla: 2,5 Std.
Excellente expérience dans la maison, spacieuse, équipée, propre, environnement extraordinaire et super piscine. Tobias était tres disponible pour répondre rapidement à toutes nos interrogations et ce fut un plaisir.
Romane
2016-08-07T00:00:00Z
A brilliant week spent in a beautiful area. The climbing-lodge was perfect for our group of 9, well furnished and supplied. Tobias and Grit themselves were amazing. Friendly people with lots of advice to give about the climbing in the area.
Adam
2016-01-30T00:00:00Z
The house was a great base during our 1 week in Spain with a nice view over the mountains. It was well suited for two families, equipped with 3 bathrooms and enough bedrooms. The large terrace was a great place to have dinner under the stars. The seperate pool area was nice and the bathroom and shower close to it was great. The kids loved to spend time here and it was great to have a table in the shadow to escape the sun during snack time. The lack of air condition was ok when we kept the windows open but the bedrooms could improve with a fan for warm nights. Within 1-1,5 hrs distance we could visit many great beaches and cities and villages. The Malaga lakes 25 min away was the closest for a swim, if you exclude the pool. The house was very well organized and prepared for everything we needed. The hosts are very supportive and helped us prepare for a great week. We will come back when the kids are older to walk the Caminito del Rey!
Johanna
2016-08-14T00:00:00Z
We had a brilliant time in the climbing lodge - it's a stunning spot, the house had everything we needed, the pool is absolutely lovely, and it's a great spot for a group holiday. El Chorro and surroundings are still great to explore out of climbing season and the nearby lakes are beautiful for swimming and boating. It's also well located to visit the coast and other places of interest in and around Malaga Province. thanks to hosts Tobias and Grit for a lovely tim.
Beth
2015-08-17T00:00:00Z
Typ pokoje
Celý dům/byt
---
Typ nemovitosti
Dům
---
Ubytuje
10
---
Ložnice
El Chorro, Andalusie, Španělsko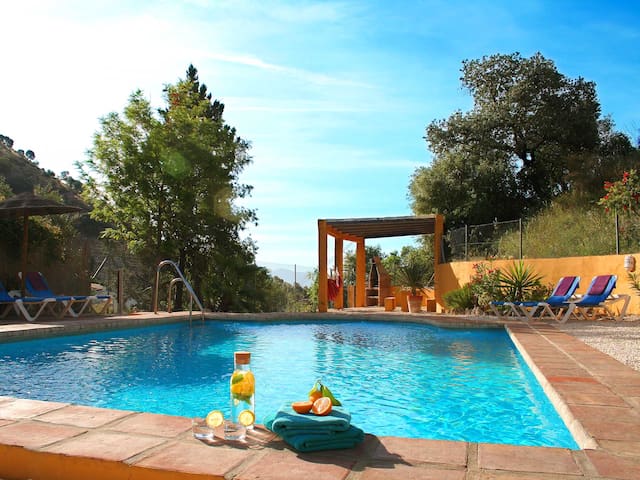 Casa con encanto en alora, perfecta para pasar unos días en pleno valle del guadahorce
Typ pokoje
Celý dům/byt
---
Typ nemovitosti
Dům
---
Ubytuje
2
---
Ložnice
Álora, Andalusie, Španělsko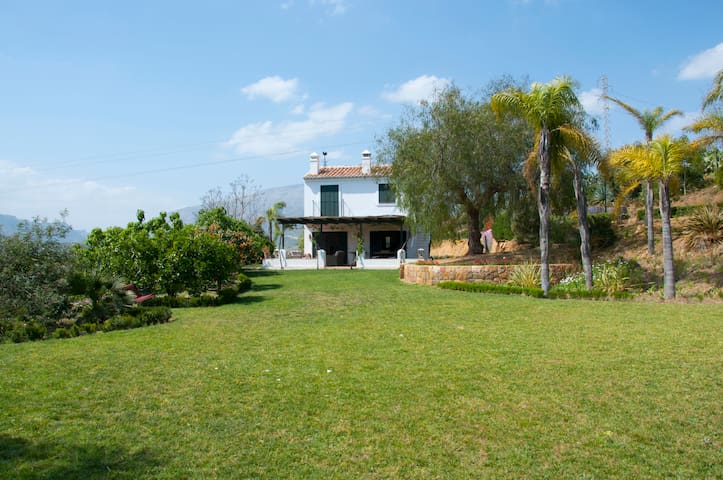 Dispone de 100 m2 en dos plantas. Con una capacidad de 2 a 6 personas. 2 dormitorios con camas doble y en uno un sofá cama, salón comedor con estufa de leña, cocina, 1baño completo, porche cubierto con mesa y barbacoa, vistas panorámicas.
We stayed for 2 weeks in February, and travelled by car to El Chorro to climb, and also around neighboring towns a bit. Overall, this was a great place to stay. Everything was working, as promised. In the beginning we got a bit confused when the host led us to the place to stay (going narrow country roads seemed like far from Alora). However, if you want to climb El Chorro the location is good as it is cloder to el Chorro going from Alora. A few notes: ne internet (we knew this in advance but still be warned), and also, heating during the somewhat colder nights needs to rely on electric radiators, and a wood burning stove downstairs. Wood provided is somewhat limited, be prepared to solve this somehow if you want cosy evenings.
Juste
2017-02-11T00:00:00Z
Antonia and her husband were really nice and attentive. We enjoyed our stay a lot.
Armin
2016-11-21T00:00:00Z
This is a great spot! 6 of us stayed here for a week's climbing in El Chorro, which is a short drive away. There is only one bathroom, and the 3rd double bed is a fouton in the main bedroom, but it was a super great space for a group of friends and an excellent price if you book for a full week! We cooked every evening (though note there was no kettle), and even had a BBQ one night out on the verandah. The house was spotless on arrival and Antonia and her husband were super welcoming. The lack of wifi actually made it a nice getaway! The beds were amazingly comfy. Highly recommend this place, and plan to return!
Bronwyn
2016-12-17T00:00:00Z
Logement très bien situé pour les personnes voulant aller grimper sur les superbes falaises d'EL Chorro
Rachida
2017-03-25T00:00:00Z
Great place for climbers in El Chorro!
Kinga
2017-04-02T00:00:00Z
very nice and clean home with everything you need.
Axel
2015-11-14T00:00:00Z
Sehr geschmackvoll und mit viel Liebe zum Detail renoviertes Steinhaus. Hier findet man/Frau wirklich alles: Von der Waschmaschine über einen Fön bis hin zu einer gut ausgestatteten Küche. Alles Tipp top sauber. Die Betten verfügen über sehr gute Matratzen. Das Haus ist mit sehr viel Stil und Sorgfalt eingerichtet und wird vorbildlich gepflegt. Wir waren eine Woche zum Klettern in der Region und haben uns pudelwohl gefühlt (Ein Auto ist hier ein Muss). Die Nachbar sind durchweg sehr freundlich, jeder grüßt. Wir fühlten uns sehr willkommen.
Cornelia
2016-10-16T00:00:00Z
That's a very nice place to stay - looks even better than on pictures! Located in a super quiet neighbourhood surrounded by orange trees. Requires a bit of offroad to get there, but every normal car should be able to make it. Really recommend this cosy, clean and welcoming place!
Kamil
2017-01-28T00:00:00Z
Typ pokoje
Celý dům/byt
---
Typ nemovitosti
Dům
---
Ubytuje
6
---
Ložnice
Álora, Andalusie, Španělsko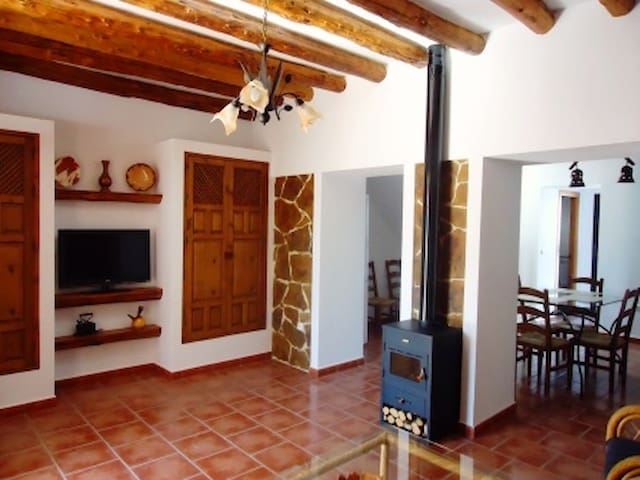 Decoration like Arab and rustic house, plus the tranquility and privacy. Excellent mirador for read One room is another small house by the pool. Welcome lunch when the stay is at least one week Private swimming pool Discount for large stay
It has a small inner courtyard Pets enjoy too, they can run here
It is a privileged area for hiking, know Andalusian gastronomy products with designation of origin, meet Castle Alora, paragliding, museum of arts and customs, mozárabes ruins, necropolis, etc
Nous avons été charmés par la région, le temps splendide, la vue depuis la terrasse de la maison et avons bien apprécié la piscine... Quelques difficultés avec la maison : tout d'abord, Léonardo n'est pas le propriétaire, il agit en tant qu'intermédiaire pour un (ou des ?) propriétaires locaux. Nous ne l'avons jamais rencontré du séjour...puisqu'il missionnait Alberto, un autre intermédiaire qui était vraiment charmant et a tout fait pour arranger les détails qui nous ennuyaient : pas d'internet, pas de cafetière électrique, pas de four, pas de possibilité de fermer la maison à clé, pas l'équipement nécessaire pour 8 personnes, plomberie à refaire à cause d'une tuyauterie vétuste, literie inconfortable, etc... Nous avons pu obtenir une petite remise très symbolique sur le prix convenu car la maison, indiquée pour 8 personnes, est adaptée pour 4/5 personnes uniquement. En conclusion, merci à Alberto de nous avoir aidés !
Pierre
2016-08-14T00:00:00Z
Typ pokoje
Celý dům/byt
---
Typ nemovitosti
Dům
---
Ubytuje
9
---
Ložnice
Álora, Andalusie, Španělsko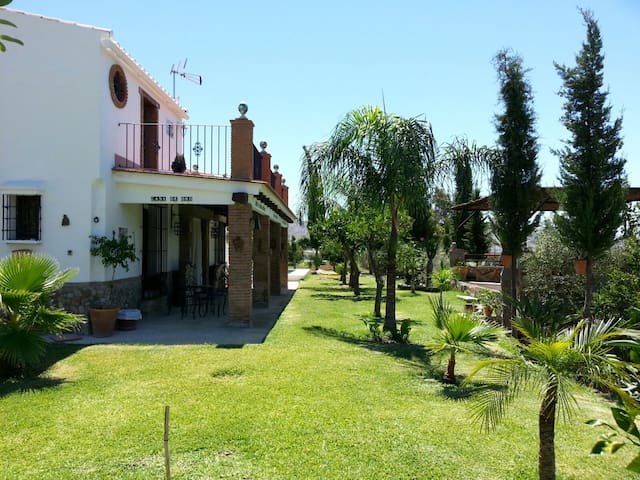 El Alojamiento Rural Caminito del Rey, tiene WIFI y AIRE ACONDICIONAD(URL HIDDEN) Consta de 2 dormitorios de 4 plazas, con literas de madera artesanales y 1 dormitorio de 2 plazas. Situada en, El Paraje Natural de El Chorro (Desfiladero de los Gaitanes), cerca de "El Caminito de Rey" (URL HIDDEN) y a 35 kilómetros del Paraje Natural "El Torcal de Antequera" (URL HIDDEN)
Typ pokoje
Celý dům/byt
---
Typ nemovitosti
Dům
---
Ubytuje
10
---
Ložnice
Álora, Andalusie, Španělsko