Imagine finding a place in Sydney, hidden away, with water views in the middle of the bush. With a unique vehicular ferry. Where you could have a day out fishing on the river, have a relaxing picnic, sit by the water, with a glass of wine and some de
Imagine finding a place in Sydney, hidden away, with water views in the middle of the bush. With a unique vehicular ferry. Where you could have a day out fishing on the river, have a relaxing picnic, sit by the water, with a glass of wine and some delicious fish and chips, a restaurant for a great family occasion enjoying fresh seafood or even somewhere you could get married and have a wedding reception to remember for a life time. Well Berowra Waters Marina and penthouse can offer this and much more.
.
I stayed at the Penthouse with 5 colleagues for a work retreat. Michael was a great host - flexible, communicative and organised. We used the suggested caterer "Secret Dining" and had great, flavoursome and tasty food served right to our table. I would not hesitate to recommend the Penthouse for a work retreat and hope to be back in the future.
Maria
2016-04-09T00:00:00Z
A great place for a weekend away. We went out on a BBQ boat for the day (which we received a discount on), and enjoyed a relaxing afternoon and evening enjoying the penthouse and view. The kitchen we great as we could cook our meals, but the cafe, restaurant and bottle shop downstairs were very handy. Definitely recommended.
Cameron
2017-02-18T00:00:00Z
Michael's place is everything it promises to be, and so much more. We all wished we could have stayed another day to soak up the splendid view of the marina and relax for a bit longer. The house is perfect for large groups with the long table, sofa and all you need in the kitchen to cater for big groups). Thanks Michael for being a great host! The late checkout on Sunday is definitely a plus - as we all arrive Friday evening after work, we get to enjoy our week end a bit longer.
Sandra
2017-03-11T00:00:00Z
We actually felt the photos didn't do this apartment justice. The space was amazing and so comfortable. We thoroughly enjoyed our stay here. Michael was a brilliant host helpful every step of the way. Would stay again.
Ingrid
2016-12-05T00:00:00Z
Michael was a fantastic host - nothing was too much trouble. He was always available to answer my queries and make recommendations. The Penthouse couldn't be in a better location. Berowra Waters Marina is absolutely stunning. We made great use of the wrap around deck area and BBQ facilities. The large kitchen complete with wine fridge was brilliant for our big group. The apartment is well maintained and complete with all home comforts. Michael welcomed us with a bottle of wine and chocolates and also provided fresh towels and toiletries in each bedroom. Michael gave us a discount on rental boats which we took out on the river which was really enjoyable. There is a little cafe underneath the apartment which serves fish and chips etc and another Italian cafe (red canopy) a short walk away which did a fantastic breakfast. I would highly recommend staying here for anyone who wants to enjoy the beauty of Berowra Waters in a luxury apartment. The apartment itself would be great for families, couples or large groups. I am already looking into booking my next stay.... Thank you Michael - See you soon! Elaine
Elaine
2016-08-29T00:00:00Z
Perfect
Benn
2016-12-10T00:00:00Z
This was a great last minute find for a weekend getaway with my friends to celebrate New Years. Michael provided everything we needed in the penthouse. Great experience for a first-time airbnb experience!
Astna
2017-01-01T00:00:00Z
Host was amazing really helpful, flexible, friendly - gave lots of helpful information up front even stuff well beyond his scope just to be helpful (eg the contact numbers for restaurants / caterers)
Alison-Kari
2016-07-11T00:00:00Z
Typ pokoje
Celý dům/byt
---
Typ nemovitosti
Byt
---
Ubytuje
10
---
Ložnice
Berowra Waters, New South Wales, Austrálie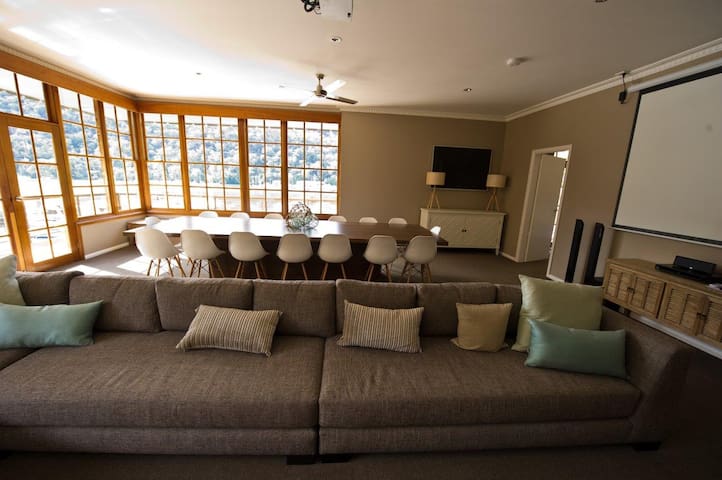 Enjoy your Sydney holiday like home away from home. Relaxing views, swimming pool and bbq to enjoy after a day of exploring the city and other tourist destinations. Close to all transpo and Sydney City . 100 m walk by bus and 10 min by bus to train station and Westfield.
Fully self contained..mini fridge and cooking utensils. Guests can enjoy the pool, bbq and pool views during summer. 1 Queen bedroom with 1 lounge/seating area. With 2x sofa beds. Towels and linens provided as well as soap, shampoo. The space is situated in the ground level of a split level house, so you will have your own privacy away from us the owners.
Peace and quiet.
We had a beautiful stay at Genie's apartment. It was beautiful and clean and exactly as described in the pictures. The kids loved the free wifi and all PlayStation. Genie left us fruit, tea, coffee, milk and bread which was so kind of her. This apartment was a perfect location for us as its close to our sons boarding school. Will definitely stay there again and would highly recommend to anyone. A+++++++ thanks Genie
Ashlee
2016-10-22T00:00:00Z
Family of four. We only stayed for 4 nights but from beginning to end Genie was a great host, from fresh fruit to organizing transfers to the airport to offering to taking us into the City. Despite leading a busy life themselves She was always on hand & willing to go the extra mile when we called on her & to make our stay comfortable. The property was neat & tidy games for the kids/big kids PS3, wii console & foxtel along with good WiFi & Netflix everything needed to make our stay functional. It's not the Ritz but bassed alone on hospitality & price your onto a winner. If you intend on spending alot of time in the Sydney CBD due to how far the accommodation is it will be a mission & requires planning. But as She was so nice it was worth the 40 minute train trip but it will be a struggle if you have little ones. If she wasn't so hospitable we may have recognized a tone of inconveniences so well done & thank you Genie.
Adam
2016-09-13T00:00:00Z
The stay at Genie's place was good in general. The house apartment is quite spacious. Genies and Ronie are nice people and the communication was smooth. A small point to mention: if you come with your family, there is no real possibility to cook in this apartment because there is no stove (only a small electric stove) and the fridge is very small. Also in the bedroom, if you want to put your clothes in the wardrobe, there is no real possibility because there were stuff inside. In relation to the location, if you don't have a car, it is very difficult to move (there is a bus nearby but we didn't use it). I think the price was quite high for this apartment but it is my opinion. However if you don't really mind about the above things, I would recommend to stay at Genie's place.
Daniel
2017-03-05T00:00:00Z
I have been in hornsby with my husband and my parent in law coming from Korea for my wedding over last 10 days. It was great opportunities to be natural environments with cool and fresh air, trees and water. The family of Genie were friendly all the time and be willing to help out when we were struggled with any concerns. They provided clean and new towels and bed and pillow covers whenever we need for them. The family also prepared champagne for our wedding day. Thank you so much Genie!!
Chaeyoun
2015-12-08T00:00:00Z
We were greeted with a huge smile, and a walkthrough of the accomodation - there was so much stuff included (foil, condiments, shampoo, etc.) that it felt like staying in a holiday home you own. Spotlessly clean, super helpful at every turn, and we were even delivered a plate of BBQ food by the family as a warm gesture of hospitality. I can't speak highly enough of the stay, and the accomodation under promises and over delivers - exactly what we all want! Thanks for having us stay Genie and family.
Brad
2015-10-26T00:00:00Z
A little bit less than I expected of the unit. It is the lower portion of the house and footstep noise is easily heard. 2 gatherings in 5 days left my patience a bit thin. There were some basic items missing which are easily fixed. The bathroom was average, with steps and funny heights of things, not designed for short people. The owners are friendly and well meaning.
Bernard
2016-02-14T00:00:00Z
The host canceled this reservation 2 days before arrival. This is an automated posting.
Morena
2016-10-26T00:00:00Z
The host was brilliant when we arrived, welcoming us and checking to make sure we had everything we needed.
Ash
2016-10-17T00:00:00Z
Typ pokoje
Celý dům/byt
---
Typ nemovitosti
Byt
---
Ubytuje
4
---
Ložnice
Hornsby Heights, New South Wales, Austrálie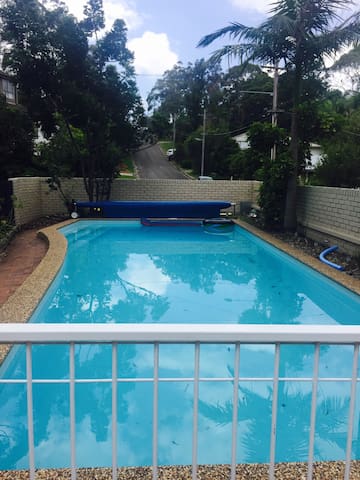 On a quiet (very long Road) is our contemporary, light and airy self-contained architect designed studio apartment, which is ideal for a couple or traveler. Set in a bushland setting, which backs the Berowra Valley National park.
The apartment is located through the main gate of the property with its own entrance, once you enter the apartment you will walk up a Jarrah wooden stair case to the studio which has all the comforts of an up market hotel with high quality carpet floors for quiet comfort, a firm, queen size bed, with Egyptian cotton linen and European feather pillows. The bathroom has a wonderful view of a beautiful tropical garden and tiles floor to ceiling, a shower, toilet and sink, towels, linens and in the main room there is a kitchenette amenities - microwave, electric fry pan, small counter height fridge, plates, utensils, etc. First day of your stay breakfast is provided - fresh free range eggs, bread, butter, milk, tea/coffee and biscuits. Also fresh seasonal herbs from my garden. Wi-Fi Internet, Samsung 36" HD TV are included. This is a NO SMOKING house. TWO GUESTS maximum. Pets are allowed via prior approval. We want your stay to be as nice and relaxed as possible so you can enjoy the best of both worlds - yours and ours!
You will hear the birds singing as you enjoy the natural surrounds and safe oasis. The area would suit a couple that love bush walking and/or want to experience the Australian bush without travelling outside Sydney as "Crosslands Reserve" is only a few minutes away where you can enjoy wonderful walks and experience the delights this area has to offer. Take a walk along the Place of Winds interpretive trail. It's an easy walk along the boardwalk over salt marsh and through woodland, featuring some scenic views over the valley.
Stayed for 5 nights, excellent space above garage so no noise from main house, very clean & well decorated, appears to be very new with upmarket bathroom, large TV and fast, stable internet. Family's in-ground pool is available to use. Jen & Ian were very quick to respond to messages and are a very friendly couple who made checking in/out easy. Value for money was great and I highly recommend this AirBnB space.
Greg
2017-02-20T00:00:00Z
I stayed for 3nights. when I entered this house, I was surprised that House is really beautiful and amazing. Most of things in house were organized well and there are everything traveller has to need to stay and to travel. Moreover Jennifer and her family are kind. In my opinion, This house is way much better than hotels. Around the house, there are a lot of natural things like singing birds, camping area and place you can have a nice view. If I have a chance to visit Hornsby again, I totally visit here. Thanks to host, I have a good memory that I never forget.
Jaeung
2016-02-22T00:00:00Z
Jennifer and Ian were fantastic hosts! The studio was extremely comfortable and presented beautifully, including fresh flowers :) They were gracious and allowed us to bring our dog who had a wonderful time playing with Celio their beautiful pup! I would highly recommend this listing and will be back!
Anthea
2016-08-30T00:00:00Z
What an amazing place to stay! Definitely fits the description of tranquil and contemporary. Jen and Ian were welcoming and generous hosts, the studio is well-equipped, comfortable and stylish, and they even had little things like eggs and bread for breakfast stocked in the mini fridge! It was so wonderful to relax and unwind in such a gorgeous location, and my fiancé and I are already planning our return! Thank you Jen and Ian for a truly wonderful stay.
Irene
2016-06-14T00:00:00Z
Jennifer and Ian were lovely and very thoughtful hosts and their place was so lovely and at an ideal location. The place was so cosy, yet still had that luxury hotel -feeling with the most comfortable bed, sheets and bathroom amenities. It didn't bother at all that their family lived next door, actually it was definitely more of a pro than a con! Also, Jennifer and Ian have the most wonderful puppy who loves to give kisses and hugs.
Harri
2016-04-03T00:00:00Z
i could not speak more highly of this studio apartment! My 3 weeks there was perfect. Helpful hosts, relaxing surroundings and it was close (but not too close) to shops, resturants and anything else you ever could need. It was all the small and thoughtful extras that really made my stay pleasant and easy.
Gabrielle
2016-09-24T00:00:00Z
Jen the host was very welcoming and after a long day travelling we arrived at our airbnb destination, precooled and perfect, everything was five star, any questions or enquiries were answered with a minimum of fuss. The neighborhood was very quiet and peaceful, would love to stay again and reccomend thoroughly to future visitors.
Karen
2017-01-10T00:00:00Z
We loved our stay with Jen & Ian. Their place is beautiful, like the photos, and in a lovely natural area about 50 minutes from the Sydney international airport. Just what we needed after the long flight from North America. Highly recommended!
Paul
2016-04-07T00:00:00Z
Typ pokoje
Celý dům/byt
---
Typ nemovitosti
Byt
---
Ubytuje
2
---
Ložnice
Hornsby Heights, New South Wales, Austrálie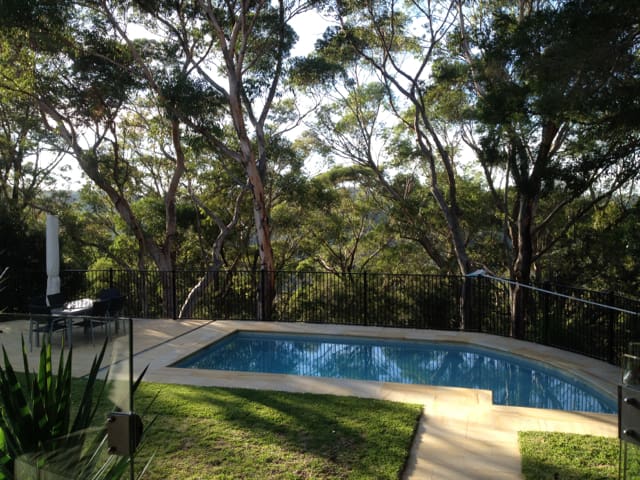 Stradbroke Lodge is a private self contained single level apartment set on a tranquil 25 acre property of Stradbroke House only 45mins from the Sydney CBD. With a massive deck overlooking a stunning lake and valley views of the Hawkesbury region.
Large immaculate two bedroom self contained single level lodge, with large appointed kitchen, central lounge with stunning water views and pyramid skylight. Every room has a beautiful private vista of the Lovely gardens or lake with abundant wildlife. Step out onto the large sun drenched private deck, with bush and valley views.
Arcadia is Sydney's northern greenbelt, with access to the Hawkesbury river system that winds its way from the southern highlands to the Northern beaches Pitwater. Out of peak the CBD is only 45 minutes drive via the M2 motorway, Hornsby and Castle Hill two very large shopping centres are only 20 minutes drive. Trains to the CBD leave from Hornsby Station very regularly, and Castle Hill will also have trains in a few years. No need to travel far as there are beautiful restaurants and cafes in the local area, from award winning dining on the water to fish and chips down the road on the river.
Stradbroke Lodge is a relaxing rural retreat with lovely views of the dam, and ducks to feed. It is a very well appointed, self contained cottage with comfy beds and a great deck to relax and have a glass of wine on. Will be going back next year without doubt. Lorraine.
Lorraine
2017-01-06T00:00:00Z
Typ pokoje
Celý dům/byt
---
Typ nemovitosti
Byt
---
Ubytuje
4
---
Ložnice
Arcadia, New South Wales, Austrálie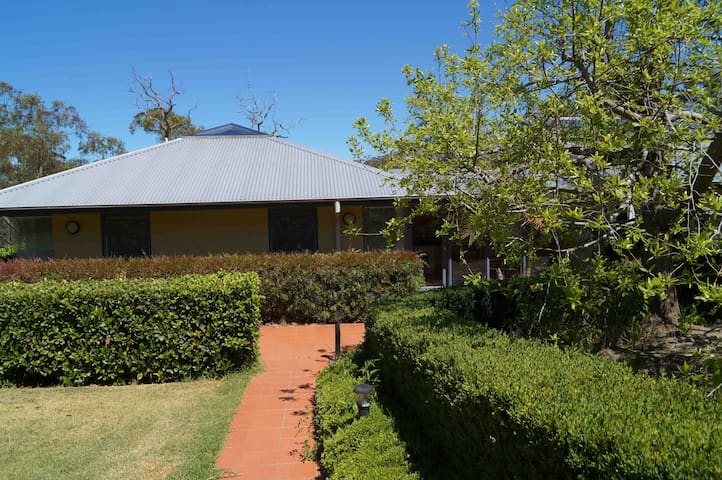 Pro zobrazení celkové ceny zadej termín. Mohou být přidány další poplatky a daně.