Our comfortable three bedroom apartment is in a very quiet town of Bombarral but with all the essential amenities. Sit in a traditional cafe drinking espresso overlooking the beauty Portugal has to offer.
Gostámos imenso da casa, tem excelentes condições, todas as comodidades, muito boas áreas, muito agradável. Tem a vantagem de ter ótimas acessibilidades (perto da A8). Situada no centro da cidade mas em zona muito calma.
Marta
2017-02-28T00:00:00Z
Typ pokoje
Celý dům/byt
---
Typ nemovitosti
Byt
---
Ubytuje
7
---
Ložnice
Bombarral, Leiria, Portugalsko
Casa rustica na Azambujeira dos Carros a 3 Km do centro do Bombarral,a 1 KM da A8 a 10 Km de praias e do Surf Supertubos. Na zona da Pera Rocha e perto da famosa Bacalhoa Buda.Poderá ainda visitar Óbidos a 8 Km,e provar a famosa ginjinha, visitar o Castelo e avistar o Mar.Poderá ainda visitar o Santuário de Fátima,viajando pela A8,que está a 90Km do Bombarral.
Typ pokoje
Celý dům/byt
---
Typ nemovitosti
Dům
---
Ubytuje
4
---
Ložnice
Bombarral, Leiria, Portugalsko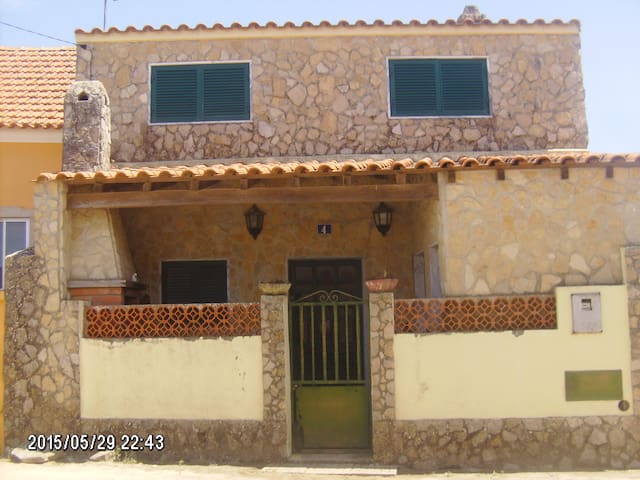 This townhouse is comfortably decorated and fully equipped with a lovely back patio where you can barbecue. Complete fitted kitchen. Hair dryer, iron and ironing board, towels and linens. Just steps away from castle walls and minutes from beaches.
Just steps away from the walled village, this townhouse offers the comfort of modern construction in a setting of tradition and history. 10 to 20 minutes from beaches, west cost surf schools and world renowned golf courses.
Place was spacious and clean. Really close to the castle walls and can walk to a restaurant in a few minutes. Would recommend.
Dexter
2017-02-06T00:00:00Z
Betty foi a melhor anfitriã possível. Realmente muito educada e simpática. Ela nos deu um suporte fantástico! O local é maravilhoso e tem uma vista muito boa para o castelo de Óbidos. Recomendo muito.
Arthur
2016-06-15T00:00:00Z
Betty made us feel very welcome as soon as we arrived. The house was perfect, couldn't fault it. Brilliant location too. Very peaceful and yet extremely handy for the beautiful town of Obidos and all it's cafes, bars and restaurants. Betty left us a bottle of wine and some biscuits, which was a lovely touch. The wine was enjoyed on the amazing private terrace with a barbecue on our second night. I wouldn't hesitate to return and would recommend to anyone wanting a Portuguese break.
Eleanor
2016-09-30T00:00:00Z
Betty nous a accueillis très gentiment en faisant l'effort de s'exprimer en français. Elle nous a fait visiter l'appartement qui était tout à fait conforme à la description. Les points forts sont sa fonctionnalité, une grande terrasse avec un barbecue, un parking couvert sécurisé et surtout une excellente situation au pied des remparts de la vieille ville qui est très pittoresque. C'est le point de départ idéal pour visiter le centre de l'Espagne tout en étant très proche de l'océan. Nous espérons avoir l'occasion de revenir dans les prochaines années.
Gilles
2015-09-17T00:00:00Z
Très charmante location, propre et très spacieuse pour le couple que nous sommes ! Super bien équipée, jolie déco,au calme et au pied des remparts. Avec en prime le barbecue sur la terrasse, au top ! Betty nous a accueilli avec son sourire et sa jovialité en plus de nous donner de très bons conseils. Un super séjour, merci encore !
Marion
2016-09-09T00:00:00Z
We enjoyed our stay very much. The location is really good within walking distance to the historic centre. The appartment is quite spacious, comfortable and clean. Betty is very kind and helpful.
Ingo
2015-04-11T00:00:00Z
Betty ist eine sehr kommunikative und engagierte Gastgeberin. Check-in und Check-out verlief sehr unkompliziert und nach Plan. Die Wohnung ist schön eingerichtet und hatte für unsere eher bescheidenen Bedürfnisse mehr als das nötige an Einrichtung. Einzig die Bratpfanne war veraltet und die Belichtung in der Küche ungünstig. Sehr sauber und aufgeräumt mit geräumiger privater Terrasse inklusive Grill. Sehr zu empfehlen!
Stefan
2016-09-22T00:00:00Z
Great experience. Our host Betty was a pleasure to deal with from start to finish. The property was clean and had everything we needed for our stay. A gem within walking distance of all amenities and very easy to find. Would highly recommend.
Jane
2016-11-15T00:00:00Z
Typ pokoje
Celý dům/byt
---
Typ nemovitosti
Dům
---
Ubytuje
4
---
Ložnice
Óbidos, Leiria, Portugalsko
My place is short drive (10min) to the fabulous beaches of Peniche and (15 min) to Obidos. You'll love the natural light, and the cozy feeling of the village. The space is small but freshly renovated and very clean. -Bedroom has a built in closet. -Bathroom includes shower, bathtub and hair dryer - Living room with kitchenette includes electric burners, small fridge, microwave with grill option and electric kettle. I´m looking forward to hosting great people, talk to you soon!
-Bedroom has a built in closet. -Bathroom includes shower bathtub and hair dryer - Living room with kitchenette includes electric burners, small fridge, microwave with grill option and electric kettle. I´m looking forward to hosting great people, talk to you soon
This neighborhood is very safe and relaxing, everyone living here has grown up together and tourists are treated like friends.
Great stay! The flat has everything we needed for a short stay! The bathroom is great and the bed as well! We can only recommand this place! Thanks:)
Claire
2017-03-10T00:00:00Z
Tania é stata un host perfetta: Precisa e puntuale. La casa era impeccabilmente pulita. Parcheggio libero sotto casa. Anche se non c'è il Wi-Fi nell'appartamento, c'è comunque un bar molto vicino in cui é possibile navigare
Anna
2017-01-03T00:00:00Z
Good place. Closely to the ocean and there is all necessary in the city. Hosts very friendly. Good for stay day
Maria
2017-01-06T00:00:00Z
We had a nice stay in a cozy apartment in an small and authentic Portuguese village. Everything was clean and tidy. The place has cooking utensils, a fridge and even some things for breakfast like tea, instant coffee, juice, milk, cornflakes and other little snacks. Tania made sure that we got into the apartment at our requested time. She even waited for us with her car to lead us to her place. She was very nice and polite and gave us a lot of tips for diner and other activities. We would highly recommend Tania's place.
Anja
2016-09-25T00:00:00Z
Tania fue super amable y muy flexible con los horarios. La casa impecable. Corresponde exactamente a la descripción. Pedir más tranquilidad es imposible. ¡Muy recomendable!
Carla
2016-11-13T00:00:00Z
Tania's place is perfect and probably even better than the pictures show. It is clean, well-appointed, and very cozy. Tania met us close to the entrance and showed us the way and she is super friendly. The location is about 15 minutes from Peniche if you have a car. I think it's worth mentioning that it's on a busier road in a very small town and even though it's on the 2nd floor, there is some traffic noise in the morning although it wasn't a bother at all. We would stay here again in a heartbeat. Great host and great place to stay!
Michael
2016-11-03T00:00:00Z
Tania foi muito atenciosa....seu apartamento fica numa regiao tranquila e agradavel...nos recebeu super (URL HIDDEN) limpo e organizado e ainda nos deixou itens para um belo cafe da manha!!!!
Manuela
2016-11-05T00:00:00Z
Very well equipped Appartement with everything you could need for a short or long stay! Tania was even kind enough to provide us with breakfast supplies to enjoy. At night it is very cold without a heater but probably not an issue in summer.
Thomas
2016-11-26T00:00:00Z
Typ pokoje
Celý dům/byt
---
Typ nemovitosti
Dům
---
Ubytuje
2
---
Ložnice
Atouguia da Baleia, Leiria, Portugalsko
A cozy old style cottage, where you can find all you need to spend a romantic days near the castle of Óbidos. Inside a private land, it is located 1500 meters from the castle. Perfect for those who like to walk or ride a bike, to get to the village.
This is a very old house, rebuilded in 2013. It has the purpose to accommodate two guests. Although, there's a possibility to put a single bed for a third guest. Different from most of the rustic houses, this one is not inside the walls of Óbidos. Though, it is perfect for those of you who like to sleep in a more silent and quiet place, rural land, and at the same time, being close to the Village and Castle. There are two folding bikes available for renting (per day or season), easy to deal and easy to keep them inside the house. You're also not far from the Lagoa de Óbidos (Óbidos lake), it is a heartbreaking place so you definitely shouldn't miss it. Around 20 minutes far by bike. The land where the house is located, is a private farming property. There's is a terrace just next to the house, where you can chill and enjoy the sunset. A pool is available for summer, under some conditions, as it is attached to another house and we don't want to be too noisy for the people. All in all, I find the place peaceful and quiet, so feel free to come and see it with your own eyes ;)
The house is not far from the street that leads you to the Village and Lagoa de Óbidos, but you will not find any neighbourhood. There are two more houses in the property, where people live. They are away most of the time, due to their professional lifes.
We really enjoyed the peace and quiet of this lovely setting after the hustle and bustle of Lisbon. Great location for exploring the walled city of Obidos!
Kate
2016-06-21T00:00:00Z
The cottage is very cute and deceptively large inside. The bikes are a great addition and make getting into Obidos very easy. The cottage is situated just a 15 minute bike ride away from the beautiful medieval town. This is a great place to stay if you are travelling from Lisbon as there is a direct bus that takes you to Obidos, from which you can get a taxi to the cottage for roughly 5 euros. It is also situated near to Obidos lake (roughly 30 mins by bike), but beware that if you want to go swimming/sunbathing at the lake, you must go all the way to the furthest end. which takes about 2.5 hours by bike. We did not meet Tiago as he was out of town but he was helpful in answering our questions both before and during our stay in his cottage. There is a pool, but note that it is attached to the neighbors house, and therefore you cannot use it as you please. However, the cottage was clean and comfortable, perfect for a couple.
Helen
2015-07-05T00:00:00Z
We had a wonderful time at Tiago's countryhouse. The apartment itself is much bigger than it appears on the fotograph, we had everything we needed during our stay. The quitness and peaceful atmosphere of the surrounding gave us a very relaxing time there. Even if it was not possible to meet Tiago face-to-face, communication went always perfect, the arrival was without problems since the description for the entering is perfectly described. It's a pity that we only had such a short time to spend there and we would love to be once again guests there in the future!
Peter
2016-08-09T00:00:00Z
Everything was as we expected. The house is charming. We used the kitchen, that was very convenient to have. Tiago was very easy to communicate with and attentionate. We're happy of this experience, thank you!
Christine
2015-07-17T00:00:00Z
We didn't meet Tiago personally but we kept in contact on line. His little cottage was very charming and close to the castle. We had everything we needed. The tiny cottage was clean and the bed was very comfortabl(URL HIDDEN)
Pauline
2016-01-26T00:00:00Z
everything was exactly how it was described. Tiago wasn't there but he kept contact by sms to see of everything was all right.the house was easy to find and we spent a lovely three days holiday overthere. the only thing I missed was a corkscrew ....but the neighbours helped out. Thanks Tiago, I hope we'll meet next time , because we will return.
Paul
2015-05-04T00:00:00Z
Tiago's house was perfect for our stay in the area. Super cute and cozy place to ride and the rain storm we had while playing games. Well stocked and would recommend staying here. Tiago was extremely attentive and a perfect host.
Kathryn and Greg
2016-01-06T00:00:00Z
Lovely place, with a beautiful view on Obidos. Tiago was really patient to answer all our questions. Perfect stay if you want to enjoy and visit Obidos!
Mh
2015-07-01T00:00:00Z
Typ pokoje
Celý dům/byt
---
Typ nemovitosti
Vila
---
Ubytuje
3
---
Ložnice
Óbidos Municipality, Okres Leiria, Portugalsko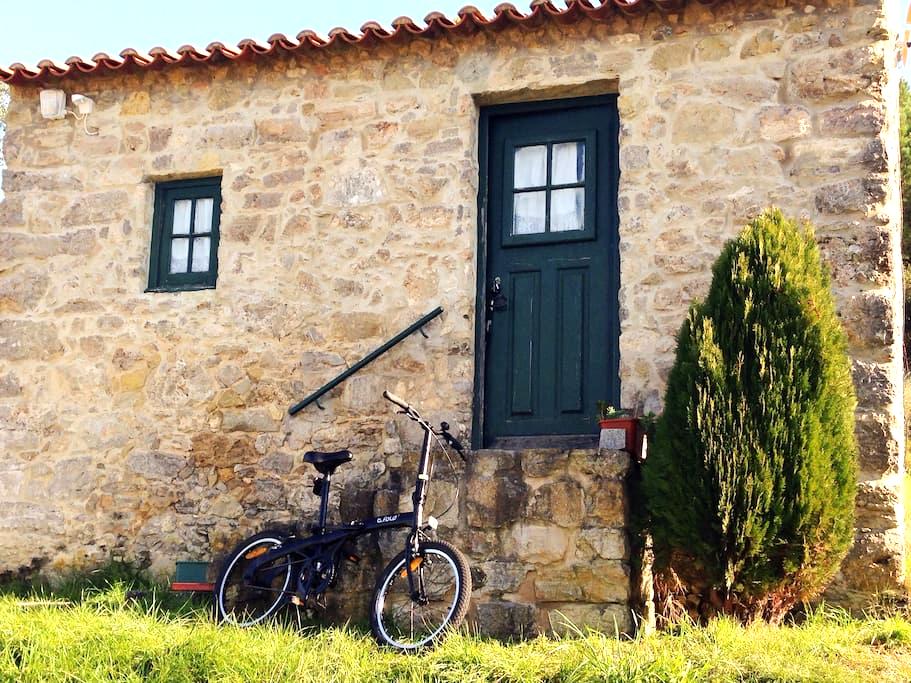 O Jacinto é o meu coelho de bébé, vive neste quarto há meio século... Um quarto aberto para o terraço visitado pelo sol da manhā e onde o entardecer se vive no silêncio da vila e uma ginjinha partilhada.
A CasAmeias fica no arrabalde de Óbidos, a parte exterior à muralha, a nascente, a 20 metros da Porta do Vale. A melhor maneira de viver em Óbidos é fora da muralha, longe do bulício do centro da vila. O terraço grande tem horizonte até onde a vista chega: os pomares, o verde das árvores, a terracota dos telhados e a muralha. Depois de muitas geraçōes da família neste sítio, tentei com a recuperaçāo que fiz, manter o espírito de uma casa de Óbidos. Guardei os objectos e móveis que mais estórias me contavam e tornei a casa confortável sem lhe perder a alma.
A minha rua tem encanto, bares e restaurantes ao virar da esquina. É uma rua onde ainda nos cruzamos com os verdadeiros obidenses.
A very charming, aptly located place imbued very favourably with the character of our hostess. Do not hesitate to book this one!
Scott
2016-12-23T00:00:00Z
Incredible place. The views from the home were stunning, and it was clean and homey. Location was incredible- steps from city center. Host was amazing with perfect directions and the neighbor to welcome us upon arrival. Would stay again in a heartbeat.
Elizabeth
2017-03-28T00:00:00Z
My sister and I stayed overnight in Obidos, in Arlinda's artfully decorated house just outside the town walls. Arlinda's wonderful old family home has been beautifully and thoughtfully redone and is a feast for the eyes. The morning light is lovely and there are fantastic vignettes at every turn. Arlinda herself is a gracious and vivacious host, easy to communicate with and mindful of making us feel comfortable. Being unprepared for the chilliness of thick stone walls, she started a fire for us in the iron stove and loaned us warm sweaters. A definite recommendation!
jackie
2016-11-17T00:00:00Z
Arlinda was not there but was accessible through messaging and phone. She had someone already to meet us when we arrived and show us around. The house was beautiful with amazing views on the terrace. Great location and would highly recommend!
Victoria
2017-03-17T00:00:00Z
Our stay in Arlinda's house was just incredible. The house is within the center of obidos, in a quiet and charming cobbled street, which is amazing considering accommodation prices there. We loved the furniture and design of the place, great terrace and view on the village, sun in the morning, everything was clean and cosy, in short, perfect for a stay in Obidos. In the morning, you are just minutes away from the center of the village, and can enjoy the quiet of the streets. Arlinda was super accommodating, changing her plans at last minute to welcome us in her home. We recommend strongly for a weekend or more.
mathilde
2016-12-22T00:00:00Z
Arlinda was not at home but she replied quickly and gave detailed informations. It is easy to find the house. Great location in Óbidos, warm and comfortable room with wonderful views. It is very recommended!
Chenjia
2017-03-27T00:00:00Z
Amazing house to stay in if you're planning an overnight visit in Obidos. We had a room with private bathroom and could use kitchen and terrace. In March it was a bit cold but there is a heater you can use. We didn't meet the host as she was on a trip at that time but communication was good.
Karolina
2017-03-09T00:00:00Z
Bellissima casa, ricca di fascino. Comodissima da raggiungere e perfetta per un giro nella piccola cittadina di Obidos e nei dintorni. La proprietaria è molto gentile e cordiale e sarà felice di darvi dei consigli. Parla inglese, francese e italiano.
Lucia
2017-01-05T00:00:00Z
Typ pokoje
Soukromý pokoj
---
Typ nemovitosti
Dům
---
Ubytuje
2
---
Ložnice
Óbidos, Portugal, Portugalsko
Lovely holiday house with pool in small Portuguese village, close to Montejunto Mountain, where you can enjoy lovely walks through vineyards and windmills. It has a local café and vendours pass by with their fresh bread, fish or fruit. Vilar is the next village at less than 5 min. drive, walkable, with supermarket , restaurants and bars. By car, you're less than 10 min. from A8 motorway, 20 min. from Obidos , Peniche, beaches and other beautiful must-see sites. Only 45 minutes drive to Lisbon.
This centennial house has been refurbished, providing you the "old feel" of portuguese arquitecture, still maintaining it's original features, but with modern comfort. Peaceful and private, although right in the middle of the village. The swimming pool is yours to enjoy, and the walled yard gives you the desired privacy. Many terraces for sunbathing with mountain views. Outdoor table for 8 and plenty of shade to enjoy our hot summer days by the pool.
Typ pokoje
Celý dům/byt
---
Typ nemovitosti
Prázdninový dům
---
Ubytuje
6
---
Ložnice
Cadaval, Obidos, Portugalsko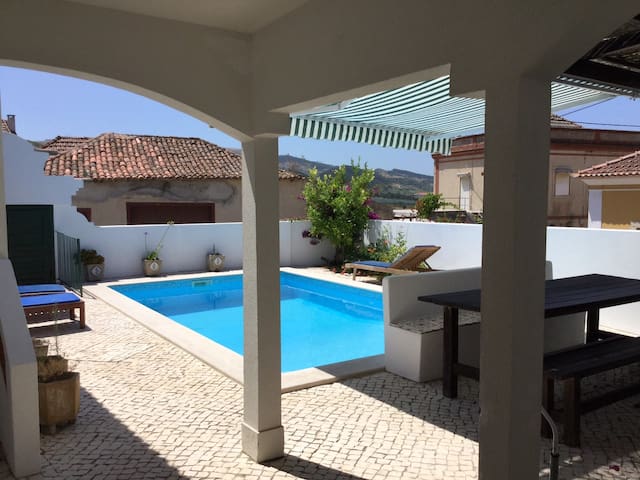 Caminhe até a praia, estar perto de tudo. Acesso gratuito à internet e TV a cabo. Máquina de Lavar Roupa, Máquina de Lavar Louça, Forno, Vista, Varanda (Varanda), Frigorífico, Microondas,
Great place for surfer . Clean room and he always available to give tips for the best surfing spot of the day .
massimo
2016-10-06T00:00:00Z
Ricardo was a fantastic host! His apartment is lovely and was excellent value for money :-) He made me feel extremely welcome and I thoroughly enjoyed my time in Baleal. The apartment was extremely clean and tidy and has everything you could ask for - including a swimming pool! The location was fantastic for surfing and Ricardo's recommended surf hire shop was spot on to. Thanks so much for the stay Ricardo.
Adam
2016-09-26T00:00:00Z
Ricardo was real good host,gave me a lift to Peniche and useful tips to make my stay better.Very nice and clean place and amazing bed.Thank you for making my stay great:)
Monika
2016-08-15T00:00:00Z
Thank you so much for the perfect host Ricardo. Hope to see you soon. Perfect location for any person, close to everything and surfspots.
Ryo
2016-08-14T00:00:00Z
Ricardo was a lovely host and really made me feel very welcome. The apartment was spacious and clean and the room had a lovely sunny balcony which was great in the mornings ;) It was exactly what I was looking for: a nice chilled place to hang out and be close to the surf and the beach and where I was able to make food and feel at home. Ricardo thanks for all the tips on the surf and for the great company, i'm sure I'll see you again soon when I'm back in Baleal ;)
Katy
2016-07-19T00:00:00Z
Das Appartement ist so wie auf den Fotos dargestellt, sauber und modern. Auch das Zimmer ist mit allem ausgestattet, was man sich wünschen kann (Kleiderschrank, großes und bequemes Bett, Balkon). Der Pool der Anlage darf auch genutzt werden. Das Appartement liegt nur wenige Gehminuten vom Strand entfernt und man erreicht Restaurants oder Supermarkt nach wenigen Metern. Ricardo ist der perfekte Gastgeber, der einem immer weiterhilft und insbesondere bei Fragen zum Surfen hilfreiche Tipps geben kann. Wir können Rucardo als Host und sein Appartement nur empfehlen.
Ina
2016-09-06T00:00:00Z
I just stayed 1 night and enjoyed it in a super cozy bed. Ricardo is chilled and helpfull.
niculin
2016-09-01T00:00:00Z
Ricardo has a very nice apartment by the beach. Very convenience if you want to do surfing and get to know Peniche. He was a very nice host helping me to find the apartment, guiding me where to go in Baleal and being nice in general. I definitely will stay at his place again.
Victor
2016-10-24T00:00:00Z
Typ pokoje
Soukromý pokoj
---
Typ nemovitosti
Byt
---
Ubytuje
1
---
Ložnice
Ferrel, Leiria, Portugalsko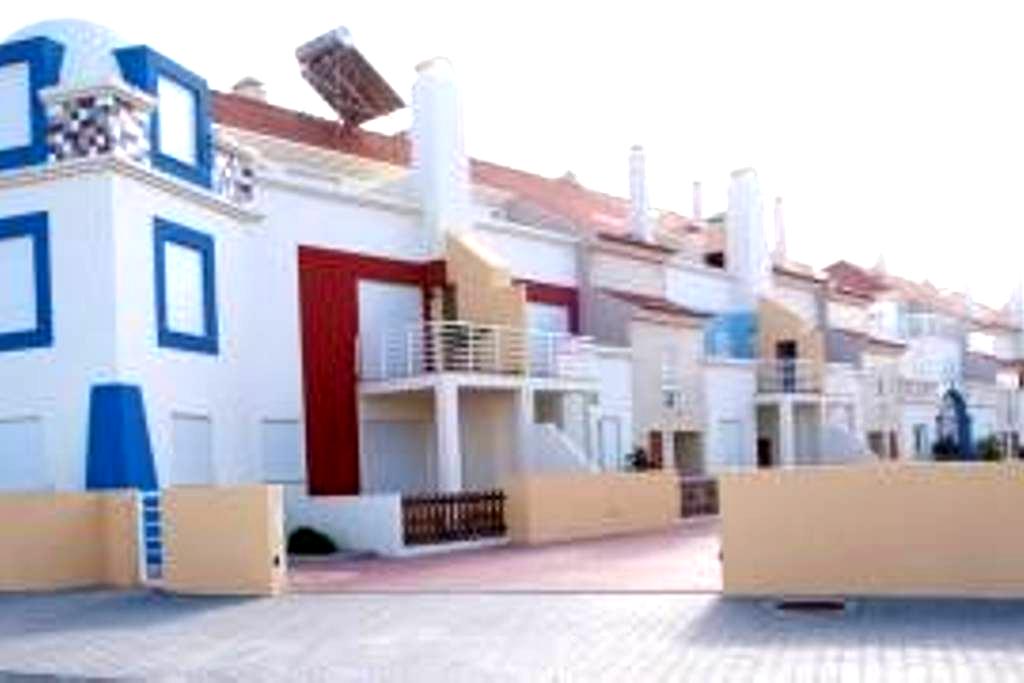 To je skutečný "Loft da Lagoa" Lokalizovány v rámci zasedání Óbidos laguny, hned vedle pláže, svěží a moderní style.Perfect pro pár s dětmi .. Jednu hodinu jízdy od Lisabonu, v těsné blízkosti Peniche, Óbidos, Nazaré, Alcobaca a Fátima ...
The house provides minimum services, such as bed linens, bath towels, shampoo, soap and mini-bar... Side to the " Loft da Lagoa" there is a bakery and pastry,restaurants and in the summer also a mini-market. The neighborhood is quiet and wild, it is a special place and you will realize how good it is to wake up here! But sometimes in the high season is quite busy... In five minutes drive from the area offers three amazing golf courses, Bom Sucesso resort,Royal Óbidos and Praia Del Rei. The Lagoon offers various types of activities, such as windsurf, kite surf, canoeing, fishing or pick clams and cockles. There is around the Lagoon a lot of tracks,flat and easy, where you can walk, run or cicling. For those who love surfing,you also have Peniche, with one of the worldwide known beaches( Supertubos,Baleal) ideal to practice this sport.Peniche also offers boat trips to the Berlenga Island. You will need to hire a car to enjoy the local area, but you can always get some transportation from Lisbon to Óbidos and i will get you a taxi or even i can pick you up. I am there as much as i can,i will always keep in touch using cellphone or e-mail whenever you need.
Tudo impecável! Não hesitaria a recomendar a alguém!
Pedro
2016-12-30T00:00:00Z
Tudo perfeito ! A casa é linda, a decoração acompanha. Colado à Lagoa numa zona muito calma torna o ambiente harmonioso. A Mariana foi muito simpática e super atenciosa com os pedidos que solicitei. Recomendo a estadia e também nós voltaremos em breve. 5 estrelas !
Gonçalo
2017-02-14T00:00:00Z
A Mariana e o Luís foram super atenciosos e práticos. O loft encontra-se em ótimas condições e com uma decoração simples e moderna. A localização junto à Lagoa de Óbidos é fantástica, permitindo caminhadas ao longo da Lagoa. Eu e a minha namorada adorámos, pena ter sido só uma noite mas esperamos voltar um dia destes. Obrigado e boa sorte!
Gonçalo
2017-03-17T00:00:00Z
Lovely loft, recently converted, very clean, comfy. Situated right on the lagoon for those who like to wind surf etc. They were very accommodating and relaxed hosts.
Mary
2017-04-06T00:00:00Z
We think, our stay at the house of Mariana and Luis was one of the best experiences on our whole trip! The appartment was comfortable and cosy and the two were so caring hosts. They even shuttled us from the train station to the appartment and back. And the encounters in the car were really interesting and warm hearted. So, we say: go there, if you have any possibility! Thanks so much for having us at your place. Warmly, Johanna, Lydia, Frieda
Johanna-Yasirra
2016-10-11T00:00:00Z
Super confortável, zona muito tranquila, ideal para descansar. A decoração da casa é muito gira. As fotos ilustram bem a casa. Recomendo vivamente.
Nuno
2017-03-27T00:00:00Z
Great little spot close to the beach! So lovely that the hosts left us milk, coffee bread and water for us! Perfect!
Christopher
2016-11-05T00:00:00Z
Très bon accueil , l'appartement est très bien situé , tout correspond à l'annonce Airbnb , les propriétaires sont accueillants et très sympa .l'endroit est magnifique merci pour tout
BEATRICE
2017-03-07T00:00:00Z
Typ pokoje
Soukromý pokoj
---
Typ nemovitosti
Podkroví
---
Ubytuje
2
---
Ložnice
Bom Sucesso - Obidos, Leiria, Portugalsko
Casa Quarto 1 (2 pax), com casa de banho privativa dentro do quarto, com utilização das áreas sociais comuns. Quarto 2 (2 pax), com casa de banho privativa fora do quarto, com utilização das áreas sociais comuns. Áreas sociais comuns: Piscina, sala, cozinha e churrasqueira. Pode reservar só a casa ou também o Moinho de Santa Bárbara no link (https://www.airbnb.pt/rooms/12132612), com ligação à casa, com capacidade para mais 4 pessoas. O valor apresentado é apenas para a casa sem o moinho.
Moradia com moinho de vento em anexo, em local muito tranquilo, a 350 metros de altitude, com excelente vista. Usufrua da piscina e do churrasco, enquanto desfruta de uma fantástica paisagem rural a perder de vista. Passeie pelas redondezas e explore tudo o que a zona tem para lhe oferecer. Aproveite os passeios de bicicleta (gratuitos), jipe, provas de vinhos, entre muitas outras atividades ao ar livre disponíveis no local. Dispõe de 2 quartos na moradia com capacidade para 4 pessoas mais 1 quarto e sala no moinho de vento com capacidade para mais 4 pessoas, num total de 8 pessoas. O moinho tem ligação interna à moradia. Pode alugar a casa toda ou apenas o moinho. Para reservar também o moinho use o link (https://www.airbnb.pt/rooms/12132612). O valor apresentado é apenas para a moradia. Dispõe de praias, centros equestres e campo de golfe a 30 minutos de distância de carro.
Foram uns dias bem passados, onde pudemos apreciar a tranquilidade da zona e as ótimas condições da casa, gostamos especialmente da vista, da piscina e das boas áreas do espaço comum que tinha todas condições para fazer refeições e descansar. O espaço do moinho, para onde sofremos upgrade, é característico e muito bonito, para além de uma pequena casa de banho completa os outros dois pisos permitem a utilização por dois casais com alguma privacidade. Fomos muito bem recebidos pela senhora que também faz a limpeza da casa, que foi sempre muito simpática e prestável. Como levámos a nossa filha de três anos, a senhora teve o cuidado de nos ajudar com a caminha para ela, inclusive trazendo algumas coisas do seu neto para ela ficar mais confortável, e oferecendo uma fraldinha que a Inês adorou. O facto de ser isolado permite tranquilidade e sossego mas obriga a algumas deslocações sempre que algo é necessário. Perto apenas existe uma pequena mercearia e um cafe. Excelente relação preço/ qualidade, Uma experiência a repetir!!!
José
2016-08-29T00:00:00Z
Après avoir eu un peu de mal à localiser le logement, PEDRO nous a rejoint et nous à installé comme des rois chez lui. C'était magique de nuit comme de jour, nous ne nous attendions pas à de telles prestations et à un tel environnement. Nous avons pu profiter des alentours à vélo et visiter la région sur 2 jours. Un lieu inoubliable. Merci Pedro.
nadine
2016-07-06T00:00:00Z
Nice stay at Pedro place. Spacious bedroom and house with a beautiful view, close to a small village. Easy to park a car. Great experience, we recommand!
Mathilde
2016-07-14T00:00:00Z
Typ pokoje
Celý dům/byt
---
Typ nemovitosti
Vila
---
Ubytuje
4
---
Ložnice
Maxial, Lisboa, Portugalsko
If you are coming to Peniche you want to stay as close as possible to the water. Here, you will be right on the beach. Just go down the stairs and enjoy a 3 km (1.9 miles) long white sandy beach. The apartment was renovated during the first months of 2017 and new pictures have not yet been taken (will update the listing by the end of April). One major diference is the bathroom, which is now more modern and the tub was replaced with a large shower.
The Duplex on the Beach with Ocean View offers you the chance of enjoying life by the beach and ocean. The only way you will be closer to the beach and water is if you would actually sleep on the beach itself. The apartment is located on a calm "dead end" street right by the beach. You literally walk down the stairs from the apartment and onto the beach. The apartment is located on the top two floors of a small building, in a calm and quite neighbourhood. It is impossible to be any closer to the beach and ocean. The walls of the building literally touch the sand on the beach and the only thing you will see through the windows is the ocean and the beach. Inside of the apartment you will find the following on the bottom floor: - a fully equipped kitchen, stove and oven, dishwasher, washing machine, fridge and freezer, toaster, microwave and coffee machine; - a spacious and bright living and dinning room, fully furnished with tables, sofas, chairs, TV and fireplace; - bathroom with shower; - a large bedroom with a king size double bed; - entrance hall; - balcony overlooking the beach and ocean with a couple of sun chairs. On the top floor you will find: - a spacious multipurpose room when you reach the top of the stairs; - 3 bedrooms fully furnished with double beds (one of the bedrooms has an extra single bed), bed side tables and closets - bathroom with a small shower The flat is prepared to accommodate up to 10 people (counting the couch on the living room where one person can sleep), with the necessary kitchen utensils such as plates, cutlery, glasses, pots, pans, etc. Regarding the surrounding areas, Peniche is a peninsula, which means it is surrounded by water on 3 sides. You have beaches in the north side, beaches in the west side and more beaches on the south side. If you are coming to practice water sports, this is basically heaven on Earth. You will always find good conditions to do your favourite sport! In case your sport is more in lines of laying down on the sand, enjoying a cold beer or two, don't worry either, you are also on the right place! Right in front of the flat you have a long sandy beach, 3 kilometers (1.9 miles) long, with white soft sand and a couple of cafés and bars that will serve you the cold beer you have been wishing for, as well as local traditional food dishes that will open your appetite the moment they are put down on your table. After all, Peniche has the biggest fishing port of the country, guaranteeing you fresh fish and fresh sea food every time you go out for a meal. Price wise, a beer (ask for Imperial, 20cl) will cost you 1 euro, a small steak on bread (Bifana or Prego) will cost you 3-4 euros and a full meal will start around the 10 euros line. All this and much more at the bottom floor of the building where the flat is situated, in HotSpot restaurant, where the owner and chef will treat you like a friend and serve you tasteful local dishes. Plus, the restaurant has a large outside area with sun umbrellas, where you can look down into the ocean and hear the waves break while you enjoy your meal. Once you are done eating, take off your shoes and enjoy a nice walk on the beach. Besides having a restaurant conveniently under the flat, there are several cafés in the area, all under 5 minutes walking distance, where you will be able to buy freshly baked bread in the morning (they make it themselves right there in the cafe and it is amazing!) at 25 cents a piece. There is also a mini market less than 5 minutes walking distance where you can purchase fresh locally grown vegetables and any other food item you might need to prepare a meal in the flat. Finally, there are two more restaurants that serve great fish and sea food from the local fishing port, as well as tasty meat dishes for those that cannot live without animal protein. Both of them with a lovely staff and very affordable prices (great value for money). For you that wants to keep busy during your time in Portugal, there are countless places to visit and enjoy around the surrounding areas of Peniche. There is also the possibility to organize surf lessons or other water sports, together with a local school, if you wish. Golf can be played at Praia D'el Rey, just 20 minutes away, in one of the best golf courses of the country, with spectacular views of the ocean right by its side. Having a car is not mandatory but highly recommended to explore the full potential of this amazing stretch of the Atlantic Coast. Distances between the flat and important places: Beach - 0 m Lisbon airport - 95 Km Porto airport - 270 Km Peniche city center - 7 Km Praia D'el Rey (Golf) - 15 Km Caldas da Rainha - 28 Km Óbidos - 22 Km Nazaré - 60 Km Alcobaça - 62 Km Batalha - 78 km Santa Cruz - 30 Km Ericeira - 55 Km Sintra - 100 Km Algarve - 350 Km All and all, I am here to make your holidays as enjoyable as it can be, and I will do my very best for that to happen. Looking forward to your messages and booking. Sincerely, Nuno André Ramos Peniche, Portugal
We had the best time staying at Nuno's. The location is incredible and the value for money is amazing. I'm already looking to book my two weeks in 2017! Thanks so much Nuno again.
Kieran
2016-10-21T00:00:00Z
We had a very good time in this fantastically located apartment. It is so close to the beach that you could throw a stone and hit the ocean ;-) Parking lots and supermarket very close. Also there are many great places nearby (Peniche, Obdios, Buddha Garden, Sintra...). The hosts (Nuno and Oscar) were great: very nice and reliable. We would always come back!
Melanie
2016-09-23T00:00:00Z
Fantastic location, right on the beach. Fabulous views. nuno's friend, Oscar, met us and spent a lot of time talking about the history of the town, restaurant recommendations, etc. Apt was not stocked with paper products, called Oscar, and he delivered them at 11 at night! Unfortunately the place wasn't as clean as we would have liked and the beds we not at all comfortable.
Kasey
2015-09-12T00:00:00Z
Stayed for 4 nights at Nuno's with 4 friends on our surf vacation, the place definitely met our expectations, great view on the beach and very nice location close to everything in the area. Renting a car is recommended. Nuno and Oscar were very helpful and easy to communicate with. Thanks a lot!
Alexandre
2015-07-23T00:00:00Z
Cool place by the sea. An amazing balcony towards the beach and next to a quiet little town where you can get all the basics for some great days around. If you're a surfer, don't even think twice and go for it.
Hugo
2017-01-01T00:00:00Z
Nuno was incredibly nice and helpful before, during and after the trip. His friend Oscar, who showed us the house, was also very kind and gave us tips for our visit. We really enjoyed the stay in the appartment and in Peniche in general. The views and the location of the listing are outstanding.
Carlos
2016-05-03T00:00:00Z
The flat can be described in one single word: AMAZING! The view is nothing short of stunning and we simply loved it. Thanks so much Nuno - we will be back :)
Judith
2014-09-22T00:00:00Z
A lovely apartment with a wonderful view . Nuno was very helpful and service minded. We can recommend this place!
Iréne
2016-06-27T00:00:00Z
Typ pokoje
Celý dům/byt
---
Typ nemovitosti
Byt
---
Ubytuje
10
---
Ložnice
Peniche, Portugalsko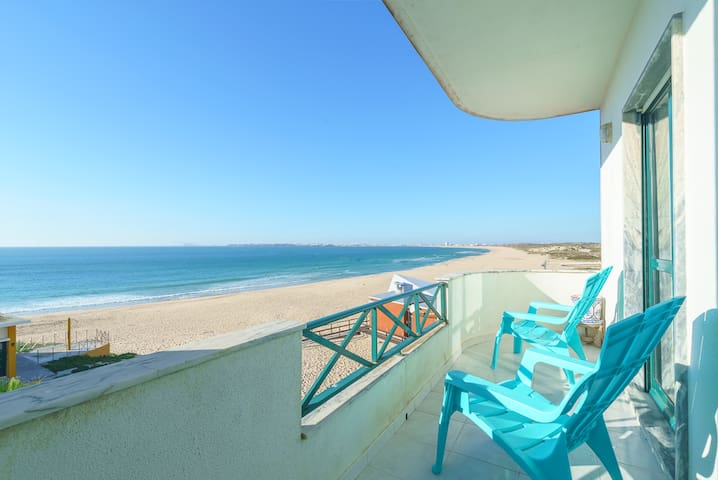 This 3 bedroom, brand new house, has become a favourite amongst our most regular costumers. With tremendous space in all bedrooms, a big living room and a huge patio, this is the perfect house for the big families (or 2 families) that want to continue to have their space, while staying close to the beach. From one of the bedrooms it's possible to check the surf in Lagido, and within a very small walk, you can be surfing it. Private parking makes it very practical.
Typ pokoje
Celý dům/byt
---
Typ nemovitosti
Dům
---
Ubytuje
8
---
Ložnice
Ferrel, Leiria, Portugalsko
A Casa da Travessa é uma típica casa da aldeia, habitada pelo pároco da vila até 1978. Situa-se dentro das muralhas do Castelo, numa pequena travessa à rua principal. Bares, restaurantes e lojas muito perto. Moradia de 2 pisos, totalmente equipada, aloja até 7 pessoas. Pequeno-almoço a pedido.
Pequena moradia situada dentro das muralhas do castelo de Óbidos, numa travessa tranquila e a dois passos de cafés, restaurantes, lojas e bares típicos. A casa tem dois pisos e está equipada com todas as comodidades, incluindo Wi-Fi. No R/C está a cozinha e a sala de estar, que tem um sofá cama para duas pessoas e TV por cabo. No 1º andar há dois quartos, um com cama de casal e outro com duas camas individuais, e casa de banho completa. Roupa de cama e toalhas incluídos. Das janelas dos quartos tem vistas magníficas para jardins e para duas das igrejas mais conhecidas de Óbidos. A pedido, e mediante pagamento local, é servido pequeno-almoço. Na Casa da Travessa pode sentir o espírito desta vila medieval, Património Mundial da Unesco, um dos locais mais visitados e encantadores de Portugal.
Na Casa da Travessa pode sentir o verdadeiro espírito desta vila medieval, classificado como Património Mundial da UNESCO. É o local ideal para passear pelas estreitas calçadas, para visitar o castelo e percorrer as suas muralhas, e ver alguns dos seus mais belos monumentos. Aqui pode ouvir o silêncio entremeado pelo som das andorinhas e o trotar dos cavalos. Aqui pode ter todas estas experiências, mas ainda ir aos típicos bares onde deve beber a famosa "Ginjinha de Óbidos" (licor de Ginja), assistir a música ao vivo em restaurantes e esplanadas, visitar museus únicos e apreciar as vistas excepcionais.
This house is just off the main street through the mediaeval Hill town centre of Obidos so it's location could not be better. We stayed as a family of seven on a stopover before our flight home the next day from Lisbon. It was an easy 40 minutes drive from the airport along the motorway. Three of us slept on made up beds in the sitting room. The other four were very comfortable. The best thing was Gabriella who was the perfect host, waiting for us to arrive (we were unexpectedly delayed)and meeting us at the entrance to the town to carry our bags to the house by car. She was so helpful and friendly. So I would recommend this stay to anybody that wants to live in the centre of the historic town in a very comfortable cottage with a fantastic host.
Stephen
2016-09-05T00:00:00Z
Gabriela was a great host, the house was just as described, perfect for the family. The location was amazing inside the walls of Obidos. Gabriela even gave us some great tips for our visit to the Algarve. The house and Gabriela come highly recomended. Thank you Grebriela.
vincent
2015-08-14T00:00:00Z
A nossa estadia correu bastante bem. A Gabriela é uma pessoa muito simpática, foi uma anfitriã à altura mostrando-se super prestável e sempre atenciosa para que a tudo corresse bem durante nossa estadia.
Diamantino
2015-01-02T00:00:00Z
We enjoyed our visit. The apartment is off the Main Street, so there's not too much foot traffic. The bed was uncomfortable, so people who are sensitive to mattress quality should keep that in mind. The internet isn't actually wifi, but rather internet via a slow cellular hotspot.
Marian
2016-10-24T00:00:00Z
Het welkom door Gabriella was enthousiast. Het huis is een authentiek huis in het centrum van Obidos. Wij hebben genoten van ons verblijf speciaal in de vroege ochtend voor de toeristenstroom op gang kwam. Het huis is rustig gelegen, geen lawaai overlast.
Gijs
2015-09-05T00:00:00Z
Adoramos a casa da Gabriela. É bem no centro da Vila, muito confortável e lembra a casa de uma boneca de tantos mimos. A Gabriela é extremamente simpática e generosa. Recomendamos o espaço.
Cissa
2016-10-28T00:00:00Z
A estadia na casa da Travessa foi ótima! Nos sentimos em casa! Gabriela é muito simpática e gentil! A casa é uma graça e faz nos sentir parte de Óbidos!Nos ajudou muito com a bagagem e com o estacionamento do carro! Recomendo!
Elisa
2016-10-19T00:00:00Z
Adorable maisonnette en plein centre d'Obidos. Idéal pour découvrir Obidos. Gabriela nous a donné de très bons conseils pour les restaurants !
BRUNO
2015-08-05T00:00:00Z
Typ pokoje
Celý dům/byt
---
Typ nemovitosti
Dům
---
Ubytuje
7
---
Ložnice
Óbidos , Leiria, Portugalsko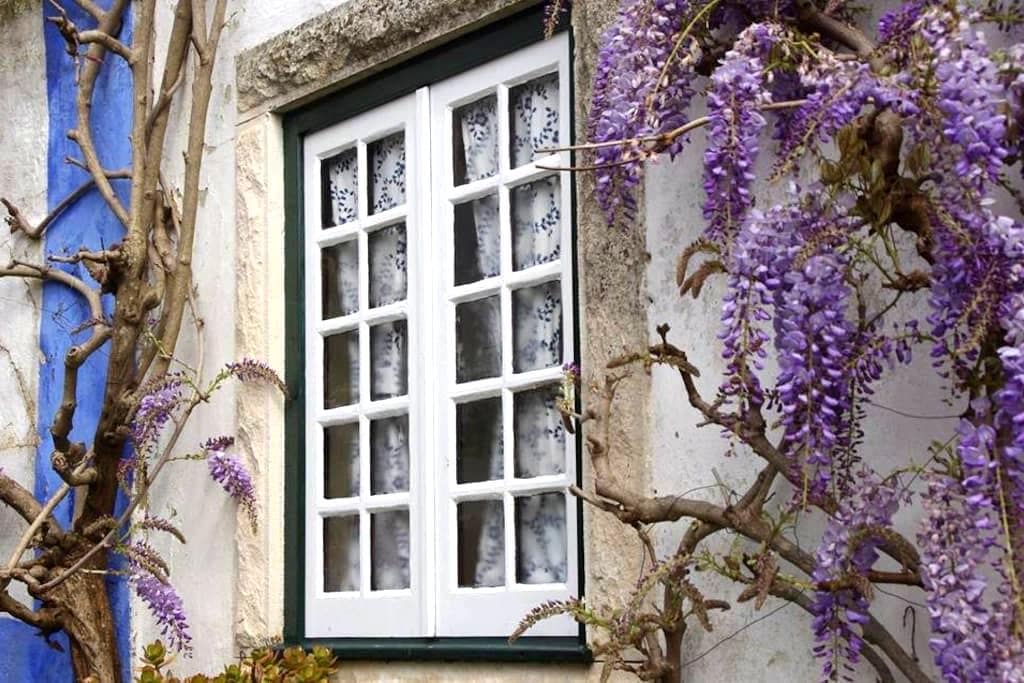 Picva is a XVIII century charming house right next to the old Walls of Óbidos town. It has a very quite and pleasant garden. The house has 3 suites independent open directly to the garden. This room can accommodate from 2 up to 3 guests
The rooms can accommodate from 2 up to 4 guests, all have a private bath. Garden suite – room 2 (accommodates 2), Garden suite – room 3 (up to 3), Garden suite – room 4 (up to 4) A cradle can also be provided for any of the rooms. Includes a continental breakfast, we can adapt by request. Through the garden the guests can access the kitchen (by demand) to make their own breakfast which can be enjoyed in the garden. Ideal for romance, families or artists due the inspiring relaxed ambiance and nostalgic details of the space. Outside, in good weather, the guests can make a barbecue or make a fire to get warm in the evening. Guests can safely park, in the patio, their own bikes or use ours. Games, toys and books are also available.
(URL HIDDEN) A vila de Óbidos, remonta ao século I, guarda séculos de história entre as suas (URL HIDDEN) um vasto património de arquitectura religiosa e vestígios histórico-monumentais, a vila de reis e rainhas deixando marcas que a vila ainda hoje mantém. A casa fica no Arrabalde, na entrada Este da muralha com contruções do século XVII.
João and Ana went beyond being great hosts. We felt like we'd made new friends after spending only one night in their spectacular home. They are warm and caring people who are happy to provide an abundance of information about the area. Charming Obidos was even more special because of them.
Esperanza
2016-10-22T00:00:00Z
This is a very convenient location just outside the Obidos wall with parking. We did not stay in the room pictured, but were in a lovely room with private bath. The house is very old and historic and lovely. I was very impressed by their art collection, beautiful watercolors! We were only there for one night but would definitly reccommend. Breakfast was excellent!
Lynne
2016-10-08T00:00:00Z
Nous avons été merveilleusement accueillis chez Ana et Joao. Leur maison est située juste en contrebas de la muraille et dispose d'un patio et d'un beau jardin en belvédère sur la plaine. La chambre et la maison sont spacieuses et bien décorées, peinture, mobilier... chaque objet a son histoire! Ana et Joao ont été très disponibles et nous ont donné beaucoup d'informations sur Obidos et la région, ainsi que des conseils sur les resto et les produits typhiques. Notre séjour a été excellent!
Silvia
2016-05-30T00:00:00Z
Ana's house is beautiful and in a great location. The room is lovely, spacious and clean. Breakfast is delicious. Ana is lovely and this is a true authentic family home.
veronica
2017-01-29T00:00:00Z
Great place. Nice couple and superb room. The beakfast was amazing. Thanks a lot for everything and good luck for the future.
Bruno
2016-02-09T00:00:00Z
Ana was very helpful and responsive. She offers the breakfast on a big round table, for all the guests, making it feel more like a home. She helped us plan our time properly, and she even offered great suggestions of this to do on our trip, toward Porto. We were also welcomed with a some local drinks, which made the entire experience very pleasant. The only issue that I had, was with (SENSITIVE CONTENTS HIDDEN) Maps, who was not able to properly locate the place. Eventually I parked close by and went on by foot. The location is great, just near all the attractions. You can also have some quality time, enjoying the great views that this place has to offer.
Dan
2017-03-19T00:00:00Z
Nice house, with a great view and João made us feel at home from the first moment. The house, from the XVIII century, is truly cozy and a short distance walk to the mainstreet. The room was big enough and in front of a beatiful and relaxing garden. A experience to repeat for sure.
AnaTeresa
2016-12-22T00:00:00Z
Un énorme merci au conjoint d'Ana pour son accueil et son aide précieuse.
Marie-Claude
2016-09-01T00:00:00Z
Typ pokoje
Soukromý pokoj
---
Typ nemovitosti
Dům
---
Ubytuje
3
---
Ložnice
Óbidos, Leiria, Portugalsko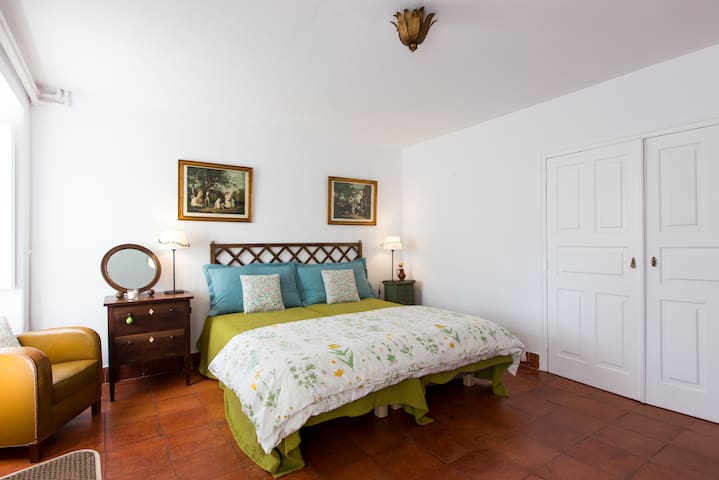 Romantický dům v centru města Peniche přírody. 7min. jízdy od Peniche, dům je součástí malého pozemku s bazénem a dostatkem zeleně pro relaxaci a užít si s rodinou či romantickou dovolenou nebo útěk! Dům je dobře vybaven, jednoduché a praktické!
Jedinečnou vlastností s dostatkem místa pro odpočinek. Jsme asi 7 minut jízdy od Peniche a všechny surfování nejlepších pláží a hlavní atrakcí! Quinta das Flores má dobrý přístup k hlavní silnice: 45min od Lisabonu, Sintra Cascais, Estoril, Ericeira 1,25hour od Coimbra 35min od Nazaré 10min od Obidos. Dům je zařízen hostit páry v romantických prázdnin. Bezplatné a hlídané parkoviště.
Nous connaissons bien le logement de Marco et Antonio car cela fait deux fois que nous réservons chez eux pour dire que l'accueil est très chaleureux. Les logements sont très confortables et très propres. Marco et Antonio savent se rendre très disponibles et très attentionnés la preuve en est des spécialités portugaises nous attendent à chaque arrivée. Marco et Antonio sont le reflet même du Portugal : simplicité, générosité et authenticité.
KARINE
2016-10-31T00:00:00Z
Foi uma otima estadia. fomos muito bem acolhidos e vamos voltar com certeza. :)
Linda
2017-04-02T00:00:00Z
Tout est parfait, accueil, lieu, tranquillité, un peu juste en hivers car il n'y a pas de chauffage, malgré la proposition de Marco de nous mettre un petit radiateur d'appoint, mais il ne faut pas abuser! Vu le prix! Un pull supplémentaire et l'affaire est faite. Encore merci à Marco pour sa gentillesse et son écoute.
Marianne
2016-11-23T00:00:00Z
Este foi umdos melhores airbnb onde ficamos, a casa e maravilhosa. Estainserida numa quinta lindissima e e bastante confortavel, super limpa e com tudo o que e necessário. Fomos muito bem recebidos num parte central da vila para que nao nos perdessemos e posteriormente conduzidos à quinta. Fomos sempre tratados com muita simpatia e tinhamos um cesto com queijo, chourico, pao e vinho à espera, o que foi extremamente agradavel. Podemos aproveitar a piscina e o jardim que sao ambos muito bonitos. Tambem nos foi dada a oportunidade de ficar ate mais tarde no diado check out o que foi óptimo.
Ana
2016-10-03T00:00:00Z
Our time in Quinta Das Flores was perfect. The house was so clean, and we really appreciated your welcoming present. Tha house has all you can need and because it is in the countryside, no noisy at all! Thanks for everything
Angela
2016-09-11T00:00:00Z
A casa é 5 estrelas. Gostámos imenso de passar 2 noites na Quinta das Flores, sendo que recomendamos obviamente a qualquer casal que pretenda passar uns dias nesta região, ou até mesmo para uma viagem de amigos/família. O sítio fica localizado numa zona mais rural, que permite um descanso e um silêncio únicos. A casa é bastante confortável, com tudo o que é necessário para uma estadia curta ou mais prolongada. O Marco foi um anfitrião super atencioso e simpático, deixando-nos completamente à vontade. Recomendo :)
Ricardo
2016-09-25T00:00:00Z
Hi! It is small, yet nice place. We had everything we needed there. The owner was welcoming. Apartment was cleaned good enough. It is a countryside, so be ready to meet mosquitoes and another insects. Thanks a lot and good luck.
Katharine and Alexandr
2016-10-22T00:00:00Z
Óptima experiência na Quinta das Flores. Casa muito prática e limpa. O Marco recebeu-nos muito bem e preocupou-se com o nosso bem estar. Recomendo!
Beatriz
2017-03-27T00:00:00Z
Typ pokoje
Celý dům/byt
---
Typ nemovitosti
Vila
---
Ubytuje
3
---
Ložnice
Atouguia da Baleia, Leiria, Portugalsko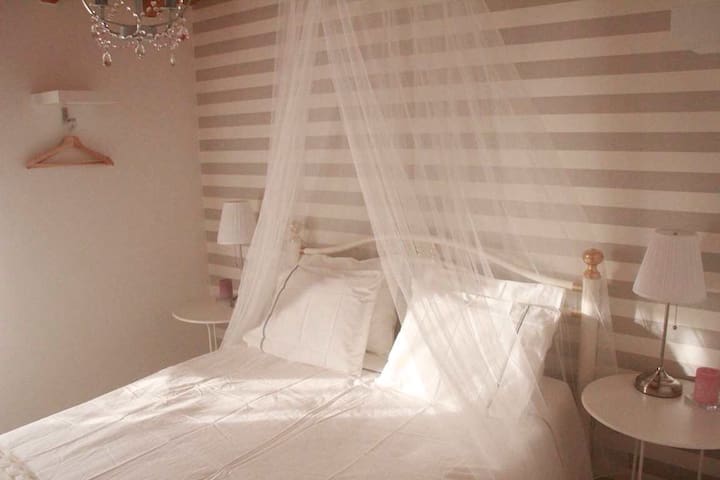 In the center of praia da areia branca. 2 minutes walking from the beach. 2 beadrooms. Very good for surfers. You can see the waves directily from the window and a big terrace with sea view. Near supermarket and market with fresh fish and fruits. New bathroom and cuisine.
This apartment Is in a building in front of the sea. The Sea view could not be better. Very good for surf and a quiet but very cool night animation Very good for surf and a quiet but very cool night animation. Near Peniche: supertubos - surfspot Berlengas island Obidos - medieval village Caldas da rainha - bordalo pinheiro ceramics Very Nice restaurants - seafood Very good for surf and a long walks on the beach. Near Peniche: supertubos - surfspot Paimogo Berlengas island Obidos - medieval village Caldas da rainha - bordalo pinheiro ceramics Very Nice restaurants - seafood Very good for surf and a quiet but very cool night animation. Near Peniche: supertubos - surfspot Berlengas island Obidos - medieval village Caldas da rainha - bordalo pinheiro ceramics Very Nice restaurants - seafood
Very good for surf and a quiet but very cool night animation. Near Lisbon: 1 hour by car (1:10 by bus) Peniche: supertubos - surfspot Berlengas island Obidos - medieval village Caldas da rainha - bordalo pinheiro ceramics Very Nice restaurants - seafood
We really liked the appartment. It's absolutely close to the beach and to restaurants. We found anything needed in the appartment. The communication with Ana was very good and very detailed. She gave us a lot of information about the area. We could recommend her appartment. Our kids were excited with all the thongs we could do in the closer surrounding.
Ralf
2016-09-05T00:00:00Z
Merveilleux séjour chez Ana. Appartement très spacieux, avec un balcon gigantesque donnant une vue superbe sur l'océan, sa plage accessible en moins de 5' à pied et les monts alentours. Ana est très présente et soucieuse du du bien être de ses hôtes. Je recommande vivement
Stephane
2015-07-26T00:00:00Z
Great view,very spacious terrace and especially a great host,who helped us with every concern anytime. Very close to the beach and everything you need is in striking distance. A good place to find a good surf!
Johannes
2015-05-31T00:00:00Z
Foi a minha primeira experiência a usar o AirBnB e não podia ter sido melhor. A casa tem excelentes condições muito confortável e acolhedora. Os quartos são bons, a cozinha tem bons equipamentos. A localização é muito boa, com supermercados perto, a praia é logo ali ao lado. A vista da casa é linda, tem um terraço espetacular. Uma casa excelente tanto para aquela escadinha romântica, como umas férias em família (tanto no Inverno como no Verão). Ana é uma excelente anfitriã, sempre pronta a ajudar e tirar qualquer duvida.
Diogo
2015-01-02T00:00:00Z
Ana is a great host. She replies to messages very quickly and her place is very clan and close to all attractions and food-markets.
Ewa
2016-10-07T00:00:00Z
Anas Wohnung hält alles, was die Beschreibung bei Airbnb verspricht! Die Terrasse hat einen wundervollen Rundumblick auf den Strand, das Dörfchen und die Umgebung. Die Wohnung bietet für 3-4 Personen genügend Platz und alles, was man für einen entspannten Urlaub benötigt. Das Badezimmer genügt den Ansprüchen für eine Woche Urlaub absolut, könnte aber durchaus in nächster Zeit eine Renovierung vertragen. Die Küche bietet alles, was man braucht, um zu kochen und bei Kerzenlicht die Terrasse und die Wohnung zu genießen. Ana war immer sehr gut für uns erreichbar und hat sich sofort gemeldet, wenn wir sie brauchten. Vor Ort war Jesus, Anas Putzfrau und hat sich sehr liebevoll gekümmert. Wir können diese Wohnung gerne weiter empfehlen!
Catrin
2014-10-23T00:00:00Z
Foram uns dias bem passados. O apartamento é muito simpático, bem cuidado, com uma óptima localização e uma vista de praia relaxante. Como não conhecíamos a zona o tempo que lá estivemos foi uma agradável surpresa - uma aldeia com óptima praia, muito calma e com boa comida (tradicional + pizzaria). Óptimo local para "libertar o vapor"... A repetir!!!
Jorge
2016-08-05T00:00:00Z
Very nice flat with a really nice view over the ocean; just two minutes walk to the beach. We had a great time there! Everything was top!
Peter
2016-10-18T00:00:00Z
Typ pokoje
Celý dům/byt
---
Typ nemovitosti
Byt
---
Ubytuje
6
---
Ložnice
Praia da Areia Branca, Lourinhã, Portugalsko
Casinha rústica para arrendamento de férias ou fins de semana, todo o ano, composta por quarto com cama de casal e roupeiros, sala de estar e jantar com sofá cama e salamandra, casa de banho com chuveiro e cozinha equipada com louças e utensílios de cozinha. Sobral da Lagoa, Óbidos.
Casinha rústica para arrendamento de férias ou fins de semana, todo o ano, composta por quarto com cama de casal e roupeiros, sala de estar e jantar com sofá cama e salamandra, casa de banho com chuveiro e cozinha equipada com louças e utensílios de cozinha. Também disponível, roupas de cama e toalhas. Área de churrasqueira coberta, lindo jardim muito privado para tardes relaxantes de leitura ou banhos de sol e alpendre com mesa e cadeiras para refeições ao ar livre. Existe ainda um terraço espaçoso para colocar espreguiçadeiras e gozar o sol e as lindas vistas para a aldeia e vales. Contacte para mais informações e disponibilidade de datas. Aldeia pitoresca com café local e mercearia para todos os bens de primeira necessidade. Localização excelente para passeios pedestres ou de bicicleta. Casinha ideal para umas férias ou fim de semana relaxante, férias românticas a dois ou para famílias pequenas.
Óbidos a 4Kms, Caldas da Rainha e Foz do Arelho 20Kms, Santuário de Fátima a 93Kms, Nazaré 46Kms, Bom Sucesso Golf Resort 13Kms, Praia Del Rey Golf Resort 16Kms, Lisboa e aeroporto 85Kms.
petit logement au coeur d'un village isolé terrasse et exterieur magnifique. je recommande
fabrice
2017-03-14T00:00:00Z
Typ pokoje
Celý dům/byt
---
Typ nemovitosti
Dům
---
Ubytuje
3
---
Ložnice
Vau, Leiria, Portugalsko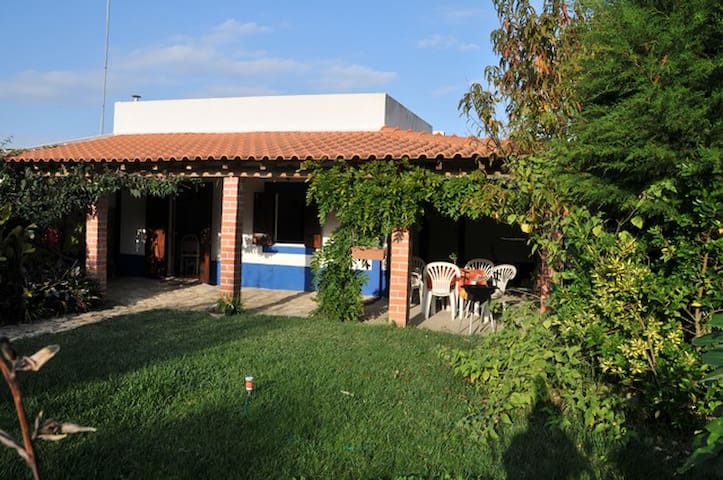 Located in Baleal, our 1 bedroom 1st floor beach apartment is the perfect destination for those in search of comfort as close to the water as possible! With numerous Baleal beaches, shops and restaurants within walking distance, and access to a pool
This modern and authentic space provides comfort and practicality. Located 400m from the beach, close to cafes, restaurants, bars, a minimarket and only a 5 minute walk from Baleal beach. The apartment is fully equipped with all amenities and can accommodate up to 5 people. The double bedroom can be converted to a twin room, as determined by your needs, and a single bed and 2 very comfortable sofas bed (with mattress) in the living room can provide more quality sleeping space. The balcony offers a beautiful view of Baleal and the sea, perfect for hanging out and enjoying a glass of wine or a beer in the afternoon sun. The apartment offers access to a swimming pool, BBQ area and inside parking. There is no elevator in the building, access to the apartment is by stairs only. This apartment sleeps 4 adults max.
Perched between the town of Peniche and village of Ferrel, Baleal is an old fishing village named for the large numbers of whales (balea) which used to pass by. It has become world-renown for its surfing, yet has not lost any of its old charm; Rather, charming all those who visit with the rugged coastline, majestic beaches, beautiful food and friendly locals. Located on the Atlantic coast one hour North of Lisbon (airport) by car, Baleal is an easy getaway. It is 45-50 minutes from Lisbon and Sintra and 15 minutes from Obidos. Bus services run between Lisbon and Baleal making transfers easy should you not come by car. By car Take A8 Oeste and continue approximately 70km until you reach IP6 towards Peniche. Approaching Peniche go straight over 2 roundabouts. At the 3rd roundabout take the 1st exit towards Baleal and Ferrel. Drive approximately 2 km and arrive in Baleal village. Follow the road and make a sharp right driving inland from the beach along Avenido do Mar. By Public Transport From Lisbon Airport take a taxi or the Aeroshuttle bus to Sete Rios bus terminal in Lisbon, where you can then take a bus directly to Peniche. From Lisbon city centre you can take the metro to Jardim Zoológico which is just outside Sete Rios bus terminal.
Everything was perfect and we enjoyed to stay at Thais place. We got great hospitality. The apartment is clean, has enough space and well equipped. Next to the house there are restaurants, shops, surf shops-rents-schools. The closest beach is 10 minutes walk with your surfboard in your hand or you can walk or drive down to Baleal to choose the right or the left side in order to find the best conditions to surf. The area is beautiful and Thais place is perfect for small crew, couples and families as well. Thanks everything Thais!
Gergely
2016-10-10T00:00:00Z
Thais met us at the apartment and explained where all conveniences around us were. Te apartment was large and spacious with many amenities. Well equipped kitchen. Walking distance to the beach and stores. Private parking was also helpful. Great stay! Thanks!
Megan
2016-07-10T00:00:00Z
Thais was a super nice and helpful host. The apartment was beautiful, in great shape and very clean. We would stay here again a anytime!
Anna Maria
2016-08-25T00:00:00Z
Great apartment and Iuri and his sister were great hosts. Very much recommended and only a few minutes from the beach and shops. Well equipped for just the 2 of us, but could have held more and still been comfortable.
Owain
2016-05-20T00:00:00Z
Thais hat immer sofort sehr freundlich geantwortet und kommuniziert und uns sehr nett und offen empfangen. Sie hat uns auch viele Tips für Restaurants, Ausflüge und zum Surfen gegeben. Ihre Wohnung ist sehr gut und geschmacksvoll eingerichtet. Das Doppelbett konnte ohne Weiteres auseinandergezogen und in zwei Betten verwandelt werden. Auch während des Aufenthalts stand Thais immer zur Verfügung, wenn wir Fragen hatten. Top!
Marlen
2016-10-23T00:00:00Z
Thank you so much!!! Our stay in Baleal was perfect. Thais is supergentle and very friendly. Apartments was just great: very large, modern and bright. We've got everything that we need for maximum comfortable vacation.
Vasya
2016-06-06T00:00:00Z
Très bon accueil et disponibilité de Thaïs. L'appartement est très propre et moderne, avec une piscine à disposition et à deux pas de la mer. Merci encore pour tout!
Guillaume
2016-06-10T00:00:00Z
Good, clean Appartement in good location to the surf spots.the Seaview unfortunately is gone because of the plants.
Dominik
2016-09-22T00:00:00Z
Typ pokoje
Celý dům/byt
---
Typ nemovitosti
Byt
---
Ubytuje
4
---
Ložnice
Ferrel, Leiria, Portugalsko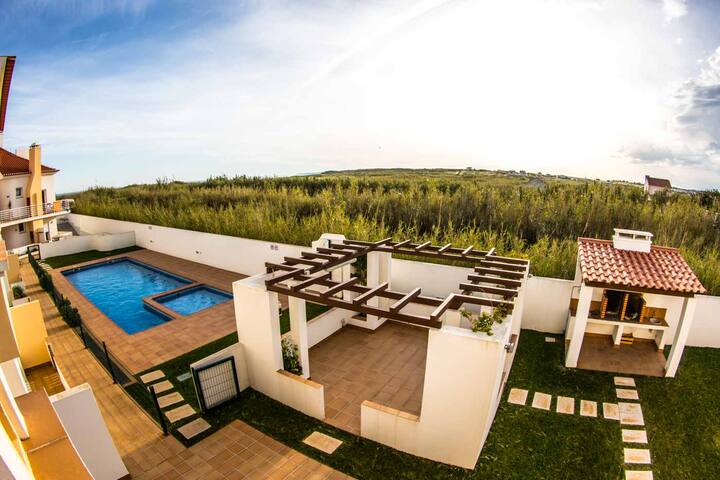 Pro zobrazení celkové ceny zadej termín. Mohou být přidány další poplatky a daně.