This is two bedroom newly finished modern duplex apartment. Each room can be occupied either by 2 single friends or a couple. There is sofabed in the living room if there is extra guest( extra charge).
My place is 2 minutes walking distance to Booterstown dart station. This comfort home suits for couples, business travellers, and families (with kids). All the guests also be serviced freshly made coffee and pastries from down stair coffee shop.
This apartment is beautiful, spotless and really comfy beds!! Loads of room, lovely lovely place to stay - we will definitely be back!! Great hosts and a fantastic coffee shop just downstairs with great coffee, sambos and macaroons - yum!
Kate
2017-03-04T00:00:00Z
Eva's flat was truly amazing. It is close enough to the center and very easy to access. The place was very clean and just refurbished. Eva was very welcoming and helpful. I would recommend this place to anyone looking for a stay in Dublin.
Eliott
2017-02-26T00:00:00Z
Nice to be bit further out from city centre, but still only 15mins to centre on the Dart. Very comfortable beds and room. Lots of space. Due to maintenance works in the Appartment we stayed in the spare room in Luana's flat, but this was still very comfortable and spacious. Luana was very welcoming, treated us to some lovely Brazilian food, and the coffee at the cafe downstairs was great!
Joe
2017-03-28T00:00:00Z
Great location. Spacious flat, newly renovated. Our hosts were very welcoming and friendly. We enjoyed The Old Punch Bowl pub down the street.
Mary
2017-03-17T00:00:00Z
Good location. Friendly host. Would definitely stay again.
Ray
2017-03-19T00:00:00Z
Typ pokoje
Celý dům/byt
---
Typ nemovitosti
Byt
---
Ubytuje
4
---
Ložnice
Booterstown, County Dublin, Irsko
It's a clean and comfortable apartment, with simple furnishings but just homely enough. The estate and general area is the highlight, quiet and safe, 10mins city centre by walk, close to bars and restaurants and the Air Coach! I live with my boyfriend Edward and one other flat mate, Aga. We are all very friendly, easy going and sociable. :) We have 2 cats, Fievel and Snow, very easy to get along with and great company to have around!
The area is really special for us, it is one of the best areas in Dublin, I have lived here for 4 years and honestly would recommend it on so many levels. The estate is really quiet and has a lot of greenery and can be tranquil, while still being so central!
Donnybrook is one of the most expensive and sought after locations in Dublin. It is known for its close proximity to the city centre, fancy gourmet restaurants and generally dubbed as one of the safest places in Dublin. If you want to get the real Dublin experience, and focus on local burrows like Ranelagh and Donneybrook, this is the best way to do so.
Fab location, fab bedroom and fantastic hosts. Made me feel welcome and at home from the off and throughout my 2 night stay. The cats were fab too. My only negative is the bathroom. It needs ripping out - it is mouldy, falling apart and generally quite gross (sodden bath mat, for example). The guys know that the state of the bathroom is under par and pointed it out to me on my arrival saying they have plans to sort it out. The rest of the stay was great, really. I would give 5 stars but I won't return until the bathroom is sorted.
Charlie
2016-04-07T00:00:00Z
PERFECTO!!!Un recibimiento increible, con un listado de recomendaciones, nos dejaron la casa con total confianza. Recogido y limpio todo. I TOTALLY RECOMEND THE FLAT AND THE AREA, JUST 15min WALKING TO THE CENTER
Celia
2016-04-10T00:00:00Z
Muiris and his partner were fantastic hosts and extremely accommodating! Unfortunately, I had gotten sick and some travel plans went down the drain but they kindly let my roommate and I stay an extra night. They also brought us Irish breakfast in bed! I definitely recommend for your stay in Dublin. The cats are lovely as well!
James
2016-02-21T00:00:00Z
Very friendly hosts, lots of advice about attractions in the city. Bedroom was spotless and included plug adapters. Bed was very comfortable.
Glenn
2016-03-16T00:00:00Z
Muiris and Ed are friendly and welcoming hosts. The location of the apartment is great with the pubs and restaurants around the corner. The bedroom I was staying was fine, no problems there. The rest of the apartment was a mess, talking about the bathroom and living room. The odor from the cats' box was quite unpleasant and no way you could open a window as one of the two would jump out, therefore no fresh air! The smoke detector started out of the blue twice before midnight and then 3 in the morning...was trying to reach Muiris somehow as he was not in town, never returned my call not even the following day....I had no idea what to do to stop it! Plus I was on a business trip and was sleepless for my work the following morning....Not a good experience for me overall.
Kristiana
2016-06-27T00:00:00Z
Very cozy room at a perfect location in Dublin. The place is warm and quiet, but not only because of the neighborhood but because of Muiris' ninja skills for not making any noise xD
David
2017-01-30T00:00:00Z
Really nice people! Cats were also super friendly :) would definitely come here again
Jewel
2017-03-24T00:00:00Z
Muiris and Ed were the most gracious and amazing hosts. From the moment we walked in the door, we felt welcomed and right at home. The tips and advice they gave helped ensure we made the most of our time in Dublin, and we were fortunate enough to spend an evening just chatting away with them. We can't wait to come back and stay again!
Melissa
2016-10-02T00:00:00Z
Typ pokoje
Soukromý pokoj
---
Typ nemovitosti
Byt
---
Ubytuje
2
---
Ložnice
Donnybrook, County Dublin, Irsko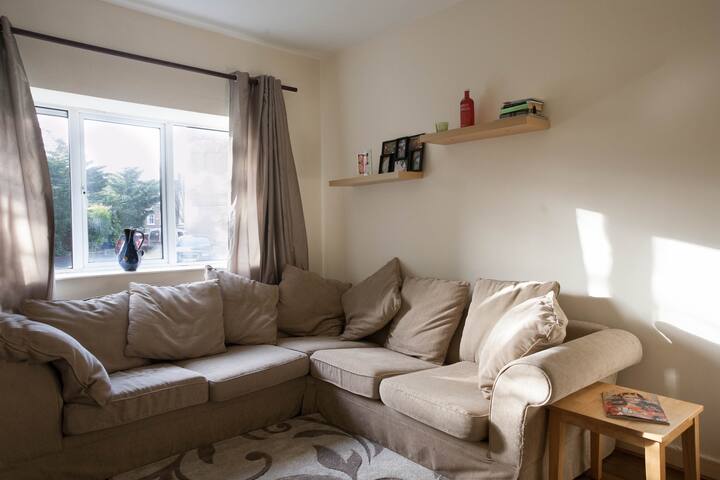 Mein Platz ist im Herzen von Blackrock ein idealer Ausgangspunkt für Dublin Stadt zu erkunden und in der Tat einen Teil Irland wegen seiner zentralen Lage. Das Stadtzentrum liegt 10 Minuten entfernt mit dem Zug oder Bus und der Flughafenbus hält in der Nähe. Einfacher Zugang zu vielen Orten ist auch möglich, einschließlich RDS, Aviva-Stadion, 3 Arena und UCD. Die apt neu renoviert und befindet sich in einem attraktiven und gut gepflegt Entwicklung befindet ausgestattet. Paare, Geschäftsreisende und in der Tat Solo Abenteurer würde hier sehr bequem sein.
Mein Platz, befindet sich in der Küstenstadt Blackrock ist ein idealer Ausgangspunkt für Dublin Stadt zu erkunden und in der Tat an jedem Ort in Irland aufgrund seiner zentralen Lage und einfachen Zugang zu den wichtigsten Autobahnen. Das Stadtzentrum ist 10 Minuten entfernt mit Bus und Bahn und dem Flughafen-Bus hält in der Nähe. Die Nähe zu Seapoint, Monkstown und Dun Laoighre auf den lokalen Charme hinzufügen, während die vielen Restaurants und Geschäften große Auswahl von Lebensmitteln und Möglichkeiten bieten, zum Einkaufen. Blackrock Park ist in der Nähe und das Meer und Strand sind leicht erreichbar. Weitere Veranstaltungsorte von hier aus leicht erreichbar sind, um die RDS, AVIVAStadium, Bord Gais Theater, 3 Arena und UCD. Die apt, neu renoviert und ausgestattet ist ein ruhiger und friedlicher Ort befindet sich in einem attraktiven und gut gepflegt Entwicklung. Paare, Geschäftsreisende und in der Tat Solo Abenteurer würde hier sehr bequem sein.
Great apartment, nice location and very comfortable.
Ricard
2016-11-20T00:00:00Z
The place is exactly like in photos. Very clean and quiet. Very comfortable beds. The kitchen is full of tools to cook and serve. Perfect wifi too. It is very close to bus stop 430 where you can catch n17 . Very close to Frescati shopping Centre . Goeff was very helpful and was always available if I had a question. I advice anyone to go because the standards are high.
Giuli
2016-10-22T00:00:00Z
Geoff has been a very friendly and very practical host. The apartment was in a very good and safe area, close to all the possibilities (dart, bus...) to go to the city centre but you can find all that you are looking for in Blackrock, for example, supermarket, shops, pubs... It was very clean. 100% recommendable
maria
2017-03-13T00:00:00Z
For us, the location was perfect, quiet for study and visiting family, while city center was easily accessible by dart/bus. The apartment was immaculate, well outfited and with sundries for breakfast (coffee, tea even milk and bread ) there on check in, which was very considerate. Check in/out easy. We had a great stay and would highly recommend Geoff and the apartment.
Judith
2017-02-26T00:00:00Z
Great house, great location and great host. Geoff was very responsive and easy to deal with. Would highly recommend this place and will definitely stay again!
John
2017-02-04T00:00:00Z
Great location and the apartment was very clean. I would definitely book again.
Ashley
2016-11-01T00:00:00Z
Visited Dublin for New Years with a group of friends. On arrival Geoff was fantastic, right through til the end of our stay. Clear communications and willing to help out where he possibly can. Apartment was gorgeous, a modern, spacious build with everything you could possible need at hand!
Elise
2017-01-02T00:00:00Z
Le logement de Geoff est un très joli logement avec toutes les commodités. Il est proche des transports en commun pour le centre ville, situé dans un quartier résidentiel avec tous les magasins utiles autour. Geoff a été arrangeant pour notre arrivée tardive. Tout était parfait. Je recommande vivement ce logement. Nathalie.
NATHALIE
2017-03-20T00:00:00Z
Typ pokoje
Celý dům/byt
---
Typ nemovitosti
Byt
---
Ubytuje
4
---
Ložnice
Blackrock, County Dublin, Irsko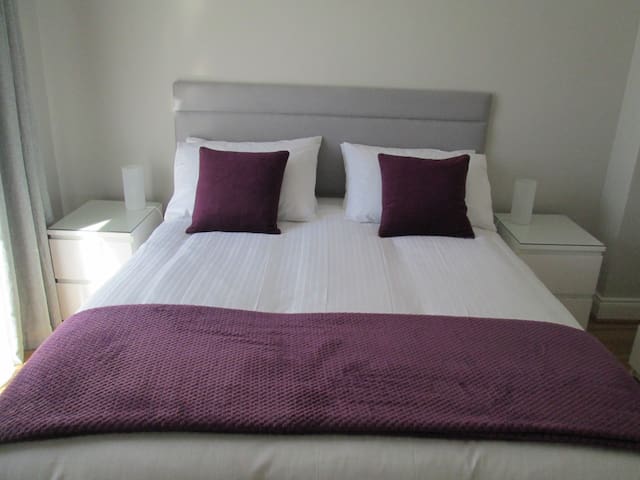 Un appartement spacieux avec une chambre de luxe à Dublin 4 à la mode, à quelques pas de St Vincents Hosp.and Clinique Blackrock. Deux arrêts de train de la RDS et Aviva Stadium et à 15 minutes à pied de UCD.Shops et restaurants à proximité village balnéaire Blackrock.
Le jardin d'hiver à long 25ft / balcon avec vue sur terrain de golf Elm Park et les montagnes de Dublin propose un hébergement supplémentaire pour un petit déjeuner ou le dîner le soir.
Ils sont tout à fait et privés
Peggy was a lovely host. She accommodated us and went out of her way to make our stay comfortable. The flat was very clean, quiet and overall a pleasant place to stay. It has a good location: Dublin city is easy reachable. Peggy couldn't be there when we arrived, but she made sure we were in good hands with her son who guided us throughout the apartment and helped us to find the best places in Dublin City to be. Overall, a more than lovely stay I can recommend to anybody!
Sandra
2017-03-19T00:00:00Z
Great space close to the beach! I was able to do a run on the sand during low tide. The apartment is clean and cozy and perfect to explore the day in the city or Wicklow mountains. Peggy and her husband worked with us for early check in and we couldn't have been more thankful! Thanks for a wonderful stay.
Lisa
2016-09-01T00:00:00Z
Great apartment & location. Excellent & helpful hosts.
Ger
2016-07-25T00:00:00Z
Peggy is a wonderful and helpful woman. Everything went smoothly! The apartment was nice and clean and ready for us! I can 100% recommend this place :)
Maria
2016-09-05T00:00:00Z
Superb welcome from our host who left us some groceries which was a lovely touch. Quiet area which was ideal for our visit.
Veronica
2016-10-25T00:00:00Z
While Peggy was not able to meet us, she was in constant communication with us. Eamonn guided us into the property by phone and then met us to show us through the facilities. The apartment and undercroft parking was extremely secure and the unit caught all the afternoon sun which was delightful. Within walking distance of both a bus stop and train station to take us into Dublin. Comfortable bed and pillows and good quality towels. Kitchen equipment adequate. Would recommend. Dave and Sue, Australia
David
2016-08-10T00:00:00Z
Das Apartment war größer als erwartet. Sehr gepflegt und eine angenehme Einrichtung. Besonderheit war der große Balkon mit einer schönen Aussicht. Man hat von dort aus eine gute Verbindung direkt in die Innenstadt und 5 Minuten zufuß kommt man direkt ans Wasser. Das Geld ist es definitiv wert.
Henry
2016-10-09T00:00:00Z
Vi hade det så himla fint! Utsikten från den inglasade balkongen, att sitta där ute och äta eller bara hänga lite, var riktigt, riktigt härligt. Peggy är hur tillmötesgående och trevligt som helst! Rekommenderas varmt.
Sara
2016-10-30T00:00:00Z
Typ pokoje
Celý dům/byt
---
Typ nemovitosti
Byt
---
Ubytuje
2
---
Ložnice
Merrion Road , Dublin 4, Irsko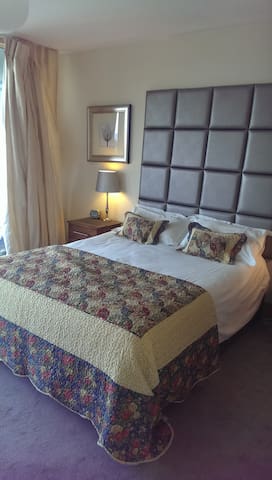 Near the best bus rout in Dublin
This is a spacious apartment with a good siting and dining area so it is perfect for a small family on holiday or group of friends.
Thanks for hosting us. Good value for the price.
Christian
2017-03-23T00:00:00Z
Brendan have been very helpful with any demand we had. The apartment is very comfortable and very well located with a bus stop right in front of the condo and a Tesco supermarket by 15 minutes walking. It takes around 25 minutes to get to the city center.
Bernard
2017-03-01T00:00:00Z
Brendan was very easy to work with, overall this was a great place to stay, only negative was that we got in very late and it wasn't a close walk to any restaurants and was very cold in the apartment. Overall great experience though.
Meredith
2017-03-17T00:00:00Z
Great little apartment. Nice location out of the hustle of the city but next to a bus route which will take you right downtown. Brendan was an excellent host and even made a late night house call to help out with an issue we were having (no fault of the apartment).
Adam
2017-03-03T00:00:00Z
Great value! Was a pleasant place, we all had a great time and the host was awesome ! Didn't have any trouble getting to city square.
Taylor
2017-02-06T00:00:00Z
Great location for UCD. Brendan was very quick in responding to my questions and queries.
Leesa
2017-02-21T00:00:00Z
Nous venions en Irlande pour visiter UCD ma fille projetant de faire ses études à cette université. Après avoir cherché belfield court un bon moment, Brendan nous a bien accueilli. L appartement était correct, le sol encore mouillé et les lits faits. En revanche la vaisselle des locataires précédents était encore sur la paillasse, nous avons cherché la cafétiere, j ai passe un coup de produit dans les WC et lavabo. Nous n avons pas eu d eau chaude pendant 3 jours. Lorsque nous avons rendu l appartement tout est rangé sauf les lits bien évidemment. Quartier bruyant. Manque rideau salle à vivre pour plus d intimité
christelle
2017-02-23T00:00:00Z
The apartment is really big and beautiful, with views to a garden in a residential part of Dublin really well communicated by bus to the city center. The apartment wasn't as clean as expected, at the beginning a bit cold, but there's heating working very well. Communication with Brendan was really easy and good. Late arrival and perfect to welcome.
Natalia
2017-03-05T00:00:00Z
Typ pokoje
Celý dům/byt
---
Typ nemovitosti
Byt
---
Ubytuje
3
---
Ložnice
Donnybrook, Dublin, Irsko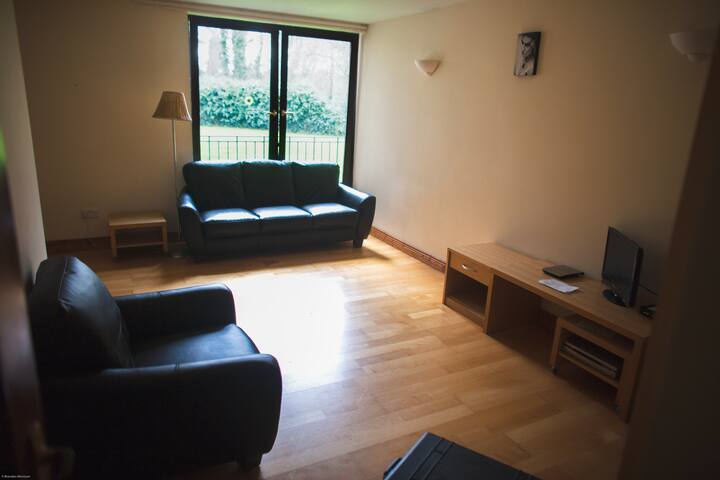 Privatzimmer in malerischen Dorf Sandymount - 5 Minuten zu Zug vom Stadtzentrum von Dublin und 5 Gehminuten vom Strand. Perfekte Lage nach Dublin City Centre erreichen, während die Freuden von Sandymount Strand und Dorf zu genießen.
Děkuji za velmi přátelské příjetí a atmosféru. Micheal byl velmi vstřícný a ochotný. Ubytování je v hezké a klidné vilové čtvrti blízko moře. Vše bylo v pořádku, pokoj malý, ale útulný, pohodlná a čistě povlečená postel. Oceňuji rychlé wifi. Dobrá poloha u vlaku (asi 600 m) do centra (jen 3-4 stanice - 6-8 min). Obchod (SPAR) a restaurace jsou nedaleko (asi 200 m).
David
2016-05-22T00:00:00Z
Nice, clean, comfortable room that was convenient to the DART, the Sandymount Town Centre, and the seaside. Micheál and his wife were very gracious hosts who attended to my needs. It was indeed a pleasure to have stayed with them.
Sean-Thomas
2016-06-02T00:00:00Z
Fantastic host. Friendly welcoming and very helpful. I was only staying for work till I could find a flat share but Michael and Tula were great. Thanks guys.
Ian
2016-05-14T00:00:00Z
Really great place to stay with great off street parking. Michael and tulula have a lovely clean home and where very helpful. Everything was very central I would have no hesitation in recommending here thanks for the stay
Donna
2016-06-17T00:00:00Z
I found Michael to be a great host. He offered me everything I needed and more (I was even offered help with my study, :) thanks MIchael). House and location were excellent. Highly recommended
Yasser
2016-09-24T00:00:00Z
A very comfortable bed and great transport links! Michael and Tula were very welcoming. I would recommend!
Darryl
2016-11-20T00:00:00Z
I was very satisfied with everything Micheal and Tula was very kind and helpful, they helped me with directions in the town and they always offered me coffe. The room was perfect and i enjoyed my 3 days holiday in Dublin.
Istvan
2016-05-24T00:00:00Z
I enjoyed my stay here and would recommend it for someone looking for a good place to spend a few days in Dublin.
William
2016-01-03T00:00:00Z
Typ pokoje
Soukromý pokoj
---
Typ nemovitosti
Byt
---
Ubytuje
1
---
Ložnice
Sandymount, Dublin, Irsko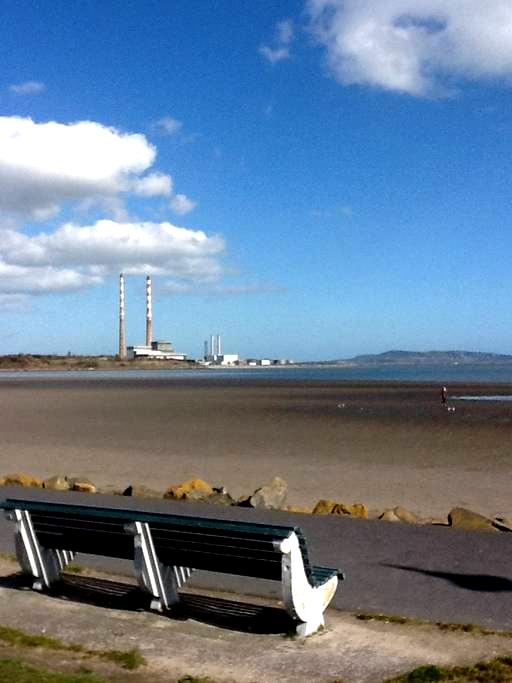 Ein speziell entwickeltes Selbstversorger-Apartment eine reife Einfamilienhaus mit separatem Eingang anschließt. Es ist innerhalb von 300m von Sandymount Strand, 200 m von Sydney Parade DART-Bahnhof, 10 Minuten vom Stadtzentrum, 5 Minuten von RDS & Aviva, 200 m vom Flughafenbus zu stoppen. Für die müden Reisenden werden Sie sich in diesem sehr ruhigen Wohnlage richtig sein, dass, ergänzt durch Verdunkelung wird eine angenehme Nachtruhe.
Nice flat in great location. Garden was especially good with our dog in tow. Couldn't have asked for more obliging hosts.
Cathy
2016-07-04T00:00:00Z
We arrived very late due to delays, however Marie waited up and showed us everything we needed to know upon arrival. Ideal place if you are only going to need it to rest your head, very clean/tidy and great location to the city centre. Jack and Marie provided tea/coffee/milk etc which was great, I would highly recommend this place.
Katie
2017-03-20T00:00:00Z
A wonderful little studio in. quiet neighborhood. The hosts were wonderul and extremely welcoming. I would definitely recommend this.
Finnur
2016-11-13T00:00:00Z
We had a great stay at Jack and Marie's this weekend. Firstly, they were very welcoming when we arrived, giving us a tour around the flat and around the sandymount area showing us the best places to eat, shop etc. They also provided us with a travel card for the weekend to help us get around the city. The flat itself is beautiful and was filled with everything we needed for our weekend stay, including cereal, milk, butter etc. It is in an excellent location and very easy to get to the centre. Definitely one of the best air b n bs we have stayed in.
Émer
2016-08-29T00:00:00Z
Jack made us feel very welcomed. We were exhausted coming from an 11 day tour of Ireland. This was a great place to unwind before flying back to the states. The back yard and deck was a place to just sit and relax. He made sure we were comfortable with the area , walked us to a restaurant for an evening meal and made us reservations for a cab to take us to the airport. He was very quick to respond to text messages
Lynn
2016-07-11T00:00:00Z
This is an amazing location if you are looking for a home away from home. Quiet, residential area and a space with impeccable attention to detail, right down to some very decent coffee in the morning. Highly recommended and very friendly hosts.
Sean
2016-05-26T00:00:00Z
I would highly recommend staying at Jack and Marie's private and detached flat -- it is perfect for one person. From initial contact to departure, it was easy to book and get my questions answered plus I appreciated how welcomed they both made me feel. Location is wonderful and in a great neighborhood with an easy walk to public transport. I had a car and there was no issue for parking. Jack even installed a stronger WiFi device which was terrific.
Judy
2016-05-04T00:00:00Z
Everything was great! Great neighborhood; cute little flat at the back of the property; clean; and Jack let us arrive a little early so that we could get to our event.
Melissa
2016-09-12T00:00:00Z
Typ pokoje
Celý dům/byt
---
Typ nemovitosti
Byt
---
Ubytuje
2
---
Ložnice
Sandymount, Dublin, Irsko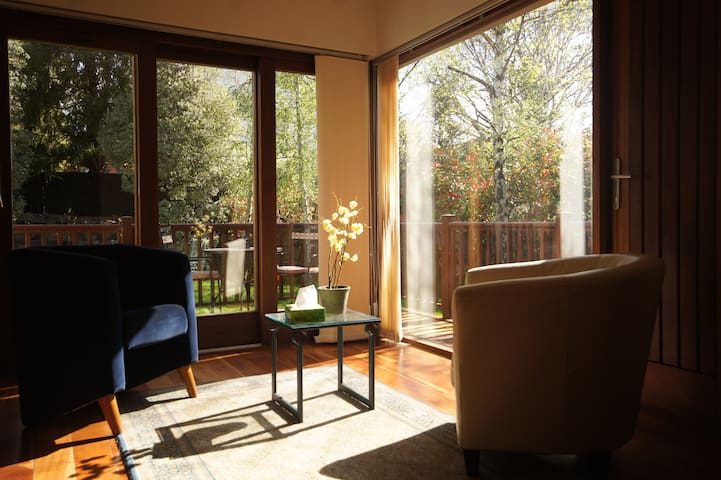 Un estudio de la planta primera plana conjunto renovado en una pintoresca casa del siglo 18 enclavado en el cinturón de Dublín 4 embajada frondosa. Situado cerca del pueblo de Donnybrook con fácil acceso desde el aeropuerto a través del aircoach. Perfecto para el Aviva, RDS, UCD, Belfield Business Park y Clonskeagh. 15 minutos en autobús o 30 minutos a pie del centro de la ciudad. Autónomo estudio con cama doble, cocina completa, lavadora, televisión por cable inteligente, WIFI, baño privado propia (independiente a la plana) con ducha eléctrica.
Gran sala de estilo georgiano brillante recientemente redecorado. Cama doble, edredón tog 15 y todos ropa de cama / toallas (que ahora incluyen albornoces!). Cocina completa con horno / inducción, microondas y cafetera Nespresso. Plancha y tabla, secador de pelo. WiFi súper rápido y la televisión inteligente. Pequeña biblioteca en la que se puede tomar los libros con usted o dejar libros antiguos atrás. Escritorio para trabajar. propio baño privado (no compartido) con ducha eléctrica siempre caliente.
Anglesea de la carretera está a poca distancia del centro de la ciudad, pero todavía conserva su carácter afluente. Conocido como el "cinturón de la embajada" los caminos vecinales en este comando verde distrito de los precios más altos en el Monopoly lo que debe ser agradable! En el año 2005 se pagó la suma de € 58million para una casa en la carretera de Shrewsbury cerca.
We really enjoyed our stay here! Everything was exactly as expected, Communication was great and Stephen replied to every question within minutes. A PDF with all Important things to know was shared in advance! I would definitely stay here again!
Svenja
2017-04-02T00:00:00Z
Take a dressing gown or similar for when you need the loo in the night as it is downstairs! It is your own private bathroom and toilet but you have to walk through a communal stairway to get to it.
David
2017-03-23T00:00:00Z
Stephen's studio is the perfect place for a comfortable and pleasant stay in Dublin. Ideal for couples, or to share with a friend, it's a quiet environment (located in a residential neighborhood next to a canal, with easy access to city centre) and it is fully equipped with everything you need! Both the studio (with modern kitchen) and bathroom was very neat and tidy when we arrived, and there was even a basket full of goodies, and morning essentials (specially for late arrivals!) such as coffee and tea. It was a very happy stay and a pleasure to stay at this studio. Would definitely recommend it or stay again whenever back in Dublin! :))
Josefina
2017-03-26T00:00:00Z
The apartment is very good, I could see a game of rugby by the window is super!! The communication with stephen is very good !
jouvance
2017-03-21T00:00:00Z
Typ pokoje
Celý dům/byt
---
Typ nemovitosti
Byt
---
Ubytuje
2
---
Ložnice
Ballsbridge, County Dublin, Irsko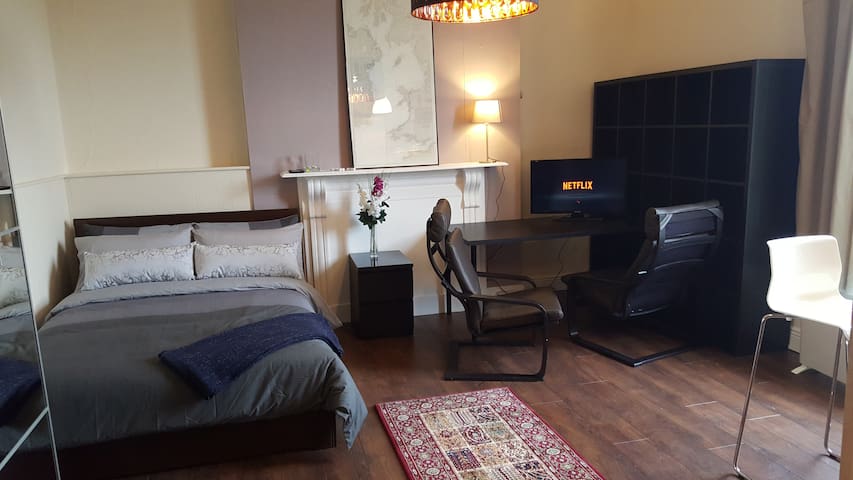 Im Idealfall von den RDS, 10min sich gegenüber. zu Fuß von AVIVA-Stadion, 15min. zu Fuß von Sillicon Docks & UCD, 20min. zu Fuß zum Stadtzentrum und 10 Minuten. zu Fuß zum Strand von Sandymount. Der Raum ist ideal für eine Person, sondern zwei Personen. Das Schlafzimmer verfügt über ein Doppelbett und ein Badezimmer ist geteilt werden. Privatparkplätze zur Verfügung.
Helle Doppelzimmer in der zeitgenössischen Wohnung in Dublin 4. Die Wohnung befindet sich in einem schönen und ruhigen Gegend von Dublin. Das Gebiet ist gut mit Bussen, Taxis und Dart verbunden.
Das Ballsbridge-Donnybrook, Dublin 4 Bereich, ist ein exklusiver Bereich von Dublin, nur 20 Minuten zu Fuß zur Grafton Street - Trinity Collage. Die Gegend ist voll von guten Restaurants und Bars. Dieser Bereich ist auch sehr sicher, und ein großartiger Ort zu basieren Dublin zu erkunden.
A big thank you to both Fernando and Seanan for their hospitality on my stay, my room was very clean and comfortable. Super location next to the RDS a great place for concert goers!!!
Fergal
2016-05-20T00:00:00Z
Fernando is really amazing guy. He done everything he could to make me feel like at home. I would love to stay in his flat again!
zahi
2016-09-23T00:00:00Z
Hele prettige accommodatie en Fernando is erg gastvrij en toegankelijk. Erg attent dat we elke ochtend een heerlijk ontbijt kregen. Zeker een aanrader om naartoe te gaan!
Madelief Roosmarijn
2017-02-26T00:00:00Z
Nous avons passé un séjour très agréable ! Fernando vous acceuil en ami, même si nous ne parlions pas très bien anglais il a su nous mettre à l'aise! Leur petite maison est tres cosy, et surtout idéalement placée pour se déplacer en bus ou en DART et il y a même un bus direct de l'aéroport ! Vous pouvez loger chez yeux les yeux fermés c'est une très belle adresse !
Marie
2017-03-13T00:00:00Z
The host canceled this reservation 132 days before arrival. This is an automated posting.
tamara
2017-03-10T00:00:00Z
Great place, and superb hosts! Highly recommended if you're looking for a great place to stay in Ballsbridge.
Michal
2016-08-20T00:00:00Z
My mom stayed at Fernando's for a week and he was so nice and kind that everything went wonderfully easy with his help. The location seems perfect for sights and flights. I really appreciate his hospitality.
원 (lynn)
2016-06-19T00:00:00Z
This is a wonderful place to stay in Dublin! Fernando waited up later to check me in after a delayed flight. He was very welcoming and was more than willing to answer my questions. I would definitely recommend staying here for any of your future visits!
Christian
2017-02-04T00:00:00Z
Typ pokoje
Soukromý pokoj
---
Typ nemovitosti
Byt
---
Ubytuje
2
---
Ložnice
Dublin, Dublin, Irsko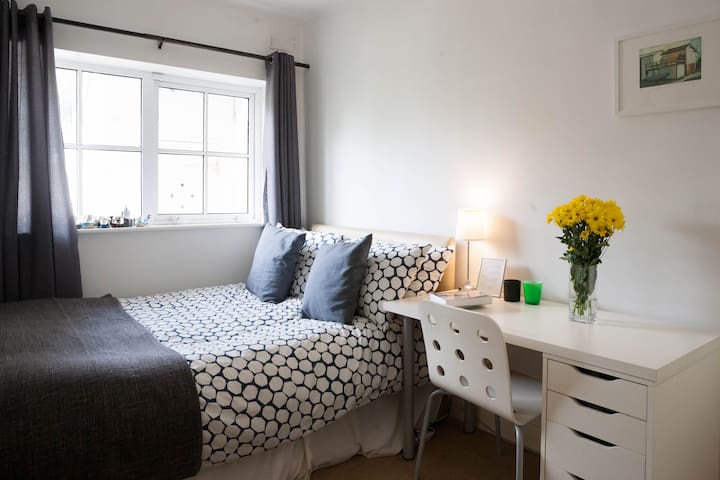 Schöne Wohnung befindet sich im 2. Stock in einem sicheren gated Entwicklung. Sie meinen Platz, weil sein gemütlich mit bequemen Bett lieben und nur wenige Gehminuten von UCD, lokalen Geschäften, Restaurants und Bars. Busverbindungen in die Innenstadt / Dundrum Stadtzentrum ist in der Nähe der Wohnung. eine grüne Wiese mit Blick macht diese Wohnung sehr privat; wenn Sie Glück haben werden erhalten Sie auch einige irische Stadt Füchse in ihrem natürlichen Lebensraum zu sehen :) Freuen Sie sich meine ersten Gäste begrüßen zu dürfen!
1 Kingsize-Bett (Schlafzimmer 1): Schlafen 2 1 Einzelbettcouch, die zu einem Doppel konvertiert (Schlafzimmer 2): Schlaf 1-2 1 Doppelschlafsofa (Wohnbereich): Schlaf 1-2
Lokale Geschäfte - Costcutter: Kleiner Convenience-Shop unter dem Appartementhaus, wo Sie in der Lage, Notwendigkeiten zu bekommen. - Lynam Fine Foods: Es gibt viele andere Convenience-Stores zu Fuß zu erreichen aber mein Favorit ist Lynam Fine Foods (5 Farmhill Rd, Goatstown). Dies ist eine sehr schöne lokale Feinkost, dass ein 15-20 Minuten zu Fuß von der Wohnung entfernt ist. Hinweis: öffnet bis 07.00. lokale Restaurants - Michael Italienisch (57 Deerpark Rd Mount Merrion): 10 min zu Fuß - Union Café (68 Deerpark Rd Mount Merrion): 10 min zu Fuß - The Goat Bar and Grill (14 Lower Kilmacud Rd, Mountanville): 15 min zu Fuß - Farmhill Cafe & Restaruant (9 Farmhill Rd, Goatstown, Dublin 14): 20 min zu Fuß - HX46 Café Pan Asian (4 Willowpark, Goatstown): 20 min zu Fuß lokale Pubs - The Goat Bar and Grill (14 Lower Kilmacud Rd, Mountanville): 15 min zu Fuß Wenn Sie möchten, entfernt ein bisschen weiter gehen würden aber von der Hektik des Stadtzentrums übernachtet weg würde ich immer den N.11 Bus zu Ranelagh Dorf (Bus Stop Nr 887 Ranelagh, Ashfield Road), wo es empfehlen ist Tonnen und Tonnen von fantastischen Restaurants und Pubs. Sie können ganz einfach die Nacht hier Bar und Restaurant-Hopping verbringen. Meine persönlichen Favoriten sind hier: - Mak (Cullenswood Road): spezialisiert auf Asian Street Food - La Bodega Tapas Bar (93 Ranelagh Rd): spezialisiert auf Tapas - TriBeCa Restaurant & Wine Bar (65 Ranelagh Rd): berühmt für seine heißen Buffalo Chicken Wings! - Kinara Kitchen (17 Ranelagh Rd, Dublin 6): spezialisiert auf die pakistanische Lebensmittel - R McSorleys (5 Sandford Rd): Nachtbar - Smyths von Ranelagh (75-77 Ranelagh): traditionelle irische Bar - Die Taphouse (60 Ranelagh Road): spealialises in Handwerk Bier.
Fantastic spot. A little out of the city however perfect for our trip. Host was great and communication excellent.
Craig
2017-03-19T00:00:00Z
Typ pokoje
Celý dům/byt
---
Typ nemovitosti
Byt
---
Ubytuje
5
---
Ložnice
Dublin, County Dublin, Irsko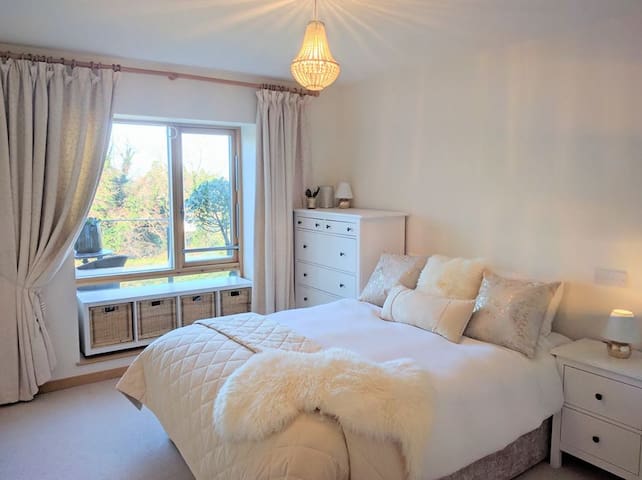 2 appartamento da letto (4 posti letto) in complesso recintato. Situato a tre minuti a piedi dal bellissimo campus University College di Dublino ea pochi minuti dagli autobus che vanno in centro di Dublino in 15 minuti. L'appartamento è stato recentemente ristrutturato e ben attrezzate. Adatto a chi viaggia per affari o per piacere, coulpes o famiglie. Include balcone e accesso al parcheggio sotterraneo. Prezzo per persona ma il tasso di famiglia disponibili anche. Non esitate a contattarmi.
The apartment was not quite as I expected. While it was easy to find and quite close to the University College Dublin Campus, it actual residence was adeqate, but not very welcoming.
Brynja
2016-08-28T00:00:00Z
Tricky to find the entrance but great location and Lorraine was very accessible and helpful. Very basic. Good value for family of four.
colm
2016-08-19T00:00:00Z
Beautiful spacious apartment! Very good value for money and great location with the bus stops right outside. Only problem was the lack of pillows and the original directions saying woodbine apartments, but it actually being apartments within "Woodbine House". These were both minor problems, and didn't take away from the overall stay we had.
Declan
2016-07-17T00:00:00Z
房屋整体很好,告知客人房屋就在都柏林大学对面会更好找,遗憾没有无线网络连接。 Housing overall very good, informed the house that the guests would be better looking in opposite University College Dublin, unfortunately, there is no Wi-Fi.
CHUNGWA
2016-07-23T00:00:00Z
The host canceled this reservation 2 days before arrival. This is an automated posting.
Aileen
2016-10-05T00:00:00Z
Nous avons juste passé une nuit; appartement assez spacieux, balcon, baignoire, etc. très bien situé par rapport au centre de Dublin, quartier très vert et agréable.
(EMAIL HIDDEN)
2016-08-10T00:00:00Z
Very nice student's flat in front of the University. Spacious and with parking below the ground floor. Good solution if you plan to visit by car Dublin city and the areas all around luke Drogheda and Kilkenny.
Milton
2016-08-02T00:00:00Z
Es war alles soweit ok. Wir hatten einen sehr guten Kontakt mit der Gastgeberin. In die Stadt kam man sehr gut mit dem Bus
Bernd
2016-09-03T00:00:00Z
Typ pokoje
Celý dům/byt
---
Typ nemovitosti
Byt
---
Ubytuje
4
---
Ložnice
Dublin, Dublin, Irsko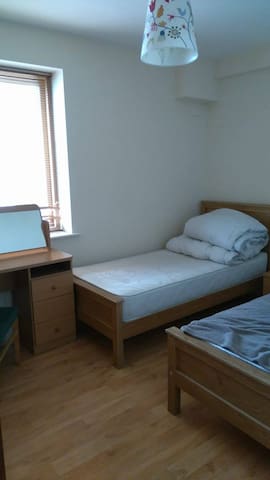 Moderne lejlighed i en fantastisk beliggenhed. 20-30 afstand fra byens centrum med bus en og luas. Stor tilgængelighed for Dublin bus (46a og 145 ..Stands udenfor), lufthavnsbussen (stop udenfor) og Luas (10-15 'walk) linjer. Lige ved N11 godt forbundet
Sikkerhed, Accessability
Lovely family to stay with very helpful and room is nice enjoyed my stay there would defintley recommend
Abi
2016-02-18T00:00:00Z
The apartment was very clean and modern. It wasn't too far from the city center about 30 mins on the Luas which is the public overland metro. Bats and his girlfriend (who made us tea and cookies) were very helpful and very professional. I would definitely recommend this place who wants a quiet but nice place to stay in Dublin.
Kristian
2016-01-02T00:00:00Z
We had a great stay at Bats'. The location was perfect as my husband and I were participating in a conference at the UCD. The flat is in quiet sector very close to a bus stopping very well connected to the city centre (around 20 minutes in bus). The room was clean and it is beautiful, very comfortable as it has its own bathroom. Bats and his family are very nice and we felt very welcomed! Definitely we would come back
Manuela
2016-08-26T00:00:00Z
Felt welcome, was a great host.
Reid
2016-01-31T00:00:00Z
Lovely family, made to feel extremely welcome. The room was amazing, clean and tidy with an en-suite. Good area, 2 minutes walk to the bus stop and 10 minutes to the local pub. Definitely will be recommending and look forward to staying again.
Rowena
2016-05-08T00:00:00Z
I booked bats airbnb for my parents and it was my first time using airbnb. It was great! Bats family is really friendly and the 2 kids are so cute. They treated my parents very well. They got a big breakfast and the apartment was clean and nice. It was an awesome stay. Thank you!
Isabel
2016-12-08T00:00:00Z
Bats and his little family were super nice! Bats gave us information about the bus routes which was very helpful. The room was nice and we even had our own bathroom. We felt very welcome in his home and had a great time!
Sofia
2016-08-17T00:00:00Z
Bats is an absolute Legend and a friend for life. I love this Guy and his family. From start to finish everything was provided the house is awesome and the place to stay whilst your in Dublin. I've stayed in Airbnb's throughout the world but this place I have zero complaints.
Ross
2016-10-03T00:00:00Z
Typ pokoje
Soukromý pokoj
---
Typ nemovitosti
Byt
---
Ubytuje
2
---
Ložnice
Dublin, Dublin, Irsko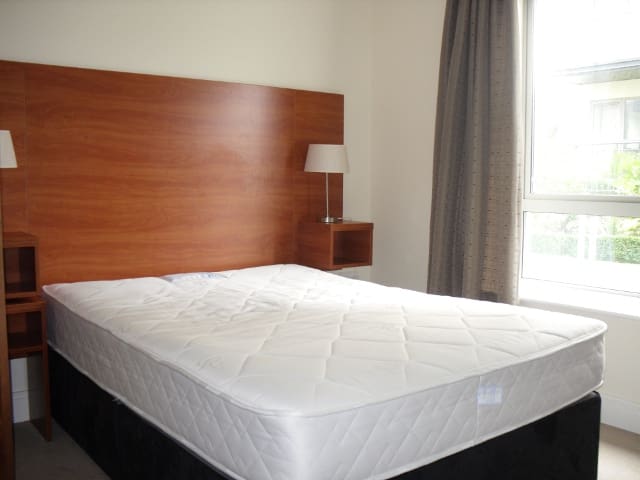 Di lusso e grande appartamento con due camere con due bagni, pulito, vista mare, 10 minuti a piedi UCD, bus 15 minuti (46A, 145, etc.) al centro della città, a 10 minuti a piedi dalla stazione dart. Sono sicuro che potrete godere di ogni momento a rimanere.
This is a very nice appt. Pics don't do justice to it. Much bigger and warm in the winter. Beautiful views and very convinient to all public transport . we had an excellent stay with both our kids. Enough space for them to run around.everything was well stocked in the appt. Thanks Carrie we had a lovely stay.
nidhi
2016-11-24T00:00:00Z
很舒心的一个房间,环境优雅,站在窗前可以欣赏美丽的海滨,你可以烹饪你喜爱的食品,你可以方便楼下和停车场存放你的爱车,就像在异国生活在家中,谢谢魏小姐的细心安排
jerry
2016-10-02T00:00:00Z
Carrie was a great host and answered any questions very quickly and in detail. The apartment is located in an area which is easily accessible and is close to both bus and rail if required. The apartment itself is exactly as described and is very clean and tidy. There is parking available at the premises. Overall the trip was hassle free and I would definitely recommend the apartment to anyone wishing to stay in the area. Thanks to Carrie for making the trip a very pleasant experience.
Niall
2017-03-19T00:00:00Z
The apartment is in a beautiful part or suburban Dublin. Situated on the 6th floor, the views are fantastic, panoramic windows and plenty space. We were at a wedding in town and just got a taxi in and out of town so it was perfect for us, it would also suit for a small family travelling, it's quiet & secure with great TV and Internet. What more could you want. 5* & at a very reasonable price. Thanks Carrie, we will be back.
Eamonn
2017-03-25T00:00:00Z
Very big and comfortable room with amazing views. Everything was clean and tidy, great experience overall. Would reccommend.
Albertoav93
2016-07-02T00:00:00Z
Went to Dublin for the weekend. Arrived at 12 in Dublin. As it said on airbnb, check in was suppose to be at 3 pm. 14.55 our airbnb host asked if the check in time could be delayed till 9 pm. Unfortunately that was too late. So she arranged a hotel room for us to stay. Perfect solution... at least we thought. Check out in the hotel was 11 am. We were told to come to the airbnb place after that. Our host then again asked us if check in time could be delayed till 3 pm... after some phone calls we negotiated that we could check in at 12.30 pm. From the outside the listing looked amazing. Perfect location. But the place was disgusting. Not clean at all: greasy, hairs and dust everywhere, only one towel. We had 2.5 days in Dublin... spending a day and a half stressing about where we were staying. The one full day we had, we spend moving around unsure of what to do.
Barry
2016-08-08T00:00:00Z
Absolutely no problems, apartment was lovely and it was easy to get into town
Siobhan
2016-10-30T00:00:00Z
Carries appartement provides a space that is easy to be in and with a great view through the floor to ceiling windows. The internet works, washing machine and dishwasher is available as well as iron and ironboard. Both bathrooms have a pretty good size and the waterpressure in the showers was good, which is not always the case in Ireland. The neighbourhood has a local feeling and at the same time it is obvious that you are in close range of the city. There was one thing with turning the heat up, that we did not know how to do. Carrie assisted us with the issue as soon as possible and it worked out very well. If we are going back to the same area for a conference another time, we will definitely see if Carries appartement is available.
Søren (Soeren)
2016-11-09T00:00:00Z
Typ pokoje
Celý dům/byt
---
Typ nemovitosti
Byt
---
Ubytuje
5
---
Ložnice
Blackrock, Dublin, Irsko
C'est un bel appartement confortable dispose d'une chambre double et une chambre simple. Nombreux rangements, salon, coin cuisine, parking, court de tennis. Situé dans un domaine paisible à 5 minutes à pied de l'UCD + près des bus + Luas en ville!
Nous aimons avoir des invités de ENB d'air sur notre appartement. Cependant, nous allons loin en Août pour une semaine et donc tout l'appartement sera disponible. L'appartement est situé dans un domaine calme, à 5 minutes à pied de l'UCD. (University College Dublin). Un arrêt de bus devant l'appartement vous conduira en ville en 20 minutes. Nous vivons aussi dans une promenade de 15 minutes de Dublin Luas où vous obtenez un tramway dans le centre-ville ou vers Dun Laoghaire pour la crème glacée et une belle vue sur les bateaux / mer.
Notre voisin est belle, car il contient beaucoup de jeunes familles, les gens âgés et les étudiants qui lui donne un grand mélange. Il y a toujours beaucoup à faire- et on peut aussi profiter d'un bain d'essai gratuite + séance de gym dans la salle de gym locale UCD (5 minutes à pied).
Accommodation was perfect. House is situated in nice neighbourhoods. Host was very kind. I recommend it.
Martin
2016-07-07T00:00:00Z
Typ pokoje
Celý dům/byt
---
Typ nemovitosti
Byt
---
Ubytuje
3
---
Ložnice
Clonskeagh, Dublin, Irsko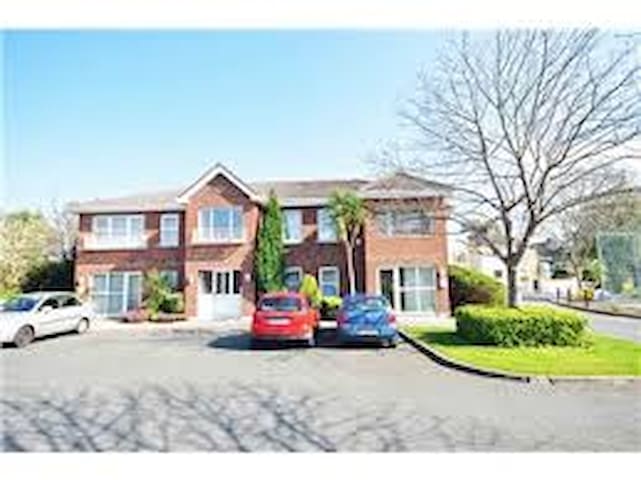 Edwina was such a host that I can really recommend! I enjoyed especially the time in the mornings during breakfasts with her. The room is as described very nice and clean. It was a pleasure to stay here.
Silvia
2015-08-14T00:00:00Z
"It's like staying with a friend"!!! The welcome, the breakfast, the chats... Edwina is extremely nice & welcoming. Her home is nice and close to the centre. There really isn't much more you could ask for! I highly recommend her place & Edwina as a host!!
Carsta
2016-01-05T00:00:00Z
Edwina was a phenomenal Airbnb host! She picked me up from the bus station and welcomed me with open arms. She made me feel at home in a new country and told me everything I needed to know about getting around Dublin and what places to check out. Delightful in conversation, we talked like we were old friends and set a new standard for hospitality. The apartment is just like the description says and is more than comfortable enough for a lone traveler like myself. I will definitely be visiting Ireland again and this will be the first place I will be looking to stay.
Eric
2016-01-01T00:00:00Z
il posto è veramente molto carino e le stanze non sono da meno. Edwina nonostante lavori molto è sempre pronta ad aiutarti e si impegna moltissimo per far vivere ai suoi ospiti delle belle esperienze durante il loro soggiorno temporaneo. mi ha aiutato a trovare un appartamento ad un prezzo modico cosa che senza di lei probabilmente non sarei riuscita a fare e mi ha pure portata ad un concerto quando non era assolutamente obbligata a farlo. non ho mai visto tanta gentilezza in una persona come ne ho vista in edwina e nei suoi amici.
Anna
2015-09-11T00:00:00Z
The room was lovely, super clean, and in a great neighborhood. The walk to Blackrock was very quick and easy. Although Edwina wasn't actually there for my stay, she was great about communication before my visit, and her friend was really helpful and friendly. Overall great stay. I would definitely go back!
Clea
2016-01-14T00:00:00Z
Edwina was very kind and did more than required by picking me up at the bus stop, very late at night. My stay was very comfortable.
Gianpaolo
2016-02-25T00:00:00Z
Edwina hosted me during my hunt for permanent accomodation in Dublin. My stay with her was absolutely enjoyable, she is a caring and warm-hearted person. I would definetely recommend her, it was an absolute joy to get to know her and stay with her.
Manolya
2015-09-01T00:00:00Z
Edwina was a very nice host. She made me discover Blackrock, provided information about Ireland and Dublin and recommended me some places to visit. The room was clean and comfortable and the typical irish breakfasts were really enjoyable. To stay at her place was a real pleasure!
Marine
2015-08-24T00:00:00Z
Typ pokoje
Soukromý pokoj
---
Typ nemovitosti
Byt
---
Ubytuje
1
---
Ložnice
Stillorgan, County Dublin, Irsko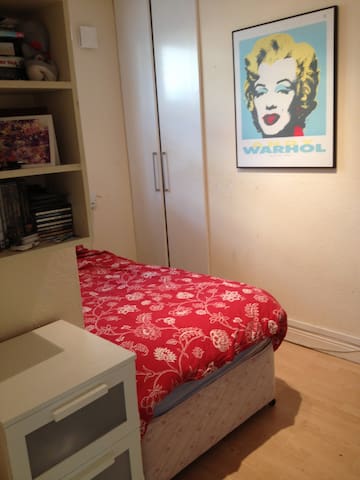 Denne fantastiske lejlighed ligger tæt på byens centrum, Sandymount Village og Ballsbridge. Det er på flere busruter, ved siden af Dart og tog og 15 minutters gang til byens centrum. Ved siden af Aviva og Sandymount Strand er meget malerisk med masser af butikker og restauranter inden for gåafstand.
Denne lejlighed er sydvendt, så det er lyst og luftigt. Det er nyindrettet med alle moderne faciliteter og fuldt møbleret. Placeringen er roligt, men centralt for byens centrum og ved siden af havet .. Den O3, RDS og Aviva er alle inden for gåafstand. Den dart og flere busser kører tæt ved. Denne grønne område er fuld af victorianske huse og fantastiske faciliteter på sit dørtrin.
Det er ved siden af Sandymount Strand på den ene side landsbyen i midten, som har flere restauranter, barer og butikker. Den anden side er Aviva og ud over det er det City Centre. Så det er meget centralt for alt, hvad der er nødvendigt for at nyde dit ophold i Dublin.
The flat is little but enough space to stay in. Everything was clean and Helen, the host, was very nice and flexible in arrival and departure times! Thanks
Mercedes
2017-02-20T00:00:00Z
L'appartement de Tritonvillle road comporte tous les éléments utiles pour un séjour agréable. Il est bien situé car le petit centre de Sandymount apporte les premières commodités, Tesco ouvert avec une grande amplitude horaire, une librairie où l'on peut se procurer des timbres, des pubs pour un premier ou dernier verre, un quincailler où l'on trouve de tout, une pharmacie. Et en prenant le Dart près de Aviva stadium en direction de Howth, arrêt Pearse station ou Tara station, on arrive au centre de Dublin très facilement. Helen organise très bien son accueil en se montrant disponible, elle offre quelques produits de base en cuisine. La relation est simplifiée, fondée sur la confiance. Je recommande cette location.
maud
2017-04-11T00:00:00Z
Dublin is a great place to visit. Helen's room is perfect for two and she gives you a binder of her favorite things about Dublin and other nearby cities as a guide to help you. It is close enough to the main areas like Temple Bar but definitely spend some time in Sandymount too. Cute neighborhood on the water with plenty of pubs. When I return I will definitely check if the room is available.
Chris
2017-03-26T00:00:00Z
The apartment was small (as you can see on the pictures) but with everything you may need during a short stay. There was stuff for breakfast (cereals, milk, bread, butter...) and that's really helpful. Is well communicated with train and buses even tho we didn't use them (city centre us about 40 min by walk). There are some restaurants near by in case you arrive late as we did. Overall it was a good stay and Helen is really kind, responsive and helpful.
Leticia
2017-04-03T00:00:00Z
Arrived at 10am and the place was ready for me. After an early start I got into the room and was happy with all on offer. It is a small place but had everything that was needed, bed, bathroom, small kitchen area. The stocked fridge and cupboard was an added bonus and took the problems out of having to get to the shops. Milk, eggs, bread, butter, cereals, even fresh OJ and yogurts too. Tea and coffee to keep me going! The place is only 5 minute walk from the Aviva Stadium and I walked into central Dublin in 35 minutes. The bus stop is only 3 minute walk away too and a 10 minute bus ride lands you in town. It is one of the cheaper places to stay (on airbnb) in the city and so do not expect the 5* Ritz. Sandymount itself is a lovely residential area, it was quiet and no problems at all. Was lovely to walk around looking at the fantastic houses. All in all a good 1st experience with Airbnb!
Roger
2017-02-27T00:00:00Z
Logement propre, bien situé, accès facile au centre ville. Helen est très disponible et prend régulièrement des nouvelles pour être sure que tout se passe bien (ce qui est très appréciable quand vous venez d'arriver à l'aéroport) Elle donne également des indications sur ce qu'il y a à voir. Un très bon rapport qualité prix et un très bon accueil... merci Helen!!
Laure-Anne
2017-01-02T00:00:00Z
Thank you for a wonderful stay! The apartment was cozy and convenient - I was on my own, and this was the perfect space to enjoy a quick getaway vacation. Bed and furnishings were comfy. It's a 5-10min walk to Sandymount center, with grocer, pubs, etc, and to the train into town, which is 2-3 stops away. Check-in was a breeze. Overall a very worry-free and welcoming visit.
Steve
2017-02-13T00:00:00Z
Typ pokoje
Celý dům/byt
---
Typ nemovitosti
Byt
---
Ubytuje
2
---
Ložnice
Sandymount, County Dublin, Irsko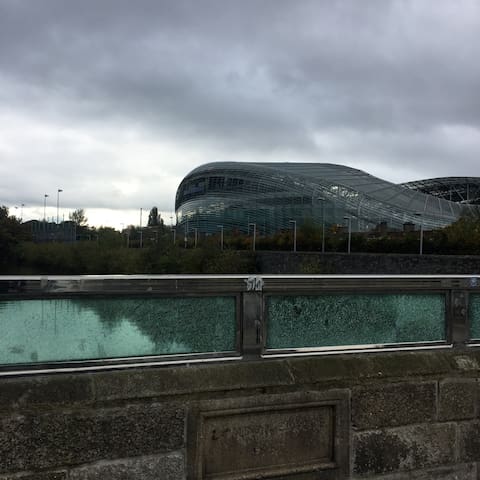 1

–

18

z

300+ pronájmů bytů
Pro zobrazení celkové ceny zadej termín. Mohou být přidány další poplatky a daně.