Gorgeous, light filled, private apartment in Sandy Bay, only 4.5km from Franklin wharf, Hobart. Everything you need for a comfortable stay, this apartment comes with 2 bedrooms (2 x double beds), full kitchen with everything supplied, internal laundry (so you don't run out of clothes) and stunning views from every room in the house! Breakfast provided, along with maps, recommendations to eat and drink, unlimited wifi, a space to park your car and even a private entrance.
Typ pokoje
Celý dům/byt
---
Typ nemovitosti
Byt
---
Ubytuje
4
---
Ložnice
Sandy Bay, Tasmánie, Austrálie
Sunny, cosy one bedroom apartment, walking distance to North Hobart restaurants and 5 minutes by car or public transport to Hobart CBD, waterfront and Salamanca market. Ideally located for day trips to beaches, mountains, Mona, bushwalking, and bike riding. Friendly host next door who is happy to share local knowledge.
Typ pokoje
Celý dům/byt
---
Typ nemovitosti
Byt
---
Ubytuje
2
---
Ložnice
North Hobart, Tasmánie, Austrálie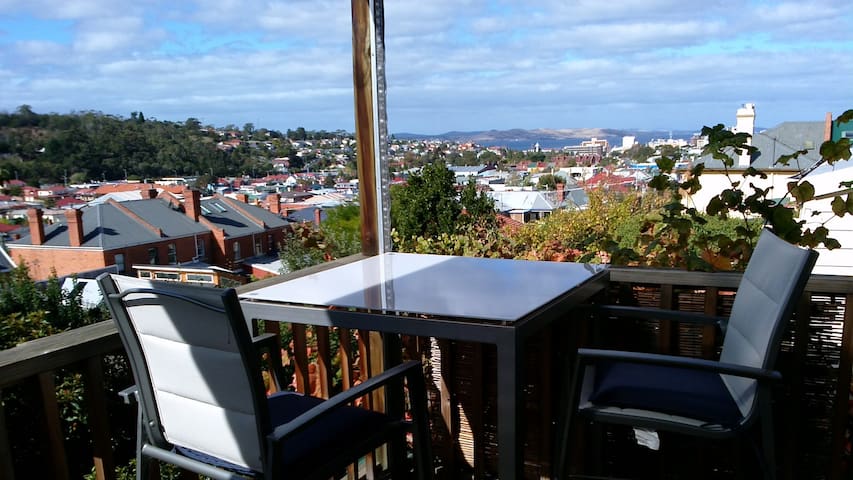 A spacious, light filled and very comfortably furnished 1 bedroom apartment with separate living & kitchen-dining rooms. With good sun and an attractive view this unit is a 20 minute downhill walk to the city with the West Hobart bus service stopping nearby if you do not wish to walk home. Set in the charming streetscapes of West Hobart, the apartment is close to the renowned Hill Street Grocer and the Lansdowne and Pigeon Hole Cafes . It is within walking distance to several good restaurants.
High speed wifi internet is provided. Bed linen and towels are provided and the kitchen is fully equipped. There is a short flight of stairs from the car parking area at the front of the apartment block which has only 4 units, two of which have very friendly long term residents.
The apartment is in a quiet location and is set in the charming streetscapes of West Hobart. It is close to the renowned Hill Street Grocer and the Lansdowne and Pigeon Hole Cafes and is within walking distance to several good restaurants.
Francis is a perfect host, the apartment is clean, nice, sunny and with a beautiful view! And close to everything! Loved it! I recommend it 100%. Cheers Francis !!
Edouard
2017-03-16T00:00:00Z
Typ pokoje
Celý dům/byt
---
Typ nemovitosti
Byt
---
Ubytuje
3
---
Ložnice
West Hobart, Tasmánie, Austrálie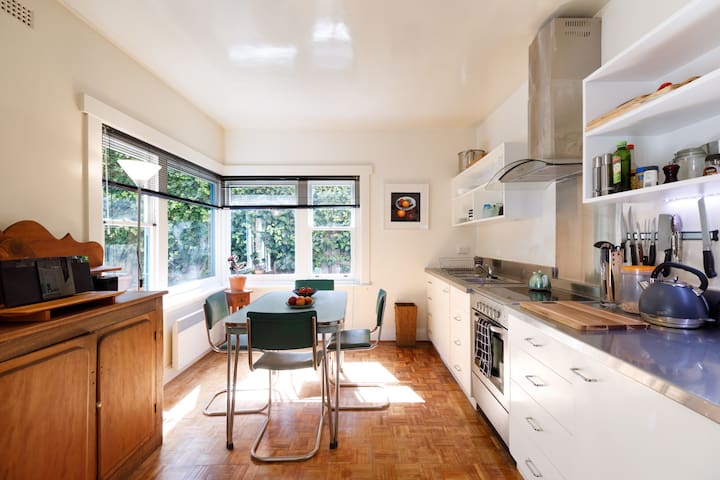 Eigenständiges, Studio zeitgenössischen Bett sitzen mit eigenem Eingang und Einrichtungen. (Siehe Fotos und Bewertungen). Ruhige Lage aber in der Nähe der besten Süd Bruny und mit herrlichem Blick über Daniels Bay und D'Entrecasteaux Kanal. Einfacher Zugang zu unstrukturierten Buschwanderungen direkt hinter dem Studio und auch in der Nähe zu den besten beliebten Wanderwegen auf Bruny. Die weltbekannte Inala Naturschutzgebiet liegt nur 5 Minuten entfernt. Dies ist, wo wir leben, würden wir lieben es als unsere Gäste mit Ihnen zu teilen.
Privat und moderne bedsit Studio für ein oder zwei. Studio Bett (siehe Fotos) ist eine doppelte. Wir können auch eine Qualität tragbaren Kinderbett und einen Hochstuhl für ein Kleinkind zur Verfügung stellen, aber bitte beachten Sie, dass unser Studio für ältere Kinder nicht geeignet ist. Studio ist gut isoliert, so ist im Winter warm und im Sommer kühl Ihr Badezimmer auch Wasch- und Trocknungsanlagen hat, die Sie gerne auf Anfrage zu verwenden.
Nahe Bruny Island Leuchtturm und Nationalpark. Die weltbekannte Inala Naturschutzgebiet ist nur 3 km. von uns. Qualität Dining ist auch in der Nähe auf Bruny Island Hotel und Bruny Island Winery. Dinge in der Nähe zu tun, von Strand und Anlegesteg Angeln, beim Wandern, Vogel- und Tierbeobachtung, Strand Wandern und Schwimmen oder einfach nur entspannen und genießen die Aussicht sind. Wenn Sie die Zeit haben, empfehlen wir Ihnen die preisgekrönte Bootsfahrt betrieben von Bruny Island Cruises hoch. Fishing Charters sind ebenfalls verfügbar und Rundflüge über Bruny angeordnet werden können.
Estelle and Ross are a beautiful couple who have created a place of peace and sanctuary on Bruny Island. We came to the island self sufficient to cook our own meals and Estelle and Ross made sure that we had everything we needed to be able to cook. The studio is a gorgeous space with beautiful attention to detail that is appreciated by aesthetic people. We were so grateful to them both for providing us with gluten free options for breakfast. Thank you! Both are easy going charming hosts who allow you to have your own space but are also incredibly welcoming if you want to have a chat. The view over the bay and the prolific birdlife made this a beautiful space to relax and unwind. Thank you to both of you.
Natalie
2016-01-10T00:00:00Z
We enjoyed our brief stay in this special part of Tasmania.
James
2016-09-07T00:00:00Z
Estelle and Ross were superb hosts. Their beautiful studio was easy to find and felt like a home away from home. I could not recommend this experience enough to anyone visiting Bruny Island. Thank you so much Estelle and Ross you made a great weekend wonderful.
Hamble
2016-05-01T00:00:00Z
Estelle was a lovely host, she made us feel welcome on a cold and stormy night, had the heater going and the room warmed up. The room was clean and comforting and the fresh baked bread was a real treat for the next morning.
Brent
2016-05-04T00:00:00Z
Great place, friendly and helpful hosts. Everything was accomodated for the baby (which makes travelling easier). A fresh homemade loaf of bread, cheese platter and local beer to enjoy a breath taking view. What else? Thank you Estelle and Ross for having us. We had a wonderful time on Bruny island.
Karen
2016-10-04T00:00:00Z
Estelle and her husband were fantastic hosts and were very friendly and welcoming The apartment was very comfortable and clean and tidy with great amenities We would recommend them highly and hope to get back to stay with them agai(URL HIDDEN)
Mark & Roxana
2016-10-20T00:00:00Z
Our stay on Bruny Island was wonderful and our hosts made it all the more comfortable and welcoming. The room is perfect for a weekend stay. It has privacy, amenities and is close to the Bruny Island pub and all the amazing national park walks. Highly recommended - value for money.
James
2016-04-20T00:00:00Z
We very much enjoyed our stay at Amaroo. Estelle was most welcoming, the studio was very comfortable and all spotlessly clean. We very much appreciated the small touches, the fresh bread and cheese were most welcome. The planned purchase of two comfy chairs will be an assest for a weary traveller.
Helen
2015-11-20T00:00:00Z
Typ pokoje
Celý dům/byt
---
Typ nemovitosti
Byt
---
Ubytuje
2
---
Ložnice
Lunawanna, Tasmánie, Austrálie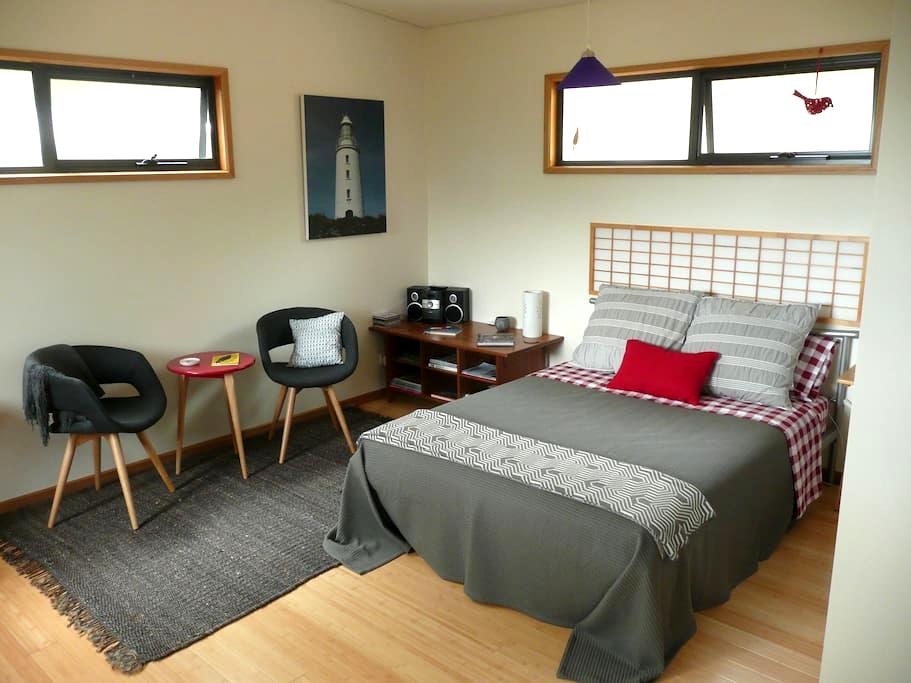 Modern, two bedroom apartment with off-street parking within walking distance of Salamanca Market and the City. This is the perfect base to explore Hobart and beyond– whether its a local restaurant, the MONA ferry, or wish to travel further by car. The apartment has a fully equipped kitchen, lounge, private outdoor patio, desk, WiFi and Netflix. The single beds can be made into one King-sized bed if you notify me at the time of booking. This is one of four apartments in the building.
Great place, great location. Highly recommend Dave's place!
Marianna
2017-04-10T00:00:00Z
Perfect location, great host... Excellent and highly recommended accomodation!
Torben
2017-03-18T00:00:00Z
Great spot for a Hobart weekend. Easy walk into Salamanca. Close to shops, clean, cozy and comfy!
Libby
2017-04-01T00:00:00Z
Perfect location, clean home and very accomodating host! We will be back :-)
Zoi
2017-03-25T00:00:00Z
Very stylish and clean place close to everything in Hobart! Comfortable mattresses!
Muriel
2017-04-08T00:00:00Z
Typ pokoje
Celý dům/byt
---
Typ nemovitosti
Byt
---
Ubytuje
4
---
Ložnice
Hobart, Tasmánie, Austrálie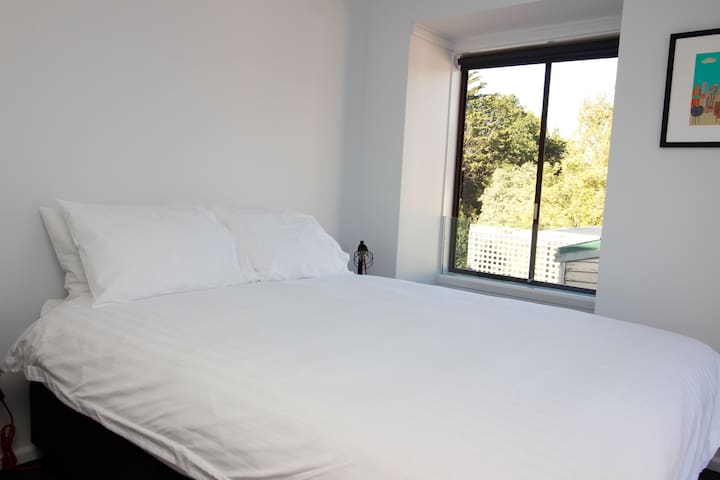 采石场自炊式公寓拥有屡获殊荣的设计和舒适性超出了所有人的预期。 该位置是首屈一指的。 放松身心,在我们友好的酒吧德曼啤酒市场的华丽包围楼下享用早餐,午餐或晚餐在我们广受欢迎的咖啡馆的Zum隔壁。关闭所有的霍巴特的神话般的景点,包括,莫纳渡口的城市,繁华的海滨,历史电池点,植物园和这么多!
采石场公寓是一幢建于1840年一个美丽的老建筑犯人的所有原始砂岩是精美细致,并在所有公寓的房间特色。空间有一个大的那种大床,厨房,卫生间和洗衣机。 采石场公寓坐落在萨拉曼卡广场,霍巴特的娱乐区,无论你是一个安静的咖啡馆,美丽的餐厅,酒吧或来领导到CBD你在众人步行距离之后。
We stayed here for a weekend, when we were visiting for a weekend. Great location, we coukd only hear the pub below on the saturday night, it was fine. The apartment is beautifully designed, perfect for a couple who've known each other a while, the location of the shower may be a bit close for comfort for a new couple or friends!!!
Kathy
2015-12-13T00:00:00Z
Perfect location and nice apartment from which to enjoy Hobart with many restaurant choices in and around battery point.
Robert
2015-12-11T00:00:00Z
Location Location Location in the best part of town. Very cool pad which is just what we were after in the big smoke. The Zum staff were extremely friendly and professional. The breakfasts there every was a bonus and excellent fare. You made the Hobart stay a highlight.
Sharon
2016-09-11T00:00:00Z
The apartment was clean and very comfortable. So close to the docks and great eateries! We arrived in the middle of the market day and we had been worried about parking but there was plenty to be had and then no charge in the side streets on Sunday. Breakfast was a treat too!
Cheryl
2016-02-29T00:00:00Z
Breakfast is included, good value.
Anna
2015-12-28T00:00:00Z
To be honest we left the Quarry Apartments quite disappointed. I booked the stay for 3 nights last week as part of a surprise getaway for my boyfriend's birthday. I wanted it to be really special so when I saw the pictures of the room I thought it was going to be amazing. I had seen some reviews on TripAdvisor where people had posted pictures of their room and the view was of a roof and I really wanted to make sure I got a street facing room, however when I looked sites like (URL HIDDEN) there didn't seem to be any way to request specific rooms and I couldn't find any information about which rooms were street facing or not. The pictures displayed on AirBnb of the Collins room I thought were showing street facing views (which may not be the case) so I went ahead and booked it. Turns out the pictures on AirBnb aren't pictures of the Collins room anyway. We arrived to find a much smaller, darker room than pictured with a view of the tin roof and air unit so as you can imagine I was very disappointed. We immediately spoke to the girl downstairs to see if anything could be done and she was very sympathetic and thought maybe they could shuffle things around but we'd need to speak to the booking manager. When I called her, however, she actually tried to tell me that the pictures were correct and seemed annoyed that I'd called her on her day off. She said they were fully booked and there was nothing that could be done and left it at that. I asked if maybe I could have some money back because it was quite expensive and I absolutely did not get what I thought I was paying for. She said she'd have to speak to her superior when she was in next. Nothing was mentioned again for the rest of our stay and upon checking out we believe it was the booking manager who took our key but did not ask us how our stay was or anything but simply said "enjoy your afternoon". For $220 a night after all the fees, I expect much better service than what we received. I think the location and the $20pp breakfast deals are the reason they are getting away with the price but honestly with no aircon or wifi, half the light bulbs blown and not even a bottle of water in the minifridge it was pretty disappointing. Maybe to some people the view doesn't really matter but I think the images should be changed to reflect the room you're really getting or it should say somewhere that the images are not specifically of the Collins room. This stay was by far the biggest let down of our trip and an expensive mistake we won't be making again.
Allie
2016-11-06T00:00:00Z
Location was very central and perfect especially for the Salamanca Market and the ferry to Mona as it's right on your doorstep. Note that if you're a light sleeper the public noise and music from the bar may keep you up.
Stephanie
2016-10-22T00:00:00Z
Stunning room in an incredib location. Right where you want to stay. We stayed in Collins which faced the back of the building which was better for the noise from the bar downstairs. It didn't trouble us at all but was certainly noticeable. We tried to open the window as our room was stuffy but were unable to. Apparently the Windows can open though. A lovely bonus was that we both had $20 credit at the cafe downstairs ($40 total) each day of our stay for a delicious breakfast. Highly recommended.
Mark
2015-12-05T00:00:00Z
Typ pokoje
Celý dům/byt
---
Typ nemovitosti
Byt
---
Ubytuje
2
---
Ložnice
Battery Point, Tasmánie, Austrálie
Situated just kilometres from Peppermint Bay, Bruny Island and the attractions of the Huon Trail. Studios built by current owners using Strawbale, local timbers, stone and recycled iron. Enjoy stunning vistas from 6 metre high windows of rural, bush & water vistas. Lots of native wildllife at your doorstep. The 2 bedroom can sleep up to 5 people and breakfast provisions are included for your first morning stay.
Woodbridge is a charming little hamlet only 40 mins South of Hobart, 5 mins from the departure for Bruny island just over the hill from the wonderful Huon Valley Region.
Fabulous views situated close to Bruny Island and oyster cove Marina Roomy studio that has a wonderful brick/stone fireplace, Eco drop loo and all facilities needed for a short stay
Lisa
2015-03-14T00:00:00Z
We enjoyed our stay very much at the Eco Strawbale studio. It's a beautiful place with amazing views across to Bribie Island. The hosts had freshly baked bread in the bread maker for our arrival! They certainly know how to make their guests feel welcome. We now wish we'd booked a longer stay there. It's a wonderful house in which to stay. It has amazing views and everything you need is provided (including a washing machine). We were extremely comfortable and happy there. The township of Woodbridge is gorgeous too. If you're planning to visit the area stay at the Eco Strawbale Studio and it's just a short drive to Cygnet and Huonville. We also enjoyed driving south around the peninsula during our stay. The ferry to Bribie Island is just five minutes north from Woodbridge.
Nancye
2016-01-17T00:00:00Z
We had s brief but lovely time. The fire was so cosy I was too hot in bed upstairs. But it's not a complaint. The bread was delicious and my son adored the chickens. A beautiful location and one I wil visit again.
Suzanne
2015-12-03T00:00:00Z
This place is so beautiful and the hosts were warm and forthcoming in all comms, although we didn't meet in person. The studio had everything I needed and was cozy for in mid winter. I'm planning to come back in summer.
Lily
2016-06-21T00:00:00Z
We absolutely loved this place! Spectacular view & stunning property. Everything we needed was there, including fresh baked bread (still warm in the bread maker) & other goodies for brekkie. The worst part? Only having one night in this piece of paradise! Thank you Melissa, Alby & kids :)
Melissa
2015-02-26T00:00:00Z
This is a big surprise for us , we arrived very late and found out this lovely house on the hill . Big window , full kitchen with food in the fridge and hot bread in the machine waiting for us ! Indeed there are animals around the house and the view is great !
dahai
2016-03-11T00:00:00Z
The reservation was canceled 26 days before arrival. This is an automated posting.
Monique
2015-02-09T00:00:00Z
This place is BEAUTIFUL. The views are so special and I couldn't recommend the little town of Woodbridge more. If you're keen to head to Bruny Island for the day, this is the perfect location.
Patrizia
2017-02-04T00:00:00Z
Typ pokoje
Celý dům/byt
---
Typ nemovitosti
Byt
---
Ubytuje
5
---
Ložnice
Woodbridge, Tasmánie, Austrálie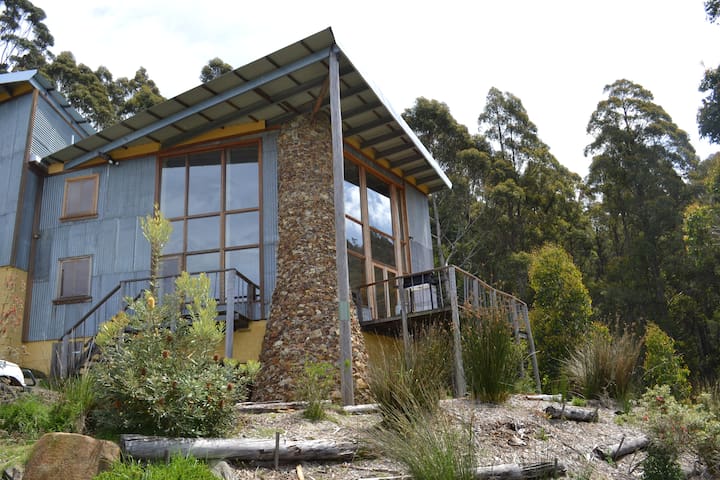 더 웬트 이상이 별도의 입구와 전망 평면 외딴 스튜디오. 호바트에서 불과 15 분,이 남부 태즈 메이 니아를 둘러보기에 좋습니다.
문앞에 킹스톤 해변, 또는 총 타워와 Hinsby 비치 안내소를 따라 산책로가 있습니다. 킹스톤 비치 쉬운 40분 도보 (7 분 거리)이며, 산책로를 따라 몇 가지 좋은 카페가있다. 킹스톤 (약 6 분 거리)의 도시는 슈퍼마켓, 레스토랑, 다른 상점의 좋은 범위를 갖는다.
Lovely place, lovely decor, beautiful view and a welcoming host! Highly recommend
Miranda
2017-02-26T00:00:00Z
Morven's cosy, comfortable and relaxing stay is a real jewel to the AirB suite on this part of the coast. Fully equipped in necessary requirements, compact and modern, clean and just enuf luxe to feel treated, I totally revelled in my stay there. The setting is a total stunner, esp for the walking enthusiast.. peaceful and relaxing, yet not too distant from amenities and conveniences. You will be pleased you booked a visit with Morven.
Su-lee
2016-12-29T00:00:00Z
A cosy comfy apartment with gorgeous views out over the water to South Arm and Bruny Island. Morven was considerate and informative of the local area and eager to help us with our travel plans without being obtrusive. A delightful alternative to inner city hustle and bustle.
Bruce
2017-02-11T00:00:00Z
I stayed at Morven's downstairs unit while in transition from a different city. I find Bonnet Hill where she is located to be very peaceful. It has great view of the Channel. The accommodation itself is very nice, clean, and well stocked. There were cherries, apples, bread, milk, jam, eggs, and a whole lot more when I arrived. Morven was very attentive and welcoming. I felt at home where I was staying. Thank you for your hospitality Morven!
Nurman
2017-02-07T00:00:00Z
This is a fantastic property with a fantastic host in a fantastic location. Despite our late arrival (thanks Tiger Air), Morven was most helpful, understanding and welcoming. The funky flat lives up to it's reputation and more...and we will most certainly be back. My 5 yr old son was exceptionally well entertained by Morven, with books, games, toys and a gardening lesson. Thank you very much
Edward
2017-03-24T00:00:00Z
Morven is an exceptional host. The flat was immaculately clean and very comfortable. The flat has every thing one might need. The fridge was even stocked with milk, bread, and eggs.
Richard
2017-02-17T00:00:00Z
Morvens place is so cute! Its cosy and easy to get to. I love the bed nook - definitely the best part! Would recommend/10
Samantha
2017-04-09T00:00:00Z
Morven has been especially kind and helpful to us. Her place is very private and cozy. We didn't have a car and we were able to take the bus into Hobart. The local tracks (trails) are easy and beautiful. The flat had everything we needed. Morven supplied the basics for a couple days breakfast and also let us use her laundry. She has tons of info on local attractions and her suggestions were spot on. We highly recommend a stay in the Funky Flat.
Bridget
2017-03-10T00:00:00Z
Typ pokoje
Celý dům/byt
---
Typ nemovitosti
Byt
---
Ubytuje
2
---
Ložnice
Bonnet Hill, Tasmánie, Austrálie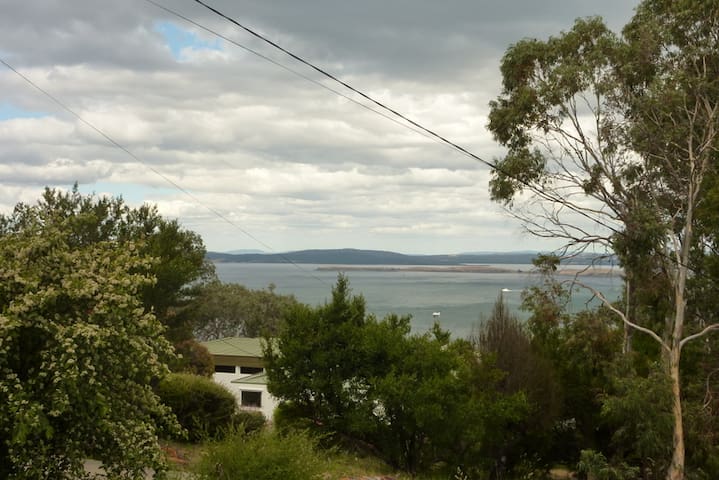 트리 탑스 하이드 어웨이는 금강산 웰링턴에 화려한 정원과 숲 속에서 나무 사이에 담근다. 호바트의 독창성과 아름다움은 단지 10 분 거리에있는 동안 자연이, 당신의 문앞에있는 태즈 메이 니아 수명을보세요.
트리 탑스 하이드 어웨이는 완전히 자기 태즈 메이 니아의 상징적 인 금강산 웰링턴의 아름다운 정원 설정 내에 자리 잡고 있으며 그 평면 포함되어 있습니다. 우리의 고유 태즈 메이 니아 1920 검은 수직 보드 홈에 확장으로 제작 된 하이드 어웨이는 자신의 전용 출입구 및 계단과 원래 집에 별도의 날개에 있습니다. 평면 가득 빛이 완비 된 주방, 개방형 거실과 식사 공간이 포함되어 있습니다. 태즈 메이 니아 골동품과 수집품으로 장식 된 식탁과 의자, 콩 주머니 당신은 휴식과 금강산 웰링턴의 장엄한 아름다움을 즐길 수있는 편안한 이불이있다. 또는 당신은 32 인치 TV를 즐기거나 친구 및 가족과 따라 잡기 위해 무료로 무선 랜을 즐길 수 있습니다. 플랫은 산에 당신에게 따뜻하고 아늑한 동안을 유지하는 퀸 사이즈 침대, 셰리 던 시트, 새로운 푹신한 수건과 편리한 오일 히터와 하나의 주 침실이 포함되어 있습니다. 겨울에는 doona (이불) 아래로 고품질의 거위을 즐길과 여름에 우리는 가벼운 침구를 사용합니다. 침실 밖으로보기는 놀라운 반 에이커의 정원을 감상 할 수 있습니다. louge 방에서 이불도 이명 또는 아이들을 잘 수있는 편안한 더블 침대 밖으로 폴드. 트리 탑스 Hideway은 샤워 시설을 갖춘 욕실을 가지고 있으며, 우리는 당신에게 당신이 세탁기와 건조기를 사용할 필요가해야 우리의 세탁에 대한 액세스 권한을 부여 할 수 있습니다. 우리는 또한 우리가 당신은 - 단지 우리는 당신이 필요 알려 빌려줄 수 건조 랙, 다리미와 다리미판이 있습니다. 하나의 창을 제외하고, 트리 탑스 Hideway 손님에게 외딴 편안한 휴식의 oppurtunity을 제공, 우리 집에서 볼 수 없습니다. 이 은신처는 편안 태즈 메이 니아 산 환경에서 이내에 빠져들게됩니다. 당신은 열대 우림을 냄새 물총새와 황갈색 frogmouths을 듣고, 태즈 메이 니아 currawongs와 앵무새의 호출을 경험 그들이 산을 비행로와 건방진 앵무새와 다른 많은 새를 볼 수 있습니다. 그리고 밤에, 바로 Hideway 외부, 당신은 왈라비, 덤불 왈라비와 가끔 스파이더 맨과 quoll와 인사.
펀 트리 자연 애호가를위한 천국입니다. 460m 높이에 위치한이 호바트에서 가장 높은 교외와 금강산 웰링턴의 우뚝 솟은 잇몸 내에 자리 잡고있다. 그것은 그것의 아름다운 위치, 독특한 정원과 아름다운 일출에 대한 존경한다. 짧은 십분에 이르기까지 부시 워킹의 큰 네트워크,의 은신처에서 길을 가로 질러 시작 하루 종일 인상을 통해 산책. 트레일이 네트워크에 포함하면 로컬 술집에, 열대 우림을 통해 이동하는 우리의 마음에 드는 십분 트랙이다.
We stayed at Anne and Peter's place for 10 nights. We had a wonderful time. She is a wonderful host being approachable and very accommodating. Thank you so much. We truly enjoyed the mountain feel and scenery, and our kids loved the two dogs from Anne. We highly recommend if you are looking for a quiet house, that is still central to Hobart's CBD.
Hak
2017-01-25T00:00:00Z
Thank you Anne and your family so much. We really enjoined to stay in your accommodation. You are so kind and helpful to support us. Your place are very beautiful and convenience. Highly recommend to everyone to stay in Anne's house. Once again thank you so much. Hope to see you again. Best regards, HUY VU
GIANG HUY
2016-01-08T00:00:00Z
Anne's place is fab - waking trails you can actually walk to from the house, about a 15 minute drive to Hobart for careful and slow drivers like us, the actual space was lovely - in amongst the trees, lots of natural light, separate bedroom, lovely bathroom. Would recommend for short or extended stays.
Edward
2017-03-27T00:00:00Z
We had a wonderful stay at treetops hideaway. The location was fantastic. So close to beautiful bushwalks, rainforest and waterfalls and 10 minutes from Hobart. The apartment was clean, cosy and relaxing.
Tina
2016-09-11T00:00:00Z
Im sorry I took so long to write this review which cant be missed and had been proven by numerous others. Truth be told, I book accomodations mainly based on reviews and when Anne had such good reviews, I said "tree top on underwater, lets do it". Anne and family was really helpful and friendly. They are also very responsive. Besides, Anne really takes good care of your needs when you are staying in her warm room ie: the condiments usage and refills initiatively, they provided more than what any other host does by far. Im abit scared of dogs, but despite them having two, they are in their own garden and am really obedient. We took a picture with them all before leaving, and hope to see you again! Stay lovely and take care Anne&family. Cheers, Glynnis and friends
Glynnis
2016-01-20T00:00:00Z
We enjoyed our stay in Anne's atmospheric hideaway on the side of Mt Wellington. Great location; very helpful & welcoming hosts. We would be more than happy to visit another time.
Duncan
2017-02-19T00:00:00Z
Lovely people. Lovely place. The bunnies and dogs were a hit with our five year olds. Such a refreshing and relaxing stay.
Jonathan
2016-12-01T00:00:00Z
Nice environment and friendly host :) Many wildlife can be found just along the roads! All facilities was well prepared and in good condition.
Chris
2016-08-06T00:00:00Z
Typ pokoje
Celý dům/byt
---
Typ nemovitosti
Byt
---
Ubytuje
4
---
Ložnice
Fern Tree, Tasmánie, Austrálie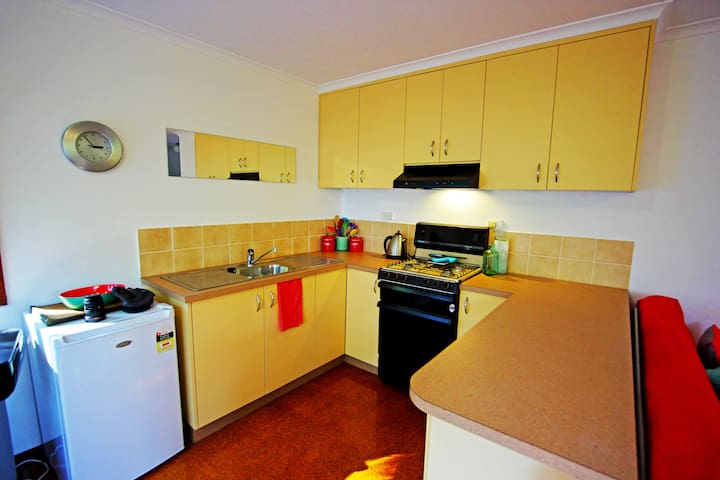 ! Guests love the tranquility, the rural views, the luxurious Blessed Earth organic bedding, the healthy low-tech environment, wheelchair accessibility, abundant books, garden produce in season, and involvement or peace ... whatever you need. You just need to tell me! Breakfast first day.
Carefully built for health & energy efficiency. This spacious unit is cosy, with Noirot heaters to warm the space quickly. You will sleep well here!
Without hesitation I recommend Cygnet as a great place to stay especially for folk who enjoy food & great coffee. There are 8 eating places here, including 2 pubs. 17 mins from here the 'best fish & chips' (I'm partial to their calamari!) If you like to walk or cycle you can take the flat & the hilly. Visit Drip Beach Lymington if you like to dip in clear water.
A great get way location in a great village
David
2017-04-10T00:00:00Z
We had a lovely stay at Mary's. It was quiet and warm and cosy and the bed is very comfy (if a little small for me as I'm 6'4" and the bed is a double). Mary is a delightful host, with lots of good information and an inspiration for any eco-house builders out there. The apartment is a good size with separate bedroom and a living/kitchen area with a big comfy couch and gorgeous views across the green hills of Cygnet. The breakfast supplies for the first morning were delicious!
Sandy
2016-12-27T00:00:00Z
My wife, daughter and I had a very nice two night stay at Mary's house. We enjoyed the serenity, breathtaking views, and spacious accommodation. But, most importantly, Mary's hospitality, willingness to help and local knowledge made our trip very special. Highly recommended.
max
2016-12-31T00:00:00Z
Mary's place was exactly as described in the advert and more. Comfortable clean and warm and inviting. Thoroughly enjoyed our stay and Mary was absolutely marvellous
David
2017-02-16T00:00:00Z
I need a lot more stars to express what I think about Mary's accommodation business. Straight fives aren't enough! Beautifully located in a township I've always loved. Her flats are really well built and thought out. They show a willingness to buy quality. There is also a Northern European minimalism, along with quirky touches of beauty in unexpected corners. She is firmly and thoroughly green in ideology and praxis. I felt so much at ease and at home.
Henry
2017-03-13T00:00:00Z
Typ pokoje
Celý dům/byt
---
Typ nemovitosti
Byt
---
Ubytuje
2
---
Ložnice
Cygnet, Tasmánie, Austrálie
Lindo apartamento, acogedor en una zona tranquila, con vistas al Monte Wellington. A poca distancia de tiendas y parada de autobús a Hobart CDB. Es fácil de conducir a la playa de Kingston (o 20 minutos a pie). Requiere al menos 24 horas previo aviso y por la reserva.
Kingston es un suburbio a unos 15 km al sur de Hobart. También se encuentra a 15-20 minutos en coche de Kettering, donde se puede coger el ferry a la isla de Bruny. También es una distancia similar a explorar el hermoso valle de Huon.
Beautiful view of the mountains. The apartment is in a nice residential street with off street parking, close to shops and about 10/15 mins from the city centre so it's nice and close to everything yet far enough to not be in amongst the hustle and bustle. Nice and close to Kingston beach too. All of a 2 minute drive to a 24hr McDonald's. Spacious apartment with comfy couches and a comfy bed.
Adriana
2017-01-01T00:00:00Z
We had a fantastic stay. Check in was very easy with an accessible key, and we opened the door to find a clean well equipped apartment with everything we needed and beautiful views of nearby mount wellington. She also left us a welcome pack with helpful list of transport, shopping and nearby attractions!!!
Sandeep
2017-01-09T00:00:00Z
This place is in a quiet residential area. It is clean and has all the amenities that a couple would need in their travels. Anastasia's place is very central in location to Hobart and the Huon Valley. A great place to stay.
Jill (and Ray)
2017-02-27T00:00:00Z
This apartment works well if you need to be in Kingston. It's about 6 minutes from two great beaches and even closer to the shopping centre. It is comfortable and convenient
christopher
2017-01-16T00:00:00Z
Comfortable, private apartment. Ideal as a base to visit the area.
Martin
2016-12-22T00:00:00Z
We thoroughly enjoyed our stay at Anastasia's apartment. It was immaculate and very cosy. We also loved the vintage feel of the place. The bed was extremely comfortable too, perfect for those with back problems.
Myra Sze Min
2016-10-02T00:00:00Z
Anastasia's apartment is super cute. Clean, organised, unique and full of personality, it has everything you need and it feels like home. Photos are very accurate. She's got the best bed in the world too!! We only stayed for a quick overnight on our way back from Bruny Island so the location was easy and and safe for us. And she was fantastic to deal with. Would most definitely recommend!
Aline
2016-03-16T00:00:00Z
We had a great stay at Anastasia's house. Loved the eclectic decor and great location- thank you for having us.
Amanda
2016-03-14T00:00:00Z
Typ pokoje
Celý dům/byt
---
Typ nemovitosti
Byt
---
Ubytuje
2
---
Ložnice
Kingston, Tasmánie, Austrálie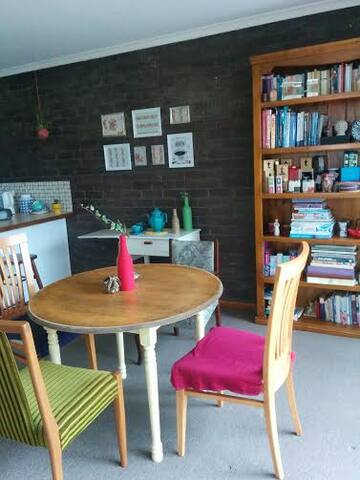 薪のある居心地の良い、暖かい泥レンガ/セロリトップパイン3部屋のアパート。 15エーカーのw /素晴らしい庭園と景色にバーベキューエリアとバルコニー。ラウンジ/ダイニング、木材火災、キッチンとバスルームを組み合わせました。街へMONA / 20分~10分。 素敵な空間が、あなたのタスマニアの冒険のために自分自身をベースにあなたが何年も話をしたか、単に他の誰かが火によってだ読ん予約書き込みを開始します。 美しい場所で美しい空間!
ホバートとMONAに近いので、まだ美しい渓谷に囲まれ、私たちは、美しく装飾された暖炉のある非常に暖かく、居心地の良い3部屋のアパートを持っています。非常に暖かい燃焼の暖炉、大きなキッチンエリア、電気毛布、バスルームと組み合わせたラウンジ/ダイニングルームとクイーンベッドがあります。風景は壮観の短いものではありませんので、我々は15エーカー上の3側面の山に囲まれています。私たちの水は私たちの背後にある山からの天然温泉から私たちに提供され、透き通っと水のような味べきです。私たちは(あなたが歩き回るを歓迎している)美しい庭園、滝や11アヒルとダムを持っています。 野生生物の負荷が定期的にビューにあります。カンガルー、ワラビー、バンディクート、Kookaburras、常駐エキドナとさえカモノハシ! MONAへの旅行やごタスマニアの冒険のためのベース、離れて週末に最適です。
Collinsvaleは3両側に山に囲まれている素晴らしい谷間に設定され、非常に静かな農村地域(まだ街に近く)です。 Collinsvaleは、熱帯雨林やブッシュランドを介していくつかの素晴らしい散歩を持っています。私たちは、5分は地元の雑貨店/ガソリンスタンドまで歩いている、10分には、MONA(旧と新美術館)、12分に運転します。ショップやスーパーマーケット(ノースゲート、グレノーキー)に、5分、23分がホバート市に運転し、35分にはホバート国際空港へ/から車で、美しいマートルの森に駆動します。
Craig and Adam were very friendly and my daughter adored their dogs. Beautiful spot though the GPS sent us on a wild goose chase to find it. Craig and Adam were very accommodating with providing an extra mattress so my older daughter could join us on the first night. We saw a few pademelons which I loved (as we only have their much bigger cousins at our farm - Kangaroos). Nice to have your own secure private space for a good price and with good TV reception (which a lot of places around Hobart don't have due to the mountains). The guys offered to light the fire for us which was lovely but we didn't think it was cold enough to need it so didn't get to see it in action.
Loretta
2016-02-22T00:00:00Z
This was our 1st Air BnB experience and it was a great introduction. Craig and Adam were totally friendly, welcoming and helpful. The mud brick style log cabin was lovely, cosy and clean in a beautiful place in the country setting. The bed was very comfortable and we had everything we needed. They even loaned us their Tom Tom for a while. Thanks guys we really appreciated your hospitality!
Russ
2016-02-04T00:00:00Z
Craig & Adam could not have been more welcoming, friendly & accommodating. They were very respectful of our privacy. The space is small but very cosy & has everything you need for 2 people. They even supplied a slow cooker and put away our washed dishes every day! Very thoughtful. Thanks guys!
Anna
2016-08-04T00:00:00Z
非常漂亮的一所大房子,房东问了我们的时间后帮我们规划了非常详细的行程,非常棒!
Wei
2016-02-19T00:00:00Z
What a great place this is. And what fantastic hosts. We stayed in winter and not only did Craig have a fire going when we arrived home each night, he even came and lit the fire on an especially cold morning! We loved the cottage and the beautiful property. We had everything we needed and would have loved to stay longer. I would come back again any time and would love to try out the bbq and balcony.
Bernie
2016-07-15T00:00:00Z
This was our second stay. This time we had the self contained apartment. First time the lower level of house. I like both options. The reason we returned is because we love it and the guys are really friendly. Of course it is also the really lovely accommodation that tops it off. Wonderful gardens. Lovely place. My gf, Bell, misses the two dogs. Sam and Zeehan. Thanks guys
Jack
2016-03-18T00:00:00Z
Craig's place is lovely and cosy and is up in the mountains. Equip with fireplace, lovely decor and a comfortable bed - its definitely worth a visit. Close to Mona museum also, and the city/waterfront is about 20 mins away.
Calvin
2016-11-12T00:00:00Z
Perfect getaway! Such a warm and inviting welcome by the boys and their very friendly dogs :) greeted with a bottle of wine and a roaring fire, couldn't have asked for more! We especially loved the grounds with a duck pond a few steps from our door and forest/waterfall trails just a short drive away! Craig and Adam were incredibly accommodating and reccomended some amazing places to visit, and made us feel right at home! Could not reccomend enough! You'll never find experiences like this at a hotel :) Thank you for making our first time to Tassie so memorable!
Dom
2016-07-13T00:00:00Z
Typ pokoje
Celý dům/byt
---
Typ nemovitosti
Byt
---
Ubytuje
3
---
Ložnice
Collinsvale, Tasmánie, Austrálie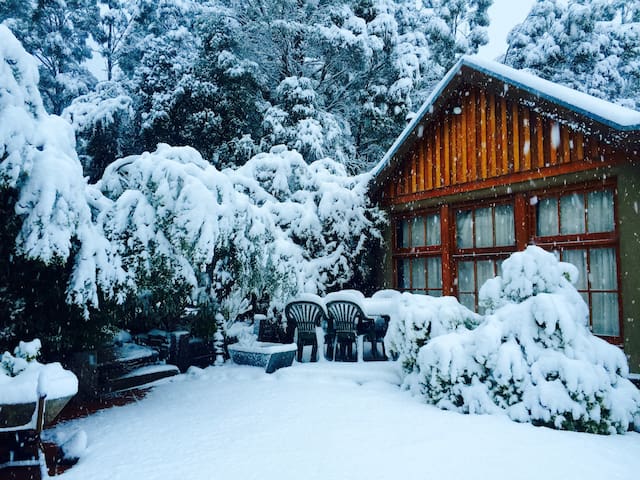 Looking for a home away from home? A place to rest and rejuvenate that is close to the city (10 minutes to the CBD) but surrounded by nature, her silence and peaceful sounds?
This unique and charming light filled room with its own private entrance, en-suite bathroom, and custom designed, fully functioning kitchen is nestled at the foot of the majestic Kunanyi (Mount Wellington) and offers an experience of everything that is nourishing and beautiful about Tasmania. The water views of the river Derwent from the comfort of your warm and cozy queen sized bed and views of the looming mountain above are second to none, with sunrises worth setting an alarm for. The land is abundant with wildlife and features vast organic food and flower gardens. All of the water (drinking and bathing) on the property, is sourced from a sparkling mountain stream that boarders the property and is some of the cleanest water in the world.
Countless nature trails, beautiful waterfalls, lush old growth temperate rainforest and swimming holes are literally just a stone's throw away from your doorstep.
The perfect getaway from the busy city! The place was beautiful and exactly as described. It was warm and cosy when we arrived. We loved it!
Laura
2016-08-07T00:00:00Z
What a wonderful place! It's a beautiful retreat. We loved all of the ammenities. The shower is gorgeous. We enjoyed seeing all the wildlife and wish we had longer. It's hard to find at night and waze steared us wrong but we found it. Thank you!
Mindy
2015-05-12T00:00:00Z
Mieke's mountain nest is quite wonderful. One looks up at an inspiring view of mt wellington and down on spectacular water views with chooks and gardens in between. Sunrise and sunsets are simply magnificent viewed from the comfort of a lovely bed. Mieke has an artists eye for colour and interior decorating and the open plan living quarters are just lovely. Earthy warm tones are beautifully blended to promote a rustic, warm and charming space. Mieke is a welcoming and friendly hostess generous in sharing her extensive knowledge of the area. Lovely bush walks. Thank you Mieke for a lovely stay. Bruce and Jules
Bruce
2015-07-30T00:00:00Z
This was the perfect base in Hobart for our 3 night stay. This place is gorgeous, so cosy and comfortable. Mieke was a wonderful host, and we loved the extra touches of organic teas and fresh raspberries. Would definitely recommend.
Rudi
2016-04-10T00:00:00Z
A very beautiful little clearing in the verdant south hobart hills. We felt completely isolated yet only minutes from the city. The place is gorgeous and Mieke is a kind and lovely host. Recommended.
Tom
2015-07-13T00:00:00Z
Our stay in the Mountain nest was absolutely wonderful. We had a great time and loved the unit. It was everything we needed and more with the beautiful location....the first morning we woke up to the most amazing sunrise. Mieke was a great host and the unit was clean and tidy and unique.
Tamsin
2016-10-12T00:00:00Z
Mieke was an excellent host. very hospitable on arrival picking fresh eggs and raspberries from her yard for us. the accommodation was very scenic, private and romantic. Would certainly recommend to anyone visitng Hobart.
George
2016-03-13T00:00:00Z
We had a lovely 4 nights at the Magical Mountain Nest. Such a beautiful part of the world, nestled in the woods but only 10 minutes drive from the cbd. There are plenty of things to do/see/eat nearby. Vanidols restaurant is great for dinner and Ginger Brown cafe was our favourite place for brunch. Places you must visit are Cascade Brewery, the Female Factory and Mt Wellington. The accommodation was very comfortable and fully equipped with everything we needed. We loved the amazing range of teas in the cute kitchen, waking up to an amazing view of the Derwent River and exploring Miekes beautiful garden.
Linda
2016-04-18T00:00:00Z
Typ pokoje
Celý dům/byt
---
Typ nemovitosti
Byt
---
Ubytuje
2
---
Ložnice
South Hobart, Tasmánie, Austrálie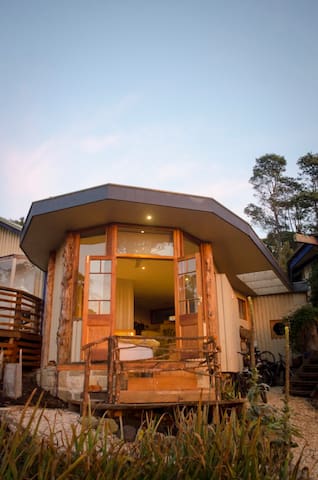 截至上的埃斯佩兰斯湾最好的意见,一个一个波峰。纪要家庭友好的海滩,商店,医疗设施,RSL酒店/咖啡馆 大面积,方便或挑战性的丛林步行,附近的荒野地区,黑斯廷斯洞穴和热泉,塔胡恩空中走道,柯克溪,艾达湾铁路,与Adamsons峰
明亮的阳光明媚和,与所有的Windows风景如画的海湾和山景。约的公寓。 8个正方形,连接到主要居住地,但是如果需要有自己的登记项是完全私人的和独立的,与外界共享空间。您与我们的交互量是完全由你!
The fact that this is our second visit to stay at Tess's accommodation says it all
Janice
2017-04-09T00:00:00Z
We enjoyed our stay at Tess's place for five nights. Check in was easy and we received some very welcome homemade delights on a couple of occasions. We stayed as a family of four (2.5yo and 5mo) and had enough space during our stay. The property was spotless and had everything needed for our stay including the kitchen. The nearby RSL does some very good meals if you decide you've had enough the BBQ and deck views ;) Thanks for the stay!
Dallas
2017-03-15T00:00:00Z
Wow, exceptional host, most welcomed with goodies, including home baked bread & muffins included in our stay. Views of the bay from this place was dynamic to say the least, none better. If we returned to Tasmania I would be looking to stay here again if possible, unbelievable location. Would recommend to anyone.
Gary
2016-10-13T00:00:00Z
If you're looking for something better than a 5 star accommodation in Southern Tasmania you cannot do better than Tess' place in Dover. If I had to summarise my stay in less than 3 words I'd write "absolute perfection". My booking with Tess was my first with AirBnB, the experience could not have been better. Tess treated us like old friends right from the start, and the loaf of freshly baked bread was the ultimate welcome on a Tasmanian winters day. Clean, comfortable, beautiful location and views. A wonderful place to stay. Thanks Tess.
Bruce
2016-06-15T00:00:00Z
Tess was lovely. Very accommodating and friendly. The listing description was accurate. Beautiful views from deck. Much appreciated home made scones and bread. Would happily recommend.
Helen
2016-09-04T00:00:00Z
We enjoyed the warmest of welcomes to Tess's home. Stunning views from the balcony, lovely walks along the beautiful foreshore. Tess has thought of everything... fresh made scones timed for our arrival. The place was absolutely spotless. We had a wonderful stay!
Julie
2016-09-24T00:00:00Z
Fantastic location, great accommodation and friendly host what more could you ask for!!
Sylvia
2016-12-12T00:00:00Z
It was great. We were welcomed with scones and, when Tess found out I needed Fodmap friendly food, she had a crack at making gluten free bread! The place was warm, comfortable and had all we needed. The views were spectacular. I'd highly recommend it.
Vivienne
2016-06-22T00:00:00Z
Typ pokoje
Celý dům/byt
---
Typ nemovitosti
Byt
---
Ubytuje
4
---
Ložnice
Dover, Tasmánie, Austrálie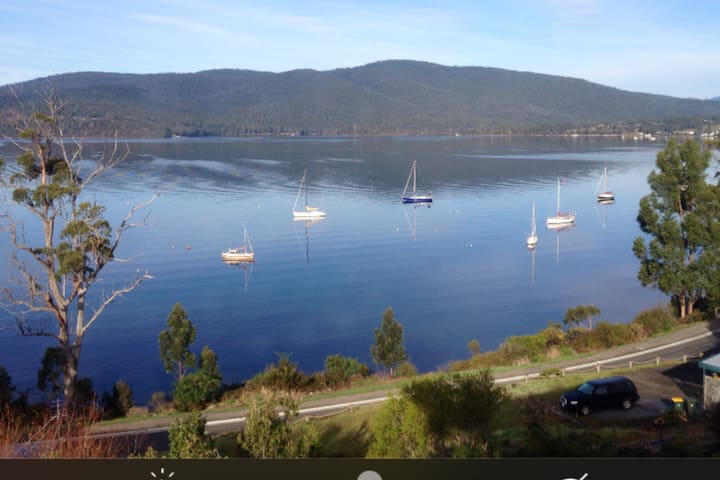 Our fully self-contained unit has a beautiful open plan living/dining/kitchen area with stunning views of the Derwent River. Just 5km from the city centre and Salamanca it is a great location to base your holiday to Hobart from.
Once through the front door you will be greeted by the large open plan living/dining/kitchen area. The apartment has a large bedroom with a double bed and wardrobe as well as its own bathroom. The kitchen is fully stocked with kitchen utensils (if we have missed anything please let us know and we can try and source it for you) and has tea and coffee available. Should you have more than 2 people staying linen for the futon is kept in the bedroom wardrobe.
Our place is located in a quiet street in walking distance to foreshore walking tracks and the Derwent bridge. There is also a nature reserve 150 meters away with walking tracks. There are nearby shops in Lindisfarne and the Eastlands Shopping Centre in Rosny.
This is a unit with a great view. The host very thoughtfully prepared some essential food, which makes part of the welcoming atmosphere. Loved the stay. Will certainly come back.
yujiang
2016-12-29T00:00:00Z
Nice view, close to the city and clean.
Michael
2016-12-16T00:00:00Z
Good texts beforehand so I knew how to get access. Great location with a wonderful view.
John
2016-10-11T00:00:00Z
Everything was easy! The place is large, clean and the bathroom was new and modern. I really appreciated how responsive Chris and Courtney were and I appreciated the little things they left out for us (fresh loaf of bread, bananas) even more! Thanks so much, both! Would recommend this place anyone!
Angelina
2016-10-01T00:00:00Z
Great views. Comfortable accommodation.
Stephen
2016-12-25T00:00:00Z
Courtney and Chris's place is cute and cozy but with a spectacular view! Everything we needed were there and it's clean and tidy. I would say that it looks better than the pictures. Would definitely come back!
Ivise
2016-11-06T00:00:00Z
We stayed at the apartment for 5 days and had a very comfortable stay. The view was stunning and everything was very modern. Location was good and it's close to Salamanca market, restaurants in North Hobart and the airport. Highly recommend for anyone staying in Hobart for holiday.
Connie
2016-07-24T00:00:00Z
We had a great stay in Rose Bay - Courtney and Chris made us feel extremely welcome, were a pleasure to deal with and thought of everything that we might need for our night in Hobart. The unit is finished excellently and the views across the bay are magnificent.
Richéal
2016-04-25T00:00:00Z
Typ pokoje
Celý dům/byt
---
Typ nemovitosti
Byt
---
Ubytuje
4
---
Ložnice
Rose Bay, Tasmánie, Austrálie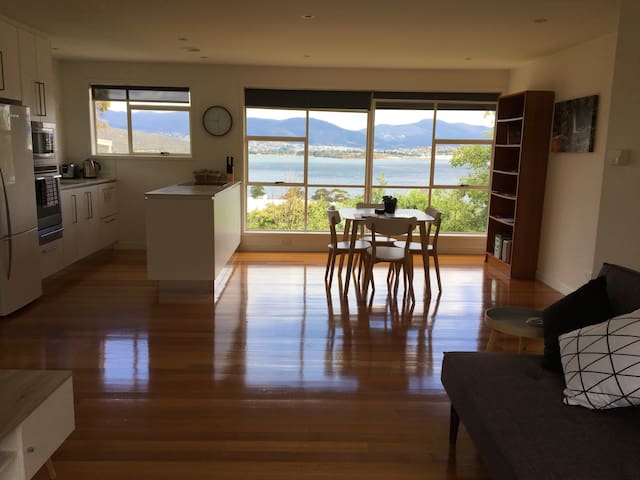 Sleep under the stars with heating! Hidden away in a secluded end of the gardens. The perfect spot for a uniquely memorable romantic get away. The Hideaway is a converted shipping container and is Glamping at its best! Absolutely unique in Australia! See our other listings Housekeeper's Apartment, Tutor's Apartment & Old School House. Free wifi and parking. Walking distance to Salamanca.
Sleep under the stars! Hidden away in a secluded end of the gardens is the eclectic Monty's Hideaway. The perfect spot for a uniquely memorable romantic get away. There is simply nothing like it in Australia! Come with an adventurous spirit and you won't be disappointed. Monty's Hideaway Apartment comprises a luxurious queen-bedded bedroom/lounge with a retractable roof over your bed (with a rain sensor and heating!). There is a spacious shower room with a lifting roof so you can shower in the morning sun. And there is a wonderfully secluded deck with wood burner/chiminea and pleasant views towards the Derwent River. 6 star energy rating, underfloor heating, heated towel rail, Sonos hifi, wifi, TV, fridge, tea and coffee facilities, high quality linen and towels. Monty's Hideaway is named after Field Marshall Montgomery, arguably Tasmania's most famous resident. He grew up in this place and was always in trouble, running away into the gardens for long periods. This apartment opens in December 2015. More photos to follow shortly – check out the design of our other apartments and apply imagination!
The house is located on one of Hobart's most attractive tree-lined streets on the edge of Battery Point - just at the end of our street. The area is great for walking around, brimming with heritage buildings. Some of Hobart's top places to eat and drink are nearby within walking distance: JamJar, Pigeon Hole, Solo Pasta, Da Angelo's, Me Wah, The Duchess, Chillies, Jackman & McRoss Bakery. There is a good bottle shop (liquor store/off-licence) and high quality food/deli store within 200 metres.
Rebecca made us feel very welcome, and although we weren't fortunate to meet her she was such a pleasure to deal with. We loved the space - the perfect balance of a humble set-up with all the right creature comforts. This area of Hobart is absolutely stunning, and walking around the neighbourhood to get to and from the hideaway was such a treat. We would recommend anyone visiting hobart to stay here, enjoy the views into Sandy Bay, and make the most of the opening roof!
Em
2016-06-18T00:00:00Z
I chose this home as a surprise for my boyfriends birthday, and it did not disappoint! What a surprise he got when Rebecca showed him the roof opened, and we had the chance to enjoy it (when it wasn't raining). Luxuriously decked out. Best shower ever. Rebecca was an absolute delight and I would recommend anyone to enjoy this unique experience!!
Katie
2016-11-04T00:00:00Z
Rebecca was helpful and accommodating allowing us to drop our bags off early and check out late. The room was comfortable and clean. The attached balcony provided district views and was a nice place to unwind. The location was good. About ten to fifteen minute stroll to the harbour. I would recommend staying here.
Nick
2016-01-13T00:00:00Z
only an overnight which was disappointing as the accom is a perfect base from which to explore the city.Rebecca was very friendly and helpful in getting me settled in and explaining the unique studio apartment's many features. Great find and I will be back again.
gerard
2016-02-26T00:00:00Z
Rebecca's place was incredible. The hideaway is just so beautifully put together. It has everything you could possibly want and more. Key word: more. The roof retracts above the bed offering you an incredible view into the sky. Highly recommend it at night, even if its cold. Was also the best way to wake up your significant other. Who can be mad at you for waking them up with morning sunshine? Netflix and Sonos, under-floor heating and a wonderful bathroom made it the perfect romantic getaway. Easy walks to everything we needed and wanted to see in Hobart, didn't use a single taxi. The location also means there aren't any significant hills if you're walking back from a night out (huge plus). Rebecca was really easy to communicate with and very welcoming. Knew all the good brunch spots (crucial element of any trip). 10/10
Toby
2016-09-04T00:00:00Z
Rebecca's cabin was great; very cosy, very well appointed and unbelievably great was the retracting roof for sleeping under the stars! The nice toiletries a lovely touch too and the apple tv and sonos facilities really finish it off. Very quiet and secluded with lovely surrounds in the best part of Hobart. Will be back again!
BRETT
2016-02-13T00:00:00Z
We had a great experience in this compact and unique hideaway. Rebecca and her son were fantastic and welcoming hosts. The automatic opening roof and spacious bathroom was amazing. The included iPad, Apple TV, Netflix and Sonos were welcome inclusions
Leo
2016-11-10T00:00:00Z
Rebecca was amazing to deal with from her immediacy of response on booking, organising arrival and assisting with any places we should go or see. The Hideaway itself is nothing short of spectacular, and we had a great time waking up to clear skies and zooming birds. Thank you so much, and I can't wait to be back!
Paul
2016-09-03T00:00:00Z
Typ pokoje
Celý dům/byt
---
Typ nemovitosti
Byt
---
Ubytuje
2
---
Ložnice
Sandy Bay, Tasmánie, Austrálie