My cozy downstairs apartment has a fireplace, a dishwasher, wifi and free parking. Across the street is a supermarket and a forest. The trainstation is at 5 minutes walking distance, the train takes you to centre of Amsterdam in 25 minuten.
Staying 2 nights at Helga's apartment was so nice.. Her apartment is big and feels like home.. And near the apartment theres is a market with very cheap price..!!! Love it...!! But the thing is, Helga's apartment is bit far from the station and Amsterdam.. It took more less 5-7 minutes walk to the station and 30minutes from Bussum - Amsterdam.. Over all, I like staying at Helga's place..
Wulan
2015-04-05T00:00:00Z
Gastgeberin war sehr freundlich. Als wir angekommen sind, haben wir ihr eine SMS geschrieben. Keine 5 Minuten später hat sie uns unsere Wohnung gezeigt.
Linda
2016-10-09T00:00:00Z
helga is een vriendelijk,hulpzaam en heel communicatief waardig, het huis is super knus en schoon voorzien van alle gemak en faciliteit . legging ideaal vlakbij supermarkt, station en natuurlijk de hei . Helga bedankt voor de goede zorg super toff. Amar
Amar
2015-02-11T00:00:00Z
Die Unterkunft war sehr gut eingerichtet und es gab alles, was man brauchte. Wir haben uns sehr wohl gefühlt. Die Kontaktaufnahme mit Helga war unproblematisch. Amsterdam war mit öffentlichen Verkehrsmitteln sehr gut zu erreichen. Ich kann die Unterkunft weiterempfehlen.
Heike
2017-03-19T00:00:00Z
The apartment is very nice. It has a good kitchen, nice living room, and a small, but adequate bedroom. It has big windows and is very light. The location was perfect for me as I mostly needed to be in Laren. Parking was never a problem. Helga was very friendly and easy going.
Barbara
2015-04-10T00:00:00Z
The property was as described. We walked 15 minutes to the station it was a pleasant walk. The train to Amsterdam central took 1/2 hour through a nature reserve it was enjoyable journey.Shopping just around the corner. The area is quite and safe. Helga meet us and gave us the necessary information. We would definitely recommend it.
Monica
2016-04-23T00:00:00Z
Place is very cute in a quite residential area. Location is quite far from the city and you might have trouble with public transportation. It was very expensive and troublesome. We went to 3 different stations and help desks to finally discover an alternative method to individual tickets to find a pass that works for inside the city and to the airbnb. Extra bed situation is confusing but other than that we had a great stay!
tristin
2017-03-22T00:00:00Z
We had a great stay at Helga's! The apartment has everything you could need, is lovely and spacious and Helga is super friendly and helpful. The Lidl just across the road is ideal for essentials. There was always parking available right outside. We would definitely stay again!
Claire & Lucy
2016-12-19T00:00:00Z
Typ pokoje
Celý dům/byt
---
Typ nemovitosti
Byt
---
Ubytuje
3
---
Ložnice
Bussum, Noord-Holland, Nizozemsko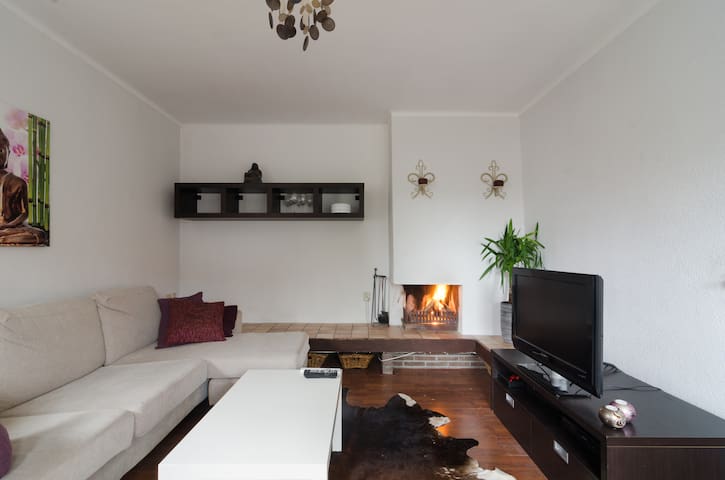 Můj byt se nachází v centru města Bussum, v pěší vzdálenosti od vlakového nádraží, takže můžete rychle např Amsterdam Centraal! Přístroj je hladká a dobře vybavené! Restaurace a obchody se nacházejí přímo kolem vás! Odtud se můžete všechny směry :)
Přímo v centru města v blízkosti stanice
Close to shopping center and railway station
We enjoyed our stay at Carolinas apartment very much! It was very comfortable and nice decorated! The apartment is centrally located and you can discover the city easily by foot. The station is not even 10 minutes away and within 20 Minutes you're in Amsterdam by train. Carolina is a helpful and friendly host.
Linda
2017-03-23T00:00:00Z
Typ pokoje
Celý dům/byt
---
Typ nemovitosti
Byt
---
Ubytuje
2
---
Ložnice
Bussum, NH, Nizozemsko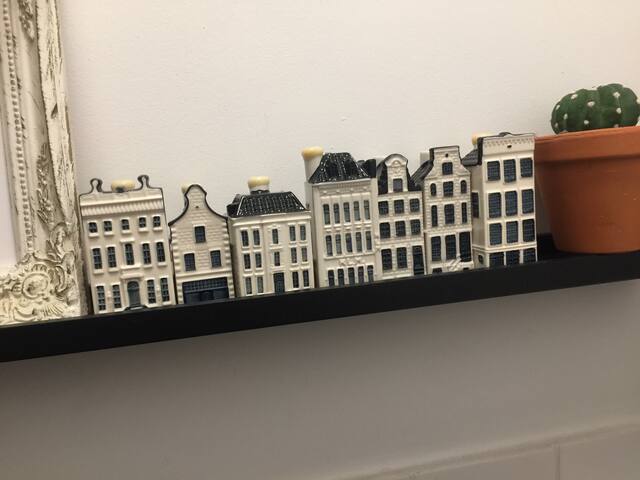 Ve výborné lokalitě v Bussum, který se nachází přímo u vlakového nádraží Naarden-Bussum a vedle nákupního centra, je tento elegantní apartmán / studio. Vlakem vedle, jste v centru města Amsterdam, Utrecht a Amersfoort av Bussum najdete 20 minut bohatství kultury a přírody.
Typ pokoje
Celý dům/byt
---
Typ nemovitosti
Byt
---
Ubytuje
2
---
Ložnice
Bussum, Noord-Holland, Nizozemsko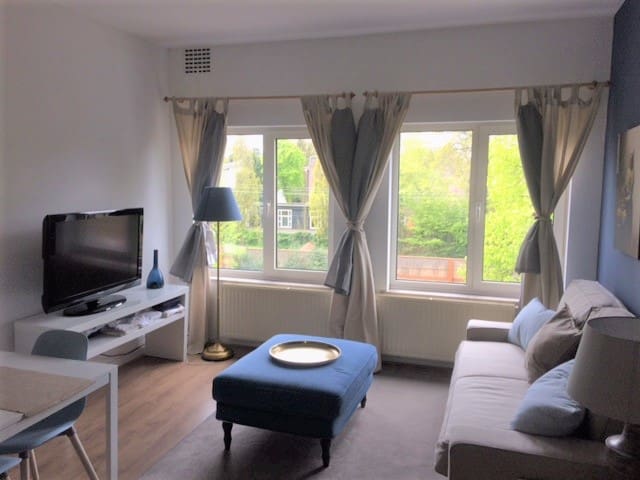 Welkom in ons sfeervol ingerichte familie huis met 3 slaapkamers, een fijne tuin, nieuwe keuken, gratis parkeren, dicht bij het centrum en station van Naarden-Bussum, maar ook de Bussumerheide en bossen. 25 Minuten van Amsterdam.
Our employees was staying in the house, they was very satisfied, everything was ok. Communication was very good and they helped us with our needs. Thanks
Patricia
2016-07-30T00:00:00Z
Our employees stayed in the house on a business trip. The house was very clean, the neighborhood was quiet and there were no problems with parking.
Monika
2016-09-13T00:00:00Z
Typ pokoje
Celý dům/byt
---
Typ nemovitosti
Byt
---
Ubytuje
5
---
Ložnice
Bussum, Noord-Holland, Nizozemsko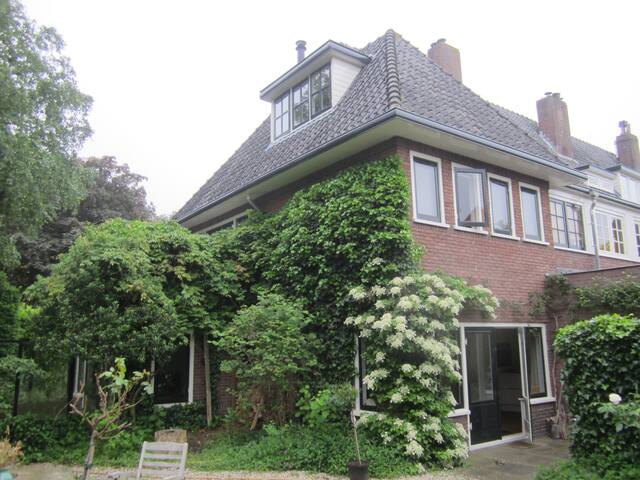 Hartje Bussum nabij het station, 20 minuten van Amsterdam, 20 Minuten van Utrecht.15 minuten van het Ijsselmeer. Luxe appartementen volledig gestoffeerd en gemeubileerd, Wifi en kabel tv. In dezelfde straat als Albert Heijn en MacDonalds. Appartementen liggen aan een pleintje in het centrum waar u heerlijk kunt zitten en kunt genieten van een mooie waterfontein.
Studio met : Marmeren vloer. Marmeren badkamer met stortdouche, fontein en badkamerspiegel . Tweepersoons romantisch hemelbed met goede matrassen,kaptafel met spiegel, kledingkast. Royale keuken met 5 pitsfornuis en grote oven, koelkast. Bankstel met een eethoek en lcd tv 32", dressoir en Engelse boekenkast, diverse hang en wandlampen, vloerkleed. Zeer compleet en smaakvol ingericht. WIFI en kabel tv.
Centrum, winkels, heerlijke zitbankjes en mooie waterpartij
Typ pokoje
Celý dům/byt
---
Typ nemovitosti
Byt
---
Ubytuje
2
---
Ložnice
Bussum, Noord-Holland, Nizozemsko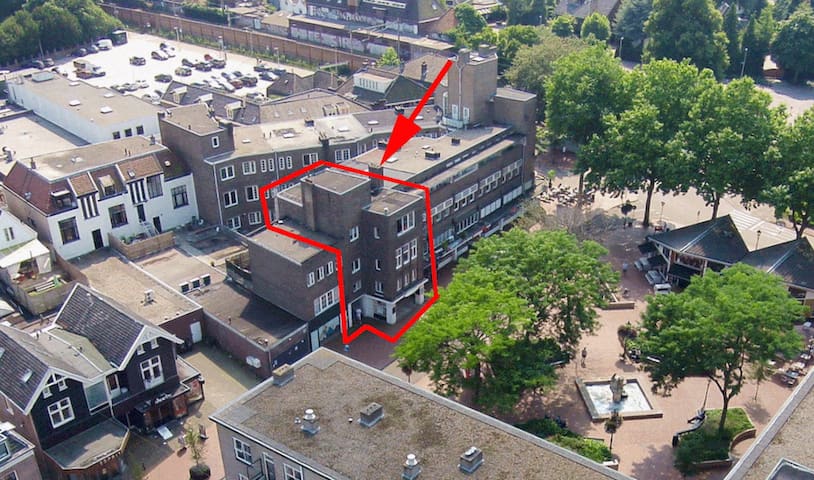 Hi, dear guest, it's a cosy apartment (45m2), with sleeping room, living room, bathroom, kitchen and terrace. Also: a desk, fridge and stove. It has fiber optic Internet (20Mb download -and upload speed), in close range of a nature reserve, walking distance from the neighborhood shopping center, highway to Amsterdam (30 min. without traffic) and Utrecht (25 min.). Cycling to station = 10 min., walking to bus stop = 7 min. Ideal for solo-adventurers, business travelers and cat lovers.
Typ pokoje
Celý dům/byt
---
Typ nemovitosti
Byt
---
Ubytuje
1
---
Ložnice
Bussum, Noord-Holland, Nizozemsko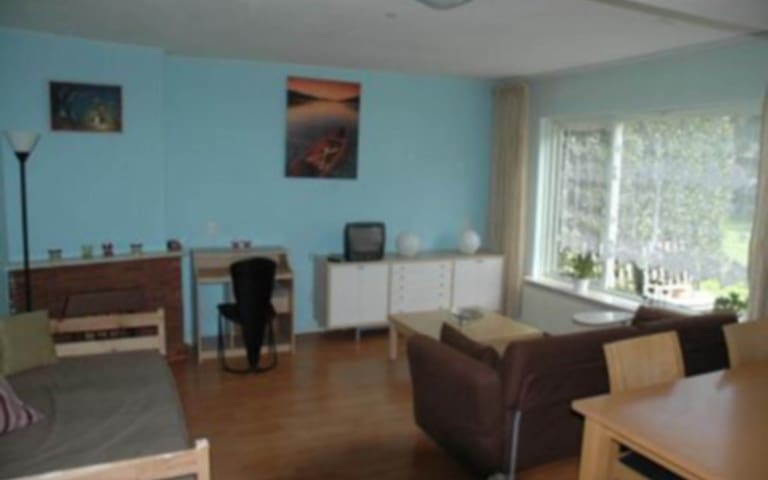 Light and airy apartment in the centre of Bussum. Only 20 minutes by train or car to Amsterdam. The station is a 5 minute walk. Comfortable lounge with tv and dining area which seats 6. 2 separate bedrooms, both with double beds. Bathroom with bath and shower. Kitchen with fridge/freezer, dishwasher, oven/microwave, juicer and coffee machine. Balcony with gas bbq.
Sunny, modern apartment in the centre of Bussum with shops and restaurants close by. A perfect base for 4 people. Especially if you'd like to see more than just Amsterdam and get to know the Netherlands
Visiting Holland? You don't have to stay in Amsterdam. Bussum is a charming village in the area known as Het Gooi. Only 20 minutes by car or train into Amsterdam.
Séjour de 3 nuits à 4, acceuil chaleureux d'une amie de la propriétaire qui parlait quelques mots de français! L'apparrtement était décoré dans l'ambiance de Noël et une feuille guide/bienvenue personnalisée nous attendait. L'appartement est plus grand que nos impressions sur les photos donc nous fumes ravis ! L'appartement est tout équipé, impeccable. Néanmoins quelque peu poussiéreux, un peu gênant. Il a été en effet très simple d'aller à Amsterdam, la gare est toute proche, un train toutes les demies heures pour les directes, par contre environ 5€/personne/voyage, un peu cher à 4 au final. Lits confortables, appartement chaleureux et spacieux, situé à proximité d'un supermarché donc un réel plus ! Permet également d'avoir un aperçu de la vie hollandaise autre qu'Amsterdam même ! Si 20 min de train ne vous gêne pas : allez-y !
Mathieu
2016-01-02T00:00:00Z
What a lovely Airbnb experience we had in Bussum! Teresa saved our holiday when a previous host cancelled with 4 days notice. I'm so glad he did as we had an even better stay. Teresa was so personable and accommodating, kept us up to date with plans and arranged for our early entry to her apartment. The Accomodation was perfect: two bedrooms, comfortable beds with beautiful linens, lots of towels, beautiful sitting room and balcony to watch the world cycle by as well lots of inviting books to relax with. Teresa provided secure parking too. I really can't recommend Teresa as a host and her lovely apartment in Bussum highly enough!
Laurie
2016-05-31T00:00:00Z
Wij werden zeer vriendelijk en behulpzaam ontvangen door Teresa en haar man Jan. Het was een fijne ervaring om te zien dat de welkom waren. Er was ook een fles wijn en chocolaatjes als welkomstgeschenk ,wat een tastbaar bewijs van hun gastvrijheid was. De ijskast was vol en het appartement was schoon en licht. Wij waren met z'n tweeën, maar er is voldoende ruimte voor 4. Het appartement is ideaal gelegen vlak bij een supermarkt en dichtbij (10 min lopen) naar het station (alwaar goede verbindingen met Amsterdam en Utrecht). Ook alle ander winkels zijn op loopafstand. Verder is er een parkeerruimte voor de auto, wat ideaal is. Kortom een fijn appartement van alle gemakken voorzien. Kunnen wij van harte aanbevelen.
Gerardus W.M.
2016-03-20T00:00:00Z
Teresa and Jan are really cute, it was a pleasure to meet them. The appartement is luminous, spacious and clean. The localisation is perfect, not so far from Amsterdam. We recommand to visit Nardeen Bussum and his forteress, a very quiet and interesting place
Isabelle
2016-07-18T00:00:00Z
appartamento molto bello, grande e luminoso! attrezzato con tutti i confort, anche parcheggio riservato per l'auto nel cortile dello stabile! posizione ottima, al centro del paese, a 2 minuti da un grande supermercato e a 5 dalla stazione ferroviaria dove ci sono treni ogni 20 minuti per Amsterdam! bussum è un paese molto caratteristico e tranquillo! l'accoglienza e la gentilezza della proprietaria Teresa è stata superlativa! 4 giorni favolosi consigliato vivamente
alessandro
2016-08-10T00:00:00Z
Great apartment with plenty of space and at walking distance from the train station, making it easy to travel across the country.
Vincent
2016-10-24T00:00:00Z
A Teresa e o Jan foram muito acolhedores connosco, ambos estavam presentes quando chegamos, entregaram-nos a chave e explicaram como funcionavam os electrodomésticos e as regras da casa! Ainda nos deixaram uma folha com várias informações úteis nomeadamente sobre os transportes públicos. A casa é espetacular, ficamos supreendidos! Muito espaçosa, janelas enormes que permitem uma vista relaxante e uma iluminação natural espectacular! A casa possui tudo o qué necessário para cozinhar boas refeições, possui ainda máquina de café que nós adoramos! A varanda foi o local ideal para os serões de conversa antes de dormir para conversar sobre os dias de passeio em Amesterdão e Bussum! 5 estrelas ! Aconselhamos!
Micaela
2016-05-09T00:00:00Z
The perfect accomodation for a short time amsterdam travel! We loved the quiet and cosy apartment whenever we came back from our daily trips to the busy urban environment. It felt just like home! It took us about 25 min to reach A-Dam by car. The cheapest way to park (13 Euros / a day) is here: (URL HIDDEN) Teresa made quick communication. She provided a great briefing list to all things in her house that was very helpful for us. Thank you for a comfortable stay at your lovely place ;-)
Martin
2016-08-21T00:00:00Z
Typ pokoje
Celý dům/byt
---
Typ nemovitosti
Byt
---
Ubytuje
4
---
Ložnice
Bussum, Noord-Holland, Nizozemsko
This tidy two bedroom apartment will give you immediately a home feeling in the quiet village Bussum, in the most Central part of Holland. Walk to the trainstation in 5minutes and arive within 20 minutes in the citycenters of Amsterdam, Utrecht, Almere or Amersfoort. Freeparking. Supermarket in apartmentbuilding.
The square meters of the apartment are 70m2. Perfect for 2, max 3 persons. With 2 bedrooms, living room, toilet, bathroom and kitchen. This apartment is fully furnished and equipped: - Free Wi-Fi, heating, fan, dining table with four chairs, a couch and a TV. - 1 simple single bed, a very spacious double bed, a empthy closet and a door which provides entry to the balcony. - The bathroom is relatively simple with a shower, sink and washing machine. - There is one toilet, seperated of the bathroom. - The kitchen has an oven, refrigerator, freezer, dishwasher, gas cooker, extractor, pans, cutlery for 6 persons, plates and glasses.
Bussum, a village with 40.000 inhabitants is a wonderfull village to stay, in the central part of the Netherlands. Bussum has beautiful surroundings, which are clean and quietly. Same as the village itself which is not touristic. Within walking distance you will find heath which is wonderfull for walking or running, a gym, a pool, shopping centre, hiking trails and various restaurants and local pubs. Below the apartment, next to the entrance, you will Find a supermarket and a ATM.
The apartment is lovely, extremely cozy and everything is just like the pictures. I stayed during christmas time and there was also a christmas tree, I really felt like home.
eugenia
2016-12-22T00:00:00Z
Great location. Isabelle's place was just like in the pictures, very clean. She showed us how everything works and was very friendly. Had a great stay :)
Monika
2017-02-23T00:00:00Z
Nous avons passé très bon moment pour la nouvelle année, avec notre enfant de 5 ans. Isabelle est très sympathique . Elle est venue nous chercher à la gare. Son appartement est confortable et très bien situé : proche de la gare et un supermarché se trouve en bas de l'immeuble . Amsterdam est à 30 minutes en train. ( Attention, un seul billet de train suffit pour les enfants, valable à la journée) Nous avons pas eu le temps de visiter Bussum , mais nous reviendrons avec plaisir !
Sandrine et Christophe
2016-01-02T00:00:00Z
Alles was schoon en goed verzorgd.
angela
2016-07-08T00:00:00Z
Nous avons passés un agréable moment à Bussum Notre hôte a été très prévenante avec nous, ayant tout prévu (serviettes, draps, fleurs fraîches, frigo et congélateur pleins ...) Appartement très convivial et nous avons apprécié la proximité du magasin d'alimentation en bas Le stationnement aux abords est gratuit, ce qui n'est pas négligeable, un plus pour le wifi également gratuit Nous avons pu nous entretenir en anglais Nous avons vraiment été ravis et nous pensons retourner sur Amsterdam ce printemps et nous ne manquerons pas de contacter Isabelle pour le logement, si de son côté elle nous a appréciée comme nous l'avons appréciée Very very good and see you later bye
Stéphane
2015-10-11T00:00:00Z
The apartment is consistent with the description. The place is lovely as the city of Bussum. We had a car but it is also very easy to go to Amsterdam otherwise. Thank you to Isabelle for its welcome!
Grégory
2016-08-19T00:00:00Z
Isabelle was a helpful and very nice host. Prior to our stay, she was easy to communicate with and always responded to my messages promptly. Her place was just as nice as in the pictures and was located in a very nice neighborhood. And her house was located just a 5-min walk away from the train station, which can take you directly to Amsterdam. Would definitely recommend Isabelle's place :)
Afni
2016-05-15T00:00:00Z
The host showed us around the flat, and showed us everything we needed. The flat was as described. And the pictures did it justice. however, the floors and sofas were a bit dusty. But nothing major. It was a comfortable stay. And the neighbourhood seemed nice and quiet. It was a bit far from Amsterdam central. And quite costly I found. (30) mins train time. Not waiting time.
Nasreen
2016-05-30T00:00:00Z
Typ pokoje
Celý dům/byt
---
Typ nemovitosti
Byt
---
Ubytuje
3
---
Ložnice
Bussum, NH, Nizozemsko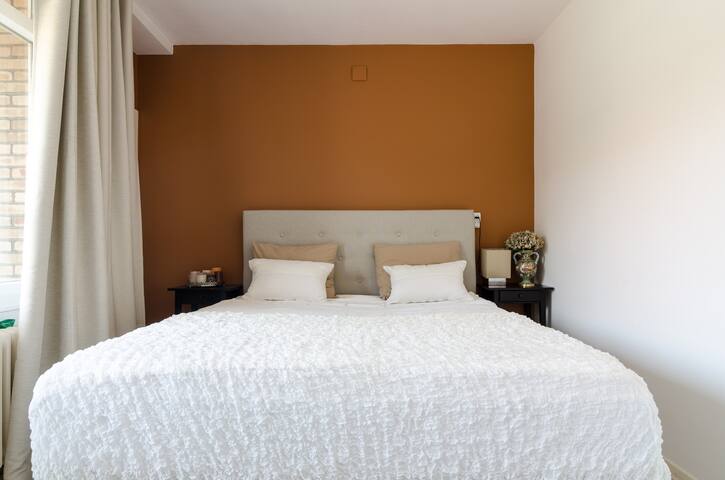 Můj byt je luxusní a pohodlný. 3 minuty chůze Bussum Zuid stanice s přímými vlaky do hlavního nádraží v Amsterdamu (20 minut). Můžete využít plně vybavenou kuchyň, koupelnu a pohodlný útulný obývací pokoj. Jednou týdně enschoongemaakt. Jste blízko
Accueil parfait. Hôte vraiment très gentil. Et très serviable au niveau de notre séjour. Informations fournies parfaites. Séjour vraiment très agréable.
Pauline
2016-12-10T00:00:00Z
The host canceled this reservation 36 days before arrival. This is an automated posting.
Fernanda
2016-11-18T00:00:00Z
Typ pokoje
Celý dům/byt
---
Typ nemovitosti
Byt
---
Ubytuje
4
---
Ložnice
Bussum, Noord-Holland, Nizozemsko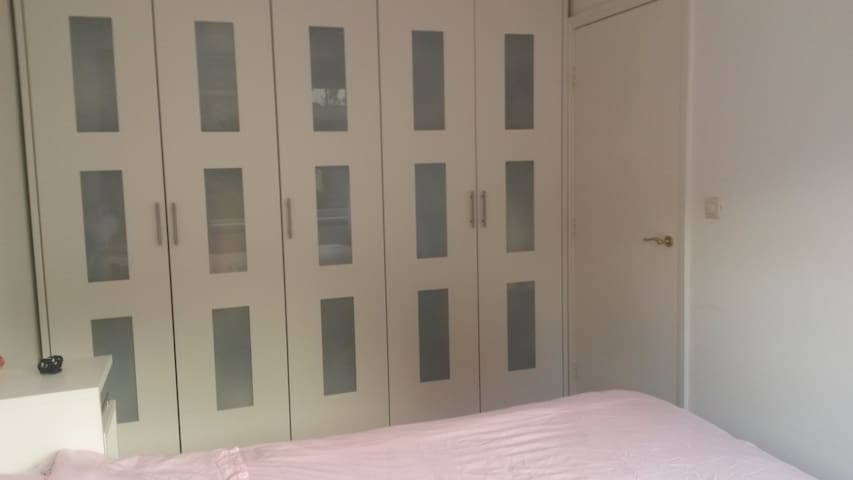 Pěkný pokoj v bytě vedle vnitrostátní rezervy Bussum. Během jedné minuty se můžete projít po celé hodiny a setkat se holandský volně žijících živočichů. Patnáct minut chůze od Bussum Zuid vlakovém nádraží, ze kterého se dostanete do centra Amsterdamu a Utrechtu za třicet minut přímým vlakem.
Nabízíme Vám k prozkoumání naší lednici a kuchyň, aby se sami snídaňový s přísadami obvykle jíst k snídani. Daphne je zkušený Amsterdam TourGuide, kteří by rádi vám ukázat všechny pěkné místa a řekne vám zajímavé příběhy z minulosti. Linda je turistický průvodce a učitel biologie, kteří mají rádi vám říct o moors v blízkosti apartmánu. Bude pryč často, protože ona pracuje v zahraničí jako TourGuide. Dejte nám vědět předem, takže se můžeme dohodnout. Volunteery dary jsou vítány.
Je tu spousta přírody kolem! Čistý čerstvý vzduch, ptáci jako budíček, houby a spousta turistických a cyklistických možností. Pozor na houby ačkoli ..
Linda was very pleasant, and helped us to settle down. She waited till 11 PM since we reach late and made us feel comfortable as home. We would definitely visit again.. Thank you.
Reghu
2016-04-25T00:00:00Z
I would definitely recommend staying at Linda and Daphne's apartment! They were gone most of our stay but the time we did see them they were very nice. Wish we had more time to talk! Their home is very well decorated and made for a comfortable stay. Very close to the train station. About 25 min to Amsterdam by train. Great stay! :)
Hope
2016-09-26T00:00:00Z
Daphne was very nice and welcoming. She even made us a delicious Dutch breakfast on Sunday morning. The flat is nice, clean and quiet, perfect if you want to stay away from crowded Amsterdam.
emilie
2015-09-14T00:00:00Z
Linda y Daphne son muy buenas anfitrionas, nos hicieron sentir como en casa! La habitación es tal cual en las fotos, la cocina tiene todo lo que se necesita para cocinar e incluso tuvimos un lugar para dejar el coche. Volveria a quedarme con ellas una próxima vez.
Cami
2016-06-14T00:00:00Z
Linda와 Daphne는 매우 친절하고 유쾌한 호스트였다. 여행자를 위한 자료도 많아서 도움이 됐다. 침대가 작지만 방은 아늑하고 욕실과 부엌을 쓰는 것도 편리했다. 집 가까이 수퍼마켓이 있고, 큰 공원이 있어서 피크닉과 지전거 타기에 좋다. 우리는 차가 있어서 암스테르담까지 여행하기에 좋았다.
ByungDae
2016-09-08T00:00:00Z
Muy amables las anfitrionas! Me ayudaron en todo para llegar al lugar! Muy limpio y buen ambiente!
Carmen
2016-07-25T00:00:00Z
This is first time I use Airbnb. Luckily, Linda and Daphne make it a nice memory for me. Although Linda has a small house, you will find your room full of love and care. We also have breakfast with Linda and Daphne with a lot of interesting things about their traveling stories and beautiful pictures of Linda in my country. The house is a little bit far from Amsterdam and cost money to travel by train from Amsterdam to Bussum. However, if you use Amsterdam and Region Travel ticket, it will be free to catch bus 320 from Amstel station to Blaricum and bus 109 from Blaricum to the house.
Thao
2016-04-10T00:00:00Z
Our stay at Linda and Daphne's flat was simply amazing. The flat is clean and cosy, situated in a nice, peaceful neighborhood. I would sincerely recommend their place as it has everything you need including a nice backyard to hang out in and the most important – awesome hosts. Daphne welcomed us warmly and made us feel at home and both her and Linda were always available if we needed anything or had any questions. They kept their distance but were willing to have a nice evening chat with us too. Bussum as a city seems nice but we didn't really have that much time to explore what's around, althoug we got some tips from Daphne. We spent most of our time in Amsterdam which is easily accessible. All in all, Linda and Daphne made our holidays in Holland an unforgettable experience. Thank you ladies.
Barbora
2015-09-27T00:00:00Z
Typ pokoje
Soukromý pokoj
---
Typ nemovitosti
Byt
---
Ubytuje
2
---
Ložnice
Bussum, Noord-Holland, Nizozemsko
Light & cosy appartment in 't Gooi. Heath/Forrest nearby, Amsterdam 30min. by train. Including two bicycles.
Gemütliche Innen Balkon mit Blick auf ruhigen Garten. Ein guter Ort zum Entspannen nach einem anstrengenden Tag, aus dem Wind und aus dem regen. Geräumige Küche mit allem was Sie brauchen, neben Wohnzimmer, Schlafzimmer und kleines Büro.
Schöne Umgebung von 't Gooi.Nearby Heide & Wald, ein guter Ort für einen Spaziergang oder eine Radtour. In unmittelbarer Nähe: Wald / Heide, Theater (Spant, Kongress / Musik / theather!), Supermarkt / kleines Einkaufszentrum, Festung der niederländischen Wasserbereich. In dem Fahrrad zu erreichen in der Nähe: Die Altstadt von Naarden-Vesting leicht mit dem Fahrrad zu erreichen. Bahnhof (10min). Media Park Hilversum (Beeld & Geluid Museum). Indoor-Klettern, Movie House, Einkaufen, Bibliothek, Cafés / Restaurants, Sportzentrum mit Schwimmbad, Welness (Sauna / Massage), Reiten In dem Fahrrad zu erreichen (von 30min): Golfplatz, Go-Kart, kleiner Strand, Wassersport (Segeln, Boote mieten, Kanu fahren, Wasserski etc.), Shopping / Unterhaltung Hilversum, berühmt Muiderslot (Schloss) und Festungsinsel.
Prima woonruimte nabij station en bos. Verhuurder is erg gastvrij en alles wat je nodig hebt is aanwezig!
Lobke
2015-10-15T00:00:00Z
Typ pokoje
Celý dům/byt
---
Typ nemovitosti
Byt
---
Ubytuje
3
---
Ložnice
Bussum, Severní Holandsko, Nizozemsko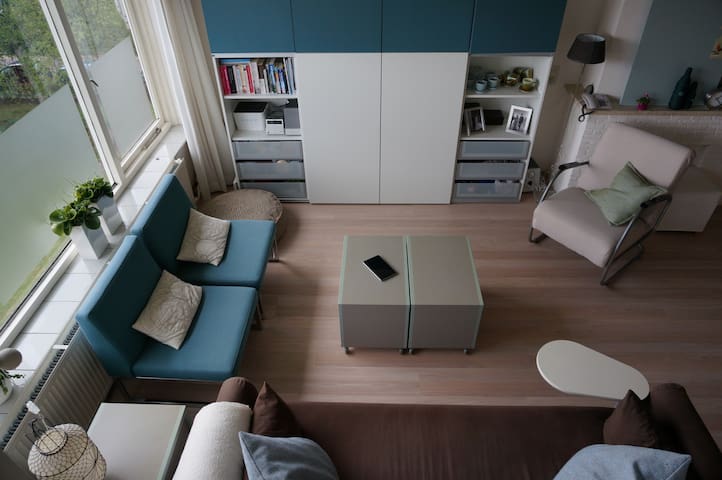 Only 25 minutes from Amsterdam and Utrecht centers and 5 minutes from fortress Naarden you are staying in a villa park in green surroundings. Bicycle trips through heather fields and forest present a perfect contrast with visiting cultural centers.
Typ pokoje
Soukromý pokoj
---
Typ nemovitosti
Byt
---
Ubytuje
2
---
Ložnice
Bussum, Noord-Holland, Nizozemsko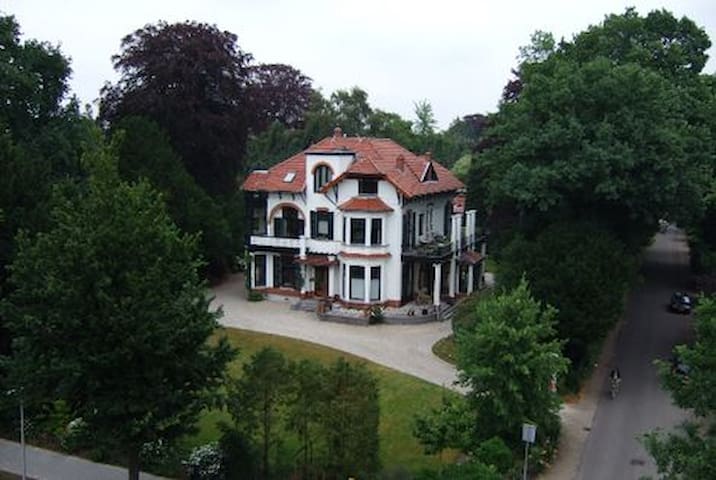 At the heart of the Gooi our house, near Naarden, and approximately 35 minutes from Amsterdam. Formerly a gymnasium now a beautiful Loft Especially suitable for couples, possibly with children, 3 of the 5 berths were kids. At the heart of the throw our house, near Naarden, and Approximately 35 minutes from Amsterdam. Formerly a gymnasium now a beautiful Loft Especially Suitable for couples, possibly with children, 3 of the 5 berths were kids.
Typ pokoje
Celý dům/byt
---
Typ nemovitosti
Byt
---
Ubytuje
5
---
Ložnice
Bussum, Noord-Holland, Nizozemsko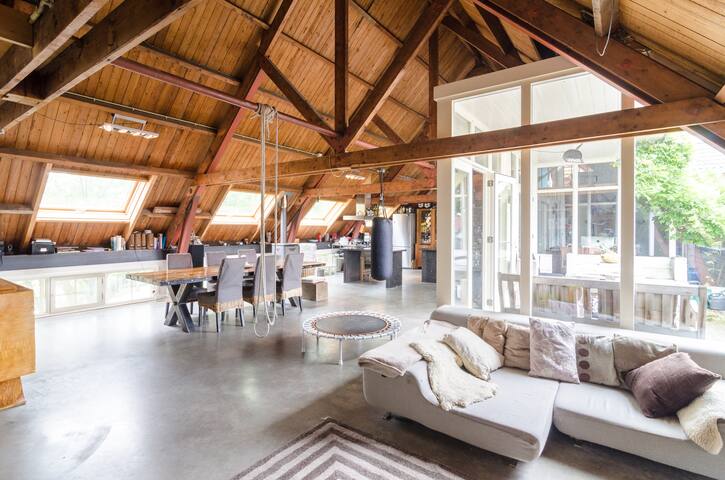 For rent in Bussum Right in the Gooi and only 5 minutes walk from the station this nice townhouse. The canal house is a stone's throw from many shops and restaurants. Forest and heath just 5 minutes by bike. Ideal location in relation to Amsterdam by car or train 25 minutes. Classification house; Upon entering a hall where a toilet with sink. Living room with semi open kitchen with dishwasher, stove, oven and double refrigerator. Living room with cozy sitting area and dining table. Television in which a number of foreign TV channels. Through a staircase to the first floor accessible. On this floor there are two bedrooms. A spacious bedroom with luxurious beds with ample closet space and a 2nd bedroom with a double box spring. Further on this floor a bathroom with shower, sink and toilet. Through a staircase to the attic access where a cozy sitting area, spacious double bed and laundry room where a washer and dryer. Ironing board and iron. The house also has a parking space in the parking garage under the house. This house is ideal for guests who like to stay in Amsterdam but want to come back in a quiet residential area. Weekly cleaning, changing bed / badlinnen.Boodschappendienst and extra cleaning on request. Bike rental at station Naarden / Bussum. Possibly transfer from Schiphol possible fee.
Jeroen was great in terms of communication throughout our stay. The flat is very clean, modern and well maintained, and in a good spot to reach both Amsterdam and cities and towns outside it. Only a 20-30 minute ride into the city. Our family was very comfortable and could have stayed longer—the bedrooms and spacious, bathroom and kitchen large and sitting room very comfortable. We even spent a few nights on the back step overlooking the canal. The town is also good for basic shopping and seeing the area. We were happy to stay with Jeroen and would do so again.
Scott
2015-09-09T00:00:00Z
We loved our home in Bussum on the New Grachtenpand. We were met by Anton the night we arrived and he went over all the necessities that we needed to know. The home was beautifully decorated and very, very clean. There was a lovely bottle of wine and some snacks to welcome us. Oh, and the beds.....they are uber comfortable. Slept like teenagers the entire time, wonderful :) Location is absolutely perfect! Close to town, the market on Thursdays and the train station. Our experience was beyond our expectations and would like nothing more than to book for next year again!!!!!
Yvonne
2015-10-06T00:00:00Z
We had weeks stay at the house. Organising the trip with Jeroen was easy. On arrival we were met by Anton, who gave us the keys showed us how everything worked. The house was probably better than described and is in a great central location in Bussum (not far from the train station). We were told to help ourselves to basic refreshments and foods that were in the cupboards allowing us to get Children fed and to bed without going shopping (great little extra). Checkout was equally as simple. Thanks, Jeroen and Anton
richard
2014-12-11T00:00:00Z
The host was very responsive to questions. His brother Anton was prompt with meeting us for the arrival, departure and also local questions once we arrived. The house was spacious enough for our whole family. Our 2 younger girls loved having the entire third level to themselves. Our beds were high quality comfort. The wifi connection was excellent for the whole family to do what they wanted, on line games, email, Rosetta Stone Dutch lessons and Netflicks.
Pamela
2015-04-05T00:00:00Z
The host canceled this reservation 178 days before arrival. This is an automated posting.
Sanna
2017-01-16T00:00:00Z
Everything was great! The house is very clean and appointed with everything you could need! Jeroen's friends met us on arrival, replaced the non-working toaster the next day, and picked up the keys on time when we left. Clean and comfortable beds. Excellent location for grocery shopping, Thursday market, and the train station. Less than 500 metres to anything. Easy 25 minute train into Amsterdam. We were very happy with our stay!
Marion
2016-09-16T00:00:00Z
Jeroen 's house in all respects met our expectations! We enjoyed very much staying in Bussum and we hope that this nice place will be available for our next stay. Thank you Jeroen and Anton for staying here and for the smooth process!
Jaap
2015-08-28T00:00:00Z
Typ pokoje
Celý dům/byt
---
Typ nemovitosti
Byt
---
Ubytuje
4
---
Ložnice
Bussum, Severní Holandsko, Nizozemsko
Cosy small studio appartment with kitchenette (you could prepare a small bite, no cooking) in garden in green, quiet residential area. Bakery& supermarket around the corner. It's a 7 min walk (less if you walk faster ;-) to the station with direct lines to A'dam (30') & Schiphol Airport (40'). Naarden itself is known as a historical fortified town. Together with other nearby historical villages it's called the Garden of Amsterdam. The area is also a hub to Utrecht that is within a stone's throw.
It's a small studio (1 room) so everything is efficiently put together. There's a kitchenette, so you cannot use it to prepare a (warm) dinner. It's possible to sleep in the attic. But you'll need to climb up a small ladder so this is just for the young and adventurous. All in all it's suitable for just a few nights for a max. of 2 persons to use as a hub to go out a lot & explore the surroundings.
Naarden is not only a stepping stone to Amsterdam or Utrecht. The area itself offers lots of touristic outings. Historical villages are in the proximity And some of the fortified towns are part of Unesco's World heritage. Everywhere you'll go you'll find the finest little shops, the most enjoyable terraces and the very best restaurants.
Nice place, nice people. Edith was there for everything we could need. The area is great, and it is just 30 mnts away from Ams Centraal. I'd say it's perfect for a couple, no doubt. Thank you, Edith!
Emilio
2016-11-02T00:00:00Z
Perfect studio for 2 people to stay a few days in Amsterdam and surrounding. Edith did everything to ensure a pleasant stay. The fridge and the cupboard contained everything you need for a nice breakfast. Totally recommended host!
Sophie
2016-08-30T00:00:00Z
what shall I say... feeling at home not being at home describes it best I would say... Edith and Eric are great, so welcoming and nice; the little cabbage was super cosy, it really was a perfect trip!
Antonia
2016-09-17T00:00:00Z
Une prestation de qualité et chaleureuse Edith est au petit soin pour nous
Audrey
2016-12-30T00:00:00Z
We had a great time! Very handy for the station (via the platform exit). Lovely quiet neighbourhood and a very peaceful couple of nights. Edith was very helpful and kind in lots of ways, very much appreciated!!
Paul
2017-02-27T00:00:00Z
Een rustige, goed verzorgde plek, voor mij deze keer i.v.m. familebezoek
pauline
2017-03-09T00:00:00Z
Edith's place was lovely- we had our own space in a little garden house, with comfortable beds and living space. The place is a 3 minute walk to the station with regular (25-minute-long) trains into Amsterdam Centraal. On top of that, Edith was a fantastic host who provided more than just the 'basics' for our stay. All in all a brilliant stay and we would thoroughly recommend!
Rebecca
2016-06-22T00:00:00Z
Edith made us feel very welcome and was as kind and helpful as she could be. We were very grateful of her understanding of our busy schedule.
Penelope
2016-10-04T00:00:00Z
Typ pokoje
Celý dům/byt
---
Typ nemovitosti
Byt
---
Ubytuje
2
---
Ložnice
Naarden, Noord-Holland, Nizozemsko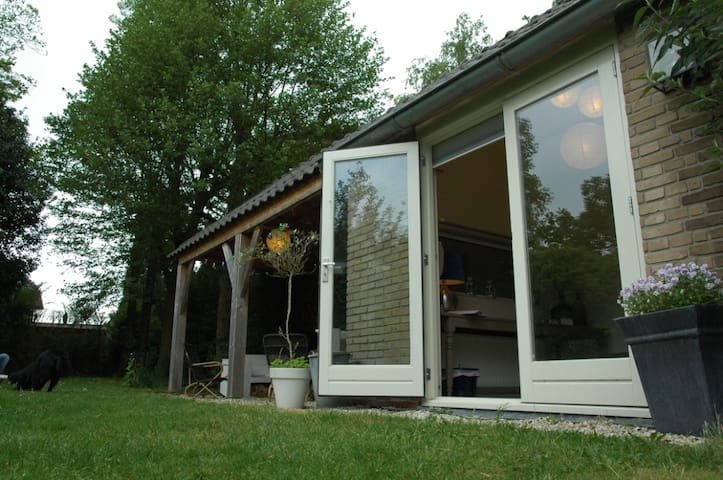 Het Drijvend Vakantiehuis is een heerlijk huis, als hij stil ligt aan een mooie groenstrook in onze haven! Ontbijten en lunchen op eigen terras, met mooi uitzicht over de haven. Superleuk! Wakker worden met uitzicht op het spiegelende water, de zon onder zien gaan achter de dijken van het Gooimeer. Beeldig! Mijn ruimte is geschikt voor stellen, solo-avonturiers, gezinnen (met kinderen), grote groepen en harige vrienden (huisdieren).
Binnen 20 minuten is Amsterdam bereikbaar met openbaar vervoer!
Beautiful houseboat, well kept with good amenities. But the experience was significantly marred by a few problems. To start with we were not given the code to the key box until quite late, and didn't even know that this was how we would get in. This was annoying because we had to pay to use internet on our phones to keep asking questions. We could not work out where the second sofa bed was so two people had to share one and there was not bedding provided that was large enough for this bed. When we came back to the boat on the evening of the first night we were horrified to find that the gates were closed. We did it know this would happen and we were not provided with a code to get in. Luckily there was someone at the restaurant who let us in but we could have easily been stuck. The information booklet inside was all in Dutch so we struggled with using appliances and so on. Also we were told that we were 20 minutes on the bus away from the city centre, but this is fact only takes you to Amstel and the actual centre is still quite a way from here. We may not have stayed here if we had known quite how far it was. The property was lovely but these problems added unnecessary stress to our holiday.
Anna
2016-09-25T00:00:00Z
Wij hadden een top verblijf op deze woonboot! De foto's zijn heel realistisch, er waren verse lakens en handdoeken aanwezig, alles was netjes. Zeker voor herhaling vatbaar!
Maaike
2016-10-16T00:00:00Z
The place is a boat house out of the busy city life. It is small but cozy for 8 people. It is well equipped and there is wifi, although it is slow and not everywhere. There is nice restaurant in the port, and it is reachable from Amsterdam easily during the day, but there is no transportation early mornings on the weekend, not even taxis. One of us had a flight early in the morning on Sunday, but our host arranged a car to the airport, so everything went smoothly. Very much suggested for getaways, peace and relaxation.
Marietta
2016-11-20T00:00:00Z
A very nice ship, with all the facilities needed. Especially my wife was exited as she spent a lot of time on board ships in her young days :-) 2 minor things to be aware of is a long walk from the parking place to the boat, so travel light (or use the rentable barrows), and keep an eye on the water - it is terrible to be in bath, when no more water in the tank
Thorvald
2016-07-15T00:00:00Z
Réponse très rapide et très claire des propriétaires qui sont super sympa ! Un logement exceptionnel, rien a dire sur les équipements a l'intérieur, tout est vraiment à disposition ( vaisselle, serviettes, produits ménager.....). Le logement est située dans un port très calme! Je recommande donc ce logement FORTEMENT. Je reviendrais avec plaisir !
Lucas
2016-10-23T00:00:00Z
Fijn contact, goed bereikbaar en snel gehandeld met vragen. Leuke knusse woning wel kleiner dan verwacht en het is wel leuk om persoonlijk ontvangen te worden.
Irene
2016-10-31T00:00:00Z
Nous avons passé un très bon séjour. Le logement est vraiment très bien équipé et confortable. Les photos sont fidèles. Nous avons apprécié les petites attentions : petit sapin de Noël, petit déjeuner . Nos hôtes sont hyper réactifs : ils ont répondu à nos questions et sont intervenus très rapidement. De plus, très bien situé lorsque l'on vient en voiture et le principe du Houseboat est vraiment très sympa. La cerise sur le gâteau : la hifi centralisée avec des hauts parleurs dans les pièces : n'oubliez pas la prise jack pour les Androïd !
Marie-Elodie
2016-12-23T00:00:00Z
Very nice lady showed us around and let us in early which was really nice of her The boat/house was perfect and we really enjoyed our stay, the setting was very quiet and peaceful
Yisroel
2016-06-26T00:00:00Z
Typ pokoje
Celý dům/byt
---
Typ nemovitosti
Byt
---
Ubytuje
8
---
Ložnice
Naarden, Noord-Holland, Nizozemsko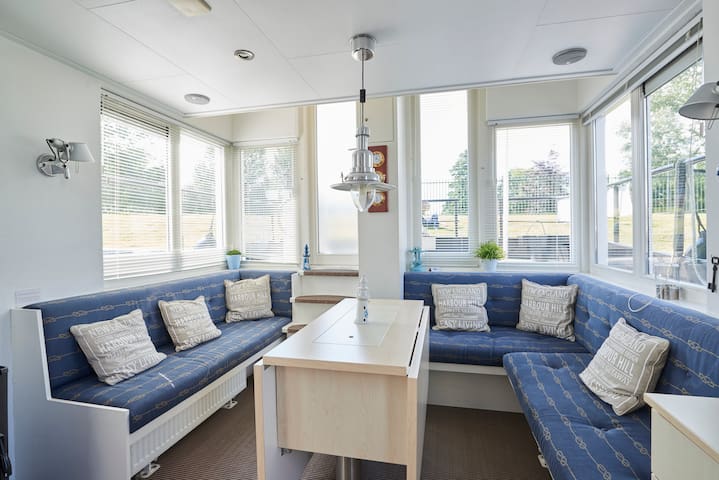 My place is close to Het Arsenaal, Fine, Arsenaal Jan des Bouvrie Studio Het, Vestingvaart Naarden - Rondwaarts, and Het Hert. You'll love my place because of the people, the neighborhood, and the ambiance. My place is good for couples.
Naarden-Vesting is a historical town with 7 restaurants, museums, design furniture stores and a historical church.
Typ pokoje
Soukromý pokoj
---
Typ nemovitosti
Byt
---
Ubytuje
2
---
Ložnice
Naarden, Noord-Holland, Nizozemsko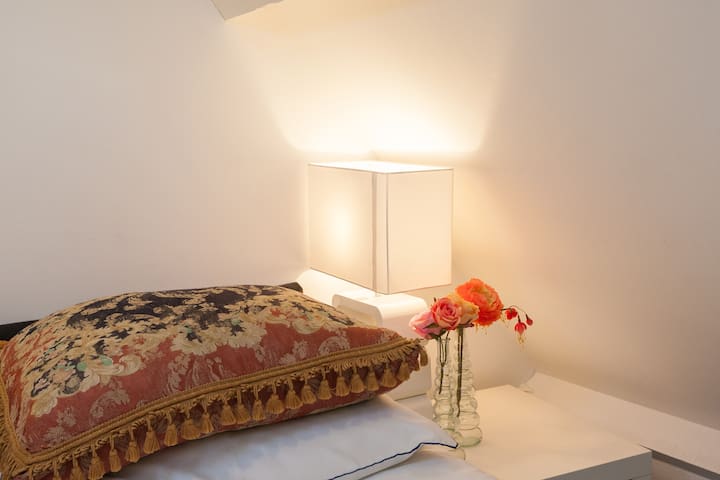 An appartment on 30 minutes train distance and 20 minutes car-distance from Amsterdam and Utrecht, located in the beautifull green and historic Naarden!
A 3 room appartment in the beautifull city Naarden ( 2 rooms are available), 20 minute walk, 10 minute bike ride or short taxi ride from the train station and from there within 30 minutes in Amsterdam or Utrecht. On the 3rd floor without elevator! - living room - 1 bedroom - seperate toilet - bathroom - kitchen - 2 balconies A quiet area, lots of nature and central in the Netherlands.
Een vrij uitzicht over de woonwijken voor en achter mijn huis en aan de zijkant de weilanden. Plus mijn 2 balkons, zowel aan voorkant als aan achterkant van mijn huis!
Ik kan iedereen aanraden om bij Eveline te 'logeren'. Het is een net en huiselijk appartement en ik ben warm onthaald. Fijn alle info al klaargelegd met een kaartje van de omgeving.
Anneke
2016-02-20T00:00:00Z
Nice stay at Eveline´s home. Naarden is a cute city, very close to Amsterdam (less than 20/25 minutes by car). The appartement was great, eveline prepared everything (a map of naarden, clean sheets, a note of how things work : tv, washing machine...) First time with airbnb and very happy about it !
Morgane
2015-05-04T00:00:00Z
C'était un super week-end dans un super endroit ! Le lieu est très calme je vous le recommande !
Louis
2016-03-30T00:00:00Z
Eve's appartement is a really nice to stay. Naarden is a beautifull city close to Amsterdam. Eve was welcoming and did her best to make us feel confortable. I really recommend it!
Camille
2015-07-15T00:00:00Z
Appartement conforme à l'annonce. Indications commerces et plan pour se situer dans Naarden à disposition. A 25 minutes de voitures d'Amsterdam. Acces très facile. Parking à 10 €/ journée près de la gare centrale d'Amsterdam. Par contre, voiture indispensable.
JeanMarc
2015-04-07T00:00:00Z
Eveline appartment is very nice, exactly like in the picture. The bed is very comfy, the kitchen is perfect there is everything we could need. Naarden is just beautiful and only 30mn away from Amsterdam. The host is very kind and helpful she will tell you everything you need to know. I'm very happy with my stay!
Roman
2015-07-01T00:00:00Z
Eveline was a great host. She was nice, made everything easy and we had a really nice time at her place. She even had a map prepared with the most important places (like supermarkets or the trainstation) and important telephonenumbers... so we did not have to waste time searching. Thanks for that!
Janka
2014-04-22T00:00:00Z
Due to having family in Europe I have traveled abroad frequently, but I never before had a chance to make it to the Netherlands. After a full 2 months of backpacking Europe with two friends (and primarily using Airbnb), we decided to visit not knowing very much about the country outside of the city of Amsterdam. Although this Airbnb is a little outside of the city it is in a great little town. Public transport via train to Amsterdam takes about 25-30 minutes and costs about €5 and is completely worth it. Naarden is beautiful with awesome shops, history and good food. I highly recommend staying at this Airbnb to get a feel for areas outside of Amsterdam without being too far away from it. The apartment also is extremely clean and very well furnished. Out of the many airbnbs we stayed at on this trip it definitely ranked near the top of our lists. If you're looking for a great experience without being in the center of Amsterdam definitely consider this place.
Sebastian
2016-05-08T00:00:00Z
Typ pokoje
Celý dům/byt
---
Typ nemovitosti
Byt
---
Ubytuje
2
---
Ložnice
Naarden, Severní Holandsko, Nizozemsko
Pro zobrazení celkové ceny zadej termín. Mohou být přidány další poplatky a daně.