Světlý a útulný byt s nádherným výhledem na pláž. Postaven na stejné skále, přistupovat pomocí zvláštních schodů. Ideální těšit na terase v letních západů slunce.
Typ pokoje
Celý dům/byt
---
Typ nemovitosti
Byt
---
Ubytuje
4
---
Ložnice
Cala en Porter, Illes Balears, Španělsko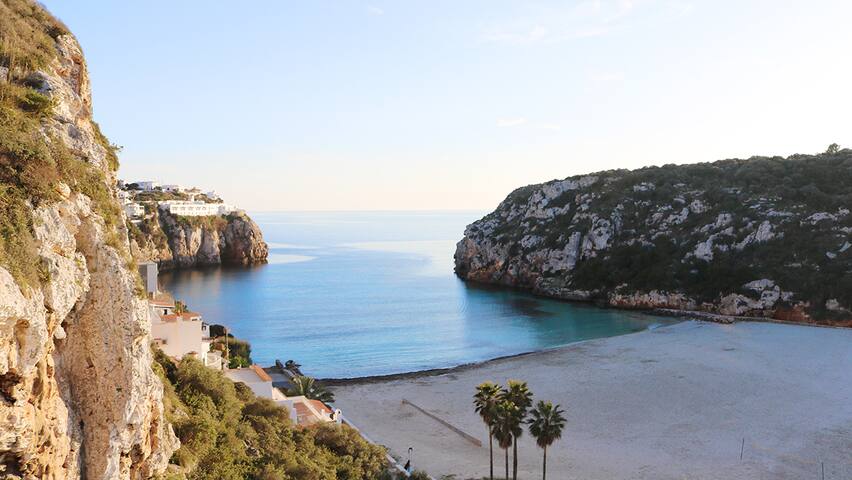 Nice and cosy 2 rooms apartment with beautiful panoramic view over the bay. Living room with dining table with chairs and sofa, with fully equipped kitchen that opens to a balcony towards the sea gulf, perfect for relaxing and dining. In-house available TV, washing machine, linen, towels, extra bed for baby/child and high-chair. Very close to the shopping and restaurants area. The spectacular Cova d'en Xoroi is very easy to reach by foot, only 4 minutes away from the apartment.
Family friendly space, sunny and warm. The apartment has all what it takes for a relaxing unforgettable holiday in Cala en Porter.
Around 12-15 minutes of walking towards the Cala en Porter beach.
Typ pokoje
Celý dům/byt
---
Typ nemovitosti
Byt
---
Ubytuje
3
---
Ložnice
Cala en Porter, Illes Balears, Španělsko
Siesta Mar 2 is one of the best apartment complex in Cala en Porter. The apartment (newly renovated Jan 2016) has its own balcony with scattered views of the ocean as well as the scenic bush land. One large bedroom, living/dinning room and bathroom.
The island is rather small and public transport is acceptable. However, it is recommended to rent a car or scooter for getting around if you intend to discover any of the large number of very scenic and sometimes remote beaches. There is a local bus service for a 15 minute ride to the capital Mahon. From here you can get a bus service to most parts of the island.
Our apartment is located in beautiful Cala'n Porter just 20 minutes from Mahon airport and Mahón, the islands capital. It is set in a family friendly holiday compound with lush gardens, 2 swimming pools, a water slide and a café / restaurant. The stunning beach (eg "cala") is just a 5 minute walk using the scenic stairs down the cliffs or a 10 minute stroll along the street. In walking distance, you find a good variety of supermarkets, restaurants and bars for entertainment.
We had a great stay at Jeff's apartment. It was easy to get to, we rented a car so drove straight from the airport. Getting the keys was also easy as we got them from a secure box outside. The apartment was clean, with fresh sheets & towels. It is quite small and very basic but just enough space for 2 people. There is everything you need for a weeks holiday including cooking equipment, iron, ironing board hairdryer etc. There isn't wifi in the apartment, you have to go sit in the reception or local restaurants to use that. The local beach is not far, but down a big flight of stairs, which may be more difficult with young children / elderly people, you can also drive there if you are feeling super lazy. I would recommend getting a car, we explored different beaches everyday there are some really beautiful ones on the island. The resort is quite small and Cala n'porter is very English. It was rare to overhear people talking in Spanish there! Overall, the pool is spacious and nice, it's a family resort so lots of kids so if you don't mind that then this is the place for you. We also checked out a nightclub called the Coves d'en Xoroi which is 15 mins walk from the apartment. It is apparently the best nightclub on the island definitely worth a visit, if you enjoy a drink / dance as the venue is amazing.
Jenny
2014-09-07T00:00:00Z
We felt very happy when we arrived, as we are able to leave our bags in the apartment even when arriving 3 hours early. The area was even better than the pictures and the apartment was convenient for everything. Jeff was really helpful and reply immediately to any questions we had. We strong recommend this place to any couple.
Lala
2015-06-23T00:00:00Z
Cute little aparment close to the beach with very nice terrace! Unfortunately we didnt meet jeff- but we met his cousin mike- a very friendly guy- he gaves us some advices etc. Cala en porter is not too touristic- its a cute little village with an amazing beach! We recommend anthonys bikes for those who wants to explor the island on a scooter! Near the apartment there are two stores, a few restaurants and almost everything you need for your holiday!!!
Katharina
2014-08-28T00:00:00Z
Jeff left a bottle of wine, and the accomodation has all the essentials. Great location, near the gorgeous Cala en Porter beach. Many English speaking restaurants nearby. Easy access to the airport, and other destinations. Very happy with this property.
Kathy
2016-08-12T00:00:00Z
We enjoyed our stay in Jeff's appartment. Great location, short walk to the beautiful Bay of cala n Porter. Appartment is perfect for two people. Newly renovated bathroom! Everything went smoothly and even some beer and wine welcomed us in the fridge. Can totally recommend that appartment.
Tim
2016-05-09T00:00:00Z
El apartamento es bonito, sencillo y confortable, bien conservado y limpio, con los útiles necesarios para pasar unos días de vacaciones. Además está en una ubicación excelente con respecto a la playa, en una zona con los servicios y comercios imprescindibles. La respuesta del propietario ha sido atenta y rápida. Agradecemos la información complementaria, con plano incluido, para acceder al lugar, así como su puntualidad para la entrega de las llaves. Agradecemos también a airbnb su atención y disponibilidad.
Rosa Mª
2014-08-05T00:00:00Z
Cala en Porter es una zona tranquila y muy bonita. La cala es preciosa. El apartamento de Jeff es estupendo para dos personas. Está a poco más de 5 minutos de la playa andando y además tienes cerca numerosos establecimientos para comprar lo que te haga falta. Jeff no pudo recibirnos, pero no tuvimos ningún problema en acceder al apartamento y cuando nos surgió alguna duda contestaba al mail inmediatamente (incluso una vez se acercó su primo para ayudarnos con el horno). En definitiva, pasamos una semana estupenda en una zona preciosa y en un apartamento genial (¡con piscina y toboganes incluido!).
Manuel
2015-07-11T00:00:00Z
La casa esta situada en la zona de Cala en Porter, a 10 min caminando de la Cala, además en la urbanización dispone de piscina y toboganes. En coche esta a 30 min de las principales Calas de Menorca. En cuanto al alojamiento es pequeño sin embargo tiene todas las comodidades (sábanas, toallas, cacerolas, tv, termo de agua...) y además estaba todo limpio. El anfitrión siempre respondió a nuestros mails y (SENSITIVE CONTENTS HIDDEN), y estuvo pendiente durante toda la estancia. Si vuelvo a Menorca elegiría de nuevo este apartamento.
Carmen
2016-09-05T00:00:00Z
Typ pokoje
Celý dům/byt
---
Typ nemovitosti
Byt
---
Ubytuje
2
---
Ložnice
Cala En Porter, Baleárské ostrovy, Španělsko
A contemporary apartment on Cala N´ Porter ,Menorca, Spain. SiestaMar 1 Apartment is spacious and airy with a fabulous terrace, just 5 minutes walking to beautiful beaches, best restaurants, and supermarket.
Nous avons été très bien accueillis par Toni et Jaime qui ont pris le temps de nous indiquer tous les endroits à visiter de l'île. L'appartement est très bien. La piscine agréable avec les enfants. Cala N' Porter est un endroit idéal pour rayonner dans l'est de l'île, très près de Mahon et de l'aéroport. Nous recommandons!
Audrey
2015-07-20T00:00:00Z
El apartmento de Jaime está muy bien..ideal para unos días de relax en esta maravillosa isla. Además Jaime (y su cuñado) fueron muy atentos y la comunicación fue perfecta!
Marta
2013-11-05T00:00:00Z
We had a fantastic stay here. The host was brilliant and communicated with us before really well via email. When we met the host he gave us good local information. The apartment had everything we needed and a lovely large balcony. A great location with a supermarket and car rental across the road and very close to cala en porter beach. It was a quiet area but we did go in october. Also within walking distance of the amazing cala coves. Highly recommended, we had such a good time, thank you.
Jenny
2016-11-03T00:00:00Z
Jaime is a perfect host. The apartment is clean and very comfortable, close to the beach and everything you need, bars, supermaket, etc.. Jaime has always supported us, he recommend a restaurant with a great view and a very good food. I highly recommend this host for those wo want to spend a relaxing week by the sea in the beautiful Menorca!
Chiara
2013-06-18T00:00:00Z
Nuestra estancia en el apartanto de Jaime fue genial. Ya de por si Menorca ayuda porque es preciosa :) No conocimos a Jaime pero su amigo Toni nos atendió estupendamente. Antes de llegar se puso en contacto con nosotros para fijar un lugar de encuentro y acompañarnos hasta el apartamento. Una vez alli nos enseño todo; el apartamento es tal como se ve en las fotos, un apartamento perfecto para pasar unos dias relajados, la terraza es genial y para nosotros la ubicacion tambien! Cerca del centro de Cala en Porter (supermercados, restaurantes...) y a 10 minutos de la playa! Pero lo que nos encantó fue las recomendaciones y el tiempo que paso Toni con nosotros explicandonos cosas de Menorca, GENIAL (muchas gracias otra vez Toni). En definitiva una estancia muy agradable !
Isabel
2015-09-19T00:00:00Z
Host was very helpful when we arrived. Gave us lots of tips which we found useful because we were in menorca out of season.
Jonny
2016-01-01T00:00:00Z
Good flat near to the beach ans to the amazong night club cova d'en xoroi :) Jaime is a good hoste he Knows very well Minorca :)
Edith
2013-08-23T00:00:00Z
Espaciosa y con una estupenda terraza. Algo básica de equipamiento pero realmente muy buena relación calidad precio. Supermercados y otros servicios a un paso y aun así una zona bastante tranquila. Jaime estuvo pendiente y atento a lo que pudiéramos necesitar, contestando a nuestros mensajes inmediatamente. Por todo ello altamente recomendable!
Patricia
2013-09-02T00:00:00Z
Typ pokoje
Celý dům/byt
---
Typ nemovitosti
Byt
---
Ubytuje
5
---
Ložnice
Cala En Porter, Baleárské ostrovy, Španělsko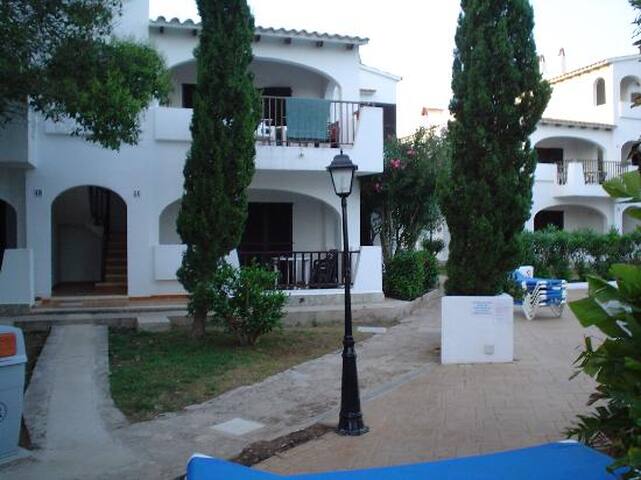 The apartments "Son Rotger" are located in Calan Porter, just 400 meters from one of the best beaches on the island, of clean waters and fine sand, in a quiet southern part of Menorca.
Ens ha agr ad at molt el lloc i en damia es un home molt agradable i atent. Tornarem segur!
clara
2014-09-24T00:00:00Z
Maravillosa Menorca y Cala en Porter es perfecta para los que viajan en pareja ,en familia o con amigos. La casa es totalmente acogedora, tranquila, con piscina, jardín y muy bien comunicada a playa, restaurantes, cueva xoroi (perfecta para ver el atardecer, tomar algo l salir de fiesta). Repetiría seguro!!!
Noelia
2014-07-11T00:00:00Z
Damián es un 10 como anfitrión; amable, atento, simpático, agradable, colaborador, discreto..y podría seguir la lista. Muy recomendable!
Cristina
2015-12-07T00:00:00Z
En el apartamento estuvimos genial. Práctico, acogedor, con la piscina justo enfrente, muy tranquilo y cerca de todos los puntos de interés de la isla. Damià es un gran anfitrión. Recomienda zonas de la isla, lugares para comer, las mejores calitas, fiestas locales,… hemos quedado encantados con su trato. Os lo recomiendo.
Alex
2015-09-05T00:00:00Z
Damian a été un hôte parfait! super communication avant d'arriver, puis super accueil. l'appartement se situe dans une petite résidence très calme, bien située. Il y a tout le nécessaire pour être autonome. Nous reviendrons y passer quelques jours!
marie-astrid
2016-08-19T00:00:00Z
Gran estancia, gracias a Damian que nos trato genial, y nos ayudo en todo lo que necesitamos, 100% recomendable
VICTOR
2014-09-22T00:00:00Z
Pasamos un viaje muy muy bueno ! y esto gracias a Damian tambien, porque es una persona muy querida y que te aconseja mucho ! Volveremos !
Stéphane
2015-09-26T00:00:00Z
Els apartaments estan en una zona tranquil·la, malgrat això hi han tots els serveis necessaris. La piscina i el jardí són ideals per que els nens es banyin i juguin mentre els vigiles prenent el sol o l'ombra. Hi ha aparcament davant dels apartaments. En Damià ha estat sempre molt atent amb nosaltres, facilitant-nos informació de la zona i pendent per si ens calia alguna cosa.
Edgar
2016-08-27T00:00:00Z
Typ pokoje
Celý dům/byt
---
Typ nemovitosti
Byt
---
Ubytuje
4
---
Ložnice
Cala en Porter, Illes Balears, Španělsko
Recién renovado en Mayo 2016, el apartamento cuenta con una maravillosa terraza particular con vistas a las 3 piscinas y toboganes. Tiene 2 habitaciones grandes con acceso a otra terraza,salon confortable y una cocina bien equipada. 150m de la playa.
el alojamiento esta recién reformado en Mayo 2016, decorado con estilo marinero y con mucho cariño. cuenta con una terraza delantera orientación sur de 20 metros cuadrados ideal para comer con vistas a las piscinas y zonas comunes. La cocina esta recién equipada y tanto el salón como las habitaciones son muy amplias y muy cómodas. ambas habitaciones se comunican con otra terraza trasera que da a la zona ajardinada.
el barrio cuenta con bares, restaurantes, dos supermercados, columpios, zona infantil con hinchables y juegos etc..justo enfrente de la vivienda se aparca sin problemas!
A lovely flat in a great location. The flat itself was clean, spacious and had 2 lovely terraces - so you could have sun (or shade!) in the morning and in evening, and in between. There is more than enough space for 4 people - we didn't even use the second bedroom! The town of Cala en Porter has just about everything you could need for a holiday: supermarkets, bars, restaurants - and a breathtakingly beautiful beach all within a very short walk. The area is fun and lively, but quiet and peaceful at night. It is also well located for driving to other parts of the island and other beaches. Check-in and Check-out were both seamless and very easy. Beatriz was very accommodating to our flight schedule and even let us stay on a bit on our last day to enjoy the beach before going to the airport. We had a wonderful time and would happily recommend the flat to anyone. Thank you!
Robert
2016-06-30T00:00:00Z
Great apartment in a wonderful location. We were worried about the distance to the sea, but it was literally down a set of stairs. The location is spot on with two supermarkets across the street and a lot of restaurants. Only two downfalls with the apartment were lack of air conditioning and the karaoke bar that was loud. Beatriz was incredibly helpful and a pleasure to communicate with. I highly recommend this apartment for your next holiday.
Liz
2016-07-13T00:00:00Z
Lovely apartment. Really easy to get to from airport and no problems getting in (key box). Apartment was basic - just what we needed - but spacious and everything worked well. The pool was nice and not as busy as we'd thought. Our son absolutely loved the water slides! Beatriz was a really helpful host and easily contactable. Thanks for having us stay! xxx A note on the resort: I wouldn't recommend Cala en Porter to young families or those not into British pub-style resorts. The cheesy live music every night was a bit much - very loud in our apartment. Although it did stop just after midnight, it meant we couldn't really sit on the balcony relaxing so we ended up taking long day trips every day and coming back around midnight to avoid it all. We preferred the atmosphere and food in Mao/Mahon and Ciutadella. Many people will love that sort of thing but not really for us (we clearly didn't do enough location research before booking). Great beach though.
Caroline
2016-06-26T00:00:00Z
buenas vacaciones, sitio agradable pero mucho ruido las noches con conciertos hasta la 1h.
Manu
2016-09-21T00:00:00Z
Es un apartamento muy majo, con buena ubicación en la isla y con todo lo que se pueda necesitar cerca. La atención dada por Beatriz fue muy buena.
Karen
2016-08-16T00:00:00Z
Hemos salido encantados con el apartamento. Somos dos parejas que buscaban tranquilidad y conocer la isla, y sin duda hemos quedado satisfechos. Los dos dormitorios permiten la intimidad necesaria y aunque no había muchos lujos era lo que estábamos buscando. La urbanización está situada en un lugar ideal para ir a la playa, para comprar, para salir a tomar algo. Es tranquila y con unas buenas piscinas y jardines. La propietaria ha estado siempre a nuestra disposición, aunque no nos ha hecho falta contactar con ella una vez llegado al apartamento ya que no se ha presentado ningún problema. Incluso a mitad de la estancia me escribió interesándose por cómo lo estábamos pasando. Sólo nos hemos comunicado por correo electrónico, pero me ha dado la impresión de ser una persona amable y simpática.
Manuel
2016-09-13T00:00:00Z
Typ pokoje
Celý dům/byt
---
Typ nemovitosti
Byt
---
Ubytuje
4
---
Ložnice
Illes Balears, Illes Balears, Španělsko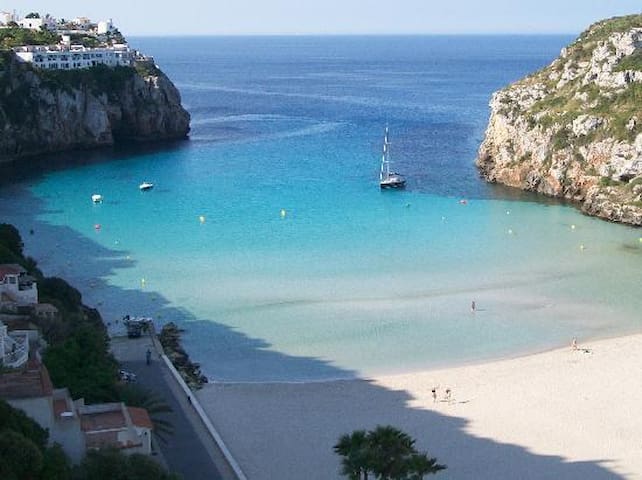 Siesta 2.března je jedním z nejlepších bytového komplexu v Cala en Porter. V bytě (nově zrekonstruovaný 01. 2016) má svůj vlastní velký balkon, jednu velkou ložnici, obývací pokoj / jídelna a koupelna.
Náš středomořském stylu byt (nově vymalovány a kompletně renovované 01. 2016) se nachází ve středisku Siesta Mar II. V bytě ve 400 metru procházky od pláže a do 100 metrů chůze od restaurací a barů.
Náš byt se nachází v krásném Cala'n Porter pouhých 20 minut od letiště Mahon a Mahon, hlavním městě ostrovů. To se nachází v vhodná pro rodinou rekreaci sloučeniny s svěží zahrady, 2 bazény, tobogánem a café / restaurace. Ohromující pláže (například "Cala") je vzdálen pouhých 5 minut chůze pomocí scénické schodech dolů z útesu nebo 10 minut chůze podél ulice. V docházkové vzdálenosti můžete najít dobrou řadu supermarketů, restaurací a barů pro zábavu.
Jeff was very organised in the lead up to to our stay which ensured a smooth check in. The apartment itself was beautiful and well maintained. Recommend Jeff and his place to anyone thinking of visiting Menorca!
Vysh
2016-07-21T00:00:00Z
We had a fantastic holiday staying in jeff's apartment. The apartment itself is compact, but has everything you need so we were very happy. The lovely big balcony was a great space to relax on and also overlooked the children's playground. This was ideal as our 5 year old son could pop down and play whilst we watched from the apartment. I highly recommend hiring a car whilst you're there. We drove around most of the island and found some fantastic beaches and little towns. A great holiday destination so thanks Jeff.
Susannah
2015-09-03T00:00:00Z
The host canceled this reservation 4 days before arrival. This is an automated posting.
Daniel
2016-07-01T00:00:00Z
El apartamento esta situado en una zona pensada para turistas. Esta limpio y es comodo. Muy cerca de mahón, a 10 minutos esta la cova d'en xoroi. Perfecto para dos personas. El anfitrión nos facilito la estancia allí.
silvia
2015-08-17T00:00:00Z
Everything was great! Perfect for two people.
Daniel
2016-05-31T00:00:00Z
We had a fantastic time at Jeff's apartment and can really recommend it. The communication with Jeff was perfect too, he answered within short time and was very helpful too. The apartment itself is quite small but more than enough for our needs during a summer holiday. It was nice and clean, even had some drinks and food ready for us, in case we wouldn't make it to the supermarket on the arriving day: this was highly appreciated! The apartment is located in an area with many other apartments (mainly british and some spanish people), but we were exploring the island by car during the days, so can't really say much about the whole area. We would recommend anyone to rent a car anyway, there are a lot of beautiful beaches just 30mins a way (Cala Macarella/Macaralleta, Cala Cavalleria etc.). Of course there is also a beach nearby, about 7mins by foot. We had a great time and if we're going back to Menorca, we'll definitely stay here again.
Jennifer
2016-08-18T00:00:00Z
Not terribly well suited for a relaxing family vacation. We came to Calan Porter for the second half of our stay in Menorca. We were 3 persons, 2 adults and a child of 5 years. The area consists of a lot of apartments with mainly british people and the common areas, pool etc, are quite crowded and the playground is worn. The apartment has a very nice balcony and the bathroom is new. The kitchen is quite small, so not suited for greater cooking endeavors. The host was very responsive, when he had forgotten to add linen and towels for 3 persons and for a key for the shutters as well as a fan for the heat. The main problem with the apartment however, and the reason that it is hard for me to recommend, is the noise from the bars in the area. If you are traveling with a kid and would like to go to bed before 1 am, it is likely to be accompanied by ABBA's dancing queen ;-) If you are the type that likes this, the apartment is perfect!
Stig
2016-07-27T00:00:00Z
Everything was really easy. Jeff was always quick to respond to emails and instructions for arrival were very easy. The apartment is small but perfectly formed with everything we needed. Big balcony and a view of the pool....just about. It was all pretty perfect!
Candida
2016-08-04T00:00:00Z
Typ pokoje
Celý dům/byt
---
Typ nemovitosti
Byt
---
Ubytuje
2
---
Ložnice
Cala en Porter, Illes Balears, Španělsko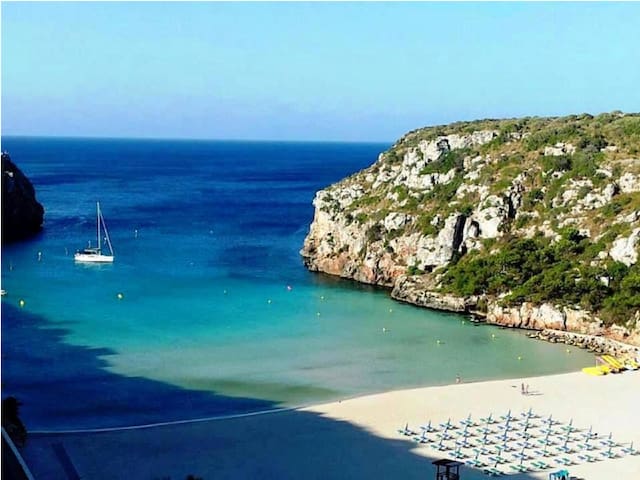 Byt v Cala n Porter, 3 minuty chůze od úžasného Cova Dn Xoroi,
Increible apartamento con průhledy a la Bahía de Cala n Porter ya 3 minutos andando del espectacular cova dn Xoroi, 5 minutos andando de la maravillosa Playa de Cala n Porter ya 5 minutos andando de Supermercados, comercios y Restaurantes. Úžasný byt s výhledem na Cala n Porter zálivu na 3 minuty chůze od velkolepé cova dn Xoroi, 5 minut chůze od nádherné pláže Cala n Porter a 5 minut chůze od supermarketů, obchodů a restaurací.
Typ pokoje
Celý dům/byt
---
Typ nemovitosti
Byt
---
Ubytuje
4
---
Ložnice
Cala en Porter, PM, Španělsko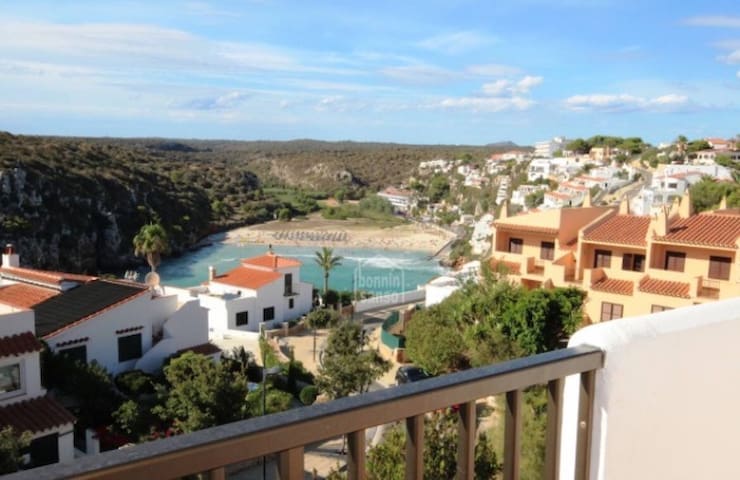 Apartment in Calan Porter, located in a very quiet area in a complex of only 8 apartments with large garden and swimming pool, has wifi, air conditioning, bathroom, kitchen with all accessories and appliances.
Estuvimos sòlo 2 días en casa de Damian y la estancia cumpliò con creces nuestras espectativas. El apartamento muy amplio, totalmente equipado y muy bien situado para movernos por Menorca. Damián nos dio una serie de consejos al llegar que nos ayudaron bastante a la hora de decidirnos en qué hacer durante tan sòlo 48horas en la isla. Sin duda volveremos, que no pudimos ni probar la piscina!
Clara
2015-09-17T00:00:00Z
Un appartement confortable et bien équipé, dans un cadre très agréable et à proximité du centre ville. Tout s'est bien déroulé !
Ségolène
2016-10-08T00:00:00Z
El barrio era tranquilísimo y los vecinos que compartíamos piscina y jardín eran superrespetuosos. Es de agradecer. El anfitrión nos trató muy bien, fue muy amable con todas sus indicaciones sobre lo que nos podía interesar de la isla dadas nuestras características. Intentamos visitar todo lo que nos dijo pero fue imposible en dos días. Lo que vimos nos encantó.
Tatiana
2015-07-17T00:00:00Z
Damian était très joignable et très serviable même avant notre séjour. Il nous a fait confiance facilement pour facilité l'arrivée et le départ. Indépendamment de la gentillesse de Damian, la zone CALA PORTER pedant la période de décembre est totalement vide. C'est un village qui vit surement durant les beaux jours mais pas pendant la saison froide, station balnéaire. L'appartement manque un peu de charme, de personnalité mais c'est lié au type de tourisme saisonnier j'imagine.
Laura
2016-12-30T00:00:00Z
Lovely stay, Menorca is beautiful and the apartments are in a perfect location about a 15min walk to the beach with plenty of restaurants and shops local. Damian was a very helpful telling us locations to visit, the island is small so a car comes in handy! Overall an amazing stay.
Patricia
2016-08-30T00:00:00Z
Excelente trato, atención y un placer conocer a Damián. Nos recomendó muy buenos sitios para comer en la isla. El alojamiento está muy bien acondicionado y el jardín y la piscina son un plus! Se puede aparcar sin problemas y en la urbanización hay todos los servicios. Muy recomendable!
Juan Pedro
2015-07-06T00:00:00Z
El anfitrion muy atento y accesible para todo y siempre pendiente y colaborador para cualquier duda sobre la isla. El apartamento situado en buena zona con sitio para aparcar alado de casa, y piscina. El apartamento limpio y con lo necesario. Hemos estado muy agusto! Sin duda como para repetir la proxima vez q vayamos
Lorea
2016-09-15T00:00:00Z
Excelente lugar para quedarse. Damián se encargó de entregarnos mucha información al momento de la recepción y además nos entregó muchas mantas y calefactores dado que es invierno y estaba algo helado por Menorca. Sin duda iría de nuevo!
Sergio
2017-01-02T00:00:00Z
Typ pokoje
Celý dům/byt
---
Typ nemovitosti
Byt
---
Ubytuje
4
---
Ložnice
Cala en Porter, Illes Balears, Španělsko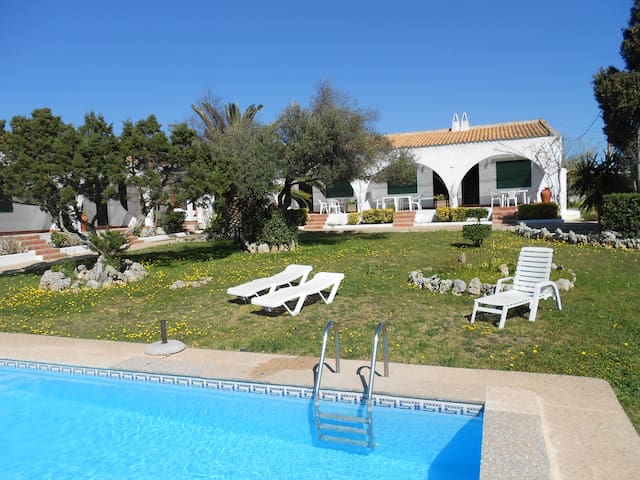 Attractions: the beach, restaurants and food, family activities, and nightlife. You'll love my space cozy space and views. My accommodation is good for couples, adventurers, business travelers and families (with children).
Typ pokoje
Celý dům/byt
---
Typ nemovitosti
Byt
---
Ubytuje
3
---
Ložnice
Cala en Porter, Illes Balears, Španělsko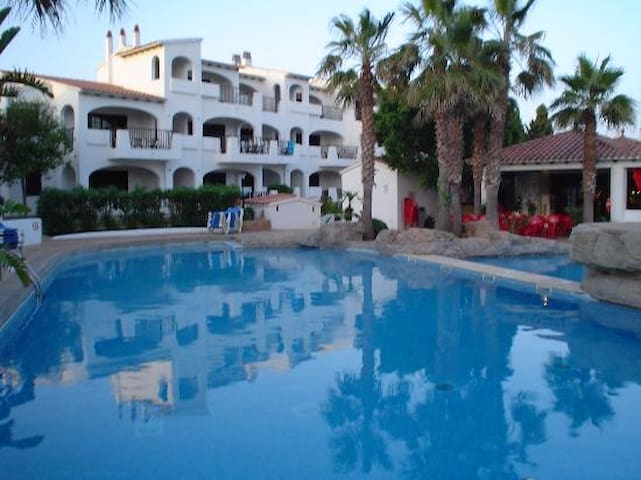 Náš byt je ideální pro dovolenou na tomto nádherném ostrově. Podlaha je velmi chladný a je plně vybavena vším komfortem. To má terasu s výhledem na pláž Cala en Porter.
Nuestra estancia en casa de Elisabeth fue muy agradable. La casa es cómoda y está bien situada. Joan, contacto de Elisabeth en la isla, nos vino a buscar porque nos costó encontrar la casa, y nos dio algún consejo útil justo antes de instalarnos. Al llegar nos dio la impresión de que la casa podría haber estado más limpia, pero esto quedo en un segundo plano con el paso de los días. Gracias por todo Elisabeth!
Adrián
2016-09-21T00:00:00Z
Durante 15 días, la casa de Elisabeth fue nuestro campamento base para descubrir la isla. Lo mejor: desayunar cada mañana en la terraza con vistas a la playa de Cala en Porter que, aunque no está en el top 10 de calas de Menorca, es preciosa, está a 5' y no se masifica. Lo peor: nada.
paula
2015-08-07T00:00:00Z
El piso, muy acogedor, esta situado en una urbanización muy tranquila y con varios restaurantes cércanos. La verdad es que nos hizo sentirnos como en casa y el tener una terraza en la que comer o tomar una copa con vistas a la playa es un punto muy grande a su favor. Totalmente recomendable la experiencia, y elisabeth un encanto siempre disponible y dispuesta a contestar a mis preguntas.
Fatima
2016-09-19T00:00:00Z
Die Unterkunft ist gut gelegen: in einer ruhigen Nachbarschaft aber auch nahe genug für das schöne Nachtleben im Dorf und die Nähe zum Strand ist sehr gut. Elisabeth hat für eine reibungslose Ankunft gesorgt und war immer für Frage erreichbar. Und die Sicht vom Balkon auf den Strand ist "unbezahlbar" :-) sehr zu empfehlen.
Roger
2016-07-30T00:00:00Z
Everything was great, really good communications and the whole process was simple. The location was great with a short distance to the beach, we went during the end of the season the beaches were not busy and warm enough to snorkel around on chill days. I do recommend getting a car to get around however buses are easy to get and super cheap!
Marius
2016-10-07T00:00:00Z
Tout était très bien... Agreable et pratique...
Kena
2015-09-01T00:00:00Z
Apartamento perfecto para pasar las vacaciones situado en una zona tranquila y con aparcamiento justo al lado.
Juan
2016-09-04T00:00:00Z
We loved Elisabeth's apartment, great location with a beautiful view and loved the balcony! Elisabeth was very helpful and made sure we enjoyed our stay and was really quick to reply to messages. We would definitely recommend a visit to the Cova d'en Xoroi (cave bar) which is only a short walk from the apartment. The only slight negative about the apartment was although it was clean on the surface, it did feel like it could have done with a bit more of a thorough cleaning in some places. But it certainly wasn't like it spoilt our time there! Thanks Elisabeth for letting us stay! Rosie, Matt, Leigh and Paul
Rosie
2016-05-17T00:00:00Z
Typ pokoje
Celý dům/byt
---
Typ nemovitosti
Byt
---
Ubytuje
5
---
Ložnice
Cala en Porter, Illes Balears, Španělsko
Small notification apartment suitable for two people and cozy furnishings. That apartment is located in the center of Cala'n Porter, where to, restaurants, supermarket, pharmacy and other necessities are bars. The beach is about 5 minutes away.
Typ pokoje
Celý dům/byt
---
Typ nemovitosti
Byt
---
Ubytuje
2
---
Ložnice
Alaior, Illes Balears, Španělsko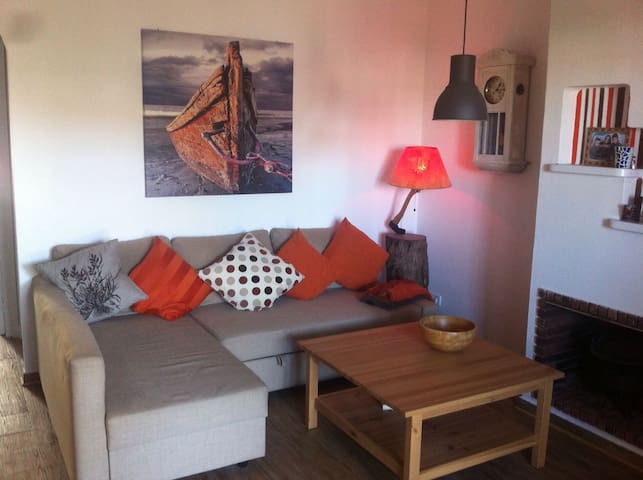 Recién renovado en May´16. Dos amplios balcones, dos habitaciones, un baño y cocina bien equipada (trona infantil). Amplio salón-comedor con dos sofás-camas. A 400m andando de la playa y a 50m de supermercado y restaurantes.
Un bonito estilo moderno y Mediterráneo.
La ubicación y el confort
l'accueil s'est bien fait et nous avons eu l'accès à l'appartement avant l'heure prévue. l'appartement est bien situé proche des commerces et de la plage. la présence d'une piscine a rendu notre séjour agréable.
Zakaria
2016-07-29T00:00:00Z
Nice holiday flat with all necessary for short stay. One thing I would improve is the internet connection, there is none at the moment. Area is amasing, it is a small town/village, but it is not as busy as other towns and has a brilliant calas beach.
Eugene
2016-07-06T00:00:00Z
This was a lovely little apartment within a complex. Well appointed (although could do with a kettle and toaster but suspect that might be a UK thing), nicely decorated, clean and very close to the centre of town. Access to the (impressive) beach is no more than a 10 minute walk or so but note that there are many steps up and down unless you choose to drive down and take your chances as to whether you can find a parking spot. The swimming pools and waterslides were a big hit with our kids and there are plenty of restaurants and bars on your doorstep. The only potential downside to this is that a nearby bar had nightly entertainers that went on singing until around midnight. We never met or spoke with Vanessa but text/email contact was easy and there is a small key safe affixed to the wall outside the apartment entrance which made arrival and departure completely painless. Overall, we had a lovely stay and many thanks to Vanessa for her hospitality.
Graham
2016-09-08T00:00:00Z
My family (4 adults) stayed 5 days at this apartment (14-18 October). We have thoroughly enjoyed staying at Vanessa's place. Although we didn't meet Venassa, she dealt with our queries promptly. We checked in and out without any hassle. The place is as shown in the photographs, beautifully decorated, well furnished with everything one needs for a great stay. It is in a complex with bar, restaurant, swimming pools with spacious areas to relax in. One can see the pools from the balcony of the apartment. There was no problem in parking our rental car on the road next to the complex which is well maintained and laid out; very clean. The shops, restaurants and the beach are within walking distance; couldn't be more convenient. It is a great place as a base for exploring the island. We would love to come back.
Bao
2016-10-18T00:00:00Z
Un appartement rénové avec une superbe terrasse. Nos enfants ont largement profité de la piscine et des toboggans !
frederic
2016-07-25T00:00:00Z
L'APPARTAMENTO E' ARREDATO SEMPLICEMENTE MA NEL COMPLESSO CARINO, ATTREZZATO PER L'ESSENZIALE, NON C'E' L'ARIA CONDIZIONATA MA LE VENTOLE A SOFFITTO NELLE CAMERE DA LETTO E I MATERASSI COMODI PERMETTEVANO DI DORMIRE BENE, BELLI IL TERRAZZO E LA SALA, LE PULIZIE DELL'APPARTAMENTO SONO POCO ACCURATE. IL RESIDENCE E' TRANQUILLO E BEN TENUTO, BELLA LA PISCINA. LA SPIAGGIA NON E' LONTANA MA AL RITORNO E' IN SALITA. NOI ABBIAMO USATO L'AUTO
patrizia
2016-09-11T00:00:00Z
Simplemente perfecto, lo que se ve aquí en fotos es lo que te encuentras cuando llegas. Muchas gracias volveremos
Saul
2016-10-05T00:00:00Z
Typ pokoje
Celý dům/byt
---
Typ nemovitosti
Byt
---
Ubytuje
6
---
Ložnice
Cala en Porter, PM, Španělsko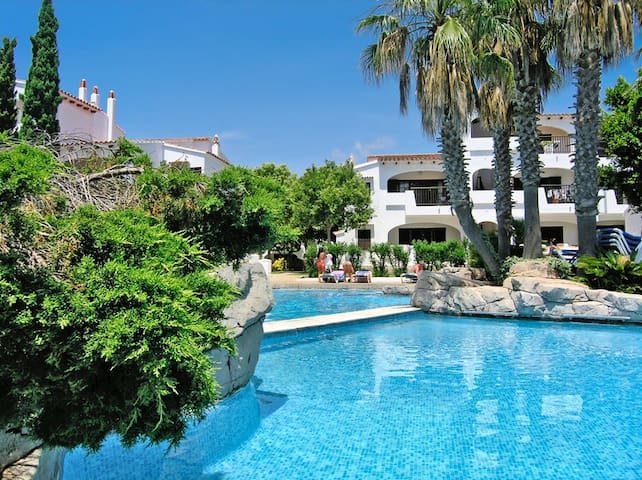 60 m2 přízemní byt s terasou. 5 minut chůze od pláže. Komplex má 2 bazény (pro dospělé a děti) a zahradu. To má parkoviště a blízko ke všem službám, které potřebujete), supermarket, restaurace, lékárna ...). 15 minut od Mahon a letiště taky.
Byt je ideální pro rodiny s dětmi, protože má bazény, relaxační místnost, piknik, slunečníky a plážové židle. Komplex dobře udržované a parkoviště. Je 60m2 s terasou, dvě dvoulůžkové ložnice s velkými okny (jedna se dvěma samostatnými lůžky a jedna s manželskou postelí). Kuchyň je kompletně vybavena (mikrovlnná trouba, sklokeramická varná deska, trouba, sendvičovač, pračka a nádobí). A jedna plná koupelna se sprchovým koutem.
A 10 minutos andando de les Coves d'en Xoroi. Un precioso lugar para disfutar del Sunset mientras tomas algo. El apartamento se encuentra muy cerca de todos los servicios necesarios: farmacia, supermecado, restaurantes...
Typ pokoje
Celý dům/byt
---
Typ nemovitosti
Byt
---
Ubytuje
4
---
Ložnice
Cala en Porter, Illes Balears, Španělsko
OFERTA ESPECIAL SAN JUAN Disfruta de las fiestas de Ciudadela. Atico con terraza y vistas al mar en la zona residencial Siestamar, en el centro del pueblo. Ubicación excelente, todos los servicios y super tranquilo y acogedor. Te encantará.
La ubicación en el centro de Calan Porter pero dentro de una zona residencial muy tranquila y bien cuidada. Thank you very much for choosing us. The apartment will be ready for your stay. You will find the keys in the key locker on the wall. If you are coming from the airport with a rented car just follow the sign to Calan Porter, 12 kmtos away. As soon as you get to the village you find a wide crossing with a restaurant on your right calle Sa Paissa. Pass the restaurant and turn right and park your car. The residential area es Siesta Mar I. Step in the private garden leaving the swimming pool on your left and check on your left the number of the apartment, 89-90. The number is seen from the ground floor but is placed in the top floor so you have to look up! go upstairs and you will find in the terrace the main door to the apartment. The doors are in a key locker on the wall and the code is (will be given when you book). Everything is ready for your arrival but if you need to contact me please give me a call or a message. Please make sure your departure is before 11.00 in the morning and leave the keys back inside the locker.
Un ambiente agradable y tranquilo.
We had a great two nights here, the beach just down from the apartment, perfect for a morning run. The area is quiet and the pool is a perfect bonus! The apartment was clean and had the basics. The patio area is bigger and nicer than the photos. Great place for the price. Bring bath and beach towels as only two bath towels were provided.
Katrina
2015-08-05T00:00:00Z
Nous avons été très bien accueilli par notre hôte qui nous a parfaitement expliqué comment trouver l'appartement à partir de l'aéroport. La situation est parfaite pour visiter et découvrir l'ile et la plage de Cala en Porter est très belle.
Jean-Claude
2016-06-08T00:00:00Z
Apartamento muy completo. Hay todo lo indispensable para una estancia de varios días. Emplazamiento ideal para poder disfrutar de la playa a pocos minutos andando. Las distancias a los diferentes puntos de interés son cortas. Finca muy tranquila. Vecinos respectuosos y discretos y piscina comunitaria muy correcta.
Carles
2016-06-27T00:00:00Z
We called Jose Antonio before we came to get the details for the flat, and how to get in. We didn't have any prior contact before we got in touch. The flat was a good walking distance from the Cala en Porter beach which is attractive. You can hire kayaks and pedalos etc, and there are several bars on the beach. The town has a 'resort feel' with English and Irish bars (alongside others) which some might like, some might not. There's a pharmacy and shops so all your needs are covered. The flat itself had a nice balcony with attractive sea views. It got the sun from late morning. It's also an easy walk to the Cova d'el Xoroi. The remainder was fairly basic and dated, and it's worth noting there are no double beds in the flat.
Felix
2016-07-03T00:00:00Z
Jose Antonio was very friendly and helpful, replied to all request very fast, provided clear instructions and his penthouse didn't disappoint me! I like everything about it, the location is great, two minutes to restaurants and shops, five minutes to one of most beautiful beaches in Menorca, fifteen minutes drive to Mahon, the Capital of Menorca, ten minutes to airport. Pictures are very real and you get exactly what you see except the terrace which is larger than I expected with the sea view and nice palm tree growing right in front of it. I enjoyed staying there!
Evgeniy
2015-09-15T00:00:00Z
Great apartment with a good location in Calan Porter. As pictured in advertisement (other than that is not the view from the apartment, but you can see the ocean from the balcony). We stayed for a few days and really enjoyed our stay. Jose provided all that we needed over AirBNB messaging. Logistically easy. The town is small but taxis are cheap to get around or the bus is also convenient to visit other parts of the island.
Jenni
2015-09-20T00:00:00Z
This is a lovely apartment in a beautiful location, we would happily stay in the penthouse again. Jose the host gave very clear instructions and communication was easy and straight forward. The apartment was clean and had everything one could need. Shops, resterants and the beach were all easy to reach by foot. The swimming pool was great.
Ellie
2015-06-20T00:00:00Z
The apartment is really nice: great sea view, clean and fully equiped. We just had some problem to find the right apartment as we went to the wrong residence (it was on the other side of the street). Jose was really kind and has assured we got at the place safely.
Rebecca
2016-08-03T00:00:00Z
Typ pokoje
Celý dům/byt
---
Typ nemovitosti
Byt
---
Ubytuje
4
---
Ložnice
Cala en Porter, Illes Balears, Španělsko
Because small details matter this apartment is completely renovated in 2017 and is your dream come true. Vimeo video Calan Porter Menorca holidays It is perfect for couples, friends, families with children to create moments never to forget.
This property is 5 minute walk to the beach. Calan Porter apartment has a lounge with a large sofa, kitchen-diner with a fridge, espresso coffee machine, juice machine, oven-microwave. Induction cooker, sandwich machine, cookware & tableware products. 2 double bedrooms with natural light, there is a sofa bed with a king size bed free of charge in the living room. The maximum capacity is 6 people. Calan Porter apartments are surrounded by attractive gardens, 2 swimming pools and sunbathing terrace. Also it has a large furnished terrace to enjoy the sunset and dinners with your family and friends. Is equipped of 43" TV and Wi-Fi. Full of small details that make a BIG difference comparing to other holiday apartments. More than perfect for a relaxing holiday to never forget.
Typ pokoje
Celý dům/byt
---
Typ nemovitosti
Byt
---
Ubytuje
6
---
Ložnice
Cala en Porter, Illes Balears, Španělsko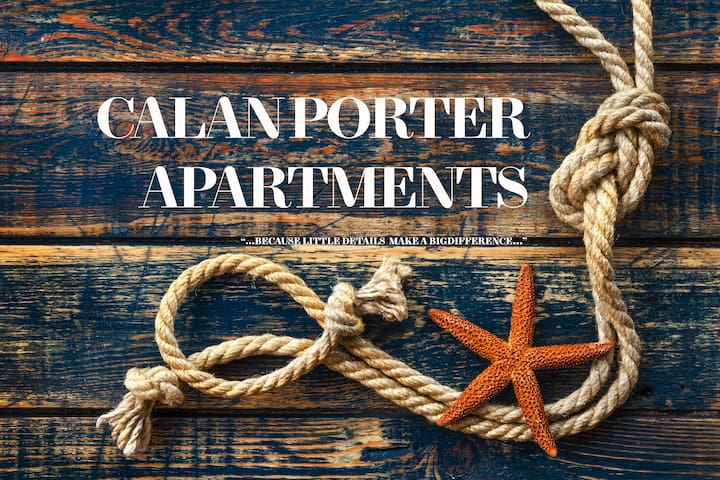 Ideally located for delicious holiday at the edge of one of the prettiest beaches Minorques. Two rooms with cupboards, a living room including a kitchen, a terrace overlooking a small street with access to views of the cove. The apartment is located in a small residence.
You cross a small street and go down the stairs to go directly to the beach. The water is turquoise and the lovely view. In ten minutes walk you can visit the restaurant, go shopping .... And you get to Cova for a cocktail in an unusual place.
Nuestra estancia en el apartamento de Frédérique ha sido muy agradable: está bien preparado en un sitio muy bonito. Lady, la persona que nos recibió, fue eficiente y amable.
Antonio
2016-07-15T00:00:00Z
Frédérique est vraiment quelqu'un de très arrangent le fait de trouver une location sans devoir prendre du samedi au samedi est très appréciable, le logement est vraiment très bien situé proche de la plage et un quartier très tranquille parfait pour se reposer, nous reviendrons avec plaisir
Vincent
2016-07-12T00:00:00Z
Amazing location ! Great views in a nice neighbourhood !! Frederique made us feel like at home. 150% recommendable ! Clean flat, nice terrace, easy parking! All you need around ! just settle in and enjoy your time !
Paulo
2016-09-19T00:00:00Z
Magnifica location e bella abitazione a due passi dal mare! 15 min dall'aeroporto con l'auto a noleggio che consiglio per poter girare ma la location offre tutto il necessario sia come ristoranti che come supermercati. Clima gradevole mai troppo caldo di notte! Mare stupendo con un sacco di pesci per lo snorkeling. Lo consoglio caldamente anche se mi piacerebbe avere la precedenza se decidessimo di tornare. Casa in ordine tutto funzionante. qualche piccola sciocchezza di usura da gestire ma nulla di importante. La casa non ha un grado di sicurezza elevata, ma la zona e tranquilla e quasi si può lasciare aperto. Ringrazio Frederique.
Stiwans
2016-07-31T00:00:00Z
L'appartement est nickel et très pratique, mais surtout idéalement situé !! Frédérique et lady sont adorables et très arrangeantes! Je recommande vivement!
Amélie
2016-08-10T00:00:00Z
Typ pokoje
Celý dům/byt
---
Typ nemovitosti
Byt
---
Ubytuje
4
---
Ložnice
Minorque, Baléares, Španělsko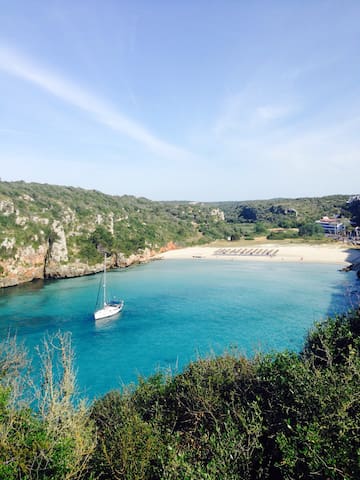 Apartamento de 2 habitaciones dobles con armarios empotrados. Cocina y salón-comedor totalmente reformados y reconvertidos en un espacio abierto y muy acogedor. Cuarto de baño con plato de ducha y lavadora también reformado. Dispone de 2 terrazas.
A bright and fresh apartment with 2 terraces to enjoy the Mediterranean weather all day. There is a communal and free parking area.
Cala'n Porter is located in a green area with gullies which end at a white sandy and turquoise beach. Moreover, the area is known because there is located one of the most visited places of Menorca: Cova d'en Xoroi.
We had a great time in Menorca, a lot due to the place we rented from Laura! It's a perfect apartment close to the beautiful beach in Cala en Porter. The apartment has everything you need and is very comfortable. Because of it's two balconies, it is very airy and cool. Laura is the perfect host! She response quickly and are easy to work with. She also took time to explain us everything we needed to know about the island and gave us great tips! We will definitely try to stay with her next time we visit Menorca. Can strongly recommend staying with Laura!
Marian
2014-08-06T00:00:00Z
Bonito y cómodo apartamento. Nos encantó tener lavadora y la plancha para darle un repasito a la ropa que traíamos en las maletas. Facilidad de aparcamiento justo en frente. El atractivo de la zona está en las covas de xoroi, un sitio que no os podéis perder! Y para la anfitriona un 10. Gracias por tu amabilidad!
Isabel Mª
2016-09-10T00:00:00Z
Estupendo apartamento! Hemos pasado una semana visitando la isla y nos ha encantado, el apartamento: perfecto, situado al lado de una cala preciosa a la que ir los momentos en los que no quieres estar visitando otros puntos de la isla. Gracias Laura por la acogida y la informacion para visitar la Isla.
Javier
2015-07-19T00:00:00Z
many thank's to Laura! she was a great host, everything was more than just fine. great apartment, great host, great island, great weather! the apartment was very clean, like you can see on the pictures - no surprises only perfect conditions! I only can make the biggest recommondation for Laura and her apartment! I think, it was not the last time I stayed there!!
Oliver
2014-08-01T00:00:00Z
The host canceled this reservation 80 days before arrival. This is an automated posting.
Philippe
2016-04-27T00:00:00Z
El apartamento corresponde con la descripcion, esta limpio y en buenas condiciones. Esta situado un lugar tranquilo a solo 5 minutos andando de los restaurantes y supermercados. No tiene aire acondicionado pero no nos ha hecho falta en ningun momento, la orientacion del apartamento have que la temperatura en el interior siempre sea agradable. Laura fue en todo momento muy amable, paciente y de gran ayuda. Gracias a ella hemos pasado unas vacaciones en Menorca estupendas.
Pablo
2015-08-07T00:00:00Z
Laura se preocupó en todo momento, respondiendo con rapidez a todas las dudas que teníamos. El apartamento estaba impecable, incluso Laura nos envió más fotos para que nos resultará más fácil encontrarlo. Tenía todo lo necesario para pasar unas vacaciones en Menorca sin preocúpese.
Leyre
2016-07-06T00:00:00Z
El apartamento es tal y como se muestra en el anuncio. Esta en unas condiciones muy buenas tanto a nivel conservacion como de limpieza; tiene todo lo necesario para no echar nada de menos. Todos los electrodomésticos funcionan bien. Aunque lo mejor es la ubicación, una zona supertranquila junto a una cala espectacular para ir con niños. El trato con Laura fue genial, nos hizo una guia con cosas para hacer en la isla, antes de llegar nos ayudó a buscar coche de alquiler y nos permitió abandonar la casa más tarde de lo establecido porque nuestro avión salia por la tarde y no había nadie en la casa...en general una experiencia fantástica que nos encantaría repetir.
Javi
2016-07-15T00:00:00Z
Typ pokoje
Celý dům/byt
---
Typ nemovitosti
Byt
---
Ubytuje
4
---
Ložnice
Cala en Porter, Islas Baleares, Španělsko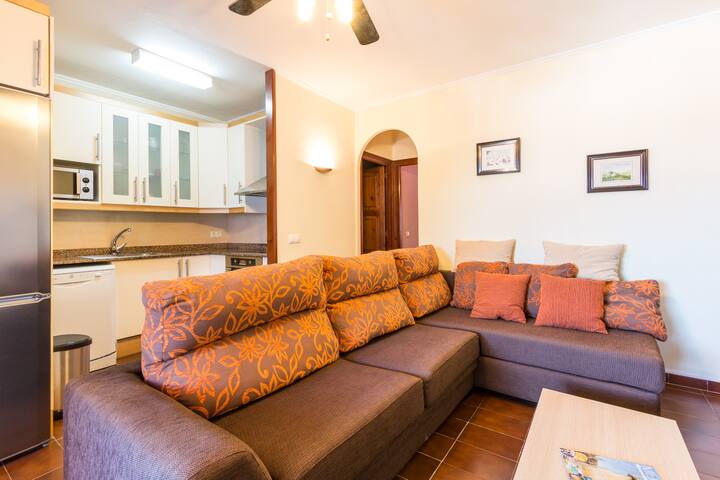 Pro zobrazení celkové ceny zadej termín. Mohou být přidány další poplatky a daně.