For travelers ($45 single/$85 for two) who are looking for a peaceful farm stay to write or renew. Near beautiful quiet lakes with wonderful hiking and running trails. A great location for Winery and Craft Brewery tours around Naples and Canandaigua.
Stay with us on our dairy goat farm in the Finger Lakes on Canadice Hill in a private sleeping cabin overlooking a quiet pond. In the adjacent private bathhouse is a coffee/tea bar with mini-fridge and microwave...small campfires are okay. Short distances to kayaking, scenic bicycling and great hiking and running trails. Or just enjoy farm life during your stay. This is a perfect get away from it all - walk in the woods place to stay. We are at 2000 ft. elevation and it is always a little cooler up here...best to come in the Summer or early Fall. Bicycle travelers welcome!
Jane's delightful Summerhill Farm was my home away from home while attending a class in nearby Conesus. The farm was like my own private Walden Pond, with charming cabin, friendly cats, and beautiful goats that were so much fun to watch and pet. Some highlights are the fireflies that twinkle in the nearby woods at night and millions of stars so clear in the country sky. It's peaceful and quiet and Jane is wonderful to meet. She is a welcoming and gracious host. I highly recommend this location if you enjoy a comfortable, rustic environment that is a step above camping. I was the envy of everyone else at my class!
Tania
2012-07-17T00:00:00Z
Jane was great! She gave me a tour of her farm, and I had a great chat with her and her grandson over goat cheese and honey bread. The cabin is private and cozy, great for any minimalist or someone looking for a simplistic relaxing stay. The animals are friendly, and the washroom is more than I could hope for. In the washroom you can wash your clothes, take a shower, and percolate some coffee all at the same time. Wifi can be spotty, but it's being worked on, and hey, you're here to relax! Jane suggested going to the ice cream shop in Naples, and I was not disappointed! Great smoothies, awesome ice cream, and giant scoops with every cone. Diner in Naples is a bit pricey, but not bad. Sandwiches at the window don't impress but can get you by. Honeyoke is close by, and has a bunch of outlet stores for necessities, whereas Naples is more wine tourism. You can buy campfire wood on your way here from the highway. My only warning is that there is little cell service out there for At+t - not sure about other networks. Overall, coming here you can expect a warm welcome, clean and orderly premises, and very serene surrounding. The stars are great at night! I'd highly recommend!
Eva
2014-08-24T00:00:00Z
Loved our stay at Jane's Farm! Super cozy with everything we needed. Sitting on the porch at night watching the stars and the moon over the pond was really special. Easy drive to nearby towns with great food. Thank you so much Jane!
Kathleen
2016-10-14T00:00:00Z
Jane's cabin was one of the loveliest places we've experienced, and Jane herself was an interesting and generous host. The cabin is adorable and having fires under the stars feels private, even though Jane is close by if anything is needed. We can't wait to go back. My son absolutely adored Jane and her farm.
Moria
2015-10-12T00:00:00Z
Summerhill farms was an idyllic rest stop for us along our bicycle tour in the finger lakes. Jane was a gracious host and showed us around the farm, ensured that we were comfortable in the cabin, and allowed us space to relax and clean-up from our travels. Summerhill farms is perfect for people who are looking for an escape, a quiet dip in the pond, and a chance to reconnect with a small scale sustainable lifestyle.
Lauren
2014-08-02T00:00:00Z
Another great stay at the goat farm in Canadice! A very sweet place for a stay in the finger lakes region.
Pamela
2016-08-16T00:00:00Z
Excellent quiet getaway!
Kristine
2016-06-27T00:00:00Z
Highly recommend! Summerhill is a quaint and peaceful little retreat. The cabin is well set up for a little camping-like experience without the discomfort! We made a campfire, played a boardgame and sat outside and listened to the birds in the morning. But the little bathroom, kitchen area provided hot showers, a refrigerator to store food, a coffee maker for brewing a fresh cup of java, and a washer/drier. Jane is wonderful and I shared breakfast with her. She is a lovely and kind person, fun to talk with. Got to try goatsmilk, meet some baby chicks and turkeys and of course, there were the goats! They're characters! A lot of fun to get to know. Honeyoye and Canandaigua are nearby as well as tons of cool little places to explore: Watkins Glen, Grimes Glen and much more. This area of the Finger Lakes is less explored but so worth it!
Madelena
2014-06-23T00:00:00Z
Typ pokoje
Celý dům/byt
---
Typ nemovitosti
Srub
---
Ubytuje
2
---
Ložnice
Canadice, New York, Spojené státy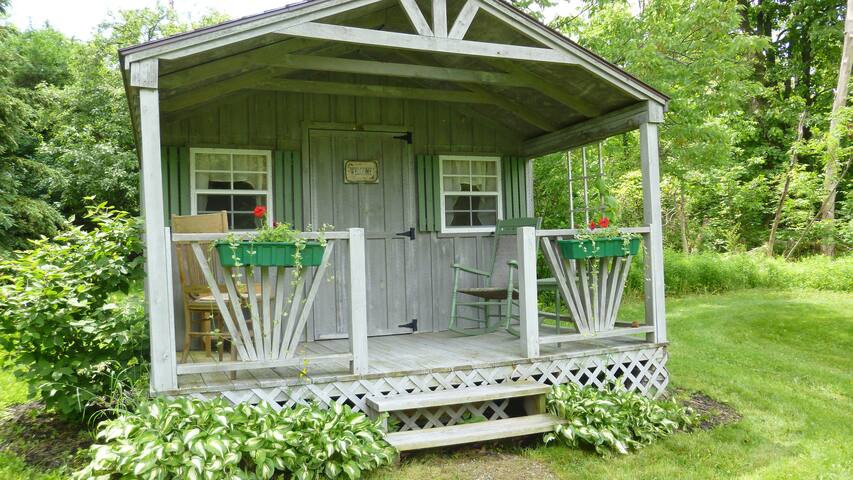 Gorgeous open floor plan with western facing views of rolling finger lakes hills. 40 acres of walking trails, waterfalls, pond and kayaking on Canadice lake. Wood fired outdoor hot tub with fire pit. Dine on the back-deck under a pergola as the setting sun blesses your incoming evening!
This enchanting space, once a barn built in the 1860's, has been lovingly converted into the perfect setting for a gathering of family and friends looking to reconnect, unwind and celebrate life. There are many place to sit, relax and socialize inside and out while taking in the breathtaking views. It sleeps 6 in beds (2 full and 1 queen) and has multiple couches and an air mattress for additional people to sleep on. There are 2 full bathrooms, a full finished basement with a ping pong table and entertainment center. There is a fully stocked kitchen for cooking and a gas grill on the back deck for grilling. In the summer months a huge organic vegetable garden is available for guests to pick from with fresh farm eggs on offer as well. Many hiking trails traverse the property including one which will take you down to Canadice lake through beautiful fields filled with native flower, fauna and a Hemlock forest.
We are in the country but a 10/15 minute drive to 2 very quaint towns for anything you would need.
Awesome house
Jaewon (Teddy)
2016-05-04T00:00:00Z
My friends and I had a great time at Chris' place! The outside was great - the view overlooks the woods, and it's so peaceful and relaxing. We hiked to the nearby lake, which was very scenic. The hike took us a little longer than expected, and you can't swim in the lake, but it was still really nice! We also enjoyed making a bonfire over the fire pit at night. There's a barbecue with a smoker as well. The kitchen is also well-equipped, and we were able to cook many full meals. Chris was very helpful and informative throughout the process, and though he was not there, he made himself available for any questions we had throughout the stay. He had someone come into the house around 9am each morning to take care of the animals (there are cats and a bird in the house), and she was able to help us as well. In terms of the actual place itself, we were a little surprised, as it seemed that someone had just left in a rush that day. In terms of sleeping space, there are only two usable beds, which meant that many of us were sleeping on couches - the basement had some sleeping space, but it was very uncomfortable to be down there. So, not a lot of privacy. Though there are two showers, only one worked. Overall, we all had a great weekend, and really enjoyed our stay - Chris' place had everything we could have asked for. We just wished that someone had made the place a little more guest-friendly before we came.
Chrissa
2015-07-06T00:00:00Z
We had an amazing time at Christopher's beautiful home! Their property is such a special place with so many unique features. Christopher was responsive, professional and accommodating. I highly recommend this home!
Ryder
2015-08-02T00:00:00Z
Great house! Chris was in communication the whole time and gave great recommendations for the area. I was in a group of 10, and there was plenty of space for everyone. Everything was there, just needed to bring in food, drink and sleeping stuff.
Michael
2016-06-06T00:00:00Z
My family and I had a fantastic time at the Fingerlakes Villa! We were welcomed with a lovely fruit and cheese platter, a roaring fire, and a gorgeous view. The house was well stocked with everything we needed for a wonderful weekend including ample firewood, and cooking implements. The main living area of the house is in fact much larger than it appears to be in the photos, we were a group of 10, and we were VERY comfortable in the space. We also enjoyed the property tremendously. We made a large bonfire each night, and took full advantage of the massive BBQ for a cookout. One morning, we took the canoe through the trails to lake Canadice, and enjoyed some canoeing on pristine, glass-like water on what appeared to be a private lake - we didn't see a single other person the whole time we were there. As for the area, we loved the location - it was easy to find the house, and popular tourist destinations such as Watkin's Glen, and Geneva were a short, scenic drive away. The house is close to fine shops, so we had no trouble finding all of the food we needed for the weekend. We are already looking forward to our next visit to the finger lakes, and will definitely stay here again.
Christopher
2014-10-14T00:00:00Z
Chris was very helpful and patient. It was an amazing experience overall as we stopped by his place on our way to Niagara. The property is unique, homely and rustic.
Vish
2015-03-23T00:00:00Z
The home was beautiful and unique! A great place to go if you are looking to relax and spend some time outdoors, whether you plan to take advantage of the surrounding area or just keep to the property itself. Chris was very friendly and helpful throughout the process.
Christina
2015-07-20T00:00:00Z
4.5 stars! The house is just as beautiful as the pictures suggest! It's situated perfectly, overlooking absolutely gorgeous green vistas. We ended up changing our plans of wine-tasting and just hung out at the house instead! It was about a 20-25 minute stroll to the lake (there's waterfalls, though we couldn't find them). The kitchen and grill area were fantastic for preparing a feast, and the fire pit/hot tub were lovely. (It's a wood-fired hot tub, which means you're in a big wooden barrel and it takes more work to get hot than you may be used to, but is completely worth it!). It's a farm, so there are roosters and wildlife if you're a very light sleeper. Only complaint is that there were a lot of flies when we stayed, but it sounds like it was due to the previous guests being filthy and is not a normal problem with the house. Overall, a great place to host a big group!
Shannon
2015-08-03T00:00:00Z
Typ pokoje
Celý dům/byt
---
Typ nemovitosti
Vila
---
Ubytuje
8
---
Ložnice
Canadice, New York, Spojené státy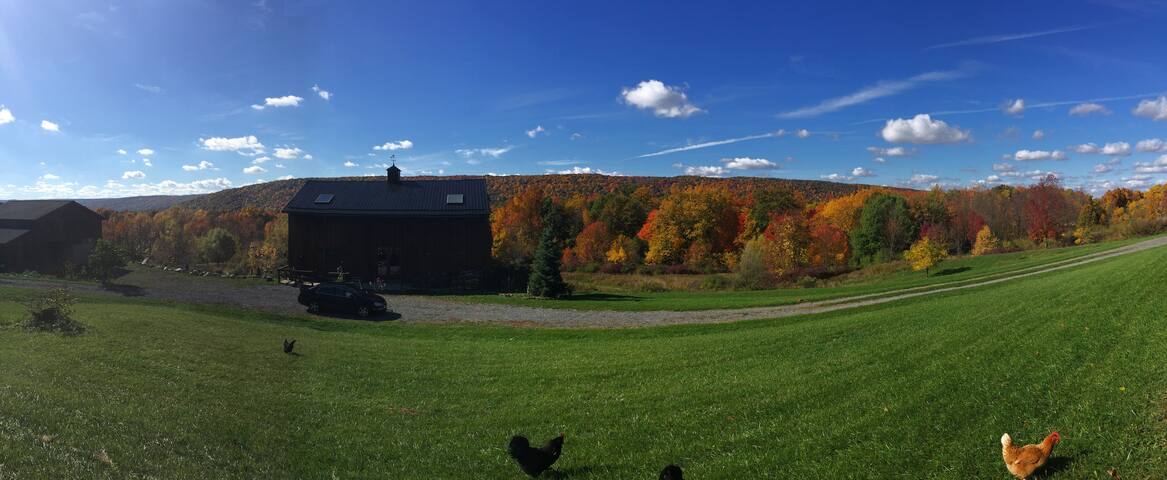 Private 800 Sq foot house on 70 secluded acres nestled in between Hemlock and Canadice Lakes. Land is connected to part of 6,000 acre plus state forest. We are within an hours drive to Letchworth State Park, Stoney Brook, Rochester, Watkins Glen, and the Western Finger Lake's.
1/2 mile off road. No neighbors. Views of Hemlock Lake in Fall. Hiking trails on the 70 acres that is connected to State Land on West side of Canadice Lake.
Quiet and peaceful
Robb was very accommodating and responsive. The cabin was perfect for the four of us- we stayed one night, enjoyed a fire outside, and made breakfast in the morning. It was super clean, and was the perfect blend of rustic and comfortable. Would definitely do it again!
Michael
2015-09-27T00:00:00Z
We absolutely loved staying here, the cabin was beautiful and Robb provided everything we needed even a bottle of wine, we felt super welcomed and super comfortable. I recommend coming to stay here it's not just beautiful in the cabin but the area is really nice as well. The neighbors are not near so you have privacy. The only thing I would say is that because we arrived at night we couldn't see the number and it took us some time to find it, maybe send a little map or the number more visible to find it easier. but other than that it's a perfect location if you want a relaxing,clean and comfortable stay, thanks Robb!
Xenia
2016-08-15T00:00:00Z
Quite and Beautiful
Bhaumik
2016-07-05T00:00:00Z
What a LOVELY place to stay! The cabin home was EVERYTHING we had hoped for! It was pristine, and everything we needed was there (including tourist info. and personalized handy info/directions, and a wide selection of movies) and if we thought of something extra we might want Robb accommodated us! The property was in a beautiful, quiet, secluded (NO neighbors or roads to be seen!) spot. Perfect spot for sitting back on the comfy chairs or hammock and star gaze! THANKS ROBB for sharing this gem with us!!
Dianne
2016-09-05T00:00:00Z
We had an awesome time at the cabin. Robb was attentive but left us alone to enjoy the beautiful, secluded spot by ourselves. Awesome cabin, great property. Highly recommend!
Peter
2015-08-30T00:00:00Z
Amazing, beautiful land and great well stocked cabin!
Olga
2016-09-11T00:00:00Z
This was my first time using Air B&B and my experience was wonderful. My fiancé, my three 15 year old nephews, and I decided to plan a last minute trip from Harrisburg, PA to Niagara. We also wanted to see Watkins Glen State Park so we decides to go with Robb's cabin in SpringWater, NY. We had trouble finding a place and we did not make the reservation until 11:30pm the night before. Robb responded early that morning and met us at the cabin with his daughter to show us around. He was very polite and accommodating. We then drove to Niagara and returned later that night to a neat and tidy cabin with all of the beds made and fire wood laid out by the pit ready to go. We had a great time. We only stayed for one night. We would definitely recommend this cabin to anyone traveling in the Finger Lakes region. It is a beautiful isolated getaway and the host made sure that everything ran smoothly. Thank you Robb, we will surely be returning!
Victor
2015-07-26T00:00:00Z
Although we didn't have the opportunity to meet Robb, his communication before, during and after our stay was perfect. The place was exactly as described and perfect for our visit to meet-up with family locally. Robb is an excellent host and the accommodation was great - spacious, very clean, quiet and really relaxing.
Steve
2016-07-12T00:00:00Z
Typ pokoje
Celý dům/byt
---
Typ nemovitosti
Dům
---
Ubytuje
6
---
Ložnice
Springwater, New York, Spojené státy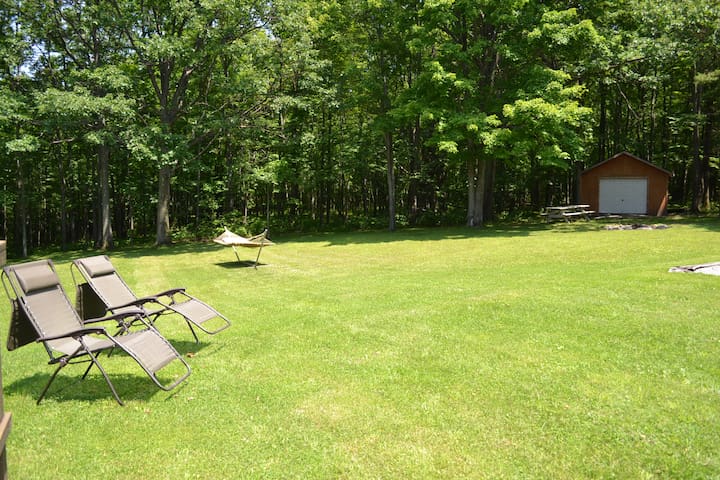 Sportsmans Paradise Lodge nestled on 3.5 acres of land. Property has spring fed pond for swimming and fishing. Across the street from lodge is 6,684 acres of NYS land for hunting and fishing on Canadice and Hemlock Lake. Also ideal for family gatherings, weekend getaway, a weekly or monthly vacation rental. This picturesque area offers privacy and a great place for nature lovers.
Great area for Outdoorsman (hunting & fishing) Excellent Family Getaway Ideal setting for Family Reunions, Graduations, Weddings, etc. Guest can bring their own ATV's, Snowmobiles, bicycles, skis, small boats, canoes, etc. There is also access for bigger boats and swimming at the other nearby lakes.
This area is peaceful and quiet. Located in the Famous Finger Lakes Region of Upstate New York. Ideal place for numerous activities; hunting, fishing, ice fishing, golfing, hiking, biking, skiing, boating, sightseeing, shopping and dining out. These are a few websites to visit: NYS Hunting Land across the street from lodge. For DEC Hunting information and Hemlock-Canadice State Forest go to: (URL HIDDEN) Canadice Lake Outfitters (Canoe, Kayak, SUP & Bike Rentals) 1 minute away ½ mile Go to: (URL HIDDEN) Hemlock Lake Parks/beaches/boat launches/fishing/picnic areas and playgrounds (URL HIDDEN) approx 10 min/ 8 miles Golfing approx 24 min/ 14 miles, Reservoir Creek Golf at Naples (URL HIDDEN) Downhill skiing & snowboarding, Bristol Mountain is approximately 30min - 20mi. For more information visit: (URL HIDDEN) For Family fun – swimming, shopping, wineries and dining out. Information about Kershaw Park/Canandaigua Beach and Finger Lakes tourism approx 35min/ 25 mi Visit: (URL HIDDEN) (URL HIDDEN)
Typ pokoje
Celý dům/byt
---
Typ nemovitosti
Přírodní / eko chata
---
Ubytuje
15
---
Ložnice
Springwater, New York, Spojené státy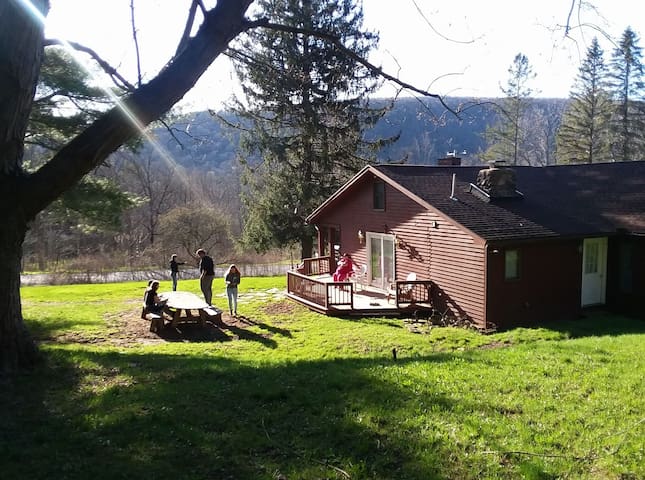 Welcome to your getaway - our cozy bungalow right on Honeoye Lake! Located in the rolling hills of the Finger Lakes, on our waterfront property. We look forward to your stay! Comfortably sleeps 2 in a full-size bed & can fit 2 adults (tight) on pull-out or 2 kids. The property includes flat-land lake access, a seasonal dock, fire pit, gas grill, kayaks/rowboat for rent, WiFi, cable TV, continental breakfast w/fresh eggs from our very own chickens, & a restaurant/bar/marina in walking distance.
This is a perfect home base to explore the Finger Lakes of NY! Our cozy bungalow has an open living room, kitchen and dining area, as well as a separate bedroom, bathroom (stand-up shower), and closet. The bedroom has a full-size bed to accommodate 2 adults, and there is a couch in the living-room that pulls out to sleep an additional adult guest (or 2 kids.. very tight squeeze for 2 adults but it has been done! Message before booking about this please!). Walk into the little but efficient kitchen, with a refrigerator (including basic condiments), a keurig and a selection of coffee and teas, cupboards for your food, working area for cooking, and all the kitchen utensils/pots/pans you'll need! Work, dine, stretch or play a hand of cards in the main space, - there are books, cards and puzzles for your use! Grab anything you forgot (toothbrush, toothpaste, razor, etc), then enjoy an evening out by the lake to watch one of our MANY beautiful sunsets. Stash your stuff in the walk-in closet and sleep tight with the crickets buzzing outside your window. We remodeled the bungalow in Summer 2015, and we continue to add to it - we hope you enjoy it!! Landscaping coming Summer 2017 - we can't wait for you to see what we have planned! :) The bungalow is less than a minutes walk to the 100 ft waterfront with lake access (dock and optional boat launch spot) - perfect for fishing (great lake for Bass!), and swimming! This is a great spot for families, hunters, fishers, skiiers, and lake-enjoyers :) The TV has basic cable, and COMING SOON - our guests asked so we listened... we will soon be adding a DVD player :) Also COMING SOON - we will be replacing our current mattress with a lovely Zinus Memory Foam mattress! The switch will happen by May 1st 2017. Dock goes in for the season at the end of April and comes out the beginning of October. Due to dock damage security, the security deposit is raised to $500 during the season when the dock is in (end of April through the beginning of Oct). Security deposit is $300 the beginning of Oct through the end of April.
The bungalow is located on a quiet and private road lined with numerous cottages. The property has a park-like feel with plenty of space for enjoying nature - this is a great area for hiking and biking opportunities with views of the lake :) **Please take note that we are not in walking distance to attractions! This bungalow is ideal for folks looking for a retreat from bustling life.** In the bungalow, I'll provide a detailed list of my favorite local spots for you for your stay! Most of the things I listed are at least a 10 mins drive, as most things are a little bit of a drive in country-like settings :)
My wife and I were staying a week here while we visited my old host-family from when I was an exchange student (hadn't seen them for 25 years.) Stacys bungalow was a perfect base for us and a great place to come back to and relax with a lovely sunset on the lake after a day out. Communication with Stacy was perfect both before and during the stay. Before we arrived Stacy made sure everything was perfectly prepared for us, including making sure of suitable breakfast items for my diabetic wife. Very nice to have milk and eggs and fruit and rolled oats available to us. During the stay Don took very good care of us, including a Keurig swap when the original one didn't want to make coffe ;-) Don and Laurie also were kind enough to invite us to join their lakeside bonfire watching 4th of July Fingerlakes "Ring of Fire" fireworks. Very good company and a lovely evening. We can highly recommend Stacy and Don as perfect hosts.
Kim
2016-07-11T00:00:00Z
Really beautiful bungalow on a really pretty lake. I enjoyed staying here for a week unwinding from work & life in the city. I couldn't have imagined a better place to stay. Don and Stacy are absolutely the best hosts ever. Extremely helpful . The bar next door at the Marina, the restaurants nearby are great perks, while still providing an ideal spot to relax in solace. I went up to the lake every evening for sunset. Like you see on the pic, its a sight to die for. Definitely returning again as earliest I cant recommend this place enough. If there is a spot book it before its gone! :)
sabri
2016-05-18T00:00:00Z
This was a pleasant experience from start to finish. Stacy was very accommodating even after our plans changed and we had a great weekend. The one small issue was addressed quickly and without much problem. The kitchen was well stocked with a few essentials as well as extra treats. We will definitely go back when it's warmer out and we can enjoy how close the lake is to the front door.
Katherine
2016-03-21T00:00:00Z
The cabin was just what I needed, and just as advertised..the neighborhood felt safe, and the view of sunsets (and moon sets) was just wonderful. thanks Deborah
Deborah
2016-06-11T00:00:00Z
Stacy was truly amazing! She was quick to respond to all my questions, very helpful and accommodating. The area is beautiful and the bounglow is conveniently located next to the lake and marina. We were able to bbq, have a fire going while watching July 4th fireworks. Trip was incredible! Thank you Stacy & Fam! 
Mike
2016-07-04T00:00:00Z
Stacy and Don's Bungalow on the lake was perfect for what we were looking for! It was a nice place for my girlfriend and I to get away for the weekend and spend some quality time together. The location was perfect and made for some nice sunsets over the lake. I was very impressed with the condition of the house and how well they took care of us during our stay. I would definitely recommend their place to anyone looking to spend some time on the water in the Finger Lakes Region!
Marcus
2016-08-15T00:00:00Z
The bungalow was a perfect getaway for a quiet weekend away. Everything is exactly as listed and the location is beautiful. Stacy and Don were very responsive and provided an answer every question I had. The bungalow was stocked with plenty of toiletries, blankets, towels....and even fresh fruit, eggs & milk ~~ What a surprise!! Although the host was completely available, they left us to enjoy our privacy :) I would recommend this cozy bungalow for any couple looking for a private getaway. There are plenty of wonderful places to visit or you can stay lake front on Honeoye. We did a little of both! Stacy provides a binder which lists every single thing you need to know about the bungalow, sites, best places to eat, where to shop, ect. (and she doesn't steer you wrong). Thanks again to this host for providing the perfect escape for our anniversary weekend.
Robin
2016-09-25T00:00:00Z
It was my first Airbnb booking and I wasn't disappointed at all. This was the perfect weekend getaway with my girlfriend! Stacy and her dad were wonderful and made us feel beyond welcome. Though we did not get to meet them, but Stacy made sure we communicated well and everything was well in order. The house was adorable and cozy. The lake was less than a minute's walk from the house and the view was beautiful. We stayed here only for one night, but would surely love to be back. Thanks Stacy for the wonderful experience.
Prasad
2015-11-03T00:00:00Z
Typ pokoje
Celý dům/byt
---
Typ nemovitosti
Bungalov
---
Ubytuje
4
---
Ložnice
Honeoye, New York, Spojené státy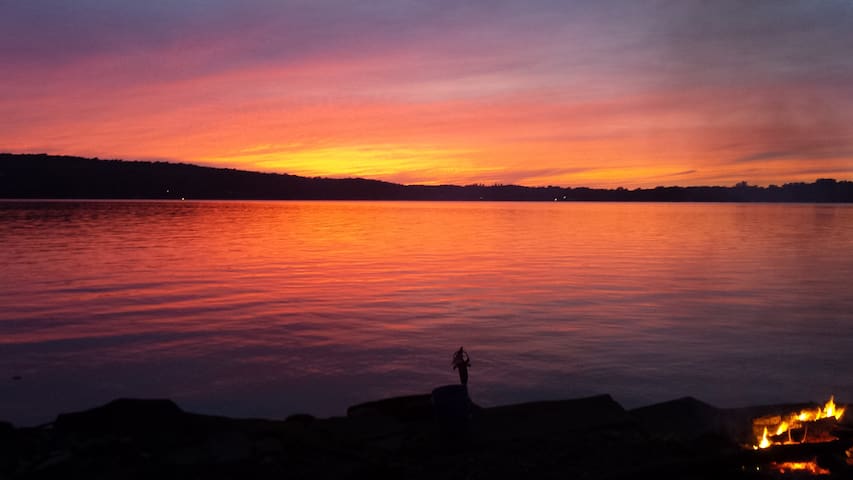 The neighborhood is made up of countless privately owned cottages along the Honeoye Lake. Honeoye has two traffic lights, a small supermarket, two gas stations, restaurants, a convenience store, boat launches, a public beach & other nearby attractions.
The knotty pine bedroom is spacious with an adjoining bathroom. The bedroom is equipped with a toaster-oven , microwave oven, electric burner, coffee maker and dormitory size refrigerator. There is a small table & chairs sheltered from the rain at the cabin entrance. There's also a grill, picnic table and portable fire pit. You can expect basic accommodations ... nothing fancy with an opportunity to get away and relax in a back country setting. In front of the cabin is a small pond and perennial gardens. The 75' lake front is approximately 40 yards from the cabin. Also available is a dock and an aluminum hoist for your boat.
Other than Karen's house, the neighborhood consists of seasonal cottages. Since her property is very level with the lake and is twice the average water front size, its just so awesome hanging out by the lake. Log Cabin Point is a short, private country road that ends near Karen's property. Its a lovely walk down the road to the trails in the woods where you can feast on wild raspberries or walk along the creek.
We came to New York for a family wedding and were looking for something a little more personal than a hotel - and Karen's guest cabin was perfect! Per the photos of the property, the cabin is located just a few steps away from the lake shore and even fewer steps to Karen's doorstep. Karen provides everything you need to enjoy the lake: fishing rods, water shoes, plenty of outdoor seating, a paddle boat, charcoal and wood for the fire pit on the edge of the water and more. The cabin itself is rustic and small, but has all the charm of a quiet family getaway spot. The bed was comfortable, the shower was warm and the mini-fridge was plenty cold for all our needs. Karen herself is an excellent host! While her schedule was busy during some of our time there, she still left us notes and stayed available to us even when she was away from the property. She's very knowledgeable about the area and even provided us some excellent suggestions on where to eat. If you're looking for a quiet, lakeside getaway, you've found the right place.
Wes
2014-07-14T00:00:00Z
Our stay at Karen's was pure bliss. We arrived in the midst of a heavy downpour. Within an hour, the weather had changed for the better and we were able to take a long boat ride. On a Thursday evening, we had Honeoye Lake all to ourselves. Sitting in the middle of the lake, we could hear the birds in the distance and nothing else but the occasional jet far overhead. We ate breakfast by the shore, watching the waves gently lap against the rocks. Yes, you are out in the woods here, but we never lacked for comforts. We self-catered, but there are plenty of places to eat just a few miles away. There is a coffeemaker, microwave, toaster oven, fridge, and hot plate in the room. Karen provides silverware, plates, mugs, you name it. This is the first time I have ever experienced AirBNB envy: I would trade places with Karen in a heartbeat. Karen is a gracious and thoughtful host. I only wish that we could have stayed longer.
Walter
2015-08-21T00:00:00Z
The unit is even prettier in person than in the photos. Karen helped us find this secluded property, and made sure we felt at home. The use of the fire pit her paddle boat were special treats!
patrick
2016-09-06T00:00:00Z
Very very sweet. I came in very late from wedding, and give her warning beforehand, she left a light on in the back of her car to give me a head's up when I drove in in pitch dark, and she left the cabin totally ready to inhabit. I never got to meet her (my fault), but obviously takes care to host well. And the location is super beautiful. Had a great night's sleep.
nick
2016-06-20T00:00:00Z
Karen was an excellent host and made us feel at home. The place is small, but cozy. Wish we had time to stay longer!
Matthew
2014-08-24T00:00:00Z
This was the perfect spot for our travels. The cabin was delightful. Karen thought of everything to make us feel like we wanted to stay longer. There were so many spots right there at the lake where we could just relax. Quiet, great views, and wonderful weather.
Willard
2015-07-20T00:00:00Z
Karen was very kind and the cottage was perfect for a short getaway!
Hannah
2016-11-27T00:00:00Z
Karen was such a nice and hospitable host to my girlfriend and I during our stay at her guest house! When we arrived late at night she had lights and lanterns out for us so that we could see our way to her house in the dark, and she set out beautiful flowers for us by the entrance to our cabin. She was soo sweet and an absolute pleasure, anything we needed at all she provided. The room is spare but had plenty of room for us. There is a kitchenette with a small fridge hot plate and microwave that served all our cooking needs and the lake is right at your doorstep. Karen has a paddle boat and all sorts of lake toys you can take out too. At night grilling and star watching, during the day a respite from the city in a secluded beautiful spot on one of the Finger lakes. What more could you ask for? Karen's place is an absolute find for anyone trying to get back to nature and relax in a peaceful setting.
John
2015-08-23T00:00:00Z
Typ pokoje
Celý dům/byt
---
Typ nemovitosti
Srub
---
Ubytuje
2
---
Ložnice
Honeoye, New York, Spojené státy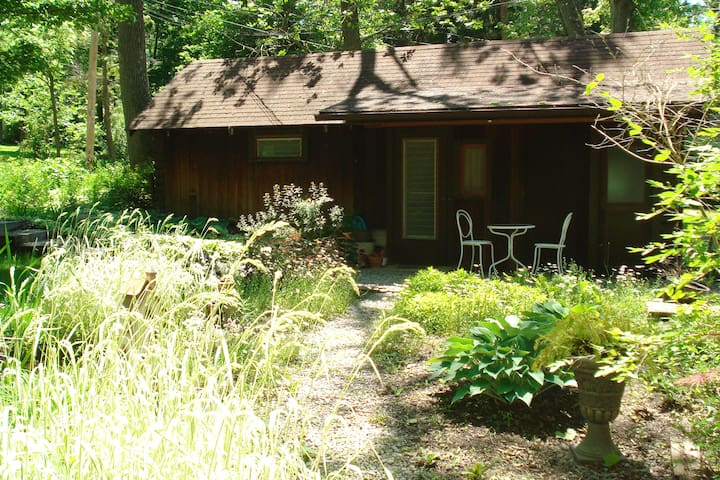 Roomy and restful cottage with big kitchen and sleeping porch only 100 feet from Honeoye Lake Park with lake access to beach, fishing, playground, docks and launch area. Marina has rentals and restaurant 1/4 mile south on East Lake Rd. Walk to town (.7 miles north) or drive to Cumming Nature Center in 10 minutes. Possible handicap access (wheelchair ramp and bath modifications).
If you have a handicapped person in your party, you may be able to use the ramp for the wheelchair.
Typ pokoje
Celý dům/byt
---
Typ nemovitosti
Dům
---
Ubytuje
6
---
Ložnice
Honeoye, New York, Spojené státy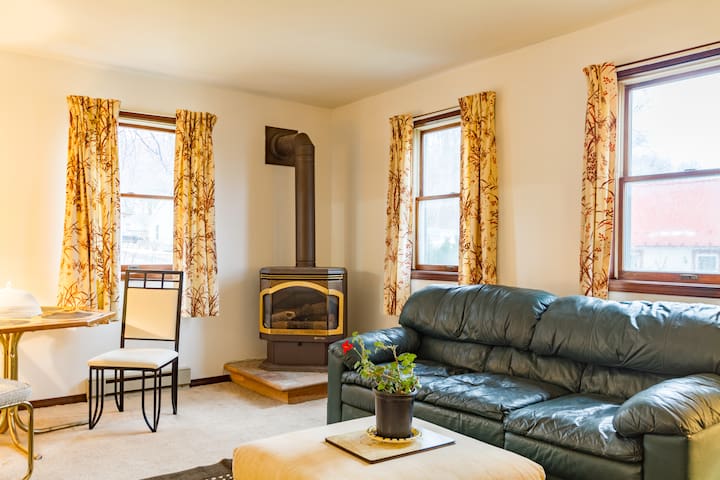 Spring opening 2017 : May 19th. Now booking your 2017 visit. Turtle Rock Hollow is a nature retreat that allows to you 'unplug' and recharge. Hike, swim and paddle the heat away in the fingerlakes. Hummingbird Haven sleeps 2 in the first floor queen and two kiddos in the loft. Outside is the picnic table, fire pit and cooking grill. The lodge houses the camp kitchen, hot showers, bathroom and gathering room. Horseshoes behind the lodge.
Hummingbird Haven is our most remote microcabin with a 10x14 footprint. As with all of our cabins the facilities (hot showers and bathroom) are located in the lodge. The cabin is constructed of old barnwood and is located on the hillside with a wonderful view of the valley below. No blacktop here. Natural bark mulch line out pathways.
Cathy was a wonderful host! Super helpful, responsive and easy to get in touch with. She also makes really great coffee! The cabins were even nicer in real life than they looked in the photos. Very cozy and clean. The bed was extremely comfortable and Cathy has a great decorating style that I loved. The bathroom is separate from the cabins and has a bit of an outhouse style to it, but I found it very clean. The location is great and easy to get to all the finger lakes. We spent lots of time in Naples hiking and going to winerys. Overall I would highly recommend turtle rock hollow!
Libby
2016-07-04T00:00:00Z
Catharine was very accommodating. She gave thorough advice and was very knowledgeable on the area. The property was charming and rustic. Enjoyed my stay.
Jonathan
2016-08-02T00:00:00Z
Great place to stay! I can't wait to bring my wife and kids!
Brian
2016-08-31T00:00:00Z
We had an amazing stay in Catharine's cabin! We arived quite late and Catharine did everything to explain how to find the place and waited there for us. The place is extraordinary! Our loft was cosy and cleen and really it was all we could hope for after a long day. The main cabin is welcoming and a really special place. Catharine is a really nice person and she was extremely nice, welcoming and informative. The communication with Catharine was totally smooth even before our arrival. The area is unique and we certainly plan to visit there and Catharine again. We would highly recommend staying in Catharine's cabin to anyone visiting the area.
Rani
2016-10-03T00:00:00Z
Cathy was a wonderful host, and the campgrounds were lovely. She gave us tons of suggestions for things to do & see, and was welcoming to us and our dogs!
Ariel
2016-07-17T00:00:00Z
Very enjoyable time! Nice rustic feel.
Jon
2016-10-26T00:00:00Z
Everything was just as described. Catharine was friendly and helpful. We had a great time!
Amy
2016-10-09T00:00:00Z
This is sweet little place with just the right balance of rustic and comfort. Beautiful area, too! Want peace and quiet but not utter isolation? This is the place. Hummingbird cabin and teepee are not handicapped friendly but I think the lower 2 cabins and lodge are close. Friendly greetings and laid back atmosphere. Great spot for those of us who once lived camping but who can't sleep on the ground anymore and want to potty and shower with more ease. Peaceful!!
Julia
2016-07-29T00:00:00Z
Typ pokoje
Celý dům/byt
---
Typ nemovitosti
Srub
---
Ubytuje
4
---
Ložnice
Honeoye, New York, Spojené státy
Beautiful and historic 1940's home overlooking Hemlock lake and the historic St. Michael's Mission in Conesus. This secluded home is tucked away from it all, and to use an old cliche, is truly off the beaten path. The home was masterfully crafted into the hillside within a wooded area and has a gorgeous view overlooking the other mission buildings, and a stunning back porch vantage point over and across Hemlock lake. It'll take your breath for a moment, and once here you'll surely feel inspired.
Home is mission style, brick, modernized, and tastefully restored with a flare for the artistic. There are original stained glass windows, beautiful paint and woodwork, hardwood floors, and custom baths for that special sort of pampering. Historically the home was used as the nunnery portion of the mission, and while the pictures don't quite tell the story, your visit surely will. This unique property with it's deep gorges, sloping landscapes, and tumbling brooks flowing into Hemlock Lake, is home to the historic St. Micheal's Mission and other various faith based and benevolent organizations since the early 1900's. The history that happened here is only imaginable today although much has been written about it. On site there are 50 picturesque acres to explore, a pavilion for small or large gatherings, and ample parking. Site could be used for events, although at current the property is only being used for residential purposes, so as a visitor here you'll have the run of the place. Come step into this timeless place. While you're here, visit the Hemlock Canadice State forest with it's 6684 glorious acres within walking distance, and for those nature lovers who want to get away from it all, another 150 acre nature conservancy directly across the street. The property may become available for long or short term lease depending on time of year. Could be used for corporate retreats, weddings and wedding parties, or that romantic weekend getaway. Inquire today, you won't be disappointed! As caretakers, we'll work to make your stay here seamless and serene, and of course you'll never forget these views and the hiking on the property. Home is lightly furnished although current photos don't show it: Kitchenware, bbq grill, towels and bed linens included. Wifi, electric, water, recycling, and trash are accounted for as well. It's pretty much all set!
Mission Road, in Conesus NY, Did I say yet that it is definitively off the beaten path? In case not, unless you live on the road, or are the postman or the occasional sightseer, we probably won't be seeing you. The road is not a thoroughfare. The neighborhood consist of private single family homes, a beautiful winery, and 6600 plus acres of state land, and the 150 acre nature conservancy, which means lots of deer and wildlife. The nuns I hear, as past residents, used to feed the deer through a window of the convent home, and so they became somewhat tamed over time. It's more than common to see deer in the lawns of both the convent house and the main front lawns. So, with furry friends like these, I'd say it's a great neighborhood!
We used this location for a 48 hour retreat for women. It was a large house with many bedrooms. It's an uncluttered, extremely clean house that is not the permanent residence of anyone, that we can tell. The downstairs has a living area and an eat-in kitchen, as well as a half bath and two bedrooms. The upstairs has two full baths in addition to the rest of the bedrooms. There is a big porch with tables and chairs. It is extremely secluded, on a road up in the hills in the middle of the woods. The closest neighbor is about 1/5 mile away, and there is no direct view of the neighbor from the house. The road can be seen, but there was little to no traffic on the road for our whole stay. The house is located on the back side of a huge, empty facility called "St. Michael's Mission" that looks like an old college or monastery. The porch looks out partially onto the backside of those buildings as well as a slight overlook of some woods going downhill. The larger buildings themselves are the focal point of the property, the rental house is like a "dean's house" on a back driveway. We walked around and looked at the Mission buildings and they're beautiful and intriguing and lonely feeling. But back to the house. I really feel that the pictures don't do the house justice. The floors are shiny and clean, as are the bathrooms. We have a few "germaphobes" in our group and they were all satisfied and comfortable. The bedrooms are tidy and finished. The photos make it look as though the property is unfinished, but the actual property is well-maintained and comfortable. I was expecting a "hunting camp" feel, but it didn't feel like that at all. The living area is comfortable, with leather couches and soft lighting. We had probably the maximum capacity for sleeping there, and we all squeezed in to meet together. It was cozy and comfortable. It would seat 6-8 with no problems but we had more. There were camp and kitchen chairs available, so we pulled those in for additional seating. We used the wifi but not the TV, though it seemed available and easy to use. The bedrooms have a variety of single and larger beds. They were all clean and well-equipped with bedding. The house is well made and large and the bedrooms were private from each other. We had no problem with noise for the light sleepers. The kitchen is bright, clean, and well stocked for anything you'd like to cook. There were two tables and chairs, but unfortunately no great place for all of us to eat together at one table, at least inside. It was rainy and chilly and we didn't venture outside much, if we could have eaten on the porch that would have solved it. At one point, while standing in the kitchen, we looked up to see a buck watching us...
Brianna
2017-03-26T00:00:00Z
Korey was a great host. Yearly we have 5 couples that get together for the weekend. This place worked out perfect and we could not have asked for more. The location was beautiful, and the house was great. There was a winery a short distance away and we had a great time visiting there. Korey also stopped up and gave us a tour of the entire facility and that just added to the weekend. Will definitely recommend this place to friends and will try to get back ourselves in the future.
Don
2017-03-19T00:00:00Z
Korey is an excellent host. He provided an excellent welcome email and was very responsive throughout our stay. The mission was an off the beaten path location that was great for our friends weekend away. Would highly recommend it to a large group with close proximity to a winery and 15 minutes to dinner spots. The mission was very unique and while I was a little nervous booking such a historic convent property for our group, I would absolutely stay here again (our group loved the mission!!).
Rich
2017-03-05T00:00:00Z
Korey was a great host and was open and honest with any of the communication you will place in with him. He explains in detail what the house is in store of and what are the rules you'll need to know. Sleeping and living in there was plain simple as if it was easy to understand what the host expects from their tenants! The house was quiet, clean, feels new, and modern out of the vast country side of winery New York.
Justin
2017-02-26T00:00:00Z
My colleagues and I stayed here for a writing weekend and had a great time. The space is perfect for several people or families staying together for time away. The place is historic, well designed for communal living, and peaceful!
Robyn
2017-02-19T00:00:00Z
Korey was a great host. We enjoyed the rural location and time together with our group.
KJ
2016-12-04T00:00:00Z
Amazing host and magical property. Such a wonderful and historic place to stay. it's a breathtaking view and so peaceful.
Sashi
2017-02-01T00:00:00Z
The house is huge, spacious, made for large families/friend gatherings. It was clean, organized and the kitchen is well equipped. The beds slept great. The main bathroom has an amazing shower! The host effectively communicated every aspect from check in to check out.
Renatta
2016-12-12T00:00:00Z
Typ pokoje
Celý dům/byt
---
Typ nemovitosti
Dům
---
Ubytuje
15
---
Ložnice
Conesus, New York, Spojené státy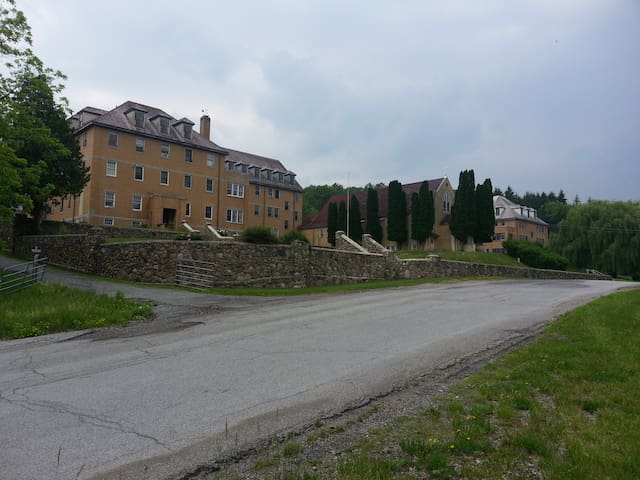 Absolutely stunning view of Honeoye Lake. FULLY FURNISHED 15 minutes to Canandaigua Heart of the Finger Lakes 3 bedroom, 1.5 bath, TONS of windows overlooking the lake. Back deck, sunporch, dining room, sitting area, huge living room, great kitchen, on peaceful wooded lot.
Near wineries, breweries, restaurants, beaches, shopping, yoga/fitness.
Typ pokoje
Celý dům/byt
---
Typ nemovitosti
Dům
---
Ubytuje
6
---
Ložnice
Honeoye, New York, Spojené státy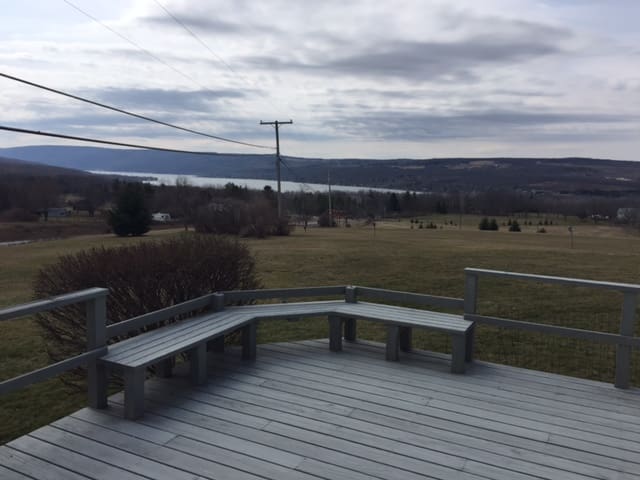 Impressive custom built house with 3400 sq ft on the lake. Reserve today for the fabulous lake vacation you've been thinking about. Great location to bring together families and friends. We offer one of the few properties that is waterfront, big enough for multiple families, allows pets, has a hot tub and all the amenities. Just one mile from town, quiet drive, surrounded by trees, lake and serenity. one acre paradise. The yard is flat, easy access to lake, plenty of parking space. WINTER PRICE
Inside: The spacious, well-equipped kitchen is a chef's dream. It has plenty of counter-top space, abundant cabinets and storage for groceries. The L-shaped kitchen has modern appliances, is great for entertaining and cooking. It is stocked with pots, pans, serving bowls, platters, etc. in a variety of sizes. There is a pass-through to the dining room, for ease of serving. The dining room has space for six and the Great room will accommodate many more. The Great room facing the lake has a vaulted wood ceiling, with 3 huge windows and 2 sliding glass doors, for great views of the lake and sunsets. Relax and enjoy the views from the Great room, which has comfortable furniture including a couch, table with chairs and a futon. The family room will have you settling in and feeling right at home with the two couches, huge TV, cable, dvd, and fireplace. At the other end of the Great room is the Music and Billiard Room. It has an upright piano, a family style billiard table with a 2nd fireplace. Upstairs are 4 Bedrooms and 2 full baths with plenty of space to move. The master suite, single room and one bathroom are in the left wing. The other bedrooms and bath are in the right wing. Your friends and family will enjoy the two wings and privacy. There are alcoves in hallway for port-a-cribs or luggage. If that is not enough, for extra sleeping, there is a futon and 3 couches downstairs. Outside: No steep access points; there are a couple steps up or down, but the land is level (unlike many steep lake properties). This has 120 ft of private lakefront. There is ample parking for at least 8 cars. Pet friendly, with a dog kennel on side of house. The water is calm and warm. You can wade in the shallow water and a perfect spot for children to splash and play. any time of year there are so many things to do: Go swimming, fishing, water skiing, hiking, tour our wineries, winter skiing, ice fishing, the list goes on and on! There are 2 (single person) kayaks and 1 canoe, so be sure to get out on the water. Bring your boat or rent one from the marina just 1 mile south. 60 ft. dock in front yard. There is a spacious deck on the back, shaded by big trees a wonderful place to enjoy your meals. Cook your meals on a nice gas grill. The deck is big enough to hold two tables and 8 chairs, with additional seating on the sides, plus the built-in benches on the sides. There is a separate table in the grass that will seat 8. Just off the impressive deck on the right side is the Hot tub for 5 (with chaise). It is just the thing to take the chill off or soothe any aches. There is plenty of space in the side or back lawns for volleyball or other activities. There is also horseshoe pit behind the garage. In the evening you can enjoy s'mores at the fire-pit on the right side by the water's edge. For those occasional hot days, you can quickly cool down in the central air-conditioning. Enjoy all the amenities of this fabulous property. The lake is calm and shallow, and warms up very quickly, it is swimming temp Jun-Sept. (unlike other deep lakes that are cold). We are usually frozen by new years eve creating opportunities to ice skate or drop your fishing line through the ice and see what you catch. It is just one mile to town, where you can grab some groceries, take in summer evening concerts at the town gazebo or grab an ice cream cone. This is a year round rental vacation house, available for your enjoyment. We rent the property for others to be able to enjoy the area. If you want room to spread out and enjoy nature, this will be the place for it. Great location for family reunions, birthday celebrations, anniversaries, etc. Make this your destination for making memories. Check in time: 4pm Check out time: 10am Weekly Summer rentals, run Sat-Sat. For other options, please contact us. We have added security cameras to protect the property and prevent problems. They are focused on the doors and the parking area.
Very quiet neighborhood, very quiet lake. Private drive, please drive 10mph around houses, in summer to keep dirt down.
Suzanne arranged someone to take care of our arriving when she couldn't be there. The listing description was very accurate. The location is excellent! The house in a very quiet neighborhood. The dock was taken off already when we there, probably because that was middle October. But the kids managed to use the aluminum boat and kayaks in the lake, since the house has easily walk in private shoreline. There is marina 6 minutes away, we rented a pontoon boat and cruised on the beautiful lake 4 hours only for $130!
pike
2016-10-09T00:00:00Z
Suzanne's space was large and open, perfect for large groups! My friends and I stayed fore three nights over the New Year's Eve weekend. We had a blast and the common spaces were large enough and comfortable enough for us all to be together. The house had most everything we needed: linens, towels, dishes, pots and pans, silverware, etc. We did end up needing to buy more toilet paper and garbage bags, but with 10 people staying for three days, that was not unreasonable.
Meghan
2017-01-02T00:00:00Z
Our group spent a super fun weekend at Suzanne's lake house. Some things really set this property apart from other cottages. Its location at the end of the road and the large yard create a quiet, private setting. It's great to be able to launch your kayaks and canoes right from the back yard, and the view across the lake is relaxing and beautiful. We had 12 people staying over, and the house really handles a crowd well. We never felt congested or crowded even when everyone was in the house at the same time. The house is lovely and nicely furnished but feels comfortable and welcoming. The little village of Honeoye has some surprising little upscale cafes and access to groceries and supplies right around the corner. Suzanne was very accommodating to our last minute reservation when another property fell through, and we all felt that it was a lucky turn of fate that brought us to Melody Woods!
Laura
2016-10-16T00:00:00Z
Great house, great location. Loved the kitchen and hot tub especially. The property is perfect for large groups and enjoying the lake.
Blake
2017-02-25T00:00:00Z
We were here in the winter and didn't have a chance to enjoy the lake so we cannot review the use of the boats available or the fishing equipment. We were happy we brought along extra throws to cuddle with in front of the fireplace. There are take out options within minutes of this location and a wonderful Italian restaurant about 20 minutes away. We were there mainly to spend time with family and sure there is much more in the area to take advantage of during a warmer season.
Joanne
2016-12-25T00:00:00Z
Typ pokoje
Celý dům/byt
---
Typ nemovitosti
Dům
---
Ubytuje
14
---
Ložnice
Honeoye, New York, Spojené státy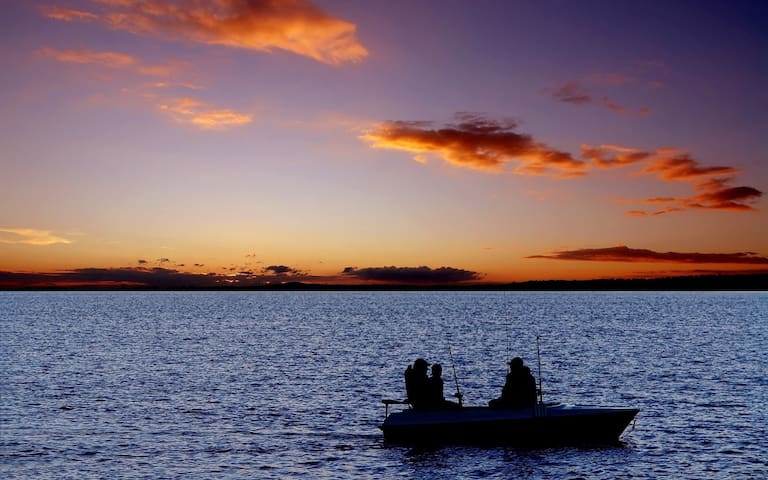 Our cozy lakeside cottage is located in the beautiful Finger Lakes region on the Western shore of Honeoye Lake. It is the perfect quiet getaway for couples or a family. This two bedroom, one bathroom cottage is cozy and recently updated.
Our cozy lakeside cottage is located in the beautiful Finger Lakes region on the Western shore of Honeoye Lake. It is the perfect quiet getaway for couples or a family. This two bedroom, one bathroom cottage is cozy and recently updated. The cottage has two small bedrooms in the rear, one with a single bunk and one with a single/double bunk. The size of the cottage is 440 square feet. The cottage is affordable yet has many comforts of home with a 3 piece bathroom. Kitchen includes full size fridge, microwave, stove, kettle, coffee maker. Also Window AC Units in both bedrooms, TV, internet access, dvd player and propane BBQ. The galley kitchen is fully equipped with all kitchen utensils so bringing your own items is not required. The kitchen table extends out and a shelving unit is available for storage. The living area has a futon couch which doubles as extra sleeping space and has two large chairs by the window providing a great lake view. The sliding glass doors off the living area leads onto a wood deck with a breathtaking view of the lake. There is a patio table and chairs for outside meals and lounging. The private fire pit is great for night time gatherings and is just a few steps away from the stairs leading down to the 50 feet of shared waterfront (with 2 other cottages) as well as 20 feet of private dock exclusively for the guests of our cottage. Our cottage is located in a world class wine & golf region, outdoor activities and quaint shopping in the small town of Honeoye. It is a two minute drive from a beach/playground/pond area (Sandy Bottom Beach located on the North Shore of Honeoye Lake) that is perfect for swimming and fishing when the seasons permit. Main Street is 2 minutes away which includes several restaurants, take out pizza, a café including ice cream, grocery store, dollar general, gas stations, liquor store, hardware store etc. Trident Marina is located directly across the lake which is a full service marina including a bar area and restaurant. This area has so much to offer. We request that you please leave the cottage in the same condition it was in when you arrived. For your stay please bring your own sheets, pillow cases, swimming, bath and kitchen towels
Fantastic location - gorgeous views and being able to eat out on the deck the whole time really made it, despite not being able to swim in the lake due to blue/green algae as the weather had been so hot....but there's a great public beach 20mins away on Lake Canandaigua. Our kids loved the play park at the school in Honeoye plus the kids staying in the rental next door!
Nicola
2016-08-22T00:00:00Z
Our stay at the cottage was wonderful! Cute, clean cottage with a beautiful view of Honeoye Lake! We loved it!
Anne
2016-07-30T00:00:00Z
Typ pokoje
Celý dům/byt
---
Typ nemovitosti
Dům
---
Ubytuje
6
---
Ložnice
Honeoye, New York, Spojené státy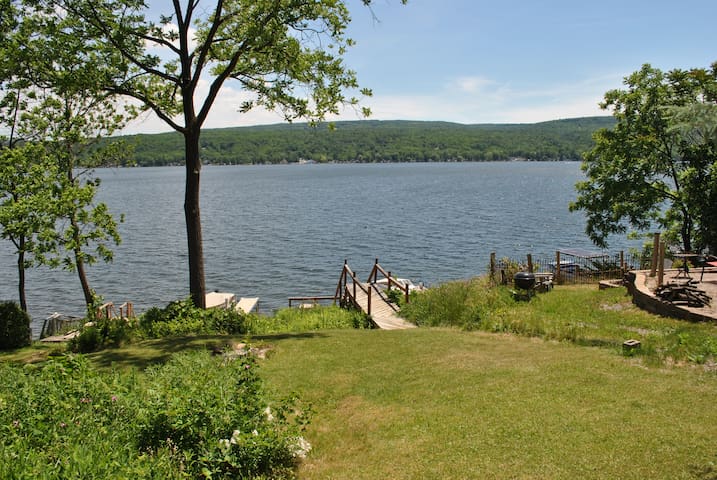 Life is better at the lake! Pine Haven is a newly renovated home offering magnificent views of Honeoye Lake and Bristol Hills. This 5 bedroom, one story house has plenty of space for a family reunion or a gathering of friends!
This 2300 sq ft ranch sits on a 1/2 acre, in the heart of the finger lakes. It has an open concept, making it perfect for family and friend reunions. It's at the south end of Honeoye lake, so it's close to Naples, as well as the town of Honeoye. This makes it convenient to many restaurants, wineries, shopping, hiking, and much more!
Pine Haven on Honeoye Lake is a uniquely laid out retreat with 6 rooms surrounding a fantastic open floor plan kitchen - dining room - living room space where even larger groups can comfortably gather. The pictures fail to do justice when you experience the casual, lake-side decor in person. The kitchen is a outstanding centerpiece well stocked with whatever you need whether you love spending time crafting meals or not. The deck is also better than photos portray...spacious, comfortable, and safe even for young children. It boasts a Weber gas grill to boot! The yard is likewise a parent's dream with secure fencing surrounding the perimeter. The neighbors are warm and welcoming and Norm even invited us all out for a pontoon boat cruise tour if Honeoye. Kelly not only offered helpful guidance from anything from the best local grocery store to regional state parks to hike amd enjoy, but checked in regularly to make sure we were having a great time! You will not be disappointed.
Greg
2016-08-22T00:00:00Z
Kelly was great! We had a large family with all of us visiting at different times and Kelly was extremely accommodating. My sister, the first to arrive, informed me that Kelly left a nice welcoming note with a delicious bottle of wine that my sister was quick to take advantage of. There were a few times where we had issues at the house, a hornet had made a nest on the back porch, and we had some issues with the grill. Kelly and her partner were quick to help us out! They had a new grill out within a week and sprayed for the hornets! We did bring and AC window unit for the living room since we had two little boys under the age of one who would not have been able to deal with the 90+ degree heat and this provided a very comfortable setting for us to view the heat storms happening over the lake. My 7 month old puppy LOVED splashing in the lake and we had a great hike over at Grimes Glen in Naples only 15 minutes away. I 100% recommend booking a stay with Kelly at Pine Haven. She did a wonderful job as a host!
Victoria
2016-08-15T00:00:00Z
Kelly was a great host, very responsive. The place was great, very clean and with a great view of the lake. It's a fantastic place for a family weekend. We would definitely love to come back !
Jeanne
2016-10-10T00:00:00Z
My family and I stayed at Pine Haven for a family reunion over the 4th of July holiday. There were 11 of us (7 adults and 4 kids), and we were all comfortably situated in the house. We enjoyed sunset dinners on the spacious patio, songs around the fire pit, fishing off the dock, kayaking (two kayaks are provided by the host), hiking at Grimes Glen, and the yard was large and safely fenced for the kids to play. The kitchen was well stocked, and the gas grill was also used so we could enjoy home cooked meals every night. Kelly left a notebook of suggestions and was very responsive with questions during our stay. We rented a boat from the Trident Marina and were able to dock it right in front of the house. The neighbors were all very welcoming and the house is just a short drive to the local grocery store. The ring of fire around the lake was a very memorable experience and numerous fireworks were visible from the deck and front dock. A few things to consider, but were not troublesome at all for us; the house is on lake water so you need to buy drinking water, and there is no air conditioning. During our stay the nights were cool with a nice breeze off the lake so the fans that were provided helped us stay comfortable. I highly recommend Pine Haven on Honeoye Lake!
Sarah
2016-07-07T00:00:00Z
Pine Haven was a perfect spot for our family reunion in the Finger Lakes. The house is very welcoming, comfortable, bright and cheery and is perfectly equipped with everything we needed. Since we had such great weather we made good use of the large deck, the kayaks that were provided and the fire pit for making s'mores at night. It's a quiet location with friendly neighbors and a large fenced yard which we used for ball games . We also took several of Kelly's suggestions from her book for off site activities and sight seeing. In all, it was the perfect location for us to bring 3 generations of our family together for a fun and relaxing time.
Jeri
2016-07-23T00:00:00Z
Our stay there was wonderful. The house is really beautiful and comfortable. We fell in love with every detail. Kelly was very attentive and attentive to all our questions. She is a great host. We loved our day on the lake and in this house. Thank you for welcoming us. Carolina and friends.
Carolina
2016-11-30T00:00:00Z
This was a great place to stay for a university friend reunion especially now that we all have kids! We all had a really great weekend. Thanks for the bottle of wine and the personal note. Your place is in a great spot, and we were all really comfortable.
Peter
2017-03-05T00:00:00Z
Pine Haven is a great place to stay if you are heading to the Finger Lakes region. We had a problem-free stay in this updated and comfortable rental house. The owners are wonderful and very responsive. Great updated kitchen, comfy beds and living room furniture, homey feel. When we come back to this area, we will stay here again.
Justin
2016-09-06T00:00:00Z
Typ pokoje
Celý dům/byt
---
Typ nemovitosti
Dům
---
Ubytuje
13
---
Ložnice
Honeoye, New York, Spojené státy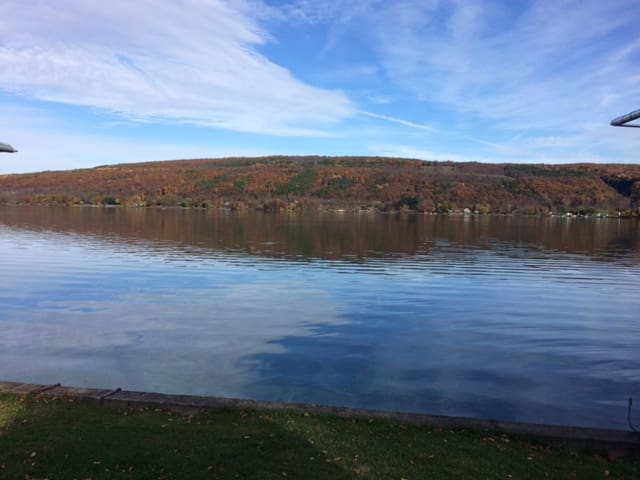 Quaint 2 BR cottage in the Finger Lakes with amazing lake views. WIFI, cable, huge deck, firepit, dock, linens & more! Best fishing in the area! 2 other lakes within 5 minutes. Sleeps 6, brand new stocked kitchen and new furniture. Minutes to zip lining, hiking trails, wineries, and awesome restaurants.
Your escape is only minutes away from Rochester! Chic cottage overlooking Honeoye Lake is the perfect romantic getaway or family vacation spot. New owners have given this gem a fresh update with stylish furnishing and a clean modern look. If you are planning a romantic trip with your sweetie then look no further. This little cottage is your perfect hideaway! Planning a day trip will be easy with so many nearby destinations! Wine country is only 15 minutes away, hiking trails and waterfalls abound. Drive through the hills and discover the amazing bistros of the Finger Lakes, whether you choose Honeoye's own Mill creek Cafe or Naples Brown Hound Bistro or Cafe Sol in Bristol, you surely won't be disappointed. The spacious deck at the cottage is equipped with an outdoor speaker and a cozy firepit; the perfect spot for star gazing and roasting marshmallows. A comfy memory foam mattress awaits for a wonderful nights rest. Taking the kiddos? The cottage has 50 feet of shared lake frontage where you can enjoy swimming, boating and fishing! Honeoye is a peaceful lake with very little boat traffic. The marina is directly across from the cottage, where all types of boats and water equipment can be rented daily or weekly. Sandy Bottom park is near by and offers playgrounds, a beach, softball fields and tennis courts. A quick 20 minute ride to Canandaigua and the kids can spend the day at Roseland Water Park. Also, we have supplied the cottage with some great family movies, and board games. Don't let the petite size fool you. The cottage is well laid out and sleeps six with the the addition of a sleeper sofa. You have all the amenities of home. The bathroom has a hairdryer and towels. Sheets and a fan for the bedroom and cooking basics, such as condiments & seasonings, pots & pans. You'll also find some unexpected touches like a stocked coffee bar and s'mores fixings (for the kids). All the creature comforts! What are you waiting for?
We are nestled in a lake community with wonderful neighbors. The area is amazingly quite and peaceful.
The house is clean and bright and there were a lot of nice touches including a welcome sign with my name on it. The beds are comfy, and and sofa is really comfortable as well. It was a bit challenging to find the house, but a quick text to my hosts solved that right away. The view is beautiful, and the area is peaceful and relaxing.
Jean Elizabeth
2016-09-18T00:00:00Z
The host canceled this reservation 61 days before arrival. This is an automated posting.
Anna
2016-09-18T00:00:00Z
Typ pokoje
Celý dům/byt
---
Typ nemovitosti
Bungalov
---
Ubytuje
6
---
Ložnice
Honeoye, New York, Spojené státy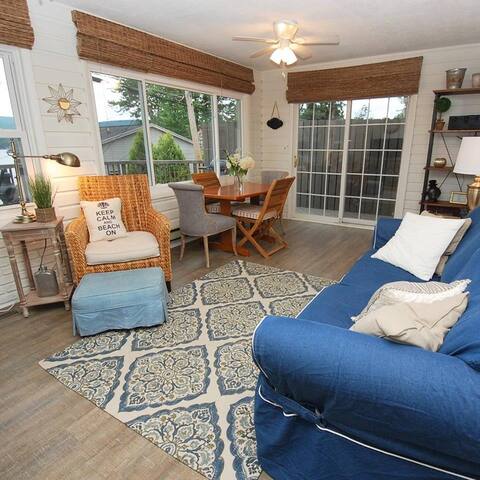 My place is right on Honeoye Lake with a 30 foot dock. A few steps from lawn to dock. Handrail new 2015. There is a small beach area too. Honeoye Lake is a great fishing lake and great for water sports. Water: Our water is pumped from a shallow well. It is filtered, but we do not drink the water or use it for cooking or coffee. We will have gallon jugs of water in the cottage for drinking, making ice, and cooking use. You can also bring your own bottled water and ice.
House Supplies: We keep the house supplied with the basics: such as paper towels, toilet paper, napkins, kleenex, dish soap, hand soap, coffee filters, cleaning supplies and trash bags. We have a coffee maker, toaster, microwave, crockpot, and hand mixer. There is a good collection of pots, pans, bowls, dishes, silverware, serving ware, baking ware, and glasses. Rags & cleaning supplies are in the closet. There is a broom hanging on the front deck to sweep if necessary. If staying for extended periods, please let Bob or Sally know if you need more supplies. Bathroom cleaning supplies are under vanity. Beds: We have full size beds in both bedrooms. There is a full size sofa sleeper in the sunroom. Beds will have been made upon your arrival. Blankets are available and in cabinets in the back bedroom and in the front closet next to the street entrance door. Extra bedding/sheets/foam mattress and pillows are provided if using the sofa bed. Also there are extra blankets, comforters, and afghans for cool weather. If staying for extended periods of time, please let Bob know if you need clean bedding or towels.
Groceries: West's Shurfine Food Market is located downtown along with a CVS Pharmacy and Dollar General. Shurfine has DVD movie rentals at a Kiosk located inside the store. Last I knew, first night rental is $1.49 and each additional night is only $1.00. Restaurants: The Village Grill; Subway; Mill Creek Café/ Ice cream shop; Java Mamma- a Coffee shop serving breakfast and lunch , Mark's Pizzeria, The Cornerstone Market and Peggy's Rumpus Room are all located downtown. There is the K & D Valley Inn located at the intersection of Rt20A and Rt37 just west of downtown. Trident Marina has The Boat House Grille. Laundromat: There is no washer/dryer in the cottage. There is a Laundromat located downtown Honeoye on the same side of the road and east of the Town Hall.
Typ pokoje
Celý dům/byt
---
Typ nemovitosti
Dům
---
Ubytuje
6
---
Ložnice
Honeoye, New York, Spojené státy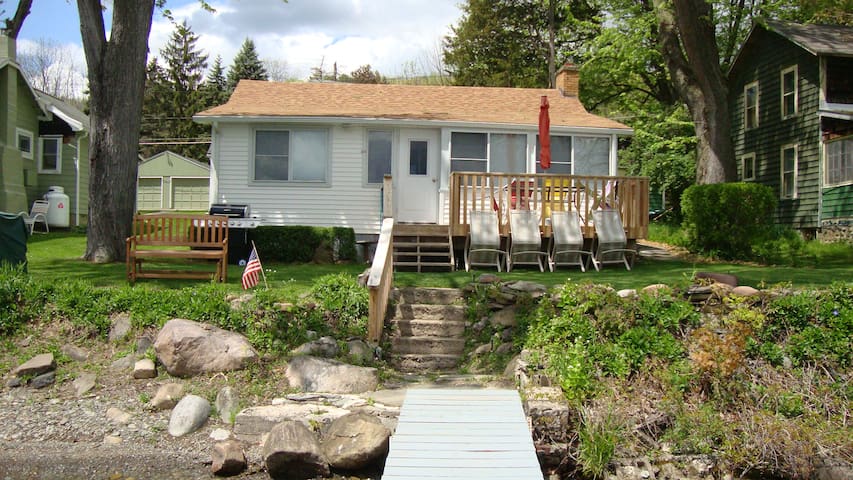 2017 Spring opening: April 27th. Now booking your 2017 visit. Visit our nature retreat to unplug, recharge and discover our natural surroundings. Sleeps 2 adults. Picnic table and grill on the deck. Fire ring is nearby. The lodge at Turtle Rock Hollow Lodge houses our camp kitchen, gathering room, showers and the bathroom. Our three cabins and tepee can sleep up to 17 all together. Facility wide rentals available.
Our rustic cabins and lodge are surrounded by nature. No blacktop or pavement, our walkways are either stone or natural mulch. We offer you an opportunity to hike, enjoy evening campfires, hang in a hammock, cook on the grill and explore the finger lakes. Sleeps 2 adults in a full bed.
We are surrounded by several lakes. local parks, hiking trails, nature preserves, antique and artisan shops, water parks and wineries.
I stayed in this small cabin for three nights to have a quiet place to write. It's a lovely location up on a hill. There are three other small cabins on the property, a teepee, and a shared lodge with bathroom, kitchen, etc. The cabin has electricity, but no heat--which was fine with extra blankets at night. Peaceful place that suited my needs perfectly. Catherine was very helpful and available a couple times a day. She built all the buildings there herself! I'd definitely stay there again.
Shari
2016-10-10T00:00:00Z
My boyfriend and I stayed at Eagle's Perch for our anniversary and we couldn't be happier with our stay! Cathy was an incredible host. The cabin was easy to find, had all the essentials that you would need but also allowed you to feel like you were camping. The cabin was better than described! So cozy and quaint. The windows provided an incredible morning view when you woke up. Cathy has really made something special here. We also went to Watkins Glen State Park, which was an hour away from the cabin and the ride was beautiful. I absolutely recommend staying at Eagle's Perch. It was an incredible weekend getaway! We will definitely come back for another trip! Thanks Cathy!
Lucia
2015-08-23T00:00:00Z
Had a great two days at eagle's perch! My boyfriend and I wanted to camp in the area before a wedding but did not want to load the car up with a ton of equipment. Turtle rock hollow was a great alternative! The cabin had a futon bed, chairs and tables. There is electricity in the cabin and lots of windows that let the breeze in and kept the cabin comfortable in July. There was a fire pit and grill along with a hammock and tree swing. Cathy was a wonderful host. She provided lots of information on the area and gave us great tips for places to explore. She even brought over a citronella candle when she noticed we were sitting outside! The lodge has hot showers and a small kitchen area. We didn't use the kitchen but it looked well stocked with cooking items. Cathy has games, books and local area information located in the lodge as well. We would definitely recommend a stay at Turtle rock hollow!
Katherine
2015-07-31T00:00:00Z
From the moment we got to our cabin we felt so welcomed from Cathy! Our cabin was clean and the view was amazing. Cathy was over often to make sure we had everything we needed and responded to text very quickly. The best part of staying at the cabin was that we could bring our dogs, she even had a water bowl and dogs treats in our cabin when we arrived. We loved our stay and hope to return!
Hannah Grace
2015-07-02T00:00:00Z
My husband and I had a fantastic time staying in the Eagle's Perch at Turtle Rock! Cathy was a fantastic hostess with so many great local suggestions for us to check out when we went exploring, and when we were in the "nest" we felt very at home and welcome. It was the perfect weekend get away we were looking for!!
Andrea
2016-07-10T00:00:00Z
Cathy made us feel very welcomed from the time that we got there until we left, she was able to provide us with plenty of insight on the areas and things to do. We absolutely loved this small town feel and had fun exploring the surrounding cities.
Andrew
2015-10-25T00:00:00Z
Catharine hit the nail on the head with this property!! Turtle Rock Hollow is beautiful and incredibly peaceful! The concept behind the property is reaaly unique ans special. The cabins provide you privacy and serenity, while the comunal kitchen and gathering place offer a sense welcome and comfort. Not to mention, Catharine rings the lodge bell each morning to let everyone know the coffee is ready! Catharine is an incredible host!! She is a VERY friendly, warm hearted woman who will guide you through your Finger Lakes journey. she spent time with me and the others trying to understand our interests and then providing many ideas to explore. Catharine is very attentive and prompt. She responds very quickly to all messages before and during your stay. I will absolutely return to Turtle Rock Hollow!! In addition to the beautiful use of land, the cabins are uniquely positioned so you awake to a gorgeous view of the hills and the sun risng! It is completely invigorating. My weekend there was incedibly relaxing and the recharge I needed. Thank you so mych Catharine!
lisa
2016-09-05T00:00:00Z
Great stay at Eagle's Perch!
Melani
2016-08-01T00:00:00Z
Typ pokoje
Celý dům/byt
---
Typ nemovitosti
Srub
---
Ubytuje
2
---
Ložnice
Honeoye, New York, Spojené státy
The Big Dipper on Honeoye Lake Cozy cottage in a quiet cove on the eastern shores of Honeoye Lake. Features two bedrooms, one bathroom, sun room, an open floor plan kitchen/family room, with a dining table that seats 4-6 people. For larger parties, ask about nearby Little Dipper that can sleep 2 more guests!
Big Dipper Cottage is the ideal place to relax and unwind for a romantic trip, family vacation or a gathering of friends. Begin your day sipping coffee on the deck overlooking the lake and hills. You have all day to swim, read, fish, hike, bike and explore. As the day winds to a close, have dinner at a local restaurant or fire up the grill and have a picnic. End the day with s'mores and a campfire as the sky fills with stars!
Big Dipper is conveniently located within walking distance to the Trident Marine and Boat House Grille Restaurant. Don't miss the award winning wineries, micro-brew pubs, antique and craft shops, farm markets, Bristol Valley Theater, hiking and biking trails, and the endless possibilities that the beautiful Finger Lakes have to offer. We welcome you to make Big Dipper your next and most memorable vacation destination!
Typ pokoje
Celý dům/byt
---
Typ nemovitosti
Dům
---
Ubytuje
6
---
Ložnice
Honeoye, New York, Spojené státy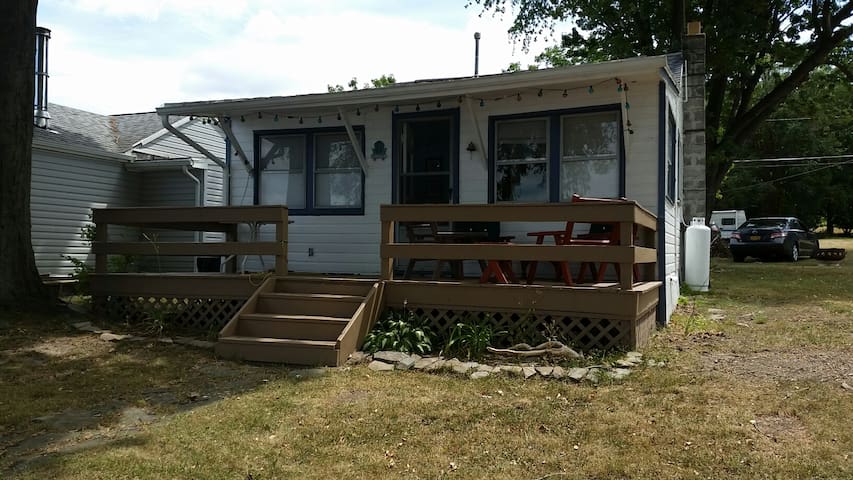 NEWLY REMODELED 2 BEDROOM 1 BATH COTTAGE THAT ALSO HAS A GREAT FULLY ENCLOSED PORCH LAKEFRONT ON HONEOYE LAKE WITH ALL NEW FURNISHINGS AND ALL NEW DRYWALL , NEWLY TILED BATH AND SHOWER ALONG WITH ALL NEW WOOD LAMINATE FLOORING AND FLAT SCREEN TV. THE PROPERTY IS ALL ONE LEVEL WITH A VERY FLAT LOT THAT IN ON 55 FEET OF BEAUTIFUL HONEOYE LAKE INCLUDING A DOCK FOR YOUR BOAT. THERE IS ALSO A NEW GRILL AND OUTDOOR FURNITURE TO ENJOY THE OUTDOORS AND GREAT VIEWS OF THE SURROUNDING BRISTOL HILLS AND LAKE. THE LAKE IS VERY QUIET AND RESTFUL WITH LITTLE BOAT TRAFFIC AS COMPARED TO THE OTHER FINGER LAKES. THERE ARE ALSO FREE CONCERTS IN THE TOWN GAZEBO ON FRIDAY EVENINGS STARTING IN JULY AS WELL AS A FARMER'S MARKET JUST PRIOR TO THE CONCERTS.
My significant other and my best friend and I all wanted to stay somewhere quiet, warm, and cozy for a relaxing New Years Eve. Stephen's place was exactly that!
Robert
2017-01-02T00:00:00Z
We went for skiing at Bristol and stayed at Stephen's. His place is amazing, right by the lake in a quaint place. Its 20 minutes drive from the skiing resort and so very accessible. Also 7-8 minutes drive from the shops in the town. House is very clean with all the required amenities. We lit fire in the back yard by the lake, which was so much fun. Also Stephen has a bunch of boardgames which you can enjoy if you wanna stay inside. All in all, a wonderful place to stay! PS. We were 5 people and had a very comfortable stay
Sohaib
2016-12-29T00:00:00Z
Si vous savez envie de passer un moment de détente avec une maison propre bien équipée et une belle vue directe sur le lac , allez chez Steve il reste à votre écoute pour vous rendre le séjour plus agréable.
Youssef
2016-12-26T00:00:00Z
Very quiet neighborhood. Peaceful and clean. Comunication with Steve was easy and fast. House is equipped with everything you may need from a grill, wood for fire pit, coffee maker to umbrella for a bad weather. Great place. Thank youu!
Jadwiga
2016-08-21T00:00:00Z
Charming cottage Lakeview- I enjoyed staying at Stephens cottage, he was very accommodating and helpful with any and all questions I had. The cottage was lovely. The smell from the water took some time to get use too as I was new to it. Thank you for sharing your cottage with me!
Megan
2016-04-11T00:00:00Z
The reservation was canceled 27 days before arrival. This is an automated posting.
Benjamin
2014-08-24T00:00:00Z
This cottage is absolutely beautiful, it had all the furnishings needed to have a enjoyable weekend/week stay. The lake is steps away from the front door and the view is amazing. The hosts were great and made us feel very welcome, the cottage was extremely clean. Our stay was great and we would recommend this rental to anyone. Thank you!
Beth
2015-09-08T00:00:00Z
This small cabin lies in a little lake-side community that's quite off the beaten trail. We came in at night, so the correct house was a little hard to identify since it doesn't have its own mailbox. The back yard is currently being renovated. Stephen's cabin's is newly renovated so everything is nice and clean - new hardwood floors and freshly painted walls, new furniture. The kitchen is well stocked with oven/stove/toaster/coffeepot, etc... They even had a coffee grinder for whole bean coffee. Only surprise was the well water which has a bit of an odor that takes some getting used to - however, Stephen provides drinking water (hot or cold) from a dispenser. The front yard is quite enjoyable with a little dock, a paddle boat, a fire pit, a BBQ grill and yard. The bedrooms are a bit tiny, but there's a nice porch area that's quite spacious. The house feels a bit sparse, but otherwise its nice. We had a great time with another couple and we both brought little babies. Beds are comfortable.
Benjamin
2014-09-23T00:00:00Z
Typ pokoje
Celý dům/byt
---
Typ nemovitosti
Dům
---
Ubytuje
7
---
Ložnice
Honeoye, New York, Spojené státy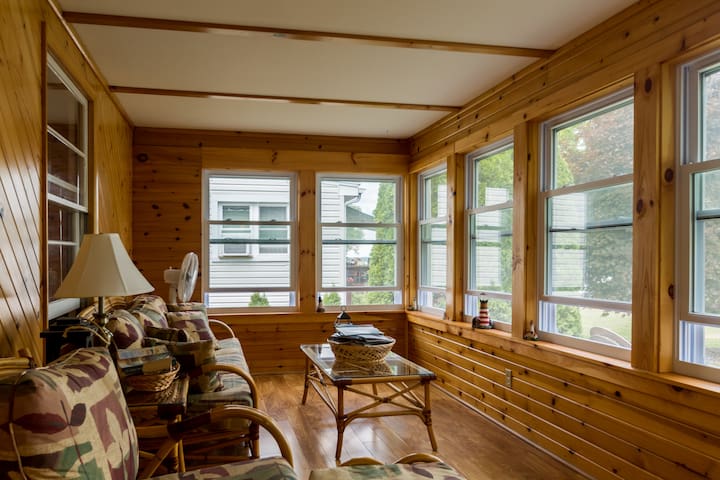 Pro zobrazení celkové ceny zadej termín. Mohou být přidány další poplatky a daně.