Torodes is a beautiful beach house located opposite the stunning white sand surfing beach of Catherine Hill Bay. The house has 4 bedrooms sleeping up to 8 people, with wide shaded verandahs, large fenced gardens, & beautiful beach views from the upstairs sunroom & balcony.
Torodes is just 90 minutes drive north from the Sydney CBD. The heritage-listed village of Catherine Hill Bay consists of less than 150 houses, and is one of the oldest communities in the Lake Macquarie area. Catherine Hill Bay is in the Hunter Valley Region of NSW and has recently been recognised for its outstanding beauty in the book "101 Best Australian Beaches". Across the road, the southern end of Catherine Hill Bay beach is patrolled from October to April. Recreational activities include swimming, surfing, fishing and coastal walks. The village is also surrounded by native bushland and is a great base for bushwalking and bird watching.
Our group loved our time at Tordes. We had perfect winter weather and there was a heap of firewood to keep us warm of a night. The property was clean and the girls couldn't stop commenting on the perfect interior design! Loved having breakfast on the front balcony, catching the morning sun and enjoying the views out to sea. Paul has a gem of a spot in Catherine Hill! We have already agreed that we must return in summer. The water was a little fresh!!
Dave
2015-06-09T00:00:00Z
Perfect location for bush walking and swimming during the day. Very comfortable home at night.
Gerald
2016-10-11T00:00:00Z
From the outset, Paul was very responsive and a pleasure to deal with. The cottage was represented very well in the pictures provided and the location was great ... across the street from the beach. Can't ask for more than that!
maria
2016-10-06T00:00:00Z
Torodes is a beautiful, spacious house with a great feel and everything to make you comfortable. The beach is literally across the road. We had a great stay and would definitely want to book it again.
Charlie
2016-04-04T00:00:00Z
We loved the house. It was bright and airy and right across the road from the beach. They had everything we could possibly need to make the stay comfortable! The big dining table as excellent when we had a big dinner for a group! We loved the side veranda's with comfy chairs etc. The back yard was great for the younger kids. We had a late checkout and in all it was a great weekend away!
Kim
2015-10-06T00:00:00Z
Torodes is a fantastic beach house!!! The kitchen was amazing and we loved the relaxing feel of the house. We were a group 6 including my parents and my 21 month old toddler.... and everything in the house suited everyone! It was really handy having a portacot and high chair ready to go. Thanks Paul
Kam
2015-12-03T00:00:00Z
We love Torodes. There is a great sense of warmth and generosity in this home. Paul provides plenty of interesting and useful information and is always available for help if required. Torodes is very much a home, inviting, clean, with plenty of extra amenities should the beach and bush not be enough. Movies, magazines, books, a well equipped kitchen. There are so many spaces to enjoy in this house, wrap around verandahs, a hammock, lounges, rooftop beach views, and a large private garden. A very special place. Thank you.
Thebutler
2015-04-11T00:00:00Z
Paul was such a relaxed host . He was not fussed when we asked one hour before our arrival to bring another guest and even made up the bed .He also let us have a late checkout ,letting us stay until the end of the day. The patrolled Surf beach is just across the road but the beautiful garden with many different seating areas was hard to leave . The house was absolutely beautiful , with a brand new kitchen and a lovely huge dinning table looking at the garden . The beds were so comfy we all had the best sleep listening to the surf. Torodes is the most beautiful house in the historic town of Catherine Hill bay , and Paul has renovated it beautifully. It was truly a luxury being allowed to stay in Paul's very special home . Amanda John and our 2 boys .
Jo
2015-12-14T00:00:00Z
Typ pokoje
Celý dům/byt
---
Typ nemovitosti
Dům
---
Ubytuje
8
---
Ložnice
Catherine Hill Bay, New South Wales, Austrálie
I have a air conditioned home with charm close to the beach and Lake Macquarie in a quiet historically & culturally listed township. A medium to large size bedroom offering a queen sized bed and sharing amenities. Where practical children could be accommodated by arrangement. We are on tank water and cylinder gas so there needs to be careful use of these precious resource. We would appreciate guests washing their feet at the rear tap after swimming.
A medium to large bedroom offering a queen size bed and hanging space available for singles our couples. I can accommodate a family our two couples subject to their needs Your welcome to the house as your home away from home and their is a open backyard that fronts onto the Wallarah National Park. We have some 35 species of bird life habitating in our area.
Catherine Hill Bay (The Bay) is one of only two heritage and culturally listed towns in N.S.W. it celebrated 100 years of age in 2016, an original N.S.W. mining town, with a long sea pier, quaint village atmosphere, close to beach and lake, although own transport is beneficial
Peter was an awesome host, he was very helpful with places to go and things to see and do in the area. We had a great time staying in his beautiful cottage in a beautiful little town. I would highly reccommend Peter for his hospitality, he was also a great guy to sit and chat with, I would love to spend some more time here. Thanks Peter!!!
Graham & Lisa
2015-12-13T00:00:00Z
Peter was a very welcoming host. He gave me a lots of local knowledge of the area and advised me of some top spots to visit and we enjoyed a few long chats. The house itself is cosy and basic but I was always made to feel at home and Peter went of his way to help me out and make sure I was comfortable. Cheers!
Kane
2016-03-20T00:00:00Z
Peter made me feel welcome moment I arrived. Helping me settle in, and once settled in offered me a cuppa (cup of tea) and some biscuits. That evening I got to enjoy Peter's bolognese. Throughout the stay Peter made me feel welcome as we got to share conversations and meals together. Peter also has a good understanding of the area and was able to share that with me throughout my stay. As the description says, I was given a private room with windows facing the east (allowed the lovely morning sun to come in). With a comfortable queen sized bed. Peter's backyard is spacious and open leading into a nature reserve, a place I was able to sit down soaking in the sun and enjoy some time reading. The neighbourhood and the Catherine Hill Bay area are peaceful. There is a bit of road noise (more than I expected) through the day, by no means would be it considered busy, and of an evening it practically stops.
Jonathan
2015-06-15T00:00:00Z
That was my first experience with Airbnb, And i must say it was the nicest and most comfortable experience i have had in a while. Peter was so kind and easy going. The best part was it felt like i was staying with a friend i hadn't seen in a long time. It was very cosy & comforting.
Stella Bella
2016-05-16T00:00:00Z
A homey-feel and a welcoming place to stay for a night was exactly what needed! Exactly as described - Peters home is clean and welcoming. Thank you Peter for the lovely cup of tea and worldly conversation!
Sim
2016-10-01T00:00:00Z
Our experience was only positive. We had a wonderful one night stay and we as well as our dog felt very welcomed. The room and house was very clean and cosy and Peter was a great host. We helped assist with directions, transportation as well as restaurant reservations and we thoroughly enjoyed his company!
Ashley
2016-01-01T00:00:00Z
please read all details about extra cost, the room window is toward the street, extremely loud if you prefer quiet, nice garden behind the house and close to the beach, house with AC but no AC or fan in the room, tidy room with a comfortable bed.
Matt
2017-02-14T00:00:00Z
Peter contacted me to ensure I wasn't lost and waited dinner for me. Lovely area.
Johanna
2015-09-26T00:00:00Z
Typ pokoje
Soukromý pokoj
---
Typ nemovitosti
Dům
---
Ubytuje
2
---
Ložnice
Catherine Hill Bay, New South Wales, Austrálie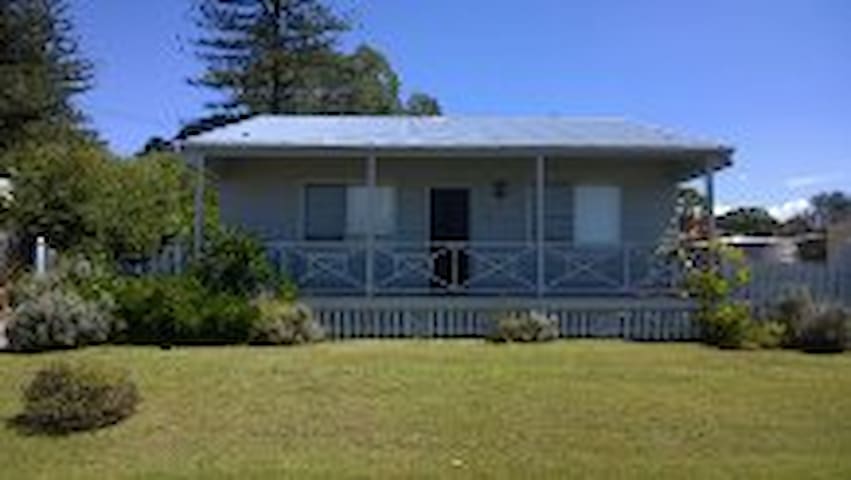 Beautiful old miners cottage in the heart of sleepy Catherine Hill Bay, 90 min from Sydney. Ocean views from the front verandah and bush views out the back. Comfortably furnished, light and airy rooms, all freshly painted. 5 min walk to the beach. 2 min walk to the historic pub. No tv or wifi for distraction, so the perfect place to relax and unwind with the family or friends! Please note linen and towels are BYO and there is no dishwasher (get the kids to help out!). Minimum 2 night stay.
This is our little piece or paradise. We hope you'll love it as much as we do.
Typ pokoje
Celý dům/byt
---
Typ nemovitosti
Dům
---
Ubytuje
8
---
Ložnice
Catherine Hill Bay, New South Wales, Austrálie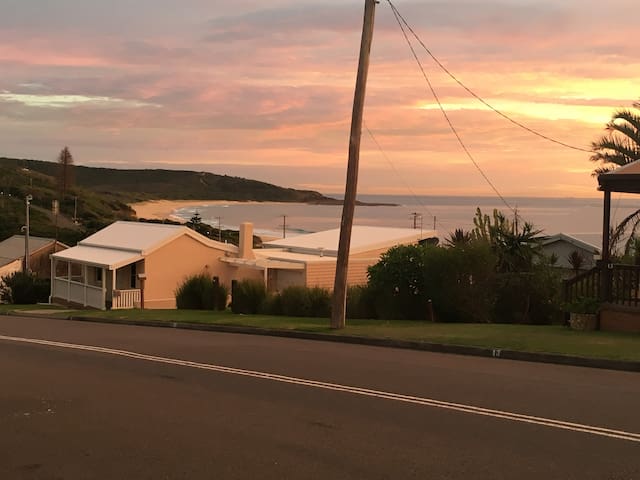 My place is great for couples, families with kids, local and overseas visitors. Catherine Hill Bay (Catho) is unique, one of just two heritage listed villages in NSW! Catho is approximately a 1.5 hour drive north of Sydney CBD. It is 55 minutes from the start of the M1 motorway at Hornsby. The property is approx 200m from the pristine white sand surf beach, which is patrolled by lifeguards from October to Easter. The property in on tank / rain water so water conservation is a must.
Brilliant location. Stones throw from the beach.
Dylan
2017-02-04T00:00:00Z
Neat and clean modern beach shack a stones throw from Catherine Hill Bay surf club. Great location. Great long weekend for our family of five
Graham
2017-01-21T00:00:00Z
Very close to the beach and well appointed, this is a great spacious beach-house that was perfect for our family beach holiday.
Piran
2017-01-28T00:00:00Z
Comfortable, stylish place, quick walk to beach
John
2017-03-25T00:00:00Z
If you want to go to Catherine Hill Bay this is the location; excellent views plus close to the beach, surf lifesaving club and pub. The two bedroom house is spacious and well equipped. The deck and portable barbecue help to make for a very comfortable stay.
Prue
2017-03-18T00:00:00Z
Highly recommend this place to anyone. It was a great location only about 50m to the beach. Declan was a great host, very welcoming and helpful with lots of suggestions of what to do in the local area. But also gave us lots of privacy to enjoy a relaxing holiday. The accommodation was neat and tidy, I stayed with my wife and 18 month old child but you could comfortably fit four adults. I would happily stay again.
Matthew
2017-01-13T00:00:00Z
Typ pokoje
Celý dům/byt
---
Typ nemovitosti
Dům
---
Ubytuje
6
---
Ložnice
Catherine Hill Bay, New South Wales, Austrálie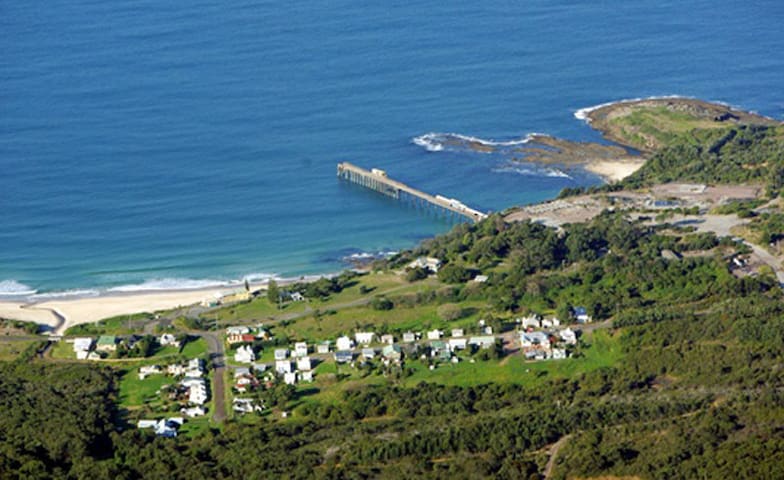 You'll love our historic miners cottage with it's large shady verandah overlooking the beautiful garden and bush backdrop. The rooms are bright and airy and the property is a short walk to the beach through the fields. Only 90 minutes from Sydney CBD this is a great place to take a break with the family or a group of friends. We provide linen and towels for an additional $50 per booking or free if the booking is 4 days or greater. No charge if you choose to BYO linen and towels.
We had a beautiful weekend away. The bedrooms are really spacey and comfortable and the kitchen has everything you need to cook for a family. The beach is a nice walk away through a reserve from the back door. I would recommend this house to anyone wanting a relaxing break away. We loved staying there.
Alicia
2017-03-04T00:00:00Z
A beautiful, cosy house, which makes you feel relaxed as soon as you walk inside. It's a 5 minute walk to the closest beach, which makes you feel like a true local. The shops are only a 5-10 minute drive away, and is really easy to get to and from the property. The house was very clean and comfortable, with everything needed for a great trip away. I stayed here with another 6 friends, which accommodated all of us comfortably. Only downside would be the difficulty a lot of us had in getting phone reception from inside the house, and the lack of wifi in the house - but if you want to be completely disconnected this house is a great way to do just that!
Brianna
2016-11-26T00:00:00Z
The host canceled this reservation 82 days before arrival. This is an automated posting.
Paul
2016-10-05T00:00:00Z
We loved Martin's place so much, the simple decor, the functionality of all the spaces and the location was wonderful. Highly recommend to anyone.
maja
2017-01-01T00:00:00Z
The house is located in a nice quiet area. It was a comfortable stay for 8 of us. We like the way the house is furnished, it is modern and cozy at the same time. It is a short walk to the beach and 10 minutes drive to the shops. If you're looking for a getaway, I would recommend this place.
Sheena
2017-01-07T00:00:00Z
Catherine Hill Bay is quiet with a nice beach. There are several walks and interesting beaches to discover in the vicinity. The house was spotless and in a quiet area. The beach is within walking distance. We took our dog with us and he was happy to wonder in the backyard which is quite big and well maintained. The pantry was well stocked in case we ran short of stuff. Swansea is just a short drive north. Martin was a very attentive host. I would definitely recommend this place for families. We were two families on this trip and we thoroughly enjoyed our stay.
Bertha
2017-01-06T00:00:00Z
Lovely broght little miners cottage close to the beach well stocked with groceries and basics. Mobile phone connection limited. Very comfortable indeed.
Paul
2017-03-16T00:00:00Z
We had a wonderful stay in Martin's home. The most perfect escape.
Jaclyn
2017-01-28T00:00:00Z
Typ pokoje
Celý dům/byt
---
Typ nemovitosti
Dům
---
Ubytuje
8
---
Ložnice
Catherine Hill Bay, New South Wales, Austrálie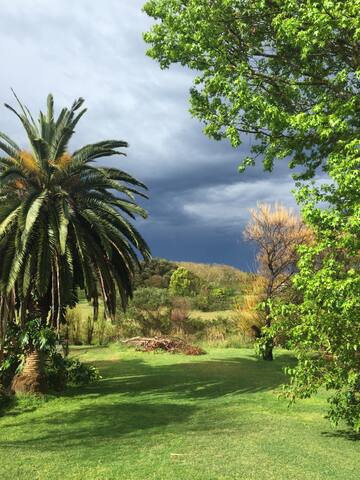 My place is a beautiful, fully refurbished cottage 200m to the beach. Family-friendly activities include fishing, bike riding, bushwalking, kayaking and surfing. Set in a very quiet "no through" road, a minutes walk from the beach, Bay Breeze overlooks a large backyard adjoining a National Park. The home is fully fenced, ideal for kids! You'll love my place because of the cosiness, the location, and the lovely bush views. My place is good for couples, solo adventurers, and families (with kids).
A lovely seaside cottage to relax and enjoy!
Catherine hill is a lovely spot close to beach and the gorgeous Lake Macquarie area. The house was clean and beautifully decorated. The layout meant a smallish cottage had plenty if room for our family of five. I would highly recommend this as a great relaxing place to enjoy s break from hustle bustle!
Robyn
2017-01-28T00:00:00Z
Clean, tastefully appointed, close to the beach and great communication with our host Megan - what more could you ask for? We enjoyed this fully renovated heritage cottage with everything being easy and hassle free. A quick walk to the beach makes this a perfect spot for a relaxing timeout. Thanks again Megan.
Andrew
2017-02-25T00:00:00Z
We had a wonderful stay, was exactly what we needed. House was clean, comfortable and everything we needed was there. Great location just a short stroll to the beach. Would come back in a heartbeat.
Neil
2017-01-20T00:00:00Z
This place is ideal if you want some rest and relaxation in the beautiful Catherine Hill Bay, or to explore the Central Coast. It has been renovated beautifully and has everything you need for a great stay. Enjoy the scenery and the serenity.
Beth
2017-01-16T00:00:00Z
I wasn't familiar with Catherine Hill Bay until I found Megan's place. It's a wonderful part of the world - only 90 minutes out of Sydney, but felt like a galaxy away. Quiet streets, a great beach and plenty of bush to explore - couldn't have asked for a better getaway! Megan's place was very comfortable with great amenities and only a short walk from the beach and pub. Would stay again anytime.
Mark
2016-09-26T00:00:00Z
.
Mark
2016-10-15T00:00:00Z
Typ pokoje
Celý dům/byt
---
Typ nemovitosti
Dům
---
Ubytuje
5
---
Ložnice
Catherine Hill Bay, New South Wales, Austrálie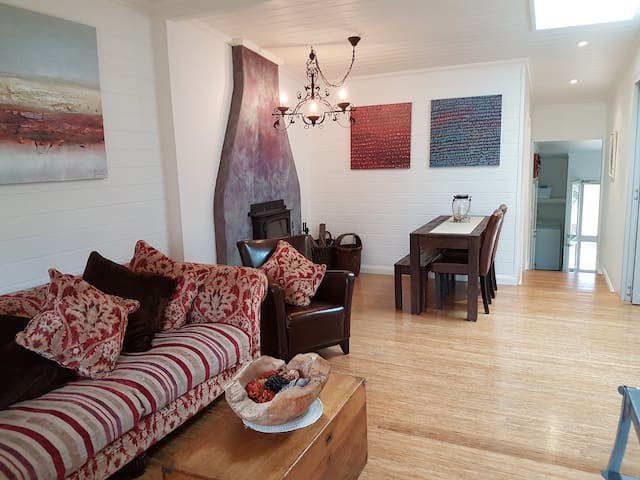 This great "Miners Cottage "is very close to the beach a minutes walk. Catherine Hill Bay is quiet beach side town, just south of Newcastle and 1 hour drive north of Hornsby via the freeway. An easy escape from Sydney. The cottage is compact, light bright & white inside, with magnificent restored ironbark floorboards. The outlook faces north to country views. Big yard-enough for children to play and kick a ball. The yard is unfenced . Sorry strictly NO smoking, NO Pets allowed, and No Parties.
Its a great place to relax, and have a beachside holiday!
This is a quite seaside town, and we ask the you keep the noise to a minimal, and respect are neighbours.
The host canceled this reservation 22 days before arrival. This is an automated posting.
Fran
2017-02-15T00:00:00Z
Stunning find. Opposite the beach and tastefully restored to its miner's cottage heritage. Great for a family or group of friends. Deanie was amazing and generous as a host. If you feel like a "beach shack" holiday but with luxury touches, then this would be perfect.
Deb
2017-01-16T00:00:00Z
We had a great time. Lovely, very nice decorated home. Only one minute walk from the beach.
Joris
2016-12-26T00:00:00Z
Fantastic home steps from the beach with a huge backyard. Very quiet town though (the only shop is the pub) so make sure you've stocked up before arriving!
Nicholas
2017-01-01T00:00:00Z
Typ pokoje
Celý dům/byt
---
Typ nemovitosti
Dům
---
Ubytuje
5
---
Ložnice
Catherine Hill Bay, New South Wales, Austrálie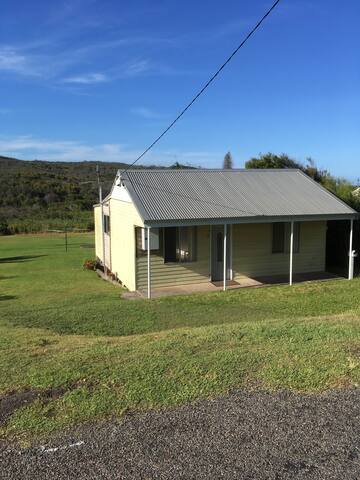 This 3 BR cottage in historic Catherine Hill Bay has a special feel with its original features and old polished timber floors . As soon as you walk in the door you have a feel of the "good old days".
Catherine Hill Bay is a coastal bay and village on the southern peninsula forming Lake Macquarie, south of the Pacific Ocean entrance channel at Swansea in New South Wales, Australia. It is part of the City of Lake Macquarie local government area.
Catherine Hill Bay is a coastal bay and village on the southern peninsula forming Lake Macquarie, south of the Pacific Ocean entrance channel at Swansea in New South Wales, Australia. It is part of the City of Lake Macquarie local government area.
This is a beautiful, authentic, comfortable home, but it has limited indoor space, so I would recommend it for a couple, or maybe even 4 persons, but it is really not a comfortable stay for 6 adults. One would not complain at all if priced more reasonably. Whilst one must acknowledge that it was Christmas, so peak season and you expect to pay more, it has no beach views, is a substantial walk to the beach, is across the road from a potentially noisy Bowls Club, and only offers very basic amenities, the price of well over $2000 was excessive.
Jan
2016-12-27T00:00:00Z
Mark was very informative and organised the booking well. Unfortunately the property wasn't up to standard. It's a heritage listed property but is very cold in winter. Main fuse kept blowing with the use of a little heater, I only had on 3 lights in the house and a small oil heater. Mouse droppings in the bathroom and kitchen and dust and dirt on the pillows in 2 bedrooms. If the property was clean and the power issue fixed it may be a good place to stay.
John
2016-06-14T00:00:00Z
The property if full of rustic charm, we loved staying there. It was so close to the beach, which is fantastic and the back deck, where we spent most of our time, has a beautiful view and a great vibe. Mark was very efficient in dealing with us. A gem of a little town, which I'm sure will sadly change when the new housing development is finished. Better get in there quick people!
Toby
2016-08-16T00:00:00Z
Typ pokoje
Celý dům/byt
---
Typ nemovitosti
Dům
---
Ubytuje
6
---
Ložnice
Catherine Hill Bay, New South Wales, Austrálie
Just one and a half hours from the city, you will feel a million miles from care and immediately at home. The house is architecturally designed, surrounded by verandahs to capture the sun and breezes at any time of day. well equipped kitchen, fans. Five nights minimum booking 16th December to 10th January 2017.
Two entertaining decks, one with BBQ facilities, and two TVs, in case you have different favourite shows. Great kitchen with lots of equipment and cook books. Set in a beautiful native garden and natural bushland with only a short stroll to the beach via a track. The perfect destination to relax and forget your troubles. Please note: there is a maximum of 8 people, and that parties are not permitted at this property, any bookings for the purpose of a party will not be accepted .
Catherine Hill Bay was a small mining community (currently 100 houses), now heritage listed so little development in the village, though development about to happen on the outskirts. Usually very quiet, lots of great walks in both directions. Supermarkets and enormous grog shop in Swansea. Newcastle is about 40 minutes drive, usually markets there on the weekend.
Lovely house, great position.
Lisa
2016-10-07T00:00:00Z
Great spot for a group or family getaway. Pub across the road and beach 5 mins down the road. The house was beautiful! Definitely dont need to leave the house! Multiple living and relaxing spaces so never felt cramped. Great for entertaining the group that was staying there. Definitely recommend if you are looking for a relaxing weekend away with plenty of beach time, cooking and relaxing.
Carly
2017-01-08T00:00:00Z
Fantastic getaway.. quiet... relaxing... will keep coming back
Cate
2017-02-11T00:00:00Z
The Pavillions really is a lovely spot. Catherine HIll Bay is such a beautiful spot. Collleen was lovely, we enjoyed the bath, the location, herbs in the garden, the open fire and that Colleen had left us wood, a fabulous kitchen with water views and wonderful cook books.
Nici
2016-05-30T00:00:00Z
The host canceled this reservation 214 days before arrival. This is an automated posting.
Alicia
2016-07-31T00:00:00Z
Hi Colleen, we had a great stay. The beds were extremely comfortable, the house exquisite and colourful. We loved it! Bathrooms deserve a special mention: glass wall facing private garden! The view from both decks was beautiful and the beach fairly close. The house is in many levels and have steps with no handrails connecting the different levels. Easy for children and adults but a bit tricky for the infants or elderly. The pub across the road did not allow for afternoon snoozes in Bed 1,2 and 3 (granted it was period between Christmas and NYE), but at night time all very quiet so all good. To go to a restaurant or on a bike ride, we would go to Swansea (north) or Budgewoi (south) which are fairly close by. Overall a great place to stay.
Sandra
2017-01-01T00:00:00Z
Typ pokoje
Celý dům/byt
---
Typ nemovitosti
Dům
---
Ubytuje
8
---
Ložnice
Catherine Hill Bay, New South Wales, Austrálie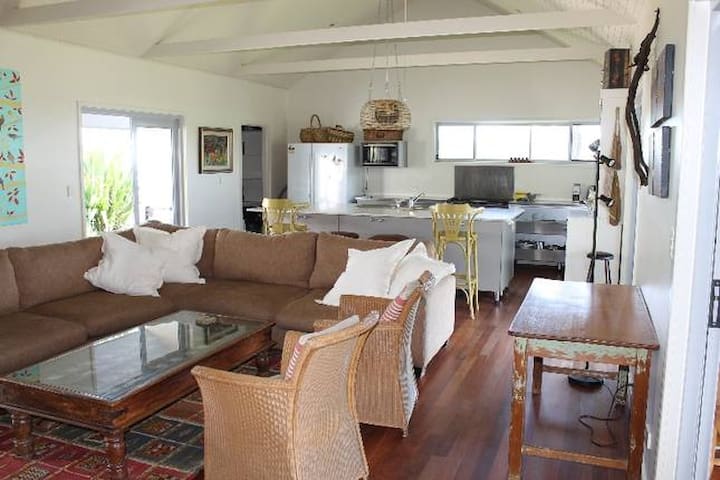 Catherine Hill Bay is a famous and beautiful surf beach. It has been recognised for its beauty in the book '101 Best Australian Beaches'. The village is an old mining town only one hour from Sydney and half an hour from Newcastle. Flowers Cottage has been beautifully restored and is spacious and relaxing, with all modern comforts in a heritage-listed property... a fabulous getaway. The ocean beach is just a short stroll from the cottage and beautiful Lake Macquarie is a couple of minutes by car.
The ambience is light and sunny, with really comfortable furniture, great paintings and tastefully decorated throughout.
Catherine Hill Bay is in the Lower Hunter Valley Region of NSW. It is one of very few villages in NSW that has been acknowledged by the Government and National Trust to be of State Heritage significance.
We had an amazing time at Deborah's beautiful beach getaway. It's an amazing old miners cottage with a whole new section tastefully added to the back of the house. Close walk to the beach and fun Catho pub! A proper working kitchen and massive bbq to use too. Very clean and tidy and run on rainwater! Highly recommended for a weekend getaway from Sydney !
Piero
2017-01-17T00:00:00Z
Deborah has a beautiful home - spacious, cool and comfortable, and conveniently located close to the beach, with everything we needed to make our stay enjoyable. Deborah was a wonderful host, helpful and responsive in every way, and really made us feel welcome. We hope to stay again, and can recommend Deborah's house to anybody looking for a comfortable place to stay on the Central Coast.
Hong
2016-12-29T00:00:00Z
Typ pokoje
Celý dům/byt
---
Typ nemovitosti
Dům
---
Ubytuje
6
---
Ložnice
Catherine Hill Bay, New South Wales, Austrálie
A beautifully renovated lakeside home. Large open plan living/kitchen/dining room with extensive lake views. The perfect weekend getaway from Sydney or family holiday by the lake. We invite you to relax, unwind & enjoy!
You will feel worlds away from everything at this beautiful lakeside retreat. A huge deck on the eastern side is the perfect place to entertain and enjoy a BBQ with friends. The deck wraps around the northern side to give unrivalled lake views. Waterfront reserve runs from the house down to its own boatshed and jetty where you can launch your paddleboard, windsurfer, boat or cool off for a swim in the lake. Kitchen features all brand new appliances and windows opening out onto the side deck.
The town of Wangi is a sailing mecca on the shores of Lake Macquarie. The Wangi Sailing Club is just a few doors down from the house, making this a perfect spot for sailors racing on Lake Macquarie's waters.
The house is exactly same as the description, we enjoy our staying. Highly recommend!
George
2016-08-20T00:00:00Z
The best place I could ever chose! So relaxing, the view was incredible!! To see the sunsets everyday and the sounds of the lake... So peaceful, clean, and comfortable. My family and I for sure had an amazing time here.
Cristina
2016-04-07T00:00:00Z
Emma was great from beginning to end of the booking. The place was perfect for us, another couple & 2 kids - view over the water, big open plan living and even a swing for the kids. Was a lovely, relaxing getaway. The only negative is that the second bedroom has a small bed, which is not a great fit for anyone over 6ft.
Vicki
2015-11-09T00:00:00Z
This home was extremely relaxing and beautiful. We could of stayed and stared at the lake for weeks. Thanks Emma
Emily
2017-03-06T00:00:00Z
Emma's place is gorgeous. Well equipped and in a beautiful location. Such an amazing place to sit and relax and for the kids to explore. We look forward to visiting again soon.
Danielle
2017-04-09T00:00:00Z
Emma was a great host and responded to all my enquiries. As I used to reside in this area the location was as I remembered it and was fantastic. I grew up with the neighbours so this was a no brainer and was great to catch up again . The best airbnb I've stayed at. Thanks Emma good job
Steve
2016-02-11T00:00:00Z
Our second time back to Emma's and another lovely weekend! The house has everything you need for a relaxed weekend. Everything about it was easy!
charlotte
2017-03-18T00:00:00Z
The Boathouse was the first air bnb experience I have had, and I am so over the moon happy with everything. Emma was a great host and was very responsive, her instructions on getting to the property were clear & easy to understand and she left instructions on how to use everything. The Boathouse itself is absolutely stunning! We loved staying there for the weekend and an already trying to work out schedule to come back again. The photos do not do the home justice; we had 6 girls staying there, but there was plenty of room for all of us; the home is well equipped with anything you might need and the area was just beautiful. Would definately (and have already started) recommending people to come stay at the boathouse. Thanks again Emma & the boathouse for a beautiful weekend!
Samantha
2015-11-03T00:00:00Z
Typ pokoje
Celý dům/byt
---
Typ nemovitosti
Dům
---
Ubytuje
7
---
Ložnice
Wangi Wangi, New South Wales, Austrálie
Originally the 'Mine Camp' Post Office this home has been renovated with a modern kitchen and a bathroom with a claw foot bath and separate shower. The original tallow wood floors and clapboard walls remain though as a way to highlight this house's history and a combustion fire creates warmth and an inviting atmosphere that you will love. The large backyard and wrap around veranda is perfect for the family, and being across the road from the beach is definitely a bonus!
This home is great for beachside family holidays and surfing getaways with friends. The home is directly across the road from the patrolled beach (summer months)
Historic township that reminds you of yesteryear. A beautiful beach and non-working coal jetty makes for awesome photos, or great surfing.
Typ pokoje
Celý dům/byt
---
Typ nemovitosti
Dům
---
Ubytuje
9
---
Ložnice
Catherine Hill Bay, New South Wales, Austrálie
Set in the friendly town of Wangi Wangi, the Wangi Granny is walking distance to a number of cafe's, a pub, restaurants and clubs. A short stroll to the shores of Lake Macquarie with parks for children to play, a picnic, or a quiet dip. The Wangi Granny is good for couples, individuals, and families (with kids). Sit on the deck, enjoy the view with a glass of wine/beer. A great place for a getaway which is 45 minutes drive from Newcastle and 50 minutes drive from the Hunter Valley wine region.
Put simply its too good for air bnb. Amazing place and the quality of the house really makes it.
Stephen
2017-02-11T00:00:00Z
Fantastic place to stay. Everything was brand new!!!
Mark
2017-03-05T00:00:00Z
Very nice new place,very good communication and very accurate ad to what you experience
James
2017-02-18T00:00:00Z
Typ pokoje
Celý dům/byt
---
Typ nemovitosti
Dům
---
Ubytuje
4
---
Ložnice
Wangi Wangi, New South Wales, Austrálie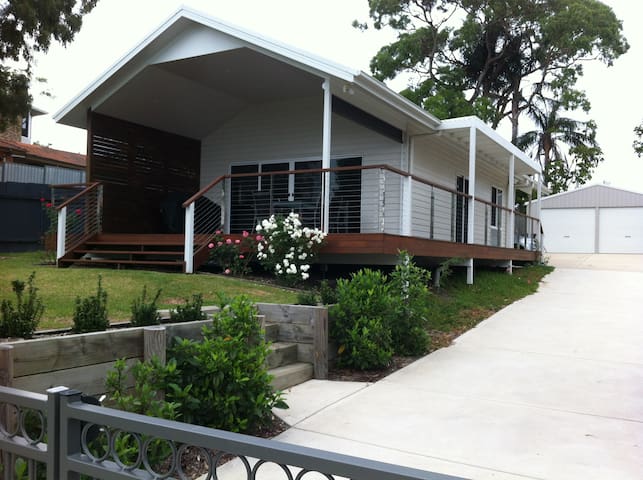 My place is close to Lake Maquarie; restaurants and dining; Newcastle and Hunter Valley wineries., restaurants and dining, family-friendly activities. You'll love my place because of It's natural, quiet, relaxing environment and gives access to a variety of interests, the neighbourhood, the light, the comfy bed, the cosiness. My place is good for couples, solo adventurers, and business travellers.
Typ pokoje
Soukromý pokoj
---
Typ nemovitosti
Řadový dům
---
Ubytuje
3
---
Ložnice
Wangi Wangi, New South Wales, Austrálie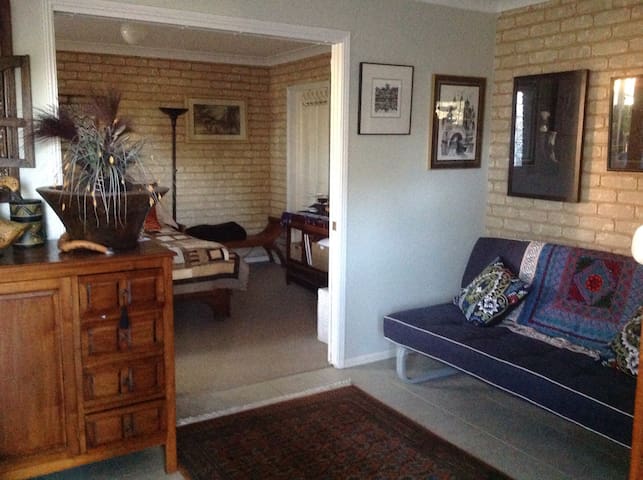 My place is private with a little view of the lake, the village is within walking distance to restaurants, dining and parks. My place is good for a couple and business travellers. Wangi was home for the famous Australian artist, William Dobell, winning two Archibald prizes, his house is open at weekends. We have a lift for those who cannot manage steps.
A lift A mooring in the lake, A studio room Completely private in a quiet location.
Our neighbourhood is quiet but we have neighbours who respect each other. We have a great pub with great value food, an Italian and Thi restaurant, a Workers club, RSL club which has a great outdoor area on the lake. Lots of nice walks, Wangi wage means a place of much water and trees in aboriginal. Wangi point juts out into the middle of the lake so on walks around it, you see all different aspects of our beautiful lake.
The host canceled this reservation 10 days before arrival. This is an automated posting.
India and Aidan
2017-04-04T00:00:00Z
Typ pokoje
Soukromý pokoj
---
Typ nemovitosti
Penzion (B&B)
---
Ubytuje
2
---
Ložnice
Wangi Wangi, New South Wales, Austrálie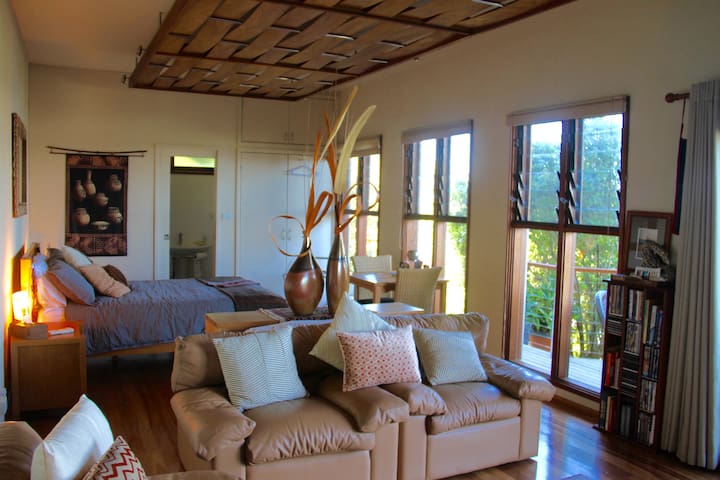 This one bedroom cottage is self contained and has a living room which combines kitchen, dining and lounge areas. There is one bedroom which contains a double bed and a small hanging space. The bathroom is modern and bright with shower and toilet. Open access to garden and water views.
The cottage is the original fisherman's cottage which has been completely renovated to meet the needs of the modern traveller. One bedroom, one bathroom and one open plan living room with dining and kitchen space. It has a television and a DVD player, a fan and heater to ensure your every need is met in case of inclement weather.
Wangi Wangi is a delightful suburb on the shores of Lake Macquarie. The Wangi Wangi peninsular stretches out into the lake and is inhabited on both north and southern sides. The local community is very friendly and welcoming. Our property is adjacent to natural reserves and this ensures that bird life is ever present. Our house which has extensive water views is elevated from the road and the cottage is behind. You will also be able to enjoy some water views from the cottage and garden. If you enjoy dining out , then you have several choices. We recommend our little village restaurant called "Vita" which serves handmade pasta, pizza and delicious French style pastries. We also recommend our local Wangi Pizza Bar which creates delicious and inexpensive pizza. If you would prefer Asian food, there are several clubs which serve Chinese food and a Thai restaurant in Wangi. We also recommend a short drive to Morriset where you may try a restaurant called The Olde Bakehouse. Here the food is also strongly influenced by Italy and they serve some interesting craft beers and imported wines as well as a selection of local wines.
Rod y Kathy fueron muy cálidos con nosotros. Tuvimos una excelente recepción, nos fueron a buscar hasta un sitio cercano porque no podíamos encontrar el lugar. Los detalles de la casa fueron más allá de lo esperado y lo superaron ampliamente. Son un matrimonio espléndido muy dispuestos a hacer que los huéspedes se sientan como en su casa. Absolutamente recomendables por la atención y también porque el lugar era tal cual estaba descripto.
Víctor
2016-05-22T00:00:00Z
We were made very welcome, nothing was too much trouble and the Resort was very well appointed. The food provided was excellent.
Bob
2016-10-07T00:00:00Z
Rod and Kathy were there to welcome us, help with our luggage and show us around. Even though we needed to arrive before the normal check in time there was no problem.The cottage was clean and had everything we needed including breakfast supplies which we were not expecting and which was a lovely surprise. The double bed was super comfortable with lovely clean and soft sheets. The only downside for some people may be that there is a reasonably steep climb to the cottage if you are not fully able. We didn't find it a problem. The view was lovely over the lake and the location for us was perfect as we were only a ten minute walk from our friend's house. We would have no problem highly recommending this property to anyone looking to stay in or around Wangi Wangi. If ever we need accommodation in the same area we will be trying to stay in the cottage owned and run by Rod and Kathy.
Peter
2016-10-10T00:00:00Z
Our best Air BnB so far. Have never seen such a comprehensive set of provisions, pots, pans, everything. Fruit, croissants, bacon, sausages, juice, tea, coffee. Possibly the most comfy bed ever! Wonderful location near the shores of Lake Macquarie. Rod and Kathy are lovely, cant recommend this highly enough, awesome, thankyou.
Paul
2016-11-12T00:00:00Z
An amazing cottage with such a cosy atmosphere made homely by the wonderful hosts! Kathy and Rod took the extra mile to ensure we were happy and comfortable giving many insider tips around the area whilst sharing their amazing views! Wangi is a must! 270° views of Lake Macquarie - what a wonderful way to enjoy a getaway weekend - perfect!
Derek
2016-04-26T00:00:00Z
We absolutely loved our stay at Rod and Kathy's place. The cottage has everything you need for a relaxing stay. The cottage was neat and clean with lovely furnishings. We were also really impressed with the breakfast provisions which included everything from bacon, eggs and sausages to a range of cereals. Rod and Kathy made us feel very welcome from the moment we arrived and were very helpful. We spent the weekend fishing, bush-walking and exploring the beautiful lake & surrounds and wished we could have stayed for longer. I would highly recommend the cottage to anyone looking for a peaceful getaway! Thank you Rod and Kathy!
Alyssa
2016-10-29T00:00:00Z
Booked the stay for my parents anniversary and father's day gift. They had a great time and loved Rod and Kathy's hospitality. Thank you Rod and Kathy!
Grace
2016-09-05T00:00:00Z
Rod & Kathy provided everything we needed for a great little getaway. The full breakfast provisions were especially appreciated! The cottage was cute and clean with great water views and easy access to the lake foreshore. Beaches and bush walks also easily accessible via car. Thanks again for a lovely stay!
Jessica
2017-01-02T00:00:00Z
Typ pokoje
Celý dům/byt
---
Typ nemovitosti
Dům
---
Ubytuje
2
---
Ložnice
Wangi Wangi, New South Wales, Austrálie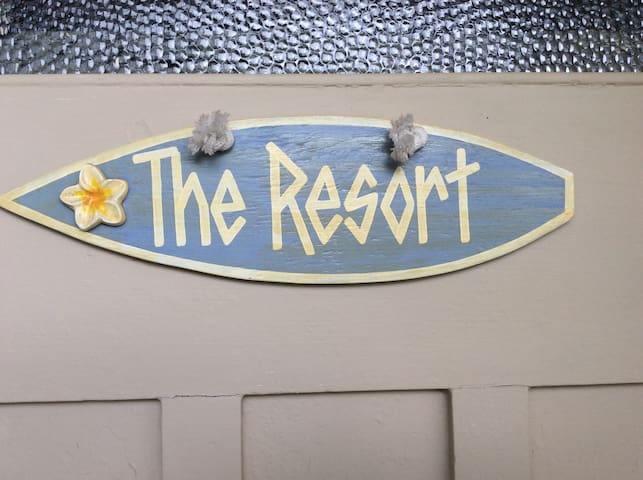 Catho Cottage overlooks native bushland at Catherine Hill Bay. If you appreciate a sense of style and quality Catho Cottage will not disappoint. Only a minute walk to the patrolled beach and set away from the main road (if you could call it a main road) offering peace and quiet and just the sound of the surf crashing on shore. Catho Cottage has a huge back yard which backs on to bushland reserve so their is plenty of room for kids to play,
This 2 bedroom cottage has been completely renovated while still maintaining the feel of the original miners cottage. Both of the bedrooms are carpeted with a fresh earth toned theme. Bedroom 1 has a comfortable queen bed while the second bedroom has 1 double and one single. Catho Cottage is set on a quiet side street, and the cottage is very cosy with a lounge room that has enough seating to sit everyone comfortably, a wall mounted TV, DVD player and stereo system. Both the lounge and dining area have modern and casual furnishings. The kitchen has a beautiful view out onto the large green backyard and it is fully equipped with a full size fridge, gas oven and microwave. The heating is gas, the electricity is solar and the water is run off tank water, making this property environmentally friendly while still allowing for creature comforts. The bathroom is situated just off the kitchen, is modern with crisp clean lines and even has heated towel rails. Out the back there is a BBQ, which is perfect in summer, and the backyard is Huge! The town of Swansea is only a 10 minute drive away where you will find a Coles, Woolworths, McDonalds and many more other food and leisure stores. If you decide to stay make sure you check to see if the Salt Water Markets are on. Whether you enjoy bushwalking, surfing, swimming, beach, lake, or rock fishing, strolling along a deserted beach, or just listening to the tranquil sounds of the birds at night competing with the ocean waves crashing onto the shore 500 metres away, this is the place for you. The bathroom has also received a similar makeover even including heated towel rails.
Catherine Hill Bay is a coastal bay and village on the southern peninsula forming Lake Macquarie, south of the Pacific Ocean entrance channel at Swansea in New South Wales, Australia. It is part of the City of Lake Macquarie local government area
Typ pokoje
Celý dům/byt
---
Typ nemovitosti
Dům
---
Ubytuje
5
---
Ložnice
Catherine Hill Bay, New South Wales, Austrálie
This two bedroom self-contained stay offers a quality, waterfront location for a quiet escape to the well kept secret of the Wangi Wangi peninsula. Take a short stroll along the waterfront, have a swim and relax or sit on the deck in the sun and enjoy the view.
Our home consists of two levels and you will be accommodated in the self-contained private lower level, with views over Lake Macquarie. We live in the top level. We are situated on a reserve facing north over the beautiful Lake. This is a self-contained area with two large bedrooms. We can accommodate up to 6 people. One bedroom has a queen bed and two single beds and the other bedroom has a queen bed only. There is a bathroom, with a bath, shower and a washing machine. The toilet is separate with its own hand basin. An open plan kitchenette, dining and lounge area, complete the internal space. A covered deck with table and chairs for eating outside is available and there are two private entry doors. A clothes line is available for use and is under cover. Cooking facilities include a convection /microwave oven; electric frypan; gas BBQ; toaster; kettle and refrigerator. Tea, coffee and milk are provided. There is a pool table for your use. The Wangi Wangi Village has a local IGA open 7 days a week; a pizzeria; a Thai restaurant; a bakery / café, a café / restaurant , two clubs and a pub located approximately 1.5 km from the accommodation. We are also close to restaurants, and clubs in neighbouring townships plus Newcastle beaches, and the Hunter Valley wineries. We take only one booking at a time so the space will be exclusively yours. The cost is $175 or $250 for two people per night with a minimum stay of 1 or 2 night(s) depending on the season. For each extra guest after two the cost is $35 per guest per night, including childreun. ( Infants under 2 are free; portable cots must be supplied by you) Please check the calendar for prices and minimum stay.
Direct access is provided to the Wangi Peninsula Walk, a comfortable walk along the waterfront leading to the village centre and the Wangi Conservation Park and the Wangi Point Lakeside Holiday Park. Shopping centres are located 15 minutes drive to either Morisset or Toronto and the city of Newcastle is about 30km from Wangi Wangi.
very nice place,owners are very friendly and helpful highly recommend
jela
2017-01-08T00:00:00Z
Great spot and great hosts
Neil
2017-03-05T00:00:00Z
What a beautiful location, with direct access to the lake! We never left the deck. Lyn and Phil are two of the loveliest hosts we've ever met and chatted with, and live right upstairs if you need anything. We'd love to come back.
Shreyasi
2017-03-11T00:00:00Z
Great spot on the water with everything supplied. Knowledgable hosts and an easy, relaxing holiday :)
Peter
2017-01-03T00:00:00Z
Lovely Lake outlook. Walk along the lake edge to the town. Lovely bird life and a very spacious, clean home. Thank you.
Jennifer
2016-12-30T00:00:00Z
We had a wonderful experience enjoying beautiful outlook to the lake and the comfortable apartment. The hosts were so lovely and accommodated to every need possible.
Imogen
2017-01-21T00:00:00Z
Just the spot for some quality stay without disturbance and enjoy the unlimited beauty of the place
Mani
2017-01-29T00:00:00Z
Loved the stay it looks better in reality than photos ,great view and location ,lovely people...
Salim
2017-01-09T00:00:00Z
Typ pokoje
Celý dům/byt
---
Typ nemovitosti
Dům
---
Ubytuje
6
---
Ložnice
Wangi Wangi, New South Wales, Austrálie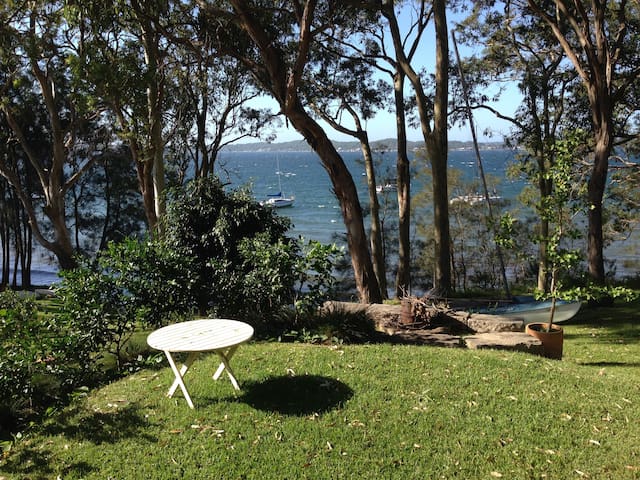 Pro zobrazení celkové ceny zadej termín. Mohou být přidány další poplatky a daně.