Zadej datum tvého příjezdu ve formátu dd.mm.rrrr
Zadej datum tvého odjezdu ve formátu dd.mm.rrrr
Nabídky ubytování, které můžeš rezervovat bez čekání na schválení hostitelem.
9 Pronájmy
· Central Coast
9 Pronájmy
· Central Coast
Pro zobrazení celkové ceny zadej termín. Mohou být přidány další poplatky a daně.
Letos v červenci a srpnu můžeš vyzkoušet jeden z této stovky vysoce hodnocených domovů v různých cenách, a zažít Sonomu jako bys byl/a místní. Možnost příjezdu kdykoliv v průběhu 24 hodin, okamžitá rezervace, a místní víno s občerstvením ti dovolí se v klidu usadit a užívat si pobyt.
My place is close to all community services.. You'll love my place because of it's size, location, hospitality of hosts, nice beds, and linens.. My place is good for couples, solo adventurers, and business travellers.
Typ pokoje
Soukromý pokoj
---
Typ nemovitosti
---
Ubytuje
2
---
Ložnice
1
Central Coast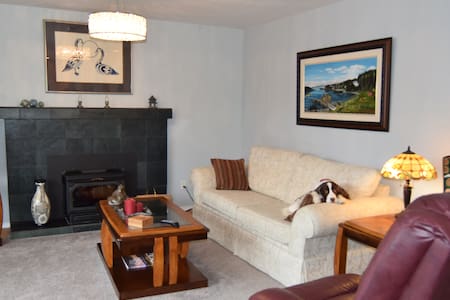 Located in the beautiful Bella Coola valley walking distance to groceries and waterfall hikes. Accommodation in a family farm house, shared with seasonal renters. Community oriented house with fast internet. Lots to do amidst glacier topped mountains
The first floor is common space, and includes a large kitchen stocked with pots & pans, plates & cutlery etc. The living/dining room has a large table & two couches. Fast wifi internet is available. There is one shared bathroom. The second floor has 4 small, basic bedrooms, some of which may be occupied by seasonal workers and long term renters. You will be staying in an old farmhouse with many animals and an orchard out back; expect a rustic but comfortable experience. You'll have access to your room and the first floor common spaces. You'll be sharing the common spaces with us (we use the bathroom, kitchen, & living room, though we spend much of our time in a separate building). You mau also be sharing with longer term renters and/or seasonal farm interns. We live in a separate outbuilding not far from the main house. We'll be there to show you around & answer any questions.
Located in the heart of the great bear rainforest, we are centrally located to a variety of exciting tourist and recreational opportunities, including bear viewing, kayaking, hiking, fishing, and Nuxalk cultural tours to see peteoglyphs and hotsprings. There are good walks to nearby waterfalls in our backyard. The Hagensborg Mercentile is a grocery & general store that is about a 15 minute walk from the farm. The organics store is across the street. Bella Coola townsite is about a 15 minute drive away. We may be able to pick you up from the airport. Vehicle rentals are available at the airport. We occasionally host a country/bluegrass jam night in the living room, as well as other farm and community events. You are welcome to join jn.
Dave & Rachelle's place is homey and comfortable, and the listing is very accurate--this is an old creaky farmhouse with a lot of charm. The location is fantastic for kayaking, hiking the many trails in the area, or visiting Tweedsmuir Park. Rachelle and Dave are fun and interesting people to talk to and their daughter is very sweet, even when she is teething :). We loved our stay, highly recommended!
Meghan
September 2016
very welcome , try this hiking trail. i hope all turns out well for them on the farm. both are very easy to get a long with. a nice soft bed to sleep in.
peter
August 2016
I am grateful have spent time at Dave & Rachelle's wonderful home. They were friendly and wonderful to chat with. I had all the space and privacy i could have asked for. The farm was a beautiful and peaceful place to spend time.
Nina
July 2016
I was lucky enough to find Rachelle and Dave's place ( the only airbnb in the area) wich was not only affordable, but also a great place to stay! The hosts were friendly and very helpful and I happened to be their only guest during my stay. There are many things to do in the area if you're an outdoors activity person even if the weather's rainy and you are there after the tourist season (like me). Just hiking and keeping an eye out, made me lucky enough to encounter some grizzlies ;) I can recommend this place!
Meike
October 2016
Typ pokoje
Soukromý pokoj
---
Typ nemovitosti
---
Ubytuje
2
---
Ložnice
1
Bella Coola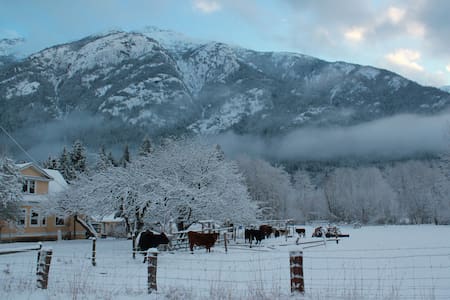 Scenic, private panorama view,Hunting,Hiking,Fishing,Tours of coast.All available in the beautiful Bella Coola Valley.
Typ pokoje
Celý dům/byt
---
Typ nemovitosti
---
Ubytuje
6
---
Ložnice
3
Bella Coola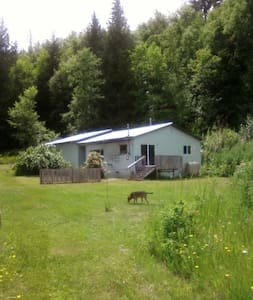 Nuk Tessli is located on the shores of a high altitude (1600 metres) alpine lake in the heart of the Coast Mountains. We have two fully equipped log cabins for rent and an additional dining cabin. Nuk Tessli offers amazing remote hiking and wilderness experience
Nuk Tessli is located on the shores of a high altitude (1600 metres) alpine lake in the heart of the Coast Mountains. Float Plane - $330 CAD one way for the whole plane and it can take up to 3 guests. Our hiking guides are on site in case you would like to hire them. It is also possible to hike without any guiding.
The Coast Mountains are the main range in the Pacific Mountain Range. They stretch for 1600 kilometres, from the Vancouver area, in the south. to Alaska in the north. The main range consists of high peaks and very large ice fields. All the 20 highest mountains in Canada are located in the Coast Mountains. Mount Robson, the highest peak in the Canadian Rockies, is number 21. Hiking Backpacking Canoeing We have two fully equipped log cabins for rent and an additional dining cabin. Each cabin has main space and a loft for accommodation of up to 6 people. The cabins are equipped with woodstoves, compost toilets, solar powered lights, bedding and lakefront views. Dining is in the main cabin, either on the outdoor deck, if the weather allows for it, or inside, if not. The main cabin is also equipped with a communication center equipped with satellite wi-fi connection. There is also a hot tub located close to the lakeshore that allows the bather majestic views of the mountains and the surrounding areas.
Nuk Tessli is an outstanding experience! The beautiful and remote location gives you an unbelievable wilderness retreat. Besides Sela is a good host, he is an excellent guide. He is the staff where very enthusiastic and gave us a warm welcome and made us feel at home. We stayed there for three days and Sela took us on three perfect day-filling hikes/canoe trips. If you're looking for a wilderness experience which is all sorted out with everything included, this is the place to go! I would say 5-star +++! Thanks for everything, would love to come back again!
Mark
August 2016
Typ pokoje
Soukromý pokoj
---
Typ nemovitosti
---
Ubytuje
5
---
Ložnice
1
Nimpo Lake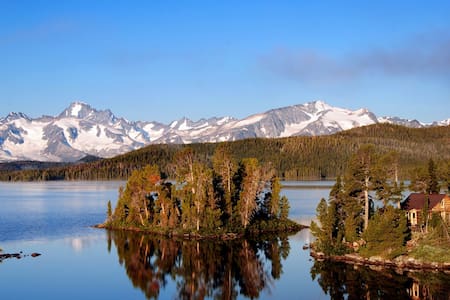 We are at Stewart bc Canada , us B&B have for you 1 Double room with shared bath room for 80.-CanD. 1 Single room with shared bath room for 50.-CanD. and 1 Cabin with own Entry and own bath room, kitchen for 100.-CanD.
Us B&B House Austria we have a double room with shared Bathroom for 80 .- a Single room with shared Bathroom for 50.- and a Cabin with own entry,and own full Bathroom for 100.- CanDollar . big garden , free Bike, free wifi, I am Martin your Host i am for yours question always ready.
Hyder /Alaska is only 2 km for Bear watching on the fish creek. 10 min to Town town, we have free Bike s . You can Ocean fishing for Salmon,Halibut, and Crab.
Typ pokoje
Celý dům/byt
---
Typ nemovitosti
---
Ubytuje
6
---
Ložnice
3
Stewart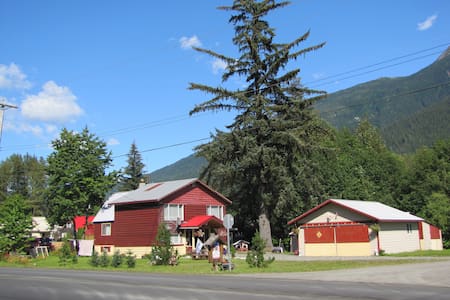 This mountain cabin is remote and off-grid, yet only 15 minutes to town. This sunny greenhouse-style cabin has all services including laundry. Cathedral windows view the mountains, forest and wildlife from your comfortable fireside chair! Clean!
This mountain location has fresh mountain water burbling by your home - safe for you or your PETS to drink from. Cats and dogs are welcome. Private trails are everywhere on this completely private 75 acres of pristine forest. Includes fruit trees and gardens, lawns and labyrinth. Peace, quiet, unimaginable beauty greets you here at John's Cabin, perched on the south side of Salloompt Mountain and surrounded by mountains and Salloompt's Peak in your backyard. Wildlife is everywhere, calm and contemplation rest in the trees. Explore, play, pamper! The cabin also offers the LOFT APARTMENT for extra sleeping space. The 'loft' has a queen-size bed with sofa, chairs, and can comfortably sleep up to 6 people! The gate to the property is locked and key is available with your deposit, as is the key to the cabin and loft. The caretakers are on site, a 5 minute walk from the cabin - or they will be in town a short drive away. The Aurora Healing Cottage will be completed this year and Bob & Leah are therapists that offer massage, healing body wraps and therapies such as: reflexology, acupressure, cranio-sacral and lymph drainage. Please refer to their site called Bella Coola Health Resort. They will be readily available to help you with questions or concerns.
The drive into the cabin is awesome. The people living along the way are helpful and courteous. Please knock on their door and tell them you are guests at the cabin, if you need assistance for any reason. Keep in mind, the road in is a forest road and can be rough in places. A two wheel drive is fine. If you have flown in or have arrived by ferry and need a vehicle to get around, you can rent one at the airport. Bob or Leah would be happy to drive you into town and around for a small fee. We own a 6 passenger mini van. We offer extras such as guided hikes (to Saloompt Peak, etc.) and also healing therapies. Ocean tours are available for a reduced fee if booked ahead. This is wild country and bears, cougars DO live here too. Please be bear and cougar aware when you are hiking. We have bear spray and air horns here for you to use if you need to.
The host canceled this reservation 2 days before arrival. This is an automated posting.
Sharron
I arrived a few hours early to check in,because i hadnt checked the reservation time properly. Bob and Leah were cleaning up and very friendly and welcoming. Leah wanted to 'get the place perfect' so they recommended a great hiking trail nearby in the meantime. So amazing to have such access to the outdoors in their backyard. Very very private location, "off the beaten path" , and yes "off grid" but was pleasantly surprised that all amenities present (fridge, laundry, running water) all on site. Place is immaculate!!! Cant speak highly enough about this beautiul gem overlooking the valley- feel like you are living on your own mountain.
Jenny
July 2016
The host canceled this reservation 27 days before arrival. This is an automated posting.
Jordan
Typ pokoje
Celý dům/byt
---
Typ nemovitosti
---
Ubytuje
2
---
Ložnice
2
Central Coast C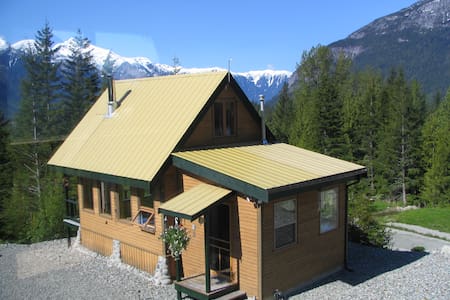 Tesla Lake Cabin is secluded and accessible only by float-plane. Our cabin is nestled at the foot of snowy mountains and is the only cabin on the lake. Enjoy a wilderness getaway and fish for wild Rainbow Trout! A unique & amazing nature connection
Typ pokoje
Celý dům/byt
---
Typ nemovitosti
---
Ubytuje
8
---
Ložnice
3
"Be at home in a Grizzly kingdom." Make our ecologically responsible Chalet in the Bella Coola valley your private wilderness home. Live in rustic luxury along the banks of the Atnarko River, in the heart of Tweedsmuir Provincial Park- the gateway to the Great Bear Rainforest. We are one of a few private properties entirely located within Tweedsmuir Park. Our only neighbours are the finned, furry or feathered kind! We are more than just a bed and breakfast. Enjoy an all-inclusive stay: luxury accommodation; 3 gourmet, family-style meals & beverages daily; interpretive walks with accredited BC Commercial Bear Viewing Association guides; half day river eco-raft trip (subject to availability); yoga on the deck (overlooking the meadow and river) with an RYA 200 instructor; fly-fishing instruction; transportation/excursion fuel costs - including to and from Bella Coola Airport. The Chalet offers two private rooms: one queen suite, with 3 piece bath that feels like you are nestled in the forest or, perched atop the chalet, a splendid king suite with a private deck and 4 piece ensuite bath with soaker tub overlooking the meadow and the Atnarko River. Warm yourself beside a roaring fire downstairs in the great room, while exchanging stories of adventure over a glass of fine wine, espresso or tea. Whatever your pleasure! Our living philosophy is respectful coexistence, or "bears first". We offer a small footprint/low impact experience that immerses you in the world of the grizzly. "We don't 'tour' it, we live in it." 'Off grid' solar powered 'green' home. "Bear safe" organic garden & compost. Septic field fertilizes native species in bear meadow. Advocates & educators re: grizzly bears, wild Pacific salmon and habitat preservation.
Typ pokoje
Soukromý pokoj
---
Typ nemovitosti
---
Ubytuje
4
---
Ložnice
1
Hagensborg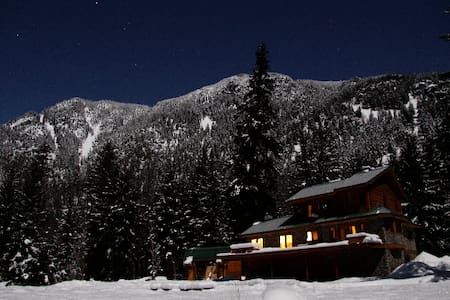 Waterfront cabin on Denny Island, B.C., near Bella Bella in the heart of the Great Bear Rainforest. Bright, clean, self-contained and private, the cabin is right at the top of our private dock and has everything you need to be comfortable.
Open plan 330 sq ft cabin with double bunk on the main floor and double bed in a small loft. Full kitchen, covered deck, bath with shower, TV, wifi, amazing views. We are on 1 acre of mostly forested land next to a Community Park lot with trails. Full access to the beach, fire pit and forest trails. Moorage is available. Fish cleaning table with saltwater pump and freezer are available for use on the dock. We live in a house on the property. You'll have lots of privacy but can knock on our door if you need anything.
Whales, bears, wolves, fish, birds, ancient forests, wetlands, estuaries, quiet inlets, bioluminescence, tides, thousands of beautiful islands and more. Mainly by boat - we are a 5 min. speedboat ride from Shearwater Marina and 10 mins. from Bella Bella. BC Ferries and Pacific Coastal Airlines provide transportation to the area. You can also drive from Shearwater to within 5-10 mins. walk of our place. We don't have road access but it's about a 10 min. walk up a trail to the road, 25 min. walk to Shearwater Marina.
Krista and Ingmar were incredibly welcoming and helpful. The place is clean and cozy and comfy with a beautiful view. We, (2 adults) stayed there comfortably each with a queen bed - the loft was a nice way to sleep privately. Ingmar shuttled us happily to Bella Bella on many mornings and we even got to sample Hedgehog mushrooms that Krista brought over. Internet signal was great and we loved the ability to plug our cel phones to charge into the bedside lamps and enjoyed the small library. We would visit again.
Lisa
October 2015
Typ pokoje
Celý dům/byt
---
Typ nemovitosti
---
Ubytuje
4
---
Ložnice
0
Denny Island