I really loved the centralized location of the home. It is smaller but all the things you need were right there. I only had an issue with the hot water in the shower (there wasn't anything but lukewarm) overall the place was great. Roman came to assist when notified about the issue with the shower. Downtown is only about 10 minutes away in your car and there is a grocery store nearby. The location does have 2 small window units and a ceiling fan but they worked just fine. The bedroom unit will require you to close the door to get the best use of it.
Olivia
2017-04-09T00:00:00Z
Typ pokoje
Celý dům/byt
---
Typ nemovitosti
Byt
---
Ubytuje
2
---
Ložnice
San Antonio, Texas, Spojené státy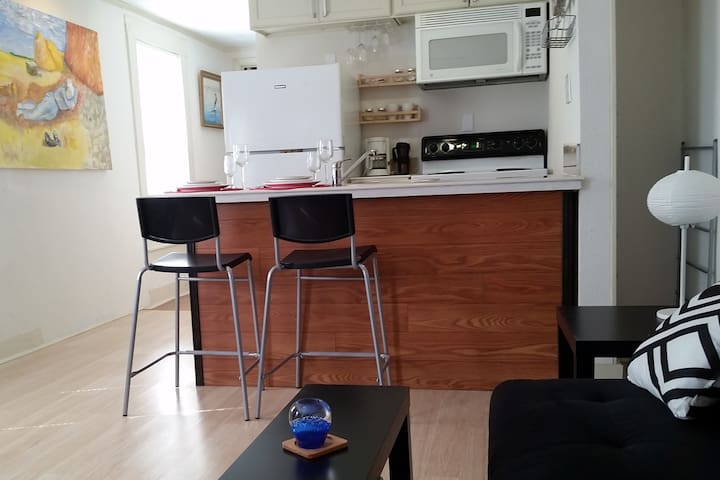 Mi lugar es un espacio moderno, limpio y tranquilo cerca del centro de Med, comedor, actividades para la familia, el transporte público, vida nocturna, La Perla, La Cantera, Estrella del Norte, y el aeropuerto. Te encantará mi lugar, ya que es hogareño, tranquilo, tiene un patio trasero, una cocina completa y total acceso al espacio. Mi lugar es bueno para parejas, aventureros en solitario, viajeros de negocios y amigos peludos (mascotas). Recogida desde el aeropuerto siempre. subarrendamiento completo si es necesario.
Los pisos laminados, un montón de espacio de almacenamiento, cocina completa, y el pleno acceso a la vivienda. Sin compartido espacio. Tenemos 2 colchones de aire, 1 sofá con otomana, una cama de tamaño completo, edredones extra, etc.
Cerca del Centro Médico, 5-10 minutos de distancia en coche desde todos los puntos de acceso en San Antonio. Tranquila, orientada a la familia de barrio.
Very great place. Welcome us with cookies. Thank you!
Kienna
2017-01-22T00:00:00Z
Meagan's home was perfect for my San Antonio trip. She responded promptly to any questions, and made sure I had everything I needed. Will definitely stay at her home again on my next trip to San Antonio!
Anthony
2017-03-02T00:00:00Z
the apartment Is very clean and well appointed. The best part of staying here is the host/hostess. Meagan is very hospitable and available for anything that you might need. It will be hard to find another host/hostess like her.
Omar
2017-01-20T00:00:00Z
Meagan is a great host. Very kind and accommodating. Great value, clean apartment. Only downside is wifi is not provided, for some that could be a wonderful thing, but I'm working. Will stay again wifi or not! Thanks, Matt
Matt
2017-02-09T00:00:00Z
Great location & super cute & affordable! I will definitely stay here again.
Kaily
2017-02-26T00:00:00Z
Meagan was great and her apartment was the best value I have ever had on Airbnb. It was spacious, clean, fully-equipped (except for wifi) and close to public transit to anywhere. Neighborhood was secure and full of vigor and I enjoyed walking around and watching kids playing. I would certainly recommend the place to everyone. Thank you, Meagan!
Ann
2017-04-08T00:00:00Z
The host canceled this reservation 155 days before arrival. This is an automated posting.
Alli
2017-02-26T00:00:00Z
Meagan's place is very affordable and convenient. Best for my commute to work.
Matt
2017-02-14T00:00:00Z
Typ pokoje
Celý dům/byt
---
Typ nemovitosti
Byt
---
Ubytuje
4
---
Ložnice
San Antonio, Texas, Spojené státy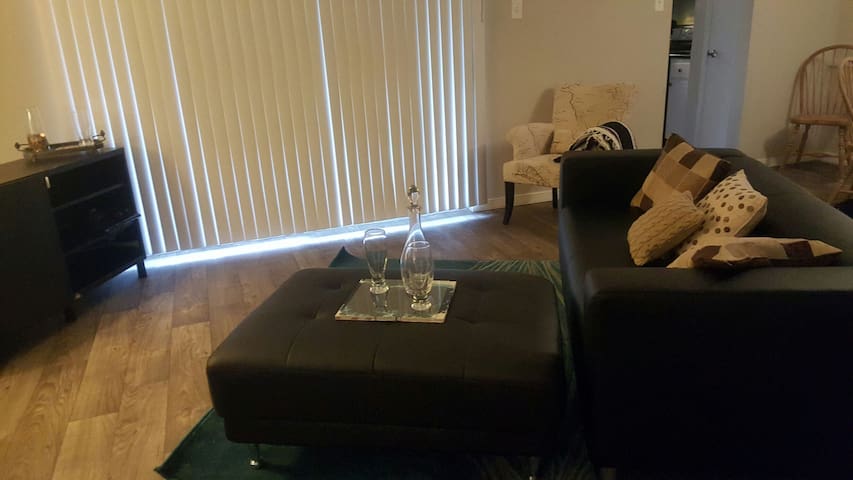 Nice location. Ask to have the AC on before you arrive. Incense was lit; may be irritating to some. Elizabeth was great.
Ryan
2017-04-03T00:00:00Z
Cute and cozy exactly what I expected
Elizabeth
2017-01-29T00:00:00Z
Elizabeth is very kind and makes you feel right at home. Very accommodating and helpful host. Great location for quick travel to river walk and other attractions!
John
2017-02-19T00:00:00Z
The host canceled this reservation the day before arrival. This is an automated posting.
Olivia
2017-02-10T00:00:00Z
Elizabeth's garage apt. was fantastic. Very cozy, quiet and a great location. Elizabeth was an amazing host. She was very helpful and a great communicator.
tim
2017-03-19T00:00:00Z
She has a sweet converted garage perfect for those passing through.
Adam
2017-04-05T00:00:00Z
Great place to stay. Great atmosphere. Liz is very kind and she has chickens!!
Doc
2017-03-24T00:00:00Z
A charming, hassle-free stay is waiting for you in San Antonio! I loved how easy it was to check in and check out of this cute casita. Elizabeth's furnishings are thoughtful and comfortable and i didn't lack for anything. Highly recommend!
Priya
2017-04-08T00:00:00Z
Typ pokoje
Celý dům/byt
---
Typ nemovitosti
Byt
---
Ubytuje
2
---
Ložnice
San Antonio, Texas, Spojené státy
Cómodo, pintoresco apartamento ubicado dentro de un barrio histórico ecléctico en el bello San Antonio. Apartamento está situado muy cerca del centro de la ciudad, con fácil acceso al sistema de buses de tránsito rápido.
Apartamento incluye una cómoda cama matrimonial, ropa de cama agradable, toallas de baño, y un pequeño patio al aire libre.
Neighbhorhood está situado en el histórico distrito de Deco de San Antonio. A poca distancia está un gran parque de la comunidad - Wooodlawn lago, restaurantes, y un histórico parque de golf en miniatura.
Great little place for a week long stay. I was happy to have a stove, refrigerator, and plates etc to cook my own breakfast. Check in was seamless. It is perfect for one person but could work for a couple.
Jo
2017-03-11T00:00:00Z
Loved staying here for two nights. I need wifi and it worked great while being cute, quiet, and comfortable. Highly recommended.
Carolyn
2017-03-30T00:00:00Z
This little cottage was absolutely perfect for my vacation. Uber was very cheap and convenient, as all the local restaurants and shops are near by. House is small, but very cute and clean. Overall had a great experience and would definitely stay again.
Nicole
2017-01-08T00:00:00Z
Jacob and Edward were terrific hosts. I would strongly recommend staying here.
grant
2015-09-30T00:00:00Z
Jacob is a really nice host. He gave us complete privacy and was prompt with his replies. The apartment was very clean and perfect. We had an awesome time.
Meena
2015-12-28T00:00:00Z
I recommend Jacob's apartment 100%!!! The hosts are really nice people. This little cozy apartment is exactly as described. This was my first AirBnB experience, I guess I was lucky enough to find a nice, clean, and private place. Thanks for the homemade cookies guys!!!!
Javier
2015-12-24T00:00:00Z
The casita was very cozy and comfortable. I enjoyed having my morning coffee in the sunshine on the patio and walking down to the lake to admire the brightly colored ducks. Jacob was a wonderful host, checking in frequently to make sure I was comfortable, but giving me plenty of privacy. Would definitely recommend to anyone passing through San Antonio.
Wesley Ann
2016-02-11T00:00:00Z
Everything was wonderful, easy access to everything. We needed a place on short notice since we decided to stay an extra night and wanted to get away from the downtown area. Definitely going to try to stay here again when it's available.
Rosio
2016-02-16T00:00:00Z
Typ pokoje
Celý dům/byt
---
Typ nemovitosti
Byt
---
Ubytuje
2
---
Ložnice
San Antonio, Texas, Spojené státy
目前租给单身女性或夫妇。帅气的复古氛围中生活的艺术家,色彩艳丽,充满艺术家庭。接近市中心(5分钟驱动器,或通过总线15分钟)和医疗中心。整洁的老邻居与大型城市公园和附近的设施。越野停车方便地访问州际公路I-10。舒适的房间有记忆海绵大号床在安静的房间。
这是前附近的杂货店,我的前任和我的搭档变成了我们的家,STU
整洁的老邻居与各种各样的或冷的建筑风格。许多附近的早餐场所......伟大的午餐和晚餐,很多餐厅3/4 2英里远。伍德劳恩湖公园附近以极大的步道,和游泳池在夏季。
Typ pokoje
Soukromý pokoj
---
Typ nemovitosti
Byt
---
Ubytuje
1
---
Ložnice
San Antonio, Texas, Spojené státy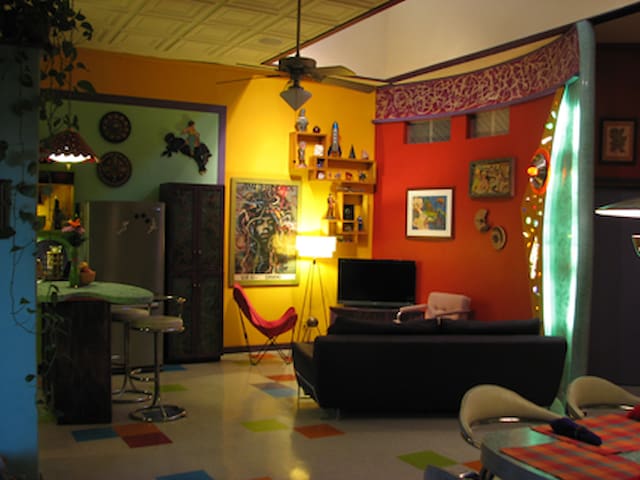 Privat Gästehaus hinter einem Craftsman Bungalow. Moderne mit sauberem Dekor umfasst Gästehaus neue Roku-TV mit Netflix, Wireless Internet, Küche, Bad und bequemen Doppelbett. In der Küche finden Sie einen Elektroherd, Backofen, Küchenbedarf, Mikrowelle, Keurig und Kühlschrank. Datenschutz Zaun. Es liegt nur wenige Minuten von der Innenstadt, der Pearl, Restaurants in der Nachbarschaft und lokale Bars. Einfacher Zugriff auf I-10 und zu Fuß zum Primo Bushaltestelle.
Mina was absolutely wonderful! She answered my emails very quickly and even offered suggestions on where to see wildflowers. Check-in was very easy and she even had coffee and water available. The room was extremely clean and it felt like I was staying with a friend instead of renting. My only complaint would be the AC and refrigerator were loud when running. Too loud to watch TV comfortably and they were too loud for me to sleep comfortably. However, that might not bother most people. Everything else was great!
Christine
2017-04-11T00:00:00Z
This is a great location-residential but convenient to downtown. Small but sweet. Check-in and check-out instructions were clear, and Mina was helpful in making suggestions for restaurants and sights to visit.
Lloyd
2017-03-22T00:00:00Z
The place was just as described and Mina was just as everyone mentioned, the perfect host. She goes and above and beyond to make your stay pleasant. The bed is comfortable and the location is a quick drive to anything. I'd definitely stay again!
Sabrina
2016-12-24T00:00:00Z
Mina and her cute little guest house was PERFECT for me and my fiance during our get-away trip to San Antonio! Mina was easy to contact and talk to during the whole trip. Once we arrived, the guest house looked just as comfortable and cozy as it did in the pictures! She even had water and coffee for us to make it feel even more like a home away from home! Her house is located just 10 minutes away from Downtown San Antonio. We didn't even have to get on the confusing highways to get to the Riverwalk, Alamo, etc. If you do not want to drive, her neighborhood street has a public transportation station at the end of the block. All in all, I cannot recommend enough booking with Mina! I cannot wait to visit San Antonio again, mainly because I want to stay in the house again!
Imani
2017-02-27T00:00:00Z
Such a perfect little place! Mina really has everything down. I really enjoyed my stay!
Liz
2017-03-02T00:00:00Z
Mina's attention to detail made me feel absolutely at home. I would recommend her as a host to anyone! I could tell that she has a real passion for making people happy, which certainly makes me want to return. Thanks for everything, Mina!
Taylor
2016-12-02T00:00:00Z
Mina's place was great-- one of my favorite rentals so far. The guest house is private and though it's small there's plenty of space and it feels large. The kitchen and bathroom are perfect and the bed is comfortable. Mina was easy to communicate with. I highly recommend a stay here!
Katherine
2016-12-04T00:00:00Z
Me and my husband stayed at this lovely guest house for a weekend in November. It was very cute, good instructions and had everything you needed. We felt very secure here and taken care of. We highly recommend this place for a couple.
Marika
2016-11-20T00:00:00Z
Typ pokoje
Celý dům/byt
---
Typ nemovitosti
Byt
---
Ubytuje
2
---
Ložnice
San Antonio, Texas, Spojené státy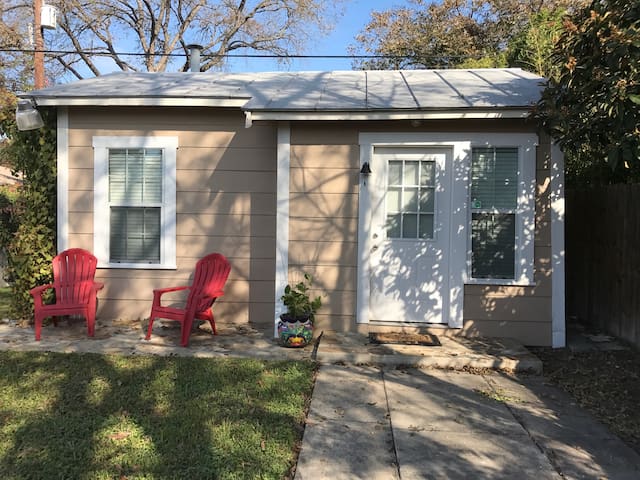 Nuestro apartamento amueblado con capacidad para 10. Totalmente remodelado para su conveniencia. Aparcamiento cubierto. Los pollos y los patos en el patio que ofrecen huevos frescos todos los días.
Nuestro barrio es muy tranquilo. Es un barrio muy bien establecida y la comunidad ama la tranquilidad. Tenemos de Joe Pancake House sólo una cuadra de distancia y se puede acceder a las calles principales como Fredricksburg muy fácilmente.
Typ pokoje
Celý dům/byt
---
Typ nemovitosti
Byt
---
Ubytuje
10
---
Ložnice
San Antonio, Texas, Spojené státy
Sissy and Mondo's apartment was wonderful and they were perfect hosts!! The apartments had this AMAZING patio and backyard that was lovely to sit and and the apartment itself was spacious and colorful! Mondo and Sissy were so helpful and kind!! We had a great stay!
Alex
2016-06-01T00:00:00Z
Sissy & Mando's place is always an excellent value. They are perfect hosts and the apartment is ideally located for easy access to downtown. Their apartment is my first choice when planning to stay overnight in San Antonio.
Jeffrey
2016-11-04T00:00:00Z
We had an amazing stay at 1922 apartment. The apt was spacious, had loads of character, and any and all amenities my partner and I could have asked for. The backyard area was so peaceful and relaxing. Our morning breakfast out on the patio was heavenly and exactly what we needed to end our little getaway to San Antonio. Although we didn't get to meet, Sissy and Mando were very communicative, and attentive to making our stay awesome. We will surely be back when we visit family in Austin again.
Jennifer
2016-10-30T00:00:00Z
Sissy & Mando were very nice, and extremely helpful, as I was not able to carry my suitcases up to the 2nd story apartment. It was an easy drive to the medical center in NW San Antonia. The apartment was comfortable, private, relaxing. I loved all the flowers growing outside. I liked that I could park my car in a garage. Would recommend.
Jacquelyn
2016-05-29T00:00:00Z
Fantastic apartment and hosts! I stayed here for 6 weeks. The place is spacious, well furnished and appointed. It is very easy to get around San Antonio from here, I walked downtown many times. The grounds are beautiful and the deco district is a nice place to be. Very safe and quiet neighborhood. Overall a great experience!!!!
John
2016-12-22T00:00:00Z
The place was beautiful and spacious. The apartment is a lot bigger than the photos show. We really felt at home staying there. The neighborhood was wonderful and central to everything. Sissy was very welcoming and accommodating. We will defiantly stay here again when in San Antonio.
kimby
2017-02-19T00:00:00Z
Awesome!
Jeffrey
2016-10-07T00:00:00Z
Great space and a beautiful backyard for us and our dog to enjoy grilling or just hanging out. was close to a park, gym, grocery and restaurants. Place was a 10-15 min drive to downtown and all the tourist spots. We even found some of the best BBQ (kings hwy Brew and cue) weve ever had down the road. Sissy and Mando are both very kind and will be sure to make your stay a great one!
Fiona
2017-04-02T00:00:00Z
Typ pokoje
Celý dům/byt
---
Typ nemovitosti
Byt
---
Ubytuje
2
---
Ložnice
San Antonio, Texas, Spojené státy
Such a cute place! Loved it!
Taylor
2017-03-12T00:00:00Z
Nena and Greg were outstanding hosts! They were flexible and made me feel welcome from the start. The guest house is located in the backyard. Newly remodeled, it is just right and has everything you need. I thoroughly enjoyed staying here. There is a shared outdoor grilling area that was just installed as well. Very cool setup! I highly recommend stopping in!
Brett
2017-02-28T00:00:00Z
Nena and Greg are wonderful hosts! Their guest house is cute, clean, and welcoming. You'll have everything you need and want. Nena even had a little tea set and Chutes and Ladders just for our two-year old daughter. She also loaned us kids books, and there were other games ready. We had Netflix, Amazon Video, etc. We stayed a whole week, so the full kitchen with dishes, cooking gear, etc. was perfect. We enjoyed the patio and garden with Nena, her dogs, and all the visiting birds. You will love staying here!
Donmichael
2017-03-11T00:00:00Z
The host canceled this reservation 6 days before arrival. This is an automated posting.
Jim
2016-12-04T00:00:00Z
Typ pokoje
Celý dům/byt
---
Typ nemovitosti
Byt
---
Ubytuje
3
---
Ložnice
San Antonio, Texas, Spojené státy
Bienvenido a "Condominio Contento" - Amplio apartamento privado, con entrada independiente y patio, cocina completa y baño, unida a casa en el barrio de la familia SA. Cerca del Centro Médico, 410 e I-10, a menos de 15 minutos para el aeropuerto, Riverwalk y parques temáticos.
Esta entera 500 pies cuadrados condominio de estudio ha sido recientemente renovado en un estilo elegante y moderno, con una nueva bañera y ducha, cocina, suelos, y la nueva cama de espuma de memoria reina contemporánea, por el sueño más cómodo. La cocina está bien equipada con todas las comodidades para el calentamiento sencilla o cocinar comidas más elaboradas. Café, té y el desayuno continental artículos se proporcionan con cada estancia. patio iluminado contempla lugar íntimo para disfrutar de un desayuno al aire libre o por la noche copa de vino en este entorno tranquilo y residencial. Condominio es ideal para dos personas, pero también puede acomodar hasta 3, con un sofá-cama cama para niños o huéspedes adicionales. Dos noches de estancia mínima. Hora de llegada es a las 3 pm y sentirse libre para permanecer hasta el mediodía. Ubicación, ubicación, ubicación - Con un coche, este encanto contemporáneo está a sólo 5 minutos a Centro Médico / UTHSC, 8 minutos a Seminario Universidad y la Asunción de Santa María, 14 minutos a la orilla del río, y sólo 2 millas del Loop 410 y I- 10, por lo que para un acceso rápido y conveniente para el aeropuerto (corto viaje en taxi 12 min), en el centro, parques de atracciones y varios centros comerciales. El acceso a la línea de autobús público hacia el centro y el centro médico está a sólo 3 cuadras de distancia, y viajes al centro en autobús son aproximadamente 30-45 minutos.
La casa está situada en una tranquila y agradable zona residencial y en el noroeste de San Antonio. Es directamente entre 2 centros comerciales: País de las maravillas / Crossroads y Comerciales Ingram Park, cerca de las tiendas de comestibles HEB, SAMS y WalMart y Target tiendas grandes de la caja, una amplia variedad de restaurantes locales y de la cadena. El local de "Dólar Teatro" y de arte y ensayo salas de cine están a menos de 5 minutos. Hay un parque infantil y un parque infantil, cancha de baloncesto con sólo 4 cuadras de distancia. Además, los mapas están provistos de rutas vecinales maravillosos, para aquellos que quieren correr al aire libre.
This was my first experience with Airbnb, and I can honestly say I was very pleased. Ms. J. C. was such a great and welcoming host. She was such great help from the very beginning. I asked her for any suggestions of local places to visit and she was so kind to provide me with a detailed list of places and restaurants. The room was as described and very comfortable. It was a great place for a get-away and for a very reasonable price.
Annette
2015-06-01T00:00:00Z
She was so welcoming and so sweet! Left a few goodies in the refrigerator for my daughter and I to enjoy some breakfast. Also was kind enough to give me a list of places to eat and things to do! Thank you so much for letting my daughter and I stay! Would recommend this place any day!
Alexis
2015-06-28T00:00:00Z
Ms. JC was a fantastic host. She was only a text message away and was very respectful of our privacy. The place is as listed, very comfortable, and the kitchen came in handy as we were trying to avoid eating out. It's a great space for two people and is nice if you're looking to stay in a quiet part of the city.
Elizabeth
2015-07-19T00:00:00Z
Great place to stay! Very comfortable bed and very quiet. JC was a great host... She left snack and food for breakfast. If you are coming to the San Antonio area check this out!
Matthew
2015-07-02T00:00:00Z
JC is a most gracious hostess! We shared great wine and great conversations. I feel like I came away with a new friend. The unit is as comfy as many hotel rooms I have seen. I might suggest blackout curtains on the windows as there is a lot of light that comes in at night. There were unforeseen issues with roofing and the city, etc but this was all outside of JC's control. In spite of everything she still kept a smile on her face and was pleasant and gracious. I had a great stay.
Janice
2015-07-16T00:00:00Z
J.C was very hospitable. The place was as described. The breakfast was very helpful when we woke up the first morning. The neighborhood is very quiet and we felt safe. She provided enough supply for our length of stay. The restaurants she suggested were very good and very helpful
Perla
2015-07-12T00:00:00Z
My boyfriend and I like to take road trips, this time we chose San Antonio. Ms JC made us feel so welcome and comfortable from the time we arrived until the moment we left. It felt like we were staying at a friends home. This condo is equipped with everything you might need. It feels like a mini apartment. Everything was fresh, clean and cozy. The area is nice and quiet. It is right by 410, we didn't really catch any traffic so everything felt fairly close. If you haven't been in San Antonio, just FYI there are a lot of hills , I drive stick and I found driving a bit annoying after a couple days. Great gas saver on downhills though. We really enjoyed this trip, and staying with Ms JC made us feel even more welcome. :)
Stephanie
2015-06-07T00:00:00Z
Ms. J.C. was a lovely host! Although we never formally met due to her being out of town on business, she took the time to call me before our stay and introduced herself. She was so sweet and very welcoming. She asked if there were any special necessities my boyfriend and I needed for our stay and she said she would leave a list of attractions and places to go and see while in town. The home was very clean and nicely decorated. It is a studio style apartment so everything is close but still spacious. The apartment had everything we needed and then some! Couch, T.V, refrigerator, coffee pot, sink, dishes, stove, table, chairs, bath robes, extra towels, shampoo, body wash, extra blankets, etc. Not to mention we had our own patio! My boyfriend and I loved staying at this condo. I would definitely recommend it to friends and family that wanted a nice getaway to San Antonio. Can't say enough great things!
Alyssa
2015-04-19T00:00:00Z
Typ pokoje
Celý dům/byt
---
Typ nemovitosti
Byt
---
Ubytuje
3
---
Ložnice
San Antonio, Texas, Spojené státy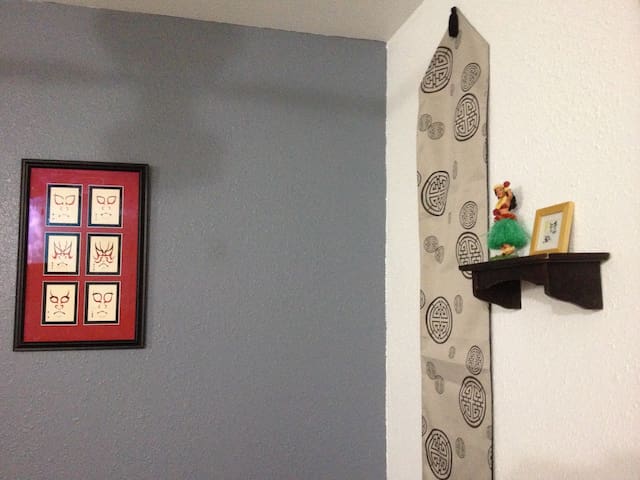 Mi lugar está cerca de restaurantes y de comedor, actividades para la familia, y la vida nocturna. Mi lugar es bueno para parejas, aventureros en solitario, viajeros de negocios, familias (con niños), y amigos peludos (mascotas).
Our initial confusion and concern with the change of location (from DeChantle to 7111 Oakridge) was soon overcome by the nice (older upscale) residential location and close proximity to the bus terminal. We had to share a kitchen (though one of our bedrooms had a microwave and mini-fridge) and common area with a Hindu couple and, on occasion, Hindu temple members. There was also a young dog that barked in the middle of the night. (I believe this is a temporary situation. Naveen was very apologetic and took us out to dinner.) We like to watch the news but the TV (which they were kind enough to move from the common area to our bedroom) used the internet and did not have any of the major network channels. The internet connection was a little spotty at times but generally good. The other couple living on the other side of the common area were very nice and considerate (even inviting us to temple and dinner), but there were a couple evenings the temple incense and bell ringing seemed to go on and on. Use of the garage with opener was a wonderful and much appreciated perk. The bus terminal was only a few minutes away with free parking. That was also a real plus. Overall we had a very good stay. The nightly rate was so affordable and Naveen even offered a weekly discount. We are so thankful Naveen offers this wonderful alternative to staying in a noisy, dirty inexpensive motel.
SierraSu
2017-03-19T00:00:00Z
Naveen was very kind and patient unfornately I had an emergency and wasn't able to finish cleaning. Thank again naveen and sorry for not finishing.
Kala
2017-01-24T00:00:00Z
Typ pokoje
Celý dům/byt
---
Typ nemovitosti
Byt
---
Ubytuje
3
---
Ložnice
San Antonio, Texas, Spojené státy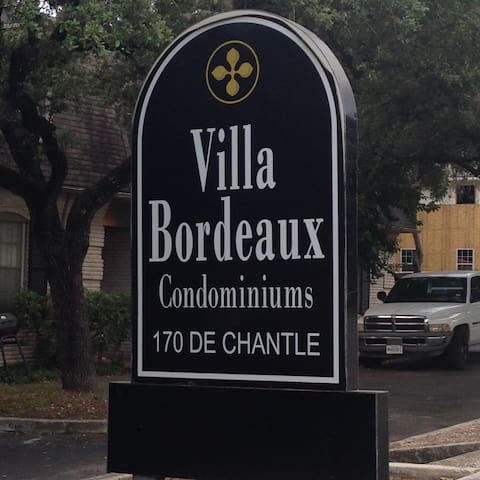 Ma maison ... votre maison loin de la maison!
Vous fournir non seulement avec le confort, mais le conveinence au centre médical, toutes les routes principales et à quelques minutes du centre-ville. Sans oublier le Théâtre Woodlawn, Deco Pizzeria et beaucoup d'autres grands lieux de divertissement.
Ma maison est niché dans un quartier très mature, calme et sûr.
The room at Ardel's is awesome, nice design, big TV (I didn't use it though), very comfortable big bed! With this Location you definitely need a car, but I had, so for me it was great. The communication was very good.
Helge
2017-03-19T00:00:00Z
Typ pokoje
Soukromý pokoj
---
Typ nemovitosti
Byt
---
Ubytuje
1
---
Ložnice
San Antonio, Texas, Spojené státy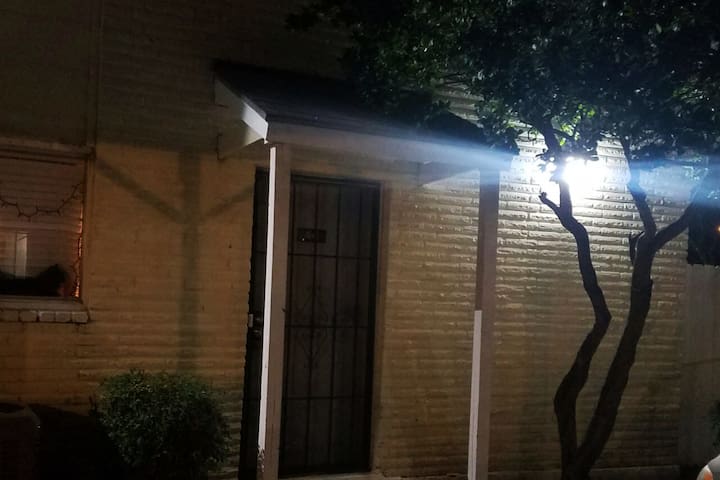 从下镇河滨历史区域分钟珠江啤酒厂和圣安东尼奥的其他艺术气息的地方。 大餐厅,艺术和步行距离之内的现场音乐。
我们的邻居是安静,靠近大餐厅。 我们步行到湖边伍德劳恩距离。非常适合骑自行车跑步或散步。
Gena was AMAZING! Her and her husband were very friendly, and told us of all the good places to check out. We were in the middle of moving to another state and they were so accommodating of our big moving trucks. They offered so much just to make sure that we were comfortable and happy. They are the friendliest people to deal with! 10/10 would stay here again.
Rachel
2017-03-31T00:00:00Z
Gena was so kind to my wife and I. We travelled to San Antonio very spontaneously, and she was like our own personal travel consultant. Great place to stay, very central and an incredibly kind and helpful family to boot!
DouglasLoz
2017-04-03T00:00:00Z
This place is GREAT! The pictures don't do any justice to how big it is. It's easy to find and super cozy inside. Everything you need is there for you -- kitchen space, private living room and bedroom area (and the backyard is a perfect place to lounge or let your pets roam around). It really is like a home away from home. Couldn't have asked for a better first experience with Airbnb and look forward to booking here again for another weekend getaway.
John
2017-04-09T00:00:00Z
Typ pokoje
Celý dům/byt
---
Typ nemovitosti
Byt
---
Ubytuje
4
---
Ložnice
San Antonio, Texas, Spojené státy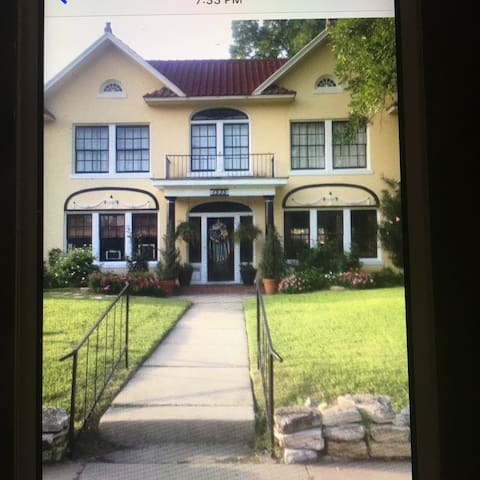 This was a great place! The kitchen was stocked with all utensils and Kim left some products in the fridge that we weren't expecting but it was a nice touch. The place was nice and clean, and the bed was very comfortable.. even the trundle was comfy! Internet was OK but failed some times. There were some barking dogs around the neighborhood at nights but it wasn't terrible at all. Thank you, Kim!! I will definitely be back in my next trip to San Antonio!
Lucia
2016-05-16T00:00:00Z
Excellent place, very clean and well located to explore the city. Kim was always aware of my messages and respond in time. I really recommend the place, very comfortable and spacious. I was there with my son and had a great time. thanks Kim.
Ana C.
2016-03-13T00:00:00Z
This place was great. Had everything I needed and was close by everything I needed to get to. I would recommend Kim's place to anyone
Dan
2016-07-25T00:00:00Z
Great! Everything we expected!
Tyler
2016-05-02T00:00:00Z
We absolutely loved this place. It's in a nice location and not that far from downtown. Kim was incredibly helpful and accommodating. We'd love to stay here again!
Joshua
2016-05-11T00:00:00Z
We received a warm welcome from Kim's mom and a welcome text from Kim who was working. We found the apt to be oh-so-cozy and comfortable. The space has been recently renovated, has some new furnishings and lovely extra touches added. They were kind enough to leave some extra goodies for us, candies, toiletries and some items in the fridge. We felt very welcome, the apt is sweet and in a safe area.
Wendalyn
2016-02-14T00:00:00Z
Great communication, nice place, highly recommend. Thanks, Kim.
David
2016-03-27T00:00:00Z
The Jefferson Cottage was very clean and cozy, liked the queen size bed with trundle for 3rd person, had modern updates and it's own private entrance and space. Parking was convenient too. Our host was thoughtful and left some goodies in the refrigerator. The Cottage is in a safe neighborhood. We enjoyed our stay!
Keshil
2016-03-18T00:00:00Z
Typ pokoje
Celý dům/byt
---
Typ nemovitosti
Byt
---
Ubytuje
3
---
Ložnice
San Antonio, Texas, Spojené státy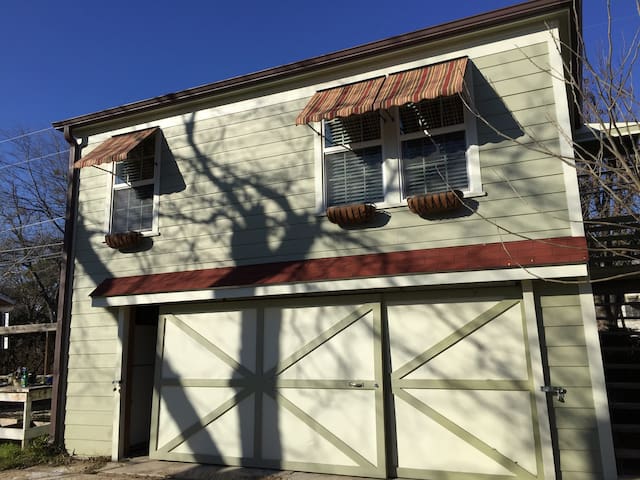 Pro zobrazení celkové ceny zadej termín. Mohou být přidány další poplatky a daně.