Nel centro del paese a 200 metri dalla piazza principale: appartamento casa vacanze con entrata indipendente ( una rampa di scale), camera matrimoniale con vista sul parco Brandolini, bagno con vasca da bagno e cucina munita di sala da pranzo. A due passi da lavanderia, supermercato, negozio alimentari,bar, pasticceria, panificio e farmacia. Zona con buona possibilità di parcheggio.
L alloggio è composto da un' entrata con grande armadio, cucina con tavola e 4 sedie, bagno con vasca da bagno e doccia e camera matrimoniale. Su richiesta possiamo aggiungere un letto negli spazi comuni. Entrambe le stanze hanno due finestre con vista sul parco Brandolini. l'eventuale secondo letto ( per tre ospiti) va posizionato in spazi comuni.
Zona tranquilla
Siamo state accolte da Sandra, amica di Matteo, che ci ha mostrato la casa e tutto l'occorrente lasciato a nostra disposizione. La casa è calda, accogliente, pulita. E' situata nel centro di Cordignano, in una tranquilla e buona posizione per bar, negozi di alimentari, supermercato e farmacia. A pochi metri c'è anche la possibilità di parcheggiare agevolmente. E' l'ideale per un piacevole soggiorno.
Paola
2016-12-11T00:00:00Z
Tutto bene
Riccardo
2016-10-27T00:00:00Z
È stato il mio secondo soggiorno da Matteo ed è stato tutto perfetto. Confermo pienamente il mio precedente commento, sottolineando positivamente la disponibilità di Matteo, che mi è venuto incontro sia per il late check-in che per il (very) late check-out.
Michele
2017-01-27T00:00:00Z
Ho soggiornato da Matteo 6 giorni per motivi di lavoro. È stato tutto perfetto, dall'accoglienza (in orario a me comodo per il check-in) alla casa, pulita, accogliende, caldissima e ottimamente ristrutturata. È stato bello poter usufruire di tisane, cucina attrezzatissima, arance fresche, saponi e biancheria candidi. Ho già prenotato per un secondo soggiorno. Da non perdere. Consigliatissimo.
Michele
2017-01-20T00:00:00Z
Our stay at Matteo was the absolute best.
Carl-Gustaf
2017-03-03T00:00:00Z
Appartamento bello e silenzioso in centro a Cordignano. Adatto ad una coppia. Il letto matrimoniale e grande e confortevole.
Christian
2016-05-15T00:00:00Z
Typ pokoje
Celý dům/byt
---
Typ nemovitosti
Byt
---
Ubytuje
3
---
Ložnice
Cordignano, Veneto, Itálie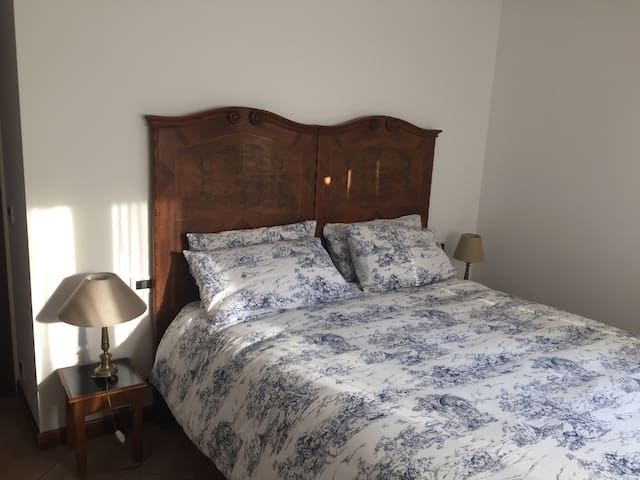 Appartamento al piano terra con soggiorno , cucina , bagno , e due camere ,
Accogliente tranquillo Max 5 persone +2
Zona tranquilla
La casa cè di tutto, confortevole. Io e altri 3 amici siamo stati molto felice.
Amanda Luzia
2016-08-24T00:00:00Z
La casa è molto accogliente, con tutto ciò che serve. Un supermercato e una banca si trovano a pochi metri di distanza. Bruno è sempre molto disponibile e gentile. Un'esperienza molto positiva!
serena
2016-05-13T00:00:00Z
The appertment is very nice, everyhing can be found what is necessary for stay. Communication was easy - I can just recommend Bruso's place.
Janos
2016-06-26T00:00:00Z
Pleaseant stay, Bruno is a very kind host and the house is nice and cozy.
Davide
2016-02-13T00:00:00Z
Typ pokoje
Celý dům/byt
---
Typ nemovitosti
Byt
---
Ubytuje
5
---
Ložnice
San Fior, TV, Itálie
La Dolce Vita is a place to feel at home and where hospitality is sacred. In the countryside north-east is furnished in an essential and modern style. I decided to get involved and open my home to travelers like me who love the simplicity of life, the warmth of home, the authenticity of the traditions and the kindness of ways. ideal lodging on Treviso Alps, visiting Treviso and Venice, ...
Typ pokoje
Celý dům/byt
---
Typ nemovitosti
Byt
---
Ubytuje
4
---
Ložnice
Orsago, Veneto, Itálie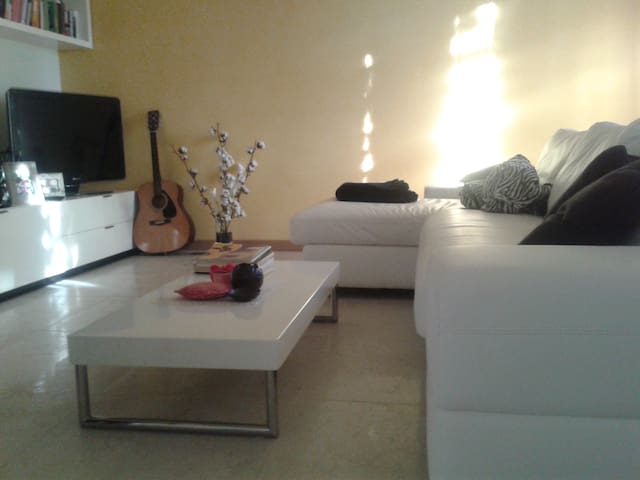 Náš krásný a útulný byt má skutečný pocit z Venkovský totožnosti místě. To může pohodlně ubytovat čtyři osoby a nachází se v klidné ulici v centru kampaně Caneva (PN).
My Rita, Francesco a Giovanni náš syn. Žijeme v Caneva (PN), vesnice na úpatí prvního pre-alpské řetězce, v provincii Pordenone, je ideálním místem pro turisty, kteří chtějí navštívit Benátky, Treviso, Verona, Padova, Terst, Aquileia, Cividale, San Daniele, Udine a zároveň Prosecco chuť našich hor, ale také nejznámější Valdobbiadene hodinu jízdy. Také v něco málo přes hodinu a jeho blízkost k dálnici, můžete navštívit nejkrásnější vrcholky Dolomit, Cortina, Val Zoldana, od Sappada se dostat do Dobbiaco. Najdete zde také skvělých míst, aby upoutali pěší turistiku, jízdu na kole a navštívit naše muzeum cyklistiky, jízdy na koni nebo golf (Aviano). Kromě toho můžete strávit idylický dovolenou ve venkovském prostředí zdravé a mohou těšit na kulinářské speciality v různých farmě v této oblasti a produkty regionu, vína země, maso a sýry z našich pastvin. Myšlenka zahájit tento pronájem na týdenní činnost vychází z absolutní zvědavost poznat nové lidi, kteří přijedou z celého světa poznat naši kulturu a navštívit náš region. Dostupnost bytu v přízemí našeho domu jsi začal toto dobrodružství, který také vuol'essere výměnu kultury a vášně. Jméno "z Jupiterů" je prostě dána tím, lásku k naší jediné dítě s účelem získání malé zisky, aby mu zaručí své vysokoškolské studium. Tam je "obydlí" je zahrada relevance našeho domu, který bude k dispozici pro maximální komfort. V našem hotelu můžete zůstat v tichu a stranou od dopravního ruchu, v přátelské a příjemné atmosféře. Od příchodu budete obklopeni příjemným pocitem uvítání, kde najdete sami doma i po omezenou dobu. Budeme dělat vše, co je v našich silách uspokojit i komfort a pohodlí našich hostů. Hosté "knihy". Nabízíme pobyt na minimálně dva dny. Cena € 40,00 za den a 280,00 € za týden je pro 2 osoby. "Děti osvobodit".
Appartamento molto spazioso, luminoso e pulito, fornito di tutti i comfort per un soggiorno ottimale. Ottima anche l'accoglienza e la disponibilità. Assolutamente consigliato!
marco
2015-11-20T00:00:00Z
We have stayed at many B&B's and private residences over the years and I have to say that Casa da "Giovi" is by far the best all around! First of all the apartment itself is wonderful...extremely clean, all amenities that you could possibly want, spacious, private, quiet, very accommodating if you bring your pooch. It's all fenced in and it has a great garden area. The location is perfect if you want to visit the Friuli-Venezia or Veneto area. Everything is within about 1 hour by car. Great wineries all around the area. There is a shopping mall 5 minutes away with a great supermarket and lots of good stores. If you are retired military Aviano AFB is about 10 minutes away. There's a wonderful little restaurant called La Taverna 5 minutes away. I can't think of any negatives about this place, it was truly a treasure of a find. I recommend it 150%!!!!
Bianca
2016-10-15T00:00:00Z
Все отлично, мне понравилось. Канева очень маленький и тихий городок. У центральной площади есть кафе и пиццерия, но я ходил ужинать в Таверну в конце Via Carmine (1,8 км от дома), там есть еще несколько заведений, но до них тоже не менее 2 км.
Viacheslav (Slava)
2016-05-22T00:00:00Z
Our stay in Caneva was amazing! We brought along our two dogs and the fenced garden area was a huge plus. Rita and her family were excellent hosts. She baked a cake for our arrival, told us all about the local area, and taught us how to brew the best Italian coffee...life couldn't be better. You'll be staying on the ground floor which is spacious, quiet, and has all the necessities you need to for an extended stay. Just lounging in the garden with a glass of the local prosecco isn't a bad way to end the day either...
Bryan
2016-07-07T00:00:00Z
We really enjoyed our 2 weeks at Casa di Giovi. Rita was extremely helpful prior to and throughout our stay. The apartment was very clean, welcoming, and comfortable. The kitchen was equipped with all the items you'd need to cook simple meals. The garden is really lovely and the house is in a great location. There was a cake for us and treats for the dogs upon arrival, which was a very nice touch. Rita was very accommodating both with our need for flexibility in length of stay and our 2 dogs. She was very easy to communicate with and prompt to answer any questions. We would definitely stay again if in the area.
Rebecca
2016-01-29T00:00:00Z
Soggiorno stupendo ! È stato come sentirsi a "casa"! Ringraziamo ancora Rita e la famiglia per la disponibilità e la gentilezza! La casa è molto accogliente, il giardino è stato ideale per il nostro cane ! Sicuramente ci torneremo ❤
Giulia
2017-02-07T00:00:00Z
sì, l'accoglienza era molto gentile e la casa è molto comoda e ben preparata per gli ospiti. La natura intorno a casa è molto bella. Sono stato soddisfatto sia dalla comodità della casa sia dall'accoglienza. Grazie
Sillo
2016-06-18T00:00:00Z
We had an excellent stay. It was nice, clean, and comfortable. The apartment and amenities were as advertised. Ms. Rita was a wonderful host and very welcoming.
Ryan
2016-05-16T00:00:00Z
Typ pokoje
Celý dům/byt
---
Typ nemovitosti
Byt
---
Ubytuje
6
---
Ložnice
Caneva, Friuli-Venezia Giulia, Itálie
L'appartamento luminosissimo, appena ristrutturato, si trova sulla piazza del paese in un palazzetto d'epoca. E' composto da un ampio soggiorno, una cucina abitabile, una camera e un bagno con vasca. Parcheggio privato.
Tutti i servizi essenziali si trovano sotto casa o nelle immediate vicinanze ( compresa la fermata delle corriere)
Typ pokoje
Celý dům/byt
---
Typ nemovitosti
Byt
---
Ubytuje
2
---
Ložnice
Cappella Maggiore, Veneto, Itálie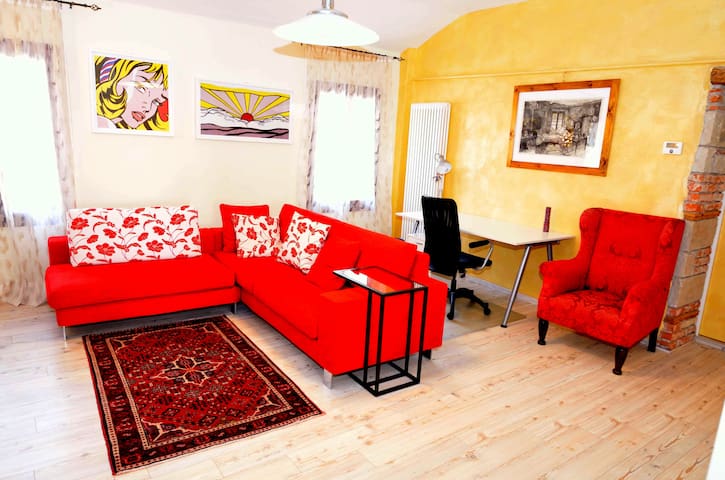 Newly renovated apartment, bright and cozy. Located close to the city centre and the train station, 1 hour from Venice and Udine. Available also for long stay.
L'appartamento è stato appena ristrutturato: gli arredi sono tutti nuovi, così come gli elettrodomestici e l'impianto sanitario. Sono stati installati climatizzatore e porta blindata. Dalla terrazza potete godere anche di un bel panorama sulla campagna circostante.
Il quartiere è tranquillo, l'appartamento si trova in un edificio situato alla fine di una strada privata.
Appartamento confortevole e completo di tutto situato in una perfetta posizione per muoversi ovunque a piedi
Michele
2017-03-19T00:00:00Z
Sinceramente la miglior Host che abbia mai conosciuto. Di una gentilezza e cordialità e comprensione uniche. La consiglia a tutti
Francesco
2017-02-05T00:00:00Z
Posto tranquillo, grazioso miniappartamento, molto pulito.
Piergiorgio
2017-03-26T00:00:00Z
The host canceled this reservation 36 days before arrival. This is an automated posting.
Felix
2016-05-23T00:00:00Z
Appartamento nuovo e curato. Si sentiva ancora l'odore della pittura. Estremamente pulito e sobrio. Location comoda per la vicinanza della FFSS raggiungibile a piedi. La proprietaria cordiale e disponibile.
Patrizia
2016-03-07T00:00:00Z
It's great to living there. Very quiet and the room is very clean.
Evan
2016-05-13T00:00:00Z
Alloggio perfetto. Pulito, nuovissimo, vicino alla stazione. Ci ho soggiornato due notti. Host molto disponibile. Da consigliare.
Valentina
2016-04-14T00:00:00Z
Very good
Evan
2016-05-05T00:00:00Z
Typ pokoje
Celý dům/byt
---
Typ nemovitosti
Byt
---
Ubytuje
3
---
Ložnice
Sacile, Friuli-Venezia Giulia, Itálie
The apartment is located on the the third and last floor of a residential building a few steps away from the town centre of the characteristic Sacile. Recently renovated it is the ideal choice for either a short holiday or for a longer stay. (Possible discounts based on number of people, weeks and type of stay.)
The apartment is comprehensive of kitchen, lounge, bathroom and two bedrooms. Also there are two terraces facing the south and north of town. Garage for one car. All rooms have been designed with a light and essential stile. The space is divided by sliding doors and modern furniture. It includes all of the most common facilities. (Shortly I will add the master bedroom photos to the gallery)
The area is pretty quiet and isolated from the main traffic. At the same time the flat is a 10 minutes walk from the historical centre. All amenities within walking distance : grocery, bar, cafe, restaurants, newsagent, bank ...
The apartment is even nicer than represented. It was very clean and new feeling. Sacile is a lovely place and easily accessible by foot from the apartment. We were able to park the car in an enclosed garage & leave it there for our entire visit. It was less than a 10 min walk to the train station. So we were able to make a day trip to Venice by train. We also liked the quiet and having morning coffee on the main balcony.
Veronica
2015-06-28T00:00:00Z
I truly enjoyed this living space and thought the price was super affordable for the proximity to the city center and train station. There was also a good attention to detail: coffee available, a bottle of wine to enjoy and umbrella available for use. I would recommend this place for friends and I would use it again!
Casey
2016-08-24T00:00:00Z
Filippo called us before hand and ensured that we had everything we needed upon arrival. His mother was there to great us and his neighbors translated for us. His neighbors were the sweetest and answered any questions we had while we were there! The apartment is a lot larger than we anticipated and it was extremly clean.
Audrey
2016-09-24T00:00:00Z
The apartment was modern and very comfortable . As it was on the 3 rd and top floor and it was very bright and with a very good view of the mountains . The landlord was very kind and the idea of leaving us some food on arrival was a good touch which we greatly appreciate(URL HIDDEN)highly recommend this apartment and should we go back to Sacile we will definitely consider staying there once again .
Karen
2016-09-14T00:00:00Z
Fillipo's apartment is bright and clean, and absolutely charming with a nice view. It is within walking distance to the main city square, and close to other cities like Pordenone and Aviano. We were initially late arriving and Fillipo's mom and neighbors were there waiting. Fillipo's very friendly and warm neighbors speak English, and translated for Fillipo's mom as she introduced the apartment to us. Parking was never a problem, the Internet is fast, and the apartment has everything you need for a comfortable stay. Highly recommend!
Kelly
2016-09-03T00:00:00Z
Filippo's apartment in Sacile is beautiful, very clean, and accurately described in the listing. Although we didn't meet Filippo personally, he was a good host dealing with all communications smoothly. A special thank you to his neighbour Manuela, who was very generous with her help upon arrival. An additional perk of the stay was a great film projector, which we used a couple of times (thanks, Filippo for a small but wonderful collection of Hollywood classics). The flat is conveniently located in the centre of Sacile, equidistant from both the train station, and the historic city centre (about ten minute walk). There are not many shops around but there are a take-away pizza place and a latteria with milk, cheese and bread (enough for a nice breakfast). We stayed in Sacile but travelled to the Giornate del Cinema Muto in Pordenone by train. I think having a car would be a good thing while staying in Sacile, which could be a good base for somebody travelling around the region. In any case, I would recommend Filippo's place to anybody who is going to Sacile or the Pordenone province. It a great place to stay.
Raisa
2015-10-07T00:00:00Z
We just completed a very comfortable three week stay in Sacile. The apartment is perfectly located within a 10 minute leisurely walk to the center of the city where there are fine dining restaurants as well as, cafes,bars, gelaterias and assorted shopping. The apartment is very tastefully decorated and has fantastic views of the Dolomites from the north balcony and a rooftop cityscape from the south balcony. Although there is a garage, street parking is very convenient and plentiful. The neighbors are friendly and very helpful. The apartment was well stocked with 2-3 days worth of soaps, detergents, toilet paper plus basic food provisions: coffee,milk,butter, bread, jam, bottled water, etc. and even a lovely bottle of WINE! Having arrived late after some difficult rainy driving, these provisions were much appreciated and made us feel very welcomed. Thank you, Giuseppina! Highly recommend this apartment.
Linda
2016-06-02T00:00:00Z
The stay in Filippo's apartment was absolutely amazing. Impeccably clean. The flat has everything we needed. Nice and convenient location. Fast internet. Great communication. Filippo's mother was charming and helpful. Thank you very much!
Viorica
2016-08-06T00:00:00Z
Typ pokoje
Celý dům/byt
---
Typ nemovitosti
Byt
---
Ubytuje
3
---
Ložnice
Sacile, Friuli-Venezia Giulia, Itálie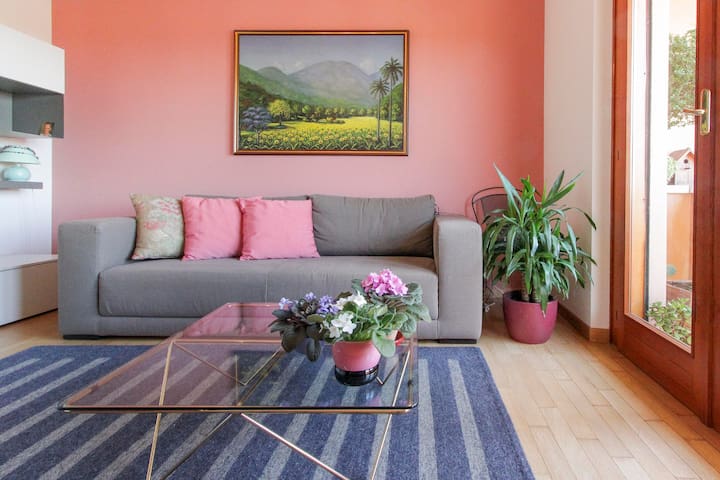 Lusso, storia e charme sono racchiusi in questo ambiente che abbiamo reso disponibili per (PHONE NUMBER HIDDEN) la bellezza di questa Villa Palladiana con pareti ornate da pregevoli stucchi del 1600. E' composta da due salottini, camera matrimoniale e bagno con vasca. Tutti gli appartamenti possono usufruire della sauna, del bagno turco, della vasca idromassaggio e del solarium. Posti letto: 2
Beautiful apartment inside the villa ,decorated with stucchi and painting of the 600 The room inspires an atmosphere of relaxation Ideal for romantic weekend with a setting surrounded by nature
Typ pokoje
Soukromý pokoj
---
Typ nemovitosti
Byt
---
Ubytuje
2
---
Ložnice
Colle Umberto, Veneto, Itálie
A Sacile Splendido APPARTAMENTO al "Molino Sacilese", A DUE PASSI (7 minuti) DAL CENTRO STORICO della città (Giardino della SERENISSIMA) si trova di fronte la Stazione Ferroviaria. Due camere da letto (1 matr e 1 doppia), un bagno, un'ampia zona giorno/salotto, sala da pranzo, cucina con tavolo, due terrazzi.
L'appartamento si trova al Primo Piano di un bel complesso residenziale denominato "Molino Sacilese". La Stazione Ferroviaria si trova a 50 metri. A piedi è possibile raggiungere tutti i servizi della città e il vicinissimo e Magnifico Centro Storico. La storia, la cultura e persino il nome di questa cittadina sono legati ad un fiume: il Livenza. Nel "Giardino della Serenissima" - così viene definita per le sue atmosfere veneziane - le architetture convivono armoniosamente: gli eleganti palazzi, spesso in stile lagunare, si specchiano nelle azzurre acque del fiume. Imperdibili il Duomo di San Nicolò, patrono della città e Santo della navigazione fluviale, la Chiesetta della Madonna della Pietà e Piazza del Popolo, su cui si affacciano bellissimi edifici porticati. Numerosissimi i palazzi cinquecenteschi che rendono Sacile città rinascimentale per eccellenza: ne sono degli splendidi esempi la Loggia Comunale e soprattutto il Palazzo Ragazzoni Flangini Billia. Molte case presentano motivi ornamentali del Rinascimento o in stile Barocco, che contribuiscono a rendere Sacile una deliziosa cittadina in cui perdersi, attraversando ponticelli e viuzze per scoprire suggestivi scorci da incorniciare. Ogni anno, in agosto, la città si anima per la tradizionale Sagra dei Osei, una delle più vecchie sagre italiane, che unisce una mostra-mercato di uccelli, esibizioni e gare di canto dei numerosissimi esemplari.
Il quartiere ha il pregio della tranquillità e inoltre non ha problemi di parcheggi perché sono presenti tutto intorno l'edificio ed all'interno del cortile del complesso e sono gratuiti.
Absolutely fantastic! Paolo greeted us on arrival and showed us the place. The whole apartment is as depicted in the photos and described--even better in my opinion! The place is so comfortable and cozy and perfect for an extended stay in Italy and living like a local. Walkable to the city center and just across the street from the train station for a quick train ride to Venice--the location is perfect!
Jessica
2016-06-30T00:00:00Z
We really enjoyed our stay in Sacile in Paolo's apartment. It is a very beautiful, spacious, and clean apartment located in a very convenient location within Sacile - just steps from the train station, and within easy walking distance to downtown and a supermarket. We would absolutely recommend staying here to friends traveling in the area.
Sondra and Jacob
2016-12-02T00:00:00Z
Beautiful place across the street from the train station and close to sacile center. Clean, modern, beautiful apartment with all amenities
Ian
2017-04-01T00:00:00Z
We had a Wonderful stay at this beautiful residence in lovely Sacile. Paolo is an excellent host!! He replies to every question and is there to greet you when you arrive for holiday. He takes the time to explain everything and he is very organized and helpful. The apartment is very clean and comfortable. And it is beautifully decorated. I rate Paolo and his residenza with 10 stars!!
Trudy
2017-02-28T00:00:00Z
Paolo was an excellent host, always available when we needed him. The apartment is located right next to the train station in Sacile, allowing for very easy transport to Venice, Trieste, Treviso and beyond! You're also within very easy walking distance of the Piazza Popolo, the major gathering point in the town. There's dozens of delightful restaurants no more than 10min away and so much to do in such a small town. I definitely recommend staying at the Residenza dei Tolomei. P.S. Check out Pizzaria Rosalba, right down the road.
Timothy
2016-11-27T00:00:00Z
Great place to stay, right next to the train station.
David
2017-01-20T00:00:00Z
Absolutely beautiful fully furnished apartment on the edge of Sacile. Everything is brand new and in great condition. Paolo is very welcoming and accommodating. 5 min walk to the town center and a perfect place to stay for work or travel. Highly recommend.
Ryan
2016-05-29T00:00:00Z
We had a wonderful experience - the apartment was clean and appeared exactly as in photos. It was spacious and welcoming. The neighborhood is charming and the location so close to the train station it makes train travel wonderfully convenient. No problem of train noise at all. Sacile is a beautiful town and the market on Thursdays is a real treat. Paolo is an excellent host, communicated promptly and clearly making booking, arrival and departure seamless. Thank you Paolo for everything and we very much enjoyed the welcome bottle of prosecco. We would love to stay here again.
Jack
2016-09-23T00:00:00Z
Typ pokoje
Celý dům/byt
---
Typ nemovitosti
Byt
---
Ubytuje
4
---
Ložnice
Sacile, Friuli-Venezia Giulia, Itálie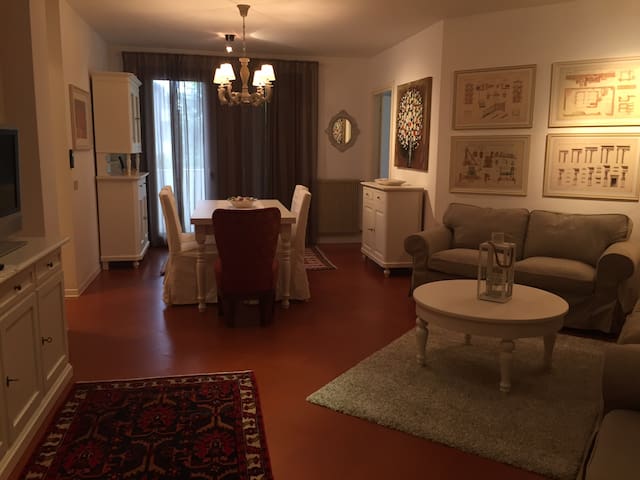 Ciao mi chiamo Sonia, il mio appartamento è curato, si trova in uno stabile di recente costruzione con ascensore e parcheggio privato. la stazione ferroviaria di Pianzano el'ingresso dell'autostrada si trovano nelle immediate vicinanze.
Typ pokoje
Celý dům/byt
---
Typ nemovitosti
Byt
---
Ubytuje
5
---
Ložnice
Pianzano, Veneto, Itálie
L'appartamento si trova a soli 5 minuti a piedi dal centro città' e a 15 minuti dalla stazione ferroviaria che collega a Conegliano, Treviso, Mestre Venezia. Pordenone ,Udine,Trieste Accogliente appartamento di 70 mq. luminoso silenzioso ed attrezzato con ogni confort. E' composto da ingresso ,cucina, living room, camera matrimoniale, bagno, terrazzo e garage privato . L appartamento e' situato nell' immediata vicinanza dei Plessi scolastici e a 5 minuti a piedi dall'Ospedale Civile di Sacile.
L' appartamento di nuova ristrutturazione viene fornito full optional. La cucina con piano a induzione, microonde, forno, frigorifero, lavastoviglie e macchina per il caffè. Il soggiorno con TV 50' e zona laptop. WIFI free La camera con letto matrimoniale e grande armadio e' completa di biancheria . Il bagno e' dotato di box doccia e viene fornito di asciugamani, docciaschiuma e sapone. Lavatrice. Ferro da stiro . Disponibili biciclette gratuite .
L appartamento si trova a due minuti a piedi dal Teatro Zancanaro e a cinque minuti dalla bellissima Piazza del Popolo. Nelle immediate vicinanze si trovano bar, negozi, pizza da asporto, alimentari e panificio.
La casa è appena ristrutturata, pulita e confortevole Le stanze spaziose La cucina ben attrezzata Niente male! Nessun problema di check in o quant altro
Stefania
2017-02-01T00:00:00Z
Typ pokoje
Celý dům/byt
---
Typ nemovitosti
Byt
---
Ubytuje
2
---
Ložnice
Sacile, Friuli-Venezia Giulia, Itálie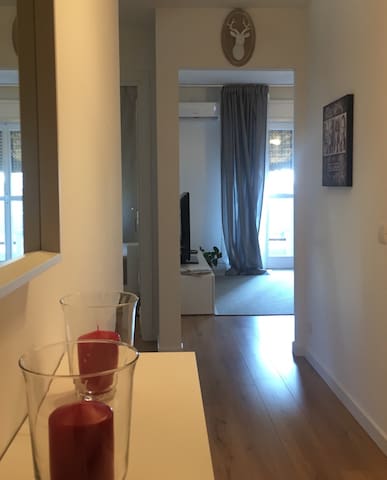 In Sacile, small apartment in a Residence (Supermarket, Restaurant and Bar). It has a kitchen, a nice dining room and living room, a bedroom, a bathroom and a terrace. You can also use a garage. It 'very close to the center of Sacile.
Voglio ringraziare al Sig. Ermes è una persona gentile molto disponibile consiglio a tutti l'appartamento mi sono trovato benissimo 10 giorni di puro relax
Sandro
2016-03-18T00:00:00Z
le studio était tout à fait correct , propre , simple . Le parking est aussi un avantage et l'immeuble se trouve à 7minutes à pied du pittoresque centre de Sacile . L'autre facilité est d'avoir un supermarché très économique faisant partie du bâtiment . Il est évident que ce studio n'est pas conçu pour y passer des journées entières mais le but étant d'avoir un endroit correct où dormir , prendre un petit déjeuner et une douche , celui-ci répondait parfaitement à nos exigences . Il faudrait signaler toutefois qu'il se situe au numéro 9 et non 11 , le 11 étant le numéro de l'appartement dans l'immeuble .
Myriam
2016-06-24T00:00:00Z
Ermes was on time and available for our initial arrival.
Elle
2016-09-06T00:00:00Z
Appartamento semplice per un breve soggiorno.
David
2016-11-16T00:00:00Z
Appartamento tranquillo in una zona molto bene collegata con Treviso e pordenone
FABIANO
2017-03-20T00:00:00Z
A small, clean, comfortable, discreet, affordable and, overall, very nice apartment in the cute town of Sacile close to its centre. I had a very pleasant stay there.
Vestard
2016-05-15T00:00:00Z
Direi che l'accoglienza non è stata come da profilo. Mancavano le cose fondamentali (carta igienica, caffettiera, ecc..) che su nostra richiesta poi sono state in parte fornite. Ci aspettavamo un'accoglienza meno frettolosa.
sergio
2016-06-07T00:00:00Z
Hermes è stato gentile ed elastico nell'orario del nostro arrivo, efficiente nel risolvere alcuni piccoli inconvenienti. Luogo tranquillo e pratico , letto magnifico con facile posteggio per soste di lavoro. Grazie e alla prossima... Michela
Michela
2016-03-07T00:00:00Z
Typ pokoje
Celý dům/byt
---
Typ nemovitosti
Byt
---
Ubytuje
2
---
Ložnice
Sacile, Friuli-Venezia Giulia, Itálie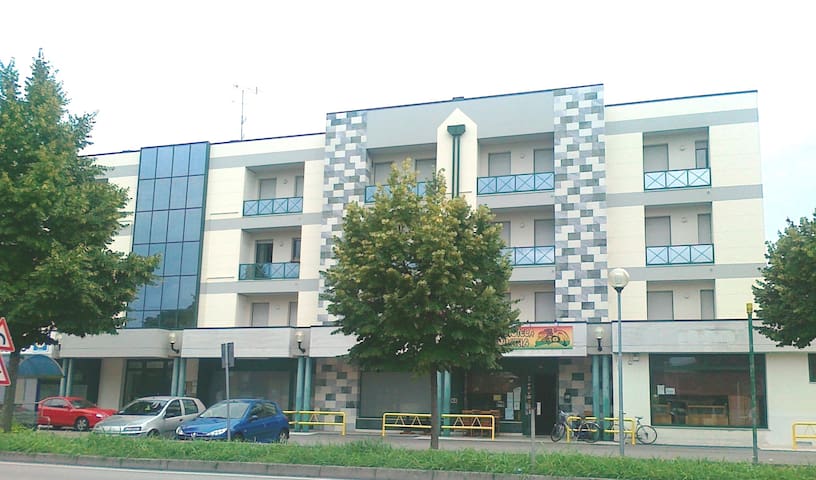 Clean, spacious, modern apartment with all amenities in center of historic Sacile, next to park area and beautiful river Livenza, fully equipped kitchen, full bath with shower, washer/dryer, 2 fully furnished bedrooms. Parking available.
The host canceled this reservation the day before arrival. This is an automated posting.
JEAN-PIERRE
2016-05-20T00:00:00Z
Typ pokoje
Celý dům/byt
---
Typ nemovitosti
Byt
---
Ubytuje
3
---
Ložnice
Sacile, Friuli-Venezia Giulia, Itálie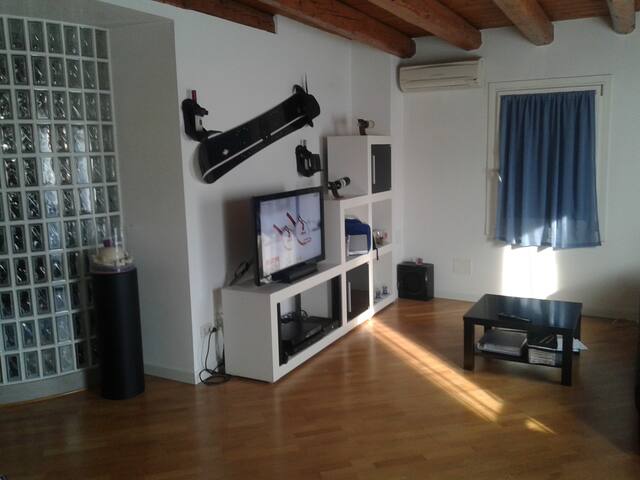 Grande appartamento in zona centrale con bellissimo terrazzo. Ambiente moderno e vivace. Punto di partenza ideale per escursioni in Cansiglio, Piancavallo, Venezia, Caorle, Jesolo... o una bella passeggiata nel Giardino della Serenissima
The condo has large rooms that inspire relax. In Spring and Summer the terrace is perfect for outdoor dinners.
The condo is a 10-minute walk from the beautiful city centre, where it is possible to stroll throug piazzas, palaces and gardens with an autentic venetian atmosphere that gave Sacile the title of "Garden of the Serenissima". The city offers numerous restaurants with local cousine and suggestive views over the river Livenza.
Great and spacious apartment in Sacile. Plenty of room for the family. Quiet, safe and convenient!
Mary
2016-12-23T00:00:00Z
We traveled to Sacile to attend a friends wedding. Cristina's apartment was perfect, very spacious clean and a nice terrace. A bottle of prosecco was in the fridge for our arrival which was very nice. We did not meet Cristina but her friends greeted us and everything was perfect. Thanks Cristina.
Mourad
2016-09-11T00:00:00Z
Christina est très accueillante, son appartement est spacieux propre et chaleureux. La terrasse est très sympa. Christina connaît une bon adresse de pizzeria à deux pas de l'appartement. Christina is very friendly, her apartment is huge clean and cosy. The terrace is nice. Christina kniws a good pizzeria close to the apartment.
Floriane
2016-08-06T00:00:00Z
Tutto perfetto sotto ogni punto di vista. Casa grande ed accogliente, anche meglio di quanto ci aspettassimo. Dotata di ogni comfort ed ogni utensile necessario per la cucina. Eravamo in 6 e siamo stati comodissimi. Cristina è stata paziente e gentilissima con noi. Se siete in zona vi consiglio assolutamente questo appartamento.
Francesco
2016-07-28T00:00:00Z
Great clean large 3 bedroom condo. Centralized to all driving areas from to oceans to Mountains and walk to all the little town's wonderful assets. The little town has a train station to get you to Venice and every other big city in Italy. We loved it.!!! Sincere thanks Sandrs
Sandra
2016-05-30T00:00:00Z
We had a wonderful time in the heart of Sacile. the apartment was centrally located and outfitted with everything we needed. The host met us the first day and explained everything. We would definitely stay here again.
Tori
2016-05-10T00:00:00Z
The host canceled this reservation 9 days before arrival. This is an automated posting.
Rosita
2016-10-15T00:00:00Z
Ottima accoglienza. Appartamento grande ed in zona centrale.Lo consiglio
valeria
2015-10-15T00:00:00Z
Typ pokoje
Celý dům/byt
---
Typ nemovitosti
Byt
---
Ubytuje
6
---
Ložnice
Sacile, Friuli-Venezia Giulia, Itálie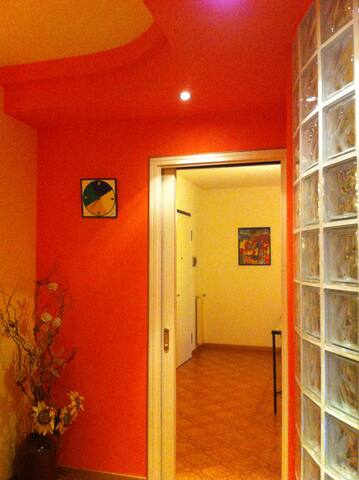 Ciao mi chiamo Sonia, il mio appartamento è curato, si trova in uno stabile di recente costruzione con ascensore. Situato nella frazione di San Giacomo Di Veglia è comodo a tutti i servizi
Typ pokoje
Celý dům/byt
---
Typ nemovitosti
Byt
---
Ubytuje
3
---
Ložnice
Vittorio Veneto, Veneto, Itálie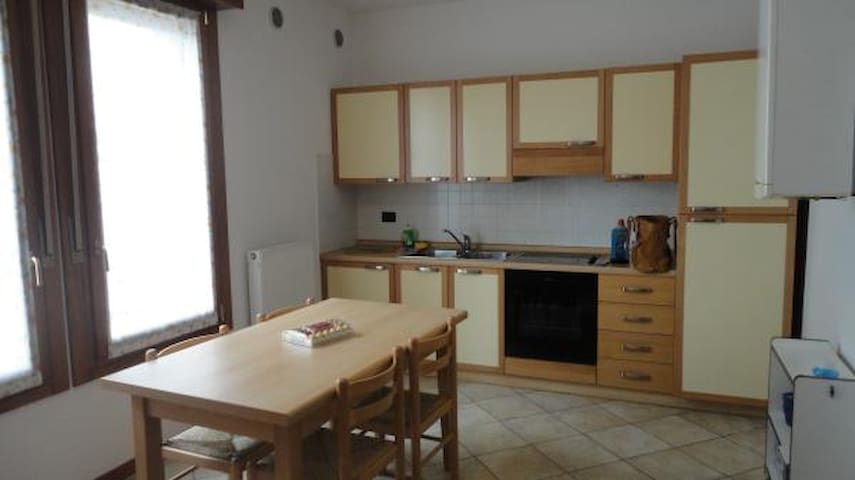 Accommodation new, fully furnished on the second floor of a building without an elevator. Consisting of a kitchenette with dining area, living room, a double and a single. Bathroom with Jacuzzi tub. Autonomous heating.
Typ pokoje
Celý dům/byt
---
Typ nemovitosti
Byt
---
Ubytuje
3
---
Ložnice
Francenigo, Veneto, Itálie
This new apartment is the perfect accomodation if you're looking for a quite place very well linked to Venice and the main attractions of this area. Per chi arriva con il treno a Conegliano e vuole raggiungere il nostro appartamento senza prendere a noleggio un'automobile,può avere il servizio di trasporto con €. 5,00 per 4 (URL HIDDEN) volete disporre di questo servizio bisogna che preventivamente mi contattate .
. L'appartamento appena ristrutturato è situato in un tranquillo quartiere residenziale, a pochi minuti dal centro di Conegliano e all'autostrada. . The new apartment is located in a quiet residential neighborhood , just a few minutes from the center of Conegliano and the motorway. . Gli ospiti potranno disporre per tutto il periodo del soggiorno di accesso wifi e della nuovissima cucina provvista di tutto il necessario. . Guests will have throughout the period of stay wifi access and the brand new kitchen with everything you need. . Agli ospiti è fornita totale assistenza, sia nella fase di prenotazione che per tutta la durata del soggiorno. . To our Guests is given total support , both during the reservation that for the duration of the stay. . La vicinanza all'uscita dell'autostrada A27 facilita gli spostamenti verso le principali città dell'area. Il centro commerciale Coné si trova a soli due minuti di distanza così come la città di Conegliano e i suoi principali siti di interesse storico e turistico. . The proximity to the motorway Exit A27, facilitates travel to the main city area. The mall "Conè" is only two minutes away as is the town of Conegliano and its main sites of historical and tourist interest. . L'ubicazione dell'appartamento è invidiabile. Nel raggio di soli 60 Km. troviamo luoghi incredibili. Venezia oppure Cortina D'Ampezzo e le dolomiti, Jesolo e il suo arenile, oppure la storia con Treviso, Conegliano, Marostica, Oderzo, ecc. Non dimentichiamo vini e cucina e i prodotti autoctoni della zona. . The location of the apartment is enviable . Within just 60 Km around, You find incredible places . Venice or Cortina D' Ampezzo and the Dolomites - UNESCO'S Heritage, Pian del Cansiglio, or the Glacial Lakes of Revine (10 Km), the River Piave, Jesolo and its beach , or the story with Treviso , Conegliano , Marostica , Oderzo , and so on. Do not forget wine and food and local products of the area. . La logistica è a 360° gradi, con autostrada, treno e aereo vicinissimi. . Logistics is at 360 degrees , with highway , train and plane very close . UN GIRO NEI DINTORNI . L'appartamento dista 10 km da Vittorio Veneto e 2 km dal centro di Conegliano Veneto, città d'arte dalla posizione strategica per raggiungere in treno o in auto Treviso (km 30), Venezia (km 60), Belluno (km 40), Asolo, Padova e Vicenza. Per gli appassionati di turismo enogastronomico è possibile percorrere in macchina o in bicicletta la nota e amena 'Strada del Prosecco' della zona Conegliano-Valdobbiadene, sostando nelle innumerevoli cantine della zona. A 90 km poi, in un'ora e mezza di auto si raggiunge facilmente Cortina, la perla delle Dolomiti, Patrimonio dell'UNESCO. Golf: Meraviglioso campo da Golf a 1000 metri di altitudine sul Pian del Cansiglio. Sci: Oltre al Cansiglio, a poco più di un'ora di auto, le stazioni sciistiche della Val Zoldana, il comprensorio di Cortina d'Ampezzo e la stazione sciistica di San Vito di Cadore. A pochi km, nei pressi delle valli del Prosecco, si può trascorrere una splendida giornata ai Laghi di Revine. Si trovano nella Valmareno i due pittoreschi e caratteristici laghi glaciali di Santa Maria e di Lago. . WALKING AROUND The apartment is 10 km from Vittorio Veneto and 2 km from the center of Conegliano Veneto, City of Art, from the strategic position to reach by train or car Treviso ( 30 km ), Venice ( 60 km ), Belluno ( 40 km ), Asolo, Padova and Vicenza. For lovers of food and wine tourism it is possible to travel by car or bicycle , through a pleasant and famous "Prosecco Road ", in the Conegliano - Valdobbiadene area, stopping at the many wineries which you can find on the way . At 90 km , in an hour and a half by car, it is easy to reach Cortina D'Ampezzo, the pearl of the Dolomites, designated one of UNESCO's World Heritage Sites. Golf: Wonderful golf course, at 1000 meters above sea level, on the Pian del Cansiglio. Skiing: In addition to Cansiglio, just over an hour's drive , the ski resorts of Val Zoldana, the ski area of Cortina d' Ampezzo and the ski resort of San Vito di Cadore . A few kilometers away , near the valleys of Prosecco, you can spend a wonderful day at the Revine Lakes. The two glacial lakes of Santa Maria and Lago, are located in the picturesque and quaint Valmareno. . Vieni al lago, per prenderti una pausa, sdraiarti al sole e goderti il paesaggio. Per prendere un drink o tuffarti nell'acqua fresca, oppure per concederti un giro in pedalò. Solca le acque del lago con una canoa, o passeggia per i sentieri che lo circondano. Sulle sponde di questo piccolo lago di origine glaciale, si trovano dei punti ristoro e pic-nic all'aperto dove è possibile prendere il sole nelle giornate calde e fare delle grigliate. C'è un percorso naturalistico che gira tutto attorno al lago e porta al vicino laghetto di Santa Maria. Possibilità di visitare il centro LIVELET, un parco naturale, nel quale vengono effettuate attività ed incontri sempre differenti anche per i bambini. Belle le palafitte ricostruite sul lago. . Come to the lake, to take a break , to lie down in the sun and enjoy the scenery . To have a drink or to dive in the cool water , or to give yourself a "pedalò" . Take to the waters of the lake with a canoe , or walk along the paths that surround it . On the shores of this small lake of glacial origin , are the dining and outdoor picnic where you can soak up the sun on hot days and do barbecues . There is a nature trail that runs all around the lake till the nearby lake of Santa Maria. Opportunity to visit the center Livelet, a natural park , where always different activities are conducted also for children . Beautiful stilts are reconstructed on the lake. . La zona e' una vallata panoramica con il lago che si trova ai piedi delle Prealpi Trevigiane. Posto appunto ideale per rinnovarsi dallo stress quotidiano. In estate si puo' prendere il sole, nuotare, andare in barca e, per tutto l'anno, si possono fare passeggiate a piedi, in bici, a cavallo, o volare col parapendio. Molte le cantine vinicole, dove si produce il famoso "Prosecco", che si possono visitare per degustare ed acquistare. Diversi gli itinerari culturali dall'epoca primitiva ai palazzi veneziani e borghi rurali in 'sasso' tipici della zona. Un posto genuino, per coronare una vacanza ricca di natura, relax e cultura. . The area is a scenic valley with the lake that lies at the foot of the "Prealpi Trevigiane". Just a perfect place to renew yourself from daily stress . In summer you can have sunbaths , swimming , boating and , throughout the year , you can go walking, or by bike , or horse riding and paragliding . Many wine cellars , where the all over the world famous "Prosecco" is produced, which you can visit to taste and buy . In the area, several cultural routes since the early Venetian palaces and characteristic rural "stone" villages. A genuine place , to cap a holiday full of nature , relax and culture. CANSIGLIO visit web site MAGICOVENETO . ESCURSIONI , TREKKING, ALPINISMO, SCI/HIKING, WALKING , CLIMBING, BICICLETTA, CICLOTURISMO, CYCLING, ROAD E MOUNTAIN BIKE. . EXCURSION, TREKKING, CLIMBING, SKIING/HIKING, WALKING, BIKE, CYCLING, ROAD AND MOUNTAIN BIKE. GROTTE DEL CAGLIERON . A pochi passi dal centro di Fregona facendo una piccola deviazione per chi stesse andando verso il Cansiglio si possono trovare le Grotte del Caglieron. apprezzate sia in estate per la frescura che in inverno, per le stupende cascate di ghiacci, sono punto di riferimento per laboratori di educazione ambientale e meta ogni anno di migliaia di visitatori. . CAGLIERON CAVES A short walk from the center of Fregona, making a small detour to who Is going to the Cansiglio, can be found the "Caves of Caglieron", enjoyed both in summer for the coolness and in the winter , for the beautiful waterfalls of ice . They are a reference point for environmental education workshops and visited each year by thousands of visitors. FIUME PIAVE . Tra le tante spiagge del fiume a circa 15 km c'è Falzè di Piave. Da Piavilandia, il parco ricreativo di Falzè, con giochi per grandi e piccini, piscine e ristorante, si dipartono due tracciati, entrambi in prossimità del fiume, per immergersi nella natura. Dove si può prendere il sole in piccole spiaggette di sassi, o fare un pic-nic all'aperto o semplicemente passeggiare. Il percorso delle Volpere si sviluppa verso Ovest, ed è un sentiero su scarpata rocciosa che non presenta particolari difficoltà, mentre il Passo Barca è un sentiero ad Est che si dirama all'interno di un ampio terreno di grava con vegetazione xerofila. In entrambi i percorsi ci si può fermare, sulle sponde del fiume, per prendere il sole o farsi un bagno o semplicemente rilassare cullati dal rumore dell'acqua che scorre. . RIVER PIAVE Among the many beaches of the river, in about 15 km, there is Falzè di Piave Beach. From Piavilandia , recreation park of Falzè, with games for children and adults, swimming pools and restaurant, depart two paths, both near the river, to enjoy nature. Where you can sunbathe in the small pebbled beachs, or take a picnic outdoors or just have a walk. The path of "Volpere" spread westward , and it is a path of rocky escarpment that is not particularly difficult , while the "PASSO BARCA" is a path that branches off to the east in a large plot rests with xerophilous vegetation. In both locations you can stop on the banks of the river, to sunbathe or bathe or simply relax lulled by the sound of running water. . Aeroporto più vicino - Nearest Airport 40 Km - Treviso Aeroporto Canova . VENEZIA - 60 Km . Golf - 38 Km Cansiglio . Stazione ferroviaria - Railway Station 2 Km - Conegliano . Autostrada - Motorway 2 Km - Conegliano . Ski - 40 Km Nevegal . Spiaggia - Beach 60 Km - Jesolo Lido . Laghi - Lakes 10 Km Revine, Santa Maria, Lago 35 Km Santa Croce Fiumi - Rivers 15 Km - PIAVE
La vicinanza all'uscita dell'autostrada A27 facilita gli spostamenti verso le principali città dell'area. Il centro commerciale Coné si trova o soli due minuti di distanza così come la città di Conegliano e i suoi principali siti di interesse storico e turistico.
Ides je velmi milý a pozorný hostitel. Komunikace probíhala velmi svižně, veškeré dotazy nám byly zodpovězeny. Ides s manželem nám dali mnoho zajímavých tipů na výlety a restaurace v okolí. Byt je nový, moderní, popis a fotografie přesně vystihují realitu. Čistota a vybavení bytu bylo perfektní. San Vendemiano je malé a příjemné městečko, takže pobyt je vhodný spíše pro hosty, kteří očekávají klid. Vše potřebné je v dosahu. Pobyt můžeme všem vřele doporučit. Ides, moc děkujeme za vše, rádi jsme byli Tvými hosty.
Michal
2016-06-27T00:00:00Z
Thank you Ides to you and your husband for the great hospitality and the wonderful apartment,which gave to me and my family to feel like home,it was very comfortable,super clean,very cute furniture and details,nice and quiet neighborhood,very close to the supermarket Familia.Also,Conegliano as a place gave us opportunity to visit many places around.We are hoping to come again and we are highly recommending Ides`s apartment if you want to explore Venice and surrounding.
Mihajlo
2016-03-29T00:00:00Z
ottima accoglienza casa molto confortevole ottima posizione ritorneremo sicuramente
Vincent
2015-12-02T00:00:00Z
Ides and her husband were fantastic and so loving they had come to the train station to fetch my friends and I. They helped us in so many ways by writing down train timings and also sending us to the train stations in the morning for 2 days. They also had helped us to let us know how to get around the town. They live in a place that is accesible to a very big supermarket , restaurants and gellaterias which we love greatly. Thank you ides for your lovely home we loved it so much because it was so clean,homely and beautiful. thank you for everything
Gracious
2016-04-06T00:00:00Z
A beautiful and spacious apartment! Ides was very hospitable and we had a lovely stay. Thank you so much.
Carin
2015-10-08T00:00:00Z
The apartment was excellent for the needs. It had space, comfort, and location. There was a grocery store very close by with bus stops. I must say the neighbourhood was peaceful. I would use it again in a heartbeat. Ides was great and helpful. Made us feel very welcome. Thank you Ides.
Adrian
2016-06-04T00:00:00Z
Très belle appartement tout fraîchement rénové et décoré avec goût. Il se situe dans un quartier tranquille. Un supermarché a 500 m. Des hôtes très accueillant . a recommandé
Virginie
2015-08-16T00:00:00Z
Flat is very big and comfortable. It is fully equipped and located in a quiet neighbourhood. Ides was kind and very helpful. She gave us advice how to get to Venice. It was very helpful for us. Thank you.
Jarosław
2015-10-11T00:00:00Z
Typ pokoje
Celý dům/byt
---
Typ nemovitosti
Byt
---
Ubytuje
6
---
Ložnice
San Vendemiano, Treviso, Itálie
Bellissimo appartamento con cucina, GIARDINO E PISCINA nel cuore del VENETO, vicino a Conegliano nella Terra del Prosecco. Totali 8 camere da letto.
Appartamento moderno e accogliente, e servito di tutto. Le camere della parte nuova sono moderne, belle e spaziose, mentre le camere della parte "vecchia" sono belle e spaziose, ma con un arredamento più rustico. Il posto è riservato e tranquillo, facile da raggiungere e in poco tempo si è vicini al centro. I proprietari sono molto disponibili e sempre raggiungibili.
Stefania
2017-01-02T00:00:00Z
Abbiamo affittato 3 stanze ed un appartamento completo di cucina. Lo Standard é molto alto, le stanze pulite, la cucina fornita ed il posto bellissimo. Chi vuole puó anche mangiare nel loro ristorante. Ottimo!!
Robert
2015-05-17T00:00:00Z
My family stayed here while visiting us in Italy. They came to celebrate and attend a wedding in Pordenone. They loved the accommodation, very clean, delicious food and all the staff were very polite and kind. Definitely recommend this place.
Lisette
2017-03-13T00:00:00Z
The host canceled this reservation 106 days before arrival. This is an automated posting.
Daniel
2017-02-24T00:00:00Z
The host canceled this reservation 55 days before arrival. This is an automated posting.
Veronica
2016-05-07T00:00:00Z
Super Unterkunft, tolles Restaurant, netter Kontakt Zunächst gab es einige Missverständnisse wegen der Anzahl der Betten, die nicht so gut zu unserer gewünschten Zimmereinteilung gepasst hat. Aber Andrea hat auf die Schnelle Betten umgebaut, so dass wir am Ende alle zufrieden waren. Die folgenden Tage waren dann wirklich ein Traum, das kleine Weingut ist wunderschön zum Erholen und Relaxen. Alles ist sehr gepflegt und sauber. Tagesausflüge zB nach Venedig oder Verona ließen sich sehr gut machen. In der Küche der Ferienwohnung konnten wir uns gut selbst versorgen. Von anderen Gästen wissen wir, dass das Frühstück im Restaurant auch sehr gut ist. Das lässt sich bei Andrea dazubuchen. Einmal waren wir in seinem Restaurant, das auf dem Gelände liegt essen und Andrea machte uns einen sehr sehr fairen Pauschalpreis inkl. aller Getränke, und dem eigenen leckeren Wein. Das Essen war sehr gut, gehobene italienische Küche, mehrere Gänge. Fein! Kein Wunder, dass das Anwesen viel für Hochzeiten und Feiern gebucht wird. Sehr empfehlenswert! !!
Tine
2016-06-10T00:00:00Z
Typ pokoje
Celý dům/byt
---
Typ nemovitosti
Byt
---
Ubytuje
16
---
Ložnice
Codogné, Veneto, Itálie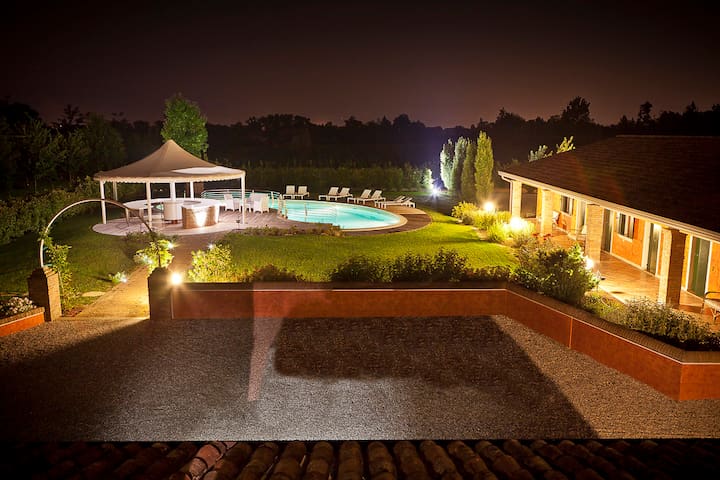 Pro zobrazení celkové ceny zadej termín. Mohou být přidány další poplatky a daně.