Zadej datum tvého příjezdu ve formátu dd.mm.rrrr
Zadej datum tvého odjezdu ve formátu dd.mm.rrrr
Nabídky ubytování, které můžeš rezervovat bez čekání na schválení hostitelem.
Pro zobrazení celkové ceny zadej termín. Mohou být přidány další poplatky a daně.
Letos v červenci a srpnu můžeš vyzkoušet jeden z této stovky vysoce hodnocených domovů v různých cenách, a zažít Sonomu jako bys byl/a místní. Možnost příjezdu kdykoliv v průběhu 24 hodin, okamžitá rezervace, a místní víno s občerstvením ti dovolí se v klidu usadit a užívat si pobyt.
5000 sf ft loft space, renovated with new life over the last 2 years :) Bedroom space available to accommodate your stay as you come to Harney County for a visit or as you pass on through :) Bathroom access but not attached to bedroom.
This building was originally built in 1910 by the Masons. We started renovating in 2013 and tried to re-use as many local materials as we could. The space is unique & comfortable. We love it and think you will too :) Guests will have access to the kitchen, laundry, full size bathroom, and a private bedroom. There is a 75" large screen TV with cable access and DVD player in the main living room area. Wi-fi access on site. Each of our bedrooms has a slider barn-style door. (There are no locks on any of the doors - just an fyi, since a previous guest was bothered by that) :) Also, the bedrooms are our boys' ... They are totally into the "Airbnb experience" and are willing participants - they help prep their rooms for incoming guests and are getting so much out of meeting new people :) We all look forward to your stay :) If you are staying with us in a bedroom we will be around. We have 3 busy boys, ages 7th, 9th, and 11th grade so we are always coming and going. I work downstairs in my optometry practice and my husband works from home as well as works on other renovation projects we have going. We look forward to meeting you and giving you as much privacy as you desire or as much interaction as you are interested in! There are multiple restaurants in walking distance as well as a Safeway for groceries :)
Thai food (Linda's Thai Room/Elkhorn), mexican (El Toreo), local pub (Central Pastime), chinese food (The Hilander), bistro (Bella Java), and gourmet dining (Rhojo's) all very close by. Shopping? Some really cute little shops line main street. Ribbons & Roses has all kinds of fun home decor, jewelry, candles, toys. The Book Parlor has TONS of fun signs, TONS of great books, and great coffee. Gourmet & Gadgets has EVERY SINGLE KITCHEN TOOL you could imagine. Desert Dream Thrift Store offers clothing and home goods in a clean & organized environment and offers employment to local youth that may need a little extra help. The Childrens Barn offers new and gently used kids clothing as well as toys and gifts. A must see! :) These are a few highlights :) There is a service called "Dial-a-Ride" ... 541-573-3030. Can take you where you might need to go. We are within walking distance of most things you'd need tho :) To get up to the loft you will have to know that you need to climb 24 stairs :) Keeps you in good shape! Oh also... we do have a small dog named Mia. She sheds very minimally and behaves well. Will be in her kennel in our bedroom if we are not home. Please note - in BOTH showers, the faucets for cold and hot are in BACKWARDS. COLD is hot and HOT is cold. Oops! And sorry :)
Jenn and Forrest, and their 3 boys, have an amazing loft style home and it was an absolute pleasure to have shared it with them for 1 night. There is tons of space and we instantly felt at home. Jenn and Forrest were very generous with their space and accommodating to us! We thoroughly enjoyed our time here!
Sharon + Florian
June 2016
Jen and Forrest and their kids were such wonderful hosts! They're both very involved in the local Burns community, and were able to give great recommendations for places to eat and see. I was there for the Migratory Bird Festival, and everyone was very understanding of my trying to tiptoe out at 5:30 am. The space is amazing--a big open loft (with private bedrooms) overlooking the downtown.
Bybee
April 2016
Jenn was on the ball in communication with my arrival. Everything was smooth. She and her husband Forrest have a wonderful *super super* comfortable home, and they are amazing people to have a conversation with. I would recommend their beautiful home to everyone.
Brandi
July 2016
Jen and Forrest are excellent hosts! Their home is a magical place, comfy and warm, in a great town. The perfect respite for anyone traveling through central Oregon! Thank you☆☆☆☆☆
Claire
July 2016
Highly recommended! Forrest and Jen are very genuine , helpful and warm. The boys are well-mannered. The space is much nicer than the pictures. Very clean, unique and warm house. The bed was comfortable. This was a very wonderful airbnb experience for us, the true spirit of airbnb.
hazel
December 2016
I stayed with Jen and Forrest as I was passing through Burns. I didn't know what to expect from this little town, but it turned into one of the highlights of my road trip. Jen was very communicative approaching my stay and accommodated my schedule without issue. The gorgeous, large space acommodates someone who needs to work or wants to read while the family goes about their business. The bed was fluffy and comfortable. Would recommend to anyone passing through the area.
Jeremy
June 2016
We stayed just for one night but the family made us feel at home! It was very nice and I would recommend this without reservations!
Brian
June 2016
I enjoyed staying at Jen and Forrest's home. They are a very welcoming couple, with well behaved, pleasant kids. The bed was very comfortable, the upstairs area much like a big New York City building loft (intentionally). I highly recommend their home to future guests.
John
May 2016
Typ pokoje
Soukromý pokoj
---
Typ nemovitosti
---
Ubytuje
2
---
Ložnice
1
Burns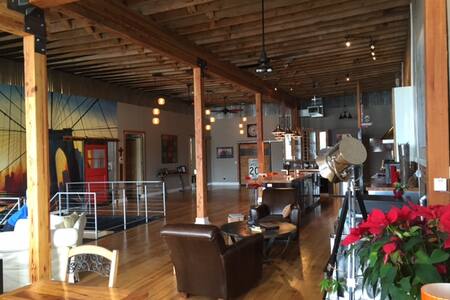 5000 sf ft loft space, recently renovated. Bedroom space available to accommodate your stay as you come to Harney County for a visit or as you pass on through :) See "1st room" listing for full details!!
I am always excited to find an AIRBNB where the hosts truly embrace the BNB! What a beautiful stay and a beautiful family! It really added to our trip. Our main goal was a trip to Alvord Hot Springs so we chose Burns as a good stop over after a drive from PDX. It was fantastic to meet Jen and Forrest and their boys and gorgeous pup Mia and learn more about the transformation of their loft. What a gorgeous loft. As a New Yorker, I loved all the fantastic art work. Jen and Forrest had snacks and amazing beer/wine available, it felt like we were staying with good friends. They are a lovely couple/family and have a beautiful home. Can't say much about Burns because it was Easter Sunday when we left early but it looked like a very cute downtown. Sometimes it's tough to stay in a home setting but this was an exception!
Jen
April 2016
I came to Burns to bird the Malheur Wildlife Festival. I had a fantastic time doing so. The best surprise was my stay with Jen & Forrest, who are excellent hosts. Jen made me feel like a treasured guest. I felt completely at home in their lovely converted loft in the 'old town' part of Burns. My room was light and airy and comfortable. All the finishes, furnishing and amenities were top notch! But it was Jen and Forrest and their sweet boys who made made my visit memorable. I'd love to visit again and wish their family the very best!
Meg
April 2016
Wonderful accommodating family, wonderfully clean and beautiful space. It felt very comfortable to spend time there, and I will certainly return :)
Katie
November 2016
Great atmosphere! Great people! Great place!
Ryan
June 2016
Thank you thank you than you!! Your home is absolutely amazing. You all make people feel like family at ease and comfortable. Great kids!!! If I'm ever coming this way again I would definitely stay again.
sarah
July 2016
The coolest place I've ever stayed and not even just Airbnb they've done such a good job renovating their place you HAVE to stay here.
Matt
August 2016
Jen and Forest have a wonderful home! Looking forward to coming back to stay at their hotel when it is finished. Highly recommend.
Jeannette
December 2016
It's located on the downtown of small town. The house is like brand new very nice.
Chulhoon
July 2016
Typ pokoje
Soukromý pokoj
---
Typ nemovitosti
---
Ubytuje
2
---
Ložnice
1
Burns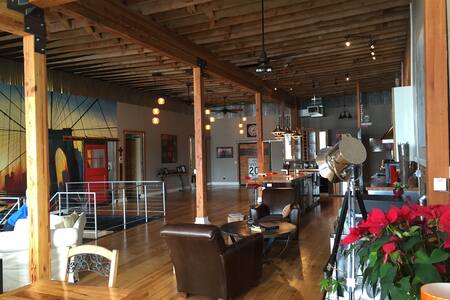 5,000 sq ft renovated brick building on the main street of Burns, Oregon. Quick walking access to restaurants & grocery. Wide open, very clean, very unique space. Built in 1910 by the Masons, this building is now a unique upstairs loft!
Our space is unique for many reasons. One, it's an old building that has had love and life put back into it. Two, we did the work ourselves. Three, we re-used as many old things as we could get our hands on. Our countertops are old bowling alley lanes from the bowling alley that used to be in town. The glass blocks in the boys shower are from the elementary school. Old doors, old windows, lots of life brought back :) It's got a wide open feel yet cozy and comfortable at the same time. Master bedroom: King size bed with en suite bathroom Second bedroom: Queen size bed Third bedroom: Queen size bed Fourth bedroom: Loft with full size bed and separate twin size under loft 2nd full bath near second bedroom Separate Rec room area with a large TV and couch ************************************************** Just a quick side note: This is our primary residence. We are a family of five with a small mini schnauzer/Aussie mix. When we rent out the entire space we are either on vacation or out of town for a short period :) Guests will have access to all bedrooms, bathrooms, and rec room area. NO access to downstairs space - private business down there. Thank you! We are always available via text or phone. Depending on length of stay we may come by and touch base to answer any questions we can.
Very easy access to most of the restaurants in town and the local movie theater. Safeway grocery store is a few short blocks away. Easy walking distance. Safe and clean :) There is a service called "Dial-a-Ride" that can take you most places around town if needed ((PHONE NUMBER HIDDEN)). Otherwise your feet will get you most places :) Please note - in BOTH showers, the faucets for cold and hot are in BACKWARDS. COLD is hot and HOT is cold. Oops! And sorry! :) To get up to the loft you will have to know that you need to climb 24 stairs :) Keeps you in good shape!
We enjoyed Thanksgiving weekend at the Keadys loft and loved every minute of it! Their home is so comfortable and warm, with all of the amenities necessary for a perfect stay.
Shantay
November 2016
This place was incredible! A perfect oasis of calm and comfort and elegance right in the heart of Burns. I honestly have a hard time conveying how perfect it was - a beautifully gut rehabbed loft, where Jen and Forrest did most of the work themselves. I felt like I was in a friend's loft in downtown Chicago - so roomy and elegant, yet welcoming at the same time. Loved the layout, the decorating, the huge kitchen, the coziness, the location - it was absolutely perfect for bike riding endeavors. It's definitely the kind of place you never want to leave.
Tasha
August 2016
The design of the space was absolutely fantastic, and my family felt very lucky that Jen and Forrest opened their unique home to us. It was very cool and inspiring to see how they transformed this old building into their comfortable, warm, contemporary home, blending the character of the space with the character of this family. We only wish we could have stayed longer.
Avik
August 2016
We had a great time. Loft is full of character with some cool eccentricities. We took some ideas from the loft for things we wanted to do in our own home. Very roomy with local accents. Good communication from hosts who were very helpful and friendly. Gas stove in the kitchen is restaurant quality and we saved a little money by cooking for every meal. A great option for Burns that we will keep an eye on if we need to come back in the future.
Derek
July 2016
Jen & Forrest were extremely generous & accommodating, and their home is absolutely GORGEOUS! Highly recommend.
Phoebe
April 2016
Typ pokoje
Celý dům/byt
---
Typ nemovitosti
---
Ubytuje
10
---
Ložnice
4
Burns