O Ristine-White House Cr. 1900 é ao lado de Wabash College Campus. WIP para 2016 queda: novo, decoração de luxo está em andamento. A excelente localização: tão perto de atividades da faculdade, novos dormitórios, capela, ginásio e campo de futebol. Caminhe para tudo no campus. . Bom para os viajantes de negócios. Curto prazo do contrato / temp. trabalhadores. O "Quarto Freshman" é reservas acabados e tomando. , Museus, Yountsville Mill & Inn, restaurantes, em um bairro agradável mais velho, Ristine-White House, GLVE, Motocross, Indy 500.
The hosts were very responsive leading up to the stay and there waiting for me to check in when I was 15 minutes later than I stated for my arrival. I didn't read the description close enough perhaps, but I was a little surprised at having a room in a shared house. I believe the permanent resident had their own bathroom, but ours was in the hall, not in our bedroom. There was a nice big living room on the main level with a TV and also a shared kitchen off of it. The twin beds were very comfortable, not a lot of extra space in the bedroom. It was fun hearing the college kids at the fraternity house across the street having a party when we arrived back to the house at night. Didn't bother us in our room.
Stephen
2017-02-12T00:00:00Z
Great little cozy place right near campus! Parked my car near the MXI and didn't have to get back in until I left crawfordsville. The room was very nice and had my own bathroom, there was a bowl of fruit and plenty of towels to use. Easy to get in and out with the key
Emmanuel
2017-01-28T00:00:00Z
Typ pokoje
Soukromý pokoj
---
Typ nemovitosti
Byt
---
Ubytuje
2
---
Ložnice
Crawfordsville, Indiana, Spojené státy
Brian and his wife were excellent hosts. We loved the accommodation. It was very relaxing and peaceful. The muffins, snacks, water and multiple varieties of coffee were an added bonus. We'll definately stay again if back in the area.
Amber
2017-03-12T00:00:00Z
The place was very clean and we loved the muffins his wife prepared. Brian is very nice and loved the location.
Valerie
2017-04-08T00:00:00Z
Lovely place to stay!
Liz
2017-04-01T00:00:00Z
Brian and his wife are fantastic hosts. The apartment is cozy, and spacious. You can visit their two gorgeous horses. It is fun and comfortable to stay, especially when you are a horse lover. But it may not be the best choice if you do not like staying near animals or if you have to have Wi-fi signal. It is a good place for weekend runaway
Xinle
2016-12-04T00:00:00Z
We had a fantastic stay at Brian & Jennifer's place! It was spacious, clean and a very comfortable queen size bed! They spoiled us with lots of snacks, three choices of flavored coffee, orange juice and the best homemade muffins! It was a treat to meet their horses. The area is very nice and we witnessed a beautiful sunset! We would love to visit them again.
Mary
2016-12-21T00:00:00Z
Truly an excellent place to stay. There are horses just outside and the view goes on forever. The fresh muffins and coffee were an unexpected treat. Just as described. I would stay here again in a heartbeat.
Chelsea
2016-12-28T00:00:00Z
Loved the place! Amazing views, very quiet and comfortable. The heated floors, modern kitchen, and convenience of location are some of the things that made my stay perfect. It's close enough to the city of Lafayette yet just far enough to drown out the hustle and bustle. The owner (Brian) is a wonderful person and very accommodating. 10/10 would stay there again and recommend to anyone looking to enrich their experience with living like a local.
Cameron Newton
2016-11-23T00:00:00Z
Typ pokoje
Celý dům/byt
---
Typ nemovitosti
Byt
---
Ubytuje
3
---
Ložnice
Lafayette, Indiana, Spojené státy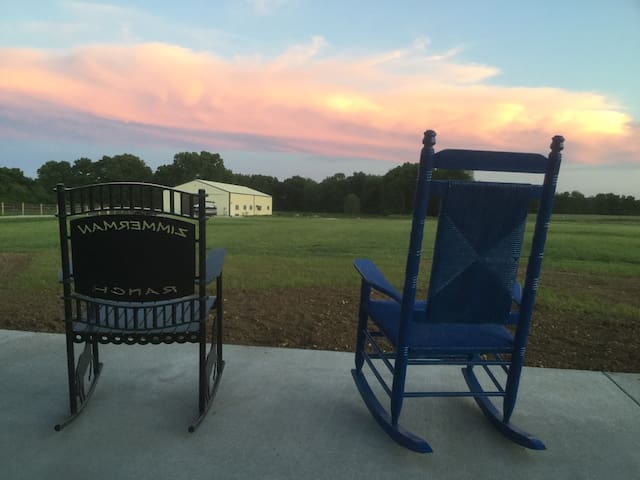 예산에 여행자를위한 훌륭한 가치. 퍼듀까지 차로 12 분, 내 장소는 깨끗하고 조용합니다. 대형 / 긴 소파를 침대로 변환 큰 트윈 침대의 크기를 갖는다. 슈퍼 편안하게! 깨끗한 욕실과 부엌 사용하도록 환영이 있습니다. 버스 시스템에 쉽게 액세스 할 수 있습니다. 버스 정류장 1 분 도보 거리입니다. 버스 퍼듀, 웨스트 라파예트와 Tippecanoe 몰로 이동합니다. 나는 개를해야합니까하지만 그녀는 내 방에 남아 있습니다. 애완 동물 환영! 자세한 내용은 문의. 그것은 체육관과 수영장에 대한 액세스 권한을 가지고있다.
당신은 좋은 크기의 공간이됩니다. 그것은 침대와 안락 의자로 변환 큰 편안한 / 긴 소파가 있습니다. 두 개의 의자와 테이블도 있습니다. 그런데 조용 영역을 조명.
나는 조용한 아파트 단지에 살고 있습니다. 그것의 수영장, 모래 배구 / 농구 코트, 운동 룸과 개 공원 매우 큽니다.
What a awesome place!! 1.Economic price~~ 2.There is a bus route to shopping mall & purdue U~~ 3.Good hoster~~She can help you. Thank you very much.
jungdong
2016-08-19T00:00:00Z
Great option if you're looking for something very cheap in this area. Kristin was very nice and welcoming. Purdue about 15 minutes away.
Julian
2016-09-27T00:00:00Z
So sorry to disturb you. This is the first time to arrive in the US. I was not willing to go into your bedroom. You misunderstood me. I thought you locked the house, So I couldn't go into the apartment. After a shower, some water splashed. I don't know which towel to clean the floor. So sorry.
yuan
2016-08-06T00:00:00Z
I stayed at Kristin's for a week and she was very hospitable the entire time. Her apartment was very beautiful and the neighborhood was nice too. I would recommend anyone coming to Lafayette to stay her place.
Paul
2016-07-28T00:00:00Z
Kristin is a fantastic host! She really makes you feel at ease and welcome. The bed (couch) was super comfortable - I slept like a baby! I would definitely stay here again and highly recommend it!
Lisa
2016-12-07T00:00:00Z
Nice place, nice host!
Evan
2016-08-11T00:00:00Z
I spent one night here. Everything was according to the description provided. I did not properly meet with the host but she communicated well over Airbnb messages. The place is about 20mins from Purdue.
Subrata
2016-09-30T00:00:00Z
Accommodating on arrival time, I can be allergic to dogs, but noticed no issues during my stay (kept within her room at night). Basic place to sleep was all I needed, thanks.
William
2016-09-18T00:00:00Z
Typ pokoje
Společný pokoj
---
Typ nemovitosti
Byt
---
Ubytuje
1
---
Ložnice
Lafayette, Indiana, Spojené státy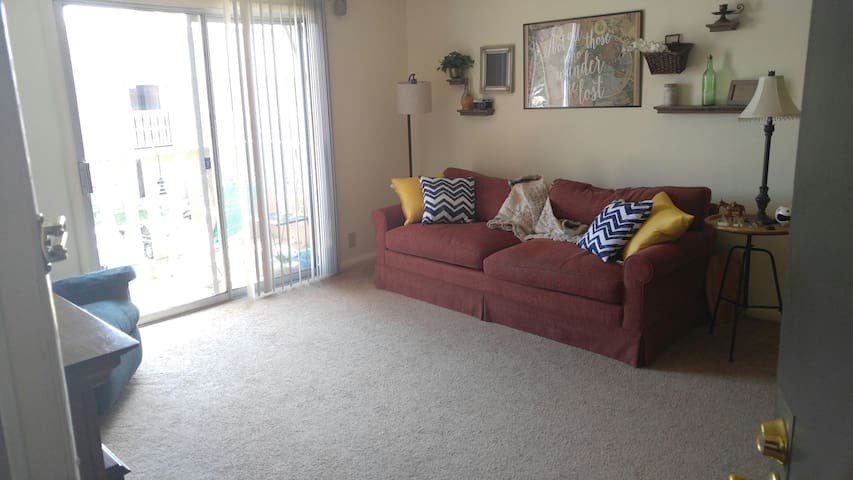 This was a poster child airb&b with super cool feel and awesome decor. High ceilings and great furnishings. Loved this place.
Patrick L
2016-06-26T00:00:00Z
Fantastic space. Ken was very available to make sure we had everything we needed for our stay.
dave
2016-07-11T00:00:00Z
Great place and Ken was a good host
daniel
2016-11-06T00:00:00Z
My wife and I had a great stay in this loft. It was huge and had a very nice full kitchen and large living room complete with pool table! The beds were very comfortable. It sleeps up to 4 with two double beds, but the privacy is not real great in this loft as the space is very open. It's very clean and well kept. Communication with Ken was great and we had no trouble getting in, even with a very late arrival. We would definitely stay here again.
Chris
2016-10-16T00:00:00Z
We had a great stay at Ken's place. The space is large and adequate for a family of 6, and the the kitchen is well-equipped. The place was an easy 20-minute drive to the Purdue campus.
JienNee
2016-05-16T00:00:00Z
Great place! The loft feels very home like and was very comfortable.
Kamini
2016-08-19T00:00:00Z
We had a great stay in Dayton. We had 6 people instead of our original thought of 4 there was plenty of room for all of us. The two extras each had their own couch. The place was huge and clean. The host left us notes on how to use tvs. The place was clean and very comfortable. I would highly recommend this place if your are coming to town or Lafayette/west Lafayette area. It's so open and decorated really cool. And there's a whirlpool tub that's huge!!!! Nice big bathroom for all of us girls to get ready in. When I come back to visit my sisters at Purdue I will defiantly stay there again.
Marha
2016-05-21T00:00:00Z
Very cool space...decor perfect and comfortable! Ken was very responsive and easy to deal with. It is a 2 bedroom but you do need to walk in and out of master bedroom to access second room. Would definitely stay here again. Convenient to Purdue.
Carole
2016-09-25T00:00:00Z
Typ pokoje
Celý dům/byt
---
Typ nemovitosti
Byt
---
Ubytuje
4
---
Ložnice
Dayton, Indiana, Spojené státy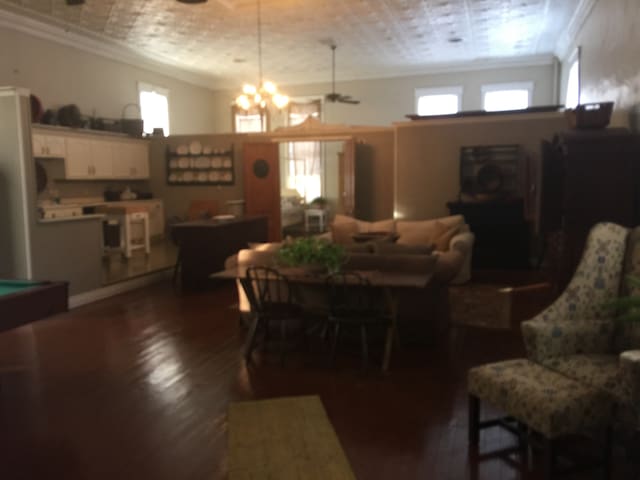 Je suis un travail à la maison professionnel qui utilise mon appartement comme mon espace de travail aussi bien. Il est presque toujours calme ici et un excellent endroit pour être pendant votre séjour à Lafayette
voisin calme sur une impasse près de quelques restaurants et autres activités. 7 miles du campus Purdue.
Il est très calme dans le quartier et il are.many des restaurants à proximité. Courte distance à la zone du centre-ville
James was great about communicating with us ahead of time. The room was basic but had all the necessities. We would stay there again.
Joy
2016-09-25T00:00:00Z
I was looking for a quiet, reasonable priced place to stay. I found it at James' place. I only booked for a few days because I wanted to make sure it was going to work out for me. I ended up booking for an additional month.
Marsha
2016-11-21T00:00:00Z
Good communication, and easy process. Will definitely do the air bnb again for future travels, here or elsewhere.
Jeff
2016-10-30T00:00:00Z
Comfortable and quiet place to stay. James is a great host and always asks if I need anything. Will stay again.
Marsha
2017-03-24T00:00:00Z
The place was very nice and clean. I enjoyed a beer after my long drive. I definitely recommend this place. I never met James. But he was very quick to respond and kept good communication.
Raleigh
2016-11-05T00:00:00Z
Clean and quiet place to stay. I will stay here again if I'm ever back in Lafayette. James responds to his messages quickly and is a friendly guy.
Marsha
2016-12-27T00:00:00Z
Though I did not meet James, he was always available on phone or, through email. He worked with us to ensure our check-in was smooth. The place is nice and clean. When we changed our plans last minute and requested to extend our stay, James was very helpful. If I am visiting Lafayette again, I would choose to stay here.
Tapashree
2016-10-01T00:00:00Z
Stayed a second time after the first good experience!
Dimitri
2016-10-06T00:00:00Z
Typ pokoje
Soukromý pokoj
---
Typ nemovitosti
Byt
---
Ubytuje
2
---
Ložnice
Lafayette, Indiana, Spojené státy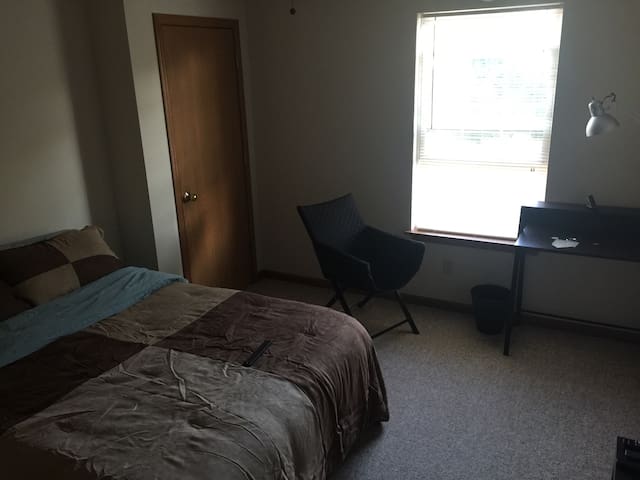 Pro zobrazení celkové ceny zadej termín. Mohou být přidány další poplatky a daně.