Naše ubytování se nachází v krajině ve velmi klidné oblasti, ale jeho umístění je stále výhodné, protože: je asi 10 km od milánského letiště Malpensa a 40 km od Milána, Varese Gallarate je dosažitelný s autobusy. V blízkosti je Lago Maggiore s ostrovy, Varese nabízí příjemné výlety a mnoho muzeí vil.
V bytě Strove uvnitř domu se zahradou, přístup je nezávislý. Vstupní chodba; kuchyňská linka se sporákem a vše potřebné k vaření; prostorná koupelna, snadno použitelný ti, kteří jsou na vozíku; ložnice je vybavena manželskou postelí a patrovou postelí. topení.
La sistemazione è accogliente e confortevole, collocata in mezzo al verde e in un contesto molto tranquillo. La casa è molto pulita, dotata di ogni genere di confort e abbiamo potuto condividere il soggiorno con il nostro cane. Molto gradita l' elasticità dell'host per il check in e per il check out, avvenuto nel pomeriggio e la gradita sorpresa di una buonissima torta di benvenuto fatta in casa.
Elisabetta
2016-11-20T00:00:00Z
L'alloggio si trova in un piccolo angolo di paradiso,l lontano dal caos e dalla vita frenetica. Angelo e Valeria sono gentilissimi e molto disponibili. Forse l'unica pecca è che la via dive si trova l'appartamento non è illuminata.
Giuseppe
2017-03-17T00:00:00Z
Ottima ospitalità e disponibilità!
David
2017-03-25T00:00:00Z
nice and quiet place, ideal for families with children
Yulia
2017-02-22T00:00:00Z
We arrived in the evening and Angela showed us the apartment which had everything we needed. The proximity to Malpensa is a great bonus and it is really easy to find, although the app gave me the wrong address initially. Quickly cleared up with Angela! We had a great time!
Luca Andrea
2017-02-10T00:00:00Z
Typ pokoje
Celý dům/byt
---
Typ nemovitosti
Byt
---
Ubytuje
4
---
Ložnice
Sumirago, Lombardia, Itálie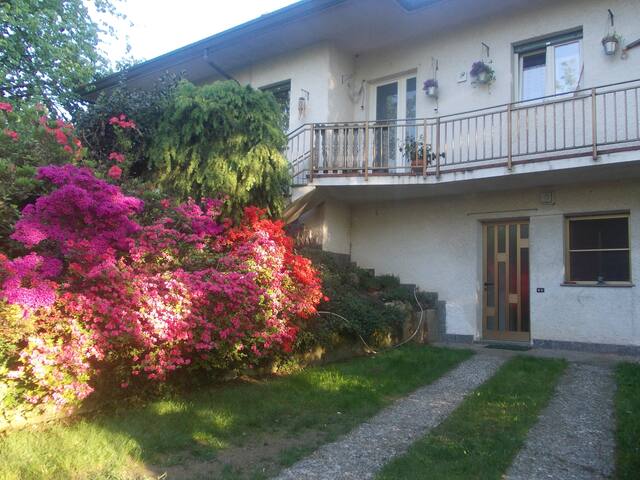 Spacious, modern apartment in quaint and peaceful Besnate, Italy. Well-furnished with spacious modern kitchen, shower and bathtub. Large and comfortable living area bathed in lots of natural light. Beautiful and spacious balcony where you can drink a morning coffee and catch a glimpse of Monte Rosa. 10 minutes' drive to Malpensa airport, 7 minutes' drive to Gallarate station where you can take fast trains to Central Milan every 15 minutes.
Three bedrooms: large master bedroom, 1 bunkbed and cozy single bedroom, and can provide one floor mattress if necessary. Kitchen comes furnished. Guests have access to lots of space to relax. Coffee/tea provided.
Besnate is 20 minutes' drive from lake Maggiore, 30 minutes' drive to Milan, 15 minutes' from Varese. Day trips to UNESCO world heritage site Sacro Monte di Varese, or romantic Lake Orta are possible. Plus, we know all the best aperitivo spots!
The host canceled this reservation the day before arrival. This is an automated posting.
stefano
2017-04-05T00:00:00Z
Typ pokoje
Celý dům/byt
---
Typ nemovitosti
Byt
---
Ubytuje
5
---
Ložnice
Besnate, Lombardia, Itálie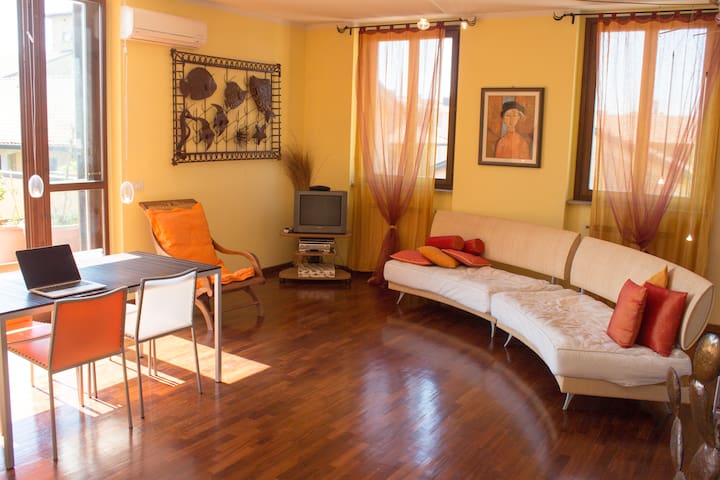 Tento nádherný nový zrekonstruovaný byt v klidné a pohodové 1200 let starého hradu. V přízemí je útulný obývací pokoj s TV a moderní plně vybavenou kuchyň (kávovar Nespresso, sporákem, troubou a všechny věci, které potřebujete k vaření). V prvním patře jsou dvě ložnice, jedna s velkou manželskou postelí a druhá se dvěma samostatnými lůžky. V koupelně je pěkné a čisté, s dobrou lázní k relaxaci.
Byt se nachází ve starém zámku snadno dosažitelný z dálnice, pouhých 25 minut od letiště Malpensa a 28 km od švýcarských hranic. Jen pár kroků od jezera Varese a jezera Maggiore. Čerstvé ručníky a ložní prádlo jsou k dispozici. Parkování zdarma k dispozici on-site.
Byt se nachází ve strategické poloze, takže naši hosté mají přístup k různým zábavním řešení a mohou snadno dostat hlavní uměleckých center a kulturních prostředí. Stává se trať pro cyklisty, horské cyklisty, turisty, milovníky pěší turistiky, nejlepší místo k objevování provincie Varese a jeho bodů zájmu. Můžete si vzít na cestu cyklu jezera Varese, aby se dospělo na cyklostezce jezera Comabbio, překračování cesty Regionální Park Campo dei Fiori, posvátnou horu Varese a Tre Croci Forte di Orino, zastavil v památky UNESCO, kde zaznamenal tři stanice hromadu obydlí Varese jezer: Isolino Virginia v Biandronno (dále jen malý ostrov, který je rozhodně jedním z nejmalebnějších a měst cestujícími, který se nachází jen pár metrů od západního břehu jezera Varese), Bodio Centrale a Sabbione z Doba bronzová. Archeologické naleziště Castelseprio a Torba označí etapu v přírodní rezervace a LIPU z Brabbia Brabbia. Doporučujeme také výlety k jezeru Orta, kde uvidíte neuvěřitelné kouzlo město, Orta San Giulio. stál naproti překrásném ostrově San Giulio. Charakteristickým rysem Orta je dána renesančního a barokního umění, které charakterizuje jeho paláce a jeho nádherné zahrady.
We had a very good stay. Very comfortable. Everything is as it appears in the photos. Maybe more spacious than the photos show. Well-appointed. If driving, the neighborhood is convenient with supermarkets close by. Easy access to the lakes and Milan is less than an hour by car without traffic. Train station with free public parking is about 10 minutes away, and if timed right, an hour into downtown Milan without having to change trains. Most importantly, Malpensa Aiport is less than 30 minutes on easy roads. Overall, good value and a great stay. Thanks!
Sam
2017-02-04T00:00:00Z
La località è suggestiva. abbiamo trovata la casa molto curata, pulita e comoda. Il padrone di casa e le persone che ci hanno accolto sono stati cordiali e premurose. è assolutamente raccomandata per una vacanza rilassante.
jinet
2016-12-17T00:00:00Z
Typ pokoje
Celý dům/byt
---
Typ nemovitosti
Byt
---
Ubytuje
4
---
Ložnice
Montonate, Lombardia, Itálie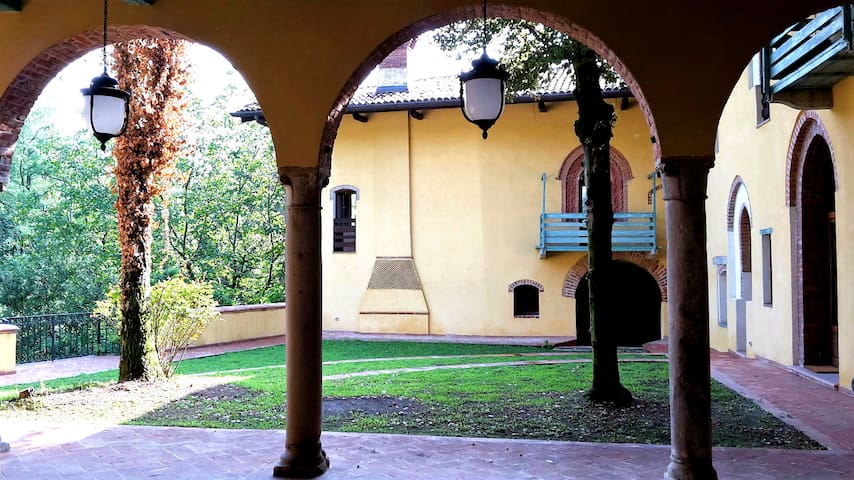 Malý a pohodlný byt v blízkosti centra Sumirago, kde jsou různé obchody; Jsme 4 km od vlakového nádraží Albizzate / Solbiate Arno. Se vám bude líbit na intimitu a praktičnosti prostoru, vhodné pro obchodní cestující, páry a osamělých dobrodruhů. --- Tiny pěkný byt v blízkosti centra Sumirago; 4 km od vlakového nádraží Albizzate / Solbiate Arno.
Útulný byt v prvním patře moderní budovy, v blízkosti centra města Sumirago, klidného městečka v provincii Varese, kde můžete najít všechny služby (lékárna, pizzerie, bar, pekárna, ovoce a zelenina, tabák). Ideální ubytování pro turistiku či podnikání, veškerý komfort: vybavená kuchyně, velká terasa, manželskou postelí a rozkládací pohovkou, ledničkou a pračkou. Vše, co potřebujete cítit jako doma a další! Nabízíme bezplatnou kyvadlovou dopravu k nejbližšímu nádraží (4 km), zastávka Albizzate / Solbiate Arno odkud jezdí vlaky do Varese (14 minut), Milan (60 minut) a Milan Malpensa (50 minut). Pro ty, kteří cestují autem, dům se nachází asi 4 km od dálnice A8, výjezd Solbiate Arno; Je vám k dispozici parkovací místo v garáži. --- Pěkné dvě pokoje v prvním stupni v moderní budově, v Sumirago (VA), což je místo, kde můžete najít everythingh budete potřebovat (lékárna, pizzerie, kavárna, pekárna, trafika atd.) Dobrým řešením jak pro turisty a práce cestujících: v našem domě si můžete mají vybavenou kuchyň, velká terasa, dvojlůžko (plus také rozkládací gauč), chladnička a pračka. Vše, co potřebujete pro cítit jako doma! Zdarma kyvadlová doprava na vlakové nádraží Albizzate / Solbiate Arno; Směr: Varese (14 minut) Milan (60 minut), Milan Malpensa (50 minut). Pokud cestujete autem, je tento byt se nachází 4 km poblíž dálnice A8 - Exit Solbiate Arno. Vlastnost také přichází s vlastní garáží.
Typ pokoje
Celý dům/byt
---
Typ nemovitosti
Byt
---
Ubytuje
2
---
Ložnice
Sumirago, Lombardia, Itálie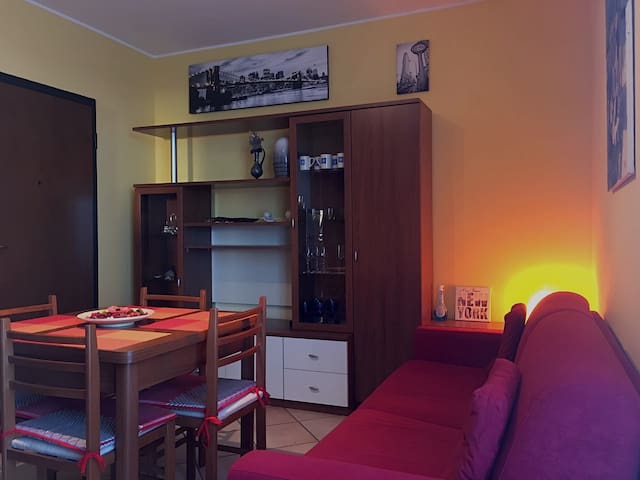 Light double room located in lakes district of Nother Italy. The apartment is 10 kms far from Malpensa airport, main streets and rail in town. Kitchen, living room and bathroom fully furnished. Feel free to ask any question. Luminoso e spazioso appartamento immerso nel verde. Può ospitare quattro persone ed è posizionato a pochi passi dal lago Maggiore. Bagno privato per gli ospiti. Cucina e soggiorno a disposizione. Nelle vicinanze collegamenti per Milano e per l'aeroporto di Malpensa.
Bright and big flat surrounded by green place and lakes. I have 2 bedrooms, one big double and one with bunk bed. Private bathroom for guests. Kitchen and livingroom will be shared. I am glad to cook some italian meals for dinner with a little plus. 10 kms from Malpensa international airport. 40 kms from Milan City. Very few minutes from Maggiore lake and its islands. Very close from other smaller lakes.
Typ pokoje
Soukromý pokoj
---
Typ nemovitosti
Byt
---
Ubytuje
2
---
Ložnice
Vergiate, Lombardie, Itálie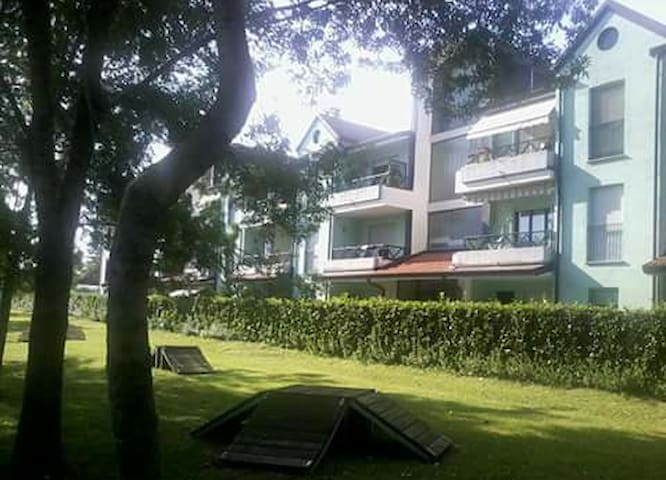 Verglatum z latinského "veridium Agere" stanovené v zelené, je nejlepší popis můžu udělat z tohoto místa. Několik kilometrů od Ticino jezera Maggiore jako Lake Corgeno (Comabbio) je ideálním výchozím bodem pro návštěvu památek a fotografování.
Byt je v přízemí s přístupem na sobě nezávislými. Je recenttly restrukturalizaci a udržuje svou zvláštnost "900 domu. Celing v podloubí červených cihel je vlevo vidět. Teplá voda je zajištěno elektrickým kotlem, který je nadšený ze solárních panelů jako indukční varnou desku, protože pro nás je důležité žít v ARMONY s přírodou Omezení znečištění z fosilních paliv. V bytě není spojena s plynárenské soustavy a vše funguje solární panelů. 100m tam je bar s pizzerií, 300m supermarket a 1000m centrum Vergiate, s každým služby: pošta, lékárna, trhy, banka, bary a restourants. Jsme blízko důležitý způsob, jak komunikaci, 600m od vlakového nádraží v Vergiate, v Milan-Domodossola, do 500 m od hightway (Vergiate-Sesto Calende) z A8-A26, Autostrade Milano-Laghi, Alessandria-Gravellona Toce, v blízkosti SS33 Statale del Sempione. Jsme blízko letiště Milán-Malpensa (10km).
Jsme Sesona v obci Vergiate. Sesona byl starověký město Pieve di Somma Lombardo (starověký a proslulý, vznikla pravděpodobně ve dvanáctém století, ačkoli Nejstarší záznamy se datují do roku 1398, kdy kanonický zúčastnilo sedm kánony a probošta. Ve stejném období byly plebejce kaple ti Santa Maria di Golasecca, Sant 'Eusebia z Sesona, San Martino di Vergiate, Corgeno San Giorgio), uvedený ve stanovách na venkově Milan byl mezi komunitami, které přispěly k udržení na silnici Rho (kompartmentalizace fagie 1346). Sesona tvoří samostatnou obcí až do roku 1869, kdy vyhláška Vittorio Emanuele II přišel ke konečnému zrušení "obecní samosprávy a připojil ve městě Vergiate. Po celá staletí, mimo kompaktní obvodu obce, bylo jich tam jen izolované usedlosti v přírodě. Od druhé světové války a další z 60., rozvoj systému osídlení určuje aktuální stav, který vidí zlomek Sesona téměř úplně svařený s hlavním jádrem Vergiate. Ve starém centru najdete významnou uchování typologických a historických budov dokončit a síť úzkých městských ulicích, které si zachovávají "staré vozovky strukturu. Kostel Sant 'Eusebio postaven ve čtrnáctém století přestavěné s architektonickými tvary z konce osmnáctého století má uvnitř některých freskami Appiani.
Massimiliano et son père nous ont accueilli chaleureusement et ont pris le temps de nous conseiller et de nous donner quelques bonnes adresses et lieux à voir. Un appartement impeccable, très propre, conforme aux photos, agréable et calme malgré la proximité de la route (possibilité de rentrer la voiture dans la cour adjacente à la terrasse). Un lieu que je recommande pour l'accueil des hôtes, la proximité de l'autoroute (facilite les déplacements) et des lacs.
Nelly
2016-07-30T00:00:00Z
Nous avons reçu un très bon accueil chaleureux et familiale de Luigi et Massimiliano qui ont tout fait pour nous communiquer les informations nécessaires à notre séjour. Très bon séjour séjour dans un logement très bien situé, très propre et bien équipé. Le logement est situé au calme, le lit est grand et confortable. Le linge de lit et de toilette sont fournis ce qui est un plus. La gare de la ville nous a permis d'accéder facilement au lac. Nous avons manger le soir dans un très bon restaurant pizzeria dans la ville. Si nous revenons dans la région c'est sans aucun doute ce logement que nous choisirons.
Séverine
2016-10-09T00:00:00Z
Nous n'avons pas rencontré Massimiliano mais ses parents. Ils se sont montrés charmants et très accueillants. Malgré la barrière de la langue (nous ne parlons pas italien) nous avons quand même réussi à nous comprendre et échanger. Le logement est conforme aux phots et à la description, on s'y sent comme chez soi : c'est spacieux, confortable et bien équipé. Une place de parking est à disposition devant la maison. Un supermarché est à proximité pour faire ses courses . Merci nous reviendrons sans hésiter chez Massimiliano.
Elodie
2015-09-11T00:00:00Z
We had a really nice time at Massimiliano's place! He and his father welcomed us and explained us what to do and where to go. The apartment is clean and very nicely arranged. All in all the place is charming and very convenient.
Filiz
2015-09-12T00:00:00Z
Masimilyano was very helpfull. The house is comfy, and had we very thing you need. It is few min. drive from malpensa airport.
inbar
2016-08-23T00:00:00Z
L'appartement était magnifique rien ne manquait et nos hôtes nous ont tout à fait bien accueilli! c'est une adresse que je recommande à tous que ça soie en couple ou en famille!
Celine
2015-08-17T00:00:00Z
The place was really quaint and perfect for us to work and relax. The host was very friendly and collected us from the train station and when we arrived at the house they had even put some food/drinks in the pantry to start us off. They also let us know where the nice places around the area were and gave us access to push bikes to ride around. The house has a nice vibe and good internet access. It was a little far from Milan if you are wanting to be really central but we liked the location as it was close to the railway and other lake side areas so a good base if you are looking to explore and check out more local areas. It is close to a supermarket and has a nice little patio area.
Kira
2015-08-31T00:00:00Z
Posto tranquillo ed accoglienza familiare. Avevo bisogno di stare 3gg in tranquillità a lavorare.. Alle 14.00 di martedi ho scritto a Massimiliano e alle 16.00 ero sul posto. Casa dotata di tutti i confort e linea internet 7 mega funzionante (per me era fondamentale) Ho chiesto tranquillità ed il proprietario ha mantenuto la promessa. Per me é stato come essere a casa. Ho fatto una bella passeggiata sul Ticino che é a 2min di auto, ma il proprietario vi saprà consigliare altri itinerari che purtroppo per questa volta non ho potuto fare. Consigliato a chiunque voglia visitare queste zone.
Daniele
2015-08-01T00:00:00Z
Typ pokoje
Celý dům/byt
---
Typ nemovitosti
Byt
---
Ubytuje
4
---
Ložnice
Vergiate, Lombardia, Itálie
Lovely 50 square meters apartment opposite the train station, decorated in Nordic style, with all the amenities. If you catch the train to Milan, you will be there in 45'. If you catch it to the opposite way, you will be in Arona in 10'.
Monolocale più soppalco con ingresso a piano terra, 50 metri quadri. Angolo cottura, ampia zona living e stanza da letto con letto matrimoniale. A 3 minuti a piedi dalla stazione ferroviaria, vicinissima ad Arona, a 45 minuti da Milano.
Ci siamo trovati bene
Simonetta
2016-12-05T00:00:00Z
Nice and comfortable appartement, the bed balcony with the spiral stair is unique, the hand-over of keys with Cristina was quick and efficient, the parking lot is in front of appartment and easy accessible. We can only recommend this place.
Flavio
2015-09-20T00:00:00Z
Great spot! Very secluded, quiet, and beautiful!!
Margaret
2016-11-06T00:00:00Z
Everything was excellent. Apartment was just the thing that I needed. Close to the airport and very clean. I would definitely go back there! Cristina was excellent!
Dejan
2016-10-05T00:00:00Z
Everything was very easy with Cristina and communication was always very fluent.
Olga
2016-09-27T00:00:00Z
Christina is the perfect host, we had trouble hiring a car when we got to our airport and Christina came and picked us up from the airport! She explained where everything was in the apartment and on our way there she showed us local places we got visit. We needed 2 extra nights @ her apartment due to a quick change of plan and she was more than welcome to accommodate us! My boyfriend and I cannot thank her enough, you are wonderful Christina!
Georgia
2016-01-08T00:00:00Z
Ottima accoglienza e appartamento accogliente e super pulito. Letto comodissimo
Isabella
2015-10-08T00:00:00Z
Everything perfect. neatly furnished - danish style apartment very conveniently located. Opposite of railway station leading to Milan and only 15min by car from Malpensa airport. Cristina is a great and friendly host.
Daniel
2016-05-10T00:00:00Z
Typ pokoje
Celý dům/byt
---
Typ nemovitosti
Byt
---
Ubytuje
2
---
Ložnice
Somma Lombardo, Lombardia, Itálie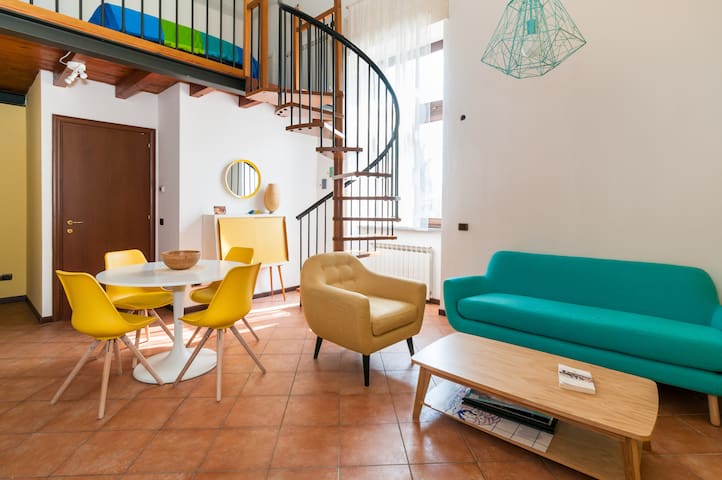 Bilocale confortevole e accogliente in Vergiate. Comodo sia da Malpensa che uscita autostrada Milano-laghi. Vicino a tutti i servizi e ristoranti , 10 minuti di macchina sia dal lago Maggiore che dal lago di Cadrezzate.
Ottima posizione anche per viaggi d'affari
Vicino a molti servizi ma zona tranquilla
Typ pokoje
Celý dům/byt
---
Typ nemovitosti
Byt
---
Ubytuje
2
---
Ložnice
Vergiate, Lombardia, Itálie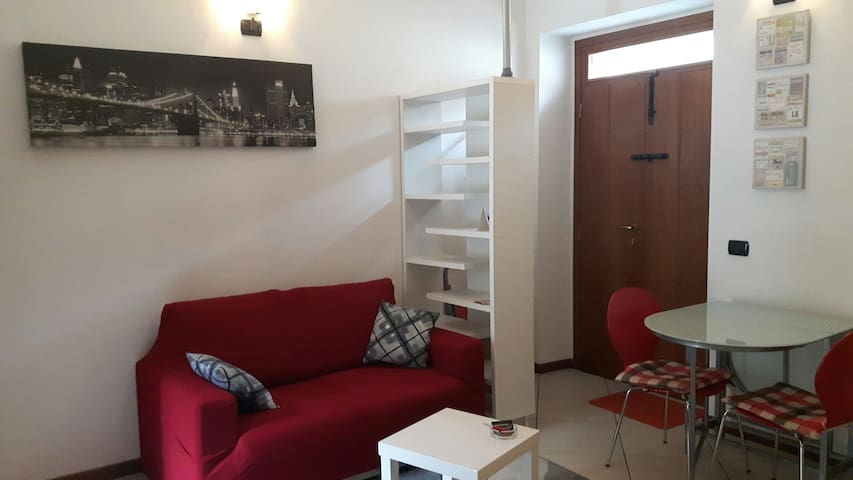 Independent entrance, 2 double bedrooms, 1 sofa bed, billiard room, kitchen, bathroom with corner bath. Garden of 2000 square meters with swimming pool 10x5 m and barbecue Possibility canoe rentals on Lake Comabbio (2km). Bicycles available
Apartment in a house of 90 square meters with separate entrance. 35 sqm living room with sofa bed for one and half and carom billiards, 2 bedrooms, fitted kitchen with oven, refrigerator and dishwasher. Bathroom with double sink and corner bath. All furnished in a warm and welcoming to make you really feel at home. On request you can add in the bedrooms a cot for a baby. The park is home Nikita, Ugo and Monday, three good-natured dogs, and a pony named Donkey. For those who need it, we have an agreement with an animal home a short distance (4 km). The apartment is located in Vergiate, just 10 minutes from Malpensa airport and a few km from Lake Comabbio (2.5 km), Lake Monate (4.5 km), Lake Maggiore (5 km) and Lake d ' Orta (25 km) and just 50 km from Mottarone with its wonderful trails for those who love the snow or beautiful walks. An enchanted place, in contact with nature and animals, ideal place to find harmony and relaxation, but also strategically, for its location, to reach the great citizens and business appointments easily. Weekly change of towels, bed and kitchen and for every new arrival.
Laura e il marito sono stati molto ospitali con noi. Casa grande e con tutto l'occorente per un soggiorno senza stress. Abbiamo usufruito della piscina e del barbeque durante il nostro soggiorno, quindi ottimo per un pò di relax, in compagnia di bambini o amici! La casa, inoltre, è in una posizione comoda per chi volesse visitare Milano ma non ama soggiornare in una grande città e per chi volesse vedere le bellezze del nord della Lombardia o la vicinissima Svizzera.
Elisa
2015-08-31T00:00:00Z
La casa es amplia y con espacios exteriores muy interesantes. Laura ha sido una anfitriona muy atenta en todo momento y ha facilitado nuestra estancia. La casa está muy cerca de la autopista y la carretera, lo que facilita la movilidad. Sin embargo, el ruido de coches es constante. A la casa le haría falta alguna actualización y mejora pero dispone de lo esencial para pasar unos días.
Marc
2016-08-08T00:00:00Z
Ho prenotato di fretta e mi sembrava che la casa andasse bene. Quando sono arrivato ho invece capito che era il posto perfetto per quello che stavamo cercando. Abbiamo fatto un barbecue eccezionale e siamo stati benissimo. Ottime anche le stanze. Menzione particolare per l'accoglienza... Laura è stata gentilissima e molto tollerante rispetto alle nostre esigenze. Raccomandato a gruppi di amici e famiglie senza il minimo dubbio!
Matteo
2016-06-20T00:00:00Z
Typ pokoje
Celý dům/byt
---
Typ nemovitosti
Byt
---
Ubytuje
6
---
Ložnice
Vergiate, Lombardia, Itálie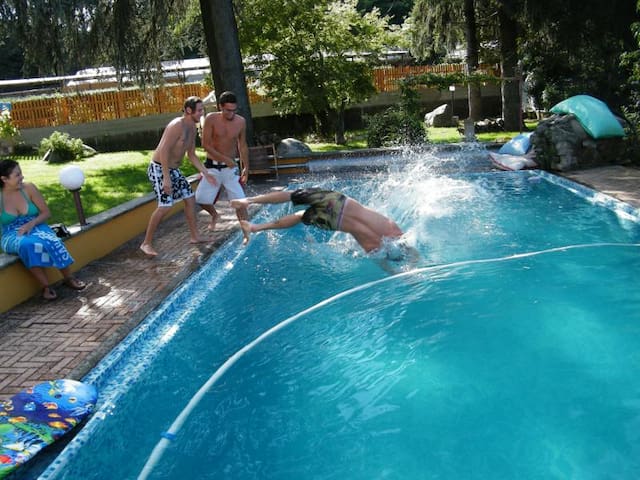 My accommodation is close to activities for the family and public transport. You will like my accommodation for these reasons: the atmosphere. My accommodation is suitable for couples, lone adventurers and families (with children).
Typ pokoje
Soukromý pokoj
---
Typ nemovitosti
Byt
---
Ubytuje
2
---
Ložnice
Vergiate, Lombardia, Itálie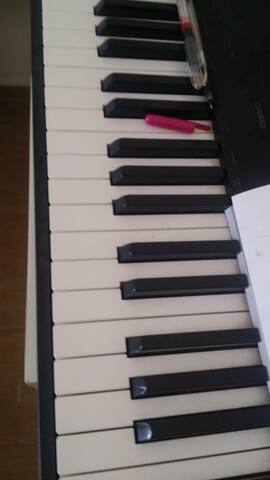 Delizioso appartamento in villa di 45 mq con ingresso indipendente, appena ristrutturato, ideale per 2 persone con piscina a disposizione. Piscina 10x5 mt e barbecue in muratura a disposizione
Soggiorno/camera con comodo divano letto e camino, cucina attrezzata con frigorifero e freezer. Bagno con doccia. Appena ristrutturato. Il tutto arredato in modo caldo e accogliente per farvi sentire davvero come a casa. Su richiesta è possibile aggiungere un lettino per un bimbo. Nel parco vivono Nikita, Ugo e Lunedì, tre cani di buon carattere, e un pony di nome Ciuchino. Siamo convenzionati con una pensione per animali a pochissima distanza (4 km). Un luogo incantato, a contatto con la natura e gli animali, ideale per ritrovare armonia e relax, ma anche strategico, per la sua posizione, per raggiungere facilmente i grandi appuntamenti cittadini e di business. Cambio biancheria bagno, letto e cucina settimanale.
L'appartamento si trova a Vergiate, a 10 minuti dall'aeroporto di Malpensa e a pochi km dal Lago di Comabbio (2,5 km), Lago di Monate (4,5 km), Lago Maggiore (5 km) e Lago d'Orta (25 km).
Typ pokoje
Celý dům/byt
---
Typ nemovitosti
Byt
---
Ubytuje
2
---
Ložnice
Vergiate, Lombardia, Itálie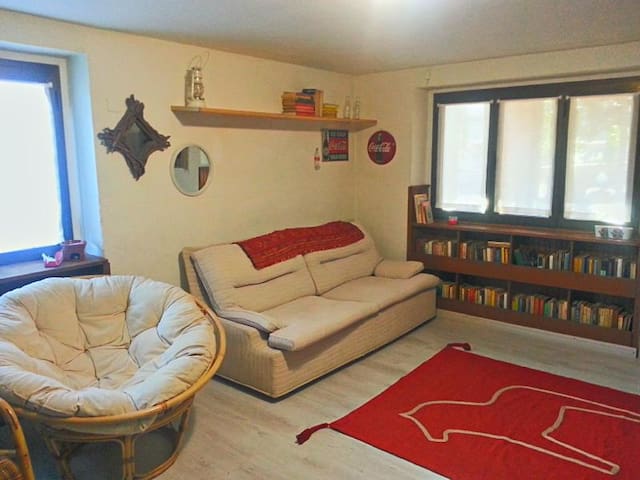 Můj ubytování se nachází v krásném nádvoří se zahradou kousek od centra města a hlavní městskou hromadnou dopravou, vlakem a (URL HIDDEN) pokoj je útulný, prostorný, s manželskou postelí.
Martina's place was great beyond expectations. I have rarely been hosted this hospitably in an AirBnB and really felt at home. The house itself is located in a ridiculously beautiful building and neighbourhood and the proximity to Milano Malpensa makes this every traveller's dream!
Julie
2017-03-16T00:00:00Z
Ho trascorso una notte da Martina per motivi di lavoro. L'appartamento si trova a due passi dalla stazione ferroviaria di Somma ed è splendida! La stanza è molto spaziosa e comoda con un letto matrimoniale. Ringrazio Martina e la sua famiglia della calorosa accoglienza! Ci tornerei sicuramente.
Maris
2016-11-25T00:00:00Z
Ospiti di una gentilezza e disponibilita' esemplari. Casa immacolata. Conversazione piacevolissima. Siamo stati benissimo. Il top. Grazie ancora a Martina, Diego e Karen.
Paolo
2017-02-15T00:00:00Z
Martina è stata gentilissima, la stanza molto spaziosa e gli ambienti puliti mi hanno lasciato soddisfatta. Letto molto comodo! Peccato aver dormito solo poche ore. Posizione comodissima per una partenza dall'aeroporto di Malpensa. Grazie Martina!
Lucia
2016-09-23T00:00:00Z
Very nice room and very polite people
Madeline
2016-10-05T00:00:00Z
Typ pokoje
Soukromý pokoj
---
Typ nemovitosti
Byt
---
Ubytuje
2
---
Ložnice
Somma Lombardo, Lombardia, Itálie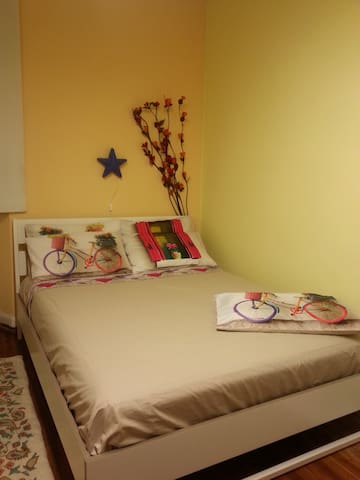 Nice apartment for 6 people 10 minutes drive from Malpensa 30 from Milan,40 from fashion outlet Vicolungo and Fox Town. Near Lake Maggiore, Como and Lugano Free shuttle to / r Malpensa airport and to / r Gallarate train station Close to restaurant
Apartment consists of 2 bedrooms, ( possibility of additional single bed ), 1 living room with sofa bed for 2 people, baby bed, kitchen, microwave, bathroom, ample parking free. Breakfast included. WI -FI. Free transportation to and from Malpensa airport, to and from train station of Gallarate. At 70 meters from the apartment the great Ticino Natural Park for walks and mountain bike rides. 2 mountain bikes available free.
The proximity to Malpensa airport, the city of Milan, Lake Como, Lake Maggiore and Lake Lugano, this apartment is the perfect stop for a sightseeing tour and fashion & shopping the most famous brands of Italian fashion with discounts from 30% to 70% in Vicolungo and Fox Town
It was excellent, the welcome we got, the hospitality was second to none. Gioachino is a perfect host and I would definitely recommend him!
Dikshant
2015-10-01T00:00:00Z
Ottima esperienza con Gioachino! Appartamento pulitissimo, host professionale, disponibile,gentile e simpatico! In realtà il luogo è persino migliore di quanto non appaia nelle foto. Per comunicazioni immediate, meglio telefonare che inviare sms o mail. Grazie Gioachino e alla prossima!
Manuela
2017-03-11T00:00:00Z
Molto gentile, perfetto! Consigliatissimo!!
Manuela
2016-10-26T00:00:00Z
My family of 5 (3 kids 7-11 yrs old) had a wonderful stay in northern Milan near MXP. The place is spacious, clean, and as advertised. Gioachino is a warm and kind host that pays attention to details. He provided breakfast and drove us to the train station. We absolutely recommend this listing!
Jin
2016-04-15T00:00:00Z
Gioachino doesn't speak english, but he is very communicative and friendly host. The apartment has air conditioning, 3 rooms, good bathroom and kitchen.We recommended this place.
Marek
2016-09-04T00:00:00Z
Je tient à remercier infiniment Giochino car grâce a lui tout était parfait ! L'appartement est sublime et c'est une personne adorable et a notre écoute.
Precillia
2016-04-22T00:00:00Z
If I could give our host 10 stars I would! What a beautiful man that did the utmost to insure we felt right at home. He picked us up and dropped us off at the airport. Fed us breakfast and gave us hugs when he left us at the airport. The house was amazing and so was this cozy little town. It's rare that you find such a great place for such a great price. We felt we needed to pay more because we were absolutely blown away! Gio told us about a restaurant close to us called 'La Mimosa" that, much like our host, was also amazing. Great family run place with awesome food! The value and presentation of our food was by far higher than the tab. If you find yourself in need of an amazing experience in the north of Italy, make sure you choose this place! Grazie Gio!!
Audrey
2016-10-12T00:00:00Z
Viaggiare con Airbnb e' come avere una casa in ogni (URL HIDDEN) breve soggiorno nella casa di Gioacchino e stato piu che positivo. Appartamento accogliente, caldo confortevole e tranquillo. Ideale per famiglie a pochi minuti e posizione strategica per raggiungere Milano. La colazione super, la possibilita di parcheggio e la casa super accessoriata e pulitissima!Gianni super gentile, discreto e disponibile. Assolutamente da non perdere se siete in zona. Grazie Gianni!
michela
2015-10-19T00:00:00Z
Typ pokoje
Celý dům/byt
---
Typ nemovitosti
Byt
---
Ubytuje
6
---
Ložnice
Gallarate, Lombardia, Itálie
Piccolo alloggio con bel terrazzo privato al 1 p. in cascina ristrutturata in centro paese. Di fronte alla stazione ferroviaria con negozi a pochi mt., supermercati, banche e tutti i servizi accessibili a piedi. Distanza Malpensa in auto: 10 minuti.
L'appartamento è' molto luminoso e dispone di tutto il necessario: acqua calda, riscaldamento, TV, piatti, pentole, asciugacapelli e quant'altro. All'esterno, per godere del terrazzo su un bel giardino, ci sono: ombrellone, tavolo, sedie e sdraio. A pochissimi metri c'è un fornaio con ottime brioches fresche e pane, ma non solo: vende anche latte, pasta, acqua, vino, prosciutto, formaggio e tutte le prime necessità. L'appartamento è' vicino all'aereoporto di Malpensa (circa dieci minuti in auto) e, sempre in dieci minuti, si arriva a piedi alla stazione ferroviaria situata proprio di fronte. Sempre a piedi, in pochi minuti possiamo recarci in centro paese, all'ufficio postale, banche, supermercato e servizi di ogni genere. Si può entrare nel cortile per caricare e scaricare e poi si può parcheggiare gratuitamente in un parcheggio esattamente dietro la casa.
I dintorni sono magnifici ed è comodissimo per mezzi e servizi.
flavia nonostante fosse in grecia è stata super disponibile e accurata nella comunicazione.. la casa è carina.. pulita e in una zona molto tranquilla c'è un complesso di supermercati dietro a casa comodissimi da raggiungere anche a piedi per qualsiasi necessita. grazie mille dell'ospitalita
Chiara
2016-04-17T00:00:00Z
Esperienza tutto sommato positiva. L'host si è reso disponibile per ogni evenienza, ottima comunicazione. Descrizione della casa molto precisa ed accurata che ha quasi tutto il necessario per due persone. Nota positiva da mettere in evidenza è la vicinanza della stazione rispetto alla casa, alquanto utile per chi non viaggia in auto. Quartiere molto tranquillo. Altra cosa positiva è la presenza di un centro commerciale abbastanza economico.
valentina
2015-10-27T00:00:00Z
Typ pokoje
Celý dům/byt
---
Typ nemovitosti
Byt
---
Ubytuje
2
---
Ložnice
Somma Lombardo, Varese, Itálie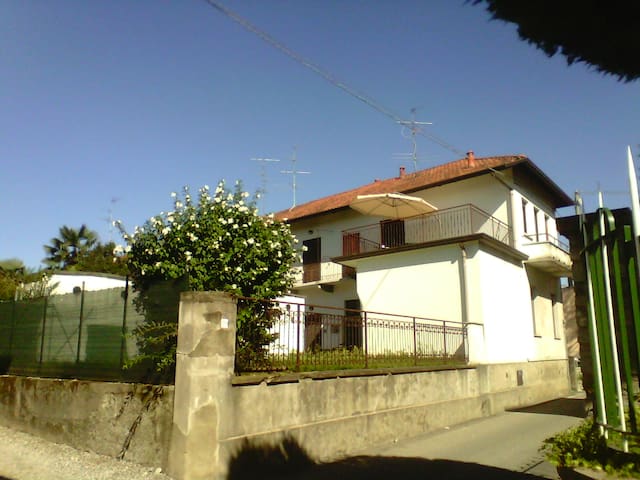 Great for business trips, overnight stay from 1 night minimum to a maximum of 20 nights. E 'preferable to people with European citizenship, The apartment is located in the Lake District, 200 meters from Lake Comabbio, to 20'dal Lake Travedona and 26' from Lake Maggiore. A bank of Lake Comabbio there is a bike path of 13 km from Malpensa airport is 16 km away. And at 36 'by the Swiss (Gladden) and 5' by the firm Whirlpool EMEA Cassinetta di Biandronno
l 'accommodation comprises: Living room, kitchen, hallway, bathroom, bedroom with a double bed that can become two single beds in the living room sofa and a single bed. Total sleeps 3, meaning the sofa becomes a bed 4 and you can use the barbecue which is located next to the entrance. E 'preferable to people with European citizenship. Lignua Italian spoken French Wi-Fi network including
quiet and not busy district
Typ pokoje
Celý dům/byt
---
Typ nemovitosti
Byt
---
Ubytuje
3
---
Ložnice
Varano Borghi, Lombardia, Itálie
A meno di 1 h in auto da Expo. In zona tranquilla ma comoda per servizi e negozi, ha un piccolo giardino privato e un grande portico coperto, con tavolo e sedie; accesso interno a locale sgombero, lavanderia e garage sul lato del parco condominiale.
L'ingresso è direttamente nella cucina abitabile; dà accesso a ovest al portico con giardino (con tavolo e sedie), a est al balcone che affaccia sul parco condominiale. Dal piccolo disimpegno, si entra nella camera matrimoniale (reti separabili), nello studio con divano letto doppio, nel bagno con vasca-doccia. Sempre dal disimpegno, tramite scala interna, si accede al locale sgombero con lavanderia (doccia, wc e lavatrice). Da lì, si entr nel garage con 1 posto auto.
Daverio è piccolo, ma attivo. Nella via parallela, informatevi sugli eventi della Palazzina della Cultura; nella vicina biblioteca pubblica troverete più informazioni sugli eventi, anche nel circondario.
Ottima accoglienza, la location rispettava appieno la descrizione. Il soggiorno è stato piacevole, immerso nella tranquillità del paese. Speriamo presto di poter usufruire di nuovo di tale ospitalità.
Massimiliano
2016-08-16T00:00:00Z
Typ pokoje
Celý dům/byt
---
Typ nemovitosti
Byt
---
Ubytuje
4
---
Ložnice
Daverio, Lombardia, Itálie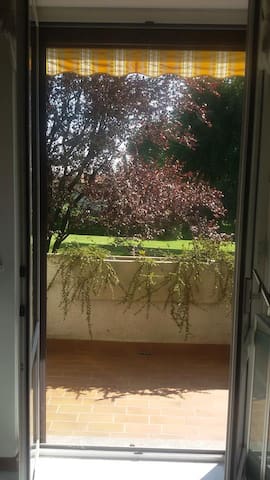 Naturally lit apartment in the historic centre of Brunello, Varese, known for the Church of S.Maria. Perfect spot for those looking to explore the lake towns by day with close access to city life of Varese,Milan, Como, Lugano & more!
2nd floor apartment Sleeping Accommodation: One bedroom with bunk beds (usually used for kids and window overlooking the piazza) Loft bedroom (used for parents) with queen size bed Sofa bed for guest and visitors Open kitchen, fully furnished with dishwasher, oven, fridge, appliances (no microwave). Extremely well-lit with a skylight window, cooler in summer than Varese and independent heating in winter. Parking spot for one car (open) No garage, although storage space on second floor for cycles, bikes etc. Internet Wi-fi enabled Coffee/bar in Piazza
480m above sea-levi, famous for the Church of S/Maria Annunciate di Brunello with 'Affreschi", beautiful route for running, cycling. 2kms from one of the longest cycling path of Europe around Lake of Varese Local groceries and shopping in Azzate, Daverio and Castronno (1-1.5 km away and best by car)
Typ pokoje
Celý dům/byt
---
Typ nemovitosti
Byt
---
Ubytuje
6
---
Ložnice
Brunello, Lombardia, Itálie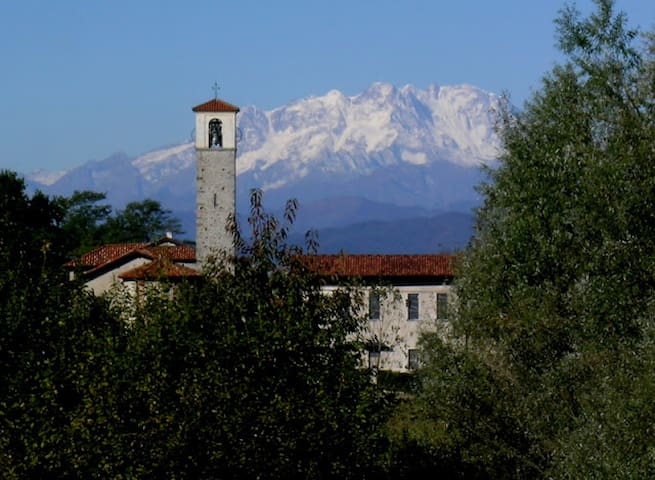 Il più bello open space ad Azzate, 130m2 : entrata con sala e cucina, due camere -una matrimoniale suite con bagno, ed una single con il bagno accanto. Soppalco abitabile 30m2 (totale 130 m2). Tetto in legno a vista e muri in pietra. Riscaldamento ed aria condizionata.
L'appartamento può ospitare una copia e due single.
Azzate è una cittadina che possiede un cinema/teatro con ottima programmazione, ottima gelateria, Supermercato, farmacia, posta, benzinaio, banche, edicole, pizzeria , ristorante , pasticcerie e Bar-caffè e commercio variato, scuole e chiesa. A canto alla casa c'è il circolo sociale dove si può prendere il caffè , leggere il giornale e mangiare. Tutto è vicino e molto piacevole, specialmente la piazza che propone una vista panoramica del lago di Varese e montagne (URL HIDDEN)
Très bon séjour-appartement conforme aux photos-endroit calme. Bien placé pour visiter les lacs- commerces aux alentours.Bonne communication avec la propriétaire des lieux.A recommander.
david
2016-10-24T00:00:00Z
Zona molt tranquila, a prop del llac La casa molt ben equipada
Ignasi
2016-08-14T00:00:00Z
Tutti molto bello e facile
Simone
2017-01-21T00:00:00Z
Appartement bien situé pour visiter les grands lacs (Majeur, Come et Lugano) ainsi que Milan Grand appartement agréable à vivre dans le joli village d'Azzate Accueil cordial Garage facile Appareils ménagers un peu vétustes
sylvie
2016-08-10T00:00:00Z
Typ pokoje
Celý dům/byt
---
Typ nemovitosti
Byt
---
Ubytuje
4
---
Ložnice
Azzate, Lombardia, Itálie