11 km von Conway National Park und 12,5 km von Abel Point Marina. Whitsunday Airport ist 4,9 km vom Haus entfernt. Mit einem leicht zu 10 Minuten Fahrt vom Zentrum von Airlie und schließen Sie immer noch genug, um alles zu genießen Airlie ohne Hektik zu bieten hat. Wandern Sie zu schönen Coral Beach, und beobachten Sie die Boote kommen mit erstaunlichen Sonnen Sets. Schlafzimmer und eine unglaubliche Aussicht in Shute Harbour wunderschön eingerichtet.
Das Bett war bequem und schöne Bettwäsche, Raum Ihre Ausrüstung zu speichern - das Schlafzimmer ist wunderschön eingerichtet und entspannend. Sie haben einen herrlichen Blick auf Shute Harbour und dem Nationalpark aus dem Fenster. Elizabeth (Ihr Gastgeber) ist ein qualifizierter Remedial Massage-Therapeut mit über 15 Jahren Erfahrung und bietet eine Reihe von Therapien, die Sie genießen und nutzen Sie während Ihres Aufenthaltes zu nehmen.
Wir haben eine schöne, ruhige Gegend.
Fantastic place and quite location. As long as you are driving, there is no problem to reaching Eliza's house. she is so kind to provide laundry service as well. Would recommend who do want to relax and stay away from the Crowd.
Cici
2017-01-05T00:00:00Z
Elizabeth has a lovely home with a fantastic views to the waterfront in a nice and private neighbourhood. Best home to return to & relax after our beautiful sailing trip out there, which was also recommended by her. It was the best trip that we were after. Elizabeth is great person to talk to & gave us plenty of privacy too. There is so much good to stay with them that we would definitely recommend anyone to book with her : )
Eng
2017-01-01T00:00:00Z
We had a very short stay since we drove in really late and had to leave early morning. Elizabeth was super accommodating with our late check in, and the place was absolutely wonderful! Hope to come back later for a longer stay to truly enjoy this gem! Thanks so much Elizabeth!
Anu
2016-10-24T00:00:00Z
Both are wonderful people! Such great hospitality, the bed and views from the room and the house were AMAZING! The hosts were fantastic and helped us book activities and tell us about some of the less popular places to visit. The dogs were absolutely adorable and was so soft and kind. Was definitely an unforgettable experience staying here!
Emily
2016-12-29T00:00:00Z
Una casa espectacular, cómoda, limpia y acogedora. Los dueños son muy amables y atenciosos. Aunque está un poco apartada de la zona de restaurantes se llega muy rápido y fácil en coche, además de haber autobús (yo no lo usé) y compensa por la tranquilidad y las vistas
Pablo
2016-11-18T00:00:00Z
We stayed one night at Elizabeths and Andy's place in Shute Harbour. They were very friendly and we had nice conversations. The room and the bathroom were super comfortable with lots of privacy. The view was amazing! Elizabeth made us a really nice breakfast. We would defenitly recommend this place!
Meriam
2016-08-09T00:00:00Z
Liz and Andy were fantastic hosts! They made us feel very welcome and being flexible with their check in time made our trip much easier. Their home is modern and comfortable with gorgeous views! The bed is very comfortable with quality linen and the room/bathroom was very clean. The breakfast included in our stay was excellent - Liz's homemade granola was delicious! Would recommend staying here - you won't be disappointed.
Kelly
2016-10-12T00:00:00Z
Great host in a comfortable home in the middle of a gorgeous bay.
Guillaume
2016-10-30T00:00:00Z
Typ pokoje
Soukromý pokoj
---
Typ nemovitosti
Dům
---
Ubytuje
2
---
Ložnice
Shute Harbour, Queensland, Austrálie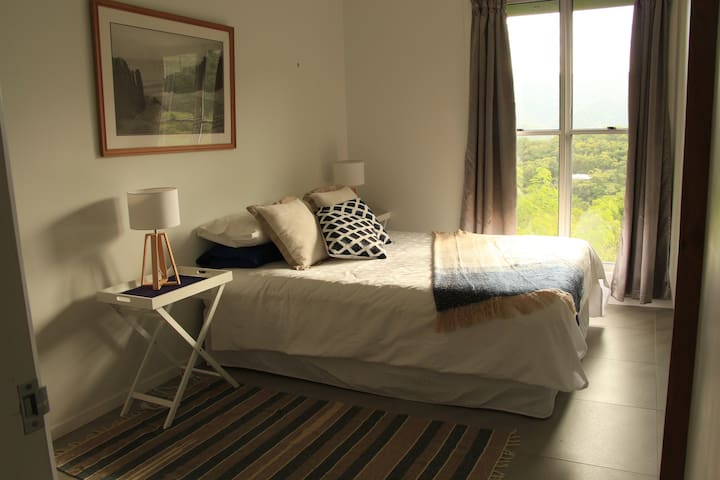 Einzigartige, am Wasser, in sich geschlossene Paar Studio mit den eindrucksvollsten privaten Ansichten. Genießen Sie ein Bad in Ihrem eigenen privaten 10m Infinity-Pool und genießen Sie ein Glas Champagner im Jacuzzi, während in der Welt in den besten Blick nehmen. Moderne, privat, sauber und sehr komfortabel. Ein kostenloser Begrüßungsgeschenk und kostenlosen Champagner bei der Ankunft. Kochen Sie ein Gourmet-Abendessen oder um in Take-Wege-Essen - Sie so nie diese erstaunliche Ort verlassen müssen. Es ist die perfekte Basis weg von den Massen, aber sehr nahe an der Stadt.
全景將spellbind你 - 實在是喜歡它沒有其他的地方!驚人的觀點總是與潮汐,熱帶氣候的方向改變,經過的船隻進出港口和美麗的世界遺產山脈。您可以瞥見海龜,鯨魚,海豚和海牛的。它是如此美麗,你根本就不會想離開! 來吧,寵自己,享受私密,浪漫和寧靜是聖靈撤退提供!不到8公里的咖啡館和艾爾利海灘的餐館。 ****對我們的判斷要求提供兩晚的預訂。
Dies ist der perfekte und friedlichen Ort, um sich stützen, während alle Schätze zu erkunden, die die Whitsunday Region zu bieten hat. Es gibt viele Orte zu besuchen und Dinge zu tun: eine Fülle von Nationalparks, Schildkrötenbeobachtung, Segeln, Kajak fahren, Mountainbiking, Einkaufen, auf der Basis von Cedar Falls in der lokalen Wasserloch schwimmen, Regenwald Spaziergänge, Krokodil-Safari, und genießen die vielen Cafés und Restaurants. Aber stellen Sie sicher, dass Sie die Zeit nehmen, einfach zu Hause zu bleiben, haben eine Massage am Pool und genießen Sie in einem der spektakulärsten Orte auf dem Planeten. Die lokalen Märkte sind jeden Samstag und Dienstagmorgen an der Küste in Airlie Beach statt, wo Sie Kunsthandwerk, nic nacs, Obst und vegies und wunderbare Snacks finden. HINWEIS AUF DEM WETTER Die Whitsundays hat ein tropisches Klima mit heißen, feuchten Sommern, warmen Wintern und helle Frühling und Herbsttage. Durchschnittliche Tagestemperaturen reichen von rund 23C in den Wintermonaten Juni und Juli, und bis zu 30 ° C im Dezember und Januar während der Höhe des Sommers. Die Wassertemperaturen bleiben ein einladendes 25C meiste Zeit des Jahres rund. Der tropische Regenzeit (Januar bis März) Tage kann dampfigen sein und die sommerliche Hitze wird oft von tropischen regen in der Nacht gebrochen. Bitte stellen Sie sicher, dass Sie für tropische regen während dieser Zeit vorbereitet werden, insbesondere Februar. Zyklone können auch etwa im Februar-März auftreten.
This place is nothing short of paradise! We stayed for a week over New Years and it was incredible, the photographs of this view do not do it justice! The place is larger than I had expected and extremely quiet and private. We enjoyed drinks by the pool every day, had a BBQ almost every night and chose to stay at the house over going out a lot of the time as it was too good not to. We took the ferry to Hamilton island one day which was great and I would also recommend the day trip to Whitehaven beach - incredible! Cathi's communication was excellent and our stay was made so simple. Thank you again for having us and we will 100% be back!! Warm regards, Emily and Luke
Emily
2017-01-02T00:00:00Z
We had a wonderful stay at this lovely place in the Whitsundays. The location was pure peace and tranquility and the views were breathtaking. The accommodation was clean and well kept with everything we needed for our stay. The absolute stars of the show are the hosts Cathi and Ron..... they made us homemade bread and left lots of little personal touches which made us wish we could stay for longer. We couldn't recommend this place enough and hope to return again soon.
Ash
2016-12-26T00:00:00Z
My husband had a wonderful three-day stay at Cathy and Ron's stunning property. What a view! Definitely much much better than the photos suggest, especially when the morning sunlight cast onto the hill slopes of the opposite island creating gradations of light and shadows. Cathy and Ron were also kind enough to include little touches such as a bottle of champagne, lemon myrtle soap and tealights to make our stay that much more special. The wifi connection is not the greatest so I would recommend having one's own wifi/data devices if internet ranks high as a requirement.
Vyanne
2017-02-20T00:00:00Z
The view really is the best in the world and the pictures don't do it justice. This studio apartment in Shute harbour is the perfect location for a romantic getaway. Airlie beach is only 15 minutes away and full of nice cafes, restaurants and bars. We did a day trip out to Whitehaven beach however nothing compares to staying at the house by the pool and enjoying the spectacular views. Definite 5 star - we cannot fault our stay at all! We are looking forward to coming back in the future.
Andre
2017-02-11T00:00:00Z
Absolutely amazing place. We had the unfortunate timing of staying right at Cyclone Debbie but Cathy could not have been a more outstanding host. Not only did she pick us up from ferry, but she picked up some items for us and made the suggestion of ordering the most amazing seafood platter to enjoy while taking in the views from their beautiful home. She also kept us calm during the early stages of the cyclone and did everything she could to make sure we were safe. Unfortunately our time in the Whitsundays was cut short, but it only gives us more reason to come back and enjoy Cathy's hospitality.
Kim
2017-03-26T00:00:00Z
What a beautiful place to stay! The house had everything we needed and more. There's nothing like having your own private infinity pool!
Spencer
2016-01-15T00:00:00Z
Unbelievable! Even the great pictures cannot do this place justice. We were there for 5 days and still could not believe the view. Absolutely stunning. Very well equipped with everything you could possibly need and more, and so very very clean! If this were a hotel it would be 5* for sure. If you are just 'thinking' about going, don't think, book it, you won't regret it!! First Class.
Emma
2016-01-27T00:00:00Z
Wonderful stay!! The panoramic views are even better than the pictures! Beautiful terrace which is a sun trap all day and the ideal spot to enjoy beautiful sunsets. The accommodation is spacious, clean and comfortable. Everything works! You will need a car as it's an 8 minute drive from Airlie and not walkable. Cathy and Ron were warm and welcoming hosts. Our first Airbnb stay and it went very smoothly. Wonderful stay all around - thank you.
Will
2016-04-02T00:00:00Z
Typ pokoje
Celý dům/byt
---
Typ nemovitosti
Byt
---
Ubytuje
2
---
Ložnice
Shute Harbour, Queensland, Austrálie
Wir befinden uns in Shute Harbour an der Küste gelegen, 5mins. zu Fuß vom Bus und dem Fährhafen. Das Gerät verfügt über einen eigenen Eingang, einen Balkon Inseln und Meerblick, üppige tropische Gärten, Infinity-Pool für die Nutzung mit Blick auf. Grillmöglichkeiten und Wäscherei.
Unser Studio bietet Platz für nur 2 Erwachsene und es ist kein Platz für ein weiteres Bett.
Typ pokoje
Celý dům/byt
---
Typ nemovitosti
Byt
---
Ubytuje
2
---
Ložnice
Shute Harbour, Queensland, Austrálie
美丽的度假别墅在舒特港,睡20个客人! 6间卧室。私人泳池
假日家在舒特港宁静与美丽的景色。这家有两间套房上一套既与美景大甲板游泳池。走小路下到该地区海洋和跋涉。安静的邻居罩,但接近艾尔利。
舒特港是艾尔利海滩10公里以东。强烈建议你有车。
Quite residential area, beautiful sceneries, very good for group of peoples.
Saju
2017-01-18T00:00:00Z
Typ pokoje
Celý dům/byt
---
Typ nemovitosti
Dům
---
Ubytuje
16
---
Ložnice
Shute Harbour, Queensland, Austrálie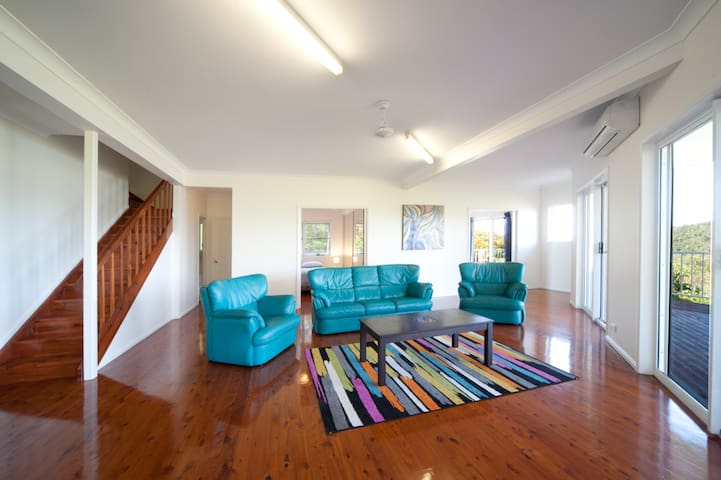 Pro zobrazení celkové ceny zadej termín. Mohou být přidány další poplatky a daně.