Suite para duas pessoas equipada com micro-ondas para aquecer ou preparar pequenas refeições, pequeno frigorifico e uma cafeteira elétrica para preparar um chá Dentro do quarto tem uma pequena mesa assim como no jardim junto ao apartamento
Quarto de casal com wc privativo. Ideal para quem quer tranquilidade e desfrutar da natureza. Também poderá desfrutar, na piscina, de uma bonita vista para a foz do rio Minho e as margens de Espanha.
Propriedade inserida numa zona rural perto de uma Vila típica (Caminha)na foz do rio Minho com bonitas praias. Também poderão, dependente da época, assistir a algumas festas populares, desfrutar de uma boa gastronomia minhota e de alguma vida noturna.
Thoroughly enjoyed our stay - it was just what we needed. Major plus was having access to a lovely swimming pool overlooking the Minho, essential for when the Sun was out full blast. The property was well equipped and perfect for a couple. Both Maria and Vitor were very welcoming and knowledgeable about the area - which was a major help in organising day trips. Caminha itself is a lovely place and little known amongst British tourists it seems! Thank you for a lovely stay
Rory
2015-07-18T00:00:00Z
Typ pokoje
Soukromý pokoj
---
Typ nemovitosti
Byt
---
Ubytuje
2
---
Ložnice
Caminha - , Viana do Castelo District, Portugalsko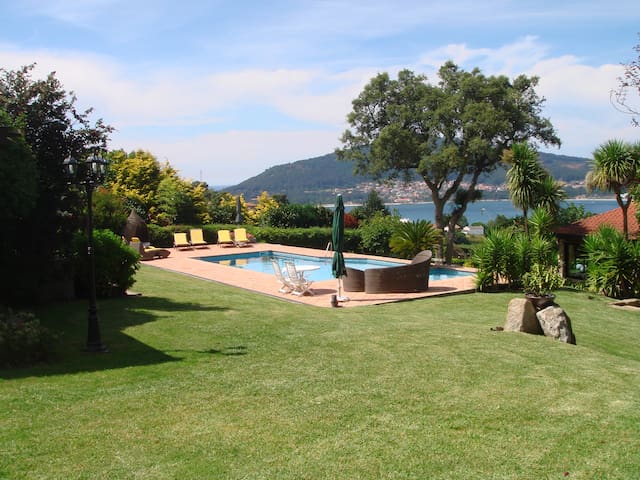 Dans une ancienne et rénovée ferme, un petit et charmant apartement avec 2 chambres, 1 salle de bain et une cuisine. Garage pour 1 voiture, piscine commune, terrasse, barbecue. 2.5kms de la plage. 2kms du centre-ville.
Petit et charmant apartement dans une grande at ancienne ferme rénovée. Piscine commune. Table de ping-pong. Endroit calme. Excellent pour repos tout comme sports, sports d'été et tourisme. Très beau chemin romain pour accéder à la propriété. Eau de source continue (provenant d'une mine se trouvant dans la montage/forêt).
Très calme. Beaucoup de verdure. Excellents paysages. Accès à plage/océan/forêt/montagne/rivière avec eau cristaline, etc.
Our family had a wonderful stay in the cosy apartment in Vila Praia de Âncora in June. The apartment is small but charming, containing everything we needed for our two-day stay. We loved having lazy breakfasts on the terrace and enjoyed many hours in the pool and beautiful garden. Alberto and his family were perfect hosts, making us feel very welcome. Paulo answered our many questions quickly and we felt well-informed about the local area including beaches, castles, towns and local specialities (this is one of the best regions to try vino verde - perfect on a hot summer's day:). We agree with Paulo - Vila Praia de Âncora is one of the best beaches in Portugal! We'd love to come again to this beautiful and peaceful part of Portugal.
Amanda
2015-06-26T00:00:00Z
Our hosts were very friendly. They did not speak English which was not a problem as my husband spoke Portuguese. The outside property is extremely well kept and includes a lush garden and a large, clean swimming pool, which we didn't use due to the weather. The apartment is quite small, but clean and serviceable. The small patio at the front is a positive addition, even though it faces onto the driveway and garage. The property was a bit difficult to find. Best to ask for very detailed instructions on how to get there. The beach, which is 20-30 minutes away by foot, is lovely. The town was very quiet when we were there (late April), which we liked, but I understand it gets quite busy in the summer months. There is an amazing lookout point not far from the property and well worth the drive up the mountain.
Laura
2015-04-29T00:00:00Z
We loved our stay at this location very, very much. The apartment is small but nice and cosy and contains everything which is needed. The outside garden is really lovely. You'll have a swimming pool in the backyard, which is clean and has a very nice scenery. The neighborhood is very peaceful. Alberto and his wife were very helpful. When we arrived the coffee machine was just broken, but they fixed it within an eye blink. One day we took some bikes Alberto provided. Also one for our son (10). It was very nice to cycle around in the vila praia ancora region. The beach in vila praia was more lovely than I expected. Especially the river side beach without current and waves for kids. We can highly recommend this location!
Ingrid
2015-08-10T00:00:00Z
L'accueil a été rapide et cordiale. Le quartier est calme et agréable. Le logement n'a rien de particulier, pas de salle de détente type salon, sombre et équipé avec le minimum. Le logement a besoin d'être un peu investi. En cuisine il n'y a pas le minium, sure, sel, huile, produit vaisselle... L'atout est incontestablement l'extérieur qui est très beau, la piscine et le jardin et très bien entretenu. Pas de chance pour nous il pleuvait et on ne peut pas se mettre à l'abris à l'extérieur.
Mickael
2015-09-18T00:00:00Z
Une belle maison et un accueil chaleureux. Appartement petit mais tres bien aménagé. Merci pour cette joyeuse rencontre :)
Céline
2015-06-23T00:00:00Z
Super accueil de Alberto et de son épouse. Je recommande vivement ce petit paradis de tranquillité dans un écrin de verdure face à la montagne
philippe
2016-08-30T00:00:00Z
Vila praia de âncora is a lovely area - I loved being able to relax, read, swim in the pool and walk to the beach as well as walk in the area. You get some great views up at the Capellas. There are some nice cafés and restaurants at the beach and the mini preços have everything you need. Paulo's parents are very kind and their property is beautiful.
Wendy
2016-07-12T00:00:00Z
We zijn zeer vriendelijk ontvangen op deze heerlijk rustige plek. Het appartement ligt in een prachtige tuin met fruitbomen en een zwembad. Een goede plek om tot rust te komen en van het strand en de verdere natuur te genieten. Nogmaals bedankt voor jullie gastvrijheid!
Marjon
2015-09-13T00:00:00Z
Typ pokoje
Celý dům/byt
---
Typ nemovitosti
Byt
---
Ubytuje
3
---
Ložnice
Vila Praia de Âncora, Viana do Castelo, Portugalsko
Quite, peaceful, nature, trekking, rock pools, spring waterfalls, nearest beach 20 mts, away from busy places but close to everywhere. Genuine family house, not spoil as we preserved original materials to maintain soul. Friendly familiar hosting, special care for kids, toys ( make a cake or playing our dolls house) safe places to have fun. Our goal is you feel at home. Vila Judite's folders as all tips to go around explore area/secret places. Wood &Craft workshops just next door for all ages
A independent apartment joining the main house. 90 m2 complete fully equipped with private bathroom, double bedroom, sofa bed at sitting room (sleeps 2) and an extra bed. Shared tank just next door. Table d'Hâute - Home made meals available on request -Brunch available on request -Shared bathroom Here at Vila Judite, you will enter a place that has not changed in decades. It was built by a rich "bacalhau" merchant one hundred years ago as a gift to his beloved wife Judite as a summer home. The atmosphere we offer is decades old. The entire house, its objects, landscape scenery and tranquility are permeated with good energy. Good Portuguese vibes. A house full of history and stories. We invite you to come and have fun with us, to be part of the relaxing bustle of our home. We will take care of you as if you were one of us. With your income, you are helping us with the restoration and necessary repairs the house requires to be dignified again. We can't do it alone. A part of you remain with us forever
Fantastic area for walks, swim at spring water rock pools, safe area, no TV but lots of books, movies, games. Close to Spain (Galicia) Ponte de Lima, Viana do Castelo, Caminha and Paredes de Coura, 1h.30 driving in to Nacional Park Peneda- Gerês Almost all places around here are non spoil, they quite remain as they were and we know really special secret places.... We have contact with local community for more than 20 years. We know the area very well and we have close relations with a type of community that is going to disappear in time.
We had a wonderful time at Vila Judit! Isabel is a fantastic host and really made us feel at home from the moment we arrived. The house is very well decorated and it truly is a place for relaxing and enjoying nature. We really can't find any negative feedback, other than we wish we could have stayed longer!
Mafalda
2016-09-02T00:00:00Z
Já ia com boas expectativas, mas superou. Uma casa cheia de alma, assim como a proprietária Maria. Sempre simpática e disponível. E com muita paciência, que diga a minha filha de 4 anos, que até foi às amoras com ela. E acabaram na cozinha a fazer um bolo
Maria Helena
2015-08-28T00:00:00Z
Hemos pasado una semana maravillosa, en un lugar mágico y muy especial como es Vila Judite, gracias a la hospitalidad de Maria Isabel. Somos una pareja con dos niños pequeños que han disfrutado muchisimo en el jardín, con los perros, y en la maravillosa sala de juegos que nos dejó utilizar. La casa es preciosa decorada con cada detalle y mucho gusto, pura paz y gran descanso. La zona nos ha encantado, se come de maravilla, hemos visitado mucho los alrededores, incluso Oporto, siempre siguiendo las muy buenas recomendaciones de Maria. Sin duda lo recomendaremos a nuestros amigos. Muchas gracias por todo! Alexandra, Iñigo, Matias y Samuel!
Alexandra
2016-08-20T00:00:00Z
Nada más entrar en Vila Judit nos dimos cuenta que es un lugar muy especial, con mucha magia, la ubicación es ideal, perfecto para desconectar y relajarse. Maria es un encanto y nos recomendó sitios para visitar en los alrededores. Han sido 3 días prefectos, sin ninguna duda volveremos. Un abrazo, Maria.
Marta
2015-08-31T00:00:00Z
We spend three nights at the westwing Apartment and enjoyed every minute of it. Maria Isabel was a great host - showing us secret places, helping us whereever she could and giving perfect recommendations. All in all you get something you can't buy with money- you feel more as a friend than an ordinary guest. We highly recommend the place!
zissy
2016-09-29T00:00:00Z
Maria est tout à fait charmante, comme la maison. L'appartement possède énormément de charme (vue, hauteur sous plafond, azulejos...) et est meublé avec goût par Maria. Covas est un petit village de montagne, très calme, il y a quelques restaurants où l'on mange très correctement pour une somme modique. Les piscines naturelles de montagne que Maria vous indiquera sont un petit paradis sur terre, pas trop difficiles d'accès. L'endroit est parfait pour un séjour au calme. Comme c'est un peu reculé, la voiture est indispensable et le wifi n'est pas très puissant. Pour les visites à proximité et les bonnes adresses, Maria a préparé un petit classeur.
Morgane
2016-08-30T00:00:00Z
Pasamos unos dias magnificos en villa judit. Su amplio salón con grandes ventanales y vistas abiertas, te ayudan a desconectar de todo y relajarte por completo. Nuestra hija pequeña también disfruto mucho la casa y los juguetes que maria le dejó, y siempre estaba pendiente de si llegaba palop, el perro de maria, para salir a darle una galletita. Maria fué una amfitriona de 10, y no dudariamos en volver a su casa. El único pero del viaje fueron los numerosos fuegos que azotaban la zona, aunque nunca temimos por nuestra seguridad, no nos dejaron disfrutar al máximo de nuestras vacaciones en el norte de portugal. Una zona muy bonita y ideal para pasar unos dias de relax.
jordi
2016-08-13T00:00:00Z
Vila Judite is a real paradise for those who love authentic travels and places with a soul. The area near the Minho river, beaches and serra d'Arga is fantastic. The apartment is decorated with taste and really cosy. We spent a wonderful stay there and Maria is a wonderful host : available, careful, warm, friendly and she gave us a lot of advises concerning places to see, restaurants etc and was always willing to share feelings and ideas. We really enjoyed being at Maria's place and it was hard to leave ! Maria even took care of our baby ! She's a wonderful person and Vila Judite a beautiful home !
Nathalie
2015-08-13T00:00:00Z
Typ pokoje
Celý dům/byt
---
Typ nemovitosti
Byt
---
Ubytuje
5
---
Ložnice
Covas, Viana do Castelo, Portugalsko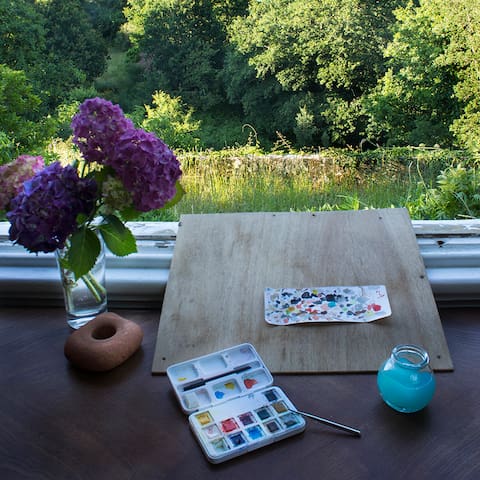 This is a 55 m2 apartment below the main house with its own entrance, hall, kitchen, bathroom, bedroom. Open space area has a wood stove, sofa, big kitchen table + chairs. At the back is a sleeping area with a kingsize bed and cupboard. There is a separate bedroom. There is a coffee/tea corner outside the apartment and terrace with table/chairs. The garden has a stone wall all around. Bikes, wifi, garden- and beach gear, washing machine and barbecue available. Beach and walking trails close by.
The open space apartment used to be a wine cellar. The grape press has been removed and a wood stove and sofa have taken its place. Because of the massive walls the inside is nice and cool during summers. The apartment is full with paintings from the owner. The small tables made of steel are equally made by the owner, a well known painter.
The ocean, the dunes and the white empty beaches. The adorable little city of Vila Praia de Ancora. The large number of walking trails, the beautiful landscape of the Serra d'Arga with cascades, yellow gorse. The villages of Caminha, Ponte de Lima. The bike trail that runs from the North of Portugal to the South bordering the sea. At a 10 minutes walk you are at the River Ancora where you can swim or have a picnic. This is a great place to explore the Minho region.
Typ pokoje
Celý dům/byt
---
Typ nemovitosti
Byt
---
Ubytuje
4
---
Ložnice
Vila Praia de Âncora, Viana do Castelo, Portugalsko
Studio with a double bed and kitchenette. outdoor recreational space.
Located in the historic center is close to all services, in an access area to the walls of the ancient fortifications. A quiet area where traffic is reduced, virtually residents.
Pequeno estudio muito funcional. Optima limpeza, muito bem localizado no centro de caminha . Excelente recepcao pela anfitriã que está sempre disponivel para os hospedes.
Paulo
2017-02-27T00:00:00Z
Cara Teresa e família, bem hajam pela vossa amabilidade, simpatia e cuidado! Adorámos ter ficado instalados no maravilhoso estúdio das Casas da Calçada! O estúdio é luminoso, extremamente limpo e reúne todas as condições para passar uns dias perfeitos! E mesmo no centro da belíssima terra de Caminha! Esperamos poder repetir! Muito obrigada.
Margarida
2016-08-05T00:00:00Z
Espaço muito agradável e sossegado no centro de Caminha. Perto de tudo mas com a sensação de um retiro calmo e tranquilo. Os nossos anfitriões foram muito simpáticos e disponíveis! Esperamos repetir a experiência!!
Susete
2016-06-13T00:00:00Z
We had a wonderful stay at this lovely little studio. Fully equipped with a comfortable bed and lovely private outside area & located in a prime spot in Camhina. Teresa and her family were very welcoming and accomodating. We can certainly highly recommend a stay here. Thank you Teresa and mum for a lovely stay.
Carrie
2016-07-07T00:00:00Z
We are in love with Caminha! Such a wonderful little village with the nicest people. We loved our morning walks ending with a coffee, orange juice and a typical Portuguese pastry at Cafe Central. The beaches are great. Caminha beach is wonderful, overlooking Spain on you right and the fortress in the Atlantic Ocean. As Caminha in is the Minho region, is part of the Rota Vinho Verde. If you are a winelover, like ourselves, please visit some excellent quintas. We were welcomed at the studio by Teresa's mother. Later Teresa cam home from work ans welcomed us too. All make sure you are ok. Teresa even gave us some homemade soup. Yummie! Although there are some issues with the WiFi in the studio, which can be inconvenient, at the central square it's all free WiFi. Teresa is trying to solve the WiFi issue, so it should be ok for future geusts. The studio is small but has a really nice and comfortable bed. Good shower too! All very clean. The studio overlooks the inner vegetable garden. And there are some chickens and a crowing rooster... so you do not need an alarm clock;-) We had a wonderful time, and hope to come back some day! Thanks Teresa and parents!
Elish
2015-09-22T00:00:00Z
O estúdio era muito acolhedor e bem localizado, a 2minutos a pé do centro. A Teresa foi muito simpatica e esteve sempre disponível para o que precisamos.
Miguel
2015-12-27T00:00:00Z
The Studio is well locatate, in the very center of the city, with a nice garden to relax at the end of the day during a sunset. There's a free parking just in front of the house. If you like to wake up with the sound of animals but being, in the same time, in the center, this is the best place you can choose. Teresa and her parents were extremely gentle and kind. They give us all the informations we nedeed. 5 stars
Luis
2016-06-27T00:00:00Z
Espaço muito acolhedor mesmo no centro de Caminha. Jardim muito agradável e ambiente sossegado. A D. Teresa e a sua mãe foram super disponíveis e muito prestáveis durante toda a estadia. A repetir!
susana
2016-06-29T00:00:00Z
Typ pokoje
Celý dům/byt
---
Typ nemovitosti
Byt
---
Ubytuje
2
---
Ložnice
Caminha, Viana do Castelo, Portugalsko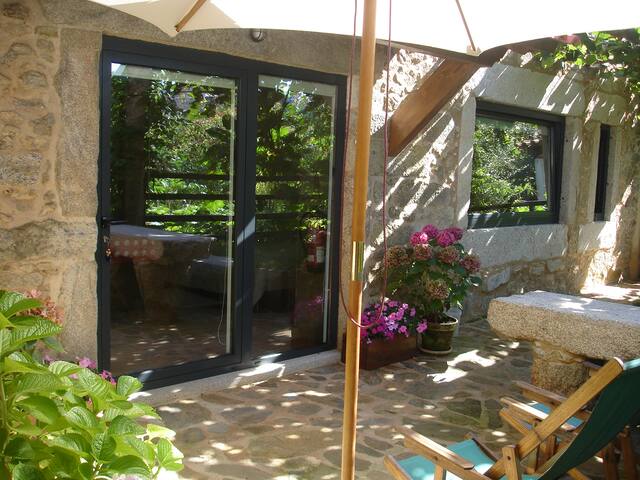 The accommodation New apartments T1, with parking spaces, excellent finishes and high quality furnishings with modern decor. Fully equipped (kitchen, bed linens, bath towels) and central heating.
La experiencia ha sido muy buena. Muy buen trato un apartamento nuevo y muy cerca del centro de caminha.
elena
2016-07-26T00:00:00Z
A 200 m da praça principal de Caminha. (URL HIDDEN) garagem.
José
2016-08-29T00:00:00Z
Sim.
Filipa
2016-08-08T00:00:00Z
Como en no casa, sitio muy nuevo y tranquilo y a dos pasos del centro
jose
2016-08-04T00:00:00Z
Our host was really efficient and explained how everything worked she was very friendly and was flexible about checkout time. The apartment was very clean and comfortable. It was in a quiet neighbourhood but really close to the town centre and station. Perfect for a weekend break.
Joanna
2016-07-11T00:00:00Z
Typ pokoje
Celý dům/byt
---
Typ nemovitosti
Byt
---
Ubytuje
4
---
Ložnice
Caminha, Viana do Castelo, Portugalsko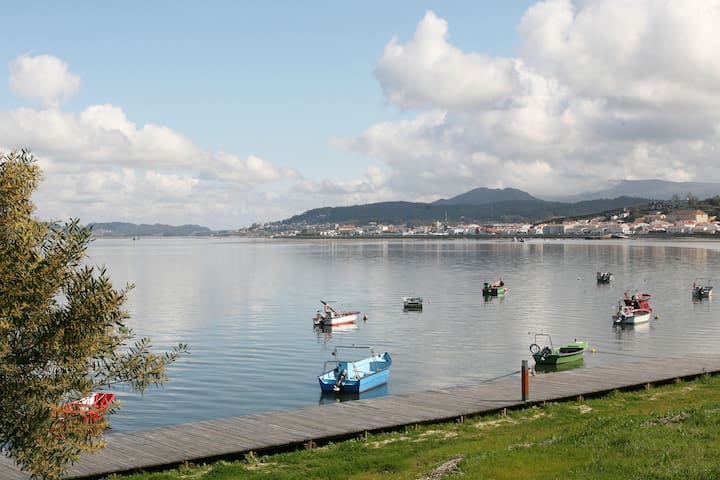 Apartment on the ocean front avenue of the charming and typical town of Caminha, facing the mouth of the Minho River, offering the best sunset spot in Portugal. Located precisely half way between the beach and the town center. Be welcome! TP20184/AL
Apartment on the ocean front avenue of the charming and typical town of Caminha, facing the mouth of the Minho River, offering the best sunset spot in Portugal. Located precisely half way between the beach and the town centre (1km), guests are free to use our bicycles to get around. The apartment has 2 bedrooms with a double bed and one single sofa bed in the lounge. The kitchen is fitted with: stove, oven, fridge-freezer, microwave, toaster, coffee maker, and all the small kitchen appliances needed for a comfortable and practical stay. Equipped with 1 full bathroom. Free parking in closed garage for 1 car. The apartment is on the 3rd floor, in a building without a lift. Welcome to our apartment! Registed in Turismo de Portugal, I.P. nº TP20184/AL
El apartamento tiene unas vistas preciosas, está cerca del centro,donde tomarse un café,un buen pastel o una francesinha es todo un placer. Para cenar ''O portao'' está genial y para degustar unas cervezas ''Noterreiro''. Totalmente aconsejable.
Omar
2017-01-23T00:00:00Z
Close to everything and a beautiful view
Heidi and Willem
2017-02-05T00:00:00Z
Ubicación en general buena, cerca del centro. Aparcamiento sencillo. Se agradecería lavadora y wifi. Gracias.
fernando
2016-09-01T00:00:00Z
O apartamento têm tudo o necessário para uma estadia maravilhosa em Caminha. Super bem localizado, perto da praia e perto do centro da cidade. Acordar de manhã com vistas para o rio, é sem dúvida a mais valia do apartamento. Os anfitriões foram muito simpáticos e flexíveis em relação aos horários, e fizeram nos sentir em casa. Sem dúvida uma experiência a repetir, e aconselho a todos os que quiserem conhecer esta cidade.
Soraia
2016-05-04T00:00:00Z
Em poucas palavras diria fabuloso. Para além da total disponibilidade e simpatia dos donos a casa tem tudo o que precisa. A sala e os quartos são espaçosos e confortáveis. Os quartos são muito confortáveis e a sua decoração é brilhante. A garagem deu-nos imenso jeito para guardar as 3 bicicletas (mais 2 dos donos que as disponibilizam). Por fim a vista... ai a vista.... ai o Rio Minho... ai o nascer e o pôr do sol, o cheiro..... Se voltamos? Obviamente que sim! Pode ser já amanhã?
Francisco
2016-09-05T00:00:00Z
Typ pokoje
Celý dům/byt
---
Typ nemovitosti
Byt
---
Ubytuje
5
---
Ložnice
Caminha, Viana do Castelo, Portugalsko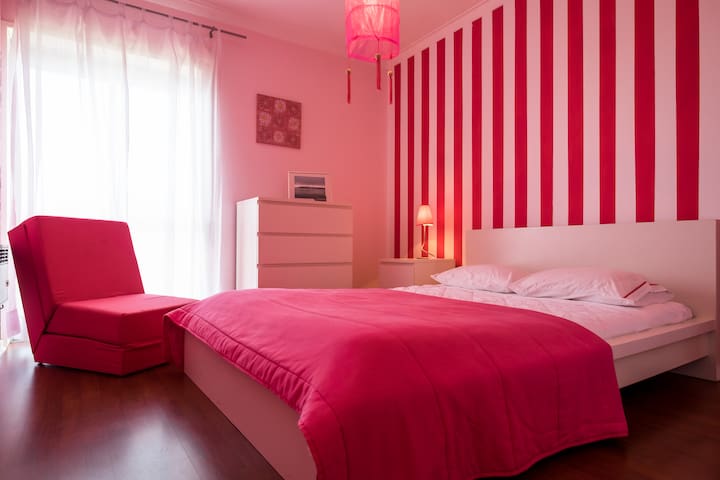 O meu espaço fica perto de centro de caminha (7min a pé) onde há restaurantes, lojas, bares e a estação do ferry boat para a travessia para Espanha. A praia de Moledo fica a 5 min de carro e a cidade de Viana de Castelo a 30 minutos de carro. Vai adorar o meu espaço pela excelente vista sobre o rio Minho, conforto e centralidade. Em Caminha as pessoas são simpáticas, o ambiente é animado e há uma ampla oferta de entretenimento. O meu espaço é bom para casais, famílias e grandes grupos.
A Leonor foi uma anfitriã impecável! Sem complicações e sempre pronta a ajudar deixou-nos completamente à vontade. A casa é bem equipada e muito asseada! Recomendo.
Tomás
2017-01-02T00:00:00Z
Typ pokoje
Celý dům/byt
---
Typ nemovitosti
Byt
---
Ubytuje
6
---
Ložnice
Caminha, Viana do Castelo, Portugalsko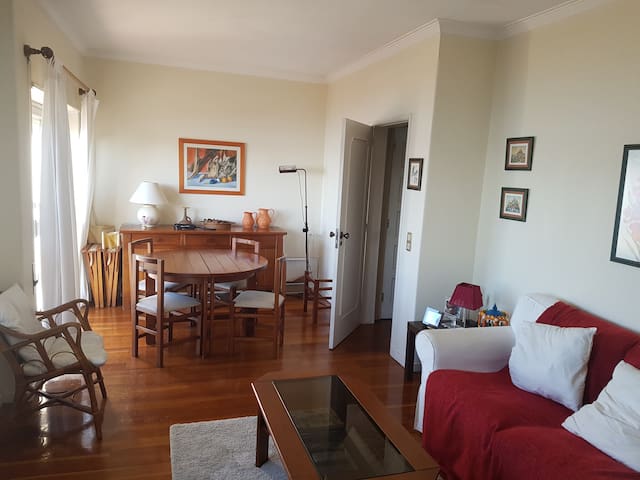 O nosso apartamento está localizado numa zona bastante calma e central da Vila de Caminha. É um apartamento espaçoso e muito iluminado, com dois quartos, um dos quais é suite. É o local ideal para umas férias que combinam praia e campo, numa vila muito pitoresca e animada! Alojamento local n.º 40628/AL
Perto do apartamento existem muitos cafés, pastelarias e alguns restaurantes, supermercados e mercearias, papelarias, mercado municipal e um parque público, onde os mais jovens podem brincar livremente.
Typ pokoje
Celý dům/byt
---
Typ nemovitosti
Byt
---
Ubytuje
5
---
Ložnice
Caminha, Viana do Castelo, Portugalsko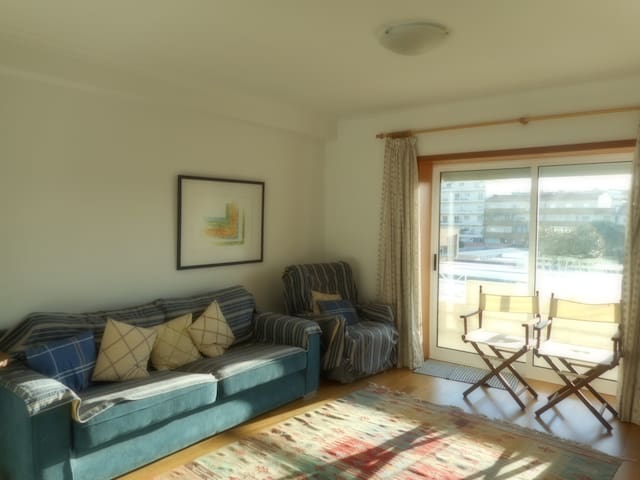 Apartment located by the River Coura, just 200 meters from the center of Caminha. On a quiet street, it allows quick and easy access to the sea, river or mountain. Spain is also at hand, only a 10 minute crossing by ferryboat.
Apartment, ground floor, fully equipped with access for people with limited mobility and 200 m from the center of walks (the historic center, restaurants, bars, disco). Three beds, one double and two singles. Additional 4 places ( double mattress, double inflatable bed ou double sofa bed). Parking space, lift access and stairs. Room window and bedroom overlooking the river Coura, just across the street to be able to walk along the river, or even bathing. Only 5 minutes drive to the beach or 15 minutes up the mountain. 4 bicycles available for a short stroll to the beach. Museums and public libraries with free internet access (wifi and pc) at 200 m from home. Other benefits or amenities: TV-TDT (30 Portuguese and Spanish channels), CD or DVD. Train station 150 m, the Health Centre at 100 m, 100 m 2 cafes, banks 200m; Pingo Doce Supermarket traditional shops at 200m). Ferry to Spain (200m from home), public garden with exercise equipment and entertainment for children 150 meters from home).
Explicaciones completas, detalladas y en tono amable y facilitando comprensión y confianza. Limpieza y calidad fantástica. Muy fresco y tranquilo con fácil aparcamiento en la calle delantera. Tren próximo, pero sin problemas de ruido. Localidad muy agradable para estancas. Panadería diaria próxima y variedad de restaurantes agradables. Playas próximas bien equipadas y de fácil acceso. Supermercado pequeño a menos de cinco minutos a pie.
Álvaro
2016-08-22T00:00:00Z
Apartamento totalmente equipado, com roupas de cama e toalhas de banho. Ideal para casal com dois filhos. Excelente localização para quem quizer combinar praia com a exploração das belas localidades das zonas raianas do Norte de Portugal e Sul da Galiza. O apartamento fica numa zona muito tranquila, muito perto da estação de comboios, a 5 minutos a pé do centro historico de Caminha e principais restaurantes e bares. A praia de Moledo fica a 10 minutos de carro. Recomendo.
Orlando
2016-08-26T00:00:00Z
Vai ficar na memória, esta viagem a Caminha, e isso muito se fica a dever à forma como fomos recebidos em casa do Antonio e da Cláudia. Extrema simpatia e disponibilidade são a imagem que nos deixaram bem marcada. A atenção aos promenores revelaram que gostam de receber e fizeram-nos sentir, sem dúvida, "em casa". Apartamento excelente, amplo, com todas as comodidades, com fantástica localização, numa zona bastante calma. Para nós, que viajámos, desta vez, a trabalho, o António e a Cláudia proporcionaram-nos o melhor ambiente para nos podermos focar no que estavamos a fazer, o necessário descanso e a possibilidade de disfrutar inteiramente da experiência, que tencionamos, sem dúvida, voltar a repetir. Perfeito!
Paula
2016-08-14T00:00:00Z
Typ pokoje
Celý dům/byt
---
Typ nemovitosti
Byt
---
Ubytuje
4
---
Ložnice
Caminha Municipality, Viana do Castelo, Portugalsko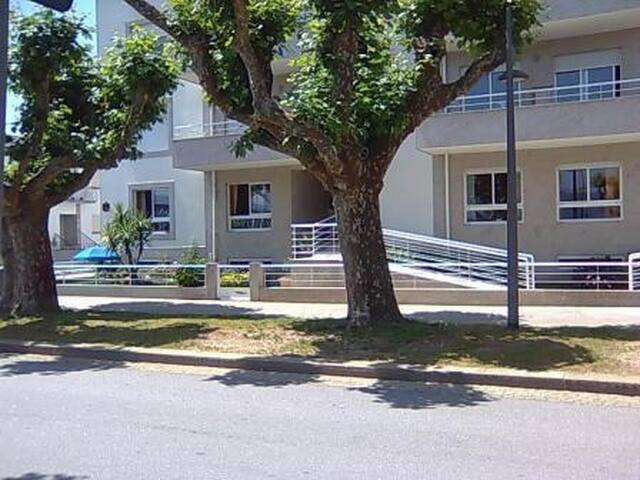 Apartamento familiar independente, situada no Centro Histórico de Caminha. Ideal para casal com/sem filhos passar umas férias relaxantes, junto ao rio, mar e montanha. A casa tem 2 quartos ( 1 é interior) 1 casa de banho, salas, cozinha e terraço. Existe um sofá cama onde podem dormir 2 pessoas.
A casa está situada no centro da vila, numa rua de charme e pedonal. Em frente existe uma loja deliciosa de chocolates.
"Mosaico de Paisagens" - é assim que se define Caminha, o concelho do litoral Norte de Portugal marcado pela beleza e pela diversidade. Limitado a sul por Viana do Castelo, a norte pelo rio Minho, a nascente pelos concelhos de Vila Nova de Cerveira e Ponte de Lima e a poente pelo mar Atlântico, Caminha tem a Galiza do outro lado do Rio (website hidden) uma área próxima dos 138 km2, o concelho é formado por 20 freguesias: Arga de Baixo, Arga de Cima, Arga de São João, Argela, Azevedo, Caminha-Matriz, Cristelo, Dem, Lanhelas, Moledo do Minho, Seixas, Venade, Vilar de Mouros, Vilarelho, Âncora, Gondar, Orbacém, Riba de Âncora, Vila Praia de Âncora e Vile. A paisagem é diversificada e a vegetação exuberante. O clima é temperado e agradável, com forte influência marítima, e a amplitude térmica média anual ronda os 15 graus (website hidden) magníficas praias, paisagens de rara beleza, serra e rios, o "mosaico de paisagens" é rico em termos ambientais, paisagísticos, recursos naturais, patrimoniais, culturais e gastronómicos.
Pleasant property. Ideally located in Center of a very pretty village. Our host was extremely friendly and welcoming. Apartment while a little dated had everything we needed. One of bedrooms has no window which some guests might find Claustrophobic. Pleasant terrace out the back. Our lovely host was kind enough to provide the makings of a light breakfast which was very much appreciated.
Mairead
2016-08-01T00:00:00Z
Fernanda is heel vriendelijke en vloeiend engels sprekende dame. Ze zorgde dat ons verblijf perfect verlopen is en gaf heel goeie suggesties voor surfschool en restaurants. Fernanda en haar echtgenoot zijn heel vriendelijk en behulpzaam! Ze doen er alles aan om het naar je zien te hebben.
Barber
2016-08-06T00:00:00Z
A very spacious apartment in a lovely central location. The master bedroom has the sunny balcony, the kitchen a small courtyard. Fernanda provided some cute toys and baby equipment for us on request and was helping out with things that were missing. She was very flexible even though we changed our plans on a short notice. For some it might be important to know that the second bedroom is lacking a window and the kitchen utilities need quite a shape up.
Stephanie + Christian
2015-09-07T00:00:00Z
Gostamos bastante :)
Joana
2016-07-22T00:00:00Z
We were visiting Caminha for 3 days and chose to stay at Fernanda's place. The house is well positioned in one of Caminha's main streets. The place is very spacious and has separate areas for cooking, dining and also includes outside space. Fernanda is a very warm and friendly host. She has even brought some home made cookies and made sure there was milk in the fridge. We enjoyed our stay.
Aiste
2015-09-29T00:00:00Z
Excelente receção do anfitrião. Localização muito central e espaço muito agradável.
Paulo
2016-06-27T00:00:00Z
Ficámos uma noite na Casa do Centro e gostaríamos de poder ficar muito mais. A casa está muito bem situada e é bem maior do que parecia nas fotos, com todas as comodidades, ideal para famílias com filhos pequenos. O quarto principal é muito agradável e confortável e todo o espaço é ótimo para relaxar. O pequeno pátio exterior é muito simpático e convida a fazer refeições ao ar livre. A cozinha, apesar de algo rústica, está equipada com tudo o que faz falta. A casa estava impecavelmente limpa e arrumada. A Fernanda, extremamente simpática e eficiente, estava à nossa espera e tinha tudo organizado para nos receber. Adoramos tudo e haveremos de lá voltar.
Júlio
2015-09-14T00:00:00Z
L'appartement était semblable à la description, Fernanda est une jeune femme absolument adorable qui a tout fait pour rendre notre séjour agréable
Danielle
2016-07-07T00:00:00Z
Typ pokoje
Celý dům/byt
---
Typ nemovitosti
Byt
---
Ubytuje
5
---
Ložnice
Caminha, Viana do Castelo, Portugalsko
2 bedroom apartment in walking in the river first line with spectacular terrace of 20 m with total privacy, completely renovated in 2014 with interior and exterior works! kitchen, new appliances. 3 parking spaces
Typ pokoje
Celý dům/byt
---
Typ nemovitosti
Byt
---
Ubytuje
4
---
Ložnice
Caminha, Viana do Castelo, Portugalsko
My accommodation is close to parks, art and culture, outstanding views, restaurants and the beach. Enjoy my accommodation for the view, the location, the people, the atmosphere and outer space. My accommodation is perfect for couples, solo travelers, business travelers, families (with children) and four-legged.
The host canceled this reservation 168 days before arrival. This is an automated posting.
Sérgio
2017-01-27T00:00:00Z
Typ pokoje
Celý dům/byt
---
Typ nemovitosti
Byt
---
Ubytuje
4
---
Ložnice
Caminha, Viana do Castelo, Portugalsko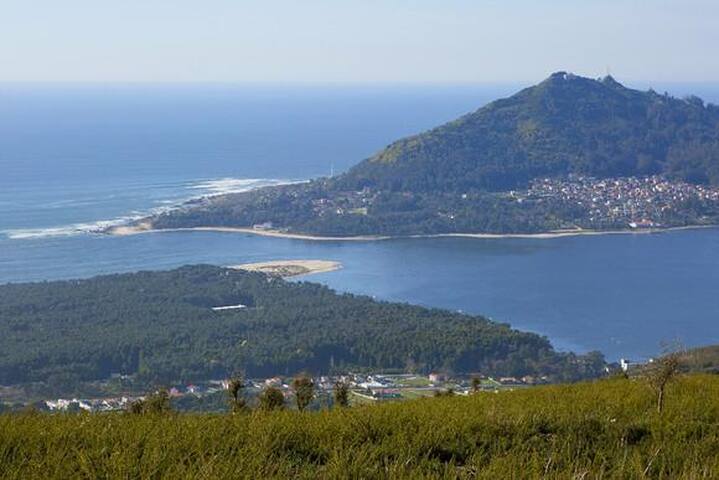 Dans une ancienne et rénovée ferme, un petit et charmant apartement avec 2 chambres, 1 salle de bain et une cuisine. Garage pour 1 voiture, piscine commune, terrasse, barbecue. 2.5kms de la plage. 2kms du centre-ville.
Charmant apartement dans une grande at ancienne ferme rénovée. Piscine commune. Table de ping-pong. Endroit calme. Excellent pour repos tout comme sports, sports d'été et tourisme. Très beau chemin romain pour accéder à la propriété. Eau de source continue (provenant d'une mine se trouvant dans la montage/forêt).
Très calme. Beaucoup de verdure. Excellents paysages. Accès à plage/océan/forêt/montagne/rivière avec eau cristaline, etc.
Très bon accueil à notre arrivée. Alberto et sa femme sont très gentils et disponibles en cas de besoin. Le logement est conforme aux descriptions. Les équipements extérieurs, piscine, jardin ont rendu les moments de détente sur place agréables. Du reste, Vila Praia de Ancora est sympa, avec sa grande plage et restaurants au bord de mer. Le Nord du Portugal a beaucoup de charme et de nombreux cites sont à découvrir. Un séjour en famille qui est passé trop vite ! A recommencer...
Betty
2016-08-15T00:00:00Z
Being perfectly honest about our stay, the house didn't really meet our hopes and expectations, and we chose to move on to another property before our booked week was up. Starting with the positives - the house was clean, the pool and gardens were attractive and we were given a warm welcome. However there were various problems including hard as nails lumpy pillows, no hot water for the first couple of mornings, a problematic oven, cutlery which fell apart in our mouths as we ate, the lack of any basics even down to salt and pepper to facilitate your stay...The owners did respond to us raising issues like the cold water which was appreciated although at times we were made to feel like it was somehow our fault. Admittedly the mediocre weather didn't help but we found the house dark and claustrophobic and it lacked the privacy we sought. Hey ho. Others who don't mind this might adore the place and it was certainly cheap. But we felt that it needed an injection of love and money to bring it up to what we would hope for on holiday.
Lucy
2015-06-29T00:00:00Z
Alberto and Luzia are the best host you can get. Extremely friendly and helpfull. We had a wonderful stay and their property is like a dream with characteristic old stone houses, a beautiful garden where you can enjoy appels, plums, pears, lemons and even passionfruits. Also the kids had a great time because they could go and run everywhere and may help with watering all the plants and flowers. Alberto and Luzia are also very child minded and brought us an extra childseat, bath and toys for them. We really felt at home and will definitely come back. Highly recommendable to other guests!
Stephanie
2015-08-04T00:00:00Z
Wir hatten eine wunderbare Zeit bei Alberto. Er und seine Frau waren sehr hilfsbereit und haben uns bei allen Anliegen geholfen. Die Anlage war sehr gepflegt und kinderfreundlich, in dem schönen Garten gibt es eine Schaukel für kleine und größere Kinder.
Kirstine
2016-07-24T00:00:00Z
Thankyou both for such a lovely time! Alberto and his wife are really kind and helpful people. I was really blown away by their wonderful farm. Since arriving back I have been sending the link to all my friends. My dad and I felt like we had discovered a little jewel. It was so tranquil and beautiful with so much nature to watch we felt totally relaxed. We will be back xx
Kathy
2015-06-17T00:00:00Z
Alberto and family made us feel very welcome in their lovely home and garden. The flat is self-contained but has access to their beautifully maintained garden, pool and ping-pong table that the children really enjoyed. There is a natural spring-fed pool outside and the whole place feel lush and green. The apartment itself is quite small and basic but this is made up for in the gorgeous surroundings, facilities and nearby access to the local village and amenities. The location is also stunning with views of the sea and the hills.
Mary
2016-08-20T00:00:00Z
We had a lovely stay in Vila Praia de Ancora. The gardens and pool were absolutely great - perfect for our two kids who spent most of their time in the pool. There were delicious plums in the orchard which our hosts kindly told us to help ourselves to. We found Alberto and his wife most helpful. The village itself is also very nice, situated right on the beach with plenty of restaurants. It is very close to the Spanish border so we went on a day trip, taking the ferry which was a great experience. We really enjoyed our stay.
Caroline
2015-07-04T00:00:00Z
Typ pokoje
Celý dům/byt
---
Typ nemovitosti
Byt
---
Ubytuje
4
---
Ložnice
Vila Praia de Âncora, Viana do Castelo, Portugalsko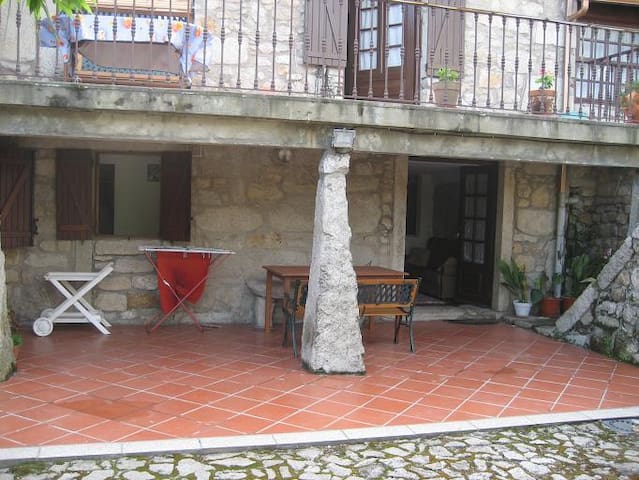 Nº 16395AL Luminosa casa no centro histórico de Caminha. Soalho em madeira, tetos altos, muito confortável. Cozinha equipada com placa de indução, máquina de café expresso, jarro elétrico, micro-ondas, torradeira, frigorífico. Secador de cabelo e ferro de engomar. A 2 minutos do rio e do centro de Caminha; a 10 minutos da foz do rio Minho. A 5 minutos da estação do comboio, 2 minutos da paragem dos autocarros e do ferry-boat.
No centro histórico de Caminha, lado a lado com a igreja matriz, o monumento mais relevante de Caminha, património nacional.
Perto de tudo: ótimos resturantes e cafés, praia, montanha (passeios pela serra de Arga), canoagem, feiras, exposições;, diversão noturna, bares. A 20 minutos de Viana do Castelo, a 70 m minutos (carro) do Porto, a 50 minutos (carro) de Braga. Espanha a 1km (ferry).
A Rosa foi muito simpática, a casa é extremamente acolhedora e central, as vistas são fabulosas. A casa estava limpa e corresponde em tudo à descrição e às imagens do anúncio. É daquelas casas que dá vontade de voltar numa próxima viagem ao Norte de Portugal.
Catarina
2016-02-29T00:00:00Z
Rosa stond ons al op te wachten bij het afgesproken punt. Zij is met ons meegelopen en heeft alles uitgelegd. Zij was ook direct bereikbaar toen bleek dat het broodrooster niet werkte. Toen wij 's middags terug kwamen stond er op de trap een nieuw brood rooster voor ons klaar. Hele lieve aardige verhuurster. Wij zaten ook dicht bij het centrum van het dorp waar je elke morgen lekker op het terras kan zitten met een kopje koffie, supermarkt zit ook erg dichtbij. Al met al fantastisch !!!
Therese
2016-09-23T00:00:00Z
We had a great time at the house of Rosa and Carlos. They are very warm and welcoming people. The house was really cosy, and just like the pictures. It was very clean and modern. Rosa made us feel very welcome, the coffee machine was ready to use, there were chocolats beside the bed, everyting was available. Next time we visit Caminha, we will return to the house of Rosa and Carlos.
Ellen
2015-10-26T00:00:00Z
Rosa and Carlos made us feel very welcome on our arrival in Camhina. They gave us a contact number and made it clear we should get in touch anytime if we neede anything. Their flat was just as described and we enjoyed a very relaxing and comfortable time there. Rosa and Carlos let us know about activities in the local area that we could not have found out about without local knowledge. We would highly recommend a trip to Camhina and a stay in Rosa & Carlos' lovely home.
rose
2016-06-12T00:00:00Z
Só podemos dizer maravilhas. Fomos muito bem recebidos pelos simpáticos donos da casa que por sua vez, para além de estar bem situada, está muito bem decorada com tudo o que é necessário para se passar um fim de semana ou mesmo umas férias em beleza. Resumindo, adoramos.
Paulo
2015-09-28T00:00:00Z
Fomos muito bem recebidos pela Rosa e pelo Carlos, fizeram-nos sentir em casa (sempre disponíveis e atentos ao mais pequeno dos pormenores). O espaço corresponde às expectativas, muito acolhedor, decorado com gosto e muito bem localizado. Recomendamos.
Ana & Paulo
2016-06-28T00:00:00Z
Rosa et Carlos sont tous deux infiniment sympathiques ! Ils sont venus nous chercher en voiture à la gare afin de nous emmener jusqu'au logement. Celui-ci est vraiment agréable et spacieux (plus que conforme aux photos), et bien situé. Les hôtes ont eu des attentions très touchantes, et ont tout fait pour que nous passions un bon séjour. Nous n'hésiterions pas à y retourner, et à recommander cette adresse !
Lena
2016-09-15T00:00:00Z
Casa excelente, limpa, cuidada e bem equipadas. Mesmo no centro de Caminha. Casal anfitrião muito simpáticos. A repetir...
António
2015-09-25T00:00:00Z
Typ pokoje
Celý dům/byt
---
Typ nemovitosti
Byt
---
Ubytuje
4
---
Ložnice
Caminha, Viana do Castelo, Portugalsko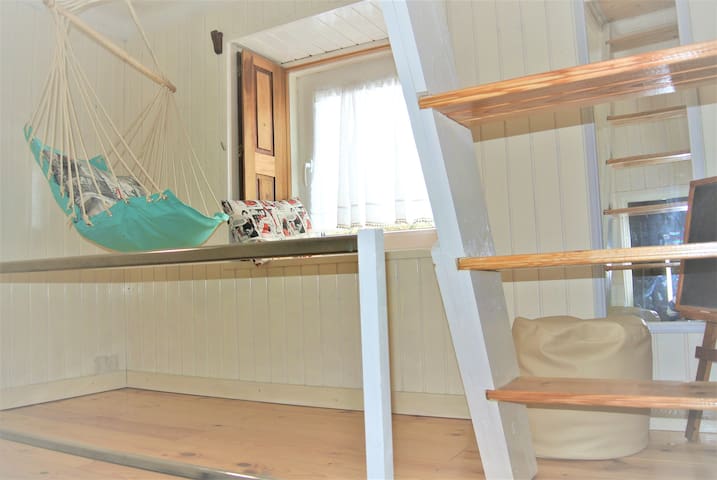 Apto com vista para o mar 10 min a pé da praia, 10 min a pé do centro da vila. Excelente gastronomia e bares nocturnos no centro da vila. Desportos náuticos e aluguer de bicicletas no cais da praia.
Apto com vista para o mar. Varanda espaçosa onde se podem fazer refeições com vista para o mar. Lotação 5 pessoas: quarto com uma cama de casal e segundo quarto com duas camas (uma de casal e outra de solteiro); ambos com vista para o mar; cama de bebé disponível. Toalhas de banho, lençóis e cobertores Toalhas de mesa, panos de cozinha e utensílios de cozinha (louças, panelas, etc) Aquecimento eléctrico Secador de cabelo Microondas Chaleira eléctrica Grelhador eléctrico Máquina de café Frigorífico Fogão com forno Máquina de lavar roupa Ferro de engomar Aspirador TV Leitor de DVDS
Typ pokoje
Celý dům/byt
---
Typ nemovitosti
Byt
---
Ubytuje
5
---
Ložnice
Caminha, Viana do Castelo, Portugalsko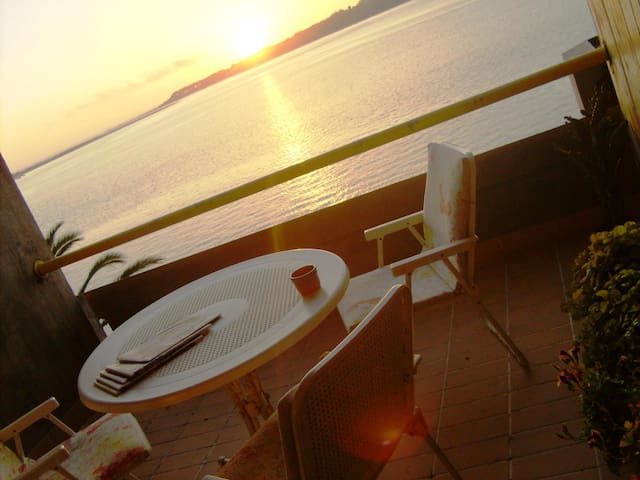 Apartment with one double bed and a bunk for 2 in the charming little village of Moledo. Architecture prize winning condominium with lots of green spaces, 100 meters from one of the most beautiful beaches in Portugal. Amazing balcony!
Es gibt einige Surf / Kitesurf Schulen im Dorf.
Our stay at Miguels apartment was a good one! Everything was as described. Especially the view was very pretty and we had a lot of beautiful sunsets from the balcony. There are some good restaurants in Moledo and also the beach is just a few minutes away and without problems reachable by foot. For our stay we have just one little negative point: the bathroom could be a little bit more cleaner. But all in one: we had a nice stay!!
Melanie
2016-07-30T00:00:00Z
The host canceled this reservation 160 days before arrival. This is an automated posting.
Kirstie
2017-01-21T00:00:00Z
We had a lovely stay in Moledo. The view makes the appartment a true value. Miguel is totally nice and accomodating.....Would recommend for sure.
Megan
2016-03-29T00:00:00Z
We had a very pleasant stay in Moledo. The balcony and the bedroom offer an amazing view to the sea. The handing over of the key worked perfectly.
Stéphane
2016-08-05T00:00:00Z
We received a very warm welcome from Miguel's mother Rosa Maria. The apartment is near to local facilities and provides great views of sunsets over the sea. Booking arrangements were easy and well communicated by Miguel We enjoyed Moledo and the friendliness of the local people, choice of beaches nearby and the charming Caminha.
Linda
2016-07-05T00:00:00Z
Nous avons passé un excellent séjour à Moledo dans l'appartement de Miguel. La terrasse sur laquelle donnent le séjour et la grande chambre est très confortable et la vue absolument splendide ! L'appartement est idéalement situé dans Moledo, très proche de toutes les commodités et des plages. Tout est accessible à pied ! Merci à Miguel et Rosa Maria d'avoir pris en compte nos contraintes de transport pour la remise des clés.
Stéphanie
2016-08-21T00:00:00Z
O apartamento está muito bem situado e a vizinhança é agradável. Tem óptima vista para o mar e bons acessos. O anfitrião foi sempre muito simpático.
Rita
2016-08-29T00:00:00Z
Typ pokoje
Celý dům/byt
---
Typ nemovitosti
Byt
---
Ubytuje
4
---
Ložnice
Moledo, Viana do Castelo, Portugalsko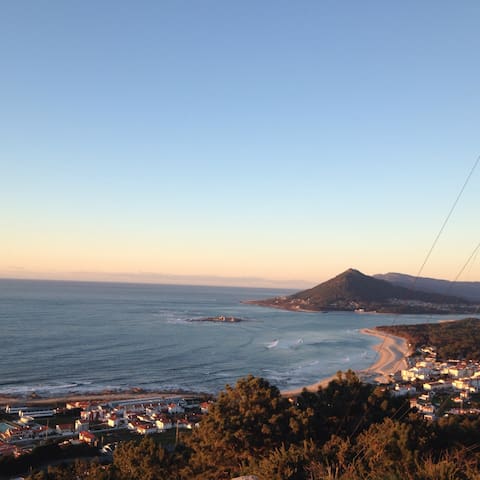 O meu espaço fica perto de da praia de moledo, de vila praia de ancora, de caminha, de espanha..., vida noturna, . Vai adorar o meu espaço por causa da tranquilidade total e da envolvência que consegue despertar os mais belos sentidos, uns jardins fabulosos, e pequenos recantos que nos convidam ao encontro com a natureza.. O meu espaço é bom para casais e famílias (com crianças).
Typ pokoje
Celý dům/byt
---
Typ nemovitosti
Byt
---
Ubytuje
8
---
Ložnice
Cristelo, Viana do Castelo, Portugalsko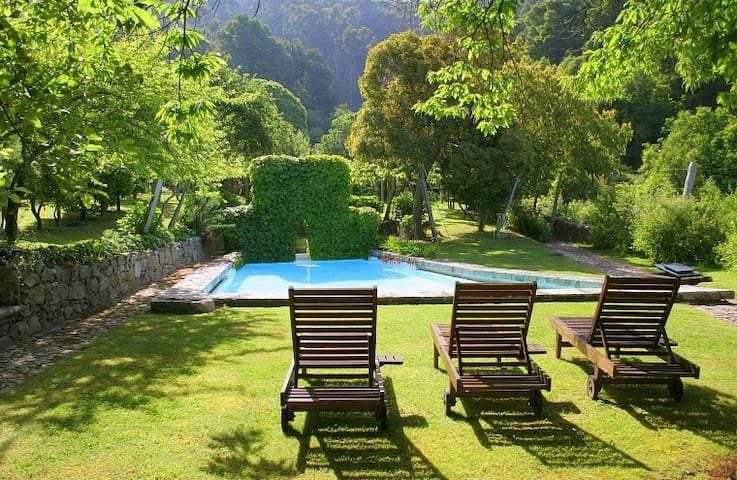 Dem - Airbnb
:
Průměrně

4.49

z

5

hvězdiček na základě

100

hodnocení hostů
Pro zobrazení celkové ceny zadej termín. Mohou být přidány další poplatky a daně.