Jedná se o dvoupodlažní dům na jednoduchém, moderní, pohodlné a světlé dekor. Mám dvě místnosti. Je umístěn v Dos Hermanas 15 minut jízdy od centra města Sevilla (pokud je to možné mi nevadí nést v autě). Můžete jet vlakem nebo autobusem trvá mezi 25-30min
I nabízejí komfortní ubytování až pro 3 nebo 4 osoby.
Muy buena experiencia en el piso de Ignasi, que fue súper acogedor y muy ayudante. Nos dio muchos consejos y nos ayudó para todo. Recomiendo completamente este piso que está bien situado, a poco tiempo del trén para Sevilla y muy limpio. Fue un placer! Hasta pronto quizás!!
coline
2017-04-12T00:00:00Z
The host canceled this reservation 27 days before arrival. This is an automated posting.
cristina
2017-04-06T00:00:00Z
Typ pokoje
Soukromý pokoj
---
Typ nemovitosti
Byt
---
Ubytuje
4
---
Ložnice
Dos Hermanas, Andalusie, Španělsko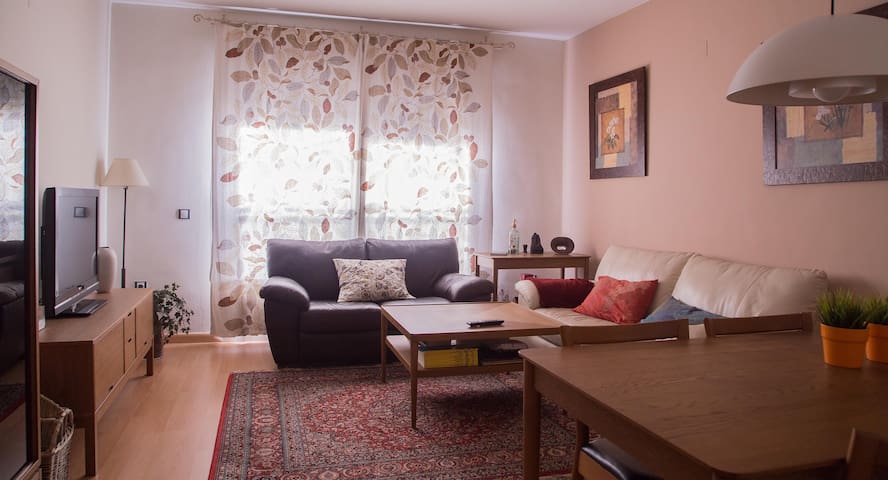 Apartment located in one of the best areas of Dos Hermanas. It is a quiet and well connected. The views are outside with pleasant green. The train station is a ten minute walk and the bus stop to visit both Seville and Dos Hermanas a few seconds. It is very close to shopping centers: Carrefour, Factory outlet, Movies, etc. It is a home that will allow you to relax and have all the amenities you need as if he were at home.
Typ pokoje
Celý dům/byt
---
Typ nemovitosti
Byt
---
Ubytuje
2
---
Ložnice
Dos Hermanas, Andalusie, Španělsko
It has large air-conditioned room. 1 air-conditioned bedroom with access to private patio, 1 heated room with two single beds, a sofa double bed in the living room. A bath and a cleanliness. Kitchen with all appliances and fixtures, with access to private patio. Storage room with washer and dryer. Sheets, towels and all the necessary items. It also has ample private parking for turimos large.
¡Nos ha encantado! El apartamento es estupendo. Muy amplio, tranquilo y con todas las comodidades para pasar unos días perfectos. Todo estaba impecable. Ana y su marido nos dejaron el apartamento completamente preparado para que nos sintiesemos como en casa y no nos faltase nada, ¡muy buenos anfitriones! ¡Recomendamos la experiencia y nosotros repetiremos!
Olga
2016-09-11T00:00:00Z
Hemos estado 2 adultos y 3 niños y hemos tenido una estancia muy cómoda. La casa está muy bien, destacaría la limpieza. Diego ha estado muy pendiente de nosotros. Totalmente recomendable.
Ana Belén
2017-01-05T00:00:00Z
Totalmente recomendable. Esperábamos buena estancia en base a los comentarios previos leídos y no nos ha defraudado sino todo lo contrario. Viajabamos con un bebé de 5 meses y todo han sido buenas atenciones con él y con nosotros.
María
2017-03-05T00:00:00Z
El apartamento nos encantó, es mas grande de lo que parece en las fotos, todo muy limpio y cuidado. Ana nos puso lo necesario para pasar unos dias, gel, (URL HIDDEN) agradece asi como agua, café, azucar... Muy buena experiencia, ibamos con dos niños y les gustó mucho su "casa de Sevilla".
Maite
2016-11-06T00:00:00Z
Great apartment close to Seville and quiet and comfortable. Beautiful interior. Great shower, lots of room modern decor. Would stay here again. Highly recommend. Host Ana was wonderful and easy to communicate with.
Jennifer
2017-04-12T00:00:00Z
Can't find any negatives except no wi-fi. Really wanted to move-in, not only staying couple of days! This place is perfect for furnished housing who has cars to commute to Seville or are looking for stay 'not-so-touristic'. Well renovated, large space.
Soojin
2016-10-30T00:00:00Z
Volveremos a repetir
monica
2016-12-17T00:00:00Z
bonjour le logement est fantastique tres grand pour une famille la situation a 15 minutes de seville super tres accesible l'hote tres acceuillante et chaleureuse je la remercie beaucoup .
redelsperger
2016-10-27T00:00:00Z
Typ pokoje
Celý dům/byt
---
Typ nemovitosti
Byt
---
Ubytuje
6
---
Ložnice
Dos Hermanas, Andalusie, Španělsko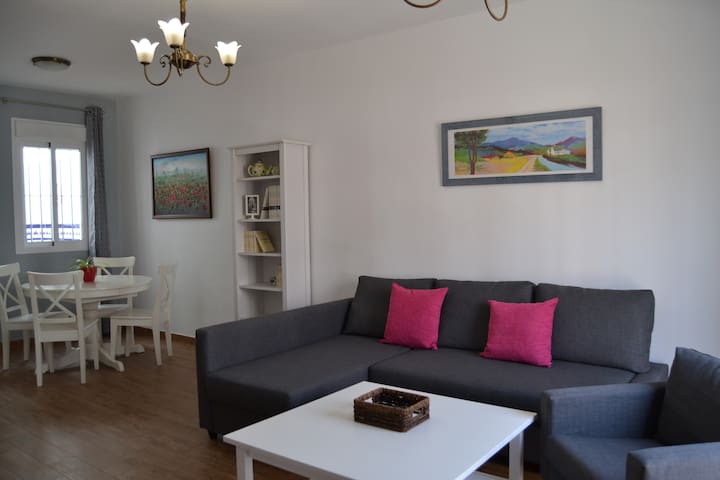 Attractions: restaurants and food and family activities, train for Seville near-renfe a 4-minute walk ideal for exploring Seville. You'll love my place because of the high ceilings, views, location, decoration and quality furniture. My accommodation is good for couples.
Antonio nos acogió con la sonrisa y es mostrado muy disponible a pesar de nuestra llegada tardía. Apreciamos su apartamento: fácil vivir, bien equipado, plaza de aparcamiento en céntimos suelo para el coche (un must) y el nec más extremista la cava, grande y abierta sobre las montañas de Granada. Guardamos preciosamente esta dirección. Gracias Antonio Antonio nous a accueilli avec le sourire et c'est montré très disponible malgré notre arrivée tardive. Nous avons apprécié son appartement : facile à vivre, bien équipé, place de parking en sous sol pour la voiture (un must) et le nec plus ultra la terrasse, grande et ouverte sur les montagnes de Grenade. Nous gardons précieusement cette adresse. Merci Antonio
Frédéric
2017-02-15T00:00:00Z
Recomendable.
Jose
2016-11-13T00:00:00Z
Ubicación buena , esta bien en plan de fin de semana turístico.
Ana
2017-01-28T00:00:00Z
Una estancia estupenda, el anfitrión muy agradable y dispuesto a ayudar. Recomendado 100%
Elvira
2016-10-16T00:00:00Z
very nice apartment and hospitable host
KAI
2017-01-02T00:00:00Z
Piso moderno, amplio y luminoso con plaza de garaje. Las terrazas enormes. El agua caliente del calentador sin problemas para varias personas. Frigo de dos cuerpos vitro aunque no he usado. Los colchones comodos. El barrio con comercios, bares etc. Cerca de Sevilla aunque hicimos vida solo en Dos Hermanas.
Miguel
2017-04-08T00:00:00Z
Good for a place to stay for a visit to Sevilla. Some reviews have mentioned wires in the bathroom etc- it just appears as though there's remodeling in progress, so it wasn't off-putting for us. Beds were comfortable and clean, and it's a quick walk to the train station. It's located right above a main road, so be aware that traffic noise can be heard throughout the night. Overall, a fine pick for a place to sleep and close to what we needed! Very easy to communicate with our host :) he was available via chat and (SENSITIVE CONTENTS HIDDEN) any time we needed anything.
Joshua
2016-11-15T00:00:00Z
El ático nos ha encantado, tal y como se describía. Tenía de todo lo que necesitábamos. Y el anfitrión super amable y atento con nosotras . Encantadas!
yolanda
2017-02-19T00:00:00Z
Typ pokoje
Celý dům/byt
---
Typ nemovitosti
Byt
---
Ubytuje
4
---
Ložnice
Dos Hermanas, Andalusie, Španělsko
Apartment located in downtown area of the town of Dos Hermanas, very close to the capital of Seville, about six kilometers away. Bright and equipped with everything needed to enjoy a comfortable stay. Well connected with Seville, just five minutes walk from the station and shops of all kinds, green areas, etc. Large areas of parking and views over the city.
The host canceled this reservation 10 days before arrival. This is an automated posting.
Prado
2017-04-11T00:00:00Z
Bien en general . Algo de ruidos
Juan Pedro
2017-02-20T00:00:00Z
Todo muy bien, excelente el trato del propietario, máxima flexibilidad en los horarios.
Marco
2017-01-28T00:00:00Z
Typ pokoje
Celý dům/byt
---
Typ nemovitosti
Byt
---
Ubytuje
5
---
Ložnice
Dos Hermanas, Andalusie, Španělsko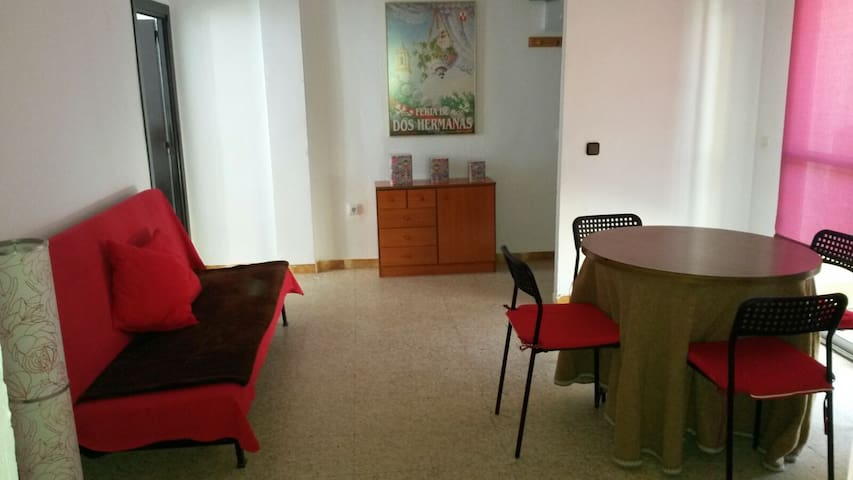 Precious apartment-studio. Para disfrutar de la paz y tranquilidad Con terraza privada. Disfruta del gran Jardin y piscina. A unos pasos del metro para llegar en unos minutos a Sevilla centro. Muy cerca de restaurantes supermercados, etc
Hello we are a family who love to meet new cultures and people. We live in a very quiet luxury. With social club, parks, hospitals, schools universities, etc In the large plot of our House, rent a beautiful Bungalow with fully equipped kitchen, bathroom, dressing room and a large terrace with dining area at the end of the same. It has its own entrance and independent exit to the street. The pool is much more healthy saltwater and enjoys with the rental of the bungalow. Just a short walk from the stop of the Metro of Seville. (and University Pablo de Olavide). The House has all the amenities to make the stay more pleasant possible: - internet access in the entire property and Wi-Fi - A\/C air conditioning with fresh air and cold - the district heating system has with cinema, restaurants, shops, bars, etc Is ideal for couples in a very quiet area on the outskirts of Seville, available for those who want a unique stay away from noisy centres of large cities with heat typical of this region, as well as be in metro a15 or 20 min. Seville Centre, is a well-connected area. If you are looking for it is to visit the beautiful city of Seville, sightseeing and then relax, enjoy and luxuriate in the terrace, garden and swimming pool. Then this is your place of holiday!
Cómodo y cuenta con todas los servicios necesarios y de ocio.
Sandra è davvero gentile e disponibile! L'alloggio a disposizione e gradevole e romantico, in una zona tranquillissima e servita (la metropolitana che porta in centro a Siviglia è a 50 metri!!!). Bello il giardino con piscina. Adorabili i 3 cagnoni che fanno le feste (di giorno) e la guardia (di notte). Consigliato!
Donato
2016-05-16T00:00:00Z
This was a good location to be able to get a bit of space, relaxation and see Seville as well. The train was very good. It's quite a quirky place but it has all you need and is decorated in a nice fashion.
Daniel
2015-06-02T00:00:00Z
Sandra's adorable bungalow provides all the comfort and convenience for a stay in Seville. Sandra is an excellent hostess, who made us feel welcome the moment we arrived. She had terrific suggestions for both local restaurant options and tackling Seville ( which must surely be the most livable city anywhere). And her three insanely cute dogs? They are just the icing on the cake! Thank you, Sandra! We shall be back!
Jennifer
2016-06-19T00:00:00Z
What a perfect stay we had! Sandra was such a pleasant host, extremely warm and helpful with metro/city sites etc - we really felt at home immediately. The cottage is cosy and peaceful and the pool was such a treat! The location of the house is impeccable; far enough away from Seville city centre for some peace and quiet but just a stones throw away from the metro service which takes you into the centre within minutes! The kitchen does not have an oven but is equip with all you need for a comfortable short stay. We really enjoyed our stay here and couldn't recommend it more highly. Sandra we thank you warmly! We are going to miss this little haven and especially Sandra's three very friendly dogs!
Isabelle
2016-07-14T00:00:00Z
Sandra is very nice and helpfull to us. We had a nice time in Sevilla and taking the metro nextdoor was great. Sandra, we are sorry: we still have your map of the city and the metro! Say Hi to your dogs! Greetings from Ad and Helmy
Ad
2016-04-07T00:00:00Z
An oasis. The Metro station a short walk away and just a 15 minute ride to the sights and restaurants of central Sevilla. Just don't miss the last train home at night! Last train times change between weekdays and weekends. Sandra and Joseph were wonderful hosts. We were made very welcome and Sandra was always available if we needed her help. The bungalow is very comfortable for a couple. We highly recommend this as a base from which to explore Sevilla, and a place to retreat to for some relaxation.
John
2015-05-23T00:00:00Z
It is a lovely peaceful place in a suburb nearby the metro to the center. This way we could combine relaxing at the pool with visits to Seville. We had a great stay and the host Sandra is very kind and supportive. You got to love dogs but furtermore we would surely recommand it.
Elmar
2015-09-25T00:00:00Z
The reservation was canceled 27 days before arrival. This is an automated posting.
Peter
2014-07-27T00:00:00Z
Typ pokoje
Celý dům/byt
---
Typ nemovitosti
Byt
---
Ubytuje
2
---
Ložnice
Dos Hermanas , SEVILLA, Španělsko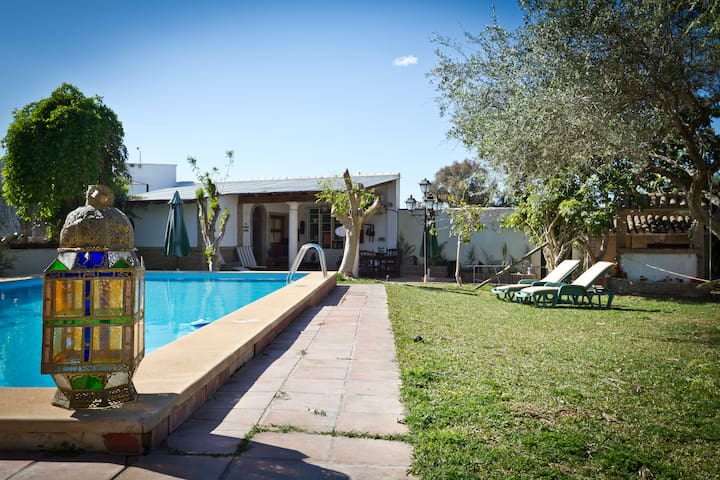 Large and comfortable apartment located in central area of Dos Hermanas (Sevilla). The train station is 5 minutes walk, like the bus stop. Located next to a pharmacy, bakery and several supermarkets The apartment is registered by the relevant public body as a holiday home. It has large air-conditioned lounge, air-conditioned rooms, bathroom, toilet, kitchen with all appliances and fixtures. You also have private parking.
La casa es tal cual se ve en las fotos, incluso mejor. Muy limpia y muy tranquilo tanto el barrio como los vecinos. Tiene todo lo indispensable para estar cómodos. Sin duda si el año que viene tenemos que volver a Sevilla será el primer lugar donde miremos para ver si esta libre. Gracias por todo Ana ha estado genial todo.
Marta
2017-03-19T00:00:00Z
El piso esta genial, muy limpio y con todo lo necesario para una estancia agradable. Ana y su marido fueron muy amables. Totalmente recomendable
Manuel
2017-03-12T00:00:00Z
Typ pokoje
Celý dům/byt
---
Typ nemovitosti
Byt
---
Ubytuje
6
---
Ložnice
Dos Hermanas, Andalusie, Španělsko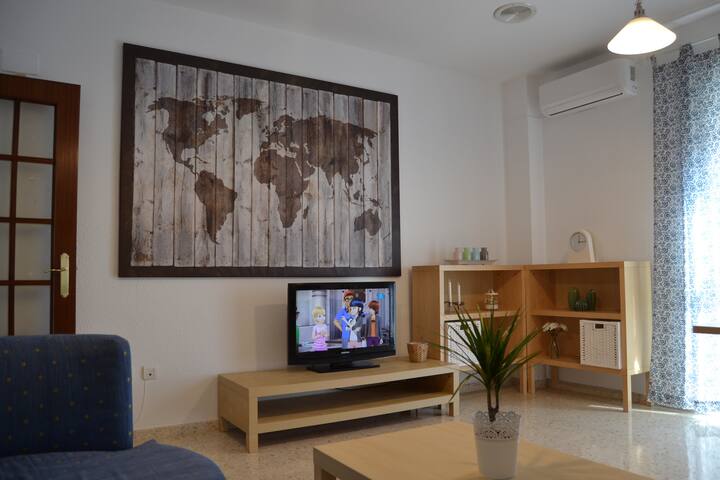 Apartment with WIFI 35 GB-about 50 m2, with swimming pool in summer and paddle all year. You have a private park in the urbanization. It is furnished with a bedroom and a bathroom, living abroad and kitchen. 1st pl with elevator and garage. Ideal for two people. Facing Factory, 100 m shopping center with shops type greengrocer, supermarket, croasantería, press, pizzeria and burger bars, restaurants, pharmacy. Dos Hermanas.
quiet, comfortable and cozy apartment cleaning is guaranteed. Well preserved.
A 15 min drive from Seville, without access jams. Online you get straight to the center of Seville without getting lost. About 20 minutes by bus, bus stop 50 m and 150 m factory free local bus that will take you to the center. Train station about 2 km in Dos Hermanas. Taxi stop 50 m. public park at 100 m. Shopping center with services, super, shops, bars 50 meters. Shopping 100 m. Multiplexes 300 m.
Trato muy amable, siempre disponible para cualquier consulta, se preocupa de que todo este bien. En cuanto a la vivienda, también muy bien, muy limpia y perfecta para una pareja. Muy fácil acceso a Sevilla en 15 minutos. Un 10 en todo.
Antonio
2016-03-27T00:00:00Z
Nous avons rencontré Jaime à notre arrivée. Très sympathique, il nous avait acheté quelques bricoles à grignoter car nous sommes arrivés le soir. L'appartement est très propre et bien aménagé et correspond aux photos, à part quelques changements au niveau du mobilier. Cet appartement est idéal pour y passer 1 ou 2 jours. Pour des séjours plus longs, comme nous, un mois, cela se complique un peu. La cuisine n'a pas de four. Les poêles sont abîmées et inutilisables. Nous avons dû en acheter une en arrivant. Le seul plat fourni ne rentre pas dans le micro-ondes. Une seule paire de draps pour un mois, et une serviette de bain. Un seul torchon. Heureusement nous avions prévu des torchons et du linge de toilette. Par contre pour les draps c'était un peu plus galère, car il n'y a pas d'endroit extérieur pour les faire sécher. Donc il reste le séchoir sur pied avec un radiateur électrique en dessous, pour faire sécher dans la journée. Pour ce qui est de la situation. Très bien situé, à condition d'avoir un véhicule. Quelques commerces à proximité. Un bus fait la liaison avec Séville en peu de temps. Le bus gratuit, mentionné dans l'annonce n'existe pas, ou plus. Situé au bord d'une 4 voies, qui permet de se rendre rapidement un peu partout. Il s'agit d'une zone d'immeubles. Le voisinage est assez bruyant. Entre les voisins qui font profiter de leur musique à tout le voisinage, les chiens qui aboient en permanence, et les klaxons quand les voisins des immeubles d'en face reçoivent du monde, et les voisins de palier qui se lèvent à 04H30 le matin, il faut choisir le bon moment pour dormir. Les propriétaires n'y peuvent rien, et les voisins non plus, l'immeuble n'a aucune isolation acoustique. Le gros point noir, est l'absence d'internet digne de ce nom. Les 3 premiers jours, tout fonctionnait très bien, mais en fait les propriétaires ne nous avaient pas dit que la connexion était limitée à 40 Go. Comme nous avions pris un abonnement pour recevoir la télé française, en plus de notre abonnement à Deezer, pour écouter la musique, et bien au bout de trois jours, plus rien. Donc nous avons payé nos abonnements pour rien. Ceux qui viennent en début de mois, ont une chance d'avoir internet, pour les suivants c'est aléatoire. Nous sommes restés 3 semaines sans internet. De plus, nous avons un système de vidéo surveillance de notre maison que nous n'avons pas pu contrôler. Impossible de faire de la visio-conférence à Noël avec les enfants. Je pense qu'il faudrait voir à changer ce système de connexion. En résumé, ce logement est très très bien pour une courte durée, et pour ceux qui n'utilisent pas internet. Nous étions venus pour tester un mois à Séville, car nous envisageons de revenir 3 mois l'hiver prochain, mais nous choisirons un autre logement, du fait de l'absence d'internet. Il s'agit d'un avis personnel. Certains peuvent avoir d'autres attentes que les notres.
Isabelle
2017-01-01T00:00:00Z
He pasado unos días con mi novio en casa de Jaime y la estancia ha sido genial, tanto él como su mujer han sido encantadores con nosotros y muy atentos. La casa es tal y como aparece en la descripción, muy limpia y agradable. Está a solo 15 minutos del centro de Sevilla en coche y el hecho de tener garaje es una gran ventaja. Además muy cerca de la casa hay un centro comercial, tiendas y restaurantes; y el barrio es muy tranquilo. Si volvemos a Sevilla sin duda repetiremos alojamiento. ¡Muchas gracias!
Elena
2016-03-23T00:00:00Z
Olimme neljä kuukautta täällä. 5/5 kokemus! Majoittaja oli todella mukava ja ystävällinen. Asuntomme ei ollut vapaana sinä päivänä, jolloin saavuimme Sevillaan ja majoittaja tarjoitui majoittamaan meidät omaan kotiinsa, missä saimme maittavan illallisen myös. Saimme erittäin hyvää palvelua kaiken kaikkiaan. Majoittaja piti huolta, että asunnossa oli kaikki tarpeellinen koko ajan, esim. talven lähestyessä hän kysyi tarvitsemmeko peittoja lisää. Ilmoitin myös, että nettiyhteys ei ole riittävä, jolloin hän lisäsi netin kapasiteettia. Keittiö oli melko pieni, mutta siellä oli kaikki tarvittava uunia lukuunottamatta. Asunto oli viihtyisästi kalustettu. Naapurusto oli rauhallista ja ympäristö oli muutenkin mukavan hiljaista. Bussipysäkki oli ihan vieressä, mistä pääsi helposti Sevillaan.
Jesse
2016-10-18T00:00:00Z
Очень хорошая маленькая квартира,в тихом районе.Имеет все необходимое для проживания.В шаговой доступности магазины,кафе,рестораны. Находится в 10 км от центра города.Есть своё парковочное место в гараже.Рекомендую всем кто едет в путешествие в Севилью.Спасибо Хайме за предоставленное жильё.
Svetlana
2016-10-30T00:00:00Z
The host canceled this reservation 3 days before arrival. This is an automated posting.
Iñigo
2015-12-02T00:00:00Z
La zona es a las afueras. Pero si vas en coche es tranquilo y tiene piscina garaje y muchas comodidades
ENRIQUE
2016-04-18T00:00:00Z
Muy contento con mi estancia en el apartamento de Jaime. El piso es agradable y estaba todo bien limpio, me sentí muy a gusto desde el principio. La zona está genial, tranquila, pero con supermercado, restaurantes, frutería, etc. a 2 minutos andando. El anfitrión muy amable y atento. En definitiva, un apartamento totalmente recomendable.
Enrique
2015-09-29T00:00:00Z
Typ pokoje
Celý dům/byt
---
Typ nemovitosti
Byt
---
Ubytuje
2
---
Ložnice
Dos Hermanas, Andalusie, Španělsko
Attractions: restaurants and food and public transport. You'll love my place because area very accessible to Seville, a few meters from train and subway connecting two sisters and Seville. A 10 min drive from Seville. private parking Supermarket just down plus pizzeria and other restaurants The best and exclusive area of the city. My accommodation is good for couples, adventurers, business travelers and families (with children).
El apartamento es más amplio que la media y se nota que el dueño lo cuida. Bien decorado, bien ubicado, cómodo y versátil. Buena televisión, cocina y amplio menaje. Cama muy cómoda y sofá excepcionalmente amplio y cómodo. Tal vez se echó en falta que funcionase el aire acondicionado a ciertas horas en las que el sol aún pega fuerte, pero por lo demás, perfecto.
M A
2016-09-25T00:00:00Z
Piso bonito, luminoso y muy céntrico y con proximidad de supermercado.
Carol Ann
2017-01-13T00:00:00Z
Bien ubicado para estar tranquilo! El piso coincide con lo ofertado, genial para dos personas! Cerca de bares, cafeterías y super.
Yoanna
2016-12-06T00:00:00Z
El alojamiento no estaba nada mal, aunque contabamos con el parking y dio la casualidad de que se habia roto la llave del garaje, tambien dio la casualidad de que javi tuvo que salir de urgencia el dia antes de nuestra llegada y la casa estaba medio limpio y un poco deosrdenada, pero por lo demas es un buen alojamiento,
Antonio
2017-02-19T00:00:00Z
Le logement est spacieux, agréable, confortable mais il est situé dans une rue passante.
Julie
2016-10-25T00:00:00Z
En general el piso y ubicación bien
Gabriel
2017-02-26T00:00:00Z
El apartamento es cómodo para ir a visitar Sevilla y sus alrededores. Se nota que el mobiliario es nuevo.
Vicente
2016-10-12T00:00:00Z
Logement très bien situé (à 10 mn de Séville) mais très très bruyant.
Lise
2017-04-01T00:00:00Z
Typ pokoje
Celý dům/byt
---
Typ nemovitosti
Byt
---
Ubytuje
2
---
Ložnice
Dos Hermanas, Andalusie, Španělsko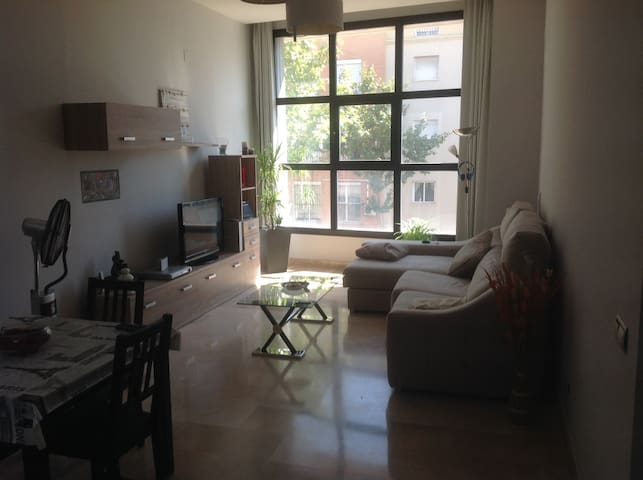 Ejendommen ligger i det centrale Dos Hermanas en sovekabine by til Sevilla kun 10 minutter væk med tog. Dos Hermanas gør prale flere gode restauranter og er hvor Valme og Rocio processioner passere. Feria overgås kun af Sevilla og er i løbet af maj. Fantastiske værdi. Se anmeldelser! trådløst internet
Rummet er en ny to værelses lejlighed i stueetagen. Derfor ingen trapper eller elevator. En jern indrammet dobbeltseng i ét rum og en dobbeltseng i et mindre andet soveværelse, som er futon stil på paller, kan lejligheden sove 2 par komfortabelt, eller fire venner eller en familie med 2 børn. En rejseseng er tilgængelig. Kæledyr er velkomne. Lejligheden har wifi internet en grundlæggende tv, dvd-afspiller der er også en usb slot til at se film på en usb stick og musik box. Der er ingen afgift for ekstra gæster. Prisen er den samme for en person eller 4 personer !! Underjordisk parkering er også inkluderet gratis - fantastiske værdi !! BEMÆRK: Lad mig vide, hvis du foretrækker det enkelt lædersæde i loungen eller de 3 biografbilletter se lounge fotos.
Kvarteret er meget fredeligt og alligevel central med togstation 10 minutters gang væk med forbindelse til det centrale Sevilla. Det er en stor Jazzbar 2 minutters gang "Soberao Jazz" Dont gå til Sevilla provinsen bor der, selvom det bare for en nat!
Mario was great at communicating with us and kindly arrived an hour earlier to check us in when we arrived earlier than we thought. There is parking under the building which is fabulous and a supermarket less than 2 minutes walk from the apartment. Dos Hermanas has loads of bars, cafes and restaurants and we used the bus service into Seville several times which is only 1.65€ each way. The apartment itself is basic, however it would be ideal for a couple/ two friends who are just looking for somewhere reasonably priced to sleep for a couple of nights whilst they enjoy the delights of Seville.
Tom and Nikki
2016-11-18T00:00:00Z
Mario was really nice and helped us with the directions and map. The house wasnt far from Seville amd it was pretty convenient to stay there and visit seville. The house wasnt clean and it could be more organized.
ava
2016-05-13T00:00:00Z
Mario was a fantastic host, very easy going and friendly, he wait for us at the apartment and gave us some recommendations to have dinner around, the flat its convenient, specially if you drive as Seville is a bit nightmare with car, so we left the car at the parking at the flat and use train, that it's less than 10 minutes walking very easy and cheap wait to explore Seville Thank you Mario Mario fue muy atento y nos estaba esperando en el apartamento, este es como en las fotos, esta muy bien y tienes parking propio, que si vas conduciendo a Sevilla es muy cómodo, nosotros. Utilizamos el tren para explorar la ciudad que esta a menos de 10 minutos andando del apartamento. Garcias Mario
Pedro
2016-04-02T00:00:00Z
Zona tranquila. Nada más llegar, Mario llegó en menos de 5 minutos a darnos las llaves. Parking incluido, importante ya que es pleno centro y sería difícil aparcar. Hay un supermercado (Mercadona) a escasos 50 metros. La casa tiene lo necesario para dormir, nosotros solo estuvimos una noche, pero se duerme bien
Carlos
2016-04-23T00:00:00Z
Hola Mario Muchas gracias por el detalle del vino y el desayuno . Muy bien situado vuestro apartamento , solo le faltaba la cortina de ducha . Un saludo Eve y Josep
Eve
2015-05-04T00:00:00Z
Gran atencion del Señor Mario, muy agradable su trato con nosotros, una casa excelente para pasar unos dias en familia y amigos, muy recomendable por mi parte y volveremos a repetir, de eso estoy seguro!
Manuel
2016-05-16T00:00:00Z
A colleague of mine and I stayed at Mario's flat during a school exchange. Mario was always helpful and waited for us in the flat when we arrived. He even bought some things for breakfast for us, which we found very nice of him! The apartment is very central and has everything you need.
Simon
2016-03-17T00:00:00Z
Mario was a great host and provided is with all we needed (including a bottle of cava to celebrate our recent wedding, which we unfortunately left untouched as we don't drink alcohol). The house itself is spacious and well equipped, the bed was very comfortable, and the surroundings are quite. If you are trevelling to Sevilla, know that its a bit far away, yet quite reachable. A 10 minute walk to the train station, and 4 euro two-way ticket will take you to San Bernard station with less than 20 minute train ride. If you are coming with a car, Mario has a private garage - a rare thing in Spain indeed.
Michael
2016-10-16T00:00:00Z
Typ pokoje
Celý dům/byt
---
Typ nemovitosti
Byt
---
Ubytuje
4
---
Ložnice
Dos Hermanas, AL, Španělsko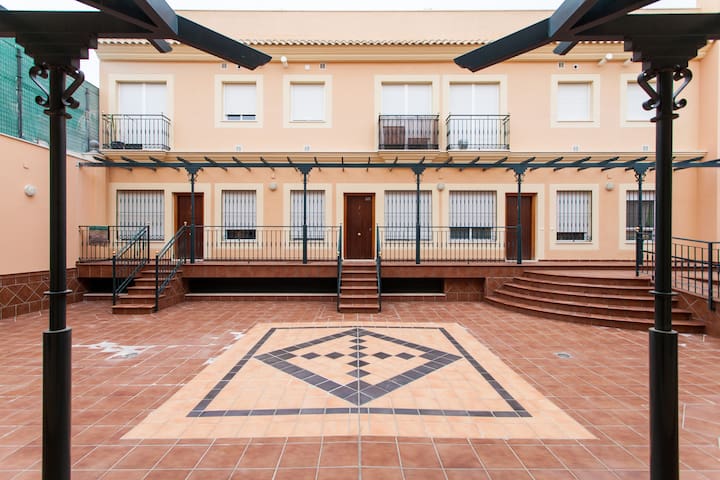 Apartment Super spacious and bright. Ground floor, with easy access, large kitchen and lounge incorporated. 180 * 200 bed and bathroom with tub. Brand new apartment with modern decor and brand new, with parking. A 1 minute station, 10 of Seville. Super spacious and very bright apartment. Ground floor, with easy access, large living room with built-in kitchen. XL bed. Full, new apartment with modern decoration. 1 minutes from the train station and 10from Seville
Square and pedestrian zone, bars. TV has led, wifi, digital scales, sphygmomanometer, Iron, coffee capsules to make your stay more comfortable. One minute from the main train station to go to Seville. Laundry service is available (this preliminary final payment).
Typ pokoje
Celý dům/byt
---
Typ nemovitosti
Byt
---
Ubytuje
2
---
Ložnice
Dos Hermanas, Andalusie, Španělsko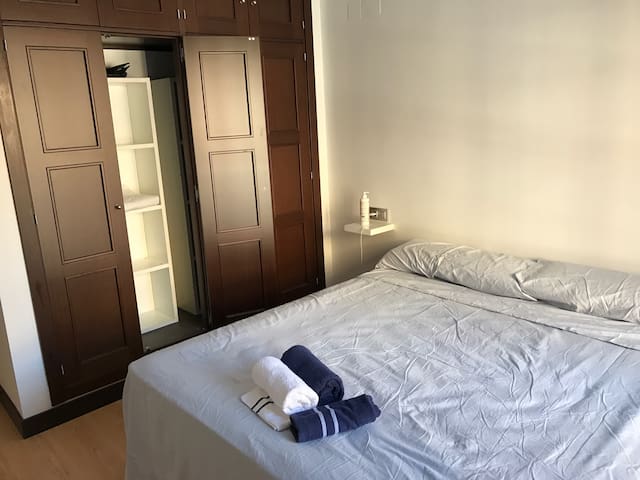 small room with closet to accommodate a person in short term or long term
Acogedor y amabilidad de la anfitriona.
Jesus
2017-03-18T00:00:00Z
Typ pokoje
Soukromý pokoj
---
Typ nemovitosti
Byt
---
Ubytuje
1
---
Ložnice
Dos Hermanas, Andalusie, Španělsko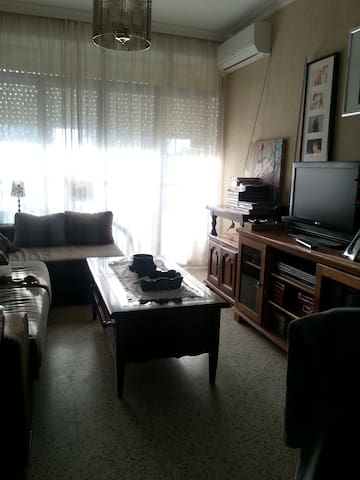 Vous allez adorer mon espace pour l'emplacement. Mon logement est bon pour les aventuriers et les voyageurs d'affaires.
Typ pokoje
Soukromý pokoj
---
Typ nemovitosti
Byt
---
Ubytuje
1
---
Ložnice
Dos Hermanas, Andalusie, Španělsko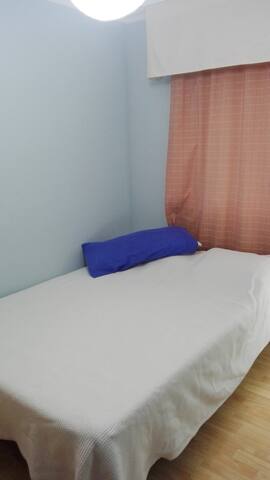 Byt se nachází v severní části města Sevilla Dos Hermanas. Za pouhých šest kilometrů od hlavního města. Dobré spojení s veškerou občanskou vybaveností v docházkové vzdálenosti. Také to má velkou parkovací místo, kde mohou parkovat až dvě médií vozidel.
Typ pokoje
Celý dům/byt
---
Typ nemovitosti
Byt
---
Ubytuje
5
---
Ložnice
Dos Hermanas, Andalusie, Španělsko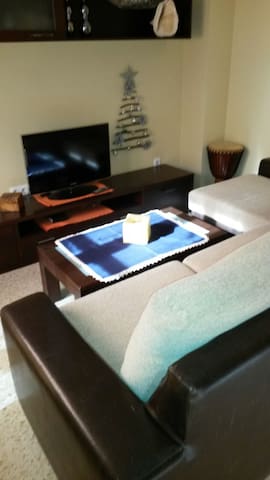 Il est une belle chambre dans un appartement partagé, très bien relié à Séville. A 5 minutes de la gare
Typ pokoje
Soukromý pokoj
---
Typ nemovitosti
Byt
---
Ubytuje
2
---
Ložnice
Dos Hermanas, Andalusie, Španělsko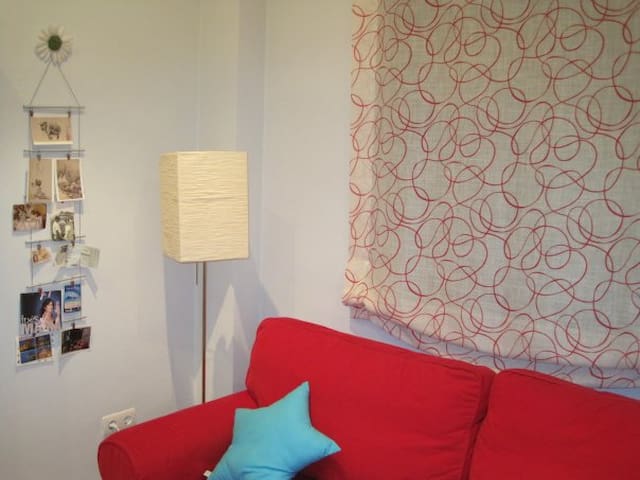 It has spacious living room with sofa bed (double), kitchen, bathroom and 1 bedroom apartment. Beside stop of metro Condequinto all services in the urbanization, Restaurants, Bars, Supermarket, Cups, Pharmacy. Parking possibility.
Live 15 minutes from the center with all services
High standing quiet area with all services. easy access
El anfitrión nos acogió perfectamente, como en casa. Y la zona, íbamos a ese pueblo a si que bien.
Ángel
2015-06-28T00:00:00Z
The host canceled this reservation 2 days before arrival. This is an automated posting.
Gerald
2015-09-10T00:00:00Z
Buen trato, amable, nos vino a recoger a la estación. Casa acogedora y bien comunicada gracias al Metro.
Javier
2015-04-05T00:00:00Z
Raul was very nice and helpful. The house has a good shower, comfortable bed and a nice sound bar.
Simão
2016-04-25T00:00:00Z
Dès notre arrivée, Raul nous a offert un café et une boisson, on avait l'impression qu'on était de vieux amis dès notre arrivée ! Raul est un hôte très amical et très disponible. Alors qu'on buvait notre coup en terrasse, il nous a décrit toutes les choses à visiter et à savoir sur Seville, comme par exemple les moyens de transport à utiliser, les sites à voir, les restaurants... Il est facile de se garer proche de chez lui gratuitement mais si on veut il peut proposer aussi un garage privé. Ensuite il nous a montré l'appartement qui est très propre, grand, très bien équipé, bien situé ( on est très proche de la station de train pour aller en ville ). Le quartier est calme, restaurants et supermarchés en bas du building. Raul est quelqu'un de discret et fera tout pour vous mettre à votre aise. On recommande très fortement !
Maxime
2015-08-23T00:00:00Z
Una vez mas estancia increíble. No tienes desperdicio el apartamento!! Inmejorable estado, con todo disponible y Raúl, que decir, que es súper amable y súper atento. Otra vez mas repetiremos!!!
José María
2014-11-29T00:00:00Z
La casa super limpia y super cuca!! El sofa-cama muy cómodoo!! Y ya Raúl la caña!! Muy buen anfitrión, acogedor y cercano. No podemos de decir nada malo de la experiencia. Repetiremos seguroo!!!
Nieves
2015-02-08T00:00:00Z
Nos encontramos un alojamiento en perfecto estado. Raúl se portó de 10 y nos dió todas las facilidades para pasar una Semana Santa perfecta en Sevilla. Repetiría sin pensarlo!!!
Hector
2016-03-26T00:00:00Z
Typ pokoje
Společný pokoj
---
Typ nemovitosti
Byt
---
Ubytuje
2
---
Ložnice
Dos Hermanas, Andalusie, Španělsko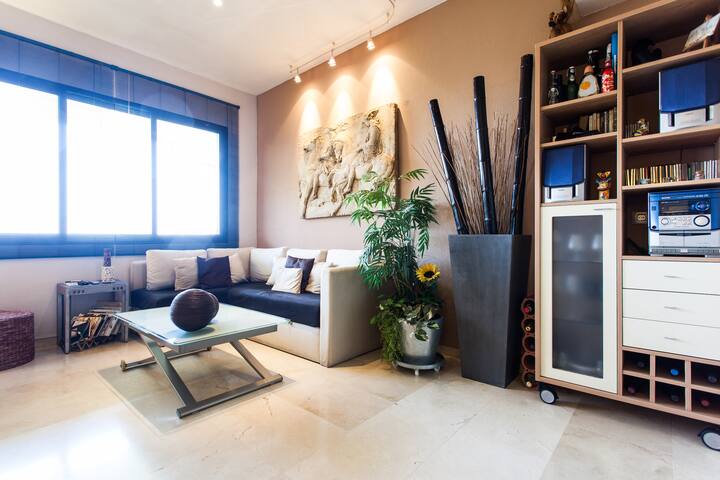 1

–

18

z

205 Pronájmy bytů
Pro zobrazení celkové ceny zadej termín. Mohou být přidány další poplatky a daně.