Come stay for a weekend or a week! You will love the private setting in the woods far from the road. Close to the area marinas and fine dining. Kayaks and bikes available. Large private deck for outdoor fun and BBQ. Cozy up to the wood stove (wood/starters provided) for that REAL log home feeling and romance. Hosts are on premises. Please, no pets.
Spacious 2nd floor apartment with outside entrance and large deck overlooking woods. VERY private. Not handicap accessible. Bedroom, Sun Room/Den, Full kitchen/Bar, no dishwasher. Bath with shower stall. No washer and dryer but laundry service available for a fee. There is a pull out sofa bed in the sunroom and a sofa as well for additional sleeping options.
Our cabin sits on 9 wooded acres which adjoins our neighbors wooded property and farm fields. You will see wildlife including deer, turkeys, rabbits, crazy squirrels, ect. A bird feeder near the deck always entertains. Area attractions include wineries, fine dining and marinas and swimming areas. This apartment is best suited for couples only as there are no amenities for children and also safety issues because it is on 2nd floor.
Dorothy and her husband made my dad and his friend feel extremely comfortable during their stay. They were so nice and had great hospitality. My dad will definitely be staying there again and I would definitely recommend them!
Toni
2016-10-22T00:00:00Z
Friendly hosts! We had a fantastic stay with a fully stocked kitchen and cozy bedroom and living room. We will definitely be back!
Jennifer
2016-12-26T00:00:00Z
Our host Dottie made us feel welcome and comfortable. The condition and appointments were much better than I had expected and I would definitely not hesitate to stay again or recommend it to friends and families.
Mike
2016-07-18T00:00:00Z
Great set-up - the entire second floor of a log cabin on a secluded 9 acre lot! We enjoyed the tranquility of the location as well as accessibility to interesting places to visit in the region. Dottie was a welcoming host and good communicator. The kitchen is well equipped with glassware, utensils, pots and pans... The fridge was well stocked too. Dottie dropped off party hats and noise makers for New Year's Eve! That was a fun surprise. Will come back and recommend to friends.
lynn
2017-01-04T00:00:00Z
Typ pokoje
Celý dům/byt
---
Typ nemovitosti
Srub
---
Ubytuje
2
---
Ložnice
Earleville, Maryland, Spojené státy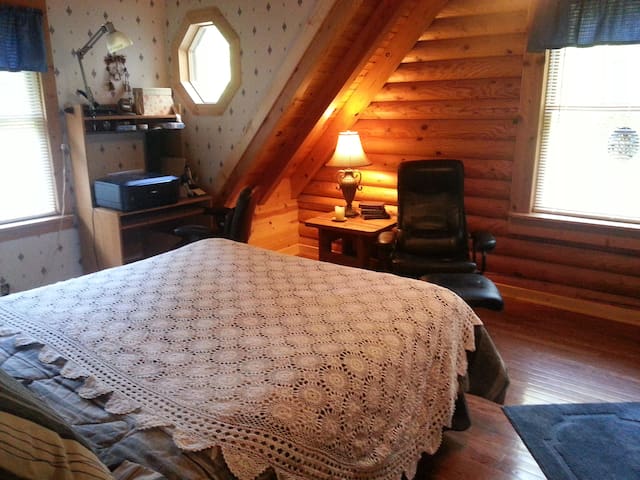 The Manor House at the Anchorage is the perfect venue for groups, big or small, to escape the hustle and bustle and enjoy our serene setting with breathtaking views of endless farmland. Nestled between Georgetown, MD, Chesapeake City, MD & Middletown, DE there is plenty to offer in terms of food, entertainment and activities! Come stay with us! :)
Typ pokoje
Celý dům/byt
---
Typ nemovitosti
Dům
---
Ubytuje
16
---
Ložnice
Earleville, Maryland, Spojené státy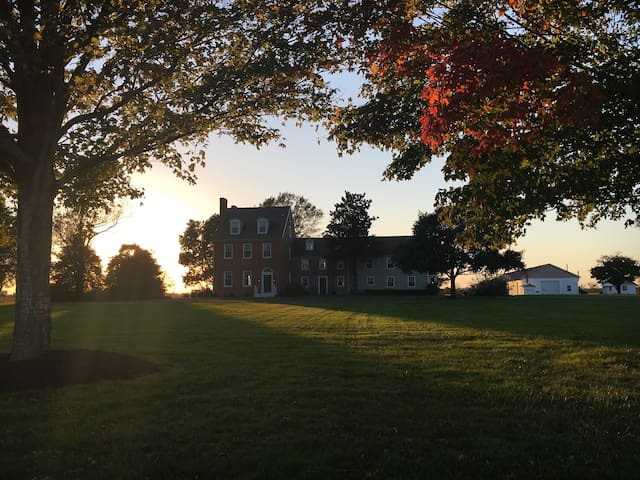 Peaceful cozy cottage with modern amenities along Bohemia River minutes from Chesapeake City. Great for a girls get away in the winter with bedrooms each with private bath. Huge kitchen and cozy living area with lots of space to gather and hang out!
Very cozy but with lots of private space too.
Enjoy the peace and serenity our home offers.
Peaceful, peaceful, peaceful. Our family thoroughly enjoyed our stay at Theresa's place. A family member made this statement: "You can tell that nice people live here." Good vibes all around. Our walks to the river were so serene. The location was ideal for what we wanted: a quiet spot near the water. Historic Chesapeake City was minutes away, as were the modern conveniences of Middletown, DE. Theresa was very responsive. We're thankful she was willing to share her home.
R. Phillip
2016-08-28T00:00:00Z
Great stay at the house. Everything was very organized. We got in really late and the door uses a code so it was super easy to get in and their directions were very clear. The house is super cute and the area surrounding it is beautiful. I would definitely recommend it!
Timothy
2016-11-14T00:00:00Z
The house is cozy and just what we were looking for -- a quiet place to stay with the feel of home. Great home base for our guys weekend, right by the water (though not on the water). There is no TV/cable or internet at the house, but that was not a problem for us. We had some issues with the water, but Theresa responded right away and was able to get it fixed at least temporarily for the rest of our stay. She was a fantastic host, very helpful and accommodating, from booking through to checkout.
John
2017-03-26T00:00:00Z
Great location and our host, Theresa, did everything to make our stay welcoming and enjoyable.
Noah
2016-11-25T00:00:00Z
Theresa's home was absolutely lovely. It was seven of us (5 adults, two kids ages 3 and 6) and the house was big enough for everyone to have their own space, but also cozy and nice to spend time together in. The porch is fantastic to chill, the back yard great for the kids to run around, the kitchen big (not a lot of pots and pans, but enough for us to cook our way through the weekend) and with a nice large dining table! the neighborhood is quiet and the river beach 5 minutes on foot. There might be things to do in nearby towns, but we never got to it, relaxing at home and the beach was the best we could ask for...
giovanni
2016-09-05T00:00:00Z
Theresa was responsive both before and during our stay with any questions and concerns. The cottage was a perfect weekend getaway, in a relaxing and peaceful area.
Esther
2016-08-22T00:00:00Z
Theresa was very attentive to our needs. She had a problem with the water resolved quickly. Great house for a quiet get-away! Love Hack's Point!
Reanie
2017-01-01T00:00:00Z
Theresa was wonderful. She was very accommodating and easy to communicate with. Whenever I had a question she answered within minutes. Very kind person and the house was wonderful with a beautiful yard and the surrounding areas are gorgeous. It's located in a very nice neighborhood, very quiet. I would definitely recommend staying here. :)
Kylie
2016-10-30T00:00:00Z
Typ pokoje
Celý dům/byt
---
Typ nemovitosti
Dům
---
Ubytuje
6
---
Ložnice
Earleville, Maryland, Spojené státy
PLEASE CHECK OUT OUR SITE ON VRBO. CHESAPEAKE CITY MD. QUIET BEAUTIFUL COTTAGE ON THE BOHEMIA. This site has all the info you will need. This is your opportunity to stay in a home only 45 min from philadelphia in a quiet setting.
Typ pokoje
Celý dům/byt
---
Typ nemovitosti
Dům
---
Ubytuje
6
---
Ložnice
Earleville, Maryland, Spojené státy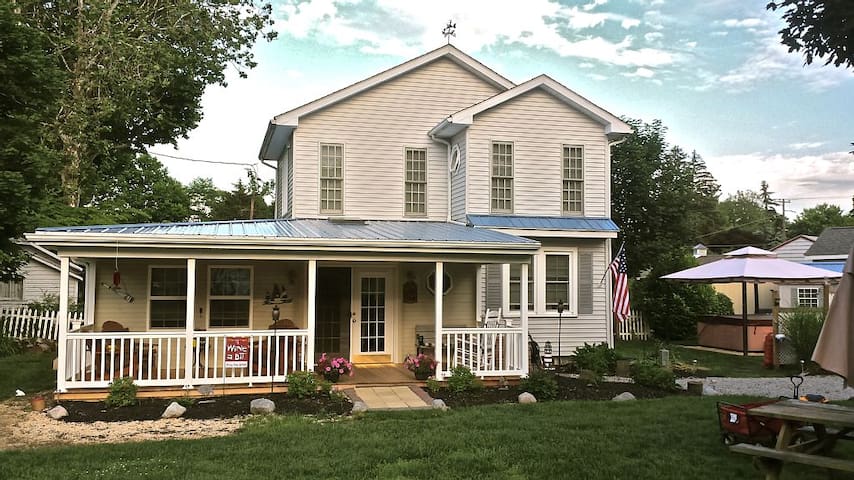 Genießen Sie die ruhige, ländliche Umgebung dieser einzigartigen Teleskop Haus. In Morgen Ackerland, das ruhig und beschaulich zu Hause hilft Ihnen, zu trennen und zu entspannen. Machen Sie einen Spaziergang auf der Straße zum Sassafras Fluss oder die Umgebung erkunden.
Dies war die ursprüngliche zweistöckige Gebäude der historischen Morton Hall (in den späten 1600 gebaut). Es wurde komplett renoviert und modernisiert. Unten befindet sich der private abgeschirmten Veranda, die in den großen Raum betritt. Eine kleine Schiefer Foyer führt in den Raum (ca.. 16 ft. X 20 ft), die das Wohnzimmer / Esszimmer / Küche mit einem schönen Samt Sofa, das als Schlafcouch verdoppelt. Viele Fenster über die Landschaft zu schauen und natürliches Licht. Gehen Sie nach oben (die Tasche Treppe mit) zum Schlafzimmer / Loft. Dieser offene Boden (ca.. 16 ft. X 20 ft.) Ist hell und riesig! Bis eine kleine Treppe (5 Stufen) ist das Bad - gorgeously gefliest mit einem großen, alle Glasdusche und ein Fenster, um die Aussicht zu genießen. Raum hat Doppelscheibe / doppelt aufgehängten Pella Fenster, oben auf der Linie GE Appliances, benutzerdefinierte alle Arten von Holz Schranksystem und Spa wie Badezimmer. Sie können nie verlassen wollen! Das King-Size-Bett im großen Schlafzimmer im Obergeschoss umfasst High-End-Bettwäsche und eine Auswahl an Kissen wie Feder, synthetische und Memory-Schaum. Ihr eigenes Badezimmer verfügt über eine übergroße Dusche. Toilettenpapier, Handtücher, Shampoo, Conditioner, Lotion, Zahnpasta und andere Gegenstände werden zur Verfügung gestellt. Offene Schrank ist geräumig und ermöglicht für beide gefaltet und hängende Kleidung. Zusätzliche Handtücher, Kissen, Decken und Bettwäsche sind hier aufbewahrt, zusammen mit einem Bügeleisen und Bügelbrett. Eine voll ausgestattete Küche umfasst Full-Size-Kühlschrank, Herd, Mikrowelle, Töpfe, Pfannen, Teller, Gläser, Besteck, Gewürze usw. Alles, was Sie brauchen, ein Gourmet-Mahlzeit zuzubereiten. Eine Keurig Maschine mit Optionen für Kaffee, Tee und (SENSITIVE CONTENTS HIDDEN). Papiertücher, Spülmittel, Schwämme und Handtücher sind im Preis inbegriffen. Fenster Klimaanlage im Schlafzimmer. Heizleiste elektrische Heizungen im gesamten oben und unten bieten Wärme bei kaltem Wetter. Genießen Sie den Morgen oder abends auf der ruhigen, abgeschirmten Veranda. Viel gute Parkmöglichkeiten.
Knapp 1/2 Stunde von Washington College und historische Chester (zahlreiche Festivals wie dem Chester Tea Party, Harry Potter Festival, Erster Freitag, Samstag Morgen Bauernmarkt Chester Jazz Festival, Riverfest). 15 Minuten von Crumpton Auction House (Mittwoch). 40 Minuten von Rock Hall (Pirates and Wenches Festival) 40 Minuten von Dover (Firefly Musikfestival, NASCAR, University of Delaware) 15 Minuten vom historischen Middle / Odessa (Trauben und Getreide Festival und Pfirsich-Festival).
Laurie was a great hostess, we felt very welcome! The space was fun and fresh but set in a 1600's house! It was perfect for what we needed, thank you Laurie!
Claire
2016-11-12T00:00:00Z
Communication with Laurie was great! Her place was very easy to find and check in was a breeze. Laurie herself is a wonderful host. She offered to cook us breakfast and asked us ahead of time if there was anything she should stock in the fridge. As for the space, although it was the space pictured, it wasn't exactly as we expected. The space was clean and the bed was very comfortable. It provided everything someone could need while traveling. If I had to take points off for something, it would be the excessive amount of flies in the house (although I don't think it had anything to do with cleanliness), the cumbersome stairs, the pungent smell of moth balls, and the smell of the water, which started out with an irony smell and turned into a sulfur smell. With that being said, I would stay there again.
Kevin and Heather
2016-06-21T00:00:00Z
Authentic county setting with true southern hospitality. We felt at home instantly. Our stay was fabulous. Blew away our expectations. Definitely coming back. Laurie had everything you needed from Home made awesome breakfast. (request the quiche) The coolest 2 floor unit with all the essentials you need from toiletries, coffee and games boards. The bed was extremely comfortable. Oh yeah the hammock in the nice patio yard with my beer in hand to watch the sunset topped it off. Enjoyed every minute.
tj
2015-08-31T00:00:00Z
We had a great stay at Laurie's retreat while visiting Galena for a friend's wedding in the area. The property is beautiful and tranquil. The apartment is private, modern, clean and plenty of space. Laurie even accommodated our 4 month old puppy, Truman. Laurie was an excellent host - she had some great recommendations and cooked us an incredibly delicious breakfast scramble, accompanied by cappuccinos. We loved the tour and history of her house, and her recommendations for afternoon activities were spot on (seriously, everyone should check out Chestertown's farmers market and downtown scene). All in all, a great location, property and host. We will be back if visiting the area.
Torin
2016-05-09T00:00:00Z
Laurie made us most welcome upon arrival and did not spare in going the extra mile- from chocolates on the pillow, to a tour of her beautiful historic home and a delicious, homemade, breakfast each morning. She also gave us our space when we needed to come and go. The listing is as described and we would highly recommend this gem to anyone looking for a nice place to stay and relaxation in a quiet nook in Maryland.
Sara
2015-09-14T00:00:00Z
Laurie's tranquil and relaxing escape was exactly as she described. In fact, Laurie went above and beyond to make our stay as comfortable as possible. She offered great suggestions on places to go and restaurants to try and we enjoyed our conversations with her over her homemade pineapple muffins and chocolate chip pancakes, bacon and scrapple (yum!), as well as drinks at sunset on the patio. She took into account any allergies we had and communicated with us easily and as much as we needed her to. The apartment was the perfect size and was comfy, quiet, and supremely relaxing, and the location was perfect for day trips to Delaware, Chesapeake City, and Rock Hall. We would stay at Laurie's again in a heartbeat.
Diana
2015-09-08T00:00:00Z
Typ pokoje
Celý dům/byt
---
Typ nemovitosti
Dům
---
Ubytuje
3
---
Ložnice
Galena, Maryland, Spojené státy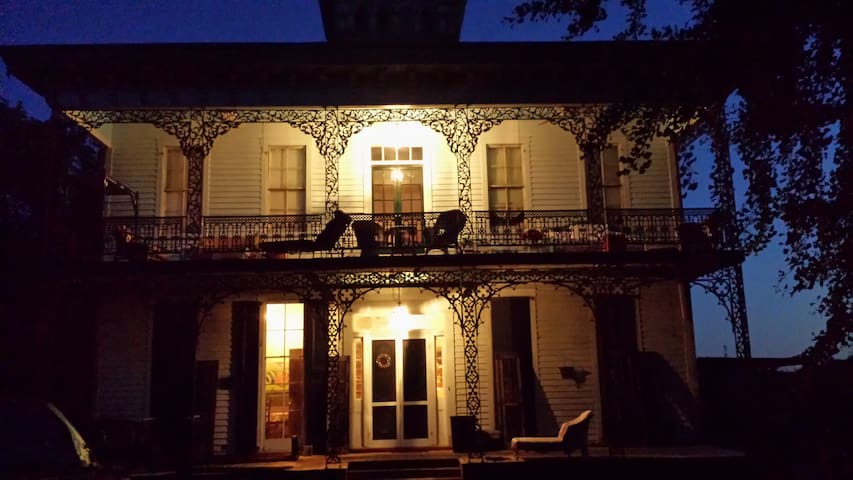 Einzigartige drei Schlafzimmer Kabine mit endlosen Blick auf das Wasser und handgearbeiteten Details
Eingebettet auf einer Klippe der Chesapeake Bay berühmten Susquehanna Wohnungen mit Blick auf unser Vorgarten bietet eine 180-Grad-Blick auf die Bucht mit wunderschönen Sonnenuntergänge. Das Gebiet verfügt über Weltklasse-Fischen, Krabben und Wassersport. Egal, ob Sie in Segel- oder Motorbootfahren oder einfach nur beobachten, wie die Boote zu gehen - das ist der richtige Ort für Sie. Auch ein Paradies für Naturliebhaber mit täglich Weißkopfseeadler-Sichtungen und nisten Osprey direkt im Vorgarten. Unsere Kabine verfügt über zwei Schlafzimmer und einen Schlafboden, alle mit Queen-Size-Betten - alle Betten bereitgestellt und enthalten. Wir haben ein offenes Kabine Konzept mit Blick auf das Wasser aus jedem Zimmer. Wohnzimmer mit Kamin, Esszimmer, Küche mit Geschirrspüler, Bad mit Dusche, Blick auf das Wasser Sitzecke, Zentralklimaanlage, Waschmaschine / Trockner, Wireless-LAN, Flachbildschirm-Fernseher und eine Stereoanlage. Deck mit Whirlpool und Gasgrill. Außendusche, Fisch Reinigungsstation, Stein Terrasse mit Essbereich im Freien, Picknick-Tisch für Krabbe Feste, bluffen Seite Sitzecke mit Adirondack Chairs die spektakuläre Aussicht und Sonnenuntergänge zu genießen. Saisonale Gemeinschaft Dock Zugang mit einer Fläche sandigen Boden Schwimmen ist in Spuren von Eigentum. Ein Viertel Meile Sandstrand und Bootsrampe ist nur einen kurzen Spaziergang die Straße hinunter. Strandtücher werden zur Verfügung gestellt. Urige Einkaufsmöglichkeiten und gute Restaurants sind nur einen kurzen sieben Meile Fahrt in die Stadt von Nord-Ost. Elk Neck State Park bietet Wander- und Mountainbike-Strecken, am Wasser Camping, Leuchtturm, Bootsrampe, öffentlicher Strand, spektakuläre Steilküste und Blick auf das Wasser und ist nur eine kurze 6 Meile Fahrt. eine Stunde Fahrt in Richtung Norden und Süden - Wir sind direkt an der I-95 zwischen Philadelphia und Baltimore gelegen. Washington DC ist auch 2 Stunden südlich von uns leicht zugänglich. Historische Havre de Grace ist nur über die Bucht und kann leicht mit dem Boot oder eine 20-minütige Fahrt mit vielen Restaurants, Leuchtturm, Wanderungen, Museen und Einkaufsmöglichkeiten zu erreichen. Wir sind 20 Meilen von der University of Delaware. Wir werden prüfen, kleine Veranstaltungen für zusätzliche Hosting-Gebühren - bitte kontaktieren Sie uns direkt mit Details.
Red Point ist ein alter Sommer-Strand-Gemeinschaft an der Chesapeake Bay.
What a beautiful cabin! This charming getaway was clean, cozy, and comfortable. The host, Sue was friendly and responsive to all questions. She provided great instructions and suggestions for things to do and see. The neighborhood was a residential area with friendly neighbors, wild bird sightings, and an open view of the bay. The attractions and the town of shops and restaurants are a great plus. Elk Neck State Park is ten minutes away and has a beautiful trail to the Turkey Point lighthouse! The cabin has a cozy fireplace, a hot tub that's perfect in the cold weather, an outdoor grill, outdoor chairs on the lawn, and movies and games for groups. It was a great experience and would recommend for couples or groups! Thank you Sue!
Ally
2017-01-16T00:00:00Z
Sue was wonderful - very easy to contact and quick to respond to questions. The cottage has beautiful touches and an amazing view. We could easily get downtown within 10 minutes and enjoyed visiting several shops and restaurants. Thank you for a great weekend!
Heather
2017-03-05T00:00:00Z
Great place and hosts were fantastic. Beautiful views and cool area to explore. Fireplace was very cozy and hot tub hit the spot!
Peter
2017-02-24T00:00:00Z
Sue and Mark are the best! We had such a great time at Red Point Cabin - from cozy fires, to amazing sunset views from the hot tub, all in all it was a wonderful weekend! Can't wait to return
Colleen
2017-02-12T00:00:00Z
We had a great long weekend at the cabin. It was clean and and the decor/furnishings are comfortable and cute. The cabin is in a small residential community and the neighbors were extremely friendly and helpful. It's only a short walk to the private community beach. The beach is sandy with a pavilion/picnic tables and, because it's the bay, gentle waves and warm water-- perfect for families with kids. If you're looking for a more adult time, alcohol is permitted on private beaches and you would fit right in packing a cooler. You can watch beautiful sunsets on the water from the beach or from the cabin. The cabin's outdoor space makes great use of the waterfront location- you can see the water from the hot tub, the picnic table, and the adirondack chairs. There's also a really nice outdoor shower. Most grocery stores, restaurants, liquor stores etc are about 10-15 minute drive. Elk Neck State Park is also about 10 minutes. Only a few things to be aware of: Although the cabin is very well appointed, it is pretty small. I think the most it could sleep comfortably is 4 adults and a few small kids- basically 2 adults plus a pack and play in each bedroom. The loft bed has a very low ceiling and it's right above the main room, so whoever sleeps there basically has to be the last one to bed and either be a child or not mind stooping over (no adult could stand at full height up there). The other thing is that there is a long, steep slope between the waterfront property and the bay, so you can't fish directly off the property (as we'd hoped). There is a pier very close by that you can fish off of (but, alas, out of baby monitor range). Overall, we had a very comfortable, relaxing stay. We would absolutely recommend it.
Amit
2016-06-22T00:00:00Z
Sue's cabin on the Chesapeake Bay was super cozy and had absolutely stunning views of the bay. We had all the amenities we needed for our vacation such as laundry, a lovely kitchen and great family dinning areas. The town of North West was charming with nice antique stores, restaurants and a fantastic little park on the bay. If you enjoy fishing, the park is the perfect place to fish off the piers. No Maryland fishing license is required. I would recommend Sue's place for a vacation for a small family or small group of friends.
Sarah
2015-09-16T00:00:00Z
Great place for family, sad thing is that the weather is bad.
Jiabo
2017-02-14T00:00:00Z
A few friends and I came for a couple of days to celebrate my birthday. Her home was absolutely lovely and exactly as pictured, if not better. The cabin is not as secluded as we imagined; however, the surrounding neighbors were friendly and welcoming, so we didn't mind. I would love to stay again.
Linsey
2016-06-09T00:00:00Z
Typ pokoje
Celý dům/byt
---
Typ nemovitosti
Srub
---
Ubytuje
6
---
Ložnice
North East, Maryland, Spojené státy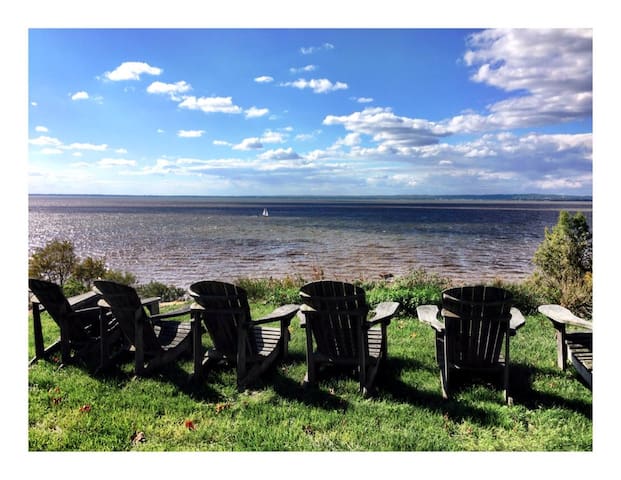 Listing is for a bedroom with an unattached private bath. Other bedrooms can accommodate up to 4 more people. A twin sofa bed and a second full bath for extra guests is in our finished basement.. Pool is available in summer months. Upscale neighborhood near Elk River, North East River and Chesapeake bay. Visit nearby Elk Neck State Park, Turkey Point lighthouse, and wonderful restaurants in North East, Chesapeake City, and Elkton.
Enjoy swimming in our pool during the summer or hanging out in one of our social gathering rooms. We have a dog and cat that share our home. WiFi is available.
If you love walks in the morning, you will appreciate the sidewalks in our development.
This was my first air bnb experience and the bar was really set high! Both Rhonda and Jack made us feel right at home and went above and beyond to make our visit easy breezy and enjoyable ! Jack even drove us to and from the winery where we had a wedding on Saturday. Sunday morning we had delicious waffles and nice conversation by the pool. Everything was excellent- so warm and generous. We would definitely stay with them again!
Mara
2016-06-27T00:00:00Z
My friend and I just finished our stay with Rhonda and I have to say that I would love to come back again! I was in town to work a wedding at a nearby venue and I booked Rhonda the day before I was set to leave town. She came back from a weekend with family to accommodate us on short notice! Rhonda really went above and beyond by doing that as well as fixing a yummy breakfast on both days and staying up late to welcome us in. The dog and cat were enjoyable and the house was lovely. If I am ever up that way again I will be sure to check in with Rhonda before going anywhere else! Thank you for your hospitality Rhonda!
Amanda
2015-10-18T00:00:00Z
Had a great stay~Felt right at home. Nice, quiet neighborhood 5 minutes away from The Winery at Elk Manor. The Sunday morning waffles are not to be missed. :)
Yvette
2016-05-30T00:00:00Z
Staying with Jack and Rhonda was a wonderful experience. It was like staying with family. They were fully prepared for our night's stay and made our visit extremely comfortable. They really went above and beyond! They drove us and picked us up from the wedding we attended so we got home safe. Rhonda cooked us an amazing breakfast and we left refreshed and rested! Such great hosts!
Michelle
2016-08-06T00:00:00Z
Rhonda's communications before the stay were prompt and thorough. We were greeted warmly and enjoyed pleasant conversations. She made us a lovely waffle breakfast. Wonderful home and hosts.
Barry
2016-05-29T00:00:00Z
Generally, everyone on AirBnB is pretty cool, welcoming, and helpful. That said, Rhonda and Jack went above and beyond! We were made to feel incredibly welcome - fresh picked fruit, waffles, maps/suggestions to local places, we even watch Back to the Future Part 2 in their basement. Awesome!
Vuthy
2015-08-30T00:00:00Z
Mrs Rhonda & Mr Jack were truly the best people I've met in a long time, So comfortable was my stay from the moment I arrived til the moment I left, I wish I could have spent more time with them. My children didn't want to leave and as we sit in church now they're asking to go back! I will definitely book with them the next time I come up! Thank you guys for the AWESOME waffles for breakfast, the funny stories told by Mr Jack & their great dog Reese who was even welcoming as well!
Ronald
2016-10-02T00:00:00Z
Great Experience:-) And an amazing hospitality . Plus awesome breakfast at their place. Strongly recommend you to stay here. You will enjoy your stay.
Karthik
2016-12-09T00:00:00Z
Typ pokoje
Soukromý pokoj
---
Typ nemovitosti
Dům
---
Ubytuje
4
---
Ložnice
Elkton, Maryland, Spojené státy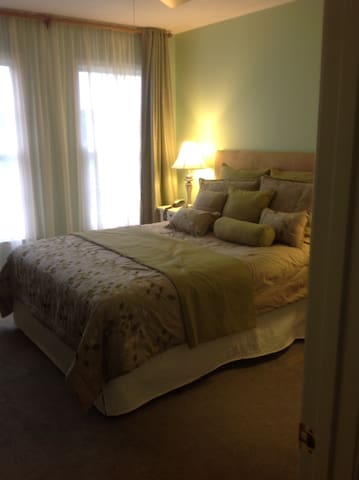 Chesapeake Waterfront Cottage auf einer Klippe gesetzt ist groß in allen Jahreszeiten. Große Angeln, romantische oder Familienurlaub. Voll ausgestattete Küche. Zur modernen Ausstattung ... der Woche bleiben !!
Chesapeake Bay Waterfront Cottage
Tolle Nachbarschaft. Sehr ruhig. Vor allem in der Nebensaison.
This was our first airbnb rental and we couldn't be happier. Becky was wonderful and the place was perfect. Clean well stocked and a great getaway from the hustle and bustle.
deborah
2016-09-11T00:00:00Z
My wife and I and two adult children stayed here for four nights over Thanksgiving. Location is beautiful with sunsets over water right in front of house and a very friendly, but quiet neighborhood. Kitchen is fully equipped and house is cozy and comfortable. Has both a bathtub and a shower! Becky, the host, was very responsive to our questions. This place would be fantastic for outdoor activities when the weather is warmer!
John
2016-11-27T00:00:00Z
Becky is a wonderful host and the cottage is located in a nice, friendly neighborhood. The cottage is cozy, well kept, nice, neat & clean. My wife & I had a wonderful getaway weekend and enjoyed much of what the area has to offer. When you visit, make sure you allow some time for a short hike to see the Turkey Point Lighthouse. What an outstanding view of the upper bay & a great time of year to be out and about around the upper bay area. We would recommend Becky's place to our friends and family and definitely would return again.
Chris
2016-10-23T00:00:00Z
Becky's house is everything we wanted. It is lovely, clean, comfortable, and in a gorgeous location. We love this area of the country and thought we knew most places around there. Weren't we surprised to find a wonderful little community tucked away and on the waterfront?! Becky herself is a perfect host. She met us there but then left us to it, but we knew she was right next door so felt comfortable. Plus, there were very nice neighbors! We loved the dogs who wandered around the lanes making friends. Overall, it was a great stay!
Bonnie
2015-10-06T00:00:00Z
Nice clean house, close to quaint town
Greg
2017-03-26T00:00:00Z
This was our second time staying at Becky's cottage, and as before, everything was perfect. Becky's place is lovely, but comfortable, with the sense of being someone's much-loved second home. That means that you don't feel you're imposing, as we've found in a couple other Airbnbs. The setting is great too, and Becky is a good host. We would recommend it to anyone.
Bonnie
2016-03-08T00:00:00Z
Overall, my family and I had a really great time. This is a place you go when you just want to get away and enjoy a nice, quiet town. A private beach is about a 5 to 10 minute walk down the road with a long dock, too. Since the beach is private, there are no life gaurds and there's more debris than a public beach. Its is the bay, so the water is a little dirty in comparison to the ocean. But it was beauitful all the same! Watching sunsets from the house and/or dock was breathtaking. Becky's place was fantastic. Fully stocked kitchen utensils and we were able to cook instead of spending money eating out. Loved sitting out of the deck in the mornings, and when it rained all day, we all were able to comfortably, relax the day away. Lovely stay and would come again!
Jamie
2016-08-23T00:00:00Z
Becky's place was cute and relaxing. Everthing was clean and just how she described. Loved all the natural sunlight that came in. We were able to watch the sunrise over the bay from inside.
Kim
2016-12-04T00:00:00Z
Typ pokoje
Celý dům/byt
---
Typ nemovitosti
Dům
---
Ubytuje
5
---
Ložnice
North East, Maryland, Spojené státy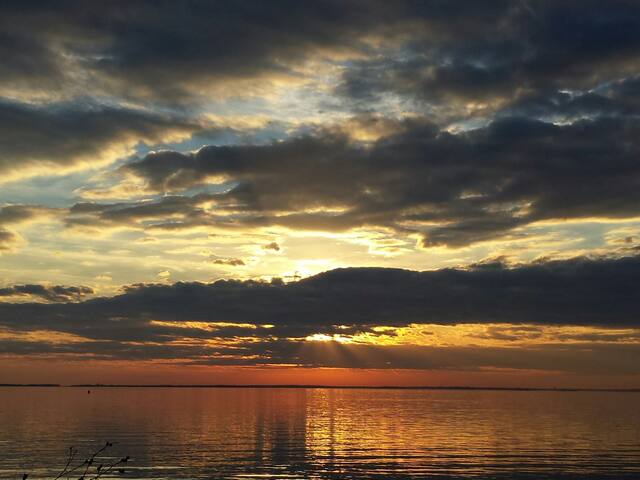 Typ pokoje
Celý dům/byt
---
Typ nemovitosti
Prázdninový dům
---
Ubytuje
4
---
Ložnice
North East, Maryland, Spojené státy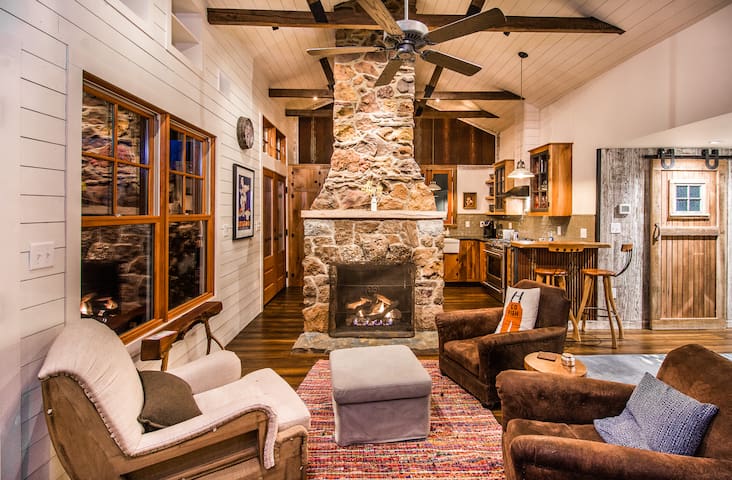 The host canceled this reservation 20 days before arrival. This is an automated posting.
Ben
2015-12-11T00:00:00Z
Awesome stay. Interior was sooooo interesting! The kids loved exploring! Access to the dock was a big plus! And the neighborhood very friendly and helpful. Great to learn the history of Redpoint Lighthouse! Looking forward to another visit.
patti
2016-08-06T00:00:00Z
Beautiful neighborhood, lovely house. We so enjoyed our Thanksgiving here. Deb was very responsive to our needs. Plenty of room for our whole family. Wish we could have stayed longer.
Gail
2016-11-27T00:00:00Z
I rented this house for a surprise 40th birthday for my boyfriend and it was perfect! We checked in on our own, the place was clean, wonderful, and even cooler than the pictures. It is literally right on the water and has a feeling of isolation, even though it's in a neighborhood. The kitchen had a good selection of cookware/general spices so we could make our own food. We used the hot tub, jacuzzi and amazing shower (with 7 different spouts!)... friends enjoyed the incredibly scenic view, wrap around porch, walks along the beach, the amazing taxidermy, unique decor, and hanging out in the social areas of the house. The house has 4 bedrooms and two little bonus rooms- great for kids - at the top of the structure. Deb was kind enough to let us stay until 5pm on the check out day- her flexibility was really appreciated, letting us enjoy the day. The only bummer was the additional fees for linens- we brought our own and just used the hot tub towels, but as an Airbnb host myself- it didn't feel very Airbnb-like to not provide sheets and bath towels. The place is spectacular though, well worth the money, and definitely a place we would come back to. Thank you!!!
Joy
2016-10-23T00:00:00Z
This house was really wonderful. Check in and check out was so smooth. A few hiccups with the fireplace but Deb was in communication and sent help which was helpful. The house itself is beautiful with gorgeous views! I will saving this location for another trip! Plenty of room to spread out and an awesome beach to explore!
Aimee
2017-03-13T00:00:00Z
Typ pokoje
Celý dům/byt
---
Typ nemovitosti
Dům
---
Ubytuje
8
---
Ložnice
North East, Maryland, Spojené státy
If you're looking for an affordable, comfortable, and quaint location to be your home base in Kent County you couldn't do better than Daniel's place! Super close to Betterton Beach and Still Pond, there's plenty of easy access to the natural beauty of Kent County. The historic house is well appointed and features an adorable and friendly dog. Daniel was a friendly host who even bought us a bottle of champagne because we stayed close to New Years! I'd love to go back in the summer.
ryan
2016-12-31T00:00:00Z
Typ pokoje
Soukromý pokoj
---
Typ nemovitosti
Dům
---
Ubytuje
3
---
Ložnice
Still Pond, Maryland, Spojené státy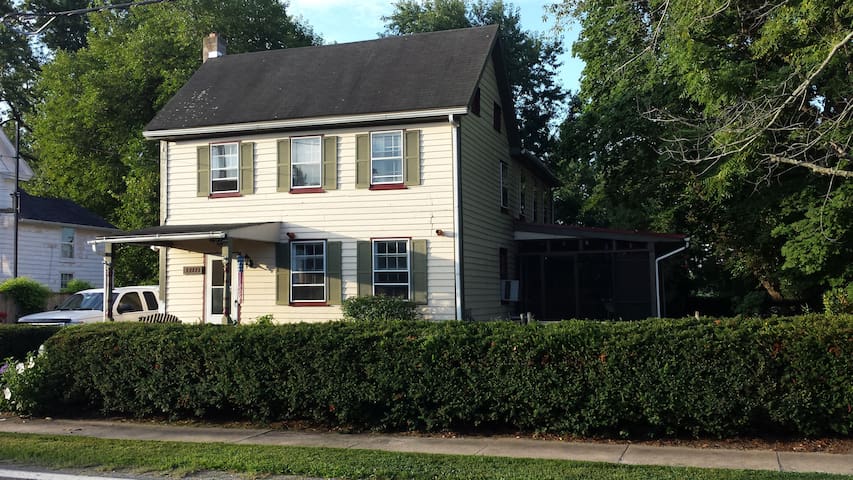 Das Hotel liegt auf der malerischen Halbinsel Turkey Point, 7 Meilen von der Türkei-Punkt-Leuchtturm, und 5 Meilen von der charmanten North East, Maryland, ist unser Eigentum 6 Morgen Trails und Wald zu erkunden. Genießen Sie die Ruhe und Frieden bietet unser Haus.
Grün und natürlich. Es gibt zwei Zimmer, eines mit einem Doppelbett und eines mit Etagenbett und ein ausziehbares Bett. Der Preis ist für ein Zimmer. Zusätzliche Gebühr von $ 25 pro Person für das Zimmer mit Etagenbetten oder $ 75 für Zimmer mit Etagenbetten. Wir leben im Haus und unsere Zimmer sind im Erdgeschoss. Die Zimmer befinden sich im Obergeschoss und sind sehr privat.
Keine unmittelbaren Nachbarn, 1/4 Meile von der Chesapeake Bay von schönen Lebensraum umgeben. Wir haben einen Morgen Teich, der Weißkopfadler, Reiher und Fischadler Liebe zu fischen. Auf der anderen Straßenseite von einem Staatswald so, wenn Sie die Natur lieben, werden Sie unser Raum lieben.
Victor & Vicky were excellent hosts! We enjoyed the entire experience, in particular Victor's great enthusiasm, good-natured sense of humor and conversation. The breakfast was very special and delicious!!! Thank you guys!
Timothy
2016-09-18T00:00:00Z
Unfortunately, we had a last minute change of plans and were not able to spend time at their house so I cannot speak to the accommodations themselves. However, Vicki and Victor we very communicative and helpful throughout the process. We hope to be able to stay with them next year!
Holly
2016-06-06T00:00:00Z
We had an excellent overnight stay with Victor and Vicki. North East is a lovely small town, and finding their home just outside of town was no problem. Quiet rural setting, we loved seeing the horses, chickens and turkeys. Guest room was as described, roomy enough for us and our belongings. Comfortable bed. Private bathroom just down the hall was stocked with anything you might have forgotten. The hosts were very friendly and nice to talk to. We enjoyed meeting them and would recommend them as hosts.
Sara
2016-06-20T00:00:00Z
We agree with all the previous positive reviews for Vicki and Victor's place. A very comfortable, clean, private upstairs space with private, well supplied bathroom. Even had shaving cream, which I needed! Breakfast as good as you will ever get. A perfect example of how airbnb can be a special, unique experience: Where else would you be greeted by turkeys? We enjoyed the short hike to the lighthouse, with beautiful, panoramic view of bay, close by. Also, the village of North East, just a short distance away, is enjoyable to visit.
Marshall
2016-08-11T00:00:00Z
This is a great place to visit to get away and get some quite. While my itinerary did not give me much time to enjoy all that their farm had to offer or the great state park just a few minutes away, I did spend a little time on the main street about 5 mins away. It was quaint and had a small town feel. Looked like lots of antique shops, and some great restaurants. A little further away is more day to day shopping center offering. The accommodations were clean and spacious. Their dogs were very friendly, and Vicki and Victor were helpful.
Edward
2015-12-13T00:00:00Z
Viki and Victor's home was a slice of heaven and we are so glad that they shared it with us. They were so generous with their home and hospitality. Vic shared some delicious local brews and cooked an amazing breakfast. We enjoyed the serenity of the surroundings and the general positivity that Viki and Victor have created in their home. They care for their myriad animals (dogs, chickens, turkeys, horses, fish) as well as they care for their guests. We truly felt welcome in their home and look forward to visiting again (this time bringing some beers and delectable meats from up north to share with them!)
Isaac
2016-06-03T00:00:00Z
非常好的房东,他们家有几条狗,几只火鸡,还有两匹白马,必须自己开车过来,我们只住了一晚,房东准备了早餐。
huiwu
2016-08-25T00:00:00Z
This home is great for families, clean, room to spread out, awesome breakfasts. Lovely peaceful surroundings. We enjoyed the stimulating conversations with Victor and Vicki, about their projects.
Joan
2016-05-14T00:00:00Z
Typ pokoje
Celý dům/byt
---
Typ nemovitosti
Dům
---
Ubytuje
5
---
Ložnice
North East, Maryland, Spojené státy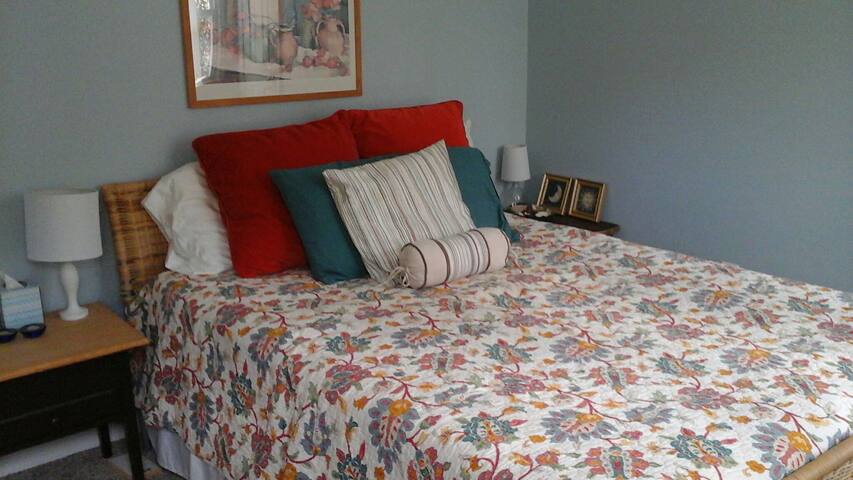 Comfortable room with queen bed and private bath farm-situated B&B . The day (single) bed is very comfortable and should not be thought of as a 'cot'. It has a proper mattress and covers but does not have a head board.
Our log home (not really a cabin) is part of a working farm which is as quiet, relaxing and comfortable as you can imagine. Room has an additional single bed for a 3rd guest. We also have a 2nd bedroom with queen bed that sleeps 2. A 2nd private bath is available.
Our farm-situated log home is on the edge of grain fields, surrounded by forests and all of the local inhabitants therein (deer, turkey, fox, eagles), many of which are frequently seen around the house.
自然古朴的木屋,温暖舒适的卧室,二只超级可爱的猫,窗外有许多不知名的鸟在觅食,丰富多样的早餐,晚上我们在壁炉旁喝着啤酒开心的交谈,最后一天要早上6:30出发,william和太太很早起来为我们做了早餐和我们告别。这是一段美好的记忆!
军
2016-12-17T00:00:00Z
Bill and Cheryl were amazing and their home was lovely. The location is quite remote, but other than that this stay was dream-worthy. It's incredibly peaceful, clean, and the pictures really don't do it justice. Having breakfast in the morning with the natural light filling the space was more than I could ask for. I would absolutely recommend staying here and hope to come back if I have the chance!
Kristian
2016-10-07T00:00:00Z
Although the location was remote, the hospitality and comfort more than made up for the distance from town.
korliss
2016-10-05T00:00:00Z
Great place to call home. it's one of the friendliest, most relaxing, most welcoming places I've ever stayed. Our room was very comfortable, quiet and clean. Bill and Cheryl are perfect hosts, they are welcoming and makes every effort to make your stay a success. Also, the property is beautiful and magical. Many thanks again once Bill and Cheryl, you are fabulous.
Natalia
2015-05-19T00:00:00Z
This is one of the best airbnb experiences that I have had. When one looks at a definition of B&B this listing is the picture beside it. Bill and Cheryl made my daughter and I feel completely welcome. Their home is immaculately beautiful. The pictures seriously don't do it justice. The bed is extremely comfortable and to top it all off they made breakfast they made breakfast for us every morning. Make up a reason to go to Middletown Delaware just to stay here. It's that good.
Jeff
2016-08-05T00:00:00Z
Cheryl met us in the driveway as we arrived, and invited us in. The home is a beautiful, spacious log cabin in a country setting, and is filled with interesting articles collected over the years. The view from our bedroom window was a farm field, frequented by deer in the evening. The room itself was just like the picture online and, like the other guest rooms, is set off from the rest of the home. The bathroom was spacious, and very nice. We thoroughly enjoyed visiting with Cheryl and wished that our respective schedules would have allowed more time. We got up at 5:30 the next morning with a greeting and an offer of coffee and breakfast from Cheryl. Unfortunately, we had an early morning event and couldn't stay. We felt that we not only had a unique and wonderful place to stay, but that we had made a friend as well. We would certainly return if we need accommodations in that area.
Paul
2015-06-14T00:00:00Z
Typ pokoje
Soukromý pokoj
---
Typ nemovitosti
Penzion (B&B)
---
Ubytuje
3
---
Ložnice
Townsend, Delaware, Spojené státy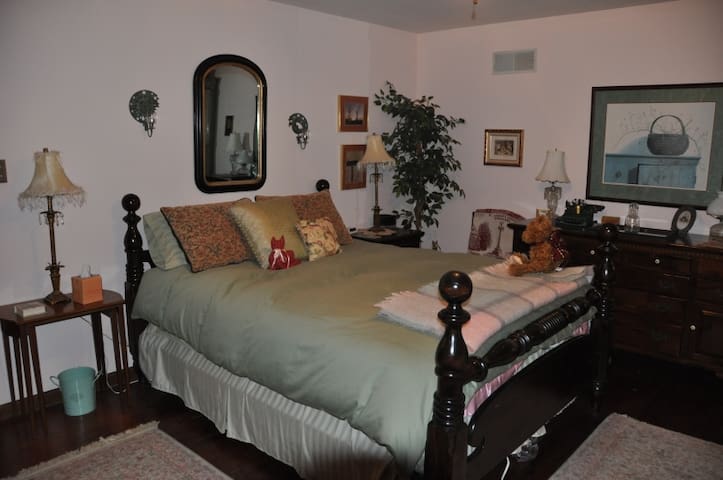 从交通坐落在一个宁静的森林尚未从乐趣远,东北到户的古朴小镇的巨大螃蟹和海鲜餐厅,伍迪的!这家被连接到我们的主要房子,但它是非常私人的。一间卧室,整体卫浴,客厅,小厨房。
THE HOUSE刚刚重新装修(2016年夏) - 新浴室,花岗岩台面和定制橱柜的新厨房。新的瓷砖地板已经安装在入口处,在厨房和浴室。这所房子有一个美丽的家庭房。厨房角落里配备了基本的小家电,如微波炉,烤面包机,咖啡壶和一个小冰箱/冰柜和炉灶。 客厅也有自己的甲板,设有一个电视直销包50英寸的平板电视。 卧室是宽敞,大床,衣柜,梳妆台,以及洗衣机和烘干机。 我们都是大忙人,所以你可能看不到我们太多,但他这样说我们是非常平易近人/可用,愿意帮助使您的逗留尽可能大。 这是非常遥远! 很抱歉,我们并不具备Wi-Fi
这是非常遥远!
Mark and Dany were excellent hosts! Although we did not get to meet them, we were made to feel right at home in their beautifully decorated guest home! The space was comfortable, relaxing, and had everything we could have needed during our weekend stay! Their house is situated far enough off of the main road that one can really relax and feel "away" from it all, but close enough to the town of North East that dinner is a quick five minute car ride away! We would highly recommend this place to anyone!
Chrissy
2014-09-08T00:00:00Z
Excellent, excellent, excellent. Exceeding expectations! Pictures online were nice but didn't tell the whole story. The house was clean and comfortable. Our host really know how to treat guest. Would definitely go back and will recommend highly to out friends.
Ron
2014-07-14T00:00:00Z
Peaceful, quiet and secluded. If your looking to getaway from the city or just need some peace and quiet this location will provide just that. The place is very clean and smells amazing. Very comfortable and affordable. Also this is in the town of North East so make sure you go to dinner at "woody's" and order the rockfish app or hit up the Man vs Food staple "steak and main". Also head to the lighthouse for the ultimate Chesapeake Bay experience.
Benjamin
2014-09-01T00:00:00Z
We stayed at Mark and Dany's lovely guest home for one night - what a peaceful location! It really was just as described, the home is fairly deep within the forest, but the directions were very easy to follow. Mark responded quickly to all texts/questions and had no problem with us renting a movie from their Direct TV system! The guest house was clean, smelled great, and was very comfortable. It's the perfect get away if you're looking for peace and relaxation. Also very close to a few hiking trails which we enjoyed immensely. (AND the coffee shop Beans Leaves Etc in the town of North East was heavenly.) Thank you Mark and Dany!!!
Stephanie
2014-10-13T00:00:00Z
Mark and Dany were very accommodating. They stayed in touch with us via text message even though we never actually got to meet them in person. They were both helpful and respectful of our privacy. The apartment was set up tastefully and adequately, with a few nice extra touches. The place was very quiet and restful, perfect for a short get-away in the woods but also within a short distance of North East, Elk Neck State Park, and other places of interest.
Anthony
2014-10-20T00:00:00Z
The guest house was just amazing! We, unfortunately, did not get to meet our hosts, but you could see their care and attention in all the details of our stay. It was just the perfect getaway, wonderful for our intention, to get away and create. Thank you so much, and we look forward to staying there again.
Kat
2014-06-30T00:00:00Z
We had a great stay at the house!! It was exactly like it was described, and Mark was extremely accommodating and respective to texts. It was the perfect getaway.
Nirali
2015-03-30T00:00:00Z
I would not recommend this place in the winter, but it seems like a good summer retreat!
Leslie
2014-11-17T00:00:00Z
Typ pokoje
Celý dům/byt
---
Typ nemovitosti
Dům
---
Ubytuje
2
---
Ložnice
North East, Maryland, Spojené státy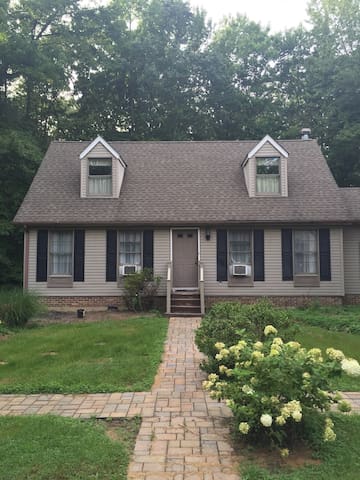 Cozy rooms in a quiet farm-situated log home convenient to St. Andrews School (Middletown), Dover (NASCAR & Firefly) and surrounding wildlife areas (Bombay Hook). Cats live on the premises but are not in bedroom areas. Allergy conscious.
Private room with queen bed, private bath (either shower or tub / shower depending on availability). There is plenty of room to stretch out and relax or sit at any one of several tables to work. Smoking is allowed outside on either the open or screen porch. We have an additional room and accommodate a total of 5 guests at one time, each room with a private bath. Home-cooked gourmet breakfast is available and is prepared to your liking. Everything is on one floor, but it is required to climb 4 steps to enter the building.
The home is located on the edge of a working grain farm and is surrounded by forest with deer, turkeys and the occasional eagle and fox wandering through the area. Birders find our area convenient to Bombay Hook and other wildlife refuges in the central Delaware area.
Typ pokoje
Soukromý pokoj
---
Typ nemovitosti
Penzion (B&B)
---
Ubytuje
2
---
Ložnice
Townsend, Delaware, Spojené státy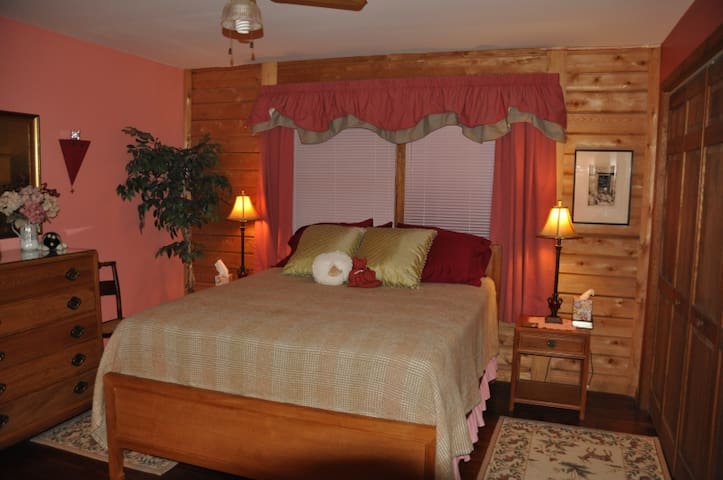 Nice, clean room. Good location with nice restaurant on water around corner. You will need to drive across bridge to get to main part of town.
William
2017-03-05T00:00:00Z
Typ pokoje
Soukromý pokoj
---
Typ nemovitosti
Dům
---
Ubytuje
2
---
Ložnice
Chesapeake City, Maryland, Spojené státy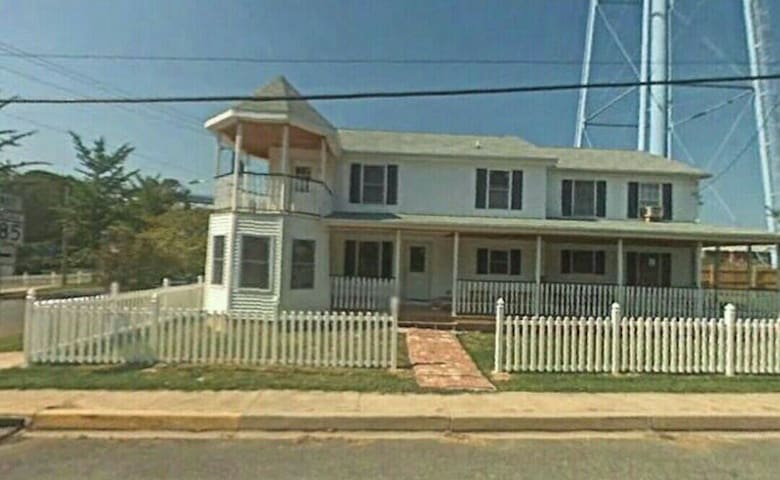 Pro zobrazení celkové ceny zadej termín. Mohou být přidány další poplatky a daně.