Acropole, meine Familie Platz, nur 5 Minuten zu Fuß von der nächsten Bushaltestelle und 5 mehr auf den schwarzen Strand von Kamari. Die Zimmer verfügen über einen Balkon mit Meerblick, einen eigenen Bad, kostenfreiem WLAN. Die tägliche Reinigung und Frühstück. Gratis Parkplätze. Mit Ruhe und Meerblick!
Acropole, meine Familie Platz, nur 5 Minuten zu Fuß von der nächsten Bushaltestelle und 5 mehr auf den schwarzen Strand. Die Zimmer verfügen über einen Balkon mit Meerblick, einen eigenen Bad, kostenfreiem WLAN. Die tägliche Reinigung und Frühstück. Gratis Parkplätze. Mit Ruhe und Meerblick!
The view is amazing and Petros is super informative and helpful with anything you may need!
Haley
2016-10-08T00:00:00Z
Loved staying here. I'd recommend this place to anybody. Petros is a great host, very helpful and eager to share ways to maximize your time and budget on the island. I appreciated this so much! I would recommend renting a four-wheeler or even a car, as the property is uphill and a little tiring to walk to after a long day. This is very affordable to do and Petros arranged that for us when we arrived. I wouldn't call this place glamorous--the rooms could use some updating--but you are 100% getting a great deal considering how kind and helpful the staff is. Updates or not, I'd stay here again. We got the best personal care and service that could be found on the island. I felt like I was not only getting a beautiful room with a view, but a first-rate concierge service as well. Thank you Petros!! We wish you and your staff the best!
Katelyn
2016-06-02T00:00:00Z
From the booking to the time we arrived Petros provided 10/10 hospitality and service. He kindly offered to pick us up from the airport for 20€, which meant we didn't have to get 2 buses. On arrival Petros sat us down and provided a detailed outline of the island with a map, importantly giving the best spots for souvas :) The room was beautiful, with a little balcony overlooking the ocean. Perfect spot to watch the sunrise! There was a fridge, and the bed was made up each day. Breakfast was provided every day by Tina. She was super lovely, and went out of her way to make sure we were well fed. Petros also organised an ATV for us, and a day tour to the neighbouring volcano and hot springs. The location was perfect, a 5 minute walk to the famous black beach, as well as shops and supermarket. Kamari is about 15 minutes by bus to the main village of Fira, and 30 minutes to Oia. The bus stop is conveniently located at the bottom of the hill from the hotel. I highly recommend staying with Petros at Acropole Hotel! We had an amazing 4 nights in Santorini, and Petros made our stay very comfortable.
Hannah
2016-05-22T00:00:00Z
Awesome Airbnb experience! Would highly recommend anyone. We really enjoyed staying on this side of the island and our location was exquisite. Our host really made the experience better than we could've imagined. He picked us up from the airport and give us a thorough explanation of the island. Truly went above and beyond.
Natalie
2016-07-01T00:00:00Z
Petros's very nice and helpful. The time I book the room I only looking for a place with amazing view, did not expect to have substantial breakfast like offered! I have to say I had a great time. Walkable distance to bus stop, supermarket and most importantly you can also walk to the black beach or even open air cinema!! Totally Awesome! 房间的性价比还是很不错的!起来有海景看,晚上另一面可以看到星星点点的夜景,感觉还是挺赞的!而且没想到还提供早餐… 住的地方离车站,超市,海滩甚至是露天电影院都可以走着去!露天电影院一定要去!很赞!不过一定要早点去占座! 开始不太懂位置,只是看着图片不错就订了,总的来说,感觉这个地方在Kamari还算是不错的,跟伊亚什么的不一样的感觉。
Zhuoya
2016-07-10T00:00:00Z
Our room is clean and cozy. We love to stay here because we can watch the sunrise every morning. Petros is really a good host. We got a lot of information about Santorini from him. He is really helpful and friendly.
Tifeny
2016-09-24T00:00:00Z
Petros is super nice and helpful. He makes sure you get the most out of your visit and thoroughly enjoy each moment. The place has a great view at the highest part of the town. We had a pleasant stay and highly recommend staying here!
Darra
2016-09-11T00:00:00Z
Petros was such a gracious host. He picked us up personally from the airport, provided us with a delicious breakfast, and gave us so many details about the island that were instrumental in planning our trip. The hotel has breath taking views and is incredibly reasonable for the price point. Thanks Petros, for everything!! My husband and I had a great time.
Sana
2016-07-24T00:00:00Z
Typ pokoje
Soukromý pokoj
---
Typ nemovitosti
Penzion (B&B)
---
Ubytuje
2
---
Ložnice
Kamari, Egeo, Řecko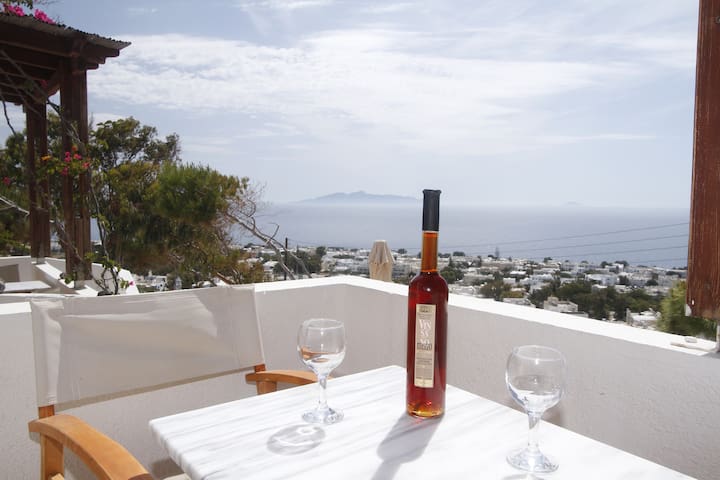 Naše Junior Suite se skládá z jedné ložnice, jídelní část s kuchyňským koutem, koupelna se sprchovým koutem a pohodlnou jacuzzi umístěné vedle postele, kde si můžete každý den relaxovat. Mimo prostor se stolem, lehátka, slunečník, a bazén.
Luxus pro dva Naše Junior Suite se skládá z jedné ložnice, jídelnu s kuchyňským koutem a koupelnou se sprchovým koutem. Komfortní vířivka se nachází hned vedle postele, kde si můžete odpočinout po náročném dni na ostrově. Junior Suite byl používán jako Tsipouro stlaní zařízení před 100 lety. To byla zrekonstruována v roce 2016. Mimo prostor obsahuje tabulku pro dva, lehátka, slunečník, a společným bazénem.
Mesaria Village Obec Mesariá je v těsné blízkosti hlavního města Fira (3 km), ve vzdálenosti 0,9 km od krásné a slavné Caldera, 2 km od letiště, 2,5 km od nejbližší pláže a 3,5 km od pláže Kamari. Tradiční osídlení Mesariá je jedním z nejstarších v Santorini a snad jediný, kdo zůstává tradiční. Je to jen 3 km od hlavního města Fira. Existuje mnoho pláží v blízkosti, nejznámější pláž na Santorini, Kamari, se nachází ve vzdálenosti 3,5 km od obce Mesariá. Největší vinice ostrova se nachází kousek dál na západ, přímo na proslulé Caldera skále, s úchvatným výhledem na západ slunce! Odtud se můžete těšit na západ slunce, zatímco ochutnávka slavná vína Santorini. Je vybaven restaurací, kavárna a trhu koupit místní vína.
Chris was quite accommodating and worked to make our stay a pleasant one. The suite, pool and courtyard were quite attractive and peaceful. Motorcycles and ATVs are available for rent very close by in town. Thanks Chris!
Michael
2016-08-15T00:00:00Z
Chris and Ida were very nice, picked us up from the ferry and drove us to the airport early the morning we left! The house was as described, the only downside was that it is located in a small town half hour bus from Oia and about a twenty minute walk away from the big city Fira. Overall a nice place to stay!
Jessa
2016-12-07T00:00:00Z
Perfect
SLIM
2016-10-01T00:00:00Z
Très proche de l'aéroport! Chris nous a beaucoup aidé. Il est venu nous chercher et nous porter à l'aéroport en plus de nous avoir aider à louer une voiture. Il nous a aussi montré les endroits utiles à connaitre. Le frigidaire avait des boissons en arrivant. De plus, il y avait des pates, des tartinades et du café que nous pouvions utiliser! :)
Mélissa
2017-03-30T00:00:00Z
Chris and Ida are wonderful hosts! Chris was kind enough to pick us up from the airport and drop us off in Fira the day we arrived. He also let us keep our luggage at their place before check-in so that we could explore Santorini. The suite was perfect for us - very clean and we loved the pool area. The location is very close (3 min walk) to the bus station if you want to head to other locations on the island, and Chris was great about calling us a taxi when needed. Such a lovely couple, very hospitable and kind. Highly recommend!
Katie
2016-10-24T00:00:00Z
Chris and Ida's place was beautiful and clean, exactly as shown in the pictures. It was a little farther from everything than I had expected, but that was not a huge deal as there were taxis that could be called. The hot tub was nice and the bed was comfortable.
Mary
2016-11-26T00:00:00Z
I can't explain how genuine and lovely Chris and ida are, they are very welcoming people. Chris picked us up from airport, organised me a motorbike for the duration of my stay and got us to fira when we left. The apartment was in a good quiet neighborhood 5 mins from the centre of fira, it had everything you needed and was very well maintained. Absolute gem of a place and could not fault. When we come back we will definitely be staying here again.
Colin
2016-06-05T00:00:00Z
Perfect accomodation for our Santorini visit. Chris gave us plenty of info before we left and then came to pick us up from the airport. The suite is near to some local restaurants and supermarkets which was ideal and the bus service is one of the best we have experienced. The suite itself was great and even with a new born baby both Chris and Ida couldn't have done enough for us. It was clean and tidy, great area outside for us to sunbath and use the pool. Highly recommended! Thanks Chris and Ida!
Ross
2016-09-24T00:00:00Z
Typ pokoje
Celý dům/byt
---
Typ nemovitosti
Dům
---
Ubytuje
2
---
Ložnice
Mesaria, Řecko
A brand new, spectacular studio villa Santorini. Incredible views of the Caldera and Oia from the town of Pyrgos, in the centre of the island. This private studio villa recently opened to the highest specifications - Includes large patio with private heated jacuzzi and amazing views! See our live view at www webcamsantori All rates includes transfer to and from the port, or Airport, a daily cleaning refresh and breakfast basket! Contact us today to learn more about this special listing!
Loved everything about the villa - the modern touches and of course - the jacuzzi overlooking the island. It's not the view you would find from Thira or Oia but in your backyard, you have a whole town and church behind you placed at the highest elevation compared to the other destinations in Santorini. Daniel was an amazing host, he replied so quickly to all of my messages and it felt like he was right there. The pick up/drop off from the airport went smoothly and the room was clean with complimentary water and a bottle of dry white wine! You get all the privacy and quiet, peacefulness that drives you far far away from the other tourists and in touch directly with the locals of Pyrgos. I will definitely come back to Daniel's villa again and I highly recommend to anyone looking for the perfect home away from home!
Jenna
2017-03-21T00:00:00Z
Amazing location! This is my 2nd time staying here as I had a great time before! The place is fantastic with great views. Serene environment, especially if you want to relax by the private outdoor jacuzzi! Very attentive host who took care all of my enquries. Highly recommended. Thanks Daniel for taking good care of me, I'll definitely be back again!
Sophocles
2017-03-04T00:00:00Z
Typ pokoje
Celý dům/byt
---
Typ nemovitosti
Vila
---
Ubytuje
2
---
Ložnice
Pirgos Kallistis, Řecko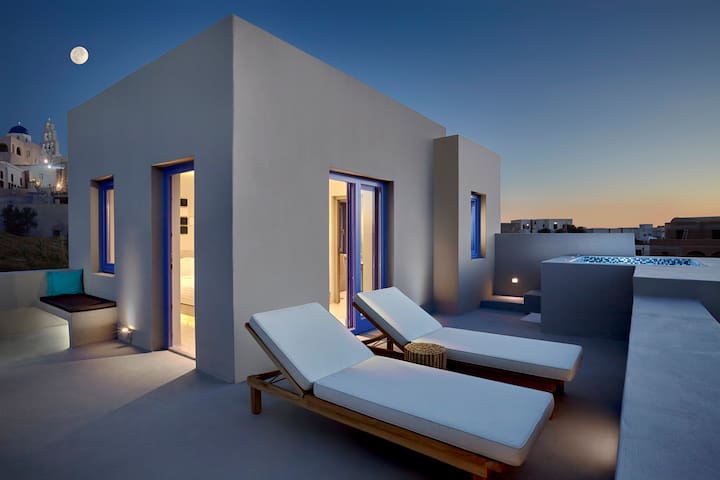 Casa Galazia is our beautiful secluded vacation home with a superb view to the Aegean Sea and the mountain of Profitis Ilias. The house offers a spacious living room with a well equipped kitchen, a spectacular bathroom carved out in a rock and on the first floor a bedroom with double bed giving direct access to a lovely balcony. It is nestled against the picturesque village of Pyrgos, home to more than forty churches, winding little alleyways and the remains of a Venetian castle.
I feel sooo lucky to have found the most beautiful place to stay on Santorini. The house was perfect and had everything we needed. It is situated very close to the centre of Pyrgos yet was quiet and has the most amazing view of the sea. We were extremely well looked after and will definitely be going back as soon as we get the chance. Thank you for looking after us so well.
Matthew
2016-10-15T00:00:00Z
Wow! This should be rate a 6 stars location. The place is even better than what you see on the pictures. This is a rare gem and ideal for the real traveller who want to be outside of the tourist trap attraction city. What you don't see and feel on the pictures is the warm and hospitality of Alexandros's family. We had the pleasure and honour of spending the New Years eve's at their home with their friends and neighbours. My 17 year old daughter and I felt at home and welcome and did not want to be anywhere else. It would be very difficult to find anything better that that on our trip to the country. All the village around are worth the discovery. Don't spend too much time in Fira. Go and discover the less "tourist" small village and meet the real people of Santorini. If you have a chance, you should taste the white wine from the Venetsanos winery. Alexandros, kindly thanks all your family for their wonderful hospitality. _martin & mathilde January 2017
Martin
2017-01-03T00:00:00Z
Grand confort et simplicité de cette maison qui respecte l'art de vivre et l'architecture des cyclades. Une vue admirable , un lieu paisible et silencieux et un accueil extrêmement chaleureux de la famille d'alexandros ont rendu mon séjour idyllique! Pyrgos est un magnifique village, typique des cyclades, idéalement situé pour visiter toute l'île. La maison est située à l'entrée du village suffisament en retrait pour être à l'écart de l'agitation et près de toutes les commodites restautants, commmerces, bus locaux, location de voiture etc.. Un grand merci à la famillle d'alexandros pour son accueil ,les attentions de bienvenue (confitures traditionnelles ,un vrai régal ) leur discretion et leurs sourires . C'etait parfait !
Michele
2016-09-28T00:00:00Z
This was a great place to stay, the property was in an excellent location, perfect for all things in Santorini. The owners family live in an adjoining property and were a real delight. They made us feel extremely welcome and could not have been more helpful. Meeting them was one of the highlights of our stay.
Nick
2016-09-19T00:00:00Z
Situazione bellissima! Alexandros e' stato davvero molto disponibile,preciso e puntuale riguardo le nostre domande nonostante non abiti a Santorini. Le foto dell'appartamento sono veritiere ma vederlo dal vero ci ha sorpreso piacevolmente. Molto bello,nuovo e pulito... Quando poi ci si affaccia alla terrazza non si può non rimanere a bocca aperta! Anche l'accoglienza da parte di Avgy (la madre di Alexandros) e delle sue due figlie ci ha fatto sentire come a casa:sono veramente delle persone squisite e disponibili per ogni bisogno. Pyrgos e' un paesino molto bello,adatto a chi cerca tranquillità e comodo per raggiungere le altre località. Non vi perdete l'alba dal terrazzo dell'appartamento e il tramonto dal castello di Pyrgos.
Gianni
2016-08-30T00:00:00Z
Lovely, spacious place with outstanding views looking over the southeast side of the island, making for magnificent sunrise viewing. The family is lovely and welcoming, even stopping by with homemade treats now and again. Walking distance to the quieter town of Pyrgos; you will need to rent wheels or take a bus to get to touristy Fira, Oia, etc. Also don't miss Metaxi Mas restaurant which is walking distance and some of the best food we ate all trip!
Emily
2016-10-07T00:00:00Z
非常好的房东,我们遇到了很多问题,比如租车,过敏,食物等,他们都帮我们解决了,也不会嫌我们烦,不过友情提示,去小岛,一定要会开车,交通工具非常不利,只能租车逛岛!
daisy
2017-03-21T00:00:00Z
Die Familie von Petros, dem Vater von Alexandros, hat uns sehr freundlich empfangen. Zuerst trug er unser Gepäck ins Apartment hoch, wo er uns seine selbst selbstangebauten Produkte offerierte. Er half uns auch einen Roller zu organisieren und gab uns Tipps für Ausflüge. Während der ganzen Woche sorgte die Familie für unser Wohlbefinden und erkundigte sich immer wieder nach unseren Bedürfnissen. Die Lage von Pyrgos ist optimal für Ausflüge, wir bereuten es nie nicht direkt am Meer zu sein. Die Wohnung ist schön mit einer atemberaubenden Aussicht. Wir würden es definitiv jedem empfehlen.
Philippe
2016-06-23T00:00:00Z
Typ pokoje
Celý dům/byt
---
Typ nemovitosti
Dům
---
Ubytuje
3
---
Ložnice
Pyrgos Kallistis, Egeo, Řecko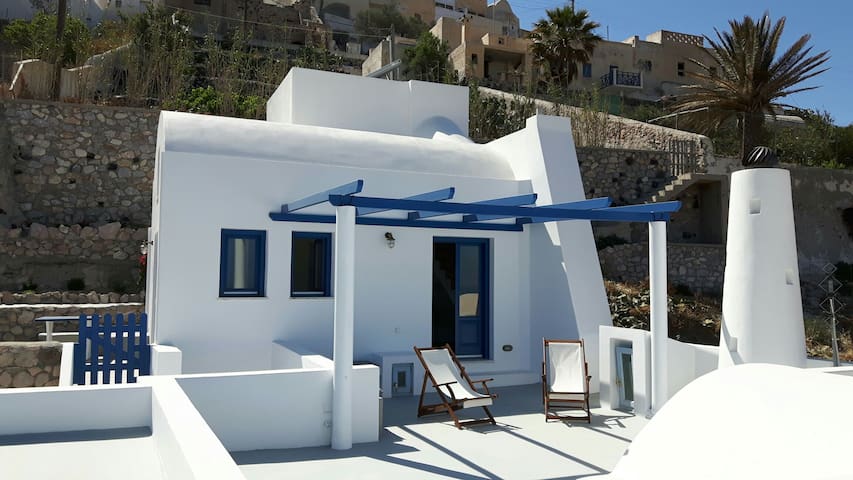 To je ideální volbou pro lidi s vysokou estetikou a pro ty, kteří si chtějí užít svou dovolenou v prostředí naprostém soukromí. V pěší vzdálenosti od proslulé pláže Kamari a 10 minut jízdy autem od města Fira, hlavním městě ostrova Santorini.
Jedná se o unikátní Dům na nezapomenutelnou ubytování experience.Only pár kroků od tradiční vesnice, a Kamari je jedinečný černá pláž. Je umístěn v prvním patře s vlastním balkonem, koupelna, dvě ložnice manželskou postelí a odděleným jídelním koutem. V blízkosti autobusového nádraží a poblíž je mini market, k dispozici 24h. Zařízení: Kuchyňské vybavení: Elektrická trouba s varnou deskou, rychlovarnou konvicí, ledničkou / mrazákem a příbory Parkování: Zdarma je k dispozici parkoviště v areálu hotelu (rezervace není nutná).
Kamari Beach je živé kosmopolitní vesnice Santorini, který nabízí celou řadu vodních sportů, plážové bary, taverny, butiky & obchody. Atraktivní kámen-betonová promenáda silničního provozu probíhá paralelně mezi nábřeží Obchody a dlouhé tmavé obroušené pláže, zve jeden vzít příjemnou večerní procházku.
Το σπίτι στο Καμάρι ήταν πράγματι πολύ βολικό. Μείναμε τέσσερα άτομα με άνεση. Το μπαλκόνι πολύ ωραίο και το μαγαζί από κάτω μας εξυπηρέτησε πολύ. Η Βιβή ήταν ευγενική, πρόθυμη και διακριτική. Θα το προτιμήσουμε και για την επόμενή μας επίσκεψη....
Katerina
2016-05-04T00:00:00Z
Vivi was the best host I've ever had on Airbnb. She was extremely accommodating; gave us excellent advice on where to go and how to get there and even booked our airport and port transfers for us. Her apartment is gorgeous! Very comfortable and in a great location! An authentic Santorini experience!
Clare
2016-04-28T00:00:00Z
Vivi and her Mom were very nice to us. We felt warm welcome on arrival. The apartment is spacious, bright and clean. It is close to the beach and restaurants. We had a wonderful time there and wished we could stay longer.
Weimin
2016-05-29T00:00:00Z
Gracious hosts, a beautiful apartment, super location a block from the beach. We'd definitely reccomend this place!
jill
2016-06-28T00:00:00Z
My friends and I absoluetely enjoyed our stay with Vivi. She was very welcoming and her apartment was very comfortable. She also went out her eay to ensure that we had an incredible experience in Santorini.
Vincent
2016-04-13T00:00:00Z
Well, I've traveled a lot with Airbnb. Most of those stays were only about how great the house they can offer. But, this time, which is one of the best service I've ever experienced, I felt Vivi and her mum were really care about us. Her mum picked us at bus station and give a us a short tour for that area. I would like to thank her mum from deep heart. And most importantly, Vivi would like to help us ,answered all question we had and satisfied all we needed. I think they truly understand the Airbnb's spirt. They offered us one of the most unique experience that was the thing all Airbnb users want to get. About the flat, not much to say, simply perfect for us. If you are looking a place right next to beach and loads of shops nearby, don't hesitate then. This place just is designed for you. the day we leaving, Vivi did us a great favour, her friend give us a lift to airport. I couldn't ask a better host like Vivi. Thank a billion indeed.
Sawyer
2016-02-04T00:00:00Z
Perfect apartment, we didn't want to leave! Vivi was fantastic - she organised a transfer who let us in to the apartment and she was always prompt and helpful when we messaged her. Her apartment was 2 minutes walk from the amazing Kamari black beach which has a gorgeous bar and restaurant lined promenade and free sunbeds. It is a large, clean and modern apartment with everything you need. Theres a great balcony which we loved having breakfast on and a 24 hour supermarket below. Our favourite Airbnb from our 3 month holiday! Absolutely recommend :)
Sarah
2016-10-06T00:00:00Z
We had a great stay at Vivi's apartment. We didn't get the chance to meet Vivi as she was away but she arranged to have us picked up at the airport. Vivi responded very quickly to messages and was very helpful. We would definitely recommend staying here!
Rachel
2016-03-13T00:00:00Z
Typ pokoje
Celý dům/byt
---
Typ nemovitosti
Byt
---
Ubytuje
4
---
Ložnice
Καμάρι, Αιγαίο, Řecko
The Village is ideally located just a few meters away from the beautiful beach of Perivolos, right in the heart of entertainment and shopping district.
The Village is ideally located just a few meters away from the beautiful beach of Perivolos, right in the heart of entertainment and shopping district. Experience outstanding guest attention from our friendly staff and enjoy our superbly selected rooms and suites with the simplicity of Cycladic décor, styled in Santorini's traditional architecture. With a large swimming pool and a smaller one for children, an all day pool bar and much more, good times and a memorable vacation wait for you. The bright yellow painted walls and our colorful gardens that weave their way through the premises will lift and relax you. If you are looking for a real taste of Santorini, the The Village will charm you with its traditional Aegean look. Breakfast here is a BIG deal, so plan to leave FULL and ready for your day! A provocative range of homemade delicacies, challenge you to start your day with a special breakfast that exude the most seductive flavors and aromas of Greece! The breakfast room serves a rich buffet each morning, with homemade cooking under the flowering bougainvilleas. Come to The Village and feel like home! After all, it is all about the experience… Comfortable and stylish decorated our Maisonettes consists of a bedroom on the upper floor, a living room, and a colorful bathroom with large bathtub or bathroom with shower. All maizonettes have a terrace in the lower level with garden OR pool view. Specifications • Type: Maisonette up to 4 guests / 55 sq.m. • Quantity: 4 • View: Garden • Location: Ground or first floor • Room Configuration: Double storey with living area in the ground and open plan loft bedroom • Bed: Queen size • Bathrooms: 1 bathroom with rain shower Facilities & Features • Private balcony with chairs & table • Comfort mattresses 22cm height • Eco bathroom amenities • Hairdryer • Pool Towels • Individually controlled Air condition • Individually controlled Heating • Direct dial telephone • Safe box • Flat screen TV set with Satellite channels • Wi-Fi internet access • Daily maid service • Iron, ironing boards on request • Welcome refreshment drink • Baby cot upon request
The hotel is located at the southeast part of Santorini, in one of the most popular beaches of the island, Perivolos. Distance from the airport is 10km and from the port 6km. Perivolos beach is conspicuous by its sparkling blue waters and is among the most tranquil beaches in the island. It is an extension of Perissa and Agios Georgis beaches. On the beachfront you can find numerous restaurants, bars and shops that can please all tastes and budgets, as it happens to be one of the most organized beaches of (URL HIDDEN) is also famous for the plethora of exciting water sports facilities that are on offer, like windsurfing, scuba diving, jet skiing etc.
Mariella was the perfect host, the apartment was clean and tidy and provided everything you would need for a stay. Breakfast was sufficient and the staff were very helpful in arranging transfers around the island or guidance on places to go. The location of the hotel is perfect, just a stones throw from one of Santorinis best beaches and close to some nice bars and restaurants for the evening. If you're looking for a great beach resort in Santorini - this is it!
Lewis
2015-06-18T00:00:00Z
Typ pokoje
Celý dům/byt
---
Typ nemovitosti
Byt
---
Ubytuje
4
---
Ložnice
Thira, Egeo, Řecko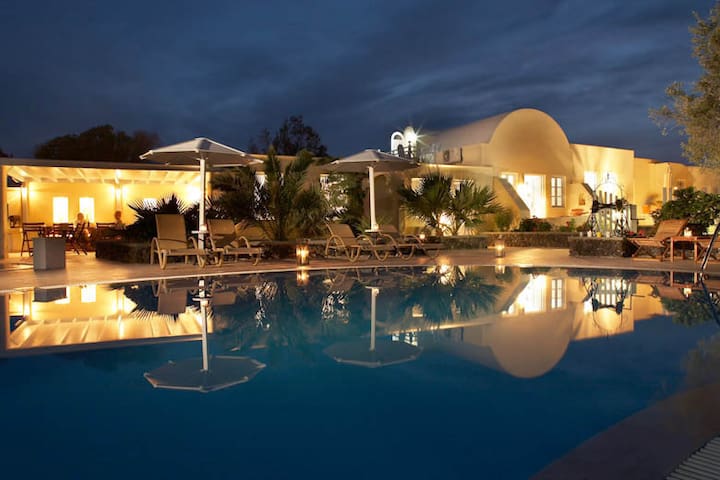 Ο χώρος μου είναι κοντά σε κέντρο πόλης. Ο χώρος μου είναι κατάλληλος για ζευγάρια, δραστηριότητες για ένα άτομο και επαγγελματίες ταξιδιώτες.
thank you for a great stay in Fira! - our flight arrived after midnight, we notified for an airport transfer within 12 hours of arriving (due to one of us being delayed a day) and it was waiting upon my arrival. - room was clean, the view from the terrace was of the ocean, the staff was helpful. thanks!
lindsey
2016-09-05T00:00:00Z
The location for this place was just fantastic! Just a few minutes walk to the center! Aris arranged a pick-up for us from the airport and it was really nice. We however were greeted (on the side of the road) by 3 random girls who asked us if we were waiting for the hotel and walked us to our room. They then gave us the key and left us. They didn't know much about what was going on, because they said they were sent there by the "manager". We also weren't in the room that we had booked which ticked me off a little and when I messaged Aris, nothing was really done about it. We adapted to the place we were placed. The room was nothing specular but its nice if you're not there for too long. Housekeeping there was really friendly!
Pranisha
2016-09-02T00:00:00Z
Good location with everything. Staying at the second floor was fantastic with a wonderful view. With all the windows open, it was better than using an aircon. Hosts are able to speak English a little. Had to speak to Aris with extending the stay. Overall, we were satisfied. Thank you.
Kyeong
2016-08-30T00:00:00Z
L'indirizzo manca e perciò diventa molto complicato trovare la casa se ci si reca autonomamente. Chiedete bene informazioni così da essere certi di trovarlo subito. La pulizia è carente e la camera non è niente di che. Posizione ottima, molto comoda. Aris è disponibile ad aiutarti per qualsiasi cosa se richiesto ma non se ne occupa in anticipo per te.
Livia
2016-08-03T00:00:00Z
Aris was very helpful in arranging a ride for us from the airport to the hotel as the street in Santorini don't have names so it would have been difficult to do on our own. Once we got to the hotel our room wasn't available so we had to stay in another and then move in the morning which was a bit of an inconvenience. Then they tried to put us in the wrong room so we had to request another change. Wifi wasn't the best and it is probably a good idea to bring your own towels. Other than that it was a great location close to many restaurants and shops and a close walk from the main bus station. We had a good experience, Aris was very responsive over Airbnb but we never got to meet him in person.
Katie
2016-09-12T00:00:00Z
Ci siamo trovati benissimo da Aris, si trova in centro a Fira e riporta il nome "Vina's place" - qualora non vediate le indicazioni, si trovano proprio di fianco ad un negozio di noleggio quad, poco più avanti del Mc Donald. La stanza era pulita ed è stata rifatta più volte durante i nostri 5 giorni di permanenza. Il wifi sempre funzionante ed anche la piscina era utilizzabile senza problemi.
Andrea
2016-08-16T00:00:00Z
Well situated. Aris was very kind and arranged a van to pick us up in the airport. The personal were kind to. However, the room is not for 3 adults. The rooms are "very rustic" and basic. Not nice at all. I went with 2 friends and one of the beds wasn't even a bed. Very unconfortable. I wouldn't go either with my girldfriend. The room had a door to another room and we could hear everything all the time at night. But the worst was that we run out of water and couldnt even flush the toillet for some ours, not to mention had a shower. Swimming pool is small but very nice though
Federico
2016-08-24T00:00:00Z
They arranged for quick and easy pickup from the airport. Their space was very clean and is centrally-located next to Fira, which is a two-minute walk. All-in-all, we thought this was the perfect base from which to explore the rest of Santorini.
Mike
2016-06-24T00:00:00Z
Typ pokoje
Soukromý pokoj
---
Typ nemovitosti
Penzion (B&B)
---
Ubytuje
3
---
Ložnice
Fira, Řecko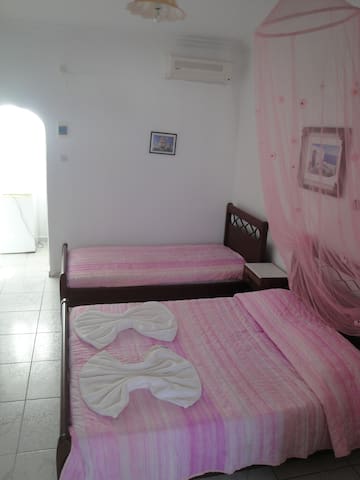 Anthea is a renovated traditional house of 19th century, situated in Pyrgos village. The name "Anthea" was inspired by its surrounding garden which is filled with hibiscus and pomegranate trees. One of the two guesthouses, "Jasmine",is an individual, peaceful apartment, furnished with traditional handmade furniture that sleeps 2 people.
In the "Jasmine" you will find a cozy living room, a fully-equipped kitchen, a beautiful bedroom and a bathroom. The apartment contains an air-condition system, a washing machine and TV. Wireless internet is provided. "Jasmine" has its own terrace with outdoor furniture.
About Pyrgos Village: Pyrgos Kallistis, or simply Pyrgos, is a picturesque village built amphitheatrically on a hill that offers magnificent views of Santorini in almost all directions. On top of ths hill remain the ruins of a Venetian castle (Kasteli). Pyrgos is a typical example of medieval architecture with narrow, labyrinthine streets, fortified walls and hidden passages. Nowdays, is one of the least spoiled by tourism villages on Santorini. Being one of the highest villages on the island, Pyrgos is one of the coolest in the heat of the summer. The constant breeze creates a pleasant difference in temperature when compared to other villages on the island. Pyrgos is situated almost in the centre of the island, at a similar distance from the cosmopolitan capital Fira, the port, the airport and the beautiful beaches of Perivolos, the Red Beach and Kamari. Only ten minutes away on foot, one can enjoy the wonderful view of the Calderas, while enjoying a coffee or tasting a variety of wines offered by the Cooperative Wine Producers of the island. Pyrgos has a very small amount of high-quality housing which caters for discerning visitors. The village taverns amply meet the gastronomic wishes of all visitors. There is a medical service available in the village and a pharmacy which has long opening hours.
EVERYTHING AS DESCRIBED. Pyrgos? Awesome. Apartment? Awesome. Aliki? Super awesome. Place was cozy and centrally located in the island. Aliki arranged taxi from airport, car rental, dinner reservations and more. Adorable black and white kitty who frequently visits your doorstep, if you see her give her a little water and bread :) ...wish i could give this listing six stars..
Al
2016-09-18T00:00:00Z
I subscribe to whatever the other guests of Anthea have written. Every praise is true, and more … The maisonette is equipped with everything you need, and exquisitely furnished. Pyrgos Kallisti is an ideal base to explore Santorini, yet it's quiet and has retained much of its original charm. And there is more: the relatively high altitude of 300 above sea level means we didn't have to use the air-con even once. Maria is the perfect host: welcoming, attentive and unobtrusive. There is a warm spirit about the house – you feel you're in the presence of Maria's family, yet you enjoy full privacy. And the breakfasts! Forget your good intentions about getting up early and exploring the island … It starts with Anthea's position: whether you sit inside or on the terrace, you enjoy a fantastic view of the whole island. And Maria's culinary creations – even in the best hotels I haven't had any better experience. Makes you feel you want to remain at the breakfast table forever. It was the perfect holiday for us!
Bernd
2014-08-02T00:00:00Z
Siamo stati a santorini per 10 giorni nella seconda metà di agosto. Nonostante il ritardo del volo la proprietaria è sempre stata molto carina e disponibile ad aiutarci con il trasferimento dall aereoporto ed una volta arrivati si è scusata per non aver potuto preparare per noi la cena. Nei giorni successivi aliki è sempre stata disponibile per qualsiasi evenienza, ci ha consigliato sia per il noleggio che per le escursioni. Per tutta la durata del soggiorno ci è stata pulita la casa e fornito asciugamani e teli da spiaggia. Difficilmente si trovano posti così simili alle foto che lo descrivono, è tutto curato nel dettaglio. Ci siamo sentiti coccolati da Aliki come a casa nostra. Pyrgos è una cittadina carina e tranquilla, la consigliamo a tutti coloro che vogliono vivere santorini e gustarsi la tradizione greca, senza il caos delle principali città.
Giacomo
2016-09-02T00:00:00Z
Aliki went out of her way to welcome us with refreshments even after we arrived late after a day on the beach and gave us a full tour of the town Pyrgos as well. The studio was spotless and is equipped with everything you could expect and more. Pyrgos has a great aura, there are plenty of restaurants, but everything feels very quiet and relaxed nevertheless. Just like the garden by the entrance. There are amazing views all over town. We took a hike to the Monastery and beyond to ancient Thiera and back which was great. The beaches in the south are close by car and were not too crowded, at least in June when we were visiting.
Fabian
2016-06-12T00:00:00Z
Aliki was a wonderful host--we felt like we were guests in a friend's home our entire stay. When we first arrived she greeted us with wonderful snacks and drink after our hot dusty journey. She then took us around town to orient us and later negotiated a good price for our rental car on short notice. The home itself is beautiful and after visiting Oia and Fira we were incredibly happy to have chosen this airbnb in Pyrgos for the wonderful food within walking distance, the relatively untouched charm of the village and the warmth of our hostess. We really liked how the apartment is very conveniently located blocks away from the main square and bus station. It is also walking distance to the beautiful Santos winery, Selene, local bakery and Profitis Ilias Monastery. Overall a fantastic stay and we would definitely return when in Santorini again.
Wan Xing
2016-06-04T00:00:00Z
Beautiful, cosy, clean little gem of an apartment with outdoor setting in the heart of Santorini with walk path straight to Pyrgos viewpoint. Aliki is a fantastic host and helps arrange absolutely everything. Daily cleaning, air conditioning, washing facility in house. Rent a car and enjoy Santorini!
Mikkel
2016-08-02T00:00:00Z
We had the most wonderful stay at the Athena Guesthouse. As soon as we arrived, Aliki greeted us to a breakfast spread with drinks. Her warm welcome made us feel very special. She spent time talking to us and getting to know us. She gave us a map and highlighted all the places we should visit. She even called and booked us a rental car, which I recommend because it's fast and easy to get around the entire island. She was always available to answer any questions and provide help whenever needed. The apartment is very clean, pretty, and equipped with anything you need. It felt like we were in a five star hotel. There's even a cleaning service that comes in daily to clean and give fresh towels. We had such a great time that we didn't want to leave. Akiki really made our stay memorable and ensured we saw everything. She even brought us to one of the beaches and took us on a hike to see a beautiful view of the entire island. I highly recommend staying here. I promise you'll never want to leave.
Hannah
2016-08-22T00:00:00Z
It exceeded all our expectations! Nice, quiet, well equipped apartment on a beautiful house. Great location, a short walk to restaurants, bars, markets, bus stop. A bit far from Oia but close to everything else. It is easy to rent a scooter or quad to go around the island. But what made the difference was the owner, Aliki is so lovely! When we arrived, she was waiting for us with a delicious homemade meal, can you believe it? We became friends on the first day. The best airbnb experience of our whole european tour. Thanks Aliki!
Carlos
2016-06-10T00:00:00Z
Typ pokoje
Celý dům/byt
---
Typ nemovitosti
Dům
---
Ubytuje
2
---
Ložnice
Pyrgos Kallistis, Egeo, Řecko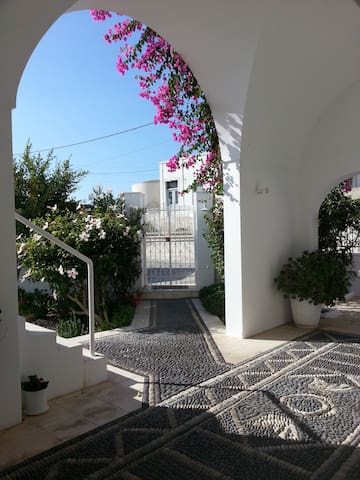 náš pokoj se nachází v obci v Megalochori a my jsme plavat pool.we jsou až na hlavní silnici naproti od autobusové zastávky "steki" Jsme 7 kilometrů od města Fira 3 od přístavu a 4 od pláže Perissa, perivolos.vlychada a červená beach.just dolů z našich pokojů je zde mini market pro (URL HIDDEN) obci se nachází příjemné restaurace a winerys.we jsou 200 metrů od kaldery byl můžete nyní nejlepší sunset.we vám může pomoci pronajmout skútry nebo automobil
Typ pokoje
Soukromý pokoj
---
Typ nemovitosti
Jiné
---
Ubytuje
3
---
Ložnice
Megalochori, Egeo, Řecko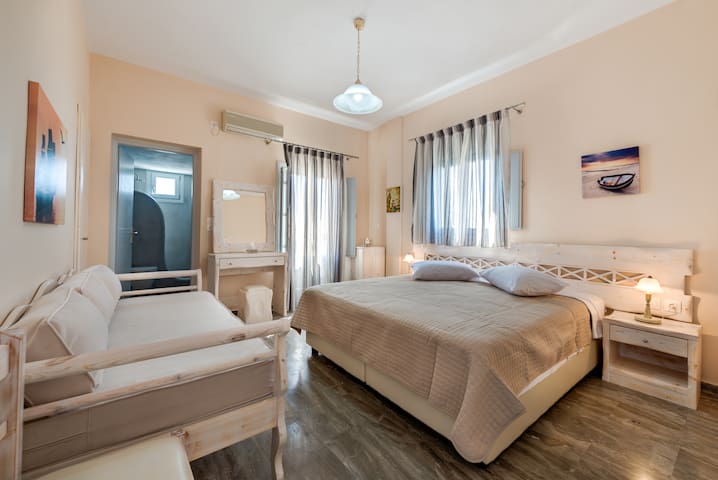 HABITACIÓ DOBLE SUPERIOR és una manera molt econòmica per les seves vacances en una habitació d'estil modern. la ubicació és al centre del poble Mesaria. en el lloc hi ha restaurants-supermercats, fleca i l'estació d'autobusos, que es pot agafar un autobús a Fira cada deu minuts. si es lloga una moto o un cotxe es troba al centre de l'illa, a prop de les platges, a cinc minuts en cotxe a la ciutat de Fira. l'habitació té, caixa de seguretat, assecador de cabell, TV LCD ,, nevera, tovalloles, bany privat.
HABITACIÓ DOBLE SUPERIOR és un acomodation molt econòmic. es troba al centre de l'illa i autobusos cada deu a quinze minuts a Fira de la ciutat o les platges. si vostè té la seva pròpia vechicle, (moto, ATV, cotxe), és millor quedar-se al poble de Mesaria perquè estàs a prop de tot, platges i cinc minuts de conducció Fira de conducció a només cinc minuts i totes les atraccions.
Comfortable room, perfect for us for a night since we landed after midnight and they are close to the airport with free pickup.
Tanay
2016-09-13T00:00:00Z
great location. close to fida and not too far from oia. front desk people were very helpful. we requested a second bed and we got it. rooms are great, has everything you need. they picked me up from the airport and dropped me off at the port!
Jesus
2016-07-28T00:00:00Z
Staff were amazing to deal with. Very friendly and super helpful with absolutely everything. Highly recommend staying here
Dakota
2016-10-08T00:00:00Z
The room was perfect and right in the center of town. Everything was close by and convenient. Julia was wonderful and so helpful, she told us how to get around the island and all the best places to visit.
Elva
2016-07-01T00:00:00Z
Fanourios was a very helpful and kind host. He gave us some helpful information about the best spots and restaurants on the island at the check in. He will also arrange a scooter rental for you, which is just the across the road. The eucalyptus hotel is in the center of the island, so you can reach all the spots in a few minutes. The room looks exactly like the pictures. Clean hotel with nice staff. I can definitely recommend this hotel.
Patrick
2016-09-27T00:00:00Z
Julia and Fanourious were wonderful hosts and so very helpful in telling us how to get around Santorini, where to go and where not to go. Julia even gave my sister and I her personal phone number to call her at anytime if we got lost or had any questions! The hotel is conveniently located across the street from a bus stop and only a 5-10 minute ride to the main town of Fira. I would definitely recommend this hotel and appreciate their kind hospitality!
Stefanie
2016-08-04T00:00:00Z
房东非常好,因为我们蜜月给我们升级了房间, 相处很愉快。位置很好到景点都不远,四周什么都容易找到。最重要的是,房子特别特别干净,床特别特别舒服,强力推荐!
雨松
2016-10-19T00:00:00Z
Awesome and very helpful! Felt like family. Very helpful by telling us where to go around the island.
Adonis
2016-10-01T00:00:00Z
Typ pokoje
Soukromý pokoj
---
Typ nemovitosti
Penzion (B&B)
---
Ubytuje
2
---
Ložnice
Mesaria, Egeo, Řecko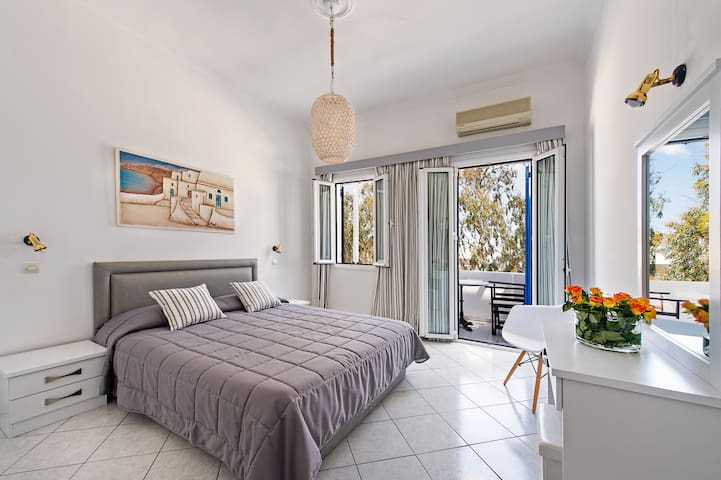 cases cova tradicionals a Santorini amb terrassa i kipo.Yparchoun 3 unitats de 60m2 amb dormitori, sala d'estar, cuina i bany.
Kalitsi és una casa d'hostes a la pintoresca vila de Vothonas que es troba al centre de l'illa en la posició geogràfica avantatjosa amb el ràpid i directe accés a Fira, l'aeroport i la majoria de les platges. L'assentament tradicional de Vothona es caracteritza per la preservació de les característiques culturals i arquitectura tècnica. -La Seva Estada; Kalitsi és una posició ideal per a aquells que estan interessats a explorar en profunditat aquesta bella illa. Kalitsi una casa-cova de construcció tradicional, es va enfonsar a la muntanya que proporciona les condicions adequades per a una estada fantàstica. Consisteix en 60m2, amb un dormitori doble, cuina totalment equipada i bany i pot fàcilment hospitalitzar a 3 persones. Ha estat completament renovat per oferir el millor servei per la seva estada, hivern o estiu. La casa cova té tot el necessari per a una estada confortable, incloent una cuina, una rentadora, assecador de cabell, etc. La majoria dels mobles són tradicionals i fet a mà pels locals. La vista de les cases està en el poble. Just fora és un bell jardí on podrà (URL HIDDEN) Inclou plaça d'aparcament privat. El poble Vothonas té carrers estrets i carrerons que creuen un vell riu cap al canó que comença des del peu del profeta Elies, ideal per a passejos. La tradició marítima dels illencs creat una relació especial amb l'Església ortodoxa cristiana, i per aquesta raó el poble apareix 17 esglésies petites i grans. A la part alta del poble és l'església de la Mare de Déu del forat construït a la muntanya des de 1700, cada any el 2 de febrer es converteix en una festa religiosa local. Molts altres festivals petits i grans es duen a terme abans del dia festiu de cada església, que expressa la cultura amb música i menjar local. cases cova tradicionals a Santorini amb terrassa i pati. Hi ha 2 unitats de 60m2 amb dormitori, saló, cuina i bany. També hi ha una unitat de 20m2 amb dormitori i bany sol.
El nostre barri té només les cases, les botigues estan a aproximadament 1 km del poble away.The té una gola meravellosa que els visitants poden caminar i veure. És un barri molt tranquil, tranquil i hospitalari amb servicial, amable i gent càlida.
Big and clean place, Irini was super helpful and such a nice person. The place is a little bit difficult to find, especially because the adress of (SENSITIVE CONTENTS HIDDEN) maps doesn't fit the place. You definitely need a car to go there, and all around Santorini actually. Irini even help us with the rent a car. The bells of the church work as a great alarm in the morning!
Hernán
2016-09-29T00:00:00Z
The house is very beautiful. There is a garden in front of the house , which is full of kinds of flowers. Irini is so nice and friendly that we had a good time .
Jessie
2016-09-12T00:00:00Z
Irini made our whole experience an absolute joy before and during our holiday. Irini or her son were always on hand to give us advice and recommendations of lovely things for us to see and do. The cave house itself is stunning and the locations ideal. It's a lovely haven to come back to and has everything you should ever need, it also looks exactly how it looks in the pictures – stunning. There is an added bonus of the lovely two cats and dog! Santorini is the best holiday myself and partner have had to date. We fell in love with the Island and we'd go back in a heartbeat, but also, without any hesitation we would stay with Irini in her beautiful cave house and I'd recommend anyone to do the same.
Katie
2016-09-08T00:00:00Z
Big and clean house and very quite. I think it's easy to find the house from airport if you take taxi. Irini is really helpful and friendly.
姝文
2016-10-12T00:00:00Z
Wonderful hospitality from exceptional hosts in a tranquil location, away from the crowds of Santorini. We thoroughly enjoyed our stay and the accommodation was clean, well-equipped and charming. We wouldn't hesitate to return or recommend it to others. They arranged for scooter, helped with transfers... Always very kind.
Patrick
2015-08-17T00:00:00Z
Irini con su amabilidad nos hizo sentirnos como en casa. Estuvimos muy a gusto en el alojamiento. El pueblo era muy tranquilo y esto era lo que buscábamos. Irini nos ayudó con todas nuestras dudas. La casa en la que nos alojamos es típica de allí y su decoración es la propia del lugar y está puesta con mucho gusto. Gracias Irini por todo.
victoria
2016-04-01T00:00:00Z
Irini was a wonderful and very accommodating host. We got there very early in the morning, way before our check in time, but she was there to greet us and even had another room temporarily ready for us incase we were jet lagged and wanted to nap. We needed to rent an atv, so she personally walked us to the place to rent! She also helped arrange a cab to pick us up early in the morning when we had to leave. The place was great. Exactly as described and clean. Thanks so much, Irini for your wonderful hospitality! It was lovely to meet you!
Serena
2015-09-20T00:00:00Z
La casa era mejor que en las fotos, un hogar increíble para pasar unos días en santorini. El barrio muy tranquilo ya que fuimos en temporada baja, aún así era precioso. La casa cuenta con todo lo necesario para sentirse a gusto.
Melanie
2015-12-26T00:00:00Z
Typ pokoje
Celý dům/byt
---
Typ nemovitosti
Kondominium
---
Ubytuje
3
---
Ložnice
Vothonas, Egeo, Řecko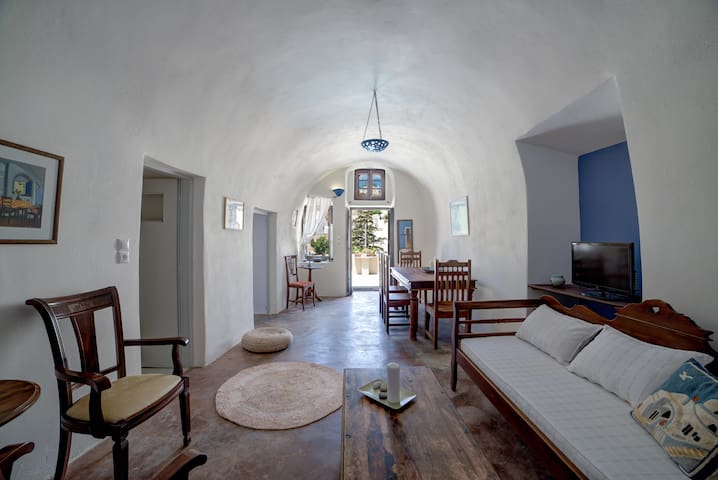 The Standard 2ble room is bright and airy and it has a bedroom with double bed and a bathroom and can accommodate up to 3 people with an extra fold bed . Safety deposit box, air-conditioning and a fridge are also provided. There is free WiFi Internet Access. Continental breakfast is available at the rate of 7 euro per day. A Family run pension studio in an excellent location right in the centre of the Island. It's just a 15 minute walk into the capital town of Thira, and a 10 minute bus ride to the beach. Located in the traditional village of Karterados where car & moped rental offices, coffee bars, tavernas, travel offices and mini-markets, plus a laundry and a bakery, are all close by. Free transfer from the port or airport is offered upon arrival, and free parking is available right next to the hotel. Helen and her husband will be happy to assist guests with ticket service, guided island tours and car or bike rentals. Helen will do her utmost to make your stay an enjoyable one!
Our stay at Helen's was amazing! She had arranged airport pickup for us which was complimentary. She is truly a kind woman. She booked a Santorini tour for us and answered all of our questions that we had. She even arranged a taxi for us early in the morning for our departure. Her husband was very friendly as well. I wish we could have stayed longer. If you're in Santorini I would definitely recommend staying here. It's in a quiet area but very close to Fira we walked there every single day with no issue. Thank you very much for a wonderful experience Helen
Meriam
2016-10-12T00:00:00Z
The place is very beautiful and calm. Helen puts a lot of effort in maintaining the place pristine and welcoming. We had great tips from her on what to visit and she booked all or trip herself and helped with communication with local people. The place is simply beautiful calm and offers a fantastic location to rest out of the crowd and is central to all the more buzzing places in Santorini. The neighboroud has very good local restaurants quite at a good price and one can stay out of the crowd and have nice dinners outside. Local shops are really close and the rooms are clean and regularly tided with new towels everyday.
Franca
2016-09-05T00:00:00Z
Helen and her family were very welcoming, delivering us to and from the airport and taking very good care of us the entire time we were on Santorini. The accommodations are clean, cool, and surrounded by beautiful, lush foliage. We didn't try out the pool (our little one loves the beach so much we headed straight to nearby Monolithos Beach every morning) but it looked very inviting. Helen was a wealth of information about the area, and helped us rent a small car from a family friend for a very good rate, and he even made sure we had an excellent car seat for our little girl. Much appreciated. With a car to hop around the island, and Helen's help, we had a fantastic time visiting the sites of Santorini and enjoying the fantastic local foods and wines.
Rob
2015-05-03T00:00:00Z
Un super séjour passé sur Santorin! Helen et toute la famille est très accueillante, bienveillante. D'une grande gentillesse. De supers renseignements pour nous guider au mieux. Les transferts port/aéroport assurés. L'hôtel est super. Chambres propres. Piscine très plaisante. Calme. Merci beaucoup! Nous recommandons vivement. A bientôt Coralie & Mickaël
Coralie
2014-09-03T00:00:00Z
I really enjoyed my stay at Pension George in Karterados. From the complimentary pick up and drop off to port, friendly and helpful staff and a nice family feel about the place, I felt that I got my money's worth and that my stay on Santorini is memorable because of this. Nothing was too much to ask of Helen and her team. The place is homely and relaxed and is decorated very tastefully throughout, including the gardens at the entrance and around the pool. Pension George is situated within walking distance to the main town of Fira and is minutes away from many eateries, convenience store, travel agency and laundry etc. I am happy to recommend Pension George to anyone fortunate enough to visit this island.
Viola
2013-09-07T00:00:00Z
Je ne peux que vous conseiller La pension d'helen, les chambre sont trés propre ainsi que tous les aménagements extérieurs et les extérieurs sont magnifique et surtout la piscine arborée de fleurs exotiques, la pension est à 20 min à pied de fira et a moins de 5 min d'une tres bonne boulangerie et de super resto je recommande à 100%
Jane
2016-08-26T00:00:00Z
Helen was an excellent host for my stay! The arrival process was very smooth. Our place was cute, clean, and relaxing. Helen was easily accessible and didn't mind us asking for multiple things throughout our stay. She is incredibly knowledgeable on the island and provided some of the best recommendations. Helen was key to our enjoyment on the trip to Santorini, I definitely would recommend!
Eddie
2016-10-22T00:00:00Z
Helen and her family are the kind of host you want to have! Very kind, helpful and funny. We had great talks, and great breakfasts! The accomodation was perfect! Very clean, spacious and with a lovely pool. Karterados is a great place to stay in Santorini: near from Thira and if you rent a quad wheel like we did, you can ride the whole island for a cheap price. Pension George and Karterados is the best option! See you Helen. Thanks for everything.
Julian
2013-06-04T00:00:00Z
Typ pokoje
Soukromý pokoj
---
Typ nemovitosti
Byt
---
Ubytuje
2
---
Ložnice
Karterados, Egeo, Řecko
Den fantastiske strand Kamari er kun 30m. Den største fordel er placeringen på grund af den nemme adgang til butikkerne, strandbarer, 24h åbne marked Kamari er godt forbundet bus med Fira by (hver 15 minutter), og resten af island.Free Wi-Fi !!!
Studio er placeret i den østlige del af øen, på Village Kamari.The fantastisk strand i Kamari er kun 30 meter fra studierne. Den indbydende og komfortable studio er 25sq meter med 4 senge .private kun bruge Er store og rummelige, rene og lyse udstyret med alt hvad du behøver for at tilbringe en afslappende og sikker ferie. Er ideel til par, enlige eller 4 guests..Here kan du finde et roligt og venligt sted at nyde din ferie. Studiet den består af: -Køkken. Køkkenet er udstyret med alle faciliteter til self catering (URL HIDDEN) 2 elektriske kogeplader / køleskab køleskab / kaffe-te maskine / espresso kaffemaskine / elkedel / tekøkken med køkkenfaciliteter, gryde, pande / etc.provided efter anmodning. -Tiled / Marmorgulv -Daglig Værelse rengøring -Bed sengetøj og håndklæder skiftes hver tredje dag. . -Udendørs Balkon og terracce område (bjergudsigt og haven vartegn). -Gratis Wi-Fi. -TV -Air Tilstand individuelt kontrolleret (varme / køle / fan) -Privat En-suite brusebad / toilet med uafhængig ekstern vindue. -Hårtørrer -Spisestue -Baby Babyseng efter forespørgsel (gratis) -Strygejern Og strygebræt på anmodning (gratis) -Drying loft -Gårdhave - Udendørs swimmingpool (deles med andre gæster) De daglige rengøring samt aircondition er inkluderet i prisen. Et barn under 2 år indkvarteres uden beregning for en barneseng. Kæledyr er tilladt efter anmodning. Ingen ekstra afgifter Den Kamari strand er omkring fem Klm stranden og studierne er kun 30 meter væk fra den sorte sandstrand med krystalklart dybblå vand. Den største fordel er placeringen på grund af den nemme adgang til butikker, strandbarer, 24 timer åbne supermarkeder og da Kamari er godt forbundet bus med Fira by (hver 15 minutter) og resten af øen. Tjenesten bus er meget hyppige. DISTANCE BY FOOT !!!!! 1 min fra Kamari strand / hav 1 min fra vigtigste busstoppestedet '' Kamari Beach " 1 min fra 24 OPEN mini marked 1 min fra den kommunale parkeringsplads
Den Studio ligger i den østlige del af øen, på Village Kamari.The fantastisk strand i Kamari er kun 30 meter fra studios..Here du kan finde en rolig, sikker og et godt naboskab til at nyde dit holidays.Very central og praktisk for alle de vigtigste turistattraktioner i Santorini. Den Kamari strand er omkring fem Klm stranden og studierne er kun 30 meter væk fra den sorte sandstrand med krystalklart dybblå vand. Den største fordel er placeringen på grund af den nemme adgang til butikker, strand barer, 24 timer åbne supermarkeder. Flere butikker i nærheden, ATM, bageri, tavernaer, caféer, taverner, butik galleri til gaver, rejsebureauer, bil / moto leje etc Et par gader væk er der coctail-barer med levende musik ved havet. For dem, der nyder bjergvandring begyndelsen på, der fører til toppen af bjerget er også omkring 5 minutters gang væk .. Dem, der nyder havet bedste, der er vandsport og dykkercenter, når du nemt kan nå ved at gå.
Nice location by the beach, but the space is smaller than it looks in the pictures, especially the bathroom. Host was very nice and helped us figure out how to get around the island though and arranged a late check in.
Katherine
2017-04-08T00:00:00Z
This is actually a hotel. But it's clean and good dimension. Location is convenient close to seashore and bus station. And there are many nice restaurants near by. Vasiliki is a nice host to help on giving good advise for how to make my short trip unforgettable with seeing beautiful sunset, trying good food and efficient arrangement. Thanks Visiliki!
Michelle
2016-09-15T00:00:00Z
The location is nice
YIMING
2016-09-14T00:00:00Z
Our stay was perfect. Everything was as we expected and ver very convenient relation between price and quality. The place was very clean and Vasiliki always very nice and available. Kamari is also a great pick in the island so location couldn't be better, a mix between quiet and accessible. Recommended!!
Javiera
2013-09-16T00:00:00Z
Vasiliki was a great host! The apartments are only a block from the beach in Kamari, which by far was the best town in Santorini. Vasiliki was very communicative and extremely helpful, setting up a van to and from the airport, helping us with taxis and busses, and giving us great recommendations (her dinner recommendation was one of the best meals we had on our entire trip!) Definitely recommend staying here!
Cait
2015-07-30T00:00:00Z
Our stay at Vasiliki's place was great. The place was essentially a room in a bed and breakfast, which was totally fine by us – especially given the considerably higher prices of similar places on the island – which made Vasiliki's place great value for money. The entire check-in process was really smooth – Vasiliki was nice enough to arrange for a car to pick us up from the port for around 20 euro (less than most of the taxis normally charge) and the actual process of checking into the room when we arrived was very smooth and easy. The room itself was exactly as pictured – very clean with lots of natural sunlight throughout the day. It was also nice that Vasiliki was on hand in her office most of the day to ask any questions we had. The area – Kamarai – is definitely more of a beach resort area as compared to Fira and Oia, but we liked that it was quiet and the bus system in Santorini made it really easy for us to get around (the bus stop is just a 2 minute walk away from Vasiliki's place).
Erinn
2016-10-11T00:00:00Z
Good value, good communication, extremely friendly. We missed a boat and didn't arrive until 6 AM but Vasiliki made sure someone would be there to let us in to our room. She also booked a van to pick us up at the port and bring us to the hotel for 18-Euro, which was a fair price, and the driver was there to get us at 6 AM, no worries at all. Easy walk to the main drag of Kamari, the beach, etc. Thanks!
Davy
2014-10-01T00:00:00Z
Lovely apartment, perfect location and very friendly and helpful!
Charlotte
2016-08-26T00:00:00Z
Typ pokoje
Celý dům/byt
---
Typ nemovitosti
Byt
---
Ubytuje
4
---
Ložnice
Kamari, Egeo, Řecko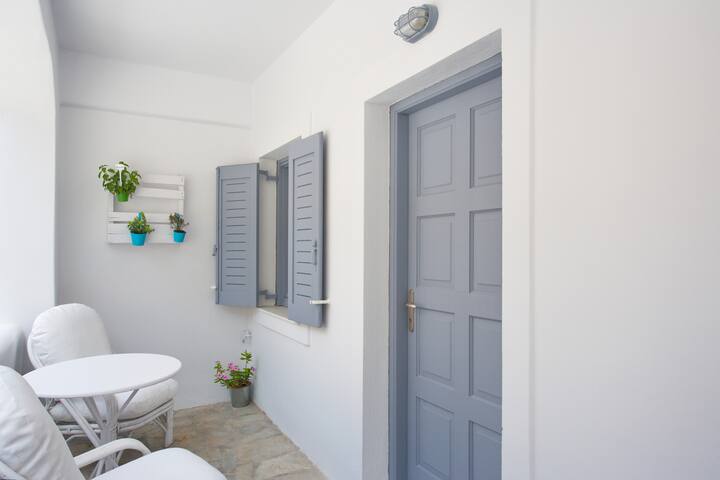 Pithos Wohnungen ist ein Komplex von komfortabel eingerichteten Cycladic Stil Unterkünfte, ideal für Kinder und Erwachsene. Alle Studios verfügen über einen eigenen Balkon und jede Einheit verfügt über eine voll ausgestattete Küche, Kühlschrank, Wohnzimmer mit Sofa sein
The place was very very clean and the host was so kind and hospitable! You will likely need to rent a car for this place but the host can hook that up too :) Would definitely stay here again!
Brooke
2016-05-20T00:00:00Z
This place was great! Quad bikes under the apartment are so handy. Definitely recommend staying here
sofia
2016-09-19T00:00:00Z
Giannis and his family were so welcoming and helpful and made our stay in Fira so wonderful. The apartment was really modern, spacious, clean, well furnished, well equiped and so cool. Did not expect the linen change during our stay. Giannis organised a local hire car rental for us at a good rate. The central location on the island was ideal. We saw so much. Also, ammenities so close - bakeries, supermarkets, restaurants etc. A great place to stay - highly recommend.
Barbara
2016-09-15T00:00:00Z
Giannis, and his family, were great hosts. Anything we needed, from a car rental to information about local attractions, was provided efficiently and accurately. Since the family (3 generations) is also in the business of renting motor scooter and ATVs, they have learned that customer service is paramount and at every turn it showed and always accompanied with a smile. For anyone on a budget who wants a truly comfortable, updated apartment and who will be seeing the island via scooter, ATV or car, I highly recommend renting from Giannis and his family the apartment which is precisely shown in their photo.
TED E.C.
2016-09-24T00:00:00Z
One word. STELLAR. Giannis was stellar from the moment we got to Santorini. From sending us messages and coordinating with us about where the place was located (The Scooter Club, one of the most famous ones there, inside the village of Vothonas, next to Mesaria) to renting us an ATV so that we can get lost on the island and have fun. It truly felt like home. You know, if Greece was home, which we wouldn't mind at all. We originally booked the listing from the pictures, but since we arrived super early because of separate and unrelated travel arrangements, Giannis let us stay in the room next door. And we are glad we did. It's very similar to the one in the pictures except for us, the sun hits it just right in the morning and the bedroom is bigger. Even after the original room was done cleaning, Giannis offered it back to us but we politely declined because we loved the new room so much. We are sure if you ask him about it, he'd let you book it. What's really cool is that the place felt secure and safe. The locks are tough. It's a small town (Vothonas, 100m from Mesaria) and there is a Carrefour (supermarket/grocery store) within a 5 minute walk. There's also a bus stop another 2 minutes down with a host of shops and places to eat. You definitely need to stay here, and remember, ask about the other room! You won't regret waking up to the sounds of Roosters and walking out and seeing Giannis' grandma and grandpa downstairs outside enjoying the sun and relaxing. You truly get the authentic feel of Greece and it's small villages staying here. We SUPER recommend it.
Valerie
2016-10-15T00:00:00Z
Φιλόξενος πολύ! Το σπίτι κοντά σε σούπερ μάρκετ. Χρειάζεται αυτοκίνητο ή μηχανάκι για τα Φηρά.
Pavlos
2016-06-21T00:00:00Z
Giannis and his family were really nice, helpful and attentive to us. The apartment is new and clean, and in our opinion it's good situated to visit the island (we spent there 5 days and we had the chance to explore the whole island). For us the only inconvenient was the shower because we weren't use to its modern design. But if we repeat in Santorini we will choose again Giannis' place.
Enrique
2016-08-10T00:00:00Z
George was a gracious host. He and his family who owns the scooter club adjacent to the listing, made our welcome and time in Santorini that much more memorable. He welcomed us very late in the evening when we arrived. Throughout our stay, he answered all of our questions about navigating the area quickly and helped us arrange transportation. The accommodation was wonderful: modern, clean, and easily accessible to transportation to nearby popular and beautiful areas of Santorini. Exactly as depicted in the pictures. Perfect place for a getaway. I would definitely book again.
Pascale
2016-07-14T00:00:00Z
Typ pokoje
Celý dům/byt
---
Typ nemovitosti
Byt
---
Ubytuje
4
---
Ložnice
Thera, Egeo, Řecko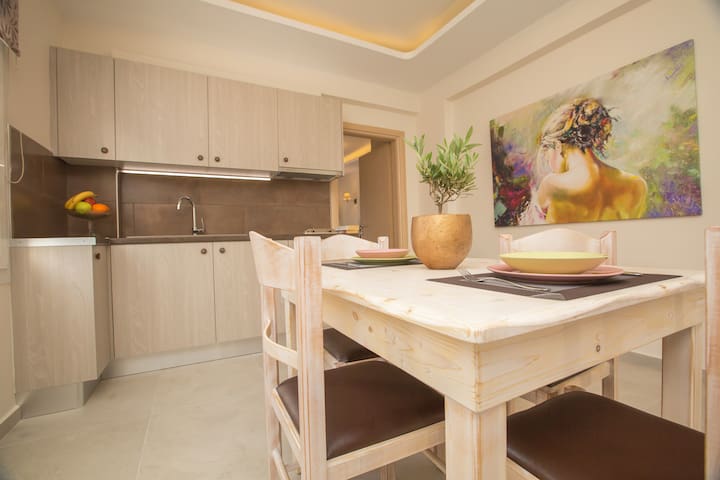 Slap af i den rummelige jacuzzi, nyde udsigten fra terrassen, slap @ Home på 100m2 med 2 soveværelser, 2 badeværelser, fuldt udstyret køkken, pejs, aircondition og satellit-tv. Roligt beliggende, 2 km (5 min. Drev) fra havet og beach resort.
Væk fra de turistmæssige trængsel, men stadig tæt på alle de unikke steder på øen kan du nyde en fantastisk udsigt til havet. Huset er smagfuldt møblerede og indrettede og tilbyder en pejs til at tilbringe endnu køligere dage i en hyggelig atmosfære. Vi kan rumme 2 til 4 personer, ideelt for 2 par eller familier på op til 2 børn.
Vores kvarter er stille, har udsigt til havet og til bjerget, er det uspolerede og tæt på en af de traditionelle landsbyer på øen. Især påske tid vil gøre dit ophold uforglemmeligt! Art Space Winery og Art Gallery er kun 150 m væk, og inden for 10 minutters gåafstand finder du "gul æsel 'bryggeri, et mikro bryggeri, der producerer lokale øl!
Wow! I will definitely come back here - what a beautiful villa. The accommodation was immaculately clean and had everything you could possibly want - I particularly liked the coffee machine! Beatrice was a lovely host and very helpful. The view from the hot-tub is simply stunning, Kamari beach is just a 5 minute drive away - thoroughly recommended.
Gary
2016-07-02T00:00:00Z
This is one of those places where you immediately understand that you will have a few wonderful days. Where you immediately feel yourself at home. The house is spacious and has a nice modern look and feel with beautiful wooden furniture inside and outside. The place is really 'finished' The refreshing Jacuzzi with panoramic view is lovely as well as the perfect working air conditioner in the rooms … and so on and so on. There is a lovely taverna within walking distance (which Beatrice had already booked with nice places with nice views again) and the house is near the beautiful Pyrgos (which we eventually found a lot more fun than 'crowded' Oia and Fira. The Open Air Cinema and a visit to Art Space and Winery are recommended in our opinion. Beatrice, thank you for your hospitality and active thinking to make our stay as best as possible. We had a great time!
Peter
2016-07-28T00:00:00Z
Simply perfect!!! The location is stunning visually and provides a wonderful shelter from the more tourist packed places. with a small car, you can access all of Santorini quickly..and then you get to come back here and enjoying some nice Santorini wine in the cool outdoor jaccuzzi! Need I say more? Ok..I will. Beatrice and her family where wonderfully welcoming and provided us with excellent local advice...arranged for a last minute car rental...we even go a tour of their workshop! This is a place to come back to!
Yannick
2015-08-27T00:00:00Z
Me and my partner had 10 nights at this fantastic villa. Perfect location away from the hustle and bustle of Oia, but close enough to get there in no time aswell as other amazing places on the island. Beatrice was the perfect host, picking us up from the airport, arranging our rental car, keeping us informed on places to go on the island and making sure everything was okay. Beatrice also recommended and booked us a Sunset Oia Catamaran trip, which we paid for direct with the company, but this was one of many major highlights of our trip and we would strongly recommend doing this! All in all the villa was amazing, the host was fantastic and I couldn't recommend it more! Thanks again Beatrice for making our holiday very special!
Jonathan
2016-08-07T00:00:00Z
We had a fantastic stay at this beautiful apartment. Beatrice was a very warm and generous host and we were lucky enough to be invited to join her and her family for an Easter celebration which was great. The house itself is really spacious and beautifully designed. Very comfortable for us and our young daughter, and the hot tub outside was a special feature that we all enjoyed! We had a great time and would highly recommend this beautiful home.
Sarah
2016-05-08T00:00:00Z
Nous avons passé un excellent séjour dans la très belle maison de Beatrice et de son mari. C'est une excellente adresse. Beatrice nous attendait à l'aéroport , elle nous y a également déposés pour le retour ce qui constitue un plus. La maison est neuve très propre et décorée avec beaucoup de goût . Son mari est un véritable artiste qui a fait le mobilier de la maison. Béatrice est à la fois attentionnée et discrète. La région est superbe , l'endroit est très calme. Le jaccuzi a été très apprécié de toute la famille. Il y a beaucoup de choses à voir et la nourriture grecque est excellente.
Jacqueline
2016-04-17T00:00:00Z
If you plan to go to Santorini don't bother beating yourself up trying to find the perfect place to stay. This is it!! You are within a short driving distance to everywhere you want to visit yet you have a bucolic retreat away from the masses to relax and enjoy your visit. The property is first class, the host's could not be any better (make you feel as if you have known each other for years), and the privacy id perfect. Beatrice is available and responsive to assist with any of your needs. I'm certainly glad that we chose this property for our visit. Steve and Karen Plano, TX October 2015
Steven
2015-10-04T00:00:00Z
I spent 4 nights at this lovely villa with a couple of friends. It's even better than described, we actually had to force ourselves to go out and explore! Two minutes walk from the Villa is a vineyard named ArtSpace and there is also a brewery very close by. Beatrice and her family made us feel right at home, they picked us up and dropped us to the airport, brought us local beers, organised transport for us and always made sure we were taken care of during our stay. Santorini is beautiful though the Villa and Beatrice made the experience once to remember. I highly recommend that you stay here!
Ijan
2015-06-08T00:00:00Z
Typ pokoje
Celý dům/byt
---
Typ nemovitosti
Vila
---
Ubytuje
4
---
Ložnice
Santorini, Egeo, Řecko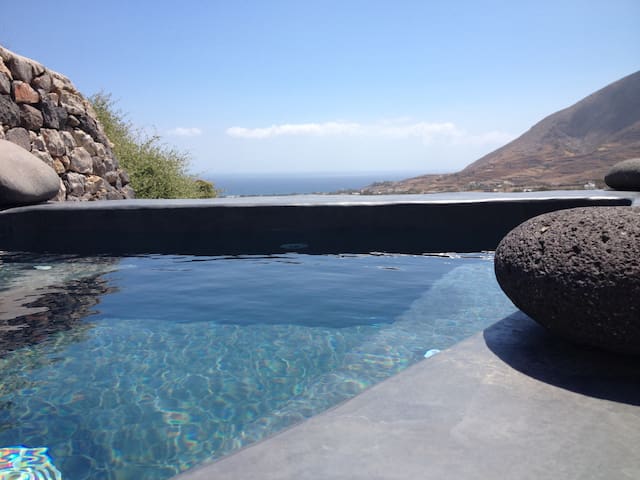 Thiras sada je jedním ze 4 velkých apartmánech Santorini Traditional Suites komplexu v Vothonas Santorini, s terasou a společný bazén. Spí 4 osoby. Ve středu ostrova, 3,5 km od pláže Kamari, 4km od Fira.
Suite LAVA je jedním ze 4 apartmá z Santorini Tradiční Suites komplex, navržený a zdobené v souladu s tradiční Cycladic architektury. Nachází se v centru ostrova Santorini vedle tradiční vesnice Vothonas. Stojí na vrcholu kopce, má unobstracted výhled na východ, overviewing na nekonečné modré Egejské moře a ostrov Anafi. Je postaven na ploše o 4.000 metrů čtverečních, daleko od jakéhokoli hluku, obklopen vinicemi a čisté přírody Santorini, že se koupe v řeckých světlo nabídkových chvíle klidu a relaxace pro vás a vaši rodinu.
V domě jsou harmonicky vloženy v přírodě, vyzařuje klid a relaxaci, s výhledem na nekonečné modré moře na jedné straně a tradiční vesnice Vothonas na druhé straně.
We had an extraordinary experience with Anastasia. She was a super host always ready to help. Very attentive and incredibly nice, I cannot recommend this place more. If you are looking for a break from everything this is the place. It is not in the center of town but if you rent a motorbike or a vehicle you can be in downtown Fira in 15 min. However, there are supermarkets and restaurants 5min away. The airport is very close too. Thank you, Anastasia. We would love to come back.
Enrique
2016-09-24T00:00:00Z
I truly believe that our stay at Santorini traditional suites was a big part of what made our trip to the island so amazing. Anastasia is an incredible host. She always communicated quickly, she was friendly, helpful and even picked us up one day when we lost our way! She suggested a sailing trip around the island which was well worth it and highly recommended. Our suite was so clean, the beds were comfortable, the kitchen has ample supplies and anastasia even left some fresh fruit for us in the fridge. The pool was incredible. So refreshing after busy days! The views in all directions are stunning. My favourite was out the kitchen window where you could see the church in the village of Vothanas. Opposite view was the sea, then the other sides were fields where you could see some cows. Anastasia recommends renting a car, scooter or atv and we can understand why. However, the bus stop is about a 5 minute walk away in two directions, and the walk through the village was gorgeous! Anastasia helped us out with the route. It was about 10 minutes by bus into Fira. I highly, highly recommend this place for its unique experience and a relaxing way to be near the centre, but not right in it.
Jennifer
2016-07-08T00:00:00Z
Very mice place; Calm, clean, and ideally placed for visiting the entire island. Anastasia was perfect with us, always clear and helpful. Good and warm hospitality from the owner of the house.
Eric
2016-08-10T00:00:00Z
Charmante petite villa, bien équipée. La piscine est très agréable et la vue est incroyable.. La propriétaire, Anastasia est accueillante et sympathique.
Jonathan
2016-08-17T00:00:00Z
Our host Anastasia made us feel very welcome, she arranged to pick us up at the airport and gave us a bottle of local wine as a welcome gift! During our stay, she was always there for us and helped us out when we had a question or needed something. The place itself is beautiful and very practical, just as described. Wonderful outdoor space and seaview, calm yet close to the village with restaurants and supermarkets and shops (10-15 min leisurely walking distance). Definitely recommended!
Ben
2016-10-09T00:00:00Z
Maisonnette bien située, proche de Fira, grande, bien meublée et bien aménagée. Famille en or, nous avons rencontré le fils capitaine d'un bateau, et la fille avec qui nous (les enfants) sommes sortis dans santorin! Nous avons pu partager des moments avec la famille, que l'on reverra avec grand plaisir! Merci beaucoup, en espérant pouvoir venir revenir un jour!
Juliette
2016-09-02T00:00:00Z
Anastasia was extremely accommodating. Her daughter even picked us up from the bus stop when we first arrived and drove us back to Santorini Traditional Suites. The rooms were beautiful and clean with a nice patio. The pool was perfect for relaxing. I throughly enjoyed my stay here and would stay again. Thank you, Anastasia!
Kelsee
2016-08-29T00:00:00Z
Anastasia made us feel very welcome and our stay was wonderful! The accommodations felt new, clean and well maintained. The pool was also a nice treat after a long day out exploring it at the beach. It was a treat to have daily cleaning services as well. Transfers to and from the airport were great too.
David
2016-09-18T00:00:00Z
Typ pokoje
Celý dům/byt
---
Typ nemovitosti
Dům
---
Ubytuje
4
---
Ložnice
Vothonas, Egeo, Řecko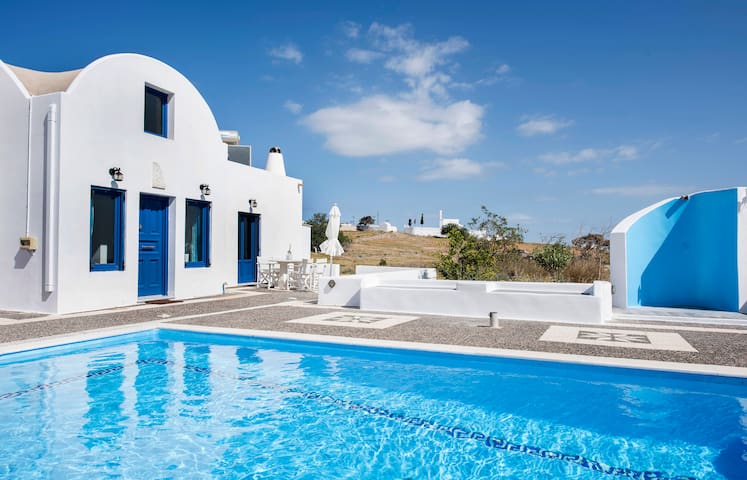 Αυτό το μικρό ξενοδοχείο στεγάζεται σε ένα μπεζ κτήριο και προσφέρει ήσυχο και χαλαρωτικό περιβάλλον, μόνο 450 μέτρα από τα Φηρά και 800 μέτρα από την κεντρική πλατεία των Φηρών. Το Villa Agas απέχει μόλις 15 μέτρα από τη στάση του λεωφορείου.
Ο χώρος περιλαμβάνει και αίθουσα αναμονής και υποδοχής ο οποίος λειτουργεί από την περίοδο Απρίλιο - Οκτώβριο. Επίσης στο χώρο αναμονής και της πισίνας λειτουργούν αυτόματοι πωλητές ποτών/αναψυκτικών κατά τους παραπάνω μήνες.
Το Villa Agas διαθέτει μόνο 11 δωμάτια και παιδική πισίνα και είναι κατάλληλο για οικογένειες που αναζητούν ασφαλές και ήρεμο περιβάλλον διαμονής. Σε απόσταση μικρότερη των 30 μέτρων θα βρείτε: Φωτογραφεί,Ζαχαροπλαστείο,φούρνο, ενοικίαση μοτοποδήλατων, ποδηλάτων,τουριστικά γραφεία, εστιατόρια (παραδοσιακά,πιτσαρίες,ψησταριές,κινέζικο),καφετέριες,σούπερ μάρκετ και τη στάση λεωφορείων του ΚΤΕΛ προς όλους τους προορισμούς.
Nice
XinLi
2016-10-06T00:00:00Z
Nikolina was kind enough to arrange a pickup for me at the ferry terminal, which I really appreciated because I was too tired to think ahead and it would have been a big hassle otherwise. The place was exactly what I needed. It's a good value, very close to Fira, and comfortable bed. I would be happy to stay here again.
Jimmy
2016-07-15T00:00:00Z
Die Airbnb Unterkunft ist in unseren Augen ein kleines Hotel, welches über dieses Portal vermarktetet wird. Nathailia haben wir leider nie gesehen, nur einen älteren Mann, der sich um alles gekümmert hat. Airbnb kennen wir anders! An sich ist die Unterkunft zwar sehr klein, aber süß gemacht. Unser Zimmer war leider nicht sehr sauber und die Matratzen war sehr hart! Erwähnenswert sind vor allem die sehr dreckigen Wasserhähne. Die Lage ist nicht zentral, dafür ist man aber in 15 Gehminuten direkt in Fira und hat eine Supermarkt gegenüber. Preisleistung wäre ok, wenn das Zimmer sauberer wäre.
Laura
2016-10-30T00:00:00Z
Good place, walking distance to Fira and the bus station. Very nice pool, near the building. The bed wasn't comfortable. I felt all the springs. Great people, very helpful and available at all times.
Maria
2016-10-04T00:00:00Z
Good and easy
Hannah
2016-09-19T00:00:00Z
还行吧总体来说,像一家酒店,免费接,但是不会免费送,房东回问题还是比较快的
Zhenyong
2017-03-17T00:00:00Z
Very nice and centric place. Located really close by walking from Fira, the bus stop and in general from all the attractions and touristic places. You won't regret about taking that hosting :)
Bryon
2016-07-08T00:00:00Z
A good place for stay in the Fira Not so close to the city center but can be accepted: )
Wenhui
2017-01-05T00:00:00Z
Typ pokoje
Soukromý pokoj
---
Typ nemovitosti
Byt
---
Ubytuje
2
---
Ložnice
Karterados, Egeo, Řecko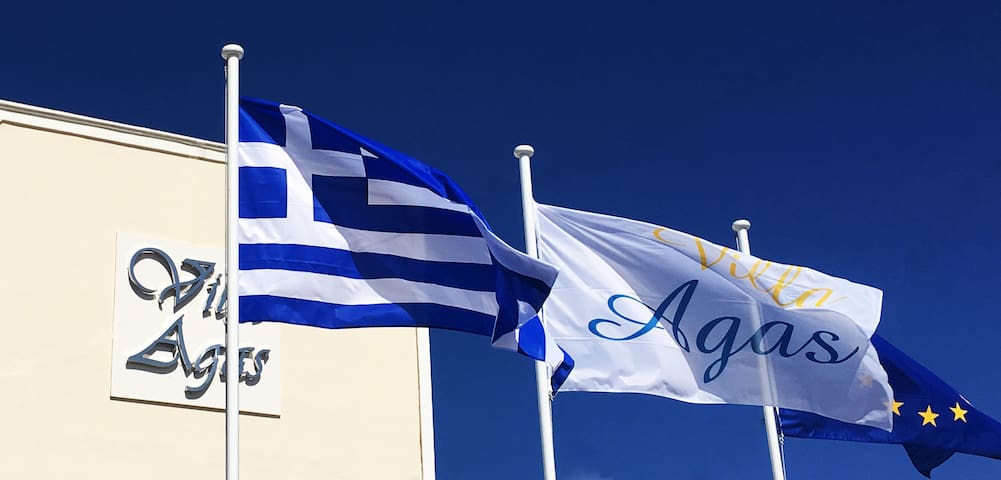 Nechť naše rodina bude váš host ve velmi zvláštním místě, split - úžasné studio hladina nachází v Exo Gonia, malé tradiční vesnice přímo v centru ostrova. Užijte si neomezené a panoramatický výhled na Santorini a Egejského moře ... Cítit jako doma, být součástí nás, být součástí místní způsob Santorini života .. Jste vítáni, aby nás doma ....
vybavení Zasazen do našeho majetku, přičemž polo odpojen, studio ubytování split-level je 26 m² (280 sq.ft) a má svůj vlastní soukromý vchod, společná terasa a zahrada. Sdílí úžasný panoramatický výhled na moře a výhled do vnitrozemí ostrova. Naše Split level studio je vkusně moje žena a sám a může ubytovat až 3 osoby. V přízemí najdete - kromě krásným výhledem -: Posezení s rozkládací pohovkou, které mohou ubytovat až 2 osoby, stylový jídelní stůl. Země styl kuchyně, která je plně vybavena integrovaným lednice, toustovač, varná konvice, kávovar (espresso a filtruje), což je Tassimo single-sloužit sládek, který připravuje jeden šálek porcí espresa, čaj, horká čokoláda, latte, cappuccino a moka (funguje pouze s kapslemi), což je kotel vejce a veškeré potřebné nádobí pro přípravu snídani a lehká jídla. Koupelna se sprchou, malý, ale velmi, velmi šikovný, nabízí bezplatné toaletní potřeby a mnoho dalších užitečných maličkostí, které mohou se budete cítit jako doma! V horním patře, kopule, najdete - na rozdíl od jedinečného pohledu -: Velikost queen bed TV s plochou obrazovkou s portem USB media player Malá knihovna s knihami, map, průvodců, užitečné tipy a rady o ostrově a hračky box pro tyto malé hodiny si chcete odpočinout v posteli hrací karty, šachy nebo jiné cestovní hry ... Celé studio je klimatizovaný a pro vaše osobní péče vysoušeč vlasů a žehlička je k dispozici Neobtěžujte uvedení ručníky & linky s vámi, zajistíme je pro vás ... Studio je ne oblast kouření a žádáme naše hosty, aby plně respektovat
Sousedství Exo Gonia se nachází v centru Santorini ostrova a je to jedno z mála unspoilted tradiční vesnice, daleko od hluku, dopravní zácpy a přeplněných místech. Klidné prostředí na něž se vztahuje s rostlinami, květinami a stromy vám dokonalý pobyt pro relaxační dovolenou. Pohled je ohromující z každého rohu, představte si, že můžete obdivovat zároveň na moře, hory, pláže, v blízkosti ostrovů v Egejském moři, nebo téměř polovinu Santorini ostrov. Ideální útočiště pro páry nebo rodiny, kteří hledají klidnou přestávku ale s veškerým vybavením, v přiměřené vzdálenosti. Pokud jste na pěší turistiku, můžete začít od tady! Hned za náš majetek je cesta, která vás dovede k Pyrgos, Ancient Thira a Mesa Gonia a Episkopi Gonia (Kamari). Budeme poskytovat veškeré potřebné informace, nebojte se! Pokud jde o místa k jídlu a ochutnat místní jídlo, "Metaxi mas" krčma je 3 minuty chůze od hotelu pěšky a restaurace "Aroma AVLIS" jen 3 minuty jízdy (autem). Další restaurace (supermarket a grocerie obchodě) lze nalézt také ve vesnici Pyrgos, Kamari a Megalochori a může být dosaženo pomocí vozidla. Chcete-li navštívit vinařství a ochutnat proslulé víno santorinském existuje spousta jen 5 minut jízdy autem. Obec Pyrgos, Mesa Gonia a Megalochori hostit jedny z nejlepších na ostrově. Kamari beach je k dispozici nejbližší - jen 2,5 km - a tam můžete také najít supermarkety, obchody, grocerie hodně rychlého občerstvení, lékárna obchod, kino a spoustu barů, kde si můžete vychutnat svůj drink. Vzdálenost od letiště - 4 km Vzdálenost od přístavu - 6,5 km Vzdálenost od hlavního města (Fira) - 5,0 km
I could start with a massive THANK YOU! Dimitris has been the best host I had so far, he took care of every single detail since we booked. Any sort of amenities were provided (from soap to tooth paste, to a magnifique wine bottle :) ) so we felt like home. He arranged a quad for us and made everything easy. At the end we had a misunderstanding with the hiring company and he came with us and resolve everything, we can just be thankful for being such a nice person Dimitris! If you guys haven't book this yet, please do it. The apartment is way better than in pictures. Super well located, not far from anywhere! Absolutely loved our experience there :)
Maria
2016-09-19T00:00:00Z
If you are looking for a spacious place for a great price, look no further. Dimitris' place was the perfect place to stay for us during our first time in Santorini. The space had all the amenities that were listed and was located in a very quiet area that had an excellent view. Dimitris was very hospitable. We checked in at a very early hour and he was still able to give us an overview of the space and offer any answers to questions that we had. He even offered us a bottle of wine, which was a very kind gesture that I have never experienced with any other Airbnb hosts. Overall, I would highly recommend Dimitris' place to anybody planning to visit Santorini.
Oscar
2016-08-30T00:00:00Z
The studio was fantastic!! Dimitris was always available and kind. The location is perfect, near to beaches, to the center, to supermarkets, to the port and to the airport. Plus you can see beautiful sunsets just out of the door!
Lucrezia
2016-07-28T00:00:00Z
Dimitris guest house is well located in a quiet and beautifull area with a view of all the island. We really appreciated the confort : there was everything one need to feel like home. Thanks again for the advice, We really appreciated our stay!
Rémi
2016-07-05T00:00:00Z
Nous avons beaucoup apprécié notre séjour à Exo Gonia. Dimitris est un hôte attentionné et nous avons bien senti qu'il s'efforçait de rendre notre séjour des plus agréable. Il a organisé notre location de voiture et nous a accueilli avec une bouteille de vin et un petit mot personnalisé. L'appartement est bien localisé et facile d'accès.
Christine
2016-09-08T00:00:00Z
Dimitris was a wonderful host. The apartment was very cozy and in the middle of all the popular towns such as Fira, Kamari beach, and Oia. I would definitely recommend renting a car. It was very helpful. Dimitris was wonderful and described how to get to the towns and was helpful with reservations and tours. I would absolutely recommend this Airbnb!
Diana
2016-09-14T00:00:00Z
The stay to Santorini was fantastic. No problem to getting to the rent, about 30min from the port. We took the bus until Purgos, then Dimitris came to find us. The place is relly like the photos, very beautiful view. Having everything we needed, very clean, air-conditioned, modern but traditional. After rented something, everything becomes very easily accessible (Fira 10/15min). Moreover, there is a great restaurant in a 3-minutes walk from the rent (beautiful atmosphere and magnificent view). Dimitris was a great host: very nice, thoughtful, pleasant and discreet. He largely simplified our stay (help for the rent of the ATV, good places and adresses), and was very helpful. We were very pleased with this stay at Dimitris and recommend him strongly to every person or couple wishing to spend a few days to Santorini. Thank you Dimitris (and cute Hector!)
Pierre
2016-07-12T00:00:00Z
Dimitris è un host fantastico. Ci ha accolto nel suo favoloso appartamento dotato di tutte le comodità e ci ha consigliato tanti bei posti in cui andare. E' stato super e disponibile nel seguirci anche durante il soggiorno quando avevamo bisogno di taxi e ci ha accompagnato anche al porto al ritorno! E' fantastico e consiglio a tutti quelli che passano da Santorini di soggiornare al suo appartamento. Ci siamo innamorati del posto ed anche del suo amabile cagnolino Hector! :)
Ylenia
2016-08-16T00:00:00Z
Typ pokoje
Celý dům/byt
---
Typ nemovitosti
Byt
---
Ubytuje
3
---
Ložnice
Exo Gonia, Egeo, Řecko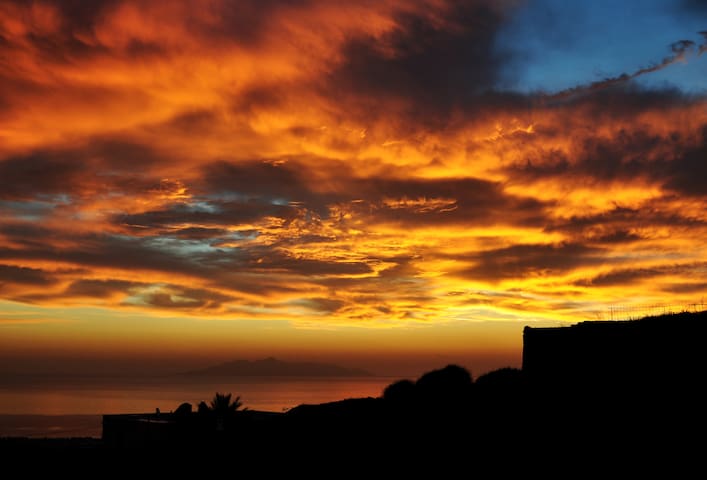 Pro zobrazení celkové ceny zadej termín. Mohou být přidány další poplatky a daně.