Dave is a lovely host. His selection of accommodations are certainly unique in the area. I look forward to coming and staying with you many times over.
David
2017-04-05T00:00:00Z
Typ pokoje
Celý dům/byt
---
Typ nemovitosti
Chalupa
---
Ubytuje
3
---
Ložnice
Erin, Ontario, Kanada
Ein privater Mikro-Hütte mit einem atemberaubenden Blick. Perfekt für alle, die die Stadt von TO in weniger als einer Stunde zu entkommen, einen Platz sucht einfach nur reden und die Natur genießen oder jeden, der einen abgelegenen Ort für Ruhe, Entspannung und Kontemplation muss.
Dies ist ein 107 Quadratfuß "bunkie", die aus echtem kanadischen Wald und gebaut von Hand vor Ort geschnitten wurde. Die Einstellung ist hoch oben auf einem Hügel, die eine erstaunliche Sicht auf die umliegende Landschaft. Nur 4 Minuten mit dem Auto in die charmante Stadt Erin, ON. Wir sind ca. 20 Minuten nördlich von der 401 entfernt.
Dies ist eine private Kabine im Land. Innerhalb einer sehr kurzen Fahrt aber es gibt fantastische Restaurants, Unterhaltung und Einkaufsmöglichkeiten wie das Toronto Premium Outlets. Unser Führer ist mit Spaß Dingen gefüllt, während Ihres Aufenthalts zu tun.
We only got to cross paths with David on our way out, but he was very friendly. There was more than enough firewood and blankets. He borrowed a heater from his parents for us and the place was warm and cozy. An easy way to get away from Toronto for the weekend.
Ali
2015-10-13T00:00:00Z
We had a great stay at the Teacup Chalet, which is in a fantastic location, with a great view! The Chalet is private and sitting out on the front porch felt like we were alone in nature. Even though we were there on a rainy day, we had periods where we were able to sit out, and when we had to hide out inside, the sound of the rain falling on the roof made us feel cosy and relaxed. We spent the afternoon in Elora, which wasn't too far away and had lots to see and do. Thanks for a great stay!!
Nicole
2016-08-14T00:00:00Z
We spent a night cozied up in the bunkie in late October. We arrived to a warm cabin, since our hosts left the space heater on in anticipation of our arrival. Fleece sheets and plenty of blankets kept us warm overnight. A fire and gorgeous stars capped off a perfect weekend getaway.
Elizabeth
2015-10-19T00:00:00Z
Awesome cabin! The heater is a bit small so maybe bring another if you're staying in the winter. Amazing views and a great fire pit for cooking, just ask David for firewood! Such a peaceful getaway and 5 minutes from Erin. Bring TP!!
Duncan
2017-02-21T00:00:00Z
Davids bunkie was the perfect place for a little getaway! Clean and cozy! It felt very homely and David was very helpful and friendly! Will definitely be coming back!
charity
2017-03-01T00:00:00Z
This cozy little cabin had a great view and kept us warm through the winter night.
Laura
2017-02-12T00:00:00Z
Cozy and quiet-the bunkie is a perfect little getaway from the city. Close to various outdoor activities, restaurants and cafes. A lot of charming small towns nearby as well.
Sandra
2017-01-02T00:00:00Z
The bunkie had three heaters which was great for winter camping. It was private and a great gateway from the city. My only tip would be covering the wood in the fire pit and around so it's not wet and frozen.
Pelly
2017-03-17T00:00:00Z
Typ pokoje
Celý dům/byt
---
Typ nemovitosti
Srub
---
Ubytuje
2
---
Ložnice
Erin, Ontario, Kanada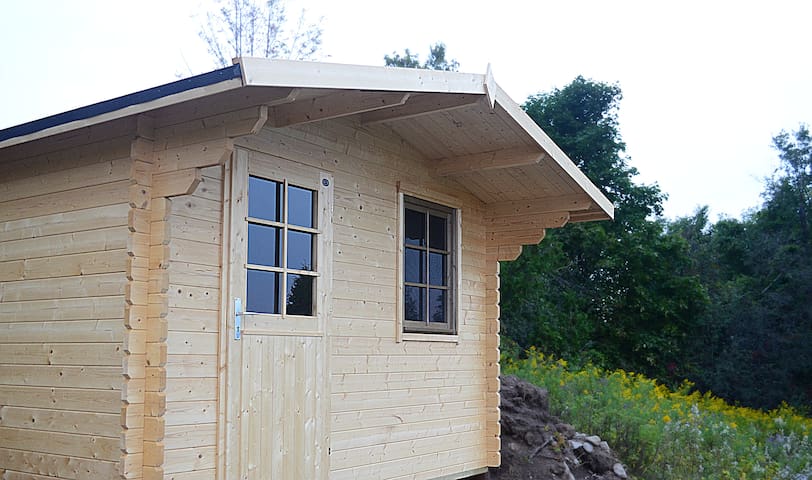 我们的周边地区充满美丽的农场和遗产家园。在附近,你会发现事情巨大的选择在水源及以后的小山做。伊劳拉和弗格斯都充满了商店,餐馆和历史魅力,是完美的地方,骑车,徒步抢午餐或去拉链衬里和管!抢艾琳的冰淇淋和探索主要街道的许多商店。在下降到米尔顿落差去采摘苹果或圣雅各布去打猎的古董。我们从许多历史悠久的村庄/城市只需15至30分钟!宏泰,埃洛拉,艾琳,罗克伍德,奥兰治,卡利登,弥尔顿,圭尔夫大学,只有45分钟到基奇纳和圣雅各!
Cathy was a wonderful host and very responsive. We decided to do the three hour walk around Elora Gorge the morning before checking in. We got stuck in a thunderstorm, checked in early and were welcomed with freshly baked cookies. We enjoyed the delicious breakfast and the beautifully decorated rooms. We saw the stars through the living room window and an amazing sunset around the corner where the church used to stand. Hope to visit this home away from home again!
Wendy
2016-08-16T00:00:00Z
We had a fantastic stay with Cathy - our only wish was that we could have spent more time there! She was very accommodating with our check-in time, as we had a wedding to attend in town. Breakfast was delicious and the guest house was extremely spacious and very well maintained. We wouldn't hesitate to stay here again.
Allison
2016-07-25T00:00:00Z
We had a wonderful time at Heritage Hollow over the long weekend. Cathy made us feel very welcome and was happy to answer all our questions. Highly recommend afternoon tea, it was just spectacular, well-presented, and so delicious, especially after a long hike! Accommodations were beautiful and very clean. We loved it and hope to be back!
Isabelle
2016-05-24T00:00:00Z
Just spent a wonderful new years with a few friends at Cathy's stunning guesthouse. I fear this review will not encapsulate just how cozy, spacious, and totally luxe this place is! Cathy was very communicative, understanding, and bubbly over text and in person. Breakfast was filling and delicious. Honestly we loved our experience so much that my friends and I are now looking for a reason to come back again! Thanks for everything Cathy :)
Stephanie
2016-01-01T00:00:00Z
Cathy and Brad were extremely accommodating hosts and their guest House is fantastic place to stay at. The chickens and ducks were the highlight for my family! The kids loved being able to interact with the animals and walk around the beautiful property. I look forward to visiting again.
Andrew
2015-12-06T00:00:00Z
We loved everything about this place. The hosts welcomed us and made sure we were comfortable and then left us to enjoy our space. The apartment is clean, very well decorated, comfortable and comes with everything you might need. We made supper in the kitchen and found it was extremely well-stocked. The rural setting made for a very relaxing time and the breakfast delivered to our door was delicious. We will be staying here again!
Shauna
2015-10-03T00:00:00Z
Cathy was very welcoming and the place was even better in real life than the pictures showed, as it was larger than we expected. There were just two of us but it would also be great for four people, with two good sized bedrooms, 1.5 bathrooms, a full kitchen and living room. It was spotlessly clean with super soft bedding and loads of comfy pillows. The whole place felt loved and cared for. This isn't a cabin, it's a nice home. Breakfast in the sum room next door was lovely and well prepared. The property is very tranquil and quiet, with the pond and chickens and ducks roaming around. Views of neighbouring properties are screened with woodland. Cathy was quick to respond with information and very helpful and nice. There was good information about local destinations in a binder in the house. A really great country escape and place to slow down. We would return.
Irella + Nancy
2015-08-16T00:00:00Z
Cathy is really kind, sweet, and she respond my question very quickly! I love animals there, beautiful house, yard, pond, like everything! This place is nicer than the pictures, everything is very organized.. and all kitchen stuffs was there. (except cooking oil) BBQ grill machine was there too! Just one thing I would like to mention is WIFI works only in sunroom and it didn't work well.. I'll absolutely visit there again if I have a chance! This place is 30min away from Elora Tubing place :)
Eunju
2015-08-23T00:00:00Z
Typ pokoje
Celý dům/byt
---
Typ nemovitosti
Penzion (B&B)
---
Ubytuje
7
---
Ložnice
Erin, Ontario, Kanada
Jamie and her Husband were such such great hosts ! Super welcoming and friendly . They had food laid out when we got there , and the fire pit going. The space is incredible! truly a beautiful house and room . A+
simon
2016-10-30T00:00:00Z
Typ pokoje
Soukromý pokoj
---
Typ nemovitosti
Penzion (B&B)
---
Ubytuje
2
---
Ložnice
Erin, Ontario, Kanada
Disfrutar de nuestra auténtica 18 'Sioux Tipi enclavado en el bosque caducifolio de Ontario; lo suficientemente cerca de la ciudad de conmutar por la mañana, pero lo suficientemente alejado para una experiencia de acampada libre. Dormir a la calma de los bosques con peeping ranas y búhos medianoche.
Este tipi viene con 2 futones de tamaño doble, mosquiteros, ropa de cama apropiada para el clima, y un pozo de fuego en el interior. Hay una unidad portátil de ir al baño, pero no hay acceso a agua corriente. El espacio sería más adecuado para una pareja o familia que quiera experimentar acampar durante la noche en un tipi. El bosque puede ofrecer hasta sonidos de mapaches, ardillas, ciervos, búhos, ranas que mira furtivamente, y el coyote ocasional en la distancia.
Typ pokoje
Celý dům/byt
---
Typ nemovitosti
Tepee
---
Ubytuje
4
---
Ložnice
Erin, Ontario, Kanada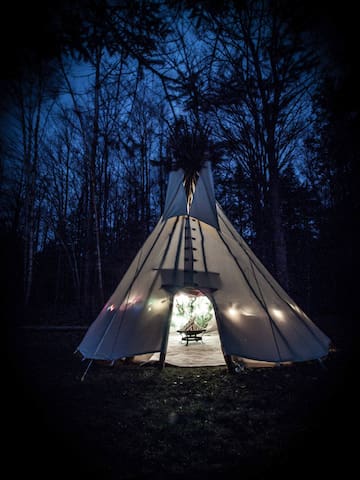 Stylish building ,Penthouse , Fully furnished,highly upgraded floors, kitchen and (URL HIDDEN) escarpment view overlooking ravine and green space.This large open concept unit includes underground parking ,customs back splash,granite counter
Typ pokoje
Celý dům/byt
---
Typ nemovitosti
Byt
---
Ubytuje
4
---
Ložnice
Milton, Ontario, Kanada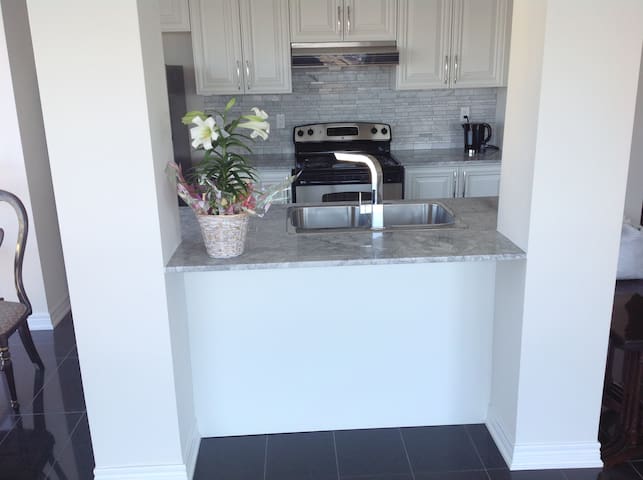 At your request we can provide a clean towel and also each room has a lock. You can see me and my brother on the right side. I run the website portion of airbnb, and the family together will do the hosting and will accommodate you as needed.
THE SPACE THAT IS BETTER THAN THE 5 STAR HILTON BUT CHEAPER THEN YOUR AVERAGE MOTEL! This beautiful modern master bedroom is professionally designed and comes with a double size bed. Carpet throughout the room and includes access to a closet. Your room is also equipped with a private 3-piece washroom. Your host (me!) lives here and opens his home with warmth and care. Our family occupies 2 rooms in the house at this time. We offer a clean, non-smoking, quiet place for you to crash in for 1 night or even multiple. We are very easy going and will try our best to make your stay the best we possibly can!
Quiet and extremely friendly neighborhood. The house sits near the border of Brampton and Mississauga. Close to all the major highways, with Toronto being a 15 minutes away.
Everything went well, the room is brand new, with separate bathroom.
Peter
2015-08-05T00:00:00Z
Simi was a wonderful host and made me feel right at home. The place was very clean and comfortable. would definitely stay here again.
Muhammad
2015-05-01T00:00:00Z
I did not get a chance to meet Simi, but the room was spacious and with parking space, which is convenient. The bedding was slightly uncomfortable, but for the price I still think this was a good deal!
Jiarui
2015-05-13T00:00:00Z
The room is really clean. it is like an hotel. You are really free in this housse, the tenants are really kind and open. I recommend this place.
Emmanuelle
2016-09-14T00:00:00Z
I really wish I could give a good review.. The house was nice however I could not sleep well at all here. The smell of curry chicken filled the house just as I walked in and didn't diminish until about 1-2am. The walls were extremely thin and I could hear talking until about 1am, the phone rang at 3am, and again loud talking at 6am. There wasn't any handsoap in the bathroom and I had to ask for a towel, otherwise it would not have been provided. The room is not as described, it is not a true master bedroom as the bathroom is shared with another bedroom but was kept locked. I did appreciate that there was sufficient parking, a key was provided and the wifi info was provided up front. Perhaps I just booked on the wrong day, however I will not be booking with this host again to find out.
Talia
2016-03-21T00:00:00Z
The room is great and so are the host. It certainly exceeded my expectation. I will definitely book it for my next trip too.
Ekansh
2015-08-24T00:00:00Z
The room was as described, nice and clean, host friendly. The quality was much higher then the cost of the stay. Make sure you will have a car during your stay at this host, it's pretty far from the basic amenities.
Yevgeniy
2015-07-29T00:00:00Z
Stayed at Simi's place for two nights, and it felt very much like home! It was very comfortable and most importantly it was clean! I loved the fresh feel I got when I walked in the house until my room! It's a nice quiet family house that is very cozy! And also, that bed was so comfortable, I slept like a baby! Will definitely stay here again when I visit Brampton!
Parhana
2015-08-08T00:00:00Z
Typ pokoje
Soukromý pokoj
---
Typ nemovitosti
Dům
---
Ubytuje
2
---
Ložnice
Brampton, Ontario, Kanada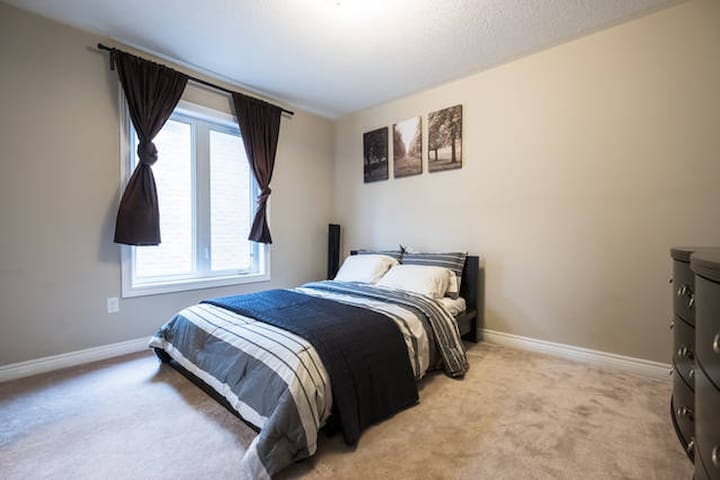 Our elegant property in quiet neighbourhood is 7-25 minutes drive to Hwy 410, Hwy 427, Hwy 400, Humber College, Bramlea & Malton Go Station, Civic Hospital, Pearson Airport, The International Center, Toronto Congress Cener, Canada's Wonderland, Wild Water Kingdom, many grocery stores and eateries. Bolton, Vaughan, Mississauga, Toronto, Niagara Falls, and Blue Mountains are easily accessible.
Clean, cozy and comfortable room has its own walk in closet and full shared washroom ( if there are guests in adjoining room ) with tub and shower. Windows open to lively court.
Our neighbourhood "Castlemore" is very clean, safe, quiet, serene, and one of the upper end communities of Brampton. Hwy 410, Hwy 427, Civic Hospital, Bramlea Go Station, various eateries, and grocery stores are only 7 to 15 minutes drive. Pearson Airport, The International Center, Toronto Congress Center, Pearson Convention Center, Canada's Wonderland, and Wild Water Kingdom is under 30 minutes drive. Niagara Falls, Toronto downtown, and Blue Mountains are easily accessible by car.
Very clean, quiet and comfortable; exactly as advertised! Excellent communication with Dinesh!
Mark
2016-12-06T00:00:00Z
Nous avons été accueillis par nos hôtes très chaleureusement. Ils nous ont offert un café et nous ont donné la chambre la plus grande (master bedroom) avec baignoire-jaccuzi, douche toilette et vestiaires privatifs. La maison est immense et situé dans un quartier résidentiel très calme. La communication a été excellente et les échanges très cordiaux.
SOTHA
2016-09-19T00:00:00Z
Dinesh and Poonam were extremely welcoming, kind and accommodating. I thoroughly enjoyed staying with them! The place was extremely clean and the neighbourhood was very safe. I will definitely be staying with them again!
Samantha
2016-09-26T00:00:00Z
Dinesh place was a great place to stay at. Him and his wife are very welcoming. The rooms are nice and private . Would love to stay again and recommend this place to others!
Jordan
2016-10-27T00:00:00Z
Dinesh and his wife are a very pleasant couple. Very accommodating and helpful during our stay. Room was beautiful and clean. Thank you. Would stay again with my boyfriend.
Kimera
2016-11-19T00:00:00Z
Clean place, cozy, loved staying here, slept like a baby. Surely coming back
Juan
2017-02-25T00:00:00Z
It was great like my former experience.
Alireza
2017-01-20T00:00:00Z
Dinesh's house is extremely big and well decorated. The bed is comfortable and the place is bright and fully equipped. Free parking, highly recommended for couples and families with vehicles, so that it's more convenient to get to dt.
Nancy
2017-01-01T00:00:00Z
Typ pokoje
Soukromý pokoj
---
Typ nemovitosti
Dům
---
Ubytuje
2
---
Ložnice
Brampton, Ontario, Kanada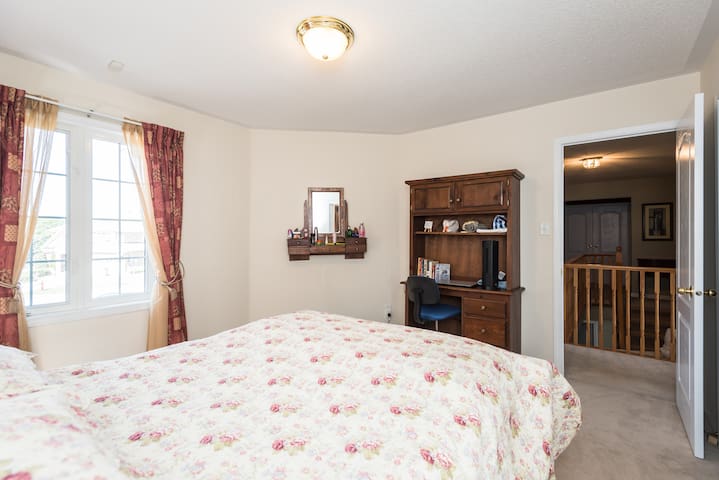 Mé místo je v blízkosti MHD, do centra města a parků. Zamilujete si své místo kvůli pohodlí, umístění a lidí. Mé místo je vhodné pro páry, sólové dobrodruhy, a obchodní cestující. Parkoviště je k dispozici.
Ολόκληρο το υπόγειο και ανακαινισμένο με καινούργια έπιπλα. Ωραίο δωμάτιο για σόλο τυχοδιώκτη και επαγγελματίες ταξιδιώτες και οικογένειες. Καθαρό και ζεστό συναίσθημα, μεγάλο διαστημικών ένα υπνοδωμάτιο και ένα γραφείο. Ένα σημείο στάθμευσης.
Very nice private room that has a comfortable bed and is very clean. Jill makes sure that everything is ready for you and was always available to help out with any questions or troubles.
Tyler
2017-04-06T00:00:00Z
Great house, wonderful hosts, friendly and accomadating. Would stay again for sure
Leah
2017-04-12T00:00:00Z
This is place is very neat and well maintained. Would definitely recommend for all. The host (Jill & Andy) were so nice and made me feel like home away from home. Thumbs up & 5 stars to you guys.
Kannan
2017-02-21T00:00:00Z
Jill and Andy are extremely helpful and very friendly! Their house is perfect - very clean, tidy, and really comfortable, and also, decorated with excellent taste. The kitchen is well equipped, and the place had everything I needed. There is bathroom which made it convenient for guests. Very well located near the bus lines. Highly recommend Jill as a host to everyone.
Rina
2017-01-30T00:00:00Z
Very nice people, respectful and friendly. Everything was like described and communication was perfect.
Kal
2016-12-04T00:00:00Z
Jill is very nice. I liked the place I got what I expected. I would recommend Jill's place
Cesar
2016-12-09T00:00:00Z
The host canceled this reservation 63 days before arrival. This is an automated posting.
Ahmed
2017-01-17T00:00:00Z
Great Host, comfortable place..... All good.
Derek
2017-03-14T00:00:00Z
Typ pokoje
Soukromý pokoj
---
Typ nemovitosti
Dům
---
Ubytuje
1
---
Ložnice
Mississauga, Ontario, Kanada
My place is close to Downtown Brampton, major highways, family-friendly activities, public transport, the airport, nightlife, banks, groceries etc.. You'll love my place because of the cosiness, the cleanliness, the location. My place is good for solo adventurers and business travellers. Parking can accommodate a car (up to Honda Civic). The room itself has everything that you will need for a comfortable stay like Kitchen with counter top stove, large Fridge, Coffee maker and toaster.
If you are a private person that likes to have their own space then you will love my place. There is no disturbance of any kind and you will have your own private space with Kitchenette, Laundry, and washroom. Nothing is shared. It is a complete suite on its own on the main floor with its own entrance.
Very pleasant stay
Fern
2017-03-28T00:00:00Z
I've stayed here before. By rebooking I think I've indicated my stay was a pleasant one.
Todd
2017-03-11T00:00:00Z
Divya hosted me and my boyfriend for 2 weeks and we reeboked it twice. The private home was very comforting and met to our needs. We would definitely rebook this place again.
Fern
2017-04-01T00:00:00Z
Divya's place was exactly as advertised. Perfect place for solo traveler.
Todd
2017-03-04T00:00:00Z
Typ pokoje
Soukromý pokoj
---
Typ nemovitosti
Řadový dům
---
Ubytuje
1
---
Ložnice
Brampton, Ontario, Kanada
Dieses helle Erdgeschoss-Wohnung ist durch eine große Terrasse mit Zugang zum Grillplatz, das ganze Jahr über Hot Tub & Pool (Sommermonate) umgeben ist. Das Schlafzimmer hat ein Doppelbett, Kommode und TV. Das Wohn- / Ess- / Küchenbereich ist offen Konzept. Die ausziehbare Couch verwandelt sich in ein Einzelbett. W-lan
Dieser Wohnraum ist sehr hell (umgeben von Fenstern) und bietet dem Reisenden einen Ort, der 45 Minuten zum Flughafen Pearson in Toronto ist und ist innerhalb von 1/2 Stunde nach Hamilton, Guelph, Cambridge, Kitchener Waterloo und Milton. Das Wohnzimmer verfügt über ein ausziehbares Sofa (wandelt in ein Einzelbett), Küchenzeile mit Kühlschrank, Arbeitsplatte Herd, Mikrowelle, Toaster, Backofen, großer Tisch mit 4 Stühlen, TV mit Sat-TV ausgestattet. Das Schlafzimmer ist kompakt und verfügt über ein Doppelbett und Kommode. Das Bad ist 3 Stück mit Toilette, Waschbecken und Dusche. Diese Bereiche sind privat für den Reisenden / Gast. Das Deck mit Grill, Hot Tub und der Pool sind gemeinsam mit dem Eigentümer. Hinter dem Deck ist eine große Rasen Hinterhof mit einem Fußball-Wand. Es gibt ein Trampolin vor dem Pool. Es gibt eine Vielzahl von Flecken zum Entspannen: Liege unter dem Vordach oder in voller Sonne, Hof, Terrasse rund um den Pool. Es ist ein Parkplatz für Ihr Auto (s) und / oder Motorrad (n). Die Vögel, Eichhörnchen und Streifenhörnchen, die die Eigenschaft häufig werden Sie amüsieren. Eine schöne ländliche Wohngefühl im Dorf Morriston, Township of Puslinch, County of Wellington.
Morriston ist eine große Familie orientierte ländliche Unterteilung liegt 10 Minuten südlich von Guelph Ontario, 20 Minuten nördlich von Hamilton Ontario und 45 Minuten zum internationalen Flughafen Pearson in Toronto. Es ist ein Baseball-Diamant, der die lokalen Amateur-Teams verwenden, zwei Parks, Rollfelder (Langlauf), eine lokale Familienrestaurant bekannt als "A Change of Pace", täglich bis 15.00 Uhr, ein exzellentes chinesisches Essen Restaurant bekannt als "The Great Wall", täglich außer Dienstag und ein feines Restaurant, bekannt als "Envers". Nördlich von Morriston ist Aberfoyle (ca. 5 Minuten nördlich), die eine Weinbar und Restaurant der gehobenen Klasse "The Aberfoyle Mühle" hat. Zwischen Morriston und Aberfoyle finden Sie 3 Convenience-Stores und 3 Fast-Food-Restaurants: A & W Restaurant, Pizza Pizza und Subway Sandwiches. Pizza Pizza liefert nach 34 Aviemore St! Wenn Sie lieber die öffentlichen Verkehrsmittel nach Toronto, Hamilton oder Kitchener Waterloo zu nehmen, ist die Go Bus Station in Aberfoyle entfernt. Ian kann jemand große Anweisungen für die Verwendung von öffentlichen Verkehrsmitteln geben hier, er ist der Experte!
We got a very warm welcome on the day or our arrival. Corie is such a friendly woman. The apartment was clean and spacious. It had everything we needed. The little kitchen was handy to prepare some meals. Bathroom was small, but fine for a few days. The wifi worked properly. The hot tub outside was a nice treat during our stay. It was too cold to sit outside on the porch, but we for sure think this is a perfect place inside as well as outside to stay for a few days. Corie communicated very well and all together we would definitely consider staying here again.
Heimen & Annemieke
2016-04-23T00:00:00Z
It was a clean relaxing place. Private. Nice backyard with lots of room to play. Thank you. The host was really nice. :)
stephen
2016-05-16T00:00:00Z
Great location, bright and very nice. More like a retreat than a private room. Corie was a excellent host, was there to greet me. The place was in perfect condition upon arrival. Couldn't ask for anything more, would recommend it to anyone who was thinking of taking a University tour of Macmaster, Guelph, Waterloo, Laurier and Western. Less than a 45 minutes to all campuses.
Al
2016-10-20T00:00:00Z
This was one of the best air bnbs I have stayed in! A really beautiful and bright little house that feels nice and private. It is incredibly clean and stocked with anything you might need. The bed is surrounded by windows which enable you to see a very beautiful sunrise over the trees. The hot tub is lovely (even in -12 weather) and the deck and pool would be fantastic in the summer months! Corrie was very nice, accommodating, explained everything thoroughly and was quick to respond. Definitely recommend if you're looking for a great little getaway.
Zara
2017-01-05T00:00:00Z
Because windows were open for coolness we found traffic noise a little difficult. We were off the highway but it seems it a major trucking route night and day. Otherwise place was just fine and as advertised. Noise would not be a problem in an other season
Elyse
2016-09-13T00:00:00Z
A lovely private suite with all the amenities. Corie went out of her way to get us in at the last minute. Really appreciate get hospitality.
Jeremy
2016-10-13T00:00:00Z
Corie was a very accommodating host and made me feel welcome in her home. I especially appreciated that she allowed me to have my mini poodle stay who is not good health but was very relaxing for him and myself. Corie was very helpful when I needed assistance and helped make our stay very comfortable. I would recommend Corie's place to my family and friends
Brian
2016-09-29T00:00:00Z
Very cute place to stay.
Deborah
2017-03-16T00:00:00Z
Typ pokoje
Celý dům/byt
---
Typ nemovitosti
Byt
---
Ubytuje
3
---
Ložnice
Morriston, Ontario, Kanada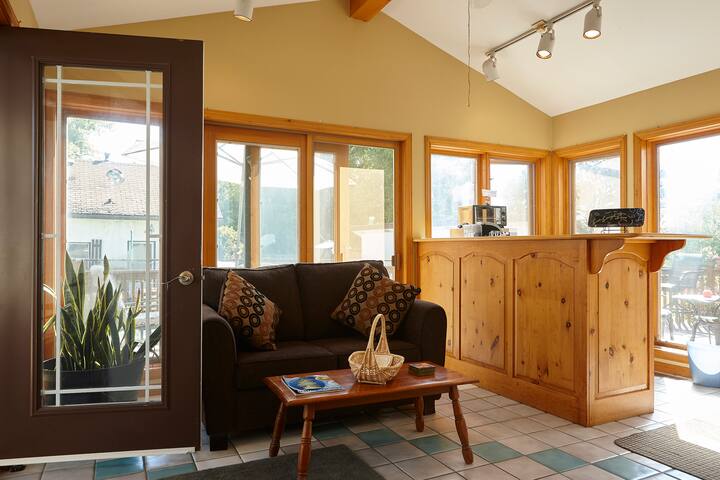 This room is located on the second floor of the house adjacent to the main bathroom. It is very quite and private. Laundry room is at the same floor across the room. Sheridan College, Shopper's Mall, Banks and Public Transport, are at walking distan
Atmosphere in the house is very relaxed and friendly. We expect our guests to feel at home.
Very quite and peaceful neighbourhood.
Hasan and his family are wonderful hosts and ensured I was comfortable and safe my entire stay. I stayed for several months for business and they were wonderfully supportive and accommodating start to finish - after a while you start to feel like family. I highly recommend their home for short or long duration stays!
Krista
2016-08-14T00:00:00Z
Mr Hasan's place is clean and cozy, conveniently located near a mall where all necessities are available. He took great care to ensure that my stay could be comfortable.
Harsha
2017-02-27T00:00:00Z
I was fresh of the boat and Mr Hasan was very warm and welcoming and made me feel at home. I was treated like family and he was always forthcoming with advice and help to get me settled down quickly. I would very much recommend him for his hospitality and a very comfortable, clean and cosy home.
Harsha
2017-02-05T00:00:00Z
Lovely couple. I enjoyed my stay there. It's clean, comfortable, close to city transit and mall. Very caring and attentive hosts.
Mahamaya
2017-01-07T00:00:00Z
Hasan and his family has been awesome host and make us feel like home. It's like a home away from home for me. House is beautiful and very close to shopping mall and other amenities. Room is very cosy just like a 5 star. Thanks a ton for everything Hasan.
Imandeep
2016-01-24T00:00:00Z
Hasan was a very great host! The room and washroom was very clean!
Esther
2015-12-19T00:00:00Z
is the best place and people i ever meet, hasan was not in the house when i arrived but marinas was an excellent host, i felt really good and grateful with them.
Bryan
2017-03-02T00:00:00Z
Nice place to stay!
Juan
2017-01-19T00:00:00Z
Typ pokoje
Soukromý pokoj
---
Typ nemovitosti
Dům
---
Ubytuje
1
---
Ložnice
Brampton, Ontario, Kanada
Erin - Airbnb
:
Průměrně

4.86

z

5

hvězdiček na základě

369

hodnocení hostů