!! PS. A chipmunk got in and made one guest give us a bad review. He's gone now. :) Come stay in your own cozy mini studio, just a little over 25 min. from the Portland suburbs, 45 minutes from Downtown Portland. Our home is on 2 wooded acres. You have a private deck, private bathroom, private entrance and private living space. Did I say private? Yes! Very quiet. No Smokers! No pets. Enjoy a country walk! Or visit the quaint town of Estacada which is just a little over a mile away.
More than just a bedroom, this space includes a small living space where you can relax outside of the bedroom. The living space includes a couch, TV with basic DISH channels, a DVR and DVD player. Also included is are a coffee maker, a toaster, and a small crockpot. Or in nice weather, sit out on your private deck. We have great hot water for your private bathroom, stocked with basic toiletries. Enjoy the forested 2 acre property or visit with the fuzzy friendly outdoor cat. Nice places to walk around the property. There is a common laundry room just outside your space. Feel free to use it as needed. If you are not a native Oregonian, please know that Oregon is lush and green, and to keep it that way, we get a lot of rain! We Oregonians have webbed feet and enjoy the pitter-patter of the rain on the roof while we are cozy inside. Springtime is often full of intermittent rain and sun, but summers are wonderful and often last until October. Winters are generally wet, but mild and snow rarely makes an appearance for a few days a year. Because we live in the forest under the large Douglas firs, it can seem rather dark in the rainy winter when the days are short and the sun sets between 4;30 and 5:30 on December evenings.
We are just a mile and a half from the small town of Estacada located on the Clackamas River. This quaint town has its own award winning brewery, pleasant restaurants, pizza parlors, grocery store, gift shops, antique shops and an art gallery. There are original murals on city buildings painted by local artists and several parks in the town. Estacada has a beautiful new library too. Two state parks are just a couple of miles away, and we just off of HWY 224 that will take you right into the Mt. Hood National Forest for hiking, fishing, and boating.
Audrey was very nice to wait for our late arrival. Private room with private bathroom plus living room. And I love that I got to do some laundry. Will definitely book here again.
Jenyl
2016-06-04T00:00:00Z
Christina was a friendly, welcoming, and helpful host who made me feel right at home. The lodging was quiet and comfortable and just as described—secluded and scenic in the Oregon forest. Unfortunately, during my stay, the weather was typical for March in Oregon, and very damp and rainy, which limited outdoor excursions to enable me to enjoy the beautiful surroundings. This lodging is definitely off the beaten path, and guests are wise to travel with a GPS and plan on arriving during daylight to facilitate direction finding. I appreciated the snacks and WiFi access, as well as the suggestions for travel to various locations.
Chris
2016-03-10T00:00:00Z
My husband and I had an awesome time on our visit to Estacada. Our host Christina was great! she was very welcoming and a helpful guide. We had plenty of space to ourselves and the scenery around her home was breathtaking. Oh, and we especially enjoyed home made bread she brought to us on the last day. We also liked the availability of a washer and dryer, we really appreciate Christina's hospitality.
Evelin
2016-05-22T00:00:00Z
Our stay was very enjoyable. Nice private space with super fresh air. Christina even gave us homemade bread as a treat! Overall was a very pleasant place :)
Hector
2016-09-10T00:00:00Z
Thank you, Christina, for opening your home for me! The area is lovely - woodsy and beautiful. The room has a wonderful separate entrance so I didn't have to bother anyone when I came late or left early. There was lots of space and plenty of casual comfort. I had a very pleasant stay. Thank you!
Lynn
2016-11-11T00:00:00Z
Christina a été très accueillante et disponible ! Elle a su nous conseiller une super balade dans la forêt. La maison était très calme... près de Portland et à 2h de l'océan, bien situé pour un long week-end!
Angélique
2016-09-06T00:00:00Z
Christina is great, warm and friendly and offered lots of good local information re the town, parks, hikes, and events going on -
Dave
2016-07-23T00:00:00Z
Loved my stay here! The room is equipped with coffee and some breakfast items. I have no complaints :)
Natalie
2015-05-29T00:00:00Z
Typ pokoje
Soukromý pokoj
---
Typ nemovitosti
Dům
---
Ubytuje
2
---
Ložnice
Estacada, Oregon, Spojené státy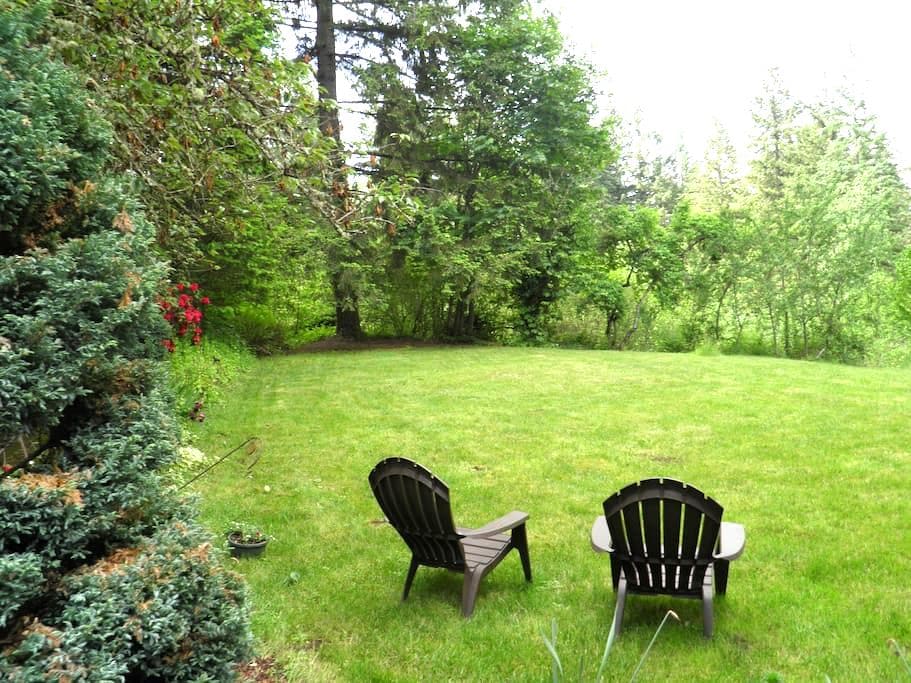 Pro zobrazení celkové ceny zadej termín. Mohou být přidány další poplatky a daně.