Typ pokoje
Celý dům/byt
---
Typ nemovitosti
Dům
---
Ubytuje
5
---
Ložnice
Franken, Alsace-Champagne-Ardenne-Lorraine, Francie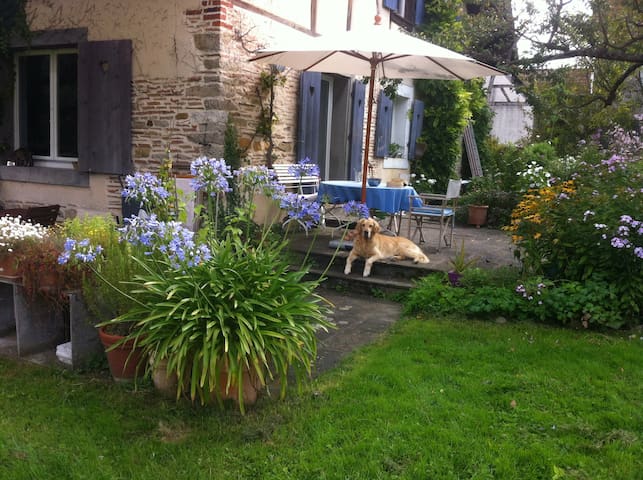 Marie-Tea Garden Cottage is peacefully situated on a property of 15 acres in the country. This magnificent 5 star Furnished Tourism, has an undeniable charm and character of wood and stone with a decoration very soignéeDans greenery Equipped with every comfort. You can find more information on my website (URL HIDDEN)
You can enjoy the idyllic setting of this wooden building and type of stone cottage about 75 m2 for 2 to 4 people, the interior is shaped by the owner passionate artist ..... In winter you can spend your evenings by the fireplace, in the summer enjoy the beautiful garden with heated swimming pool. You will find all the necessary comforts to enjoy your vacation.
quiet, country road nearby.
Wir hatten eine ganz wunderbare Zeit in diesem super-süßen und mit viel Liebe eingerichteten Gites. Es ist perfekt ausgestattet und verfügt wirklich über ALLES, was man zum kochen etc. benötigt. Marie-Thé und ihr Mann Michel sind hervorragende Gastgeber, die sehr um ihre Gäste bemüht sind. Und so ganz nebenbei machen sie auch noch hervorragenden Apfelsaft - vielen Dank für die Verkostung! Wir haben uns bewusst für Muespach entschieden, da wir viel von der umliegenden Landschaft sehen wollten. Man ist binnen einer Stunde in Freiburg oder Colmar und den herrlichen Dörfern entlang der Weinstraße. Basel ist in 30 Minuten zu erreichen. Und nachdem Michel uns den Tipp gegeben hat den Bus zu nehmen, ist das Auto im Carport geblieben. Den zum Gites gehörenden Pool konnten wir aufgrund der Wetterlage leider nicht nutzen, aber im Sommer muss das ein Traum sein. Rundherum ein perfekter Urlaub. Vielen Dank Marie-Thé und Michel und a bientot.
Nicola
2016-10-07T00:00:00Z
Gîte très agréable et spacieux, bien équipé et très propre. Accueil sympathique et grande disponibilité des hôtes en cas de soucis ou questions. La décoration des lieux, "Hand Made" par Marie-Thé est magnifique. L'endroit est calme, le gîte très confortable et lumineux. Je reviendrai avec plaisir.
Laure
2017-01-07T00:00:00Z
I stayed at Marie-Therese's lovely cottage with 2 other colleagues. The place was very close to Basel(only a 15min. 'very scenic' drive) and we had no trouble getting our business done. Marie-Therese and her husband are awesome hosts with welcoming warm hearts and their cottage was clean, pretty, cosy, convenient, and looked exactly like the photos. We cooked nice meals using all the utensils and cutlery provided, when the day ended early we sunbathed by the pool in the garden, and at night we burned logs in the fireplace(totally for fun & good mood. The place has underfloor heating is really warm. you don't need any extra heating.) Although it was a business trip, I felt like being on holiday. I honestly can't ask for more. Will go back next year!
Gina
2017-03-29T00:00:00Z
Really romantic place and nice hosts to feel comfortable and get away from the big city life!
Tim
2016-11-17T00:00:00Z
Marie Thérèse m'a accueilli très chaleureusement pour ma première visite dans le sud Alsace (sungau). C est ideal pour un sejour reposant et ressourçant de 2 a 4 personnes ! la maisonnette est complètement individuelle est décorée avec goût et du matériel de qualité. La maison correspond parfaitement aux photos et donne sur une super piscine chauffée
Adeline
2016-08-25T00:00:00Z
Mon compagnon et moi cherchions un petit coin de paradis pour passer quelques jours et nous l'avons trouvé. Tout est absolument parfait, de l'accueil, au confort total du gîte, un émerveillement pour les yeux pour la décoration soignée...bref je recommande vivement vous ne serez pas déçus.
Jen
2016-12-30T00:00:00Z
Marie-Thé und ihr Mann sind sehr herzliche Personen! Wir haben uns sehr wohl gefühlt. Die Unterkunft war einfach traumhaft....sehr stilvoll und liebevoll eingerichtet. Ein Kaminfeuer hat den Abend perfekt abgerundet! Vielen Dank für den schönen Aufenthalt!!
An
2016-10-21T00:00:00Z
Marie and her husband were very kind, friendly and helpful hosts. We were spending very nice time at Muespach. The house was so cosy and gorgeous place, even more beautiful than on pictures.
Patryk
2016-03-24T00:00:00Z
Typ pokoje
Celý dům/byt
---
Typ nemovitosti
Dům
---
Ubytuje
4
---
Ložnice
Muespach, Alsasko, Francie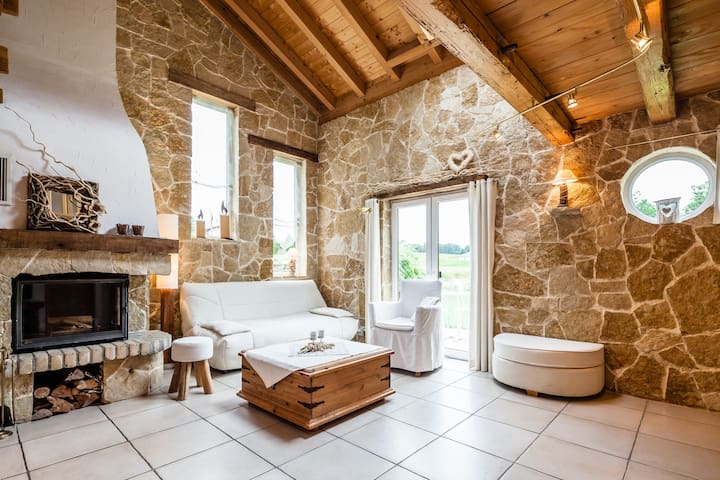 Comfortable, modern house equipped with high quality standard. Large living space and spacious rooms ( 30 square meters), in a quiet and charming environment wiht all amenities 5 min away.
Typ pokoje
Celý dům/byt
---
Typ nemovitosti
Dům
---
Ubytuje
6
---
Ložnice
Steinsoultz, Francie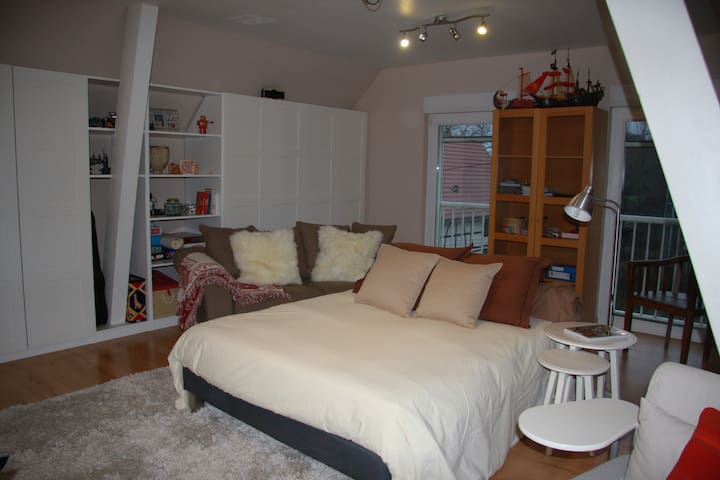 Velmi pěkný domeček v srdci přírody, velmi dobře vybaven 3 ložnice a krásnou sluneční terasou. V ideálním případě se nachází v těsné blízkosti hranic s Německem (5km) a švýcarské hranice města Basilej (4km), ale také z alsaských vinic.
it's really a wonderful house,all the rooms are clean and well decorated, all the furnitures are modern and lovely. there is also a wondeful garden. everything is perfect! the host is very nice, we arrived so late and she waited for us. We love to go back to the house when we visit Basel again!
YINGZHEN
2016-07-01T00:00:00Z
Magnifique maison superbement bien décorée avec beaucoup de gout . Les lits sont très confortable et tout est d'une propreté exemplaire ! Rien a redire c'était génial et Isabelle est adorable . Je conseille vivement !
nicolas
2017-03-26T00:00:00Z
Isabelle est très sympa, bon accueil, petits conseils pour notre séjour dans la région. La maison est propre et décorée avec beaucoup de goût, il y a de l'espace, les lits sont confortables et la terrasse est agréable et bien exposée. Les voisins sont très gentils, le plus proche nous a même proposé une laitue fraîchement cueillie dans son potager ! La maison est dans un petit village facile à trouver avec un GPS et typiquement Alsacien proche de la route des vins et de la frontière Allemande, le supermarché est à 5min. Bref, rien à redire, merci Isabelle, mon amie était ravie de son weekend d'anniversaire !
RACHEL
2016-07-11T00:00:00Z
The host canceled this reservation 41 days before arrival. This is an automated posting.
Sophie
2016-07-10T00:00:00Z
Nous avons passé un superbe séjour chez Isabelle! Merci pour l'accueil. La maison est très bien aménagé et les alentours sont calme. Idéale pour se reposer. A bientôt peut-être ;-)
Tina
2016-11-06T00:00:00Z
Logement très agréable avec 3 chambres, bien équipé, quartier très calme. Très bonne literie. Je recommande.
Romain
2017-02-09T00:00:00Z
Accueil excellent, Isabelle est très sympa. La maison est très belle, au calme et les photos sont bien représentatives. Bref nous avons passé un très bon weekend ! Je recommande vivement et merci encore Isabelle !
Yvan
2016-07-17T00:00:00Z
Isabelle ' s home was perfect for our family of four. It's exactly like how it is in the photos, clean and beautiful with fantastic works of art displayed throughout the home. Tranquil environment, best for a quiet relaxing getaway. Kitchen was very well equipped. We hope to return someday!
sandi
2016-06-15T00:00:00Z
Typ pokoje
Celý dům/byt
---
Typ nemovitosti
Dům
---
Ubytuje
5
---
Ložnice
Kappelen, Alsace-Champagne-Ardenne-Lorraine, Francie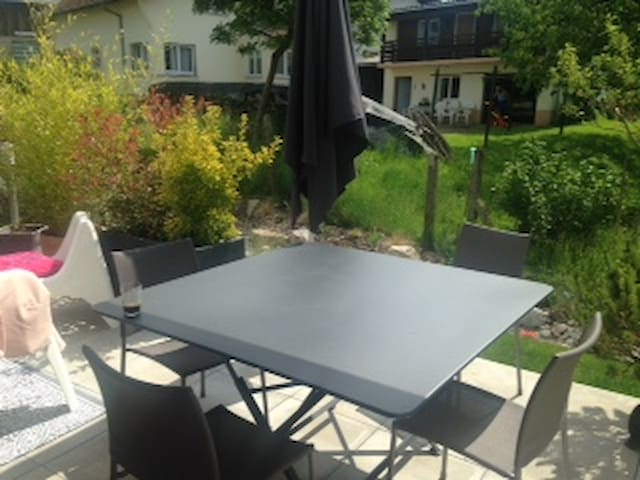 die 75m² Hütte für 4-5 Personen; es ist in der Nähe von einem großen Teich auf dem Land, auf einem Bauernhof ...
L'accueil d'Emilie est très agréable et elle est restée disponible pendant notre (trop court!) séjour. Le gîtes est décoré avec goût et on s'y sent bien avec cette jolie vue sur l'étang et les champs!
Claire
2016-04-08T00:00:00Z
On est passé nos vacances des pâques dans la petite maison à côté de l'étang. Le site, dans un contexte fermière, est très beau, le paysage magnifique et parfait pour un séjour tranquile. Nous sommes passé des très bonnes vacances. La maison est bien équipée: cuisine, frigo, TV, douche... tout était propre. Emilie nous a bien accueilli, très attentive, et nous a bien recommandé les lieux à visiter. Nous sommes très contents de notre séjour là-bas.
Berto
2016-03-31T00:00:00Z
We had a great stay with Emilie in her gite. It provided everything we needed, actually a little more (we thought it would literally be three beds, but it was 3 bedrooms and 4 beds). Lovely surroundings, quaint gite, excellent shower, well positioned for our trip to Basel, serviceable kitchen area. Spot on for our needs Emilie herself was very welcoming and the perfect and friendly host
Luke
2016-05-20T00:00:00Z
Thanks a lot, we loved everything! I hope to come back and spend more time! Lanfranco
Lanfranco
2015-12-07T00:00:00Z
Wunderhübsch eingerichtet, lichtdurchströmt und mit einer grandiosen Aussicht vom Freiluftbrunchtisch aus über die Felder ins nächste Dorf. Wir haben uns an diesem ruhigen Ort herrlich erholt und wohl gefühlt. Die Gastgeber waren sehr freundlich und wir hatten alles was wir brauchten. Herzlichen Dank an Emilie für diese wunderbaren Tage!
Christoph
2016-05-17T00:00:00Z
Typ pokoje
Celý dům/byt
---
Typ nemovitosti
Dům
---
Ubytuje
4
---
Ložnice
Altkirch, Alsasko, Francie
farmhouse in the countryside with two designer suites; the large suite suitable for 4/5 th (shower), small steps for 2 persons (shower and bath), kitchen, dining area and reading room, two store decoration pieces.
opportunity to be delivering a homemade breakfast to 12 € / person, in addition to the price displayed on Air BnB
La maison d'Emilie est très jolie et nous nous sommes sentis comme dans un décor de film. La douche et le bain sont design et agréables, la maison meublé d'objets design frais et légers. Nous avons adorés la luminosité de cette belle maison. Emilie et Michel ont été très accueillant et sympathiques. Nous recommandons ce beau logement à 100%. Merci pour cet agréable séjour!
Annette
2017-01-06T00:00:00Z
Nous avons été très heureux de découvrir la maison d'Emilie. Magnifiquement décorée, cette demeure respire la bonne humeur. Nous avions la maison pour nous 6 , et nous sommes sentis comme chez nous. Emilie nous a préparé un somptueux petit déjeuner le dimanche matin. On a adoré aussi le fait de pouvoir acheter des objets choisis avec gout par Emilie. Merci pour ce bon moment passé !
SABINE
2016-04-04T00:00:00Z
The host canceled this reservation the day before arrival. This is an automated posting.
Eugenio
2016-03-16T00:00:00Z
Typ pokoje
Celý dům/byt
---
Typ nemovitosti
Dům
---
Ubytuje
6
---
Ložnice
Altkirch, Alsasko, Francie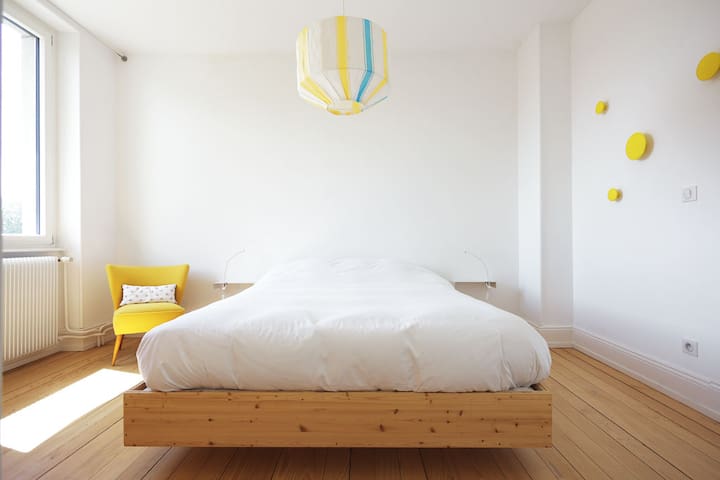 Cette chambre spacieuse avec salle de bains, dans une belle maison ancienne rénovée.
The host canceled this reservation the day before arrival. This is an automated posting.
Hugo
2017-03-24T00:00:00Z
Sabine is a perfect host. She kept in close contact with us, shopped for special food for our breakfast (as we has our own home made muesli but needed yoghurt) and helped us with a vet fir one of our dogs who had gotten sick. The room is spacious and beautiful with all that one needs!
Paul
2016-06-24T00:00:00Z
Nous avons passé deux nuits formidables dans cet espace incroyable et lumineux avec une vue dégagée, et les gentilles attentions de Sabine, la maîtresse de maison, qui nous a préparé des petits déjeuners délicieux et "sur mesure". Le logement, vraiment très calme, est à une demi-heure de route de Bâle, de Mulhouse, du parc des Ballons d'Alsace, de l'Allemagne avec ses spas et ses villages médiévaux...
FREDERIC
2017-01-02T00:00:00Z
Très bel endroit, calme et serein. Sabine est une personne très ouverte et accueillante. Nous recommandons vivement The Thai Touch !
François
2017-03-12T00:00:00Z
We stayed at Sabine's en route to Italy and were looking for a quiet place near Basel where we could stay with our dog for the night. Sabine was a great host - very welcoming (as were her dogs!) And her house was very relaxing and situated in a village. The room we stayed in is huge with a bath/toilet and sink - the shower is downstairs. There is a church with clock that chimes nearby which didn't disturb me but may do if you're a light sleeper. Breakfast and Sabine's hospitality were both brilliant again the next morning. We'll stay again if heading back to Italy!
Rhiannon
2016-06-19T00:00:00Z
Dear all, it is a pity that there are only 5 Stars to give away. But, luckily the sixth Star you will meet when you stay there. Best Airbnb EVER!
Tom
2016-08-16T00:00:00Z
Sabine is a most gracious and welcoming host. We (along with our dogs) stayed in the private room on the top floor of Sabine's beautiful home. We only stopped over for the night so did not get to explore the area but there were lovely views from the room. Sabine provided an ample, delicious breakfast and shared her knowledge of the area and handy tips with us.
Andrew
2015-11-02T00:00:00Z
Accueil très chaleureux de Sabine. La chambre est très spatieuse et le bain à même le sol très agréable. Le petit déjeuner était parfait. Nous recommandons vivement. Claire et Jean
Jean
2016-06-27T00:00:00Z
Typ pokoje
Soukromý pokoj
---
Typ nemovitosti
Dům
---
Ubytuje
2
---
Ložnice
Geispitzen, Alsasko, Francie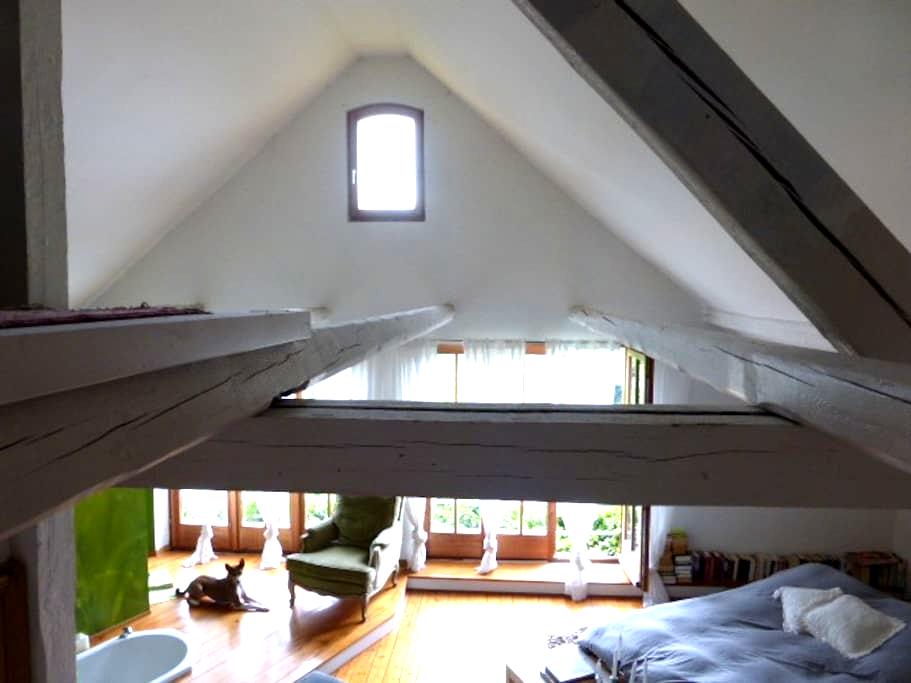 In bbc house renovated room of 18 m2 .with 1 double bed plus 1 sofa bed very comfortable 1 room table works al floor bathroom but private and shared kitchen towels provided linens small dej included coffee machine in the room, parking in front of the house
spacious and quiet large comfortable bed
Resto snac salon de the a 2 pas
Matthias hat uns in seinem liebevoll renovierten Häuschen sehr warmherzig empfangen und alles dafür getan, damit wir uns wohl fühlen.Die Unterkunft ist sehr ruhig gelegen. Alles war wie beschrieben.
Claudia
2017-04-01T00:00:00Z
It's a double bed in a large room with table, seating and a wardrobe. The bathroom is modern. Breakfast was provided each morning and the kitchen was available. The location is great, just a few minutes walk along the same road from the train station. There are several restaurants nearby that serve a good steak and chips.
Jonathan
2017-03-26T00:00:00Z
Chambre magnifique, très propre, bon petit déjeuner, Matthias est très gentil, notre fils de 13 ans a bien apprécié la mezzanine.
Cristelle
2017-02-25T00:00:00Z
Everything was absolutely perfect :)
Antoine
2017-03-30T00:00:00Z
Excellent accueil. Petit déjeuner copieux. Très propre et confortable. Endroit calme à proximité des restaurants et commerce. Je reviendrai !
Alixe
2017-03-12T00:00:00Z
logement excellent
Thomas
2017-03-03T00:00:00Z
Tout est refait a neuf, le quartier est super tranquille, le logement est super propre, le lit très confortable, je recommande :D
Djessy
2017-03-27T00:00:00Z
TRES BIEN
Nathalie
2017-03-24T00:00:00Z
Typ pokoje
Soukromý pokoj
---
Typ nemovitosti
Dům
---
Ubytuje
3
---
Ložnice
Sierentz, Alsace-Champagne-Ardenne-Lorraine, Francie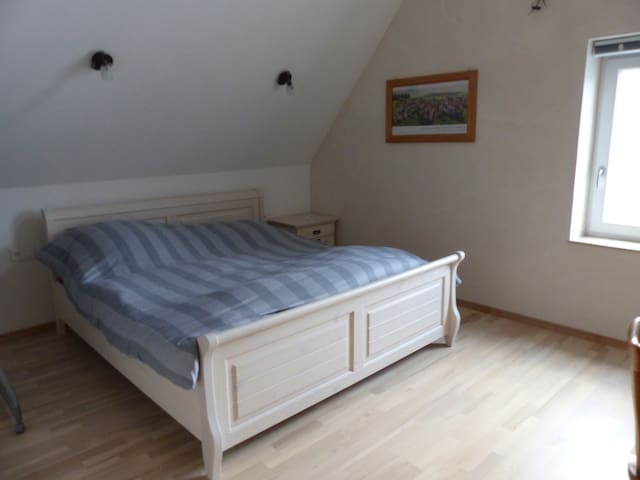 "蓝龟"是一个古老的阿尔萨斯的房子用的150平方米的区域特征。 一切都已经想为您的舒适和幸福...... 水疗中心5个席位,远红外桑拿2个地方。 家具和床上用品,简单,装饰典雅,设备齐全的厨房,咖啡机,电视,无线上网freebox上... 温馨和个人的欢迎。 访问所有的设施。 非常适合家庭,朋友,商业团体,旅游,迁居。
蓝色海龟是带家具的四星级旅游。 在2楼的房子有4间卧室: - 1个房间与(PHONE NUMBER HIDDEN)厘米 - 1个房间与(PHONE NUMBER HIDDEN)厘米 - (PHONE NUMBER HIDDEN)厘米(在(PHONE NUMBER HIDDEN)厘米上请求可调)。 床上用品是新的,很舒服。 - 2间浴室: 1个角落浴缸和步入式淋浴+洗脸盆2个人。 1×淋浴间+洗脸盆2个人。 - 2个独立的厕所。 - 一个健康区,配备了水疗中心的5个席位和一个红外线舱,客人可以观光或商务的一天后放松。 - 1配备了所有必要的用具厨房: 洗碗机 炉感应板 微波 冰箱冰柜 洗衣机 - 1个客厅 - 餐厅: 8人的大桌+ 大转角沙发 电视 1个小阳台,桌子和两把椅子吸烟者 喷泉和休闲区的私人庭院
The house is located in the village center, close to the Auberge Saint-Laurent, one of the best in the area! ideal location in the heart of the 3 Borders. Here in France, Switzerland and Germany are one, as the mobility between these three countries is easy and promoted. The Wine Route, Colmar, Strasbourg's famous Christmas Markets EuropaPark, the Barrière Casino in Blotzheim and GrandCasino Basel, the Black Forest, the Vosges, the Swiss Alps, Freiburg, Basel - its international fairs and museums - Art Basel, BaselWorld, Muba, Beyeler, Kunstmuseum Foundation ..., Fernet-Branca Foundation in St. Louis, Sundgau, Ferrette Altkirch, Belfort ... All these destinations and many more are nearby or 1 hour maximum journey home. Whatever the time of year when you come home you will be delighted by the richness of the proposed activities.
Nous avons été très bien accueilli. Nous avons pu découvrir une maison pleine de charme. Jihem a pris le temps de tout nous présenter. Les prestations sont de qualité et de standing. Spa pour 5 personnes, sauna, robes de chambres, grandes serviettes, grands lits et grandes chambres. Un très beau lieu bien équipée également au niveau de la cuisine. Sans oublier le wifi et la possibilité de garer la voiture dans la cour. Nous y reviendrons avec plaisir.
Wilfried
2016-12-18T00:00:00Z
Delphine et Jihem's house was very hospitable, during the check-in Delphine has been very clear explaining everything in detail, Jihem let us feel like at home since we had arrived. The house was clean and warm, beds were very comfortable too. Beautiful furnishings. The Spa doesn't need descriptions, simply wonderful!! I would recommend this house to everyone who wants to have a nice stay in Sierentz. We were a group of 7 people, there for Baselworld, the train station was only 10 minutes walking from home. Our stay was literally perfect!
Andrea
2017-03-25T00:00:00Z
Notre week-end était génial tout était parfait et l'accueil très chaleureux!
Loriane
2017-04-09T00:00:00Z
Thank, you for such an easy and welcoming stay with you in Sierentz. We were relaxed and had everything we needed to make our stay perfect.
Naomi
2017-02-03T00:00:00Z
Super accueil, très beau lieu, dans un sympathique et typique village alsacien à côté de Bâle. Que demander de plus. Merci encore c'était top !
Deroussent
2017-02-19T00:00:00Z
Tout était parfait pour notre séjour en famille. Très bon accueil par JIhem. Merveilleux SPA et litterie très agréable ! Nous reviendrons avec plaisir.
Lucy
2016-12-11T00:00:00Z
Typ pokoje
Celý dům/byt
---
Typ nemovitosti
Dům
---
Ubytuje
8
---
Ložnice
Sierentz, Alsace-Champagne-Ardenne-Lorraine, Francie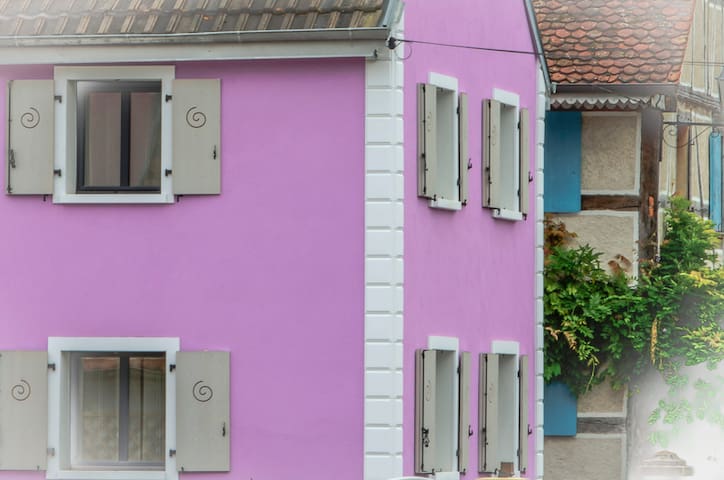 housing with an entry part, so opportunity to come in and out 24/24 very modern, bright and air-conditioned atmosphere like winter computers working without apparent no air conditioning not blowing the telecomandes air conditioning. corner office kitchenette sdb apart sistem with broadband and satellite tv internet the large door / window to the outside and saw the morning sun our comment are all 5 star expected yours ... :)
SMOKING no pets
Bakery / pastry, hairstyles salons, restaurants, a chocolate factory, shops, bank, and a nearby park. (Between 1 and 5 minutes walk) U hypermarket and some great clothing shops to 5 minutes by car, by bike 8.
Bien reçu
GILLES
2016-11-01T00:00:00Z
It was perfect... The apartment was exactly how they show in all the pictures! Really clean and he is really friendly ;).. The town is really small but u have all there, near from the apartment.. We was with auto and all the biggest city's are near from this place.. We are really happy :).. Only one thing.. The "wifi" is really poor.. Works really difficult but anyway it was really nice ;)
Josesita
2016-01-04T00:00:00Z
Nos hôtes ont été accueillants et bienveillants. Le logement nous a permis de visiter l'Alsace en ayant un endroit calme et bien aménagé pour nous poser tout en étant à proximité de commerces.
Jonathan
2016-12-18T00:00:00Z
Nice and cosy place. Fast communication with the host. In cold periods, make sure to align on the heating upfront as there are only small electrical heaters in the house. During our stay, host helped us out quickly due to late arrival the next day.
kristof
2017-01-29T00:00:00Z
Nous n'avons pas rencontrer nos hôtes du séjour, cela dis, nous étions 10minutes en avance. Ils ont par contre été très disponible par téléphone et email, réponse très rapide. Du à un soucis de leur côté nous n'avons pas eu le logement de l'annonce mais un appartement bien plus spacieux. Nous avons donc été gagnant pour le prix. Le seul vrai soucis pour nous est que l'appartement n'est probablement pas complètement terminé. La chasse de la toilette de la salle de bain en bas ne fonctionne pas correctement, le grand volet de la baie vitrée était impossible à remonter et à descendre, et surtout l'isolation phonique. nous entendions les enfants d'a côté comme si ils était dans la même pièce... Rien de rédhibitoire, juste quelques défauts de jeunesse? L'appartement était par contre très propre! Merci à nos hôtes
Florian
2017-03-26T00:00:00Z
Notre hôte à été très agréable et réactive dans nos demandes (même si je pense qu'il serait préférable de ne pas devoir demander une passoire, un plat au four ou autre qui devrait déjà se trouver dans le logement). La wi-fi est très difficile à capter mais notre hôte nous dit résoudre le problème au plus vite.. la description est assez tendancieuse dans le sens où il n'y a pas de chambre à part comme annoncé dans le descriptif (le lit est entre le canapé et la cuisine entouré de paravents). Le logement était très propre. Beaucoup de magasins et restaurants sur sierentz donc situation top. L'hôte vous laisse bien volontier sa place de parking dans l'allée de la maison.
laetitia
2016-12-23T00:00:00Z
Eldena was a very good host, very helpful and on hand when required. Very kind and polite. The studio is spacious , comfortable and the ktichen is very handy if you want to make your own meals. The location is in a quiet area and I was able to park my car on the premises. The internet connection is sometime slow.
Ludovico
2016-06-04T00:00:00Z
Casa muy limpia, tranquila y cómoda, que se corresponde con las imágenes del perfil. Ideal para pasar un par de días para ver esa zona, como Basilea. Está a 3 minutos andando de la estación de tren que te lleva a todas partes. Sierentz parece un pueblo residencial muy tranquilo. Hemos estado muy a gusto dos noches en esta casa, sin duda la recomendamos.
María
2016-10-02T00:00:00Z
Typ pokoje
Celý dům/byt
---
Typ nemovitosti
Dům
---
Ubytuje
3
---
Ložnice
Sierentz, Alsasko, Francie
Rez-de-jardin dans grande maison.
Facile à trouver appartement type F3 avec entrée individuelle. Cuisine ouverte équipée vaisselles, linges de maison,micro onde, cafetière, salon et séjour, salle de bain équipée avec douche italienne et WC, 2 chambre, 1 cellier. Appartement entièrement rénové.
Charmant village typiquement alsacien.
Accueil très chaleureux. Rien à dire au sujet de l' état du logement. Prix en rapport
kemla
2017-02-25T00:00:00Z
Logement simple et efficace. Hôtes très accueillants.
Antoine
2017-02-01T00:00:00Z
pour quelques jours pour faire du tourisme découverte de l'Alsace, des Vosges et du Jura
Marie-paule
2017-04-08T00:00:00Z
Typ pokoje
Celý dům/byt
---
Typ nemovitosti
Dům
---
Ubytuje
3
---
Ložnice
Hirtzbach, Grand Est, Francie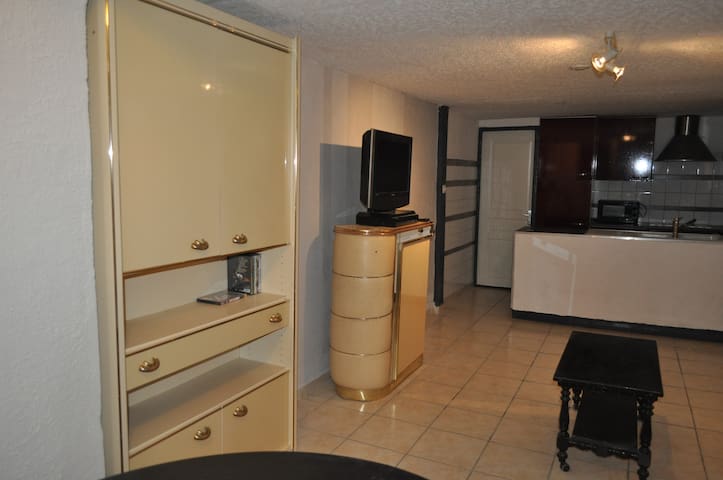 Beautiful spacious room in a house of atypical city. WC and bathroom with shower on the floor of the chamber. House on 3 levels. 2 cats live permanently in the house. I can prepare your breakfast!
live in the house unique items made by local artists. You can buy the object for which you crack the book you lack etc .. !!!
The municipal swimming pool is 200 m. The cinema at the end of the garden; The trade in 2 steps. A good pizzeria opposite.
The host canceled this reservation 32 days before arrival. This is an automated posting.
Luc
2016-07-11T00:00:00Z
I had the most wonderful stay at this artist home! Marie-Claude cooked amazing food that I really needed after such a long, wet cycle there! Thanks
Antonia
2014-07-13T00:00:00Z
Marie Claude est vraiment quelqu'un de très sympathique ! Notre communication a toujours été très simple et Marie Claude a été très disponible avec beaucoup et gentillesse. Le logement est vraiment très agréable, pleins de merveilles. Tres dépaysant. La chambre est très grande, très bien agencée et calme. Il n' y a un grand lit 2 places très confortable, un coin bureau très cosy et une salle de (EMAIL HIDDEN) vue est très jolie sur le jardin. Je me suis sentie comme à la maison ! Le logement est tout près de la gare (5-10 min à pied) et permet de visiter Altkirch et ses environs. À recommander !
kholoud
2017-04-05T00:00:00Z
Small and charmig town. Very nice apartment. Loved the room. She was very nice and helpful. I can recommend staying there.
Erik
2016-07-23T00:00:00Z
Ci siamo fermati ad Altkirch per una notte come prima tappa di un viaggio in Alsazia. Il paese è piccolino ma grazioso. Probabilmente ciò che ci ha affascinato di più è stato proprio il pernottamento nella casa/galleria d'arte di Marie-Claude. La casa, su tre piani, arredata con gusto, è piena di particolari oggetti d'arte e libri. La camera è molto spaziosa e provvista di bagno privato (con asciugamani, phon, bagnoschiuma, lenzuola, connessione internet veloce). Marie Claude è stata molto gentile nell'accoglierci e nel farci sentire subito a nostro agio. Al mattino ci ha addirittura regalato una squisita colazione con pane, marmellata fatta in casa e caffè.
Monica
2016-08-29T00:00:00Z
Marie-Claude est une hôtesse charmante et attentive, son intérieur est lui aussi plein de charme ! C'est une vraie maison d'artiste. Nous recommandons chaleureusement;
Catherine
2016-12-06T00:00:00Z
Très bon séjour avec la compagnie des 2 chats. Merci pour le petit déjeuner À recommander notamment pour le calme.
Sébastien
2016-04-07T00:00:00Z
Marie Claude est une hôtesse de charme, au dévouement sans faille, prévenante et pleine de bonnes surprises, dont les denrées-maison qu'elle concocte dans ce décor foisonnant d'oeuvres à elle et de ses amis. La chambre est en outre fort belle, confortable, silencieuse, remplie de livres et d'oeuvres à vous faire voyager. Le tout , dans un bourg situé pas loin de Bâle, dans une belle campagne qui nous laisse un souvenir digne d'un possible retour.
Jean-François
2015-08-04T00:00:00Z
Typ pokoje
Soukromý pokoj
---
Typ nemovitosti
Dům
---
Ubytuje
2
---
Ložnice
Altkirch, Alsasko, Francie
Comfortable, beautiful dominant position on the heights of the city. Very close to downtown. Ideally located near the airport of Basel, 25 minutes from Switzerland, 30 minutes from Germany and 40 minutes from the vineyards.
Très bon accueil maison conforme à la description je recommande cet endroit à tous les voyageurs
dominique
2015-10-24T00:00:00Z
Remarkable view on Altkirch and the Vosges mountains, good location and walking distance to town, new house and appliances , cozy, accommodates a family comfortably, (great coffee machine ) Eric was a nice and helpful host!
Veronika
2015-08-09T00:00:00Z
this house is excellent for a short stay. it has 3 large bedrooms,big livingroom,kitchen and bathroom. very clean,large terrace,everything you need. excellent value too. we will be back next year
joost
2016-06-20T00:00:00Z
Very relaxed stop on our way to Italy nice modern house in a quiet area good terrace !
roel
2015-07-16T00:00:00Z
La maison d Eric est tout à fait conforme à sa description. J ai trouvé l intérieur encore mieux que sur les photos ! Tout est fait pour un sejour agréable, on s y sent tres bien. Lits confortables et belle grande salle de bains. Je recommande sans soucis cet endroit pour vos séjours dans la région!
STEPHANE
2015-08-05T00:00:00Z
Amazing spascious house with many luxurious appliances! Highly recommended! Eric welcomed us very kind and hospitable!
Erik
2015-09-25T00:00:00Z
Nous avons passé un très bon séjour dans la maison D'Eric. Le logement était spacieux, lumineux, très propre et bien équipé. C'est une maison dans laquelle on se sent très vite à l'aise. Nous garderons un très bon souvenir de notre séjour à Altkirch qui est une petite ville mignonne avec des commerces à proximité.
Maëlle
2015-07-26T00:00:00Z
Sehr netter und freundlicher Gastgeber. Sehr schönes Haus mit einem sehr ansprechendem Ambiente. Es hat uns sehr gut gefallen. Sehr zu empfehlen! Vielen Dank für die Gastfreundschaft!
uta
2015-07-11T00:00:00Z
Typ pokoje
Celý dům/byt
---
Typ nemovitosti
Dům
---
Ubytuje
5
---
Ložnice
Altkirch, Alsasko, Francie
Ofrezco 1 dormitorio con baño privado en la habitación y la marca nueva entrepiso y comodidad posibilidad de utilizar la cocina. personas que viajan solas, viajeros de negocios y familias (con niños) .are cafetera bienvenida en la habitación. Estación 5 Minuto, bala 15 minutos, 15 minutos de Mulhouse y desde Alemania Hablo francés y Allemend Ich Vermiet
1 doble y 1 cama individual en la ropa de entrepiso proporcionado Petit dej incluía el aparcamiento delante de la casa
Restaurante, pizzería y snac 2 pasos
superbe maison ! !!
Thomas
2017-02-24T00:00:00Z
Le logement de Mathias est très récemment rénové ce qui procure indéniablement de la qualité. La chambre pour trois personnes est très grande, calme, avec salle de bains neuve ! La cuisine est entièrement équipée ! Le petit déjeuner est à disposition. Conclusion : cette adresse est largement à conseiller à tous ! C' était tip-top ! Pas vrai Mathias? Et merci ! Mathias parle allemand !
Gérald
2016-12-09T00:00:00Z
we had a nice overnight stay at Matthias' place. It's a clean, nice, big room in a quiet area. Very hospitable!
Sofie&Kim
2017-02-05T00:00:00Z
Modern house, well equipped, attentive host.
Egon
2016-12-25T00:00:00Z
Matthias ist ein großartiger Gastgeber, bot uns eine piccobello saubere und schöne Wohneinheit, nebst eigenem Badezimmer und begrüßte uns allmorgendlich mit einem frischen Kaffee. Matthias ist ein geselliger und offener Mensch und immer zu einem Gespräch und Tipps bereit. Wir kommen sehr gerne wieder. Für mich waren die 8 Tage bei Matthias die bislang beste Erfahrung mit AirBnB. Somit 6 statt der üblichen 5 Sterne! Danke Matthias.
Markus
2017-03-30T00:00:00Z
Très bon accueil emplacement idéal pour l'accès au Blue park si vous prenez l'avion et laisser votre voiture à l'aéroport, c'est à 5mn .
Patricia
2017-03-02T00:00:00Z
Real value for your money. Just perfect for our needs
Karoline And Jens
2017-02-18T00:00:00Z
Excellent accueil malgré le fait que mathias ne parle que l allemand
alain
2017-01-11T00:00:00Z
Typ pokoje
Soukromý pokoj
---
Typ nemovitosti
Dům
---
Ubytuje
3
---
Ložnice
Sierentz, Alsace-Champagne-Ardenne-Lorraine, Francie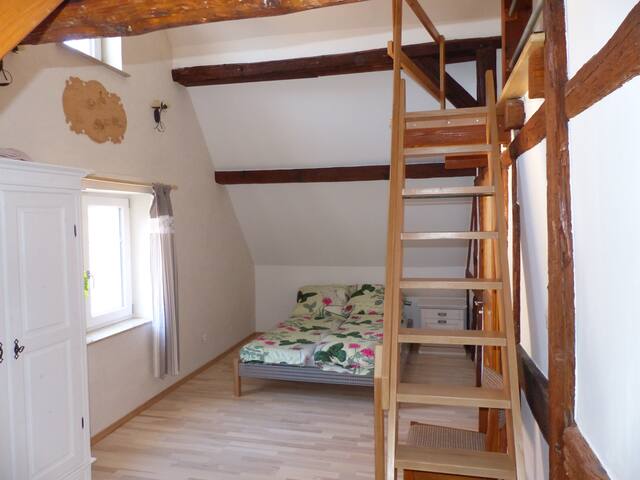 Je neuvěřitelně tichý. No vis-à-vis, spí na hraně kopce. Pohled na dřevěnou podlahu 100 m2 se rozprostírá přes 35 km. V domě se zahradou u nohou starověkého třešeň a několik metrů, vrták začíná. Každý ze dvou ložnic mají sprchový kout a WC
Pronájem až 6 osob Poblíž, zpět v čase do Ekomuzea (v Ungersheim) a rostou až do Bioscope, prozkoumat mnoho turistických stezek, které jdou směrem k Vosges (Grand Ballon nebo Markstein), podle chuti Great alsaských vín a gastronomie Sundgau cesta k kapra hranolky, navštívit Štrasburk a naše typické vesnice: Colmar Riquewihr, Ribeauvillé, Eguisheim ... Téměř Altkirch, 15 minut od vlakového nádraží v centru Mulhouse (Park Expo a auto muzeum), 35 minut od Euro-letiště Basilej (Švýcarsko) - Freiburg - Mulhouse, 1 h 15 Strasbourg na A35, 35 minut od Colmar (vinařské stezky, zámek Vysoká Koenigsbourg), 30 minut od lyžařského střediska, ¾ hodina Freiburg (Německo) až ¾ hodiny Aquapark Laguna (Německo) 85 m² a 100 m2 terasy, prostorné a pohodlné s výhledem s výhledem na les, v zeleném prostředí, v blízkosti centra obce. Děti mají hřiště. Odjezdy z prvních turistických tras se nachází 100 m od domu. Budete mít parkovací místo, květiny a stromy a venkovní hry (ping-pong, houpačka, a můžete použít kola), velkou terasu se zahradním stůl, 6 židlí a grilování. Dodávaná kuchyň s myčkou nádobí, troubou a nádobím, 4-plotýnkový sporák, mikrovlnka trouba, lednice s mrazákem 300 l, rychlovarnou konvicí, toustovačem a kávovarem. Jídelna se stolem a 6 židlemi (+ vysoká židle) Obývací pokoj s 2 pohovkami, TV, DVD přehrávač, bezdrátové připojení na internet, Pokoje: 1 ložnice se třemi samostatnými lůžky (90x200) s vlastní sprchou 1 ložnice s 1 manželskou postelí (140x190) + 1 samostatná postel s vlastní sprchou Domácí zvířata povolena na vyžádání Ložní prádlo a ručníky dle nás Samostatný vchod, dvě ložnice, velký obývací - jídelna, kuchyň, koupelna, terasa, terasa, ústřední topení, Plná jih, klidný, moderní dekorace, parkování ve dvoře. V obci Illfurth, 500 m od chaty najdete dva pekaři rozkošný, příjemný řezník, press-trafika a malý obchod s potravinami, tradiční restaurace "Le Coq", irský pub, 2 restaurace rychlého ( kebab a Pizzeria), lékárna, 4 kadeřnictví, knihovnu, 3 lékaři, zubaři 3, 2 fyzioterapeut a skvělý pedikér, její malý trh ve čtvrtek ráno, jízdního kola opravář. A dokonce i tetování, pokud máte v plánu čáp na svém předloktí! Celá zahrada: 500 M2 Žádné oddělování sousedních domů .... je to otázka atmosféry. Tam je vlakové nádraží v Illfurth, ale nejjednodušší je auto. Nebo na kole.
... Jako prostorné vily v privilegované oblasti na úpatí kopce (obývané Kelty v 3. století)
Great house. Provision of bicycles a real bonus, as canal very close by to enjoy.
Caroline
2013-10-02T00:00:00Z
Fabienne et son mari nous ont très bien reçus et nous donné de bons conseils pour notre séjour. Le gîte était très agréable, propre et bien entretenu. Petite place de jeux appréciée des enfants Super endroit :)
Elisabeth
2016-05-17T00:00:00Z
Le séjour était très agréable! Nous avons reçu une gentille attention à notre arrivée. L'habitation est au calme ... une forêt à proximité permet une jolie promenade.
Stephanie
2013-12-03T00:00:00Z
Communication with Fabienne was accurate. Since our arrival was quit late, she left door open for us. It was very nice experience.
Kibom
2016-06-22T00:00:00Z
gite agréable pour un séjour en Alsace ,Fabienne vous accueille chaleureusement.
jacques
2016-01-03T00:00:00Z
Typ pokoje
Celý dům/byt
---
Typ nemovitosti
Dům
---
Ubytuje
6
---
Ložnice
Illfurth, Alsasko, Francie
In the heart of o wonderful typical Village , with nice surroundings The Village is flourished and a river goes through. LabellisedClévacances 3étoiles Perfekt to disvocer the region Jura , Vogessen, and Elsass. Suggestions of expeditions through the region Quiet , authentical , nature surronded will allow you to ressource yourself. . Wi-Fi. 30 kms away from the Airport Bâle-Mulhouse.
In the middle of nature , very quiet , all wished to spend a wonderful time. Full equipment and accesories to enjoy your stay .
Village typique traversé par une rivière, entouré de forêts et d'étangs. Parc anglais au centre. A 14 Kms du Jura Suisse, 30 kms de Bâle, 35 kms de l'Allemagne, et 60 kms de Colmar. Restaurant dans le village, marché local le long de la rivière , à proximité du gîte, tous les mardis en soirée.
Nous avons passé un très agréable séjour, la description est conforme à tout point de vue et Denis et sa femme habitent juste à côté, et sont toujours prêts à rendre à service. Un airbnb que je recommande avec plaisir, et encore merci !
Diane
2016-04-04T00:00:00Z
Ce couple d'hôte a été absolument parfait! Disponible et discret en même temps, exactement ce que nous recherchions! Le gite est vraiment très agréable, dans un endroit calme et en plus très joli. Nous les recommandons vivement! Expérience a refaire!
Virginie
2015-11-29T00:00:00Z
Typ pokoje
Celý dům/byt
---
Typ nemovitosti
Dům
---
Ubytuje
4
---
Ložnice
Hirtzbach, Alsasko, Francie
We offer a beautiful house in Illfurth comfortable in individual and private apartment in a pretty villa, located in Illfurth Alsace on a plot of 28 acres with a games area for children, The cottage is fully equipped.
We offer a beautiful house in Illfurth comfortable in individual and private apartment in a pretty villa, located in Illfurth in Alsace in the Haut-Rhin and on a plot of 28 acres with a games area for children, The house has a separate entrance, it has a surface area of about 60 m2, it consists of a bedroom with a double bed, an attic children's room with 1 bed, on your request we can add an extra bed in this room. In addition, the owner of the house, Olivier, is an amateur painter, he will be happy to present his works.
The area is quiet.
Nos collaborateurs ont passé un très agreable sejour, appartement très propre et très confortable. je reccomande vivement! Merci à Olivier!
Gemma
2017-04-01T00:00:00Z
Although we came really late, Josette was kind enough to show and explain to us everything that needed to be known Very peaceful area, comfy beds, nice shower! Malgré le fait que nous soyons arrivé super tard, Josette a prit le temps de nous montrer l'apartement et nous expliquer comment tout fonctionnait L'endroit est tres tres calme, les lits sont confortables, la douche est d'enfer!
Laurent
2016-10-16T00:00:00Z
Un très bon accueil de Joselle et d'Olivier, ils nous ont mis à notre disposition un gite de grand confort, une bonne adresse à utiliser sans risque de mauvaise surprise .
DOMINIQUE
2015-12-06T00:00:00Z
Unfortunately we hit bad traffic on our way to Josette's and Olivier's place. Despite us arriving late, Josette greeted us very friendly and showed us around the apartment. The communication was good too. The place itself is spacious, very clean, quiet and even has a small yard. We only stayed briefly but enjoyed our stay with Josette and Olivier. I can definitely recommend them as an AirBnB hosts!
Rebecca
2016-08-23T00:00:00Z
It was like the description, and a peaceful staying
Verena
2017-02-05T00:00:00Z
Très Bon accueil d'Olivier et Josette. Logement fonctionnel, agréable et propre, lieu calme et tranquille, très bon séjour. Merci à bientôt.
Isabelle
2015-12-14T00:00:00Z
Logement spacieux et au calme, avec un super jardin pour les enfants. Seul petit bémol pour nous (avec 3 enfants en bas âge), la seconde chambre est une mezzanine ouverte sur le salon et sans volet. Hôtes très accueillants et facilitants !
maylis
2016-12-11T00:00:00Z
Typ pokoje
Celý dům/byt
---
Typ nemovitosti
Dům
---
Ubytuje
4
---
Ložnice
Illfurth, Alsasko, Francie
Studio-Schlafzimmer mit Bad, Dusche, WC, Parkettboden, Blotzheim 68730 5 Minuten Fahrt vom Flughafen Basel / Mulhouse Basel, Studio-Zimmer WC, Badezimmer 5 Minuten Fahrt vom Flughafen Basel / Mulhouse, 10 Minuten mit dem Auto von Basel-Stadt
Das neu fertig Studio ist an Haus des Eigentümers angrenzend, 1 Doppelbett, ein eigenes Bad mit Dusche und WC, Holzboden
Ansicht, Nachbarschaft, Elsässischen Dorf, in der Nähe des Flughafens Basel Mulhouse, in der Nähe eines Leclerc Supermarkt und Geschäfte in der Dorfmitte, Casino & Gaming-Barriere
Malgré qu'on n'a pas passé beaucoup de temps ensemble, Jean m'avait accueilli dans une manière très gentille. Il m'a attendu jusqu'à mon arrivée à 0h15 chez lui, et il m'a ramené à l'aéroport à 5h50 le lendemain matin. Merci, Jean pour l'accueil et un court, mais bon moment ensemble !
Erin
2015-09-25T00:00:00Z
At the heart of the quiet village of Blotzheim, Laurence and Jean's property beat all expectations. The room was clean, with several amenities (coffee, WiFi, tea, and a kettle), as well an en-suite shower room. They allowed us to draw on the wall to make our mark like all the other Airbnb guests they have hosted. Jean even picked us up from the airport, which we thought was an extra nice touch to our stay. The accommodation was the perfect location to close down our vacation, as it was situated a short bus ride from Saint-Louis, the EuroAirport, and Basel. Also, be sure to check their incredible eBay store situated on the ground floor!
Lewis
2015-09-22T00:00:00Z
It was perfectly placed for my requirements, nice and clean.
Stefano
2016-12-07T00:00:00Z
Nous avons dormi dans cette chambre très brièvement car nous prenions l'avion tôt le lendemain matin. Rien ne nous fait envie d'y revenir : accueil froid et distant de la part de Jean. Heureusement son épouse fut plus charmante et loquace. Le lit est constitué de deux matelas superposés. Pas de TV ni de petit déjeuner.
Brigitte
2016-08-04T00:00:00Z
Laurence & Jean super helpful couple :) Jean picked us from airport and drove to the their home. Super clean room and I would absolutely recommend. Thanks bunches guys :) lots of love from Cracow D & J
Carolexy
2015-11-21T00:00:00Z
Hosts were wonderful. . . picked me up at the train station, dropped me off at the airport and lent me a bike to ride into Basel since I didn't have a car. The room was clean, safe and secure. My stay was brief but I loved it and would highly recommend it to others.
Kimberly
2015-08-09T00:00:00Z
Kan endast instämma med tidigare omdömmen, det var ett sant nöje att bo hos värdparet. Väldigt serviceminded och måna om att man ska få den bästa möjliga upplevelsen, vilket vi fick. Kan varmt rekommendera andra att boka detta boende.
Jani
2016-05-20T00:00:00Z
Os anfitriões foram muito acessíveis e prestáveis, mesmo com chegada a hora mais tarde que o previsto. Muito amáveis.
Paula
2016-08-10T00:00:00Z
Typ pokoje
Soukromý pokoj
---
Typ nemovitosti
Dům
---
Ubytuje
2
---
Ložnice
Blotzheim, Alsasko, Francie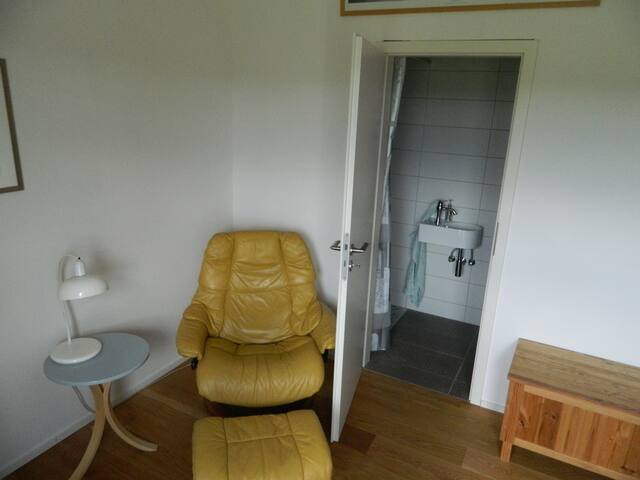 Franken - Airbnb
:
Průměrně

4.78

z

5

hvězdiček na základě

157

hodnocení hostů