Perched high in the Royal Forest of Dean, with breath-taking views across the Wye Valley & Brecon Beacons, an intimate but spacious Cottage for up to 6 people & their dogs; outside, you'll find a huge, private, decking with Hot Tub & Sauna. Our Forest Retreat is perfect, year round, for those looking for relaxation, adventure; step or cycle into the forest or to the banks of the Wye for splendid walks, canoeing and a host of other activities and fun (+ some great pubs!).
Jay, one of our recent guests, said "The cottage embodied so much character and charm and proved to be the perfect getaway; it's a truly amazing and magical place". Originally built for a local miner in the 1850's, the Cottage still retains much of it's original charm e.g. thick walls, low ceilings and narrow entrances; but much of it has been refurbished to modern standards, over 5 levels of intimate and deceptively spacious living. As Emily, a recent guest, said: "A cosy but spacious house which allowed everyone their own space when needed but also fantastic communal areas with beautiful views out of every window." It's perfect as a base for up to 6 guests, and their dogs, to retreat from the world, but with easy access to a multitude of adventures and fun - we have plenty of ideas if you need them. It's ideal for couples or friends looking for a relaxing or romantic hideaway. The lounge has a log fire (logs are supplied), surround sound system and there is access to free wifi, Bluetooth sound system, 'Firestick', DVD player and library of movies. The huge decking is an absolute delight, with panoramic views of the Wye Valley, or of the stars after dark; complete with Hot Tub, Sauna, BBQ and table/chairs for al fresco dining. All bedrooms are decorated to a high standard, with good quality beds; Room 1 has a king size bed and a lovely en-suite; Room 2 has a double beds and Room 3 has comfy 'adult size' bunk beds + there's a good quality guest bed for those who don't like heights! There's a family bathroom, with an excellent 'power shower', an en-suite shower/toilet linked to the king-size bedroom, and a cloakroom/toilet on the ground floor - all have recently been refurbished to a high standard. The kitchen is very well equipped, together with a 'range' oven, large fridge, washing machine* and microwave; and there's a 'shabby chic' dining room, which opens onto the decking and comfortable sits six people. *We also have a tumble dryer All bedrooms, living rooms, dining room and kitchen afford dramatic views of The Wye Valley and beyond. The Cottage and garden are only overlooked by the birds so you can feel comfortable to relax and kick back in your own private hideaway. At night, the garden comes to life with fairy tale illuminations; and there is a chiminea to cozy up to. Comfortable, high quality, furnishings & décor are provided throughout, all reflecting the rustic nature of The Cottage and surrounding area.
The Cottage is in a quiet and peaceful location, though has a traditional pub within 10 minutes walk. Lydbrook village is about a mile away - where you'll find a store/post office and more pubs, one with an Indian Restaurant and Takeaway. Within 3-6 miles, you'll find villages and market towns of Coleford, Cinderford, Ross on Wye and Monmouth; and a good range of supermarkets, local produce, pubs and eateries. Activities are plentiful, including miles of jogging & cycle trails, canoe hire, horse riding, quad biking, fishing, rafting; visit Symonds Yat for wonderful riverside walks; 'Puzzlewood', location for the recent Star Wars movie; follow 'The Sculpture Trail' or for Treetop adventures, book in to 'Go Ape'. The area also has a rich in history and opportunities for explorers of all ages, e.g. The Forest was William the Conqueror's hunting ground and then a rich source of coal and iron ore - now many forest trails follow routes of the disused railways and you can spot many remnants of this industry. If you have time, it is recommended you visit Goodrich Castle, Tintern Abbey, Chepstow Castle and the Cathedral Cities of Hereford and Gloucester.
We're a group of girls in our 20s who met up at The Reddings for our annual reunion. We had a fantastic time :) the arrival cake and cookies were great for us to jump straight into catching up! The hot tub was amazing over looking the view - it makes it really special. There's plenty to do, even in the rain (we enjoyed a good game of Scrabble!). Jayne and Phill are fantastic hosts, we had lots of information in advance of the trip. They were personable and incredibly friendly from start to finish. We can't wait to return!
Becky
2016-08-22T00:00:00Z
Fantastic views set in remote area. Living area fantastic but short on hanging clothes areas upstairs.
Frances
2017-01-30T00:00:00Z
Thank you Jayne and Phill for a lovely cottage to spend a relaxing few days in! it really was like a home from home plus alot of luxury! We were greated with a welcome letter, milk, orange juice and a gorgeous cake! it was all very personal, and the place was immaculate! The welcome pack was great, very thorough with everything you need to know about the area! The views and facilities were second to none! We really couldn't have asked for more!! once again thank you both! x
Danielle
2016-09-22T00:00:00Z
What a wonderful place to stay! We had a few days of hiking and kayaking and this was the perfect base. A beautiful house with a stunning view and everything we needed to be content. Hot tub is awesome and we struggled to stay out of it! It's very quiet and peaceful but also very easy to get to the local walks and river. Actually thinking of booking again soon as we loved it so much!
Mathew
2016-07-15T00:00:00Z
Our stay at the Reddings was a total joy! With four people in three bedrooms we had bags of space and privacy if desired, but found ourselves endlessly gravitating outside to the decking for the views, whether at the ample outside dining table, in the chairs and deckchairs, or of course in the tub, which is perfectly positioned for sunsets! The barbecue and chiminea were extra bonuses here. There's a large dining room if you're unlucky with the weather and plenty of inside spaces to lounge in too; the kitchen too is a good size, if dark. We don't have dogs so can't really comment on this aspect but it certainly seems like a good place for dog lovers and the interior has that sort of country ambience. It's ideally placed for walks right out of the door; though we ventured further afield in the car most of our trips began by walking downhill through Joy's Green, a magical little wood, past a pub and a hollow lane, and along the glorious Wye Valley. One walk west to Symonds Yat incorporating wild swimming (watch out for the canoes – we'd hire one next time!) was especially memorable; the countryside is truly stunning.
Oskar
2016-07-26T00:00:00Z
The house is AMAZING. Sitting in the hot tub looking out over the valley was dreamy. Jayne and Phill gave us great instructions and were always easy to contact. Everything you needed to know was in the folders in the house. And did I mention the house is amazing? I wanted to move in. I've already recommended it to friends and will definitely be back for another trip!
Megan
2016-11-07T00:00:00Z
We spent a wonderful Christmas at The Reddings. The house is homely, comfortable, well-equipped and well designed. Sitting in the hot tub or on the amazing balcony enjoying the view was definitely a high point. Everything was really well organised and communication with Phill & Jayne was brilliant. Definitely somewhere we would recommend to get away from it all and enjoy the countryside. Perfect holiday home.
Lesley
2016-12-28T00:00:00Z
The Reddings is truly a stunning house. The pictures really don't do it justice, from the interior of the house to the view, it's all beautiful! My girlfriend and I stayed here for 4 days and we loved it. Phil was very attentive and helpful, even though we didn't manage to see him due to timings, he was available and ready to answer any questions. The info pack in the house was very useful and thoughtful and made the experience o the house even more enjoyable. We were very fortunate with the weather during our stay so we got to enjoy the Hot Tub out on the decking overlooking the incredible views, and enjoyed morning coffees on the deck swing. I would definitely stay here again and would recommend highly to any couples or families looking for a getaway in a stunning house within a stunning location.
Omar
2016-05-10T00:00:00Z
Typ pokoje
Celý dům/byt
---
Typ nemovitosti
Dům
---
Ubytuje
6
---
Ložnice
Gloucestershire, Velká Británie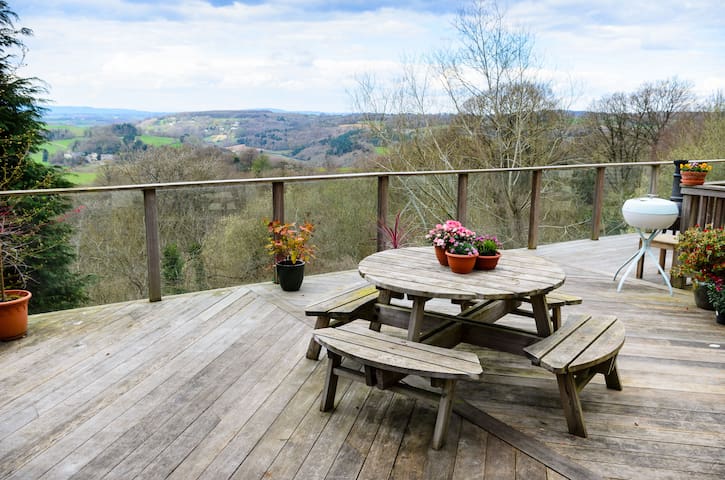 我们住的地方是靠近城镇,但足够远的和平与安宁。你会喜欢这里,因为伟大的散步,山谷的美景和美妙的日落。斯特劳德拥有获奖的每周农贸市场,有机咖啡馆和独立shops.The私人一楼浴室从夏家几个层次穿过花园访问。茶咖啡,并提供给夏家鲜牛奶。面包和谷类食品可在露台或在我们的温室。我们有一个友善的狗!
夏天房子有一张双人沙发床,并加热,如果你需要它。欢迎您使用火盆上的装饰温馨的夜晚。木材和火种是供£3袋。 我们有一个最大的3晚(最少1)。
夏日街是步行10分钟即可镇下长山因此允许20分钟回来了!斯特劳德有很大的全年提供的,许多节日。主线站有90分钟,格洛斯特和切尔滕纳姆直达列车前往伦敦。有从家里通过沿山谷SLAD树林和许多其他地方散步的散步,非常愉快。我们有各种各样的咖啡厅,酒吧和俱乐部做好的食物有很多当地特产的。运河系统主要是适合步行和有周末短乘船游览。
My partner and I booked Ruth's summer house at very late notice (the day before!) but Ruth was still able to accommodate us and provide a very relaxing stay. If you're looking for somewhere to relax in the Cotswolds, look no further! Ruth couldn't do any more to ensure we had a great weekend, even providing us with breakfast in the morning from her conservatory with an amazing view over the town of Stroud. Her dog is lovely and friendly and kept us company in the morning. The summer house itself has everything you would need, Ruth provided us with fire wood which kept us warm over a glass of Prosecco on the terrace in the evening. We slept very well and woke up to an amazing view from the bed overlooking the fields. There is a kettle in the room so we had a cup of tea to wake us up too. Stroud has a lovely farmers market where we bought some locally made gin and food for lunch. There are as many cosy pubs that could need in the surrounding area, we made sure we toured as many as we could in the time we had! Make sure your visit Winstones ice cream a short drive away. I wouldn't hesitate to recommend Ruth's summer house to anyone looking for a peaceful time in the Cotswolds. We'll definitely be returning!
Alex
2016-08-21T00:00:00Z
The host canceled this reservation 36 days before arrival. This is an automated posting.
Ruth
2016-10-07T00:00:00Z
Very scenic view from our little cabin; always nice to wake up to an amazing view of greens, and sometimes spot little animals. It's really a different (in a good way!) experience, especially if you love nature. Our hosts, Ruth and Peter, were very hospitable and tried to make our stay as comfortable as they could. Lovely breakfast every morning. The room can be a little chilly at night, but Ruth and Peter have provided a hot water bottle and a heater to use when necessary. The bathroom is a small flight of steps from our cabin though, but it's fine for us. We also had to head up to the house to use the wifi, but we were OK not to have the wifi in our cabin as it helped us appreciate the surrounding nature better. They also provided lots of information about the updated happenings in Stroud; really appreciate it. Thank you Ruth and Peter for your hospitality! It's been a great stay! :)
Michelle
2016-08-31T00:00:00Z
The host canceled this reservation 8 days before arrival. This is an automated posting.
Natalie
2016-10-13T00:00:00Z
Typ pokoje
Soukromý pokoj
---
Typ nemovitosti
Srub
---
Ubytuje
2
---
Ložnice
Stroud, Anglie, Velká Británie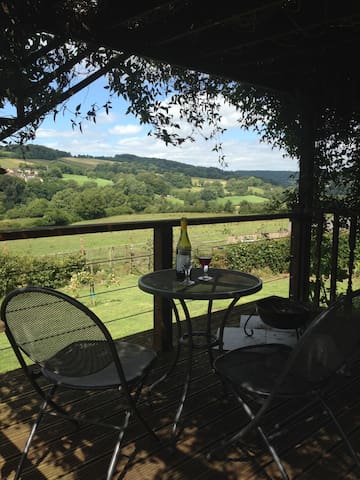 Spettmeisfamilien er et komfortabelt særpregede hytte satt i 6 dekar av vakkert skoglandskap på en åsside - en stille og rolig plass å komme bort fra kjas og mas i hverdagen.
Sjarmerende selvbetjente studio hytte satt i 6 dekar av Herefordshire skog innen rekkevidde av Ross-on-Wye, Forest of Dean og Wye River.
Howle Hill er en rolig skogkledd ås fellesskapet innen 3 miles av fasilitetene til Ross-on-Wye.
Beautiful cabin in beautiful woods. Lovely 45 min walk into Ross. Cosy fire. Will return soon
Chris and Lucy
2016-11-27T00:00:00Z
The chalet was the perfect woodland retreat for our four night stay in a part of the country we didn't know at all. Perfectly placed up a steep hillside, all day the birdsong echoed through the trees yet Ross on Wye is only a couple of miles away. Marion and Simon made us very welcome and provided everything, including thoughtful extras, needed for a very comfortable stay. We would recommend spending time here without hesitation.
Annie
2016-05-13T00:00:00Z
Fab stay in this peaceful hide away- the wood burning fire, welcome of cake, eggs and milk were all lovely.... highly recommended!
Chantal
2017-02-26T00:00:00Z
The host canceled this reservation 53 days before arrival. This is an automated posting.
Jon
2016-05-30T00:00:00Z
This was a surprise visit for a few days away in the Forest of Dean. Tree Tops is really high up and out-of-the-way with views of only tree tops. It was so quiet and peaceful with only the (SENSITIVE CONTENTS HIDDEN) of birds. The Nuthatch chalet was perfect and really cosy. It would be just as nice in the winter on a chilly day with the wood burner as in the summer with the doors open to watch the sunset. Local town of Ross-on-Wye is only 10 min drive and has enough shops and restaurants to cover everyone's taste. A particular Nepalese restaurant Yaks & Yetis is recommended. There is plenty to do in the area from long walks in the Forest to Kayaking along the river. The hosts were very welcoming and helpful with all the arrangements. We would definitely come back another time.
martin
2016-08-26T00:00:00Z
Nuthatch Lodge was a lovely comfortable place to stay in a beautiful setting. Marion and Simon were friendly,helpful, and there if we needed them. There is a lot to see and do in the area but Nuthatch Lodge is also a great place to get away from it all.
GILLIAN
2016-08-21T00:00:00Z
Marion and Simon's delightful Nuthatch Cottage at the Tree Tops, is a true sanctuary from the hubbub of town and city life. The tranquil forest setting for the tastefully decorated, well-appointed and clean cottage. Good amenities that work well. Plenty of public walks from the cottage. Locally, there is the Clearwell Caves less than half an hour's drive away. Plenty to do during the day. Do recommend following advice given on how to get to Tree Tops. A case of maps outwitting satnav. Please do read the other good reviews. Simon and Marion are truly welcoming, kind and attentive to one's needs. Thank you! Would glady visit again!! I commend Marion and Simon and their Nuthatch Cottage unreservedly to you.
Douglas
2016-06-13T00:00:00Z
Wow, we had such a perfect time at Nuthatch woodland chalet. Marion & Simon were brilliant hosts; Simon was so kind helping us with the outdoor pizza oven when we needed it & Marion even had a fire going for us when we arrived. Loads of little touches made it feel really homely. We loved driving up through the trees to get to the chalet & truly felt like we got away from it all for a few days. Really close to the River Wye at just a 15 min drive to the canoe centre & there were lots of local walks in charming little villages. We'll definitely be back again!
Danielle
2016-04-30T00:00:00Z
Typ pokoje
Celý dům/byt
---
Typ nemovitosti
Chalupa
---
Ubytuje
2
---
Ložnice
Ross-on-Wye, Herefordshire, Velká Británie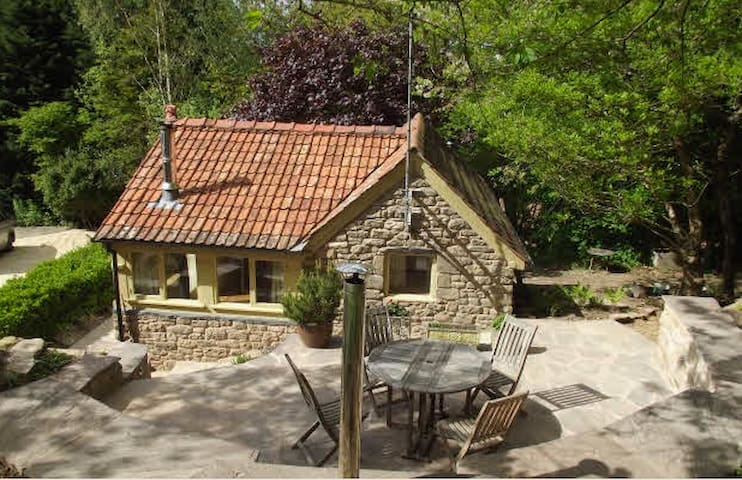 Un appartamento luminoso e spazioso (60mq) in una villa Regency indipendente in Leckhampton, Cheltenham. La sua al piano terra con ingresso indipendente con cancello. Ci sono due camere da letto matrimoniali (entrambe con bagno), sala da pranzo, cucina, salotto e giardino interno. Ospita un massimo di 4. E 'pieno pacchetto TV Sky, tra cui cinema, box set e sport. Ideale per soggiorni d'affari o festival. Questo è un elenco nuovo di zecca.
A due camere da letto (entrambe con bagno) appartamento cortile a 5 minuti a piedi dai negozi Bath Road, pub e ristoranti, e 20 minuti per il centro di Cheltenham. Occupa tutto il piano terra della nostra casa di famiglia e si articola come un autonomo appartamento per gli ospiti. E 'ideale sia che siate qui per affari o per piacere. 1 camera da letto ha un letto matrimoniale e camera da letto 2 ha due letti singoli. Ogni camera ha il proprio bagno privato con doccia, armadio, scrivania e sedia, biancheria da letto, e da bagno. Se necessario, abbiamo un lettino da viaggio / materasso / lenzuola, ma si dovrebbe portare altra culla biancheria da letto se stare con un bambino. La cucina è completamente attrezzata con frigo / freezer, lavastoviglie, piano cottura, forno, forno a microonde, bollitore e tostapane, così come posate, stoviglie e bicchieri. La zona pranzo ha un tavolo rotondo e quattro sedie. Il salone comprende due comodi divani, librerie, lampada da terra, tavolino, e Sky TV.
Cheltenham è il cuore della vostra visita a Cotswolds, sia per affari o per piacere. E 'famosa per la sua architettura Regency e giardini, la sua corsa e festival culturali in tutto il calendario e per i suoi negozi, ristoranti e divertimenti. Non date da non perdere nel 2017: Jazz Festival: 26 Aprile - 1 Maggio Poesia Festival: 4-15 maggio Festival della Scienza: Giugno 6-11 Food & Drink Festival: 09-11 Giugno Music Festival: 01-16 Luglio Festival della Letteratura: 06-15 OTTOBRE
Typ pokoje
Celý dům/byt
---
Typ nemovitosti
Byt
---
Ubytuje
4
---
Ložnice
Cheltenham, Anglie, Velká Británie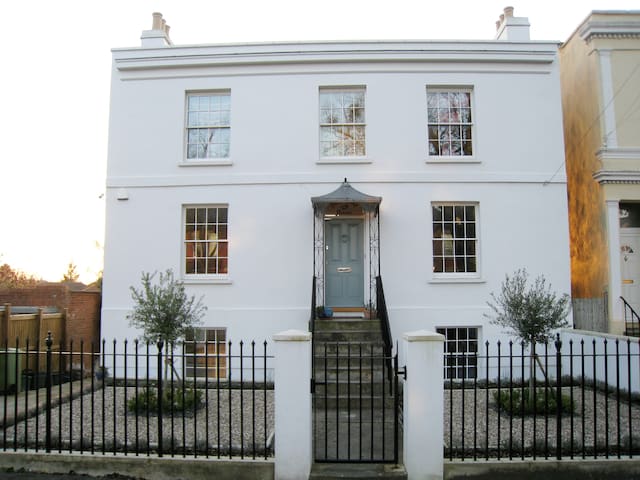 Quaint, private annexe in the heart of the Cotswold countryside, offering unique accomodation. Village setting with two pubs within walking distance. A car is recommended to reach the village easily. Perfect for exploring the beautiful villages and towns nearby, whether on bike, foot or by car.
Quaint, private annexe in the heart of the Cotswold countryside, offering unique accomodation. Village setting with two pubs within walking distance. Perfect for exploring the beautiful villages and towns nearby, whether on bike,foot or by car. Located in the heart of a beautiful Cotswold village, the annexe has a double bedroom with shower. Newly decorated in 2016, it offers relaxing accomodation to explore the local area. The annexe has private access via a small cottage garden. This is a ground floor room with just one small step to access. On road car parking. We respect our guests privacy, but are equally happy to offer local advice if needed. Despite our postal address of Moreton in Marsh, we are in the small village of Upper Oddington - about 6 miles from Moreton. Oddington is a quiet, rural village in the heart of the beautiful Cotswold countryside. The area is very popular with cyclists, walkers and those who enjoy exploring pretty small towns and villages nearby. The village boasts two great pubs - The Horse and Groom in Upper Oddington and The Fox in Lower Oddington - both offering great food and local ales. The closest town is Stow on the Wold, with Bourton On The Water and Moreton in Marsh, very close by. Oddington dates back to the 11th Century and has two churches one of which dates back to this (website hidden) St Nicholas church is of particular historical interest not only because of it's age but also because of the well preserved 'Doom' painting on it's wall. Public transport is very limited. The nearest train station is Kingham, Oxfordshire, which is about 6 miles away. The annexe has private access via a small cottage garden. This is a ground floor room with just one small step to access. On road car parking. Public transport is very limited. The nearest train station is Kingham, Oxfordshire, which is about 6 miles away. Other local attractions include: Great local walks and Cycle routes. Daylesford Organic Farm Shop. Moreton in Marsh country Show( September). Longborough Opera in Summer season. Fantastic local Pubs with great food. Indian/Chinese restaurants available in nearby Stow on the Wold and Moreton in Marsh. Addlestrop, Chastleton House, Sezincote House and Batsford Arboretum nearby. Plus much more...
Oddington is a quiet, rural village in the heart of the beautiful Cotswold countryside. The area is very popular with cyclists, walkers and those who enjoy exploring pretty small towns and villages nearby. The village boasts two great pubs - The Horse and Groom in Upper Oddington and The Fox in Lower Oddington - both offering great food and local ales. The closest town is Stow on the Wold, with Bourton On The Water and Moreton in Marsh, very close by. Oddington dates back to the 11th Century and has two churches one of which dates back to this (website hidden) Nicholas church is of particular historical interest not only because of it's age but also because of the well preserved 'Doom' painting on it's wall.
Although we didn't have a chance to meet with Jenny, she provided us with timely responses at all times and great directions to arrive at her lovely attached room. It was very cozy and had everything we needed to spend the night and wake up to some coffee and fresh cookies.
Diego
2016-03-30T00:00:00Z
Jenny's cottage was a great place to stay during our trip through the Cotswolds. Jenny was welcoming and was flexible about our arrival time, arranging to leave the room open for us for when we arrived. The cottage is walking distance to a lovely pub about 15 minutes away down the road, and right next door to another lovely pub, the Horse and Groom, where we had a great dinner. The room was as comfortable, and was as described, and we had an overall great stay - thanks, Jenny!
Jessica
2014-07-31T00:00:00Z
Small but perfectly formed, set in a lovely village next to a pub that serves great food. Jenny was helpful and friendly.
Sarah
2015-06-28T00:00:00Z
Jenny is excellent, all questions answered. The rooms were spotless and location first class. Pub next door (sharp landlord!). Small cosy space and very quiet. Roses were in bloom outside the door when I was there.
Philip
2015-08-25T00:00:00Z
It was our error in not completely submitting our review. Jenny was a great hostess. The cottage was comfortable and well appointed. Parking was convenient and safe. Upper Oddington was a delightful village.
Cindy
2016-05-14T00:00:00Z
The room was as pictured in the listing and was clean and tastefully decorated. We met Jenny only briefly the first evening and she was pleasant. We were surprised at how far away from Moreton-in-Marsh this place is, as that was where we looked for lodging because we originally planned to come by train. This cottage is two towns away in Oddington. Fortunately, we rented a car, but without it, this would not have been an acceptable location. We didn't feel the directions for how to find the cottage were adequate; we had to ask for help from locals to find it. We visited in early February and though the room has adequate heating, the bathroom has none, so we had to leave the door to the bathroom open -- not the most pleasant situation.
Oystein
2015-02-04T00:00:00Z
We stayed at Jenny's for one night while we walked locally (such a scenic location!) It was great to have the pub next door, which was very welcoming and cosy, with great food, which was much appreciated after a long walk. Our room was very clean and fresh, and smelt of lovely clean sheets. The room is petite but with very high ceilings, it had everything we needed - we were especially grateful for the kettle, tea, coffee and cookies (thank you Jenny!). We found our stay great value and a very private lodging. Jenny was very friendly and accommodating and the village is just beautiful.
Laura
2017-01-22T00:00:00Z
Jenny was great in communicating and flexible with our arrival time. The annexe was just perfect for us, cosy and comfortable. Thank you very much! :)
Silvina
2016-11-20T00:00:00Z
Typ pokoje
Soukromý pokoj
---
Typ nemovitosti
Dům
---
Ubytuje
2
---
Ložnice
Moreton In Marsh, Gloucestershire, Velká Británie
Es liegt am Rande eines idyllischen Dorf im Herzen der Cotswolds - Diese schöne, in sich geschlossene, 1-Zimmer-Hütte; ist ideal für Paare, die für einen Kurzurlaub oder diejenigen, die geschäftlich unterwegs suchen. Die örtlichen Pub ist einen Steinwurf von der Hütte werfen und Einrichtungen des Hotels können im Dorfladen gekauft werden. Cirencester Stadt ist 15 Minuten mit dem Auto. Die Stadt Bath, Stonehenge und Cheltenham, alle innerhalb einer Stunde. Die Kabine sitzt vom Haupthaus gewährleistet absolute Privatsphäre entfernt. Sichere Parkplätze.
The host canceled this reservation 5 days before arrival. This is an automated posting.
Georgie
2017-03-06T00:00:00Z
We had the best stay at this cosy cabin. The pictures didn't do it justice. Barbara was a really friendly and helpful host. She even left us more breakfast food in the cabin than we could have possibly eaten! The kitchen was fully kitted out and the electric blanket was a nice touch. You definitely need a car to get here but there's a pub close by and it's really easy to get around the Cotswolds with this cabin as your base. Will definitely be going back in the summer, although that's not to say we didn't have a great time walking through the snow in February. Thanks Barbara!
Jamie
2017-02-12T00:00:00Z
Lovely little cabin. Surprisingly easy to find and Barbera was great host.
Jakub
2017-02-27T00:00:00Z
Idyllic cabin in a sleepy village. Very comfortable stay, super cosy and picturesque surroundings.
Anna
2017-04-02T00:00:00Z
Barbara is a great host: she was really flexible about my arrival time, had stocked the cosy and clean apartment with tons of delicious supplies and was happy to help with any questions I had about the area! Thanks so much Barbara - loved my stay : )
sophie
2017-02-25T00:00:00Z
Lovely place to stay and relax. Great location and very enjoyable. Would definitely visit again
Joshua
2017-04-12T00:00:00Z
We had a wonderful weekend in Barbara's beautiful cabin which is in such a lovely, peaceful setting. Everything you need is provided including a super-king size bed with lovely cotton bedding, fantastic outside area with table and chairs and some delicious, much appreciated, breakfast treats. We really liked the privacy of the cabin's location and it was great to be able to park right outside. Thank you so much Barbara - we will definitely be back!
Joey and David
2017-04-09T00:00:00Z
A must have experience. Just give this cosy cabin a try. You will not be disappointed and the host is lovely.
Phil
2017-03-11T00:00:00Z
Typ pokoje
Celý dům/byt
---
Typ nemovitosti
Srub
---
Ubytuje
2
---
Ložnice
Oaksey, Anglie, Velká Británie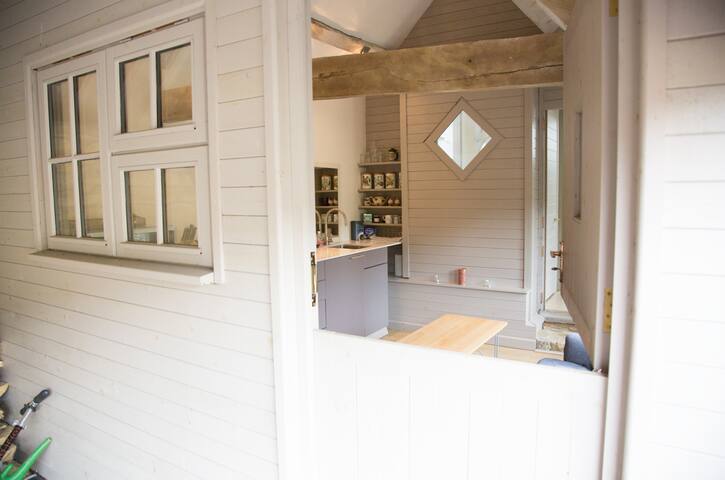 Number 35 Kingsholm Straße ist ein dreistöckiges Stadthaus im Stil des späten Georgian frühen viktorianischen Ära, es behält noch viele der ursprünglichen Eigenschaften. Die Unterkunft ist auf der oberen und der mittleren Etage des Hauses gelegen. Wir zwei Doppelzimmer zur Verfügung mit einem Doppelbett und ein
Die Zimmer sind groß, hell und geräumig wie in der obersten Etage des Hauses befinden. Die Zimmer bestehen aus einem Doppelbett und die anderen beiden Singles, haben beide Zimmer Tee-und Kaffeekocher. Furry, freundliche Haustiere sind nach Absprache.
Kingholm ist nur wenige Gehminuten von der Stadt und allen Sehenswürdigkeiten. Es gibt ausreichend Parkplätze.
Friendly and helpful host. Clean & spacious room.
Christopher
2017-04-01T00:00:00Z
Had a lovely stay in a classic house with a lovely room. How do you get your towels so fluffy ?. Thanks for making my ride so easy. If your looking for some where to stay with parking for a not to large a bike, This is the place. Keep well
Mark
2017-04-09T00:00:00Z
Very welcoming family, tastefully decorated and comfortable room. The breakfast was good too. Location near the rugby ground which is pretty central to the town
Steve
2017-04-05T00:00:00Z
The host canceled this reservation 63 days before arrival. This is an automated posting.
Paddy
2017-01-11T00:00:00Z
Jo was amazing and really helpful. Had a lovely time staying there.
Ghulam
2017-03-22T00:00:00Z
Jo was a great host & very helpful. I had excellent stay & amazing time. I would definitely recommend & use it again
Maya
2017-03-03T00:00:00Z
Lovely property, very friendly people - I couldn't recommend it more! Thanks Jo :)
Jamie
2017-03-25T00:00:00Z
Typ pokoje
Soukromý pokoj
---
Typ nemovitosti
Penzion (B&B)
---
Ubytuje
4
---
Ložnice
Gloucester, Anglie, Velká Británie
Private double room with Kingsized bed and bathroom in unique Listed House in Charlton Kings. Secluded residential street with off street parking secured behind gates at night. Quiet location and yet only a few minutes walk to shops and local pubs, bus stops to centre of Cheltenham and Oxford. The Cotswold Way is only 25 minute walk away. Cheltenham is a lively town with many festivals,Literature,Music, Jazz and Science as well as the famous Racecourse. An ideal location to explore the Cotswolds.
Our home is a unique Grade 2 Listed house built in 1816 with many original features and castellations. The garden which guests are welcome to use is particularly lovely with the River Chelt running though and several water features as well as a small orchard and croquet lawn. We have plenty of parking space off the street and behind secure gates at night. The bus stop to get to the centre of town is only a few minutes walk away but it only takes about 20 minutes to walk into the centre of Cheltenham. It is about 25 minutes walk from the house to the Cotswold Way. The guest bedroom with kingsized double bed has views over the garden, tea and coffee making facilities and a trousers press. Along the corridor on the same floor is the sole use bathroom, bath with over head shower, loo, basin and heated towel rail. Towels , shampoo and shower gel are provided. WiFi No smoking. Breakfast consists of cereals,pastries, fruit, yoghurt and juices. Bikes can be stored in a locked outbuilding. Well behaved pets are welcome. Our Basset Hound is very friendly.
Charlton Kings is a great neighbourhood, small enough to feel like a village but close enough to town to have easy access to all that Cheltenham has to offer. Within a few minutes walk of our house are shops and good pubs and restaurants. There are views to the Cotswold escarpment and footpaths that take you into the countryside only 15 minutes walk away.
Sarah is really friendly and welcoming and the house is amazing, make sure you walk around the garden. Really quiet and laid back. Would definitely stay there again
Laurence
2017-04-09T00:00:00Z
I wasn't with Sarah for a long stay, just over night, but I enjoyed my visit throughly. A very nice room, large windows overlooking her lovely garden with a modern and clean private bathroom/shower down the hall. It was very quiet - slept great. It's a very unique house. High ceilings, big windows. Her kitchen is fantastic - very comfy and homey. Perfect for Sarah, who is very welcoming and easy to talk to. Really enjoyed chatting over coffee and breakfast.
mark
2017-03-12T00:00:00Z
Beautiful house and a very comfortable room in a convenient yet quiet location. Excellent host made me feel very welcome.
Christopher
2017-01-28T00:00:00Z
A beautiful room and private bathroom in a great location for the races and central to Cheltenham surrounded by lovely buildings. Sarah welcomed us and even kindly took us to the races. A great experience overall, we would certainly return!
Kate
2017-03-17T00:00:00Z
Lovely house in a fantastic location short walk from central Cheltenham. Sarah was very accommodating and provided everything we needed. Would definitely recommend.
Nick
2017-03-15T00:00:00Z
This house and location is exactly as advertised and more. The feel of the property is homely and welcoming. The hospitality was amazing and Sarah is a lovely host. Will be returning in the summer :)
Jemma
2017-02-15T00:00:00Z
My boyfriend and I stayed over night in this beautiful house and it was perfect. The room was big and spacious and bathroom was clean with everything we needed. Sarah was a great host, making us feel very welcome. The house is very close to town... easily walkable. Would highly recommend to anyone who wants a short stay in cheltenham!
Rhiannon
2017-02-12T00:00:00Z
Lovely accommodation, with a host that went above and beyond to ensure we enjoyed our stay, she offered suggestions of what to see and where to eat and made us feel very welcome.
Chris
2017-03-05T00:00:00Z
Typ pokoje
Soukromý pokoj
---
Typ nemovitosti
Řadový dům
---
Ubytuje
2
---
Ložnice
Charlton Kings, Anglie, Velká Británie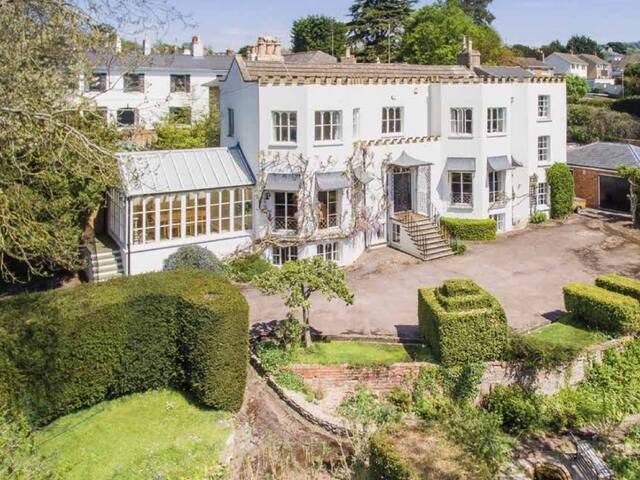 Ich wohne in einem Reihenhaus im Dorf Ober Rissington. Es liegt strategisch günstig zu den vielen Attraktionen der Cotswold entfernt. Ich habe einen Schuppen im Garten, in dem Sie ein oder zwei Fahrräder halten können, wenn Sie in der Gegend sind Radfahren und brauchen einen Ort zu bleiben.
Der private Zimmer ist mit einem bequemen Queen-Size-Bett. Die Gäste haben Zugang zu einem Gemeinschaftsbad. Handtücher und Toilettenartikel sind vorhanden. Gäste sind willkommen, die Küche zu benutzen; Tee, Kaffee, Milch, frischer Saft und Toast werden immer zur Verfügung gestellt.
Mit dem Auto können Sie alle Attraktionen in der Umgebung besuchen, die etwa 10 Minuten entfernt ist: Birdland, Model Village, Motor Museum für Oldtimer, Dragonfly Maze, die Parfümerie, Modelleisenbahn, Lavendel Farm, sowie Landschaft bei Bourton geht auf das Wasser und Stow on the Wold. Es gibt ein paar Pubs innerhalb von 5 Autominuten vom Haus entfernt. Ich kann auch dazu beitragen, eine Tour-Guide für Ihren Aufenthalt organisieren, wie einer meiner Nachbarn eine Tour Unternehmen tätig ist. Es gibt auch zahlreiche Wander (zB The Cotswold Way) und Radwege von Schwierigkeiten in der Nähe des Dorfes variiert.
I only stayed with Vivien for two nights, but I cannot say enough good things about my stay! Vivien was beyond hospitable from picking me up at the bus stop on my way into town to providing breakfast, she was incredibly generous and accommodating. And her grandchildren are adorable :) The room is a good size and very clean, as well as the bathroom. I did not have a car, but there is a bus stop at the end of Vivien's street, so I was able to use the Explorer bus pass to hop on and off and explore the beautiful Cotswolds. I definitely recommend Vivien's place for a stay in the Cotswolds!
Megan
2016-09-16T00:00:00Z
Great host! Comfortable bed, lovely breakfast and made us very welcome.
Serena
2015-03-22T00:00:00Z
Vivien was a great host. She was fun to talk to and had some great tips on places to visit in the area. The place was clean and although the bedroom was smaller than we are used to, it was very comfortable and she made us feel very at-home. The neighborhood was very pleasant and there is a store within walking distance (which provided the necessary ice cream treat we were craving). We would definitely stay at Viven's place again if we are in the area.
Terry
2015-08-18T00:00:00Z
Viven's house was the first stop on my girlfriend and I's recent cycle tour around the southern England and Wales, and I couldn't have asked for a better host! She was incredibly flexible with our arrival time which was appreciated as we ran a few hours behind. She also accommodated our tandem bike and gave us an old horse cover to store our bike under in the backyard overnight to protect it from the storms that night. She was incredibly friendly and was as interested in our travels was we were hers. The bedroom was spacious and across the hall from a shared bathroom, which worked wonderfully. Thanks for having us Vivien!
Brad
2016-04-15T00:00:00Z
Nice and cozy house! Vivien was very friendly, she recommended us a good local pub, the food was really nice. We felt welcomed during our staying and had a good night.
Yu Ting
2016-12-05T00:00:00Z
We loved staying at Vivien's place! Her home was warm and inviting while also being in the perfect location for exploring the Cotswolds. Vivien was also a very kind and generous host, making us feel quite at home. I would highly recommend Vivien's place to anyone looking for a relaxing and quiet atmosphere to unwind after a day of exploring.
Cristina
2017-03-01T00:00:00Z
I left Vivien's house a few hours before, and I already miss her. She was very open to others. She even prepared chopsticks for us! Not to mention the cleanness of the room and toilet, breakfast was so nice and check-in & check-out so comfortable. It was a perfect room flr two of us. Thanks again Vivien.
Kyungji
2017-01-12T00:00:00Z
This was one of the best stays we have had - Vivien was a great host and nothing was too much for her. One of our best stays to date and would recommend to anyone
Tony
2017-03-13T00:00:00Z
Typ pokoje
Soukromý pokoj
---
Typ nemovitosti
Dům
---
Ubytuje
2
---
Ložnice
Upper Rissington, Gloucestershire, Velká Británie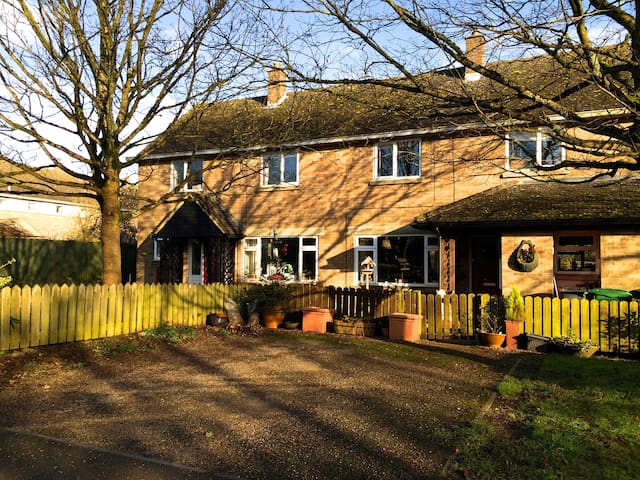 Este establecimiento, el dormitorio doble una hermosa casa de campo de alquiler que tiene con baño fuera de él y la habitación doble en el segundo piso tiene un techo inclinado. La casa es más adecuado para las familias. Estamos cerca de los municipios de Ledbury, Hereford y Ross-on-Wye. Hay mucho que ver y hacer y las colinas de Malvern están a 15 minutos de distancia adecuado para caminar y montar en bicicleta. Un montón de buenos restaurantes y bares del país. CASA HOP situado en Coddington viñedo es perfecto para los grandes días tranquilos y relajantes.
My wife and I had a lovely weekend on Peter's Vineyard. The cottage is cosy and the views are absolutely stunning. Peter was warm and helpful! Thanks for everything!
Umer
2016-10-16T00:00:00Z
Lovely cosy friendly place to stay wonderful hosts would definitely visit again anyone looking at this place to stay should you should book you will have a lovely time cottage is big really clean & comfortable amazing place.
Jan
2017-02-20T00:00:00Z
A lovely couple of nights in a truly beautiful location. It was all mist and frost while were were there and the vineyard setting couldn't have been more lovely. The cottage was perfectly sized for our small family - my 7yo daughter loved her loft bedroom!
Luke
2016-12-30T00:00:00Z
A lovely place, in such a beautiful setting. My little boy loved looking at the ducks for on the pond. Thank you.
Jenny
2017-03-26T00:00:00Z
The host canceled this reservation 28 days before arrival. This is an automated posting.
Amber
2016-12-03T00:00:00Z
The cottage was lovely. Very well equipped, clean and comfortable. The location is very rural. Quiet and surrounded by farms, so is great if you want to get out in to the country for walking or exploring or just relaxing. Peter and Sharon are excellent hosts, there if you need some advice or help, but happy to leave you alone if you prefer. Highly recommended.
Donald
2016-11-12T00:00:00Z
Beautiful place with cosy little cottage. Really clean and well equipped. I have enjoyed the company of two friendly dogs and a cat running around the garden. Peter welcomed us with a nice touch of fresh eggs, apple juice and bread which we enjoyed over our first breakfast during the stay. Great and helpful host! Would highly recommend and hopefully we will have a chance to go back!
Natalia
2017-02-18T00:00:00Z
Gorgeous little cottage with absolutely stunning views and amazing sunsets. Fresh eggs and juice were a lovely touch.
Sarah
2017-01-22T00:00:00Z
Typ pokoje
Celý dům/byt
---
Typ nemovitosti
Dům
---
Ubytuje
4
---
Ložnice
Coddington, Anglie, Velká Británie
Un appartement studio présenté impeccablement offrant le plus haut niveau de l'hébergement attaché à domicile du propriétaire dans le village populaire de Parkend. Le petit gland est parfait pour les couples qui veulent se détendre et profiter de la belle campagne préservée. Il est idéalement situé avec le cycle / sentiers de randonnée juste devant la porte. Les vélos peuvent être loués dans le village et la réserve naturelle Nagshead et les étangs Cannop pittoresques sont à distance de marche.
Le beau studio dispose d'un espace de vie ouvert et couchage comprenant un lit king size avec matelas en mousse à mémoire, un canapé confortable, lecteur DVD TV et Wi-Fi. Il y a une cuisine bien équipée / salle à manger avec four / grill, plaque de cuisson, micro-ondes, frigo-congélateur, bouilloire et grille-pain. salle de bains carrelée moderne avec douche à l'italienne, sèche-serviettes, WC et lavabo.
We loved our stay with Michelle. The cottage is perfectly situated for walking in the Forest of Dean and equally handy for the village shop (5 min walk) and two great pubs that do excellent food. We ate in the Miners Arms another 20 mins away which was quite lively and good fun - excellent food too. Michelle's place was so inviting and comfortable. We had a great night's sleep both nights and felt very rested. The kitchen was very well equipped and we'd love to stay again.
Jo
2017-03-19T00:00:00Z
We had a great time at The Little Acorn! It is even better than the pictures....immaculately clean, really comfortable with a well-equipped kitchen and excellent general facilities. It is walking distance to a couple of pubs which serve a good selection of food and drinks, there is a bike hire place at the end of the road and lots of things to do nearby (such as Go Ape) yet The Little Acorn feels like a perfect quiet retreat from the days activities. Michelle was very welcoming and friendly and we look forward to visiting again soon. Thank you!
Manoj
2016-11-20T00:00:00Z
A lovely, quiet space for a weekend away. The photos don't do it justice! Super comfy living area, big shower and a well equipped and spacious kitchen. Lots of walking options are right on the doorstep, although the wider area isn't great if you are a big foodie; Lydney leaves a lot to be desired in terms of eateries with a nice atmosphere and good quality food and drink. The Woodman is meant to be good but make sure to book ahead!
tessa
2017-01-08T00:00:00Z
It was very nice experience staying in Michelle's house, she was very friendly and warm. The flat is newly refurbished, with generous showering space. And also the kitchen has all basic equipments and ingredient to use for cooking. The house has easy access to walk into the woods, and it is very close to bike hire place. I would definitely recommend it.
Lexie
2016-12-30T00:00:00Z
The perfect place for a relaxing, peaceful getaway. The apartment is spacious but cosy, very nicely decorated, and well equipped and furnished. It's a lot bigger than we thought too. It's close to the family cycle trail, and other forest attractions (such as Cannop Ponds or Mallards Pike Lake). There's a couple of pubs within a few minutes walk through the village which do good food. Michelle was a lovely, friendly host who made us feel most welcome and gave us everything we needed. Would recommend to anyone looking to escape the city bustle!
Chris
2017-02-21T00:00:00Z
Lovely, clean and comfortable. The pictures don't do it justice. Great spot for exploring the Forest.
Heather
2017-04-09T00:00:00Z
Lovely warm and inviting cottage, which is very well placed for a variety of pursuits. Michelle was welcoming and informative. I will be back in the summer for another visit.
Sheree
2017-02-27T00:00:00Z
The Little Acorn is a great, self-contained flat. It's all been recently decorated and furnished to a really high standard and is very cosy and comfortable, with everything you need to hand. Its location is ideal and you can easily get to all kinds of attractions and activities across the Forest of Dean from Parkend. Michelle is a lovely host who made us feel very welcome and we would love to return in the future.
Anaïs
2016-12-28T00:00:00Z
Typ pokoje
Celý dům/byt
---
Typ nemovitosti
Jiné
---
Ubytuje
2
---
Ložnice
Parkend, Anglie, Velká Británie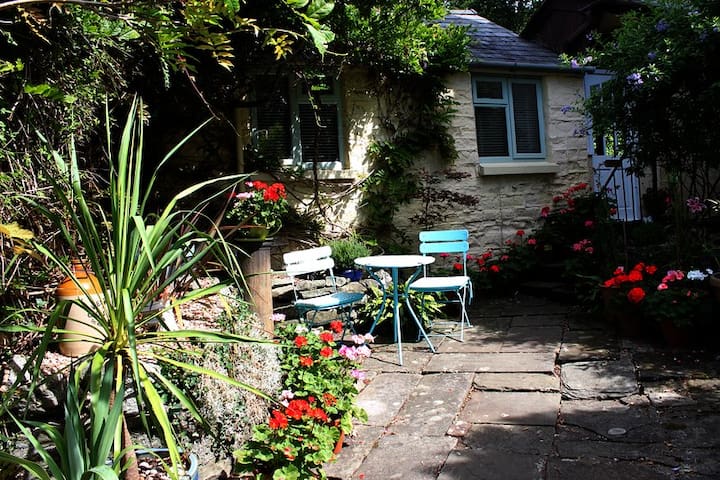 Located in a truly stunning part of the Cotswolds, The Cottage at Green Court is in a charming off-the-beaten-track village. A yummy cafe, art studios, butcher and village shop (run by volunteers) as well as a pub are all an easy walking away.
The ground floor of the East Wing in a very special Grade II listed, holiday let in the beautiful Cotswold village of Chalford. Just a short drive away is the 'Capital of the Cotswolds' Cirencester, Painswick, Cheltenham, Stroud, the antiques center of Tetbury, the World Heritage City of Bath, Bourton-on-the-Water and much more. The recently refurbished accommodation comprises a small porch, opening into a modern kitchen/living area complete with wood burner. There are 2 bedrooms and 1 bathroom sleeping a maximum of 5 with 1 double, 1 twin (which can be a double) and an overflow double sofa bed in the living room area. The property benefits from a small private terrace and garden. The cottage annex forms part of a large listed property, once occupied by the owner of one of the local mills. The cottage part of the house is believed to be about 400 years old in contrast to the more 'modern' Georgian West Wing of the house added around 1820 by the mill owner. Note: Also lovely 2 bed/2 bath Loft available.
It's a truly beautiful part of the world and I'm not just saying that because I'm biased. Fantastic for walkers and sight-see'ers and you can enjoy much of what's on offer without even getting into your car. Although there's also lots to see a short drive away too.
Chalford está situado de forma estratégica dentro de los Cotswolds, de manera que es perfecto para hacer excursiones distintas cada día. Cuenta con un parque infantil muy completo muy cerca de la casa y una tea room muy agradable a la entrada del pueblo. El único defecto es que la carretera de acceso es de un único carril, pero se circula en dos sentidos. Anna fue muy agradable y nos hizo sentir como en casa desde el primer momento, dándonos muchísimo espacio y libertad. La casa es estupenda y perfecta para unas vacaciones en familia: acogedora, muy bien equipada y decorada con muy buen gusto.
Victoria
2015-06-28T00:00:00Z
An absolutely beautiful cottage in a stunning location. Anna allowed us early entrance and late departure which was incredibly helpful around the setting up of our daughter's wedding. Everything we could wish for in terms of what we needed. Comfy beds, quiet location, beautiful scenery, great amenities, very pleasant hosts. Thank you so much.
Helen
2016-10-10T00:00:00Z
Anna was a very welcoming host and came to meet us when we arrived as well as when we departed. Anna was more than happy to provide us with information about the local area and events that were happening, both day and night, so we could make the most of our stay! The accommodation was cosy, clean and just as lovely as we expected it to be!
Lydia
2016-09-26T00:00:00Z
Such a wonderful peaceful place, we felt so comfortable and at home. It is a cozy cottage in a great location, perfect for walks and and relaxing. 30minutes to 50minutes drive away to great attractions such as wildlife park and Forest of Dean and many more.
Saz
2017-03-07T00:00:00Z
Fantastically scenic village, wonderful walking trails everywhere, great little village shop a few minutes walk away. One bedroom has a delightful view of a Brunel GWR viaduct which absolutely thrilled my train-enthusiast son. Anna provided a nice guidebook with loads of useful local information.
Jeffrey
2016-12-24T00:00:00Z
Anna was brilliant from start to finish. Her communication was quick and she was very accommodating with a last minute change. The cottage is so homely with everything you could need. After a recommendation from Anna, we had an evening meal at The Old Neighborhood. We all had steaks which were fantastic value for money as they were big pieces and really well cooked. Be aware though... the hills are steep, very steep! We definitely worked up an appetite! All in all, we had a lovely stay in a warm, homely cottage with a superb host.
Louise
2017-01-02T00:00:00Z
Perfect place for a christmas holiday! Really lovely cottage, Anna and her husband were fantastic and did everything to make sure we had a great time. Thanks so much for a lovely Christmas.
Nicole
2016-12-28T00:00:00Z
I went with a couple of my girl friends for a relaxing weekend away in the countryside and it was just perfect! Anna was a lovely host and popped by to welcome us. Everything you need to know about the local area was written in her guest book, including the best pubs and walks. The location was beautiful and scenic. Highly recommend!
josie
2017-03-13T00:00:00Z
Typ pokoje
Celý dům/byt
---
Typ nemovitosti
Jiné
---
Ubytuje
5
---
Ložnice
Chalford, Gloucestershire, Velká Británie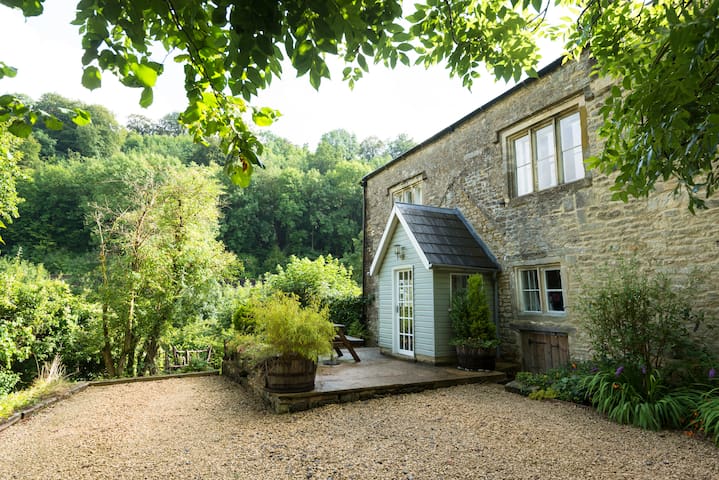 Buckle Barn ist eine luxuriöse Selbstversorger-Ferienhaus in der Quintessenz Cotswold Dorf Upper Slaughter. Dieses romantische Refugium ist ideal für Paare, einen ruhigen Rückzugsort auf dem Land suchen.
Blending Stil und Funktionalität dieses einzigartigen Urlaub let sickert Charakter mit Steinböden, gewölbte Decken und Holzbalken und dennoch modernen Komfort bietet Ihnen ein Luxus-Ferienhaus in den Cotswolds erwarten würde.
Upper Slaughter ist ein ruhiges Dorf nahe der historischen Marktflecken von Bourton-on-the-Water und Stow-on-the-Wold. Ein Gebiet von außergewöhnlicher natürlicher Schönheit, bietet die Landschaft einige der schönsten Landschaften des Landes so Gummistiefeln und Kamera sind ein Muss. Mit historischen Häusern und berühmten Gärten wie Kelmscott Manor, Snowhill Manor und Hidcote seine schwer zu wissen, wo man zuerst zu erkunden.
Perfect little cottage if you are wanting to get away from normality, location was great. Would 100% visit again. Sarah was really welcoming and if you had any questions she was happy to help. Great host!
Jason
2016-08-31T00:00:00Z
I booked Buckle Barn as a gift for a friend's wedding present, they loved their stay here. Buckle barn was brilliant. Very clean and very cosy. Made it a lovely weekend trip away, would highly recommend staying here.
Pauline
2016-10-17T00:00:00Z
Absolutely perfect. The cottage was spotless and had everything I needed and more. Thank you Sarah!
Heather
2016-11-04T00:00:00Z
We had a fantastic time! It is a beautiful cottage in a gorgeous setting.
Elizabeth
2016-11-01T00:00:00Z
My boyfriend and I had a lovely time at Buckle Barn, we couldn't have wished for a better place to stay. The cottage was very cosy with everything you would need and a great place to relax after a long days walking! The village itself was absolutely idyllic and our only regret is that we did not stay for longer. Sarah was a great host. She made sure we were settled in and even left a small pack of handheld chocolates! There were also lots of walking routes that Sarah had left in the cottage, along with recommended nearby attractions, which we found very helpful. Perfect!
Marie
2016-02-28T00:00:00Z
Buckle Barn is a delightful holiday cottage - was a brilliant getaway. Sarah has a made a beautiful cottage of the highest standard that is extremely comfortable and is a pleasure to stay at. Upper Slaughter is a peaceful and scenic Cotswold village and a short and scenic walk to Lower Slaughter and a handful of other Cotswold villages thereafter. Sarah made booking simple with clear communication and instructions and even had a welcome letter and pack for arrival together with great ideas in a visitor's suggestion book. We had a beautiful stay at Buckle Barn and would definitely stay again!
Sandor
2016-07-02T00:00:00Z
We had a fantastic stay at Bucklebarn Cottage. The cottage was immaculate and we really appreciated the little details like the tea and biscuits when we arrived and all of the Cotswolds guidebooks and board games. Upper Slaughter is a really pretty village and a short walk from Lower Slaughter which has an excellent pub and a lovely cafe in a converted water mill. Our car broke down half way through the trip and Sarah's husband dropped us off at Moreton-in-Marsh station so we could get home - can't thank them enough for saving our holiday!!
kathryn
2016-08-30T00:00:00Z
What a lovely break! Absolutely beautiful cottage which was spotless! The finish on the cottage was flawless. Sarah was very welcoming and helpful. The cottage was full of everything one could want on a short break. Upper Slaughter was idilic too. We will definitely be returning!
Siena
2016-09-19T00:00:00Z
Typ pokoje
Celý dům/byt
---
Typ nemovitosti
Dům
---
Ubytuje
2
---
Ložnice
Upper Slaughter, Velká Británie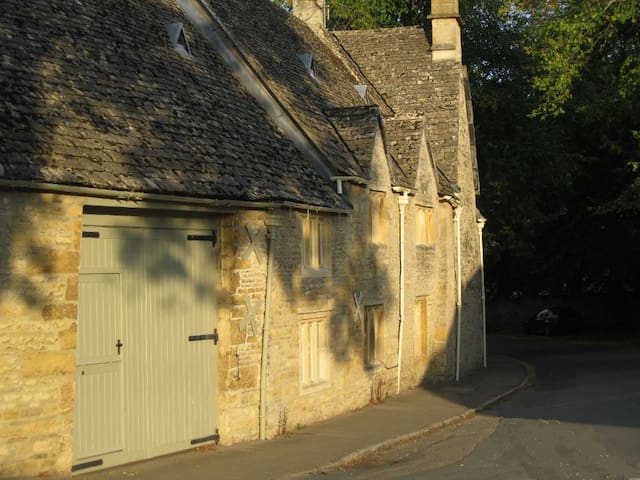 Sie werden Stable Cottage lieben wegen seiner einzigartigen und ruhigen Umgebung zu unserem C18 Cotswold Bauernhaus angebracht, die eine herrliche Aussicht und großen Garten. Es ist privat, geräumig, aber gemütlich, mit einem bequemen Bett und Holzofen für kühle Winterabende,
Die schöne Kulisse und stilvolle Interieur
Die friedliche Landschaft und die günstige Lage. Es gibt Wanderwege in der Nähe und der nächste Pub 2,3 Meilen entfernt.
Caroline was a great host and went above and beyond!! The cottage was perfect for a get away in the Cotswold's.
Matthew
2016-12-11T00:00:00Z
Lovely cottage, clean and tidy. Good location and easy to find. Caroline is a great host and communication is great. Loved our stay here, would stay again when visiting the Cotsworld.
Ali
2016-08-15T00:00:00Z
What a lovely cottage. We had a great time. Very comfortable with a lovely log burning stove which was perfect for an Autumn evening. A couple of miles from Bibury in a quiet rural location. It's much bigger than it looks on the website. A great find. Already thinking of coming back. Thank you Loraine for looking after us. Kate
Chris
2016-10-16T00:00:00Z
Caroline a été très accueillante c'était un vrai bonheur de séjourner dans le cottage. L'environnement est sublime. C'est mieux que sur les photos ! c'est l'idéal pour visiter les Cotswolds. On reviendra !
Julie
2016-08-09T00:00:00Z
We had such a lovely getaway here, the cottage is really comfortable and beautifully designed. Great kitchen supplies and was lovely having the gardens to wander in right outside. Thanks so much! x
Katie
2016-09-06T00:00:00Z
We arrived early in the evening to this beautiful cottage on the Hartwell Farm. Caroline was not going to be here to greet us, but she arranged to have her friend Loraine look after us if we were to have any issues. The cottage is very cozy, incredibly clean and beautifully decorated for a comfortable stay. The location is perfectly setup as a central location from which to expore the local area. Our only wish is that we had planned to stay longer as our travel plans were such that we kept moving each day. We highly recommend this Air BnB for staying and experiencing the Cotswolds.
Jordan
2016-10-12T00:00:00Z
What a wonderful stay we had at Stable Cottage! It was perfect. It is a cozy place that felt welcoming each time we returned to it. We stayed here for a week as we discovered the beauty of the surrounding area. The cottage was a wonderful home away from home. Caroline and Rory were the perfect hosts, recommending restaurants and attractions and even loaning us their personal atlas to use. I only wish I had lots of friends that were visiting the area so I could send them to Stable Cottage, they would love it. Thank You!
Sandy
2016-09-15T00:00:00Z
Had a lovely stay. Beautiful cottage: really clean, homely and a lovely setting too. Made to feel very welcome as well. Just fab!
Jonathan
2016-10-27T00:00:00Z
Typ pokoje
Celý dům/byt
---
Typ nemovitosti
Byt
---
Ubytuje
2
---
Ložnice
Cirencester, Gloucestershire, Velká Británie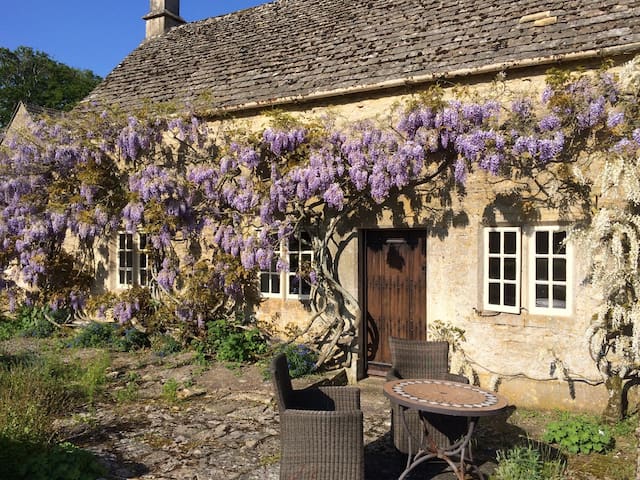 A pretty and private little Cotswold stone bakehouse converted to a bedroom and shower room with beautiful Cotswold views, right on the Cotswold Way, just walk in from the trail. Easy access to Cheltenham racecourse and the lovely villages of the Cotswolds or a visit to the amazing Gifford Circus.
The Bakehouse is certainly unique, a quirky room in the garden, simple but pretty. And very comfortable! The Bakehouse was constructed of beautiful hand cut Cotswold stone with old hand split tiles. Originally used to house the bread ovens for the cottages, the coal house and the privy ! We have furnished the Bakehouse with vintage furniture too create a really attractive individual space.
A charming lodge superbly converted from an old bakery. Very clean with everything you need and very friendly hosts. The views spectacular and setting charming. Best of all they welcomed our dog as well. The fruit farm nearby was a lovely walk and they sold great food and snacks. A fantastic opportunity to enjoy the Cotswolds. Perfect
Matthew
2017-03-26T00:00:00Z
Typ pokoje
Soukromý pokoj
---
Typ nemovitosti
Srub
---
Ubytuje
2
---
Ložnice
Winchcombe, Gloucestershire, Velká Británie
Ein zentral gelegenes stilvoll mit einem Schlafzimmer Charakter Hütte in der Nähe zu den Annehmlichkeiten von Dursley und der Cotswold Weg zu Fuß. Ein kurzer Spaziergang zu den Restaurants, Supermarkt und Pubs. Bitte beachten Sie Eigentum hat Herd, Kühlschrank und Gas-Zentralheizung aber nicht Wifi, Mikrowelle oder Gefrierschrank hat.
5 stars higly recomend
Edgaras
2017-03-17T00:00:00Z
Fantastic stay at this cute cottage. Would highly recommend.
Amanda
2017-03-24T00:00:00Z
Cosy, quirky, homely and a lovely place to stay for a rural break near the Cotswolds.
EV
2017-02-06T00:00:00Z
Loved the inside of the place, however the bottom floor is slightly different. The outside of the house is very different to the inside and it was filled with mess on the lawn outside and the concrete on the floor was all cracked. However, the house was lovely and heats quickly and it is very well lit. The town centre is literally at your doorstep and we would recommend the Bank Cafe to eat, however there isn't much else near the town to do. Lovely stay overall
freya
2017-01-29T00:00:00Z
Cottage as described. Central location stones throw from shops and restaurants. Lucy was on holiday but arranged for her father to be available to support check in out. Excellent Bank cafe for breakfast and highly recommend Italian at Della Casa restaurant.
Angela
2016-07-31T00:00:00Z
Great quirky cottage, really well equipped great position in the center of town, would definitely recommend
Paul
2016-11-21T00:00:00Z
Great little cottage. very much enjoyed our stay. Would recommend.
shaun
2016-10-28T00:00:00Z
Really lovely quirky cottage, ideal location, couldn't ask for more, great value!
Tom
2017-03-14T00:00:00Z
Typ pokoje
Celý dům/byt
---
Typ nemovitosti
Byt
---
Ubytuje
2
---
Ložnice
Dursley, Velká Británie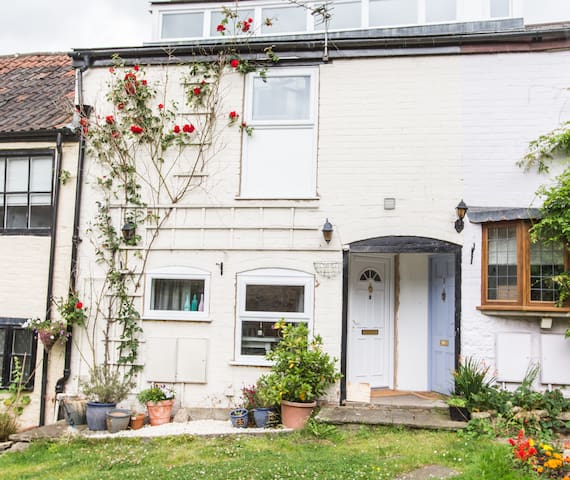 The Old Dairy è un grazioso cottage con una camera da letto a Woodend Farm, che offre alloggi confortevoli in una bella convertito 18 ° secolo fienile in legno adiacente 200 acri di bosco e si affaccia su meleti.
The Old Dairy è un accogliente cottage camera da letto situata a Woodend Farm, che si affaccia meleti e prati ranuncolo sul bordo di un bosco di 200 acri. Il cottage è ben attrezzata, fornendo una cucina con tavolo da pranzo, un salotto con divano-letto, TV / lettore DVD e un bagno con doccia a piano terra, con scale che portano alla camera da letto con travi di carattere fornendo un letto matrimoniale, armadio , cassettiera e TV. I benefici Cottage da wi-fi e un piccolo giardino privato con posti a sedere all'aperto con vista meleti e le nostre pecore residente. Tutte le lenzuola e gli asciugamani sono forniti. The Old Dairy è disponibile un tutto l'anno per brevi o lunghi soggiorni (minimo 2 notti). Si prega di contattarci per un preventivo su misura per soggiorni più lunghi. Si prega di notare, non adatto per bambini piccoli / bambini piccoli in quanto non v'è alcuna porta della camera da letto.
Il nostro piccolo cottage a poche miglia dalla famosa città mercato di Ledbury in Herefordshire è un luogo ideale per una passeggiate, ciclismo, pesca, birdwatching o viaggio turistico. In alternativa è solo un luogo ideale per un week-end pigro, leggendo i giornali su una bugia e una tarda colazione .... Circondato da un magnifico scenario con vista sulla campagna aperta, questo è il posto ideale per un lungo o breve pausa in qualsiasi momento dell'anno.
Spent a great couple of days at The Dairy. Location was beautiful, and just a short drive away from the Malvern Hills. David was a great host, greeted us on arrival for a tour and provided us with a detailed info pack on the surrounding area. Great scones also! :-)
Charlie
2016-10-22T00:00:00Z
Helen's barn is wonderfully homely, clean, comfortable and well situated. Lovely surrounding countryside and towns to explore.
Emily
2017-03-28T00:00:00Z
Very nice cottage
Richard
2017-01-02T00:00:00Z
The house was in a great location to access Hereford county and area and very quiet as no one was staying in the next door house. we had a lovely walk in the woods around the house. Helen was there to meet us and explain everything, although we struggled to work out the right buttons to access the TV ! The recommendation of the Indian restaurant in Ledbury was excellent as was the pint beforehand in The Prince of Wales, def worth seeking out. The kitchen cooking equipment is adequate, the rest of the equipment very high standard.
Helen
2017-01-29T00:00:00Z
A lovely place with lots of character and a cosy feel. Everything was there that I needed and the kitchen had all the utensils I needed. Very clean and extremely well presented. Helen is lovely and helpful and plenty of information was provided prior to arrival. Would definitely recommend and I would stay again.
Natalie
2017-03-12T00:00:00Z
Lovely little very quiet cottage, just perfect for a romantic getaway or a quiet break. Lots of walks within a few miles. A really nice relaxing break.
David
2017-03-14T00:00:00Z
Beautiful little cottage, really nicely finished combining lovely old beams and underfloor heating. Ledbury is also a perfect town to visit with cake shops, Cider and nice pubs. May well be back!
Daniele
2017-02-05T00:00:00Z
This was such a lovely place to stay, and Helen was very helpful. The cottage was very clean and it had everything you needed. It was in a good location being only twenty minutes from Hereford and having many places to go walking around it. Would definitely go back when we need another few days away.
Joe
2017-01-24T00:00:00Z
Typ pokoje
Celý dům/byt
---
Typ nemovitosti
Dům
---
Ubytuje
2
---
Ložnice
Herefordshire, Velká Británie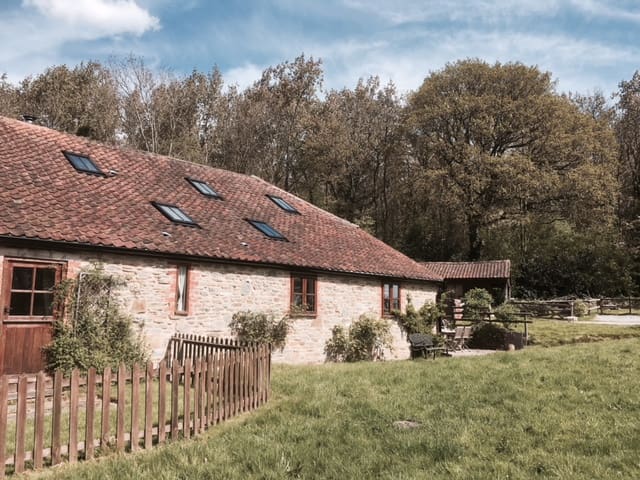 Pro zobrazení celkové ceny zadej termín. Mohou být přidány další poplatky a daně.