我的地方是靠近动物园,博物馆,赌场的,机场,美铁火车站,圣路易斯拱门,公交地铁站,ABC驾驶室,餐饮/酒吧,公园,电影院,保龄球场,溜冰,六个旗,水上公园,高尔夫球场,圣路易斯市中心。 。你一定会喜欢,因为安静的社区,绿色通道,整洁,宽敞,设施,和平与安宁,升级设施,如电热水器,淋浴和新鲜的油漆我的地方。 。我的地方是好夫妻,独奏冒险家和商务旅客。
Dave was a wonderful host. He is such a kind man and took extra steps to ensure I was comfortable. Thanks, Dave, for letting me stay:-)
Yvette
2016-09-11T00:00:00Z
No comment.
Mark
2017-01-13T00:00:00Z
Typ pokoje
Soukromý pokoj
---
Typ nemovitosti
Dům
---
Ubytuje
2
---
Ložnice
Godfrey, Illinois, Spojené státy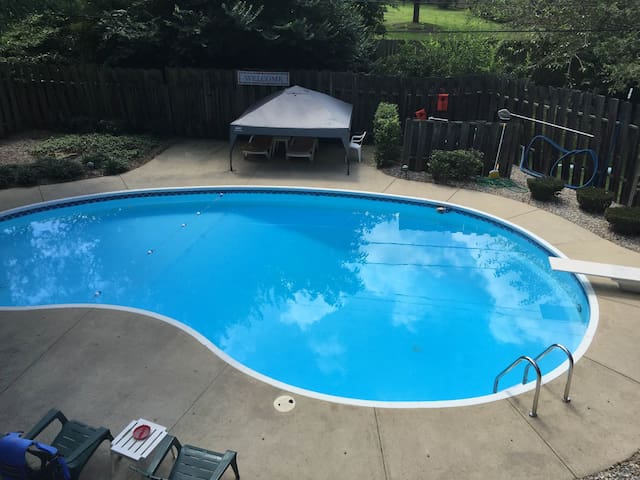 Early 90's adorable brick home in a safe, convenient St. Louis neighborhood (Dogtown). The listed room has it's own private entrance. The sun room and back yard are available to relax and unwind after a day of visiting the nearby sights of St. Louis.
The available private room is simple and clean with queen bed, TV with Netflix only (no local channels) and a private entrance. Towels and sheets will be provided. Washer/dryer available on request. My floors are all wooden and can be quite squeaky. There is a fan in your room to provide white noise as I am typically an early riser.
Dogtown is a traditionally Irish section of St. Louis, MO. As such, you'll find several Irish bars within walking distance of the house. You'll also find restaurants such as Heavy Riff Brewing Company, Felix's Pizza, Nora's (sandwiches) and Tamm Avenue Grill to name a few. Saint Louis is known for so many FREE activities. Forest Park has a plethora of venues and is less than 3 blocks from my front door! Forest Park activities include: Golf and Tennis, The Muny, Jewel Box, Worlds Fair Pavillion, A Cafe, The Zoo, The Missouri History Museum, The Art Museum, Shakespeare in the Park (June), fabulous walking/running/biking paths, outdoor ice skating, ballfields bordered by Barnes Hospital and Washington University. The Central West End is a very walkable community full of restaurants, eclectic shopping & nightlife. Downtown is no Chicago but there is lots to see and do on Washington Avenue, Laclede's Landing, and The Arch grounds which are undergoing a major renovation. THE CITY MUSEUM is absolutely a one of a kind must see located off of Washington Avenue. And we have some of the greatest sports teams: Blues Hockey, Cardinals Baseball, and Rams Football. Ask me if you want to know how to get two tickets to a Cardinals game for $11.
I had a good experience staying at Emily's, everything was as described in the listing. The room was nice She was in contact quickly via text, I had privacy and the location was easy to use Uber to/from. I recommend staying here.
Aaron
2016-12-31T00:00:00Z
We ADORED Emily's place, and she was a delight to chat with when we got a chance. The neighborhood is safe, friendly, and so incredibly convenient. I would recommend 100%!
Katy
2015-12-06T00:00:00Z
Emily is a friendly and experienced host, and her cute home is close enough for a brisk walk to the zoo. The room was clean, and the bedding was comfortable. The neighborhood is easy to find parking in. Overall, I would definitely stay here again if travel brings me back to the area.
Jonathan
2016-08-12T00:00:00Z
This was such a peaceful trip, her house was a home away from home. Emily was accommodating and gracious and great with our infant son. We will definitely be staying here again. This place is a hidden gem and a jaunt from the free zoo!
Cassandra
2016-04-02T00:00:00Z
Emily was a great host. Her instructions were super clear and parking wasn't too hard to find. Her location is awesome whether you're just passing through and need a place to rest for the night or plan on spending time exploring St. Louis. We would stay at her place again for sure!
Sam
2016-05-15T00:00:00Z
Emily warmly welcomed me into her pleasant apartment. Gave helpful and specific instructions for her place. Will recommend to friends and family.
Dan
2016-05-20T00:00:00Z
It was a pleasure to stay in Emily's house. I really enjoyed the calm, the comfort and the cleaned environment. This is definitely a peaceful place where I won't hesitate to go again and recommend to everyone. Thank you for your kindness, Emily. :-)
Linda
2016-10-02T00:00:00Z
Emily was a great host! She was friendly and had great recommendations of places to eat and things to do in the area. Her home was beautiful and in a great location. Highly recommend!
Seng
2016-03-16T00:00:00Z
Typ pokoje
Soukromý pokoj
---
Typ nemovitosti
Dům
---
Ubytuje
2
---
Ložnice
Saint Louis, Missouri, Spojené státy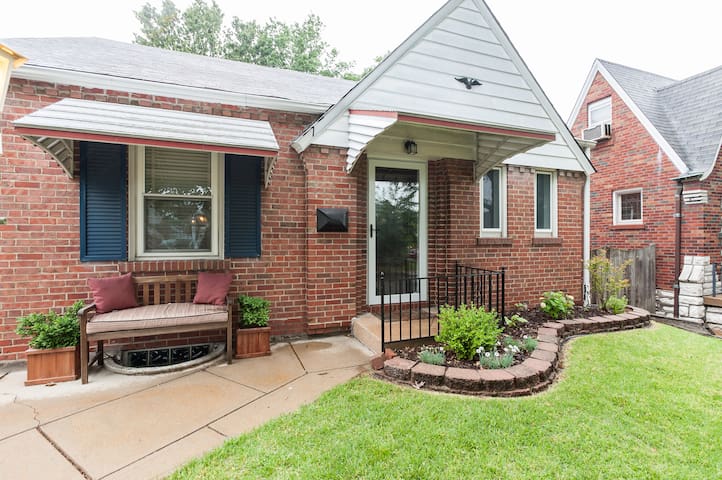 El espacio está abierto. Todas las comodidades que se aplican (TV, lavadora y secadora, cocina, etc.). Sólo te va a estar durmiendo en una cama futón en la noche. Es un colchón grueso con una cubierta limpia. Ropa de cama incluye dos almohadas, hoja superior, y edredón. ¿Alguna pregunta? ¡Solo pregunta!
Terminado el sótano con montado 40" TV LCD conectado a U-verse con HBO. Es posible aparcar en el camino de entrada, pero por favor no bloquear la puerta del garaje. El espacio es "compartida", pero sólo si otro huésped Airbnb ha reservado la habitación privada en la misma noche a medida que ... de lo contrario, es tan privada como puede ser! Con otro huésped Airbnb, no hay espacio en el armario, pero se puede guardar sus partidas, ya sea en los cajones debajo de la futón o en el área de almacenamiento. Si no hay otros huéspedes en el sótano, el espacio es suyo. Aviso: Sólo hay un baño completo en el sótano. Si hay otra reserva Airbnb para la habitación privada, el invitado (s) dormitorio preferido el acceso a ese cuarto de baño. Hay un primer piso medio baño, para compensar las molestias.
A poca distancia del aeropuerto internacional de St. Louis Lambert, y menos de 3 millas de carreteras I-70 e I-270. Cerca de St. Charles Rock Road: tiendas (Walmart, Target, Kmart, Walgreens, CVS, Dollar Tree); comida rápida (Arby, Wendy, el capitán D's, Jack-in-the-Box, Taco Bell, Panera Bread); restaurantes (Hometown Buffet, Buffet Chino, Applebee, Lone Star Steakhouse, Red Lobster, Chipotle de, Fazoli); 2 / parques de juegos infantiles; y HotShots Sports Bar & Grill dentro de 3 millas.
Oak is an absolutely phenomenal host, positively affable and he goes well above and beyond what is required. I would definitely recommend and would stay there again.
Lawrence
2017-04-10T00:00:00Z
Oak gets it!
Jim
2016-12-21T00:00:00Z
Oak was great. On late arrival he still greet me with big smile. Great location as the house is located very close to highways and plenty of options to eat in walking distance. Definitely staying again with him.
Rasesh
2016-06-04T00:00:00Z
The stay was just as expected, clean, and inviting. Would recommend to anyone who needs a quick nights sleep. Would stay again!
JohnF
2016-02-07T00:00:00Z
Excellent location! Just as described!
Leah
2016-10-22T00:00:00Z
It was a great place for short stay with an affordable price! Thanks, Oak!
Hyun-Gyu
2016-09-11T00:00:00Z
Clean, quiet environment.
Suzana
2016-07-11T00:00:00Z
Oak was awesome! I had a late flight that got in around 12:30, and he was still awake ready to help me in and get settled when I arrived. Everything was clean and quiet. Will definitely stay there next time I'm in St. Louis!
Curtis
2016-01-28T00:00:00Z
Typ pokoje
Společný pokoj
---
Typ nemovitosti
Dům
---
Ubytuje
1
---
Ložnice
Bridgeton, Missouri, Spojené státy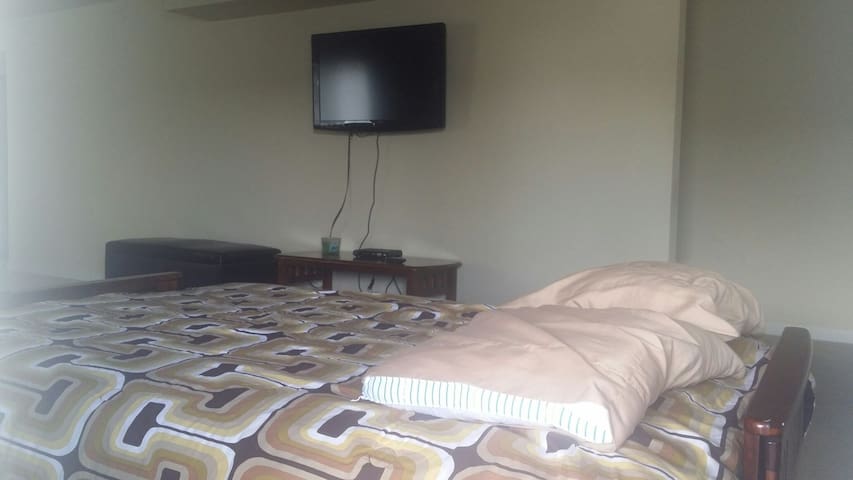 Spacious second-story room with king bed in over hundred year old home. The room has a private bath just a few steps down the hall. Full access to kitchen, dining, and living areas on main floor. Room also has coffee bar with microwave and mini fridge located on same floor. Minutes from the highway and dozens of local attractions. Excellent restaurants and bars within 5 minute walk. As featured in our local reader, The Riverfront Times (see photo).
The guest space is on the 2nd floor of the home. It is furnished with a king size bed, seating area, private bath on same floor (just a few steps down the hall from bedroom). This is a shared floor but room is lockable. Parking is available on the street, please note street signs and dates as there is no parking once a month for street cleaning cleaning.
Benton Park is very walkable. The Peacemaker, Frazer's, Sydney Street Cafe, and Blue City Deli are all highly rated restaurants in walking distance. Venice Cafe is a must visit during your trip. The Anheuser Busch Brewery tour is literally down the street. The park itself is three blocks away. It has a running trail, tennis courts, and a concert series through the summer and fall.
Pete's house is nice and in a good neighboorhood. The room was very beautiful with a small porch and own bath, everything was clean. The room is upstairs and for the convenience he had a coffemaker and some plates,cups...and a fridge there which was nice. We didn't had much interaction because it was just one night but he welcomed us and showed us around... I can recommend this place!
Gianina
2016-04-13T00:00:00Z
We stayed in the green room for 4 nights whilst staying in Saint Louis. The room is lovely and big and very comfortable. We had lots of space to be able to unpack and hang clothes and we had our own private shower room. The bedroom and shower room were very tastefully decorated and very clean. We had access to the kitchen to make hot drinks in the morning and a little balcony area to sit if we wanted to. Pete was very hospitable and on hand to answer any questions we had or to just have a chat with. The area itself has lots of little coffee shops and restaurants and is not too far from either the centre of Saint Louis (10 min drive) or the Forest Park (10 min drive in the other direction). Uber works very well in the area and we only have to wait for a car for a few minutes each time. We would definitely recommend staying at the Green Room in Benton Park.
Samantha
2016-06-18T00:00:00Z
Excellent location and relaxing atmosphere. Benton Park is a gem.
Amber
2016-08-18T00:00:00Z
My boyfriend and I spontaneously decided to take a day trip to STL from Indy and booked our room with Pete the morning of our drive over. He accepted our request to book within just a couple hours and greeted us at the door with a friendly hello, handshake and house tour at a time that was convenient for us. The Green Room is a gem! It's such a beautiful space with thoughtful little details that made the stay feel extra welcoming. If you're looking for an affordable, trendy stay in a historic neighborhood conveniently located to almost everything (which, come on, who isn't?!) then this is the place for you! Thanks, Pete!
Chelsea
2016-01-19T00:00:00Z
Pete and Kate were great! We were just passing through for the night and they made us feel very welcomed. The house is so cute and the neighborhood was great! We would definitely stay there again.
Paige
2016-05-28T00:00:00Z
I had a great stay at Pete's place! The room is just as pictured if not more beautiful and spacious! Pete and his wife were both very welcoming and laid back, I felt totally comfortable there. The entire home is so beautiful and thoughtfully decorated-this was more like staying at a lovely b&b! I only did a quick one night stay, but I would happily go back. The surrounding neighborhood is also lovely with lots of restaurants/cafes/bars within walking distance. I recommend staying here!
Alex
2015-09-09T00:00:00Z
It was a lovely location, such a cute & quiet neighborhood. Pete was very nice upon my arrival, and made sure to offer my everything I needed in terms of towels and food recommendations.
Grace
2016-04-06T00:00:00Z
This was my first AirBnB experience and it was so nice! Pete's home is so lovely and in a really cool neighborhood. The room was gorgeous, just as pictured, and super clean. Having a private bathroom was great and the bed was so comfy.
Marissa
2016-04-01T00:00:00Z
Typ pokoje
Soukromý pokoj
---
Typ nemovitosti
Dům
---
Ubytuje
2
---
Ložnice
Saint Louis, Missouri, Spojené státy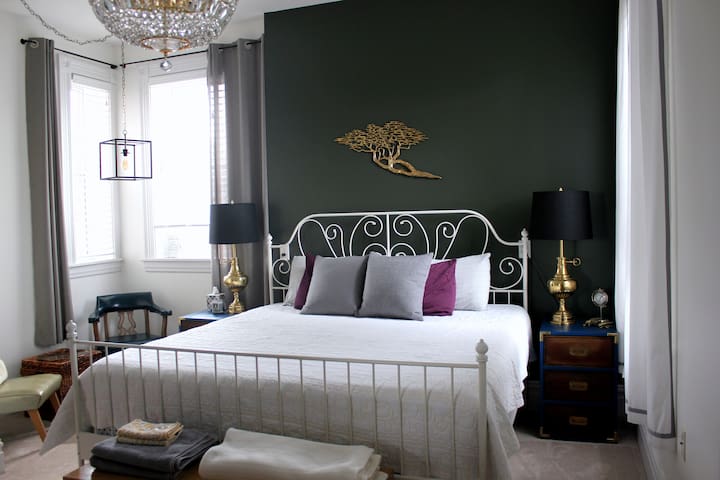 1 milla de la colada U Facultad de Med, SLU, Forest Park y Jardín Botánico de Missouri, e IKEA! A poca distancia de las cafeterías, restaurantes y bares! parada de autobús a la escuela de medicina y de Metrolink a la vuelta de la esquina de mi casa.
habitación privada con cama de matrimonio, armario y escritorio. Cuarto de baño privado con ducha. Disfrutar de compartir mi amplia sala de estar, cocina y porche trasero cerrado, así como patio trasero con patio, pozo de fuego y un montón de leña!
Esta casa se encuentra en el centro de El Grove, un colorido distrito de negocios que es el hogar de la vida nocturna de primera clase en la zona. Muchos restaurantes, cafeterías y clubes están a dos cuadras de la casa, incluyendo el famoso restaurante de comida del alma de Sweetie Pie, que está a la vuelta de la esquina. El barrio está en un proceso de gentrificación. precios de la vivienda aquí están aumentando rápidamente. Varias casas y apartamentos en mi calle se están remodelando en la actualidad. Otras casas están en necesidad de remodelación. Esto es cierto en todo el vecindario. Universidad de Washington, la Universidad de Saint Louis y la comunidad empresarial Grove está poniendo dinero en este barrio, y se considera el más prometedor barrio de la ciudad. Es un barrio antiguo, pero tiene mucho encanto. ¿Es seguro? Mi siguiente puerta vecino ha estado viviendo en la misma casa desde 1960. Ella dice que nunca pasa nada malo en nuestra calle. Irónicamente, el barrio es más seguro que el barrio más exclusivo de una milla al norte: Central West End. Yo miraba a el mapa de un sitio web Informe sobre la delincuencia y crímenes de todo tipo ocurre dos veces más frecuentemente a poder ser aquí, en el mismo barrio de tamaño. La razón es que los delincuentes se dirigen Central West End. Así que sí, el barrio no puede ser tan de moda como CWE pero es considerablemente más seguro. Y también menos costoso. Las apariencias engañan. Este es un gran lugar por muchas razones, pero me da la información anterior clientes potenciales por lo sabrán antes de que libro que no todas las casas del vecindario parece impecable. Si no se siente cómodo alojarse en un barrio que está en un proceso de renovación, así, es posible que echa un vistazo a la vista de la calle en su mapa favorito en línea para su tranquilidad. Me encanta mi barrio, y espero que les encantará también!
Didn't get a chance to meet Doug since we were there for one night and in and out a lot. The place was awesome. Clean, spacious, parking was easy. Communication with Doug was great and we had no problem getting in. Would stay again!
Victoria
2016-10-31T00:00:00Z
The place was neat and clean, Mr. Doug is really a nice person, he is very easily approachable, very friendly. After my Check out , my return journey was at midnight, once he comes to know about, he let me stay with him, we had a great evening, and Dinner with backyard fire and had great conversation with him, he is fond of outdoor activity and he had share many of his stories some are really thrilling. Thank you very much for everything.
hitesh
2016-12-08T00:00:00Z
Good basic room down in the basement with a private bathroom and full size bed. Perfect for our one night stay as we head up to Chicago. Marley the dog was so sweet and Doug was very accommodating.
Sarah
2017-03-12T00:00:00Z
Doug was a great host, i stayed at his basement room for 26 nights. he took me shopping many times with his car, i always enjoyed his stay and our conversations. I am definitely gonna stay st his place again. The place is super comfy and clean, the area is safe and quite.
Abed
2017-01-27T00:00:00Z
Me and my dad stayed there a couple of times this month and I can say for sure it's great! Doug and his house are awesome, so are the pets (marley and butternut). The room and location are exactly as described and worked out perfectly for us. Doug is very respectful and will make you feel at home (he even took my dad to the river with him).
Bia
2016-06-03T00:00:00Z
Doug was awesome! Loved every minute of our stay. We felt super at home before we even hit the road. He was so helpful, interesting and an extremely fun guy- we will definitely be coming back to stay with him! He is the perfect host.
Morgan
2016-07-04T00:00:00Z
Doug was a great host and very accommodating.
Stephen
2017-04-02T00:00:00Z
Dougs location is close to downtown which is very convenient. Accommodation is as advertised and as anticipated. Thanks Doug great speaking to you as well.
Michael
2017-03-27T00:00:00Z
Typ pokoje
Soukromý pokoj
---
Typ nemovitosti
Dům
---
Ubytuje
2
---
Ložnice
St. Louis, Missouri, Spojené státy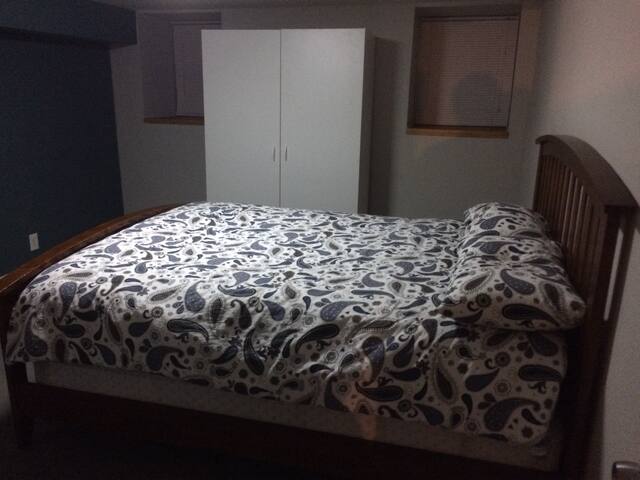 An inviting, sunlit, comfy room 1 to 2 miles from the Zoo, Art & History Museums, Science Center, MUNY theatre, Washington U, and the Loop's live music, restaurants/cafes and shops! Rt 64 is 1/4 mile away for quick, direct access to downtown!
A gem of a spot! A quaint house built in 1904 is a bright and airy space situated on a roomy corner lot for relaxing after exploring St. Louis city or county. It offers a cozy and private room, a 2 bedroom 1 bath Dogtown/Franz Park home. Your cottage style upstairs room comes fully furnished with a comfy full size bed, allergen encasing, great sheets and fresh towels. For longer stays there is a closet in the room. It is a safe and quiet local neighborhood with plenty of trees and greenery. There is no elevator, so unfortunately we are not handicapped accessible :/ sorry!
At the bottom of this listing is a map showing the location and surrounding vicinity. Please use this tool to familiarize yourself. I have compiled a guidebook of of my favorite places on this map indicated through icons and flags. This will familiarize yourself with all that is at your fingertips. I also have maps, local magazines and menus in the room for your use. Within short walking or driving distance are Dogtown's staple local dive bars such as Pat's Tavern, Felix's, Seamus McDaniel's, Heavy Riff brew company boasting live music, Hi-pointe theatre open since 1922, Urban Breath yoga studio and delicious Sugaree bakery. The Delmar Loop with Blueberry Hill, Tivoli theatre, Pagent concert hall and Forest Park are also within walking distance for those with good shoes, bicycles or car.
The room was clean and as pictured, and made for an enjoyable stay. Richard wasn't able to be there, but he did give us a clear and complete set of instructions to get in and use everything. It was a pleasure to stay there, I'm sure we will again!
CM
2016-06-18T00:00:00Z
It was a great stay! The little breakfast nook is really nice to have and the tea is amazing.
Sarah
2015-06-19T00:00:00Z
Great stay! Clean, comfortable bed and bath in very accessible location for St Louis attractions. Hosts friendly but not intrusive. Good breakfast options.
Harry
2014-06-23T00:00:00Z
Everything was great and as described. Richard was flexible about letting me check in early to accommodate a special situation. The house was clean and neat, comfortable and welcoming. I had plans downtown and in Clayton, and the location is perfect for a short drive to either and to Forest Park. I met Richard, and he was very nice and welcoming. I recommend this listing and would stay there again.
James
2015-10-12T00:00:00Z
His house is located in a quiet neighborhood and there was ample street parking available nearby. I loved the feel of the house, it's old and has a lot of character. It's well-kept, neatly decorated, and just a unique home. The bed was comfortable and I felt like I had everything I needed to get comfortable and relax. Richard wasn't home while I stayed overnight but everything was coordinated and communicated well ahead of time. I would stay here again in the future if I visited St. Louis in the future.
Todd
2016-05-06T00:00:00Z
A lovely, bright room in tree-filled suburban St. Louis. The hosts were kind and welcoming.
Kira
2015-06-24T00:00:00Z
很遗憾,我们10号晚没能入住Amanda家,因为那天订房匆忙将人数没有更新,所以Amanda希望我们退订另找住所,并同意订款退还我们,恳请Airbnb处理,非常感谢!并为自己的失误表示歉意!
萍
2015-08-12T00:00:00Z
Very cozy room. Richard was very prompt with his replies. The interior decor was amazing. Both me and my wife loved it.
Raj
2016-02-16T00:00:00Z
Typ pokoje
Soukromý pokoj
---
Typ nemovitosti
Dům
---
Ubytuje
2
---
Ložnice
Saint Louis, Missouri, Spojené státy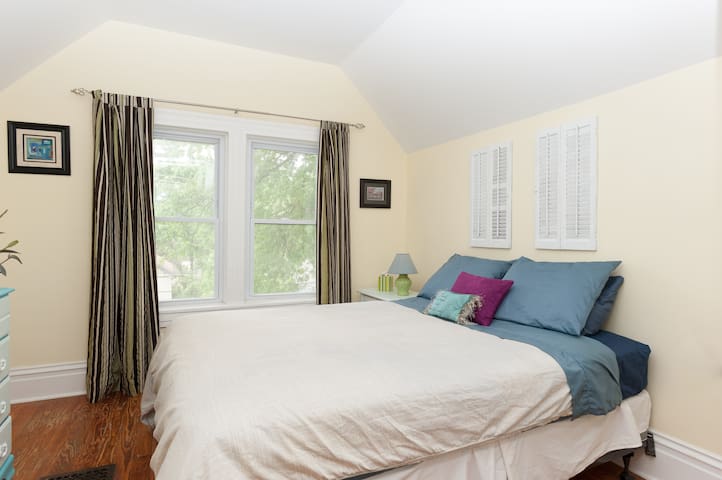 Vaulted ceilings, gracious dining room, deck, 12 fantop windows, near historic Elsah. Waterslide Park and Grafton nearby. Pere Marquette State Park and Lodge is 20 minutes up the river. Gorgeous Mississippi river views on the Great River Road nearby. Great getaway for R&R. TV, fast WiFi now available.
The house is beautiful, just as the photographs indicated. Rooms are spacious and spotless and classy all the way around. The location is off the beaten path tucked inside a quiet neighborhood of similar homes. The owner of the property is also very quick to reply.
Matt
2015-07-07T00:00:00Z
We enjoyed our stay and would recommend your place to everyone
Sam
2015-09-27T00:00:00Z
What a lovely place to stay, to visit family in the area. The house was so comfortable, had everything you could want,very quiet, and was so spacious. A really very nice place to stay. Highly recommend. Owners were very easy.
whitney
2015-10-12T00:00:00Z
We met at Ben & Sara's after traveling 6-15 hrs to meet with our family. It was very spacious and comfortable. They did a great job with everything. Linda
Linda
2016-04-24T00:00:00Z
This was our first experience with airbnb and we were delighted. Ben and Sarah were great hosts and we really enjoyed staying in their home. Everything was clean and well kept ... we lacked for nothing. Pre-stay communication was excellent, and we would have been very comfortable calling them had issue arisen during our stay. The neighborhood is attractive, quiet and established, and the house classy and beautifully appointed. A+++++++.
Greg
2015-11-09T00:00:00Z
This was our first experience using AirBNB and it was awesome. The house is beautiful and so is the area. The house was everything they said it was. It was perfect for what we needed for the week. It was a 25 minute drive from where we went everyday but it just gave us the chance to see more of that great area. And it's a short drive to St. Louis. Also the care takers are very nice people and do a great job with the property inside and out. We couldn't have asked for better.
Donnie
2016-09-29T00:00:00Z
Could not imagine better hosts for our trip. Ben and Sara made us feel like we were family. They were truly a part of our Sons Wedding, and they made it easier for us to relax. A beautifully decorated home, with all the essentials needed to complete your time away. Thank you Ben and Sara!!
Andrew
2016-06-07T00:00:00Z
Awesome place... My family and I had a great time. I would recommend this house to anybody that wants to relax away from city life and enjoy a very peaceful weekend/getaway.
Simon
2016-09-11T00:00:00Z
Typ pokoje
Celý dům/byt
---
Typ nemovitosti
Dům
---
Ubytuje
6
---
Ložnice
Elsah, Illinois, Spojené státy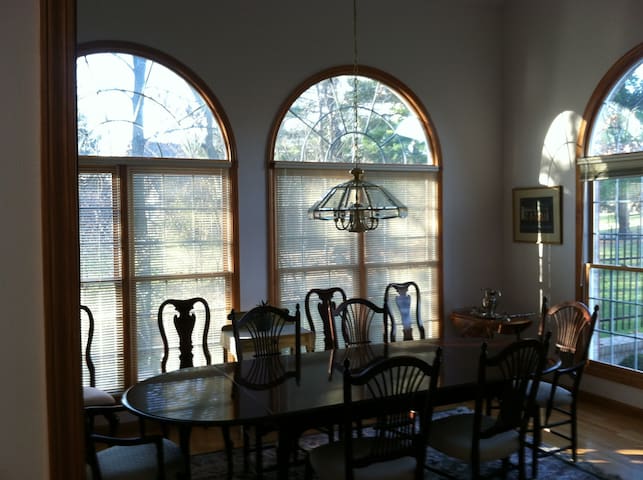 舒适的"禅鸟巢"非常适合那些希望体验到什么圣路易斯所提供的那些。 5分钟。步行到塔树丛公园,10分钟。开车到大拱门,会展中心,SLU,AB啤酒厂,苏拉尔市场,拉斐特广场,布施体育场,中央西区,植物园,小山意大利餐饮区,南方大酒店,森林公园,动物园,谬尼和天文馆。 适合情侣,观光,BIZ旅行者和户外爱好者,但如此惬意,你可能会发现自己依偎在室内!
我们的历史家始建于1902年,是由位于2楼家的二楼一个2居室的布局。活的植物,东部展望台的装饰,铃铛和灯笼高的天花板上垂下,营造大开放,又舒适,舒缓的氛围。 客厅设有柔软,舒适的沙发和靠垫装饰,加上书籍,杂志,游戏,纸牌和拼图一个舒适的阅读角。冒险进入厨房,发现一切在保存完好的四合院,并有一个大的,质朴和阳光明媚的空间,你所需要的,包括Keurig咖啡机和凉茶收集每一天活力,还有一个阳光明媚的私人朝东阳台日出直接欣赏到圣路易斯拱门! 当它的最后时间睡觉,你有房,无论是舒适的卧室正面与街道的一个阳光明媚的景色,或大型和幽静的主卧室拥有独特的装饰墙和天花板风扇的选择。后者包含一个业务的角落,提供免费的喷墨打印机,21" 纯平显示器和基本的办公用品。 家中的每个空间的设计感到舒适和放松。我们希望你会喜欢它,就像我们做的!
在过去的几年中,塔罗夫/南部大区已成为首选的目的地为城市的年轻,时尚人群,见证了城市的一些最好的烹饪选择和时尚酒吧的一朵朵,煮好的现场音乐大多数晚上星期。历史塔树丛,穿过75英亩的湖泊,花园和凉亭庞大的,提供乘车,观鸟,网球场和棒球场以及周末农贸市场和免费瑜伽课程在晴朗的天气。它只是坐在酒店毗邻迷人的密苏里植物园,由R巴克敏斯特·福勒家世界第一个网格球顶。 我们的安静和独特的小附近拥有所有的住房风格,让圣路易斯著名的建筑遗产。邻里与活动 - 遛狗,慢跑,rehabbers,童车推杆嗡嗡和bicyclers流过去被种植花卉,庭院旧货出售弹出几十个诱人的食品的卡车每月第二个星期五的大篷车。 颇具特色的餐厅,现场音乐酒吧,艺术画廊等登塔是一个很短的步行路程。
It's was very hip and comfortable. I took back some decorating tips! We loved it! Keren was awesome and welcoming as well.
Britney
2017-04-03T00:00:00Z
Keren is an excellent host who helped to make our an incredibly awesome trip even more perfect! Her home & hospitality were wonderful and exceeded our already high expectations! We know where we'll want to stay in St. Louis from here on out! You won't be disappointed. Think it looks comfy and clean in the pictures?? It's even better in person!
Amanda
2017-04-02T00:00:00Z
Excellent airbnb, super clean with a great location and very well priced. We'll definitely be staying here again on our next trip to STL. It also doesn't hurt that Keren is an awesome host, super friendly and always available if we needed anything!!!
Andrew
2017-04-05T00:00:00Z
This place is seriously all you can ask for in a place to stay! With a fully stocked kitchen, a cozy bed, and a great area that's 10 minutes from everything (with a great view of the Arch from the balcony), we felt like we were almost stealing with such a great deal! Keren is a wonderful host who replies timely and checks in on you to make sure your stay is going well. She also offered us awesome tips and places to go in STL. there's a ton of restaurants around that were hip and inexpensive, too. The neighborhood is quiet and beautiful and with a ton of easy parking. Overall, the space is exactly what we needed and so spacious--it's exactly as it's advertised. Extremely relaxing and thought out. Would definitely recommend to anyone traveling through STL!
Madi
2017-04-12T00:00:00Z
Karen's place was perfect. Her communication was great, and house was super cute! Cool neighborhood spots were definitely a highlight. I definitely would recommend her place.
Paul
2017-04-06T00:00:00Z
Typ pokoje
Celý dům/byt
---
Typ nemovitosti
Dům
---
Ubytuje
4
---
Ložnice
St. Louis, Missouri, Spojené státy
Vi lever i Benton Park West, en af St. Louis 'forskellige, op og kommende kvarterer. Cherokee Street giver en stor øjebliksbillede af St. Louis kunst og kultur.
.
Tracie
2017-04-11T00:00:00Z
This was a great place to stay! Tim and Liz are very welcoming and knowledgeable about the city, and the house is lovely. They definitely go out of their way to make it a great experience! The room was very comfortable and spacious, and the puppy and cat alone would make it a great place to stop.
Nika
2016-09-05T00:00:00Z
I stayed in a super cozy, humble room in quite the unique house. The Blue House is located in a really cool, up and coming part of town. The Bernie Sanders campaign office was right down the street, so that was really cool. Tim and Liz were really helpful. I hung out with them at separate times, and they showed me around. I'm so grateful they did. They didn't need to, but it was a treat =]. Liz ended up coming to my show too, which was awesome! Tim and I hung around Forest Park for a little bit. Both of them are your perfect balance of introvert and extrovert. They're both very intellectual, loving, and thoughtful people. I'm looking forward to hanging out with them again. And their pets are amazing. 3
Kira
2016-08-05T00:00:00Z
The host canceled this reservation 16 days before arrival. This is an automated posting.
william
2016-06-21T00:00:00Z
Tim and Liz were very friendly and communicated with me well about where to park, how to get in, etc. I only stayed for one night - so I don't have a lot to say. The puppy and kitten were super cute.
Karen
2016-08-19T00:00:00Z
Great stay, Liz was a very nice host. And the place was close to everything.
Erik
2016-09-12T00:00:00Z
Super nice hosts, really helpful for knowing the city (sometimes a little too much)
Rachel
2016-06-23T00:00:00Z
This house is beautiful located a short short walk from Cherokee street which has cute local restaurants and bars. Liz and Tim were extremely inviting and offered me to tag along with their friends on several occasions. Liz is very knowledgeable about the city and provided me with a guide to help in my St. Louis experience. Liz was also nice enough to take me on a small driving tour of all the close neighborhoods. Great people, great city.
Steph
2016-07-07T00:00:00Z
Typ pokoje
Soukromý pokoj
---
Typ nemovitosti
Dům
---
Ubytuje
2
---
Ložnice
St. Louis, Missouri, Spojené státy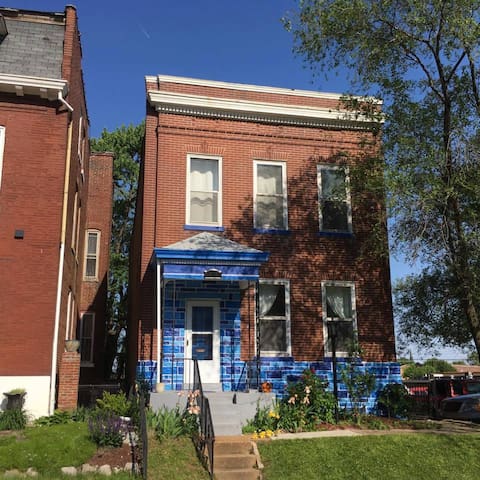 我的地方是从170高速公路,这使得它接近圣路易斯一切一分钟。这是从机场有10分钟。你一定会喜欢,因为舒适的床我的地方,舒适感,方便,安静,安全...我的地方是好夫妻,独奏冒险家,商务旅客,家庭(含儿童),大集团,和毛茸茸的朋友(宠物)。
您可以根据您的党的大小,使用一个卧室或两个。浴室仅用于您的使用。
Olivette是一个安全,安静的住宅区。没有与街对面的操场和狗公园一个可爱的小公园。有几个餐厅,一个酒吧,并在步行距离内的星巴克。
It was a good stay. We stayed there for three nights. The place is exactly as shown in the pictures. The check-in and check-out were easy. And Gualtiero (host) was very nice and cooperative.
Vijay
2017-02-20T00:00:00Z
Had a a great one night stay at Gualtiero's. Convenient, clean, and affordable. Would recommend.
Bradley
2017-03-23T00:00:00Z
We were not there much because we were busy around St. Louis. G was a great host with a great home and everything we needed! Thanks
Max
2017-03-17T00:00:00Z
Place was clean. Super comfy bed. Great hospitality.
Kelda
2017-01-02T00:00:00Z
good and clean place..
Varun
2017-01-01T00:00:00Z
Gaultiero communicated everything clearly and well. Enjoyed my stay.
Rashah
2017-04-01T00:00:00Z
Great place to stay, in a quiet neighborhood. Cozy home and a very friendly host!
Cameron
2017-04-02T00:00:00Z
The room is exactly like the pictures and what we expected. The host was very friendly, nice. I would definitely stay here when I'm in town again
Doan
2017-03-24T00:00:00Z
Typ pokoje
Soukromý pokoj
---
Typ nemovitosti
Dům
---
Ubytuje
4
---
Ložnice
Olivette, Missouri, Spojené státy
This 108 year-old duplex apartment is located in the heart of Dogtown. It's recently been renovated and offers historic charm along with modern amenities. Located within walking distance restaurants, the St. Louis Zoo, and Forest Park.
Newly renovated apartment, with exposed brick walls. The fireplace in the dining room is electric with remote control. The bedroom has a queen sized bed with a new pillow top mattress. If you need to check in/check out at a different time please let me know and I will try to accommodate you.
All the attractions that we wanted to see in St. Louis were less than ten minutes away via car. One night we even walked to the Zoo. It is so conveniently located and the apartment is really nice.
Jeanette
2016-09-12T00:00:00Z
Kara's place was beautiful and perfectly suited our needs. She had all of the essentials stocked for her guests- I even noticed that she had outlet adapters for international travelers! I would recommend this place to anyone!
Lauren
2015-09-21T00:00:00Z
My husband and I came in town for a show at The Pageant. The location was great, as it was only a 10 minute uber. We loved the apartment! It is super cute and very clean! The map guest book was our favorite part! We will definitely stay here again next time we are in St. Louis!
Megan
2016-10-27T00:00:00Z
Kara had the place in very cozy and welcoming when we arrived. It was very clean and user friendly! Her listing was the same as the apartment. She even let me know that I forgot something so I could go back and get it!
Becca
2015-10-01T00:00:00Z
Kara's place was lovely and just what we needed for a girl's weekend away (with a small dog). The neighborhood is great, safe and pretty quiet, even though it's across the street from a bar/restaurant. Everything was clean and so comfortable. I'd definitely book here again!
Bridget
2016-02-01T00:00:00Z
This was my second time staying here. I noticed some improvements that Kara made which shows that she is a thoughtful and responsive host. I'll be back. Thanks again!
Trent
2016-05-12T00:00:00Z
This place was very conveniently located near Forest Park and many of the freeways but it was still quiet and I felt very safe. The inside was so warm and cozy and I slept better in that bed than I have in a long time. Will definitely stay here again next time I'm in St. Louis!
Keelin
2016-03-12T00:00:00Z
Wonderful stay. Everything was great!
Michael
2015-12-28T00:00:00Z
Typ pokoje
Celý dům/byt
---
Typ nemovitosti
Dům
---
Ubytuje
2
---
Ložnice
Saint Louis, Missouri, Spojené státy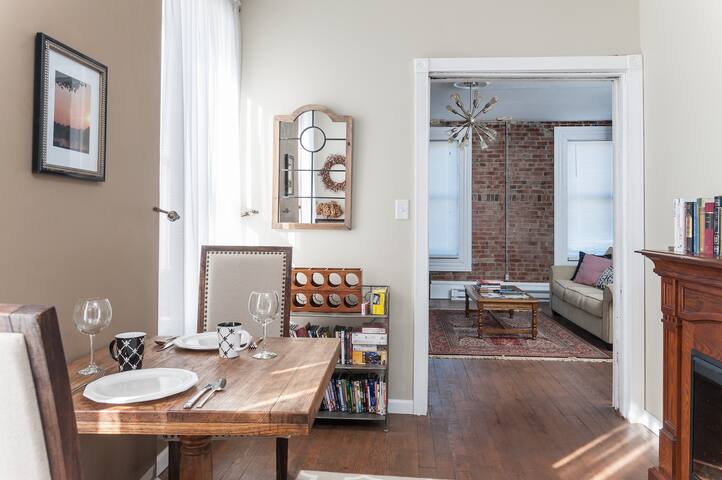 Emily and Andrew were great! Emily gave us a tour of the Burrow. It was VERY nice, and a great place to stay a few days. The location was awesome, just a few blocks from Forest Park. Please read the description carefully! The bathroom is great, but the ceiling really is only 6 ft high! It's right there in the description, so don't miss it. I would definitely recommend them as hosts, and their basement apartment is a great place to stay. We'll probably be back!!
Aaron
2016-02-18T00:00:00Z
A beautiful, well-stocked apartment, and very gracious hosts. My only regret is that we didn't have more time to spend in St. Louis.
Ryan
2014-04-15T00:00:00Z
Emily was kind and greeted us as soon as we pulled up. We loved our stay!
Jamie
2017-03-17T00:00:00Z
Staying with Emily and Andrew was so peaceful. They made everything easy from my arrival, to having coffee, yogurt and granola available in the suite. I loved it and would recommend staying here to anyone. The location is wonderful. The hosts have so many wonderful recommendations of places to go and experience in St. Louis.
Amy
2016-04-08T00:00:00Z
The place was awesome! They were very polite and welcoming. The apartment was well furnished and tasteful and the amenities easily exceeded our expectations. We would've been happy to pay far more than they have charged us. I would definitely stay here again without a doubt, if we ever come back to the city. We would like to thank Emily and Andrew for being great hosts.
Sophie
2017-01-22T00:00:00Z
Emily and Andrew's home was beautiful and made our stay in Saint Louis better than we could have imagined. The photos of their home do not do the place justice! The living area is spacious and wonderfully decorated. The bedroom and bathroom were equally as impressive. Their home is located within walking distance of several great restaurants and a great local brewery. We also go to meet their chickens in the backyard, some chicks they are raising, and their energetic dog. We would highly recommend Andrew and Emily's home, and will make it a point to come back next time we're in the Saint Louis area. Thanks again!
Andrew
2015-04-20T00:00:00Z
I cannot say enough good things about this place! This was our second visit and it was every bit as perfect as the first. Emily and Andrew are wonderful hosts. They have the perfect balance of taking care of everything you need, truly caring about your visit, and giving you all the space and privacy you want. The space itself is cozy (but not small), warm, and welcoming . . . and very kid-friendly. It truly feels like a home away from home. I hope we never have to stay in a hotel again! It just doesn't compare. We love having everything we need to cook our own meals (but Emily and Andrew have put together a thoughtful, honest St. Louis guidebook with restaurant suggestions for times when you're eating out), we love the large selection of books and board games (there are movies, too, but we never seem to get to those!), and we love the neighborhood and the location. It was easy to get to everywhere we wanted to go. If you are going to St. Louis, I highly recommend staying here. You won't be sorry! We can't wait to go back!
Carla
2015-03-21T00:00:00Z
This was my first experience with Airbnb, but I am incredibly pleased! Emily and Andrew have a gift for hospitality. The rental is better than the pictures! It was very clean, and had absolutely everything we needed to make our stay lovely. Emily was very helpful with recommendations, directions, etc. I travelled with 2 friends and every one of us could not stop talking about how we wished this was our own apartment. She provided food and snacks upon arrival. She also made us delicious homemade granola. They have created a very helpful guide book. There are movies, books, games and sports equipment for entertainment. There is also WIFI available. She really has thought of everything and it was a pleasure staying at this rental. When I come to STL again, this is the place that I will stay. It was close to downtown and anywhere else we wanted to go. The price is very fair, and honestly, for the quality we received and amenities, it is worth much more than what they charge.
Emily
2015-08-07T00:00:00Z
Typ pokoje
Celý dům/byt
---
Typ nemovitosti
Dům
---
Ubytuje
4
---
Ložnice
St. Louis, Missouri, Spojené státy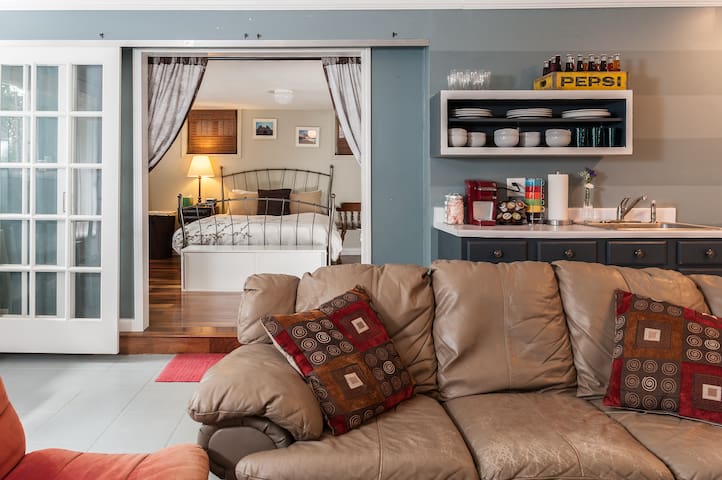 Come stay at my lovely artist's abode. My family and I are away on travel and you can reap the benifit by staying in this fun modern home. Walking distance to Washington University and Delmaar loop, yet in a quiet neighborhood, this home is in the perfect location and a joy to be in.
Typ pokoje
Celý dům/byt
---
Typ nemovitosti
Dům
---
Ubytuje
5
---
Ložnice
University City, Missouri, Spojené státy
Private room with Queen bed and private bath. Centrally located to St. Louis attractions, Busch Stadium, SLU, Forest Park, and downtown. Walkable neighborhood to great restaurants. Public transportation accessible.
Our house was built in 1902 and is located in a historic district. There are steps to get into the house. Additionally, the room is on the second level of the home. The shower is attached to the bathtub, so you must be able to step into the bathtub to use the shower.
Walkable to several restaurants. Central location to St. Louis attractions and Interstates.
Carla did a great job of making sure we were well prepared to arrive. We love the Tower Grove Neighborhoods and it was easy to find Carla's place. She is a great host with an amazing spot to share. We highly recommend!
Bill
2016-02-14T00:00:00Z
The home was beautiful and the room and bathroom were perfect for me. This was one of the best Airbnb experiences I've had...and I've had a lot of experiences:) carla and mark walked me around their neighborhood, they sat and just talked to me, they introduced me to neighbors, I just can't say enough about how awesome they are. The location is perfect. I'm vegan and their are great vegan, sushi, and Thai restauatants all around. I would recommend the stay to anyone.
penny
2017-02-11T00:00:00Z
Our stay at Carla and Mark's place was very short (roughly 6 hours!), but great! They've got a lot of thoughtful touches and a much nicer bathroom/shower than most airbnbs. The bed was comfortable and clean, making it a perfect stopover for a cross country road trip.
Brennan
2016-09-24T00:00:00Z
We sat and had a very pleasant chat for half an hour upon my arrival. Very good neighborhood and handy for all local places of interest. Entirely as described.
Peter and Deborah is my wife
2015-11-14T00:00:00Z
From the beginning the host and her husband made me feel welcome. They've thought of everything and are ever eager to assist you with information, directions, etc. should you need it. The neighborhood has beautiful homes and walkable. It is in a handy location too. It's hard to say anything new because what people have written is true - this is a great place to stay when visiitng St. Louis.
Lori
2016-05-07T00:00:00Z
House is in a great location and is central to a lot of attractions. Carla and Mark made us feel very welcome and answered all our questions about the area. Room and private bath are clean and comfortable. Keurig coffee made our mornings even better! Hosts are very respectful of your privacy and were very friendly and helpful. If and when we travel to St. Louis again, we would absolutely try to stay with Mark and Carla again! Thanks for helping make our 38th anniversary a memorable one!
Darrell
2016-08-30T00:00:00Z
Mark and Carla have a beautiful home in St. Louis, and they were both so nice and hospitable during our stay. Mark sent very detailed and clear instructions before arrival, and he also showed us everything in person upon arrival. Mark was also very gracious and insisted my partner Hudson bring his bike inside the house rather than be exposed to the rainstorm outside. We wish we could have stayed longer!
Elaine
2016-08-15T00:00:00Z
Mark greeted us at the door as we were walking up the front steps and invited us in to meet Carla. After showing us around the house, Mark walked us over to Grand Blvd to show us where the good restaurants were -- and there are a lot of them! Great walkable neighborhood, and a very nice park close by for our walk after breakfast the next morning. We loved our stay with Mark and Carla and would recommend to anyone.
Roy
2016-10-21T00:00:00Z
Typ pokoje
Soukromý pokoj
---
Typ nemovitosti
Dům
---
Ubytuje
2
---
Ložnice
Saint Louis, Missouri, Spojené státy
Clean, bright second-story room with a full-size bed and desk. You will have a private bathroom and the whole house to yourself. This house is located in a quiet neighborhood right next to Ranken Jordan Pediatric Hospital. Only 10 minutes away from the Lambert Airport.
Typ pokoje
Celý dům/byt
---
Typ nemovitosti
Dům
---
Ubytuje
2
---
Ložnice
Maryland Heights, Missouri, Spojené státy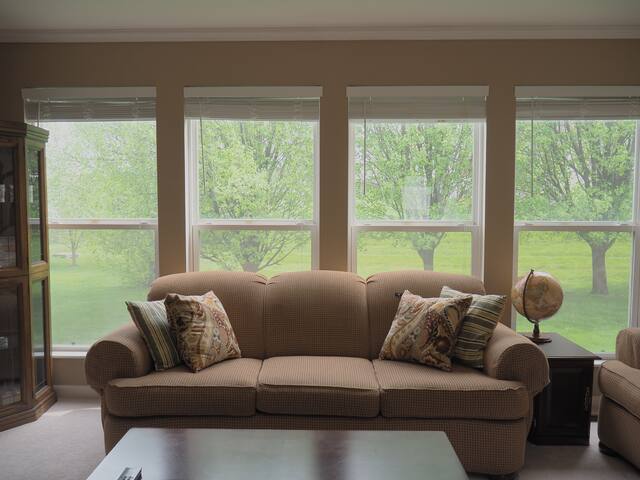 Tucked away in a safe quiet neighborhood on the north side of U City. Conveniently located: 10 from airport, 15 min from downtown and west county. This listing includes a full size and twin size futon (twin futon yet to be pictured) in my newly finished basement! The room is semi-private in that is completely your personal space for your trip but it is separated from the rest of the home by room divider curtains. A value accommodation for short or long stays.
There is separate entrance to this space from the rest of the home. Futons are comfortable and include 1 1/4 foam pads and extra thick mattress pads! The space also includes a dresser, wardrobe closet, and recliner and kitchen table (not pictured).
There is plenty of free on street parking.
A very comfortable and welcoming environment. Would definitely stay here again if I was in St. Louis!
Alex
2017-04-03T00:00:00Z
Easy check in and good residential location. I got a great nights sleep because I was very tired, however the bed was really hard. Great for budget, quick stays.
Samantha
2017-03-30T00:00:00Z
Ryan is a very hospitable and friendly guy. Would definitely stay again!
Morgan
2016-12-22T00:00:00Z
Wonderful stay! Easy to find, simple self-checkin and good communication with the host. No problems at all and it was in a decent location. Would definitely stay there again!
Jessica
2017-03-26T00:00:00Z
Ryan was incredibly hospitable and flexible with our check-in. The space was comfy and all the little extras Ryan added (e.g. towels, water bottles, ear plugs) were incredibly appreciated! Definitely recommend his home if you ever find yourself in St. Louis!
Stacy
2017-04-02T00:00:00Z
The futon was slightly uncomfortable, overall a nice stay tho.
Anaceli
2017-01-03T00:00:00Z
I had a nice stay. Ryan was very easy to communicate with, getting in and out of the house was very easy.
Lukasz
2017-03-29T00:00:00Z
Great place for a quiet stay. The room is comfortable and Ryan was very attentive to any needs.
Christian
2017-01-08T00:00:00Z
Typ pokoje
Soukromý pokoj
---
Typ nemovitosti
Dům
---
Ubytuje
3
---
Ložnice
University City, Missouri, Spojené státy
We love to share this space with our friends and traveling guests. The Play House is a newly updated 700 sq foot, one bedroom home. Remodeled bathroom, King Bed, 48" 4K LED TV, Hi-speed Wi-Fi, and a long driveway for your convenience. Also conveniently located near the Delmar Loop and Washington University.
Contemporary Vintage design with St. Louis and me sprinkled all over. Where all my guests are welcomed to enjoy a complimentary glass of box wine.
Home is in a nice blue collar St. Louis Neighborhood in University City. Neighborhood is clean, neighbors are quiet and nice. The house is set back on the lot which uniquely situates it for subtle privacy.
Teresa's house was charming, equipped with everything we could need as well as many extra conveniences. Her home is tucked away in a neighborhood just minutes from all the action. We really appreciated her flexible check in and check out as well.
Andrea
2016-10-08T00:00:00Z
We had a great time staying at Teresa's Play House! The location was exactly what we wanted, as it was walking distance to a number of restaurants, concert venues, and workout facilities. It was comfortable and cozy and equipped with everything we needed for a great stay. Our hosts were quick to respond to questions and made it clear they were there to help if and when we needed something. Trust me, you won't be disappointed in The Play House! Thanks for a great stay!
Derek
2017-03-19T00:00:00Z
Extremely welcoming host and the house was beautiful inside. Would stay at again!
Dan
2016-04-01T00:00:00Z
Teresa's house was a great stay. Very close too the Delmar loop and it was exactly as advertised. Very cozy and clean.
Joey
2017-03-12T00:00:00Z
Loved The Play House and Teresa and her son & pup! The only bad thing about our stay was that we weren't able to stay longer and check out more of the places they so proudly recommended. The king sized bed was wonderful, the kitchen well stocked, the shower great and the house overall very well set up and comfortable. Being pet-friendly was a bene.
Rob
2016-08-02T00:00:00Z
Lovingly restored older home in University City. Quiet neighbor hood. Ample off street parking. Teresa was responsive and accommodating to our changing schedule.
Stephen
2016-09-21T00:00:00Z
The play house is fantastic! It's cute as can be and it provides such a relaxing, fun environment. 10/10 would stay again.
Sawyer
2017-03-05T00:00:00Z
Teresa is a great host. I was impressed by the house. Everything was as I expected based on the pictures and I would definitely stay there again. She thought of everything. It truly felt like a home away from home.
Sunny
2016-10-05T00:00:00Z
Typ pokoje
Celý dům/byt
---
Typ nemovitosti
Dům
---
Ubytuje
3
---
Ložnice
University City, Missouri, Spojené státy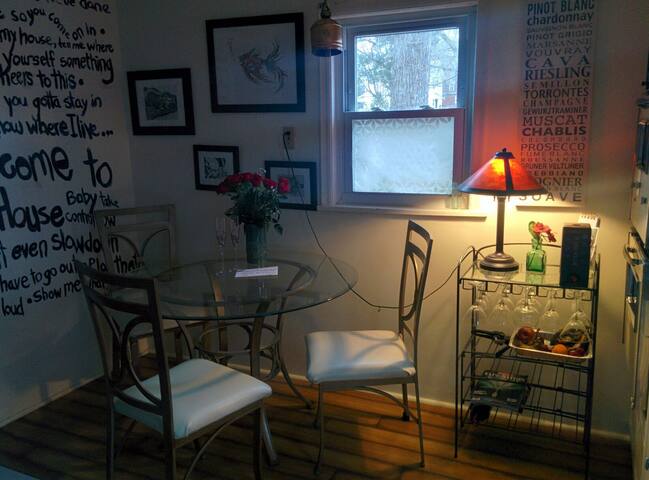 1

–

18

z

300+ pronájmů domů
Pro zobrazení celkové ceny zadej termín. Mohou být přidány další poplatky a daně.