My place is a master bedroom, so there's lots of space. It has its own attached bathroom. 2 1/2 closets: 1 is mine, the other for your use. Both beds can be used, or I can put the twin bed away.
Super Northridge-central. Close to everything: Vons, Chili's, Starbucks, Northridge mall, even a USPS. Second-floor apartment. It's pretty quiet and it gets a ton of natural light.
Although it's across the street from a major university, it's a quiet neighborhood. It's well patrolled because of CSUN, and it's close to a ton of shops.
Great stay! Great vibe in the apartments - mostly university students:) everyone there is very helpful, including Musme's roommates :)
Hubert
2017-03-18T00:00:00Z
Spacious room, plenty of amenities nearby. Could have been a bit cleaner. Also there was some noise from other tenants partying in the building a couple of nights. Overall a decent place to stay if you're on a budget and don't mind being in Northridge.
Philip
2017-03-26T00:00:00Z
Typ pokoje
Soukromý pokoj
---
Typ nemovitosti
Byt
---
Ubytuje
2
---
Ložnice
Los Angeles, Kalifornie, Spojené státy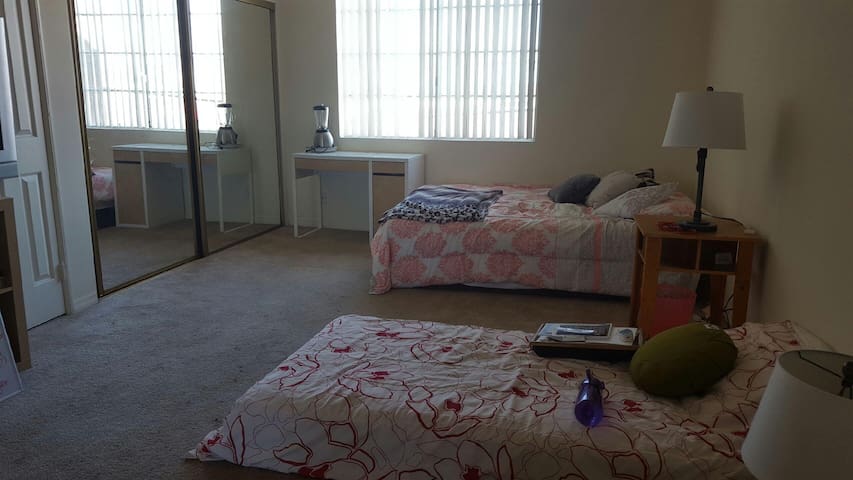 A cool comfortable master room in a gated community have two full sized memory foam beds and a private bathroom (very spacious) free wifi included.
Typ pokoje
Soukromý pokoj
---
Typ nemovitosti
Byt
---
Ubytuje
2
---
Ložnice
Los Angeles, Kalifornie, Spojené státy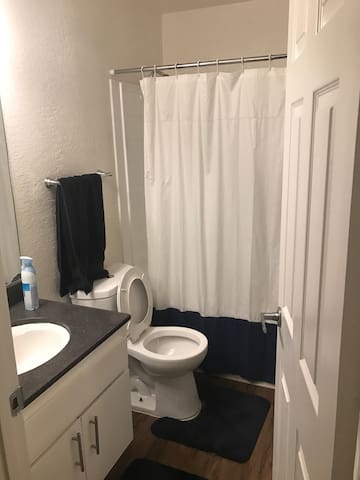 This Cozy 1 Bedroom Unit comes with central Heating and cooling system, new beautiful kitchen appliances,free access to Wifi, and access to apartment amenities such as, Jacuzzi, Gym, Pool and several lounging areas. This also includes free multiple/comfortable parking areas, and a balcony.
This is a quiet neighborhood and close to the warner center and the Westfield Topanga mall. There are also great breakfast spots, wholefoods and nice restaurant/bars.
Chigozies place was in amazing location. How ever he was low on necessities when staying! The place could have been more clean but overall I had an excellent stay!
Raven
2017-01-01T00:00:00Z
Typ pokoje
Celý dům/byt
---
Typ nemovitosti
Byt
---
Ubytuje
2
---
Ložnice
Los Angeles, Kalifornie, Spojené státy
Our room is very comfortable clean and worm. Is located in a very safe community. You will have a private room and bathroom. Welcome to use the kitchen. We also have pool,gym. Feel free to enjoy all those and it's more than welcome to talk with Vicky.
Typ pokoje
Soukromý pokoj
---
Typ nemovitosti
Byt
---
Ubytuje
2
---
Ložnice
Los Angeles, Kalifornie, Spojené státy
Our cute, clean and cozy room for rent has a true modern city feel - tucked in a quiet neighborhood. The bedroom comfortably sleeps 1 on a twin futon. The room is accompanied by a guest bathroom stocked with natural vegan body care amenities from Herban, Inc. Enjoy!
Very accomodating and understanding of late check-in, along with being very transparent and courteous. No shady business or anything unusual, which hasn't been the case for all other bookings with Airbnb, so I was very happy that everything worked out well. What you see is what you get in the ad so there will be no surprises upon arrival. Very clean as well and also provided enough privacy to feel at ease.
Ryan
2016-12-25T00:00:00Z
Dana is the best kind of host you could ask for. She's very welcoming, friendly and considerate. She was also quite helpful in giving advice for getting around and finding the nearest grocery stores and such. As a bonus, she had some amazing toiletries available for use in the super cute bathroom. Her place is kept clean at all times, you may sometimes wonder if anyone actually lives there. The neighborhood is nice and quiet. The only drawback would be that parking after around 8PM is difficult to find on her block, but you'll definitely find something about a block, or so away. In all, I would definitely recommend and I would even return myself, if ever I'm in the area again.
Ada
2016-10-15T00:00:00Z
Dana was a great host. She was very kind and communicated very well. It was a pleasant stay and she went above and beyond to make me feel comfortable.
Kevin
2016-11-11T00:00:00Z
I really enjoyed staying at Dana's place. It was a super clean, cozy and quite place. I wish there was better bed but it is still ok. I strongly recommend the place for everybody that is looking for a clean and quite place. Neighborhood is also nice and friendly. Dana is also super nice and helpful.
Hassan
2016-11-27T00:00:00Z
Dana is a very warm hearted person. I felt at home. Her home is very clean and wonderfully well scented. It is also situated in a very quiet neighborhood, so if you need to study or is looking for a serene location Dana is the place to be. However, the room is most suitable if you are visiting alone as the bed is small
Stephanie
2017-03-06T00:00:00Z
near to CSUN
Tim
2017-02-03T00:00:00Z
Dana is a delightful person, her home smells fresh from her own line of natural beauty products and air fresheners. She graciously presented us with a real nice sample bag of goodies, this is a very nice touch. Parking is a bear and can be stressful if you are planning to come in late or are not an early riser-you have to move your car by 6:00am. Dana is off to a great start as a host; a bed and a small television would be nice.
Pamela
2017-01-28T00:00:00Z
Great place to stay
Jason
2016-11-04T00:00:00Z
Typ pokoje
Soukromý pokoj
---
Typ nemovitosti
Byt
---
Ubytuje
2
---
Ložnice
Los Angeles, Kalifornie, Spojené státy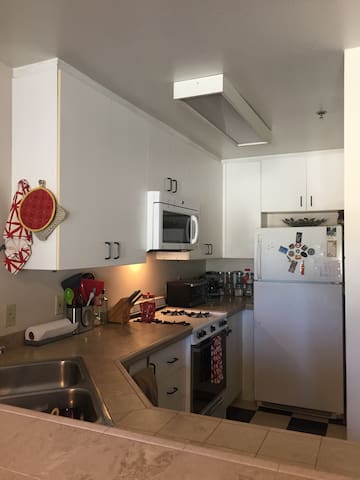 This is a guest house with a private entrance that comes with a full bathroom and kitchen. Close to public transportation and easy access to freeways. This place is only 10 miles ftom Hollywood and 6 from universal studios And 30 minutes to six flags
Feels like a home also there is camera surveillance on the property for added safety. Theres a nice temple pictured across the street.
Theres a beautiful thai temple across the street
Nice host, good communication Everything worked perfectly
Mike
2017-01-05T00:00:00Z
My stay here at Eddies place was great. The place was clean, well kept and quiet. This was just want I needed for a quick trip to California. I never actually had the chance to meet Eddie but he was quick to respond anytime I had a question. I'd definitely stay here again in the future.
Angel
2016-06-11T00:00:00Z
Eddie was very friendly and accommodating. Super comfy bed and gated parking made the stay! Great setup!
Chris
2016-06-06T00:00:00Z
I enjoyed my stay. Eddie was very accommodating and very helpful. I will definitely stay here again.
Raymond
2016-06-02T00:00:00Z
Nous avons beaucoup apprécié le logement proposé par Eddie (propreté et praticité) et sa localisation dans un quartier tranquille de LA. Nous étions trois. Petite précision pour les personnes de grande taille, la troisième personne dort sur un canapé confortable mais non convertible. Le parking est prévu dans le jardin derrière une grande grille, ce qui est un gros plus. N'hésitez pas à contacter Eddie en avance pour avoir les détails pour l'accès au logement.
Nolwenn
2016-08-11T00:00:00Z
I had a great time at Eddie's! The room stayed very cool during the daytime, and I was very comfortable at night! Thanks again!!
Michael
2016-06-28T00:00:00Z
Eddie helped us out by setting up the place with short notice
Jonathan
2016-07-30T00:00:00Z
This place was perfect for what I needed it for. I highly recommend it!
Matthew
2016-12-03T00:00:00Z
Typ pokoje
Celý dům/byt
---
Typ nemovitosti
Byt
---
Ubytuje
3
---
Ložnice
Los Angeles, Kalifornie, Spojené státy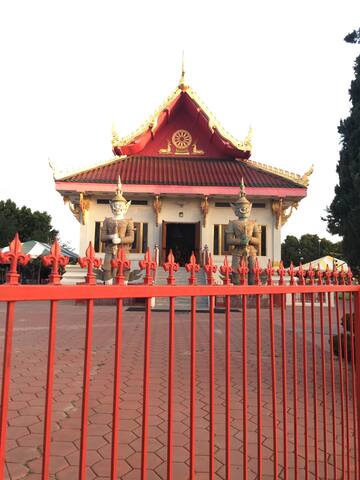 This cozy apartment is just 15 minutes from the Hollywood Strip, 10 minutes from Universal Studios, 20 minutes from Six Flags, 40 minutes from LAX, 55 minutes from Disneyland. There are also many great parks, museums, and views close by. You'll love this home because of it's coziness, the views, the people, the location, and the convenience. This home is a good fit for couples, solo adventurers, and business travelers.
Private bedroom with queen sized bed, nightstand, and spacious closet.
Quiet neighborhood with friendly neighbors. In walking distance from supermarkets, parks, bars, and many restaurants.
Erwin was a very good host. Only saw him when we got the keys and dropped off. The apt was well stocked with everything we could need and we had a great stay. Bed was comfy. Futon was stiff and for a child size definitely not for an adult person but that didn't matter, worked out perfectly for our teen. The place was very clean. Bathroom even had shampoo/conditioner/body soap. Water was nice and hot. Had a parking spot inside the gate which was a plus for security. Felt very safe. Steeple coffee down the street was a big plus. Amazing coffee!!! Would absolutely stay again. Very nice and quiet place and we got great sleep!
Ivan
2017-03-12T00:00:00Z
My boyfriend and I were searching for places for our trip down to LA I actually didn't come across this gem. It showed up for my boyfriend. The reviews were all positive so we inquired about staying. Erwin responded right away and we were booked. When we arrived he was awaiting us right in the front. You get one parking space inside the gated home. That was a plus! He showed us to our rental and it was perfect for the two of us. The bed was comfy, A/C in the room, great size closet. The dining space was perfect for us and the futon next to the tv was lovely to just relax and hang out. Also a hammock in the patio area in the back! We needed an iron and couldn't find one and didn't have one so we asked Erwin if there was one in the house and he said he would bring one over. Saved us! Haha those shirts were really wrinkling. We were 15 mins away from Universal Studios and close to a lot of the nightlife places. All in all I'm really glad this was our first AirBnb experience because it was such a lovely one. Thank you Erwin for being so kind and giving us a great experience.
Brittany
2017-03-16T00:00:00Z
Für mich war es die perfekte Unterkunft, da ich eine Konferenz in der Nähe besuchte und alles zu Fuß erledigen konnte. Die Unterkunft war sauber und sehr ruhig gelegen und genau so, wie auf den Bildern vorgestellt. Erwin war ein sehr guter, freundlicher und hilfsbereiter Gastgeber, hat mich sogar vom Fly away Bus in van Nuys abgeholt und wieder dort abgesetzt. Kann diese Unterkunft nur empfehlen und werde jederzeit wieder bei Erwin anfragen, wenn ich nach LA komme.
Manfred
2017-03-06T00:00:00Z
Super adorable house. It's private and Erwin was very accommodating with our check in time. Bed was so comfortable. Very nice area and close to a lot of attractions. Private gated parking was a plus. Would definitely stay again when I'm in town.
Karri
2017-01-18T00:00:00Z
Un logement parfaitement conforme au descriptif, idéal pour un couple ou 3 personnes. Logement calme, en total indépendance. Pour les visites, très proches d'Hollywood boulevard, Universal Studio. La ville de Los Angeles est très grande donc le reste on s'éloigne un peu mais rien de pénalisant. Très satisfait de ce séjour.
Jean-Yves
2017-02-22T00:00:00Z
Our stay at Erwin's was great! His wife checked us in when we got there and showed us everything we needed to know, and Erwin stopped by later to make sure everything went well, it was a nice touch. The apartment itself was small but everything we needed for a few nights in LA. It even has a nice back patio that you share with the other unit as well as a coin op washer and dryer. We had a great time, would definitely recommend booking this place!
Zach
2017-03-09T00:00:00Z
We had a terrific 3 weeks at Erwin's house and it was just perfect. The location is ideal, close to the freeway and to North Hollywood. Not too far from the airport and with lots of services around as restaurant, supermarkets, convenient stores etc. Erwin and his wife were very helpful and generous, treating us with coffee, fruit, water and always available to help us. They kept our bedsheets and towels clean, made sure that we had a parking spot inside the property and so on. Internet was fast and with no issues. The house is very clean and cozy, spacious and with lots of luminosity. The patio outside was an amazing area to chill during the day and at night. I really felt very welcomed and at home. I will definitely go back to Erwin's again the next time I'm going to be in LA. Thank you Erwin, you and your family were the best people met on airbnb so far.
Francesca
2017-02-13T00:00:00Z
Where to Start.. Erwin and the Place are amazing Erwin is a super host truly and the place is amazingly setup you just bring your clothes and thats it. You have everything you need and i say everything. The neighbourhood is having many restaurants but little drive to Hollywood. Parking lot available all the time, clean apartment and very comfortable Highly recommended for the host and the apartment.
Zakaria
2017-04-06T00:00:00Z
Typ pokoje
Celý dům/byt
---
Typ nemovitosti
Byt
---
Ubytuje
3
---
Ložnice
Los Angeles, Kalifornie, Spojené státy
My place is close to IHOP, Chipotle Mexican Grill, RALPHS, Gas Stations. You'll love my place because of the comfy bed, the kitchen, the ease.. My place is good for solo adventurers.
Shaqib was a superb host and super helpful. I really enjoyed my stay there.
Scott
2017-02-15T00:00:00Z
The room was actually for my husband, he told me that everything was clean and the apartment have a good vibe, he sleep very good!
Gabriela
2017-02-11T00:00:00Z
Only thing I must say is that it's listed as a private room, and it's the living room. He was gone most of the time which was cool. But he's also just an interesting guy seems to be up on anything u talk or know (URL HIDDEN) having him there sometimes wasn't a bad deal.
Johnathan
2017-02-13T00:00:00Z
I hardly saw Shaqib all week. Room is actually the living room, if travelling on a budget then it's great
Daniel
2017-04-01T00:00:00Z
Regular small-town neighborhood. Shaqib was a very good host, attentive to my needs. Made my stay comfortable. No surprises, which is good.
Khalid
2016-06-27T00:00:00Z
I enjoyed very much comfortable days. Shaqib was very reliable and friendly person and has a lot of consideration. I appreciated very much.
Chin Ok
2016-07-21T00:00:00Z
Apartment is nice. The bed is in the living room, so its not exactly private but there was hardly anyone there but myself, so you do get privacy. Parking is not the best because you have to park on the street and the street is not that big and there are a lot of cars. Shaqib was very helpful and always quick to answer any questions I had. Overall it was a nice experience.
Jarrell
2016-06-30T00:00:00Z
The place is not that clean and it is a little noisy. Anyway, Shaqib is a decent host.
Wanxin
2017-03-25T00:00:00Z
Typ pokoje
Soukromý pokoj
---
Typ nemovitosti
Byt
---
Ubytuje
1
---
Ložnice
Los Angeles, Kalifornie, Spojené státy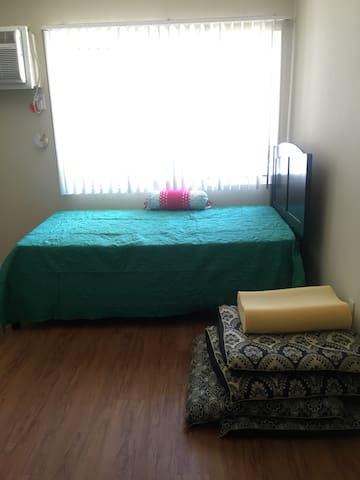 The couch is located in the living room. This listing does NOT come with FREE parking. Parking is within the neighborhood.
The listing is recommended for those on a very tight budget. There is no privacy in this listing, but my roommate/s are very respectful, so expect a quiet time. The space is in the living room, hence, you have full access to the TV. It is recommended that TV is turned off after 10 pm.
My place is near a bus stop and Walmart
Joseph was a very nice host. He offered to give me a ride to work in the morning. I liked that he turns his A/C down very low at night, because I like to sleep cold. There was another guest on the sofa next to me but I didn't hear their comings and goings because I'm a hard sleeper. I also had ear plugs. If you are a light sleeper I would suggest these. This was my first time using AIRBNB by myself as a guest vs hosting and I was pleased. Thanks Joseph!
Elena
2016-09-13T00:00:00Z
If you are looking for comfy place to just stay the night till your next venture.
Brenda
2017-02-12T00:00:00Z
Typ pokoje
Společný pokoj
---
Typ nemovitosti
Byt
---
Ubytuje
1
---
Ložnice
Los Angeles, Kalifornie, Spojené státy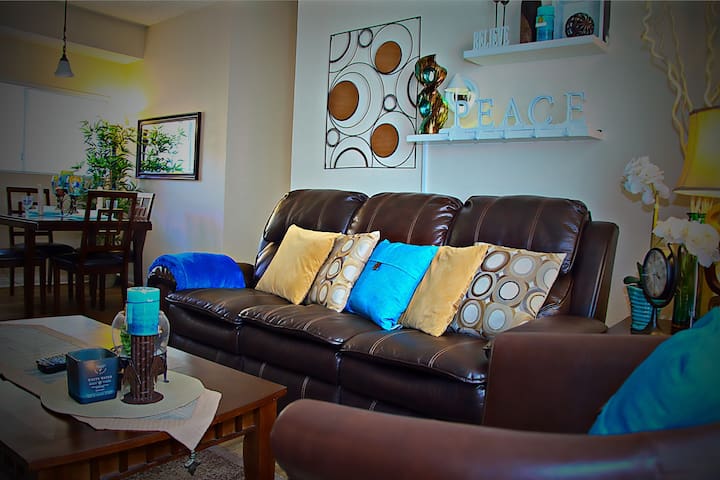 ** The "Security Deposit" does not leave your account at the time of booking. It is only charged after checkout if something is stolen/damaged ** Beautiful room in a 3bd, 1.5ba, two story townhouse. We're close to CSUN(1.5mile), Six Flags(14), Universal Studios(13), Santa Monica(22), Hollywood(25) Malibu(27). 20 miles from the beach. Right across the street from the Metrolink Train Station.
WELCOME to the beautiful San Fernando Valley! We're centrally located near many tourist attractions! You will have full access to the kitchen and appliances. Bathroom with shampoo, conditioner, hair drier and all amenities. Living room with a big comfy couch. Ice cold central AC to fight that California heat. Coin Laundry. Assigned Parking. Fast Wifi is also available. We are fairly new to AirBnB, so if there's anything you would like to see in the house that's not yet available, we would love to hear some feedback on how we can make your stay the best possible! :)
Wonderful experience! Vinny and Sherry are so welcoming! They really made us feel at home. I've never had a kinder AirBnb host. Our time there was amazing. It's definitely one we will never forget! I recommend staying here anytime you need to go any where near the San Fernando Valley! :)
Brandon
2016-09-09T00:00:00Z
Vinny and Sherye were very welcoming and excellent hosts! They even had fresh homemade cookies for us, as well as wine and chocolate in the room. The space was very clean and comfortable. They had plenty of essentials on hand and lots of to-go breakfast items, which were very appreciated! The room was a bit smaller than I expected and their building a little hard to find at first, but otherwise a great experience! Thank you!
Jenae
2016-08-30T00:00:00Z
Love the welcoming feeling . Location of place is great. Clean .
Hassan
2016-08-25T00:00:00Z
Vinny was a great host and I enjoyed staying at his place. It really felt like home and they answered any questions I had. Will definitely stay there again!
Anthony
2016-10-26T00:00:00Z
This is my second time staying here, and I have absolutely loved it! Vinny was very easy to contact and responds quickly. The place is always clean and the hosts are very welcoming. They are awesome to talk to, but also respect privacy if you want some alone time. A variety of breakfast is provided and there are multiple toiletries if you forgot to bring something. The bed is super comfortable, too!
Jess
2016-08-10T00:00:00Z
This is being my 1st experience I will ask more questions in the future regarding sharing the place with other people other than the hosts. Place was nice but needed some improvements; fan in bathroom, clean floor mat in bathroom, and keep AC on so windows are closed to avoid kids playing outside :) Vinny and Sherri are nice couple and wish them success in hosting more people with stringent background check!
Ali
2016-12-12T00:00:00Z
Staying with Vinny was great! He provides a nice place to stay and all amenities to be comfortable. I look forward to staying with Vinny the next time I'm in town.
Taylor
2016-12-01T00:00:00Z
Flott opphold med det lille ekstra! Utrolig koselig soverom, som møtte oss med både rødvin og sjokolade. Her føler man seg hjemme, og vertene har absolutt ordnet for sine gjester. Hele leiligheten har god standard og er veldig flott. Her vil du trives!
June
2016-11-11T00:00:00Z
Typ pokoje
Soukromý pokoj
---
Typ nemovitosti
Byt
---
Ubytuje
4
---
Ložnice
Los Angeles, Kalifornie, Spojené státy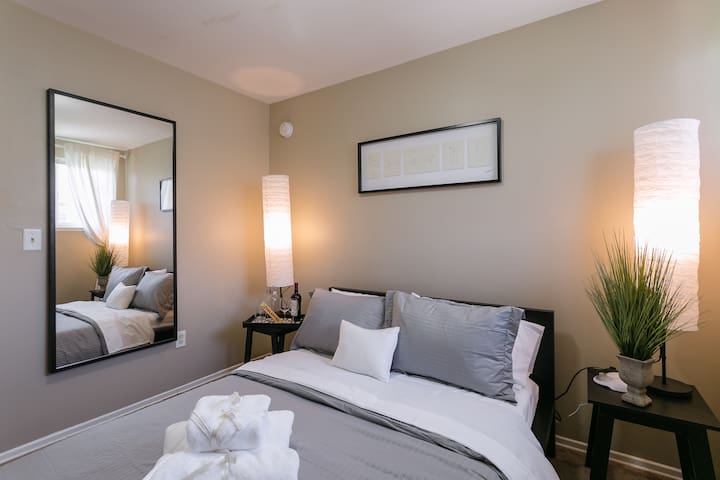 Villa Vincennes is a great 1BR/1BA apartment with full kitchen and bathroom near California State University - Northridge! Parking is included and there are several restaurants and amenities walking distance away! The building also has a pool and laundry onsite! The apartment can very comfortably fit 2 people plus a couch for a third if needed!
This is a great area with restaurants, coffee shops, bars and groceries stores within walking distance! It is also a 15 minute drive from the Westfield Topanga Mall!
It's a great spot in a great part of L.A.
Andrew
2017-01-17T00:00:00Z
It was great spot for us just to have place to crash while we were exploring and going to places around the area. Clean and simple
Travis
2016-11-27T00:00:00Z
Very close to restaurants, CSUN and malls. Parking space is very helpful.
Tina
2017-03-21T00:00:00Z
Несмотря на поздний час, Эрика встретила нас и помогла донести вещи. Это было сделано по нашей просьбе, но попасть в квартиру можно и вообще без хозяина, зная пароль. В шаговой доступности Калифорнийский университет, слышно, как красиво бьют его часы. Также в 5-7 минутах ходьбы огромная плаза, то есть несколько средних, масса кафе, ресторанов, магазинов и так далее. Район отдален от достопримечательностей, но он тихий, очень живописный, чистый и безопасный. Очень хорошая прачечная на территории жилого комплекса. Нам с детьми было комфортно. Спасибо!
Olga
2017-01-22T00:00:00Z
If you like the valley this is a great place to stay. About 30 min-1 hour from DT LA. If you don't have a car I recommend staying closer into the city.
Aysia
2017-01-30T00:00:00Z
Great host! Extremely convenient if you are here to visit CSUN for any reason... open the door and cross the street and there it is! Didn't need the parking, but really nice to know it's available. Full kitchen was nice as well! It's a student area, so it wasn't exactly quiet, but this was obvious being across the street from a college campus. If you are sensitive, just wear earplugs or something when you sleep. The convenience was just too good to pass up. Thanks a lot!
Benjamin
2017-02-28T00:00:00Z
This is walking distance to the Cal State testing center. It was great to be so convenient to campus.
Penelope
2017-02-06T00:00:00Z
Erika's apartment was clean and cozy! The location is great as well, it's close to popular destinations such as Santa Monica.
Joseph
2016-11-23T00:00:00Z
Typ pokoje
Celý dům/byt
---
Typ nemovitosti
Byt
---
Ubytuje
5
---
Ložnice
Los Angeles, Kalifornie, Spojené státy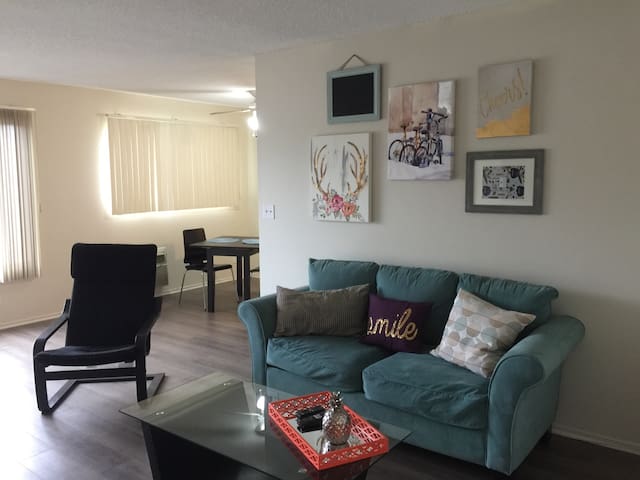 The new leather sofa bed/1person in a living room, clear and comfortable, share one bath room and kitchen offer breakfast . Close to (PHONE NUMBER HIDDEN) freeway .(新的真皮沙发1位,公用一卫生间以及厨房并提供早餐)
The family is great. Felt really welcomed and comfortable around them. They were also super nice to feed you breakfast in the morning and just really super sweet kind hearted individuals. The sofa couch was comfortable to me as well and they kept the place really clean, so I enjoyed my stay.
Bryce
2016-08-06T00:00:00Z
Diana was very accommodating. I arrived late and my bed was ready; I even got a shower. We shared breakfast & conversation. I am new to airbnb, but from this experience I am glad I am now a part of it. By arriving at night it was hard to get my bearings, but once in the apartment it couldn't have been nicer. It was as expected, clean & tidy. I slept well and was very comfortable.
lynnette
2016-10-14T00:00:00Z
This was my first stay with Diana and her family. I had a free parking spot in the secure garage. The family was so nice and very accomodating. I got there around 7pm and they gave me cold water and snacks which was nice because it was very hot outside. Later on, they had dinner which was a yummy Chinese dinner. I told them I was vegetarian and they were so nice about it where they made me a veggie salad and spicy rice. I also chatted with them about Chinese culture and we had some fresh cherries for dessert! We watched a BBC show on a school in the UK that taught Chinese style to the kids and then British style in China which was so cool and funny! They have secure wifi too which was fast. At night, I slept on a comfy couch that folding out into a bed. Very quiet and safe neighborhood so I had a great sleep! :) In the morning, Diana made a yummy breakfast with fresh fruit and a green tea with leaves from her city. We chatted about foods that grow in our hometowns. The family was so lovely and did alot to make me feel comfortable which I appreciated! I would totally recommend Diana's! :)
Jackie
2016-07-25T00:00:00Z
The host was really helpful and nice!
Tahir
2016-11-06T00:00:00Z
Got more than expected, fantastic hostess.
Ed
2017-03-11T00:00:00Z
Diana's house is really cozy. We had some great conversations and the experience was unexpectedly good for a last minute booking. You can't miss this property if you are looking for a quick and convenient place to stay.
Cam
2016-08-15T00:00:00Z
Nice house,clean And Diana very friendly
Ahmad
2016-08-23T00:00:00Z
Diana and her daughter are really great!! They took care of me and my friend very well! They are very nice people, and help you around with anything you need. We felt better than in our own home.
Pilar
2016-07-27T00:00:00Z
Typ pokoje
Společný pokoj
---
Typ nemovitosti
Byt
---
Ubytuje
1
---
Ložnice
Los Angeles, Kalifornie, Spojené státy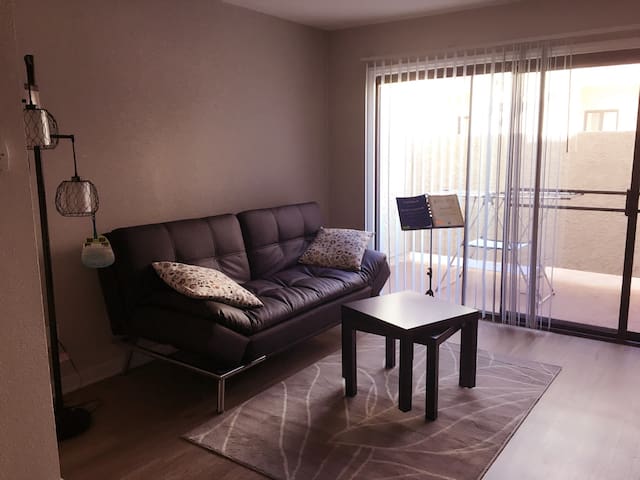 My place is close to family-friendly activities, nightlife, and public transport. You'll love my place because of the location, the neighborhood, and the outdoors space. My place is good for couples, solo adventurers, business travelers, and families (with kids).
Typ pokoje
Soukromý pokoj
---
Typ nemovitosti
Byt
---
Ubytuje
2
---
Ložnice
Los Angeles, Kalifornie, Spojené státy
Only host couples or single women NO SINGLE MEN! NO PETS Warm sunny, cozy room, with full bath. Very quiet and peaceful neighborhood. Near CSUN walking distance. Hyperbaric Chamber & Infrared Sauna usage for additional fee.
Barbara was an amazing host. Super friendly and super attentive. Her house is beautiful. Super confortable room and private bathroom. Also the kitchen is huge. Her home decor is spotless. I really thank her for making us feel at home and for being such wonderful host.
Alejandro
2015-04-12T00:00:00Z
Barbara has a lovely home and made us feel real welcome. She was very available to assist us while still allowing us our space. The whole complex is very secure. It is very peaceful and all the people we met were very friendly. It was perfect for us being so close to CSUN for us to go watch our son play baseball. Barbara allowed him to visit and showed great interest in his success. It made us feel less like strangers. Her down to earth nature makes her very easy to communicate with. Towards the end it kinda was like being at home. If I ever need a place to stay I would go back to her home in a moment's notice.
cindy
2015-03-30T00:00:00Z
We stayed with ms barbara for a total of 2 weeks. The condo has complete amenities and is very clean. Ms barbara is very helpful and accommodating. She is always there to help us and guide us if we have questions. The whole condo complex is very safe and accessible to groceries, malls and csun. We will definitely stay with her again if we ever find ourselves in northridge. :) 5 stars!!!
Arlene
2015-08-12T00:00:00Z
This is a really nice place to stay and Barbara is very friendly and helpful. I stayed here while I was looking for an apartment to live in during my semester at CSUN. Therefore the location was more than perfect as I could walk everywhere. I highly recommend to stay at Barbara's:)
Evelyn
2015-08-19T00:00:00Z
Barbara's place was so wonderful. It was calm and peaceful and quiet just like her! We stayed for 6 days and enjoyed talking with Barbara. Everything about the place was comfortable and clean. The bed was great and our private bathroom, awesome. The building is secure and quiet! We enjoyed our stay very much and highly recommend staying there.
Lauren
2015-11-19T00:00:00Z
Even when we arrived at 1 am instead of our regular scheduled time due to traffic, Barbara was so accommodating and made sure we had a pleasant stay. The house has a wonderful decor and the room we stayed in was clean and comfortable. Overall, we had a pleasant stay with Barbara.
Alma
2015-03-14T00:00:00Z
Everything was nice and clean. Barbara's house has a great vibe and nice natural scents. I briefly interacted with Barbara too and she seems a great person. Highly recommend.
Fabio
2015-08-31T00:00:00Z
Barbara was an amazing host! Her home was perfect and exactly as pictured. Definitely keeping in contact & recommend anyone in the area to stay here. Barbara is so warm & welcoming :)
Ashley
2015-07-25T00:00:00Z
Typ pokoje
Soukromý pokoj
---
Typ nemovitosti
Byt
---
Ubytuje
2
---
Ložnice
Los Angeles, Kalifornie, Spojené státy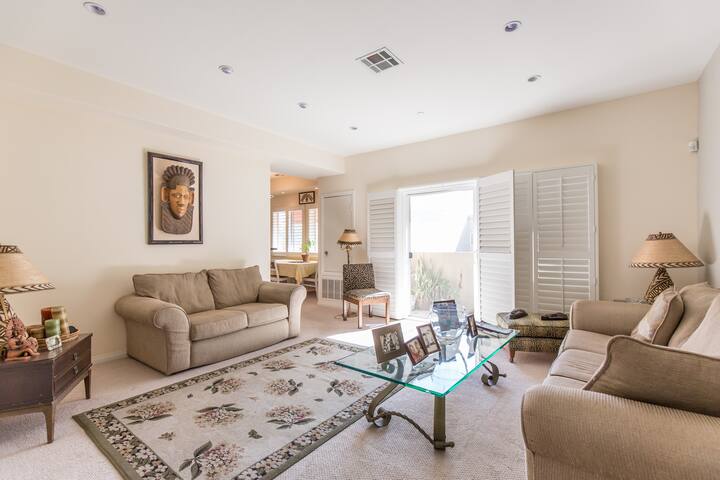 This comfortable and versatile apartment will accommodate to any guest whether you're trying to relax by the pool, or enjoy the many great things LA has to offer. This location makes it ideal for visitors wanting to see city attractions.
Spacious, brightly lit, great location, and newly furnished. Simple one bedroom/one bathroom apartment with minimalistic, but chic decor.
The one-bedroom apartment is very spacious and the kitchen is well stocked which we really appreciate. Because of that, we didn't starve on the first night when we arrived late and tired. The apartment is located in a gated community and the gate is only open in work hours, 7AM - 6PM, I guess. And the control to that gate is in the apartment. When we arrived late and left early, all out of that time, it was not convenient. So, future guests may need to plan accordingly and contact the host about that.
Jeremy
2016-06-18T00:00:00Z
Had a good stay at Kelly's apartment. Perfect for us as we were searching for housing in the CSUN-area.
Rasmus
2016-08-17T00:00:00Z
I wish this could be positive, but basic expectations were not met by the host or apartment. There were only 3 towels for 4 guests, not enough toilet paper, and no top sheets for any of 3 beds. Bed and box springs were on the floor, not a frame which may be hard for some to maneuver. The apt was dusty, doors and walls dirty (easily wiped off because I couldn't stand it), food left in the refrigerator and the refrigerator was dirty, carpet stained and dirty and the living room a/c did not cool sufficiently. The garage was very small and only a compact car could easily access. Kelly's solution was to go buy the above items and be reimbursed or cancel the reservation. I was able to contact her but I never saw her. If none of this bothers you, this may be the right place.
Bonita
2016-07-06T00:00:00Z
Ale & Kelly's apartment was very nice and clean. My friends and I had a great stay and would come back again if in the area. There were some issues we experienced with towels, but Ale was so gracious in helping us sort it out. Would recommend if you are staying in the area! :)
Ricki
2016-06-15T00:00:00Z
Overall the LA experience was incredible! My friends and I thoroughly enjoyed our trip. The apartment is very quaint and comforting. We really appreciated the "home-y" feel of this space. Thank you so much Kelly for receiving us. We very much appreciate it. For those looking to travel to LA, this location is about a 30mjn commute to all the sights and attractions LA has to offer. You'll need a car to move around.
Seaham
2016-06-05T00:00:00Z
Typ pokoje
Celý dům/byt
---
Typ nemovitosti
Byt
---
Ubytuje
5
---
Ložnice
Los Angeles, Kalifornie, Spojené státy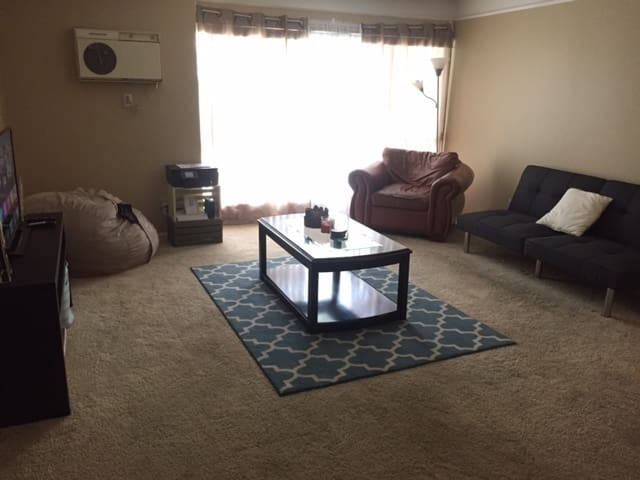 The neighborhood is a students and families neighborhood. Fairly quiet, mountain view from the apartment window. The decoration of the apartment is cozy. TV is available with cable and apple TV.
Typ pokoje
Soukromý pokoj
---
Typ nemovitosti
Byt
---
Ubytuje
1
---
Ložnice
Los Angeles, Kalifornie, Spojené státy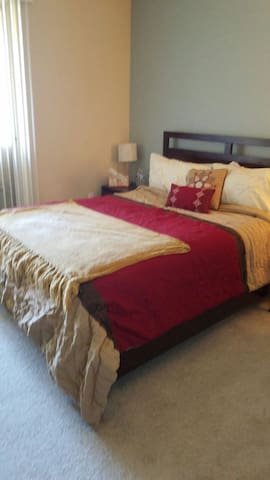 One bedroom apartment in the heart of Los Angeles in Northridge. Cozy, comfortable and quite. Close to Cal State University Northridge. Great neighborhood, central to all areas of Los Angeles. Private parking spot provided in the back of the building.
Great place for the price. It was perfect to have our own place to come to after long busy days in LA traffic. Everything was as listed and our host was very quick with communication and answers to any questions we had. The bed was extremely comfortable and our only complaint was that we couldn't stay longer. Great stay.
Taylor
2017-03-13T00:00:00Z
Yashar's place was very cozy I liked every second I stayed there!
Ievgenii
2017-03-31T00:00:00Z
Great place to stay if you have something to do or someone to visit in the area!
Ruth
2017-03-26T00:00:00Z
Great location and close to many things to do. Very quiet place and very clean. Our host was great and responds very quickly.
Tiffany
2017-04-09T00:00:00Z
Typ pokoje
Celý dům/byt
---
Typ nemovitosti
Byt
---
Ubytuje
2
---
Ložnice
Los Angeles, Kalifornie, Spojené státy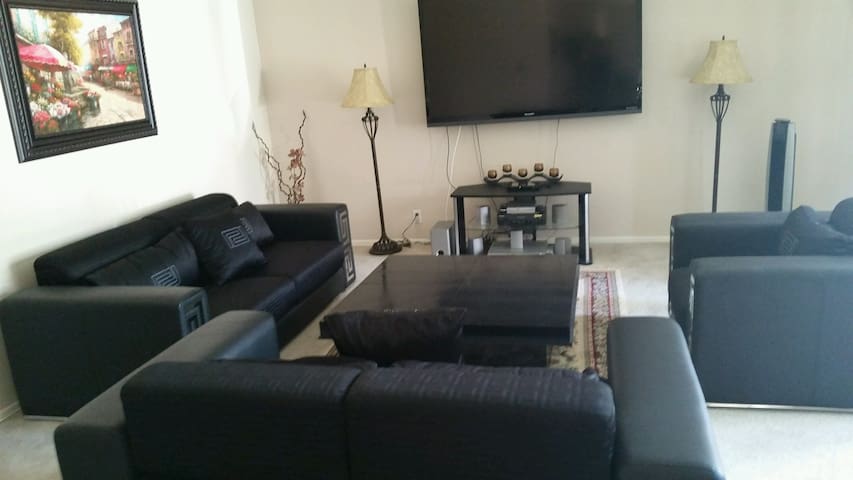 Great for privacy and quiet. Neighborhood is serene. Wi-Fi, TWC cable, flat screen, full bath incuding shower. Air/Heat. Full Kitchen. Parking.
Typ pokoje
Celý dům/byt
---
Typ nemovitosti
Byt
---
Ubytuje
1
---
Ložnice
San Fernando, Kalifornie, Spojené státy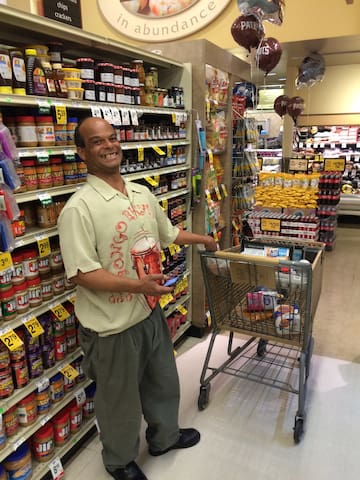 Pro zobrazení celkové ceny zadej termín. Mohou být přidány další poplatky a daně.