Enjoy your stay on a little mediterranean island! Our apartments are furnished in Mediterranean style, with a pool, air-conditioned, fitted with wlan connection, terrace and private parking. Located between the olive trees and little stone walls.
This listing fits people who enjoy peace and quiet; if you are looking for a place where you can spend your holiday going back to the Tvrdic Honey farm is the place
We had a great time in Grohote! Very relaxing and quiet, great terrace, comfortable and more than well-equipped apartment and amazing hosts. Thats the perfect place to calm down - thank you! :)
Michèle
2016-08-08T00:00:00Z
This place is awesome! The apartment is located in the middle of Solta on a little hill. So from the veranda you have a wonderful view of the islands mediterranean landscape. Surrounded by olive trees this place is an oasis of calm perfect to enjoy the quiet of nature. The family Tvrdic is very friendly and gave us a warm welcome. They are always around if you have any questions or if you need a recommendation for a good restaurant. The apartment is lovely decorated and clean. You have everything you need. There is a nice market in the village where you can get some fresh local food. I definitely recommend this place. Well done! =)
Chris
2015-08-21T00:00:00Z
Fantastic experience. Tucked away on the island of Solta in the village of Grohote. Picked up from the ferry and taken to the apartment by host's family. A beautiful setting. No intrusion from the hosts and left to our own devices. Good location to get around the island. The garden is a bonus - the apartment has a balcony looking over it. private and idillic. Kitchen had all the amenities needed plus more. Olive oil sourced from the garden, coffee and honey provided. At the end of our visit, we were seen off and driven down to the ferry. Highly recommended.
Luke
2016-08-01T00:00:00Z
Les parents de Tomislav nous ont très bien accueillies ma mère et moi. Le grand studio est très bien équipé ainsi que la cuisine. La literie est confortable. Nous avons pu gouter le miel récolté par le père de Tomislav. La vue de la terrasse est très reposante et le calme règne dans la propriété. Nous avons passé un excellent séjour. Nous avions une voiture et c'est un moyen très commode pour visiter l'île.
Anne
2016-05-14T00:00:00Z
Goran and Natasa were absolutely fantastic hosts who welcomed us warmly and made us feel at home from the word go. Goran was even kind enough to collect us from the ferry port in Rogac. Once we arrived at our apartment Natasa informed us of all the important information we needed to know and provided us with a useful and extensive booklet they've made to tell you about the island of Solta. We especially enjoyed being a part of the entertaining and interesting talk given by Goran about looking after bees and producing honey; so much so that it has inspired us to try and do it ourselves back home. Goran has a lot of respect for the bees because he knows how important they are to the world and is doing a great job of spreading this message. The apartment itself was amazing and so homely. We loved the traditional style of the place and layout - it looked even better in person than it did in the pictures. Furthermore, we were provided with coffee to be used with the filter coffee machine, salt and pepper, olive oil and vinegar and even a pot of oats alongside the delicious rosemary honey that they produce. This apartment had everything we wanted and more, including our very own terrace looking out onto the beautiful garden. The nearby town of Grohote is just five minutes walk away had a daily market which sells fish in the morning and fruit and veg throughout the day. There is also a lovely little Konobo (restaurant) that sells delicious food as well as the islands famous black wine. This place is perfect if you're looking for somewhere nice and relaxed to get away from the daily stresses of a hectic lifestyle and to have an authentic Croatian experience on an Island less well known to other tourists. This place was without a doubt the BEST part of our trip and our only disappointment was that we didn't stay here for longer, but we fully intend on coming back here again one day. What really made it for us, was the warmth and kindness of our hosts. If that's what you look for in an Airbnb experience, then this is the place for you. Many thanks once again Goran and Natasa. So long as you continue to provide this service, we will be back!
Camille
2016-09-26T00:00:00Z
Et dejligt og meget hyggeligt sted i rolige omgivelser. Boligen svarer til beskrivesen og billederne, der var pænt og rent og alt hvad vi havde brug for. Til denne bolig hørte en super lækker overdækket terrasse, tæt på poolen. Boligen ligger i udkanten af Grohote og i gåafstand til bager, grøntmarked, købmand og slagter.
Maria
2015-07-23T00:00:00Z
My brother and I spent three nights over there. Such a NICE EXPERIENCE! Tomislav was precious help regarding the transportation to the island (info about the ferries etc). Goran and Natasha (Tomislav parents) welcomed us and picked us at the port of Rogac. We then discovered our apartment and loved it right away. Clean, tidy, cosy, it is a really nice place. The bed is great, the place is fully furnished (sheets, towels, everything you need in the kitchen...). Natasha gave us information and advice about the island of Solta. Everything was well explained. The garden of olive trees is magnificent, and the swimming pool (10 seconds walk from our terrasse) is perfect. This place is a great solution if you want peace, calmness, charming environment. Tomislav parents, who live in the same property, are SO nice it is kind of unbelievable. We cannot thank them enough for their help and kindness. We could not dream of anything better to finish our trip to Croatia. I wish we could return there very soon!!! Would recommend (PHONE NUMBER HIDDEN) times.
ARTHUR
2016-07-22T00:00:00Z
We had a wonderful time with Tomislavs Parents at their beautiful home. They were incredibly friendly, welcoming and helpful, at the same time beeing very careful not to be intruding. Tomislav, their son, who takes care of the initial communication is very easy to communicate with and just as willing to help as his parents. The apartment is very clean and equipped with everything you need. Especially the big and beautiful garden with its olive trees and hammocks and the pool is reason enough to visit this place. Pretty much every place on this island is at least in bike distance and Grohote is probably the best place to start your hikes to one of the many bays on the islands shore. We absolutely recommend this airbnb to everyone who is looking for a peaceful and quiet vacation! Thank you very much!
Mario
2016-05-31T00:00:00Z
Typ pokoje
Celý dům/byt
---
Typ nemovitosti
Byt
---
Ubytuje
2
---
Ložnice
Grohote, Split-Dalmatia County, Chorvatsko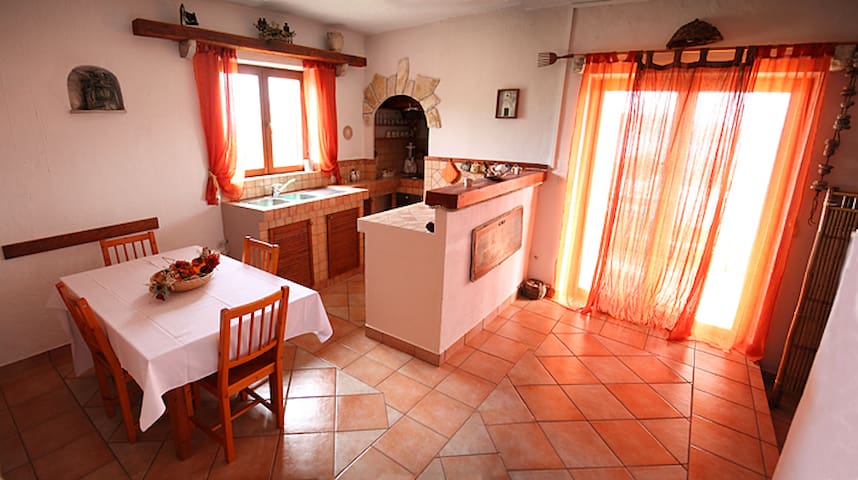 If you are looking for a quiet place, to spend your holiday, with your family, away from the noise and the crowd, we can offer you to rent a holiday villa in charming village Grohote. We are pet friendly house. Villa Bezić offers the best way to bring you inner peace and joy.
This 1 bedroom house with 1 bathroom, kitchen , spacious yard with natural shade of Mediterranean vegetation , living and dining room , is excellent choose for your vacation. The whole house is at your disposal, including a private garage with parking place. House is made for 2-4 persons , it is situated 100 m from the village center and yet is far enough to be in a complete peaceful surrounding. The price for the accommodation includes towels , cleaning before your arrival , bed linen , completely furnished kitchen with all necessary equipment for cooking.
Nearby is excellent restaurant with local food , very cheap and with great choices of various meals. Island of Šolta offers enough activities , during your vacation ,to keep you busy and excited. Šolta is an ideal place for recreation and relaxation. Discover cultural heritage of mid Dalmatia throw concerts of local singers , exhibits , local traditional customes, summer festivals , beach bar nights and disco nights. Choose Šolta to rent our house for your summer vacation ; the place known for astonishing sunsets and unspoiled nature with Mediterranean colors and crystal clear blue sea.Vacation on island Solta is something that many aspire , but only some experience. The house is situated in the centre of the old and authentic village, surrounded by old houses and the spirit of the historical heritage.
We were at Tomislav's villa for one week and after all we know now that it was not enough…. Tomislav is really helpful, ready to show everything and gives suggestions what to do or where to go. He is a real host with good english (what is a bit rare there) The villa itself is really equipped, don't need to take your own bottle opener The bower outside is amazing, perfect for a refrigerant afternoon beer or a romantic dinner. The area is nice, we couldn't hear any neighbor but we found a really good restaurant only two corners far (Tomislav's suggestion). The supermarket is close and there is a fishmarket in the morning The island is good to turn yourself off. Beautiful beaches and great places to walk in the wild So we can not say any bad word about the trip, absolute 5 point, we will surely turn back next year for a bit longer time!
Zsombor
2014-08-03T00:00:00Z
Well equipped and pleasant apartment. We spent a relaxing week in this house and in Solta. The host is very friendly and helpful for anything you need. Grohote is the real centre of the isle so yuo can go from here in every places in few minutes. Also Bicycles and ping-pong table are useful and playful accesories. Description is corresponding to the actual state. W Tomislav
Federico
2014-08-24T00:00:00Z
Tomislav was extremely friendly med helpful. He arranged a car from the AirPort to the ferry and then picked us up himself from the ferry. We felt very welcome! During our stay he answered all of our questions and gave tips for what to do on Solta. For five days he even borrowed us his private car, which was beyond what could be expected! Such a Nice guy! On our trip Home he again helhed with the transportation. The House was Nice - the garden even nicer! As I understand the House is being rennovated soon, so No need to comment on that.
Didde Sofie
2016-09-03T00:00:00Z
My wife and I stayed at Tomislav's house in Grohote for 1 week on our honeymoon. It was a wonderful experience, perhaps our best on airbnb so far. First of all, Tomislav is such a friendly, open and carrying person. We liked him very much. He was always reachable and very helpful in all respects, both prior to and after arrival (giving us tips on Solta, helping us to find ferry schedules, etc.). The house is spacy, comfortable and clean. All the equipment was new and worked properly. The view on the village is picturesque. We really felt at home in this house, feeling relieved when coming back from day trips to Split or Trogir. It is a proper place to rest, to breathe calm. The location, Solta Island and the village of Grohote, are of unequaled charm! You have everything in Grohote: a restaurant, a market, a cafe, a bakery, a fruit market, a pharmacy, a post office, everything. And yet, it is unique stone house village. Nearby, Rogac and its two beach-side restaurants is at a 30 minutes walk. If you like biking, you can go to Maslinica which has a beach we highly recommend. For those who like wildness, there are several natural coves on the southern part of the island. Mesmerizing! In short, if ever again in Croatia, we will definitely come back.
Matthias
2014-06-01T00:00:00Z
Tomi is a great host! We had a very warm welcome and he took care of everything. Everything was like described. The house is well equiped. The recommended restaurant was great and You can reach every place on the Island im 15 minutes.
Heiko
2015-09-11T00:00:00Z
Typ pokoje
Celý dům/byt
---
Typ nemovitosti
Byt
---
Ubytuje
4
---
Ložnice
Grohote, Split-Dalmatia County, Chorvatsko
Apartment for two in an idyllic quiet bay on the island of Šolta near Split. The apartment is located 40 meters from the sea. Untouched nature, peaceful environment, crystal clear sea..
My studio apartment is only forty meters from the sea. The isolated and surrounded by olive trees and other vegetation. Noise is the sea and the birds singing.
The studio was perfect for my wife and I and hearing the sound of the sea every night was a real treat. It is a very small village so keep that in mind very small roads (not very wide) but really a wonderful location for that quiet vacation get away. Davor was at the ferry landing in Šolta to meet us and even helped us manage to get some groceries. He was available via phone whenever we needed assistance. Really Donje Krusica is a wonderful hideaway location and we even were able to get some excellent snorkeling all within the bay just steps away from the studio.
Thomas
2016-06-18T00:00:00Z
Our trip in Solta was very pleasant. The apartement is located in a beautiful bay were you can have peace time and meet incredible people. Jagoda and Davor send us all the information we needed to take benefit of this trip. Thanks again for this good souvenir.
Mélanie
2016-08-19T00:00:00Z
Jagoda ist sehr nett und hat sich gut um uns gekümmert. Das Apartment war sauber und gepflegt, auf der kleinen Terasse kann man den Tag wunderbar ausklingen lassen. Leider war es nachts etwas heiß, da keine Klimaanlage verbaut ist, jedoch hat Jagoda uns auf Nachfrage einen Ventilator zur Verfügung gestellt. Morgens zirpen die Zikaden recht laut, sodass ich die Fenster morgens schließen musste. Ansonsten war es eine angenehme kleine Unterkunft, die aber sehr abgeschieden ist. Die Unterkunft ist am Besten mit Roller bzw. Auto zu erreichen.
Daniel
2015-07-28T00:00:00Z
Typ pokoje
Celý dům/byt
---
Typ nemovitosti
Byt
---
Ubytuje
2
---
Ložnice
Grohote, Šolta, Croatia, Chorvatsko
My place is close to the beach. You'll love my place because of the neighborhood and the outdoors space. You'll love my place because of the location, the people, the ambiance, and the neighborhood. My place is good for couples, solo adventurers, business travelers.
Donja Krušica does not have any super market, cafe bar, restaurant etc. For supplies we recommend you to go at Grohote, which is far 10 minutes by car. There are two big shops, bakery, fish market, butcher's shop, open market, post office, pharmacy and newspaper shop. There are ATM-s in Grohote, Rogač and Stomorska, and exchange office in Grohote, Rogač and Maslinica. In Grohote, there is modern ambulance, in case you need medical help. If you want to have fun, we recommend you to visit Nečujam, where are swimming pool, tennis and volleyball playgrounds, discotheque, pizzeria, cafes and confectionery shop. Donja Krušica has several pears located 100m from the house and it is perfect places for suntaning. Water is clean and transparent, also there is one natural beach (10 minutes walking from the house) where you can enjoy in peace, magnificent view and beautiful clean sea. Šolta is full of small, public beaches where you can enjoy in nature, crystal sea and intimacy. In Maslinica you have diving center where you can rent diving equipment or and learn how to dive.
Typ pokoje
Celý dům/byt
---
Typ nemovitosti
Byt
---
Ubytuje
4
---
Ložnice
Grohote, Split-Dalmatia County, Chorvatsko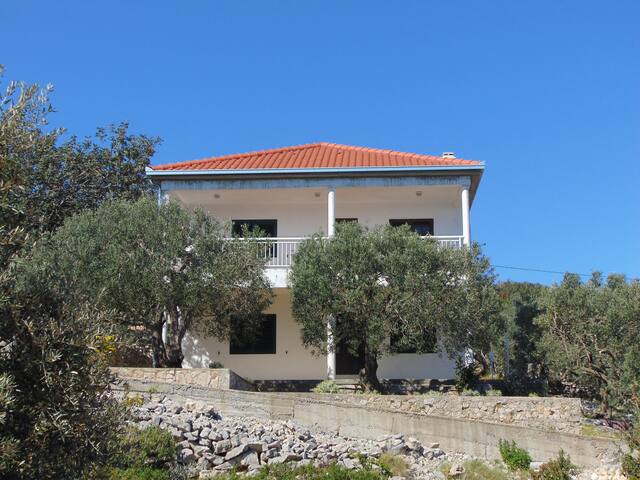 Enjoy your stay on a little Mediterranean island! Our apartments are furnished in Mediterranean style, with a pool, air-conditioned, fitted with wlan connection, terrace and private parking. Located between the olive trees and little stone walls.
This listing fits people who enjoy peace and quiet; if you are looking for a place where you can spend your holiday going back to the Tvrdic Honey farm is the place
Wir wurden an der Fähre in Šolta von Goran abgeholt und zum Appartment gebracht. Ein Parkplatz stand uns direkt vor dem Appartment zur Verfügung.Alles entsprach absolut der Beschreibung und die Wohnung enthielt alles was man braucht und noch zusätzlich Kaffepulver, Knoblauch, einige Gewürze , Cornflakes ,Müllsäcke , Spülmittel , Küchenpapier , Alufolie , sowie Essig und Öl . Auch Hand- und Badetücher und Geschirrtücher waren ausreichend vorhanden.Das Appartment verfügt über Trinkwasser . Die Gastgeber konnten uns schöne Buchten empfehlen. Als unsere Tochter krank wurde erkundigte sich Goran mehrmals nach ihrem Befinden und bat uns sogar Propolis aus eigener Herstellung an. Ein Gläschen Honig bekommt jeder Gast. Goran und Nataša sprechen exzellentes Englisch und waren stets zurückhaltend aber immer zur Stelle ,wenn man Fragen hatte.Wir hatten das Glück ,dass zur gleichen Zeit die sehr nette , hilfsbereite Tochter von Goran und Nataša mit ihrer Familie zu Besuch war , denn sie spricht ausgezeichnet deutsch . Sie versorgte uns zusätzlich mit wertvollen insidertipps (die Konoba im Ort hat erstklassisches Essen,aber besser reservieren und nur Barzahlung ). Ab und zu kam Nataša vorbei um uns Kuchen zu bringen oder Feigen .Ab einer Woche Aufenthalt bekommen die Gäste von den Gastgebern ein fantastisches Essen zubereitet, bestehend aus Brothäppchen und Thunfisch , gegrillten Fischen und frisch gepflückten Feigen . Die Ruhe auf dem kleinen Anwesen war unglaublich , der Pool absolut wunderbar. Wir fühlten uns während unseres kompletten Aufenthalts absolut wohl . Vielen Dank , Nataša , Goran und der ganzen Familie !!!!!
Jutta
2016-08-20T00:00:00Z
The host canceled this reservation the day before arrival. This is an automated posting.
Nicolas
2016-04-12T00:00:00Z
As a family of three, including a seven year old daughter, we had the most awe inspiring time. The accommodation was full of charm and we slept like logs! We loved using the kitchen to cook local produce which is a first for us with self catering and the local shop and markets are well within walking distance. We stayed in Trogir, Split and Grohote during our stay in Croatia and this was by far the best option and out daughters favourite.
Hazel
2015-07-04T00:00:00Z
We had a nice time and were able to meet a nice family. Goran and Natasha welcomed us warmly and were at any moment we needed them available for us. Thank u so much for the nice stay.
Immi
2015-09-22T00:00:00Z
We had a wonderful stay at the honey farm. Everything was very comfortable, the pool was lovely and the area was beautiful. Goran was a great host and even picked us up from the ferry and showed us around the town to point out the shops and local restaurant which was very useful! We will definitely be back!
Jasmine
2016-09-12T00:00:00Z
Our stay with the Tvrdic family was wonderful. They arranged to pick all six of us up from the port and welcomed us warmly into their home. The three apartments are a great size for couples, and even prettier than in the photos. The pool is great to relax beside of and the olive trees provide really natural and charming shade in the heat of the day. Goran and Natasha,the owners of the honey farm, helped arranged transport around the island for us all each day and suggested amazing places to eat and visit. They could not have been more helpful, together with their son Tomislav who answered all our questions in advance. Must dos during any stay are to enjoy Goran's bee presentation and also kayak around necujam. The place is perfect for couples, families and individual travellers alike. Thank you again for our unforgettable stay!!
Sandy
2016-07-10T00:00:00Z
Excellent place to stay. Peaceful, relaxing, and beautiful. The pool, garden, and BBQ are added bonuses. And moreover the Goran and his wife are friendly and helpful (and not intrusive). Highly recommended!
Tom
2016-07-23T00:00:00Z
Staying at this beautiful honeyfarm oasis was a home away from home for my husband, myself and our 8 year old daughter. It is set up high on the island of Solta walking distance to the small town Grohote and in beautiful stone streets to wander and get lost amongst fig and olive trees. Grohan and Natasha are excellent hosts. They have a beautiful secluded property with 3 apartments to rent, fully stocked kitchen, comfortable beds, air conditioning and full communication with both of them for anything additional you need. There are hammocks at the pool and right outside our front door, and the pool is cool and clean and inviting at anytime you want to swim. The town of Grohote had all the produce and local products we needed to cook, wine, olive oil and honey are all proud products of the island! DO NOT MISS the Honey Bee education and tour by Grohan, and if you get the chance sample food cooked by Natasha with their honey products, it is a must and a wonderful way to connect with the island, its people and culture. If you love bees, family, slowed down island life, and hosts that go above and beyond for you, definitely book a stay here, you will want to come back again and again! Leave some room in your luggage for honey products and delicious honey!
Rachael
2016-07-20T00:00:00Z
Typ pokoje
Celý dům/byt
---
Typ nemovitosti
Byt
---
Ubytuje
3
---
Ložnice
Grohote, Split-Dalmatia County, Chorvatsko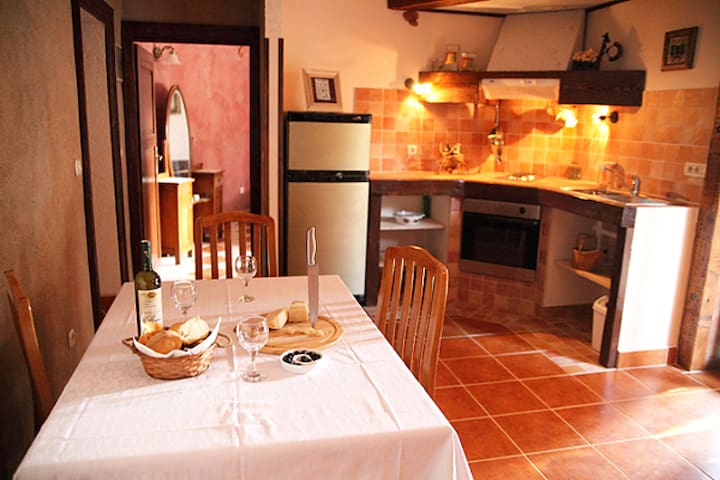 If you are looking for a quiet place, to spend your holiday away from the noise and the crowd, we can offer you to rent a holiday house or apartment in charming place called Grohote. We attract guests that wish to bring their families on the island to get a taste of true island living: a simple, healthy and traditional life.
The house is situated on the edge of Grohote, on the way to Rogač. The house has beautiful view to the Rogač port. House has one apartment for renting while in the other apartment owner lives. In apartment you have: •2 bedrooms (with double bed) •1 bathroom, •kitchen •living room (has one pull out sofa) •balcony with beautiful view (situated on the north and south part of the house) •beautiful garden with barbecue.
Town of Grohote is situated on the border of Šoltansko polje, on the crossing of the road that connect Šolta's two most distant towns, Stomorska and Maslinica, and the road that leads to Rogač port. The oldest and largest town on the island has always been, and still is, economic and administrative centre of the island, although its inhabitants have traditionally always been farmers, fishermen or have worked with lime. In Grogote you have two big supermarkets, bakery, fish market, butcher's shop, open market, post office, pharmacy and newspaper shop. There are also ATM-s in Grohote and exchange office. Grohote are situated 1km from Rogač were the ferry station is and were are the most of the public beaches. In Grohote you have bus station that is connecting port of Rogač and Grohote so the personal car is not necessary.
Typ pokoje
Celý dům/byt
---
Typ nemovitosti
Byt
---
Ubytuje
5
---
Ložnice
Grohote, Split-Dalmatia County, Chorvatsko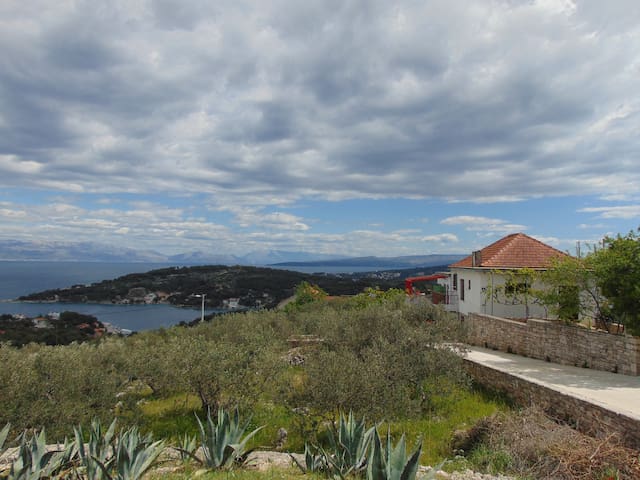 This house is actually two apartments and this listing is for the UPPER APARTMENT ONLY. If you would like to rent both apartments pease see our other listing.
Typ pokoje
Celý dům/byt
---
Typ nemovitosti
Byt
---
Ubytuje
6
---
Ložnice
Grohote, Split-Dalmatia County, Chorvatsko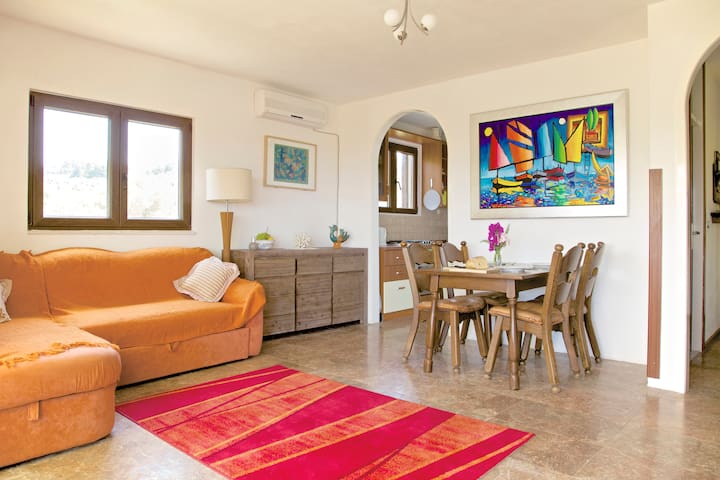 Cozy apartment on the top floor with a beautiful view of the cove and little town of Grohote. Comfortable for up to 6 people, with free parking, wi-fi, flat screen tv and everything else needed for a great holiday.
Our apartment has been recently renovated and can fit up to 6 people. With a stunning view of the town beneath it, and proximity of everything else ( restaurant, coffee shop, grocery store ) you will definitively have a good night's sleep without having to miss anything the little town of Grohote has to offer.
Quiet and comfortable environment, great for a good nights sleep but also close to the beach and the town.
We haven't seen Vlatko but we met his wife who came looking for us by car from the ferry to the place. And it was really nice because the appartement is really up on the island and with big luggage it would be very difficult. We did the come back by walk and it was ok. The place is at 10/15min from the sea (down) in one side and 10-15min from the center of the town (up) with the supermarket in other side. The place was clean and quite. We staied only one night and unfortunatly it was really cloudy and windy so we couldn't enjoy the terrace. The view is really great! The island is really calm and almost nothing to do (at least with no car). Perfect for persons who want relax.
Laëtitia
2016-09-08T00:00:00Z
Typ pokoje
Celý dům/byt
---
Typ nemovitosti
Byt
---
Ubytuje
6
---
Ložnice
Grohote, Split-Dalmatia County, Chorvatsko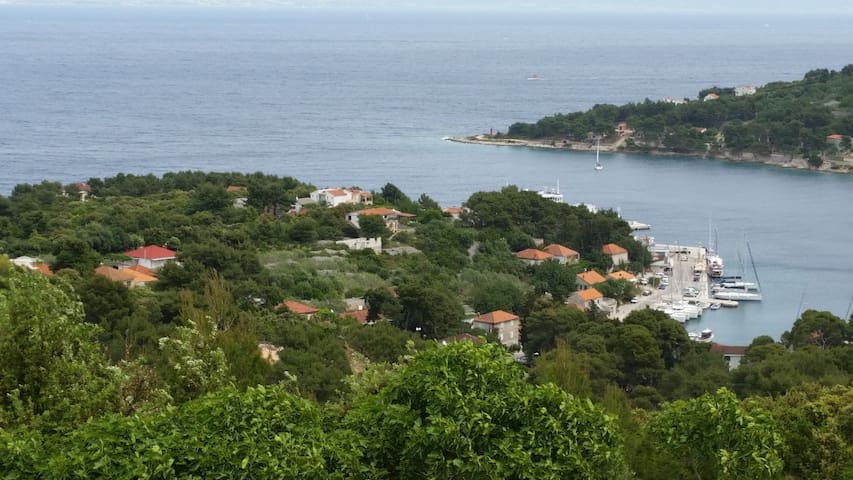 Enjoy your stay on a little mediterranean island! Our apartments are furnished in Mediterranean style, with a pool, air-conditioned, fitted with wlan connection, terrace and private parking. Located between the olive trees and little stone walls.
This listing fits people who enjoy peace and quiet; if you are looking for a place where you can spend your holiday going back to the Tvrdic Honey farm is the place
Ruhiges und funktionelles Studio. Grosse Gartenanlage. Wir konnten bei einer Führung mitmachen wo der Bienenzüchter viel interessantes über Bienen und Honig erzählt hat. Eine ausserordentliche und liebevolle Gastfreundschaft. Wir würden es wieder wählen.
Michela
2015-06-27T00:00:00Z
Super endroit, tellement au top, qu'on a envie de garder cette adresse secrète ! Idéal pour se ressourcer car perdu au milieu de l'île de Solta... Mais petite île donc à 15mn de chaque village de l'île. Notre studio était parfait, avec une jolie terrasse pour dîner tranquille le soir. Chaque hôte à son intimité. La piscine est un vrai plus, surtout avec la chaleur de cet été. Nos hôtes étaient tres disponibles et très accueillants. Nous espérons y retourner dès l'an prochain ou au plus vite.
Caro & Laurent
2015-08-16T00:00:00Z
The only word to describe this place is picturesque. It is wonderfully quiet and scenic.... if you are looking for a quiet getaway go here! The island itself is gorgeous, there is a bus which can get you around but be warned it can get quite hilly! Goran and his wife Natasha were the perfect hosts - thank you for the tasty honey!
Marion
2016-05-19T00:00:00Z
Nous avons adoré notre séjour sur l'île de Solta et plus particulièrement au Lavender Studio chez Goran et Natasha. Le studio est décoré avec goût et se trouve dans un très joli domaine planté d'oliviers et de figuiers. Supérette et marché à moins de 500m. L'île est belle et relativement sauvage, idéale pour se reposer au calme et faire de grandes balades (chemins et accès escarpés : prévoir de bonnes chaussures // ou bus pour ceux qui n'ont pas de voiture ou scooter). Goran et Natasha sont adorables et nous ont communiqué leur passion des abeilles!
Anne Caroline
2016-08-16T00:00:00Z
The Tvridic Honey Farm, was a wonderful experience! It was the first time that we used Airbnb and the first time we visited Croatia. The Tvridic family made us feel very welcome. Goran came and picked us up at the ferry and also gave us a lift back on the day of departure. His son Tomislav arranged the accommodation and he and his Father's communication skills was very good. Goran arrived on time at the ferry and the holiday really started on a very positive note. Their organisation skills impressed us,Goran send a text message immediately to say welcome and that he will be waiting at the port and it was true! His wife gave us a pot of there wonderful honey and olive oil and lemons on arrival to use. The apartment was very clean and comfortable! We stayed at the Lavender apartment. It was very spacious for two people. We enjoyed the breakfast that they provided for us on the first morning of our stay. We got beautiful flowers on our patio and one evening a plate of chocolate strawberries! It was a romantic setting for me and my husband! We enjoyed the swimming pool and the neighborhood the people in the village was very friendly as well. There is a lot of nice foot paths to discover and isolated beaches if you like to walk a few kilometers. Near Rogac there are also good places to swim and relax and it is a short walk,but could be a little steep for older people or children on the way back. The supermarket, as well as the fruit and vegetable market was well equipped.The bus service was on time and not expensive,easy to visit the neighboring villlages. There is a lot to do on the island,we enjoyed an art exhibition in Grohote. We stayed for five days but would have liked to stay longer. We did the "bee tour" and it was fabulous ! So interesting and Goran is a wonderful bee keeper with a positive attitude and a passion for life. His Wife made the most delicious meal and dessert and it was accompanied with wonderful traditional wine. We were really spoiled! The family are kind and good hosts but they let you enjoy your privacy. They are there for you if you need something! We would highly recommend the Tvrdic Honey farm and hope to visit again in the near future! Thank you very much for a lovely stay!
Lindy
2014-07-08T00:00:00Z
My boyfriend and I had an amazing time staying in this apartment. Tomislav was always quick to respond to my messages and made the process very easy. The apartment was just as described, and we loved the pool and the beautiful surroundings. We would love to come back and would recommend anyone looking for an amazing place for a relaxing holiday to spend some time here.
Alice
2016-06-16T00:00:00Z
This is why AirBnB exists for you to discover this kind of magical places, what an experience! We really enjoyed our stay, Solta is a great island to be, but Goran's and Tomislav's farm is indeed the cherry on the top of the cake! Or should I say the "royal jelly" of our holidays? :) The place is amazingly peaceful and genuine, and Goran's family known how to welcome people as family. We return from there with a heart full of good vibes, a new perspective on bees and their universe and a few more chakras aligned. If you stay on a Friday you will also have the opportunity to discover more about the Bee's world and life, and hear Goran tell about his stories about Bee's, honey and the story of Solta. We will be back for sure! :)
Ricardo
2015-09-26T00:00:00Z
Very great place for a stay in Solta, peaceful environment, blue water, nice and clean flat, all shops and buses can be joined by foot, very nice restaurant in 2min, and the two hosts Natasa and Goran make all their best to help you! We had a perfect stay in Grohote and we absolutely recommend anybody to rent this studio!
Quentin
2016-08-24T00:00:00Z
Typ pokoje
Celý dům/byt
---
Typ nemovitosti
Byt
---
Ubytuje
2
---
Ložnice
Grohote, Split-Dalmatia County, Chorvatsko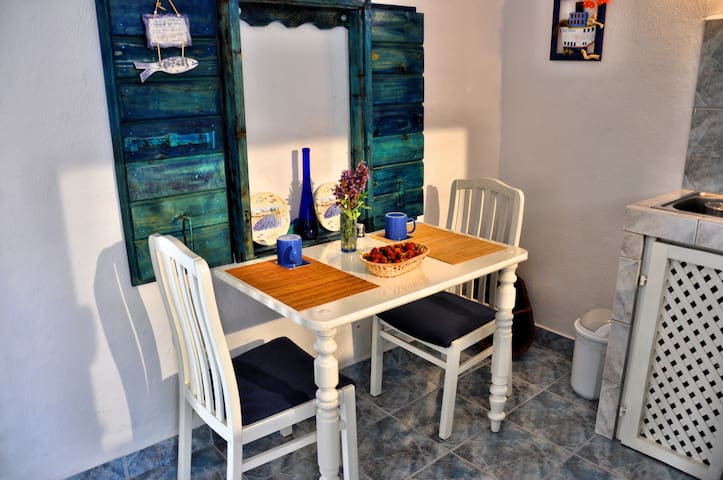 NOTE: Check out our newest apartment, 'Peace&Quiet2'. http://abnb.me/EVmg/GrAWIz6e9z Next to a pine forest, and just 150 meters from the nearest beach and the center, yet quite peaceful and mind- relaxing place. Enjoy the "million dollar view" from the spacious terrace of the brand new fifty-square-metre apartment.
Most of the furniture is personally designed and custom-made from the best materials. The bed mattress was carefully selected to provide the best experience. Equipped with high quality facilities (4-star rating), accommodating up to 4 adults, this place offers just everything needed to enjoy your time the way you truly want. Being experienced travelers ourselves, we designed the place to fulfill everything needed for a perfect vacation.
Five minute walk to the town's main beach, 15 minutes walk from a beautiful secluded beach. The center with the restaurants and marina is also five minute's walk. The whole area is criss-crossed with nice pathways, perfect for jogging, cycling, or just having a walk and admiring the scenery.
Ena je perfektní hostitelka, stále usměvavá,která se vším pomůže. Město Maslinica je ze všech měst na ostrově nejhezčí, kultivované, s obchodem a restauracemi. Možnost koupání je v soukromí i na oficiálních místech. Apartmán byl perfektně připravený, čistý, světlý a plně vybavený. Cítili jsme se moc dobře a to díky Ena a ubytování.
Veronika
2015-09-03T00:00:00Z
Lovely spot and lovely people!
Andy
2016-07-25T00:00:00Z
Ena was a great host, very friendly and helpful. After getting off the ferry she helped us to get to the apartment and gave us all the tips regarding the island, nearby beaches, restaurants and grocery stores. The apartment is really spacious, super clean and includes everything you need. The neighborhood is peaceful and quite and apartment is just a minute away from the nearest beach. We enjoyed our stay and would definitely recommend Ena's apartment.
Nebojsa
2015-08-08T00:00:00Z
Ena and David were the best hosts I've ever had on airbnb. David picked us up from the port and drove us back to the apartment, where Ena had prepared a welcoming platter for us! The apartment was extremely clean and in a perfect location, close to beaches, restaurants and a supermarket. Unfortunately, during our stay most of us were stung by sea urchins and David and Ena couldn't have been more helpful. They called medical services for us and bought cream for us which would help to draw out the spikes. Maslinica is a beautiful town, away from the tourist crowds you find during the peak summer period all over Croatia. We had a great time at the apartment and I would highly recommend it!
Jessica
2015-08-12T00:00:00Z
I just can confirm all reports before. Ena is very nice and really concerning that we were fine during our stay. The apartment is nice, super clean, well equipped and I think I never slept better before! Highly recommended!
sabine
2015-09-12T00:00:00Z
Nos ha encantado nuestra estancia en Maslinica, un lugar ideal para disfrutar de unos días de relax y tranquilidad El apartamento de Ena es moderno, limpísimo, cómodo y con excelentes vistas y su propietaria es una anfitriona perfecta. Recomendamos sin ninguna duda la isla y el apartamento.
Mercè
2016-08-30T00:00:00Z
We had great time at Ena's place. She's not ony a good host but also a good neighbour. The place is comfortable, well equiped and clean. Communicatiion with Ena is perfect. We really had great time and recommend Ena to all Airbnb travellers.
piotr
2015-08-26T00:00:00Z
We were highly impressed by Ena's apartment and her hospitality. Not only was the apartment super clean and well furnished. Ena was the best host! She picked us up from the ferry and helped us when we had a little incident and needed to see the doctor's!! I would highly recommend to stay with her when in Solta!!!
Shushila
2016-09-12T00:00:00Z
Typ pokoje
Celý dům/byt
---
Typ nemovitosti
Byt
---
Ubytuje
4
---
Ložnice
Maslinica, Splitsko-dalmatinska županija, Chorvatsko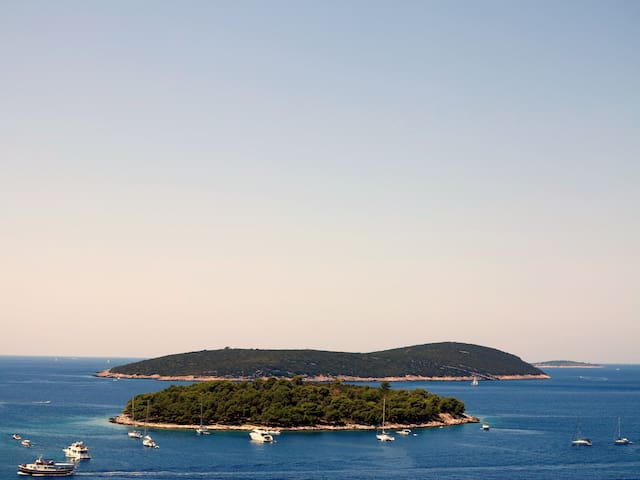 Charming studio apartment is located in the place called Stomorska on the island of Solta. It is only 200 m away from the beach, has wonderful sea view, beautiful terrace, and free parking.
she made us a vitamin drink=) and was very kind to us=)
Tania
2016-07-30T00:00:00Z
We really enjoyed our stay at Ms. Milano's place. It was comfortable, clean and had everything we needed. The view from the terrace is spectacular. I would definitely recommend it.
erma
2016-08-21T00:00:00Z
Ms. Milano picked us up at the bus station and from that moment everything was perfect. She is a wonderful host and the Studio is cozy and clean. We absolutely loved our time there!
Corinna
2016-09-02T00:00:00Z
Our stay at the studio apartment in Stomorska was so nice. Mirjana, the host, really made us feel at home, such a wonderful lady and Marjan was very easy to commincate with prior to our arrival. The apartment was perfect for 2 and very comfortable, great views of the ocean from our terrace. Highly recommend!
Carla
2016-09-15T00:00:00Z
The apartment was absolutely fantastic for the price we paid. It is in a lovely location with great views and really made our holiday in Stomorska
Max
2015-07-10T00:00:00Z
Marjan and his team at AMAR Grupa were incredibly helpful in the booking and organisation of our visit, answering all questions promptly and helping us to plan our stay. The house is located in a stunning location, uphill from some of the best swimming places around Stomorska. We spent a lot of our time on the terrace, which has a porch swing and fantastic views overlooking the sea, and is large enough to relax comfortably. The room itself is as pictured - cosy, but has everything you might need during a stay. The room was a little warm without a fan or air-conditioning, but, in fairness, our stay coincided with the hottest week of the year. Mirjana the landlady is also worth a mention - she was a gracious host that made us feel welcome throughout. She even baked us a cake! All-in-all we would love to stay there again in the near future.
Tim
2015-07-25T00:00:00Z
Typ pokoje
Celý dům/byt
---
Typ nemovitosti
Byt
---
Ubytuje
2
---
Ložnice
Maslinica, Splitsko-dalmatinska županija, Chorvatsko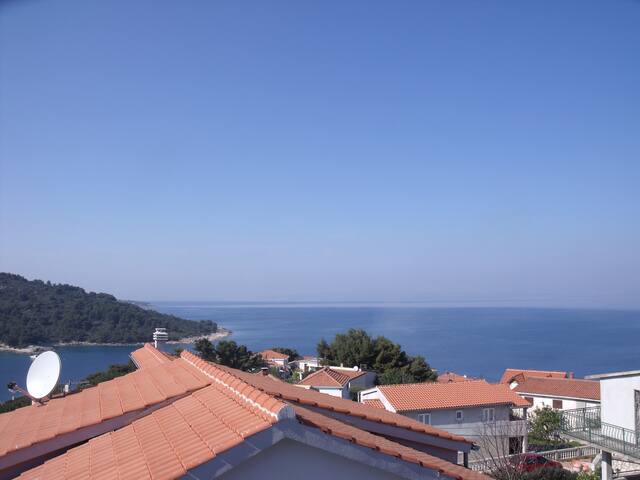 Welcome to Maslinica - the Adriatic´s best kept secret. Apartment Lavender was renovated in 2011, has air condition and a fully equipped kitchen. Two balconies with panoramic sea view. Free wifi. With extra bed, possible to sleep four persons.
Maslinica is a very peaceful place, but becomes busy in the evenings when guests, sailboats and yachts arrive in the marina. One summer spent on Solta will make you dream of it for the rest of your life. Maslinica has a very beautiful scenery with a pine wood in the south, the well protected cove of Sesula and an archipelago of seven islands.
We stayed for 4 nights and were delighted with the comfort, cleanliness, space and attention to detail in the apartment. Eva arranged to pick us up at the ferry and was very informative, relaxed and friendly. A wonderful host with a great love for Maslinica. We had full use of Eva's excellent mountain bikes to explore Solta during the day and the balcony provided us with a wonderful view and quite space to enjoy a glass of local wine at sunset. Main beach and secluded spots along the coast are in walking distance as are shops and very good restaurants. A home away from home.
Kirsten
2014-07-31T00:00:00Z
Eva's place is just perfect! We had a very peaceful couple of days here and the sunset views from the balcony were just stunning. The housekeeper Mia met us at the bus stop and walked us over to the apartments, she was extremely helpful and welcoming and assisted us with restaurant recommendations and booked us a taxi back to the port. The apartment is spotlessly clean with lovely touches and decor and has everything you could possibly need for your stay. Shops and restaurants are just a short walk away. Maslinica is so beautiful with very lovely people - we hope to return one day soon!
Kath
2016-06-10T00:00:00Z
My boyfriend and I had the most wonderful stay at Agnetas place in Šolta. She, her husbond and two boys were excellent hosts, very welcoming, easy to communicate with and gave ud great tips about where to eat and what to do. The apartment itself is beautiful, very modern and so comfortable with everything you need. The view from the balcony is fantastic giving you the most beautiful sunset every night. It is located very close to the beach and the picturesque village of Maslinica. I would love to stay at Agnetas again, go back to Šolta and can recommend this place to everyone.
Sofie
2015-07-23T00:00:00Z
Great place to stay in Solta .The apartment was spotlessly clean and well equipped . Very comfortable bed and overly kitchen and bathroom . The view from the balcony is stunning - uninterupted view of the islands in the bay . Watch the boats passing and the sunset - perfect ! Communication with the host was first class and we were picked up promptly from the bus stop on our arrival and taken to the apartment . A bottle of one in the fridge was a lovely surprise too !
sally
2015-06-27T00:00:00Z
all was perfect
Nicole
2014-08-15T00:00:00Z
Typ pokoje
Celý dům/byt
---
Typ nemovitosti
Byt
---
Ubytuje
4
---
Ložnice
Maslinica, Split-Dalmácie, Chorvatsko
BASIC FEATURES: Apartment type: A2. 2 bed/s for adults. Number of extra beds 2.
BASIC FEATURES: Apartment type: A2. 2 bed/s for adults. Number of extra beds 2. Apartment capacity (adults): (2+2). Category of apartment is 3 stars. Apartment size is 29 m2. The apartment is on the ground floor. Number of bedrooms in the apartment: 1. Number of bathrooms in the apartment: 1. Number of balconies in the apartment: 1. BEDROOM (1): In the bedroom is double bed. Bedding is available to guests. LIVING ROOMS: kitchen, dining room and living room in the same room. Extra bed/s in the apartment is/are: one couch/sofabed for two adults. EQUIPMENT: TV set, couch/sofa. KITCHEN EQUIPMENT: kitchen sink, refrigerator. VIEW FROM THE APARTMENT: garden view. BATHROOM (1): Equipment in the bathroom: toilet, tiles, bath towels. PETS: There is a possibility of accepting pets only upon previous notice and agreement. BALCONY/TERRACE (1): Size of balcony/teracce of the apartment is 8 m2. Features and equipment of the balcony/terrace seating set, ground floor (garden terrace). BASIC INFORMATION: Type of property: apartments. Check in: 14,00 Check out: 10,00 FACILITIES AND EQUIPMENT: free parking within the property, courtyard. ADDITIONAL SERVICES: free use of barbecue. BEACHES CLOSE TO THE PROPERTY: pebble beach. DISTANCES: The distance to the closest beach is 110 meter. The distance to the sea is 110 metar. The distance to the town center is 80 metar. Grocery store - 80 m. Closest restaurant - 80 m. NON OBLIGATORY SURCHARGE: pets (3.00 EUR per day, per unit, payed at arrival) Size: 29 m2. Amenities: double sofa bed, Towels, BBQ grill, Bed Linen, Restaurant, Beach, Free Parking, Parking, Ask for smoking, Ask for pets, Ask for accessibility, Sports - swimming, Local groceries, Family/kids friendly, Bed Linen Towels, Toiletries, TV, Balcony; Bathroom: toilet; Bedroom: double bed; Kitchen in the living / dining room: fridge / freezer, Cookware Kitchen Utensils;
Beach - 110 m Restaurant - 80 m
Typ pokoje
Celý dům/byt
---
Typ nemovitosti
Byt
---
Ubytuje
4
---
Ložnice
Maslinica, Chorvatsko
Apartment Ranch is located 3 km faraway from Necujam. It is a small village on the island Šolta, 9 nautical miles away from Split Apartment Ranch , 30 square meters with terrace of 20 square meters is surrounding by olive and fig trees. Ideally for couple, consist 1 double bedroom with king size bed, kitchen, and bathroom with a shower. The kitchen is modern and fully equipped for easy and speedy cooking and, if needed.There is large stone BBQ are at your disposal. We have wireless internet in other apartments who is 2 km away, and you are always welcome. We also provide bed linen and towels. If you are going to stay longer than 7 days the bed and bath linen are changed once a week, also the cleaning service is available. Tourist tax is not included in the price cost 6 kn (0,85 eur) per day, During your stay we can offer you bicycles . If you have any special need, you are always welcome to ask. Come and stay with us, try fruit and vegetable from our garden, enjoy the long evenings cooking your dinner on the large traditional Croatian wood fired BBQ while complementing your food with our stunning Croatian wines. Please note that all electricity in the apartment has been provided by solar cells, so can be a problem during December & January Thanks to our guest's reviews we have be able to improve the quality of our service. For any further information do not hesitate to contact us! Don´t save to Wish List, contact us instead :) Nikoleta & Dejan
Very nice house in the middle of olive trees. You can spend nice time here. But you have to have a car to reach Grohote for shops and atm.
Sebastian
2015-05-20T00:00:00Z
Relaxing space and very close to nature-exactly what we wanted!
Rüdiger
2014-09-16T00:00:00Z
What a wonderful place to stay. It was isolated enough to give us as much privacy as we wanted, but definitely close enough to the beaches and shops. The wood burning oven meant that we could cook some fantastic food and the kitchen was well equipped. We were greeted by Nikoleta and her mother with home made grappa and a selection of meats and cheeses. Everything was clearly explained and we were loaned the car for €25 euro per day. Sadly the electricity cut out on us three days in a row but it was a very unfortunate as it turned out the battery for the house had died the day we arrived and they are a bit difficult to obtain. As we left Nikoleta and her mother said goodbye to us with another bottle of wonderful grappa. Thank you and hopefully see you next year! Louis and Alicia
Louis
2015-07-23T00:00:00Z
The little ranch is a beautiful stonehouse in a wonderful area: surrounded by olive trees on top of the hills of the island. If you seek calm and peace, this would be the place. We thought that it would be easier to get to the sea, but there are no real footpaths that lead down, so you have to walk along the road that goes down in serpentines. In hot summer months, and with the traffic, it's not the most pleasant thing to do (it took us 45-50 minutes, and we are used to walking)... With bicyles, it's even more difficult we would say as you have to get up the hill on your way back, which is quite hard... We did most of the time hitchhiking which worked quite well, or took the bus that let us off on our demand in front of the house. Otherwise, we would recommand renting a car or a scooter. The island is really beautiful, nice hidden bays, cristal clear water, we even saw dolphins one day! The house is very well equiped, you have everything you need, and it's very clean, be just aware that there is no wifi and no washing mashine, and that there might be some extra costs not clearly indicated. Communication with the hosts was always fast and easy.
Cedric & Stefanie
2016-08-08T00:00:00Z
We had a wonderful time in the little stone hut. The rooms were clean, the bed was comfortable and the outside space incredible big and beautiful. Seka was very friendly, if you have any questions or problems, she always helps you!
Pia
2015-08-28T00:00:00Z
L'appartement était conforme aux photos. L'endroit était charmant et nous avons apprécié notre séjour sur l'île de Solta. Cependant, nous avons été décus par quelques détails dont nous aurions aimé être prévenus lors du booking: - Il n'y a pas de Wifi dans l'appartement alors que la mention Wifi est indiquée sur le descriptif. Lorsque j'ai demandé, on m'a simplement répondu qu'il "suffisait d'aller dans un bar" ( à 6km de là...). - Il n'y a pas de machine à laver alors que cela faisait également partie du descriptif. Lorsque j'ai demandé, Seka m'a proposé de prendre mes affaires et de les laver. Je dois avouer que nous avons trouvé cela étrange et avons par conséquent abandonné l'idée. - Le logement fonctionne à l'énergie solaire et UNIQUEMENT à l'énergie solaire, idem pour l'eau chaude qui n'est pas stockée. Ce qui veut dire que dès qu'il fait nuit, plus d'eau chaude, et dès qu'il y a des nuages plus d'électricité. Le système n'est pas suffisamment efficace pour alimenter la maison plus de 24 heures sans soleil. Nous avons connu une journée d'orage, et nous sommes retrouvés sans courant. Après l'avoir appelée, la famille nous a relogés. - Attention également aux locations de voiture proposées par les hôtes. Pour 27 euros par jour, il nous a été proposé une voiture usée affichant 187000 km au compteur alors même que Nikoletta m'avait fait cette offre lors du booking "You can use our car during your stay " - J'aurais aimé qu'elle soit plus claire dans sa proposition, en utilisant le mot "rent" et parlant immédiatement de tarif. Pour conclure, nous avons trouvé dommage que les hôtes ne communiquent pas mieux avec nous et aurions apprécié plus de transparence sur les prix et les services réellement proposés.
caroline
2014-09-05T00:00:00Z
Seka and her family warmly welcomed us in their apartment with housemade wine, bread and olives. The apartment and the garden are awesome and we fall in love with it in the first moment. Everything was really clean. Except the noise of the cicadas you can't hear anything. During our stay Seka was available all time. We also had a wonderful meal at her parents lovely house with delicious fish. We can absolutely recommend the place to stay for everybody who loves the nature. It is useful to have a car to explore the island. We would come back!
Julia
2016-07-27T00:00:00Z
Wir hatten eine sehr schöne Zeit in diesem gemütlichen kleinen Haus. Das Haus liegt sehr ruhig ohne direkte Nachbarn im Inneren der Insel, perfekt für einen Urlaub mit Hund. Wir sind sehr herzlich empfangen und auch verabschiedet worden, die Verabredungen zur Schlüsselübergabe verliefen unkompliziert. Wir haben immer direkt eine Rückmeldung bekommen, wenn wir Fragen hatten und haben uns sehr wohl gefühlt.
Beatrice
2015-06-12T00:00:00Z
Typ pokoje
Celý dům/byt
---
Typ nemovitosti
Byt
---
Ubytuje
2
---
Ložnice
Nečujam, Split-Dalmatia County, Chorvatsko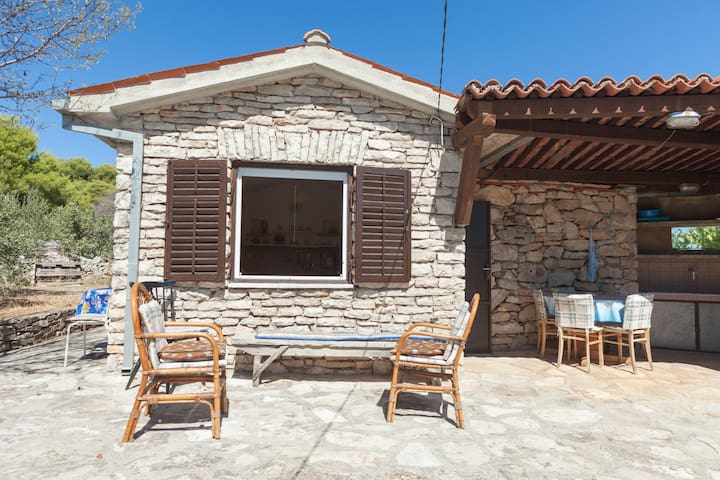 Island Solta - Necujam bay. Internet and parking available, come and check my apartment - WiFi available
We really enjoyed our stay at Mirko's apartment. Everything was as described. The room is smaller than the pictures suggest but we had everything we needed and spent most of the time on the beautiful terrace anyway. Mirko's parents were very nice, they welcomed us warmly and his mother mixed us a welcome cocktail and offered us some local food. The island of Solta is very nice as well.
Sarah
2015-08-30T00:00:00Z
Mirko was superfast in responding to messages and his parents were great hosts, always offering snacks and coffee :-) Necujam is really quiet in September, so it definitely was a relaxing holiday!
Julia
2016-09-18T00:00:00Z
The apartment was lovely and spacious, especially the terrace, and in a beautiful area of the island. Mirko's parents were very kind and hospitable, welcoming me with a cocktail and giving me a lift to the ferry .
Emma
2015-09-04T00:00:00Z
If you like peace and quiet, Necujam in September is the place to be. Mirko was very prompt in communications, arrangements were easy and his parents are very warm and accommodating hosts. The apartment is small and simple but had all we needed. The bay view does not stop to please the eye and mind.
Martin
2016-09-29T00:00:00Z
The apartment has a stunning view to the bay. Our hosts were really nice an treated us with some local homemade food on our arrival and departure.
Ingo
2015-08-15T00:00:00Z
We are so happy and pleased that we have chosen to stay at Mirko's family apartment. The family is warm, host, met us with coffee and provided everything that we asked for. Our room was on the last floor with a bog beautiful terrace. Shower worked good. The location is perfect if you prefer to stay in quite island Sholta. Beach is just 2 minutes walking. Thank you, dear Katarina and the family. You have made our last days in Croatia very comfortable and warm! You have a dream family. would like to see you again hopefully :)
Olga
2016-07-22T00:00:00Z
discutable
eric
2015-09-23T00:00:00Z
Notre séjour chez Mirko s'est super bien passé. C'est sa maman qui nous a accueilli avec un petit verre de Peljesac. L'appartement est petit mais vraiment fonctionnel. C'est l'idéal pour un couple. Le gros plus de cet appartement c'est bien évidement la terrasse. La vue est vraiment superbe !
Marie
2016-08-01T00:00:00Z
Typ pokoje
Celý dům/byt
---
Typ nemovitosti
Byt
---
Ubytuje
3
---
Ložnice
Nečujam, Split-Dalmatia County, Chorvatsko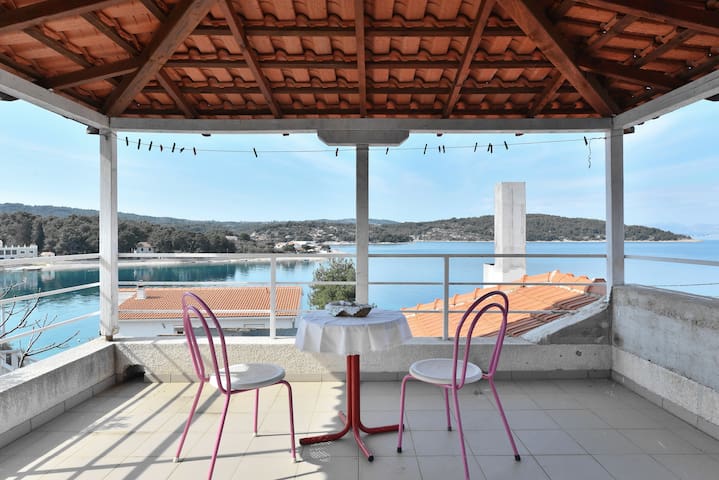 New trendy designed apartment with a balcony and a terrace, pool and direct at the coast. Stairs to privat beach terrace.
Typ pokoje
Celý dům/byt
---
Typ nemovitosti
Byt
---
Ubytuje
3
---
Ložnice
Maslinica, Splitsko-dalmatinska županija, Chorvatsko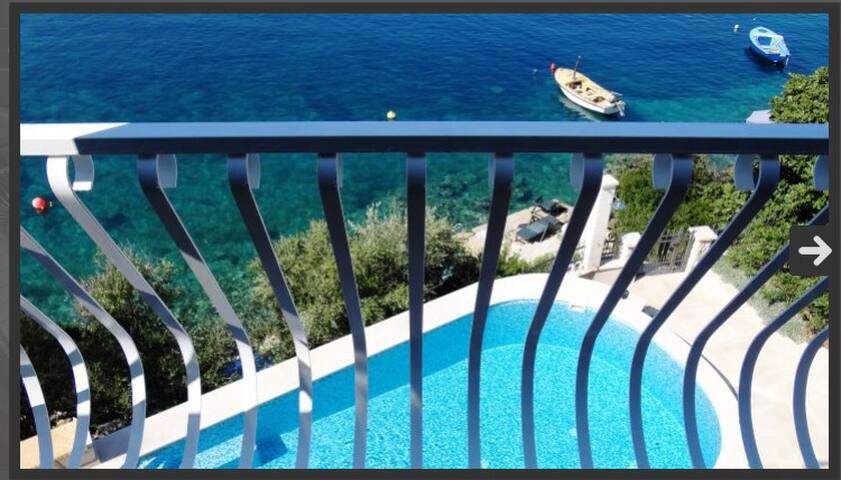 Combination of the modern and traditional life,which has been carefully integrated into the furnishing of this two bedroom apartment. Light-filled, with the wonderful view on the sea. Guests have access to all above mentioned space.
We both had a lovely time on the island, the hosts were very friendly and helpful, Toni was kind enough to give us a lift to the local shops and a slight detour on the way back to show some of fantastic views :) The apartment was spotless and a plate of biscuits and figs left for us on arrival. The location was ideal for the ferry, a couple of minutes walk to the nearest restaurant and a couple of minutes from some great walks. Overall a fantastic find and would recommend to anyone thinking of staying on the island. A big thanks to the hosts too
Paul
2016-10-15T00:00:00Z
This apartment is just perfect! It's spacious, beautiful and clean and it has everything you need. The hosts Mrs. Lada and her husband were the most kind and welcoming people and helped us with everything we needed. Mrs. Lada baked some delicious desserts, thank you for them! We explored the different villages on Solta island with local buses and the location of the apartment was perfect for that because it's right next to the ferry and bus station. We felt like home and we can recommend this apartment to anyone!
Heidi
2016-09-28T00:00:00Z
The apartment was adorable, just as the pictures show. I can´t find any detail to complain about. What is more, Petra was very kind and helpful, even though we contacted her late and with a special situation. We absolutely loved the owners, who stayed with their dog in the apartment next door. They were full of live and very hospitable. We couldn´t imagine this vacation to be better. Once again big THANK YOU!
Alexandra
2014-08-13T00:00:00Z
The hosts, Tonci and drawer who lived in the neighboring apartment, was very concerned about our well-being. One night they came over with an exquisite seashells and pasta dish and another night we got different desserts! The apartment was great, well equipped and with lovely views. The only small complaint we have with the apartment was that the WIFI connection was only acceptable in one of the rooms. Rogac is a quiet, beautiful but relaxing village, there are several great beaches in or near the village. When you have to buy groceries have to do this in Grohote which is 2.5 km away, walking distance you think but in 34C and 10% slope (steep) it´s not, I recommend to borrow Tonci's scooter or take the bus there instead ;-). If you want to see other parts of Solta, I recommend the use of the local bus that goes to the other parts of the island because there is no possibility to rent scooters in Rogac. We can recommend Tonci & Ladas apartment and might go back next year.
Fredrik
2016-07-18T00:00:00Z
The most relaxing holiday we had in a really long time! Amazing place. The apartment was spotless, clean, modern super convenient with two bathrooms. Close to a beautiful beach in a perfect location for city-escape! Very little tourists in the area made us feel super homy. We have nothing but good things to say about our stay in this apartment!
Bee
2015-08-03T00:00:00Z
Typ pokoje
Celý dům/byt
---
Typ nemovitosti
Byt
---
Ubytuje
4
---
Ložnice
Rogač, Island Šolta, Chorvatsko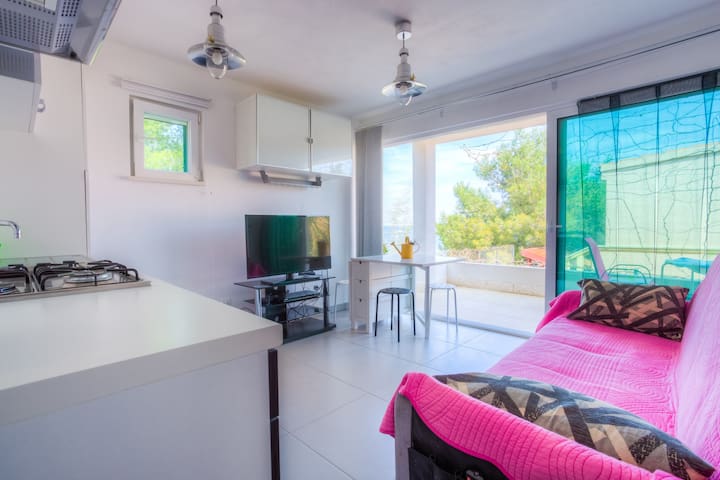 The apartment is on the top floor of the house, with 2 bedrooms, for 5 persons, air condition, kitchen, toilet, terrace, separate entrance, private parking, beautiful view, garden full of Mediterranean plants. It's a very peaceful and quiet place.
Hello dear guests , if you choose the Maslinica for your vacation, you can forget the stress and let yourself enjoy the nature that offers all-day swimming in the crystal clear sea, lying beneath the canopy of pine on the beach, sunbathing, afternoon walks along the coast, beautiful sunsets and peace and quiet. I hope you'll enjoy. As your hosts I'll try to make your stay much as possible enjoyable in the apartment Spiro.
ABOUT ŠOLTA The island of Šolta is very close to the coast and to Split, but nevertheless gives the feel of a faraway island. Most of the settlements are located in the inland of the island on the north side, while the south side, with a high, steep rocky coast is quite unreachable. Sailing enthusiasts are attracted to the bays in Šolta, while cyclist to its cycling paths. The symbol of the island is the hooting-owl called Čuvita, whose figurines decorate many of the houses. Šolta is famous for top quality olive oil that is even mentioned in the Split statute from the 14th century. ABOUT MASLINICA (maslina=olive tree) Maslinica is the only village of the island of Šolta that is situated in a cove on the western coast of the island. It has a really beautiful nature scenery, as the picturesque bay and pine forests on the southern side and in the immediate vicinity a deep, well-protected ŠEŠULA BAY and archipelago of seven islands (Balkun, Rudula, Grmej, Stipanska, Saskinja, Polebrnjak and Kamičić). On the biggest among them, and that is Stipanska, an early Christian church and Benedictine monastery was built in V-VI century of which you can still see the remains. The natural meaning of the landscape of Maslinica completes the historical-architectonic and environmental value of baroque castle and picturesque vernacular houses. Maslinica was established in 1703 when an aristocratic family Marchi asked from a Venetian governor the approval for a new settlement and built a castle with defense towers for frequent pirate attacks. The castle has been converted into a luxury accommodation (Hotel Martinis Marchi) and a restaurant called "Conte Alberti".
Pobyt přesně splňoval to, co poskytovatel nabízel. Ubytování je ve velmi klidném městečku s dostatečným zázemím. Je určeno především těm, kteří preferují klidnou rodinnou dovolenou. Mladším asi bude scházet větší možnost zábavy. Lara i její bratr jsou velmi milí a příjemní lidé. Vše proběhlo na výbornou. Prostě super dovolená.
PAVEL
2016-08-21T00:00:00Z
Everything was perfect, the apartment, the view, the village and the host. So charming. We come back!
Sofi
2016-08-10T00:00:00Z
Larisa and her brother made us feel very welcome in their wonderful house. The sea view is magnificent and the apartment is spotless and cosy. When we needed bathing shoes and diving equipment, Larisa took the trouble to buy both things for us, since we couldn't get neither in Maslinica. Great people- great stay!!
Sylvester
2016-07-23T00:00:00Z
The host was extremely kind and helpful. The flat was clean and lovely, with a perfect scenic view and overall excellent location. Highly recommended!
Gregor
2016-07-01T00:00:00Z
Obwohl wir eher als verabredet zum Ferienhaus kamen, wurden wir herzlichst vun Larisa´s Bruder empfangen. Das Haus hat eine Traumlage! Wir konnten die Früchte im Garten genießen und in Badesachen zum Strand gehen. Die Wohnung ist liebevoll eingerichtet, absolut sauber und neu renoviert. Das war ein perfekter Urlaub! Vielen Dank an Larisa´s Familie.
Ulla
2016-10-22T00:00:00Z
What a great time we had on Šolta. Larisa's hospitality is top-notch and her little appartment is furnished with great love for detail and - of course - it was very very clean! We can't thank her enough for the wonderful week!
Marcel
2016-09-13T00:00:00Z
Parfait. Le logement, le village de Maslenica .... nous avons passé un excellent séjour.
alexis
2016-07-31T00:00:00Z
Nous avons passé 9 jours à Maslinica dans l'appartement de Larisa. L'appartement est très agréable, aménagé avec beaucoup soin et de bon goût. La petite terasse est idéale pour les petits dejeuneurs et les repas du soir (attention aux moustiques cependant, les fenêtres ont des moustiquaires). Suberbe coucher de soleil sur la mer depuis le balcon. Larisa est une hôte très disponible et accueillante. L'île de Solta est paisible et Maslica un petit joli port avec tout le nécessaire (bars, restaurants, bancs publics au bord de l'eau, mini supermarché, etc ). On reviendra avec beaucoup de plaisir
Sabrina
2016-07-20T00:00:00Z
Typ pokoje
Celý dům/byt
---
Typ nemovitosti
Byt
---
Ubytuje
5
---
Ložnice
Maslinica, Splitsko-dalmatinska županija, Chorvatsko
Grohote - Airbnb
:
Průměrně

4.83

z

5

hvězdiček na základě

161

hodnocení hostů
1

–

18

z

300+ pronájmů bytů
Pro zobrazení celkové ceny zadej termín. Mohou být přidány další poplatky a daně.