Heimberg ist ein idealer Ausgangspunkt für Ausflüge ins Emmental, nach Bern oder Thun, ins Gürbetal/Gantrischgebiet oder in die Bergwelt des Berner Oberlandes (Interlaken, Grindelwald, Jungfraujoch usw.). Das Studio schaut nach Westen mit einem weiten Blick ins Gantrischgebiet. Deshalb wird der Tag mit viel Sonne beendet. Von Frühling bis Herbst blühen im Garten vor dem Zimmer Blumen. Die ganze Ferienwohnung wurde im Winter 2017 renoviert und im gemütlichen Shabby-Chic-Stil eingerichtet.
Das Studio ist seitlich vom Haus über eine Treppe mit eigenem Eingang frei zugänglich. Es steht eine praktische Einbauküche mit Elektroherd, Wasseranschluss und Kühlschrank zur Verfügung. Ausserdem ein Wasserkocher, eine Kaffeemaschine für Kapseln (Typ Dolce Gusto), verschiedene Teebeutel und ein Mikrowellenofen. Das ganze Studio wurde im Februar 2017 neu renoviert und im gemütlichen Shabby-Chic-Stil eingerichtet. Der Boden im Schlafzimmer besteht aus einem hygienischen Vinylbelag. Das Badezimmer ist mit angenehmen Keramikplatten belegt.
Wander- und Spazierwege führen direkt vom Haus in den Wald. In der ganzen Umgebung gibt es ein weitläufiges Netz von beschilderten Wanderwegen. Zum Uferweg an der Aare benötigt man ca. 15 Minuten zu Fuss. Auswärts Essen: 50 m unterhalb unseres Hauses kann man im Restaurant Rössli fein essen und trinken. Das Restaurant verfügt auch über eine ausgezeichnete Kegelbahn, die man vor Ort mieten kann.
Typ pokoje
Celý dům/byt
---
Typ nemovitosti
Samostatný apartmán
---
Ubytuje
2
---
Ložnice
Heimberg, Bern, Švýcarsko
Ideal starting point for trips into the Gantrisch Natural Reserve, Emmental, the Berner Oberland, the Lake of Thun, or the Cities of Bern or Thun. It has a beautiful garden, close access to public transportation and available parking.
The Accommodation The accommodation has a separate entrance, its own kitchen and bath, access to a lovely garden with an outdoor fireplace, a table and chairs that are available for use in the summer months. We live as a family upstairs from the accommodation, and we enjoy visits from guests. The weekly rate of CHF 490.- is for two people. For one person the rate for a week is CHF 360.-. For a fee, we also offer breakfast. Two bicycles are available for use.
The apartment was very comfortable and cute. We found it clean and well equipped on our arrival. Everything needed for cooking was available in the kitchen. There was a super market nearby (5 minutes walk). The center of the town was 10 minutes by car. The lovely garden was a plus. The neighborhood was beautiful and quiet. The hosts were very friendly and helpful.
Apostolis
2016-07-05T00:00:00Z
Heinz und Daniela sind zwei völlig unkomplizierte, herzliche Gastgeber. Die Wohnung ist exakt wie beschrieben und für zwei Personen von idealer Grösse. Alles Wichtige ist vorhanden und eingerichtet wurde mit viel Liebe zum Detail. Auf jeden Fall ein empfehlenswertes Angebot - wir kommen gerne wieder :-)
Caroline
2017-01-02T00:00:00Z
So a sweet home and so nice hosts... All my hosts were nice people, some of them became my friends, but you know, a friend in need is a friend indeed. I have got a cold, could not take my planned excursions and was at home all the time. Daniela and Heinz did everything to help me. I am so grateful to them for their care! Great people. I'd be glad to pay for the vitamin cocktails they prepared, for bringing me on their car to the train station (not the closest one, to another - where I could take a direct train to airport), but - how can you evaluate the desire to help, which is much more valuable than gasoline or cocktails?.. You cannot evaluate real friends' care... And the home... so comfortable, so nice (Heinz made the old fashion furniture and other small and sweet things), so well equipped, so clean, so heimisch. And the yard... Everything is perfect, tasteful and just great. Sorry I could not enjoy my excursions, but I am happy I was in such home with such hosts. Very, very, very recommended.
Arkady
2016-05-16T00:00:00Z
That was our best experience on AirBnb! We were very late but anyway Daniela & Heinz helped us to accommodate. Apartment feels like home, very clean and beautiful. They have beautiful garden, so you can eat outside with mountains view :) There are lots of mountains and lakes around, there are some food stores and gasoline station in walking distance. Thanks for your help, accommodation and evening talk, we had a great time (next time we'll take more wine :-) ). I definitely recommend this apartment
Sergey
2016-08-16T00:00:00Z
I have so many good things to say I don't even know where to start!! This was our best Airbnb experience because Daniela & Hanz and their family are the kindest, most hospitable people! They went above and beyond what we expected. The place is beautiful, modern, clean, and made us feel at home. The house was a short 5 minute walk from the train station. We LOVED the area, it is so beautiful!! We have nothing but great things to say about this and will recommend them to everyone!!
Trent
2015-09-25T00:00:00Z
Well when we arrived we accidentally went to the wrong train station, however Daniela found us and drove us to the house. When we arrived we were just blown away by how beautiful the space was. They let us borrow their bikes and we rode along the river. They are very sweet hosts and we appreciated staying at their place. I definitely recommend staying here. They also have the cutest dog.
Raymond
2016-08-20T00:00:00Z
At Heinz and Daniela you can have your own house within a house. Everything is brand new and of high quality and the hosts are very welcoming and sociable.
Stefan
2015-09-15T00:00:00Z
We stayed at the B&B for two nights and really enjoyed the charming, cosy, nicely furnished and clean apartment. We parked right outside and had a great location, near to both Bern and Interlaken, among other places. Daniela and Heinz welcomed us and are genuine, nice and helpful. We recommend you to stay here :)
Carina
2016-05-31T00:00:00Z
Typ pokoje
Celý dům/byt
---
Typ nemovitosti
Byt
---
Ubytuje
2
---
Ložnice
Heimberg, Bern, Švýcarsko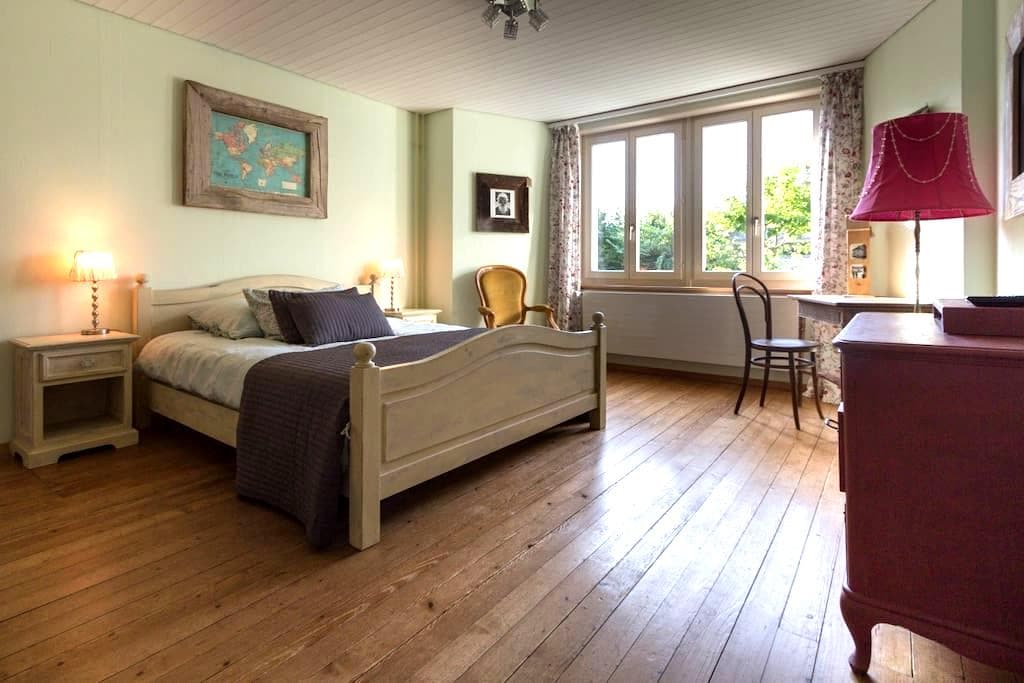 *** Please make sure to read the full description before booking :) *** A bright, stylish room for 2 in an ecologically built house with bamboo flooring, "Schwedenofen" fireplace, and distant Alp views from the window. Close to freeway exits, and 5 min from Steffisburg train station, bus stops, and supermarkets. 5 min from the beautiful Thun old city by bus or car or 20min by foot. Well connected via Thun for Skiing slopes.
The house has been recently ecologically renovated, and is an open, sunny place with - birch, pine, and bamboo floorboards, - electric and wooden heating, - a beautiful bathroom with large bath and shower, - GEO glass EMF dampening lightshades, and, - a beautiful kitchen with gas stovetop
From Thun to Interlaken, Thunersee (Thun lake) is an incredibly adventure rich area, thought by many to be the most beautiful region of switzerland. Sights include but are far from limited to - Thun's Old Town – the narrow lanes with the historic buildings of the nobility and the townhouses of wealthy burghers are presided over by the castle with its imposing tower and four corner turrets. Thun's Wocher-Panorama – the 360° circular mural, which was created between 1809 and 1814 is the oldest painting of its kind in the world. The Castle of Spiez – medieval castle with a fortified tower, Early Romanesque Castle Church and Castle Gardens, inside the castle is a large banquet room and examples of baroque living culture and furniture. Castle Concerts. St. Beatus Caves – Unterirdische Bäche und gewaltige Tropfsteinformationen können auf einem beleuchteten Rundgang besichtigt werden. Am Eingang lebte gemäss Sage im 6. Jahrhundert der Heilige St. Beatus. Niederhorn (1950m) – hiking and skiing area with a view of Eiger, Mönch and Jungfrau, Lake Thun and Lake Brienz. It is reached from the Beatenbucht pier by two cable car segments. Niesen (2362m) – a steep funicular on the southern shore of Lake Thun takes visitors to the vantage point on the pyramid-shaped mountain, which is topped by a restaurant and offers a 360-degree panoramic view. Lake Thun – alpenrandsee, a lake in the Bernese Oberland with lovely lakeshore villages that are reached by excursion ships of the Lake Thun Fleet - among them is a paddle steamer. Oberhofen Castle – in a beautiful park on Lake Thun - houses an important exhibition about Bernese cultivation of home decor from the 16th to 19th century. Justistal – a prominent valley on the north shore of Lake Thun, popular hiking area, known for the large-scale annual "Chästeilet", where the cheeses produced during the Alpine summer are distributed among the farmers. Also not to be missed - + Oeschinen lake (Oeschinensee), + Blue Lake (Blausee), + Grindelwald, and much more.
disappointed in our stay. house not very clean and not very communicative. bed was not as comfortable
Lisa
2016-09-26T00:00:00Z
This place is only 10 min from the center, easy transportation and i had a great time here.
Javier
2017-03-22T00:00:00Z
Very nice house and room,very nice talk and very nice breakfast!everything is perfect!next time to zurich, we will choose here too!
XueCan
2016-08-21T00:00:00Z
His house is wide and open house. he give us clean towels and we had to comfortable time. 쥔이 야행셩이라서 야침에 못 일오나고 뷰엌이 죰 뎌럽지만 야는 착해요.
Jiye
2016-06-30T00:00:00Z
My gf and I stayed for a night at Rhys's place and everything was great. Clear communication, good location for exploring nearby area, clean room&bathroom and strong wi-fi signal :) Rhis gave us very good tips for things to do in Thun even before and also during our stay. We recommend this listing.
Luciano
2016-08-10T00:00:00Z
Rhys is so nice! the house is very good!
敏
2016-07-17T00:00:00Z
Rhys is an amazing host. We had wonderful stay, i would really recommend this place to all travellers.
Riddhi
2016-07-05T00:00:00Z
Rhys was so welcoming and helpful!! Would definitely stay here again!
Stephanie
2016-10-06T00:00:00Z
Typ pokoje
Soukromý pokoj
---
Typ nemovitosti
Dům
---
Ubytuje
3
---
Ložnice
Heimberg, Bern, Švýcarsko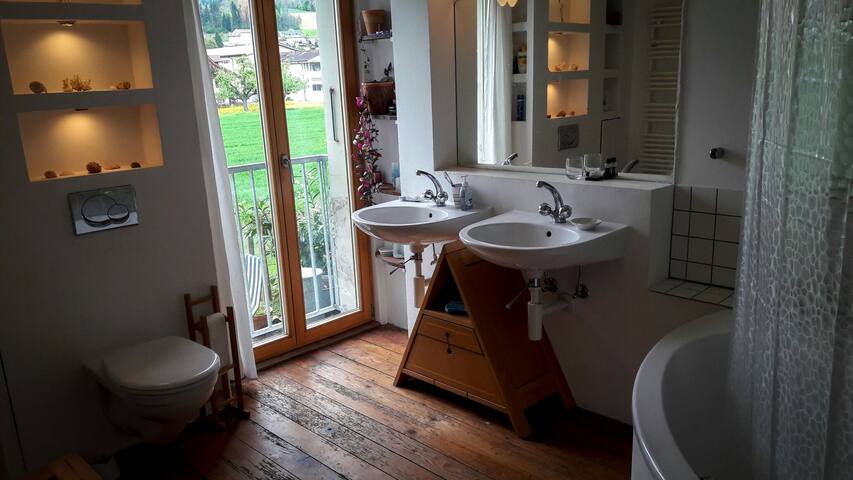 غرفة نوم مزدوجة مريح في شقة مجهزة تجهيزا كاملا. شرفة مغطاة يدعوك للاستمتاع بالنظر إلى المناظر الجبلية الخلابة. فقط 5 دقائق سيرا على الأقدام من محطة و 10 دقائق سيرا على الأقدام من وسط ثون. المكان المثالي لإقامتك!
موقع مذهلة فقط على بعد 5 دقائق سيرا على الأقدام من محطة و 10 دقيقة سيرا على الأقدام من مركز جميلة ثون، حيث العديد من المحلات التجارية والمقاهي والمطاعم في جميع أنحاء. بحيرة ثون يمكن الوصول إليها سيرا على الأقدام في 20 دقيقة فقط (أو عن طريق الحافلات في 5 دقائق فقط). هذا هو المكان المثالي لاكتشاف ثون وكله بيرنيز أوبرلاند. غرفة نوم مزدوجة مريح في شقة مجهزة تجهيزا كاملا - المكان المثالي ليكون للإقامة القصيرة أو الطويلة. شرفة مغطاة يدعوك للاسترخاء والتمتع بالنظر إلى المناظر الجبلية الخلابة. تقدم غرفتك وجهة نظر مدينة لطيفة مع القلعة القديمة ثون. -Peaceful، حي هادئ غرفة نوم مزدوجة -Comfy -shared مطبخ مجهز بالكامل مع غسالة الصحون -shared غرفة معيشة كبيرة الحمام -shared مع مرحاض / حمام / دش -Fresh، سرير نظيفة والمناشف، مجفف شعر هلام -shower والشامبو -واى فاى مجانى -maps، معلومات سياحية الشاي خالية أو الخدمات صنع القهوة والحليب والتوابل مدينة ثون هو نقطة انطلاق مثالية للرحلات، على سبيل المثال لبرن (20 دقيقة بالقطار)، إنترلاكن (20KM)، غرينديلولد، أعلى أوروبا جونجفروجوتش، كانديرستيج، اديلبودين.
We had a great stay, even though we only stayed for a really short period of time. Doris and her partner were very welcoming and it was very easy for us to feel at home! Thanks a lot!
Jonas
2016-01-30T00:00:00Z
It was nice experience at her house. The room is cozy and clean. The view in the house was beautiful. The host is very kind and helpful.
Sumin
2016-02-22T00:00:00Z
Doris was extremely friendly and nice to us. The apartment was very clean, and located within an easy walk to the train station. There was some confusion by me relative to the bath situation. The confirmation listed it as 2 people, 1 bed room, 1 bath. I interpreted that to mean a private bath. The details of the listing stated that the bath was shared, but I had not picked up on that. We prefer to have a private bath, but it worked out fine. Parking was a bit of a challenge, but Doris worked with us well to get it solved.
Jim and Marnie
2016-10-06T00:00:00Z
We had a good stay with Doris. She was home to welcome us when we arrived and showed us around the apartment. The apartment is as advertised. I had a great walk around nearby the Thun Castle. Breakfast was provided and Doris was helpful with parking advice.
Tesa & Guy
2016-05-21T00:00:00Z
Doris hat uns sehr liebevoll empfangen und suchte auch noch einen Parkplatz mit uns. Da wir nach einem langen, intensiven Tag ziemlich erschöpft waren, tat uns die Ruhe, die bei den beiden herrschte unsagbar gut. Es war einfach wunderschön bei euch und eure Aussicht kann sich echt sehen lassen!
Rashira
2016-11-13T00:00:00Z
Close to the train station. Hosts are welcoming and helpful. Loved the kitchen. The home is so beautiful that you will want to just stay in.
Rajat
2017-01-01T00:00:00Z
The flat is homey, clean, and near the train station and the Altstadt. Doris was a gracious host and full of helpful advice.
Deno
2017-01-22T00:00:00Z
Gute zentrale Lage, schön ruhig im Wohngebiet, das Zimmer ist sauber und gemütlich. Wir haben uns sehr wohl gefühlt.
Linda
2017-02-04T00:00:00Z
Typ pokoje
Soukromý pokoj
---
Typ nemovitosti
Byt
---
Ubytuje
2
---
Ložnice
Thun, Bern, Švýcarsko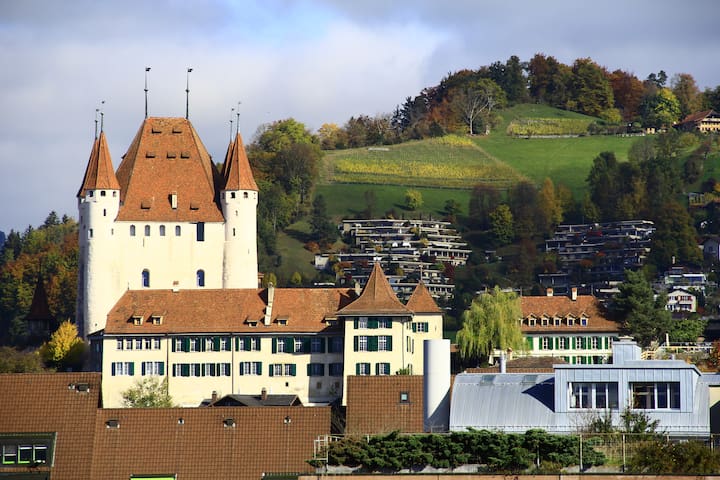 숙박에있다 기차 sation와 부두에서 도보로 칠분 도시의 중심에서 5 분 카지노 주차장 (하루 CHF 22)에서 도보로 2 분 거리 다음 버스 정류장 1 분 아레 강의 입, 대규모 Stockhorn 산 멀리서 우리의 아름다운 아파트 (부엌, 욕실, 침대와 침실 공간과 발코니)의 완벽한보기를 결론 지었다.
우리의 1 방 거주지 컨버터블 침대 (1.40 m)와 두 개의 침대가있다. 냉장고, 밥솥, 전자 레인지, 커피 메이커, 보일러 및 소형 식기 세척기 부엌 손에있다. 그것은 화장실, 화장실과 샤워 시설이있는 멋진 욕실이 있습니다.
카페와 backery 모퉁이 돌면됩니다.
Pia and Klaus' flat is lovely, clean, very comfortable. The view of the lake is stunning. Less than 10 mins from the station and from the historic centre. Klaus took care of the check-in. Communication was prompt and effective. If you want to spend a few days in Thun, Pia and Klaus' flat is a great choice.
Agostino
2017-03-27T00:00:00Z
Fantastic place to stay! Will definitely come back.
Ahmad Basyaruddin
2017-03-16T00:00:00Z
The host canceled this reservation 162 days before arrival. This is an automated posting.
Noël
2017-02-26T00:00:00Z
nice view on the mountains and comfortable, well decorated appartment: perfect stay for 2 days in THUN region
Christophe
2017-04-06T00:00:00Z
The apartment was clean, comfortable and very nice. It had a panoramic view of the lake. We did a little 'late to check out but Klaus and Pia were really friendly. It was a nice experience.
Anina
2017-04-03T00:00:00Z
The Apartment is in a great spot and with view to the Swiss alps. Just a few minutes walk from the center of tun and directly in front of the Thun lake. The flat (studio) is smaller than we thought but even for 3 people was ok to sleep. Anyway, you don't want to be in the flat in this amazing place and you should be out discovering the amazing and colourful cities around and breathtaking views!
Cesar
2017-03-18T00:00:00Z
Pia was an excellent host. The house was located at walkable distance from supermarket and railway station. We had a good welcome when we arrived at the house. All the necessary items were properly arranged and communication with the host was also easy. The house was clean and sufficient for stay of 4 people. She was very kind to provide help for a couple of required things. Looking forward to stay there again. Kind Regards, Chanpreet
Chanpreet
2017-03-03T00:00:00Z
Typ pokoje
Celý dům/byt
---
Typ nemovitosti
Byt
---
Ubytuje
4
---
Ložnice
Thun, Bern, Švýcarsko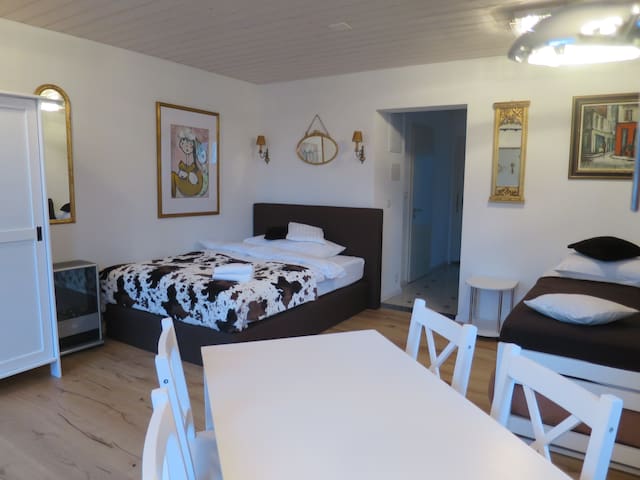 Direkt im City.Bedroom mit eigener balcony.Nice Ansicht. Dedicated Privates großes Badezimmer, zwei Waschbecken, Schlafzimmer ist direkt mit Bad verbunden. -In 25 Minuten mit dem Auto oder dem Zug in Interlaken und Bern (Zug direkte Verbindung) -In 50 Minuten in Lauterschilt -In 1,15 Std. in Luzern -Use Küche zum Kochen -Pay Aufmerksamkeit und unten lesen, wenn Sie ein Auto haben !!!!
Parkplatz, wenn Sie ein Auto gemietet: Wie ich schrieb ich in der Stadt direkt leben. Sie werden keine üblichen Parkplatz außer Parkhaus finden. Ich empfehle Ihnen, Parkhaus City West (Strasse: Aarestrasse 14) oder Parkhaus City Nord (Strasse: Grabenstrasse 6). Es ist nur 3 Minuten von meinem Platz zu gehen. Eine andere Möglichkeit ist, mein privater Parkplatz. Aber ich muss 9 Dollar pro Nacht berechnet cos i in der Nähe von meinen Eltern parken und zahlen genau auf 9 Dollar. Das ist billiger als in der Parkgarage aber falls Sie d`ont zu fragen, bevor Sie den Parkplatz isn `t verfügbar ankommen. Dies geschah nun mehrere Male. Also müssen wir mit diesem vor Ihrer Ankunft Zeit beschäftigen. basierend auf ich ein eigenes Auto haben `t i mein Parkplatz versprechen
Zentral gelegene, sehr saubere und gut ausgestattete Unterkunft, sehr angenehmer Gastgeber. Kann ich nur weiterempfehlen.......
Andrea
2017-03-12T00:00:00Z
The place is great. Just in the centre of Thun. It's advisable to arrange the parking space with Oliver, as it's very hard to park in the area and you need a public parking lot
Dory
2016-10-14T00:00:00Z
Best choice in town as describe, Oliver is a super host, very kind and helpful
Tum
2016-09-17T00:00:00Z
The room is huge and well furnished, the private bathroom is a big plus. The location is really centre ans convenient. Very recommended host!
Luca
2016-10-26T00:00:00Z
The host canceled this reservation 14 days before arrival. This is an automated posting.
Stefanie
2016-08-13T00:00:00Z
Maybe the best location to stay, everything was unproblematic, can absolutley recommend it
Michael
2017-04-07T00:00:00Z
This house is perfect! It's just in the centre of Thun. Walkable distance to all the place of interesting , shopping mall and the river. And it only take us 10 mins walk from this house to train station. If without our luggage, I believe it will be more faster. There is a big supermarket just (URL HIDDEN) room is exactly same as photo. Even better than the photo. Bathroom come with floor heating! The whole house is well renovated,neat and clean. Oliver is very friendly and helpful. He is a person who live in a high quality life style as well. Everything he provided is good quality. We really enjoy our stay in Thun We highly recommend this house!!
Mabel
2016-12-24T00:00:00Z
Charles
2017-02-08T00:00:00Z
Typ pokoje
Soukromý pokoj
---
Typ nemovitosti
Byt
---
Ubytuje
2
---
Ložnice
Thun, Bern, Švýcarsko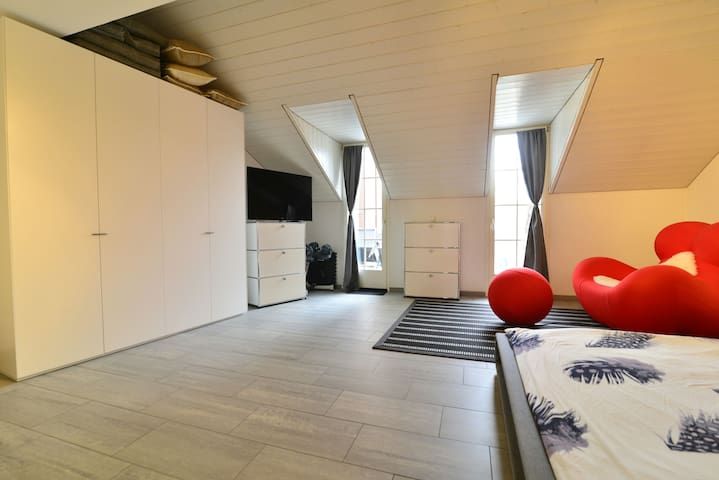 paradis au-dessus des toits de faire, spacieux appartement très lumineux au 4ème étage d'une maison d'affaires avec ascenseur. dispose d'une cour - offrir la fenêtre une vue magnifique sur les montagnes, le lac et la ville. dans le sous-sol abrite également un cinéma.
Vous trouverez des serviettes et un lit de 160x200 avec des draps frais. Si vous réservez pour plus de 2 personnes, il y aura une deuxième chambre avec un lit de 160x200 prêt pour vous. il est une promenade à travers la chambre, mais il est possible de marcher autour de la salle en utilisant le patio. vous allez partager l'appartement avec moi, le propriétaire. Si vous souhaitez réserver pour encore plus d'invités, il y aura un canapé-lit dans le salon pour 2 personnes supplémentaires. L'appartement sera nettoyé chaque semaine pour longtemps les clients séjournant. Réfrigérateur, lave-vaisselle, lave-linge, vaisselle etc. sont disponibles et peuvent être utilisés. Ainsi est TV, WiFi, fer et planche à repasser.
L'appartement est situé dans le centre-ville. Vous pouvez prendre de belles promenades le long du côté du lac, à travers la belle vieille ville ou à la château. Vous trouverez beaucoup de possiblités d'achat en quelques minutes à pied et il y a beaucoup de bons restaurants et bars tout près. Le bus juste à l'extérieur du bâtiment, vous amène à la célèbre Caves St. Beautus, aux zones de montagne ou d'autres endroits passionnants. Je serai heureux de vous donner des conseils sur demande.
Oliver was very communicative to assist with our arrival. His apartment is in a great location with easy access to trains, buses, boats and the old city. We didn't see that much of him during our stay but he was friendly and helpful. The place is clean and simple. Thanks
Motts
2016-09-21T00:00:00Z
The apartment is clean and in a great location. Oliver is friendly and informative, he even met us at the train station to give us a key. This was our first time using Air B&B during our 2 week travel through Switzerland and every thing was great, however, I do have to say this was the most expensive place we stayed. We stayed in large cities and the country and on average we paid around $120 per night, in Thun it cost about $180. Not that anything was wrong with the accommodations, you do have access to the entire place so if you want to cook or hang out more you can, we just needed a bed and a bathroom and it felt more like $120 value than $180. Thun could also be a more expensive area with less options but in Bern, Interlaken, Luzern, and Lausanne we stayed for less.
Jason
2016-09-10T00:00:00Z
good cooker and very friendly
Xing
2016-10-08T00:00:00Z
房子很漂亮,交通非常方便,厨房很齐全,完全可以自己做中国菜,房主人很好,背后的教堂很漂亮!
Xing
2017-02-23T00:00:00Z
Great location, great views, big house and quiet area! Best choice to stay in Thun!
Sammy
2017-02-01T00:00:00Z
Der Aufenthalt bei Oliver war sehr angenehm! Wir hatten eine super, tolle Lage in Thun und eine saubere und gute Unterkunft. Der Gastgeber war sehr freundlich zu uns!
Melody
2016-08-19T00:00:00Z
Oliver is very friendly and helpful. The apartment is huge and airy. Great view, as described. Great communication! Highly recommended. Great location, less than 10 min walk from tren station.
Deyu
2016-09-11T00:00:00Z
房子超级棒,是在顶楼的一个开放空间,窗外可以看到河,很美,房间很干净,房东也很好,重要是位置方便,离火车站步行就可以,周围就是市区,图恩超美推荐来瑞士旅游的多住几天图恩。 Thun is a great city, really beautiful and clean. The house is like an attic, so that you can see the surrounding views from the windows. The owner is very friendly and kind, we've had also a nice talk.
aizhu
2016-09-15T00:00:00Z
Typ pokoje
Soukromý pokoj
---
Typ nemovitosti
Byt
---
Ubytuje
4
---
Ložnice
Thun, Bern, Švýcarsko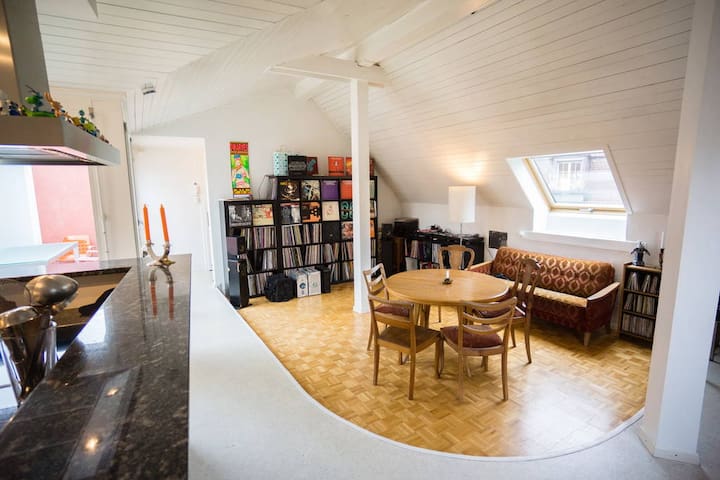 The apartment is on the 1st floor of a swiss chalet. It has beautiful views of the local mountain ranges including Mt Niesen, is well lit, and well connected to local attractions. It has been recently renovated in an eco friendly way.
Typ pokoje
Celý dům/byt
---
Typ nemovitosti
Byt
---
Ubytuje
2
---
Ložnice
Heimberg, Bern, Švýcarsko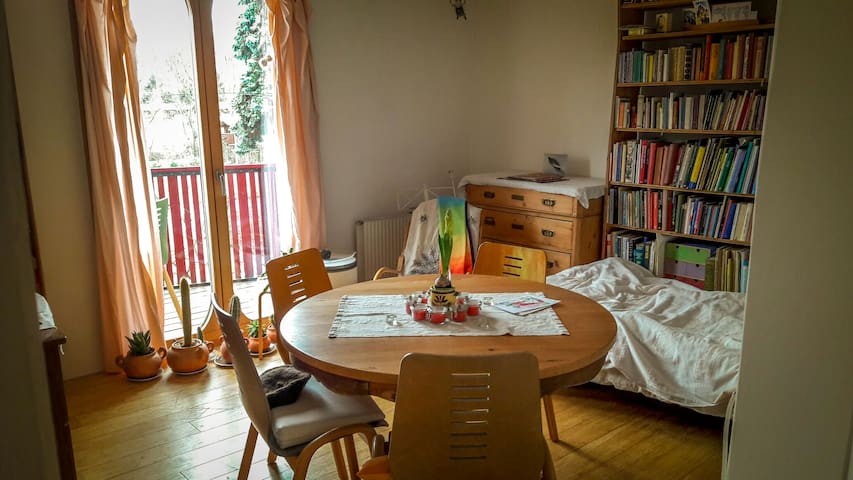 Schönes Doppelzimmer in Thun der Nähe der historischen Altstadt, Bahnhof Thun (10 Minuten), See Thun (5 Minuten), 1 Minuten zu Fuß zu den öffentlichen Verkehrsmitteln. Flughafen Zürich (~ 90 min) Unser Platz ist gut für Paare (+ ein Kind), Freunde, Solo-Abenteurer und Geschäftsreisende. Die Stadt Thun, die am unteren Ende des Thunersees ist, ist das Tor zum Berner Oberland. Es ist eines der originellsten Städte in der Schweiz und wird von Besuchern Druck auf Interlaken übersehen.
(URL HIDDEN)
Sara est une madame très très gentille.Elle nous a accueilli à la gare et préparé un petit déjeuner très copieux et délicieux . Sa chambre est très jolie,propre et comfortable. Jusqu'à présent , C'est vraiment ma meilleure expérience d'avoir très bon rapport qualité-prix! Sara 是一位非常好的房东,她的房子又舒服又漂亮,她到火车站接得我们,还为我们准备了丰富的早餐。这是目前我订的性价比最高的房子。
zijiao
2017-03-23T00:00:00Z
Great location, lovely place, perfect host! Would definitely recommend staying here :)
Bryn
2017-04-09T00:00:00Z
Supersauber! Sehr aufgeräumt! Mit viel Liebe und Stil eingerichtet. Sara ist zuverlässig und eine ganz tolle Frau! Insgesamt war die Familie zurückhaltend und zuvorkommend. Es war ein unkompliziertes und sehr angenehmes Miteinander.
Santena
2017-04-11T00:00:00Z
Super nette Leute , toller warmherziger Empfang, super Lage , sehr ruhig mit toller Aussieht , in Wohnung drin ist picobello, sauber und hergerichtet sehr gut bis zu kleinsten Finessen ,Gastfreundlichkeit ist bis zum maximum sogar noch mehr, Hilfsbereitschaft in jeder Hinsicht , Preis ist auch für schweizer Verhältnisse sehr in Ordnung , für die Stadt Thun selber da brauchen wir überhaupt nicht diskutieren absolut FABELHABT , also Leute ihr habt einen tollen Gastgeber , tolle Stadt , tolle Sehenswürdigkeiten , GO FOR IT :) ;)
Burim
2017-03-19T00:00:00Z
Sara is a wonderful host! She picked me up from the station when I arrived with heavy luggage and made me feel at home from the first minute. The flat is clean, cozy and beautifully decorated. The room is nice and quiet with a very comfortable bed and even a computer. The flat is located right in the center of town with everything in walking distance. I enjoyed my stay a lot and would have loved to stay longer!
Miriam
2017-03-13T00:00:00Z
Typ pokoje
Soukromý pokoj
---
Typ nemovitosti
Byt
---
Ubytuje
2
---
Ložnice
Thun, Bern, Švýcarsko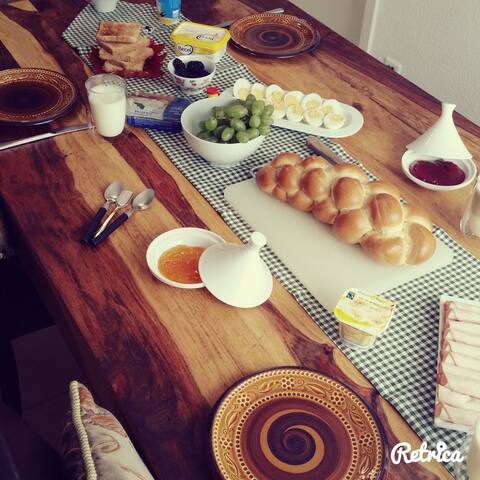 The rooms in the family house can accommodate up to 2 persons accommodation. The proximity to the mountains, the lake and the historic center make this property particularly attractive. Public transport right outside the house. Rooms with TV, WiFi and bathroom / WC on the floor.
Nice room on the 1st floor with a large balcony.
Lake, beach, Schadau Park, Wocher Panorama, Castle, historic Old Town.
sehr freundlich, fühl dich zuhause
Christin
2017-01-27T00:00:00Z
Friendly and helpful hosts. It was a quiet and relaxing place to stay with a beautiful view.
Antonio
2016-12-26T00:00:00Z
very nice !
jiawei
2016-10-01T00:00:00Z
Mein Aufenthalt bei Marlis und Armin war sehr angenehm. Besonders geschätzt habe ich, dass das B&B sehr zental gelegen ist und vom Bahnhof Thun aus mit dem Bus in nur 10 Minuten erreichbar ist.
Martina
2017-03-05T00:00:00Z
they are very kindful and nice peoples,the house is vey clean in a beautiful place.Recommende evidement!
泉威
2016-09-25T00:00:00Z
Sehr schönes Zimmer mit tollem Ausblick. Sehr zuvorkommendes, nettes Ehepaar. Waren sehr schöne Tage. Lieben Dank
Mahara
2016-11-13T00:00:00Z
Nette unkomplizierte Gastgeber
Uwe
2016-07-29T00:00:00Z
Very good room, in the house,there are two lovely dogs and a fabulous cat. The owner of the house are very friendly.
Wei
2016-09-22T00:00:00Z
Typ pokoje
Soukromý pokoj
---
Typ nemovitosti
Dům
---
Ubytuje
2
---
Ložnice
Thun, Bern, Švýcarsko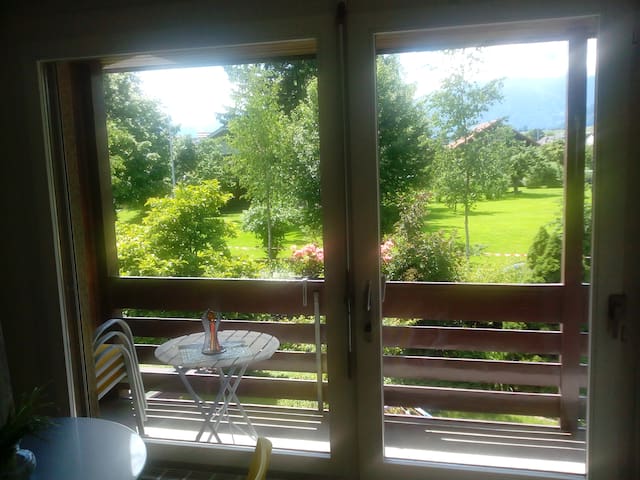 Le encantará nuestro apartamento, ya que está situado a sólo 1 minuto de la estación principal de tren, la estación de barco, restaurantes y vida nocturna. Además se encuentra en el centro de la ciudad-centro de Thun y se llega a Interlaken, en 30 minutos en tren. Se puede llegar a puntos de vista beautyful de la Jungfrau o el lago de Thun muy cerca. El siguiente panadería se encuentra en el mismo edificio que el apartamento. El apartamento es adecuado para parejas, solteros y businesstrips. Te encontrarás con nevera y hervidor de agua.
Proporcionamos el llamado "PanoramaCard Thunersee", que ofrece viajes gratuitos con los autobuses locales y regionales y beneficios adicionales
I stayed at Monika & Paul's place for one month. Everything was as described and the location fantastic. They made me feel at home right away with many small, thoughtful details. I would recommend theyr cozy loft at any time.
Nicole
2016-10-01T00:00:00Z
I stayed in Monika & Paul's house for 3 nights. I was having trouble which train but Paul makes sure that I got on the right train. It was very helpful. When I first entered the room it was amazing. Very spacious for 2 people. Very close to the station about 2mins of walk ( it's just right there). Comfortable bedding and a nice table. If you are staying at Thun, this place is the right place.
Johnny
2016-07-15T00:00:00Z
Monika et Paul nous on très bien accueilli et ont parfaitement répondu aux questions que nous avions. Le logement est très bien situé, propre et bien décoré; fidèle à la description.
Marion
2016-07-25T00:00:00Z
Monika and Paul welcomed us in this very nicely located loft in Thun. They were very nice and answered all our questions as well as gave us half-card price for some attractions which was very useful ! The loft is nice and perfectly located (1 min train station) and quite big with two beds. It was clean and we also had some food. The only negative points are the absence of a kitchen and the toilets outside the loft (but still private just in the same corridor) but for short term stay it is a great place !
Allan
2016-08-04T00:00:00Z
Tolle Lage, direkt mittendrin. Monika und Paul haben das Loft sehr liebevoll hergerichtet und auch an kleine Aufmerksamkeiten für unsere Kinder gedacht. Dies wäre laut Inserat nicht nötig gewesen, hat uns deshalb um so mehr gefreut. Herzlichen Dank!!!
Claudia
2016-08-08T00:00:00Z
Top-Lage im Zentrum von Thun! Die Loft ist stilvoll eingerichtet mit allem was man braucht um sich wohlzufühlen. Die Gastgeber waren sehr freundlich und zuvorkommend.
Mirjam
2016-07-21T00:00:00Z
Nous avons ete très bien accueillies et avons trouvé tout ce qui était nécessaire dans le loft. Les lieux étaient très propres et les hôtes très flexibles!
Noémie
2016-08-15T00:00:00Z
Monika and Paul a great hosts, everything was in good order and I would surely be happy to stay there again. Just one problem is that a toilet is outside of the apartment.
Tanja
2016-07-11T00:00:00Z
Typ pokoje
Celý dům/byt
---
Typ nemovitosti
Podkroví
---
Ubytuje
4
---
Ložnice
Thun, Bern, Švýcarsko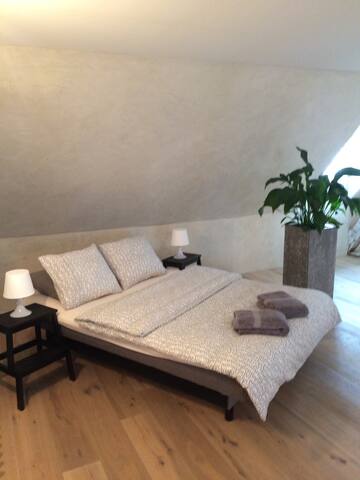 Esta pequeña habitación está ubicada en la tercera planta de un hotel. Hay una cama para 1 persona y un pequeño televisor. El baño es compartido con otras 4 habitaciones. Ofrecemos WiFi gratuito para nuestros clientes. También ofrecemos un Panorama-Card, por lo que podemos utilizar los autobuses en Thun gratis y tiene otros descuentos también. Tenga en cuenta que hay un impuesto municipal de 2,50 CHF por noche en la que tiene que ser pagado en el momento.
La habitación pequeña (aprox. 9m2) en el 3er piso ingenio una pequeña ventana bajo el mismo techo. Hay un baño compartido en el pasillo.
Estamos cerca del lago y una piscina pública (abierta en verano). El KK Thun está a sólo 5 minutos a pie de nosotros. Se puede llegar a un supermercado en 10 minutos.
Typ pokoje
Soukromý pokoj
---
Typ nemovitosti
Dům pro hosty
---
Ubytuje
1
---
Ložnice
Thun, Bern, Švýcarsko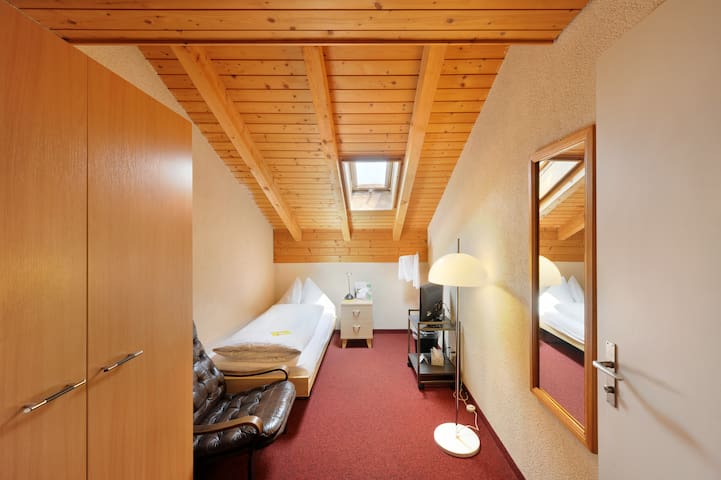 We rent quiet, sunny room (breakfast included) with view of lake and mountains in 100-year-old, stately Swiss chalet. An ideal place to relax Desk!
The sunny guest room is 24 m2, has two single beds that can be used as a double bed, a desk and a private cabinet room to store the luggage. Before the room there is a private balcony with wonderful views of the Thunerseee and the Alps. A full breakfast is included in the price. Breakfast I serve in the room or in good weather on the balcony. The kitchen is not provided. In the room but there is a kettle with crockery for coffee and tea available. The modern bathroom with bath and toilet is shared. Wireless internet is available.
The forest or the Cholereschlucht with waterfall etc. both behind the house is ideal for walks and hikes. On Lake Thun can be undertaken on a sailboat or rowboat boat trips (steamship), excursions. For swimming there in addition to the lake several beach baths (some heated) and even a saltwater pool. The Chalet Ermitage is also an ideal starting point for excursions to the Bernese Oberland (hiking, climbing, skiing) and to visit the surrounding places Thun, Bern, Interlaken.
very beautiful view,you can see the lake and mountain by window.The hostess is very nice person.The breakfast is so sumptuous.There are also very cute and peaceful dogs there.
kiro
2016-06-05T00:00:00Z
The view was absolutely amazing from the balcony and Annemarie was very quick to respond and help out. Also the breakfasts in the morning were lovely. Make sure you read the full description! We didn't and we're caught off guard by how limited to our private room we were. In the description it said no use of kitchen but we were also limited in the other parts of the house/yard. The proximity to the center of Thun made the experience much better because we would have felt very trapped in the room if we weren't able to go out.
Jessica
2016-07-17T00:00:00Z
I stayed for 5 nights and all my experiences were exceptionally good. Annemarie's place was exactly what I needed and Annemarie went to a lot of trouble to manage my special food requirements for the wonderful and variety of breakfasts which she provided every morning. Delightful hosts taking every care to assist wherever necessary. A great home away from home.
Judy
2016-08-19T00:00:00Z
Wunderschöne Aussicht auf den Thunersee. Geräumiges und sauberes Zimmer mit zusätzlichen Platz im Schrankzimmer. Freundliche und zuvorkommende Gastgeber. Sehr guten Morgenessen auf dem Balkon. Mein 11-jähriger Sohn und ich haben den Aufenthalt sehr genossen und würden jederzeit wieder hier übernachten!
Joerg
2016-07-27T00:00:00Z
Amazing ever-changing views of the lake and mountains from the big private balcony where we had breakfast brought to us each morning, including a different type of home-made bread every day. Annemarie is a friendly, helpful and welcoming hostess and her three beautiful dogs are curious and placid. From the Chalet you can walk or drive into Thun, or you can sit on the balcony and take in the view. Both the room and balcony are sizeable, with a separate room for clothes and luggage. The bed is very comfortable and you have a desk/table both indoors and out. It is in a quiet, peaceful area and whether sunny or raining, it is a relaxing place to be. Highly recommended!
Martin
2016-08-01T00:00:00Z
Chalet Ermitage sits up on a hill overlooking Lake of Thun, which you can take in from your private balcony. The neighborhood is quiet and removed from busy streets and traffic. Breakfast is delivered every morning with a smile and a warm greeting. The beds are comfortable and the space is immaculately clean. Annemarie is a wonderful host!
Steve
2016-08-05T00:00:00Z
I booked the Chalet Ermitage for two friends of mine who were visiting and wanted to explore Switzerland. They very much enjoyed their stay with Annemarie and summarised their experience as follows: "Our stay in Thun was a good experience. The picturesque view from the terrace of the room is stunning! Annemarie is a nice person and she received us very well. She is very cooperative and helped us to find a restaurant, and the next day she helped us to get a taxi. Breakfast was good. When getting there, we didn't like that the bus driver didn't know the area and that we ended up having to walk quite a bit uphill." Based on their account, I can highly recommend Annemarie and the Chalet Ermitage.
regula
2016-06-27T00:00:00Z
Annemarie was a wonderful and generous hostess! She was there to greet us and escort us to our room. She brought us tea with fresh mint and cookies, which was very comforting after our travels. In the morning she prepared a lovely breakfast for us with juice, meat, cheese, berries and homemade bread. She was also truly a pleasure to talk to. Her home is awesome with a large patio that has a beautiful view of the lake. We really enjoyed staying at Chalet Ermitage and are very grateful to Annemarie for her kindness. Many thanks!!
Layla
2016-07-02T00:00:00Z
Typ pokoje
Soukromý pokoj
---
Typ nemovitosti
Penzion (B&B)
---
Ubytuje
2
---
Ložnice
Thun, Bern, Švýcarsko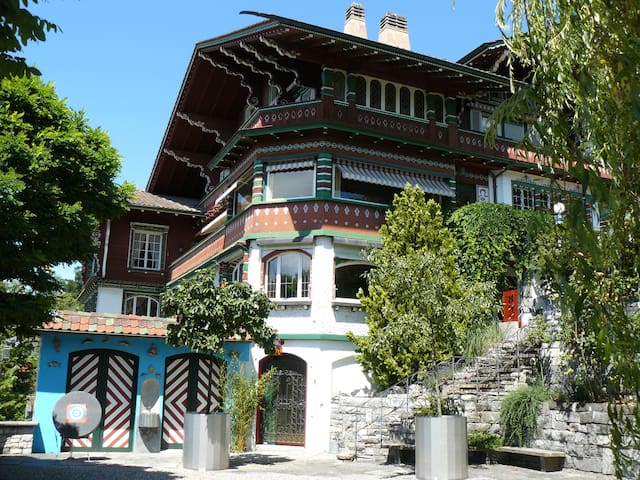 In the center of Thun stands in a large quiet garden an old romantic circus wagons (5x3 m) with a cozy sitting area with fire bowl. Bathroom and kitchen are in Villa (ground floor) from 1910. Old Town, railway station and lake are in 5-15 minutes away.
THE CIRCUS CARRIAGE STANDS (AB TWO NIGHTS) IN A QUIET LARGE GARDEN WITH OLD TREES. INSIDE THE ROMANTIC CIRCUS CARS IS A TABLE WITH CHAIRS AND A BED 160CM WIDE. BEFORE THE CIRCUS CARRIAGE IS A SUNNY PLÄTZLEIN WITH FIRE DISH, TABLE, CHAIRS, PARASOL. INTERNET WIFI AND ELECTRICITY AVAILABLE.
THE LODGING CALM WITH BIG OLD GARDENS AND ASSOCIATION CAMP OLD VILLAS.
Ein wunderbares Erlebnis. Der Zirkuswagen ist liebevoll eingerichtet und steht in einem schönen Garten. Claudia ist eine herzliche Gastgeberin. Ich habe den Aufenthalt sehr genossen.
Stefan
2014-04-12T00:00:00Z
집과 기차역이 걸어서 7분밖에 안되는 매우 가까운곳에 있어서 정말 좋았어요. 부엌사용해서 음식을 만들어먹는데 필요한 식기류가 다 있고 큰 기구 아니면 식기세척기에 두기만 해서 더 편했어요. 그리고 고양이가 있는데 사람에게 잘 다가와서 동물 좋아하시는 분들은 좋아하실거에요~ 제가 한 8월 중순에 루나집에서 잤는데 스위스날씨가 춥다보니 여름인데도 좀 추워서 밤엔 조금 추웠어요. 히터가 있어서 사용하려했는데 그게 5분 따뜻한 공기나오다가 꺼져서 아에 사용하지 못하여서 아침엔 너무 추웠어요ㅠ. 그거 말고는 너무너무 좋았어요. 루나의 집과 컨테이너박스 숙소와는 가까워서 화장실과 부엌이용은 어렵지 않았고, 루나집은 주택이에요(저랑 친구가 도착하기전에 루나집에 대해 무척 궁금했었거든요). 끝까지 친절하게 베풀어주셔서 정말 감사했어요! 스위스에 머무신다면, 역과 가까우면 좋으신분들에게 추천합니다~ Thank you Luna. I miss you and Swiss so much.
주혜
2015-08-18T00:00:00Z
Luna was a wonderful host. Very considerate as she upgraded us to inside the house to make us more comfortable on the chilly nights. Her home is gorgeous and rustic. I would highly recommend staying here to experience a Swiss home in a gorgeous town. Thanks a million Luna and Nathalie!
Melissa
2016-09-14T00:00:00Z
I could certainly consider to visit the place and the accommodation again in the future.
Juha
2016-08-13T00:00:00Z
처음에 인터라켄에서 묵으려고 했는데, 거기 방이 없어서 여길 잡게 되었어요. 그런데 저는 여기로 방을 잡게 된 것이 참 다행스럽고 반가웠어요. 이 동네는 한적하고 여유로운 교외 지역인데, 그 여유가 사람들의 삶의 방식과 사람들을 대하는 태도에서도 고스란히 느껴질 정도예요. 그리고 그런 마을을 둘러싸고 있는 경치는 다른 어떤 곳에서 보는 것보다도 더 그림같습니다. 그리고 교외 지역치고는 기차역도 바로 앞에 있어서 인터라켄이나 베른 같은 다른 지역으로 가기도 정말 편하고, 할인마트 등 편의시설도 가까워요. 무엇보다 좋은 점은 방인데, 나무로 만들어진 방 내부가 아주 아늑하고 분위기가 정말 이렇게 좋을 수가 없습니다. 호스트 루나는 영어가 아주 잘 통하고, 주위 관광을 위한 정보를 매우 친절하게 알려줍니다.
Sang-Woo
2016-07-12T00:00:00Z
Als ich in Thun ankam, fühlte ich mich wohl. Als mich Markus im Haus & Wohnwagen willkommen hiess da wurde mir klar das ich am richtigen Ort war. Warmherzige, wohlwollende Begegnung mit Markus und mit Claudia. Danke euch dafür.
Sandro
2014-09-14T00:00:00Z
Der Empfang war sehr herzlich und man sich gleich wie zuhause gefühlt. Die Nachbarschaft ist sehr zuvorkommend und man ist schnell bei vertieften Gesprächen bei geemütlichem beisammensein mit schlummertrunk! Unsere Kinder waren sofort willkommen und genossen das Wasser aus dem Gartenschlauch natürlich beim Heissestem Tag seit Temperaturmessung, mit grosser Freude! Alles ist sehr sauber gehalten! Liebe Luna, nochmals herzlichen Dank für die schönen zwei Tage bei dir im Zirkuswagen! Unsere Freunde haben schon Ihren Besuch bei dir im Hinterkopf
Lars
2015-07-08T00:00:00Z
We had a wonderful time in thun at luna's House. Luna was very kind and helpful. The place was very central on walking distance of thun. We would definitely coming back when visiting thun again. Thank you Luna!!
Ernst
2015-07-19T00:00:00Z
Typ pokoje
Soukromý pokoj
---
Typ nemovitosti
Srub
---
Ubytuje
2
---
Ložnice
Thun, Kanton Bern, Švýcarsko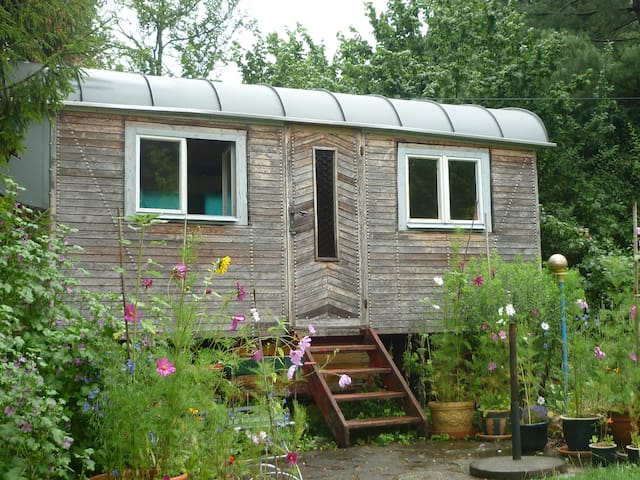 Fühlen Sie sich in einem 270m2 Penthouse-Loft-Stil mit der besten Dach in der Stadt neben dem Schloss. Ihr Gastgeber ist eine unkomplizierte, Reise-erfahrene Person. Sie werden einen Aufenthalt erleben, wo Sie willkommen fühlen. Sightseeing-Spots sind in der Nähe der Tür - egal ob Sie sich für Wanderwegen suchen, Meer Trottoirs oder einfach zu gehen, einen Drink. Es gibt 2 große Zimmer, jedes mit einem sehr bequemen Bett (180 cm x 200 cm) und 2 Schlafsofas. fühlen Sie sich frei in der voll ausgestatteten Küche zu kochen.
Meine Freundin und ich leben in der gleichen Penthouse in einem privaten Raum. Sie haben noch genug privaten Raum, die Sie zu Hause fühlen können.
in der Mitte der Altstadt.
Manuel is just a great host! it's not just a great place in a lovely city - it's much more. it's the essential: you feel at home! manuel knows all places and peoples, can give you recommendations for nearly everything. it was a fantastic experience and i left with full of positive emotions. i will definitely come back. thank you again manuel!
Zacharias
2016-09-29T00:00:00Z
It was my first time Airbnb , i enjoyed all my time , the place in a great location and irs really great house , even play card is there. The most inportant is Manuel he is a friendly and he became a friend not only a host Lovely expedience
Abdulrahman
2016-10-11T00:00:00Z
The place is definitely unique, and the view from the rooftop breathtaking.
Coralie
2016-09-02T00:00:00Z
3층부터 4층 각각 방이 따로 있고 루프트탑옥상까지 갖추고 있어서 한국음식을 그리워하는 장인 장모님을 위해 한국음식을 해서 밖에 노을을 보며 와인까지 함께 마시기에 너무 좋았다. 옥상에서 보이는 castle과 대형관람차가 절묘한 경치를 이룬다. Manuel 호스트는 매우 친철하며 우리가 해결해야 되는 부분까지도 직접 나서서 도와주려고 노력했다. 그리고 개인보트를 가지고 있어서 아무 비용요구 없이도 함께 호수가에 나가 놀아주려고 노력했다. 예정된 일정이 없었으면 꼭 타고 싶었는데 아쉽다. 젊은 감각의 인테리어로 집을 꾸며놓았기에 호텔과도 같은 느낌을 받았다. 그리고 툰역에 내려서 걸어서 10분거리이기 때문에 위치도 매우 좋다. 개인적으로 역주변에 숙소를 선호하는 데 여기가 최상인듯하다. 주변에는 스위스비싼 물가를 완화시켜주는 여행자에게는 필수인 대형 슈퍼 coop이 바로 근처에 있다. 예정된 숙박일정보다 만족도가 높아 연장을 하게 되었으며 세탁소를 찾지 못하는 우리에게 기꺼이 집에있는 세탁기와 건조기를 무료로 이용하게 해주었다. 위치나 주변환경 그리고 인테리어를 비롯하여 호스트가 매우 퍼펙트한 곳. 추천합니다.
Botero
2016-08-02T00:00:00Z
Die Wohnung liegt perfekt, mitten in der Stadt. Eine atemberaubende Dachterrasse über den Dächern von Thun. Manuel ist ein toller Gastgeber, sehr zuvorkommend und hilfsbereit. Die Wohnung ist sehr groß und perfekt ausgestattet.
Thorsten
2016-09-30T00:00:00Z
Malgré une inscription tardive de notre part, Manuel est venu nous accueillir chaleureusement tard dans la soirée. Manuel a su nous faire sentir chez nous dans ce magnifique appartement de la vielle ville. La vue depuis la terrasse est à couper le souffle : vue sur le chateau et la vielle ville. L'appartement est idéalement placé, dans un quartier tranquille, à deux pas des commerces, des terrasses et toute autre commodité.
Laurent
2016-08-08T00:00:00Z
Manuel was very nice and showed us everything. the place is Huge and very tasty. the Bathroom has a big tub. everything was good. one thing was that the Appartement was very chilly. during night we had very cold. other that that we had a perfect stay.
Karin
2016-10-22T00:00:00Z
We're happy to stay in Manuels's home. The house is full of facility and clean. The view from the Rooftop to the Castle of Thun is amazing. Manuel helped a lot on what we need. We had a good memory and i'm highly recommend you to stay in Manuel's home if you visit Bern, Interlaken or Jungfraujoch....
Dimitri
2016-09-16T00:00:00Z
Typ pokoje
Soukromý pokoj
---
Typ nemovitosti
Byt
---
Ubytuje
6
---
Ložnice
Thun, Kanton Bern, Švýcarsko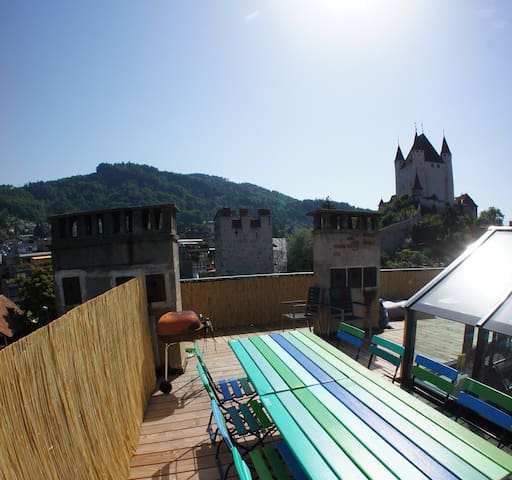 For your stay in Thun I welcome you to my lovely home. There's a comfy double bedroom waiting for you. If you like you may share a well equipped kitchen, a cozy living room and a tiny balcony with me. The apartment building is located next to the train station. The town center is within 5 minutes walking distance. There's also a parking just around the corner. I'm looking forward to your visit.
당신은 툰을 방문 할 계획입니까? 좋은 생각! 이 작은 사랑스러운 마을 IST는 아름다운 산 근처 호수에 위치하고 있습니다. 머무는 동안 나는 나의 아름다운 집에서 당신을 환영합니다. 아파트 건물은 기차역 옆에 위치하고 있습니다. 마을 센터는 도보로 5 분 거리에 있습니다. 모퉁이를 돌면 주차장도 있습니다. neoclassicist 건물은 1923 년에 지어졌으며 여전히 볼이 단장하고 현대적인 표준을 충족 비록 이전의 매력을 느낄 수있다. 내 아파트는 2 층에 있습니다. 불행하게도 엘리베이터 없다 그러나 나는 당신의 짐을 함께 당신을 도울 수 있습니다. 잘 갖춘 주방, 아늑한 거실과 당신이 나와 함께 공유 할 환영합니다 작은 발코니가있다. 당신은 모든 객실에서 산을 엿볼 수 있습니다. 객실은 조용한 뒤뜰에 직면 해있다. 그것은 단순하지만 아늑한 가구이고 편안한 더블 침대를 갖추고 있습니다. 우리가 공유해야합니다 하나의 욕실이 있습니다. 하지만 난 당신을 위해 정돈 약속드립니다. 방은 커플, 가까운 친구와 싱글 여행객을위한 최적입니다. 당신이 집에서 느낄하려면이 Wi-Fi 및 샤워 수건, 여기에 간단한 아침 식사를 할 수 있고 당신이 목 말라 있다면 당신은 항상 신선하고 맛있는 수돗물을 마실 수도 있습니다. 당신이 다른 아무것도 필요, 그냥 나 한테 물어. 나는 툰에서 당신을 환영 기대 당신과 함께 내 사랑하는 가정을 공유하고있다.
Typ pokoje
Soukromý pokoj
---
Typ nemovitosti
Byt
---
Ubytuje
2
---
Ložnice
Thun, BE, Švýcarsko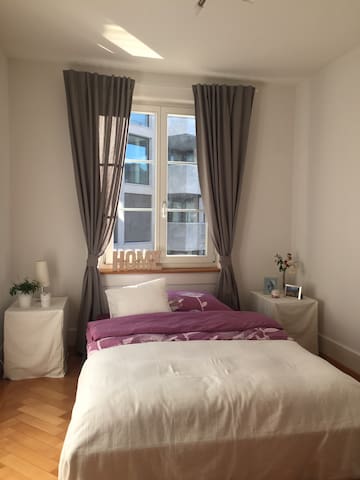 Snový penthouse s velkou terasou k relaxaci a užít si výhled na úchvatné horské scenérie. Snadná dostupnost do veřejných dopravních sítí, různé nákupní možnosti jsou v blízkosti a do centra města Thun je dostupná autobusem nebo autem za pouhých 5 až 10 minut. Místnost má rozkládací pohovka (140 x 190 cm) pro jednu až dvě osoby, TV a Netflix v pokoji. Vlastní WC s lavabo je k dispozici. Sprcha / vana musí být rozdělen s námi. Free Wi-Fi je včetně a také získat kávu a čaj, stejně jako chcete. Naše kuchyně mohou být použity pro přípravu vašeho jídla Žádáme, abyste vyčistit všechny použité nádobí poté a zanechali kuchyni v čistém stavu. Jsme 2 osoby domácnost 2 kočky. Všimněte si náš byt se nachází ve 3. patře a bez výtahu. Jsme rádi pomůžeme se zavazadly. V létě je zde mnoho kulturních akcí v Thun. Také hodně turistiky, poznávací možnosti v této oblasti v blízkosti. Můžete navštívit krásné staré město Thun se zámkem nebo si užít den na slunci na parní lodi na jezeře Thun. V zimě Thun je ideálním výchozím bodem pro dosažení všech známých lyžařských areálů v Berner Oberland. Cestujete-li autem, máme několik parkovacích možnostech, žádné zaručené parkování zdarma.
velmi bezpečné a klidné okolí.
Sonja and Chris were really kind. Their apartment is clean, quiet and well organized. Thanks!
Juliana
2014-09-12T00:00:00Z
좋은 숙소였고 친절했습니다. 만족합니다.
Wonho
2017-01-07T00:00:00Z
My host's partner was able to help me with arrival and settling in, as Sonja was traveling. Instructions beforehand were perfect and I had no difficulty finding the apartment. During my stay, my host was generous with time, explanations, great conversation and, importantly, shopping, cooking and eating. I thoroughly enjoyed my stay. I think I made good friends with the resident cats, too.
Jane
2016-07-16T00:00:00Z
우리는 튠 역에 늦게 도착했다. 그래서 우리를 데리러 역 앞에서 기다리고 있었다. 친구의 가방이 많이 무거웠는데 들어줬다. 집에는 두 마리의 호기심 많은 고양이가 있었고, sonja는 우리를 반가워 했다. 그리고 시설 이용 방법의 자세한 설명과 근처 볼 만한 곳을 추천했다. 쇼파로 만든 침대는 너무 편리했다. 깔끔하고 조용했으며 테라스가 너무 멋지게 꾸며져 있었다. 여름에 이용하면 좋을 것 같다. 방은 따뜻했고, 아늑한 조명으로 분위기도 좋았다. 그리고 아침도 맛있게 만들어 줬다. 버스정류장은 걸어서 10분정도이며 찾기 쉽다. 다만 엘리베이터가 없어서 당신의 가방이 무겁다면 불편 할 수 도 있다. ---------------------------------------------------------------------- We arrived late to tune the station. So we had to pick up the station waiting in front. For the heavy bag I got a lot of friends. There was a curious cat house two birds, sonja was glad for us. And recommended a detailed description of the facilities and places to see near way. Made with sofa bed was too conveniently. He was a quiet, clean and very nicely furnished terrace. With the summer would be nice. The room was warm, cozy lighting atmosphere is also good. And also made delicious breakfast. The bus station is easy to find, and walk for about 10 minutes. Just because the elevator can also be uncomfortable if your bag is heavy.
하나
2015-01-19T00:00:00Z
Sonja und Chris sind sehr nett. Und die zwei Katzen sind sehr süß:):):) Ich habe eine sehr tolle Reise! Ich möchte wieder kommen.
Yiwen
2016-09-19T00:00:00Z
Ich kann diese Gastgeber nur empfehlen, einfach und unkompliziert
Ueli
2017-02-12T00:00:00Z
Het is een mooie kamer. Ruim en licht met een mooi uitzicht. Prima keuken en badkamer. Sonja en haar vriend zijn hulpvaardig. En de locatie is prima. Goed te doen naar het centrum. Aan te bevelen
Cor
2017-01-19T00:00:00Z
정말 훌륭한 집이였어요. 너무 친절하고 넓은집에 야외테라스는 덤 고양이 좋아하시는분들은 추천해요. 사람도 잘따르는 아이들이에요. 스위스 또 가게 되면 또 가고싶네요.
Chaeheon
2016-09-26T00:00:00Z
Typ pokoje
Soukromý pokoj
---
Typ nemovitosti
Byt
---
Ubytuje
2
---
Ložnice
Thun, Bern, Švýcarsko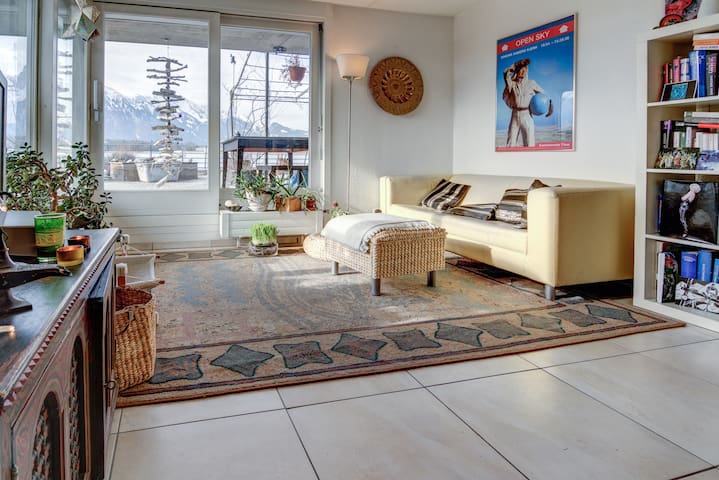 Swiss Chalet Estilo Casa con vistas al lago de Thun con una impresionante vista de las montañas de Berna. Es una ubicación ideal para actividades al aire libre ya que en las proximidades de las montañas, el lago y bosque. 20 minutos a pie a lo largo del lago hacia el centro de la ciudad de Thun. embarcadero a sólo 12 minutos a pie. barco inolvidables viajes a Interlaken. Bañera de hidromasaje para relajarse por la noche, todo incluido. Cerca de transporte público a Interlaken, Berna, Grindelwald y Gstaad. Todo dentro de 20-60minutes viaje.
Soleado y familiar de barrio con una impresionante vista sobre el lago de Thun y las montañas de Berna. Bañera de hidromasaje para relajarse por la noche incluido. 20 minutos a pie a lo largo del lago hacia el centro de la ciudad. Cerca de transporte público a Interlaken / Grindelwald / Berna. Nuestra casa está situada en una ladera con vistas al lago de Thun. Está orientada al sur y es muy soleado. Tiene dos historias la que viven piso de la cocina comedor y el suelo del dormitorio / baño. Se puede acceder al jardín y el porche de la sala de estar. Utilizando el Jacuzzi / se incluye en los costos durante la noche. Así que póngase cómodo con una copa de vino después de un largo día de trabajo o un largo paseo. La sala de Sun (sofá cerrado) le ofrece una vista impresionante sobre el lago de Thun y las montañas de Berna.
Fantastic house! First choice of u have a car. The host is friendly and helpful
盈
2016-12-22T00:00:00Z
Steve & Family are lovely and warm people! Their house is much better than you can see through pictures. We had a great vacation. thanks! recomended A++!!
amit
2016-04-30T00:00:00Z
We had a fantastic stay at the chalet, steve was always available to answer any queries before and during the stay. The sun room has superb views of lake Thunersee, and its a great sit-out during the day and evenings. The house has modern interiors and is very well equipped with any amenities that you would think of. It is advisable to have a car as the chalet is uphill, although access to lake is about 10 mins away by walk. The lake is fantastic for a jog or cycling or swimming or picnic. Migros and Coop convenience stores are at 5 mins distance. Would highly recommend Steve's place.
Dhaval
2016-09-17T00:00:00Z
Steve and his wife were very accommodating and responded quickly to my inquiries; the house and neighborhood were beautiful and quiet. Gorgeous views of the lake from the sun room. If you don't mind the climb, there are lovely hikes up the hill from the house and friendly neighbors who came to my rescue when I took a wrong turn! Beware, if you're taking public transportation, the house is up a fairly steep hill. Fortunately, Steve was in town and met us at the train station, so our luggage wasn't a problem.
Judy
2016-06-05T00:00:00Z
I had a beautiful stay in Steve's house. The house was better than described, the wood burning stove was lovely, the beautiful view from the balcony was breathtaking! The flat was very clean and specious, I was in Thun to find a quite place to do some work and this secluded flat with view of the lake and mountain was exactly what i needed! had beautiful sleeps and a lovely time! i look forward of having the opportunity of staying here again! I advise everybody to take a few days off and stay in this lovely place!
William
2016-04-11T00:00:00Z
What a place! The house itself is light, spacious and modern with a fantastic kitchen and living space. The view from the sun room is breathtaking and the perfect place to relax looking out to the lake and mountains. The hot tub is great too! Steve was very friendly and helpful, he showed us round and made us feel welcome. Would definitely recommend this house :-)
Abby
2016-09-09T00:00:00Z
It was amazing experience it was the best ever I suggest that whoever has a car to forget about having hotel in interlaken and rent steve's house I can not describe how beautiful it was
Bander
2016-11-13T00:00:00Z
The days we spent in Switzerland were just like a dream. In Thun, we met our host, Steve and the family, and they welcomed us so much. Whenever I had questions, he replied immediately, so we didnt have any inconvenience during our stay. We will always remember the view of Thun lake and the breathtaking mountains with icecaps, we enjoyed for the whole day, from the beautiful balcony of the house. Since we stayed in this house, which is perfectly located in the center of Switzerland, it was possible for us to go to any place for a day trip. All kitchen utensils were perfectly convenient to use. The bedding of all 4 rooms were so light and soft, so we were able to sleep easily every night. Staying at Steve's house made our trip even more perfect than ever :) 저희는 8명 가족으로 렌트카로 스위스를 여행했어요. 튠에서 머문다면 진정한 스위스를 만끽하실수 있을거예요. 접근성,편의성, 안전성 모두 굳! 강추합니다~! :)
Jungeun
2016-05-10T00:00:00Z
Typ pokoje
Celý dům/byt
---
Typ nemovitosti
Dům
---
Ubytuje
9
---
Ložnice
Thun, Bern, Švýcarsko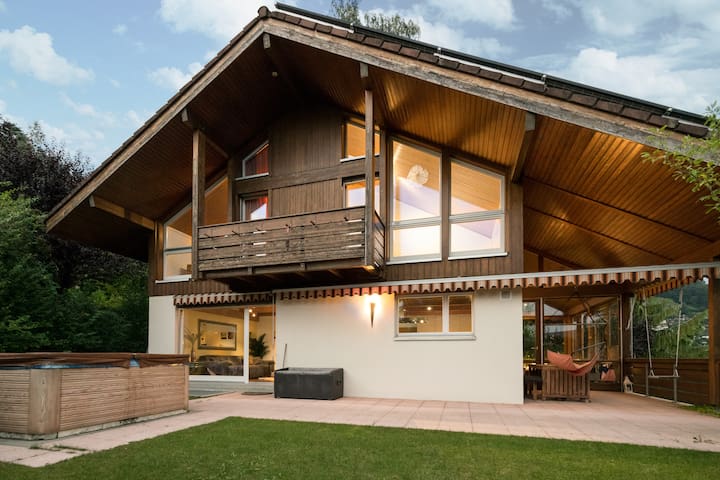 Pro zobrazení celkové ceny zadej termín. Mohou být přidány další poplatky a daně.