Cozy relaxing One Bedroom Apt in Hackensack. All utilities included, 1 off-street parking spot, cable, wifi. Perfect for holiday/business/student or solo adventures. Save on staying at a hotel or NYC sublet. Quietly unwind after a long day, but still be in walking distance to various restaurants, malls and pubs! You'll love my place because of the location, the ambiance, convenience.
Everything OK, as per the pictures and description
Stefan
2017-02-28T00:00:00Z
Nice place to stay.
Arun
2017-01-15T00:00:00Z
Typ pokoje
Celý dům/byt
---
Typ nemovitosti
Byt
---
Ubytuje
3
---
Ložnice
Hackensack, New Jersey, Spojené státy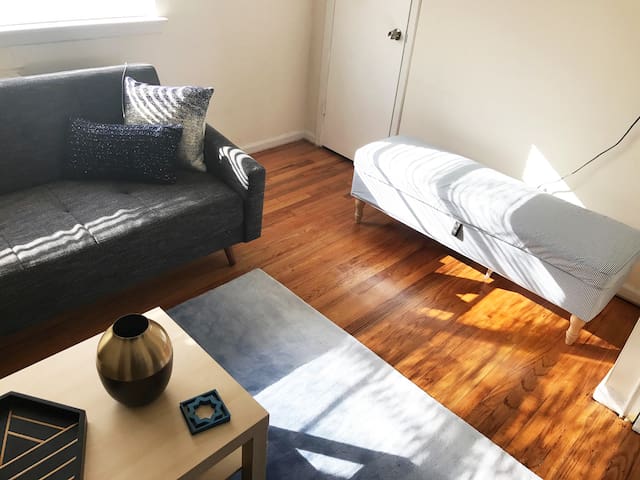 The is a furnished bedroom with a lot of day lighting and queen-size bed (clean bed dressing is provided)
It's a nice 1-BD apartment. I live in living room.
Hackensack
Typ pokoje
Soukromý pokoj
---
Typ nemovitosti
Byt
---
Ubytuje
2
---
Ložnice
Hackensack, New Jersey, Spojené státy
My place is good for couples, solo adventurers, and business travelers. Kitchen with all utensils, small living room, quiet work place, total privacy. I have a small dog but you will not see or hear him, unless you want to! The space has peaceful energy, is spotless and very comfortable. There is an outside patio with table and chairs to use in nice weather.
Private entrance, come as you please. Brand new basement apartment with french doors providing natural light, brand new kitchen, 2 plate stove, counter oven, coffee maker, blender, etc. Wifi, T.V with Netflix, Hulu, Amazon Prime, but no cable. 10 minute walk to train and bus into Manhattan and other routes. Private parking space on property. Close to Montvale businesses and large company HQs. Minutes from Pearl River and Blue Hill
Extremely peaceful neighborhood, pretty back yard, lots of privacy.
Typ pokoje
Celý dům/byt
---
Typ nemovitosti
Byt
---
Ubytuje
2
---
Ložnice
Montvale, New Jersey, Spojené státy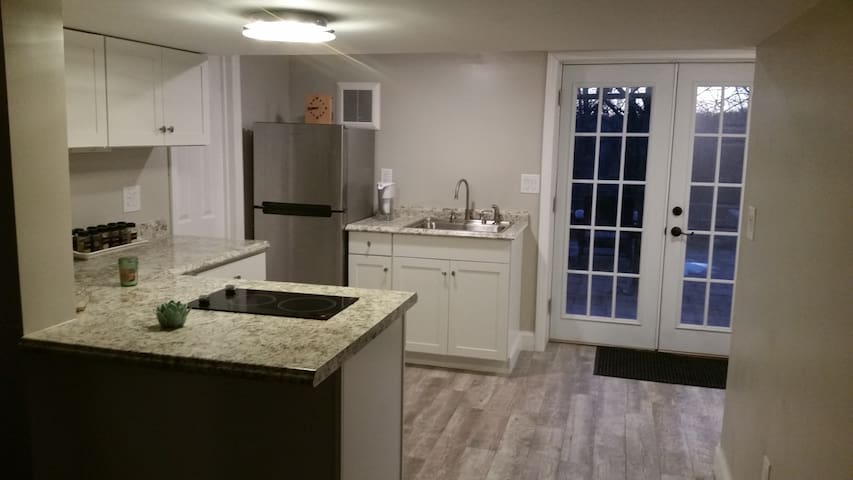 A private, spacious, clean and modern ground floor apartment in a house. It has a separate entrance in front side of the house.
It is a upper middle class neighbor with a park down the street. There are 5 malls in close proximity of our home.
Extremely spacious and comfortable shoe-free place with a big yard, pool table, fireplace, huge plasma and a blueray. Has three large rooms: sitting room, kitchen, bedroom. Kitchen is brand new equipped with a stove, kitchen utensils, sink and a big fridge. Bedroom has a double bed and a window AC unit that can keep cool the entire place. Bathroom has a shower, washer and everything you need. Neighborhood is as green as it gets, trees are huge here and make a great shade during summer time. Huge 30 km long park is nearby along the Saddle river, good for strolls and cycling. Supermarket is 20min walking distance, but if you have a car there are at least 5 large supermarkets wthin 10min drive. Post officr and a bank is also nearby. Transportation to New York is convenient by 163 direct bus taking min 40min depending on traffic, usually 1h (bus stops every half hour and is near Bergen community college 10min walk away). Plenty of outlets nearby varied from TJ Maxx and Burlington for really cheap branded clothing, to 3 huge malls nearby. Paramus is a shopping mecca because of these malls and no sales tax on clothing, selling more clothes than any other zip code in the US. The hosts are very friendly and helpful. We even had eggs, juice and everything we needed for the first breakfast left in the fridge. And later Syd gave us all other little bits that we needed, like a can opener etc. We came to stay at this place because the hospital is 1in drive where we wanted to deliver a baby and ot was also great. Hosts even gave our baby a very sweet baby shower present! Thank you Syd and Sameer!
Kirill
2016-07-13T00:00:00Z
Syd and his son were a great host for the 2 months we stayed at their place. His son met my wife and me when we came in late in the evening. He made sure we were okay and talked with us for a bit. Whenever my wife and I needed something either of them assisted immediately. The place was our own private area: living room, kitchenette/dining room, full bath, bedroom, and private entrance. It was great space for us to stay for a longer period and not wanting to deal with a lease. We enjoyed the place very much and appreciate we were able to stay at a nice place. Occasionally, we were able to watch the neighborhood deer walking around late at night and during the day. The home is at a good location and easy to get to stores and restaurants.
Winfred
2016-11-22T00:00:00Z
친절한 호스트가족과 조용한 주택가 길 끝집, 지하공간을 휴게실겸 게스트룸으로 사용하셨던듯? 큰길가에서 멀리 떨어지지 않아서 좋은 위치로 뉴욕까지 차타고 1시간정도, 주변에 주거지역끝자락에 위치하고 있는 관계로 식당등을 가려면 나가야하는것이 단점이라면 단점. 또하나 단점이 있다면 미국집들의 특성인 층간소음못잡는것은 어쩔수 없음///
SeokWoo
2017-03-30T00:00:00Z
Huge private floor with shower bathroom, kitchen, bedroom and living room. Wish I stayed longer, better than other alternatives in the area.
Florin
2017-03-11T00:00:00Z
Typ pokoje
Celý dům/byt
---
Typ nemovitosti
Byt
---
Ubytuje
2
---
Ložnice
Paramus, New Jersey, Spojené státy
Luxurious, modern, fully furnished walk-in basement lookout. Newly built (2013). Modern kitchen. Free Wi-Fi. Easy street parking. Beautiful backyard and patio access. Close to amenities and malls. Large living and dining areas.
This is a beautiful walk-out basement lookout which is part of our home. We live on the upper floors, so you will have a private experience. Guests are provided with a separate code-locked entrance from the back door.
This is a HUGE beautiful apartment that will be a great rental when the owner corrects a few problems with clutter and cleanliness. The husband/wife owners are very welcoming, the house and neighborhood are beautiful, but the kitchen amenities need a complete overhaul with new dishes, silverware, cooking utensils and cookware; cabinets and fridge need to be cleared of old food; the ice maker needs to be fixed and the cluttered drawers in the bedroom should be cleared for guests to put their belongings. The owners welcomed my suggestions and I have no doubt they will make these simple improvements so that the place will truly be the luxury rental it deserves to be!
connie
2016-10-12T00:00:00Z
Manan was a gracious host and we enjoyed our stay. The home is beautiful and was easy to get to.
Doris
2016-07-06T00:00:00Z
Manan was extremely helpful from the start of our booking throughout our stay in his beautiful home. Before our stay he reached out to discuss and review the arrangements - which was very helpful. We were very pleased with the home - it was very clean, warm and welcoming. Everything was very comfortable and we had a lovely stay. On our last day Manan left us a nice bottle of wine to enjoy. I would highly recommend this property to anyone - it was a pleasure.
Elizabeth
2016-04-06T00:00:00Z
we had really enjoyed the such a beautiful place. manan and his family were so helpful and so friendly. it was such a fantastic tim we ever spent
Irfan
2016-09-20T00:00:00Z
We felt very welcome, and Manan was available at all times. There is a big living room and it fit our needs well. The neighborhood is very safe in the suburbs.
Diane
2016-10-25T00:00:00Z
Great place, very spacious bedrooms and bathroom. Fully equipped kitchen, and large living room. Entrance is separate from rest of the house so totally private. Very easy to get around via UBER or Lyft. Also close to the City. Manan was extremely responsive and attentive. Greatly recommend!
Itchel
2016-11-07T00:00:00Z
Typ pokoje
Celý dům/byt
---
Typ nemovitosti
Byt
---
Ubytuje
7
---
Ložnice
Paramus, New Jersey, Spojené státy
Great, fully separate 1200 square feet in-law apartment in lowest level of private residence for a wonderful trip to New York City and beautiful Rockland County and northern NY. See details.
Beautiful in-law basement apartment in colonial near New York City in the beautiful Hudson Valley near the Threefold Community. Separate entrance, two queen beds in private bedroom, full bath, full kitchen, dining room/living room, deck, 3-tiered garden with picnic area, large yard with play-set: all 45 minutes from Central Park in Manhattan depending on traffic, right next to the Threefold Educational Center, located in 140 wooded acres, with forest, streams, biodynamic farm, Sunbridge Institute, Green Meadow Waldorf School, the Pfeiffer Center, the Fellowship Community and the Hungry Hollow Co-op. All this beauty in a safe country-like setting. 10 minute walk to bus to Manhattan. Train to Manhattan accessible by bus, car, taxi. In the heart of the slow eating, slow living, slow parenting movement, enjoy the child-centered environment of the Waldorf community of Chestnut Ridge. Come home from a fun filled day in Manhattan to your large, in-law basement apartment, full of comfort and beauty. Let the children run around the yard and play on the play set, in a cul-de-sac, safe from traffic. Bus, Train, Taxi all available and close by to travel to and from Manhattan. Parking is available in driveway or on the street. To/From Airport, car service is recommended or rent a car.
In the heart of the slow eating, slow living, slow parenting movement, enjoy the child-centered environment of the Waldorf community of Chestnut Ridge.
Clean, comfortable, roomy apartment in a quiet and safe residential neighborhood. I appreciated Chasya's good communication the most.
Sisia
2015-11-29T00:00:00Z
Chasya was incredibly welcoming and her apartment was spotless and had everything we needed. My kids had a great time playing with the fairy house and everyone slept comfortably. I'd recommend her to anyone looking to stay in Rockland County or near NYC.
Julie
2015-06-29T00:00:00Z
Spacious apartment in quite neighborhood. It was very relaxing to come back here in the evening after working in the City.
Tracy
2016-03-26T00:00:00Z
Chasya and her family were very nice to us and the apartment was very clean. The area is very nice and quite
Abdulelah
2015-07-28T00:00:00Z
Great communication from the host, very accommodating with check-in time, large and clean apartment.
John
2016-08-07T00:00:00Z
Quiet neighborhood, clean and cozy apartment. Fully equipped kitchen.
Lani
2016-02-08T00:00:00Z
Very spacious, well-laid out apartment. All the essentials were provided and everything was very clean. Extremely convenient location for our need which was a daily trip to Bergen County, NJ.
J&A
2016-02-20T00:00:00Z
We had an excellent stay at Chasya's. The place is exactly as shown in the pictures. A complete floor with own entrance, separate bedroom, bathroom, full kitchen and living room. The whole place was spotless. Helpful, good and swift communication. Shops, Palisades Mall and Woodbury Outlet all relatively closeby. NYC around 30-45 minutes drive, depending on traffic. Reminder there's no tv here, but they've got a good wifi-signal. For new tenants, please check outlets upon entering. There are +25 outlets in the house, make sure they function properly.
Richard
2016-01-01T00:00:00Z
Typ pokoje
Celý dům/byt
---
Typ nemovitosti
Byt
---
Ubytuje
4
---
Ložnice
Chestnut Ridge, New York, Spojené státy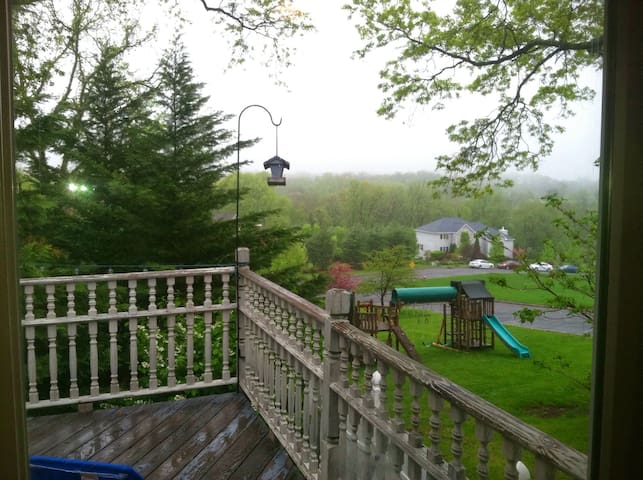 Cozy relaxing One Bedroom Apt in Hackensack. All utilities included, 1 off-street parking spot, cable, wifi. Perfect for holiday/business/student. Save on staying at a hotel or NYC sublet. Quietly unwind after a long day, but still be in walking distance to various restaurants, malls and pubs!
Cozy and comfortable with a hint of a beach theme ... Just how I like my apartment to be. The size is perfect for one or two guests, queen size bed to share or a comfortable couch for the second guest. The neighbors are friendly, neighborhood is safe and friendly.
Quiet neighborhood but enough business in the area where it's still exciting. Close to all major transport to NYC as well as major NJ highways if driving. Very convenient and student/family friendly.
I stayed in Ramzi's apartment for 3 months. He is a great host and his apartment was very comfortable and clean. The neighborhood is quiet.
Mostafa
2016-09-01T00:00:00Z
Typ pokoje
Celý dům/byt
---
Typ nemovitosti
Byt
---
Ubytuje
2
---
Ložnice
Hackensack, New Jersey, Spojené státy
Queen size bed, European kitchen, bath, private parking, entrance, bedroom/living room, dining. The apartment has a living room, queen bed and closets. Queen size Aerobed for additional guests. The television cable, + HBO, STARZ, SHOTIME, NETFLIX, broadband wifi computer and phone access. The private kitchen/dining has refrigerator (water and ice), microwave, Keurig Coffee, dishwasher, countertop appliances. Great for couples, solo adventurers, business travelers, and small families.
Leather living room couch, sofa, chair, ottoman. Queen size bed, Queen size Aerobed for additional guests. Private bathroom, entrance, parking, kitchen, dining area. All chosen for executive level experience. I've furnished with an European/modern style in mind. You be the judge. I provide coffee, some beverages (juices, etc). Most personal requests can be fulfilled. -Michael.
I am two blocks from buses (NYC and NJ local), 5 blocks from trains to Manhattan and Poconos.. My neighborhood is two blocks from a very large park. I can loan you bikes for riding. The park joins several towns and is beautiful. Nearby amenities include a very good produce market four blocks from the house. CVS store/pharmacy 5 blocks (next to trains). Depending on your tastes, .
Michael has been a great host. He's very easy to get in touch with. The apartment is perfect for 2 people and also very close to the train station if you want to go to New York. There is also enough room for 2 cars. It's a great location and easy to find, a short drive off of the highway. I would definitely recommend staying here, especially if you are coming to see New York.
Martin
2017-01-04T00:00:00Z
Michael's place is perfectly equipped for a productive, comfortable and enjoyable stay for business or pleasure. It was as advertised!
Carol
2017-02-16T00:00:00Z
Fantastic place. quiet. great getaway!
Vince
2016-11-07T00:00:00Z
Nice cozy place, close to public transport. Not a downtown area but quite good neighborhood. Busses to NYC. Very helpful owner!
Sameer
2016-11-29T00:00:00Z
It's been a great month to live here!
broker
2017-02-12T00:00:00Z
Michael was a great this time as last. He goes out of his way to help. Terrific stay - will definitely be back as soon as his availability opens up!
Carol
2017-02-23T00:00:00Z
Great apartment and wonderful host!
Leigh
2016-11-05T00:00:00Z
Great little apartment with everything that you could need. Michael was very accommodating and always quick to reply and help out with any needs. Off street parking was extremely convenient and the house itself was in a great neighborhood
Sam
2016-11-06T00:00:00Z
Typ pokoje
Celý dům/byt
---
Typ nemovitosti
Byt
---
Ubytuje
4
---
Ložnice
Fair Lawn, New Jersey, Spojené státy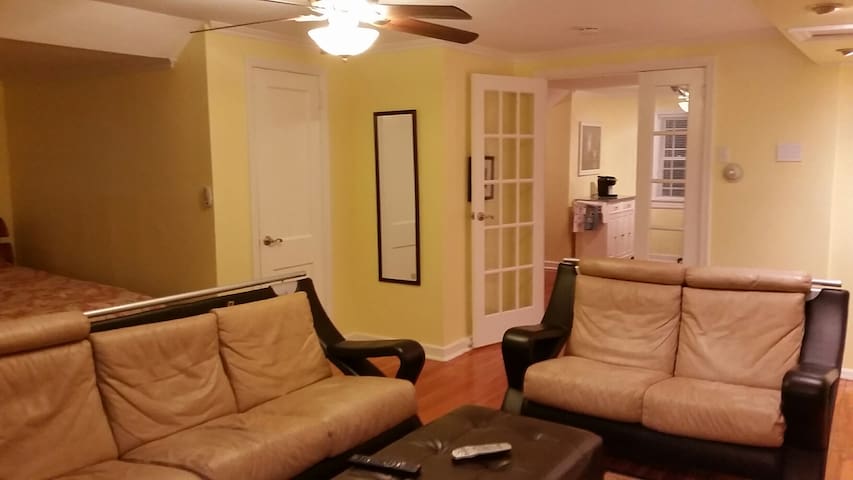 This one bedroom is located on the bottom floor of our home. private bathroom, and a private kitchen. Bedroom and living comes with a flat screenTV. Access to the backyard and beautiful outdoor deck. This home is right next to 6 different malls, & a short drive from NYC! 1 mile from train station and to bus to NYC. Restaurants galore within 2 miles. Free parking and outdoor walkout patio available. Very pristine, clean home. Ideal for a family vacation.
Feel at home, quiet and pristine space in the best area of Paramus. Quiet neighborhood, very safe and green.
Quiet, serene, surrounded by nature and within a mile, you will find 4 malls and 50 restaurants. Comes with a fully equipped private kitchen with gas stove, refrigerator, coffee machine, toaster, pots, pans, plates, cups, and cutlery. Just get your grocery and start cooking.
Pri was great. This is the not the first Airbnb I have been to, but it has been the greatest. Everything was great, from access to the water pressure to the comfort. It has all you may need and more. Also, Prince is the cutest thing. I will definitely stay here again. Thanks Pri!!!!
Edwin
2016-10-26T00:00:00Z
Pri, our host was gracious and accommodating. We were expecting to arrive early and she made it possible for us to get into the apartment. Though we were on the lower level of the home, it was very quiet. We hardly knew when she and her husband were home.
Richard
2016-10-24T00:00:00Z
Priya is incredible and her place is even better than advertised, which isn't in my best interest because her place books up too quickly for me to be able to stay there as often as I want. But I must be honest... I've made suggestions (coffee table, toaster) and by the next time I'm there, they're already awaiting me. Love this place!! Kudos to you, Priya!! Amazing host! (And I know I'll regret writing this review...).
Carol
2017-01-19T00:00:00Z
We love this beautiful peaceful place, very well located in north jersey I will recommend Nav and family. Thank you.
Santiago
2016-07-31T00:00:00Z
We stayed over a month with Priya and Sunil with our two cats. They both made us feel right at home from the onset. Very welcoming, lots of useful advices and ready to help whenever they could. The location is fantastic, quiet neighborhood but close to everything (shopping, groceries, easy access to NYC). Great experience that we strongly recommend to anyone looking for a pet friendly quiet haven close to NYC!
Kerry
2016-09-24T00:00:00Z
Pri and her place are wonderful. The space is clean, quiet, and spacious, and you're surrounded by lots of green. You can hear the crickets at night (we missed this living in Boston). The location was perfect for a wedding in Woodcliff Lake. Was nice to have a calm, private place to retreat to. Pri and her daughter were incredibly attentive, friendly hosts who checked in with us once in a while to ensure we were comfortable. If we're ever in NJ again, we'll definitely come back.
Loe
2016-10-10T00:00:00Z
This place was fantastic! Exactly as advertised, clean, comfy and convenient. He host was very nice and obviously takes very good care of the property. We will definitely be returning!
Brian
2016-10-27T00:00:00Z
My family and I were relocating to the US after 4.5 years in China. With such a huge change it was so nice to find such a clean, comfortable place to stay while we transitioned back into the States. Mehak and family were extreamly polite and overwhelmingly welcoming. The space was perfect for us (me, my wife, and 1yr old daughter). Do anyone looking for a quiet place to stay while exploring the NYC area, but don't want the bother of staying in the city, I cannot recommend this location enough. We were very happy with everything this stay had to offer.
Andy
2016-07-01T00:00:00Z
Typ pokoje
Celý dům/byt
---
Typ nemovitosti
Byt
---
Ubytuje
4
---
Ložnice
Paramus, New Jersey, Spojené státy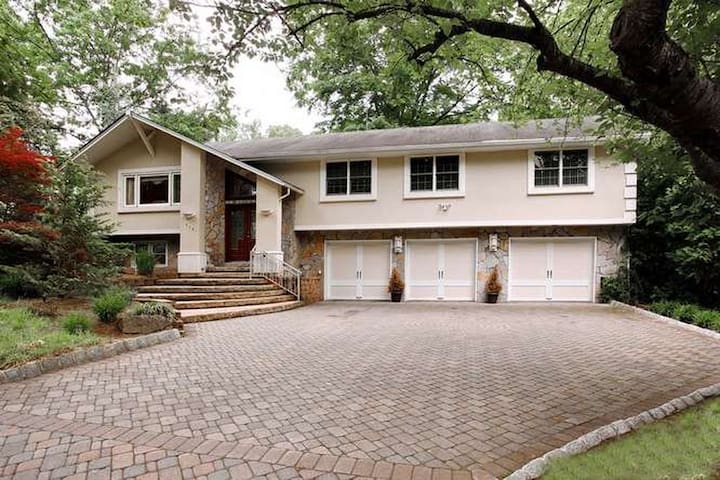 1 Spacious Non-smoking private rm,queen bed& sofa/bed(a twin bed can be added to sleep 4people), a 2nd bedroom can be rented that sleeps2additional guests. Entire Suite accommodates 6 Off street pking, Upscale neighborhood, walking distance to shops, NYC bus or 20 min to NYC by car
This suite/apartment, is great for a single person, a couple, Corporate Rental accommodations for multiple associates, as well a large family or *serious college students residence. This mini-apartment/mother-in-law suite is "a home within a home" So, instead of renting a single room, this suite gives you lots of personal space to stretch out and relax! You'll have a private bathroom and bedroom (which sleeps up to 4 comfortably) as well as your own cozy living room with flat screen tv, cable & wifi, a dining area, a well supplied kitchen (with a variety of complimentary coffees, tea's, sugar, honey, non-dairy creamer, several seasoning as well as dishes, pots, pans, plate cutlery). You'll also have access to a laundry (occasionally shared with us). There's also an option to rent a 2nd bedroom, that sleeps 2 (the entire suite with both bedrooms being shared, comfortably accommodate 6).
Bridgette was a great host and very accommodating! Place was perfect and cozy!
Christy
2017-01-25T00:00:00Z
Spacious and comfortable and Bridgette was a friendly helpful host. Exactly what we needed this weekend.
Michael
2016-12-25T00:00:00Z
Brigette was very accommodating and always made sure we had everything we needed. She was a great host and I definitely recommend staying at her house.
Javiera
2016-06-19T00:00:00Z
Bridgette is very nice and kind. She is really easygoing and makes people's stay a delight.
Carmen
2016-10-31T00:00:00Z
Clean, spacious and cozy! Great neighborhood too. We'd definitely come back if we visit the city again!
Ailin
2016-07-01T00:00:00Z
We enjoyed staying at Bridgette's house. She is lovely and friendly and the house is very very clean. Hope to see her and her family again!
Silvia
2016-06-25T00:00:00Z
This was a great find! We felt very welcome and enjoyed our experience. It is def somewhere where we would stay again and our next trip is already in the works. Highly suggested = )
Sarah
2016-06-27T00:00:00Z
My experience over at Bridgette's home was nothing short of amazing! She and Sherry were extremely nice to us especially since we arrived really quite late. The house was just as it was in the pictures. It was extremely beautiful and meticulously clean and tidy. Bridgette and Sherry went above and beyond to make sure that we had everything we needed. They were always accessible anytime we needed them. They were simply the best!!! Our stay here was surely a 5 star experience. Thanks for everything! !
Temple
2016-07-04T00:00:00Z
Typ pokoje
Celý dům/byt
---
Typ nemovitosti
Byt
---
Ubytuje
4
---
Ložnice
Closter, New Jersey, Spojené státy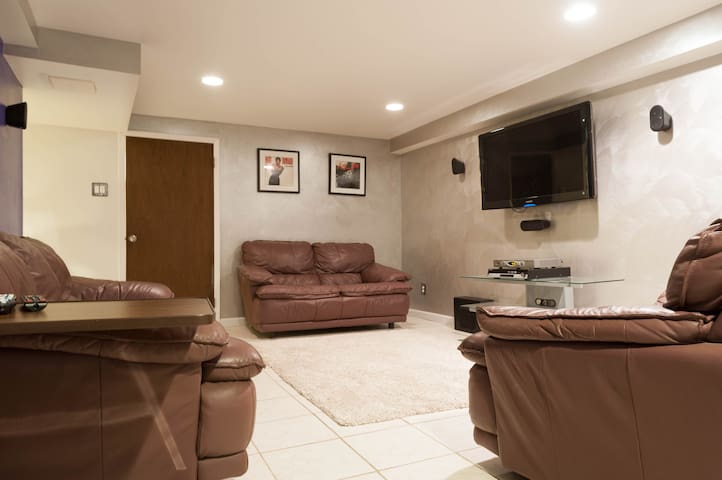 Mekanım şuraya yakın: şehir merkezi, toplu taşıma ve parklar. Benim mekanımı şu yüzden seveceksiniz: semt, dış mekan, ortam. Yerim çiftler, kurumsal seyahate çıkanlar ve aileler (çocuklu) için uygundur.
Nice place, very clean. Host was friendly and greeted me warmly. Would stay again
Hesham
2017-04-02T00:00:00Z
David was a fantastic host. The apartment was in a great location, and exactly as advertised. He even left us snacks and tea/coffee in our room. It was wonderful having the separate bathroom. We would definitely stay here again.
Michael
2016-12-30T00:00:00Z
David's place is as described clean, convenient and with easy parking.
Herman
2016-10-22T00:00:00Z
David was a great host, his home was beautiful and the perfect stay for us!
Sam
2016-12-27T00:00:00Z
Typ pokoje
Soukromý pokoj
---
Typ nemovitosti
Byt
---
Ubytuje
3
---
Ložnice
Ridgewood, New Jersey, Spojené státy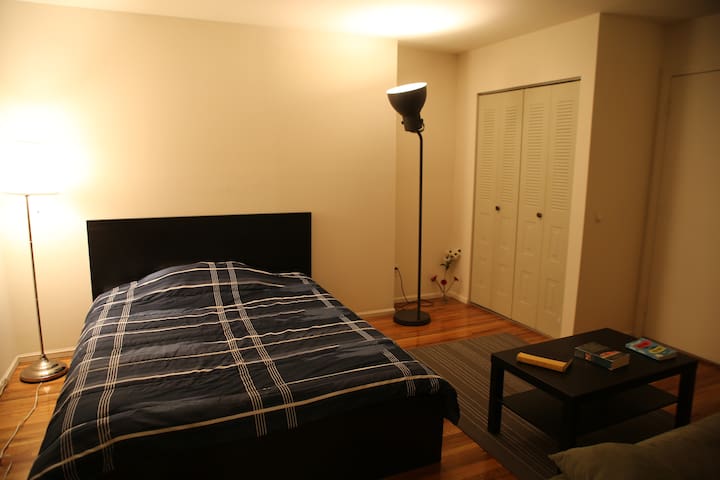 Clean 1BR, nice area, homely feel and a friendly host. You get the bedroom while I sleep in the living room! If you wanna do the other way, I am open to that as well. Any religion, color, sex are welcomed!! LGBT Friendly! Check in today...
Homely feel and a friendly host!
Its clean and quiet, it is in the centre of all the major towns in NJ and close to NYC. It has free parking which is rare to find, it has lovely environment with a pond and a walking trail.
Raj is very hospitable and helpful. Our room was clean when we arrived and everything was exactly as it was listed. A small concern was that it's slightly far from NYC. We got a Lyft/Uber to Hoboken station and took a train for NYC from there, which cost us about 15-20$ and could be more depending on the rush. It took about an hour to reach NYC. Other than that, I would highly recommend this place.
Vipul
2017-01-02T00:00:00Z
Typ pokoje
Soukromý pokoj
---
Typ nemovitosti
Byt
---
Ubytuje
2
---
Ložnice
New Milford, New Jersey, Spojené státy
The Firehouse is just a 5-6 minute walk to the Village of Piermont, the Hudson River, hiking and biking trails and Tallman State Park where guests can enjoy swimming at the Beach Club in the summer. You'll love our organic historic horse drawn Firehouse, which is wedged between the Sparkill Tidal Creek and Piermont Avenue. We invite singles, couples and business travelers to enjoy "Your home While Away from Home". ***Before booking, please contact owner to see if your dates are available***
***Please contact me to see if your dates are available before booking*** "Firehouse Suite" is located on the second floor. It has a separate entrance and is a self-contained. It is partially cantilevered over the creek at the back, so you have a great view of the creek. It consists of a queen bed, dressing/bathroom with shower, living room with gas fireplace and an eat-in kitchen. The full size couch can accommodate a child or adult if necessary. One parking space per room provided. ******************************************************************************Price does not include 8.375% sales tax & 3% room tax (which is payable to the host on arrival at the accommodation) Amenities include: * Fine Linens & Bedding * Romantic Lighting * Ceiling Fans (AC, in summer) * FIOS Premier Cable TV & wi-fi * Furnished with Desk * Daily Maid Service * Bathrobes * Shampoo, Conditioner, Lotion * Hair Dryer * Pool (seasonal) Use of Tallman State Park Beach Club * Organic breakfast can be served or provided for self-serve Pet policy: Small Pets are considered on a case-by-case basis. If you have a pet and would like your pet to accompany you please ask before booking. Price does not include 8.375% sales tax & 3% room tax (which is payable to the host on arrival at the accommodation) *********************************************
All Piermont eateries, shops and services are a short, 5-6 minute walk ito town. Explore our quaint village and support our friendly local neighbors and merchants. There is plenty of hiking and several parks on the area. Eateries include: (for more details please see our website: (URL HIDDEN) *Turning Point Restaurant and Music - (American) *Freelance Cafe and Wine Bar - (Contemporary ) *The Reef - (Seafood) *Xaviar's at Piermont - (Contemporary) *The Sidewalk Bistro - (French, Contemporary) *14th & Hudson - (American) *Cornetta's Seafood Restaurant & Marina - (Italian Seafood) *Olar's Restaurant - (Italian) *Confetti's Restaurant - (Italian) *Bunbury's Coffee House - (Specialty Coffees, Teas, Soups & Sandwiches)
Typ pokoje
Celý dům/byt
---
Typ nemovitosti
Byt
---
Ubytuje
3
---
Ložnice
Piermont, New York, Spojené státy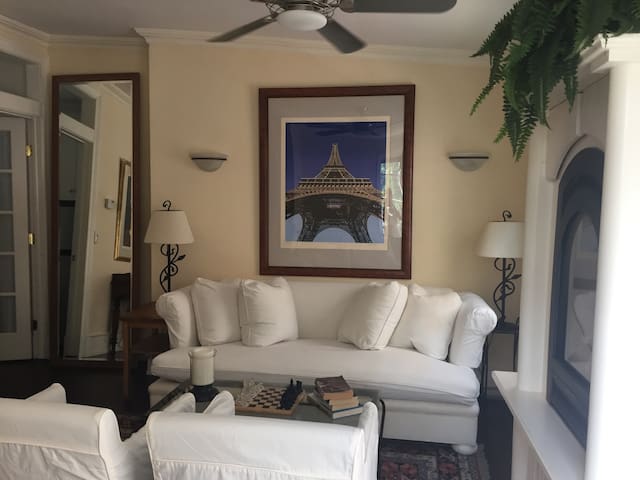 Private (Medium Size) Bedroom for Male Guest(s) Only - The house is not co-ed. Includes: Double/Full Size Bed, Pillows, Sheets & Blanket, Dresser, Desk in room with Double/Full Size Bed only, Chair, Lamps & TV. Mini Refrigerator & Micro. Local & NYC Buses on corner. Contact me direct for $275. Rate!
Bedroom includes the following: Double/Full Size Bed, Sheets, Pillows (2 Soft & 2 Firm), Blanket, Double Dresser(s), Desk with Chair, Lamp(s) & new 32" (or larger) LED/HD TV, Verizon FIOS 75/75 WiFi for 1 Device. You have a Mini Refrigerator, Microwave, (No Stove/Sven), Drawer Storage for Food. The House Is Located Approx. 7 Miles West Of The George Washington Bridge Off Route #4, Local & NYC Buses On Corner, Near All Major Highways. Route#17, Route#4, Garden State Parkway, Interstate Route#80, NJ Turnpike. Lots Of Shopping Malls & Parks Nearbye. Local & NYC Buses On The Corner As Well As Several Park & Ride/Train Stations To Hoboken Located In The Next Town Over In River Edge Approx. 1.5 Miles Away.
Typ pokoje
Soukromý pokoj
---
Typ nemovitosti
Byt
---
Ubytuje
2
---
Ložnice
Paramus, New Jersey, Spojené státy
Large Furnished Bedroom Suite available. Private entrance, walk-in closet, large private bathroom, off street parking, WIFI and cable. Room is large, bright and airy with ceiling fan. Large window with view to manicured backyard. separate zoned heating/cooling Convenient to Sheraton Crossroads, NYC And public transportation to NYC
Private Quiet Secluded elegance Ideal for student or traveling business person
Our neighborhood is very quiet and quiet
Stephen went above and beyond to make me feel welcome. I would highly recommend this studio if you are in the NNJ area.
Michael
2016-11-05T00:00:00Z
I was very welcomed and had a great stay. My wife and I had a great time and everything was close. Thank you!
Josh
2016-12-28T00:00:00Z
Typ pokoje
Celý dům/byt
---
Typ nemovitosti
Byt
---
Ubytuje
2
---
Ložnice
Saddle River, New Jersey, Spojené státy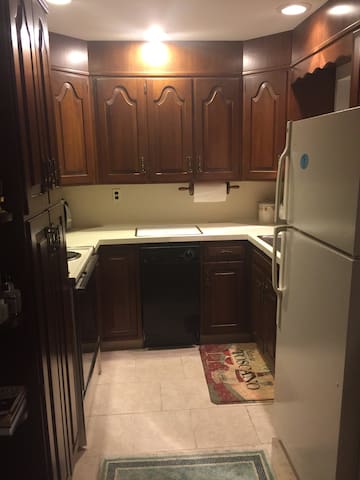 This studio apartment is located in a beautiful and safe neighborhood. The apartment has central heat/AC and its own a private entrance. Off street parking is provided for one vehicle only. Inside, guests will find a full kitchen (cabinets, sink, stove, refrigerator, microwave, coffee maker, dishes, utensils). Coffee, towels, bed linen, wines glasses, soap, wireless internet, and cable television are included.
Very cozy you won't be disappointed.
Beautiful quiet neighborhood with a park and lake a cross the street, transportation bus to manhattan at the corner very convenient and comfortable ride.
My stay was most excellent. My host was very welcoming and kind , via texts before hand and when I arrived. The apartment was great in every way. I was attending a conference in the area, so it was terrific to have my own private entrance, kitchen (complete with blender which I made a special request for), a clean lovely apartment to stay in, in a lovely location , close to where I was going each day. I recommend it highly!
Marion
2016-10-30T00:00:00Z
This was a great place for my friend and I to stay the night we attended a wedding in the area. The bus stop for the 164 bus back to Manhattan is literally steps from the door. The place was spacious, clean, and came with coffee and chilled water bottles! The bathroom is very small, but has everything you need. Overall, a seamless experience!
Marken
2016-08-28T00:00:00Z
Good place.
D
2017-03-17T00:00:00Z
This unit couldn't be any more perfect for what we needed AND expected. The pictures don't do it justice. The unit is so cutely decorated and very comfortable. We took a bus to the city everyday and came back late at night, so the private entrance was a huge asset. The welcome snacks and bottle of wine were truly appreciated. We visit ever year to this area and hope to be able to reserve the same place next year!
Brandon
2016-12-22T00:00:00Z
Carmen was so helpful, she went above and beyond for my aunts.The place is located in a great area, close to NY transportation and the apartment was really comfy. Thank you for everything Carmen. Definetely recommended
Erika
2016-10-12T00:00:00Z
I had planned on getting to the place later but texted her to see if I could come earlier & she was very nice to let me. There were wine glasses on table & the place was immaculately clean. It was in very good location for me. Bed & pillows was very comfortable.
Connie
2016-10-16T00:00:00Z
My daughter and I spent six weeks at Carmen's place and it was an absolutely wonderful experience. We were greeted by Carmen and her husband Enrique at check in. She gave me the keys and showed us around the apartment. Enrique showed us around the property. What you see in the pictures is what you get. The apartment is beautiful and very spacious and has its own private entrance. Just like when you rent a hotel room, everything you need is already supplied for you . The full size kitchen was definitely a plus for me. It consisted of a full size refrigerator, microwave, coffee maker, stove, sink, dishes, silverware, and full size cabinets. There is also another door in kitchen with leads to the backyard. So you actually have two private entrances to the apartment. Out back, there is lovely in ground pool and jacuzzi that we had access to. I also liked the fact that off street parking was provided. The apartment is well worth the price. The neighborhood is very nice and quiet. There is a huge park across the street that has a children's play area, basketball court, duck pond, picnic area and bike path. There are several stores like Shop rite, Walmart, CVS, and Westfield mall that are less than 10 minutes away by car. I never used public transportation before my trip but found it very easy and convenient. The bus stop is less than a minute walk from the apartment. Buses to NYC run every hour after a certain time. In the early mornings, they run more frequently. The fare is $6.00 for adults each way. Children under 5 years of age ride for free. There is also a senior fare and military fare which is $2.75 each way. The trip to NYC usually takes an hour, sometimes less. The hosting family was very attentive and very welcoming. They made my daughter and I feel as if we were apart of their family. They are such sweet people. Like another reviewer said, you will interact a lot with Carmen's daughter Laura. Laura is truly a wonderful woman with a beautiful spirit. She was very informative and helpful during our stay. Thank you Carmen, Enrique and Laura for such a wonderful experience. Gen and I couldn't ask for better hosts. We will see you all again in a few months when we return. You never know who you will cross paths with in life, but sometimes you will meet some truly amazing people like my daughter and I were fortunate enough to meet. I highly recommend staying here.
traum
2016-08-18T00:00:00Z
Initial reception and introduction was very cordial. Immediate neighborhood offered an excellent county park to work out in and provided excellent transportation routes to major highways to northern NJ-NY metropolitan area.
michael
2016-12-26T00:00:00Z
Typ pokoje
Celý dům/byt
---
Typ nemovitosti
Byt
---
Ubytuje
2
---
Ložnice
Saddle Brook, New Jersey, Spojené státy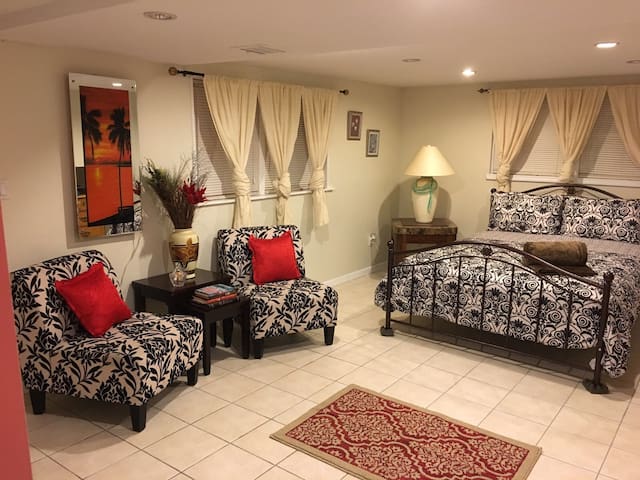 Room available in downtown Glen Rock. Walkable to downtown shops, supermarkets, train stations etc. Great location for visiting New York
Typ pokoje
Soukromý pokoj
---
Typ nemovitosti
Byt
---
Ubytuje
1
---
Ložnice
Glen Rock, New Jersey, Spojené státy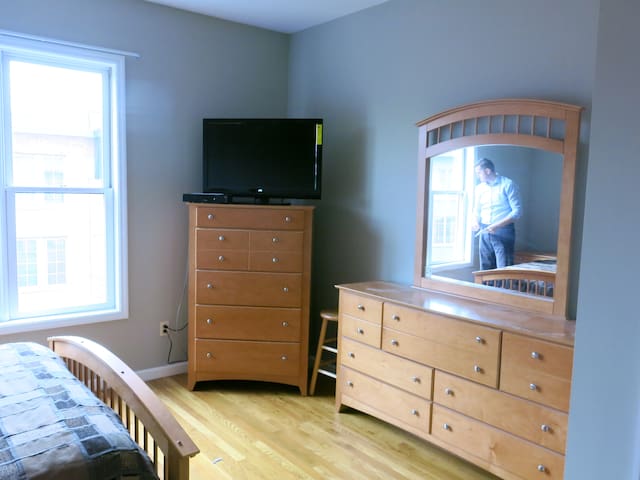 My place is close to Trains, buses to NYC. My place is good for families (with kids).
Typ pokoje
Celý dům/byt
---
Typ nemovitosti
Byt
---
Ubytuje
5
---
Ložnice
Ramsey, New Jersey, Spojené státy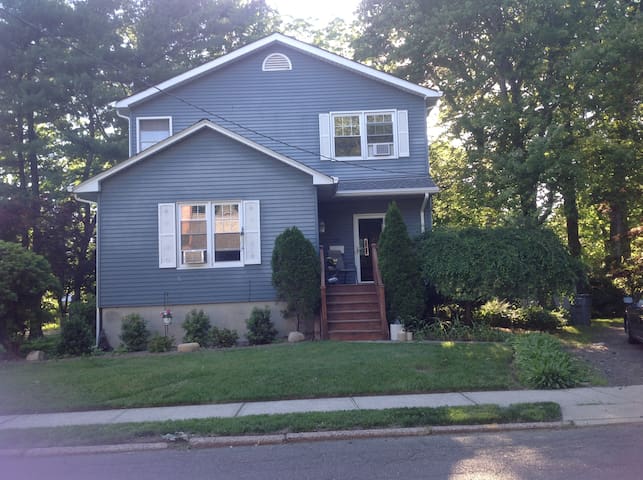 Hillsdale - Airbnb
:
Průměrně

4.45

z

5

hvězdiček na základě

129

hodnocení hostů
Pro zobrazení celkové ceny zadej termín. Mohou být přidány další poplatky a daně.