My place is close to restaurants and dining, the beach, nightlife, family-friendly activities, and public transport. You'll love my place because of the coziness and the views. My place is good for couples, solo adventurers, and business travelers.
Great warmth and hospitality. Best place we've stayed in Greece so far
w
2016-09-20T00:00:00Z
Typ pokoje
Soukromý pokoj
---
Typ nemovitosti
Byt
---
Ubytuje
3
---
Ložnice
Istro, Kréta, Řecko
My place is close to great views, the beach, and restaurants and dining. You'll love my place because of the location, the outdoors space, and the ambiance. My place is good for couples, solo adventurers, and business travelers.
vERHUURDER WAS GOED BEREIKBAAR. gOEDE COMMUNICATIE. VOELDE ONS METEEN THUIS
Ruud
2016-09-29T00:00:00Z
Typ pokoje
Celý dům/byt
---
Typ nemovitosti
Byt
---
Ubytuje
3
---
Ložnice
Istro, Kréta, Řecko
Istron village is very famous for its beaches, Ag. Patnteleimon,Karavostasi and Voulisma are 400 m away. All the beaches have been awarded with the blue flag and are maintained by the Municipality.There are a lot of Mini Markets, cafe-bars and greek taverns. 10 km to Ag. Nikolaos, 25km to Ierapetra and 70 km to Herakleio
Incredible view. Ratherly well situated. Incredible price for the quality. I had a very spacious room with a small kitchen and two balconey. Aera is quiet and Internet was good. I loved that the owner was very flexible about checkin and checkout.
Greg
2016-10-02T00:00:00Z
hôte très sympathique et accueillant. Le logement est spacieux, propre et bien situé pour visité agios nikolaos et sa région. Il permet d'être a coté de plages et d'être à l'écart du tumulte de la ville.
mickael
2016-10-05T00:00:00Z
Very lovely couple that were very helpful, a scenic area but close to the bus for access. Small issue of shower pressue but it was hot water. We very much enjoyed our stay!
Eleanor
2017-04-06T00:00:00Z
Bon appartement, tres bon emplacement avec vue sur la mer et surtout un excellent accueil, serviable et disponible. Très bon séjour.
Rémy
2016-08-27T00:00:00Z
Katerina and Giorgos welcomed us in this very bright and confortable apartment. The view on Voulisma beach is fantastic, especially at the sunset! They are really special persons and surely I'll advice this accomodation to my friends! We hope to return in Crete to meet another time Giorgos and Katerina :)
Francesca
2016-08-01T00:00:00Z
Un hôte très agréable et hospitalier, il a par ailleurs été de bon conseil pour les lieux à visiter. L'appartement est propre et fonctionnel. Nous avons passé un excellent séjour et le cadre est magnifique.
Lyne
2016-08-13T00:00:00Z
Typ pokoje
Celý dům/byt
---
Typ nemovitosti
Byt
---
Ubytuje
3
---
Ložnice
Istro, Kréta, Řecko
Located in the center of Mirabello Bay, about 11 km south-east of Agios Nikolaos, you find this domicile embedded in the region called "Istron", carrying its name since ancient times. Soft, sandy beaches, embraced by rocky coves, contribute to the queer charm of the coastline. The gracefully rising slopes of the surrounding hills are adorned by lavish green vegetation contrasting the grey-brown color of the mountains and the white houses of small scattered villages. Villa Castello is situated on a 1900 m² large property where Olive-, Fig-, Orange-, Mandarin-, Palm-, and Banana trees, as well as flowers thrive in terraced gardens that embrace the house; about 450 m from the Sea. Every apartment is individually decorated with original paintings and old, traditional Greek objects. Pergolas, covering all patios and balconies, provide cooling shade; every apartment is with Safe, TV, W-Lan and air conditioning unit. The terraces and stone pathways are adorned by flowerbeds, decorative shrubbery and bushes. Here, in harmony with nature, you can escape the hustle of the nowadays so hectic world to find your own little piece of fortune and get lost in your dreams submerged in the changing play of light and shadow, water and azure blue sky - everything is possible on this island. The garden includes a stone built oven, nestled between the trees, next to a marble table and stone benches. A playground with sandbox is also available for our very young guests. In Istron (ca. 300 m from the house) you find shopping and nice taverns serving Greek specialties. Because of its location a good starting point to visit Minoan palaces, remote monasteries, Byzantine churches, caves, grottos and many enchanting natural sights. Villa Castello 1 for 2-3 Persons Located on the first floor (upper floor), includes bedroom with 2 single beds, night stands, built-in wardrobe, mirror with shelf and stool, and sizeable balcony with view toward the mountains. The spacious living room with table, chairs, stools and sofa (sleeping for 3rd person) extends to a lovely balcony with table, chairs and view to the Sea. The kitchen, separated from the living room by an arched doorway, is furnished with table, chairs, upper- and lower cupboards, sink, refrigerator, coffee maker, electric stove with plates, enough silverware and dishes. Bathroom with shower, toilet and sink.
We were not disappointed when we arrived at the apartments. They were all we had hoped for. Beautiful gardens set in an olive grove. A good parking area and a lovely patio area. The apartment was on the first floor and was spacious and well equipped. It was spotlessly clean and had a vase of fresh flowers on the table. There was a beautiful view from the front balcony across the bay. Although the apartment was not far from the main road, traffic noise was not intrusive. The beds were very comfortable with nice crisp white cotton sheets. There are a good selection of shops and tavernas in the town and two beaches within easy walking distance. Istro is a good base for exploring eastern Crete and Agios Nikolaos which is a lovely town is only a few kilometres away. We had a very enjoyable week here and were made most welcome by our host.
Bob
2014-10-11T00:00:00Z
We had a lovely time at Villa Castello, just what we needed. We loved the garden, that was very well taken care of with a lot of eye for detail. The appartement is at walking distance of two beautiful beaches, a supermarket, a bakery and a couple of restaurants. Christos had a couple of gifts for us when we arrived and also some parting gifts which made us feel very welcome. Thank you again :)
Rachel
2016-10-24T00:00:00Z
Mein Mann und ich haben uns sofort in die Villa Castello verliebt. Die Anlage ist sehr schön und gepflegt, das Appartment sehr sauber. Wir haben 2 - 3 Mal etwas gekocht und kamen in der Küche sehr gut zurecht; man findet alles, was man für einfache Gerichte benötigt. Es gibt zwei Balkone, einen auf der südlichen und den anderen auf der nördlichen Seite. Wenn man möchte, kann man in der Sonne frühstücken, wir haben meistens den Nordbalkon genutzt, da man von dort aus das Meer sehen kann. Der Gastgeber war ausgesprochen hilfsbereit und nett, vielen Dank für die schönen Tage!
Ruth
2016-08-29T00:00:00Z
η διαμονή μας ήταν πολύ καλή, το κατάλυμα καθαρό και ήσυχο με πολύ καλές κοντινές παραλίες με αμμουδιά για κολύμπί και κοντα στην πόλη του Αγ.Νικολάου!!Επίσης ο ιδιοκτήτης αξιοπρεπής και διακριτικός!!!το συστήνω ανεπιφύλακτα σε οικογένειες και άτομα που θέλους ησυχία και ηρεμία!!!
vassiliki
2013-08-13T00:00:00Z
Lovely stay, location is near to amenities. Warm, friendly and chilled vibe as soon as you arrive. Would recommend. Thanks to Christos and his team for looking after us!
Charlene
2016-09-07T00:00:00Z
Efcharistò!!!!!! Nous avons très bien été accueilli!!!! Le lieu est mignon, proche à pied des restaurants, des magasins et d'une magnifique plage ( eau chrystaline). Parfait pour une semaine en amoureux loin du speed des grandes villes!
marie
2016-07-18T00:00:00Z
Beautiful surroundings, excellent warm and welcoming family. Lovely bright, clean apartment. 2 mins from local shops - 5mins walk to local restaurants, 10 mins walk to a fantastic beach "Voulisma". Will definitely return here on next trip to Crete!
sophie
2015-09-29T00:00:00Z
Très bon accueil de notre hôte. Il nous a offert très gentiment une petite bouteille d'huile d'olive et du Raki, et à la fin de notre séjour des herbes, du thé et du sel.
Dominique
2016-09-14T00:00:00Z
Typ pokoje
Celý dům/byt
---
Typ nemovitosti
Byt
---
Ubytuje
3
---
Ložnice
Agios Nikolaos, Kréta, Řecko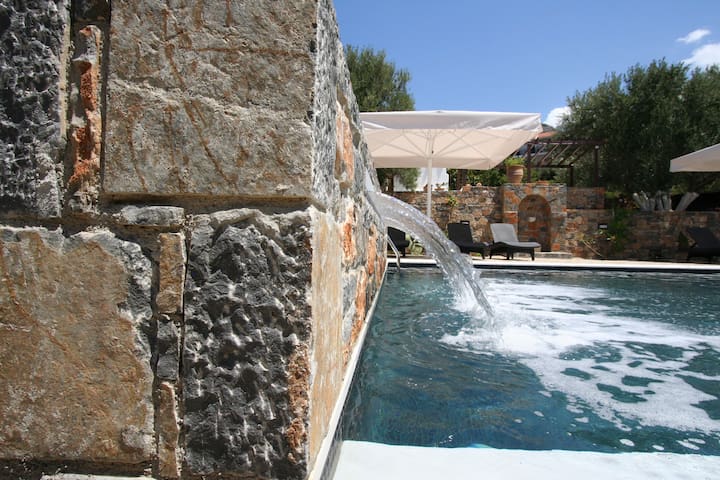 A very nice apartment with with unique panoramic sea view to the gulf of Mirambello, 3 min walk from gorgeous beaches. The view that you can enjoy from up there is unique since you can see the sea and the town of Ag. Nikolaos.
Istron village, famous for its fantastic beaches, with plenty of restaurants, bars, supermarkets. Three of the most fabulous beaches of Crete, Ag. Patnteleimon,Karavostasi and Voulisma are 300 m away. All the beaches have been awarded with the blue flag and are maintained by the Municipality.
English text comes after Russian. Манолис принял нас очень радушно! Позаботился о встрече, прислал схему как добраться и дал разъяснения. В связи с ранним заездом предложил оставить вещи и подождать за столиком в тенёчке пока идёт уборка. Дома нас ждали персональные угощения от хозяина! Это было очень приятно! :) Дом - просто замечательный! Внутри есть все удобства для проживания, особенно для длительного. Очень уютно и по-домашнему (в отличии многих других свежепостроенных квартир). Скамейки и площадка перед домом находятся в тени. Место подходит для семейного проживания. В 5 минутах ходьбы есть два разных пляжа - на разный вкус. Около камней можно с интересом поплавать с маской: много разных рыбок, крабиков и крабов! Особенно у камней около церквушки. Само поселение небольшое, без шума и гама, для спокойного отдыха. Дом находится у автобусной остановки, ехать до Агиос Николас 20 минут. Рядом есть аренда автомобилей, где можно недорого взять авто с возможностью вернуть в аэропорту (так мы и сделали). Мы разъезжали на авто по всему Криту. Манолис дал нам совет, где можно очень недорого покушать (где едят местные). Среди всех мест, где мы бывали на Крите - это самое лучшее! This is very lovely place! Manolis welcomed us very warm! He provided us with map and instuctions how to get his home before arrival. He helped us with all questions we had during our meeting. This home is very good for spending long vacation with your family. It's quiet and shadowy here. There are a lot of necessary appliances, pots and pans in this home. Home is located near bus stop and in 5 min from beaches by foot. These beaches are good for snorkling! In a closest car rental service you may rent a car and return it in airport. You may reach Agios Nikolaos in 20 mins by car (or by bus). This is the best place I ever stayed in Crete! I'll recommend this place to others!
Nikolay
2016-08-26T00:00:00Z
ust returned from Crete. Rest has turned out beautiful thanks to the wonderful hospitality of the host who invited us into their beautiful home. Wonderful weather, the sea is excellent, the best in the world; Istron very cozy town, which is very nice and comfortable house Manolis. Thanks to this very convenient house, where there is everything for life and his attentive, responsive and very kind host holiday in Crete will be one of the best memories of life. Thank you Manolis! Everything was great! Olga and Maria
Ol'ga
2015-10-10T00:00:00Z
Благодоря Манолису, отдых получился просто чудесный. Гостеприимный хозяин нас встретил в аэропорту и отвез на место. К нашему приезду, в доме, все уже было приготовлено, вплоть до мелочей. Это очень приятно. Все объяснил, показал. Мы чувствовали себя как дома. Забота чувстовалась во всем. Еще раз большое спасибо Манолису.
VLADIMIR
2015-06-19T00:00:00Z
Апартаменты просторные, ухоженные. Интерьер уютный, домашний. Есть вся необходимая техника, кухонная утварь и посуда. Перед апартаментами маленький садик с местом для отдыха - отличное место для обедов-ужинов. Расположены апартаменты очень удачно, между двумя пляжами, так что есть возможность выбирать пляж по вкусу и чередовать их. В двух минутах ходьбы есть два магазина, автобусная остановка. Хозяин Манолис очень гостеприимен, щедр, внимательно относится ко всем вопросам и просьбам. Всегда на связи, так что все вопросы решаются очень оперативно. Мы чувствовали себя желанными гостями в этом доме. Само место живописное. Пляжи разные, есть песочные, есть с крупной галькой, есть небольшие уединенные бухты. Пляжи ухоженные. Отдыхали мы долго. За это время несколько раз были периоды с сильным ветром и волнами. Море было разным, но большую часть времени радовало нас хрустальной чистотой и бирюзовым цветом. В Истро есть множество маленьких магазинов, таверн, баров, аптека, пекарня, агентства по аренде автомобилей, детская площадка на одном из пляжей и в центре Истро. Удобное автобусное сообщение с близлежащими городами (Аджиос Николас, Иерапетра, Сития). Мы провели отличный отпуск в этом месте! Очень рекомендуем апартаменты и место. Манолис - еще раз большое спасибо за гостеприимство! Надеемся вернуться еще. The apartments are spacious and well-maintained with home and cozy interior. There are all necessary appliances, dishes and utensils. In front of the apartment is a small garden with a seating area - a great place for lunch, dinner. Location of the apartment is good - between two beaches (200 and 300 meters away), so there is an opportunity to choose a beach to taste and change them. In just a few minutes walk there are two shops and a bus stop. The owner Manolis is very hospitable, generous, attentive to all questions and requests. Always connected, so that all issues were solved with very quickly. We felt welcome in this house. The very picturesque place. All beaches are well-maintained and beaches are different - one with the sand, another are pebble, and one has a small secluded coves. We spend there a long period. During it, several times there were periods with strong winds and waves. The sea was different, but most of the time to delight us with crystal clarity and turquoise. Istron has many small shops, taverns, bars, pharmacy, bakery, car rental agencies, and small children's playground on one of the beaches. Convenient shuttle service to nearby cities (Agios Nikolas, Ierapetra, Sitia). We spent a great vacation in this place! Highly recommended apartment and location. Manolis - thank you very much for your hospitality! We hope to come back again.
Sergey
2015-10-02T00:00:00Z
Absolutely professional host, sharp, very useful advices, friendly, helped us with finding a dentist. The house itself is nice and cozy, and the best thing is that the sitting part outside is in the shadow all day, so you can chill during hottest hours. Parking is just in front. Garden is perfect for kids, especially if you get one of these inflatable pools. Also very cool for barbecue (grill is available on request) Apart from that the house is equipped with everything, blender, coffee machine, washing machine, hair dryer, enough towels, bed sheets, tissues Location is also good, 5 min to the beach. Around 20min to Agios Nikolaus with the bus. For exploring the east crete, which is amazing btw, you have few rental companies nearby Overall, very very good experience, nice place, quiet, really relaxing, beautiful beach Would definitely recommend it, and i hope to come again soon
Ivan
2015-07-13T00:00:00Z
Very nice place, 2 nice beaches nearby. Manolis offered us a really warm welcome and our stay was just perfect.
Sophie
2015-11-03T00:00:00Z
We really enjoyed our vacation in Crete. When I booked the house I didn't expect it to be so close to Voulisma beach, that is a beautiful beach with a stunning colorful sea, ranging from deep blue to turquoise. Some tavernas and little shops are all at a walking distance. We asked our host Manolis a suggestion and he addressed us to Cavos where we ate good Greek food, at a reasonable price, on a clean and cosy terrace in front of the sea. There was no actual need of a car. But we used it to visit the nearby towns of Ierapetra and Agios Nikolaos. The appartment was clean, completely equipped, nothing was lacking, even better than we expected. Manolis was there at our arrival and made us feel really welcomed. A perfect host. My family fell in love with the place so we hope to be there again soon.
Claudia
2015-07-21T00:00:00Z
Eine wirklich super Unterkunft! Das Apartment ist sehr geräumig und hat alles was man benötigt (und noch mehr)!! Es ist ein paar Meter von 2 superschönen Sandstränden entfernt, mit klarem Badewannenwasser! Viele Tavernen und kleine Supermärkte sind auch nur ein paar Schritte entfernt! Die Busse, die zu den großen Städten führen halten ein paar Meter entfernt und fahren viele Male am Tag! Manolis ist ein herzlicher Gastgeber, der wirklich alles unternimmt, dass man sich wohlfühlt! Viele Dinge, wie super Olivenöl, Gewürze, (SENSITIVE CONTENTS HIDDEN), Raki, etc sind schon vorhanden und können benutzt werden! Wenn man Glück hat, bringt einem der Vater ein paar leckere Früchte vorbei oder man wird von Manolis selbst zum Café eingeladen und kann nette Gespräche führen!! Es war ein wirklich toller Urlaub bei dem es an nichts gefehlt hat!! ️️️️️ 5 Sterne
Philipp
2016-08-04T00:00:00Z
Typ pokoje
Celý dům/byt
---
Typ nemovitosti
Dům
---
Ubytuje
4
---
Ložnice
Ίστρο, Κρήτη, Řecko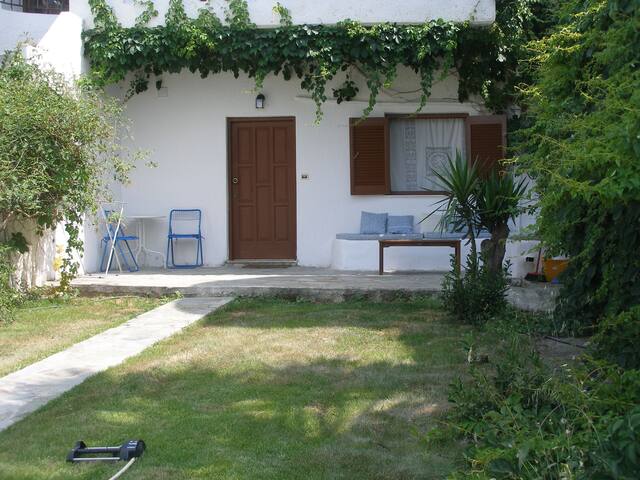 We are an excellent house in front of the sea. The place is beautiful, there is an organized beach in 30m and many others less than 1Km away. There are a lot of Mini Markets, cafe-bars and greek taverns. Very close to Ag. Nikolaos and Ierapetra.
George n'était pas là mais nous avons été accueillie par d'autres personnes de sa famille et sa grand mère. Trés bien accueilli, chaleureux et familiale :) Il y a tout dans le logement pour faire à manger. Jolie maison, tout l'étage était pour nous (nous étions 2), et il y a 4 chambres! La terrasse est trés bien, pour manger ou prendre le petit dèj tranquillement ! Endroit calme, et à 30m de la mer (gravier et sable). La mer est transparente, et on peut voir les poissons. A 15mn d'Agios Nikolaos. Pour y accéder: Hotel Doma, Agios Nikolaos 721 00, Grèce Il y a 3 douches, mais une seule est à la francaise, les autres c'est douche/wc/lavabo dans le meme endroit. On a bien apprécié l'endroit et on pourra y retourner :) Et merci à sa grand mère pour le petit déjeuner et les pates qu'elle nous à faites ! ;) pour le parking, on peut se garer juste devant (voiture jaune sur la photo)
nico
2016-09-23T00:00:00Z
We lived at Villa Domna the whole family with three children about one month. Everything was absolutely great. This place looks like paradise (10 steps to the beach, a lot of taverns etc.), the house (3 rooms, kitchen and big terrace) is very spacious and comfortable. George and his grandmother who lives there are the outmost responsible and hospitable people. We really love this place. Thanks a lot!
Alex
2016-05-28T00:00:00Z
Мы жили на вилле в течении месяца - 4 взрослых и 4 детей. У дома очень удобное расположение, на самом берегу моря. Ночью тишина, наслаждаешься шумом моря. Пляж песчаный вперемешку с камнями, чистый, свободный - отдыхающих в августе было немного. На пляже есть небольшая детская площадка. Если на ближайшем пляже шторм, то вы найдете спокойное море в 10 минутах хотьбы на сказочном пляже Вулизма. Главный недостаток - это комары, а остальное мелочи. Джордж постоянно был на связи и оперативно решал все наши вопросы. Бабушка Джорджа - отзывчивая, добрая, приветливая. Она часто угощала нас виноградом, фруктами, домашними яйцами. Если у вас большая и дружная семья, я рекомендую вам виллу Домна.
Anna
2016-09-14T00:00:00Z
Nous avons été accueillis chaleureusement par la grand-mère de notre hôte et un voisin qui a joué l'interprète pour l'occasion. Le logement est à 30 mètres d'une adorable plage de sable et galets avec quelques jeux d'enfants. La pente est douce et les touristes peu nombreux. Ce sont plutôt les habitants du coin qui viennent se baigner là, les écoliers après l'école... Bref, on a l'impression d'être dans un paisible petit village préservé où tout le monde se connait. Tout au long de notre séjour nous avons été gâtés par notre hôtesse : succulentes oranges, galaktoburiko, légumes du potager etc... Le logement est correct quoiqu'un peu biscornu mais l'agréable terrasse nous fait oublier tous ses défauts. Attention aux moustiques en soirée, assurez-vous que des prises anti-moustiques sont branchées dans les chambres. C'est un excellent point de départ pour de nombreuses excursions dans les alentours. On est ravi!
Sidonie
2016-06-08T00:00:00Z
It is very nice place! It was enough place for 5 adults and 3 child, very child-friendly, George provided us baby-chair and baby-bed so we had all we need. Location of the apartment is also perfect! Just 2 min walk to Ag.Panteleimon beach and 10 min walk to Voulisma beach. It was quite windy when we came, but Voulisma beach is protected from the wind and it was nice condition for swimmin there. Terrace of the apartment is diamond! We used it a lot and it is so comfortable and so big that you can even sleep there if you not afraid mosquitos. Nice seaview from terrace, but you need to be carefull if it is windy outside - glasses can easily fall out from the table because of wind. Grandmother of George who living on the 1st flour is very friendly, neighbors are also nice and ready to help you with all the problems and questions. There is a lot of tavernas and small supermarkeds in the area, but if you are big family and want to have different food, you need to go to big supermarkeds at Ageos Nikolaos, 30 min by bus. We are completely satisfied with our stay at Villa Domna, will definitely recommend it for summer vacation!
Andrey
2016-08-07T00:00:00Z
Замечательное расположение!! Вид с террасы. ! Уют! Бабушка Джорджа встретила нас душевно! Пирог , домашн. яйца, фрукты - угощала всем этим. Для отдыха с детьми замечательно!! Стиральная машина, гладильные принадлежности. Джордж всегда на связи если вдруг что. Советуем ,проверяло на нас!)
MARIIA
2016-09-29T00:00:00Z
Nice place , next to the beach 50m, perfect for couples or family, really quiet place. It's not a house but the 1st floor. Really close from the other neighbourhood I don't recommend for groups.
Mickael
2016-08-13T00:00:00Z
Typ pokoje
Celý dům/byt
---
Typ nemovitosti
Byt
---
Ubytuje
7
---
Ložnice
Lasithi, Řecko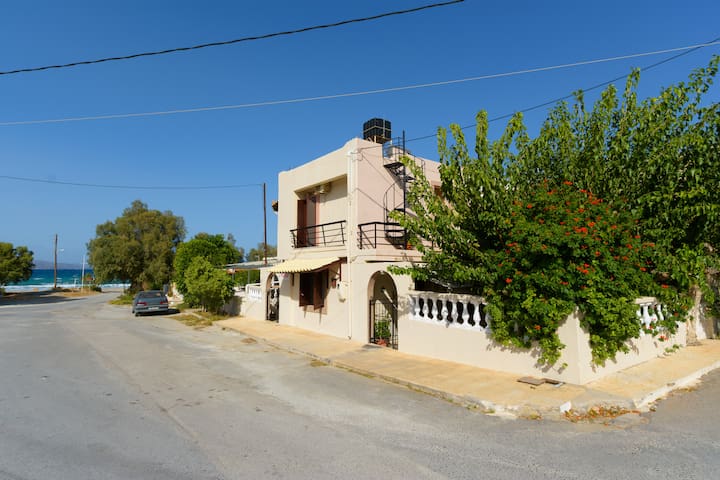 This fully equipped apartment on the ground floor can accommodate 3 and is located in the village of Istro, only 350m from the sea. Ideally suited for anyone wanting to have a relaxed holiday in what is arguably the most beautiful scenery of Crete!
This one bedroom apartment is made for 3 people. Two can sleep in the double bed in the bedroom, while the third can sleep in a sofa located in the living room. It has a balcony, accessible from the living room. It comes equipped with all modern daily comforts, such as a flat TV, washer, iron & iron board and hair blower, as well as a fully equipped kitchen with an oven, stove, fridge, coffee maker, water boiler and all the tools needed to cook and eat. Though hopefully not needed, it also comes with a first aid kit. This apartment is also friendly for children because it has also a big terrace so they can play there and be safe! Needless to say, it has Wi-Fi and air conditioning!
L'appartamento è spazioso e molto curato, noi lo abbaino scelto per la vicinanza ad Agios Nikolaus e Lerapetra, che erano le nostre due prime tappe del viaggio alla scoperta di Creta. Maria ci ha accolti anche a tarda ora ed è stata molto gentile nell'offrirci frutta e raki. All'esterno ci sono una terrazza e un balcone per rilassarsi e cenare all'aperto. Purtroppo abbaino soggiornato solo due giorni e non abbiamo potuto esplorare Istro, che sembra comunque un paese molto tranquillo.
Aurora
2016-08-25T00:00:00Z
Maria is very kind, ready to help us and suggest the Creta's best places. We had problems just because she's waiting signs of her apartments on the street because it's a little bit difficult to arrive there by (SENSITIVE CONTENTS HIDDEN) maps. The apartment was clean and Maria greeted us with raki and fruits. The best that we can have. Thank you Maria, see you soon
Silvia
2016-08-19T00:00:00Z
Typ pokoje
Celý dům/byt
---
Typ nemovitosti
Byt
---
Ubytuje
3
---
Ložnice
Istro, Řecko
The Angela complex are self-catering apartments run by a local greek family who will be at your service during your stay.Come and enjoy the cretan hospitality.The apartments are located in the area of Istron-Kalo Chorio in the bay of mirabello 10 km from Agios Nikolaos and 60km from Heraklion Airport, also1000m from the famous golden sandy beach of Voulisma and 500 metres from the lovely sandy beach of Agios Panteleymonas,The local bars, cafes, taverns and shops of istron are nearby.
This room consists of: a bedroom with two single beds, where are installed air-condition, ceiling fan, satellite TV a fully equipped kitchen with oven,refrigerator, coffee maker, kettle and all the cook tools you need for cooking, a bathroom and a spacious balcony with beautifull views to the Cretan sea, and to the garden of the complex where are planted olive and citrus trees and many different kind of plants Also in the complex is one big and clean swimming pool with many sunbeds around, where you can relax and enjoy swimming and sunbathing
Typ pokoje
Celý dům/byt
---
Typ nemovitosti
Byt
---
Ubytuje
2
---
Ložnice
Istro, Řecko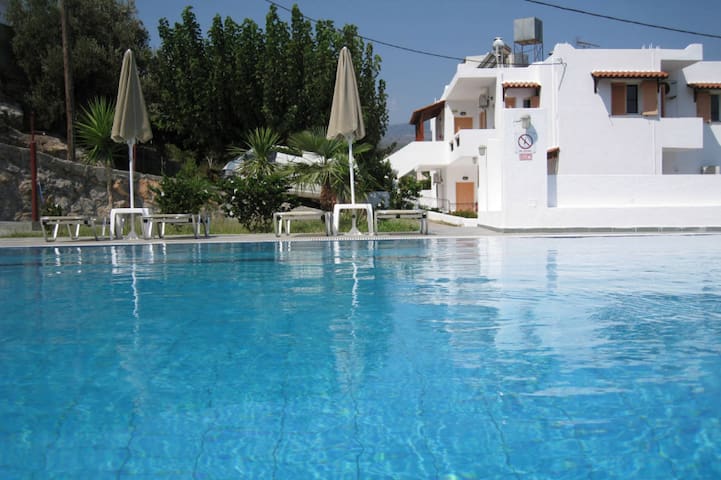 Part of a terraced complex of three maisonettes, Villa Elea is tucked just behind the residential zone of Istro. It is set in an olive grove, facing the sea over a wide plain sown with olive and citrus trees Terrace with private pool is immersed in green, Balcony offers sea view . Airport: 72 km (1hr driving) Nearest town: Agios Nikolaos 10km Nearest beach Ag. Panteleimon: 10 min stroll Market places, village restaurants: Within walking distance, Bus station: Right outside.
Typ pokoje
Celý dům/byt
---
Typ nemovitosti
Dům
---
Ubytuje
4
---
Ložnice
Istro, Crete Region, Řecko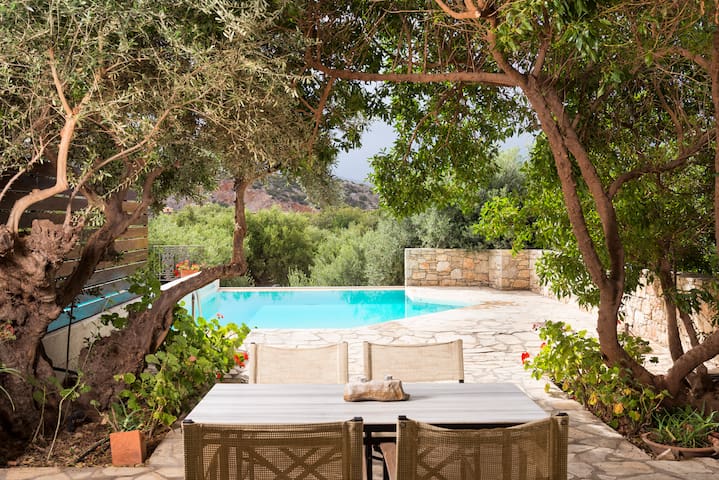 This apartment for 4 is located close to the sea and sits above the restaurant "Chrisambelos" in the town of Istro. The living room and adjoining balcony provides an breathtaking view off the magnificent bay of Mirabello and the fields before it.
Nous avons été très bien accueilli par Georges. L'appartement dispose d'une vue mer magnifique ! L'appartement est neuf, spacieux et bien situé (à quelques minutes en voiture d'Agios Nikolaos).
Cyrianne
2016-07-10T00:00:00Z
Typ pokoje
Celý dům/byt
---
Typ nemovitosti
Byt
---
Ubytuje
4
---
Ložnice
Istro, Řecko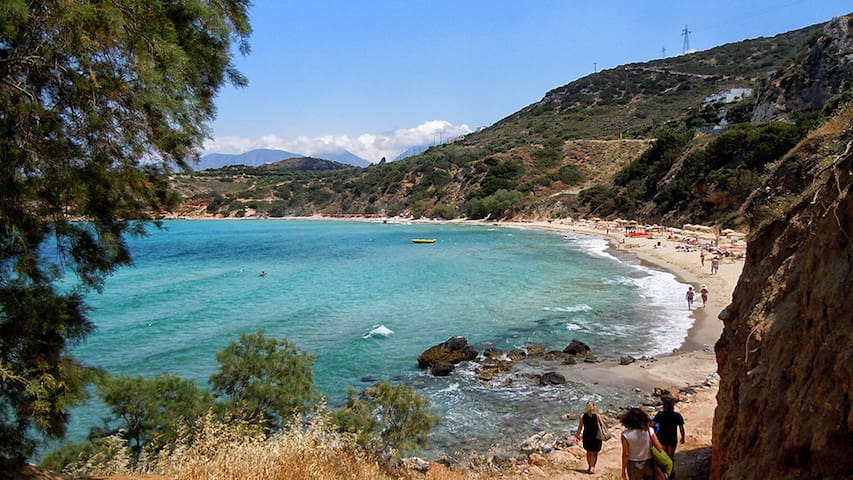 A nice apartment with unique panoramic sea view to the gulf of Mirambello, 3 min walk from gorgeous beaches. The view that you can enjoy from up there is unique since you can see the sea and the town of Ag. Nikolaos.
Istron village, famous for its fantastic beaches, with plenty of restaurants, bars, supermarkets. Three of the most fabulous beaches of Crete, Ag. Patnteleimon,Karavostasi and Voulisma are 300 m away. All the beaches have been awarded with the blue flag and are maintained by the Municipality.
Accueil chaleureux et attentionné de Manolis. Appartement propre et conforme aux photos. Bon emplacement pour visiter l'est de l'île. Commerces, restaurants et belles plages accessibles à pied. Je recommande cet appartement.
Laure
2015-07-24T00:00:00Z
Our stay at the apartment was amazing.The apartment was very nice with a great view. He was a wonderful host and provided us with local drinks and a fully stocked apartment on our first day there.Highly recommended for anyone who visits Crete
Kenneth
2015-08-24T00:00:00Z
Отдыхали неделю в апартаментах Maria. Все соответствовало описанию. Манолис не смог нас встретить, но предупредил, что нас встретит его кузен, так что никаких трудностей не возникло. Дом чистый, хорошее расположение.
Татьяна
2016-09-28T00:00:00Z
Perfect place. Perfect host.
alexander
2016-09-20T00:00:00Z
Отдыхали в апартаментах 5 дней вчетвером: две семейные пары. Не сразу смогли найти правильный поворот с основной дороги - въезд на дорожку к дому. Но в конечном счете все удачно разрешилось :). Манолис был очень приветлив и доброжелателен. Очень понравилось расположение дома. Место достаточно тихое, в небольшом отдалении от автомагистрали и при этом все в пределах доступности. Удобная парковка в тени оливковых деревьев. Очень хороший песчаный пляж примерно в 500м пешком. Истро - это совсем маленький городок для любителей спокойного отдыха или для тех, у кого основная цель не клубы и дискотеки, а море и путешествия на авто, как было у нас. Для такого отдыха это место подошло просто идеально.
Dmitrii
2016-10-08T00:00:00Z
We had a wonderful time at this apartment. It is even nicer than in photos. Just few minutes of walk to wonderful beach. Supermarket across the street. Manolis was very helpful and answered everything we needed to know. He arranged taxi service from the airport to the apartment and welcomed us with local products as cookies, honey and olive oil. Istron is very nice and calm village and has very good location for trips to other cities like Agios Nikolaos or Ierapetra. I would highely recommend that place!
Klára
2016-08-15T00:00:00Z
Manolis was very friendly and helpful. We even locked ourselves out and he sent his father to open the door within 30 mins. The house has everything you might need for your stay. It is nicer than the photos indeed. It's good to have a small balcony for coffee or wine. The flat was perfect for a couple but I am sure it can be alright for a small family. Beautiful beaches are walking distance. Free parking under olive trees. Small shops and restaurants are around. It is easy to travel to Agios Nikolaos and the south if you have a car. There are hundreds of nice quiet beaches along the costline in Crete. We had a wonderful time and would love to visit again. Lovely people, food and weather! Go visit Greece!!!
Rama
2015-07-15T00:00:00Z
Manolis jest swietnym gospodarzem - bardzo sympatycznym i pomocnym, dobrze mówiącym po angielsku, dobrze zorganizowanym. Przez cały nasz pobyt mogliśmy liczyć na szybki kontakt, przez telefon i maila. Poprosiliśmy o otwieracz do wina i następnego dnia już go mieliśmy ;) Miłym gestem na powitanie było pudełko z dobrymi ciastkami oraz lokalny alkohol i oliwa, którą otrzymaliśmy do dyspozycji, grecka gościnność :) Mieszkanie powyżej naszych oczekiwań, przy tak niskiej cenie myśleliśmy, że będzie dużo skromniejsze. Przede wszystkim czyste, do dyspozycji była suszarka, żelazko, pralka, lodówka, kuchenka, tv. Kuchnia wyposażona podstawowo, ale chyba nikt bedąc na Krecie nie zamierza spędzać pół dnia w kuchni ;) balkonik niewielki, ale wystarczający na sniadanie z widokiem na morze i wieczorne sączenie winka, zacieniony za dnia, więc do opalania się nie nadaje, ale w upałach jest to rewelacyjne rozwiązanie. Lokalizacja bardzo dobra, po drugiej stronie ulicy sklepy, dookoła tawerny, polecamy tawern Kavos (na prawo wychodząc z mieszkania) w której pracuje Polak Dawid, mają bardzo dobre jedzenie i świetną obsługę. Blisko do plaży Vaoulisma. Podsumowując - pobyt bardzo udany, miejsce i gospodarza polecamy w 100%!
Aleksandra
2015-09-06T00:00:00Z
Typ pokoje
Celý dům/byt
---
Typ nemovitosti
Byt
---
Ubytuje
4
---
Ložnice
Istro, Kréta, Řecko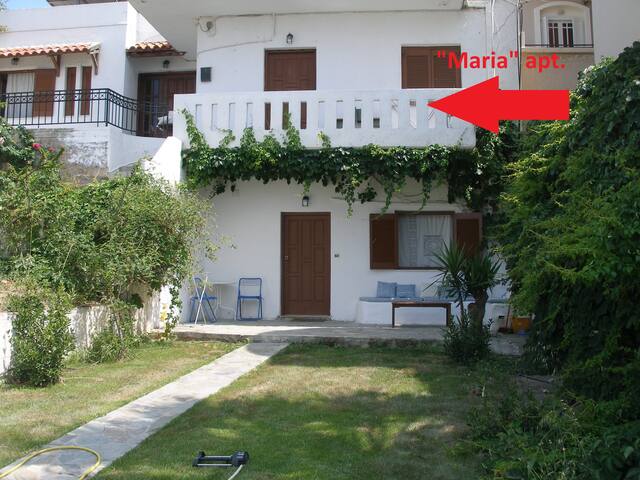 Romantic sea view villa with private pool. Villa Selini is a lovely, well presented one-bedroom villa. It is part of a collection of attached villas, set in the grounds of Istron Bay Hotel, positioned higher looking out to sea in one of the most fascinating parts of Crete. Overlooking the tropical gardens and gazing into the infinity of Aegean Sea, the Villas lie just 100 metres away from an idyllic beach of full privacy and peacefulness. Enjoy peace, swimming and good fresh food!
Typ pokoje
Celý dům/byt
---
Typ nemovitosti
Vila
---
Ubytuje
2
---
Ložnice
Kalo Chorio, Crete Region, Řecko
Following the charming and picturesque coastal road from Agios Nikolaos (11 km) parallel to the Mediterranean Sea, passing inviting coves alternating with breathtaking views to small islands and delightful sandy beaches you reach the village of Kalo Chorio and its coastal quarter "Istron". Our house is nestled into an enchanting countryside that invites to extended walks or hiking through the landscape of the rising hills and mountains which are covered mostly with cedar trees. The house was built in the midst of a large property (4.500 m²), quietly located on the side of a hill. The terraced garden, planted with colorful flowers, decorative shrubbery and different fruit trees (Mandarin-, Orange-, Apricot-, Lemon-, Olive- and Banana trees) extends harmoniously into the rocky backdrop of the hill, enhancing the majestic feeling of the house. On an area of 500 m² a swimming pool, including a wading pool for children, was added. Magnificent views and the alluring countryside surprise you over and over and draw you under their spell. Guests on this property are spoiled by unique panoramic views to the countless coves of the Mirabello Bay all the way to Agios Nikolaos. Every apartment has a Safe, W-Lan and an air conditioning unit. Balconies and Patios, all covered by pergolas, are equipped with table and chairs. The furnishings in the house are made of solid wood, bathrooms and kitchen are tiled and all the floors are laid out with white marble. Every apartment includes a TV-set. In the garden you also find a grill area next to a stone built, traditional Greek oven in which bread can be baked as well as other typically Greek food. The adjoining marble table and benches invite you to rest and to enjoy the just prepared food under the shading trees caressed by the fragrant air. Another delight is the splendid view from up here to the Mediterranean Sea that will stay in your memory for a long time. Children can play freely on this enclosed property and romp the garden to their hearts content (a sandbox is also available for their use). Various large and small coves alternate with each other and offer either pebbled or sandy beaches. About 650 m from the house you reach the first beach - half of it is sandy, the other half with pebbles. Everyday you have the opportunity to venture out and discover something new. Because of its location a good starting point to visit Minoan palaces, remote monasteries, Byzantine churches, caves, grottos and many enchanting natural sights. Villa Michalis 3 for 4-5 Pers. This is an attached two-story house. Located on the ground floor is the living room whose extension includes the kitchen. This spacious area is in addition to other furnishings also supplied with a TV and a large Cretan sofa (sleeping for the 5th person). From two sides of the house you have access to the patios - one with view to the mountains, the other with view towards the Mediterranean. The bathroom is also to be found on this level. Integrated in the living room is the kitchen with upper- and lower cupboards, electric stove with plates, refrigerator, coffee maker and enough silverware and dishes. The Bathroom is equipped with sink, toilet and shower. A staircase leads from the living room to the upper floor of the house with 2 bedrooms (one with double bed, the other with 2 single beds). Both bedrooms extend to a large balcony with exhilarating views.
We absolutely loved our stay at Villa Michalis. The grounds are so picturesque, it is so peaceful and quiet, the view is magnificent, the pool and pool area are beautiful. The apartment was spacious, comfortable and nicely decorated. Be aware if you take the two floor apartment though that the two bedrooms are upstairs and the two bathrooms are downstairs. We especially enjoyed the two balconies which are shady until the afternoon with beautiful views. Christos's father was our host. He doesn't speak much English but we managed to communicate and he was very nice and helpful. Christos himself always responded promptly to our emails. We recommend that you go exploring the grounds of the villa, see all the fruit trees and climb up the hill to an even better view. We were given home made olive oil and other produce which was lovely. The villa is in walking distance (but it is up a hill) from small shops, restaurants and most importantly a lovely local beach and even better the beautiful beach of Voulisma. The village is quiet compared to some of the other more touristy towns but we really liked this. We hired a car and enjoyed exploring the area. We would love to come back.
Emanuel & Mandy
2016-09-18T00:00:00Z
The photographs do not do this place justice. Villa Michalis is set a short way uphill from the road, far enough to feel isolated and peaceful yet within a 2 minute walk to shops, restaurants and the beach. We arrived late, which wasn't an issue at all. The key was waiting for us with a note on the apartment door. Fresh flowers and coffee further extended the welcome. Despite language barriers (I don't even have school-girl German unfortunately), we were welcomed the following day by Christos' father, who checked everything was ok for us. We were even given some of their own olive oil and Raki - which was a really lovely touch. Spotlessly clean, beautifully decorated with local artwork and old photographs, air conditioning, plenty of parking for cars and everything we could have wished for during our stay. Thank you so much.
Ann
2016-06-15T00:00:00Z
This is a wonderful property and our stay here was fantastic. The whole area is clean, well tendered and a joy to be in. The pool is gorgeous and overlooks the sea to one side and the mountains to the other. All amenities are within walking distance including lovely beaches, taverns and shops. The host is very consciences and kindly provided gifts at the beginning and end of our stay. We stayed as a family of four and the house, facilities and location were perfect. It can host 5 persons but it's better geared to 4 persons. I highly recommend and would stay here again in a flash.
simon
2016-08-25T00:00:00Z
Wir waren ende Oktober auf dem schönen und gepflegten Anwesen vom immer zuvorkommenden und hilfsbereiten Gastgeber Christoss. Das Hasu war wie beschrieben, nett und freundlich eingerichtet, ein paar kleine Utensilien , die wir zusätzlich benötigten waren promt am nächsten Tag da. Außerdem auch eine leckere Flasche Hauseigenes natives Olivenöl und ein leckerer Ouzo. Leider hatten wir sehr durchwachsenens Wetter, was wir dank den geräumigen Unterkunft und unserem Mietwagen positiv gemeistert haben :-) Der Pool war, wie das gesamte Grundstück mit Garten, sehr geplegt und sauber und wurde Täglich kontolliert. Wegen dem kühlen Wetter hätte das Wasser gerne ein paar Grad mehr haben können. EInzig das "5. Zusatzbett" welches im Wohnraum auch als Sofa diente, war etwas unbequem mit 4 Personen. Rundum, bis aufs Wetter, ein schöner Urlaub. Vielen Dank dafür.
Christian
2014-11-01T00:00:00Z
Wir hatten 6 super herrliche Tage bei Christos. Die Lage von Istro ist perfekt fuer jegliche Unternehmungen im Osten Kreats, der perfekte Strand *golden beach* ist in unmittelbarer (1km) Naehe. Unsere Unterkunft war genau richtig, der Pool direkt vor der Nase und die 2 Balkone hatten einen traumhaften Ausblick zum Meer. Alles noetige war in der Wohnung vorhanden und lies keine Wuensche offen. Wir danken Christos und vorallem seinem Vater fuer die Gastfreungschaft und wuerden gerne wieder kommen...
susanne
2016-09-10T00:00:00Z
Michallis villa is a paradise . Located in the mountains with a view of the sea part is idyllic . The apartment is very nice, with two balconies that allow to enjoy the sunset over the mountains. We had the pleasure of receiving some local specialties to our departure and arrival. It was very pleasant. Christos's father was very accommodating. The place is very well maintained and the pool more enjoyable . I highly recommend this place to stay in crete . Voulisma beach is next to the villa. and it's a beautiful beach , very nice. Thank you for this nice stay
Kevin
2015-05-09T00:00:00Z
Nous avons passé 7 nuits à la Villa Michalis avec nos 2 enfants. Nous logions dans l'appartement situé directement à proximité de la piscine. Les lieux sont vraiment très agréable, le jardin est fleuri est bien entretenu, la piscine est très agréable et très propre. L'appartement est très bien équipé et très agréable à vivre. Petit détail sympathique : nous sommes accueillis avec une bouteille d'huile d'olive et une bouteille de raki ! Une machine à café expresso est aussi mis à disposition. Il y a également une laverie sur place ( payante). Les enfants ont profité à fond de la piscine et de la pataugeoire, les parents des transats et de la vue sur la baie de Mirabello!!
Mélanie
2015-06-23T00:00:00Z
Typ pokoje
Celý dům/byt
---
Typ nemovitosti
Byt
---
Ubytuje
5
---
Ložnice
Agios Nikolaos, Kréta, Řecko
Featuring a shared balcony with Cretan Sea and pool views, this air-conditioned, 1-bedroom apartment is bright. It consists of a seating area with satellite TV and a kitchen with stove and dining table. Free Wi-Fi is available.
cleanliness, better views, family atmosphere
Near to the sea (5 minutes walking)
Location perfetta per visitare la parte est dell'isola. Staff gentilissimo e utilissimo nelle preziose informazioni . Appartamento pulito e con tutto l'occorrente per una vacanza in totale comfort e relax. Consigliato vivamente.
Christian Maurizio
2015-08-12T00:00:00Z
Typ pokoje
Soukromý pokoj
---
Typ nemovitosti
Kondominium
---
Ubytuje
2
---
Ložnice
Ίστρο, Κρήτη, Řecko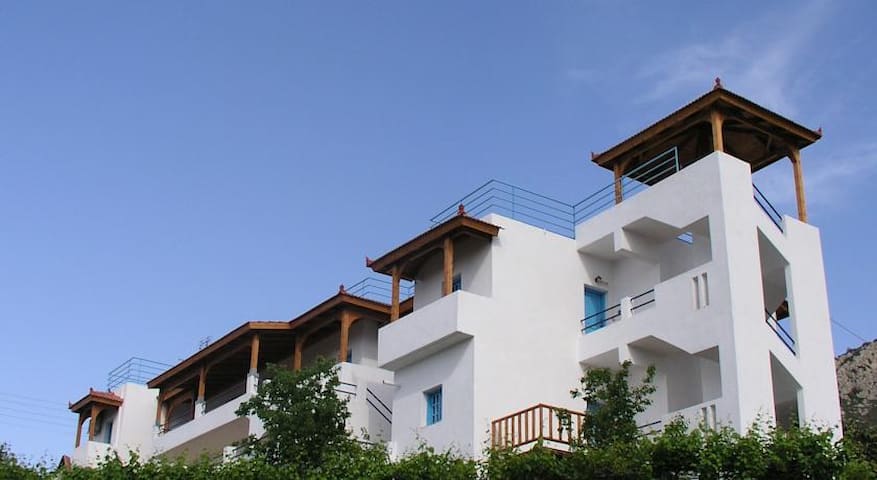 Aloni Villas is a small 3-villa complex and quite secluded, although in easy reach of shops, tavernas and beaches, with each villa having its own parking area, swimming pool, outside terrace and dining areas. Villa Poppy sleeps up to 4 people.
A wonderfully located villa to chill out and relax or to enjoy the local beaches and area.
Crete, the most southerly of the Greek Islands, has so much to offer. The sandy beaches along the coastline are a perfect way to spend time, enjoying the sun and a swim in the crystal blue Mediterranean waters. And for the adventurous tourists, Crete is the ideal place. There are many walking paths in the local countryside and mountains and several gorges offering trekking and hiking experiences plus, of course, the unique Cretan archaeological site
Lovely and quiet which is exactly what we wanted. Outside area very spacious and plunge pool wonderful if a beach day is not required. Information sheets packed with useful information, which saved us making unnecessary mistakes. Brilliant. Loved it.
Caroline
2016-09-16T00:00:00Z
Typ pokoje
Celý dům/byt
---
Typ nemovitosti
Vila
---
Ubytuje
4
---
Ložnice
Kalo Chorio, Kréta, Řecko

maison rurale avec jardin et terrasse proche des plages dans village traditionnel et authentique et à 6 kms d'Agios Nikolaos
cette maison est sur deux niveaux : avec une chambre, une salle d'eau et une cuisine à chaque niveau , doté chacun d' une entrée indépendante. Les plages du golfe de Mirabello sont à deux kms : on peut s'y rendre à pied à travers les vergers (orangers et citronniers)
village traditionnel avec un café et entouré de vergers
Typ pokoje
Celý dům/byt
---
Typ nemovitosti
Řadový dům
---
Ubytuje
4
---
Ložnice
Istro, Crete Region, Řecko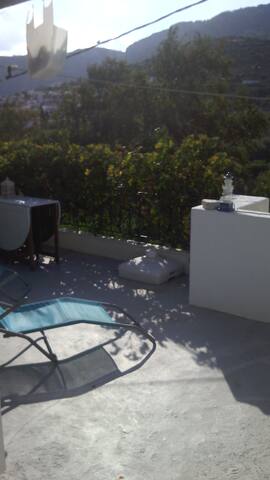 Situated on the hill of Istron-Kalo Chorio, 150m from the beach and 900m from the village centre. Each guest accommodation has a fully equipped kitchenette. Free wi-fi, free parking space & outdoor pool available. (URL HIDDEN)
Kounenos Apartments offers self-catered accommodation with a wonderful view over the bay. It is situated on the hill of Istron. Surrounded by a large garden and olive groves, each guest accommodation has a fully equipped kitchenette. Furnished in typical Cretan style.
The host canceled this reservation 74 days before arrival. This is an automated posting.
CATHERINE
2016-05-21T00:00:00Z
Typ pokoje
Celý dům/byt
---
Typ nemovitosti
Bungalov
---
Ubytuje
5
---
Ložnice
Lasithi, Kréta, Řecko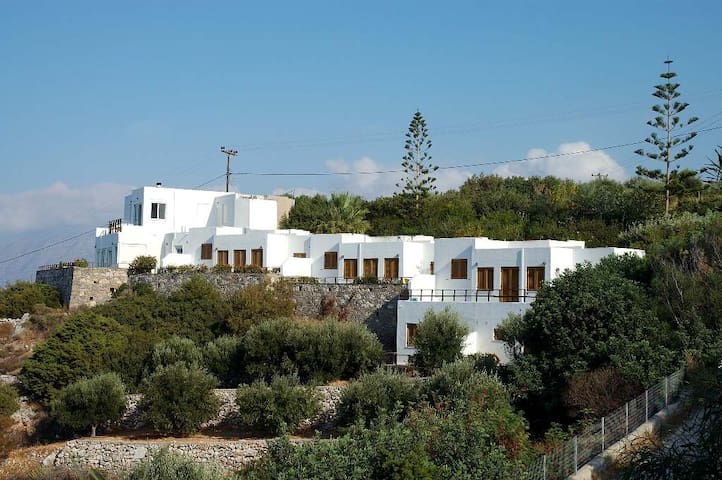 lovely beach
nous sommes arrivés à 22H et Manolis nous attendais,très gentil;il y avait 1 bt de vin blanc de Crête et des petits gateaux,sympa;comme 1 apps +grand était disponible,il nous l'a laissé pour le même prix;,la piscine est super! la plage est à 500 m à droite ,petite crique sympa,on peut prendre 1 transat (2.50€); Le pub en bas à gauche est ouvert jusqu'à au moins 3 H,le patron s'appelle Manolis aussi,adorable et les prix sont vraiment pas chers ; 2 bémols pour le matelas à ressorts trop dur et la pression de l'eau ,il faut pas être pressé pour le bain ,mais bon cool,c les vacances!!!
eric
2016-09-06T00:00:00Z
Très bon accueil logement très propre et entretenu Climatisation indispensable
Virginie
2016-08-02T00:00:00Z
Nice place to stay we'd definitely recommend. Manolis is very serious and friendly. We've chosen last minute another place of his own. Both clean, convenient and with swimming pool. Not far from the beach. He helped us and took us to a nice quiet and family beach safe from waves.
Claire
2016-07-11T00:00:00Z
L'appartement que nous avions réservé ne correspondait pas à ce que nous avions choisi. On devait avoir 2 chambres et nous avons eu un petit appartement avec 2 lits dans l'espace cuisine. Très déçus . Manolis nous a proposé un autre appartement mais sans la piscine sur place. Sinon bons petits restaurants sur place et endroits sympas pour se baigner.
Myriam
2016-09-27T00:00:00Z
Manolis is a really nice host - he fulfilled all our needs. He is kind and willing to help you with anything.
Frosina
2016-08-13T00:00:00Z
Excellent accueil de Manolis, disponible et chaleureux. Logement très fonctionnel, piscine à disposition, proximité commerces. C'est parfait.
Patrice
2016-07-23T00:00:00Z
Typ pokoje
Celý dům/byt
---
Typ nemovitosti
Byt
---
Ubytuje
4
---
Ložnice
Istro, Kréta, Řecko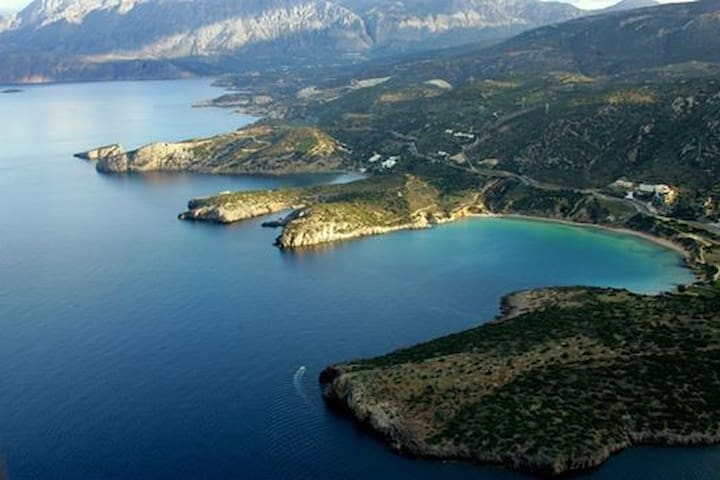 Pro zobrazení celkové ceny zadej termín. Mohou být přidány další poplatky a daně.