Zadej datum tvého příjezdu ve formátu dd.mm.rrrr
Zadej datum tvého odjezdu ve formátu dd.mm.rrrr
Nabídky ubytování, které můžeš rezervovat bez čekání na schválení hostitelem.
7 Pronájmy
· Jefferson Valley-Yorktown
7 Pronájmy
· Jefferson Valley-Yorktown
Pro zobrazení celkové ceny zadej termín. Mohou být přidány další poplatky a daně.
Letos v červenci a srpnu můžeš vyzkoušet jeden z této stovky vysoce hodnocených domovů v různých cenách, a zažít Sonomu jako bys byl/a místní. Možnost příjezdu kdykoliv v průběhu 24 hodin, okamžitá rezervace, a místní víno s občerstvením ti dovolí se v klidu usadit a užívat si pobyt.
TWO PRIVATE BEDROOMS WITH ONE TWIN BED PER ROOM. Easy Access to Taconic State Parkway and Rte 684. Less than one hour to NYC. This is a quiet residential neighborhood, of well maintained homes, in a bucolic country setting. Close to NYC for easy day trips while providing for a country setting for hiking, enjoying local lakes, and exploring outlet shopping. The best of everything within arms reach. Best for solo adventurers and business travelers.
Two separate private bedrooms are available. Each bedroom has a single twin bed. Bath is shared when owner is home. Owner travels and is frequently not home. Access to main house. Owner lives in the home but travels frequently. I am ALWAYS available if you need anything whether home or not. My adult son lives in the home and occupies the finished basement space and shared living space.
Easy Access to Taconic State Parkway and Rte 684. Less than one hour to NYC. This is a quiet residential neighborhood, of well maintained homes, in a bucolic country setting. Close to NYC for easy day trips while providing for a country setting for hiking, enjoying local lakes, and exploring outlet shopping. The best of everything within arms reach. Best for solo adventurers and business travelers. Limited public transportation. A car is recommended. Metro North train to NYC within 15 - 20 minutes. Easy drive to NYC via Taconic State Parkway. Finished basement and living space is occupied by my adult son.
Typ pokoje
Soukromý pokoj
---
Typ nemovitosti
---
Ubytuje
1
---
Ložnice
1
Yorktown Heights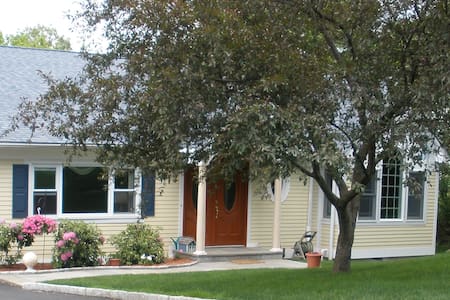 My place is close to parks, great views, historic sites, restaurants and dining. You'll love my place because of the spacious rooms and the comfy beds. My place is good for couples, solo adventurers, business travelers. You can will have access to private or shared bedrooms and shared living room.
Four bedrooms in total * 1 Bedroom with attached bathroom * 1 Bedroom , private separate bathroom * 2 basement bedrooms with 1 shared bathroom * Guests has access to the living room, TV and internet Bedroom, bathroom, microwave, kitchen utensils and living space (TV area). The use of the kitchen is an added charge. Use of Stove is not permitted.
Yorktown is a recreation-oriented community, with a network of parks, athletic amenities, and greenways. Nearby Things to Do: •John C. Hart Memorial Library •Franklin D. Roosevelt State Park •North County Trailway, Hiking & Biking •Turkey Mountain Nature Preserve •Hilltop Hanover Farm & Environmental Center •Mohansic Golf Course •Wilkens Farm • Shopping at Jefferson Valley Mall •First Presbyterian Church of Yorktown •AJ'S Sports Bar & Grill •Murphy's Irish Bar & Grill •Sparkle Lake •Yorktown Stage and Local shows There are local bus stop one block away. The two closest Metro North train stations are at Katonah and Peekskill. The Metro North travels North-South to and from New York City. Shrub Oak is a hamlet in Yorktown, close to the Taconic and Route 6. It is located 50 miles from Manhattan in scenic Westchester county. The Hudson river is 8 miles to the west in Peekskill. Yorktown Heights is 5 miles to the east and the Yorktown Library is one block away.
Staying with Olive & George was great. The private rooms were clean and spacious. Olive is amazing with communication and worked with us every step of the way. They were also helpful in advising us where to eat. :) Perfect stay for a little stint Upstate!
Liana
November 2016
The host canceled this reservation 6 days before arrival. This is an automated posting.
Jalpen
Incredibly pleasant. Incredibly peaceful. A very wonderful couple opening their home up. Private bathroom in the bedroom is a definite plus and the coffee is strong.
Chris
October 2016
After having a rough couple of days of travel and work my stay here was blissful. My schedule had been thrown off because my car became disabled while traveling a couple of days ago. I arrived tired and in a rental well after midnight. George was so gracious & welcoming despite my late hour. I could have chatted with him all night. He's kind, very bright, engaging and has a great spirit. I did not get to meet Olive. She was away. Next time! There will be a next time, too. If I need to stay in the region I'd be happy to stay here. Their home was perfect for my needs! Parking is in their driveway in their quiet pleasant neighborhood. Many other less expensive locations were in apartments which probably had on street parking. I'm a photographer and try to leave little in my car overnight. "Just in case" it's nice to have my car in a driveway and not on a street. I'm usually a low maintenance traveler. Having a private room with a private bath addressed my needs wonderfully. The family room has a TV if you'd like it. Coffee is also available if you'd like. All I wanted was a safe, quiet, comfortable bed. In reality, I got so much more. There home was an oasis for a weary traveler and George's warmth and hospitality turned my travel misadventures into a real joy. Bless them for opening their home to this grateful stranger–especially since I showed up so very, very late. I'll go back there again; hopefully at a much earlier hour. THANK YOU!
Connie Drapeau
November 2016
Nice host and amazing bathroom hair lotions and shampoos. Great place to go if you want to be near a library
Richard
October 2016
I visited their place again and was welcomed by George . It was again a comfortable stay
Jalpen
December 2016
Olive was wonderful. She responded right away, greeted me warmly and made me feel very comfortable. Her and George's home was warm, and sleeping in her (now grown up) daughter's room was more than adequate. We had a lively chat in the morning. The location is very residential but close to highways. All in all a very positive experience.
Alvita
September 2016
It was a very convenient stay.
Jalpen
November 2016
Typ pokoje
Celý dům/byt
---
Typ nemovitosti
---
Ubytuje
4
---
Ložnice
1
Shrub Oak
Our relaxing 11 room lodge has rustic elegance and is set on 20 acres and is 45 miles from NYC. It has private trails, a pool, hot tub, gardens, a cabin and a trout stream. There are 3 suites w/ private bathrooms and an Adirondack style great room. You'll feel like you are at your own private resort. Hiking, biking, kayaking, hunting, and Hudson Valley activities abound. We are 5 mins from the Taconic Pkwy 20-30 min from Metro North, Beacon, Bear Mountain and Mahopac. West Point is 30 miles.
We hope you love the lodge. We feel that the pictures tell a 1000 words. :) You may access all areas of the home. We ask that you of course not enter the tenant's cabinet which is just to the side of the house. :) Please don't enter the various storage/garden sheds that we have for safety reasons. Please don't go in the attic for safety reason and the basement as well. Although the breaker box, phone connector, etc are located there so if you need to go down there for that no problem. Otherwise enjoy all the property has to offer. Thanks! We'll be available via phone, text and or email as we want to make sure that just like at a resort we help you with any questions you might have about the lodge or the property.
Lovely rural Peekskill Hollow Road that goes from downtown Putnam Valley to an entrance to the Taconic down to Rt 301 a lovely rural highway that takes you to Cold Spring or to Carmel. Along our road you will catch glimpses of the wooded and rugged hillside of Putnam Valley and you see a few horse pastures, a riding camp, Peekskill Hollow Riding Camp, a kid's day camp, Camp Combe, Palumbo's Soccer field, houses of all kinds, from little cabins, to historic homes, to a few estates, the little Putnam Valley Historic Museum, the historic Tompkins corner church which is now Tompkins Corner Cultural Center and our friend's simple charming and historic barn which he sells antiques out of on Sundays. You'll love this country life and so close to NYC and Hudson Valley activities. 25 min taxi from Peekskill (Metro North Railroad stop). 6 mins off of the Taconic State Parkway. Not far from 301 which will take you over to Cold Spring and the Hudson River Highlands. If you head south 6 miles/15 mins you'll head into the town of Peeskill. We have two parking areas one down by the road and another parking area up by the back entrance of the house. You can decide which parking area is most convenient for you and of course you can use them both.
Jim and Heathers home is truly unique. Specious and cozy. Warm and inviting. It has everything you could want and need and then some for a nice weekend getaway or for an extended vacation. The property is secluded enough to feel like your miles away from others while still being just a few minutes drive from stores and gas stations. The amenities also make this home truly one of a kind. I have stayed around this area before and have booked many Airbnb's all over the east cost and can honestly say I have never had such a relaxing and pleasurable experience. Jim and Heather are also excellent hosts, ready to answer any questions you may have and can give you a very thorough rundown of some local attractions that only locals could know. A 5 star experience all around. If you're looking for a nice getaway in the Putnam valley area, look no further!
Matt
November 2016
Hosts were warm friendly and walked us through everything. Location was great for access to town and hikes.
Lauren
January 2017
Andrea and I couldn't be happier of the weekend we spent at Heather and Jim's lodge. The home is extremely beautiful and it's very close to NYC - the ideal place for a relaxing getaway. The lodge is huge but very cozy and it has everything it promises, a lovely fireplace, a big kitchen, a perfect little house to chill, and an hot tub facing the property's woods. The location is magical, it offers multiple spots to immerse in the nature and the house has also its private hiking trail. Jim and Heather are amazing hosts, warmly welcoming, extremely easy to communicate with before and during our staying, and very helpful in providing us all the information we asked about the area. We will definitely go back!
Teodora
November 2016
The Lodge was the perfect escape from the hustle and bustle of city life. My wife and three children (7-9) loved the relaxing environment of The Lodge as much as we loved the base position it gave us to explore all the incredible and stunning trails and hikes near buy. Heather and Jim are wonderful hosts and highly recommend visiting The Lodge.
Brendon
November 2016
The Lodge at Putnam Valley is truly amazing! One of my best experiences on AirBNB all around. The house is wonderful. About an hour outside of New York and plenty of room for the five guests in my group. A rustic feel with a modern kitchen. The outdoor hot tub is a must. It was clean and well decorated. The property itself is enormous - much larger than I expected. There's great hiking within the property and several trails up the hill. The Lodge has several places to build a fire, sit back and look at stunning views of Putnam Valley. Him and Heather are responsive, gracious hosts. Book this! You won't regret it.
Stu
October 2016
Heather and Jim checked with us before we arrived to see what we would need for our stay. They were excellent hosts! The property has so much to discover and is wonderfully maintained. The house is cozy and spacious and the furnishings are very beautiful and comfortable. We definitely recommend the Lodge!
Davita
November 2016
Typ pokoje
Celý dům/byt
---
Typ nemovitosti
---
Ubytuje
8
---
Ložnice
3
Putnam Valley
Cute 1 Bedroom, 1 Bath Apartment, Basement Level, 2 Windows. Private Bedroom with Queen Bed. Living Room with Queen Sleeper & Twin Futon. Laundry Room. Suitable for couple, possibly small child(ren) Private entrance. Wireless Internet. Control Heat/AC Outdoor patio with barbecue. Convection Oven, Double Burner Hotplate and Microwave
Backyard patio with Barbecue, Patio Table & Chairs Beautiful outdoor space to relax. This apartment is the basement level of my home. I will be available to attend to any need that you might have since I live at the location as well.
1 Block to the Beeline Bus Line 20 minute car ride to Croton Harmon train station where you can take Metro North train to Grand Central Station in NYC, or Amtrak.
She provided so many small touches like any toiletries and a stocked fridge, coffee, etc.
Don
August 2016
The host canceled this reservation 10 days before arrival. This is an automated posting.
Melissa
Michelle was very welcoming, making sure we had everything we needed for our visit. She had fresh fruit and coffee ready for us and gave us use of a very nice patio. Her place was clean, comfortable, and updated. The neighborhood was quiet and not far from restaurants and shopping. Thank you, Michelle!
Thomas
July 2016
Great host. We were looking for something very last minute and Michelle was incredibly fast to reply and we were booked in no time. She's was super responsive to all my questions (my first time staying at an air bnb). She was happy to oblige and offered up all the info we needed. The apartment was cute and just what we needed, exactly as described. She was more than helpful when we arrived and was more than accommodating. We were looking for a place close to Bear Mountain and this was it. Highly recommended and would stay again, thanks Michelle!
Tamar
May 2016
What a great place! Michelle did a great job hosting us. There were snacks, extra sheets and towels, and she put a lot of thought into making her guests comfortable.
Alexandra
September 2016
We had a great time at Michelle's place! I can absolutely recommend this apartment. It is located in a nice neighborhood. Everything looked very nice and new, the bed was really comfortable and the kitchen offered everything you need. Also there is a washing machine and dryer. We used the apartement with three people. My brother slept on the sofa in the living room. It got a little tight, but for us still ok. Michelle is a really caring host. She was very considerate, asked us if we needed anything several times and made sure we were having a great time while staying at her place. Also she was very fast answering my messages. We would definitely stay at her place again!
Monika
June 2016
It was an awesome place to stay. Very homey and looks exactly like it does in the pictures. Michelle is very nice and friendly and offers you complete privacy. She was also flexible with check-in and check-out times. I would recommend staying here to my friends and family.
Tyler
October 2016
Michelle was very nice, and we absolutely loved the place. Very nice neighborhood. Highly recommend this place!
Yohan
September 2016
Typ pokoje
Celý dům/byt
---
Typ nemovitosti
---
Ubytuje
4
---
Ložnice
1
Yorktown Heights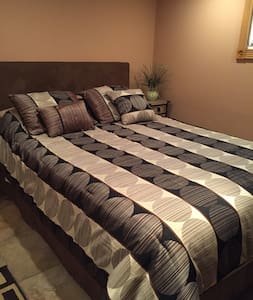 This is the upper floor of a raised ranch house located in a quiet residential neighborhood surrounded by woods. The space has a nice deck complete with patio furniture and bbq. Lots of space and furnished, very lovely.
Nice place to stay
Johanna
August 2016
Chris is a perfect host, welcoming then leaves you be. The apartment is very homey, nice and comfortable. It is a safe friendly neighborhood. We have enjoyed the back deck a good amount, it's quite private and a great place for morning coffee.
Scott (and Amy)
June 2016
DO NOT stay at this house in the summer. There is no air conditioning whatsoever. We had to get a tiny window unit from the garage and set it up ourselves, and it barely cooled one of the bedrooms. There was only one ceiling fan in the kitchen, so we joked that we would have been more comfortable sleeping on the kitchen table. We had other guests staying with us and they all left because it was unbearably hot. If you're staying in the winter I would confirm that there is heat before booking your stay.
alex
August 2016
Everything was just fine. Reliable and ready.
April
September 2016
The place was nice. A little dusty. They definitely need new A/C units. It was really hot and the A/C unit they had was old and did not blow out any air. The space itself was nice, big and comfy. If they fix these things I would definitely stay there again.
Elizabeth
September 2016
Christopher was an excellent host. The communication was very prompt and straight forward. We have stayed at his place for longer period and enjoyed it very much. The upper level flat has everything you need for short/long term stay and it is exactly as described. Christopher did his best to help us in many ways. We could only recommend this place and would stay here again.
Peter
November 2016
Chris has been a gracious host! He provided all the necessities you could need on your trip to NYC or for a month-long stay (what I did). He was really attentive and was available to answer any concerns I had. Honestly, I would love to stay at his place again if it is available come next Fall; it has truly felt like a home away from home. Chris you da man!
Michael
March 2016
Chris was great, and though we never got to meet him, he was always standby and we communicated directly. The place is cozy, sweet, very well equipped, and very charming. We were lucky to see the place covered in snow, and to catch a glimpse of a few deer out the window! Overall, great experience. Thank you.
Alexia
November 2016
Typ pokoje
Celý dům/byt
---
Typ nemovitosti
---
Ubytuje
2
---
Ložnice
2
Yorktown Heights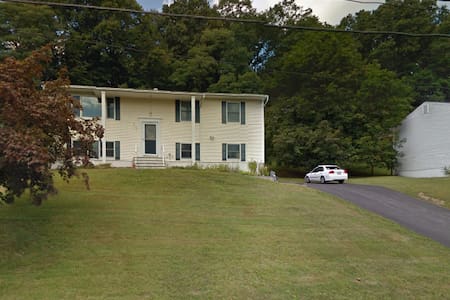 My place is located on beautiful Lake Mahopac in Putnam County, just 50 miles north of NYC and a 12 minute drive from Metro North Railroad. There is plenty to do for all, including swimming, boating (rental at Marina). My house is walking distance to town and is convenient to many shops and restaurants. This is lake living at its best and is a perfect retreat from the hectic pace and heat of NYC. My house is perfect for couples, solo adventurers, business travelers, and families.
Typ pokoje
Celý dům/byt
---
Typ nemovitosti
---
Ubytuje
8
---
Ložnice
3
Mahopac
Whether you're planning a family getaway to the Hudson Valley or looking for a quiet retreat with friends, our home is the perfect escape! Large and spacious with a beautiful view it is also cozy and welcoming. In the summer enjoy grilling and sunbathing on the deck or roasting s'mores over the fire pit. In winter there are hills for sledding and a fireplace to warm you up. Less than 5min to Lake Mahopac, restaurants, bars, parks, hiking and 15 min from the train to NYC. Our home has it all!
1st Level Kitchen Dining Room Living Room w/ Fireplace 1/2 Bath 2nd Level Master bedroom w/ King Bed and Private bath Guest bedroom w/ Queen Bed Guest bedroom w/ Queen Bed Nursery w/ crib (or 4th bedroom) Full guest bath Basement Gym equipment and walkout to backyard You will have access to all rooms except the den off the master bedroom We will be here to check you in and help you get settled whenever possible. When that is not possible, we will still make every effort to make your checkin as easy as possible. Throughout your stay, we will be available my phone or email, but will give you plenty of space and privacy to enjoy your visit. PLEASE let us know if there is anything we can to make your stay amazing!
We had an amazing time at this house. We went with three other couples and had plenty of space. The house was clean and extremely spacious. I would recommend this to anyone looking for a getaway from a big city! Check-in and check-out was easy, and the hosts were beyond welcoming and accommodating. Breakfast was provided and beds were comfortable. Plenty of places to sit around the table, large couch, and big kitchen. The fire place added a nice touch as well in the evenings to sit around and hang out. We really enjoyed our stay!
Yaniv
September 2016
A beautiful home with as gracious a host as they come. Jim very much made us feel at home with a welcome gift/packet with full information on the area and a perfect set-up for a nice get-away from the city. Would highly recommend it and stay there again.
Omar
October 2016
The host canceled this reservation 20 days before arrival. This is an automated posting.
Aileen
Typ pokoje
Celý dům/byt
---
Typ nemovitosti
---
Ubytuje
10
---
Ložnice
4
Mahopac