The barn has a loft with sleeping space for four plus portacot. Ground floor includes large bathroom with shower over bath plus toilet, open plan kitchen/dining, separate lounge room with slow combustion fire. Set in 8 acres parklike gardens. The barn is air conditioned.
Large open space, private. about 30 metres from main house. 2 large glass sliders open onto beautiful garden. Set well back from road in battleaxe block. covered barbeque/ sitting area to one side of barn. Parking adjacent.
The property is set among other similar acreage properties of largely bushland. Nearby restaurants include Coffee Club and several cafes, restaurants and takeaways in the Jimboomba township about 5km away. A nice little restaurant at Hills golf club (Jason Day's school training course). The small town also has a Woolworths and Coles supermarkets and assorted shops , doctors, dentists etc. A large park, outdoor gym, barbeque facilities and waterpark for littlies are at Yarrabilba at the opposite end of our road about 3km away. Scenic Rim is adjacent.
Beautiful secluded peaceful private Location fantastic hosts . very well laid out 2 story cabin/barn , fully furnished and equipped for a 1 nite or 1 month stay . Very reasonably priced . Can not recommend high enough will use again . 5 stars
Syd
2016-04-16T00:00:00Z
Accommodation was just what we needed for our stay. Nice and quiet yet close to where we needed to be. Very comfortable home like stay, would return next time when in the area.
Kevin
2016-08-25T00:00:00Z
5stars for sure . Where to start :) A friendly welcoming .. fresh yummy chook eggs in the fridge ! Along with a few Other thing s. The beds were so comfortable and portacot perfect for my lil 1year old . Lol Rhys hasn't been the same Since the stay with plenty of exploring to do including checking out the chooks . Easy to get to once we figured out to take the service road :p . In whole I would Defiantly recommend for a refreshing getaway . Thanks for having it on offer Cathie xx
Rikki-lee
2016-10-08T00:00:00Z
Awesome place to stay with great hosts. Thanks for the great time
Carmine
2016-11-29T00:00:00Z
Cathie was a wonderful host! She was very responsive in term of communication and very accommodating to us. She left some wonderful breakfast food in the fridge for us including some delicious fruit salads. Wonderful stay at her place - would highly recommend.
Rachel
2016-11-06T00:00:00Z
Driving down the driveway we were greeted by kangaroos - where else do you get that kind of greeting! Cathie welcomed us and then took us on a tour of the barn. We were very impressed with the location and the barn. It was a very comfortable stay and will definitely be back. Thank you Cathie, you have a beautiful property.
Michelle
2016-10-29T00:00:00Z
Cathie and Tony are very welcoming. It is a lovely, quiet location and very relaxing and comfortable. Had a great time.
Carmine
2016-11-15T00:00:00Z
Cathie was a great host. She greeted us upon arrival and we did not have to go looking for someone to let us in. She had some lovely yellow flowers for us in a vase on the table, which really was a nice touch. The spot is very quiet and you are likely to see kangaroos about as well as many birds. The barn is rustic with fairly steep stairs going up to the sleeping area. Not a problem for us but some might find them tricky. She and her husband were very nice and gave us some tips on what to see about the area. She also had heaps of handouts about things to do and see there. There are some of her art works on the walls which we enjoyed looking at. We had a great time.
Ethel
2017-01-31T00:00:00Z
Typ pokoje
Celý dům/byt
---
Typ nemovitosti
Jiné
---
Ubytuje
4
---
Ložnice
Jimboomba, Queensland, Austrálie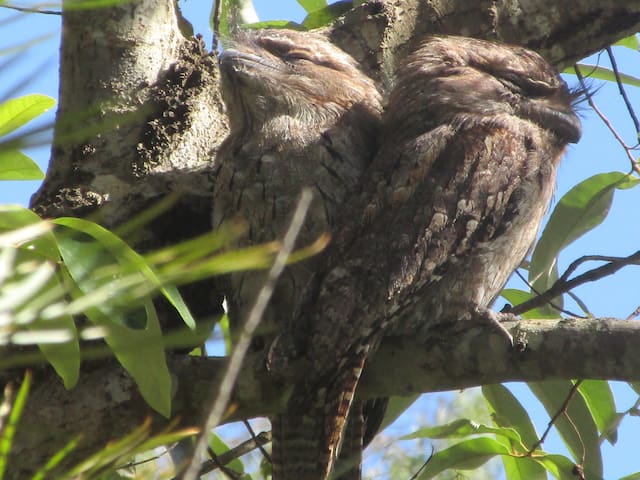 Enjoy a little bit of country 45 minutes from the city. Celebrate birdsong,mighty gum trees and a cool pool. Private entrance to outdoor alfresco dining area with fridge and bbq or you are welcome to use the main kitchen The Country Nook is a just that...a little nook hidden away by curtains. Perfect for those who want a comfy cheap bed, shared facilities (kitchen, lounge and bathroom) with the opportunity to have a quiet corner to themselves or join in with the family.
45 mins to Brisbane, Gold Coast , and Ipswich but your still in the country surrounded by birdsong, tall trees, a lily pad dam on 5 acres. The house has been described by friends as having "character" with a dazzling swimming pool, pleasant views, gorgeous gums and sweeping lawns. Traditional architectural features of slate, french windows, bull nose verandas, vaulted ceiling of western red cedar and open fireplaces add the country charm. We have 3 rooms to offer, suitable for a family of 4 with a double bed and two single beds available and the nook.Sheraton linen on all beds, fans, built in robes ,light and airy with pleasant decor. You have a separate toilet and share a bathroom together. Laundry facilities are available. You will need a car. Nearest train station (to Brisbane or Gold Coast) is a 20 minute drive.Local shops with all facilities are 10 minutes away. The kitchen is modern with all facilities. Al fresco dining and a BBQ are available too. Presently we have no animals and if you wish to bring your dog or horse they are most welcome too! We are musicians and work from home . Pricing begins at $35 per person per night. Laundry and catering may be arrange for a small fee.
Its a ten minute drive to the nearest shops, either Jimboomba or Logan Village. Here you will find McDonald's, coffee Club, Hotels and Coles and Woolworth's, mechanics etc. Tourist attraction Mt Tamborine is a 25 minute picturesque drive away .
It is a quiet and clean farmhouse in a rustic area. Jane is friendly
Joris
2016-11-20T00:00:00Z
Host made me feel very welcome, showed me around the house and where everything is. Answered any questions that I asked. Their place had a family friendly atmosphere.
Teia
2017-01-03T00:00:00Z
Jane and Alvin were the perfect hosts. From the moment I walked into there little piece of paradise they made me feel like a long lost friend. Interesting conversation well into the evening and I hope to see them again.
David
2016-06-09T00:00:00Z
Great hosts had a lovely comfortable stay would highly recommend.
deb
2017-04-08T00:00:00Z
Great stay with excellent amenities. Jane is a great host. Perfect for my work situation.
deb
2017-03-08T00:00:00Z
Jane was the perfect host. Excellent communication throughout and so welcoming. Jane went above and beyond and made us feel completely at home. Jane's home was clean and tidy and facilities were excellent. We would definitely stay again and highly recommend.
Suzie
2016-07-22T00:00:00Z
A second night with Jane and Alvin and more memorable experiences. Many thanks.
David
2016-06-10T00:00:00Z
Excellent
Jeff
2017-02-21T00:00:00Z
Typ pokoje
Celý dům/byt
---
Typ nemovitosti
Dům
---
Ubytuje
1
---
Ložnice
Jimboomba, Queensland, Austrálie
A characteristic little cottage set on 6 acres. Great family fun or couples escape away. We have chooks, goats,horses and a sheep. Magical sunsets and relaxing environment.
The house is in a lovely quiet location but still so conveniently close to everything. We loved being able to spend time with the animals too. Amy is a great host, very helpful and thoughtful. We had a lovely time at Candlebark and will be back.
Naiomi
2016-10-10T00:00:00Z
Amy's home was delightful. All 5 of us were very comfortable and relaxed, such a peaceful setting. The main bedroom bed was even more comfortable than our own back home. My grandson loved the animals. We would love to come back.
Mary
2016-08-29T00:00:00Z
Candlebark cottage was absolutely amazing! Inside and out was sooo beautiful-was made to feel like home! We all had an amazing weekend!! :)
Elise
2016-07-25T00:00:00Z
Very quiet neighbourhood, lovely warm feeling to the cottage with welcome notes and eggs from the property's chooks. You need a car to stay in this location but it is the perfect way to escape the daily grind.
Louisa
2016-07-18T00:00:00Z
Amy was great at communicating with us. The cottage was a lovely relaxing place to be based out of. The animals were entertaining. We would come back again.
Andre
2016-11-24T00:00:00Z
Amy's Home was just what we needed for our stay, which made it a joy to be there, we would definatly consider her home again if we were to return to the area. Thanks Amy and Family!
carla
2016-08-09T00:00:00Z
We had an unforgettable time in Amy's lovely house. We were totally 5 people (2 adults and 3 kids). The house was big enough to accommodate everyone. It is a simple house however, Amy beautifully desolated the house and created an ideal idyllic space. I love how Amy chose furniture, interiors and decoration. Amy has got a lovely taste. Amy's house has a huge paddock in the back. She even brought 2 horses for our kids to play with them. Our daughters were so excited to pad and feed them. In the early morning, a white cockatoo couple visited to the garden to drink water, at night, we enjoyed at looking up the Milky Way in the night sky. Its great for kids to be distant from PC, Internet and games. They really enjoyed staying at Amy's house in the stunning nature. Whenever I visit to my friends here, I will definitely come back to Amy's house. Thank you so much! We loved your house! Saori
Saori
2016-05-01T00:00:00Z
Amy is a great host. She respondes quick. The information is always accurate. Very good at communication. The house is very well taken care with beautiful decorations. She provided us with very comfortable and clean beds and towels. Everything you needs is there. What is more, it has a huge yard with lovely animals. So the kids really loved playing with them. I am asure everyone will enjoy this perfect countryside house!
Saori
2017-02-01T00:00:00Z
Typ pokoje
Celý dům/byt
---
Typ nemovitosti
Dům
---
Ubytuje
8
---
Ložnice
Jimboomba, Queensland, Austrálie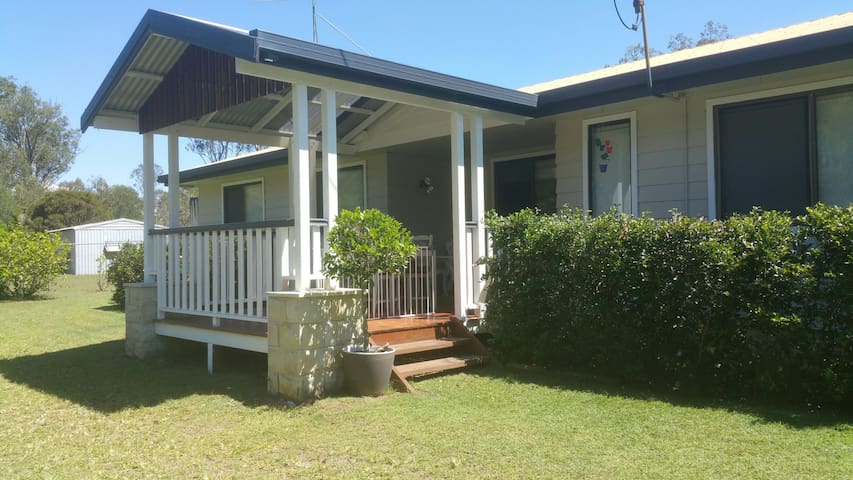 I love the old country house-its heavy wooden doors and black slate floors, beautiful artwork. The house has a warm friendly feel, is situated NE so it gets maximum sun in winter and shade in summer, pool or garden views from all rooms. WiFi, Foxtel and all mod cons. Th acreage property has super tall gum trees and a winding rocky driveway which really gives you a sense of "country" although all major shops are just down the road!
45 mins to Brisbane, Gold Coast , and Ipswich but your still in the country surrounded by birdsong, tall trees, a lily pad dam on 5 acres. The house has been described by friends as having "character" with a dazzling swimming pool, pleasant views, gorgeous gums and sweeping lawns. Traditional architectural features of slate, french windows, bull nose verandas, vaulted ceiling of western red cedar and open fireplaces add the country charm. We have 3 rooms to offer, suitable for a family of 4 with a double bed and two single beds available and also a nook with a comfy single bed Garden views .Sheraton linen on all beds, fans, built in robes ,light and airy with pleasant decor. You have a separate toilet and share a bathroom together. Laundry facilities are available. You will need a car. Nearest train station (to Brisbane or Gold Coast) is a 20 minute drive.Local shops with all facilities are 10 minutes away. The kitchen is modern with all facilities. Al fresco dining and a BBQ are available too. Free Wifi. Bedroom 2 is available. Presently we have no animals and if you wish to bring your dog or horse they are most welcome too! We are musicians and work from home . Pricing begins at $40 per person per night. Laundry and catering may be arrange for a small fee.
Jimboomba is a thriving rural residential town which means all the houses around us are on 5 to 10 acre allotments. A lot of them have animals like chickens, horses, sheep and goats. The best food around is Jimbour House and the Logan Village pub has great steaks and food deals. Its a very quiet area with lots of native birds. Development is coming with Yarrabilba a 5 minute drive away.
We have a nice week in jimboomba. Quiet and peaceful place. Jane took us to the markets where her husband have a performance with his band - great music. :-)
Linda
2015-08-29T00:00:00Z
Very welcoming and open,
Gary
2016-06-18T00:00:00Z
Jane er den bedste vært! Hun er imødekommende, hjælpsom, venlig og et sødt menneske! Huset ligger i et stille område, så man bliver nødt til at have en bil. Til gengæld kan Jane så henvise til de mest fantastiske steder i området! Vi anbefaler varmt Jane!
Mona
2017-01-19T00:00:00Z
A very nice country property. Access to the property was great and unrestricted. I returned after midnight on most nights as I had family in the area to visit. Jane and Alvin always left the outside spot lights on for me. A real bargain priced room (even during the Qld school holidays). A great place to unwind and relax. A bonus if you love horses.
Peter
2016-04-15T00:00:00Z
Jane and Alvin are awesome host, very friendly and very easy to get along with. Their home is an awesome place to stay, very quiet and peaceful. A place I will definitely stay at again.
Scott
2015-10-28T00:00:00Z
Jane and Alvin are lovely, welcoming hosts, full of hospitality. I thoroughly enjoyed my brief stay with them. Thanks guys!
Margo
2015-10-17T00:00:00Z
What can i say about Jane and Mr Alvin. Well they were both just fantastic with awesome conversation when i was there. Both very understanding towards the purpose of my trip, this just helped me feel at home and so very relaxed. There home is a beautiful one and well kept. The grounds of the house i loved and wow it really is a dream of mine one day to live in a house with a garden i can just potter in for ever
eric
2016-07-03T00:00:00Z
Jane and Alvin were wonderful hosts. They welcomed me as if I was family and offered me more than expected. I shared meals with them and felt right at home. I would stay there again when I am in the area. The house was clean and comfortable and the property is beautiful. Close to everything I needed and Jane was extremely helpful in all situations. Thank you for a great week and all the nice food.
Chris
2015-10-10T00:00:00Z
Typ pokoje
Soukromý pokoj
---
Typ nemovitosti
Dům
---
Ubytuje
2
---
Ložnice
Jimboomba, Queensland, Austrálie
Get away from the hustle & bustle of city life ~ only 45 minutes drive from Brisbane or Gold Coast!! QS bedroom available in large spacious home on 1 acre. Lake walk within easy strolling distance; along with the local township, only 2kms, where there is everything you need.
Large spacious home on 1 acre, pets can be considered. I'm sure my maltese x yorkshire terrier would love some company! 2 rooms available ~ 1 QS bed & 2 single beds ~ with use of main bathroom. Happy to cook evening meal (clean healthy eating) at an additional cost. Large 60 inch TV, covered outdoor area, only 2kms from main township.
Quiet peaceful friendly neighbourhood. Short stroll to the lakes, with designated path walk. Also comfortable stroll to the local township, only 2kms. A lovely place to "get away" from the hustle & bustle of city life! So tranquil!
Typ pokoje
Soukromý pokoj
---
Typ nemovitosti
Dům
---
Ubytuje
2
---
Ložnice
Jimboomba, Queensland, Austrálie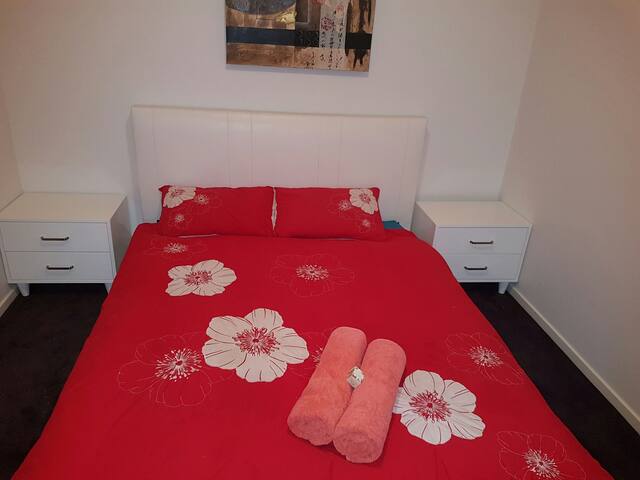 Paradise On Tamborine is the perfect place to relax and unwind. Stunning views of the Gold Coast from Coolangatta to Moreton Bay. Free Wifi, Foxtel and Netflix. We are close to the famous Gallery Walk and only about 25 minutes to 4 major theme parks.
Mount Tamborine is about 30 minutes from the Gold Coast and less than an hour from Brisbane. Paradise On Tamborine is less than 2 klm from the famous Gallery Walk, providing you with privacy and peace and quiet, but still close to all the attractions on the mountain. Paradise On Tamborine is a 2 storey house that has been renovated. Everything inside is new. Guests have access to the ground floor of the house which is completely self contained and private. The property is set up as a duplex. The first floor is used by the host as a holiday retreat and will not be occupied during any guest stay. Guests can access the first floor deck if they wish. There are great views from the ground floor and the first floor deck just adds to the experience. It also provides another space to laze around and soak up the views. Get up early or just lay in bed and watch the sun rise over the ocean! Paradise On Tamborine features: Main bedroom with queen bed Second bedroom with queen bed Electric blankets on queen beds Third bedroom with 2 single beds Luxurious huge bathroom with eggshell bath and a large walk-in shower with views to the Gold Coast Comfortable open plan lounge and dining room New fully equipped kitchen with dishwasher Laundry with washing machine and condenser dryer Weber style barbecue Large outdoor covered patio with views to Gold Coast Use of the upstairs patio - providing sensational views from Tweed Heads to Moreton Bay
Our hosts were very accommodating and the property was beautifully presented. The views are amazing. The upper deck is a wonderful place to relax and enjoy the view, the property is clean, private, stylish and has everything you need for a comfortable stay. An ideal setting for a relaxing getaway.
Leticia
2016-02-14T00:00:00Z
This accommodation was just as the photos show and was great for our girls getaway. The views are lovely. The apartment was really clean and had everything we needed.
Virginia
2016-08-22T00:00:00Z
Fantastic property! Modern fit out, great views, the pictures don't do it justice! We would highly recommend this property!
Aaron
2016-02-28T00:00:00Z
Great location. Great house. Couldn't not fault it. Book this accommodation - you wikl not be disappointed! !
Liz
2016-11-20T00:00:00Z
The views from Mark and Rhonda's Paradise Views on Tamborine Mountain were breathtaking. The beds were comfortable and the place was lovely and clean.
Kristina
2016-10-16T00:00:00Z
Fantastic place to stay. Very tidy, great hosts, and a beautiful, stunning view. We'd highly recommend this house.
Johnny
2016-03-10T00:00:00Z
The house is exactly as described. The view is fabulous, the kitchen is modern, the sheets are a real dream and so are the beds. There were heaters in every room, including the bathroom. All the rooms and the decoration in them were great. They even included a foldable baby cot for our 1 year old granddaughter. We had a wonderful stay and thank Mark and Rhonda very much.
Martha
2016-09-09T00:00:00Z
Mark and Rhonda provide an excellent AirBnB with amazing city views and 5 star furniture and appliances. We had a very enjoyable stay.
Bryn
2016-09-25T00:00:00Z
Typ pokoje
Celý dům/byt
---
Typ nemovitosti
Dům
---
Ubytuje
6
---
Ložnice
Eagle Heights, Queensland, Austrálie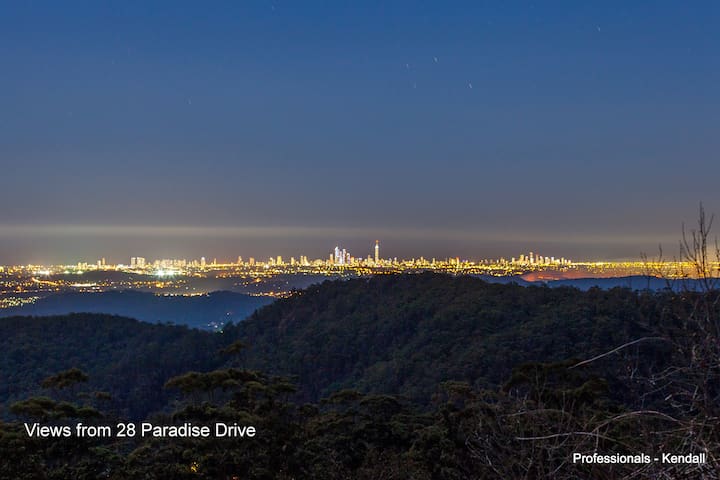 Please call/book before 9pm only. This is a one bedroom unit - STRICTLY for 2 ADULTS only. It is one unit of three under the same roof. Queen-size bed, one bathroom, large kitchen, dining/lounge. NOTE: No smoking - No shoes - No pets in this unit. Not suitable for children under ten. We DO NOT HAVE A SPA in any of our Units. (Please note : we have had a guest who gave us a very bad review simply because they were not happy about the NO SHOES house rule).
Please do not bring your pets to my accommodation. Strictly for 2 adults only. The apartment is a 1- bedroom Yurt home, part of a 3 Generation Model designed and built by Brian Forbes. Guests will have access to the entire 1 Bedroom Apartment, non-share bathroom, lounge and kitchen. Kitchen has basic cooking bench with portable hot stove and bench oven. Apartment is on level one and is not recommended for children under ten or require constant supervision. We prefer to leave guests to their privacy as they are here to enjoy their holidays. However we will provide assistance and knowledge information about Tamborine Mountain or anything about the Yurt designs when required. This is a very quiet and family friendly neighborhood. Certainly not for staging any loud parties and excessive noise will not be tolerated as our unit is just next door and we do sleep early. There are many nice bush-walk trails available, cafes, restaurants and take-away food eateries five mins drive from this street. Wineries abound with unique touristy shops in Gallery Walk, Sky Walk and the Thunderbird Park at the other side of the Mountain. You will need your own vehicle to move around Tamborine Mountain as we do not have public transport apart from taxis. We will be unable to provide any means of transport to any guests. Please note the following :- 1. No shoes or footwear in the apartment. We want to keep carpet clean from grime and dirt. 2. This is a water-tank collection area and guests are expected to use water carefully. 3. We do not charge a cleaning fee but we do expect guests to keep the apartment clean and tidy before leaving. 4. We do not provide breakfast nor Internet. 5. We charge a very small accommodation fee and your effort to keep our power bills low is highly necessary for us to sustain this system of home - share. So kindly turn off any power points that you do not need, at the wall. 6. Please do not smoke in my apartment. The air freshener does not mask the nicotine smell. 7. Cancellation is STRICT not flexible.
Please check out EXTRA DETAILS for House Rules ***
We has a wonderful time on Mount Tamborine. Although our time was short (we were staying overnight after attending a wedding) I would definitely come back again so I would explore more. Eliza was more than accommodating providing us with all that we needed and more. The property was lovely and clean and located very near the town. Thank you so much, sorry we had to head off early Sunday morning and didn't get to say goodbye.
Caitriona
2015-11-29T00:00:00Z
Great quiet place for a one night stay. Very clean. Very nice host.
Tim
2016-09-10T00:00:00Z
Lovely place to stay, would recommend it to anyone.
Robert
2016-08-21T00:00:00Z
Our hosts greeted us and made us feel very welcome. Showed us around the Yurt and filled us in on all the information we needed. It rained a lot so we unfortunately missed the stunning gold coast views but it was lovely being up in the clouds. Thank you - Chris & Leigh
Chris
2016-07-18T00:00:00Z
Lovely place to stay and Eliza was a wonderful host. Would stay again. Thank you
Lucy
2016-12-03T00:00:00Z
His wife received us and she was very wellcoming, amazing place, very clean and organized house! Would defenilly come back every time I have a chance.
Cires
2016-03-28T00:00:00Z
Brian and Eliza's home was excellent! Eliza was very welcoming and the house was clean, tidy and had a wonderful view from the bedroom. We have no hesitation in recommending them to anyone who would appreciate a welcoming accommodation in a lovely, quiet setting.
Glenn
2016-05-23T00:00:00Z
Brian & Eliza's place was quite comfortable and perfect for my stay in the area. They were warm and welcoming hosts and made sure I was well looked after. The house is well equipped and would provide a good base for either a short or long stay.
Kyra
2015-11-15T00:00:00Z
Typ pokoje
Celý dům/byt
---
Typ nemovitosti
Byt
---
Ubytuje
2
---
Ložnice
Eagle Heights, Queensland, Austrálie
Our comfortable and spacious home is the perfect place to stay and explore picturesque Tamborine Mountain and the surrounding Scenic Rim. Enjoy nearby bush walks, Botanic Gardens, boutique shops, local wineries and restaurants.
Our home is a three storey house with plenty of space for two families. The top level features the master bedroom with king size bed and ensuite. The middle level has a comfortable lounge with pull out sofa bed, a kitchen and dining area, bathroom and two bedrooms. One bedroom has a double bunk and trundle underneath. The other bedroom features a single bed and trundle. A large deck is located in this level, outdoor table, bar and bbq. The lower level features a rumpus space with fussball table, large screen TV and pull out sofa bed. Set off the rumpus is another bedroom with a queen size bed. The laundry, an extra shower and toilet are located on this level.
If you love nature there are plenty of native birds in the area.
The host canceled this reservation 292 days before arrival. This is an automated posting.
Lorine
2016-06-19T00:00:00Z
What an absolutely beautiful and quiet place. We really loved our stay in this accommodation and will definitely be coming back.
Sung-Hun
2016-12-26T00:00:00Z
Typ pokoje
Celý dům/byt
---
Typ nemovitosti
Dům
---
Ubytuje
10
---
Ložnice
Eagle Heights, Queensland, Austrálie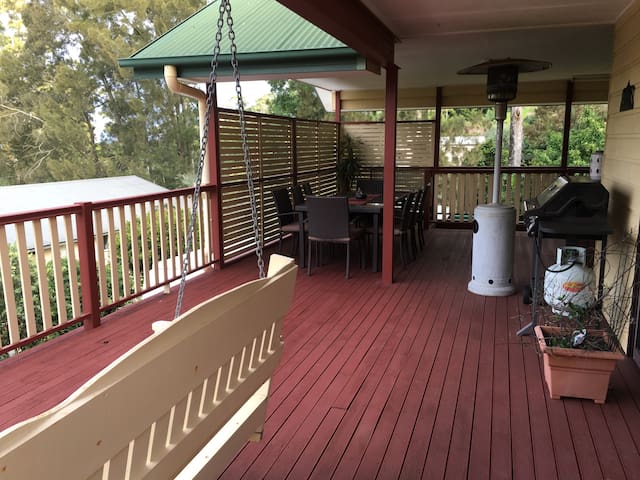 Flock together at The Maple and The Nest for your holidays. The delightful 3 bedroom cottage is situated within walking distance to award-winning restaurants, the famous Gallery Walk as well as nearby rainforest walking paths. Designed to accommodate up to 6 people in spacious comfort, the home offers serene and contemporary living areas flowing out to a large garden stocked with wisteria, hydrangeas, camellias, azelias, daffodils, roses, frangipanis and a peach tree. For little ones, plenty of home-comforts will keep them happy in the nest, including an ample collection of DVDs, board games, puzzles and cards. Friendly fish swim in the courtyard pond and a shady, fenced garden is stocked with bats and balls for all ages. Go for a wander and you'll also find a playground and cricket pitch just around the corner. The Maple and The Nest is designed to maximise its position for privacy. The peace and quiet will rejuvenate your body and soul, yet all the attractions of the Mount Tamborine are situated within close distance. The Nest Features: • 2 x queen bedrooms (one with walk-in wardrobe and large en-suite), 1 x twin bedroom • Open plan lounge, dining and kitchen • Gourmet kitchen with dishwasher, gas stove, refrigerator, microwave and coffee machine • Double-sided fireplace • 2 large bathrooms, one with spa • Laundry with washing machine, dryer, iron and ironing board • Verandah and outdoor courtyard entertaining area • Fully ducted reverse cycle air-conditioning • Flat-screen television, DVD and CD player • Movie, book and board game collection • First aid kit • Undercover parking
Wonderful house, straight out of an interiors magazine, in a great location. Very convenient for the Eagle Heights shops and cafés, and for rainforest walks (one of which you can walk straight into) and the botanic gardens, as well as a really nice local park. Has everything you need except (presumably due to location) internet access - go to Mountain Brew in North Tamborine for free wifi (as well as great food and coffee).
Phil
2015-08-22T00:00:00Z
April's cottage was beautiful. The garden was lovley and the verandah & sitting area were very nice. The kitchen and bathrooms were also very clean and functional. After making payment for our booking April advised that we would be required to pay an additional $100 for linen (sheets, towels and bath mats). This was not mentioned in the listing and is inconsistent with Airbnb Hospitality Standards. In future the host should include this in the total advertised cost and provide discounts if she wishes for those bringing their own linen as this would be consistent with the Airbnb t&c. Overall our stay wad enjoyable but we were disappointed with the abovementioned additional charge.
Alex
2014-12-15T00:00:00Z
Fantastic effort to fix the TV. great place, beautiful house in a great location.
Kathryn
2016-07-04T00:00:00Z
The house is divine! Spacious, well located and well equipped. It's in pristine condition and very comfortable.
Adam
2014-11-08T00:00:00Z
Lovely weekend spent in the well appointed cottage, plenty of space and relaxing environment. The booking process was easy and the check in details seamless, thank you
Chris
2015-11-03T00:00:00Z
The host canceled this reservation 24 days before arrival. This is an automated posting.
Kasia
2015-06-30T00:00:00Z
Maple Nest is a charming, cosy, relaxing home. It had everything we needed, has an exquisite location and gave us the tranquility and privacy we needed. Would highly recommend this beautiful home !
Lidia
2017-01-03T00:00:00Z
The house is just lovely. A great location, so close to the Gallery Walk (the brewery for pizza and beer is our favourite). The house was very comfortable and clean, very spacious. It was a great place for 3 couples to stay.
Lucy
2015-09-26T00:00:00Z
Typ pokoje
Celý dům/byt
---
Typ nemovitosti
Dům
---
Ubytuje
6
---
Ložnice
Eagle Heights, Queensland, Austrálie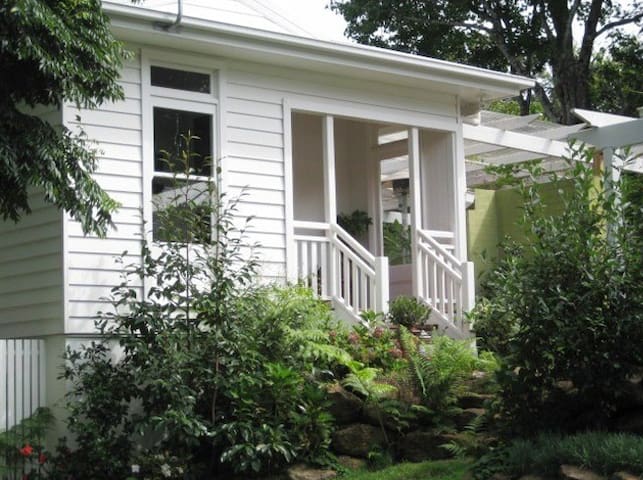 Newly renovated Main Bedroom with Ensuite, access to kitchen, living room and outdoor common areas.
The home was very convenient to where we needed to be. Our room was beautiful with a lovely king size bed. The animals were super friendly and we had total privacy for the duration of our stay. Everything we needed was catered for. Our first AIRBNB experience was a very good one. Thank you.
Jenny
2016-11-12T00:00:00Z
Typ pokoje
Soukromý pokoj
---
Typ nemovitosti
Dům
---
Ubytuje
2
---
Ložnice
Jimboomba, Queensland, Austrálie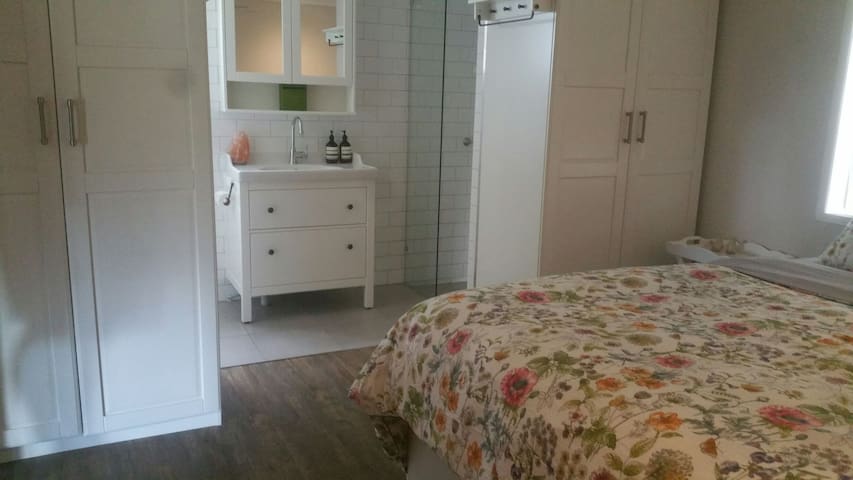 Tamborine Mountain is the Jewel in the crown of the Gold Coast, with more and more people holidaying in the mountain seeking a more relaxed vibe. Come and enjoy the amazing views on offer and get a taste of the great mountain community.
Joe was very welcoming and gave us a very in-depth tour of the house before leaving us to enjoy our weekend! The house was fantastic, and had absolutely everything we needed. I was totally blown away by the size of the house! With ten people, I thought that maybe we'd feel a little squished, but that was not the case at all!! The pool and spa made it very easy to relax (as well as the numerous couches to lounge around on!) All-in-all, we had a fantastic time. Thanks Joe!
Erin
2016-03-30T00:00:00Z
We had a wonderful holiday at this beautifully decked out house, all the very best quality combined in a holiday house. Great communication with us and very welcoming and helpful with any questions we had. Highly recommend staying !!
Shell
2016-01-10T00:00:00Z
The host canceled this reservation 2 days before arrival. This is an automated posting.
Hanmin
2016-09-22T00:00:00Z
Where to start... This place was absolutely amazing and not only that, Joe was so welcoming. We arrived to a smiling face with a bottle of Moet to welcome us for the weekend. Not often you have the owner meet you (with an early check in) to show you around. Everything was exactly how he described it and more. The beds were all king size and there is a room with a double and bunk beds which is perfect for kids. We had 4 adults in there and there was still heaps of room. Joe provided everything you can think of from magnetic torches out near the heated spa for night time to bottles of water in the fridge. The balcony was huge with two different large outdoor settings. The views were incredible from the balcony and the location is perfect, close to shops, restaurants and the best part - wineries! The kitchen was the perfect size and the walk in pantry and wardrobes in the bedroom were like rooms in themselves. Cable TV in almost every room is perfect for when kids want to watch movies. All sheets, towels and toilet paper were provided which you don't often get at Airbnb properties. Joe called us over the weekend to ensure everything was ok and offered to see us off on check out. This place really did exceed our expectations and is perfect for all types of groups. We will definitely be back to visit soon. Thanks Joe!!
Laura
2015-09-13T00:00:00Z
Great place to stay. Wonderful views. Huge house. Aircon is amazing. We loved everything and Joe was a very helpful, reliable host.
Rebecca
2017-01-30T00:00:00Z
Joe was a very welcoming host. The property was amazing. The photos actually don't do it justice. There was plenty of space both inside and out and we loved spending time in the pool & heated spa. I would definitely recommend Joe's place.
Nikki
2016-01-02T00:00:00Z
Joe was at the home at the precise time he said he would be there. Joe was friendly and welcoming and took the time to make sure we knew where everything was and how everything worked. The home is fabulous and modern and in a great location. I would stay there again.
Leisa
2016-05-16T00:00:00Z
The Farrecian is such an amazing home - really a perfect escape near Gold Coast. Joe was extremely helpful and professional throughout the booking, check in, and check out was so easy. Definitely will look to return for a future holiday!
Kara
2016-04-04T00:00:00Z
Typ pokoje
Celý dům/byt
---
Typ nemovitosti
Dům
---
Ubytuje
10
---
Ložnice
Eagle Heights, Queensland, Austrálie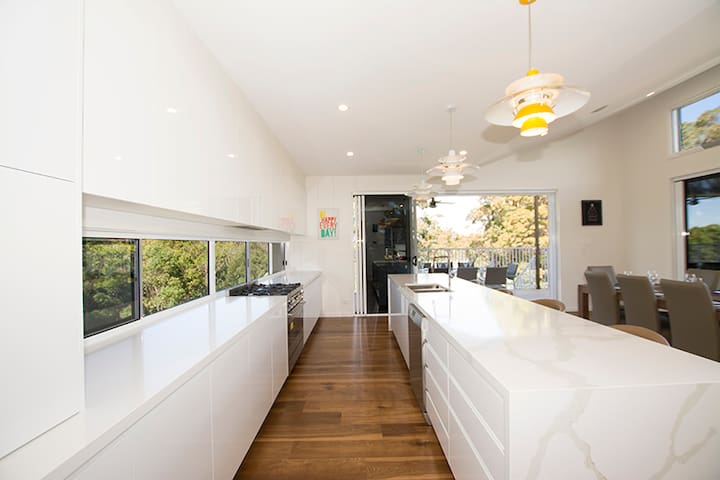 Amber Lodge has location, location. Walking distance to restaurants, shopping, National Parks. Rooms are extremely comfortable and clean. Relax in this charming B & B and let your hosts spoil you.
Relax in the Guest room by the fire, or in the cool of the lush gardens. Each of our elegant bedrooms is air-conditioned with queen bed, tea/ coffee making facilities, bar fridge, en-suite, TV/DVD. We have a DVD library for you to use. Your hosts are extremely welcoming and have a great knowledge of the local Parks, wildlife and history.
Tamborine Mountain has much to offer. National Parks with a variety of walks suitable to most abilities; shopping; restaurants; galleries; antiques; wineries; golf course. The Gold Coast is a quick 30 minutes away by car.
Made to feel very welcome. Lovely couple. Would stay here again.
Andy
2016-08-01T00:00:00Z
I had a lovely stay at Rosemary's B&B including a wonderful breakfast and a lot of good recommendations from Rosemary. The B&B is also in a great location.
Hanna
2016-03-14T00:00:00Z
We had a great time.
Karen
2015-12-29T00:00:00Z
Rosemary greeted us and we immediately felt very welcome. This was an unexpected night away in Mount Tamborine, so our request was quite late but Rosemary responded very quickly. The accommodation was impeccably clean with a lovely old-time and cosy feel to it. The bed was super comfy and Rosemary was a wonderful Host. She respected our privacy and was a great conversationalist in the morning sitting by the fire. The lodge is an easy wander around the corner to Gallery Walk. Rod and I would definitely recommend Rosemary and Amber Lodge for a pleasant stay.
Lisa
2016-05-29T00:00:00Z
Friendly, clean, great breakfast and just around the corner from Garden Walk. Fireplace was light evening and morning (Winter).
Grant
2015-08-30T00:00:00Z
Rosie and her partner and dog Lukey were there to greet us on arrival. Little touches like port and easter eggs were much appreciated. We had a lovely stay and would highly recommend this listing. And the breakfast is wonderful!!
Ken
2016-04-04T00:00:00Z
We are so surprise the room is so big and got a small kitchen(with microwave and fridge). The location is really nice, you can go to the gallery walk anytime. We are really enjoy to stay there. And they have a really friendly dog, always welcome you :)
JING YU
2016-03-28T00:00:00Z
Rosie was very kind, nice and generous:) we certainly felt welcomed into her cozy lodge. Check in was easy and the room had everything we needed and the bed was certainly comfy! We also had a complimentary breakfast which was absolutely delish. Additionally, gallery walk was a 5 mins walk away and driving up to the various lookouts were easy from here. All in all, a really good place to stay if you're planning to visit mount tambourine and it's surroundings. Thank you so much Rosie for such a wonderful stay!:)
Claudia
2016-12-08T00:00:00Z
Typ pokoje
Soukromý pokoj
---
Typ nemovitosti
Penzion (B&B)
---
Ubytuje
2
---
Ložnice
Eagle Heights, Queensland, Austrálie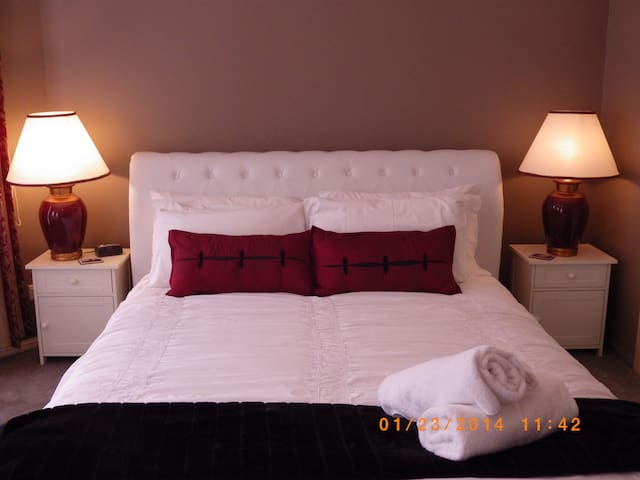 Brit, Rikki & Jasco were the perfect hosts 10/10 Friendly, welcoming, helpful and informative. It was a pleasure meeting them all. The room was wonderful , clean , nicely decorated as well as peaceful and quiet 10/10 What a nice part of brisbane, waking up to the birds in the bush reserve that backs onto the house was a pleasure after a good restful night's sleep.l can highly recommend this place and will book stays there again.
Matt
2016-06-11T00:00:00Z
Such a gorgeous home with a beautiful puppy and only a 10 minute walk to the bus stop and cafes
Grace
2017-02-07T00:00:00Z
Rikki is on of best person i ever seen in Australia, he help me a lot and give many advices to live in Australia
Maher
2016-07-09T00:00:00Z
Brit and Rikki are probably the best hosts you could wish for (coming to Australia for the first time especially)! They are super welcoming and friendly and have loads of information about everything you need. The room itself is very spacious and it is just great to have your on bathroom. All in all you will very soon feel at home with the two of them and their absolutely lovely dog Jasco. I can only recommend everyone to try and secure a date to stay with them, looking at the loads of requests they are receiving. At least I will for sure come back.
Elena
2016-07-24T00:00:00Z
Great location, great hosts, lovely dog. we were even invited to a party with their friends. everything was as described, or even better. Highly recomendable.
Christian
2017-01-04T00:00:00Z
once again staying with these guys was a pleasure they are 10/10 hosts and the room is perfect
Matt
2016-07-30T00:00:00Z
A comfortable,cleaning,convenient house. It is a great impressive journey. A very nice couple.They always show their patience to communicate with you and provide you most valuable information.
shen
2017-01-18T00:00:00Z
fantastic house/room. 11/10 fantastic host 11/10 would happy book there again
Matt
2016-06-18T00:00:00Z
Typ pokoje
Soukromý pokoj
---
Typ nemovitosti
Dům
---
Ubytuje
2
---
Ložnice
Nathan, Queensland, Austrálie
This beautiful big Queenslander is 45 minutes to Gold Coast city and beaches. Only a 10 minute walk to 'gallery walk', the main street full of boutiques and cafes and a 10 drive to waterfalls. The house is very private and quite. Set amongst trees where kookaburras come up and say hello. A large deck, spa and lots of peaceful areas to escape. A fireplace inside and a fire pit outside. Great getaway for small groups or couples.
Typ pokoje
Soukromý pokoj
---
Typ nemovitosti
Penzion (B&B)
---
Ubytuje
4
---
Ložnice
Eagle Heights, Queensland, Austrálie

Set amongst beautiful rainforest gardens, this self contained chalet is the perfect place to unwind and leave the world behind-even if just for a night. Enjoy a glass of wine in front of a flickering fireplace while waiting to dive into a lovely spa.
Tucked away just behind Mt Tamborine's busy 'Gallery Walk' shopping area, you will be surprised by how peaceful it is once you arrive at Linger a While Chalet.
The chalet is specifically designed for couples, a perfect hidden Gem, just off the main road minutes from toasted Macadamia's, cafes and great restaurants, perfectly placed for a walk to get dinner or a late breakfast. The hosts have thought of it all, the kitchen is equipped to prepare something yourself so you don't have to leave the chalet. With all thing romantic cover, a canopy four post bed, open spa, candles, through to romantic movies, finished off with a sheep skin rug in front of the open fire. After a great day of shopping, and a night of luxury, we awoke to beams of sunlight filtering through the trees lighting the morning fog, the sounds of nature, birds and water droplets falling from the tree canopy above, we stayed at the Chalet and had breakfast on the verandah, we even had a local bush turkey join us. I would recommend a couple of days at Linger a While.
Shawn
2016-09-19T00:00:00Z
Outstanding cottage, Clean and tidy Perfect to spend a romantic and luxury day in fully privacy in the centre of Mount Tambourine village!! Thanks to Tracy to hosted us.
Antonio
2015-11-17T00:00:00Z
Location is great and the chalet is lovely and cute. Contact with Trish was easy and timely.
Alisa
2016-04-09T00:00:00Z
Great place to spend a night away on the mountain, walking distance to lovely restaurants and cafes. The chalet itself is clean and set back in a quiet location will be looking forward to coming back someday.
Nick
2016-02-15T00:00:00Z
This place is amazing and perfect for a little romantic get away.... Trish was a awesome host and I recommend this place to anyone that wants a nice relaxing time away .
Stephen
2016-10-29T00:00:00Z
Trish was a wonderful host- as we were checking in at midnight after our wedding she provided us with very detailed instructions and the process was hassle free. The chalet was clean and exactly what we were after- a private, peaceful, comfortable getaway. Trish was always very prompt - responding to queries in a timely manner. We would definitely recommend to friends and family.
Sarah
2016-05-30T00:00:00Z
Beautiful chalet in a great location! The spa was huge and worked well. The bed was comfortable. We had trouble with the fire place, even with Trish giving us thorough instructions the pilot light still wouldn't turn on. Trish's communication was fantastic and she replied to any questions immediately. There were cafes, shops, restaurants and bush walks, all within walking distance from the chalet. It was magical waking up to the forest sounds of whip birds. We had such a fantastic time. Will definitely stay again.
simone
2016-08-22T00:00:00Z
Located on a secluded path off the famous gallery walk, the chalet was the perfect romantic getaway for me and my partner. The setting was amazing with everything needed to have a pleasant stay. Do recommend!
Benjamin
2016-07-31T00:00:00Z
Typ pokoje
Celý dům/byt
---
Typ nemovitosti
Chalupa
---
Ubytuje
2
---
Ložnice
Eagle Heights, Queensland, Austrálie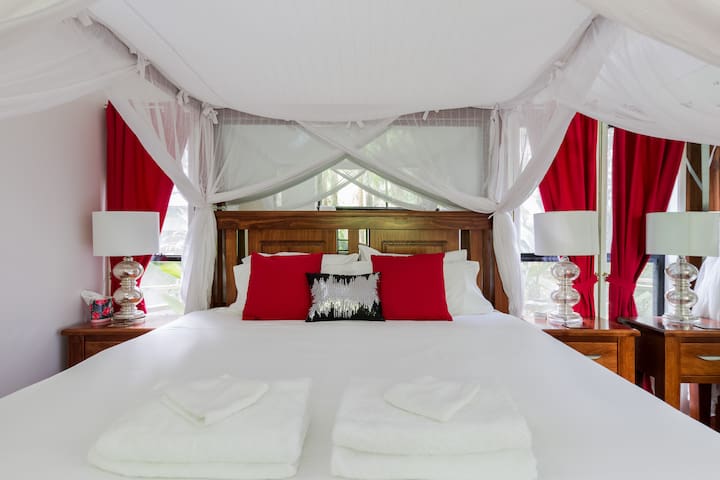 Spacious, comfy and relaxing. A chic and cheerful 'Queenslander' perched high on nature's edge at Tamborine Mountain in the Gold Coast hinterland. Close to the mountain's many top-class attractions. Enjoy CLOUD 9's fantabulous views, garden and wildlife. This happy holiday house is picture perfect for your stylish wedding group accommodation, ultra-comfortable escape to the cloud forest, fun family holiday or rewarding workplace retreat.
Minimum 2 nights for weekends (Fri + Sat). Discount 5% and 10% off for 6 and 7 night stays (please enquire). Best value is 3-5 nights midweek (Sun - Thur). CLOUD 9 has 4 bedrooms, 3 bathrooms (1 ensuite + 2 family) and undercover parking for 3 cars. This modern Queenslander comfortably sleeps up to 9 guests (10 with an infant) with 6 beds (3 queens, 2 king singles, 1 sofa bed) including: (1) the bridal suite/master suite upstairs with queen bed + dressing room, and ensuite with double spa-bath (2) 2nd bedroom upstairs with a queen bed, also linking to the eastern verandah (3) 3rd bedroom downstairs with 2 king single beds + flat-screen TV (4) adjoining 4th bedroom downstairs with a queen bed, opening to the garden, plus (5) a comfy sofa bed in the upstairs media room for an extra guest, and (6) a quality BabyBjorn travel cot (please request) + BabyBjorn high chair For more detail on the CLOUD 9 layout, see the Upstairs and Downstairs Floor Plans in the photo gallery. You will be 'floating on air' at CLOUD 9 - perched between the peak of Eagle Heights and the scarp of Tamborine Mountain. CLOUD 9 is ideally located on the north-east edge of the mountain escarpment in a quiet, end-of-court position, bordering a 300 hectare environmental preserve. It's an energetic walk to the popular Botanic Gardens or a 3-minute drive to the lively tourist shops, restaurants, cafes and wineries of Gallery Walk. You should visit the nearby Heritage Centre and stroll through the ancient rainforest of MacDonald National Park and Curtis Falls. Or adventure further with the kids to the Glow Worm Caves, Skywalk, Thunderbird Park and the Cedar Creek rock pools. You can use the CLOUD 9 telescope to explore the ocean horizon from Jumpinpin to Main Beach, or survey the hinterland valleys of Wongawallan to the wetlands of Coombabah. There are vivid panoramas both day and night. Wake to the colours of the rising sun and see rainbows paint the local hillsides. Or watch the full moon rise over the Pacific Ocean and stargaze onto a sparkling night sky. If lucky, you could catch nature's fireworks display with a lightning storm at sea or even that rare phenomena - the 'Buddha's Halo'. The 4 bedrooms and living rooms all enjoy the ocean and hinterland views, with walls of glass upstairs opening to the eastern and northern verandahs. And then, there are 90 square metres of decks to bring the outdoors in. This eco-friendly holiday house borders the ecologically sensitive headwaters of Tamborine Creek. Accordingly, CLOUD 9 minimises its environmental footprint with: low impact building materials; natural, dry-stone retaining walls; terraced gardens; organic flower beds, herbs and fruit trees; sensitive cleaning goods; solar and green power; gas hot water, cooking and heating; 2 fully filtered rainwater tanks; plus onsite waste management. As a contemporary Queenslander, CLOUD 9 also minimises its carbon footprint with an effective range of passive heating and cooling techniques, including: the ideal east, north-east orientation; hillside construction; slab on ground for thermal mass; 2 storeys with a half-open ground-level for exterior air movement; sensible floor plan and room design; extensive verandahs for shading and outdoor living; glass sliding doors and appropriate glazing; fans and roof turbines for interior air circulation; floor to wall to ceiling insulation; plus rock retaining walls and tree planting for protection and breezes. CLOUD 9 is wired for the electronic comforts and furnished throughout with quality appointments. Use the free WiFi Internet, catch a blu ray DVD on the 130cm (51 inch) Samsung Smart TV in the media room, listen to your iPod/iPhone (or one of our CDs) on the Pioneer sound system in the lounge room, or watch TV, play the PS3 and catch a DVD downstairs on the other flat-screen. You can research the local area, play a board game with the kids and plan your next adventures around the big family dining table. Or chat with friends on the plush leather couches while the cooks prepare dinner in the well-equipped kitchen. Then again, you could simply open the complimentary bottle of wine and luxuriate in the 20 jet spa bath. Or brew up a cup of the mountain's boutique, organic coffee (sample beans provided), check out the mini-library, and relax out on the Balinese day bed. And finally, you should all get a good night's sleep with CLOUD 9's white linen and her premium pillows, doonas and pillow-top mattresses. There is all-year, outdoor dining for 10 on the viewing deck, with an undercover BBQ - great for entertaining with family and friends. Look out over the sub-tropical eucalypt forest that spills down the mountainside, identify some of the many rare birds and butterflies, and use the scope to spot more reclusive wildlife. Then explore the charming CLOUD 9 garden, with its majestic gum tree ... pathways and hedge rows ... roses and rainforest ... fruit trees and a herb patch. See if you and the kids can walk the pavement labyrinth and find the March Hare doorknocker, the key to Wonderland or Alice and her many friends. And for our wedding guests, there are several garden 'rooms' to reveal and a number of colourful props to discover for those special pre-wedding photos. CLOUD 9 is enchanting in all seasons as there are no real extremes in temperature on the mountain. Be captivated by the spring mists as they rise through the valleys below, or welcome the mountain cool in summer with ocean breezes and ceiling fans in every room. Delight in the ever-changing colours of autumn, or enjoy the crystal clear days and nights of winter as you cozy up around the gas log fire. This relaxing country home is picture perfect for your fun getaway with friends, ultra-comfortable family holiday, stylish wedding group accommodation or rewarding workplace retreat. OUR FOCUS: CLOUD 9 is owner-managed and guest-focused. To help maintain our reputation for top-quality holiday accommodation, country hospitality and reliability: (a) we encourage guest feedback, ratings and reviews; (b) we use a standard lens to photograph our views; (c) we provide an accurate map location and detailed floor plans; (d) we are not listed for sale; (e) we keep our prices the same for holidays; and (f) we will never ask you to send money to a non-Australian bank account. You can rest assured on CLOUD 9.
Tamborine Mountain is approximately 10 km long, 4 km wide and some 550 metres above sea level. The 'mountain' is actually the most northern spur of a remnant volcanic plateau, lofted above the hinterland between the Pacific Ocean and the Great Dividing Range. With its stunning natural environment, spectacular lookouts, choice of accommodation, plus multiple venues, galleries and restaurants, Tamborine Mountain is a holiday mecca and the foremost wedding destination in south-east Queensland. CLOUD 9 in turn has been specially designed with wedding groups, families and other guests in mind and has become one of the mountain's best-liked holiday houses. The 3 suburbs on Tamborine Mountain are Eagle Heights to the north, North Tamborine in the middle and Mount Tamborine away from the action to the south. The suburb of Eagle Heights is the heartbeat of the mountain and includes the major attractions of Gallery Walk, the Botanic Gardens, the Heritage Museum, Curtis Falls, MacDonald National Park and Palm Grove National Park . And CLOUD 9 directly overlooks the Eagle Heights escarpment, with panoramic views far out to the ocean horizon. It's a minute's drive from CLOUD 9 to the Botanic Gardens, 3 minutes to the restaurants, shops and galleries of Gallery Walk (on Long Road), 5 - 15 minutes to the rainforest, waterfalls and nature walks of the 9 National Parks, half an hour to the theme park wonderlands, 35 minutes to the Gold Coast beaches, 55 minutes to the Gold Coast airport and an hour to downtown Brisbane. Tamborine Mountain is an island in the sky, surrounded by protected rainforest and eucalypts, home to around 7000 people and a sanctuary for the native flora and fauna. Birdwatchers and photographers will appreciate the variety of some very rare species. Inquisitive lorikeets, kookaburras and fairy wrens regularly visit the CLOUD 9 gardens. Then cockatoos and king parrots, bowerbirds and wedgetails may fly overhead. Shy whipbirds and lyrebirds can be heard from afar, and the sooty owls and tawny frogmouth come out after dark. Meanwhile, elusive platypuses swim in the clear mountain creeks, sleepy koalas live among the gum trees and at night the glow worms glow in the forest caves. A rainforest getaway is a breath of fresh air for body and spirit. And over the years, the embracing beauty of Tamborine Mountain has attracted many authors, academics, artists, artisans and adventurers. Now, you can stay at dreamy CLOUD 9 and plan your own eco-adventures. For example, check out some of the many holiday activities on the mountain that we have listed for you below. For local colour, you should also visit the Green Shed produce market held every Sunday from 8.00 am at the Showgrounds with the main farmer's markets every second Sunday of the month (at the Showgrounds) and every last Sunday of the month (opposite the State School). And for retail therapy, original gifts and mementos can always be purchased from the many galleries, antique and gift shops across the mountain.
Murray was incredibly helpful. We had a wedding to organise and an extended family to feed. He made sure we had everything we needed. The house was a joy. What a view!
Richard
2016-06-28T00:00:00Z
We had a magnificent stay at Cloud9! The home is very well-appointed and well-maintained. It had plenty of living space, was immaculately clean, with quality linen etc. The views are absolutely sensational - we loved the visiting kookaburras!! This was perfect for our family gathering and would certainly book it again for a similar gathering.
Brett & Heather
2017-03-27T00:00:00Z
Typ pokoje
Celý dům/byt
---
Typ nemovitosti
Dům
---
Ubytuje
9
---
Ložnice
Eagle Heights, Queensland, Austrálie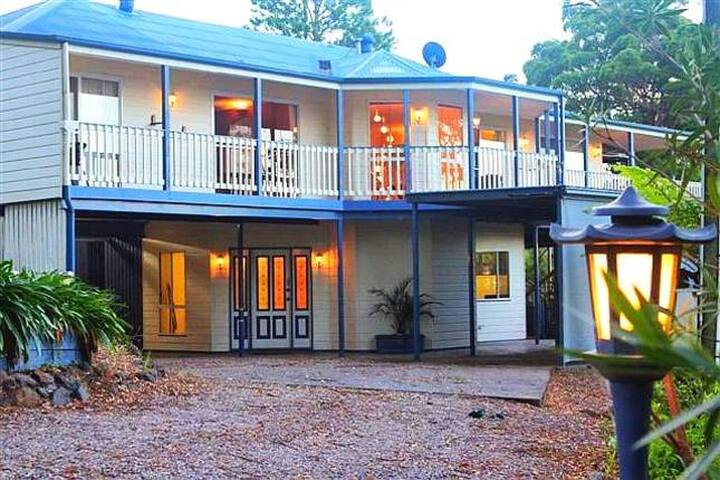 Cerca de la parada de autobús y tiendas.
Very convenient location, close to everything; nice owner, all goods prepared well. Thanks
Stephen Yuxian
2017-01-31T00:00:00Z
Typ pokoje
Celý dům/byt
---
Typ nemovitosti
Řadový dům
---
Ubytuje
4
---
Ložnice
Sunnybank Hills, Queensland, Austrálie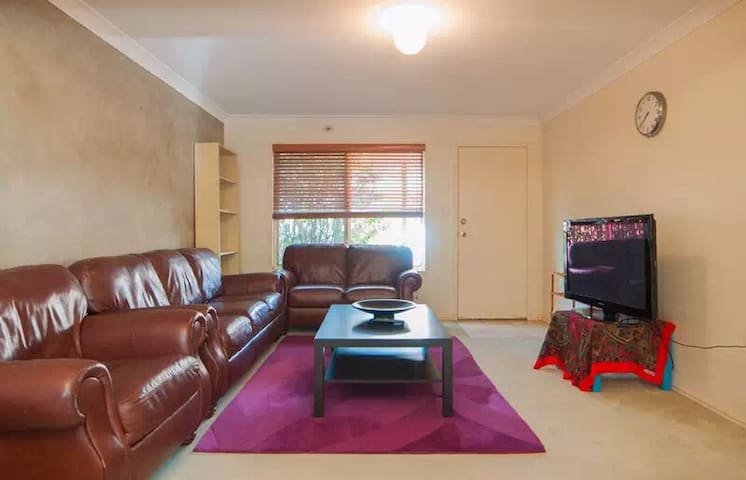 La Grande Cale is a beautiful Scandinavian-inspired 'A Frame' home perfectly positioned amongst the natural rainforest of Tamborine Mountain making it a great place to relax and unwind.
Also just a two minute drive is the famous Gallery Walk with over 70 art, craft and designer shops and its very own local brewery serving up craft beers, along with coffee roasters, wineries, ice cream parlours, fudge and chocolate shops, there really is something for everyone. La Grande Cale is positioned on the Eagle Heights side of Tamborine Mountain making it easily accessible to and from the Pacific Highway with only a short 15 minute drive to Wet & Wild, Dreamworld, White Water World, Movie World and The Outback Spectacular, 1 hour to Brisbane, Byron Bay or Coolangatta and only 30 minutes to the 54 kilometre stretch of the Gold Coast beaches, Surfers Paradise, Broadbeach and Burleigh (URL HIDDEN) Grande Cale is comfortable and tastefully decorated, sitting in tranquil surroundings and backing onto 4 hectares of rainforest with steps leading to a free-flowing creek, it's the perfect place to get away and relax. For those chilly nights on the mountain we have an open fire indoors or you can warm yourself and toast marshmallows around the fire pit outside in amongst nature.
This beautiful cottage was absolutely perfect for a little couples get away! Couldn't have asked for a better place
Rayna
2016-03-17T00:00:00Z
Our weekend at La Grande Cale was simply glorious. It was exactly what we were looking for. A cozy little place to enjoy each others company. Just a stones throw away from town to collect some great local food and wine, then to retreat back to our pad. We enjoyed both the fire pit out the back and the fire place inside. Really recommend this little getaway.
Graeme
2016-08-02T00:00:00Z
The host canceled this reservation 3 days before arrival. This is an automated posting.
Vicki
2016-04-26T00:00:00Z
Beautiful and cozy apartment
Albert
2016-06-09T00:00:00Z
Really cool house and well maintained. Be prepared to drive into town.
Scott
2016-09-04T00:00:00Z
This is a beautiful little property! We had a fabulous time hanging out & exploring the local area, lots of things to see & do and nice places to eat. The honesty wine stand is a fab idea & house had everything you would need for a lovely break - highly recommended!
Gillian
2016-08-09T00:00:00Z
The Swiss chalet style house was well appointed and lovely to spend time in. The short walk to the Botanic gardens was an early morning must!
Ann
2016-02-20T00:00:00Z
Beautiful house and an excellent getaway. Would definitely book it again in the future.
Kathryn
2016-05-25T00:00:00Z
Typ pokoje
Celý dům/byt
---
Typ nemovitosti
Dům
---
Ubytuje
5
---
Ložnice
Eagle Heights, Queensland, Austrálie
Pro zobrazení celkové ceny zadej termín. Mohou být přidány další poplatky a daně.