Wohnung im Dachgeschoss. Wohnzimmer mit Kabel-TV und WLAN. Offene Küche mit Waschmaschine und Kombi-Ofen. 1 Schlafzimmer mit Doppelbett, Schlafzimmer 2 mit zwei Einzelbetten. Badezimmer mit ebenerdiger Dusche und Waschmaschine / Trockner. Separate Toilette.
I could not stay personally but my workers . tell me that Krosje and Frank are truly outstanding were providing them maximum comfort and kindness- grazie per tutto quello che avete fatto thank for all that you did for them. Filippo
Filippo
2016-04-11T00:00:00Z
Krosje et son mari sont des gens particulièrement sympathique, très accueillants et très accommodants, ils ont tous mis en oeuvre pour notre confort. Un Magnifique bouquet de Lys ornait un appartement luxueux, moderne et propre. Plus qu'un simple logement, cet endroit au charme irrésistible saura vous étonner sur bien des points. Les photos sont tout à fait fidèles à ce lieux enchanteur.
Jon
2016-03-07T00:00:00Z
Accoglienza ottima e disponibilità a migliorare il soggiorno visto che ero li per lavoro.ambiente molto accogliente e con tutti i confort.
Alberto
2016-05-07T00:00:00Z
We kregen een hartelijk welkom, en het apartement is kraaknet, comfortabel en beantwoordt helemaal aan de foto's. Het was wel schrikken van de kerkklokken die ons vanaf de vroege uurtjes uit onze slaap haalden, en dit zich elk uur herhaalde. Dit was des te meer storend daar de accommodatie net tegenover de kerk is gelegen. Maar wie die dit gewend is, heeft daar misschien minder last van.
Lut
2016-06-20T00:00:00Z
We loved staying at this apartment. There are two separate bedrooms, meaning the kids have their own room, which we love. The apartment is very well appointed, and the super-modern shower is not to be overlooked. Both Frank and Krosje were incredibly helpful, friendly, and communicative; we booked the space the same day and were able to check in early in the evening. We definitely recommend their place!
Will
2016-06-30T00:00:00Z
Altogether, I had an amazing experience with both the hosts and the apartment. I arrived late in the evening, so I did not expect much of a welcome. To my surprise, however, both Frank and Krosje were awake to receive me, and they gave me a really warm welcome and a quick tour around the apartment, and they made sure that no questions were left unanswered. The apartment was cosy, nice and clean, and it looked just like in the pictures. Furthermore, the shower was absolutely amazing, and the bed was really comfortable - just what I needed after a long day of travelling. I was rather worried about the church bells that another review mentions, but to be honest, these did not bother me at all. I woke up the folllowing morning, only to find out how great the kitchen facilities are - all new and clean. The hosts are really nice, and the apartment is really great - I can definitely recommend it!
Sean
2016-07-02T00:00:00Z
I would just like to highly recommend the apartment by krosje and frank because the place was immaculate and built/designed to a high standard. Furthermore they were extremely helpful with local information e.g. restaurants, places to drink and train times. Me and my 3 colleagues were delighted with our stay and if we are ever again in the same place then be sure to expect us back! Kind Regards, Tony.
Tony
2016-06-17T00:00:00Z
Un posto veramente carino, ristrutturato con cura e attenzione, molto pulito e confortevole. I padroni di casa molto disponibili per ogni cosa, dall'aiuto per le valigie a predisporre una buona cenetta. Ottima scelta per una tappa veloce nel confine.
Michela
2016-06-21T00:00:00Z
Typ pokoje
Celý dům/byt
---
Typ nemovitosti
Byt
---
Ubytuje
4
---
Ložnice
Essen, Vlaanderen, Belgie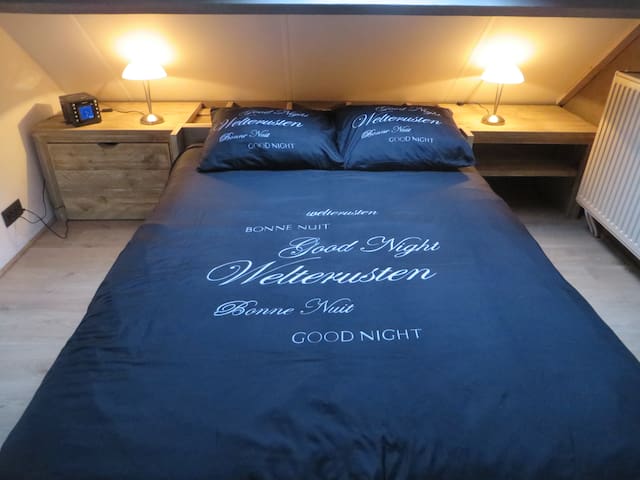 Diese Lodge befindet sich auf der 'Grenzpark de Kalmthoutse Heide' 'und 25 km von Antwerpen entfernt. Geschäfte und Bahnhof zu Fuß zu erreichen sind in Kalmthout-Heide und berühmte Park '' Arboretum '' ist gleich um die Ecke. Mein Platz ist gut für Paare, Familien (mit Kindern) und pelzigen Freunde (Haustiere). Es ist ein idealer Ort, um Ihre Wanderung, Rad fahren oder Zugfahrten zu starten. Viel Platz rund um das Haus und die Möglichkeit, Ihr Auto in der gesicherten Zaun des Geländes parken.
Ein Kamin, gemütliches Treibhaus Esszimmer und eine private Außensaunahaus macht Ihren Aufenthalt in unserem Ort für einen angenehmen Urlaub.
Typ pokoje
Celý dům/byt
---
Typ nemovitosti
Byt
---
Ubytuje
4
---
Ložnice
Kalmthout, Vlaanderen, Belgie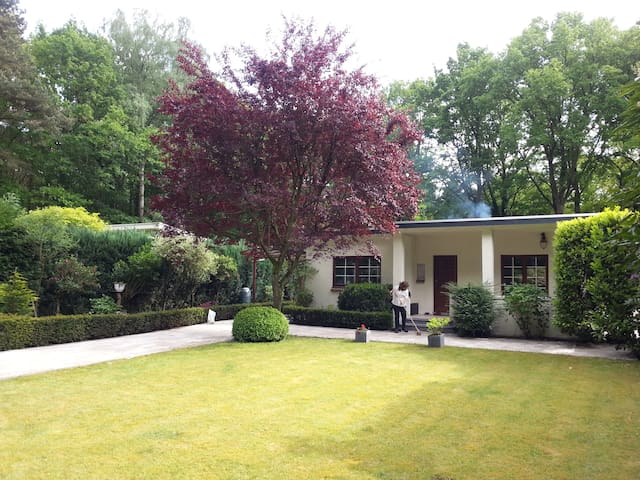 Located between the port and moor My room is nearby public transportation, parks. You'll love my place for its friendliness and location. My room is suitable for couples, solo adventurers, business travelers and families (with children).
Typ pokoje
Celý dům/byt
---
Typ nemovitosti
Byt
---
Ubytuje
4
---
Ložnice
Antverpy, Flandry, Belgie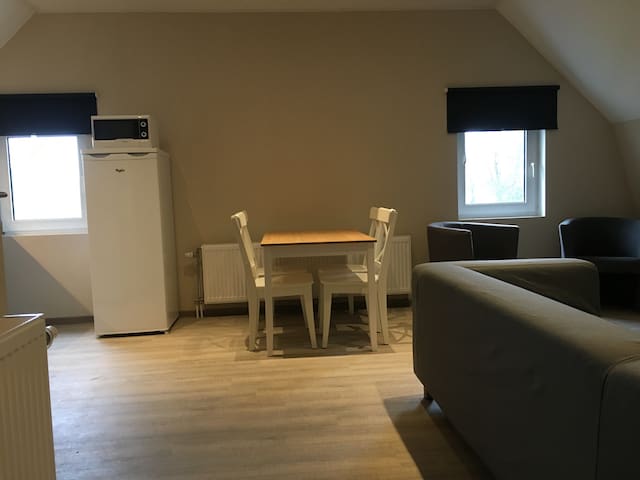 Charmante Wohnung in einem ruhigen Nachbarschaft mit schöner Verbindung nach Antwerpen.
ruhige Nachbarschaft.
Typ pokoje
Celý dům/byt
---
Typ nemovitosti
Byt
---
Ubytuje
4
---
Ložnice
Antverpy, Vlaanderen, Belgie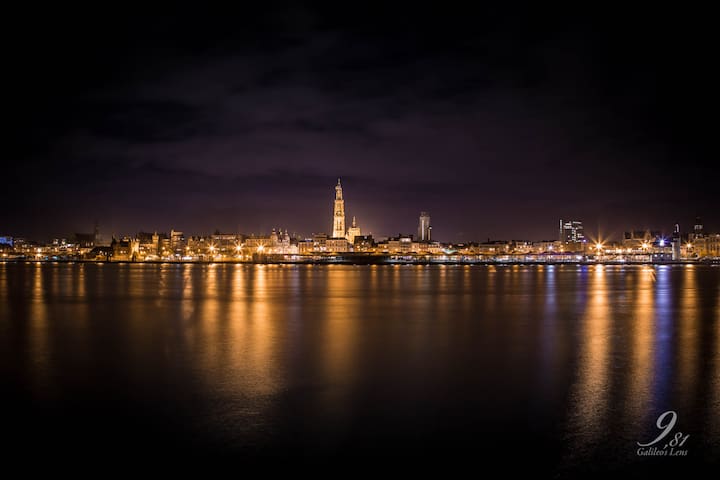 15min drive from the Scheldelaan. Less than half an hour to most locations in the harbour of Antwerp. The apartment is walking distance from the 'Mastenbos'. Kapellen centre is 5min drive, Antwerp city centre less than 30min. You'll love my place because of the size and the outdoors space (terrace and communal garden). My place is good for couples and business travelers. The kitchen is fully equiped with a big range and oven, dishwasher, fridge & freezer, microwave and coffeemachine.
2 large bedrooms with double bed. 1 smaller bedroom with a single bed and homegym equipment. High speed internet. Fully equipped kitchen with a big range and oven, dishwasher, fridge & freezer, microwave and coffeemachine. Spacious living room with a 5.1 surround sound full HD home cinema setup including Apple TV, Playstation 4 and Nintendo Wii U. (cable TV upon special request). Dining table seats 8 people easily and up to 12 if necessary. Home gym with barbell & freeweights (in 3rd bedroom) 1 bathroom with toilet & shower. 1 seperate toilet.
Quiet neighbourhood with plenty of options to go for a walk in nature.
Typ pokoje
Celý dům/byt
---
Typ nemovitosti
Byt
---
Ubytuje
5
---
Ložnice
Kapellen, Vlaanderen, Belgie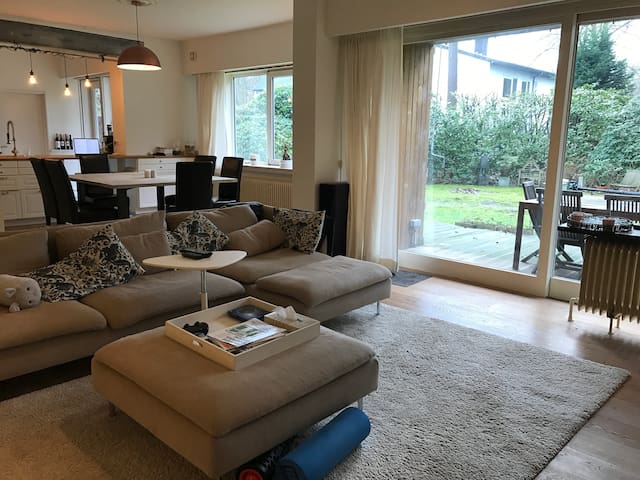 Ahoj! Jsme Carla Lara! Vítejte v našem počátku 20. století městského domu. Jedná se o třípodlažní budova se třemi byty v něm. Budete bydlet v prvním patře, kde budete mít příjemné, eklektický řešený prostor studia je k dispozici.
Budova byla postavena v roce 1924 v neo-klasický splňuje art-deco. Dřevěné podlahy a vysoké stropy dodávají V bytě je prostorná a autentický vzhled. Máme stále tento mix stylů v interiérovém designu s starožitný nábytek, moderní technologie a zatížení nepřímé osvětlení. V bytě je veškerý moderní komfort, jako je Wi-Fi, inteligentní televizi (ano, můžete naladit své oblíbené Netflix filmy v noci), bezdrátové bluetooth reproduktor, ledničkou, varnou konvicí pro čerstvé konvici kávy nebo čaj,... Jsme nachází trošku mimo centra města, ale můžete zamířit tam autobusem nebo tramvají (která vás zavede právo na Down Town Antwerp asi za 10 minut. Přijedete-li autem, není třeba se obávat parkovací místo. Přijedete-li vlakem, existuje přímá souvislost mezi tram Hlavní nádraží v Antverpách a naše místo.
Doslova 3 domy na ulici, je tu samoobsluze, která je otevřena v neděli. Jsme také směšně v blízkosti Sportpaleis, největší Antverpách místo konání. Takže pokud jste se na noční zábavy a chci jet zpátky po celý den, naše místo je ideální úkryt pro tuny zábavy. V sousedství je tu fantastický ledový sedan, který produkuje nejlepší zmrzlinu na světě, a pokud jste do parků a zelených, budete milovat některé ze skrytých pokladů, které jsou hned za rohem. Ale samozřejmě, že centrum města Antverpy (někteří by mohli definovat jako centrum the World), je místo, kde ta pravá zábava začíná a díky hromadné dopravy (nebo autě, nebo naše kola), které je v docházkové vzdálenosti coby kamenem dohodil je.
Zeer fijn appartement! Leuk ingericht met een goede locatie. Vlotte communicatie en ik raad het zeker aan!!
Sarah
2017-03-06T00:00:00Z
Carl and his wife have been amazingly kind and communicative hosts. My colleague Jose was luck to stay in their beautiful place, and as we had a training in Schoten nearby it was the perfect solution for us. I was looking for the 6-star rating button but could not find it ;-) Will definitely stay there again when we have another training next year. Thanks
Simon
2017-02-14T00:00:00Z
Warme ontvangst, mooi en goed onderhouden appartement. Aanrader.
Nils
2017-03-17T00:00:00Z
Una casa muy acogedora y caliente.
Vinsi
2017-02-20T00:00:00Z
Our stay at Lara's and Carl's place was very nice. The apartment is beautifully furnished, totally cosy and bright. Carl provided us with all necessary stuff to know about the neighborhood and was more than helpful. If you are in Antwerp, go there!
Dorit
2017-03-12T00:00:00Z
We very much enjoyed our stay at Lara and Carl's place! The apartment is beautiful, cozy, and very comfortable. We had all essentials (very comfortable bed, amazing shower, a little kitchenette area with a mini-fridge, a smart TV in case we wanted to stream Netflix) and I could tell that Lara and Carl had made an effort with the decor, the furnishings, and the little touches. It was a lovely place to spend time in. The neighborhood is quiet and residential. There are a few places within walking distance to get food and some drinks, as well as a grocery store a few doors down. The neighborhood is close to central Antwerp, and it's easier and much faster to take public transport than to take a car (we made the mistake of trying to take a car). Antwerp is also close to a lot of other places you can visit--we visited nearby Trappist breweries and went to Brussels, Ghent, and Brugge. Carl and Lara were excellent hosts--they were always available if we had questions or needed anything, and yet they were respectful of our privacy. This apartment is an incredible value. We would recommend it to anyone visiting Antwerp.
Kaeleigh
2017-03-30T00:00:00Z
Typ pokoje
Celý dům/byt
---
Typ nemovitosti
Byt
---
Ubytuje
4
---
Ložnice
Antverpy, Flandry, Belgie
NESTT bietet Ihnen den gleichen Raum wie NEST, auch auf dieser Website beworben. Die Dekoration ist ein bisschen anders, und es befindet sich im 2. Stock, so hat es noch mehr Licht. Und obendrein noch eine roofterrace.
NESTT befindet sich im 2. Stock und ist sehr geräumig und hell. Es ist am Ende einer ruhigen grünen Gasse, weg von den immer in Bewegung Straßen von Borgerhout.
Wir haben eine sehr schöne lebendige Nachbarschaft. Es gibt eine Menge von couleur locale, marokkanische Teestuben, Orte, wo man essen, nightshops. Und seit ein paar Jahren eine jüngere, hipper Menge, die dafür sorgt, gibt es einige nette Bars und Sachen. Immer mehr Galerien öffnen sich hier und ein paar Mal im Jahr haben wir einige große Kunstveranstaltungen haben. Wir sind um die Ecke des berühmten Theater- und Konzertsaal De Roma und nicht sehr weit weg von Musikanlage Trix.
Tina's house is even better then the pictures! It is perfect for one or two people with a big kitchen, spacious living area and good sized bedroom. It is in a perfect location and Klaus and Tina are great hosts. We had some trouble with the Internet connection which they sorted out quickly and efficiently on their weekend. They also own a funky little bar which is just down stairs and is popular with the locals! I would recommend staying here 100%
Gabrielle
2016-02-01T00:00:00Z
Een hele fijne plek. Ik heb echt helemaal niets aan te merken, fijne ruime woning, fijne straat en je kunt lekker slapen want je zit op een rustige plek. Toch ben je met de tram of te voet zo in het centrum van de stad. We hebben ons een kleine week goed kunnen ontspannen en we komen graag nog eens terug.
leonie
2015-04-09T00:00:00Z
Mooi, verzorgd appartement, een oase van rust vlakbij de stad. Vriendelijke en correcte verhuurders. Een aanrader!
Bianca
2015-09-21T00:00:00Z
Ce logement est superbe, il offre la possibilité de profiter la vie du quartier. Il permet d'avoir accès au centre d'Anvers facilement avec les transports très proche. Tina, votre hôte, est très accessible et amicale. Je pense à retourner sur Anvers et je reprendrais ce logement sans problème.
Gregory
2016-12-02T00:00:00Z
Tina biedt 3 leuke en knusse appartmenten in het oosten van Antwerpen. Wij zaten in het middelste met de luxe van een geweldig dakterras. De appartmenten zijn volledig voorzien, netjes en liggen aan de rustige achterkant van de bebouwing. De communicatie verliep vlot en soepel. Het appartement geeft veel privacy en Tina geeft aandacht aan de kleine details (bloemetje, shampoo, eco-middelen). De buurt is levendig en op loopafstand van het centrum. Ook tram etc dichtbij. We hebben ervan genoten!
Herman
2015-05-26T00:00:00Z
L'appartement était parfaitement conforme à la description, avec en plus ce petit supplément de charme qui vous fait sentir chez vous très vite. Tout a été rénové récemment, propre, fonctionnel, confortable, joliment décoré, c'est l'appartement idéal pour votre séjour à Anvers. Un peu excentré mais le centre est facilement accessible à pied ou par le tram à proximité. Tina et Klaas ont été très accueillants et ont toujours répondu très rapidement à nos questions. Merci !
adrien
2015-05-03T00:00:00Z
Tina's place was exactly as described and as one can see in the pictures. A really nice, clean, luminous, cozy apartment with everything you may need in it. Tina was a perfect host who welcomed us and explained ever useful information about the neighborhood and the city as well. Next time in Antwerp I'll try hard for sure to repeat!
elena
2015-09-07T00:00:00Z
It was a nice stay at Tina's flat. There was everything we needed. A green patio to accommodate out bikes and a quit neighbourhood. With the bikes it took us only a few minutes to the center of Antwerpen. Unfortunately Tina was on holiday, so it was not possibible to met her. But she had pepaired everything perfect and the contact in writing was very polite. Thank you, Tina.
Hans
2015-08-13T00:00:00Z
Typ pokoje
Celý dům/byt
---
Typ nemovitosti
Byt
---
Ubytuje
2
---
Ložnice
Antverpy, Vlaams Gewest, Belgie
Prachtig ruim en schoon appartement, bosrijke omgeving, schitterende fiets- wandel- en ruiterroutes. Kaarten aanwezig. Een plekje om echt tot rust te komen. U wandelt naast het gastenverblijf direct het zandpad op de uitgestrekte bossen/natuurgebieden/heide in. Buiten is er op meerdere plaatsen op het terrein zitgelegenheid gecreëerd, zodat u optimaal kunt genieten van de omgeving in de zon of schaduw. Er is bovendien een gezamenlijke overkapping. Speeltuin op het terrein aanwezig.
Nieuw en schoon gastenverblijf. Campingbedje/ babybedje en kinderstoel kunt u van van ons lenen, graag bij reserveren vermelden.
Schitterende bossen, natuur, wandelroutes, fietsroutes, ruiterroutes, boerderijen, dorpjes. Leuke restaurantjes in de omgeving op de routes. Ook diverse speelgelegenheden voor kleine kinderen in de omgeving.
Nice, quiet place in the countryside. Everything according to the pictures, fully equipped. Hosts are very kind and helpful. I honestly recommend this place.
Remigiusz
2017-02-04T00:00:00Z
Sabine put down some Christmas lights and ornaments for us to make us feel extra at home during our stay! We loved the landscape and the tranquility the farm boosted. There were horses to pet, rabbits and chickens roaming around and their dog and cats are very cute. Sabine was always around to answer questions or help us out with other things.
cynthia
2016-12-28T00:00:00Z
Extremely nice family, very welcoming and very helpful
Ray
2016-06-06T00:00:00Z
Everything was as described. Small but nice, clean apartment. Our little one had so much fun.
Huseyin
2015-10-28T00:00:00Z
Heerlijk rustige omgeving. Uitermate geschikt om te wandelen. Het appartement is ruim schoon en van alle gemakken voorzien. Ook heerlijk ontbijt te bestellen voor de volgende dag.
Stacey
2016-01-02T00:00:00Z
Heel fijn weekend gehad op deze locatie. Mooi en schoon appartement, fijne mensen en heerlijke locatie. Mijn zoon vond de dieren geweldig net zoals de speelmaterialen op het erf. Genoten van een heerlijk ontbijt. Verder fijne en duidelijke communicatie en kleine dingen (extra dekbed) die het weekend nog fijner maakten!
Maaike
2015-10-12T00:00:00Z
We had a great pleasure to stay in this lovely farm. It was surprisingly easy to find, although it is located in a somewhat remote location (exactly what we wanted for a short relaxing stay). The quality of the housing is exceptionally good, as well as the service :) We were pleased to get coffee and eggs ready for the breakfast at exact time as we wanted: 7:30 :) many thanks for Ellert and Sabine for adjusting to our early waking up time :). My two years old daughter loved the play-ground that she found out side the house. In addition, she very much appreciated the close neighborhood of the cows :) So we had a wonder short stay in a relaxing atmosphere that I recommend to everyone willing to escape city noise :)
Simona
2015-09-14T00:00:00Z
Very nice and cosy place to stay! Communication with Sabine was good. Highly recommended!
Leona
2016-09-23T00:00:00Z
Typ pokoje
Celý dům/byt
---
Typ nemovitosti
Byt
---
Ubytuje
4
---
Ložnice
Schijf, Noord-Brabant, Nizozemsko
Modern luxury apartment with terrace, near park trail north and the lively island. There is much to discover in Antwerp and is ideal for a weekend getaway. A few minutes by bike from the city center, railway station and the historic city center. There are many cafes and restaurants nearby, both around park trail north as the Islet. There is a room for rent in the apartment and you can use the rest of the apartment, but is inhabited.
Bedroom with sofa bed for 2 persons. There is wifi in the apartment, as well as a playstation (blu ray player), television (without cable), a kettle and the main business for the kitchen. There is a Kubb contained and can be played in the adjacent park. There is a map available of the city with all indications Velo stations, city bikes from Antwerp to rent for any tourist and ideal means of transport in the city. More information: (URL HIDDEN)
In park trail north, there are several locations where you can drink something cozy and several restaurants, a swimming pool in the Veldstraat (URL HIDDEN) the possibility of wellness and exercise classes. Restaurant the Caravan is close to, a deep fat, bakery (t Graantje), butcher's shop, and a mini-market Carrefour are walkable. If you really want to eat a really good, you can go ta Vin Restaurant Bar or the Veranda located Slachthuislaan. On the Islet are also still plenty of nice restaurants, coffee bars and cafes, Antwerp has a lot to offer and discover.
Typ pokoje
Soukromý pokoj
---
Typ nemovitosti
Byt
---
Ubytuje
2
---
Ložnice
Antverpy, Vlaanderen, Belgie
Away from the bustle of the city, this is the ideal place to unwind. A spacious holiday apartment of 120m² with all modern comforts. The farm is located on a bicycle trail junction, there are beautiful hiking trails and horse trails nearby
At the end of a cul-de-sac away from the everyday hustle and bustle. A spacious apartment of 120m² with 2 bedrooms, fully equipped kitchen, bathroom and storage space. One bedroom with two beds (160x200) and a 2nd bedroom with two single beds (90x200) and a full sleep sofa. Cot is free. The apartment is only rented for at least 2 nights. The B & B (see other listing) can also be for one night ... Ample parking and the possibility of storing bicycles in locked garage. Paradise for children who can play outside, ride go-carts, animals help take care of them, the turnips morning eggs ...
Loenhout is a rural village in the Kempen with a close-knit village community. Our farm is located on a bicycle trail junction, there are beautiful hiking trails and horse trails nearby. Away from the bustle of the city, this is the ideal place to unwind.
Valerie was a very, very nice & welcoming host. She kept me informed so well. Our employees told me that the place was spacious, clean and nicely decorated. I can defiantly recommend Valerie and the chalet.
INTER FaSa
2016-02-27T00:00:00Z
We stayed at De Spennephoeve for 9 days while visiting family in Belgium and had a brilliant time. The flat has lots of room and was very comfortable for us - 2 adults, 3 children. The kitchen had plenty to work with (and when we discovered we were missing a ladle, Valerie provided her own and bought us one the following day!). I drank my morning coffee watching the animals from our window. Fun! The kids were totally in love with the farm. They played on the see-saw and go carts, and visited the sheep, donkeys, pigs, chickens, dogs, ponies, goose, and especially loved the cats. We were provided FRESH eggs and even some milk from the neighboring farm. Valerie had books and toys in the flat, and even brought us extra on a rainy day, and then chalk when the sun was out. While were were staying at De Sneppelhoeve, friends came and stayed in the B&B flat that they also have. It was a great way to vacation with another family where the kids could safely play outside together and the adults could socialize in the day and evening (the baby monitor reached between the flats!). It is also well situated. We ventured out the Antwerp, Turnhout and the Keukenhof - all an easy day trip. I can't say enough about Valerie, her husband Mark or De Sneppelhoeve - our time there was really quite special. We hope to be back next year!
Rachel
2016-04-11T00:00:00Z
Dear Valerie , we were back home getting used to the life routine. We all want to thank you very much for the great hospitality in your farmhouse. We all enjoyed it very much. The super equipped accommodations, the beautiful view and on top of it - your generosity and your willing to help us with every single thing, made our staying in your house unforgettable. Thank you very much!
Evgeniya
2016-05-04T00:00:00Z
To make a long story short, our only regret is that we only spent one night in Valerie's flat! She made us feel very welcome from the first e-mail until the time we left. The place itself is great; it's very spacious and done in a modern way just on top of the barn where the sheeps and donkeys are (the tiny little lambs were adorable!). Valerie also gave us fresh milk and eggs from the farm which made our breakfast delicious! I would highly recommend this place and hope to visit it again.
Galina
2016-03-11T00:00:00Z
Un séjour de 2 nuits avec nos 3 enfants a refaire au plus vite. De l'accueil à l'appartement jusqu'à la propreté, tout était impeccable. L'appartement est exactement comme les photos et très bien équipé. Le calme du lieu lié à la vie des animaux de la ferme, nous a bien dépaysé ces 2 jours. Le lait de vache, les œufs frais et les madeleines offert par Valèrie ont été très apprécier. Valérie a tout mis à notre disposition pour que notre séjour soit parfait. (même lit parapluie, chaise haute et jeu pour enfants). Je vous conseille ce séjour dans cette ferme pour le plus grand bonheur des enfants aussi.
PAULO
2016-02-20T00:00:00Z
Typ pokoje
Celý dům/byt
---
Typ nemovitosti
Byt
---
Ubytuje
5
---
Ložnice
Wuustwezel, Vlaanderen, Belgie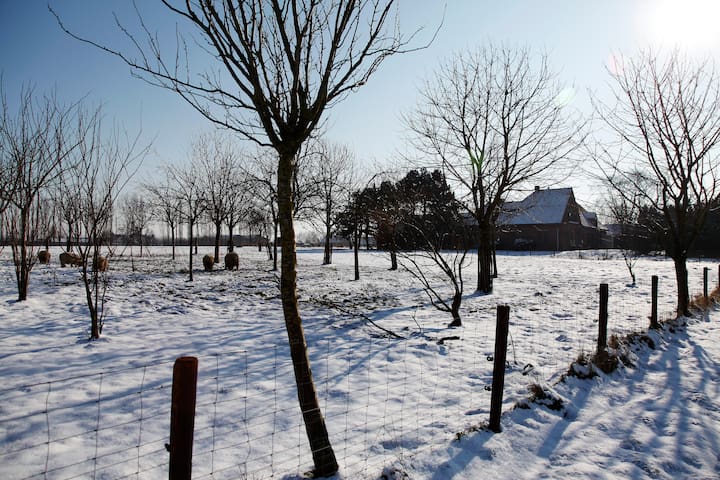 2017 extensively renovated, trendi turn on island, Mass near museum on the current Red Star Line Museum, restoranten nice bar and cafe's.
Este moderno apartamento tiene capacidad para una empresa de 1 hasta 6 personas, incluyendo un niño de hasta 3 años de edad. Completamente renovado en abril de 2017.
Typ pokoje
Soukromý pokoj
---
Typ nemovitosti
Byt
---
Ubytuje
6
---
Ložnice
Antverpy, Vlaanderen, Belgie
My room is close to public transportation, downtown, family-friendly activities. You'll love my place because of the neighborhood, the light and warmth. My room is suitable for couples, solo adventurers and business travelers.
I and my friend stayed at Christel's adorable flat. The photo is exactly same as the real atmosphere, and especially the bed was really comfortable. The structure of the flat is quite unique, you also could use the balcony there. In terms of communication with Christel, she responded fast and gave the information in advance so we didn't have to be worried how to get in the flat. Thanks Christel.
Suej
2016-09-12T00:00:00Z
A great studio, everything was perfect.
Rita
2017-02-09T00:00:00Z
Christel heeft een erg mooi en prettig gelegen appartement in Antwerpen. Het was groter dan ik verwachtte, een volwaardig huisje! Alles zag er prima in orde uit en ook de communicatie met Christel verliep helemaal naar wens. We hebben een fijn weekend gehad in Antwerpen, mede door het fijne verblijf. Ik zou deze studio zeker aanbevelen aan anderen.
Linda
2017-02-26T00:00:00Z
Ik heb een zeer leuke tijd gehad in de studio van Christel in het mooie Antwerpen. De communicatie verliep erg soepel en alles was duidelijk. We kwamen aan in een schoon verblijf waar alles keurig op z'n plek lag. Ook troffen we een klapper aan waar handige adressen in de buurt in stonden en verdere informatie, erg handig dus! Al met al hebben wij een aangename tijd gehad in de 'charming studio' van Christel.
Lucas
2016-08-19T00:00:00Z
Perfect spot for two people, 1km away from the city center, 1 minute walk to the nearest tram station. Quiet, clean and pretty enough for a short stay!
Helena
2017-02-15T00:00:00Z
Great location and easily accessible from the central station , about 10-15 minutes by foot. The studio is very compact and perfect for a short stay.
Kate
2016-12-28T00:00:00Z
Great location and the communication was just perfect. Absolutely loved it at Christel's. I could (and will) recommend it to everyone.
Patrick
2017-01-12T00:00:00Z
This a great studio. We just loved it. We will surely stay here again if we come back to Antwerp.
Hans
2017-03-12T00:00:00Z
Typ pokoje
Celý dům/byt
---
Typ nemovitosti
Byt
---
Ubytuje
2
---
Ložnice
Antverpy, Vlaanderen, Belgie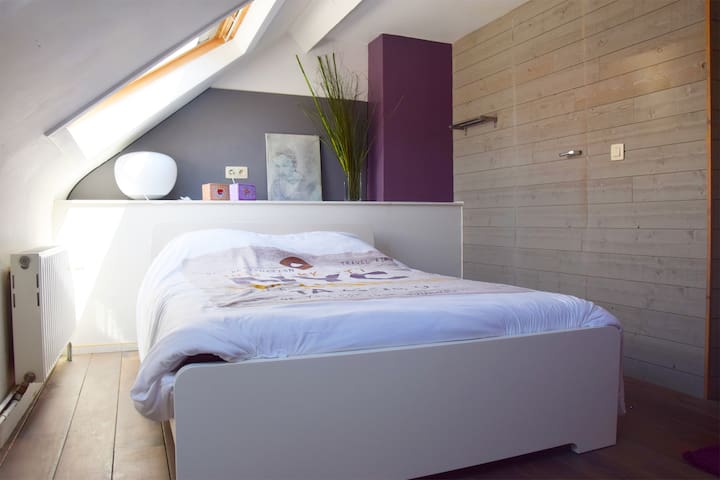 Un apartamento muy ligero en el centro de Amberes con terraza (siempre soleado). calle tranquila. 100m2 Dúplex. 5 minutos a pie de la estación de tren. 5 minutos a pie del centro de la ciudad. Hay una mesa de ping-pong, libros de fotografía, películas .. vecinos amistosos. Autobuses, estación de tren, centro comercial, todo está cerca.
Muy céntrico!
Typ pokoje
Celý dům/byt
---
Typ nemovitosti
Byt
---
Ubytuje
5
---
Ložnice
Antverpy, Vlaanderen, Belgie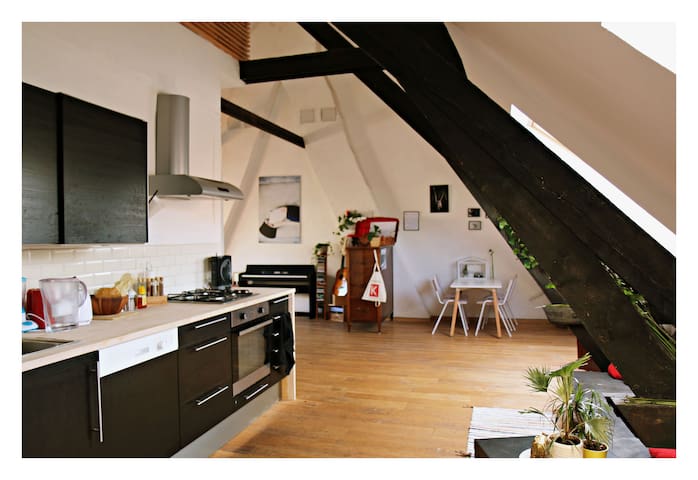 In der Nähe des schönen Park Spoor Noord in Antwerpen. Besonders im Sommer hier zu tun vanalles Tag, aber das ganze Jahr über, macht dies das ganze Gebiet eine ruhige und angenehme Umgebung. Darüber hinaus ist die Islet auch zu Fuß erreichbar. Ruhig und gutes Essen. Die Wohnung ist sehr funktionell und hat alles, was man braucht. Mein Zimmer ist für Paare, Solo-Abenteurer und Geschäftsreisende geeignet.
Typ pokoje
Celý dům/byt
---
Typ nemovitosti
Byt
---
Ubytuje
2
---
Ložnice
Antverpy, Flandry, Belgie
Our sunny new flat is perfect for your staying in Antwerp. Just 15 min walk from central station/Cathedral. And only 5 min walk from MAS museum.
Our flat is very cosy. In one room you'll find double bed, sofa bed and fully equipped kitchen. Everything is new and clean, I'm sure you'll feel like home here :)
The host canceled this reservation the day before arrival. This is an automated posting.
Tobias
2017-04-10T00:00:00Z
Typ pokoje
Celý dům/byt
---
Typ nemovitosti
Byt
---
Ubytuje
4
---
Ložnice
Antverpy, Vlaanderen, Belgie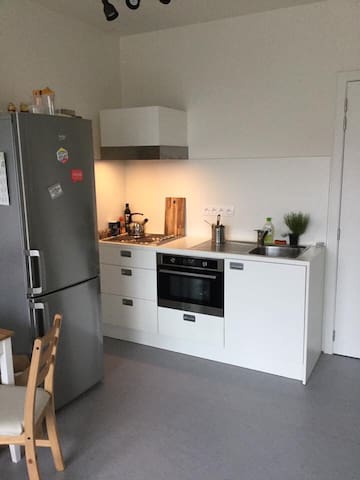 Questo grande appartamento nel cuore di Anversa contiene di due piani, tra cui tre camere da letto. L'interno è un bel mix di vintage, arte e design. Cosiness, comfort e stile sono fondamentali per questa spaziosa sistemazione in una posizione perfetta.
L'appartamento completo possiede i tre livelli superiori di un antico suggestivo palazzo nel centro di Anversa. Con una cucina e bagno al primo livello, uno spazio ufficio e salotto al secondo, e due camere da letto e un altro spazio di lavoro al più alto livello. Cucina e bagno sono dotate di forno, piano cottura a gas, frigorifero, doccia / vasca, quasi tutti i dispositivi elettronici per scopi quotidiana sono presenti nell'appartamento. sono forniti lenzuola, cuscini e asciugamani. Ci sono due camere da letto, una camera singola e una matrimoniale. L'appartamento si trova a soli 7 minuti a piedi dalla stazione centrale e si trova in un vivace quartiere multiculturale. C'è una fermata del tram proprio di fronte alla casa e una stazione di city bike circa 200 metri. Tuttavia, le principali vie dello shopping, bar e ristoranti sono facilmente raggiungibili a piedi. V'è anche un grande (a pedaggio) il parcheggio vicino alla casa.
Charlotte's place, which was close to Sint Jansplein, was absolutely fantastic! Her place was clean, quiet, and centrally located. She was easily reachable and punctual, and provided many suggestions for things to do and places to eat while in Antwerpen. You couldn't ask for a more wonderful host!
Charles
2013-12-22T00:00:00Z
The host canceled this reservation 28 days before arrival. This is an automated posting.
Lotte
2016-01-15T00:00:00Z
Charlotte is a very lovely host and you will feel extremely comfortable in this truly beautiful flat. The adress is perfect, just few minutes from Central Station. I will definetly return!
Ina
2013-11-17T00:00:00Z
Charlotte is a real sweetheart; a charming, trustworthy and helpful lady! Good company and service, I would definitely recommend choosing her warm home as accomodation!
Gaby
2013-11-04T00:00:00Z
Antwerpen is a great city, and the flat is so, too. Located close to the central station and to the city centre, you are everywhere really quickly. Shops are nearby, too. The rooms are nice and big, and Charlotte was very helpful. Thanks a lot.
Esther
2015-12-19T00:00:00Z
Charlotte is such a nice and interesting person and it was a pleasure for me to stay home and enjoy our conversations) I have no words to describe a house, I only can say that if I could stay there forever - I would do it for sure) Everything is clean, super cosy and comfortable; everything you need is just behind the corner. So if you are going to Antwerpen and looking for a place to stay...you already did it)
Anastasia
2013-12-31T00:00:00Z
Charlotte is a very kind host. I enjoyed the stay at her house and had a good rest. Thanks a lot!
David
2013-11-20T00:00:00Z
Typ pokoje
Celý dům/byt
---
Typ nemovitosti
Byt
---
Ubytuje
3
---
Ložnice
Antverpy, Vlámský region, Belgie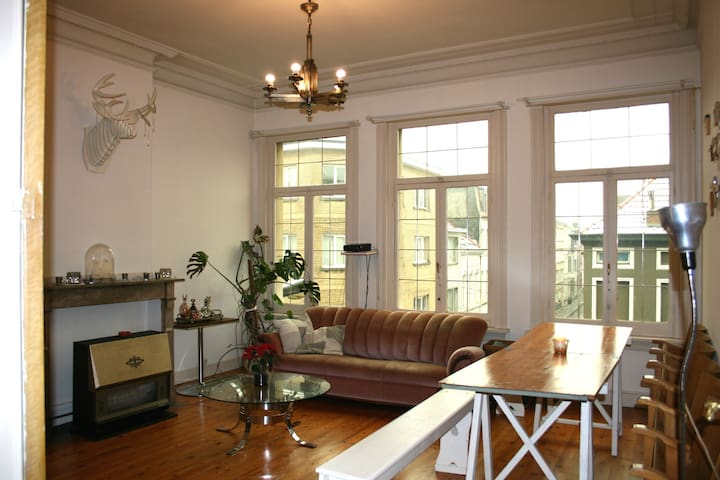 Patrick was extremely helpful and informative. The flat is as described with beautiful views of the city. The neighborhood is up and coming however perfect if you want to be away from the busy city center but close enough to get anywhere quickly.
McKenzie
2015-05-15T00:00:00Z
Patrick's apartment is perfect! It is pristine and new, incredibly clean, comfortable, very tastefully decorated, with everything that you could ask for to make your stay convenient. It is in easy walking distance of the city centre, and has some good bars and restaurants close by, as well as the MAS within a few minutes walk. The view of Antwerp and the harbour from the apartment is incredible, and lovely to wake up to (there was a huge electrical storm when we were there, and we got an amazing view of it form the balcony!). The photos don't do it apartment justice. Most of all though, Patrick is a fantastic host. Extremely kind and considerate, helpful and knowledgeable, and clearly eager to show off his beautiful city of which he is clearly very proud. Thank you Patrick for a fantastic holiday. You and your apartment hugely enhanced our trip!
Cormac
2015-06-08T00:00:00Z
Patrick was a very welcoming host and provided lots of useful information and was on hand whenever we required. He was very accommodating when we wished to extend our stay. The apartment is lovely and just as described with every facility one could possibly want. The district is around a 25 minute walk from the beautiful historic centre and we would recommend to walk there along the waterside. All in all a perfect place to stay and a perfect host.
James
2015-05-26T00:00:00Z
Patrick is een heel goede gastheer. Het welkom was heel hartelijk. Met veel aandacht voor detail en behulpzaamheid, schitterende aankomst op de lokatie. Het appartement is prachtig in orde en heeft alles wat je nodig kan hebben voor een comfortabel verblijf. En de parkeerplaats is echt een mooie plus! Ik kom nog terug. Bedankt!
Dominique
2015-10-29T00:00:00Z
Patrick made us feel very welcome. The apartment was spotless and had everything we needed. It had a fabulous view of Antwerp. Patrick gave us a very detailed explanation about the apartment and the area. It is about 15 minutes walk into town or you can catch a bus out the front. He also provided transport to and from the station and even helped us with our train tickets to the next destination.
Margaret
2015-08-13T00:00:00Z
Heerlijk appartement om in te verblijven. Foto's kloppen helemaal, mooie strakke inrichting en prachtig uitzicht over de stad. Ideale ligging.
Willemijn
2015-05-18T00:00:00Z
We truly enjoyed our stay at Patrick's apartment. It is conveniently located to visit the city. Patrick is a fantastic host, really took his time to explain everything. There is perfect internet connection, a flat screen tv, cosy living area, kitchen with everything foreseen, beautiful views from the balcony and every window, nice bathroom, everything you can wish for and spotless clean. We would definitely stay here again and recommend this place to everyone!
An
2015-03-03T00:00:00Z
We went there for Tomorrowland 2016 and we loved it ! Patrick and his friend Wim were totally amazing, they assisted us with everything we needed and also the apartment was super clean, stylish and on a great location. We will be coming back next year and renting this one again for Tomorrowland 2017 ! Thanks patrick and much love from Iceland
Sævar
2016-07-26T00:00:00Z
Typ pokoje
Celý dům/byt
---
Typ nemovitosti
Byt
---
Ubytuje
3
---
Ložnice
Antverpy, Vlaams Gewest, Belgie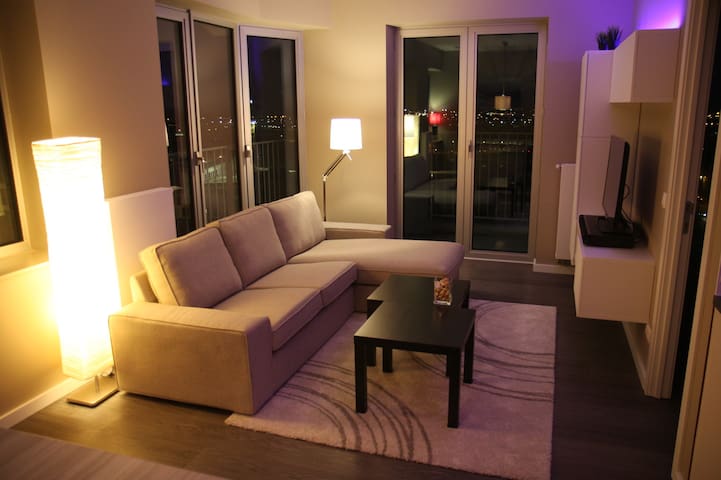 Kalmthout - Airbnb
:
Průměrně

4.73

z

5

hvězdiček na základě

175

hodnocení hostů