A comfortable and quiet apartment finished to a high standard with views over the local hills and the sea beyond. Perfect for exploring the local beauty spots and beaches or great to relax in the ultra-comfortable leather sofas or out on the balcony enjoying the sea views. Dartmouth ferry is just a few minutes away as is the charming fishing village of Brixham. Enjoy a luxurious night's sleep in the super King-size bed! Your own parking space is just outside and a bus stop to Brixham is close.
Our apartment is a quiet and comfortable haven with lovely views over the fields and the sea. It is also a short drive or bus ride away from Brixham or the Dartmouth ferry. Both beds are extremely comfortable and there is a large selection of books, maps and guide books to peruse. You also have your own, off road parking space - a rarity for Brixham!
Although we're very close to Brixham, we are a quiet haven with lovely views and walks from the apartment. We feel it's the best of both worlds as we enjoy exploring the area and then glad to come back to a peaceful place to relax in
The apartment was lovely, everything was very clean and tidy and the bed was very comfortable and the location was great too.
Mike
2016-08-21T00:00:00Z
Juliet was very helpful. The apartment was perfect for a couple with a 15 year old daughter. A great base to explore a beautiful region and a peaceful retreat at the end of the day. I have no hesitation in recommending both Juliet and her lovely apartment. Also my daughter says I must mention the fast Internet which was an absolute plus for her to continue her social life.
(EMAIL HIDDEN)
2016-08-20T00:00:00Z
We loved our stay at Juliets apartment! It is even nicer than in the pictures. The sea view is amazing to wake up to. There were lots of little extras we appreciated such as tea and coffee, brand new towels, dishwasher and lots of dvds. I would highly recommend this place to stay. Thanks again Juliet :-)
Patrice
2016-08-03T00:00:00Z
Juliet was great with communication, quick to reply to questions and offered us an early check in. Very easy stay!
Felicity
2017-01-02T00:00:00Z
Juliet was great to communicate with and the arrival instructions were spot on - so easy! The flat is very well equipped, everything you could want in the kitchen and even a few extras - enjoyed the shortbreads, thanks :-) Excellent flat and very well located for exploring the coast and Dartmoor - very happy to recommend.
David
2016-08-11T00:00:00Z
Juliet's lovely apartment is perfectly placed to enjoy the charms of this wonderful part of England. Picturesque Brixham, Kingswear and Dartmouth are close by, and for walkers there is easy access to the South West Coastal Path. The flat is clean, warm and comfortable and extremely well equipped with everything you will need for a relaxing break. Juliet is a wonderful host and thoughtfully provided tea, coffee and local shortbread biscuits for our arrival. Highly recommended!
Carol
2016-12-30T00:00:00Z
Well equipped and perfectly situated for coastal path walks.
Johan
2016-08-08T00:00:00Z
A very good equipped location with a nice view on Brixham. The spacious appartement is located in a calm minor Street; neighbours are very friendly. Much space to park your car easily available. You can start some nice walks directly from the location without need to leave by car. For example Greenway House with a great view on river Dart are a few miles to walk. Maps and other material to plan trips e.g. to Dartmoor are available.
Michael
2016-10-07T00:00:00Z
Typ pokoje
Celý dům/byt
---
Typ nemovitosti
Byt
---
Ubytuje
3
---
Ložnice
Kingswear, Velká Británie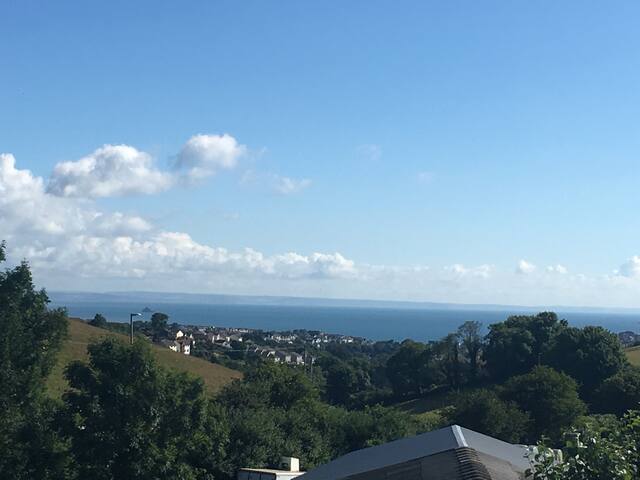 Top floor 3 bedroom holiday apartment in Kingswear Devon. Self contained with separate entrance. Spectacular elevated position with stunning river views up the beautiful river Dart and over to Dartmouth. Open plan living dining kitchenette. Private outside terraced decking area at rear of property with views up the river. Pets welcome. Extra beds available. Please note the property is accessed via a number of steps.
Typ pokoje
Celý dům/byt
---
Typ nemovitosti
Byt
---
Ubytuje
6
---
Ložnice
Kingswear, Anglie, Velká Británie
Marlborough apartment at the exclusive Kingswear Park resort has every convenience for a relaxed and enjoyable stay. A comfy sofabed in the lounge allows the apartment to sleep six and all mod cons are provided to ensure that self catering is easy.
Once a small hotel, this unique and interesting complex of eleven very different apartments lends itself to quiet unwinding and a very relaxed and refreshing stay. There is a small swimming pool, jacuzzi, sauna and small but well equipped fitness room/gym on site, as well as a tennis court, mini golf and croquet. Wifi is free, as are cots, high chairs and very friendly service from the staff. The beds are blissful, the bathrooms spotless and the views from the grounds are breathtaking.
Kingswear Park is perched on the very top of the hillside overlooking Dartmouth, with wonderful views of both the Estuary, the Royal Naval College and from the front elevation, out to sea. The village itself has a small shop, pub, church and also access to both car and foot ferries to hop across the river to Dartmouth ( a few minutes trip). There is some parking down by the quayside and the Steam railway runs right into Kingswear and can take you on a nostalgic trip. National Trust houses Colyton Fishacre and Agatha Christies home at Greenway are very close indeed (you need to book for the latter as you have to have reserved parking). There are boat trips, fishing trips, trips to Totnes down the river...endless things to do if you love the great outdoors. Dartmouth itself is quaint and has numerous eateries catering to a wide variety of tastes and budgets. There's a big Sainsburys as well as an M&S food, a Co-op and local food outlets. From Dartmouth, you can be at Slapton Ley nature reserve and the famous and very poplar Blackpool Sands in a matter of fiftenn minutes. Brixham is just ten minutes from Kingswear and offers wonderful local catch seafood as well as a chance to explore the Golden Hind and other local delights.
Typ pokoje
Celý dům/byt
---
Typ nemovitosti
Byt
---
Ubytuje
6
---
Ložnice
Kingswear, Velká Británie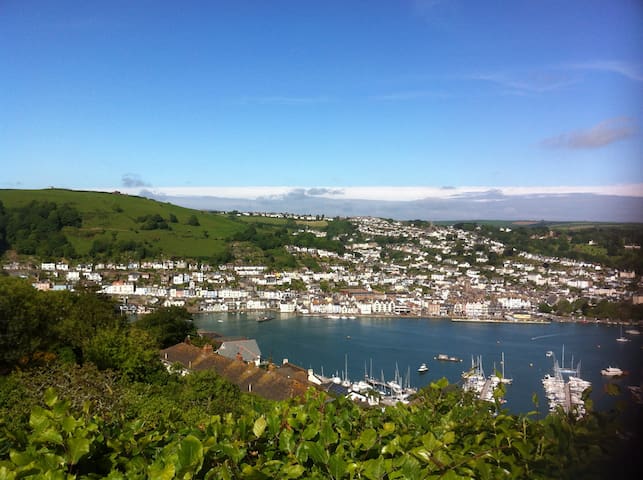 Recently refurbished and decorated, the property is arranged on 3 floors and has superb views from all rear windows to Dartmouth and Waterhead Creek. A parking space in the marina is included and a discount offered for couples. Weekly discounts are offered for non peak weeks.
Christmas Place is a well appointed maisonette sleeping 6 and arranged on 3 floors. There is road access to the front from Lower Contour Road and pedestrian access to the rear. A discount is offered to couples. There are superb views from the decked dining balcony and most rooms across to Dartmouth and Waterhead Creek to the rear of the property. Located in Kingswear which sits on the edge of the River Dart, surrounded by superb countryside and looking across to the olde world town of Dartmouth. Christmas Place is conveniently situated for village amenities and is just 5 minutes walk to the car and passenger ferries to Dartmouth. A parking space is included in the rental cost and available in the gated Darthaven Marina car park which can be accessed directly from the rear of the property. The property will suit a group of friends, couples or families, for either a short break or main holiday as there is so much to see and do within the immediate area. We can offer weekends or short breaks on a self change basis where you provide your own linen and leave the house as you found it, ready for the next guests. We only accept bookings for full weeks during the school holiday periods.
On the east bank of the River Dart, Kingswear's buildings rise up steeply from the river. Just a few hundred metres over the water there are delightful winding streets, friendly pubs, and wonderful views. Take the car or passenger ferry over the river to Dartmouth and sample the or go back in time on the steam train to Paignton. This is also a good starting point for either walking along the coast or discovering the Dart Valley Trail.
The host canceled this reservation 157 days before arrival. This is an automated posting.
Paulainsomerset@(SENSITIVE CONTENTS HIDDEN)
2016-04-05T00:00:00Z
Thank you for such a wonderful stay! You really had thought of everything and all the little touches and careful attention to detail added so much. It was lovely and clean and such a pleasant base for a friend reunion - we only wish we could have stayed all week! Thank you, we will definitely be back!
Jo
2016-07-04T00:00:00Z
Christmas place is an absolute gem in the beautiful Devon coast! The photos do not do the place justice. The terrace is absolutely fantastic to relax on and watch the sunset! The mod cons were all extremely luxurious and new, the quality of the house was excellent with brilliant views! David was very helpful and I would highly highly recommend Christmas place to anyone considering it!
Beth
2016-07-05T00:00:00Z
Not easy to find a seaside (in this case, riverside) location for a short stay so appreciated a possibility of self-check in/out short stay at Christmas place. Location was great, short stroll to the ferry terminal to Dartmouth and with views over the creek from the house. Parking (included in the price) was provided in a nearby marina. David has also provided lots of useful information and made us feel welcome. House was nice and spacious with a fab terrace (although second double bedroom felt a bit like an afterthought but ok for a few days). Overall a lovely stay.
Tatiana
2015-06-25T00:00:00Z
David kept us well informed during our booking and before our stay. The house is beautiful, with tasteful decor throughout. It was clean and just as described. We loved it and hope to return! Thank you so much.
Sharon
2016-10-25T00:00:00Z
Christmas Place was the perfect location for a very relaxed weekend with stunning views of Dartmouth. David was very helpful and provided lots of information about the area and things we may like to visit during our stay. The house itself was lovely and I wouldn't hesitate about booking again.
Ben
2016-06-06T00:00:00Z
Excellent stay, very good comms with host, all as described and as shown in pictures, lovely view to wake up to. Very apt decor and fittings, just what we needed.
Ralph
2015-09-21T00:00:00Z
Davids communication through the booking process to sending us instructions and directions was excellent. The house was just as described in the listing and we had a great and comfortable stay. The house has a brand new kitchen with all the "mod cons" in fact this was the room we spent most of our time in as the 2 sofas in the window afford the most spectacular view of Kingswear and Dartmouth. Easy access and no hassle in the car park at there Marina. We will definitely be back. Thanks.
David
2016-05-03T00:00:00Z
Typ pokoje
Celý dům/byt
---
Typ nemovitosti
Byt
---
Ubytuje
4
---
Ložnice
Kingswear, Velká Británie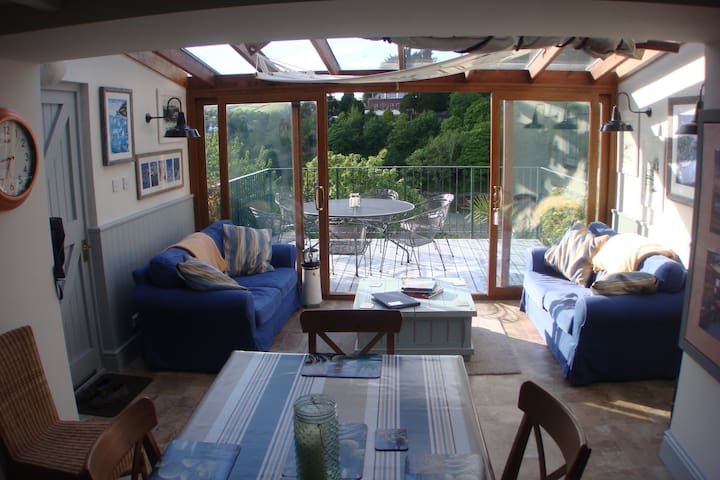 Komfortable, luxuriöse Wohnung, zentral gelegen und auf dem Gelände der ehemaligen Dartmouth Schmiede gebaut. Komplett mit einer Fußbodenheizung ausgestattet macht es die perfekte Basis, von wo aus man die herrlichen South Hams zu erkunden. Wir hoffen es gefällt dir
Schmiede House ist eine Wohnung im ersten Stock mit Wohn / Esszimmer, Küche Raum, Schlafzimmer mit Doppelbett und Dusche alle mit Fußbodenheizung. Voll ausgestattet, das helle und luftige Wohnung befindet sich im Herzen dieser schönen Stadt direkt. Wir bedauern, dass wir aufgrund des Layouts der Immobilie keine Kinder unter 12 Jahren des Alters zu akzeptieren. Warum nicht entkommen zu Dartmouth?
Dank seiner Lage direkt im Herzen der Stadt bedeutet, leicht zu Fuß. Lassen Sie das Auto geparkt und Spaziergang durch die Stadt oder springen auf einer Fähre oder mit dem Boot auf den Fluss zu erkunden. Holen Sie sich in entspannen Modus so schnell wie möglich!
Loved every minute of staying in this apartment, ideal if you want to be in the centre of Dartmouth. Cliff was a great host, zero stress! Will be staying again
Luis
2016-05-26T00:00:00Z
Great space in the middle of Dartmouth
New
2016-12-17T00:00:00Z
This was a lovely little first floor flat in the centre of Dartmouth, just a couple of minutes walk from a bus stop, the pontoon, shops etc. The photos are very accurate, showing the interesting and quirky furniture. Information was provided about Dartmouth and the surrounding areas. We only used the kitchen for tea and coffee and pizza but it seemed well equipped. Comfortable bed and good shower.
Jane
2016-09-14T00:00:00Z
The Blacksmith's House is in a great location for exploring Dartmouth and the rooms were clean, bright and comfortable. Check in was easy and Cliff showed up quickly when I had a problem with the door code. However, there were a few things that made my stay unpleasant. There was no hand soap in the bathroom, no cooking oil (for a short term let with a kitchen there should be cooking oil! I was told to go buy some at M&S. Why would I want to buy an entire bottle of oil when I'm only staying for 2 days?!) and some of the dishes in the cupboard were wet from being washed while others were just dirty. These were minor things that I dealt with; I didn't even tell Cliff or Alan about the dishes or hand soap. The MAJOR ISSUE I can't get over was the listing saying there was a washer/dryer for me to use when there wasn't. That was the main reason why I chose the Blacksmith's house because I had already been traveling for 5 days and needed to wash my clothes. For such an expensive airbnb it was a huge inconvenience to be told that it was a mistake and then for the "solution" to be that I should go to a laundrette was unacceptable. I already paid for the convenience of having a washer/dryer on site so that I WOULDN'T need to pay to go to a laundrette! It was easy to text Alan and Cliff with these problems but the responses were less than satisfactory. These things are easily fixed so hopefully it won't be an issue in the future.
Amy
2016-04-03T00:00:00Z
All good thanks
Ian
2016-09-05T00:00:00Z
What can we say that hasn't already been written? Very nice accommodation in a great location to explore Dartmouth and surrounding area. Highly recommended.
Andrew
2016-10-27T00:00:00Z
Not a sign of any blacksmiths but as you may expect historically for a blacksmiths the location is perfect for access to the town. We thought it might be a bit of a problem parking but within minutes of arriving a space was found in the market place two minutes from the front door, free parking accept Tues. Fri. market days. A nice touch was the milk in the fridge great for a welcome cup of tea after travelling. We slept really well so the firmness of the mattress and softness of the pillows suited which has prompted us to look for new ones at home. Thanks Cliff we will be recommending this to our friends and colleagues we have had lovely relaxing couple of days at your place Will & Annette.
Will
2016-10-18T00:00:00Z
Cliff's place was lovely, everything we needed. It was clean, comfortable and really beaitifully desined. Also very central, close to Shopes, Pubs,cafe's and the river front. Cliff was very friendly, helpful and kind. he gave my husband a nice bottle of wine when he knew he had a bad back. Thanks for a great break Cliff. Glenda
Glenda
2016-06-20T00:00:00Z
Typ pokoje
Celý dům/byt
---
Typ nemovitosti
Byt
---
Ubytuje
2
---
Ložnice
Dartmouth, Velká Británie
Dies ist eine Wohnung im Erdgeschoss an unser Haus, aber mit völlig separatem Eingang. Der Raum umfasst offene Wohn / Esszimmer / Küche. Ein wetroom und Schlafzimmer mit Kingsize-Bett. Parkplatz für eine durchschnittliche Größe Auto und geschützten Garten.
Wohnung komplett mit allen Bettwäsche und Handtücher ausgestattet. Die Küche hat 4-Halogen-Herd, Kühlschrank und Kombination / Mikrowelle. Bitte beachten Sie, dass kein voller Größe Ofen oder Dishwaser.
Dartmouth und Umgebung ist ein Gebiet von außergewöhnlicher natürlicher Schönheit. Es gibt viele Flussboot mit einem Dampfzug und die schöne Küste Ausflüge
We were very pleased overall. A very clean flat with everything we expected
Chris
2016-08-10T00:00:00Z
Hilary was very welcoming, we arrived to milk in the fridge and biscuits. Lovely and well kept accommodation. We really enjoyed our stay and found it to be excellent value for money. would stay again! Danielle and Karl
Danielle
2016-04-16T00:00:00Z
Realy lovely few days! Lovely clean modern flat in Dartmouth.
Lynne
2016-05-28T00:00:00Z
Lovely little place, within walking distance of the beautiful town. Slight mishap on arrival but not the end of the world. Would stay again. Thank you
Simon
2016-10-24T00:00:00Z
Lovely place, good location. Accurate to the description. Hilary was friendly on arrival. Thank-you.
Rosie
2016-08-16T00:00:00Z
Thanks for a lovely stay. Everything we hoped for and more would recommend your annex to anyone seeking a comfortable place to stay within walking distance of the town. Very clean and well furnished/equipped.
Harry
2017-01-08T00:00:00Z
We had a very comfortable stay at Hilary's apartment. It was clean, quiet, warm and modern and Hilary was extremely helpful to us. I would definitely recommend this accommodation and wouldn't hesitate staying there again. Thank you.
Nicki
2015-12-09T00:00:00Z
Excellent accommodation and wonderful host. Exactly as described. Dartmouth centre is 15 mins walk and good access to all local amenities as well as a central location for exploring South Devon.
Leighton
2016-12-17T00:00:00Z
Typ pokoje
Celý dům/byt
---
Typ nemovitosti
Byt
---
Ubytuje
2
---
Ložnice
Dartmouth, Velká Británie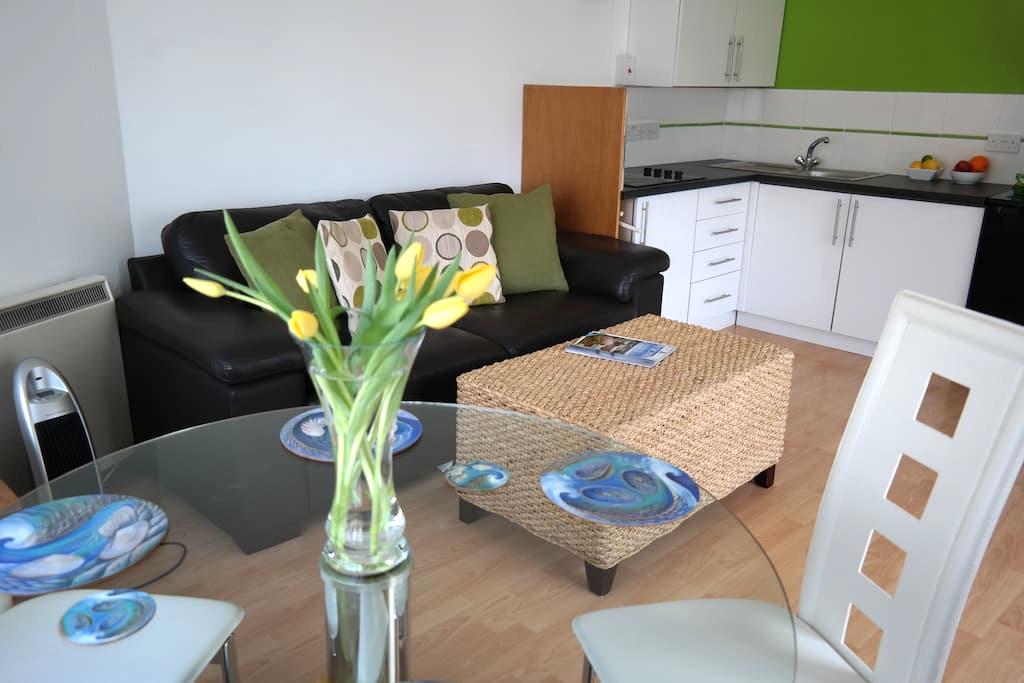 What a beautiful home! An amazing view from the balcony where we ate our breakfast every morning, brilliant kitchen fully equipped, cosy living room with an amazing view! Such friendly hosts too. They knew it was my birthday so wrote me a card which was one of Theresa's own designs! Just amazing! Definitely stay again!
Heather
2017-03-16T00:00:00Z
This is a lovely apartment, with fantastic views. Recently refurbished and in pristine condition, its equipped with quality appliances throughout. Every room has beautiful artistic and personal items, which just adds to the comfortable homely feel. We all enjoyed a great stay, loved the balcony view, plus the private parking spot is a real bonus in Dartmouth. Theresa and Simon were fabulous, engaging hosts and we'll definitely visit again.
Tim
2017-04-05T00:00:00Z
The apartment is a perfect base when visiting Dartmouth. A clean, comfortable and stylish apartment just a ten minute walk (if that!) right to the harbour. Definitely recommend staying here when visiting if you want beautiful views and to be near everything. Theresa and Simon were really welcoming and helpful. Thank you for a lovely stay in beautiful Dartmouth!
Amanda
2017-04-10T00:00:00Z
The Apartment is beautifully presented and very comfortable. The owners have thought of every detail to make a holiday most enjoyable.
Andrew
2017-02-17T00:00:00Z
Fantastic apartment with wonderful views over to the Dart and Kingswear. Well situated for the town centre (10mins walk) with reserved parking adjacent to the property. Apartment is beautifully furnished and well equipped. Will definitely be back!
Ashley
2017-02-25T00:00:00Z
Typ pokoje
Celý dům/byt
---
Typ nemovitosti
Byt
---
Ubytuje
4
---
Ložnice
Dartmouth, Anglie, Velká Británie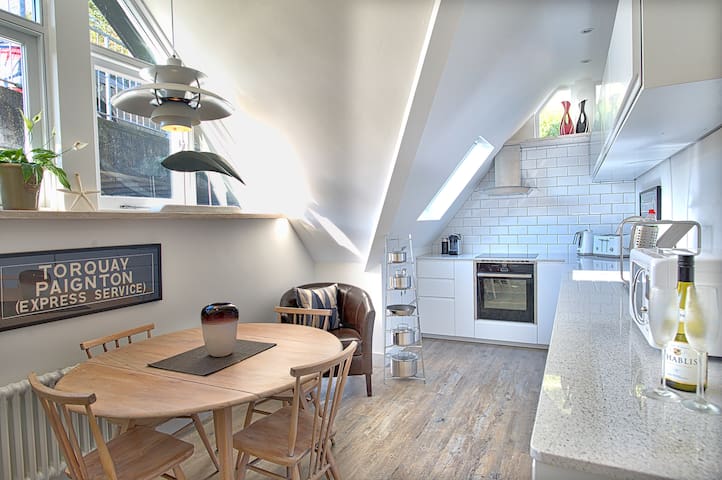 Moderne zwei-Zimmer-Luxus-Maisonette-Wohnung in einer Umwandlung eines Grade II aufgeführten 18. Jahrhundert ehemaligen Sail Loft. Die Sail Loft ist ideal auf einem Niveau zwei Minuten zu Fuß zum belebten Stadtzentrum und Fluss vor positioniert. Genießen Sie einen wunderbaren Aufenthalt im Herzen der Stadt am Fluss mit luxuriösen Zimmern, die alle Vorteile der modernen Komfort und Bequemlichkeit bietet.
Ein High-Spec-Maisonette-Wohnung mit viel natürlichem Licht. Setzen Sie noch zurück von der Hauptstraße perfekt zwischen dem Stadtzentrum und Dart Marina positioniert.
Dartmouth ist eine malerische Tiefwasserhafen an der Mündung des Flusses Dart, bekannt für Segeln. Die alten, engen Gassen Haus Boutiquen, Kunstgalerien und Feinkostläden. Dartmouth ist ein Paradies für Feinschmecker. Es gibt eine große Auswahl an Restaurants, Cafés und Pubs, kreativ zu sein mit lokalen Produkten. Dartmouth hat sich in den letzten Jahren sehr in Mode gekommen, und es gibt immer etwas los. Das Musikfestival, das Essen Festival und natürlich die berühmte Regatta.
Typ pokoje
Celý dům/byt
---
Typ nemovitosti
Byt
---
Ubytuje
4
---
Ložnice
Dartmouth, Anglie, Velká Británie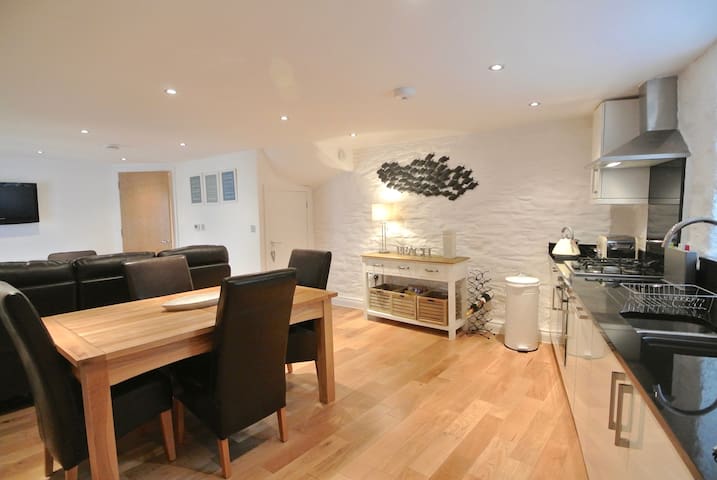 Unser Platz ist in der Nähe von Restaurants, Bars und Cafés. Es liegt direkt an der Fluss Dart mit einem fantastischen Blick auf den Fluss und die Burg. Nur ein kleiner Spaziergang in die Stadt, wo alles, was man für einen perfekten Urlaub ist.
Die Gegend ist ideal für die Erkundung. Wandern rund um Dartmouth, die der Geschichte, viele alte Gebäude voll ist, und so in der Nähe des Flusses mit Booten und Fähren. Wir haben ein Kino & Theater und viele Cafés, Pubs und individuelle Geschäfte. Machen Sie einen Ausflug Fluss zu hübschen Dörfern für eine Creme Tee! Viele Wanderungen starten von hier Küsten- und Binnen, warten alle für Sie zu finden.
Lack of parking, 111 steps down to appartment. Amazing location with stunning views.
Caroline
2017-01-22T00:00:00Z
Had a lovely stay at Gallants Quay. Arrived late but the lights and heaters had been put on for us so it was lovely and cosy. Beautiful views across the river and very peaceful. Needed to be fit to get up the 112 steps in the morning though!
Rachael
2017-03-19T00:00:00Z
Comfortable studio flat with views of beautiful garden and river in charming town Dartmouth. Only 10 mins walk from town centre which has plenty of bars and restaurant. Also only 15 mins walk from Dartmouth Castle and the start of the coastal paths. Excellent location for walkers. I was very well received by hosts Liz and Tim, who went out of their way to help me with anything I needed.
Netta
2017-01-15T00:00:00Z
Brilliant host and an utterly beautiful location with stunning bedroom views and easy accessibility to Dartmouth's town centre.
Richard
2017-01-02T00:00:00Z
Great location and a well furnished apartment. Very clean but in need of modernisation. You have to take note that there are 112 steps leading down from the roadside gate to the apartment, so if you have disability or health issues this would not suit. If this is not a problem, the location is perfect next to the river. The only other thing is the parking - there is none. So if your not lucky enough to get a parking space on the road on the hill near the front gate, you have a 10-15 minute walk
Tony
2017-02-20T00:00:00Z
The host canceled this reservation 160 days before arrival. This is an automated posting.
Andy
2017-03-18T00:00:00Z
The flat is in an amazing location, right next to the water in beautiful Dartmouth. It's just off the coastal path and close to Dartmouth centre in a quiet and secluded spot. You need to like steps though; which we do!
Katharine
2017-03-12T00:00:00Z
Brilliant little open plan apartment by the docks. Liz was very welcoming and helped us with good places to visit. The apartment had everything needed for our short break. The bed was comfy, the shower warm and bright sunshine lit up the room with an orange glow. Perfect for the two of us. We loved our stay and didn't even mind the flight of stairs to get up to the main road. It sets you up for a good walk. I would definitely come back again
Chris
2017-03-27T00:00:00Z
Typ pokoje
Celý dům/byt
---
Typ nemovitosti
Byt
---
Ubytuje
2
---
Ložnice
Dartmouth, Anglie, Velká Británie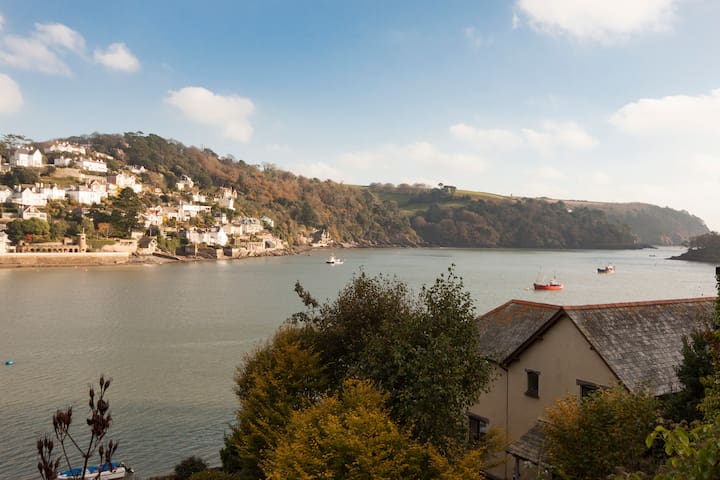 Ma place est à proximité des restaurants et des restaurants, l'art et de la culture, de grandes vues, les activités de la famille, et la plage. Vous allez adorer ma place à cause de la lumière, les hauts plafonds, le lit confortable et le confort. Ma place est bonne pour les couples et les aventuriers en solo. S'il vous plaît noter qu'il ya un certain nombre d'étapes progressives jusqu'à l'appartement.
Angela is a very warm and friendly host. The accommodation is excellent - highly recommended!
Ken
2017-04-09T00:00:00Z
Great property - everything spotlessly clean, good location, parking included and great views, would highly recommend
Marc
2016-08-12T00:00:00Z
Everything in this very well appointed self catering apartment is brand new. It is located right in the heart of the beautiful town of Dartmouth. Angela was there to welcome us and get us orientated, which was most helpful. It is fun negotiating the narrow lane up from the town, and there is a nice secure garage for the car. The steps up to the apartment might not suit some elderly or very unfit people. We are in our late sixties, early seventies and managed them quite comfortably.
Graeme
2016-07-11T00:00:00Z
Typ pokoje
Celý dům/byt
---
Typ nemovitosti
Byt
---
Ubytuje
2
---
Ložnice
Dartmouth, Velká Británie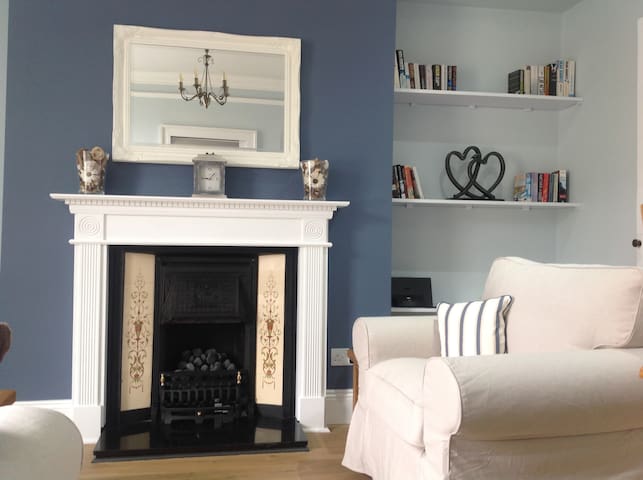 The Penthouse adalah pangsapuri percutian hebat di bandar yang meriah dan indah Dartmouth di Barat Daya England. Ia mempunyai salah satu pandangan yang terbaik di Dartmouth tanpa keraguan. Duduk di salah satu kerusi Charles Eames kami dan mengambil dalam pemandangan Sungai Dart dan ke laut. Apa jua keadaan cuaca pandangan tidak akan mengecewakan dan menjadikan The Penthouse tempat yang sukar dilupakan untuk tinggal. Mewah, luas dan serba lengkap di dalam semua segi. Sesuai untuk pasangan, rakan-rakan dan keluarga.
The Penthouse adalah sangat luas dan mempunyai ruang tamu pelan terbuka, ruang makan dan ruang dapur yang indah dengan pintu bifolding yang membuka keluar ke balkoni. Kami menyediakan besar semua layar cuaca Quba kantung kacang yang anda boleh mengambil keluar ke balkoni dan menonton dunia berlalu. The Penthouse mempunyai 3 bilik tidur dan 3 bilik mandi, untuk percutian singkat kita cenderung untuk menutup bilik dan keluarga bilik mandi berkembar dan meninggalkan kedua-dua bilik tidur saiz raja dengan Ensuites untuk digunakan oleh tetamu. Katil sangat selesa dan bilik tidur yang dihiasi dengan menarik dengan banyak sentuhan yang indah dan pemandangan yang hebat dari tingkap bilik tidur. Kedua-dua bilik raja adalah seperti yang cantik sebagai satu sama lain supaya tidak ada bahaya berlawan mengenai bilik tidur yang terbaik! Bilik twin dihiasi dalam gaya nautika dan akan sesuai untuk kanak-kanak. Atau anda mungkin mewah merosakkan diri dan mempunyai apartmen keseluruhan diri.
Dartmouth adalah sebuah bandar yang menakjubkan dan kami bernasib baik untuk mempunyai pandangan terbaik. Kami juga menghadapi selatan jadi kita mendapat matahari sepanjang hari. Ia merupakan lokasi yang tenang tetapi cukup dekat untuk berjalan ke bandar. Ia mengambil masa kurang daripada 10 minit untuk berjalan kaki ke bandar tetapi mungkin mengambil masa beberapa minit berjalan kembali kerana kita berada di bukit. Terdapat bas yang jika anda tidak mewah berjalan! Tidak perlu untuk menggerakkan kereta anda sebaik sahaja anda berada di sini melainkan anda suka perjalanan ke salah satu daripada kampung-kampung tempatan yang indah.
Wonderful short break in Dartmouth. Stunning views over the harbour, wonderfully appointed apartment and great comms. Thanks for a super stay!
Robin
2017-02-15T00:00:00Z
just wanted to say how incredible our stay was at the penthouse. truly spectacular. thank you so much for your help in making it a memorable stay. brilliant. I'll definitely be back 100%.
Ed
2016-11-06T00:00:00Z
The Penthouse is an absolute treat from start to finish. We couldn't fault it in any way and can't wait to return.
Kay
2017-02-26T00:00:00Z
Typ pokoje
Celý dům/byt
---
Typ nemovitosti
Byt
---
Ubytuje
4
---
Ložnice
Dartmouth, Anglie, Velká Británie
Mein Platz ist in der Nähe Stadtzentrum, familienfreundliche Aktivitäten snd öffentlichen Verkehrsmitteln. Sie werden meinen Platz wegen seiner zentralen Lage, nur 100ft von der Hafenfront und nah an allen Geschäften lieben. Es ist einfach, überall und ist sehr gemütlich zu bekommen. Die Küche ist geräumig und mit einem Schlafzimmer hat eine schöne Dusche ensuite. . Mein Platz ist gut für Paare, Familien (mit Kindern) und pelzigen Freunde (Haustiere).
Dann alles gut bis .... und ist sehr gemütlich, denken, dann sollten wir die folgenden Bits hinzuzufügen. Die Küche ist geräumig mit Esstisch, wm, Mikrowelle und Geschirrspüler usw. Das Wohnzimmer verfügt über zwei gemütliche Sofas, Couchtisch und einen weiteren kleineren Esstisch, wo man sitzen und die Welt vorbeiziehen lassen. Es gibt zwei gute Größe Doppelzimmer und ein drittes extrem kleines Schlafzimmer für den gelegentlichen Gebrauch. Es gibt ein Badezimmer mit Badewanne und Dusche und das Hauptschlafzimmer verfügt über ein eigenes Bad mit elektrischer Dusche. Dartmouth und die Umgebung hat so viel zu bieten. Dartmouth selbst hat viele ausgezeichnete Restaurants, hervorragende Einkaufsmöglichkeiten, schöne Wanderungen (inkl. Wanderwege entlang der Küste), einer der besten Strände in Devon Blackpool Sands ist ganz in der Nähe (2 Meilen), das ist ein privat geführtes geschützten Strand mit ausgezeichneten Einrichtungen und die schönsten Sonnenuntergänge gibt es ein Strandrestaurant. Der berühmte Dartmoor ist nur 25 Minuten mit dem Auto entfernt, hier finden Sie ausgezeichnete wilden Ponys und die schönsten Landschaften, wieder das Gehen ist zu sehen.
Good spacious apartment, unfortunately the poor heating lets it down. Very good location to all amenities, Parking is a nightmare.
Mark
2016-12-31T00:00:00Z
If this is your first trip to Dartmouth then this is the place for you. The location cannot be beaten if you are wanting to explore, whether it be by ferry, steam train or car and a great little gem in Bayards Cove next door. Problems with car parking during the day but after 6pm it is fine.
Steven
2016-07-23T00:00:00Z
The apartment is fabulous. It's much bigger than I was expecting, really well equipped and the location is perfect. Sue was very responsive to queries. I would definitely recommend staying here.
Helen
2017-04-03T00:00:00Z
Typ pokoje
Celý dům/byt
---
Typ nemovitosti
Byt
---
Ubytuje
4
---
Ložnice
Dartmouth, Velká Británie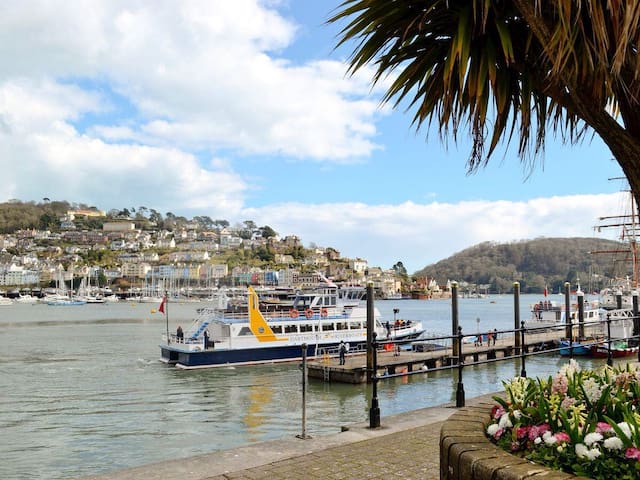 Confortevole, elegante camera matrimoniale al piano terra, in posizione centrale e costruito sul sito della ex fabbri Dartmouth. rende la base ideale da dove si può esplorare la gloriosa South Hams. Se avete bisogno di due camere da letto matrimoniali, la Fabbri House che è un appartamento con una camera da letto di sopra dei maniscalchi, è tutto disponibile attraverso Airbnb che converte l'edificio in una casa a due camere da letto, si prega di vedere prezzi e disponibilità sotto Blacksmith House.
Hufschmiede ist ein Erdgeschoss Doppelzimmer mit einem Doppelbett und sehr kleine kompakte Badezimmer mit Dusche, Warmwasserversorgung nur für die Dusche, ein Wasserkocher für alle anderen Zwecke verwendet werden muss, das Zimmer mit einem Wasserkocher, Mikrowelle ausgestattet ist, Mini-Kühlschrank und Waschbecken. Die Fenster sind undurchsichtig Sie Privatsphäre zu geben, das Zimmer ist hell und luftig, aber keine Aussicht.
Dank seiner Lage direkt im Herzen der Stadt bedeutet, leicht zu Fuß. Lassen Sie das Auto geparkt und Spaziergang durch die Stadt oder springen auf einer Fähre oder mit dem Boot auf den Fluss zu erkunden. Holen Sie sich in entspannen Modus so schnell wie möglich!
The studio is very well placed for the centre of Dartmouth. The accommodation was clean and nicely appointed and we would be happy to return again or recommend it.
Bri
2016-12-29T00:00:00Z
The room is quite comfortable and location is quite convenient. However last day the electricity went off and it was cold and my mobile phone powered off which caused inconvenience.
Liangyi
2016-12-20T00:00:00Z
Great studio flat in the centre of Dartmouth. Perfect for a short break away!
Matthew
2017-02-17T00:00:00Z
This was our first experience with AirBNB. Quick and simple, Cliff's 'Farriers Studio' was an ideal pick. The directions were clear and simple we found the studio with no hassle whats so ever. Upon arrival the studio was lovely and clean with everything you needed inside. The bed was incredibly comfy, with extra pillows that felt heavenly. I can easily say this is probably one of the most comfortable beds I have ever stayed in. It was also absolutely huge! The location was absolutely perfect, we were right in the middle of everything but just outside enough that we weren't interrupted. The only thing I would mention is that the pub is right next door joined on, you could hear the staff talking quite a lot and barrel day was not fun. Nonetheless it was easy to drown out. Making food was an experience and a half as you only have a microwave, however we did manage to make a home made microwave omelette, pasta carbonara and pulled pork burgers! (Who knew). It is listed in the description but there is no hot water in the kitchen sink or the bathroom this honestly isn't as bad as it sounds! Boiling the kettle did the job no problem! There are plenty of wonderful eateries around the area. Dartmouth it's self was stunning, breathtaking views and so many things to do! We ended up hiring a little boat for an hour and going down the River Dart to Ditsham. The week we stayed was also the start of the 172nd Royal Regatta, meaning there was a fairground, loads of stalls and fun and games. We couldn't have picked a better time to go! Cliff was great with his responses and had everything you could have wanted for a comfortable stay. We didn't get to meet him however we were left with a wonderfully detailed information pack of the Studio and local places to eat, drink and socialise in. Not far from the Studio is Blackpool Sands, a beach located about a 10 minute drive away, perfect for relaxing. My Girlfriend and I would highly recommend the Farriers Studio for anyone looking for a quiet and charming stay in the beautiful town of Dartmouth. We will certainly be returning!
Jake
2016-08-25T00:00:00Z
Fantastic location! Exactly as pictures show. Great value!
Farah
2016-08-18T00:00:00Z
We had a great time staying here - very conveniently located for the town and great for a couple of nights.
Angus
2017-04-10T00:00:00Z
What a pleasant surprise. Every possible thought has gone into making the stay as easy and enjoyable as possible. From towels to cutlery, it is all here. Would strongly recommend to any couple visiting this lovely town.
Ross
2016-08-11T00:00:00Z
The room is centrally located to the town. This means that the main amenities are within easy walking distance. Car parking (free with a 2 hour limit, or pay-and-display) is within easy reach. And an M&S food store is nearby. Access off the street via 2 doors with code locks meant that we did not have to disturb other occupants of the house. The bathroom is a bit of a tight squeeze, otherwise the accommodation was entirely suitable for our weekend stay
Francis
2016-09-04T00:00:00Z
Typ pokoje
Celý dům/byt
---
Typ nemovitosti
Byt
---
Ubytuje
2
---
Ložnice
Dartmouth, Velká Británie
Ruhige Wohnung in ländlichen Devon. Glorious Spaziergänge durch River Dart und das Meer. 15 Minuten zu Fuß zu Agatha Christie Haus, Greenway. Segeln, Kanufahren, Strände. Kleine Einliegerwohnung, eine voll ausgestattete Küche, TV, WLAN, Zentralheizung, Parkplatz.
Der Raum ist in sich geschlossen und mit einer Küche, so dass Sie in der Lage sein, Mahlzeiten zu machen, wenn Sie es wünschen. Es gibt Cafés und Kneipen nicht weit weg, wenn Sie zum Essen bevorzugen.
Greenway und Coleton Fishacre sind in der Nähe - und beide sind schöne National Trust. Coleton mit herrlichen Garten und Zugang zum Klippenpfad geht. Dartmouth, Brixham, Totnes und Dartington sind alle innerhalb von 30 Minuten mit dem Auto. Slapton Sands (Vogelbeobachtung), Startpunkt und Beesands sind ein guter Ausflug über Dartmouth. Bootsfahrten auf dem Fluss Dart, einem Dampfzug, Kanufahren, Segeln, Strände. Große Wanderungen von der Tür. Wir sind direkt auf mehrere markierte Wanderwege. So stellen Sie sicher, dass Sie lange genug bleiben einige von ihnen zu genießen!
Our hosts managed the perfect balance between honouring our privacy and bein available to provide thoughtful, friendly and helpful advice wherever needed. Thanks so much.
Richard
2016-10-25T00:00:00Z
We had a wonderful stay at Rosemary's House. The apartment was beautiful, clean and very welcoming. We didn't expect it to be so big and were amazed about the good furnishings. It provides everything you need and Rosemary is always there to help you. The scenery is beautiful and perfect for hikes or long walks. We'd love to come back and if there was an extra star we would give her 6 stars out of 5.
Lea
2016-11-25T00:00:00Z
The annexe is located at the end of a country lane, just 2 mins from a lovely national trust site with spectacular views. Rosemary made us feel very welcome and was on hand to give us a quick insight into the local area. Any problems that we had she went out of her way to resolve and overall was a wonderful host. We visited in November and the annexe was a warm and cosy little place for the two of us to relax and enjoy the peace of the countryside. We visited some lovely places nearby and ate at some great little pubs around the area. We particularly enjoyed the Old Market House in Brixham. This is a great place to get away from the pace of the city and take some time out for walks and warming food.
Alistair
2016-11-15T00:00:00Z
Lovely setting and really homely place to have a relaxing weekend. Lots of information on what to do around the property. Really recommended!
Gabriela
2017-01-22T00:00:00Z
The accommodation was delightful and tastefully decorated in a contemporary cottage style with many homely touches. There were many thoughtful extras such as the provision of a multi journey tag to allow reduced vehicle crossing charges on the Dartmouth ferry, a whole bunch of walkers maps, wellington boots, an assortment of books and games, and excellent wifi. Our hosts were very pleasant and refreshingly relaxed. Highly recommended.
Bruce
2017-01-09T00:00:00Z
This was my second stay at Rosemary's place and I love it. I cannot recommend this place highly enough; it's a lovely space in a tranquil setting, with all home comforts. Close by there are great walks and spectacular views. Rosemary is a great host, and I will l defiantly be coming again.
Penny
2017-02-13T00:00:00Z
We loved our cosy stay at Drift House Annexe. We received a friendly welcome and had everything we needed. Beautiful walks from the doorstep. We hope to stay again in the not too distant future.
Lisa
2016-02-15T00:00:00Z
Great cottage in a brilliant location! Exactly as described on the website and Rosemary provides all the essentials for your stay. Would highly recommend it to others
Matt
2016-02-13T00:00:00Z
Typ pokoje
Celý dům/byt
---
Typ nemovitosti
Byt
---
Ubytuje
2
---
Ložnice
Brixham, Velká Británie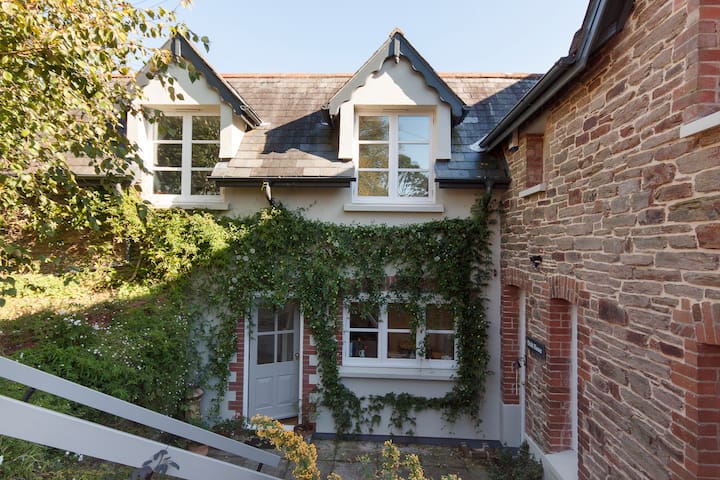 Great room, great host, brilliantly central location.
Bev
2017-04-02T00:00:00Z
The host canceled this reservation 6 days before arrival. This is an automated posting.
Tim
2017-03-05T00:00:00Z
Typ pokoje
Soukromý pokoj
---
Typ nemovitosti
Byt
---
Ubytuje
2
---
Ložnice
Dartmouth, Anglie, Velká Británie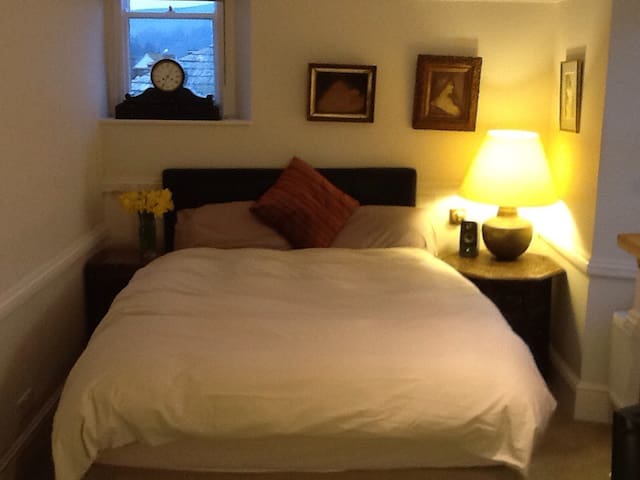 Zoe Place ist eine schöne Zwei-Zimmer-Wohnung mit Blick auf Victoria Road im Herzen von Dartmouth, und ist ein 100 Meter zu Fuß von dem Fluss vor mit seinen eigenen privaten Parkplatz. Das Hotel liegt auf zwei Etagen, ist diese schöne Eigenschaft ideal für diejenigen, die in der Nähe von Geschäften, Bars und Restaurants zu sein mögen. Es hat eine sehr angenehme Atmosphäre einen entspannten und komfortablen Platz gestattet, sich zu bleiben.
Eine schöne Ferienwohnung im Herzen von Dartmouth Town - Zoes Place, 47c Victoria Road, Dartmouth, TQ6 9RT
Great location, a few minutes wander to the shops/front. Great communication and tips of where to go from the host. Very handy having parking space also. Bedrooms compact, beds rather squeezed in. Good selection of kitchen equipment, nice to have handwash/shower gel etc provided. Overall good visit.
Tori
2017-03-12T00:00:00Z
The flat was in a good location, clean and well stocked with hand wash and cleaning products. Good communication with the owner and written information. Shops and pubs nearby.
bevely
2017-02-05T00:00:00Z
Zoe's Place was very conveniently situated for exploring and enjoying the attractions of Dartmouth. Matthew was a great host - very helpful and easy to contact. The flat had everything we needed for our short break. Thank you.
Emma
2017-02-14T00:00:00Z
Cute place to stay in walking distance to the main square. Matthew was a fantastic host with tips and ideas of things to do
Jess
2017-01-24T00:00:00Z
Typ pokoje
Celý dům/byt
---
Typ nemovitosti
Byt
---
Ubytuje
8
---
Ložnice
Dartmouth, Anglie, Velká Británie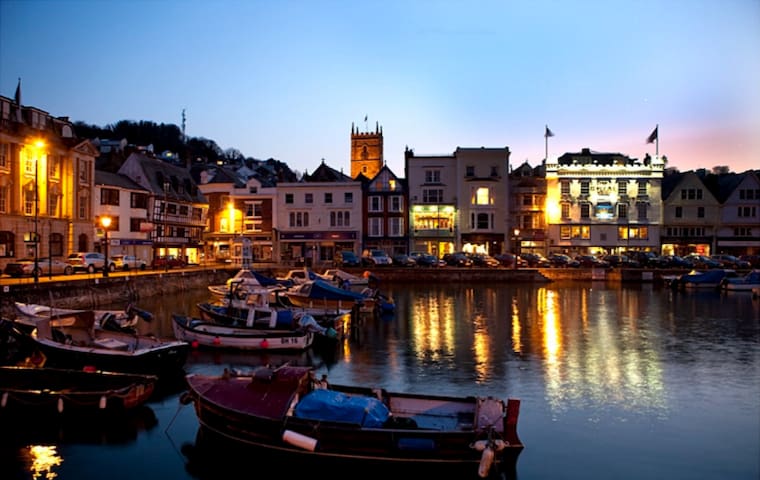 A 1 bed apartment finished to a high standard in a perfect coastal location which enjoys stunning bay views. Short walk to Torbay Leisure Centre, 5 minutes walk to Goodrington Beach, 1 mile to Paignton Zoo and 15 minutes walk to Paignton town centre.
An apartment finished to a high standard with fantastic views over Torbay to Brixham. Well equipped with on street parking. Double bedroom with sea views, wardrobe, chest of drawers and bedside cabinets. Super king size bed / two single beds. Lounge with dining area, well equipped kitchen (with some basic supplies provided e.g. olive oil, salt/pepper, tea, coffee) and bathroom with a shower. Guests have private access to the decking area outside the apartment furnished with table, chairs and a bbq.
You are spoilt for choice with the activities on offer nearby, with a great range of things to do for all age ranges. Goodrington beach is a 5 minute walk away with a dog-friendly area all year round. The beach is located on the south west coastal path ideal for walkers and offers a range of water sports, with kayaks, stand up surf boards to rent (the kayak from Broadsands to Brixham is particularly beautiful.) Quaywest waterpark is located next to the beach along with a range of cafe/restaurant options. Goodrington steam train station is next to the beach nearby which is on the Paignton to Kingswear steam railway route and links to the round robin river boat and bus link. Torbay leisure centre and velopark (cycle hire available) is also a 3 minute walk from the apartment. Paignton zoo is a mile away from the apartment with Morrison supermarket next door. The pretty town of Totnes with a range of independent shops is a 15 minute drive away.
We had a lovely stay in this gorgeous little apartment. We had everything we needed and more, including sea views, a welcoming host and cream tea on arrival!
Patricia
2016-03-25T00:00:00Z
Lovely place and a lovely host, absolutely prefect place both location and accommodation Alison was very friendly and even left some thoughtful extras for our arrival - milk, orange juice, scones cream and homemade jam Thank you for a wonderful stay! Would highly recommend!
Charlie
2016-11-23T00:00:00Z
Perfect little get away for us and our dog! Everything was immaculate and exactly what we needed. The prosecco and scones when we arrived were perfect. Will definitely be staying again!!
Bex
2017-02-17T00:00:00Z
We stayed in this fantastic apartment for my partners 40th. We were welcomed to fresh scones, bread, flowers and a few essentials (milk, bread,teabags etc) which we thought was a lovely touch. The kitchen has everything you need inc a coffee machine. The bedroom is a great size and fit a blow up bed for my 9 year old perfectly. The super king size is so comfy, perfect for me as 34 weeks pregnant. I would highly recommend this apartment to anyone thinking of booking. It's a lovely quiet area and a very short walk to the beach.
Natalie
2016-05-23T00:00:00Z
Amazing time at headland view best, beautiful views and location was spot on! We felt very welcomed and are already looking to come back, highly recommend to anyone!
Becky
2016-04-19T00:00:00Z
Alison was extremely welcoming.The apartment exceeded our expectations by a mile and would recommend anyone for it's view,location and comfort.
Ray
2016-03-15T00:00:00Z
A terrific hide away close to Paignton. View from the private deck was a real treat to enjoy after a day of sightseeing. The Nest is perfect for a couple wanting a few days away from it all.
ken
2016-09-20T00:00:00Z
The apartment is very nice and in a lovely location perfect if you have a dog ... Or if you don't! Inside the flat is well equipped with a big, comfortable bed and a good sized tv. Outside there are absolutely amazing views of the sea which you can admire from a decked area. The flat is 10 minutes walk to the sea with a great dog friendly beach. There is also a lovely field with ponds and streams which you can see from the flat and is also 10 minutes walk. Obviously, to get such great views, the flat is on a hill but there is plenty of car parking down by the sea if walking is not an option. Nearby, there is masses to do. The south west coast path is lovely to walk in both directions and the steam train chuffs along between Paignton and Dartmouth. Brixham is just down the coast and everything is accessible by bus too.
Caroline
2016-09-04T00:00:00Z
Typ pokoje
Celý dům/byt
---
Typ nemovitosti
Byt
---
Ubytuje
2
---
Ložnice
Paignton, Velká Británie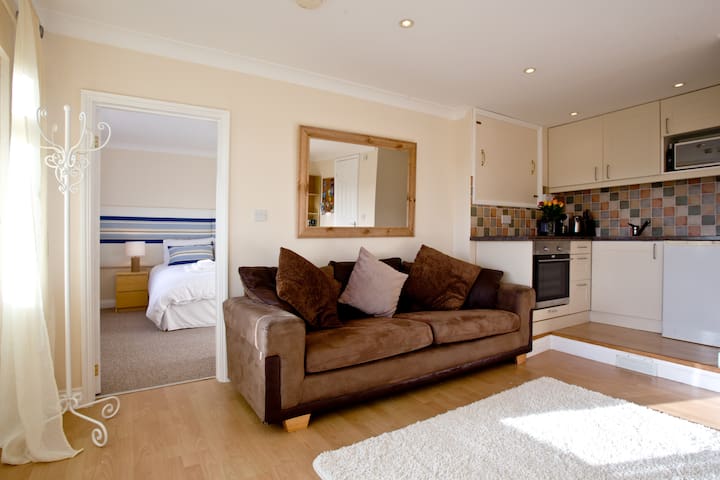 Kingswear - Airbnb
:
Průměrně

4.85

z

5

hvězdiček na základě

393

hodnocení hostů
1

–

18

z

218 Pronájmy bytů
Pro zobrazení celkové ceny zadej termín. Mohou být přidány další poplatky a daně.