Welcome to the newly opened Casper Suite which is located on the outskirts of the Spanish opened in February 2017 roku.Jest a very modern housing estate located at a distance of 100m from the shops, shopping center Dom Sea and the most popular in the whole Trojmiescje Outlet Fashion House.Apartament is decorated very modern Scandinavian style, with two bedrooms exit to a sunny terrace overlooking the playground and in the countr, private underground parking with elevator silent
The apartment is unique because it is nice, modernly furnished in a quiet area close to shops
Typ pokoje
Celý dům/byt
---
Typ nemovitosti
Byt
---
Ubytuje
4
---
Ložnice
Gdaňsk, pomorskie, Polsko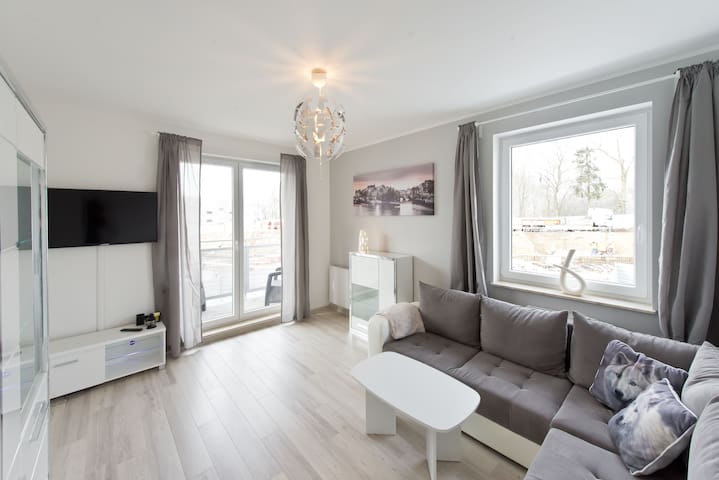 Wyposażenie: - tv - łazienka - balkon - wyposażona kuchnia - ok 15 km do morza - ok 4,5 km do jeziora Otomin - ok 8 km do centrum - ok 700 m do przystanku autobusowego - parking zewnętrzny - wi-fi/ płatne dodatkowo 20 zł/tydzień Mieszkanie położone jest na zamkniętym osiedlu na obrzeżach Gdańska. Equipment: - tv - bathroom - balcony - kitchen - +/- 15 km to the beach - +/- 4,5 km to Otomin lake - +/- 8 km to the Old City - +/- 700 m to bus stop - parking
Cicha, spokojna okolica, niewielkie zaludnienie osiedla. Calm and quiet, not much people living there.
Gorąco polecam to mieszkanie! Czyste, zadbane, dokładnie takie, jak w opisie. Świetny kontakt z gospodarzem, który wstał o 2 w nocy, żeby przekazać nam klucze. Lokalizacja mieszkania dość daleko od centrum, ale za to bardzo blisko do komunikacji miejskiej. Blisko Biedronka i spore centrum handlowe z Ikeą. Samochodem dość blisko w każdy punkt Trójmiasta. Plusem jest położenie niedaleko obwodnicy, więc można się bardzo sprawnie przemieszczać. Jeszcze raz polecam :-)
Gabriela
2016-07-28T00:00:00Z
Bardzo dobry kontakt , ładne mieszkanie, czyste, z wieloma udogodnieniami. Jeżeli będę w Gdańsku chętnie zawitam ponownie :) Właściciel słusznie pisze o zalecanym samochodzie podczas pobytu. Choć dojazd do centrum nie jest wcale utrapieniem. Pozdrawiam :)
Krzysztof
2016-07-18T00:00:00Z
The apartment is like in the photos. Very clean, very good location. Communication with the host was great. I would recommend!
Irene
2016-06-08T00:00:00Z
Mieszkanie na żywo prezentuje się jeszcze lepiej niż na zdjęciach - fajnie urządzone i w pełni wyposażone. Znajduje się w cichej okolicy, a dojazd samochodem do centrum czy nad morze zajmuje tylko kilkanaście minut. Świetny kontakt z gospodarzem. Polecam!
Dominik
2016-08-01T00:00:00Z
Mieszkanie w pełni zgodne z opisem i zdjęciami, czyste, komfortowe i ładnie urządzone. Cicha i spokojna okolica, dobry dojazd do centrum po kilkuminutowym spacerze na autobus. Gospodarz miły, chętny do pomocy i udzielenia niezbędnych informacji. Bardzo sprawne zakwaterowanie i wyprowadzka. Zdecydowanie polecamy Gospodarza i mieszkanie.
Adam
2016-05-30T00:00:00Z
Our family had a great time in Mateusz's apartment. It's lovely spacious and well equipped apt in modern style. Mateusz was very welcoming and helpful owner. We really recommend it!
Роман
2016-08-05T00:00:00Z
Mieszkanie jest bardzo ładne. Położone jest w cichej i spokojnej okolicy. Kontakt z Mateuszem przebiegł bez żadnych problemów. Niestety oferta przeznaczona jest raczej dla osób posiadających samochód, dojazd z walizkami może być nieco uciążliwy.
Jakub
2016-07-10T00:00:00Z
Miejsce godne polecenia, bardzo czysto. Dobry kontakt z gospodarzem. Polecam wszystkim szczególnie osobom zmotoryzowanym. Wylot na obwodnicę jest bardzo blisko dzieki czemu wszędzie łatwo dojechać. Duży pozytyw :)
Agnieszka
2016-08-18T00:00:00Z
Typ pokoje
Celý dům/byt
---
Typ nemovitosti
Byt
---
Ubytuje
4
---
Ložnice
Gdaňsk, pomorskie, Polsko
Moja oferta jest w pobliżu: lotnisko, komunikacja publiczna oraz centrum miasta. Pokochasz moją ofertę z uwagi na: okolica i klimat. Moje miejsce jest dobre dla: pary, przygody solo, podróżujący w interesach oraz rodziny (z dziećmi).
Jesteśmy bardzo zadowoleni! Apartament idealnie przygotowany, zadbany, ładny, czysty. Świetna lokalizacja - blisko Gdańska, spokojna okolica. Bardzo dobry kontakt z gospodarzami.
Karolina
2016-07-24T00:00:00Z
Typ pokoje
Celý dům/byt
---
Typ nemovitosti
Byt
---
Ubytuje
4
---
Ložnice
Kowale, pomorskie, Polsko
Comfortable apartment in a quiet neighborhood. Great place to rest after a day of activities. Easy access to the center and the Tri-City ring road. Near the bus terminal, two shopping centers and in their restaurants and bars. On the outskirts of small shops and Ladybug. Before the block playground. In three minutes you get to the lake surrounded by alley - a perfect place for walking, the way another playground and mini gym. My place is good for a couple, the adventure solo, families, business travelers.
2 min. walking to the store Biedronka
Nowoczesne i funkcjonalne mieszkanie w nowym budynku. Czyste i zadbane. Idealne dla gości z samochodem. Zbyszek był świetnym i pomocnym gospodarzem z którym łatwo było się komunikować.
Maciej
2016-09-04T00:00:00Z
Gospodarz bardzo pomocny, mieszkanie zgodne z opisem - czyste, komfortowe, świeże i z dobrze wyposażoną kuchnią. Wysoki standard.
Anna
2016-08-14T00:00:00Z
Très bon logement, dans un quartier calme et tranquille. L'accès au centre ville est facile malgré la distance (il faut bien compter une demi-heure). Le cadre de l'appartement est très sympathique et une balade autour du lac est toujours profitable. :)
Olivier
2016-09-16T00:00:00Z
Mieszkanko wspaniałe, czyste, pachnące, pościele, ręczniki.. W pełni wyposażone, czułem sie jak w domku. Polecam
Artiom
2016-08-22T00:00:00Z
Good host, very communicative and responsive to issues. There was an issue with the internet, but Zbyszek was quick to react to help out. Much appreciated. As for location, it is ideal to have a car, especially if you stay out later hours at night (or you can use uber). Great value, because the place itself is great and comfortable. Note that there are no laundry facilities. That said, I was very satisfied with my stay. Recommended.
Philippe
2016-08-07T00:00:00Z
Począwszy od momentu kontaktu po rezerwacji aż do oddania kluczy mieliśmy świetny kontakt. Miejsce schludne i czyste, przestronne. Oferta godna polecenia a sam Zbyszek to bardzo komunikatywny człowiek :)
Marek
2016-09-01T00:00:00Z
Gospodarz bardzo pomocny, gdy zapytaliśmy o miejsca, które jego zdaniem warto odwiedzić w Gdańsku, przygotował nam obszerną listę (szczególnie polecamy lodziarnię Altana Smaków ;)). Nowoczesne, czyste, zadbane mieszkanie w nowym budynku z windą - w pełni zgodne z zamieszczonymi zdjęciami. Dostępne wszelkie niezbędne sprzęty, na ogromny plus zasługuje świetne wyposażenie kuchni. Bardzo przyjemna, cicha okolica, w sam raz na odpoczynek. Dużo miejsc na spacery. Daleko od centrum, jednak pętla autobusowa praktycznie pod blokiem, tak samo jak Biedronka, niedaleko także 2 niewielkie centra handlowe. Bez problemu dostępne miejsce parkingowe. Polecamy :)
Michał
2016-09-25T00:00:00Z
Прекрасная квартира - после ремонта, уютная и чистая. Очень заботливый хозяин, всегда был на связи. Встретили, все показали и рассказали. Чувствовали себя как дома. Район приятный, тихий, рядом магазин и остановка транспорта. Ездили на машине, рядом окружная дорога, удобная транспортная развязка. Очень рекомендую!
Nataliia
2016-08-27T00:00:00Z
Typ pokoje
Celý dům/byt
---
Typ nemovitosti
Byt
---
Ubytuje
4
---
Ložnice
Gdaňsk, pomorskie, Polsko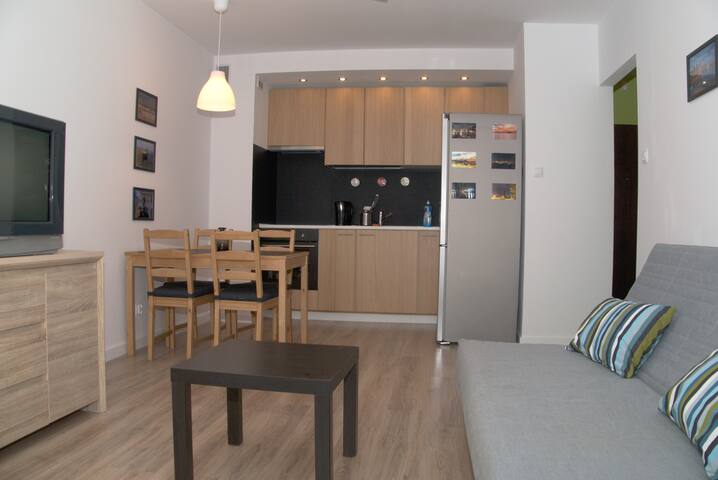 Hello, I have to offer 55 m2 apartment on the street. Porębskiego, just above the pond (from the terrace you can see a pond, can be reached on foot in 1 minute), 15 minutes by car to the city center (20/25 bus). Studio is spacious and comfortable, located on the ground floor overlooking the pond. Ideal for people who appreciate quiet surroundings with the proximity of nature with easy communication with the city center.
Wszysyko ok, bardzo ładne miejsce idealne na wypad dp Gdańska. Dziękujemy za gościnę.
Marta
2016-04-17T00:00:00Z
Oferta zgodna z opisem. Mieszkanie czyste i przytulne. Lepsze dla 4 osób. Dla pięciu mogłoby okazać się ciasne.Okolica cicha i przyjemna. Około 10-15 minut samochodem od centrum. Nie miałam okazji poznać osobiście gospodarza (niemniej jednak kontakt mailowy bardzo sprawny), a jedynie jego kolegę Bartka (bardzo sympatyczny i niezwykle pomocny). Polecam wszystkim!
Paulina
2016-02-29T00:00:00Z
Great little apartment. We stayed for 11nights and it was great. Good connections with city centre and all tricity. Some shops around. Due to our early flight we could check in earlier. Jarema welcomed us and gave all needed info. Just great. Apartment itself needs couple minor fixes but it was pointed out. Hope it'll be done for other visitors.
Maciej
2016-08-15T00:00:00Z
Polecam każdemu! Mieszkanie spełniło nasze oczekiwania :) A najmilej zaskoczył nas przesympatyczny i opiekuńczy Gospodarz :) Aż chce się wracać :) Bardzo dziękujemy Ameraj!
HELENA
2016-02-14T00:00:00Z
Mieszkanie na prawdę świetne. Bardzo dobry dojazd do Starówki i piękne otoczenie. No i oczywiście przemiły gospodarz :) Polecam wszystkim
Maciej
2015-11-19T00:00:00Z
Super okolica i przede wszystkim bardzo mily gospodarz. polecam
Pepe
2015-10-16T00:00:00Z
Жильё вполне соответствовало ожиданиям, парковка,wi-fi, необходимые мелочи. Никаких проблем не возникало. Квартира стоит своих денег.
Igor
2016-08-16T00:00:00Z
Tout était ok
Marie
2015-12-11T00:00:00Z
Typ pokoje
Celý dům/byt
---
Typ nemovitosti
Byt
---
Ubytuje
5
---
Ložnice
Gdaňsk, pomorskie, Polsko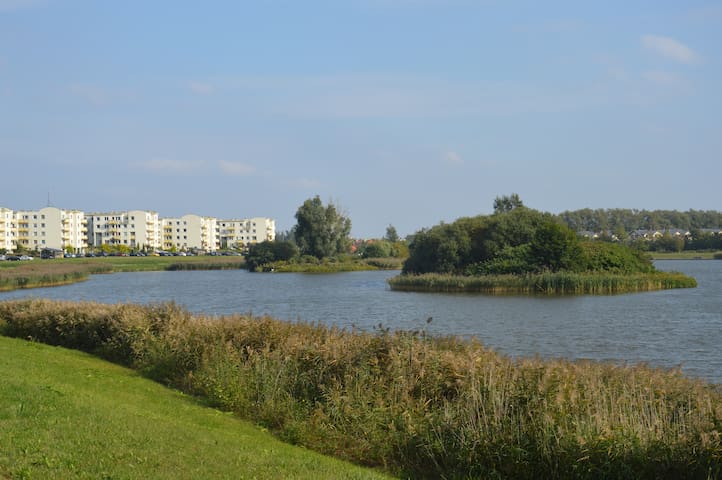 Welcome to the cozy yet modern apartment which is fully equipped for daily life in the apartment is free Wi-Fi and kablówka.Dużą advantage is the proximity to all the shops, shopping center, dentist, doctor, etc ..
Living room is connected with the kitchen and the outside terrace, which gives a large space in the living room is a very large comfortable sofa bed with linens czysciutka in the second bedroom has two single beds which can be split mattress for 5 osoby.Posiadamy also travel cot for the baby. From the living room and the terrace is a direct view of the playground dzieci.Kuchnia has a refrigerator, countertop induction, dishwasher, large bathroom has a bath with a shower immediately and a modern washing machine and dryer
Quiet neighborhood about 4 km to a large beautiful lake with a beach, horse riding, gym, shopping mall, outlet fashion hause largest in the Tri-City, hiking and biking, restaurants in the center of hadlowym
Very nice and modern apartment, close to big outlet mall, but not close to city centre (but we drove so that didn't matter) Private parking and play ground is a plus. We enjoyed our stay and would come back.
Hans Jørgen
2016-08-09T00:00:00Z
The host canceled this reservation 49 days before arrival. This is an automated posting.
Angelina
2016-06-24T00:00:00Z
The host canceled this reservation 3 days before arrival. This is an automated posting.
Irina
2016-12-06T00:00:00Z
Szczerze polecam! Nowoczesne mieszkanie z dwuosobowa sypialnia dziecieca i przestrzenia wspolna: z wielka kanapa rozkładana na trzyosobowe łóżko, aneksem kuchennym, ekspresem Nesspresso, garderoba, telewizorem i balkonem z przyjemnym widokiem. Mieszkanie czyste i wygodne, dodatkowo nie ma problemu z kluczem, bo jest kodowana klamka. Spokojna okolica, zadbane osiedle z zamknietym parkingiem, w pobliżu sklepy i markety. Kontakt z właścicielem bezproblemowy, dodatkowo bardzo wygodne, elastyczne godziny zameldowania/wymeldowania. Świetne miejsce na pobyt dla max 5osób, polecam!
Kinga
2016-05-19T00:00:00Z
Szczerze polecam! Duży, jasny apartament; świetny kontakt z p. Krzysztofem, który okazał się pomocnym i bardzo elastycznym gospodarzem.
Aleksandra
2017-02-05T00:00:00Z
Typ pokoje
Celý dům/byt
---
Typ nemovitosti
Byt
---
Ubytuje
5
---
Ložnice
Gdaňsk, pomorskie, Polsko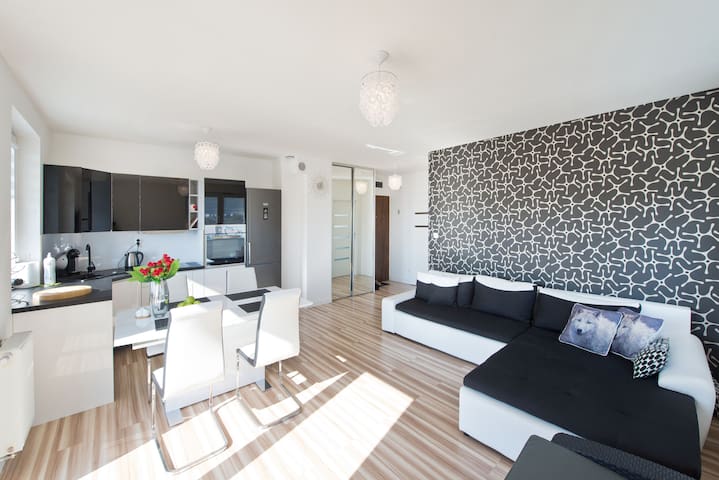 A room for 2 (+ second room for another 2 guests) in a spacious 3-room apartment on the 1st floor with access to a cozy green patio. Quiet location, close to the ring road (convenient for car travellers). Reserved parking lot (please send a note if you need it). A public transport stop within a 3-minute walk distance. A 25-minute ride to the historic part of the city.
The apartment has 2 permanent tenants: 2 marvelous ginger cats. At the moment we have only limited mobile Internet.
2 well equipped playgrounds in the vicinity. A small grocery store 50 m from the house.
Typ pokoje
Soukromý pokoj
---
Typ nemovitosti
Byt
---
Ubytuje
4
---
Ložnice
Gdaňsk, pomorskie, Polsko
Service "suiteGDA" was created on the individuals and companies. "Apartments" - we offer short-term rental apartment well placed in communication with the ring road (airports, shopping centers), guaranteeing trouble-free access to the center. The place is good for a couple, business travelers and families (with children). We provide the service "concierge" - a comprehensive organization of your stay in the Tri-providing activities and relaxation for the guest and his family. We are at your disposal.
Marcin est un hôte très sympathique et professionnel. Dans son appartement (très propre, bien équipé et assez bien localisé-15 min en bus du centre ville) il nous a parfaitement reçu. Grâce à son excellent sens du service, nous avons passé un très bon séjour à Gdansk.
Adrien
2016-12-30T00:00:00Z
Oferta oraz jej realizacja spełniła wszystkie moje oczekiwania. Apartament jest nowoczesny, czysty i znajduje się w cichej okolicy. Parkin znajduje się na ogrodzonym osiedlu. Z tej lokalizacji można dojechać do każdego z miast trójmiasta w kilkanaście minut co było. Również zaangażowanie oraz profesjonalizm Pana Marcina zasługują na pochwałę. Podsumowując gorąco POLECAM.
Karolina
2016-12-02T00:00:00Z
Apartament jest bardzo ładny, nowocześnie urządzony, dokładnie tak jak na zdjęciach. Na wyposażeniu wszystko, czego potrzeba na wyjeździe. Świetna lokalizacja dla osób, które chcą uniknąć nasyconego turystami centrum. Widok z balkonu na tereny zielone. Pan Marcin przesympatyczny i bardzo pomocny. Polecam!
Anna
2016-09-14T00:00:00Z
Marcin has been a great host and the very definition of Airbnb. He kept close contact to make sure we check in smoothly, showed us around and gave us all the tips to fully enjoy Gdansk. He organized us a table at a great restaurant in the city and has been more than helpful in any endeavour to accommodate our needs and make the stay enjoyable. Upon arrival, some cold beer awaited us as well as chocolate santas for all of us, suiting the time of of the year :) Needless to say, the apartment was spotless and even more beautiful than seen on the pictures. Fully recommend and will come back when in Gdansk again!
Maikel
2016-12-12T00:00:00Z
Bardzo się cieszę, że wraz ze znajomymi mieliśmy okazję spędzić czas w tym apartamencie. Oferta przedstawiona na stronie w stu procentach pokrywa się z tym, co zastaliśmy na miejscu. Wszystko było przygotowane na nasz przyjazd i niczym nie musieliśmy się martwić. Pan Marcin jest świetnym gospodarzem: otwarty, z poczuciem humoru; czuliśmy, że w razie jakichkolwiek pytań, problemów możemy na Niego liczyć. Gorąco polecam wszystkim, którzy planują pobyt w Gdańsku :) Świetne miejsce na odpoczynek! :)
Joanna
2017-01-01T00:00:00Z
Perfekcyjnie - to pierwsza myśl, która pojawia się rankiem po nocy spędzonej w oferowanym mieszkaniu. Przy każdej podróży człowiek się zastanawia co musi ze sobą wziąć - w tym przypadku potrzebujesz w zasadzie tylko ubrań. Tutaj naprawdę wszystko jest na miejscu, niczego nie brakuje. Mieszkanie jest kompletnie wyposażone, po powrocie ze zwiedzania czujesz się jakbyś wracał do swojego domu. Jeśli chcesz naprawdę wypocząć to miejsce jest dla Ciebie.
Krzysztof
2016-08-28T00:00:00Z
Pan Marcin zadbał o to, żeby spotkało nas ciepłe miłe przyjęcie i mieszkanie było doskonale przygotowane na nasz pobyt. Drobiazgi, które świadczą o tym, że gospodarz dba o swoich gości, sprawiły, że poczuliśmy się jak w domu.
Katarzyna
2016-11-13T00:00:00Z
Wspaniały wynajmujący! Pełen profesjonalizm i zaangażowanie. Razem z rodzina czuliśmy ogromną pasje i chęć pomocy na każdym kroku. Bardzo polecam i każdemu życzę podobnego miłego zaskoczenia.
Sandra
2017-04-09T00:00:00Z
Typ pokoje
Celý dům/byt
---
Typ nemovitosti
Byt
---
Ubytuje
4
---
Ložnice
Gdaňsk, Pomořské vojvodství, Polsko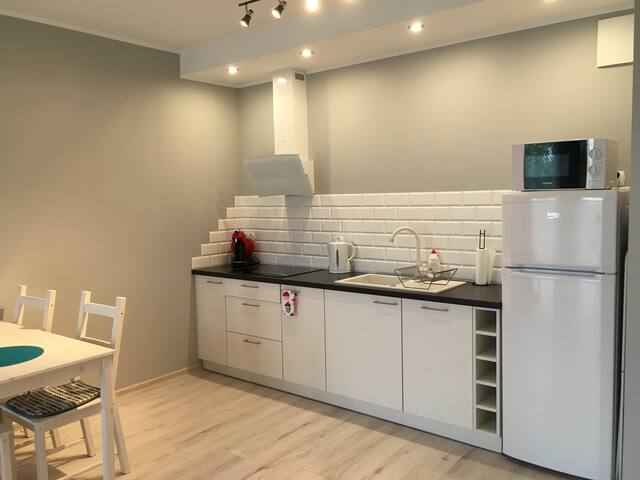 Cozy, bright, sunny apartment located on the second floor of a block on a well-communicated residential area. Safe, quiet, well-maintained neighborhood. Nearby shopping complexes, supermarkets, bus stops and tram terminal.
Typ pokoje
Celý dům/byt
---
Typ nemovitosti
Byt
---
Ubytuje
2
---
Ložnice
Gdaňsk, pomorskie, Polsko
My offer is near restaurants and food and public transport. You'll love my job because of: the location and surroundings. My place is good for a couple, the adventure solo business travelers, families (with children), and furry friends (animals). I am able to provide bedding, and I'd asked to prepare własmych pillowcases on the quilt and pillows.
Spędziłam 4 miłe dni w mieszkaniu Maćka na gdańskim osiedlu Ujeścisko. Okolica jest świetnie skomunikowana z centrum, jest cicho, spokojnie, blisko apteka, żabka, warzywniak i dwa supermarkety. Mieszkanie jest jasne, przestronne, bardzo dobrze wyposażone. Z Maćkiem widzieliśmy się tylko przez chwilę, ale jest bardzo sympatyczny i dba o wygodę swoich gości. Serdecznie polecam!
Julia
2016-08-26T00:00:00Z
Schludne mieszkanie w spokojnej i cichej okolicy. Blisko znajdują się sklepy oraz miejsca parkingowe. Zdecydowanym atutem jest świetny dojazd do obwodnicy Trójmiasta oraz wygodne połączenia tramwajowe do centrum Gdańska. Właściciele bardzo mili, pomocni oraz bezproblemowi. Polecam!
Tadeusz
2016-08-15T00:00:00Z
Mieszkanie lepsze niż na zdjęciach:) jest przestronne i zadbane. Osiedle bardzo spokojne i zielone (byliśmy z psem więc to dla nas ważne) z dobrym dojazdem (bezpośredni tramwaj do centrum). Właściciel bardzo sympatyczny i pomocny, polecamy:)
NG
2016-08-28T00:00:00Z
Wszystko było jak najbardziej okej ! :) Bardzo dziękujemy za mile spędzony czas i mamy nadzieję,że do następnego razu !
Mateusz
2016-08-03T00:00:00Z
Квартирой довольны. Поблизости есть магазины, автобусные и трамвайные остановки.
Vitalii
2017-01-05T00:00:00Z
Super! super! super! ;)
sandra
2016-10-10T00:00:00Z
bardzo szybki kontakt:)
Tomasz & Ewa
2016-07-22T00:00:00Z
Na zdjęciach zabrakło 2 istotnych elementów, które są w mieszkaniu - dwie nowe rozkładane sofy (jedna mniejsza - tu może być ciężko zmieścić się większym osobom). Całość jak najbardziej na plus, bardzo dobry kontakt z gospodarzem, bezproblemowy odbiór kluczy. Blisko mieszkania jest centrum handlowe z całodobowym Tesco - łatwo uzupełnić zapasy. ;-) Jako pierwsi lokatorzy - polecamy kolejnym.
Krzysztof
2016-07-11T00:00:00Z
Typ pokoje
Celý dům/byt
---
Typ nemovitosti
Byt
---
Ubytuje
4
---
Ložnice
Gdaňsk, pomorskie, Polsko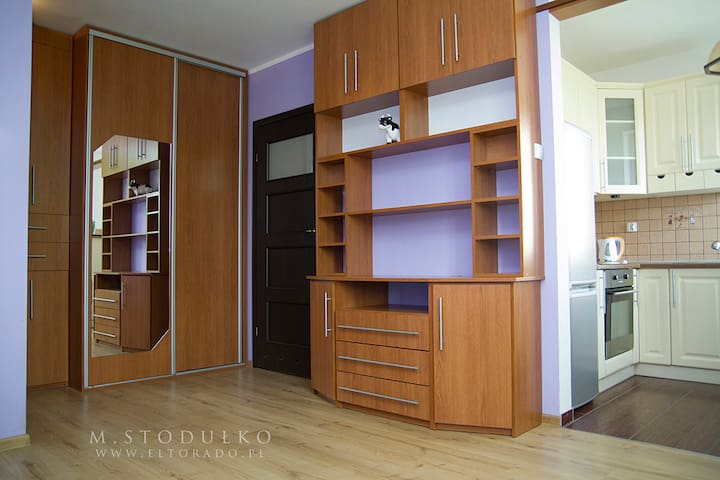 Уважаемые гости, Я живу в тихом и красивом районе под названием Ясень, Гданьск. Он расположен в 20 минутах от старого города (железнодорожный вокзал). Автобусная остановка находится в пределах 5 минут пешком. Он находится всего в 7 минутах езды на машине от аэропорта. Есть также продуктовые магазины, банкомат, такси, автобусная остановка в пределах 5 минут. Возможный слот парковки.
добрососедство, мир и покой, недалеко от старого города.
Ясень район очень тихий район.
Typ pokoje
Soukromý pokoj
---
Typ nemovitosti
Byt
---
Ubytuje
1
---
Ložnice
Gdaňsk, pomorskie, Polsko
Apartment located at the address Kołodzieja 47 is located in Gdańsk's Ujeścisko. It is one of the southern districts of the city of Gdansk, is located near the ring road which provides a free trip for the whole Tri-City and continue on the Hel peninsula, while access to public transport to the city center. The peace and quiet, while the proximity of all the attractions of Tricity.
Apartment on the street Kołodzieja 47 is a new and very cozy. The apartment consists of living room, bedroom, bathroom, kitchen and hallway. The apartment is very funkccjonalne, equipped with all necessary equipment, including iron, hair dryer, drying rack. The living room has a large dining table, TV, big corner, a wardrobe and a dresser. The bedroom has a wardrobe, chest of drawers and a sofa. The bathroom has a toilet and shower. The kitchen has a table, chairs, refrigerator, dishwasher, electric kettle, coffee maker. On the balcony in the summer season are available chairs. The apartment is located on the 3rd floor of the building with elevator. There is a place in the garage.
Typ pokoje
Celý dům/byt
---
Typ nemovitosti
Byt
---
Ubytuje
4
---
Ložnice
Gdaňsk, pomorskie, Polsko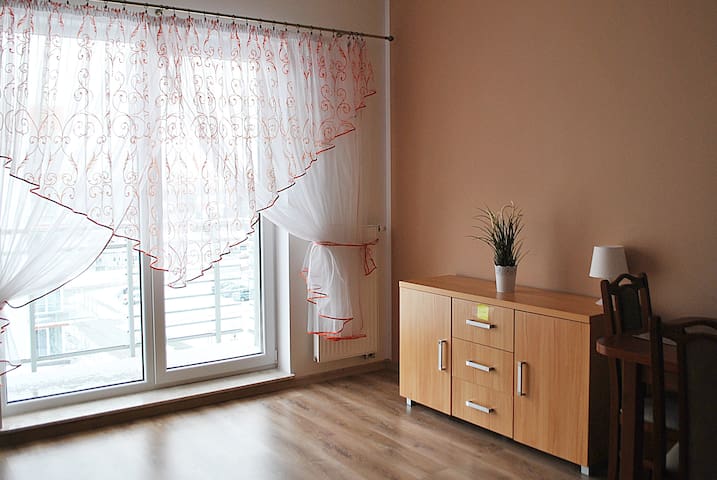 ★ Danzig Attraktionen - Old Town - 16 min mit der Straßenbahn und Bus ★ Einkaufszentren (Fashion House, Madison) - 12 min mit dem Auto ★ Kostenlose Parkplätze vor Ort in den Räumlichkeiten des Gebäudes ★ Moderne und geräumige Wohnung für 5 Personen, Kinder und Tiere sind willkommen ★ Beginnen Sie Ihren Tag mit einem Frühstück genießen, schöne Aussicht von der Terrasse ★ Toller Ort für eine Geschäftsreise, sofern WiFi und ein Schreibtisch zu arbeiten ★ Wir bieten Concierge-Service gegen Gebühr zur Verfügung stellen ★ Gastgeber sprechen fließend Englisch ★ 24/7 Check-in und Check-out
★ groß, hell und leicht zugänglich Wohnung ★ Ein bequemes, voll ausgestattetes Hotel für Geschäftsreisende oder eine kleine Familie. ★ kann beherbergen ideal 3 Personen, bis zu 5 Personen ★ Zusätzliche Säugling Krippe angeordnet sein könnte, uns nur im Voraus fragen. ★ Viele Speicher für Sie zur Verfügung wie wir ausgezogen
GEGEND Danzig - Altstadt Danzig Westerplatte Danzig - Twierdza Weichselmünde Danzig Park Oliwski Sopot Gdynia Malbork Ich markierte alle benachbarten Dienstleistungen im Führungsbereich. Sie werden unseren Platz lieben, weil es gemütlich ist, in der Nähe des Stadtzentrums. Unser Platz ist geeignet für Paare, Singles, LGBTQ freundlich, Geschäftsreisen, Familienausflüge, Gruppen und Menschen mit Haustieren.
Fantastic stay!!! We had such an incredibly warm welcome and Aleksandra even left us with a bottle of wine and some groceries to start out our stay! I have stayed in many Airbnb's and this was definitely at the top of our list for an incredible experience!!! The apartment is wonderful and Aleksandra is the perfect hostess! Would highly recommend!!!!
Julie
2017-01-25T00:00:00Z
Polecam to miejsce. Miła spokojna okolica z dobrą komunikacją miejską. Dobry dojazd do centrum. Mieszkanie przestronne i wygodne. Właściciel dbający o mieszkańców.
Krzysiek
2017-04-01T00:00:00Z
The flat is not in the center, but there is a bus stop just in front of the flat. The apartment is really beautiful and well equiped, we were welcomed with a polish drink and some cakes. We stent a really good week end!
camille
2017-02-05T00:00:00Z
Typ pokoje
Celý dům/byt
---
Typ nemovitosti
Byt
---
Ubytuje
5
---
Ložnice
Gdaňsk, pomorskie, Polsko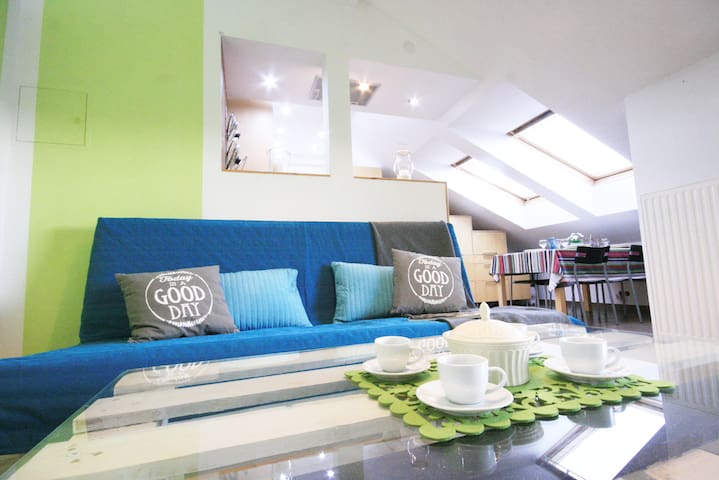 Použijte odkaz www.airbnb.pl/c/asobieska1 dostat 85zl (20euro) slevu na své první cestě! ;-) Je to místnost mých dcer, takže tam jsou knihy a další personál a jeho velmi pestré. K snídani jsme sloužit tousty se sýrem, salámem nebo šunkou, rohlíky s champinions, sýrem a cibulí, míchaná vejce nebo smažená vejce a ovoce, káva / čaj nebo džus, o víkendech obvykle upéct dort,
Je to klidné čtvrti, v noci zde noční autobusy ;-)
Aneta on mukava avulias ja valmis joustamaan tulo ja lähtöajoissa. Aneta tarjoilee myös aamiaista joka kuuluu hintaan. Vaikka asunto on hieman kaukana keskustasta, pysähtyy bussi keskustaan aivan asunnon edustalla . Kauppa on tien toisella puolen. Joka ei välttämättä halua asua keskustassa ja on kiinostunut myös esikaupunkielämästä paikka on mainio.
Kimmo
2016-08-10T00:00:00Z
Rewelacyjne miejsce, świetne mieszkanie, lokalizacja dość blisko rynku, pani Anecie też należą się pochwały!Do tego bardzo pyszne śniadanie. Gorąco polecam!
Olya
2016-05-04T00:00:00Z
Its very nice that i have spent 3 days in Aneta's home during the new year time. She is a very helpful and kind person. The breakfest is very delicious and heartwarming. I like the fried dumplings best,it is so tasty and i already miss it now just by writing. She has 2 very adorable children, which makes the atmosphere relaxed and happy. And she can also offer you a lift to the airport, which is so convenient,you just need pay a small amount money for that. The place is a little far away from city center but for a student like me its so worthy and economical. Best recommendation for students to experience local life and explore the city!
Xiang
2017-01-02T00:00:00Z
It was great to stay at Aneta`s place. She picked me up from the Central Station at Gdansk late night although I have not requested for, that was indeed very nice from her. Aneta gave me city maps and tourists information straight at my arrival. From the first second I felt very much welcomed to her flat. She purchased bread, eggs, milk and jam for breakfast. I slept in a big bed. The neigbourhood is safe, the people are friendly too.
Carmen
2015-08-17T00:00:00Z
the thing that popped out to me when I first met Aneta was how lively she was! she was so warm and talkative from the get-go, and you really feed off her energy. she offered to pick me up even though it was late at night and she had work in the morning. she seemed very interested in getting to know me, and I really liked what an enthusiastic person she was. the room has a very big bed. it was my first time ever sleeping on one so spacious! it is her daughter's room, so it is colorful, filled with pictures, etc. the flat is close to a bus stop and a supermarket as well. aneta was so kind to me. I was hungry after a long day, and she made some food and tea for me when we got home. we stayed up looking at (SENSITIVE CONTENTS HIDDEN) Images, and she showed me nice places to go. she wrote a list down of traditional Polish foods that I should eat while I'm in Poland which I still have with me today, slowly crossing things off one by one. ☺ the title says "small, cute room with breakfast" and the "with breakfast" part is so true! I woke up in the morning and aneta had made some delicious toasted sandwiches with ketchup for breakfast. to this day, it is one of my fondest memories being in such a nice, quaint household waking up to a delicious breakfast! even after I had checked out her accommodation, she emailed me asking what I had done and if I had eaten some Polish food. aneta is truly a caring soul. I would definitely recommend her.
Keane
2016-05-29T00:00:00Z
Aneta is very sincere and friendly person! If you encounter with any issues as a tourist like losing luggage or anything else, be sure Aneta will be helpful and your problem will be resolved. I recommend this place to every guest, the district is calm and safe, not far from city centre. the apartment is just near the bus stop. If I happen to be at Gdansk again, I will stay at Aneta's place for sure.
Maryna
2016-05-16T00:00:00Z
Aneta, thanks for everything during our short stay! We are glad that decided to stay at your home. The breakfast was great and delicious (thanks your lovely daughter for helping with it)! We would definitly recommend staying at you home!
Ирина
2016-07-18T00:00:00Z
Aneta is a very welcoming and very friendly person. She did everything to make our journey as comfortable as possible. We slept in her living room. For this short stay it was a good. For a longer stay it would be a little small I guess. Thank you Aneta :)
Mareike
2016-09-26T00:00:00Z
Typ pokoje
Soukromý pokoj
---
Typ nemovitosti
Byt
---
Ubytuje
3
---
Ložnice
Gdaňsk, pomorskie, Polsko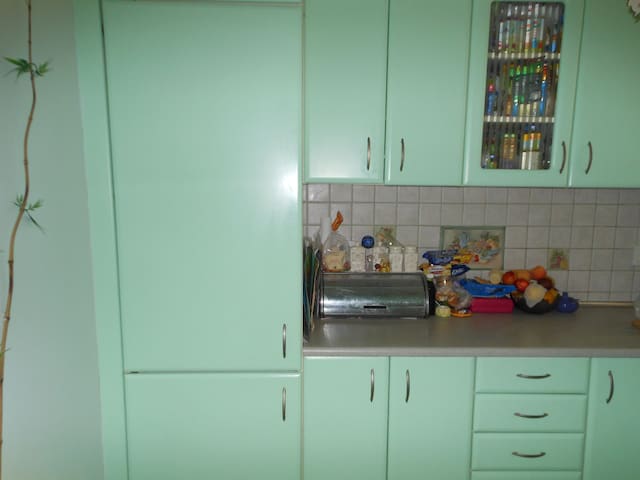 Mein Angebot ist in der Nähe des Flusses Radunia, aktive Wasserkraftwerk im Jahr 1905 entlang der Fluss des Lebens Gelegenheit zu Fuß Biber, Wald, um zu sehen, Felder. Es ist 20 Minuten mit dem Auto in die Bucht von Danzig, Strand in Gdańsk-Brzeźno. Das Anwesen verfügt über einen Tennisplatz. Mein guter Ort für Paare und Familien (mit Kindern). Etwa 15 Minuten Fahrt zum Strand oder auf der Westerplatte in Danzig Stogi. Etwa 20 Minuten mit dem Auto zum Zentrum von Danzig. Wohnung bequem.
Stille, Kontakt mit der Natur, auf dem Anwesen eines Tennisplatz. Die Wohnung verfügt über eine Jacuzzi-Wanne. Balkon, wo Sie rauchen können. Ausflüge zum Meer mit dem Auto dieses Mal etwa 20 Minuten. Zu Besuch in Danzig ist auch 20 Minuten mit dem Auto.
Polecam, dla rodziny odpowiednie miejsce.
edyta
2016-08-31T00:00:00Z
Piękne mieszkanie i bardzo mili właściciele. Dziękujemy :)
Marta
2016-08-16T00:00:00Z
Lokalizacja bardzo dobra, szybki dojazd do Brzezin nad plażę. Izabela i Krzysztof pokazali nam najciekawsze miejsca w okolicy. Miło spędziliśmy weekend w Gdańsku. Dzięki położeniu poza Gdańskiem można zaoszczędzić czas na staniu w korkach na bramkach.
Wiktor
2016-08-08T00:00:00Z
We stayed couple of nights at Isabela's apartment in August and there where no troubles at all. I have to point out that apartment is in new home district, and neighborhood is silent. Surroundings are green(URL HIDDEN)Very recommended.
Vytautas
2016-08-22T00:00:00Z
Przyjemni gospodarze, oferta w 100% zgodna z opisem, bardzo dobre usytuowanie dla osób chcących zwiedzać Trójmiasto, Kaszuby czy Żuławy, spokój i cisza wokół domu, brak problemu z parkowaniem. Polecam !
Piotr
2016-08-11T00:00:00Z
Typ pokoje
Celý dům/byt
---
Typ nemovitosti
Byt
---
Ubytuje
5
---
Ložnice
Borkowo Łostowickie, Pomořské vojvodství, Polsko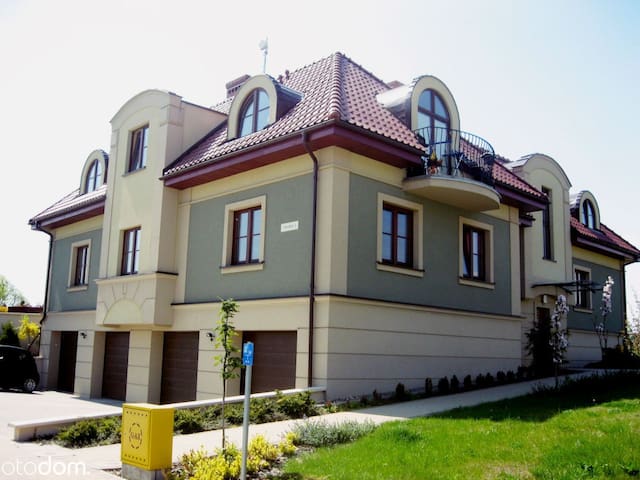 Eine große, helle und geräumige Wohnung (100m2) in einer perfekten Lokalisierung (öffentliche Verkehrsmittel, Einkaufszentren usw. innerhalb 5 Minuten zu Fuß). Vier separate Zimmer, voll möbliert, offene Küche und ein Wohnzimmer. Der perfekte Ort für einen Familienausflug
Es ist ein Apartment auf 2 Etagen. Das Erdgeschoss verfügt über ein helles und geräumiges Wohnzimmer (Sofa, großer Fernseher und Esstisch), eine offene Küche, WC und ein Schlafzimmer mit 2persons Bett. Auf der ersten Etage ist ein großes Bad, 3Zimmer (eines mit Couch und 2 mit 1,5person Betten) und ein Kleiderschrank (wird dann gesperrt). Die Zimmer sind geräumig und voll möbliert (Schreibtisch, Schrank, Stuhl und Bett). Weitere Bilder werden in Kürze hochgeladen werden.
Die Wohnung befindet sich in einer sehr günstigen Lage. Tankstellen, viele Geschäfte (kleine Einkaufszentren), McDonalds, restarurants, öffentliche Verkehrsmittel, ein schöner Park - alle innerhalb von 5 Minuten zu Fuß zu erreichen. Die Nachbarschaft ist ruhig und friedlich.
Izabela always made us feel welcome in her home in Gdansk. She answered all the questions immediately. The house is located in a quiet and safe neighbourhood, close to the grocery stores, a park and tram/bus stops which was convenient for us. The house was great for our big family with four adults and three kids, who had a blast to play with the toys that they found in the house and sleep in their separate rooms. We had everything we needed to make laundry, supper and enjoy our vacation. We definitely recommend this beautiful home. Thank you, Izabela!
Iryna
2016-08-17T00:00:00Z
Really nice apartment in a quiet district of Gdansk. Everything was perfect. The flat is really big and comfortable. A lot of parking space near the house, McDonald's and a couple of supermarkets within 500 meters.
Dmitry
2016-05-11T00:00:00Z
Квартира очень просторная, всем хватит места. Светлая и чистая. В удобном и спокойном пригороде, до центра 10 минут на автобусе. На кухне есть всё, что только можно представить. Небольшое неудобство в ванной - мыться можно только на корточках... В квартире много курили, запах ощущается довольно сильно. Для некурящих может стать проблемой. Но в целом 5 звёзд за прекрасное соотношение цена/качество! Спасибо хозяйке за отзывчивость и гостеприимство )
Andrejs
2016-08-30T00:00:00Z
We had a really nice stay at Izabela's place. It's spacious, clean and with every thing you need. The neighbourhood is quiet, near all shops. The flat is at walking distance from the bus and tram that will take you to the center of Gdansk or to the train station if you want to explore for instance Sopot for a day. The communication with Izabela went really well, she is very kind and patient, she answered all my questions. I recommend this flat for all visiting Gdansk and I'll for sure come back again.
Nisrine
2016-09-28T00:00:00Z
Wszystko idealnie, dobra lokalizacja, mieszkanie duże i zadbane.
Łukasz
2016-03-14T00:00:00Z
Życzliwy i pomocny gospodarz. Spokojna okolica, w pobliżu sporo różnych sklepów i dogodny transport do centrum.
Robert
2016-06-27T00:00:00Z
Everything was great about this apartment. First of all the homeowner was really nice and helpful. She arranged a taxi and tried to answer all the questions to the best of her ability. Now onto the apartment itself. The apartment was located at a great location, it was near a bus stop, close to a Lidl and it was in a nice neighbourhood. The apartment was clean, large and it looked nice. It had everything and we were surprised. The only downside to the apartment was the bath where you couldn't stand but the rest of the apartment made more than up for this. If I had the chance to give 10 stars then I would because we had an awesome time.
Martijn
2016-04-19T00:00:00Z
nice flat with a kitchen, a small living room and a balcony so everything you need, just the beds on the floor were tough. food stores at 5-10 minutes
Lola
2016-07-26T00:00:00Z
Typ pokoje
Celý dům/byt
---
Typ nemovitosti
Byt
---
Ubytuje
8
---
Ložnice
Gdaňsk, pomorskie, Polsko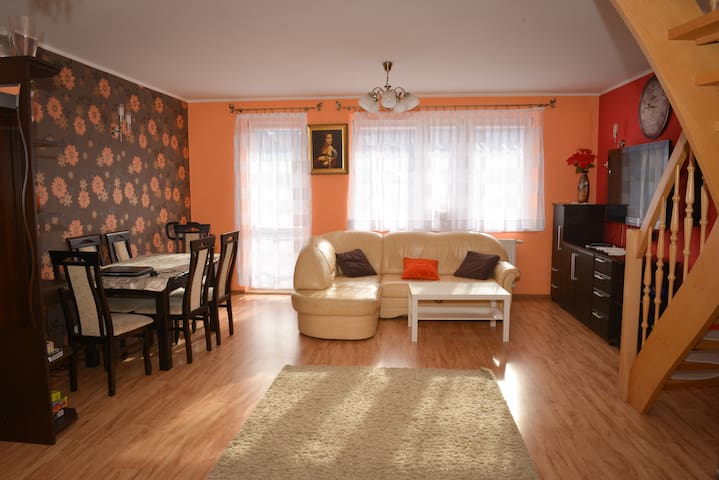 Geräumig, sonnig und frisch renoviert. Voll ausgestattet mit Küche und Bad ausgestattet, es hat alles, was man braucht. Es passt bequem 1-3 Personen. Es befindet sich in einem ruhigen Viertel, in unmittelbarer Nähe zum Stadtzentrum (10-20min). Genießen Sie den Balkon und die schöne Aussicht.
Sehr sonnige ruhige Wohnung im 3,5rd Stock (letzte Etage und ohne Aufzug) mit einer schönen Aussicht vom Balkon auf einen Wald. Alles, was Sie brauchen, ist es und innerhalb von 1-5 min.
Busse und Straßenbahnen (direkter Zugang zum Zentrum) sind nur 5 min entfernt. Ein Lebensmittelgeschäft vor dem Gebäude (könnte nicht näher sein), ein Pub / Restaurant und Zahnärzte (nur für den Fall :-), 24/7 Tankstelle (Shop / Lebensmittel), Medizinische Klinik, Kirche und sogar ein Mc Donald alle innerhalb von 5 Minuten zu Fuß zu erreichen. Auch alle Arten von Geschäften von Rabatt (Biedronka, Dyskont) nach Top-Qualität ein (Piotr I Paweł) nur 5-10 Minuten entfernt. Auch gibt es einige Gras Raum und ein Wald direkt vor dem Gebäude - ideal für einen Spaziergang oder Joggen.
A spacious apartment with huge TV and everything you need for a few days stay. Had some problems but nothing out of the ordinary. Anna was helpful and I am sure if I needed something, she would help me out. Anna also speaks good English. Flat is good if you're traveling by car (as I was) because you have free parking and city center is reachable in 5-10 minutes. McDonalds is very near if you want a quick and easy meal.
Janeks
2015-11-19T00:00:00Z
all good - including the apt. and the (safe, fairly quiet) location. anna is good with communicating too.
jon
2016-06-09T00:00:00Z
Anna is a wonderful host. She had a solution for everything (even my very late arrival) and made everything possible. Prompt reply by phone or email on any question. I really felt welcomed. The freshly renovated apartement has everything you need, is within walking distance of bus and tram and in a quiet and very nice area of Gdansk with a nice view from the sunny balcony. For me everything was perfect and I definately will come back.
Norbert
2015-05-12T00:00:00Z
Le foto dell'annuncio mostrano il reale stato dell'appartamento. L'appartamento è stato da poco tinteggiato e tutta la struttura è in buono stato. A memoria non ricordo delle pulizie così accurate in altri posti in cui ho alloggiato. Per quanto riguarda l'host, non ho avuto l'opportunità di conoscerla di persona ma è sempre stata disponibile, cordiale e gentile al telefono suggerendomi ogni tipo di necessità.
Vadim
2016-09-30T00:00:00Z
Great place to stay.
Olga
2016-08-06T00:00:00Z
Anna was really friendly, she helped me out via phone to find the place cause my car-navigation didnt work. The apartment is exactly that what you can find in the description.I absolut can recommend this apartment. Everything was nice and very easy. thanks to the host
steffen
2015-07-09T00:00:00Z
Mieszkanie zgodne z opisem, w sam raz dla 2-3 osób. W dniu naszego wyjazdu Pani Ania nie miała kolejnych gości więc mogliśmy bez problemu zostawić bagaże w mieszkaniu do popołudnia.
Anna
2016-08-15T00:00:00Z
I've spent 13 days in this apartment and I'm very satisfied. Flat was clean and nice. You won't hear the neighbours at all so I was sleeping there comfortably. Kitchen is very well equipped and Anna, the owner of this apartment was so nice and helpful. I'm recommending this apartment to anyone.
Joanna
2017-03-25T00:00:00Z
Typ pokoje
Celý dům/byt
---
Typ nemovitosti
Byt
---
Ubytuje
3
---
Ložnice
Gdaňsk, pomorskie, Polsko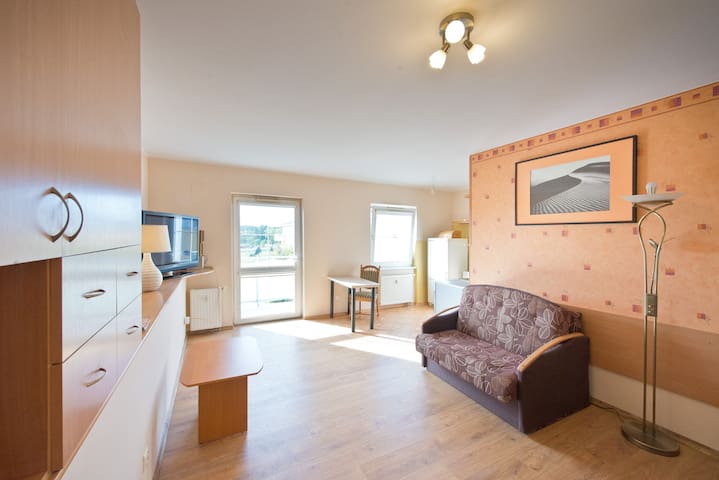 1

–

18

z

300+ pronájmů bytů
Pro zobrazení celkové ceny zadej termín. Mohou být přidány další poplatky a daně.