This private bungalow studio apartment has everything to offer and its the perfect spot for a quick getaway to Orlando. Just 10 minutes from the Orlando- Sanford Intl airport, 25 to downtown Orlando, 30 to Daytona and 40 from the attractions.
This newly remodeled chic apartment is a one bedroom & bath studio with beautiful laminate wood flooring. The space provides with kitchen convinces such as a microwave, mini fridge, small George Forman grill, skillet, and coffee maker directly from its custom kitchen island counter. There is a 42' LED TV with cable and HDMI hookup, you can watch from the kitchen bar or from your bed. The bed is a comfy full size - there's also an air mattress provide for guest who request one. This apartment is an extension of the main house but not connected so very private with it's own entrance.
Sanford Florida is located just north of Orlando. It's a small big town with lots of fun things to do including the River walk, fantastic restaurants in downtown Sanford, lots of parks and springs to choose from. There's more to Central Florida then the theme parks!
The Hideaway Studio Apartment is perfect for an overnight stay, it has all the amenities you could need and is very clean. Javier is very friendly and receptive, although I did not meet him in person, he was always available by phone.
Jassir
2016-11-01T00:00:00Z
The room was everything that I expected. The pictures were very accurate. The neighborhood was very nice and peaceful. Enjoyed my stay very much. Will definitely stay here again!
Manny
2016-09-18T00:00:00Z
Very nice renovated garage. Right size for 2 of us and also brought my 6 yr old granddaughter. Futon Bed was really comfortable, not for tall people. Just right for me 5' 7". Air mattress also very supportive and comfy. We came in late, Javier's mother called and asked if everything was good. Nice lady! I would have put a 5 star on my review, except when taking a shower, the water was lukewarm....did not even put on cold water, it lasted 3 minutes and I am a hot by nature (over 50 female). I text Javier and he explained that is what happens on cold morning and that it takes a while to warm up. Sorry but it wasn't the cool morning and never did warm up. I spoke with his mother and she said she would talk with the handy man. I felt like I was blown off and the next morning the water was warmer, but still never had to put the cold water on and it lasted maybe 7 minutes. I would suggest to ask for them to turn up the temperature on the water heater, before you arrive. Another issue there is no curtain or shade on the entrance door, which is at eye level, if someone was to walk up they can see everything and the other window, had a very light curtain. Very clean! Plenty of towels. Neighborhood was a mix of working class, a little sketchy. (Interracial) felt safe. I would use again if the water temperature is fixed. Worth the money.
Jennifer
2016-02-22T00:00:00Z
Great little place for couples to stay and save some money. Has everything you need.
Steven
2017-01-28T00:00:00Z
Pretty solid place. Very clean and well kept. For the price you can't really beat it.
Matt
2016-10-30T00:00:00Z
Javier as a person was great. Great communication skills, quick and clear responses, and very informative. The place was also quite serene and calm, the amenities were more than i expected and i overall rnjotec my stay. Definitely recommend it to anyone.
Markei
2016-07-06T00:00:00Z
Javier did a great job making sure we had what we needed before we arrived. The description is great; room was very clean; fresh sheets and towels. Internet worked well. The neighborhood was a nice one…felt safe.
Carrie
2015-09-01T00:00:00Z
Javier's Hideaway Studio was the perfect spot to stay while my house was undergoing a minor renovation. The apartment was just as described and very clean. I did not have the opportunity to meet Javier, but it was a pleasure meeting his mother. I work in the downtown area and would recommend for any travelers that have business to attend to in the area as the commute was an easy 20-25 minutes.
Brad
2016-02-13T00:00:00Z
Typ pokoje
Celý dům/byt
---
Typ nemovitosti
Byt
---
Ubytuje
2
---
Ložnice
Sanford, Florida, Spojené státy
Cool & comfortable space located in downtown Sanford. Complex is on Lake Monroe (my unit faces parking lot). 23 minutes from Orlando, 35 minutes from New Smyrna/Daytona beaches. Bedroom has a work desk, fullsize closet, and full size bed. Cat in owners bedroom only. Great space to relax & soak sun!
Excellent experience ,she's so nice , friendly , Feel like home ..Awesome ...Love lake Monroe, ... Definitely I recommend it
Millie
2017-04-05T00:00:00Z
Typ pokoje
Soukromý pokoj
---
Typ nemovitosti
Byt
---
Ubytuje
2
---
Ložnice
Sanford, Florida, Spojené státy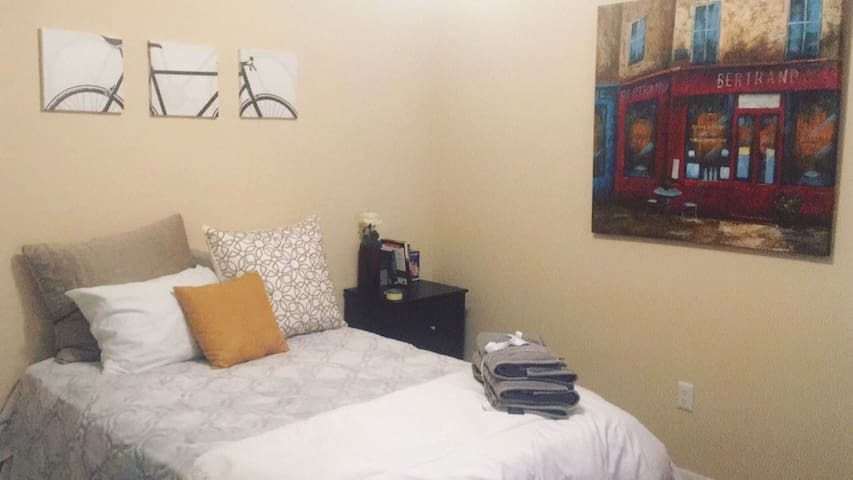 Cute studio Apartment in detached garage located in a quiet neighborhood and a short bike ride to downtown Sanford. **Guests with pets must read below** Nearly 400 sqft, with a fully stocked kitchen, queen bed, flat screen tv with roku and leather couch with coffee table.
As mentioned, the studio is freshly renovated and boasts a comfy queen bed, a flat screen TV, walk in closet, a new kitchen with everything you should need to make a meal, a very nice bathroom with a large shower. For Guests with a child, we can either set up the couch or an air mattress to sleep on. A Winn-Dixie supermarket is within walking distance and we are within ten minutes of a multitude of shopping centers.
The neighborhood is extremely safe, quiet and close to downtown Sanford. Sanford airport is under ten minutes away. We love riding our bikes downtown for dinner and drinks. A bike ride to downtown is about 5-10 minutes while walking takes about 20-30 minutes. There is almost always something going on or something to do downtown.
Stayin with Wendy and Stefan was great! The check-in was easy and everything about our stay went seamlessly. We only rented the room for one night, but it had everything we can possibly need! The location was easy to find, the neighborhood was gorgeously green, and the listing beyond cozy.
Amanda
2015-08-17T00:00:00Z
Even though I never met Wendy and Stefan they were more than accommodating. Always available for questions. The place was clean and exactly as pictured. The water in the shower is a little warm but it was fine. The neighborhood was beautiful. Even says scenic route on the way. Very quiet yet close to where you need to go. I highly recommend them if you are traveling to the Orlando Sandford area.
Alyssa
2016-02-15T00:00:00Z
We would highly recommend this listing. Excellent location with a gorgeous and safe neighborhood in the middle of everything Sanford has to offer. The studio has everything you need for a great stay all within a decently sized space. For example, I was able to save our restaurant leftovers in the mid-sized fridge and reheat them on the stovetop the next day (which is something you can never do at a hotel). Wendy and Stefan also left us coffee K-cups and two water bottles our first day, and generally gave us our own space, which was much appreciated. Overall, the listing was better than hotel quality for half the hotel price.
Kassandra
2015-07-19T00:00:00Z
I had a great experience staying at Wendy and Stefan's place. The room had everything I needed for my little getaway while moving cross country. There was plenty of privacy for the room being located across the driveway from the main house. Loved having Netflix access in the TV as well. Sanford is a cute little town and I was able to walk around the city and look at the Christmas lights at the harbor and the surrounding neighborhood.
Amy
2015-12-21T00:00:00Z
This is a fabulously clean and comfortable apartment. The bikes make getting around the historic neighborhoods of Sanford extra fun. The apartment is exactly as described. Very quiet and super duper clean! Also very close in location to grocery, gas, and chain restaurants.
Stacey
2016-12-08T00:00:00Z
We had a great experience at Wendy and Stefan's place. The space was clean, comfortable with inviting. Our hosts were helpful and friendly, and we appreciated the tip to head downtown! We found the location very convenient to all the amenities that the cool town of Sanford had to offer--we loved strolling through the park by Lake Monroe and having dinner downtown--so many amazing choices in this historic area. The location was also convenient to the airport where we had to fly out the next day. A warm and inviting experience and we highly recommend a stay with Wendy and Stefan. We hope to be back.
Mark
2017-01-02T00:00:00Z
Great place to stay, place was very clean and place seemed like it was all very new. Very private and worked out great for my business trip in the area
Marc
2017-03-04T00:00:00Z
The room was consistent with the pictures - very clean and well furnished. The kitchen area was well-stocked which was a nice surprise. Wendy and Stefan were very friendly. Downtown Sanford was a bit further away than I expected, but not a problem to get there by bike. It was nice to have a safe place to store my bike overnight.
Heather
2016-03-22T00:00:00Z
Typ pokoje
Celý dům/byt
---
Typ nemovitosti
Byt
---
Ubytuje
2
---
Ložnice
Sanford, Florida, Spojené státy
Show your culinary talent and impress your guests with preparing great meals in the fabulous kitchen!You will love this kitchen where you get to continue your diet while traveling and juice, make smoothies, shakes and lattes. The kitchen is fully equipped with juicers, blenders, measuring cups, containers to go. Here you will find a huge refrigerator for your kale, spinach, all your super greens , protein, fresh fruit, a large selection of organic green teas and coffee to start with. You will find yoga mats for your exercise, yoga, or Pilates.
Typ pokoje
Celý dům/byt
---
Typ nemovitosti
Byt
---
Ubytuje
4
---
Ložnice
Sanford, Florida, Spojené státy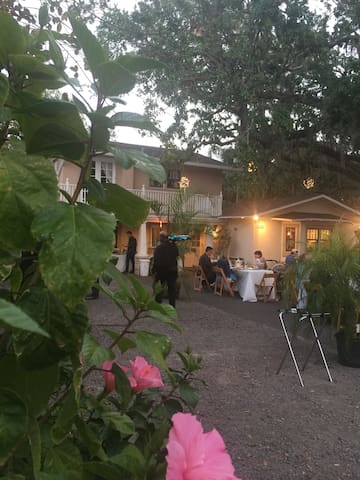 Cozy apartment located 10 mins from Sanford Airport and close to I-4 for easy access to the parks and outlets. Relaxed environment with a full private bathroom and closet. It also counts with pool, jacuzzi and gym. Patio and bedroom with lake view.
Beautiful full size bed, computer desk . Window facing the lake with a spacious full bathroom. Room can hold up to 2 guests.(1 full bed) check in at 3pm and check out 11am.
Safe gated community with nice lake views and swimming pool area. 5 minutes away from Walmart Plaza, Ross, gas station, and restaurants. Also convenient Sun-rail (train) 5 minutes away available for transportation.
My experience here was amazing! I felt extremely comfortable during my stay. Leo and his wife were amazing hosts.
Alan
2016-07-30T00:00:00Z
Leo was great, we had some good conversation and he was very accommodating. He had a couple of bottles of water and a snack waiting, a pleasant surprise.
Wolfgang
2016-12-15T00:00:00Z
Leo and his wife were very welcoming and kind. They both are very down to earth and are a sweet happy couple. I felt very at home staying with them. The room was nice and cozy. The neighborhood is easy to access and finding their home was pretty simple. I would definitely stay with them again in the future!
Kayla
2015-10-22T00:00:00Z
A great first Airbnb experience!
Christian
2016-10-09T00:00:00Z
Leo and Kenia were perfect host. I loved my stay. Their home was clean and they were so helpful even though I got in late they made sure I had what I needed and even had the delicious coffee ready for me to make fresh as soon as I will up at 5 in the morning to hurry and catch my flight. This was a great investment rather than struggle to stay awake in the airport I was able to get 4 1/2 hours of much needed sleep. I got 2 more on the flight and when I arrived I felt great and not tired from lack of sleep. If you have a early flight sleep at an Air BNB is worth the investment. Leo and Kenias place is only 10 min away from Sanford Orlando Airport, just enough time to drink my coffee. The lake view out my bedroom window was beautiful. Leo and Kenia were friendly, warm and inviting. I feel like I made 2 new friends. I look forward to staying with them every time I fly out of Sanford Orlando airport. The mattress was comfy and I liked the hand made Guatemala bedspread.
Joyce
2016-10-02T00:00:00Z
Nice residence in a nice neighborhood.
Don
2017-03-01T00:00:00Z
I enjoyed my stay.
Kenneth
2016-12-09T00:00:00Z
My experience here was phenomenal! Not only was the place clean, nice, cozy, but the hosts also went above and beyond by showing me around town. Leo and his wife were amazing, and super nice! They even offered me homemade tacos one night. The view from my room was incredible. So I arrived later than my booked date due to plane cancellations. Leo told me that he was more than happy to refund me for the one night that I didn't end up staying for. Staying at their place was definitely the highlight of my trip to Orlando!
Alan
2016-07-28T00:00:00Z
Typ pokoje
Soukromý pokoj
---
Typ nemovitosti
Byt
---
Ubytuje
1
---
Ložnice
Sanford, Florida, Spojené státy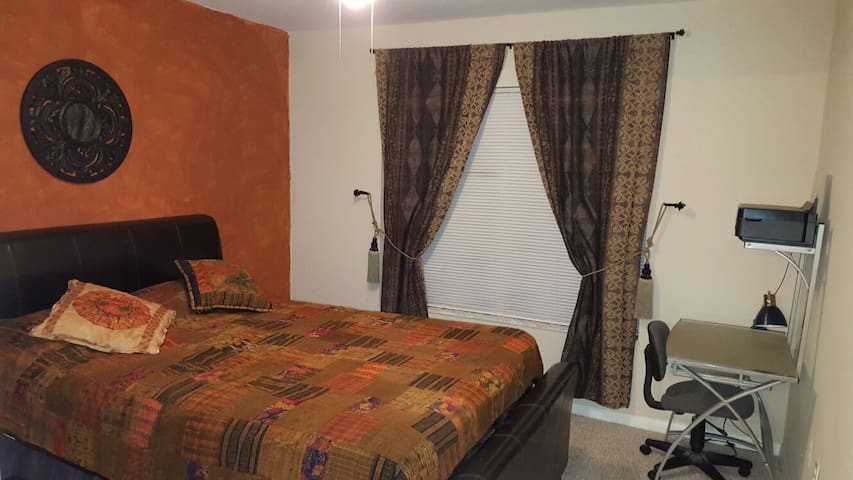 My place is close to public transport, the city center, parks, the airport. Sun-rail, Sanford-Orlando Airport, Downtown Sanford and park . You'll love my place because of the location, the people, the ambiance, the outdoors space, and the neighborhood . My place is good for couples, solo adventurers, business travelers, and furry friends (pets).
Typ pokoje
Soukromý pokoj
---
Typ nemovitosti
Byt
---
Ubytuje
2
---
Ložnice
Sanford, Florida, Spojené státy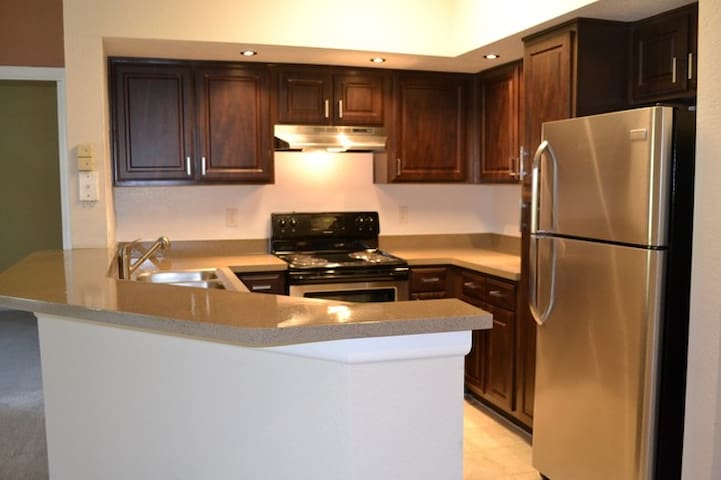 Stay in one of Central Florida's most unique properties. The 1887 Sanford Fire Station is modified for modern-day urban living. 2 BR, 2BA, 2,400 SF SOHO like loft space.
Typ pokoje
Celý dům/byt
---
Typ nemovitosti
Byt
---
Ubytuje
4
---
Ložnice
Sanford, Florida, Spojené státy
1920's style, on brick paved street with old oak trees and flowering magnolias. Eight hundred and twenty five square feet of quiet privacy. Birds eyes view of flower garden and street scene. Totally self contained, galley with full size stove and ref.
Accommodations consist of a 2 bedroom one bath apartment with private entrance. There is a queen size bed in one bedroom and a queen size bed in the other. Located on the 2nd. floor. Wi-FI available. Guest accommodations are located on the second floor. Owner lives on first floor.
We are situated in a very quiet neighborhood less than a mile away from the marina, River Walk Trail, restaurants, library, banks and public transportation. Orlando/Sanford airport is about 2 miles away.
Firmin lives downstairs and showed us the apartment when we arrived. The house is in a good neighborhood and you can walk to downtown Sanford. We enjoyed our stay.
Arthur
2017-01-24T00:00:00Z
Firmin and Minnie were great hosts, the place is nice, clean and there is a lot of space. The neighborhood is very calm, and we enjoyed our stay.
Laurent
2016-01-07T00:00:00Z
The host was attentive and the place was clean. It is an old house but it does the trick if you are looking for a place to crash after hanging out all day.
Charlie
2016-07-09T00:00:00Z
We had a wonderful stay! Close to downtown and the airport. The hosts were very nice and the accommodations were clean and comfortable.
Lisa
2016-02-28T00:00:00Z
The house is very neat, my son is very like the cealing. The host is very nice, I hope I can rent it again next time I go to Orlando
友波
2015-12-26T00:00:00Z
We enjoyed our stay. Location was on a nice quiet street, with good access to downtown. This is a older home with window air conditioners but we had Direct TV, wifi and everything necessary was good. Owners were very accommodating and friendly!
Patricia
2017-03-29T00:00:00Z
Awesome host! Highly recommended
Julien
2016-08-06T00:00:00Z
Exactly as advertised. Perfect alternative to those sterile hotel rooms. .4 mi walk to great restaurants. I had time to try Zorba's and the Willow Tree, both were awesome! Definitely will check out the micro breweries next time I stay with Fermin.
Jim
2017-01-06T00:00:00Z
Typ pokoje
Celý dům/byt
---
Typ nemovitosti
Byt
---
Ubytuje
4
---
Ložnice
Sanford, Florida, Spojené státy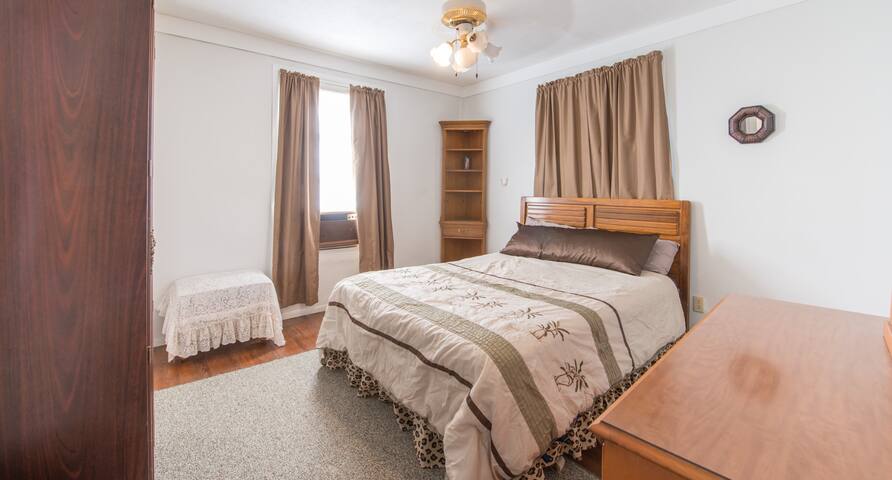 Beautiful historic guest house overlooks a serine private lake. This guest house located on 5 acres main house and gated entry. Located next to Sanford Airport, SR 417 making the beaches and theme parks easily accessible. Enjoy beautiful landscaped grounds, dry sauna, fishing and canoeing. The house is fully furnished and offers only top of the line appliances and décor. Excellent location for intimate wedding as has pavilion with butterflies galore. First class!
Has grounds for great game day parties . On beautiful lake and has great party pavilion.
Quiet and serene with beautiful flowers, birds, butterfly's and more.
This was a spectacular place to stay. Angelia and her daughter were amazing hosts. Very welcoming and friendly. The apartment is beautiful, very nicely furnished and the beds are super comfortable. It is very clean and has everything you need. All items are of very good quality. The grounds are gorgeous and immaculate. I'd highly recommend this rental if in the Orlando area.
Laurie
2016-12-31T00:00:00Z
Typ pokoje
Celý dům/byt
---
Typ nemovitosti
Byt
---
Ubytuje
6
---
Ložnice
Sanford, Florida, Spojené státy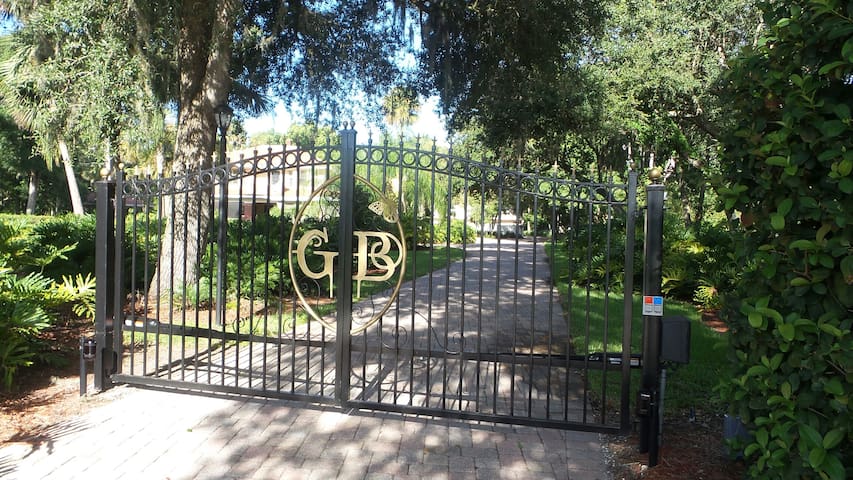 My place is close to parks, art and culture, restaurants and dining, and great views. You'll love my place because of the cosiness, the location, the views, the kitchen, and the high ceilings. My place is good for couples, solo adventurers, and business travellers.
Once book I schedule a Facetime or (SENSITIVE CONTENTS HIDDEN) meeting to go over everything and provide a virtual tour of area! This is a must for all reservations.
The best neighbourhood in Central Florida close to restaurants and shops. Amazing lake front five blocks away and a coffee/record shop 3 blocks away.
Cute little apartment close to restaurants. Nice area to walk.
Lina
2017-02-18T00:00:00Z
Typ pokoje
Soukromý pokoj
---
Typ nemovitosti
Byt
---
Ubytuje
2
---
Ložnice
Sanford, Florida, Spojené státy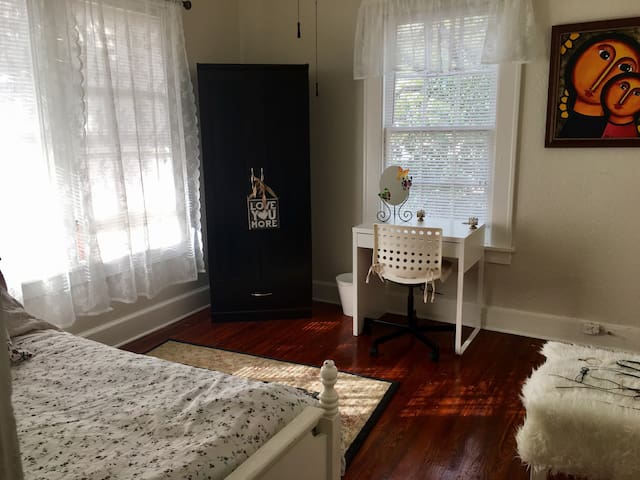 Brand new 4th floor 1 bedroom apartment w/hardwood floors, tastefully decorated and stunning pool view. Building has secure electronic keyed entrance and elevator. Quiet and beautifully furnished. Linens, dishes. Everything you need within minutes of Downtown Orlando. Shopping, bars & restaurants within a mile. Home has wireless internet, U-verse Tv, Hulu, Netflix, Amazon Prime.
It's like being in a resort every day!
Typ pokoje
Celý dům/byt
---
Typ nemovitosti
Byt
---
Ubytuje
2
---
Ložnice
Sanford, Florida, Spojené státy
Our private and comfortable 3 room apartment has 2 bedrooms, a very spacious living room, bolted ceilings and an open floor plan kitchen!
Close to downtown, spacious, private, affordable
Quite, authentic American small town with friendly people
Sica's Apt was actually better in person than we expected. It was a lovely place to stay while we did some antiquing. Definitely would come back .
Jeff
2017-03-26T00:00:00Z
Typ pokoje
Celý dům/byt
---
Typ nemovitosti
Byt
---
Ubytuje
6
---
Ložnice
Sanford, Florida, Spojené státy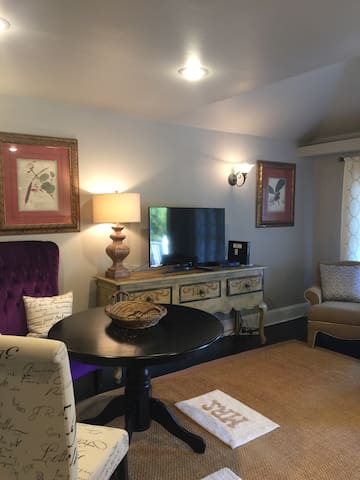 Beautiful two bedroom apartment
Typ pokoje
Soukromý pokoj
---
Typ nemovitosti
Byt
---
Ubytuje
2
---
Ložnice
Sanford, Florida, Spojené státy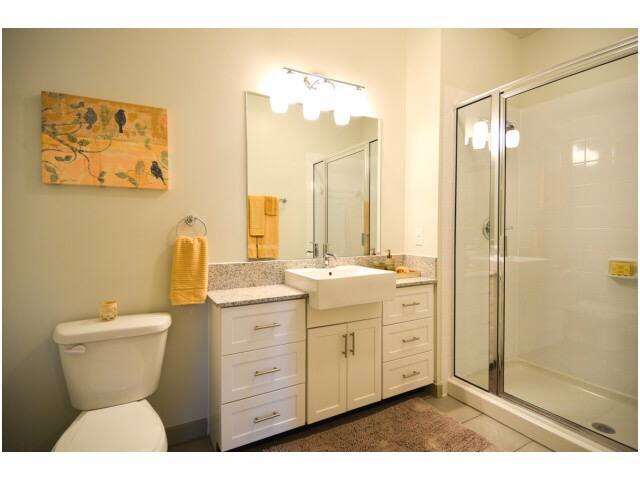 Decorated in a Rustic Chic-Glam style one bedroom. Just miles from freeway giving access to all activities, Disney, Parks, Heathrow and shopping. Enjoy the lavish resort style pool, walking trail, dog park, palm tress and eateries right outside.
Typ pokoje
Celý dům/byt
---
Typ nemovitosti
Byt
---
Ubytuje
1
---
Ložnice
Sanford, Florida, Spojené státy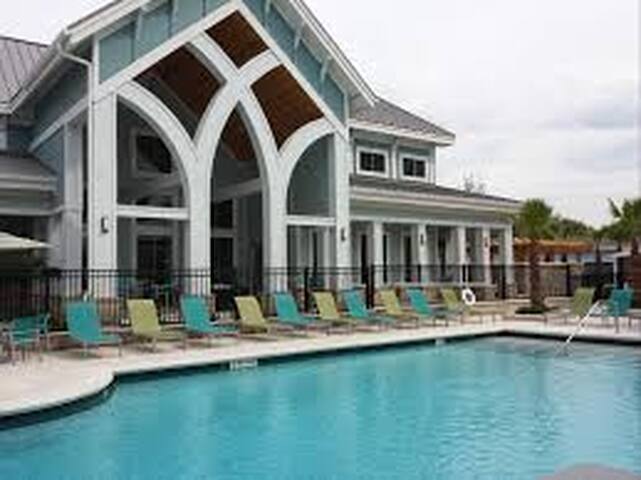 We are located in a charming historical area in Sanford. The property is well maintained and is steps away from the downtown and marina.
Enjoy classic Southern Hospitality in the heart of historic Sanford, walk to St Johns River and Lake Monroe Marina, downtown shops. Only seven minutes to Orlando-Sanford International Airport, 30 minutes to all entertainment venues. This is a charming open floor one bedroom apartment with an old fashion French chic kitchenette and a step in shower with wide entry and easy handicap accessible. Stroll out and about by bike to enjoy the old Sanford's live oak trees and very romantic parks full of bursting in fire color azaleas Bike a few minutes to the downtown Marina. shops, Zoo and River walk and shop or eat in the restaurants on main street. Or stay "home" to seep tea, read your book or catch up with your friends on (SENSITIVE CONTENTS HIDDEN) in our Wi FI tearoom either by the courtyard, under the purple clusters of purple wisteria or inside by the fireplace. Busses, the auto train, and the airport only 5 - 7 minutes away Treat yourself with this unique experience and feel the local culture as in an real, old American town with grounded people, authentic and affordable.
The little place was cute and cozy! We loved it, we agree with the others that the shower is a little different being exposed but if you are not shy it's no big deal. The bed was comfy and cozy! We enjoyed our stay! Thank you Sica for a wonderful experience.
Teresa
2014-02-01T00:00:00Z
It's not often that one gets to step into a design magazine. The apartment is a small space but visually entertaining, clean and well located. We enjoyed cycling through town and out to neighborhoods including one with peacocks! Next time we would like to check out the museum in the historically African American Goldsboro area. Unfortunately, it was closed on the weekend.
George
2014-03-04T00:00:00Z
We were flying out on Allegiant Air on an 8:00 flight and discovered Sica's place is the closest we found. Very reasonably priced, cozy and comfy. AND a short drive to the airport. Lovely kitchen and bath and furnishings, although it is somewhat similar to sleeping in a small antique shop so probably not suitable for small children! No stove so either eat out or bring some food, there is no stove. The Tea Shop next door was closed as it was Easter Sunday and I was sincerely disappointed as I was looking forward to having tea but --- maybe next time!
Vicki
2014-04-22T00:00:00Z
My visit to this bnb was very mixed. At $78 per night it is a reasonable value for the area. Sica has managed to design a very small space creatively to maximize form & function. The decor was very beautiful, though perhaps a bit over-furnished. The bathroom was nicely updated and there were fluffy robes available. The outside was well lighted and there's free parking right at the door. The neighborhood has many beautiful "old Florida" style homes. However, on the down side the upstairs tenant was very loud right above my bed while I was trying to sleep. I was also counting on the WiFi to download a book and movie before my Auto Train ride the following day, but the signal was so weak it kept going off and was essentially useless. I also found Sica difficult to communicate with after I booked. It took a couple days for her to respond about check in procedures, and during my stay, when I reached out for help with the wifi and noise, she never even responded until the next day (when I was ready to leave!) She was unavailable to greet me, and there was no note or other form of personal welcome. Then there were some "weird" things that just made me scratch my head. For instance, there was dry cereal but no milk...coffee but no (URL HIDDEN) other breakfast foods, but there was dry spaghetti and beer...bakeware, pots & pans, but no oven or stove. It's like she just through a bunch of kitchen stuff in there without thinking it through. She has a lovely antique wardrobe but the drawers & cabinet were already full. There's nowhere to unpack or hang your clothes. None of these is a serious deal breaker, but it gave me the overall sense that Sica hadn't really kept the guests' needs in mind when arranging this space. Lastly, the next door catering business was very intrusive. They parked inches from my all-glass door, passing back & forth for a couple hours. At one point a woman actually stuck her nose up to the glass and peered inside (she looked away embarrassed when she was me looking back!) If you like your privacy, you're a light sleeper, need wifi or want a personal touch, this isn't the place for you. If you just want a cheap place in a safe location to flop for the night, you'll probably be fine.
Nicole & Lisa
2014-04-03T00:00:00Z
Very charming and well-appointed apartment. The bed was heavenly to sleep in. But the shower was truly a treat-I want one just like in my own home now! The apartment is equipped with everything you could want for dining in, but we ate out every meal so did not avail ourselves of it much. It's a short drive to downtown and was a quiet neighborhood. Overall a very cozy and comfortable stay in a nice Central Florida town- One of our best AirBnB experiences to date.
Robert
2013-11-18T00:00:00Z
Nice place and good location. The lake and restaurants are only a few minutes away. Sica is very friendly and helped us at night with the checkin.
Sebastian
2016-12-28T00:00:00Z
The neighborhood felt a little unsafe, but I felt really secure with the locking system. Sica was very hospitable. She was available whenever I needed her assistance. Thank you for being so kind.
Natasha
2014-10-23T00:00:00Z
We enjoyed our stay in this cozy little "studio." The location was perfect; very close to downtown Sanford. There were fluffy robes, plenty of clean towels, and the sheets were divine! We both slept so soundly during our one-night's stay. We didn't mind the open shower, but I can see how the lack of privacy would bother some. The wifi signal was weak, but I was able to connect on both my cell phone and tablet. The iPad, however, was unable to connect. We had no problems with the upstairs neighbors or the catering business. I texted Sica a few times with questions, and she responded almost immediately. I definitely recommend this as a cozy little getaway location.
Megan
2014-05-11T00:00:00Z
Typ pokoje
Celý dům/byt
---
Typ nemovitosti
Byt
---
Ubytuje
2
---
Ložnice
Sanford, Florida, Spojené státy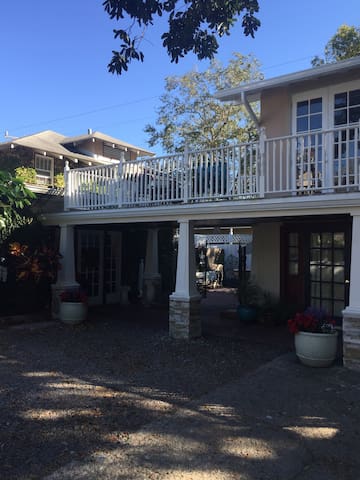 Si necesita una hermosa casa de vacaciones fuera de casa en el céntrico Longwood, Florida, entre Disney World y Daytona Beach con un servicio de conserjería quedarse con nosotros. Los buzos son bienvenidos, echa un vistazo a mi página web adventuretripsflorida.
My second stay with Laszlo was as pleasant and peaceful as the first, a very roomy, quiet and comfortable upstairs apartment perfect for my needs and an ideal location for my visit.
Gary
2016-12-20T00:00:00Z
Pretty awesome place to stay. Area is quiet and safe, our host greeted us outside, gave us a tour and was very accessible. Might just do this every year
Irving
2016-10-16T00:00:00Z
Had a wonderful stay! Beautiful place and very clean. Highly recommend.
Christine
2016-02-20T00:00:00Z
Laszlo was very easy to communicate with and the apartment was exactly as listed. It was easy to find and in absolutely pristine condition. We were very satisfied with the short travel time to downtown Orlando and the attractions. We definitely recommend this listing.
Sandi
2016-02-16T00:00:00Z
This was my first time using Airbnb. Laszlo was amazing, easy to keep in contact with, and was great in general. I would highly recommend this to anyone travelling.
Amber
2016-03-07T00:00:00Z
Nice house with all amenities. Location was good and just 15 mins drive to SFB Airport.
Sunny
2017-03-06T00:00:00Z
Great place, beautiful. comfortable and spotless!
Sharlene
2017-03-01T00:00:00Z
Beautiful, clean apartment with everything you need. Stovetop, basic cookware, fridge and freezer, wet bar, two giant bedrooms each with their own bathroom and shower. Nice comfy couches. Only negative was the Wi-Fi connection was kinda spotty. Great place for a very fair price and the owner is very nice and accommodating.
Eitan
2017-02-12T00:00:00Z
Typ pokoje
Celý dům/byt
---
Typ nemovitosti
Byt
---
Ubytuje
4
---
Ložnice
Longwood, Florida, Spojené státy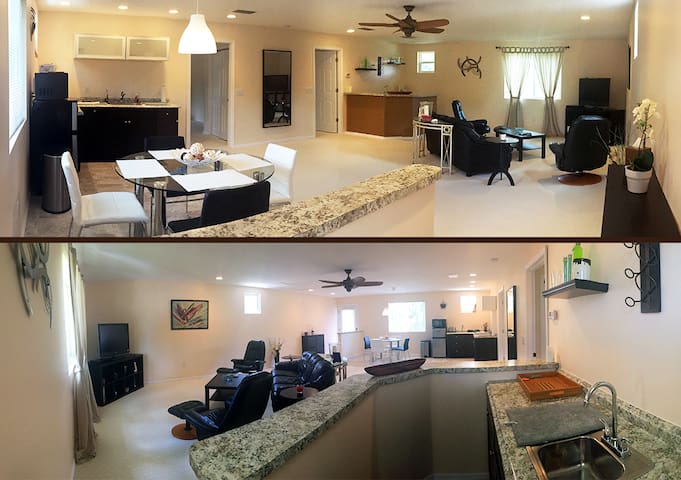 The host canceled this reservation the day before arrival. This is an automated posting.
Dustin
2017-01-16T00:00:00Z
Typ pokoje
Soukromý pokoj
---
Typ nemovitosti
Byt
---
Ubytuje
2
---
Ložnice
Lake Mary, Florida, Spojené státy
2 bedroom apartment nested behind beautiful family home with pool & hot tub, in very quiet neighborhood. Conveniently located close to I-4 (3 min), Volusia County Fairgrounds (7 min), Blue Springs (10 min), Historic Downtown Deland (15 minutes), Orlando (35 min), Daytona Beach Shores (25 min), & theme parks (45 min).
Very comfortable 2 bedroom, 1 bathroom apartment, that can accommodate up to 5 people. First room can be used as living or bed room and sleeps 2 adults comfortably. Second bedroom has full size bed with twin trundle bed. Both rooms are joined by hallway with closet kitchenette (coffeemaker, microwave and refrigerator). Full bathroom leads to outside access, swimming pool, and hot tub.
Quiet peaceful neighborhood, very close to I-4
Very clean and neat, excellent hosts!
Marisol
2017-03-19T00:00:00Z
We had a great stay! The house was very clean and can accommodate 5 people. Manuel was such a good host. The pool looked really good also. Over all a very comfortable stay
Harshith
2017-03-11T00:00:00Z
Quiet, cozy and comfortable place in a cute neighborhood. The space is fairly spacious for 2-4 people. My friends and I (4 in total) had a great experience with the friendly and accommodating hosts. When we arrived after a long journey, we had complementary munchies waiting for us to savor! I'd definitely go back here in the future!
Mridula
2017-03-17T00:00:00Z
They were great! We ended up getting there several hours late, and they were super accommodating. They had snacks and drinks there. And since we got in so late, we were in no mood to hunt down food, so that was a great touch! I would definitely recommend their place!
Jae
2017-03-12T00:00:00Z
Great value, extremely clean place and Manuel was very friendly, communicated clearly and waited patiently for us to arrive.
John
2017-03-15T00:00:00Z
Really enjoyed our stay.. Our apartment was great! Spacious and clean with everything we needed. Manuel and Nancy were really nice and had great tips on what to do in the area.
Sebastian
2017-03-18T00:00:00Z
Typ pokoje
Celý dům/byt
---
Typ nemovitosti
Byt
---
Ubytuje
5
---
Ložnice
Deltona, Florida, Spojené státy
Pro zobrazení celkové ceny zadej termín. Mohou být přidány další poplatky a daně.