Spacious quiet apartment fully equipped with everything you might need for a comfortable stay. Ideal for solo travelers or small groups. It's located on the southern part of Lamia. The taxi and bus stop is 1 minute walk. Nearby you will also find a mini market, a taverna and a restaurant. I provide a full guide for all the points of interest of the city in the guest resources section! I can also provide a big sightseing tour around all the historical places in the area :)
The apartment is small, but comfortable. There is a single bed and a sofa bed for 2 persons. The kitchen is fully equipped with an oven and a fridge. There are also 2 balconies, 1 small and 1 big with a nice peacefull view. The apartment is on the second floor and is very quiet.
The apartment is located on the southern part of Lamia on the main street. It is really quiet and is 1 minute walk from a local taverna, mini markets, a restaurant and a taxi and bus stop.
Ολα ηταν μια χαρα! Ο χωρος πολυ ενταξει, ανετος, ο νικος ηταν εξαιρετικός στην εξυπηρέτηση και οι μερες κυλισαν πολυ καλά!
stefani
2017-03-19T00:00:00Z
Πολύ καλή τιμή σε καλή τοποθεσία
GEORGIOS
2017-02-01T00:00:00Z
Typ pokoje
Celý dům/byt
---
Typ nemovitosti
Byt
---
Ubytuje
3
---
Ložnice
Lamia, Řecko
80s apartment is located in the heart of the city centre of Lamia, only 5 minutes on foot far from the central Park square. The castle together with the archaeological museum are only 700 m far from the house. It is a recently renovated house with all the necessary equipment for a pleasant and comfortable holiday. The furniture has a specific traditional greek style from 80s decade, giving you the sense that you live in a different time period. The house has also a small balcony.
Typ pokoje
Celý dům/byt
---
Typ nemovitosti
Byt
---
Ubytuje
2
---
Ložnice
Lamia, Řecko
Il mio alloggio è vicino a parchi e il centro città. Il mio alloggio è adatto a coppie e avventurieri solitari.
Αristotelis was a great host and i felt very respected. He helped me a lot to get around the city. I would totally recommend him :)
Σπερατζα
2016-11-27T00:00:00Z
Typ pokoje
Soukromý pokoj
---
Typ nemovitosti
Byt
---
Ubytuje
1
---
Ložnice
Lamia, Řecko
Hospitality Katerina is a beautiful spacious apartment with everything you need for a comfortable stay. Located in the center of Lamia, the city center is 3 minutes by foot
Our apartment is spacious, with plenty of light and a really nice decoration. We also provide anything you might need so you will feel right at home.
Really close to the center of the city, just 3-4 minutes walk. With a park under the apartment.
Nikos is a very pleasant person and its easy and pleasant to talk with him. Check-in was very smooth though we didnt give a precise time of our arrival. We also grew fond of his little dog Kanella trough our short stay. The room is simple and not too big, but it has all what's needed and its cozy, and it was very warm as we were visiting during the coldest winter time. We had a fun conversation time in the morning, we even were offered to have lovely breakfast with home made bread and honey and jam made by Nikos' family. Surely recommended to stop by Lamia when visiting mainland Greece as its strategically well locaded between many towns, beatches and culturally historical places worth to visit!
dita
2017-01-07T00:00:00Z
Nikos is an excellent host! He saved us at the last minute after multiple other hosts in the area had properties posted that were "full" when we tried to book them. He is a great communicator and did a wonderful job of making us comfortable. The room is simple and clean. Honestly it was the most comfortable bed we slept in the entire time we were in Greece. The neighborhood was quiet and easy close to places we could find food.
Alexis
2017-04-05T00:00:00Z
Το σπίτι είναι τεράστιο και σε κεντρικότατο σημείο της πόλης.Αν και ήμασταν μεγάλη παρέα δεν στριμωχτήκαμε καθόλου.Ο Νίκος φοβερός σε κάνει να αισθανθείς αμέσως σαν μα είσαι στο σπίτι σου.Σίγουρα αν ξαναπάμε Λαμία είναι η πρώτη μας επιλογή
Δημήτριος
2017-04-08T00:00:00Z
Typ pokoje
Soukromý pokoj
---
Typ nemovitosti
Byt
---
Ubytuje
6
---
Ložnice
Lamia, Řecko
My room is close to SEA. Reasons that my room will like: the view, the surroundings, the outside area, people and location. My space is suitable for couples and families (with children).
Typ pokoje
Celý dům/byt
---
Typ nemovitosti
Byt
---
Ubytuje
6
---
Ložnice
Lamia, Řecko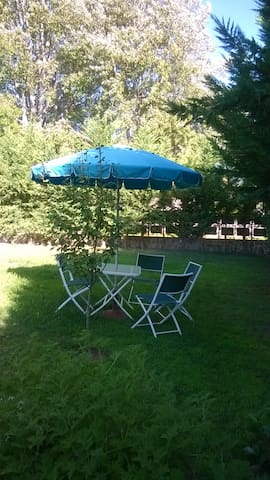 A hilltop penthouse condo offering unique panoramic views of the Corinthian Gulf and the Olive Tree valley of Delphi Oracle! Spacious and comfortable, offering 2 double bedrooms, living room, fireplace, fully equipped kitchen with dining facilities and bathroom with brand new appliances. The balcony offers magnificent views of the most important & inspirational valley in Ancient Greece. The condo will be your ideal base to explore Delphi and picturesque towns Arachova, Galaxidi, Itea!
This penthouse apartment in Delphi offers a completely unique experience. It is ideally positioned at the top of the hill with a great balcony offering some of the best views in Delphi and broader central Greece. The architecture is open space connecting seamlessly the inside of the house with the views of the Corinthian gulf and the olive tree valley of Delphi. A small garden on the ground floor with home grown vegetables adds a sense of provincial country lifestyle. Newly furnished with modern design and high-end Home Entertainment products (49" flat screen smart TV, Stereo). Fully equipped and functional kitchen (including coffee machine, oven, microwave, dishwasher) and bathroom with new smart "eco-bubble" technology washing machine. Optimised heating and cooling with autonomous heating and strong heaters in all rooms as well as "inverter" technology air-condition (a/c) will offer you a pleasant "homey" atmosphere throughout your stay. Technology and modernity are coupled perfectly with traditional "mountaineer" design, conveyed by a fireplace in the middle of the apartment built with hand-crafted white stones. All spaces in the apartment have access to the balcony and views! All in all, this is a unique condo apartment that combines perfectly some of the best ancient Delphi views together with design furniture and appliances while maintaining its mountaineer and countryside character! You should definitely try the experience!
The neighbourhood is quiet and residential with families living in nearby properties. There are no immediately adjacent properties, with small empty plots on both sides offering full privacy. Just across the property is a children playground ideal for young children and right besides that the primary and middle schools of Delphi. Trees and efflorescent plots in and around the property provide a nice connection with nature with unique flower essences smelled all around the neighbourhood.
This is my third Airbnb stay and it was by far the best. Paris' description of his penthouse condo is very modest. A more accurate description would read: "Breath-takingly beautiful view. In a charming neighborhood. Comfortable. Quite. And within 2 minutes walk of the main stretch of Delphi." My family of 5 was very comfortable. Thank you Paris for sharing.
William
2017-04-03T00:00:00Z
Typ pokoje
Celý dům/byt
---
Typ nemovitosti
Byt
---
Ubytuje
9
---
Ložnice
Delfi, Řecko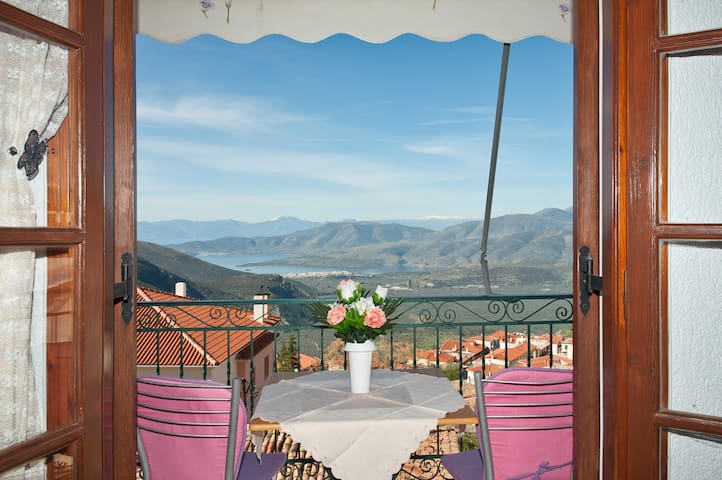 Perfectly spotted central Greece apartment! It could be your base for day trips to historical monuments , spa tourism places (whether natural or organized) ski resorts or beaches depending on the season, in 360 radius and at a max distance of 1hour
Stylish and comfortable 2-bedroom apartment 90 sq.m. situated in the entrance of Lamia city in central Greece. It has got an amazing view of the city and the castle . The city centre is only 5 minutes away and you can find lots of coffee shops and restaurants discovering the local market. It is totally refurbished in 2010 in a "mix n match" taste and has got a fully equipped kitchen. It is shiny and quiet. Lamia is very well spotted city because has too many and different places to explore. We will be more than happy to provide you -upon booking. - with lots of suggestions, advice and useful tips which will make your stay unforgetable. Remember : ************* * 60 min SW from Lamia is Delphoi Historical Area * 10 min S from Lamia is Thermopylae HIstorical Monument * 10 min S from Lamia are 2 natural spa lakes near Thermopylae(sulphurous baths 33c) * 30 min SE of Lamia is Kamena Vourla city where it is spotted the best 5 star SPA Hotel of the area named GALINI where you can relax and have a radioactive chlorinated water experience in 32c. Kamena Vourla in summer is the most touristic place of the area with nice beaches and crystal clear water. *20 min NW of Lamia you can find another SPA Hotel with natural mineral springs too named THERMAE PLATYSTOMOY. *15 min W of Lamia is Loytra Ypatis where can have a bath in an outside swimming pool with sulphurous water coming directly from a spring too. *50 min S of Lamia you can find Ski Resort PARNASSOS which is the best of Greece. * 60 min W of Lamia you can find Ski Resort VELOUXI
George hizo todo lo posible para que estemos de lo mejor en su apartamento! Es un gran anfitrión, nos ayudo mucho a conseguir lo que necesitábamos para pasar la mejor estadía posible en Lamia. El apartamento está muy comodamente ubicado en un lugar de fácil acceso y con muchas facilidades cerca. Recomendado!!
Hernan
2016-05-10T00:00:00Z
George was a very communicative and helpful host. The apartment is more than great it has everything you want you will definitely feel like your own home. There is also a supermarket at the bottom of the building everything is near. I definitely suggest it. For sure my home whenever i visit Lamia.
Filippos
2016-03-12T00:00:00Z
Μια πολύ καλή επιλογή σε λογική τιμή Μεγάλη διάθεση του ιδιοκτήτη να λύσει οποία προβλήματα μπορεί να προκύψουν. Το προτείνω ανεπιφύλακτα
Dimitris
2016-12-26T00:00:00Z
L'appartement est super,on s'y sent comme chez soi! Immeuble très sécurisé et facile à trouver. Il faut impérativement être motorisé pour séjourner a lamia par contre ou ne restez qu'une nuit pour une halte.
Charlene
2016-10-22T00:00:00Z
The welcome was amazing and the people very friendly. They were very helpfull. We enjoyed our time in Lamia. We recomend it.
Campsortueta
2017-01-06T00:00:00Z
Typ pokoje
Celý dům/byt
---
Typ nemovitosti
Byt
---
Ubytuje
4
---
Ložnice
Λαμία, φθιωτιδα, Řecko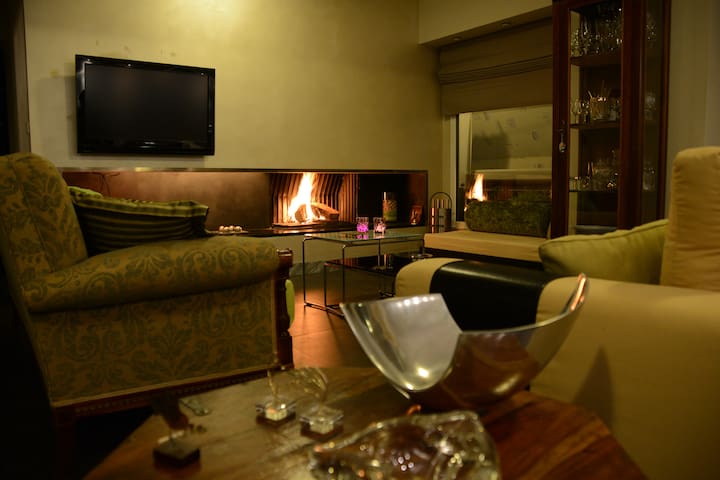 My room is close to the airport, public transport, city center, parks and art and culture. Reasons that my room will like: the environment, exterior, light, people and neighborhood. My space is suitable for couples, activities for an individual, business travelers and families (with children).
Typ pokoje
Celý dům/byt
---
Typ nemovitosti
Byt
---
Ubytuje
4
---
Ložnice
Volos, Thessalia Sterea Ellada, Řecko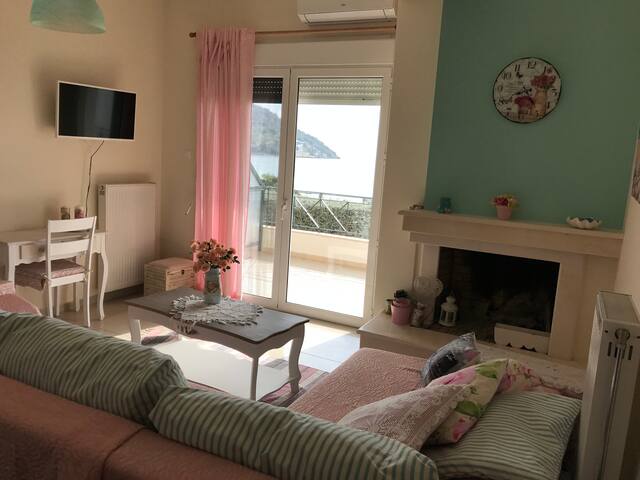 My space is suitable for couples, activities for an individual, business travelers and families (with children).
The area of STONE HOUSE are made of Architects owners with great care and imagination !!!!!!!!!!!!! the construction are made of stone and usually the stone with the famous colors in traveling with the conference. It is one without a very very quiet and makes you feel calm and xekourasi.O space is brighter than all the rooms, living room, kitchen, overlooking the beautiful garden
La anfitrión te hace sentir como en tu casa, Katerina es muy atenta y se preocupa por que no te falte de nada. Su casa era muy bonita, bien ubicada para ir en coche a Mateora o Delfos. Gracias por todo Katerina!
Judit
2016-12-05T00:00:00Z
Typ pokoje
Celý dům/byt
---
Typ nemovitosti
Byt
---
Ubytuje
4
---
Ložnice
Nea Magnisia, Thessalia Sterea Ellada, Řecko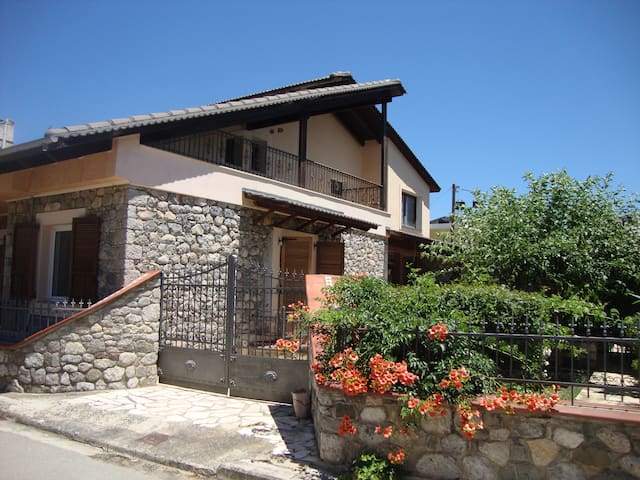 Very comfy and nicely decorated apartment at Lykotroupo Arachova situated within a complex with private closed parking slot and up to date appliances, 160km away from Athens, 30km away from Parnassos Ski Center and 10km away from Delphi. A great place to stay and a fantastic location for pleasure. Arachova is a mountain village away from the noise of city with clean atmosphere, chilly in the summer, mainstream night life during winter and conveniently located close to Athens.
A fully equipped and comfy 50 sq m apartment in the ground floor. An open living space with double sash window for plenty of light, a kitchen, a bedroom, a separated bathroom with shower and two balconies. The living space, in grey tiles floor, has a double sash window which leads to a balcony with view in Arachova and mountains. The living space contains fire place, a sofa bed (1,80 X 1,50m) for two more guests. It is also equipped with 32 inch flat screen TV connected with Digea. The open kitchen, in a grey tiles floor and white walls, has brawn cabinets, a sink and a drainer. Appliances consist of an oven, a range hood, a fridge freezer, a Tassimo espresso machine, a kettle and a toaster. A dining table comfortably hosts 6 guests for a meal, or can be used as a desk. The bedroom, in a grey tiles floor and white walls has a double bed (2,00 X 1,50 meters), two bedside tables, a mirror, big wardrobe and double sash window which leads to a balcony with view in Arachova and mountains. The bathroom, in a grey tiles floor and white walls, is equipped with a laundry machine and hair dryer and includes wash basin, glass cabin shower, big mirror with lights, wall mounted radiator. In the bathroom a basket of Korres soap, shampoo and conditioner is offered. Furthermore the apartment is equipped with individual heating with radiators, clothes dryer, iron, iron board and vacuum cleaner. For safety reasons it is equipped with a fire extinguisher, a smoke detector and a first aid kit.
Arachova is a mountain village located at the foot of Mount Parnassus in altitude of 950 m. It belongs to the prefecture of Viotia and is about away 160 km from Athens. Beautiful stone houses and narrow streets around water sources is the first images visitors see. Arachova, despite the high level of tourism development has retained its traditional character, while offering the amenities and activities, which the visitors are seeking. If you visit Arachova during Easter you will be given the opportunity to experience up close the «Panigyraki», a three-day, double celebration for polioucho city of St. George and the Battle of Arachova (November 1826). The village of Arachova combines grandeur with wild scenery, breathtaking views, healthy climate, peculiar architectural homes, nightlife and winter sports. It is a winter destination that offers visitors adventure, variety, and yet calm and relaxation for those who wish!
What an amazing part of Greece! We absolutely loved Dimitris's place. It was perfect. Everything was as described. The view from our bedroom was the best! The property was close enough to the main road to be easily accessible to shops and restaurants but far enough away to be secluded and feel like a romantic getaway. It is definitely the place to stay if you want a great base for visiting The Monastery of Hosios Loukas, exploring the archaeological site at Delphi and the Corycian Cave. Dimitris was always quick to respond to our messages and even though he couldn't be there to meet us, his housekeeper showed us around. Everything was in great condition. We would highly recommend and would definitely stay again in the future!
Veronica
2016-10-18T00:00:00Z
Arguably the best Air Bnb we've had (though I said that last time). I was sick when getting to Arachova so when we arrived at the apartment I was very relieved. The home was very cozy and clean with a gorgeous view from both balconies. The host was super communicative throughout our entire stay and even gave us suggestions for eating and shopping. We loved the apartment. It was the most ideal circumstance we could have hoped for.
Kaya
2016-10-16T00:00:00Z
A comfortable, clean and well kept property in one of Greece's most beautiful villages. Dimitri communicated with us promptly and organised for his associate to meet us at the apartment to hand over the keys and orientate us. Natasha was welcoming and helpful. We highly recommend this property and location. Hopefully future guests will appreciate the effort made to make this exceptional accommodation as we did. Thank you for hosting our visit.
Kerry
2016-09-17T00:00:00Z
Typ pokoje
Celý dům/byt
---
Typ nemovitosti
Byt
---
Ubytuje
4
---
Ložnice
Viotia, Řecko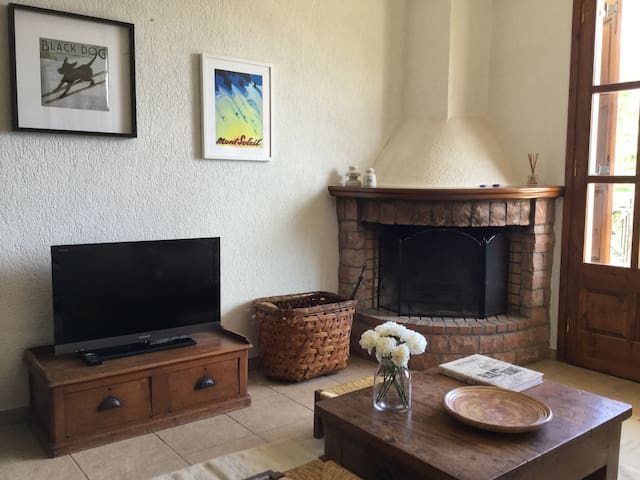 This beautiful traditional, rustic apartment, with a lovely view over the village and very close to the sea. It has 2 bedrooms, each with a double bed, a kitchen, air-conditioning and central heating. Laundry room downstairs and wifi access.
2 bedrooms 1 private bathroom 1 cosy sitting/lounge area 1 small kitchen where you can prepare a lovely breakfast 1 balcony with a great view over the village and the sea 1 large balcony (patio) Parking your vehicle should be more than easy ( in the front of the house )
You should visit the marvellous temple of Saint Nicolas, our nautical and archaeological-folklore museum. While being in the village you won't be needing a car. If you wish a drive i'll be glad to drive you around or even schedule a tour in Delphi or Arahova for some extra money for gas. Parking is more that easy in the front of our house.
Η κυρία Ιωάννα και η κόρη της ήταν πάρα πολύ εξυπηρετικές και φιλόξενες. Μας υποδέχτηκαν με μεγάλη χαρά για να μας δείξουν το σπίτι και να μας δώσουν τα κλειδιά παρόλο που φτάσαμε σχετικά αργά το βράδυ. Το σπίτι είναι σε πολύ καλή τοποθεσία στο κέντρο του Γαλαξειδίου, πολύ ωραίο και καθαρό με όλα όσα κάποιος χρειάζεται..(είχε ακόμα και πρωινό -μαρμελάδες και αυγά- στο ψυγείο). Το συνιστώ ανεπιφύλακτα
Dionysis
2016-08-29T00:00:00Z
We have been overwhelmed with the level of hospitality we have received in Greece, but Ionanna and her wonderful family exceeded all our expectations. They went out of their way to make our stay comfortable and enjoyable...we arrived really late into Galaxidi and there was no trouble coming to meet us, Ionanna even wanted to cook us dinner at midnight! The fridge was full of fresh fruit, water and other condiments. Her daughter even printed off our boarding passes for us! To top all that off, the apartment is beautiful...two large rooms, two balconies, a kitchen and bathroom. The views look out to the sea, the mountains and the village of Galaxidi. It's a short walk to the port and restaurants but enough away from the busy area for it to be quiet and peaceful. There's also a quiet beach away from the crowds a few minutes down the road. I simply cannot recommend this place highly enough...thank you all so much!
Suzanne
2016-08-15T00:00:00Z
Εξοχη εμπειρια η διαμονή! Λάτρεψα την επικοινωνία με την Ιωάννα! Το συνιστώ ανεπιφυλακτα!
Nasos
2016-11-13T00:00:00Z
Nous avons été très bien accueillis par Ioanna et ses filles. L'appartement est très charmant, très bien situé et dispose d'une très belle vue, une merveille. Merci beaucoup Ioanna de l'avoir fait partager. (SENSITIVE CONTENTS HIDDEN) translation : We were very well received by Ioanna and daughters. The apartment is very charming, very well located and has a great view, a marvel. Thank you very much Ioanna for doing share. (SENSITIVE CONTENTS HIDDEN) translation : Ήμασταν πολύ καλά παραληφθεί από Ιωάννα και κόρες. Το διαμέρισμα είναι πολύ όμορφο, σε πολύ καλή τοποθεσία και έχει μια υπέροχη θέα, ένα θαύμα. Σας ευχαριστώ πάρα πολύ για να κάνει Ιωάννα μετοχή.
Michelle
2014-09-05T00:00:00Z
Ioanna's house is the loveliest spot to discover and visit this part of Greece. It is not far from Athens (about 2h30) and 30min from Delphi, in a beautiful and peaceful village on the seaside. The apartment is on the top flour of Ioanna's family house. It is perfect for four friends like us or a family. There a very nice kitchnet and two beautiful rooms. And, suprême pleasure : you can enjoy your meals on the terrasse with a vue to the sea !!!!
Hélène
2016-10-28T00:00:00Z
In September I decided to make a gift to my mother and sister: a 7days vacation to Galaxidi. Mrs Ioanna and her daughter must be wonderful persons and great hosts ! My mother and sister came back in Athens 100% satisfied by their stay. They told me about two very kind and smiley persons:) Also they mentioned how much beautiful, comfortable and well located is the house. They liked a lot the view from the balcony ! Mrs Ioanna thank you very much ! :)
Konstantin
2016-09-18T00:00:00Z
We had a very nice stay at Ioanna's place. Ioanna was very friendly and helped us to find the location. The appartment was very cozy, nice and clean with a beautiful view. Ioanna had taken care of all the necessities for our breakfast. Thank you very much Ioanna ... we had a beautiful and relaxing stay and will surely visit you again !!
Elisabeth Petra Maria
2017-04-02T00:00:00Z
We had a great stay here. We were only able to stay one night, but we would have loved to have stayed longer. The apartment is located in the top level of a house. The hostess lives downstairs. We also met a couple of her grandchildren (very cute) who I believe also live in the house. You enter the house and up some stairs. Going up the stairs, you enter a room where one door opens to the hostess's part of the house and another door opens up to stairs that you go up to the apartment. The door to the apartment has its own lock and key. The apartment itself is cozy. You enter the apartment into the kitchen. The other 3 rooms branch off from the kitchen: a bathroom and two bedrooms. One of the bedrooms has a queen bed, and the other has a sofa bed. The kitchen is small, but well-stocked. There is a small balcony facing the waterfront off of the kitchen and a larger balcony facing the mountains off of the bedroom with the sofa beds. We were travelling with 4 people, but I imagine that if only 2 people were in the apartment, the room with the sofa bed, could be used as a living room instead of a bedroom. Parking in front of the apartment was very easy. The hostess provided a loaf of bread, two small loaves of quickbread, eggs, yogurt, honey, fresh fruit, coffee, tea, homemade jams, and probably a few more things that I can't remember for breakfast. The breakfast items were very nice. The apartment was really very clean. We've stayed in many AirBnb listings, and the items provided in them are often pretty bare-bones. This apartment was different. It was clear that the hostess had put a lot of thought into what items guests might find useful and provided them in the apartment. I can't provide too many examples because we didn't really need many of the items for our one night stay, but when we opened the vanity in the bathroom, we found cotton swabs, some common medicines, etc. Those types of things aren't often found in other listings. The other rooms in the apartment had other items that just made us feel more at home. The hostess provided good recommendations for places to eat. We ate at the Albatros and thought it was a pretty good value compared to what we found on the waterfront. We wouldn't have found this one if the hostess hadn't mentioned it. Unfortunately, we were just there for one night, but one thing that really struck us was how friendly and nice the hostess was. We would really have liked to stayed longer to get to know her a little better. We were also surprised at how well she was able to communicate in English. Everything worked fine: wifi, hot water, central heating (we were there in November), etc. We were very happy with our stay. The only remotely negative...
Jon
2016-11-16T00:00:00Z
Typ pokoje
Celý dům/byt
---
Typ nemovitosti
Byt
---
Ubytuje
4
---
Ložnice
Galaxidi, Thessalia Sterea Ellada, Řecko
My place is close to nightlife, the beach. You'll love my place because of the convenient place and the cosy essence..
cosy apartment, renovated and fully equipped, in a central position. we booked on a very short notice, and Joanna and her parents responded immediately. extremely kind and helpful, they also left breakfast for us. highly recommended!
Sveva
2016-08-24T00:00:00Z
Ο οικοδεσπότης με κάλεσε μονος του μια μερα πριν την άφιξη , για λεπτομέρειες και την ημέρα της άφιξης με περίμενε στο σπίτι . Μου εξήγησε τα λειτουργικά του σπιτιού και ηταν ευέλικτος στην ωρα αποχώρησης μου
Marmaridis
2016-09-05T00:00:00Z
Very responsive person
fernando
2016-10-28T00:00:00Z
the appartement was clean and they put lot of food and drink in the appartement. But the appartement was cold and not good for 4 people. The beds are ridiculous and a one was just like big stick of wood. We don't have hot water We don't has spend a good night.
fabien
2016-10-29T00:00:00Z
Very clean and cosy. People were friendly. Close to the centre and right beside the sea.
Grace
2016-09-24T00:00:00Z
Joanna's place is one block from the shore in a great community. Her father met us and helped with everything, including finding a nice place for dinner. In December, the weather was chilly, but we had two heaters and lots of blankets. We appreciated the basic breakfast supplies provided. Some previous comments mentioned concerns with the hot water. As long as the heater is turned on, there is hot water with good pressure, although the water tank is fairly small. We'd love to come back in warmer weather!
Aaron
2016-12-06T00:00:00Z
Besides everything already seen in the advertisement, it was a great surprise to find some things for the breakfast, water in the fridge, and everything that we needed in the bathroom. The apartment is really comfortable, very close to the port (so if you are planning to go to Lichadonisia, this is a perfect place to stay) and cool in the night, so we didn't even have to use the A/C in all our stay. We would definitely repeat our stay in this apartment
Fran
2016-08-07T00:00:00Z
Typ pokoje
Celý dům/byt
---
Typ nemovitosti
Byt
---
Ubytuje
4
---
Ložnice
Kamena Vourla, Řecko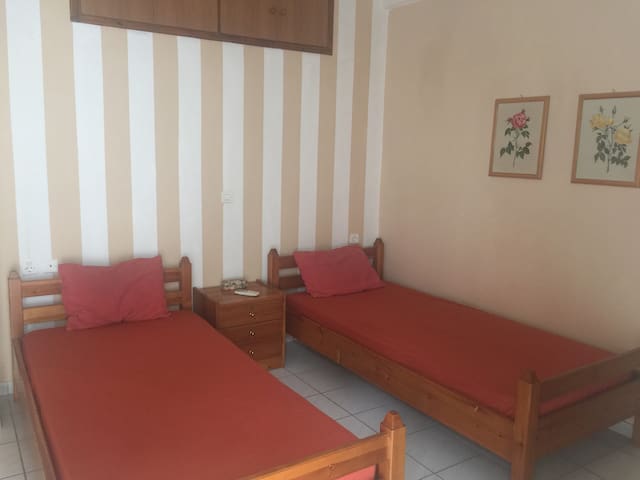 Το διαμέρισμα επιφάνειας 55m2 έχει δύο υπνοδωμάτια έκαστο με ΤV,hall,κουζίνα και μπάνιο με ντουζιέρα.Είναι καλής κατασκευής και συντήρησης και διαθέτει κλιματισμό. Η κουζίνα είναι ευρύχωρη με τραπέζι με καρέκλες. .Eχει ιδιωτικό μπαλκόνι με τραπέζι και καρέκλες κήπου.Είναι στον πρώτο όροφο και η πρόσβαση γίνεται από τις σκάλες.Είναι διαμπερές και έχει θέα στον κήπο και στη θάλασσα.Το συγκρότημα βρίσκεται σε κτήμα 15 στρεμμάτων, μπροστά στη θάλασσα,με οπωροφόρα δένδρα,ελιές και ανθόφυτα.
Τ
Η παραλία του Αγίου Σεραφείμ είναι κατάλληλη για κολύμπι,ψάρεμα, windsurfing και kite. Είναι ρηχή, βαθαίνει σταδιακά και είναι κατάλληλη και για παιδιά.
Typ pokoje
Celý dům/byt
---
Typ nemovitosti
Byt
---
Ubytuje
4
---
Ložnice
Kamena Vourla, Řecko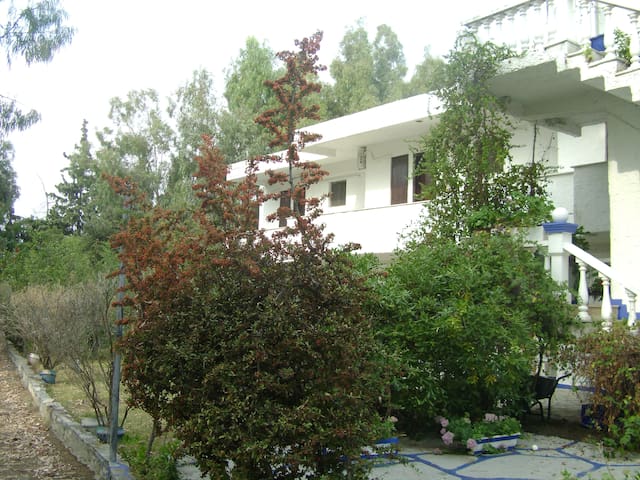 KAMENA VOURLA, Comfortable Apartment 48sqm Suitable for (4) next to: THERMAL SPRINGS & SPA @ Kamena Vourla & Thermopyles BEACH @ Asproneri, St. Panteleimon & Isabela ISLAND COMPLEX of Lichadonisia THERMOPYLES Ancient Historical Site HIKING SHOPPING
Feel at home when traveling to Greece, with your family or friends at this cozy two (2) bedroom apartment located at the Heart of the Holiday City of KAMENA VOURLA, with two (2) double beds, that can comfortably accommodate up to four (4) persons. The apartment has a fully equipped kitchen and one (1) bathroom. It is always safer to send me a note asking about availability before booking. The Apartment is on the second floor of a Multi-storey building, in a quiet neighborhood in the outskirts of the city center, overseeing a huge garden. In the vicinity you can find Supermarket, Grocery, Bakery, Deli shops, Convenient store, Dry cleaning and Pharmacy. The Building is equipped with an elevator (lift). The neighborhood is very safe. Every Friday morning there is a "Farmers Street Market" (laiki) where you can find Groceries, extremely fresh Vegetables and Fruits along with other goodies from Greece. It takes place on the road on the side of the apartment block. THE LOCATION. BEACH, SPA & THERMAL SPRINGS @ KAMENA VOURLA Kamena Vourla thermal springs are classified by specialists as the most important in Greece and generally in Europe. The springs were created from the geological transformations of the Maliakos Gulf and of the Kallidromos-Knimis Massif. They became famous due to their rare composition of minerals, salts and radon. The thermal springs of Kamena Vourla, which gush forth at the foot of Mount Knimis, have varied levels of temperature and radioactivity. There are: •The radioactive springs •The hydrogen sulphide-chloride spring •The ferruginous spring •The cosmetic spring of Aphrodite The temperature of the springs is stable between 35 and 36 deg. Celsius all year long and their waters are suitable for many different health problems, such as chronic rheumatisms, kidney, skin and gynecological diseases. Another well known thermal spring's complex of the region is the one at Thermopylae. There are two main springs, the spring of Leonidas (37 deg. Celsius) and the spring of the Three Hundred (40 deg. Celsius). The thermal baths of Thermopylae are indicated for rheumatic, gynecological and peripheral nervous system conditions. BEACH & SPA ALL IN ONE. Kamena Vourla is the ideal location for a COSMOPOLITAN HOLIDAYS and the starting place for daily tours to various sites, like Thermopylae, Mount Pelion, Delphi, Meteora and the picturesque small villages on the mountains nearby. It is also a nice stop over for the Ferry to the islands of Skiathos, Skopelos and Allonisos. From the apartment you can enjoy the sea and sun on the beach 200 meters from the apartment, visit other attractive beaches like Asproneri Lichadonisia or relax and revitalize in one of famous spa springs existing in the area. All along the coast of Kamena Vourla there are organized and free access beaches, which provide all the comforts and are ideal for swimming. All beaches are easily accessible from the road. VIOLETTA BEACH In front of hotel Violetta, between adjacent cafes and restaurants, overlooking the boats swaying lazily in the currents of the Evian Gulf, lays a unique beach ideal for sunbathing and swimming. It is covered with sand and small pebbles. SAINT PANTELEIMON BEACH In the center of the city, opposite the church of St. Panteleimon, there is a small beach of fine sand which is very popular among local residents and officials vacationers. The beach is also equipped with and Electric Sea Wheelchair Ramp for easy access to the sea. ISABELLA BEACH Right next to the beach of Agios Panteleimon, opposite the hotel Galini is the beach Isabella. It is organized with umbrellas and sunbeds, admission is free, and works cafe-bar where you can enjoy a coffee during the whole day or a drink at night. It also operates several water games and sports. AMMOS BEACH Ammos is a beach of fine sand and crystal waters next to the marina of Kamena Vourla. It is organized, with sun beds and umbrellas and is the youth's favorite. At the beach bar / cafe club thats open day and night, you can enjoy a coffee, snack or drink. MOURAGIO BEACH Right next to AMMOS Beach, MOURAGIO has fine sands and clear waters. It is not organized, but ideal for those who want a quieter environment to swim and sunbathe. EL CAMINO BEACH On the west side of Kamena Vourla, where most bars and taverns are, there is an organized beach with umbrellas and sunbeds. Guests can enjoy their coffee and snacks by the sea. CHRISI AKTI - KENOURIO BEACH Chrisi Akti is a non-organized beach with pebbles and sand in Neo Thronio, a few kilometers west of Kamena Vourla. LICHADONISIA BEACH @ LICHADONISIA ISLAND COMPLEX Right across the golf of Kamena Vourla, on the western side of Northern Evia, lays Lichadonisia, a complex of small islands which locals call the "Greek Seychelles" and are an ecologically protected area, once inhabited by a few residents, but now deserted. The biggest island of Lichadonisia complex, has an organized sandy beach, with small rocks on the sides. It also has a beach bar, who serves coffees, drinks and fresh, grilled seafood and brochettes. The smaller islands have unorganized sandy beaches and shallow emerald waters, excellent for swimming snorkeling and relaxation. Lichadonisia are only a 15 minute boat ride from Kamena Vourla, a unique destination for daily excursions and explorations. You can reach them, with the daily boat tour from the marina of Kamena Vourla, or by private boat, which you can rent in Kamena Vourla. ASPRONERI BEACH Three kilometers away from the apartment towards Agios Konstandinos vilage is the Asproneri beach (White water) with views to the Northern Gulf of Evia, the Maliakos Gulf and to Lichadonisia. The beach is part pebbles and part sand with crystal clear water. It has sun beds and umbrellas and a small cantina. Asproneri is one of the most beautiful and well kept beaches on the Maliakos Gulf and is very popular in the area. HIKING & MOUNTAIN BIKING HIKING MOUNT KALLIDROMON Mount Knimis, that casts its shadow upon the town of Kamena Vourla, is an ideal destination for nature lovers, hikers, mountain-bikers and mountain climbers, with walking paths full of trees and gushing waters. Mount Knimis is a part of mount Kallidromon. MEGA REMA OF KNIMIS This is an ideal place for downhill, with gushing waters, natural slides and abutments. Canyoning schools, mountain guides, and individual groups, visit Mega Rema for its magic nature, intermediate difficulty and lovely view over Agios Konstantinos. PATHS OF KARYA Parallel to Mega Rema lies the path to the Aeras (air) mountain peak (811m.), it starts from the small church of Agia Paraskevi (200m.) and traverses the beautiful pine forest. For hikers and mountain bikers, the common route is the drive up to Vrisi Karyas, in order to start the walk up to the mountain trail from there. The picturesque village of Karya is a suitable place of rest and dinning in a small taverna. LAKE PALIOSOUVALA A bit further in mount Kallidromo, this lake is a wetland with a plethora of vegetation and fauna. There are two routes for the lake. Starting from the beautiful vilage of Anavra Molou, a dirt road from the camping lodge heads towards the small sanctuaries of Agio Pneuma (Holy Sirit) and Panagia (Virgin Mary) and after 8km reaches Paliosouvala. The second route, starts from Mendenitsa on the dirt road towards the monastery of Agia Triada and is 7.5km long. THE PATH OF "EPHIALTES" This historic trail is located on Mount Kallidromo, and is the path used by the traitor "EPHIALTES" during the battle of Thermopylae in 480 BC, to guide the elite corps of Persians in the rear of Leonidas' Spartans. The Anopaia Path, as it is called, invites lovers of nature, history, myth and culture to explore the heart of this epic trail. MONASTERY OF METAMORFOSIS Four kilometers away from the appartment, in the heart of mount Knimis,at an altitude of 310m, lies the Monastery of Metamorfossis tou Sotiros (the Saviour's Transfiguration). The original foundation of the monastery is estimated to be on the 7th AD century. The central temple is a 12th century building of Byzantine architecture, well worth visiting. In the 16th century, after a catastrophe, it was rebuilt as a three-aisled basilica. Today's wall paintings date from the period (phone number hidden) and are of great religious, cultural and aesthetic interest. The 17th century Gospel with Byzantine double-collumn scripts, is also an important relic that can be found in the Monastery nowadays. The view from the Monastery's balcony towards Kamena Vourla and the Maliakos Gulf is unique, pleasing to the eye and the frequent object of stunning photography. The Monastery of the Saviour's Transfiguration is open all year long to visitors as well as pilgrims. THERMOPYLES (Thermopylae) The historic site of Thermopyles is a mountain pass between north and south Greece. The area has taken its name from the nearby hot water springs. The pass leads from Locrida to Thessaly, between Mount Iti and the Maliakos Gulf. At the time of King Leonidas, when the battle of Thermopyles took place (480 B.C.), the pass was a narrow path of approximately 12 meters width, running between the foot of the mountain and the sea. Today it reaches from 1.5 to 3 kilometers wide, due to sediment deposition at the mouth of the river Sperchios. On the former battlefield, lies the tomb of Leonidas and the 300 Spartans and right next to it is the memorial to the 700 Thespians who also fought in the battle. In the area of Thermopyles operates the innovative museum. In the approximately 850sqm of the Museum, with the use of modern digital technology, visitors can be informed by specialized people for the battle, for the period of the battle and the lasting impact on humanity of that great historical event. There are special programs for children, students and adults. MENDENITSA VILGE AND CASTLE The picturesque village of Mendenitsa is buried in the green landscape of Mount Kallidromos, with an amazing view and a special cultural character. Its medieval castle is one of the most important and best preserved of its kind. It was built on the remains of the ancient fortifications of the city during the Frankish occupation. The castle offers a panoramic view of the Malian Gulf and the northern Euboic Gulf. In the historical settlement of Mendenitsa, one can visit the Museum of Folklore and the Historical Exhibit. Concerts of Greek music, theatre and poetry performances and other cultural and traditional events are frequently held in Mendenitsa, as well as exhibitions of table wine, ceramics and painting. BREAKFAST COFFEE and DINING. There are plenty of fine places all along the seaside where you can have breakfast, snacks and coffee or dine at a Souvlaki Restaurant, a Greek Tavern serving traditional Greek food or a Fine Restaurant. THE APARTMENT. The apartment is spacious and airy, overseeing a huge garden. There are two (2) bedrooms, the first bedroom with one (1) Queen Size double bed (160 x 200mm), the second bedroom with one (1) double bed (120 x 200mm). The apartment can comfortably accommodate four (4) persons. •The Kitchen is fully equipped with everything you may need to prepare and serve your own meals. •A list of restaurants offering food delivery service is compiled and available for your convenience. •There is Bathroom with bathtub and WC. •A prepaid Mobile Phone, with Greek Number, is available for my international guests to use, free of charge. You will only have to purchase credit. (Please ask for it at booking). •Flat Screen TV. •Bed linen, bathroom towels, bathroom amenities and hairdryer are available. •Air-conditioning. •Living Area with Couch and Dining table with 4 Chairs •Balcony over-viewing the Garden and another one viewing in front with Table and Chairs. •Baby Cradle (Available upon request). •Local Map (Available upon request). •Local Activity Guide (Available upon request). •TRANSPORTATION TO and FROM the Athens International AIRPORT and the Piraeus PORT, with private car, can be arranged at any time is convenient to you for a very welcoming price (Available upon request). •PRIVATE SITE SEEING to Thermopylae, Delphi, Temple of Poseidon, The Acropolis, Epidaurus, Meteora, Ancient Olympia, etc can also be arranged for a very friendly cost (Available upon request). •ENJOY TRADITIONAL GREEK FOOD delivered to your apartment at a very affable price (Available upon request). •Cleaning Service can be arranged (Available upon request). •Hair or Beauty treatment can be arranged is a Beauty Salon in walking distance (Available upon request). •Check in and Checkout times can be flexible. PARKING for your VEHICLE. There is free parking inside the building premises. ENJOY GREECE – ENJOY KAMENA VOURLA With so many different things to see and do while in Greece, we will be glad to assist you in choosing the right ones for you and provide you with all necessary details and/or tickets. •Day cruises to Saronic Gulf Islands (Hydra, Spetses, Aigina etc) are available all year round. •Organized sightseeing and guided visits to archeological sites and museums are also available all year round. •Beautiful Vacations to the Greek islands.
The Apartment is on the second floor of a Multi-storey building, in a quiet neighborhood in the outskirts of the city center, overseeing a huge garden. In the vicinity you can find Supermarket, Grocery, Bakery, Deli shops, Convenient store, Dry cleaning and Pharmacy. The Building is equipped with an elevator (lift). The neighborhood is very safe. Every Monday & Friday morning there is a "Farmers Street Market" (laiki) where you can find Groceries, extremely fresh Vegetables and Fruits along with other goodies from Greece. It takes place on the road on the side of the apartment block.
There is no word that I would describe the kindness and my whole impression. From the moment the negotiations, reservation, arrival and until the moment of return, everything was perfect. In the apartment we felt like in own house, and all of this has contributed to the host himself with his warm welcome. All my recomendation to this host. Tasos, thank you so much. Your familly and you is the one of the reason we had great vacation.
Ivana
2016-09-24T00:00:00Z
Ο κυριος Τάσος ήταν πολύ ευγενικός και εξυπηρετικός και μας περίμενε να μας υποδεχτεί. Το διαμερισμα είναι ακριβώς όπως στις φωτογραφίες! Άνετο, σύγχρονο και σε πολύ καλό μέρο. Όλα τα πράγματα για καλή ξεκούραση υπάρχουν στο διαμέρισμά του Τάσου. Η Θαλλασα και τα ζεστα νερα ειναι πολυ κοντα απο το διαμερισμα. Περασαμε πολλες καλες ωρες εδω. Ευχαριστούμε πολυ για φιλοξενια σας! Και ελπιζουμε να σας δουμε τον επομενω χρονο!
Tamara
2016-06-24T00:00:00Z
Typ pokoje
Celý dům/byt
---
Typ nemovitosti
Byt
---
Ubytuje
4
---
Ložnice
Kámena Voúrla, Řecko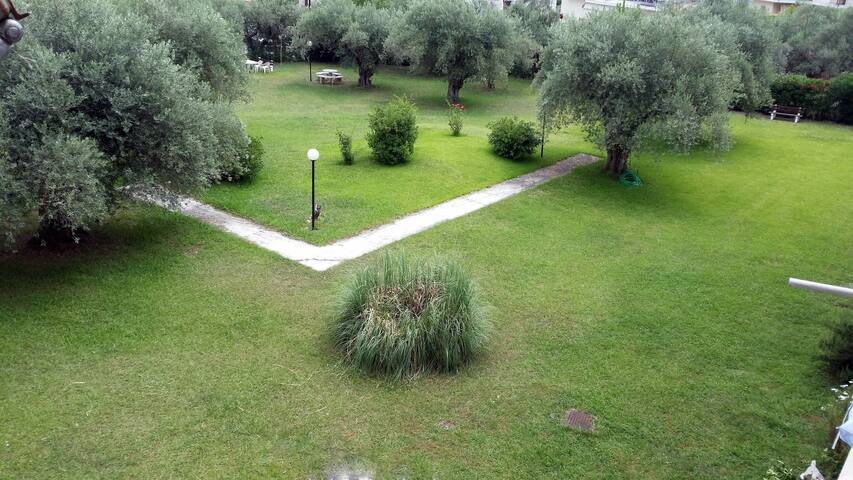 Ο χώρος μου είναι κοντά σε εστιατόρια και χώροι εστίασης, υπέροχη θέα και δραστηριότητες για οικογένειες. Λόγοι που θα σας αρέσει ο χώρος μου: άνετο περιβάλλον, ψηλά ταβάνια, οι άνθρωποι, η τοποθεσία και η θέα. Ο χώρος μου είναι κατάλληλος για ζευγάρια, δραστηριότητες για ένα άτομο, επαγγελματίες ταξιδιώτες, οικογένειες (με παιδιά), μεγάλες ομάδες και κατοικίδια.
Typ pokoje
Soukromý pokoj
---
Typ nemovitosti
Byt
---
Ubytuje
2
---
Ložnice
Loutra Ipatis, Řecko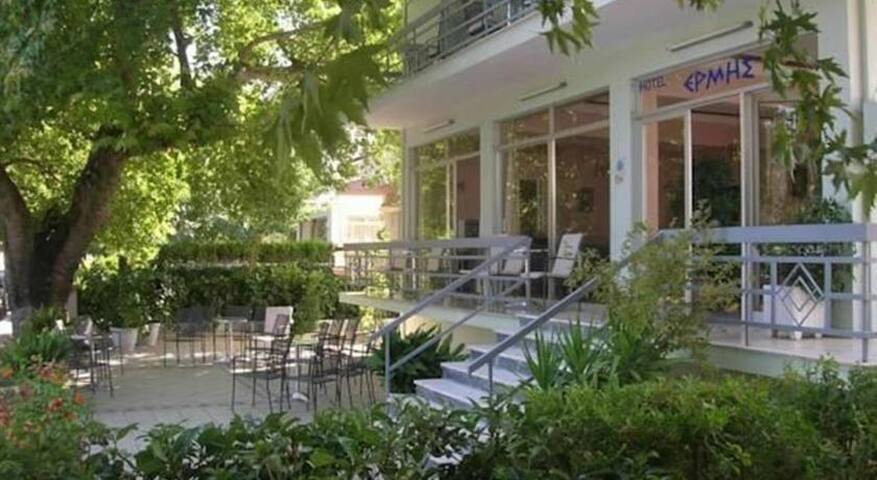 15sm2, μικρό διαμέρισμα που χρησιμοποιείται ως γραφείο δωρεάν από τις 7 η ώρα το απόγευμα, πρόσβαση στο internet, καναπέ-κρεβάτι και μπάνιο με ντους χωρίς
Typ pokoje
Celý dům/byt
---
Typ nemovitosti
Byt
---
Ubytuje
1
---
Ložnice
Λαμία, φθιωτιδα, Řecko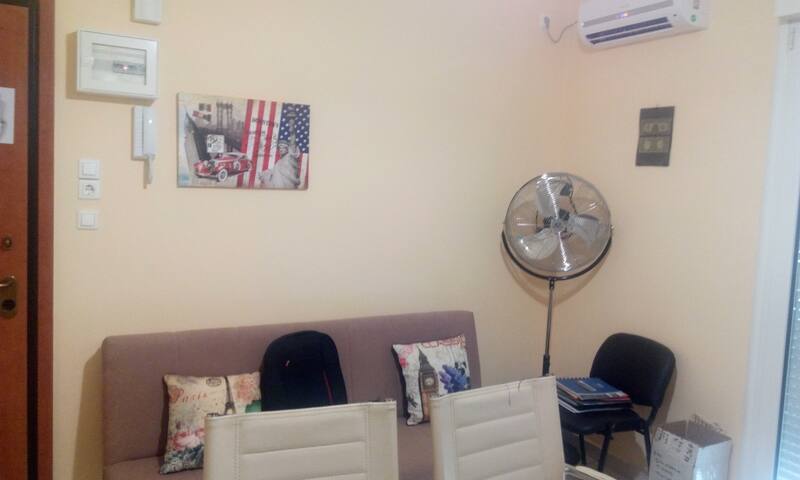 Meine Unterkunft hat einen Strand. Du wirst meine Unterkunft lieben wegen der Lage, der Ruhe und dem wunderschönen Ambiente und Ausblick. Meine Unterkunft ist gut für Paare, alleinreisende Abenteurer, Familien (mit Kindern) und pelzige Freunde (Haustiere).
Typ pokoje
Celý dům/byt
---
Typ nemovitosti
Byt
---
Ubytuje
4
---
Ložnice
Agios Georgios, Řecko
My place is close to well-known restaurants and great views. You'll love my place because of the coziness, the comfy bed and the light. My place is good for couples and families (with kids). It is located in the village of Arachova with an extraordinary view of the village. For the ski and snowboarding lovers, you will not have to go through the traffic of the village as you are right next to the exit for the main road which leads to the Parnassos ski resort.
Great host!! The house is amazing and the location is perfect!! Must go!! The view is breathtaking!!
Alex
2017-02-20T00:00:00Z
Nice apartment and view. Location smart for the ski resort but at least 12' walking distance away from Arachova center. Good heating and amenities, no Wifi. Parking spots average. Ideal for couple or family of 3-4.
Nick
2017-02-27T00:00:00Z
Typ pokoje
Celý dům/byt
---
Typ nemovitosti
Byt
---
Ubytuje
4
---
Ložnice
Arachova, Thessalia Sterea Ellada, Řecko
1

–

18

z

187 Pronájmy bytů
Pro zobrazení celkové ceny zadej termín. Mohou být přidány další poplatky a daně.